In many ways, I grew up knowing the instant noodles to be comfort food. Before heading to school, my mother would quickly boil a packet of these noodles and sprinkle the coveted spice mix on it. My joys would know no bound and I would happily gulp down the morsels. Often, with a dash of other condiments, like tomato sauce or good old achar (weird, right? I know.  However, I love my quirky food habits.) The habit of binge eating instant noodles stayed with me for a while but eventually weaned out for the repetitive dull flavors used by regular brands.
I tried reinstating the habit as I have been living away from home for long and have been trying to take good care of health by cooking food at home. However, the instant noodles brands in the market had stopped appealing for long since it became 'the same old, old same'. No innovation or little in the spice mix which tasted mundane and foreign at time, which hardly appeals to our Indian taste buds!
 I got (fortunately) introduced to the range of biryani noodles by INBISCO! The dainty packed small packages come at a very affordable price range and the small pack of spice mix which I fondly call as 'my happy mix'! Yes, the spice mix retains the charm of the much-coveted Indian biryani masala! The aroma filled my kitchen as I added it to water. When I tried it, it exceeded my expectation and tasted amazing!
All the 14 spices and more and made way into the humble spice Sachs in a balanced way, churning out the authentic taste of good old rice and meat dish which is otherwise a considerably heavy meal on its own. I think this generation of biryani lovers will forever remain indebted to INBISCO for making this Innovation! We all have those specific hunger cravings from time to time! The biryani cravings could be a bit weary with the dish's richness and impact on health. There, INBISCO comes to your rescue with the new Biryani noodles!
It was a monsoon afternoon in Bangalore. On top of that, it was weekend too! The mood was more as if, 'today I will just stay at home and chill'. I could either order food from outside, which is an expensive deal or just take quick resort to my comfort food shelf. Yes, I have an entire shelf dedicated in my kitchen that stores the quick and ready to eat packets. A big saviour in this fast life, I tell you! A quick glance into it made me pretty intrigued about the packaging of INBISCO biryani noodles.
I am a sort of OCD when it comes to food items and makes sure to check the ingredients et al before making use of a packed food deal. I had to check! The packaging is pretty with bright colors and a visual dose of remnants of biryani spices! What better comfort food could feature in a hungry person's life when the lucrative flavors of biryani loom large in the kitchen? That too, without the weight of a real heavy meal of meat and rice? I should make myself clear, I guess. I love biryani and have nothing against the iconic dish. However, I must confess, a regular intake of biryani makes me feel sick and bloated. Especially now that cooking at home is my primary motivation to de-stress and get better at it, eventually.
It is of little surprise when I get sold to the idea of biryani noodle at the drop of an eyelid!
I was born and raised in Kolkata when the Lucknow Nawab Wajed Ali shah innovated a completely different genre of biryani inspired by local food habit. It was low on spice quotient, high on flavors. It also took a special appearance with the addition of a whole piece of potato and a humble boiled egg. The egg was my incentive as a child. The white oval shaped piece added an instant mellowness to the dish, which I wanted to retain in my kitchen too! Needless to say, I took out the last of two eggs from my fridge in order to cook this instant biryani noodle by INBISCO. I half-boiled them and added to the gravy to attain an even better look! To my friend, it looked like the boat noodle they serve in Thailand.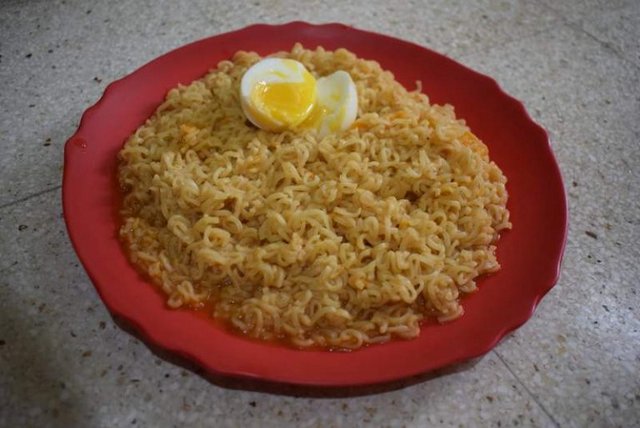 The beauty of an egg yolk melting in seamlessly!
Among other reasons, I highly recommend this noodle for biryani lovers as it is easy to cook, just take two minutes to prepare, can be made in a microwave, goes with the fast lifestyle and appeals with a distinctive Indian taste, thanks to the amazing spice mixture. When are you going to try your tryst with noodle biryani?
You can stay in touch with us on Facebook, Instagram, Twitter!
Please note, this post may contain an affiliate link. Do read our disclosure!
Want to book a stay in India?