With a penchant for writing and photography, I have contributed to the following Newspapers, online and print magazines and reputed travel sites apart from authoring Orange Wayfarer. Few of my photographs (wild life and nature niche) have been featured as well.
10 places to visit on Valentines Day: Published on National Herald
Published on Inside Himalaya
On walking safari in The Chitwan National Park
A Home Away from Home in Tansen, Nepal
An Epic Road Trip in Arunachal Pradesh
Women take the lead, Bringing back Manas National Park from the brink of extinction: Published on Oowomaniya
Published in Explore Wild India, November 2018: The Story of a flying Peacock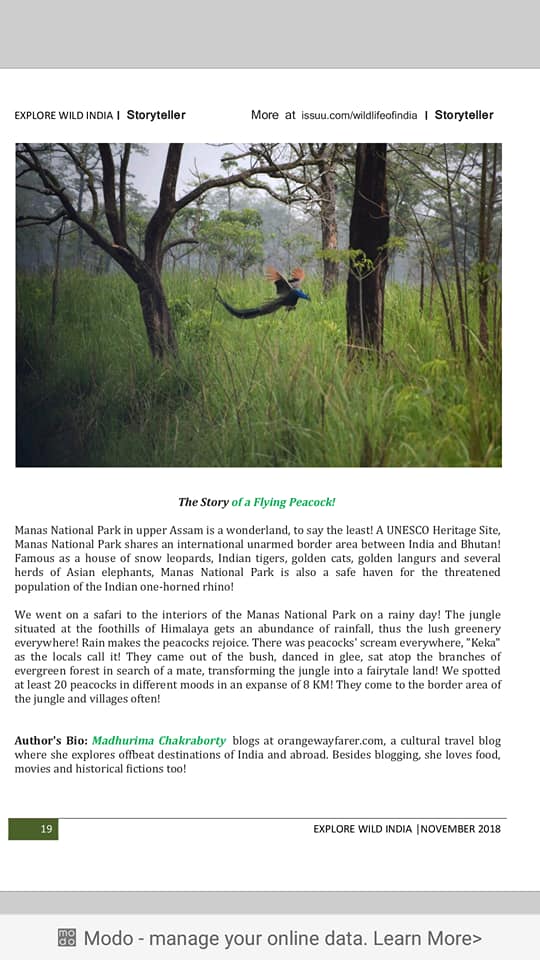 Essential Travel Tips for the First Time Visitor to India by a Local ! on the Unusual Travel
Published on: Nomadic Shoes Interview Series!
Destination Guide- Kerala: Published on Female Travel Bloggers website
A local's guide to Delhi, India: published in Earth's Attractions
Top 10 Things to know about India before Traveling: Published on Travel PRwave
Discussing Poverty; Interview with a Privileged Indian Woman: Published on Travel For a Difference Blog
A Date with Kuang Si Falls, Luang Prabang: Published on Mekong Moments
Kuang Si Waterfall, Luang Prabang: Published on Inspiring Laos
Very Rough City Guide – Bangalore: published on Add Some Curry
Contribution to Inditales
In Search of the Kalibari of Kolkata
Colours of Naropa Festival, Ladakh
Contribution to Romancing the Planet
Solo Traveling: Is India Safe for Women?
Ordeals of a Solo Female Traveler: Published on Footlose Dev
A Foodies Guide to Kolkata, India: published on Go Beyond Bounds
Contributed to Light Travel Action
Guide to Explore Fatehpur Sikri
Guide to Explore Bangalore Palace
Exploring Vietnam in 10 days: Published on Globetrove
Contributed to Roamscapes: Thrift Shopping in Expensive Cities!
Contributed to Things to do and eat: Countries vulnerable to climate change
Contributed to A Traveling Translator: Stories of Street Harrasment from Women Traveling Around the World
Media Mentions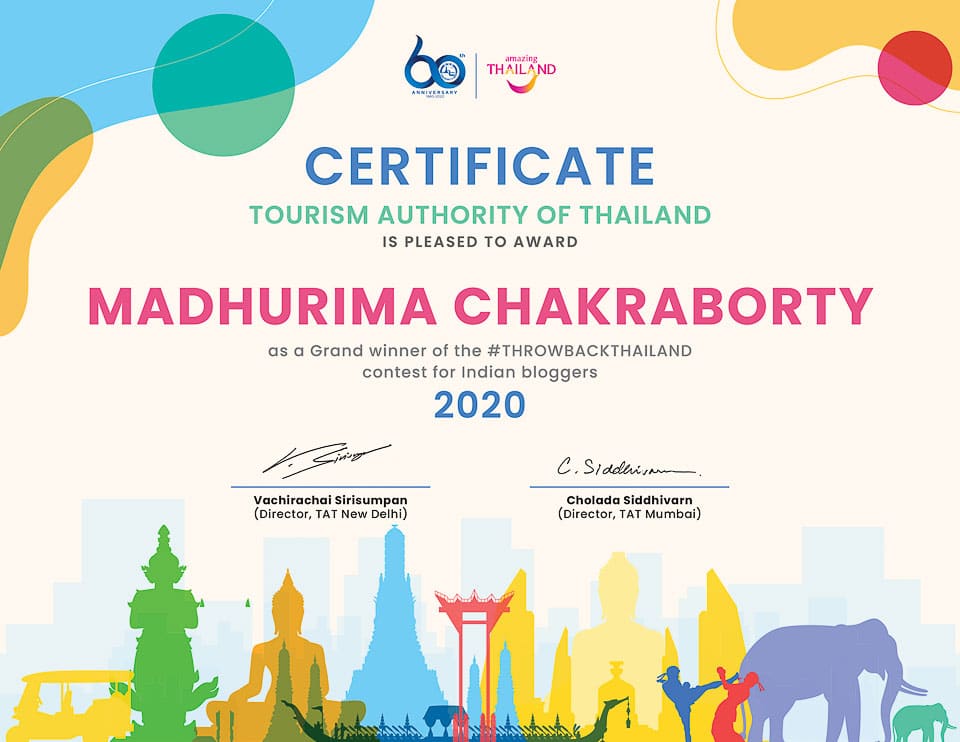 Winner of TAT India 2020 Throwback Thailand Contest
Featured on Wiki Ezvid for 6 Women Sharing Original Perspectives On Travel
Winner of TAT Newsroom Blogging Competition 2019
Featured as one of the 9 Cultural travel Blogs of the World by Trippler
Orange Wayfarer was included in the list of Top Travel Blogs 2019 by Gary Arndt from Everything Everywhere.
Top Travel Influencers To Watch Out For In 2019: featured on Insta Travel Style
50 Travel Bloggers to follow: featured on Soapbox
Featured as a Travel Photographer
Published on Aajkal, a Bengali print newspaper. Link here.
Featured on Nat Geo India Instagram Account.
Featured on Jannatehimachal, Uttarakhandheaven
Featured on Female Travel Bloggers Instagram handle!
Featured on Streets of Assam