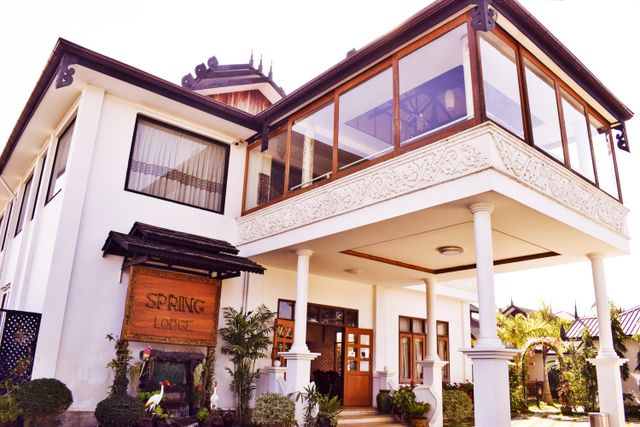 The calm and quaint neighbourhood of Nyaungshwe township is getting startled with daily noise of construction work as Myanmar opened her border for the rest of the world. Tourists flock to Inle Lake, the largest water body in the region dotted with floating villages. Pristine village life unfolds here at the lap of nature as the cycle of a new school of migratory seagulls return to Inle Lake's shore!
Amidst all these, Spring Inle lodge, a boutique hotel with bespoke service, emphasising on quality over quantity stand apart from the hustle and welcomes guests, especially families with a touch of romanticism.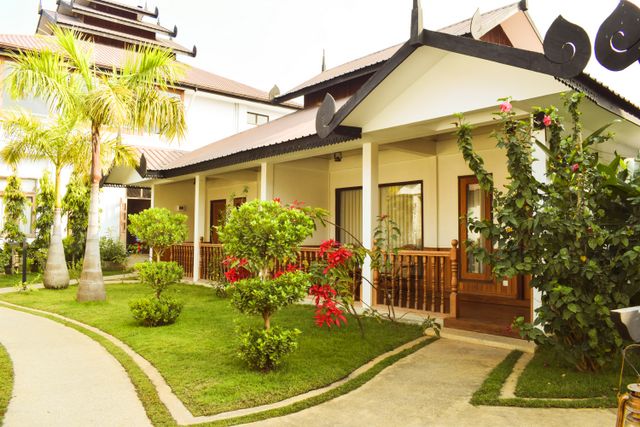 We were dropped off near the main pier by JJ bus and decided to walk to the hotel. You can definitely opt for one of those iconic rickshaws of Myanmar with seats tucked in with care by the body of a bike. We preferred the walk as the road opens to a quiet boulevard with paddy field and lush greenery in abundance on each side. It is the path less taken, we learnt later.
Borrow a bike from Spring Inle Lodge and cycle through the sleepy village. Locals sell sugarcane and fresh catch of from the backward (yes, not kidding) on the road from their cane basket. Sun leisurely bids adieu by the edge of the Shan mountains, parting with waterborne villages with a warm golden kiss!
Spring Lodge Inle lays out stunningly beautiful bed for the discerning travelling family. An ivory white canopy is set atop the bed. Fleeting glimpses come in mind from the houses of 19th street Rangoon. The households would have a pretty mosquito net just like this! All white, making it almost surreal to believe the soul purpose of the cover is to bar mosquitoes and insect making an entry to your sleeping cave!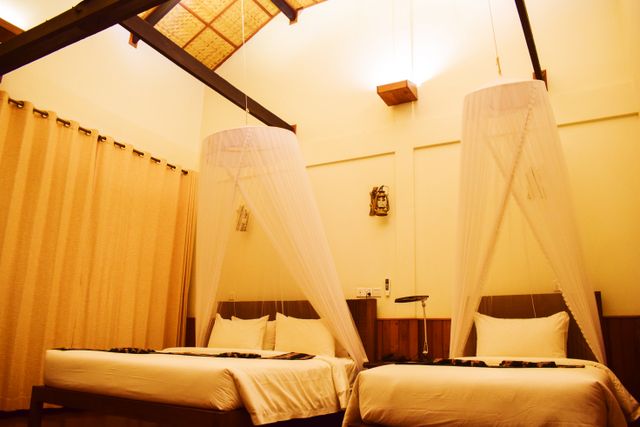 The rooms are spacious. A very high ceiling makes them look even bigger! Minimalistic wood furnitures adorn the room. A couple of arm chairs are set strategically by the side of the bed. You can either make them your work station or indulge in a late night TV show from there!
Meanwhile a couple of beautiful ladies of Intha tribe look at you from the mural painted on the wall! Under the dim yellow light, they almost look alive.
Besides ritualistic amenities, the huge bathroom of Spring Inle Lodge is decked up with shower panel, bathtub and a big mirror.
The property is a built up of 14 bungalow styled independent accommodations. They are complete with a small garden in front, a few local flowers blooming in glee. A pair of cane chairs is set on the balcony where you can relish your evening fruit basket. The famous Jujube fruits of Shan region is served every day!
I had to pull a Charulata pose using those beautiful bed and my red Dhakai saree!
Spring Lodge Inle: A choice for responsible tourists
Nature is omnipresent in the property. From small reminders of reusing towels unless otherwise pressed to covering up the AC enclosure with lots of foliages, Spring Lodge Inle has paved its own way to make a sustainable impact on the environment. There are bicycles in the campus. You can borrow one.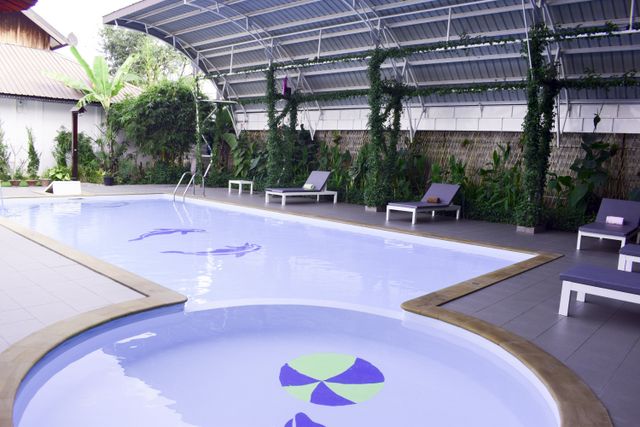 The pool area is inviting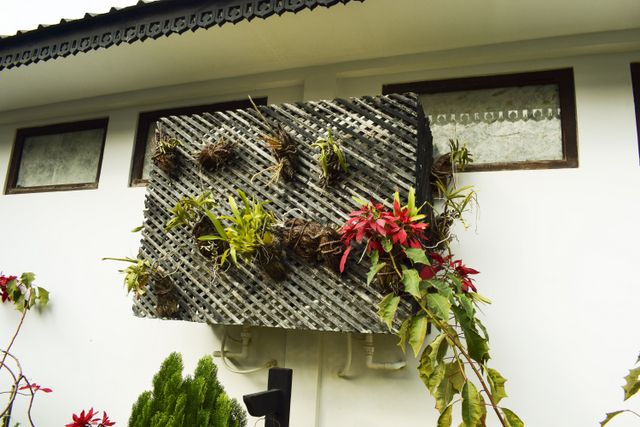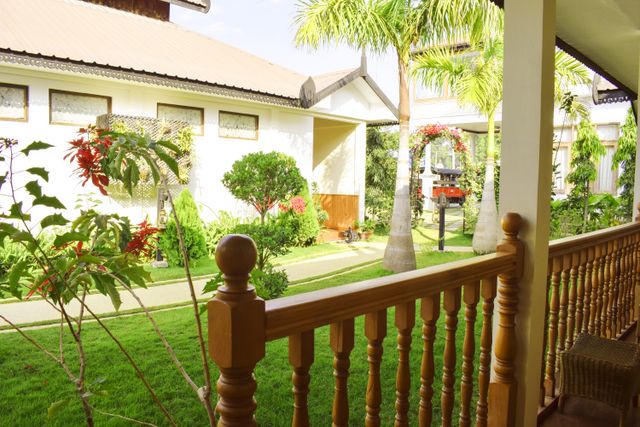 greens soothing eyes!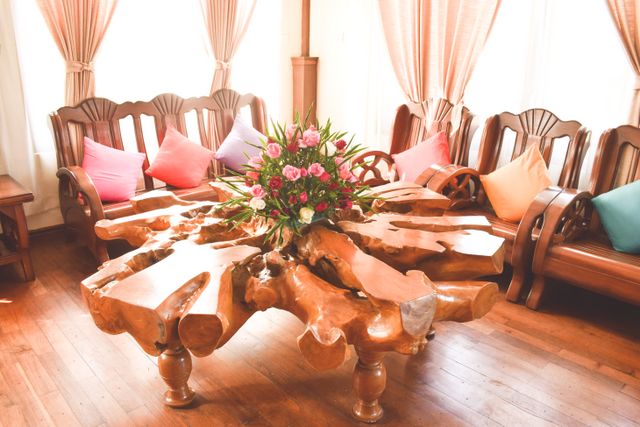 Not to be outdone, the hotel's dining area. It is where you can indulge in a sumptuous breakfast. The mountain range nod in approval from afar. At night, you will be spoiled for choices as happy hour beckons. Those included to party the night away can opt for delicate cocktails served alongside Shan cuisine special food. The menu includes food from Shan state, Thai, Italian or Indian choices.
No gym? no problem! Sayantan headed straight towards the well kempt swimming pool! If looking at Inle had had you willing to jump staight into the lake, hold on till you get back to the hotel for a more hygeinic experience.
Sunshine on my plate 😀
The water kingdom of Inle region can be explored by boat rides, trekking to the surrounding lesser known villages, exploring pagodas, hiking mountain trails (there are plenty of routes and they assure a beautiful view from the top) and taking a ride to the nearby tribal villages. You can get all these rides sorted through Spring Inle Lodge Lake.
We were hosted at the Spring Lodge Inle for a couple of nights and mind-blown by their cordial hospitality. All opinions are our own and a result of services as experienced.
You can book with them directly from the website.
Practical tips while staying with Spring Inle Lodge!
The duplex bungalows are non-smoking. You can use the balcony instead.
Each room has two beds and can easily accommodate 3 adults or a family of 3.
It is situated at Nyaungshwe area.
The pier is at walking distance of 5 minutes.
The hotel has a bar. Set menus are available from different cuisine (thai, India, Shan, Italian) which needs to be ordered in a couple of hours prior.
Wifi is available in the property.
Swimming pool may look small in pictures but it is actually pretty big as I experienced. A lot of greens surround the area.
Away from the bustle of the town Nyaungshwe, Spring Inle Lodge is a tranquil abode which basically ampliflies your travel experience at Inle.
Pin it for later!
Let's stay connected on Facebook, Instagram, Twitter!
This post may contain affiliate links. Please read the disclosure post. If you have liked the article, you may support it by buying using these links without any extra cost to you.