During the period of Lockdown, I grew a garden at my apartment terrace. I hardly had time for rearing a new life otherwise but year 2020 is different. I breathe every moment and I find gratitude for the privilege, to sum it up in one sentence. 
Miracle happened when I spotted a new sprout of white gourd growing in a healthy manner and catching hold of the railing. I tried to grow white gourd (Lau) for a long period of time but in vain. I have fond memories of dadubari's balcony being bent with the weight of a Lau Gach (white gourd plant), fully grown and nourished with the richness usually found in alluvial soil of Gangetic delta. Once in a month, Dadu and I would go with the basket and trim the plant, keep the tender end in the bamboo basket, be weary of Laudoga shaap (green vine snake) all the while and wonder at the wealth of the creeper! It started as a tiny shoot but climbed atop the first floor at ease and would have claimed the whole of the rooftop had we not kept a check! 
For more recipes, check out Cookbook!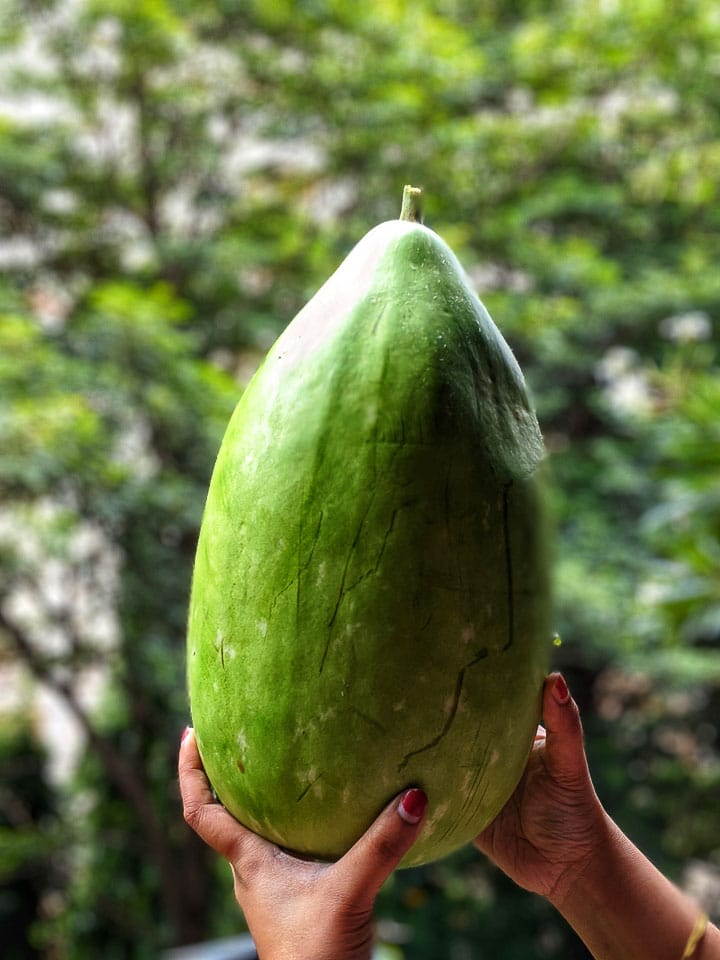 The one that grew at my house, I suppose, came from behala too. I bought a number of plant seeds from a man sitting opposite Haji Ali Biryani center at Behala Tram Depot. I remember buying red spinach, pumpkin, bitter gourd, white gourd and cauliflower among others. I tried to grow vegetables from what we eat as well and for the most part of it, the latter worked.
The white gourds grew up to two fully matured leaves until they died an untimely death. But this Annabel Lee was to live and thrive and grow fruits and leave a legacy and how! Within a few weeks, she started to reach out for my neighbours, both upstairs and downstairs. People suggested I build a "Macha", a support system for the creeper. I showed it the tall hibiscus tree and it embraced the big brother with glee. Before we knew, flowers bloomed in and it followed up with white gourds!
Beautiful white gourds came in an elongated size. It was huge, more than 4 kg each! I had a total of 4 white gourds. I think I could have grown more if only I could have given the creeper enough support. But at that time, the world was under lockdown and we had no one to share the joy of those kitchen garden produce. I recall S sending a large gourd to his manager one afternoon. Everyone else we knew in Bangalore had moved out of the city.
We tried every dish we knew about white gourd. Then we started to experiment. Lau diye Daal (Moong daal with white gourd), Lau diye macher matha (white gourd with fish head), Lau Posto (Wite gourd in poppy seed paste), Lau er khosha bata (white gourd skin mashed), Lau patar paturi (leaves used for steamed fish items), you name it you get it! But the one we loved the most was Lau diye Chingri! Prawns cooked with white gourd. A classical Bengal recipe served as a main course with melt in your mouth buttery texture!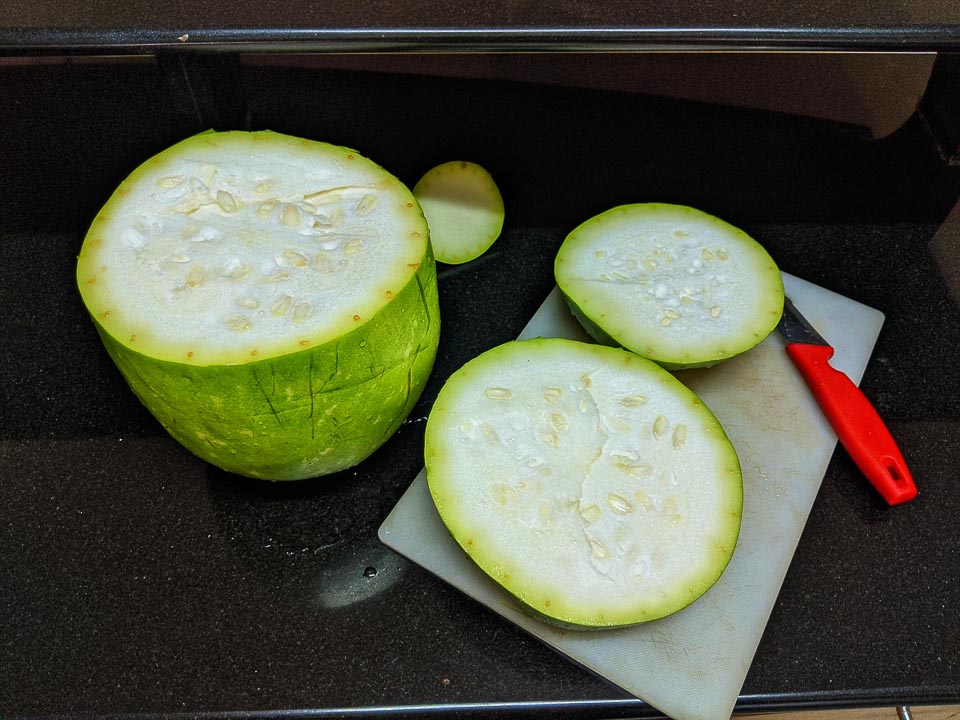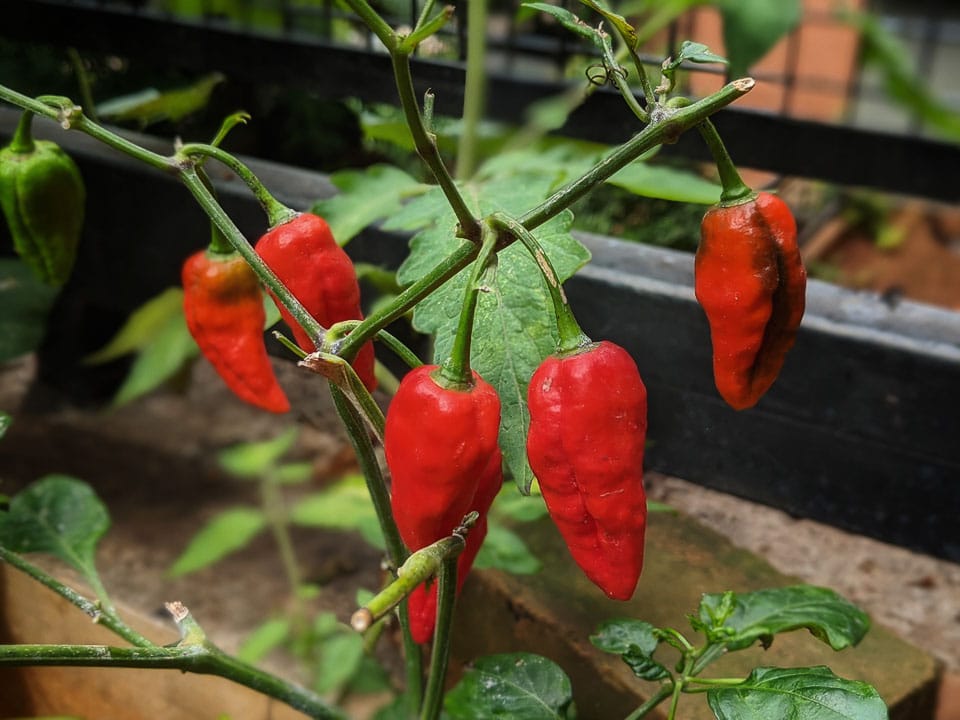 Ingredients for cooking Lau Chingri
White gourd (Lau) : 2 kg
Prawns (medium sized, deveined and deshelled): 1 kg
Mustard Oil
Cumin Seeds
Moong daal
Bay leaf
Dried Red Chilies
Green chilies
Ginger Paste
Turmeric
Salt to taste
Coriander leaves
Procedure for cooking Lau Chingri
Marinate Prawns in salt and turmeric. Fry the prawns separately. Deep fry them on a high flame for a crispy texture. Fry for not more than two minutes.
Heat mustard oil. Temple with bay leaves, red chilies (dried), green chilies, cumin and a few Moong daal grains.
Add ginger paste and turmeric. Fry.
Add diced white gourds (lau) to it and cook for 30 minutes with lid on.
Add the prawns and cook for another 15 minutes. Adjust seasoning.
Garnish with coriander leaves. Serve with rice or roti.
If you want a vegan friendly option, replace the prawns with Bodi. Works wonder too!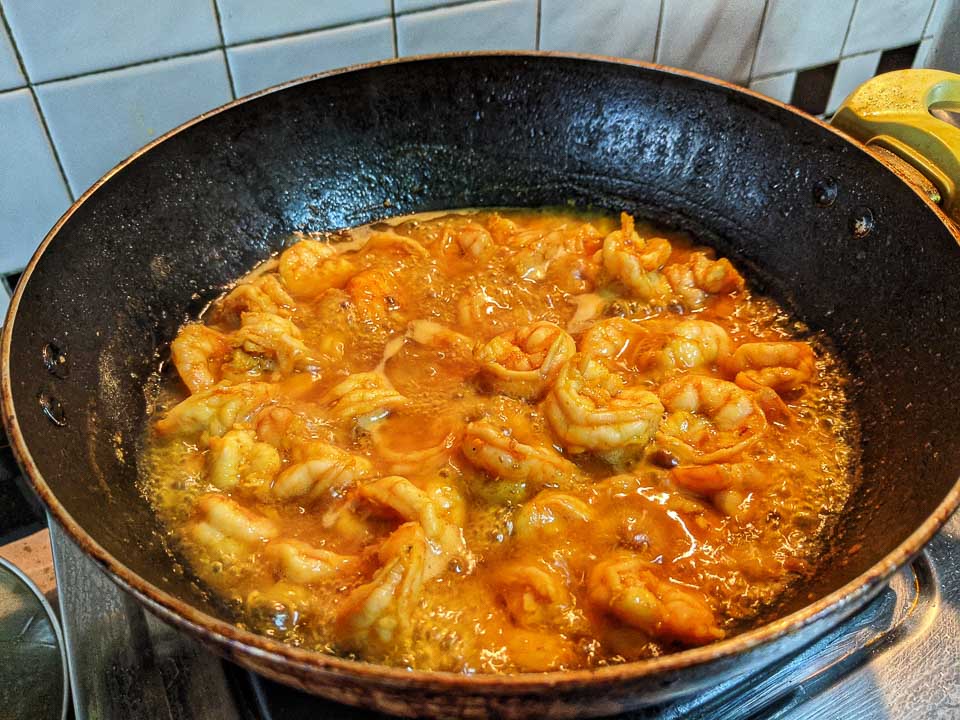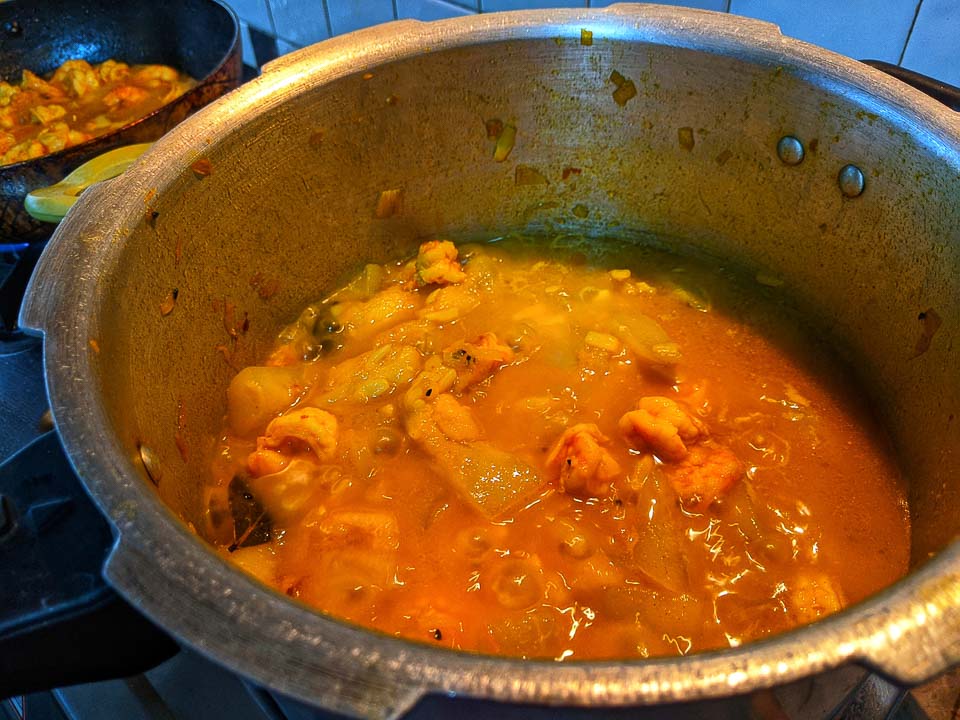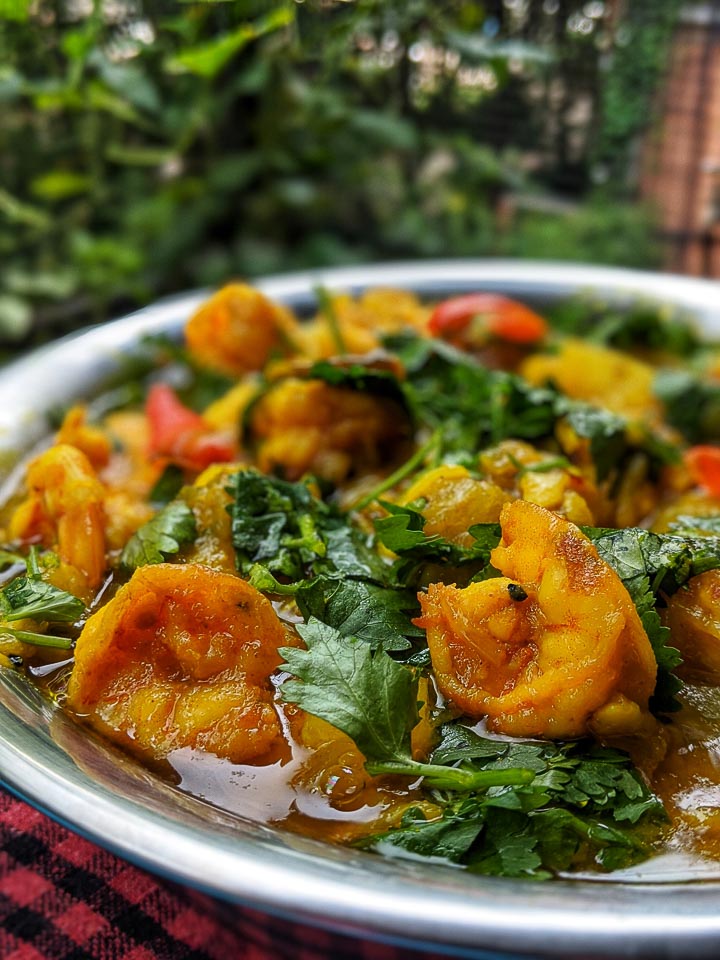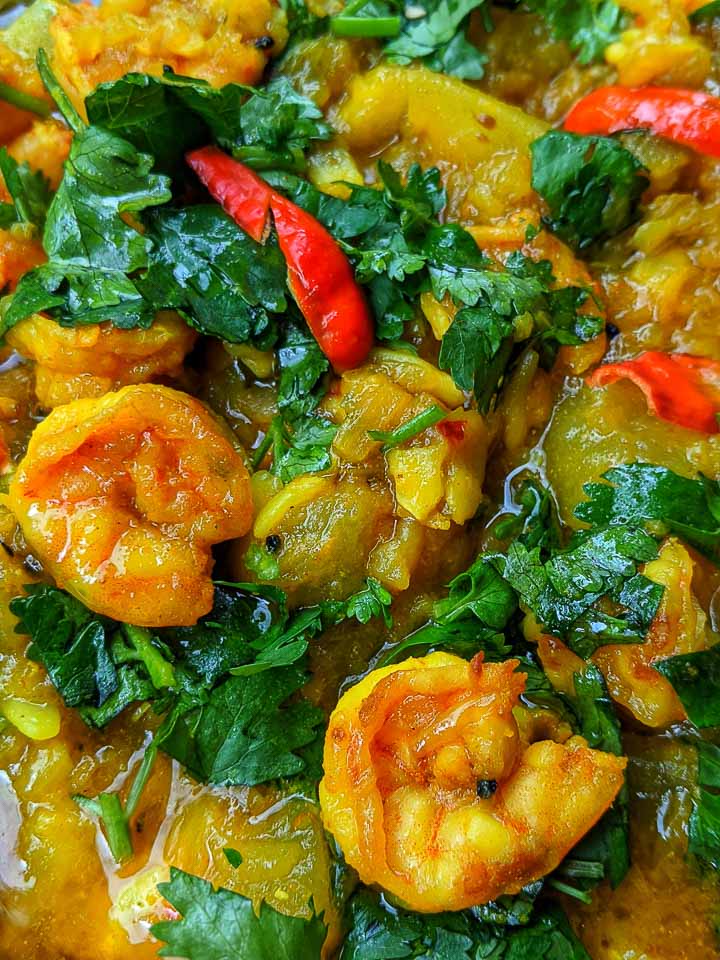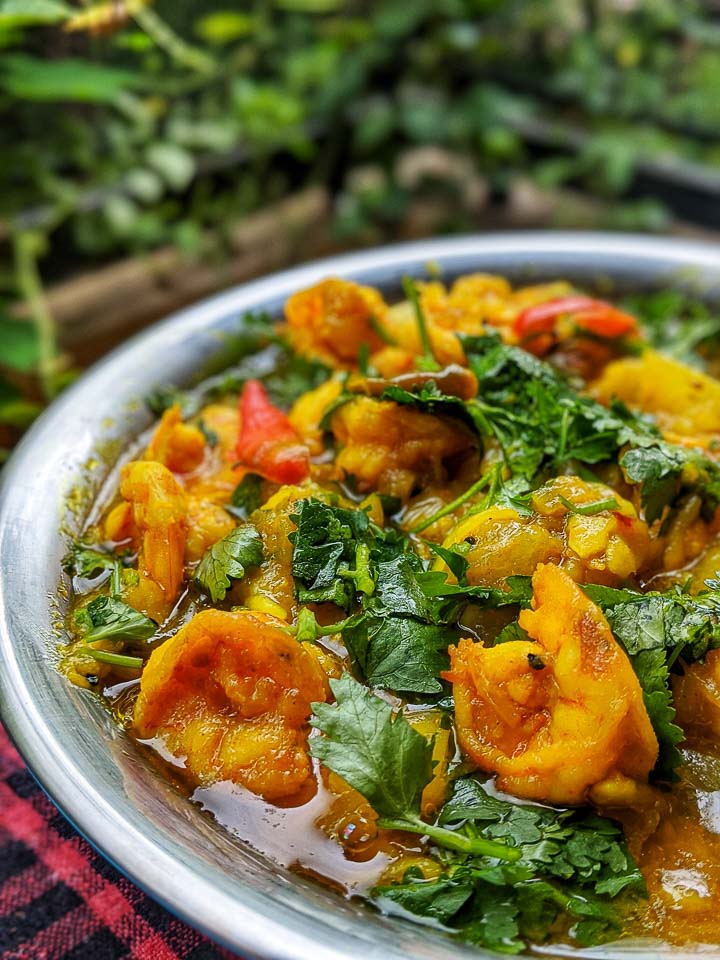 ---
This post may contain affiliate links. Please read the disclosure post. If you have liked the article, you may support it by buying using these links without any extra cost to you.
Let's stay connected on Facebook, Instagram, Twitter! You may also consider joining my mailing list. I send travel and photography related emails only once a month!