Cinema as an influencing medium has had immense impact on mass psyche. It evidently plays a huge role in the whole making and unmaking process of a destination. In yesteryears, it had been travelogues. That remains true. But movie as a medium has evidently reached a greater population.
Even before I had an iota of idea of Greece as a nation state, I knew about the heydays of mighty Greek civilization. The conquests of Alexander the great, whom we Indians call as the Iskandar. His army and tribesmen remain in the safe haven of the Himalayas, at the mystic Aryan valley of Kargil. I could easily visualize the rise and fall of many Greek empires,
Romantic escapades of the princesses, politics and conspiracies of prime characters at the backdrop of the great Greek epic, Iliad and Odyssey. I get goosebumps even till this day, thinking of the demons and the wrath of the Greek Gods. Growing up, I found them coming live on the TV screen, in the form of many movies. The Greek culture and rich food heritage intrigued me. I closely followed many visual manifestations of the Greek cultural celebration. Thus, the economic crisis of Greece back in 2016 felt personal to me, as I prepared my notes for a presentation at the MBA school. Where are you, Alexander? I almost whispered!
Anyway, here is a compilation of the movies that will take you through the cultural heritage of Greece. Not just a nation full of beautiful scenic islands, Greece is the birthplace of one of the iconic and oldest human civilizations on this Earth! These movies are a proud portrayal of Greece! Watch them before you plan a trip of a lifetime to Greece and you will have an immersive experience during your travels in the offbeat Greek landscapes!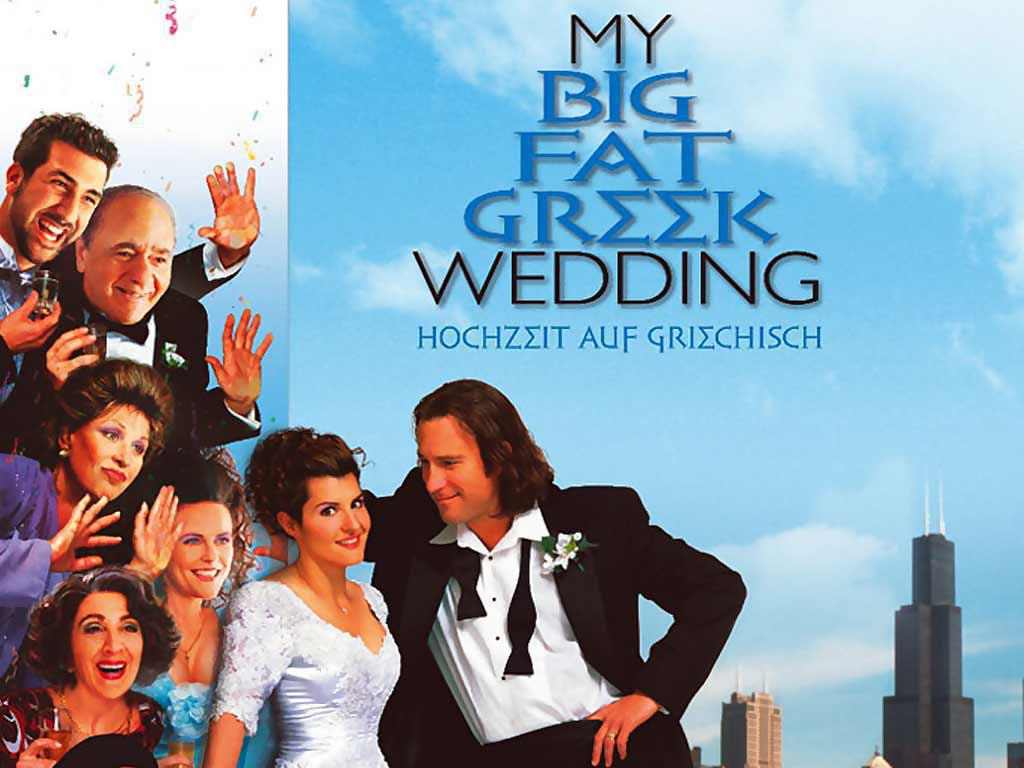 My Big Fat Greek Wedding (2002)
IMDB: 6.6
Directed by Zoel Zwick, My Big Fat Greek Wedding is relatable for multiple reasons. Here is a American woman with Greek ancestry who falls for a non Greek man. She struggles to make her family accept the man and arranges for an Old Orthodox Christian wedding. All the while, her father, who is the sweetest father on the earth in my honest opinion, is afraid his daughter will be leaving behind her cultural heritage and Greek identity. I related the most with her father in the entire movie!
The movie is not exactly set in Greece. However, there is ample example of Greek culinary heritage. The best part is there is a wedding, a Greek wedding with endless laughter, an elaborate large family, and plenty of food and Greek moonshine! You should totally watch it if you love familial celebrations! I am an Asian woman. I loved it!
My Big Fat Greek Wedding is filmed in English. There is a sequel to the film, which has more appearance by the father. The movie is shot in America. The backdrop, dresses, food, lifestyle: everything is American. However, the human values, religious adherence, historical anecdotes, like the grandmother cursing the Turkish invaders, the father over emphasizing on a Greek nuptial bond: all reminds you of a land they have been uprooted from. despite that, their love for Greece is overpowering!
I recommend this movie as a light family watch, as it is a romantic family drama.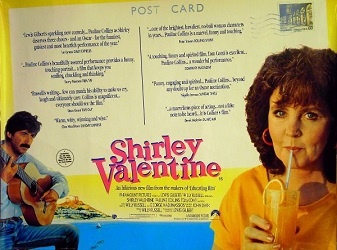 Shirley Valentine (1989)
IMDb: 7.2
Directed by Lewis Gilbert, Shirley Valentine is a British Romantic Comedy. The film portrays the mundane life of a British housewife in her early 40s. However, she joins her friend on a trip to Greece. That decision legit changed her life! The journey to Greece actually proved to be an inward journey for Shirley where she found her inner self, and agreed to shed many inhibitions. The swimming scene where she is baring herself in the sea for the lack of a swimsuit is actually a metaphor for her celebrating herself for what she is!
It is a beautiful film that makes you feel good about yourself, and reinstates it is possible to restart life and set new priorities beyond societal conditioning!
The backdrop of the film looks dreamy indeed as it was mostly filmed at a few of the finest beaches of Mykonos island in Greece.
Shirley valentine was portrayed by Paulline Collins who won an Academy award for her portrayal of the protagonist.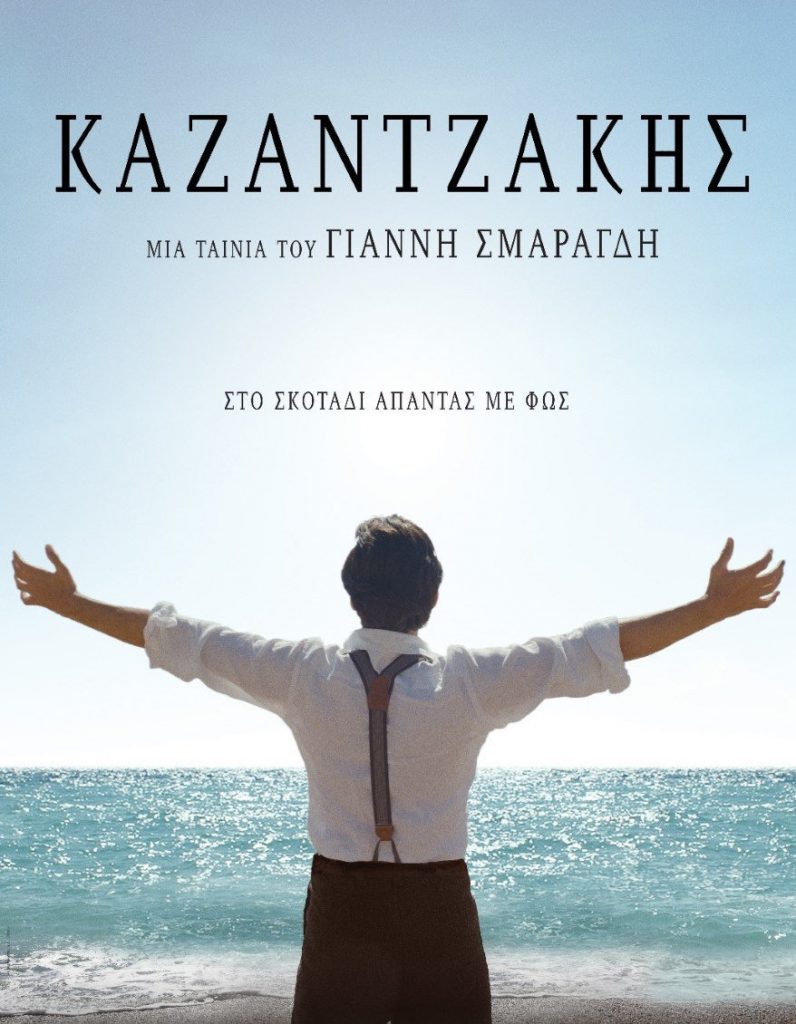 Kazantzakis (2017)
IMDB: 6.2
Kazantzakis is a biographical film based on the life of prominent author Nikos Kazantzakis set in Crete. The film has garnered mixed reviews from the critics due to production design.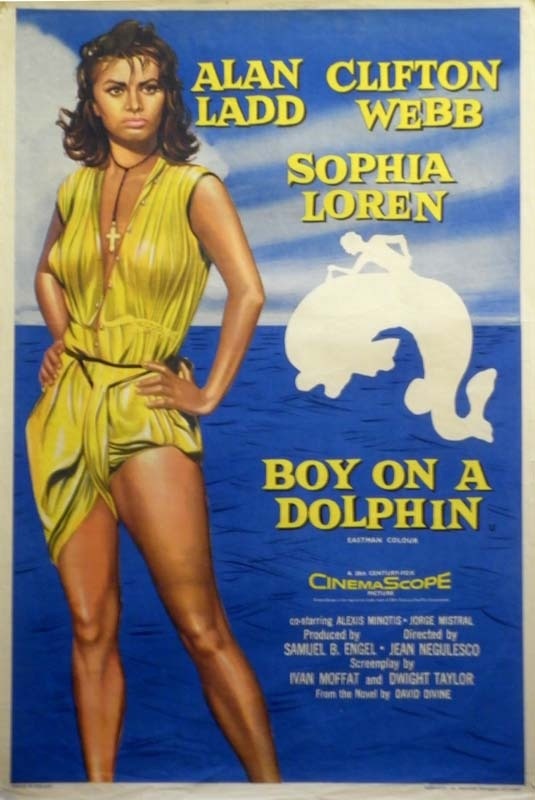 Boy on a Dolphin (1957)
IMDB rating: 6.2
The first Hollywood film shot in Greece, Boy on a Dolphin is a classic adventure film. Set in the island of Hydra, Phaedra, a diver finds a lost Greek statue of a boy standing on dolphin from the bed of Aegean Sea! The statue is believed to bring fortune for the city of Hydra but bidders dealing with historic artefacts are keen of procuring the heritage. You will get glimpses of destinations like Athens, Rhodes and Delos, Cinecittà in Rome, the Eastern Orthodox monastery complex at Metéora.
There's a tale that they tell of a dolphin

And a boy made of gold.

With the shells and the pearls in the deep,

He has lain many years fast asleep

What they tell of the boy on a dolphin,

Who can say if it's true?

Should he rise from the depths of the ocean,

Any wish that you wish may come true.

You say "he's only a statue, and what can a statue achieve?"

And yet, while I'm gazing at you,

My heart tells my head to believe.

If the boy whom the gods have enchanted

Should arise from the sea,

And the wish of my heart could be granted,

I would wish that you loved only me.

What is this thing they call love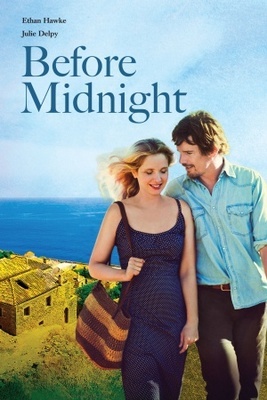 Before Midnight (2013)
IMDB: 7.9
If I am to name one movie that has inspired me to travel to Europe, and that is not a war film, it has to be Before Sunrise series! Two strangers meet on their way in Paris, they explore each other and the city together and thus, they start to share a beautiful relationship which eventually progressed towards a nuptial bond. What could be more romantic than this?
The lovers Jesse and Celine have grown older. Their fine and smooth faces are now painted in wrinkles and tiredness that is inevitable at 40s. They are parents of a twin who give them a run for energy. Love is now subtle connector between the couple. The wounds and hurts are more evident as they have matured in their relationship. An interesting conversation unfolds as they spend an idyllic vacation in Peloponnese. they look back at life, at the playful days of youth when they had impulsively de-boarded a train and embarked on a surprising journey that brought these two humans closer!
Before Midnight draws a perfect end to one of the best romantic trilogies of our time! We literally grew with the couple, believed in the ever after and when we are to near the happily ever after we are prepared how distant it is from the made up romance. rather, reconciliation and love as a bond is based of accepting the imperfect yet beautiful conjugal survival!
Do watch Before Midnight. Not just this but watch the whole trilogy! It would remain as one of your most intriguing cinematic experience ever!
The Big Blue (1988)
IMDB: 7.6
Shot at the Greek island of Amorgos, The Big Blue is a French film. It is a cult classic among the divers' fraternity, telling the gripping story of two divers who remained friends since childhood yet somehow got entangled in the diving rivalry. The film drew inspiration from real life famous divers: Jacques Mayol and Enzo Maiorca. The film portrays beautiful images from underwater, showcases human aquatic potential and empathy between friends at extreme situations. I absolutely adore the metaphor shown through the dolphin by the end of the film, that takes life back to the sea!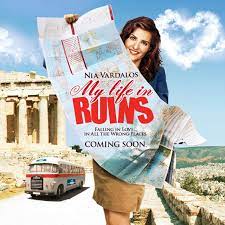 My Life In Ruins (2009)
IMDb: 5.9
A romantic comedy set in the ruins of ancient Greece, My life in Ruins tells the tale of a tour guide. The film was briefly shot at Acropolis. the film revolves around the story of an ex teacher who lost her teaching job and is struggling to hold on to the new job which clearly tastes her capacity to cope and adjust. the backdrop of the film lets you take a sneak peak to the ancient wonders of Greece, like Olympics or Parthenon etc. Nia Vardalos, who starred in My Big Fat Greek Wedding appears in this film yet again however could not please the critics like before. You would know why if you watch the film. I do not complain though since I get to see Greece nonetheless!
Hercules (2014)
IMDb: 6
Based on a graphic novel on the same name, Hercules is a million USD budget Hollywood film based on a fictional adventure of the iconic Greek hero! The movie Hercules as the name suggests is based on fantasy genre. As the story suggests, Hercules the son of Zeus and a Greek woman travels as a mercenary for payment in gold. However, he emerges as a true warrior when the time comes to save the kingdom of Thrace against savages! If you love entertaining movies with great locales serving as a backdrop for the shoot, this movie is for you. Though the movie was shot mostly in Hungary and Italy, it has many Greek cultural nuances.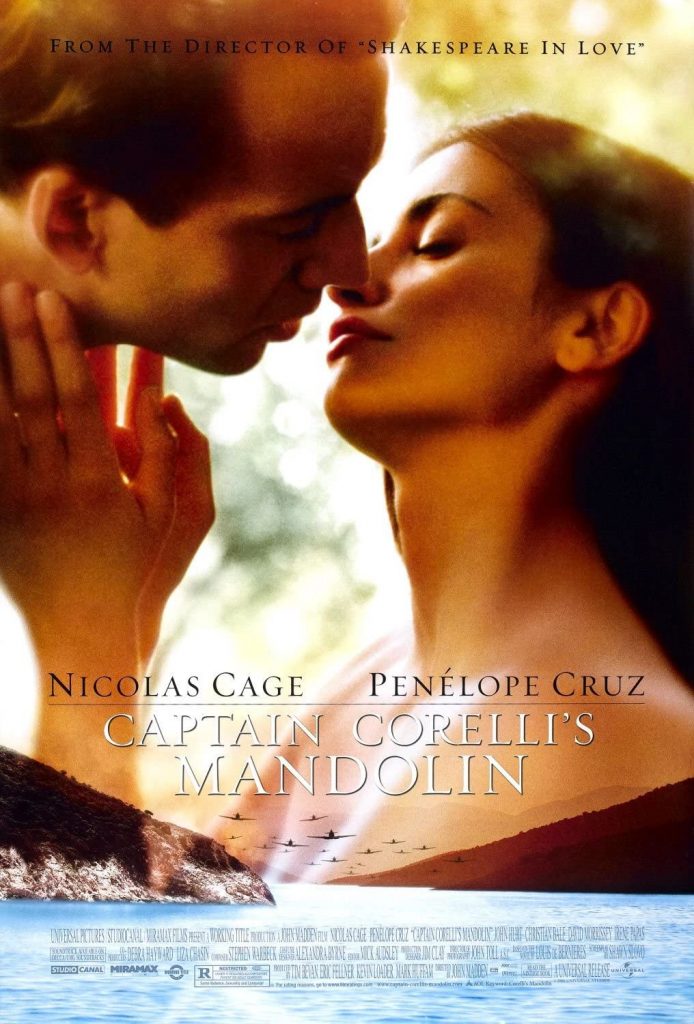 Captain Correlli's Mandolin (2001)
IMDb: 5.9
The azure blue waves of the beautiful Greek island Kefalonia served as the backdrop of Captain Corelli's Mandolin, a movie based in Greece! It is one thing I looked up for the movie to watch Penelope Cruise on screen. I just love this beautiful woman.
Love blossoms between a Greek local girl and an Italian commander at the onset on world war two. However, the woman protagonist has already given her word to a Greek man who has set on sail to fight the war. Tumultuous days of world war two follows with myriad course of battles won and lost. Overall, Captain Corelli's Mandolin is a story of love and forgiveness in the face of an all engulfing war!
Sami, Antisamos beach and the surrounding hills became world famous in ensuing days as the filming location for this iconic film. The film is based on the novel of the same name written by British author Louis de Bernières, who elaborated a fictional story from the time of German and Italian occupation.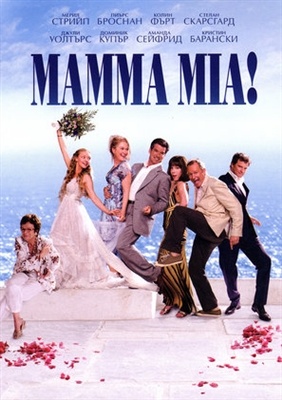 Mamma Mia (2008)
IMDb: 6.4
Mamma Mia was shot at the beautiful Greek island of Skopelos. The movie revolves around the protagonist girl inviting three men for her wedding and wishes to rekindle her mother's lost love. The mother is portrayed by none other than the immensely graceful, Meryl Streep who is the only saving grace of this otherwise lousy rom com. However, I watched the movie only to gawk at the incredible beauty of the island living of this small Greek village (Skepelos village and Pelion region).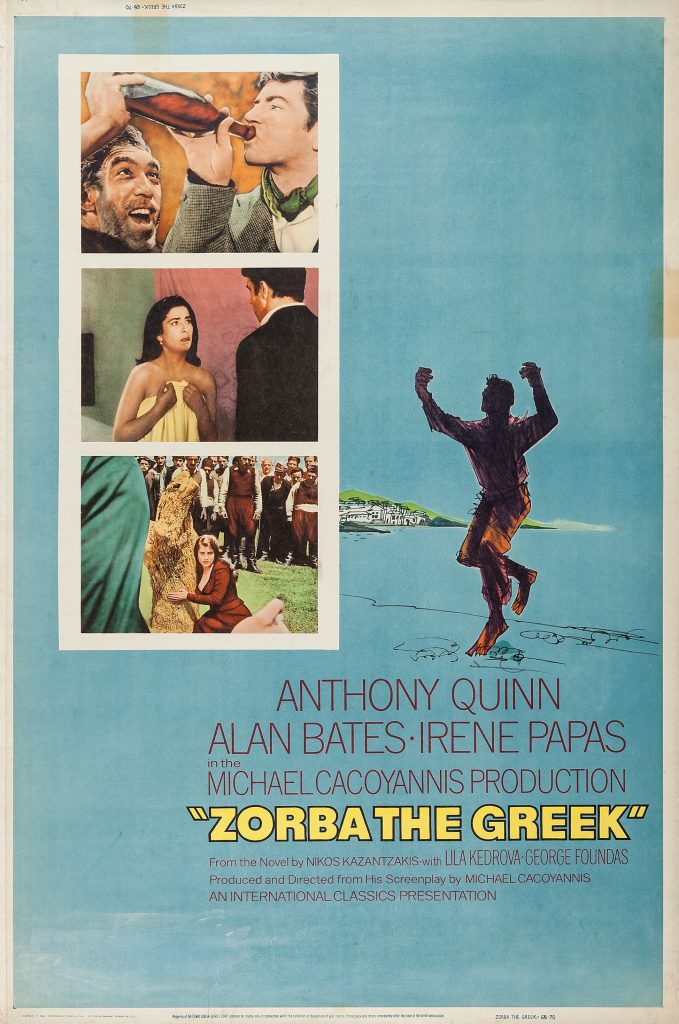 Zorba the Greek (1964)
IMDb: 6.4
Based in the beautiful greek island of Crete, Zorba the Greek is a B&W classic adapted from the novel Zorba the Greek; by Nikos Kazantza. You also get to see glimpses of the city of Chania, the village of Kokkino Chorio in the Apokoronas region and Stavros beach in the Akrotiri peninsula in the movie. It is a Greek comedy Drama and remains timeless in its appeal.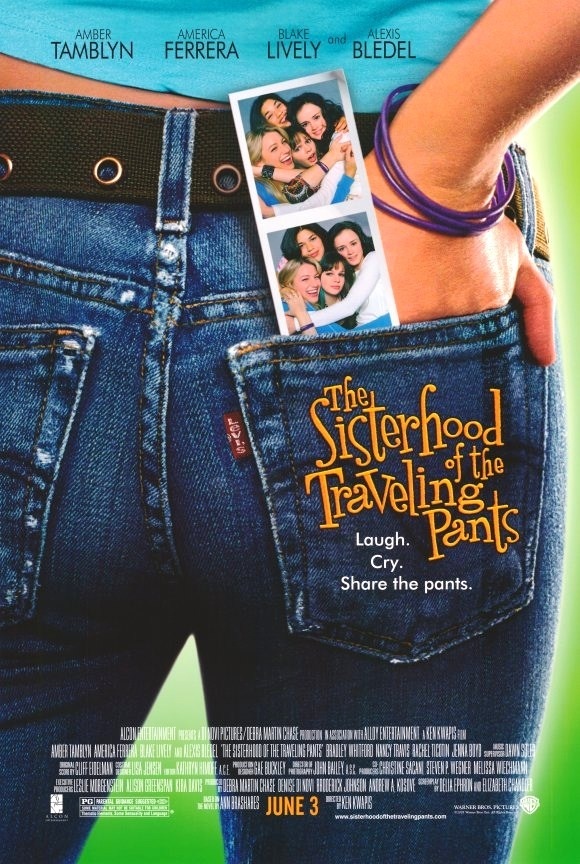 Sisterhood of the Traveling Pants (2005)
IMDb: 2005
The American comedy drama adapted by the novel of the same name is a story about friendship with explicit sexual content. A large part of the movie was shot at the dreamy Santorini island of Greece. I sat through a couple of hours only to have glimpses of that ethereal backdrop!
Mediterraneo (1991)
A group of Italian soldier from World War two gets stranded on an island on the aegean sea. The story unfolds with them eventually gelling well into the local greek way of life. It is a feel good movie set against stunning locales as backdrop.
The movie is filmed at the beautiful Greek island Mighisti.
IMDb: 7.5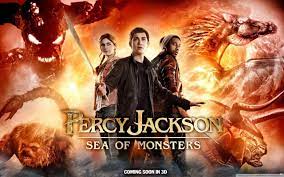 Percy Jackson and Sea of Monsters (2013)
IMDb: 5.8
The film adaption of the Greek mythology reinstates anyone with right moral compass can emerge as victorious and become the hero everyone worships. Though Greek in the feel and the storyline, the film was not shot in Greece.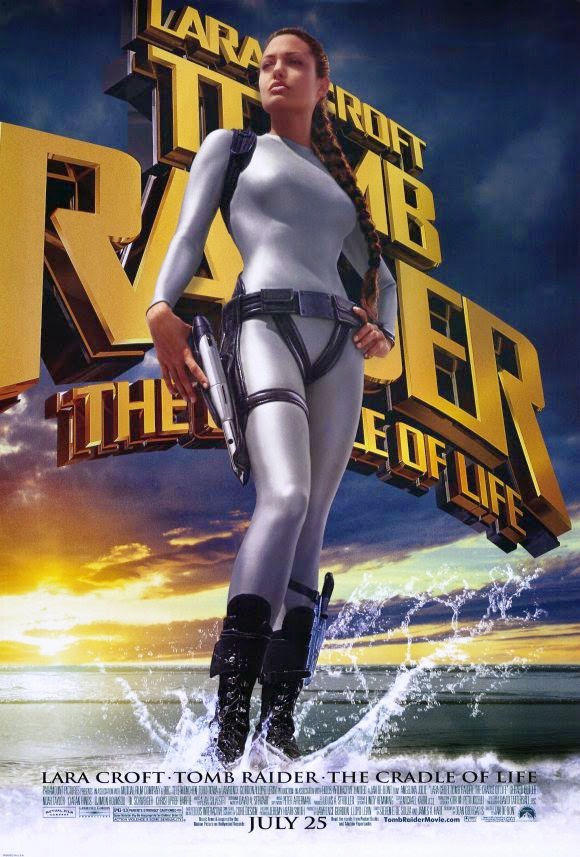 LARA CROFT TOMB RAIDER: THE CRADLE OF LIFE (2003)
IMDb: 5.6
Lara Croft races against time to find Pandora's Box, a weapon more powerful than you can ever imagine! The film was shot at multiple locations including Kenya but it has brief and beautiful moments in the Greek island of Santorini!
SUMMER LOVERS (1982)
IMDb: 5.8
A young American couple spends a beautiful vacation in Santorini until they meet a mysterious woman from Paris who creates new equation in their conjugal life. The film examines adventures and dynamics of a regular monogamous life at the backdrop of a free world where social prejudices does not create boundary for men and women!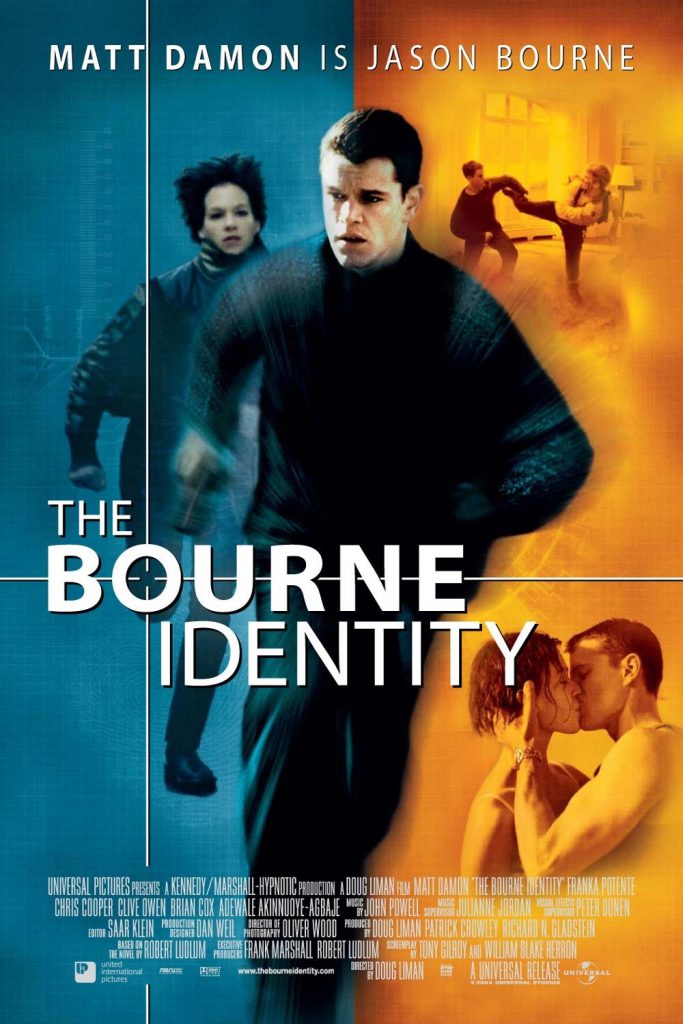 THE BOURNE IDENTITY (2002)
IMDb: 7.9
Shot at the impeccable Greek island of Mykonos, The Bourne Identity is an engrossing thriller. An action flic with high paced action and brilliant dialogues the Bourne identity shows the story of a man who wakes up with zero memory! His quest for the lost identity begins with a series of interesting incidents unfolding around. I wont talk more about it in the fear of giving out spoilers!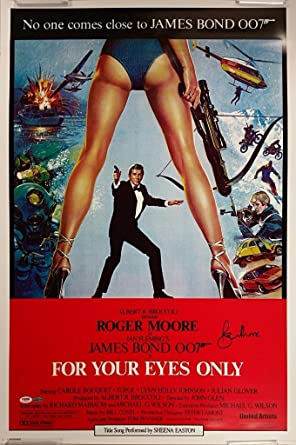 For Your Eyes Only (1981)
IMDb: 6.7
A Bond movie set in yester years, For your Eyes Only is about the 007 agent finding a missing British vessel. Parts of the movie is filmed at Meteora and Corfu in Greece!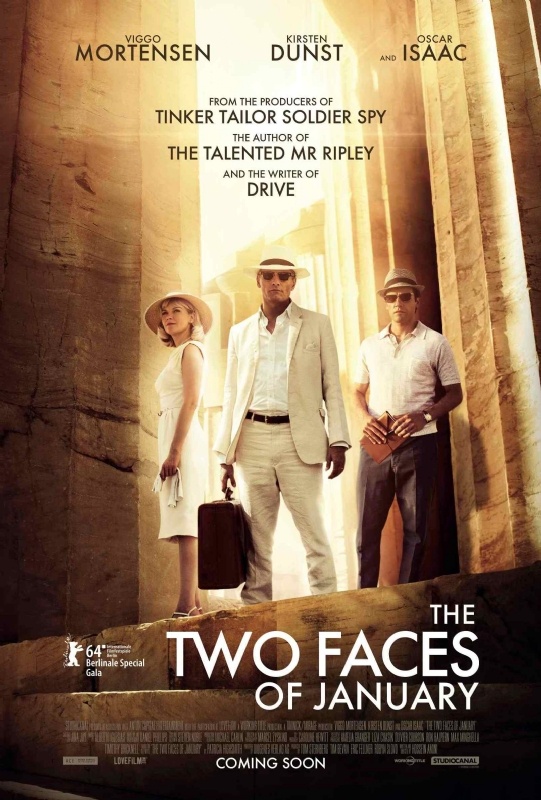 The Two Faces of January (2014)
IMDb: 6.2
A thriller set in Greece and Turkey, The Two Faces of January is an enjoyable watch with a storyline of a con man, his wife and a murdered detective.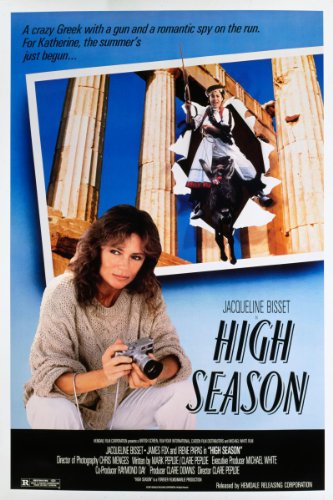 High Season (1988)
IMDb: 5.3
Set in the Greek island of Rhodes (which is the only reason why one should watch this- the scenic backdrop), the film is a British rom com that depicts the gradual transformation a sleepy sea village into a tourist spot due to uncontrolled, unmonitored visits by overseas tourists.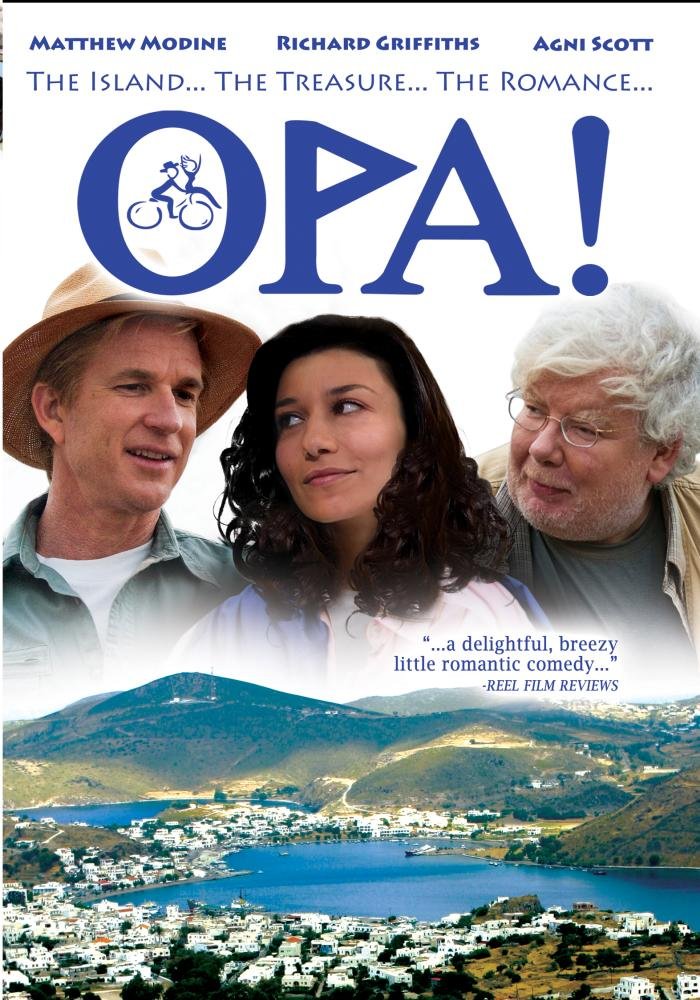 Opa! (2005)
IMDb: 6
Atypical American adventure comedy set against the backdrop of the Greek island Patmos, Opa (also known as Lost in Love) is a movie about treasure hunt, adventure and more!
Arcadia Lost (2010)
IMDb: 5.9
An American drama set at the Greek village Poulithra, The movie revolves around two stranded teenagers and an American patriot and their journey to confront the truth of their life.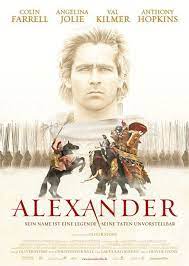 Alexander (2004)
IMDb: 5.6
The historical drama based on the life of the Macedonian king has stars like Oliver Stone. Collin Farrel, Angelina Jolie, Anthony Hopkins etc. However the movie fails to create the dramatic effect for the lack of an intriguing storyline. It was mostly shot at morocco but some of the historical depictions are accurately shown.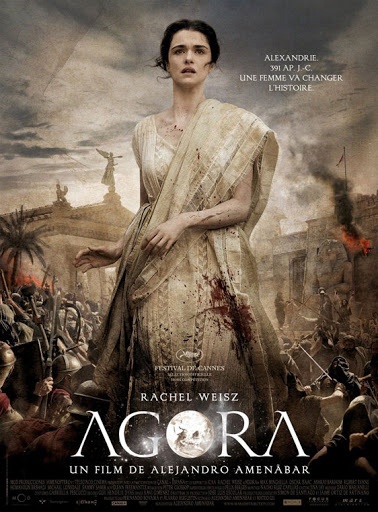 Agora (2009)
IMDb: 7.2
Greek philosopher Hypatia of Agora fights the rise of dogmatic faith over religious practices over progressive ideas and scientific practice. The film ends in an untimely death but does convey a message and depict the time of a change and shift of history and Christianity eventually took over ancient Greek religious practices.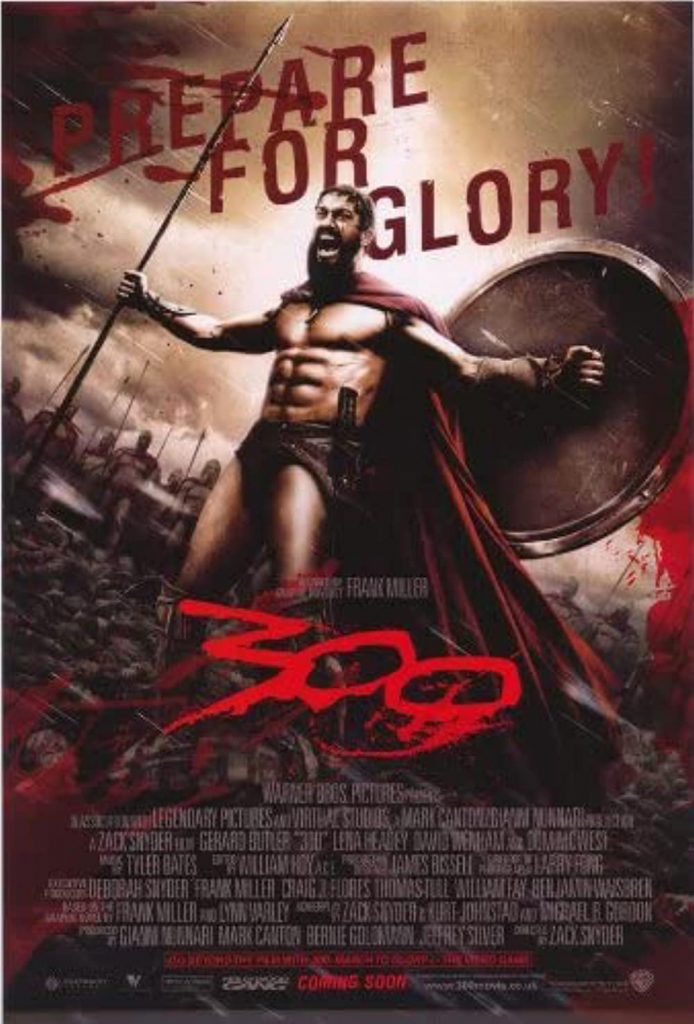 300 (2006)
IMDb: 7.6
Another war film with an amazing story line and intense violence and gore, 300 has become a cult classic. While it does not feature blue ocean (obviously, it does not go with the theme of the film), it does draw many connections with Greek philosophy and way of life. For a cultural enthusiast, 300 is a must watch!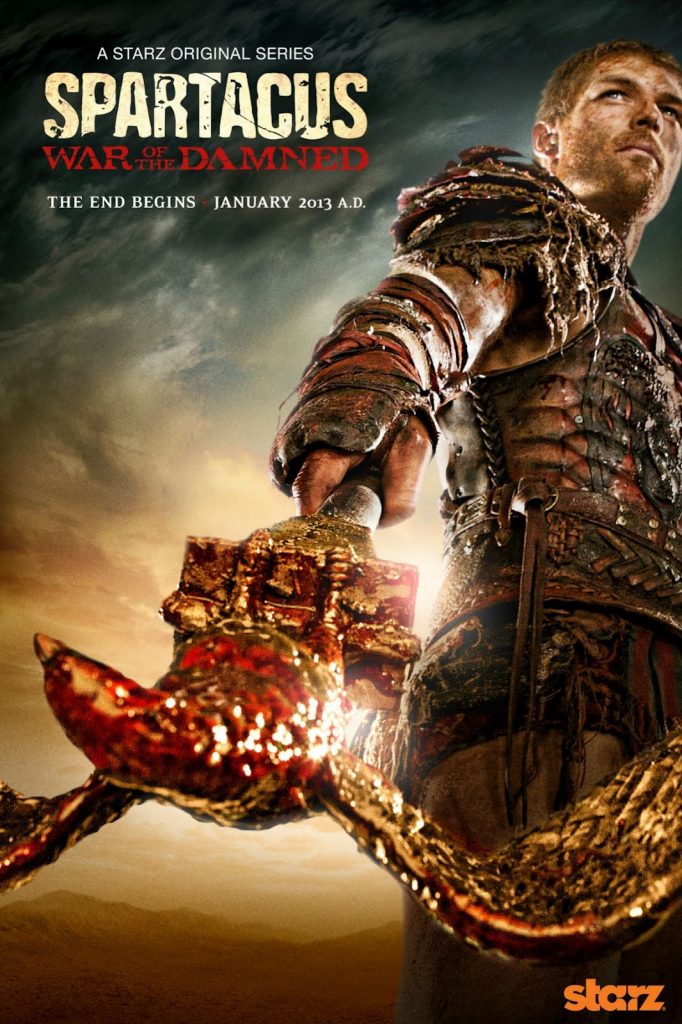 Spartacus (Series on Netflix)
IMDb: 8.5
One of the best Netflix series you can binge this weekend that is based on Greek mythology. Although VFX plays a big role in designing the backdrop, Spartacus was shot in Auckland. As with other gladiator dramas, Spartacus is full of violence, gore and blood. The storyline is a winner though which keeps the audience engaged!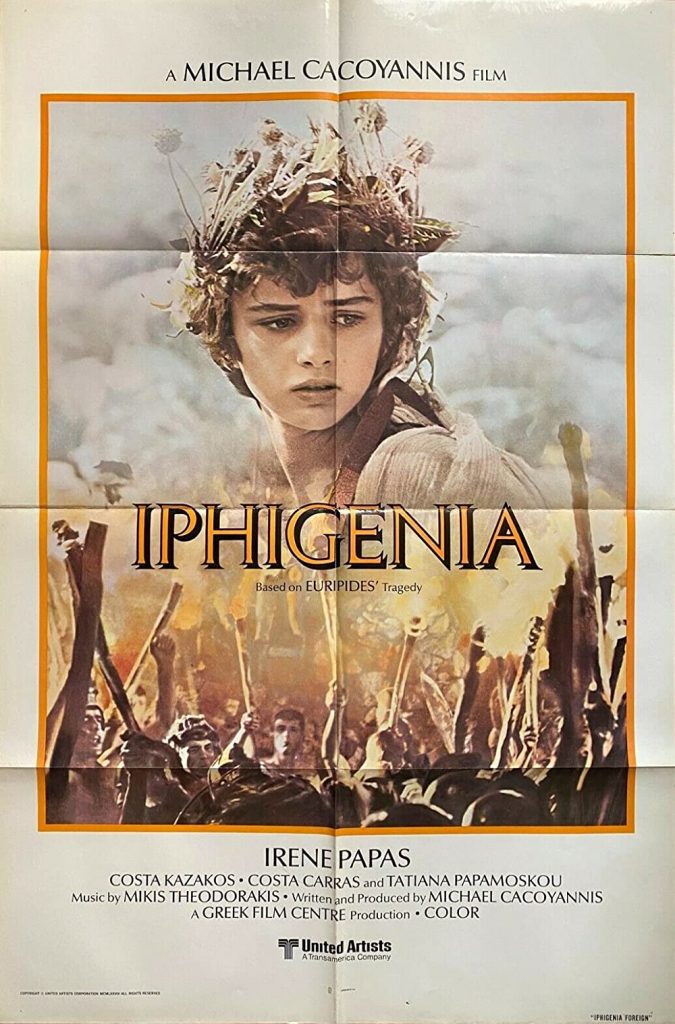 Iphigenia (1977)
IMDb: 7.7
The Greek Tragedy film is directed and produced by Greeks and filmed in greek language has been heavily acclaimed.
King Agamemnon is headed for Troy for a battle when he finds his ships are struggling to float in the intense volume of Red sea. An oracle tells the Greek warlord he has drawn ire of the Greek goddess by killing a deer. The story entails he has to sacrifice his daughter and in the process must hide his intent from his wife.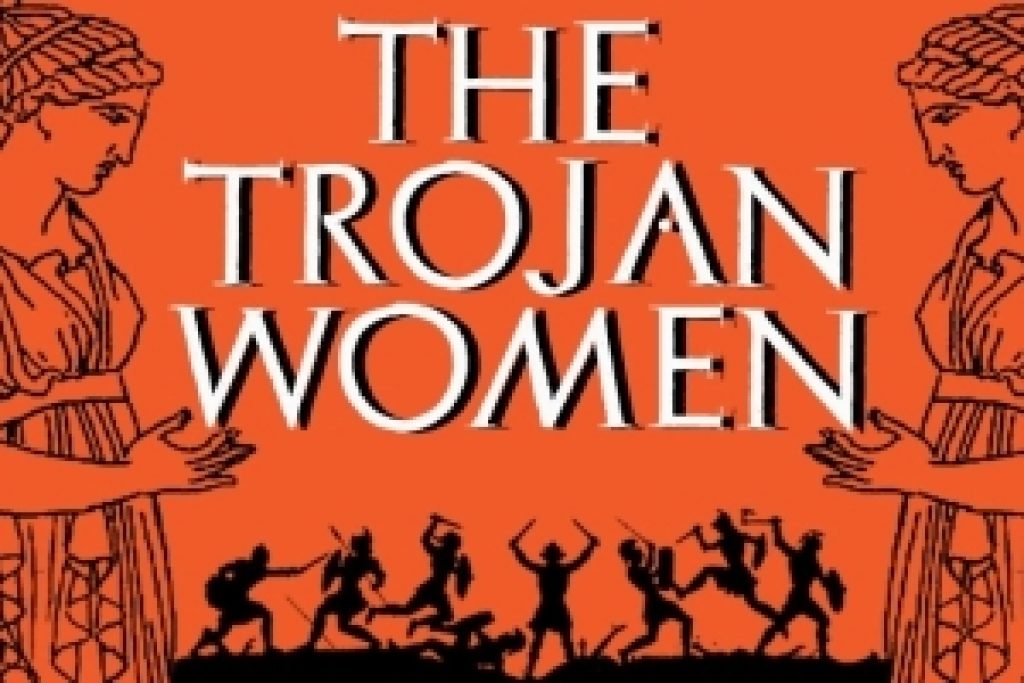 The Trojan Women (1971)
IMDb: 7
One of the most beautiful movies of yesteryears, The Trojan Women depicts suffering and aftermath of a war. When Troy was destroyed, her women waited, some willing to rebuilt the lost kingdom, some striving to save their own lifes.
The film was shot at Atienza, a village in Spain.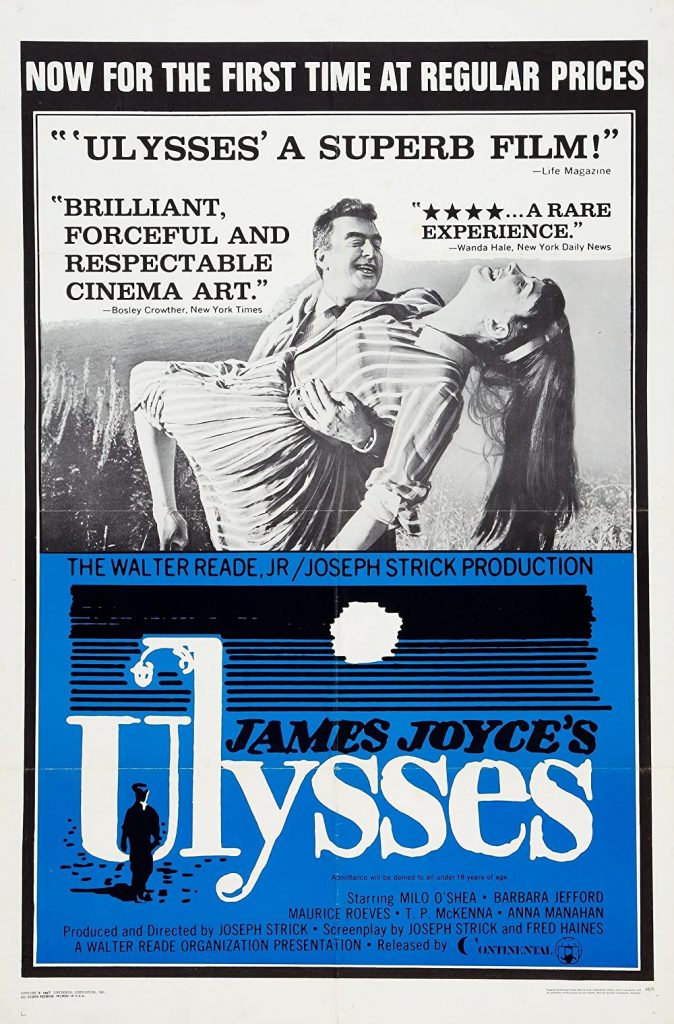 Ulysses (1967)
IMDb: 6.5
The film adaption of the classic novel Ulysses authored by James Joyce, Ulysses was a remarkable step to maturity of world cinema. It had garnered positive reviews by the critiques and has achieved many awards and accolades.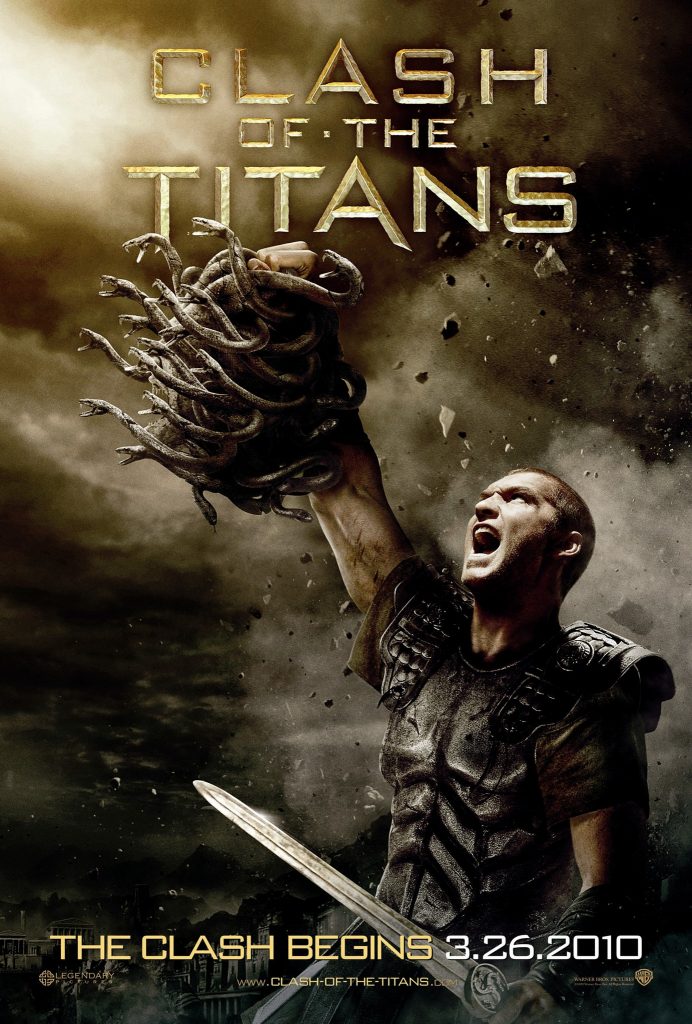 Clash of the Tytans (2010)
IMDb: 5.8
While the film is entirely based on Greek mythology, Clash of the Tytans was shot across Europe, especially the World heritage Sites, Canary Island of Spain and some parts of Iceland and Ethiopia. The action fantasy film produced by Warner bros unfold at the backdrop of Greek Gods creating and dividing the world among themselves. The subsequent politics of the rulers, humans and demigods and monsters make it an intriguing movie to watch!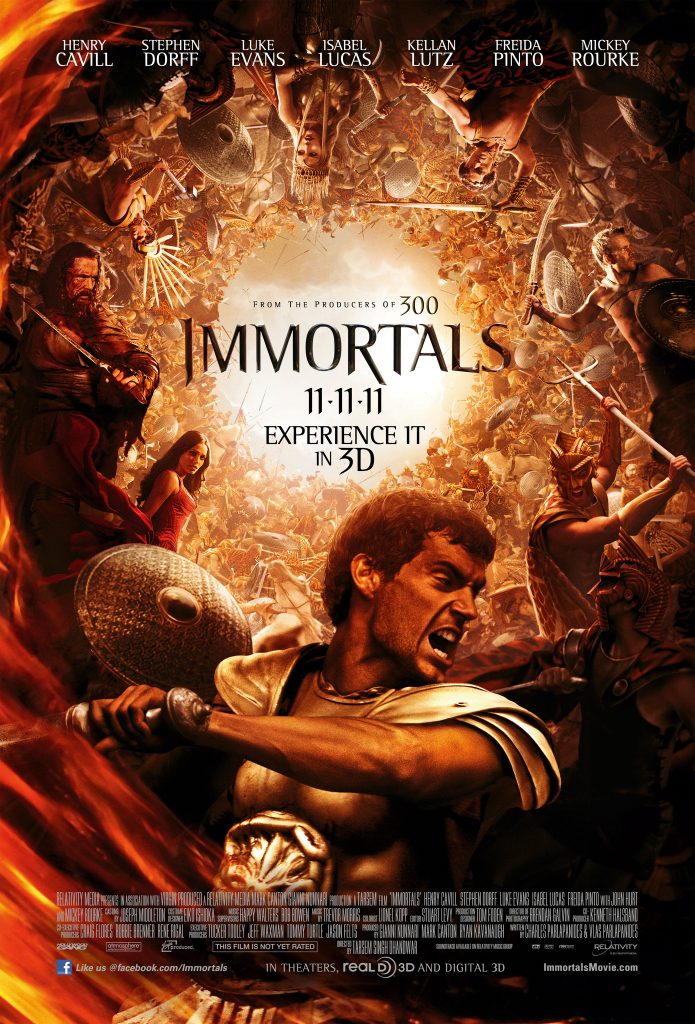 Immortals (2011)
IMDb: 6
An American Fantasy film, Immortals is filmed mostly in Istanbul. However the story entails many nuanced of Greek mythology which has intrigued readers since time millennia.
King Hyperion wages war across Greece by his ruthless army. He kills, tortures, burns Greeks in order to find the long-lost Bow of Epirus, a weapon which is believed to make a mere mortal invincible. His intent is to drive away the Greek Gods from Mount Olympus and become invincible emperor of the world!
However, a Greek oracle finds a local stonemason, Theseus who can put an end to this misery and bring salvation for the Greeks.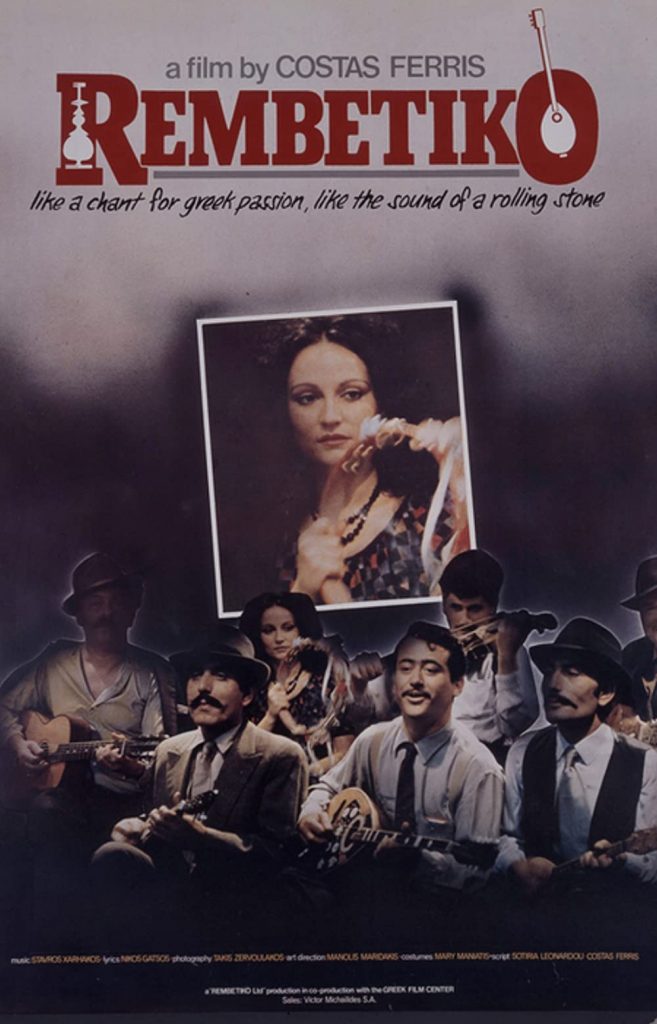 Rembetiko (1983)
IMDb: 8.2
Directed by Costas Ferris, the film Rembetiko is a musical drama that portrays the history of Greece spanning over 4 decades. It has b=attended cult status in Greek film history. Marika is a famous Greek singer who was actually born in Turkey. In the backdrop of an eventful life of the protagonist Marika, events like world war 2, steamy American nightclubs, a troubled family struggling to settle in a new city, violent murders and an unrequited love unfold. The music of Rembetiko is passionate and soul stirring. This makes up for the better part of the cinematic experience.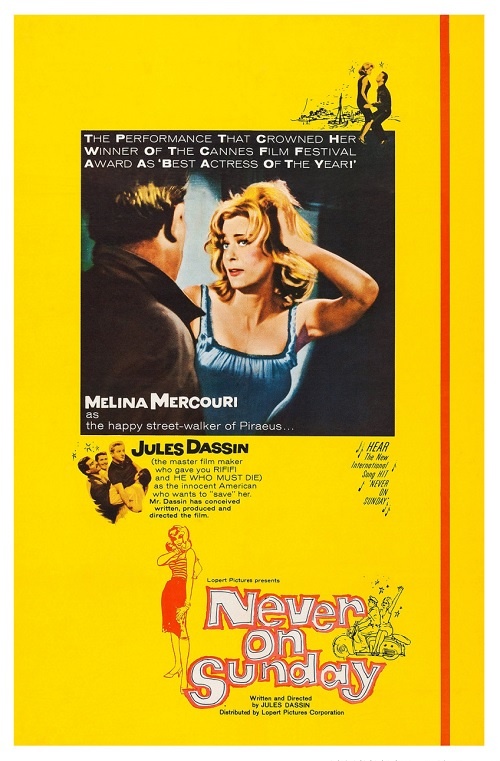 Never on a Sunday (1960)
IMDb: 7.3
A Greek romantic comedy, directed by Jules Dassin, Never on a Sunday brings together a Greek Prostitute and an American Classicist. Both persuade each other to accept their respective truth of morality and prevalent life. While the film did score well with the critics, many considered the explicit scenes not suitable to be watch on a big screen. Nonetheless, the film performed well at international stages like Cannes film festival as well as Oscar.
---
This post may contain affiliate links. Please read the disclosure post. If you have liked the article, you may support it by buying using these links without any extra cost to you.
Let's stay connected on Facebook, Instagram, Twitter! You may also consider joining my mailing list. I send travel and photography related emails only once a month!