About this blog: Myanmar has remained off the tourist trails of South East Asia till a civilian government finally appeared in 2012 easing the air for foreign tourists. However, a sudden jolt came with international media reports showing gruesome military atrocities against Rohingyas, an ethnic group, Muslim by faith, being persecuted to leave their homeland in 2017.
While the Myanmar government's action met with much criticism from international political bodies like the UN, repatriating Rohingyas are taking place at snail's speed. Meanwhile, the travel community debates whether to choose Myanmar as the next destination? Whether it is ethical to visit Myanmar considering a state-sponsored genocide? In this blog I am trying to tell how travelling to Myanmar does not equate to condoning the government's actions on Rohingya persecution, rather impacts the local community.
Want to read it for later? Pin it.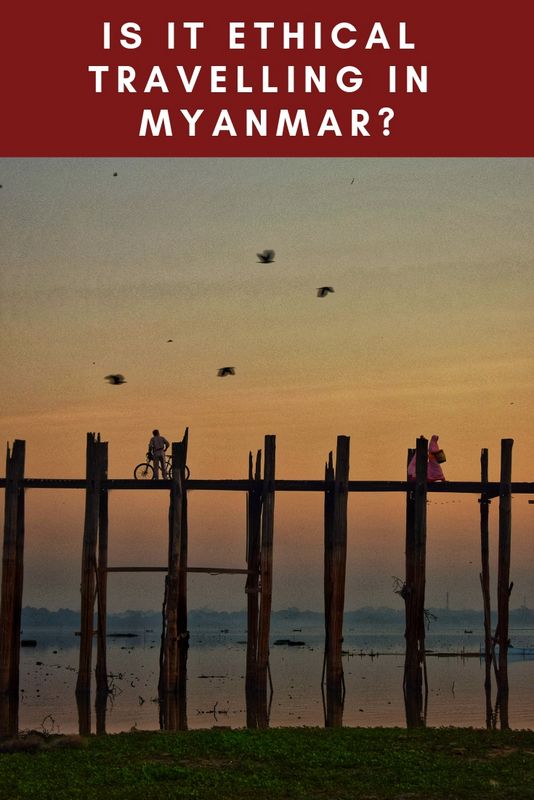 The setting sun's molten rays made the Shwedagon pagoda's gold glitter all the more. At the feet of the stupa, the oil lamps were lit, remitting an aroma of unadulterated butter, befitting to be offered to Buddha, the unanimous lord of Myanmar. Everyone from monks to the DSLR savvy traveller was busy in hustling, their appearances making fleeting glimpses amidst the veil of a spiritual incense-filled atmosphere. We sat awaiting the perfect long exposure shot of the majestic stupa while a family came right in front of the camera.
It was a practising Muslim family. I figured they were locals, from the longys worn by the men. The women wore Burqa, there face uncovered. The children were marveling at the height of the profound gold stupa, atop which Buddha's 8 strands of hair are preserved. "Wait. But was not Myanmar government waging genocide against its Rohingya Muslim population at the Rakhine countryside?" I thought in my mind.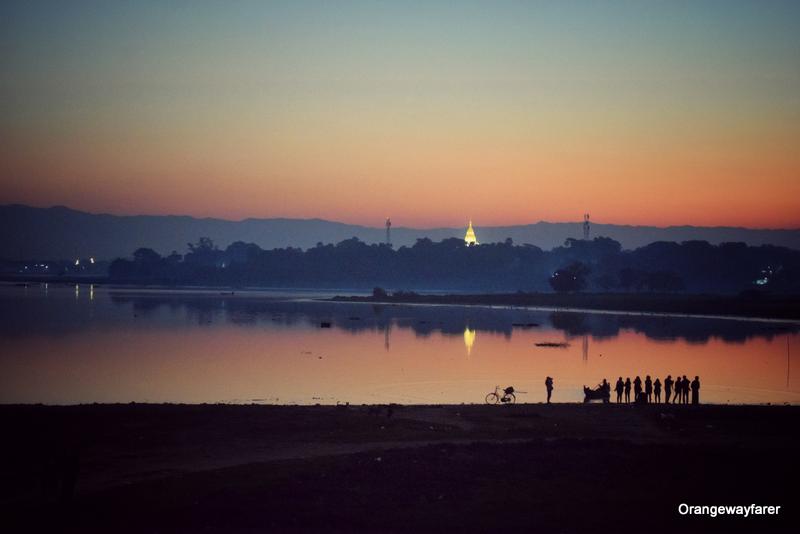 A stunning sunrise takes place at U Bein Bridge, Mandalay where locals outnumber tourists, till date!
The Rohingya Crisis, in a Nutshell
More than one million people were left homeless in the terror unleashed by Myanmar's military government. The violence, termed as the "Textbook example of ethnic cleansing" by UN, has caused one of the largest displacement of human history in recent times. The New York Times has called the situation as one of the "five conflicts driving the bulk of world refugee crisis", along with South Sudan, Afghanistan, Somalia and Syria.
The neighbours had come up to help rehabilitate the homeless lot. Bangladesh, Malaysia, Thailand. India too. I remember firey arguments in social media by right-wing political faith citing the Rohingyas as perpetrators of ISIS and directly impacting the security of the country. And then, I saw Bollywood star Priyanka Chopra visiting the Rohingya camps in Myanmar, with her head covered in a white scarf, and sharing a meal and a laugh with the young girls.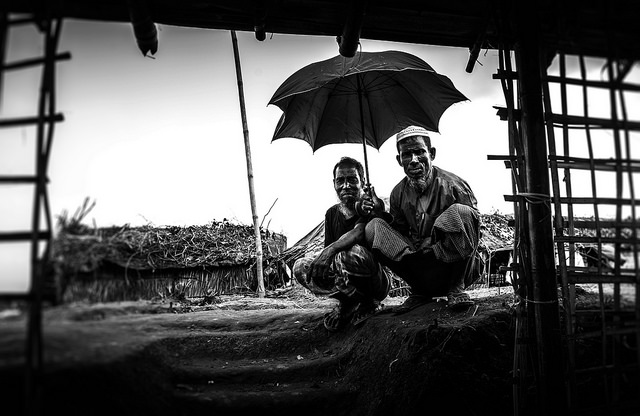 Two Rohingya Men sit at a Bangladesh Campsite. Photo by Mithila Azad's Flickr Account (see more here)
It could have been my family. That's all I thought. I belong to a family that left East Pakistan and crossed the border to come to Calcutta and settle during the birth of India, the sovereign republic along with 10 Million other such families. The wound is still afresh in my ailing grandparents' minds. Kolkata always remained a "Basha" (a nest of a bird in colloquial Bengali and indicates a temporary stay arrangement) for them, not home.
Rohingya Muslims of Myanmar's coastal Rakhine state have been listed in the wrong book of the government since the British left the country. Stripped off their right to citizenship, they are often termed as foreigners (Bengali/Kalar too) and been linked to sectarian violence sporadically erupted on the northern Rakhine countryside for decades.
Since the time Myanmar's civil society showed a green signal to the inquisitive tourist community, people rushed in to discover the last Sangrila of Buddhist land. Anthony Bourdain's Parts Unknown crew showed us the forgotten alleys of Yangon's China town. The "crumbling heritage" buildings of the hidden alleys of Rangoon (wait, Yangon) fate was signed off with a facelift. Bagan's pagodas suddenly witnessed a new group of people climbing up their dangerously unstable structure, in search of the perfect sunset picture! The land of Golden Buddha until then had received monks from South Asian neighbours, Thailand, India, Sri Lanka.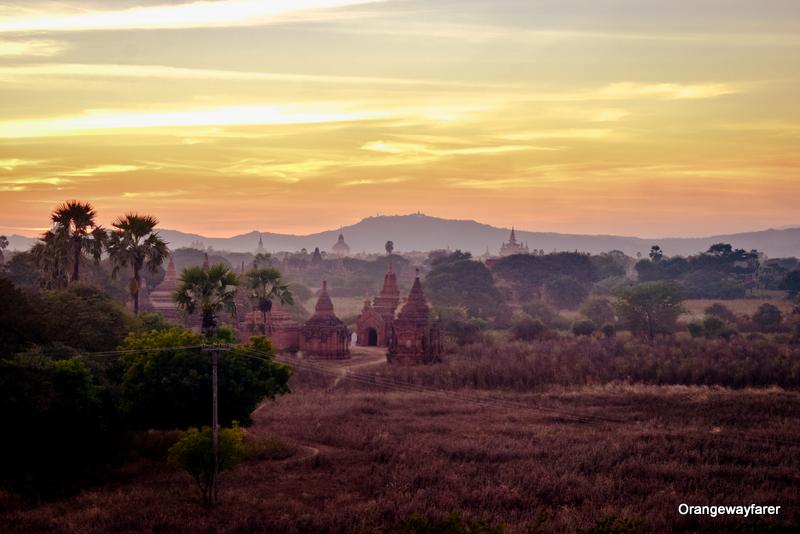 The stunning Sunset scene at Bagan, Myanmar
However, things changed in 2017. Arakan Rohingya Salvation Army's attacks on Military and civilians had been compared with poking a giant beehive. Government unleashed ruthless measures. Villages were burned down to ashes.
"They killed my husband and four children. Why will I go back to Myanmar?" laments a Rohingya lady from the makeshift tent at Coxbazar, Bangladesh. Her head had bruises from machete wound, her left cheek and leg burnt from the fire. And the child by her side was not spared.
Bloodstained children's face, mother fleeing her charred house with a stillborn in her hand, dingy ghettoes accommodating Rakhine populace, guarded by heavily armed military emerged in international media. Media that could do only as much under the Junta's cold stare. And along came the gut-wrenching stories of the homeless lot, now living in refugee camps of fringe border areas. Heated discussions in social media followed, whether to provide a house for the homeless lot, the fear of terror from militant groups associated with Rakhine political movement, unending hate speech. A vicious cycle of hate and compassion.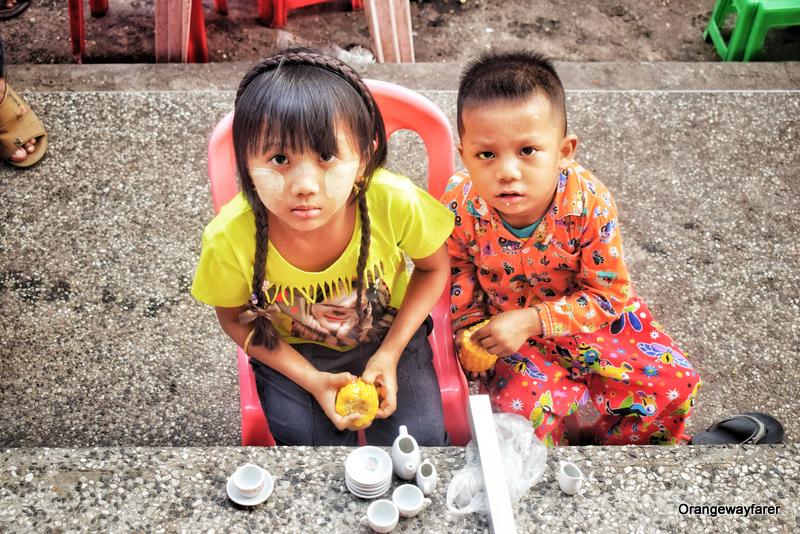 Watch out for the girl's face smeared with Thanakha, a yellow-white powder procured from Thanaka tree and in use for past 2000 years. You may find a few Rohingya women remaining in ghettoes wearing the same cosmetic. 
Delving deep, statistics showed the tourist influx in Myanmar met with a sudden dip. Traveller forums and many eminent western bloggers openly discouraged travelling in Myanmar, "We do not promote Myanmar tourism" were the words.
But we visited Myanmar. There is a newly built international highway connecting India's North East with Myanmar and Thailand further allowing citizens to cross the international border on a bus. It is meant to foster travel and trade. While I leave it to you to choose your standing on the morality of travelling in Myanmar, I will pen down my thoughts from the roads of Myanmar!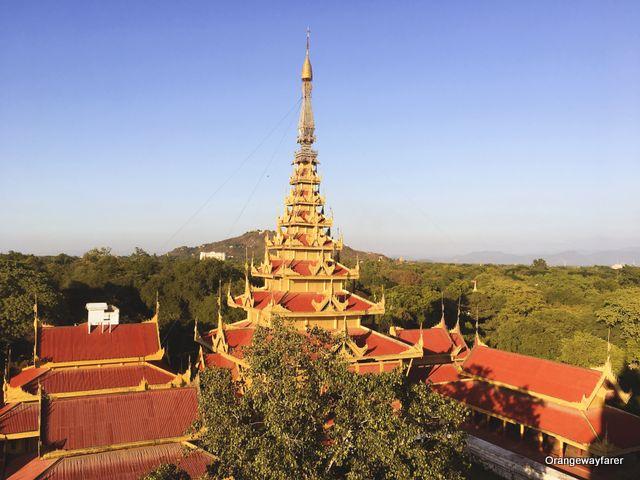 The Case of Blood Money
The primary argument of avoiding Myanmar travel is that your money is utilised to fund the military that has directed the course of ethnic cleansing. In short, yes it does. Besides the visa fee and airport tax, you will also be presented with bills glued with small stamps, various service tax denominations, at cafes, bars, souvenir shops and hotels. It goes to the government, partially controlled by the military.
However, on second thought, know the value of your money. How much of this is actually funding the military operation? Is Myanmar junta is really that naive to depend on tourism money while China looms large at the Bay of Bengal shoreline for the elusive oil mines? There, I said it.
Atrocities on the Rohingya community predates the time of the internet. Travel was not a widespread practice even a generation ago. Neither was media vocal about the humanitarian crisis. What happened at those times remains buried.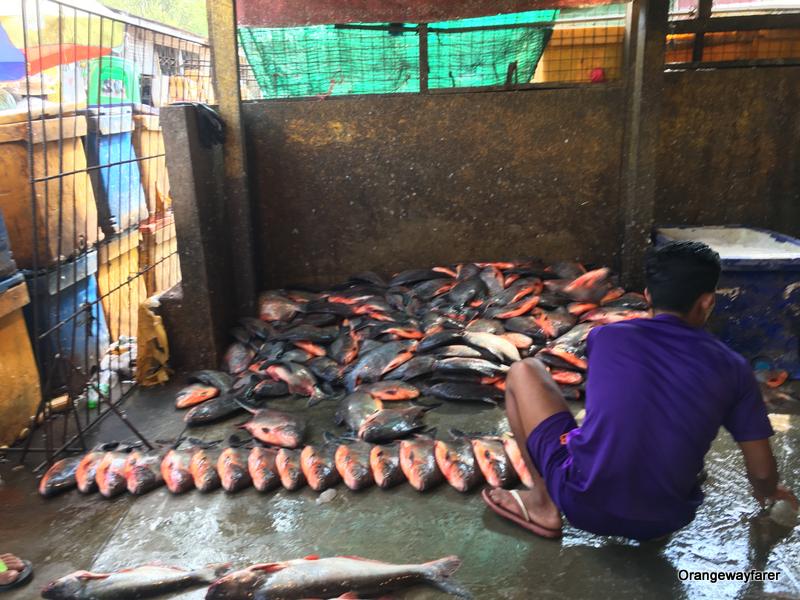 Manual labour is cheap and abundantly available in Myanmar. An afternoon stroll in Yangon fish market makes for many interesting observations.
Travelling With and Among the Locals
Besides, your choice of accommodation and tour groups matter. Travelling incorporates giving back to the local communities, often lying at distant lands from where the atrocities are taking place. Choose homestays or boutique hotels run by locals. Avoid the hospitality chains linked with cronies. Basically, conduct your extensive research before you decide and try to give back to the local community.
One of the responsible ways to travel Myanmar is to ensure your spend reaches the low lying economic tiers, who practically has neither taken part in Rohingya genocide nor well informed about the state terror.
Here is a list of tour groups that work with locals in Myanmar:
Flymya
Partnership for Change
The Uncharted Horizon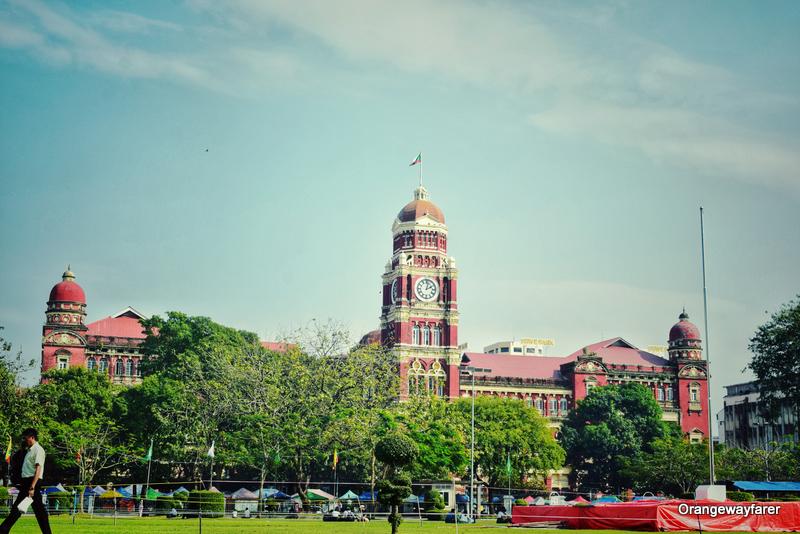 The High Court in Yangon. The colonial building. It looked like the one we have in Kolkata. British only knew one style of architecture, is it?
Boycotting Myanmar from travel map will only result in further isolation of common men who make a living through tourism.
Information is a Privilege, so is Democracy
A stronghold of a military government also comes at the cost of compromised freedom of opinion and access to information. While the internet is widespread and available at every corner of the country, English is not a common medium to communicate. The independent media houses like BBC, Amnesty, leave aside UN reports hardly penetrate the layers and reach common men, who have been propagated with FB posts shared in the Burmese language, making a villain out of the Rohingyas, the Kalars/Bengalis as locals refer them.
The onus lies on you to reach the locals and befriend them to show a world beyond their opinion and government propaganda exists. And the world is ideally full of compassion, indeed.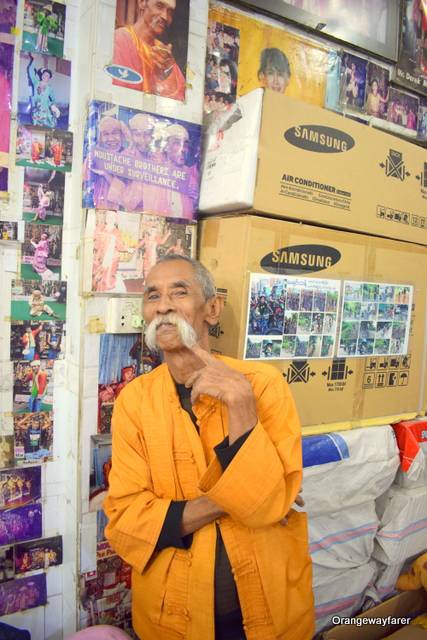 One of the three Mustache Brothers, a street play performer from Mandalay. Their play mildly criticises the government (the military Junta but stays mum on Rohingya issue) and has been highly regarded as a show of resistance.
I remember ditching a swanky cool cafe to dine at The Golden Bagan Restaurant. The owner was standing outside and invited. I promised to come back and when I did he left no stone unturned to show his hospitality. Broken English and body language were medium to convey how Todi roots are eaten (not ordered). His warm gesture reminded me of my Dadu getting extra enthusiast about guests coming in for lunch!
Besides, Myanmar is a poor country. The little money that locals may earn through tourism only gets directed to the improvement of social life. Shying away from travelling to Myanmar only worsens the dire situation and strengthen military grip over a possible (and nominal) chance of democracy.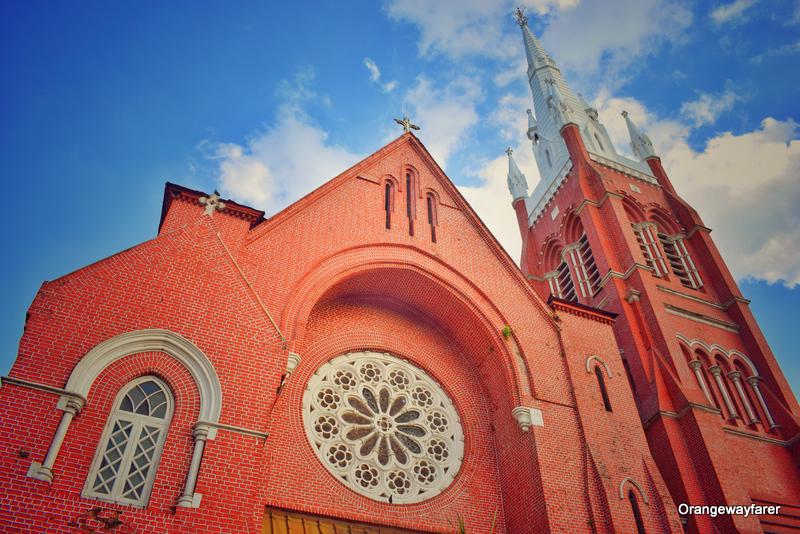 One of many churches from downtown Yangon. Another colonial building speaking proper British vowels.
All that is White is not Really White
As much as I choose to stay apolitical in my blog, I think this needs to be stated very clearly. The separatist movement, terrorism, idea of freedom of modern state evoke huge debates among statements, and rightly so. Nations, with goodwill, continue dialogues, and those without, will carry on with an all-out war.
As an Indian, I have seen Kashmir burning for the last few decades. I have also heard of Khalistan and Tamil Nationalism. Needless to say, the Bengal literature that showcased 70s' underground Naxalite movement which finally erupted in a full-blown Maoist state insurgency by the end of 2010 encompassing a huge part of Central India. From tribes murdered by the state for standing in solidarity to establish their right on the forest and its resources to Maoists shooting poor Policeman sitting on the ground with his lunch box from behind, grotesque news reports have convinced me this is the "age of Kali".
Of course, if I am to start taking reference points from international politics, I will start my jibe with wall making warmongers. One must not forget the mess Western colonists had created before leaving (and looting) Asia which directly resulted in unequal resource distribution and diving the world into developed and underdeveloped economies.
The list is endless, really, the world is not white and black, and we all have blood in our hands. Denouncing travel plans in Myanmar will raise many uncomfortable questions, I am sure, for everyone. However, you, my dear reader, if are from aforesaid nations, do not necessarily have to be an endorser of the wrong political decisions.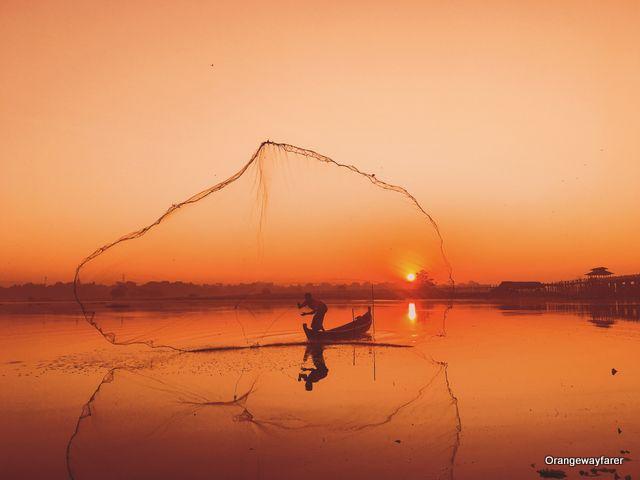 They say it is the darkest before Dawn.
Is It Safe to visit Myanmar?
It is very safe to visit Myanmar if you stick to the touristy trails. Beyond which, it is difficult to access without a permit. Besides, reports came out showing German tourists falling prey to landmine blasts while trekking in uncharted route. The country has just opened up to the world hence not yet tourist weary like Thailand or Bali. Locals are more than friendly and you ought to return the respect during your stay.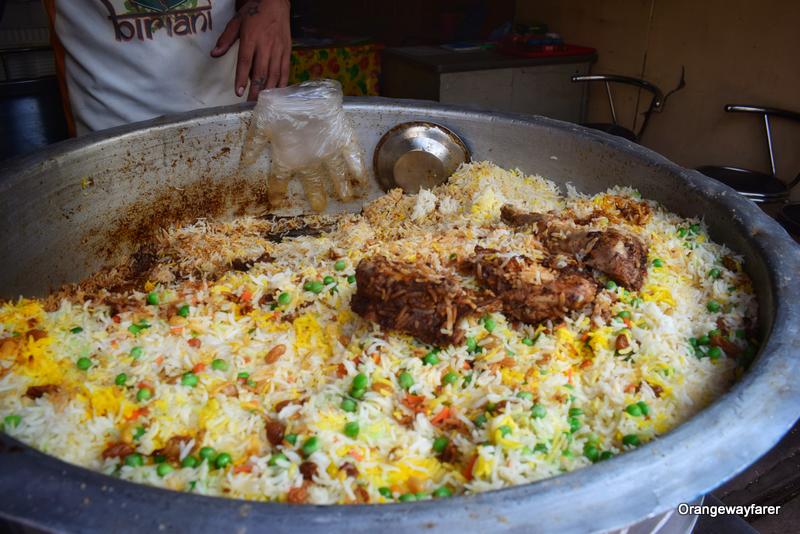 Biryani, a meat and rice platter very dear to India being served on the streets of Yangon!
Are People Islamophobic in Myanmar?
I will say a resounding NO. In Yangon, we stayed at downtown China Town where a Synagogue and a couple of Mosques were standing in close vicinity to the iconic Sule pagoda. There were calls for prayers. A local version of Biryani was served in the alleys. men in Surma in the eyes walked down the road at ease.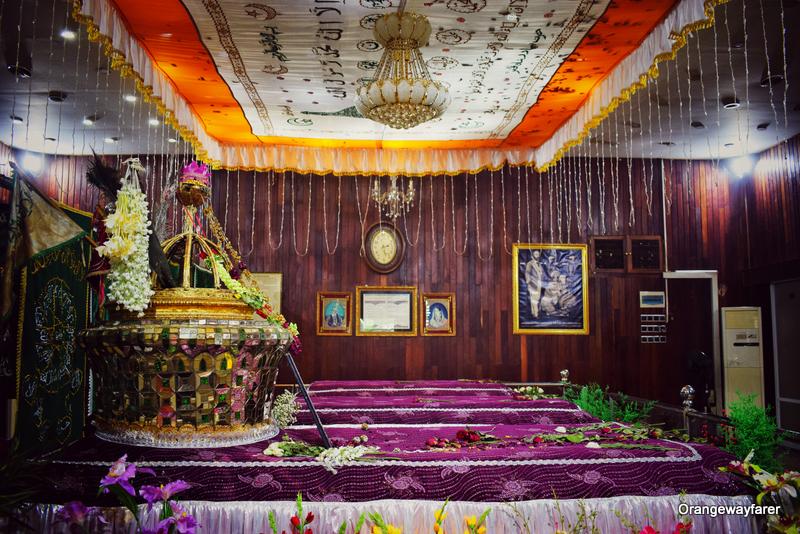 Bahadur Shah Zafar, the last Mughal emperor of India (before the British came) and his wife's mausoleum in Yangon. 
Being a Bengali in Myanmar!
I am an Indian passport holder and my regional identity is Bengali, my mother tongue. While in India Bengalis are regarded as one among the more culturally aware community, in Burmese language, it is a racial slur.
It was surprising, shocking, and to be honest with you, insulting too.
History suggests many Rakhine workers were brought in from then Bangladesh by the British to work at the tea plantations who stayed back. Besides, the Rakhine state also had a history of asking for a separatist state. The language and culture differ at large from the "Burmese" Buddhists.
Coming from India, it is difficult for me to understand why a societal tapestry needs to be homogeneous in nature. Or maybe, I am wrong in my understanding. The narratives may not be as linear.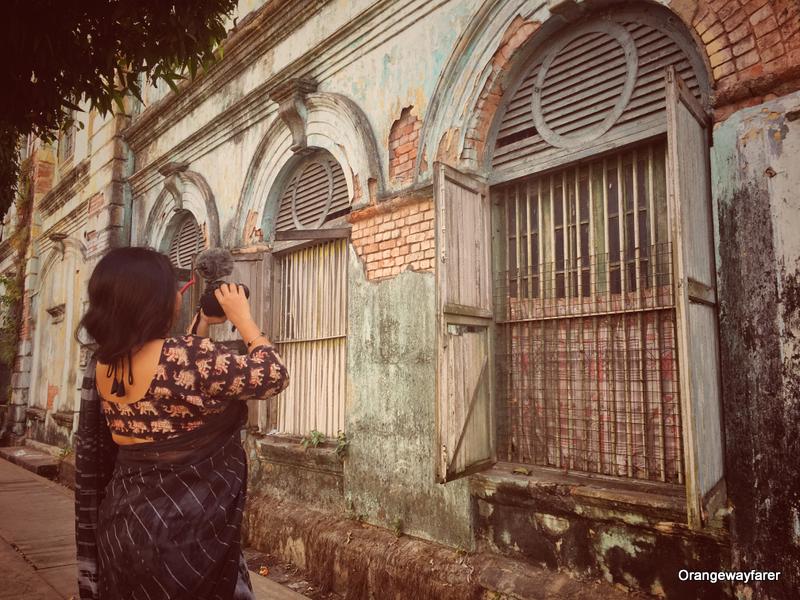 I could easily pass this picture as one from North Kolkata 🙂
Nonetheless, I told S, I will call you a Bengali and you too do the same while exploring Rangoon, which also looked like Kolkata's twin sister, lost in Kumbh Mela.
That was all the resistance I showed in Myanmar.
I tried listening to many Rohingya interviews once back home. I turned off subtitles and listened carefully. They were all about "Jwaliye diyeche" (burnt down), "Allah Dekhen" (Allah will safeguard) or likes. I could make out a few words.
Bengali? I have my doubts. Human voice? Yes Yes Yes.
Yet, I do not believe boycotting travel plans in Myanmar will bring out any desired impact on the Rohingya community. In fact, your honest travel accounts may help Myanmar remain visible to the world.
Loved the read? pin it!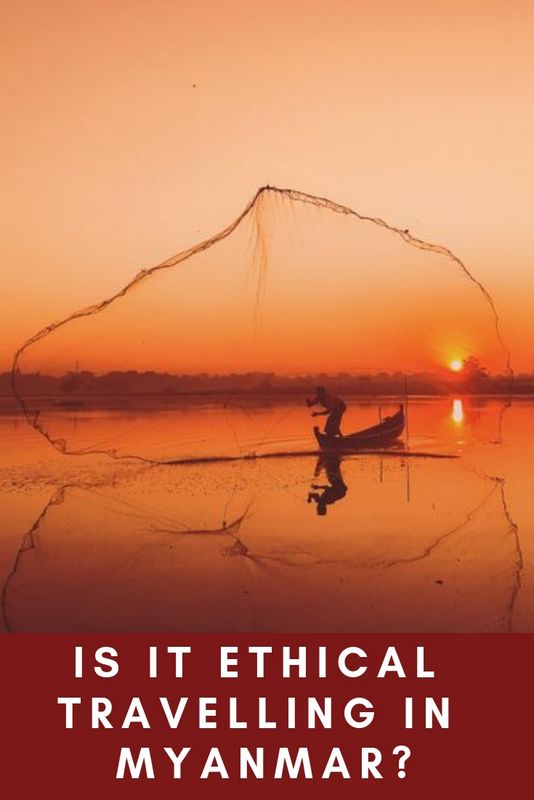 Let's stay connected on Facebook, Instagram, Twitter!
This post may contain affiliate links. Please read the disclosure post. If you have liked the article, you may support it by buying using these links without any extra cost to you.