About this Blog: The Ravenala Attitude is one of the four star luxury properties located on the west coast of Mauritius. It is a family friendly resort, huge in size, with close to 300 rooms and provides good value for money and quality service. Located at the Baie aux tortues, Ravenala provides plenty of water activities as well. The hotel is largely accessible by wheelchair.
I stayed at one of the couple suites of the Ravenala Attitude Resort in November, 2019 during my week-long visit to Mauritius and following review is based on my personal experience.
Read all the Articles on Mauritius here!
Mauritius is hot and humid. Then it is humid and hot.
Slightly off the tropics, weather in this island nation ranges from bright sun rays to "Abhimani" clouds, sooner than the speed on which my eyeballs can twist! The English does not have a word for the feeling "Abhimani", so the world has to bear with me. It rains in Mauritius, frequently.
This rapid change in weather had got the better of me. It took a while to register in my mind that I am in the midst of a stunning, fast changing show of nature's splendor, oblivious to physical comfort mere humans!
Also read: Everything you need to know before planning a trip to Mauritius!
The day started early. I was living in this boutique stay named Kazalala in the south of the island at Bel Ombre till the previous night. That morning, I had packed my bag and hit the road once again. The plan was to drive through the coastal line of Mauritius. We crossed path with acres of plantations, stood in awe at the feet of Le Mourne mountain, pranced around at the waterfront, took thrill after finding the Mauritius style of Biryani (with potato), lost way amidst Central Market in Port Luis and finally reached Ravenala, a little before the Sun had decided to call it a day!
Ravenala Attitude Mauritius Resort: Love Overwhelmed at the first sight!
Ravenala spells out "tropic" with her biophilic appearance. Tall wooden pillar stand erect on both sides as you enter the reception lobby of the hotel. Reception occupies a tiny area. rest of it is decked up with low lying sofa, swings and loungers eventually leading the way to a small infinity pool at the end.
By the edge of the water body, your eyes will catch an astounding view of the rippling swimming pool downstairs and hotel premises stretching out till the sea-shore.
It was a busy season of travel with plenty of guests. "Had it been a small place, it would have been crammed!" I thought in my mind! My mind was busy dealing with the enormous number of tourists. Ravenala was yet to pave a way to my heart but I realized this resort is pretty famous among family travelers.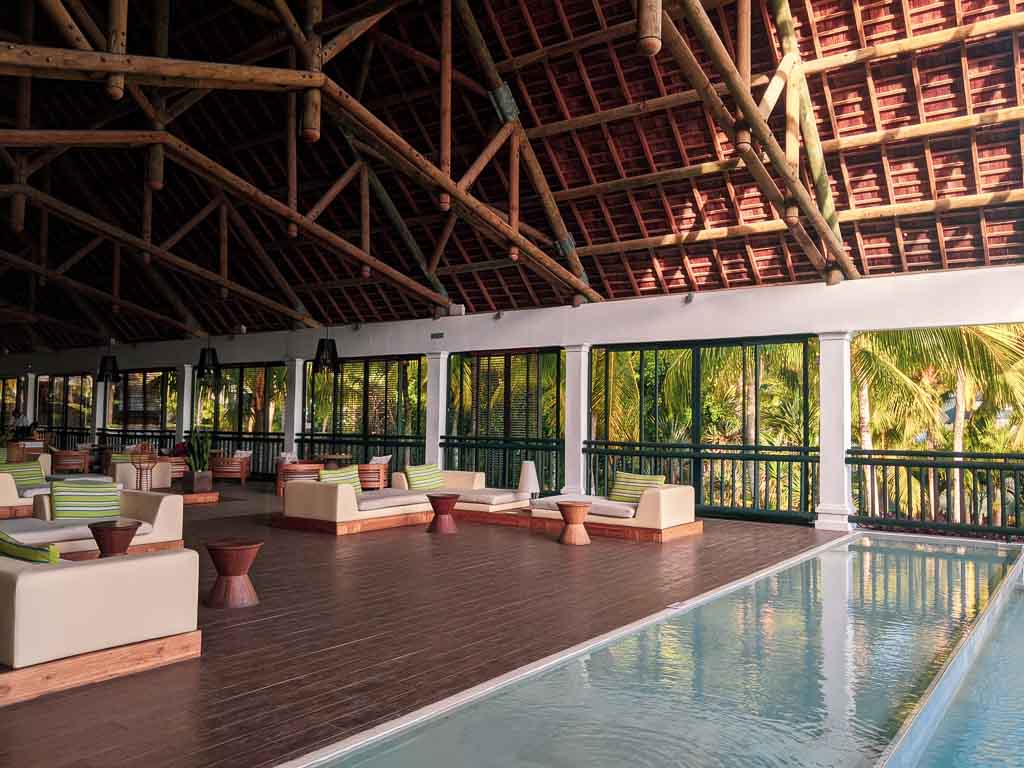 Lobby of the Ravenala Attitude Resort: Lights plays along with natural elements. To a certain extent, it reminded me of the Taj Madikeri Hotel, Coorg.
View from the lobby, one portion of the pool and one of the many coconut groves through which you will eventually reach your suite/villa at the Ravenala!
Also read: The Taj Madikeri Resort and Spa: India's Only Rainforest Resort!
The Gigantic Pool at Ravenala Resort, Mauritius!
Who would make use of the swimming pool while staying by the ocean? I thought!
Boy was I wrong or I was wrong?
The swimming pool at Ravenala Attitude strips down half the stress originating from travel exhaustion! There are three humongous pools, with one being dedicated for kids only! The kids' pool has water upto an adult knee, hence cannot cause sizable hazards.
More number of guests actually lounged by the pool rather than the beach. There were countless chairs and it was never difficult to arrange a couple of them by side, especially when you are traveling in a group!
The pool area is exposed under the direct sunlight. You like it or not, you will be generously tanned!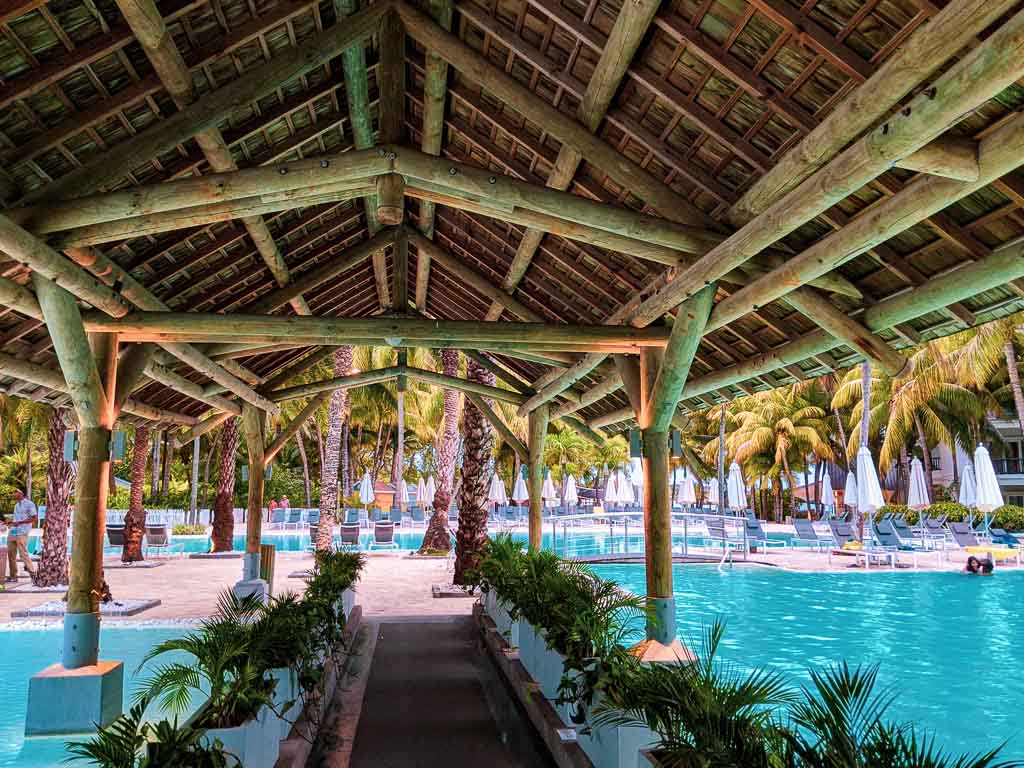 The pool at the left is designed for kids. The other two are interconnected with varying water level. A small bridge connects the land.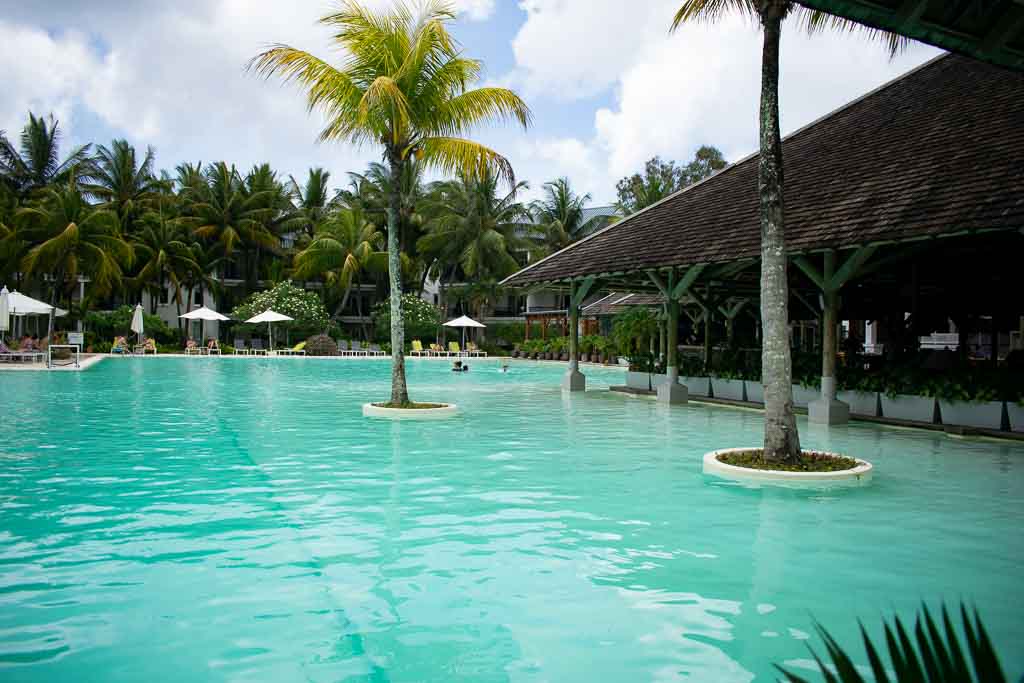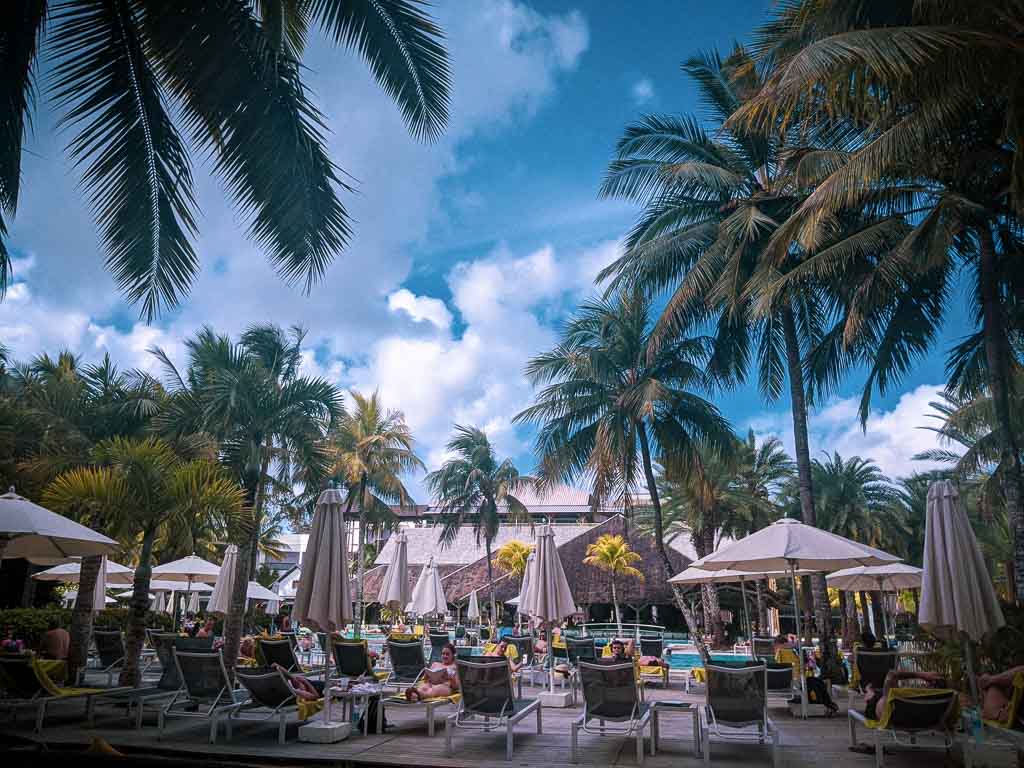 Strategic Location: Ravenala is Housed on the West Coast of Mauritius, at Balaclava
The west coast of Mauritius, especially the area around the Turtle Bay Marine Park is particularly coveted among tourists. Stunning sunsets color the horizon in myriad hues of red every evening. River Citron and the Sea are natural borders of the resort.
The beach is more like a lagoon here, with temperature slightly cooler than the pool. The beach is coarse to be honest. Only after you have walked in the water, you will find fine sand underneath. Dolphin sighting is a possibility here.
Ravenala is a 20 minutes drive from the capital Port Louis. Airport is located at a distance of 42 KM and is about an hour's drive.
Tourist attractions close by: Pamplemousses Botanical Gardens, the Mauritius Aquarium, The historical ruins of Bacalava, The Sugar Museum poignant with tales from the plantation life, the Rivulet Terre Rouge Bird Sanctuary, Grand Baie for shopping.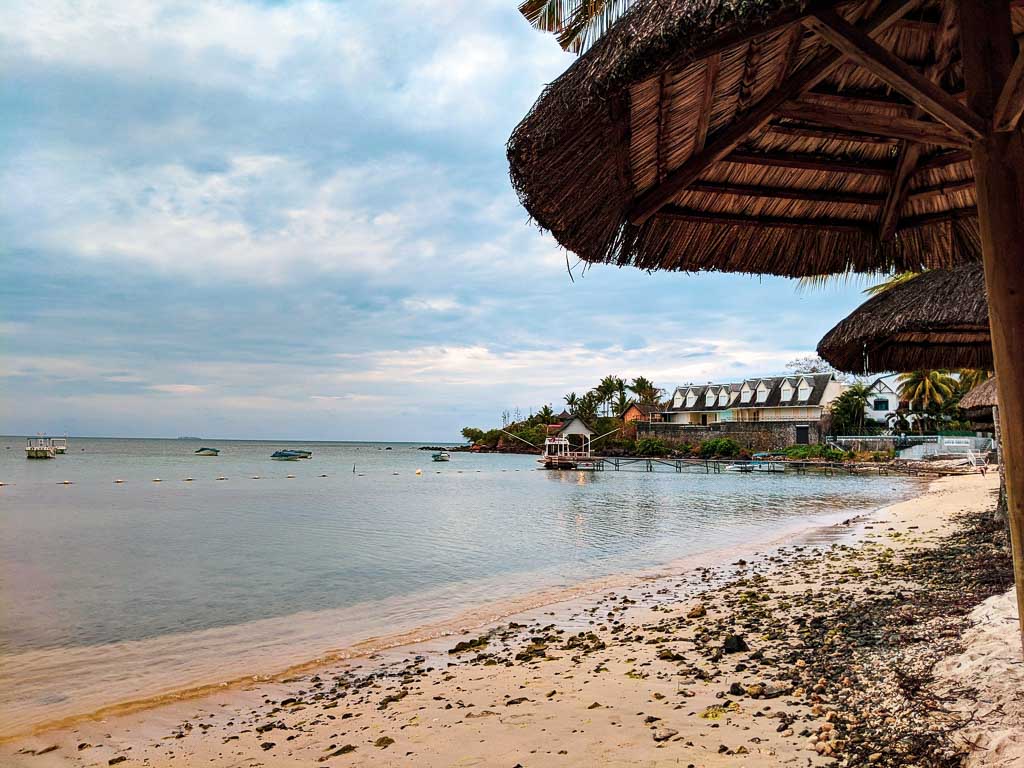 Ravenala Attitude is a Family Friendly Resort yet Respects Guests' Privacy
You see those villas dotting the wee end of the beach? That wing is exclusively designed for the adults or couples. Honeymooners heading towards Mauritius can rely of Ravenala for complete privacy despite it being a family friendly resort. The enormity of the resort allows this particular facility.
These sea side villas have quick access to the beach with loungers, a hammock on the generously spaced out balcony, and exclusive access to the beach side sushi restaurant named Lime for dinner. More on that later.
Ravenala Attitude Mauritius Resort: At a glance
Located at: Balaclava
number of room: 272
Ideal for: honeymooners, couples, family with kids, best price for the quality of service provided at a 4 star Mauritius hotel
Best type of room: Sea view suites
Best food experience: Seafood at Mauritian restaurant
Activities: Cooking Class, the swimming pool, Water activities
I was handed a cold towel and a glass of refreshing pineapple juice upon arrival. I reached Ravenala on a late afternoon and I was famished. By the virtue of being on a half board program, I had luncheon at Taba-J, a street style vendor on the beach. More on the food in later segment.
Coming to Call it Home: The Beautiful Suites of Ravenala Attitude Mauritius Resort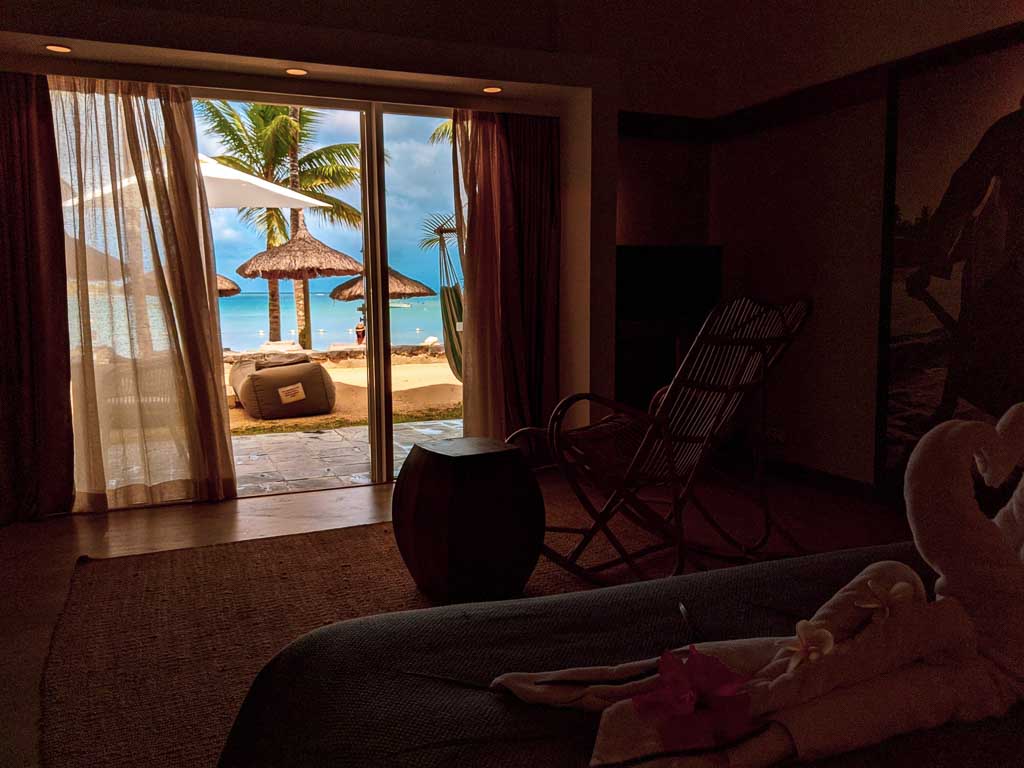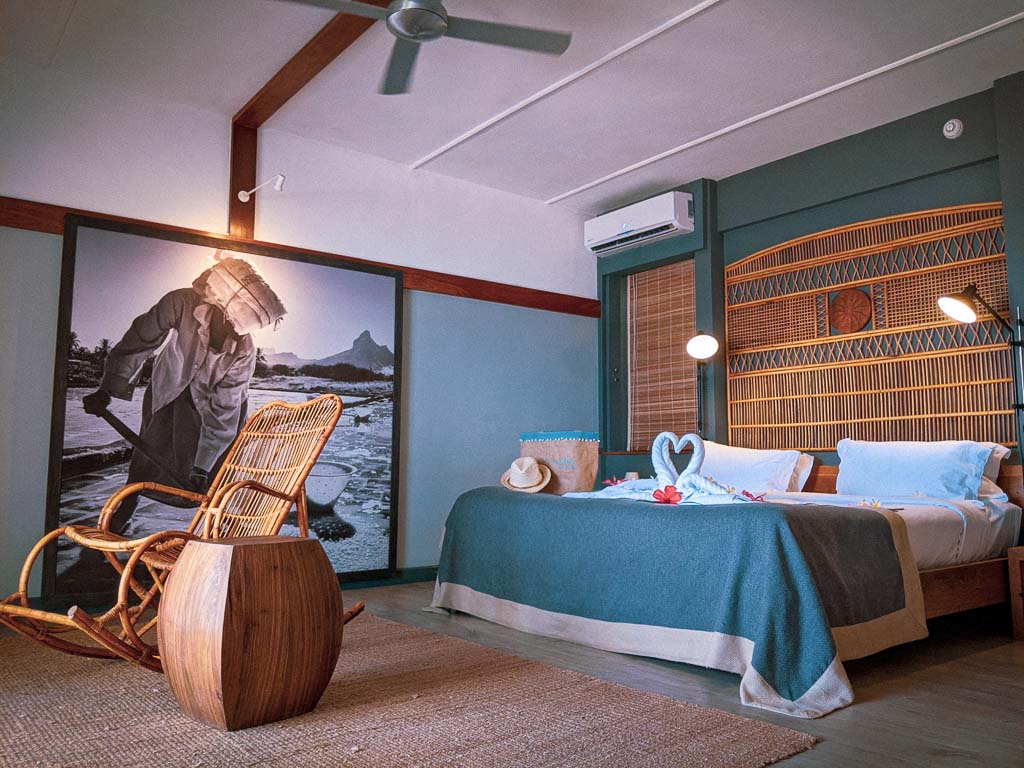 I was assigned a couple suite room. It had two floors, the mezzanine one with two bed apart from the queen bed downstairs. It could easily sleep 4/6 people. I slightly freaked out sensing the enormity of the place. Before, I fell in love with Ravenala!
We stayed at duplex rooms while traveling in Kaziranga. We were staying at the beautiful Irora resort in Kaziranga.
I climbed the spiral staircase and looked down. I tried to distance myself from the set up and make sense of it. It is then Mauritius unfolded with all her glory.
A man busy plowing the plantation field is framed in monochrome at one wall. He keeps at it while the room lets in ample natural light, and highlights its minimalist touch of ochre. A mat, an arm chair and a bamboo and knitted rattan bed head were all used to decorate it.
The room was made with all local elements. It was not a snobbish, "uff-touch-me-not" kind of luxury. Instead, it felt life home. It was intensely comforting. I remember lying on the bed and sleeping in a minute.
The bathroom had a walk-in shower and a tub. Room also had a TV, fridge and two complimentary bottles of water. The balcony opened to the generous view of the landscape garden. You may choose to stay by the river if you love quiet.
Dining Options at the Ravenala Attitude Mauritius Resort. Aplenty!
During my stay at Ravenala, I did not find any pork product on menu. I think it is safe to assume Ravenala serves Halal food thus making it a preferred choice among Muslim holidaymakers.
The breakfast buffet has a varied selection ranging from Chole Bhatura to steaks. Despite the rush, the process was smooth and employees were energetic, with an eagerness to help.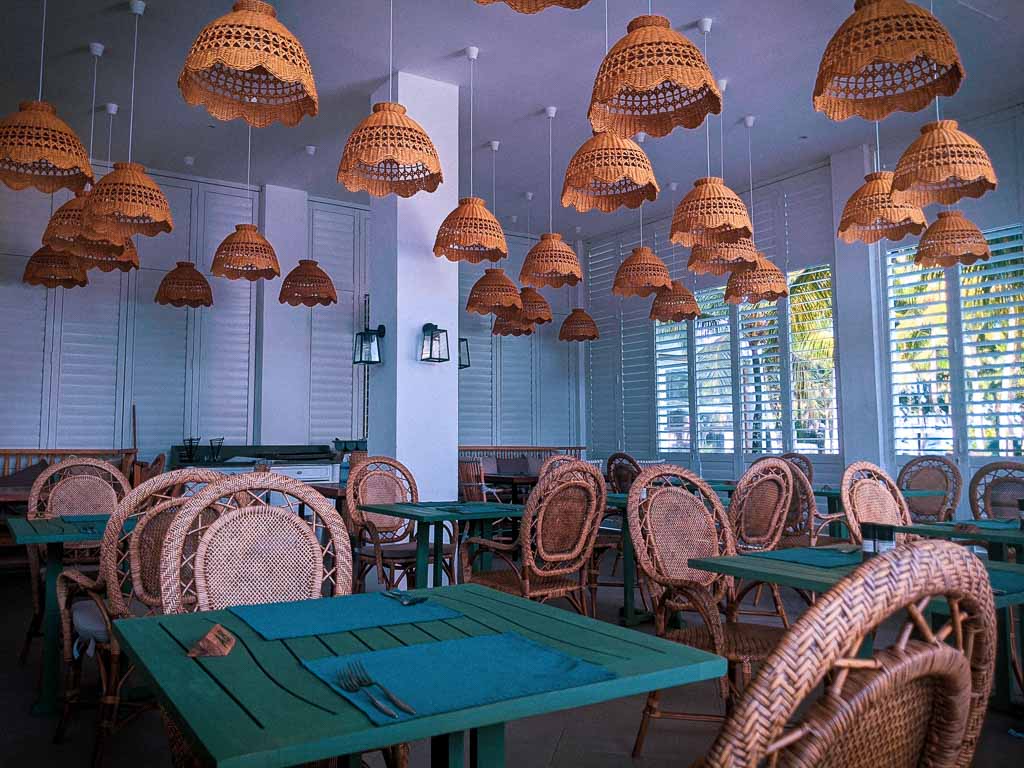 Incredibly pretty set up makes dining at Ravenala an exquisite experience!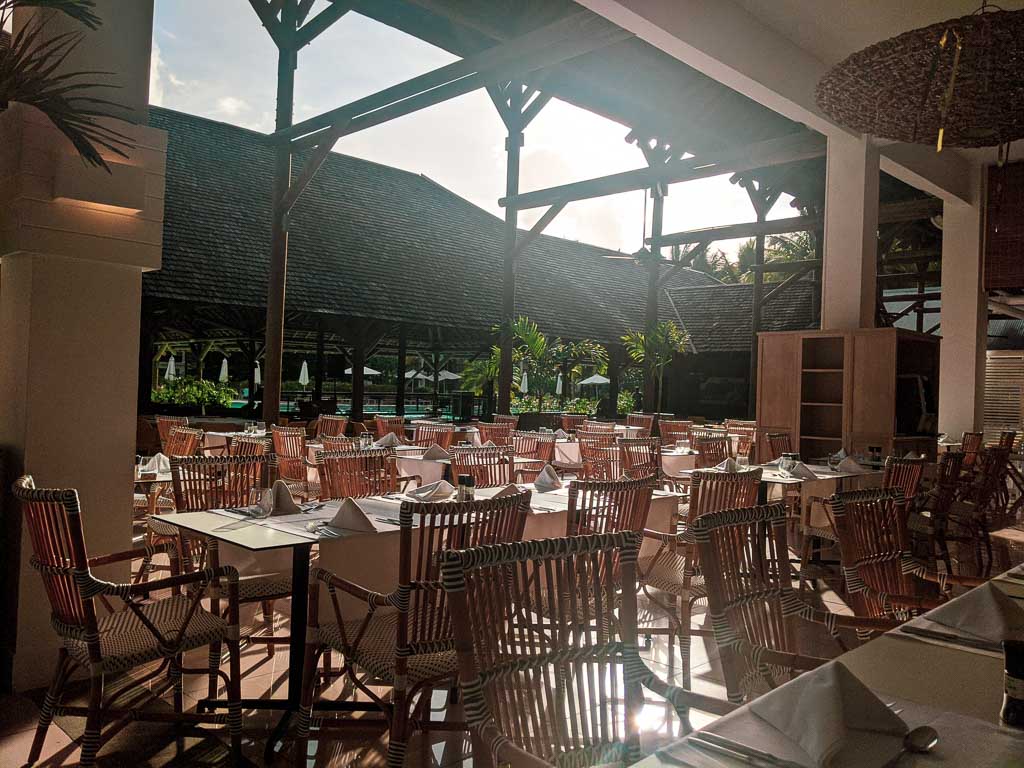 Dining by the Citron river during sundown. The blue light is mind blowing!
Delightful Spread of Cuisine of Mauritius!
It was at the Kot Nou I discovered the eternal connect between Mauritius and India. It is a shared culture through gastronomic heritage. There were curries and samosa and rice. But there was "Shutki Mach" (sun dried fish). I can not eat this but boy, did it bring pure joy to my heart? It is termed as "Gandma's cooking". You take the first bite and you know why!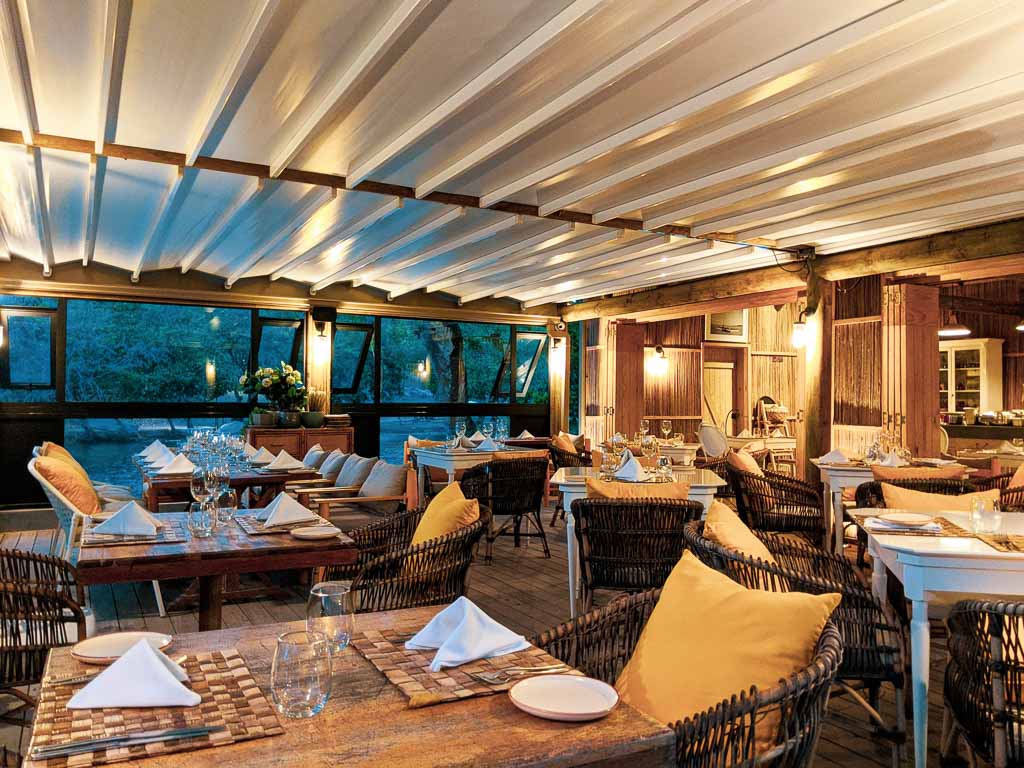 Verushka Ramasami of Spice Goddess asking me to eat the shutki! Oh, little joys of blogging! The friends I make on the road! And the friends who are far away!
Sushi Delights: Japanese!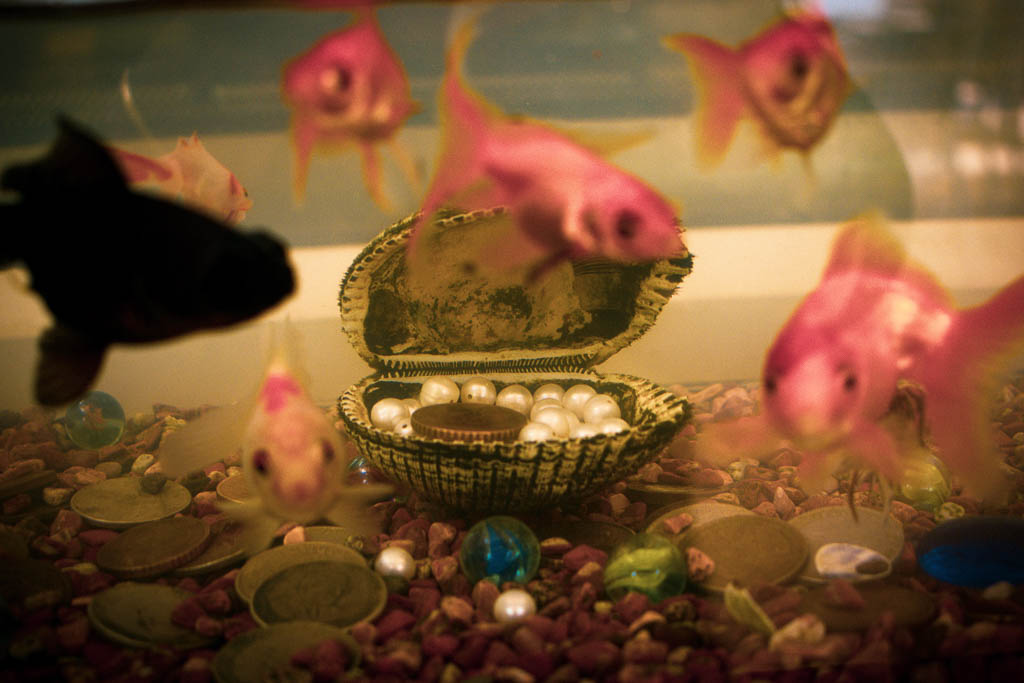 A grand Sushi boat! What more your girl can ask for?
At Lime, the beach side Japanese restaurant at Ravenala, we gorged on a Sushi boat and many other delights from a Japanese kitchen, from tempura to a type of rice!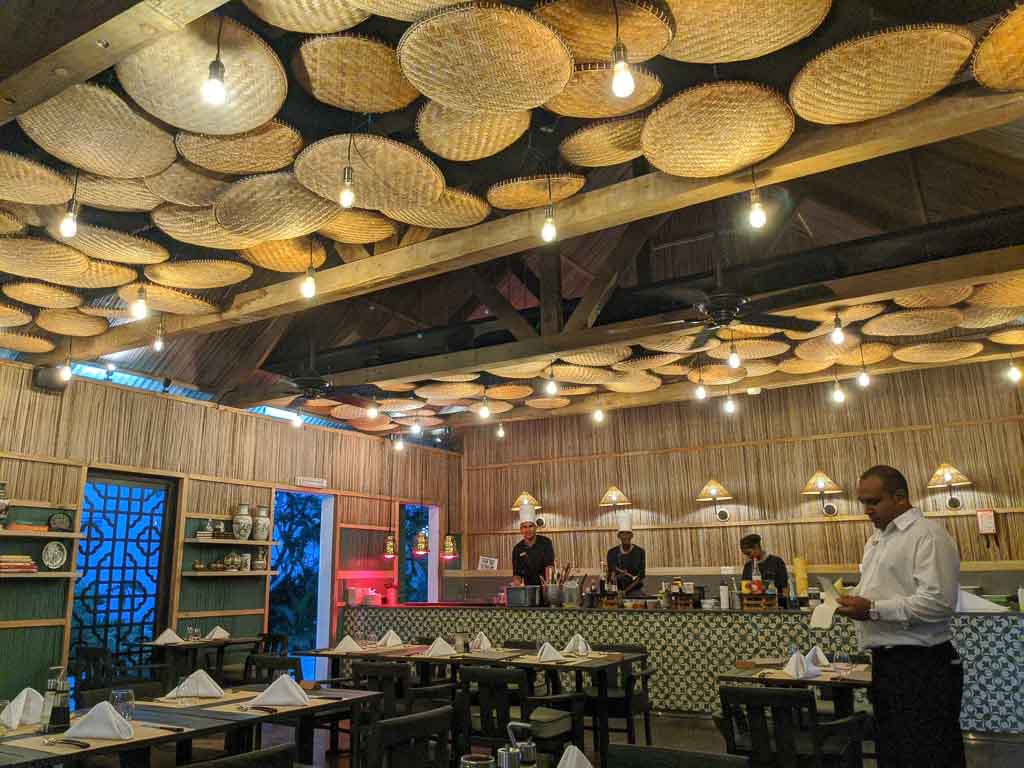 Interior of Madam Ming that serves authentic Asian food from Thailand, Vietnam and Malaysia!
Taba-J the colorful vendors on the beach that serves excellent Dholl Puri, a street food synonymous with Mauritius! I also had lunch by the beach BBQ on the last day. The chef cooks a rustic curry with coconut milk and plantain, which is a must try!
Romantic Escapades within Ravenala Attitude Mauritius Resort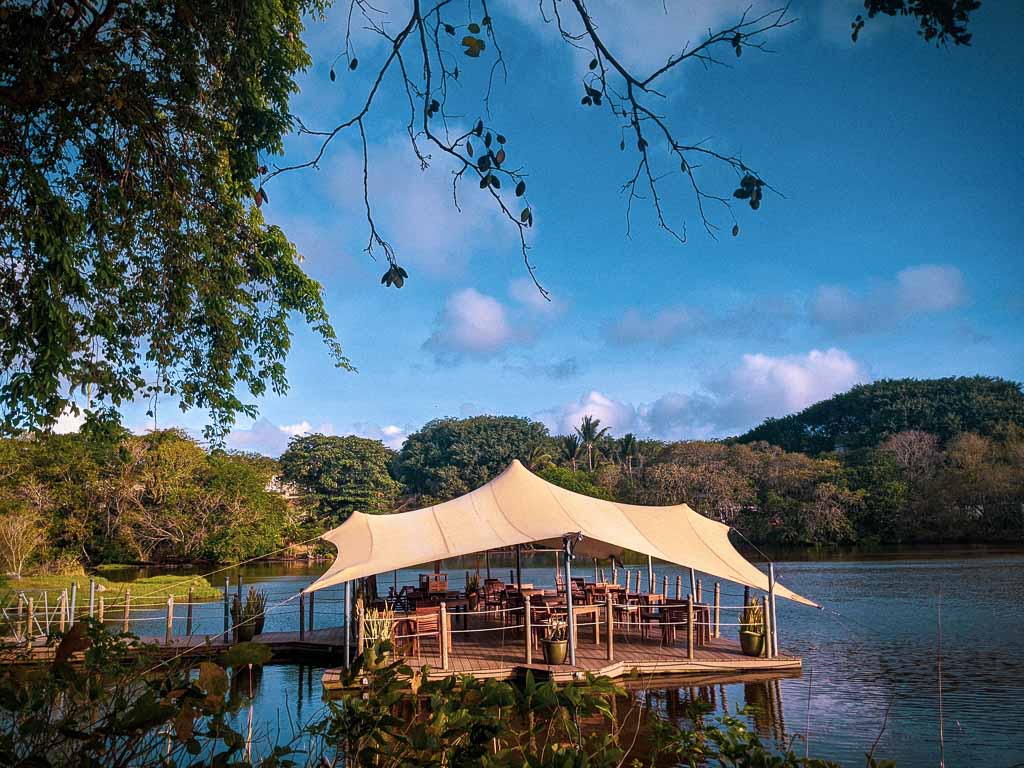 Activities Galore at Ravenala Attitude Mauritius Resort
The resorts runs a weekly program on which they run certain activity in the premises on certain days of the week. you will be handed out a weekly program routine. Apart from regular yoga session, gym, you may choose to participate in the following activities:
Learning Creole with hotel employees
Cooking Class for an authentic Mauritian meal
Sega Dance and live music
Beach games: Volleyball court, fishing, carom etc
The quirky chess board by the river
Exploring the landscaped garden of the property(I loved this the most)
I took a hotel tour with one of the hotel staff. She was a young girl, apt in many languages (Mauritians usually learn quite a few languages). She showed me the Ravenala palm tree from which the property has derived its name. Hotel tour takes place from 4:30 pm and you just need to be present at the lounge.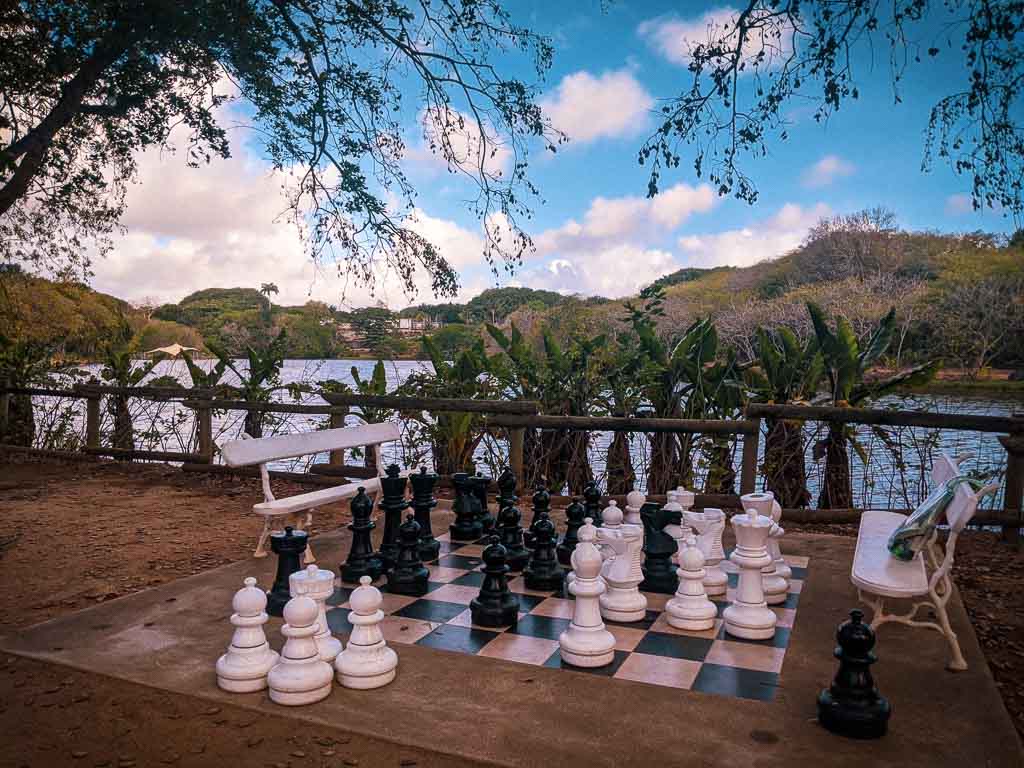 To mitigate the environmental effects of running a resort this humongous, the Ravenala has created a mangrove forest by its side! I kid you not, there is a man-made river in the resort premise. It starts at the mouth of Citron waterfall, which further flows into Citron river. Water level changes dramatically with rain on the island! The river proceeds to meet the ocean with dense mangrove on one side.
Under the umbrella of Attitude Hotels, Green Attitude Foundation conducts various CSR activities. The hotel is keen on ecological conservancy and employs various sustainable practice.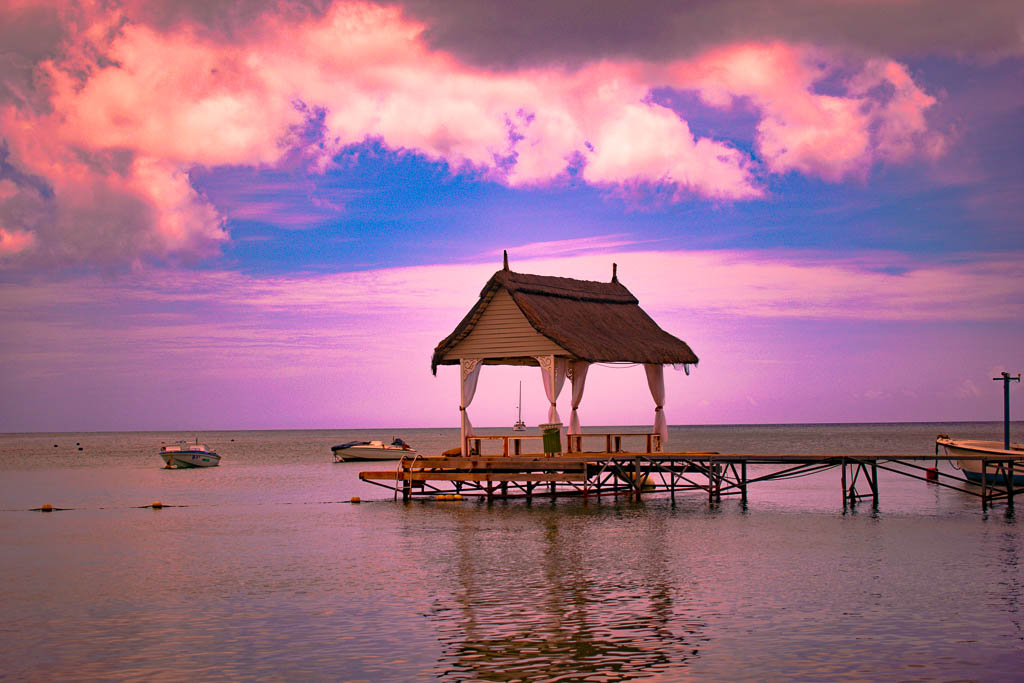 The wedding gazebo at the Ravenala Attitude Resort: A stylish place to celebrate a wedding in Mauritius! fancy a destination wedding? Consider Mauritius!
Also read: Why Travel to Mauritius?
The resort has it all inside the premises. Fancy buying a beachwear? Trust Ravenala selling one alongside souvenirs. I loved the Dodo birds. They are now extinct in an organic way but very much present in memory and marketing sphere.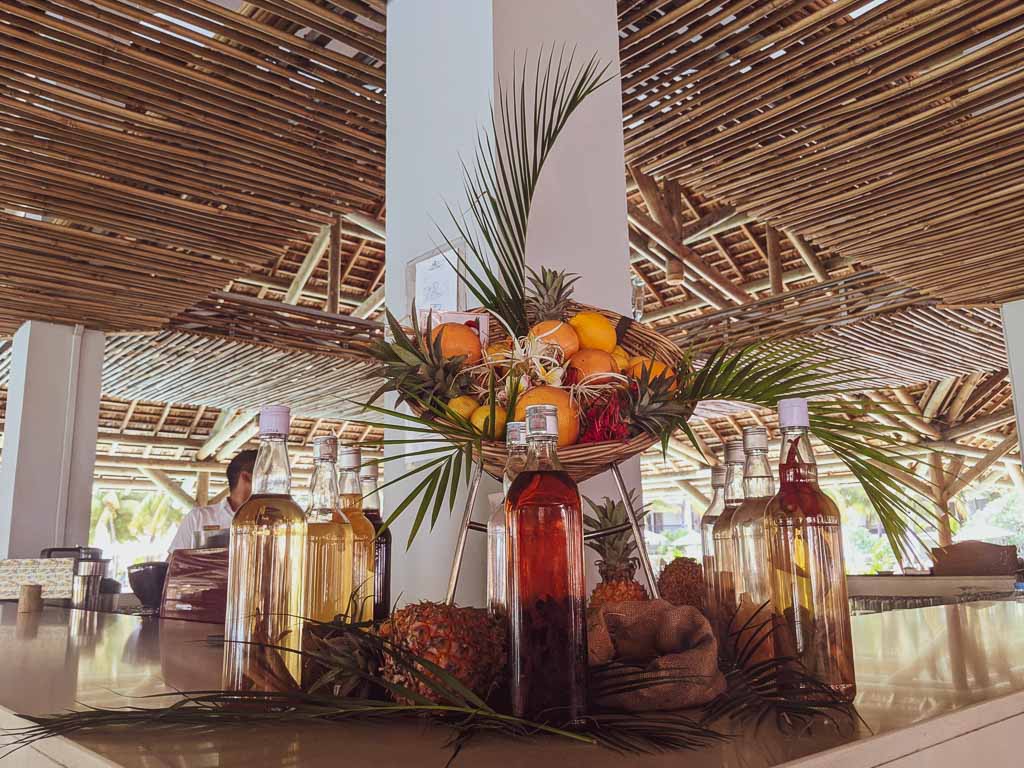 Local rum tasting session is an elaborate event at Ravenala Resort.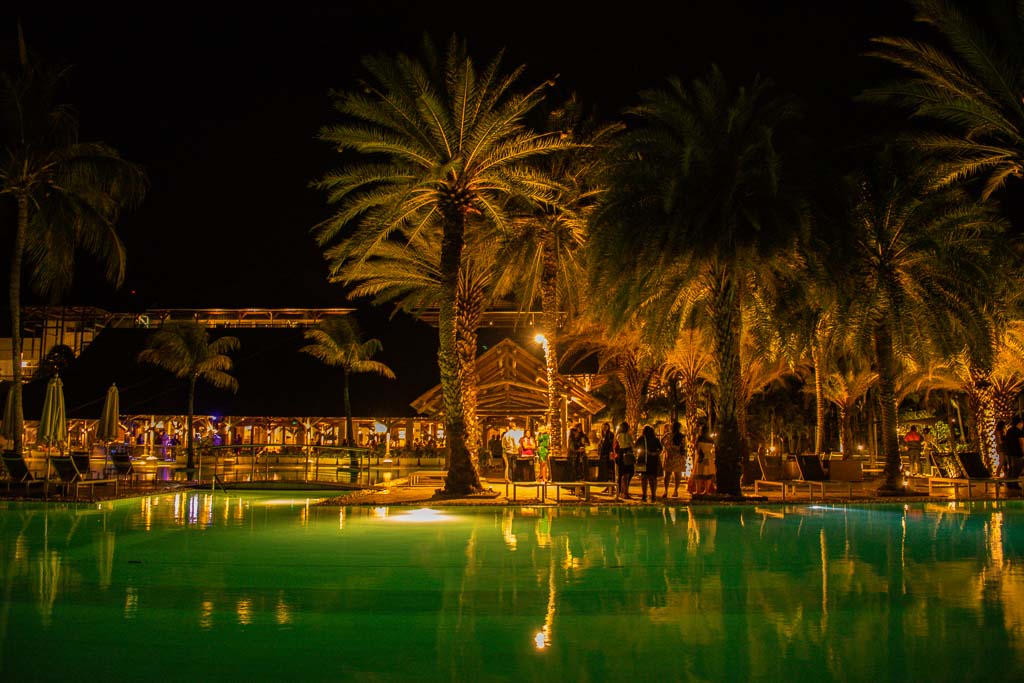 Leveraging the profound space, Ravenala has sectioned areas for different age groups. Thus, you will come across Ayo Le Dodo, an exclusive kids' club and a young adult's play area too. While at night, the nightclub remains open for all night drinking and dancing even after the Piano Bar is closed at 11. I could hear Bollywood rhythm coming from the dance floor!
"Otentik Discovery" is an app you can use to learn more on activities in Mauritius. It is designed by the Attitude hotel.
The beach bar sits pretty with swims apart from great views. It is an apt place to find your lone time despite Ravenala being favorite among scores of guests. Stuff at Ravenala are attentive but not intrusive. They let you be, one among the many. If you know what I mean.
Watersports at the Ravenala Attitude
Not only the indian ocean, Ravenala has a river by its side for company. It is a no brainer the resort will let its guests indulge in water sports.
From canoe ride through the mangrove to a diving center, Ravenala offers it all and more.
The resort conducts guided Glass Boat Tour. You need to sign up for this on a daily basis. Boats go during low tide at a specific time slot. You can check out the beautiful coral reefs and marine life that lies next to the Ravenala resort. Water skiing, swimming, paddle boarding snorkeling are some of the activities offered here. They usually provide you with one life jacket.
Rejuvenate at the Spa of Ravenala Attitude Mauritius Resort
It was not until I visited the in-house Spa, my travel fatigue bid me adieu for good. The able fingers of the skilled masseuse knew the knots around my shoulder area. She slithered her fingers through what I know as my backbone. It felt like a relief is surging towards the center of my senses from the depth of spine!
Traveling with back-pain can be a spoiler. No kidding!
Spa at the Ravenala is an elaborate affair. From many treatments ranging from a vichy shower to couple therapy, followed by hammam and hairdresser, you can pick and choose how your body demands to be pampers.
The spa is a block is tucked by the corner of a little pond, water of flaunts a sheet of fuchsia green moss. Beautiful birds sing by the side of it.
In house guests get 20% discount on the prices on all inclusive plan.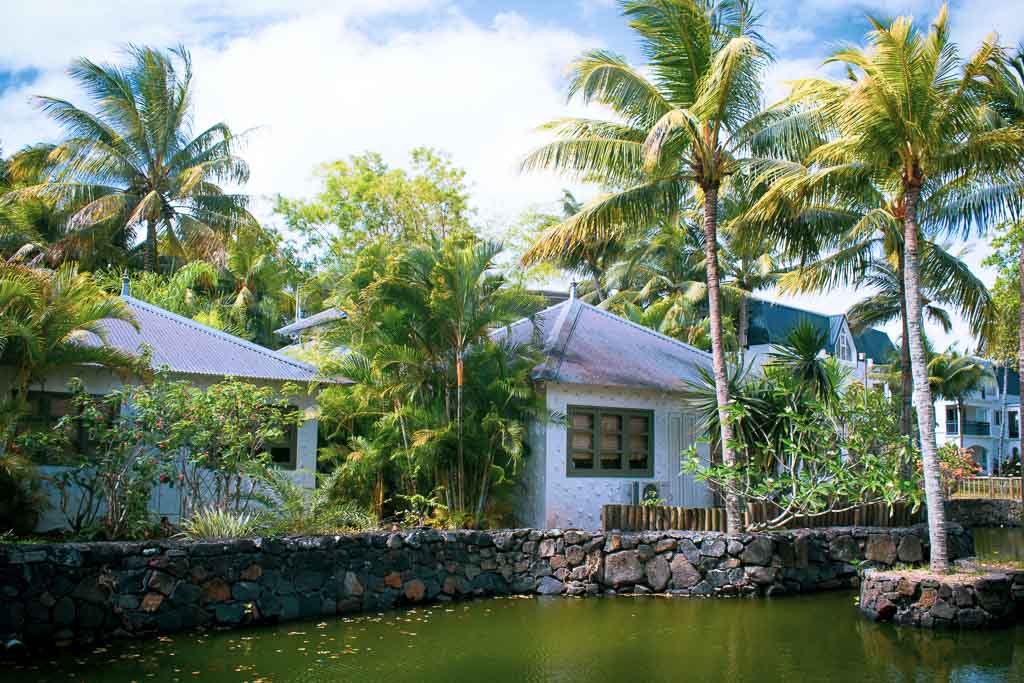 Is the All Inclusive Stay Worth It?
Mauritius has this concept of an "all Inclusive stay" (breakfast, lunch, afternoon tea, dinner, evening snack, drinks at bar) where every meal and selected drinks are included on a daily package. Every big resort in Mauritius has this and Ravenala Attitude is no exception. Half board means dinner is outside the hotel. I personally prefer to explore a destination and usually eat out so I will probably be happy with the half board option. But for the one traveling with family (read kids) and the main objective being relaxation, all inclusive chimes in a worry-free distressing experience.
Pin it for later!
Despite living a life king size at Ravenala Attitude, I would like to highlight a couple of gaps in the experience.
Them flies, Can you drive them out?
In the long run, food served on buffet may get repetitive. This holds true despite the fact the resort is having 10 different types of restaurants of repute.
Doggos and felines join you sometimes on the beach. It is cute. But it could be a bit daring while traveling solo. I was solo and I wished I would have S by my side, tending to the cats like he did in Zanzibar (check out my IG story highlight on Zanzibar to know more on that!)
Disclaimer: I was hosted at the Ravenala Attitude Mauritius as a part of bloggers' conference by MTPA. All opinions are my own.
This post may contain affiliate links. Please read the disclosure post. If you have liked the article, you may support it by buying using these links without any extra cost to you.
Let's stay connected on Facebook, Instagram, Twitter! You may also consider joining my mailing list. I send travel and photography related emails only once a month!