Rice is the secret to driving force behind every Asians.
Take a sneak peak to an Asian's breakfast table and you will know what I am talking about. Rice made into batter, pounded into flour, steamed gently to yield stickiness or not, fermented overnight, flavored with lamb and saffron: a bowl of rice defines happiness for us, Asians.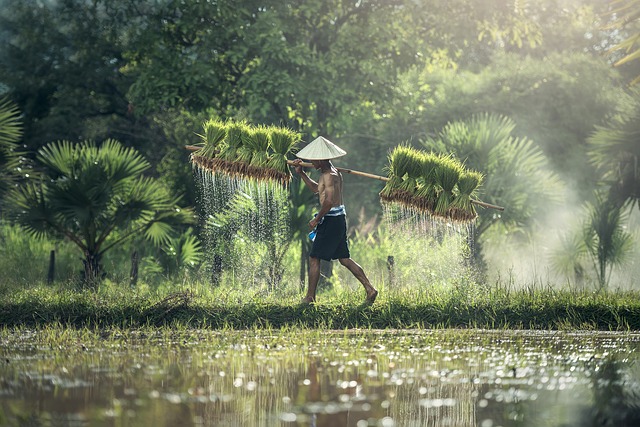 With occasional guest appearances of flours and changing face of protein source, it is interesting to study various breakfast spreads as we explore this wide old continent.
This blog post is a combination of favorite breakfast picks by travelers from different parts across Asia.
Breakfast in Vietnam: Xôi & Pho
Xôi, a Vietnamese dish made from glutinous rice and topped with various other ingredients, is commonly served as dessert however is more popular as a breakfast dish in Northern Vietnamese territories. You can find Xôi on majority of menus in Vietnam including both restaurants and street food carts with the latter being the best way to enjoy this traditional dish.
The best place to try Xôi in Hanoi has to be Xôi Yen, a small corner restaurant open most hours of the day where you can pick up a steaming bowl of Xôi with delicious toppings for only a dollar or two!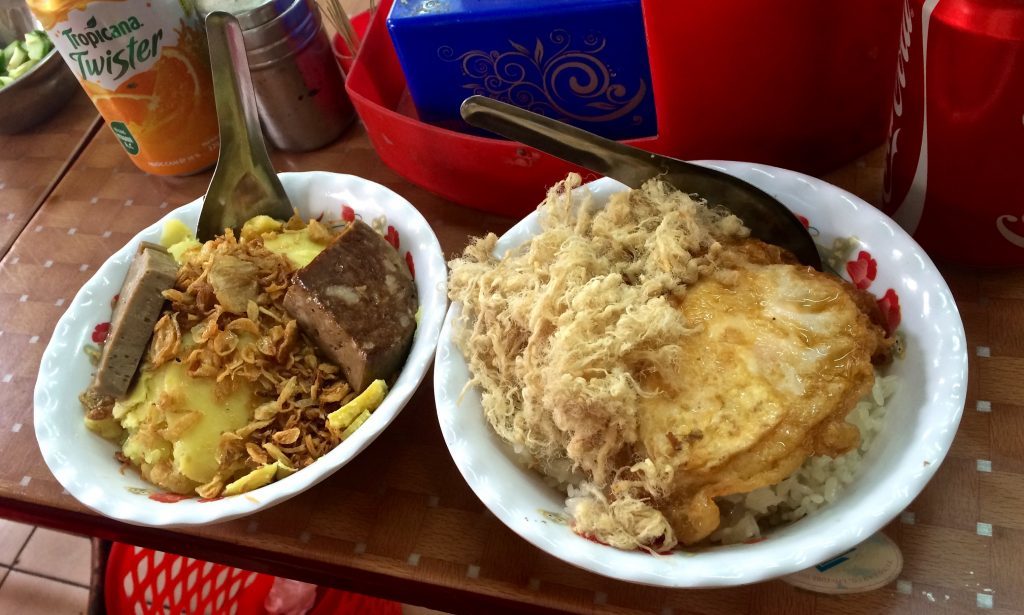 There can often be a mind-boggling number of toppings on offer at Xôi restaurants, to help you pick there's two I've tried and can personally vouch for: meat floss and fried quail's egg, and Chinese sausage and crispy shallots.
The dishes might look small and a little unappealing when you first get them but Xôi is a surprisingly filling and yummy breakfast option!
In this blog post, Laura & Charlie share their favourite breakfast fare from Vietnam!
You can also follow them on Instagram!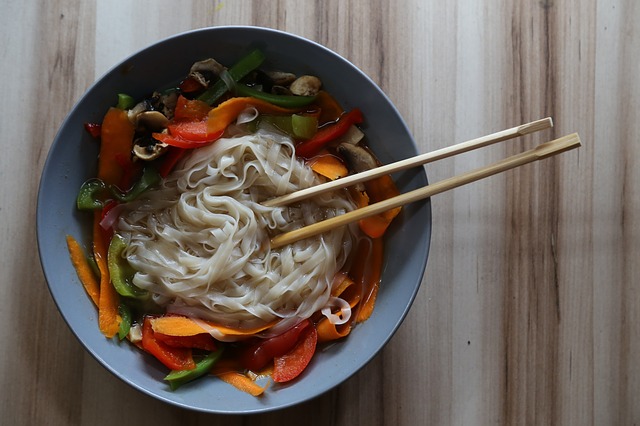 Introducing Pho, a flavorful broth of beef stock and noodles that binds Vietnamese from North to South. The broth and its changing spice quotient testifies to multiple cultural influences as you move from the North to South in Vietnam!
I sat by tiny stools by the busy highway of Hanoi's old quarters and sipped through Pho, along with ten other locals. I sipped Pho before boarding the early morning flight from Saigon to Hanoi. I sipped on Pho before starting for the trek to Lau Cai Village in Sa Pa. Like Vietnamese does, before starting a whole new day!and loved the country a wee bit more!
Planning a trip to Vietnam? Read all the resources for Vietnam travel here!
Milkfish Porridge in Kaohsiung: Breakfast in Taiwan
Kaohsiung is the second-largest city in Taiwan and a port city in the southern part of the island country. With the abundance of fresh seafood, it is not a coincidence that many traditional dishes in this region feature seafood.
One of the most well-known breakfast menus is milkfish porridge (虱目魚粥). Milkfish is a type of fish unique to Taiwan. While there are various ways to prepare the fish, milkfish porridge is a popular choice for breakfast. It is full-filling, yet easy on the stomach in the morning. And that's why it was served as high-protein breakfast that provided energy for hardworking fishers.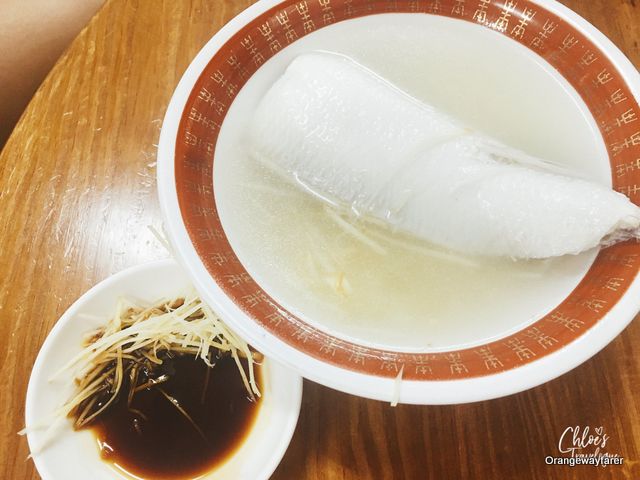 Although fish in the soup might not immediately appeal to you, you will be surprised at how tasty it is. It is not fishy at all as chefs can only use fresh fish in the soup. Also, this nutritious meal is affordable at NT$100 (roughly USD4) only.
One thing to keep in mind is that Milkfish is notorious for having many thin bones. However, any reputable breakfast shops should professionally fillet so that you don't have to worry about getting choked.
Milkfish porridge is a must-try breakfast in Kaohsiung.
Chloe blogs at Chloetravelogue. You can find more recommendation on food and local restaurant in Kaohsiung here.
Find Chloe on Instagram here!
Congee: Breakfast in Thailand!
The land of smile, Thailand offers myriad bowls of boat noodles from an early start of the day. However, I was sold to the bowl of Congee served with 100 years old egg right at the China Town at Subarnabhumi Airport, Bangkok.
While that 100 year old egg is an experience of its own, Congee presented itself as an epitome of comfort food. It soothed the last nerve end of my burnt out tongue as I gulped down the entire bowl!
A variant of rice porridge, Thais like their bowl of Congee with crispy fried garlic, small fried fish and shrimps and mushrooms.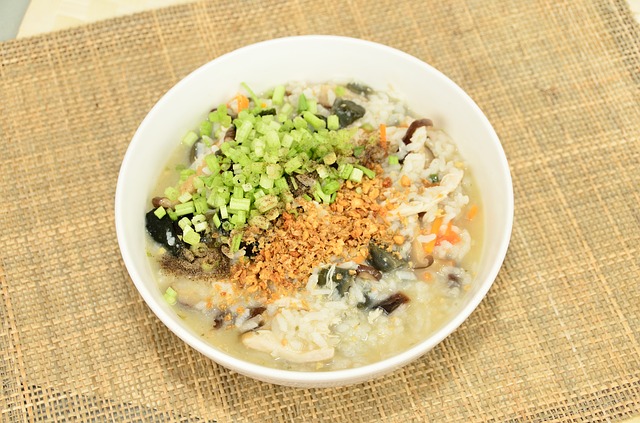 Breakfast From Nagoya, Japan

If you visit any coffee shop before 11 a.m. in Nagoya, in the center of Japan's main island Honshu, you will have the option to order a Nagoya Morning Service. The Nagoya Morning Service combines a drink of your choice (usually coffee) with half a slice of toast and an egg for the cost of the drink (usually less than 500 yen or 5 US dollars).
The food can vary from coffee shop to coffee shop, from day to day or even depending on your preference if they offer different options.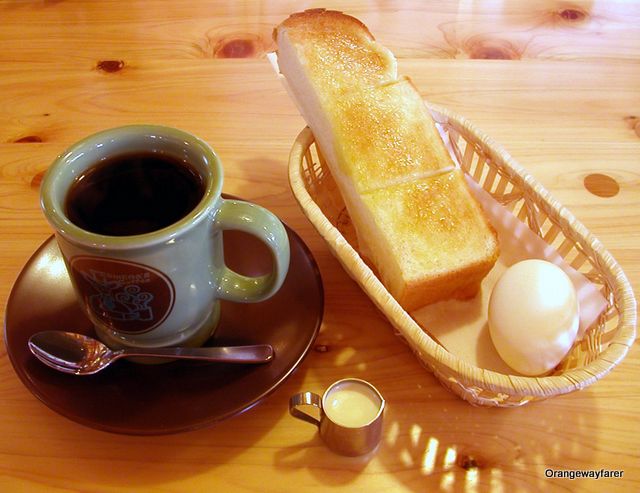 One of the coffee shops where you will get a Nagoya Morning Service is Komeda's Coffee a coffee shop chain that originated in Nagoya, but can now be found in other parts of the country as well. Their Morning Service comes in three versions: Toast with a boiled egg, toast with egg spread or Ogura toast, sweet red bean spread on toast. You can find

Komeda's Coffee everywhere in Nagoya, just check your Google Maps to find one near you.
A Nagoya Morning Service is a great start to the day which you can spend exploring Nagoya.
Read about what to do in one day in Nagoya on Lena's website Nagoya Foodie. You can follow her on twitter here.
Miso Soup, Japan!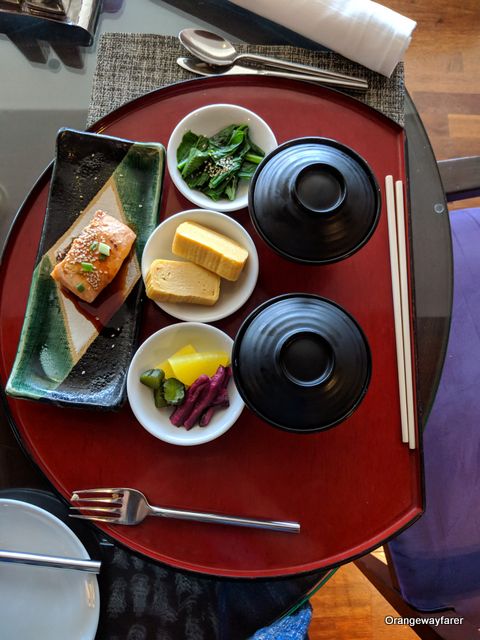 A typical Japanese breakfast spread with steamed rice, Miso soup, a salmon fillet, and sides of vegetables, served at PullmanG, Bangkok. That bowl of Miso soup, often hailed as the epitome of comfort food in Japan, is the highlight of this meal.
Mohinga: Breakfast in Myanmar
Even though I tried Mohinga from an upscale eatery in downtown Yangon, named Rangoon Tea house, I would suggest trying this dish out from one of those street side vendors n Myanmar. the national dish and flag bearer of Burmese cuisine is basically an assortment of rice noodles in fish stock!
Mohinga is best savored with a dash of lime. It kick starts your day with a fueled stomach!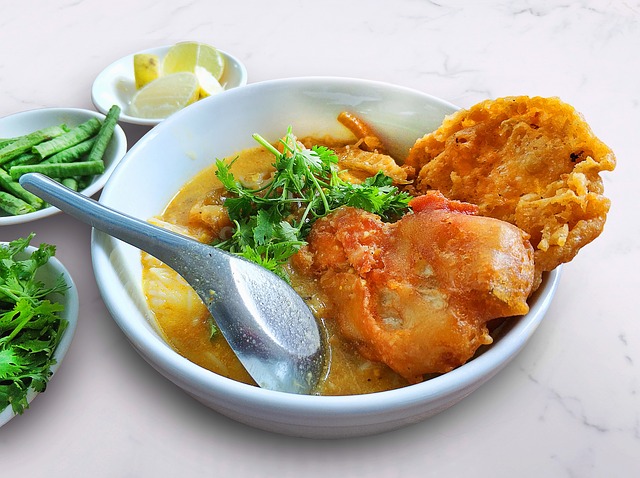 Panta Bhat: Breakfast in Bangladesh
A shared heritage of Bangladesh and India, Panta Bhat traces its history back to 300 years! A part of Bengali idioms and folklore, Panta Bhat in its most rudimentary form, is a plate of rice, fermented overnight.
Acting as a cooling agent from the excessive heat in Bengal, Panta Bhat is eaten with various Bhorta and fried Ilish (the iconic fish of Bengal), and with a dash of Gondhoraj Lemon!
My Bangal mouth almost salivates as I type this, but Panta Bhat stands a clear winner against all my favourite dish, ranging from Hyderabadi biryani to Egyptian lamb stew!
If you dare, add in some Shutki Bhorta, a ladle full of dried fish with that plate of Panta bhat. You will know why the food survived for three centuries and is a part of festive fervor of Bengalis, from Pahela Baishak in Dhaka to Ranna Puja in Kolkata!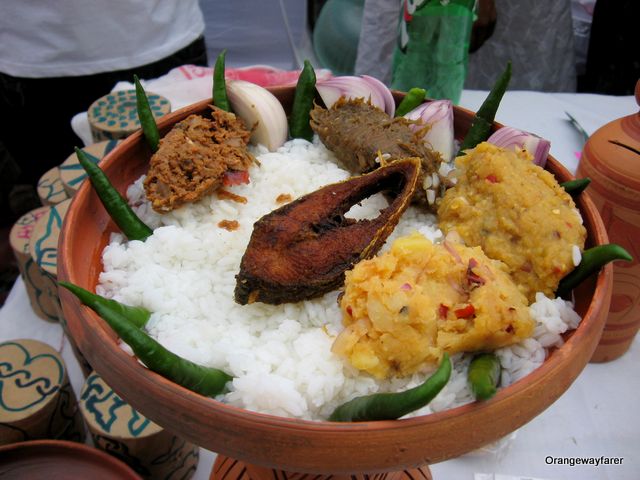 Breakfast in Sri Lanka
Anwesa from Going places with Anwesha has contributed this piece.
Breakfast is my favorite meal of the day and Sri Lankan breakfast has been one of the highlights of my family trip to Sri Lanka. Every morning while you sit down for breakfast, you will be greeted by some of the delicious items that you have laid your eyes upon.

My favorite Sri Lankan breakfast options are string hoppers, dahl, banana pancakes and fresh coconut (pol) sambol with red chilies. String hoppers are also known as Appam. They look like a bunch of noodles but made from rice flour, pressed through a strainer or Idiappam maker. String hoppers are often accompanied by a yellow dahl which is denser and spicier than its Indian counterparts.
Crepes are often referred to as pancakes in Sri Lanka. The Sri Lankan styled pancakes are a tad different than the regular fluffy crepes in terms of texture and often a little turmeric is mixed with it to get the classic yellow shade.
The banana pancakes are prepared with slightly thick crapes wrapped around ripened bananas with a dash of jaggery syrup. Sometimes, the Sri Lankan pancakes are also stuffed with freshly grated coconuts with jaggery instead of bananas.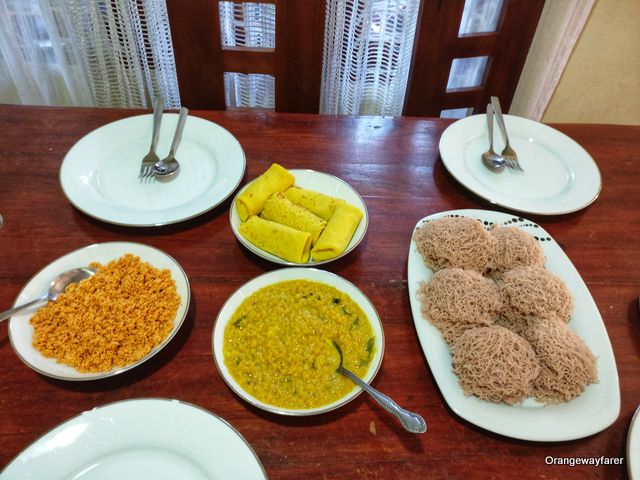 The coconut (pol) sambol (chutney) is made of freshly grated coconuts with red chilies, salt and a little dash of lime. They go really well with any Sri Lankan cuisine.

Our breakfasts were included in our home-stay packages and we rarely ate breakfast outside. But most of these dishes are available for lunch as well in local restaurants ranging from LKR 200-350 (Price may vary from shop to shop).
Anwesa has penned down a 7 days itinerary in Sri Lanka for aspiring travelers. You may follow her on Instagram here.
Breakfast in Kolkata, India
In this cosmopolitan mega city of East India and erstwhile capital of British Raj, which also happens to be yours truly's hometown, Bengalis swear by Luchi and Begun Bhaja for the morning breakfast, especially on a weekend.
Luchi is a puffed bread cooked with white flour. When stuffed with myriad stuffings of green peas and Hing, Luchi takes the name Kochuri. The sweet shops of North Kolkata serves Kochuri and Alur Tarkari (potato) in Shalpata Plate (made of Sal tree leaves) for INR 20.
Luchi is deep fried in refined oil, best served hot. Accompanied with a handful of frugal sugar crystals to a royal spread of Cauliflower with river prawns or spicey red lamb curry, Luchi fits in amicably with everyone!
If the Luchi is not fried in Pure Ghee, it would pass the Vegan taste as well! Luchi and Begun Bhaka is the epitome of Bengali vegan Dish, in my honest opinion!
Kolkata is the leading destination for food lovers in India! Here are the related Travel and Food guides in Kolkata!
Breakfast at Kochi, Kerala, India
Sapna Kapoor, the author of My Simple Sojourn, shares her experience on a traditional breakfast experience from Kochi, Kerala. You can follow her on Instagram here.
Kerala is one of my favorite places in India and I love visiting here for amazing backwaters and other beautiful places. Other than that I love Kerala food.
Whenever I travel to Kerala, I prefer to try authentic Kerala dishes, as they are light on pallets and full of flavor.
During my last trip to Fort Kochi in Kerala, I had tried several dishes. Two of my favorite breakfast dishes are now Kadla curry with Appam and Idli with chutney & sambhar.
Kadla curry with Appam is black gram curry dish with a rice pancake. This is a signature dish of Kerala and served here only. The soft appam goes very well with the curry as it socks all the flavors and I felt a burst of flavor in my mouth. It is quite healthy as oil is used in a minimum amount and Black grams are full of protein. Usually, a plate of appam with Kadla curry cost 50 to 60 INR in a basic restaurant.
My other favorite dish is idli with coconut chutney and sambhar. Idli is now available across India and one of the favorite breakfast, it is also a popular snack as well as also consumed in lunch and dinner. Idli is the same everywhere but the preparation of sambhar and chutney varies from region to region in India.
It is one of the healthiest breakfasts as idli is made of rice & lentils batter, which is then steam cooked. Two to three pieces of Idli with chutney and sambhar can cost around 30 INR in a basic restaurant.
These two are my favorite breakfast dishes from Kerala, which one must try when in Fort Kochi.
Did you know? Indian peninsula boasts a very specific style of coffee, locally known as Filter Kapi, developed over the century and savored by locals. Filter Kapi has more variants. Degree Kapi of Kombakanam, Tamilnadu being one of them. Kapi is lifestyle in the south of India, and thus an incumbent part of breakfast too!
Mysore, Karnataka, India
One of the best experiences of any trip to India is the food. If it comes to the culinary scene, India has a lot to offer with each state and region having its own specialties. There is so much variety that you can actually not speak of one Indian cuisine.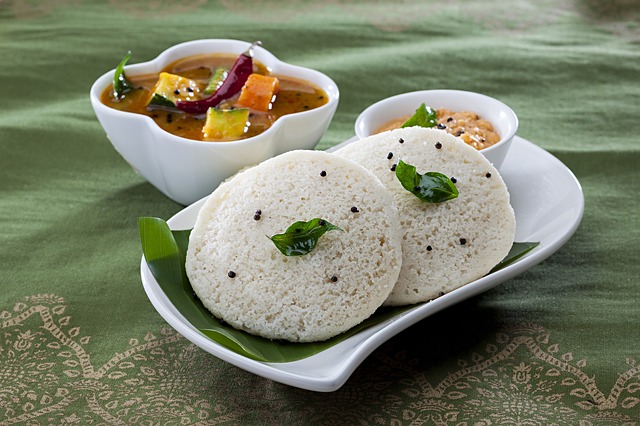 In fact, South Indian food is completely different from North Indian food. The food in South India is said to be more spicier, but that doesn't mean there isn't anything for those that prefer something milder. South India also has an impressive amount of delicious items for breakfast.
One of my favorite breakfasts to eat in South India is the dosa. A thin pancake made of rice and lentils. Dosa might be a simple recipe, but not one dosa is the same. The crispy rice pancake comes in different forms and with a variety of fillings and chutneys.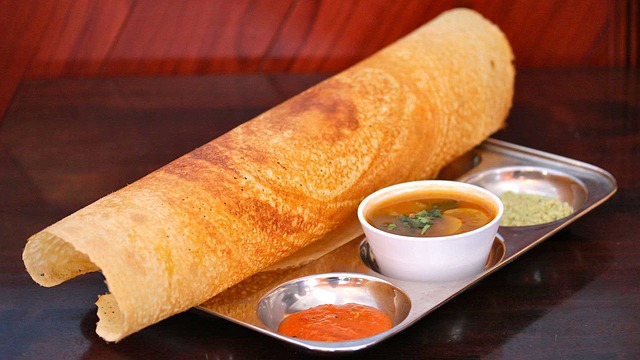 For a full dosa experience you should at least try the masala dosa with its spicy potato filling or the paper dosa that is made extra thin and crispy.
Although it is not sure where in South India the dosa really comes from, Mysore is the birth place of the Mysore masala dosa that differentiates itself with its red chutney made of chilies, onion and garlic. Hotel Mylari has a long history of serving Mysore's iconic dosa and it is always busy in the morning when people come to eat it for breakfast.
But Mysore is not only home to some of the best dosa's in India, it is a great city in general for those that love some good food. Besides dosa's you will find plenty of restaurants that serve other south Indian breakfasts like idli and vada. Mysore is a city where you can indulge yourself in the best breakfasts that South India has to offer.
Ellis from Backpack Adventures shares her favorite breakfast meal from Mysore. Read here to know a list of things you need to do when in Mysore.
You can also follow her journey on instagram.
Bread and Nun Chai: Breakfast in Kashmir
A traditional Kashmiri breakfast is sourced from the local Kandar Waz, the neighborhood bakery who sells breads of different shapes and sizes. The bread is then smeared with white butter. It works as the perfect accompaniment to Nun chai, the savory pink tea, indigenous to the land.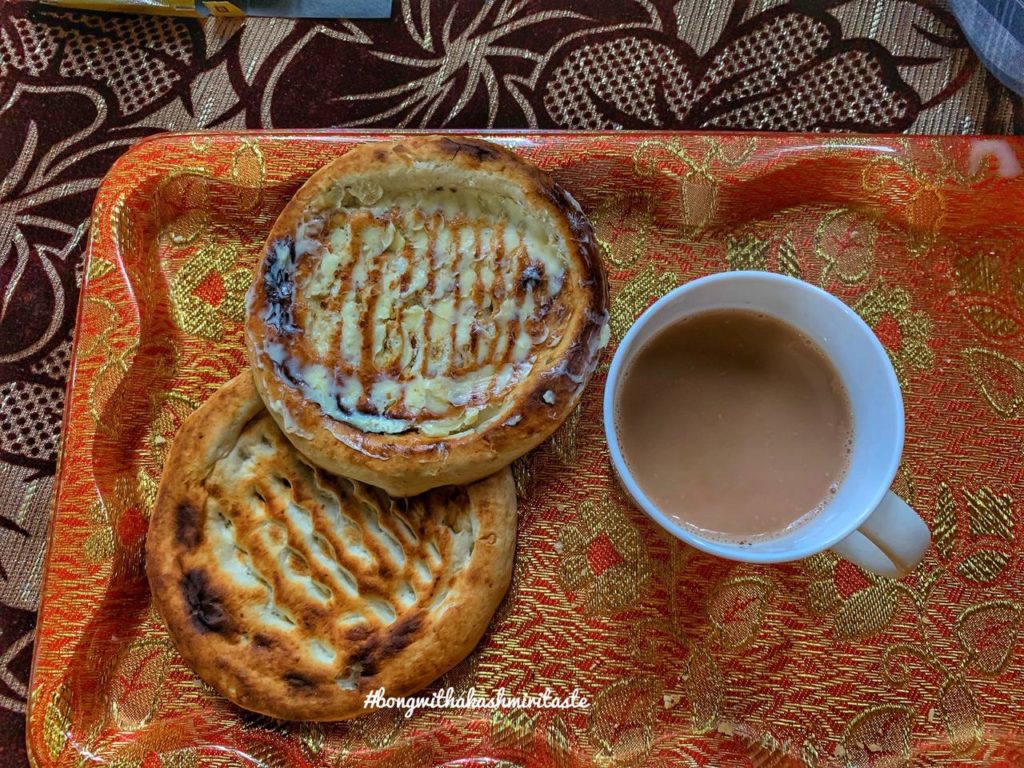 Contributed by Sabah Lone, an instagrammer and home chef. You can follow her on Instagram.
Breakfast in Uzbekistan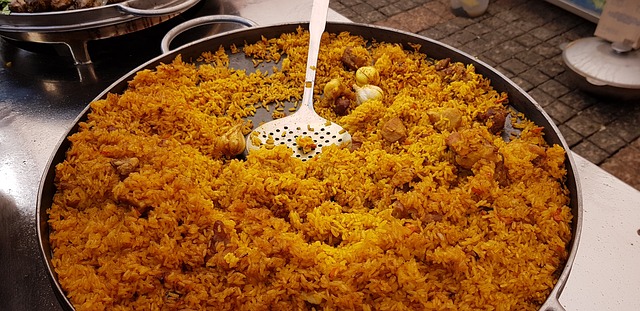 The "Stans" of Central Asia, formerly a part of USSR, showcase a different culinary trait, though heavily dependent on rice. Barren land and century old live stocking practice influenced the diet style. Food cooked here is good for prolonged storage time. Take for example the breads.
Breads and butter are part of a morning spread. As well as Pilaf, rice cooked with lamb or beef meat, especially during festivals.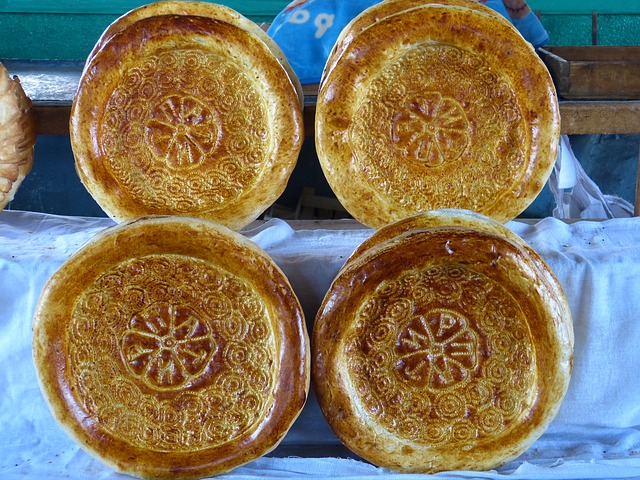 This is just a look at breakfast spread from a handful of countries from Asia. I will update the list as and when I explore the continent. You want to contribute to make this list bigger? Shoot me an email at madhurimac77@gmail.com please!
Pin it for later!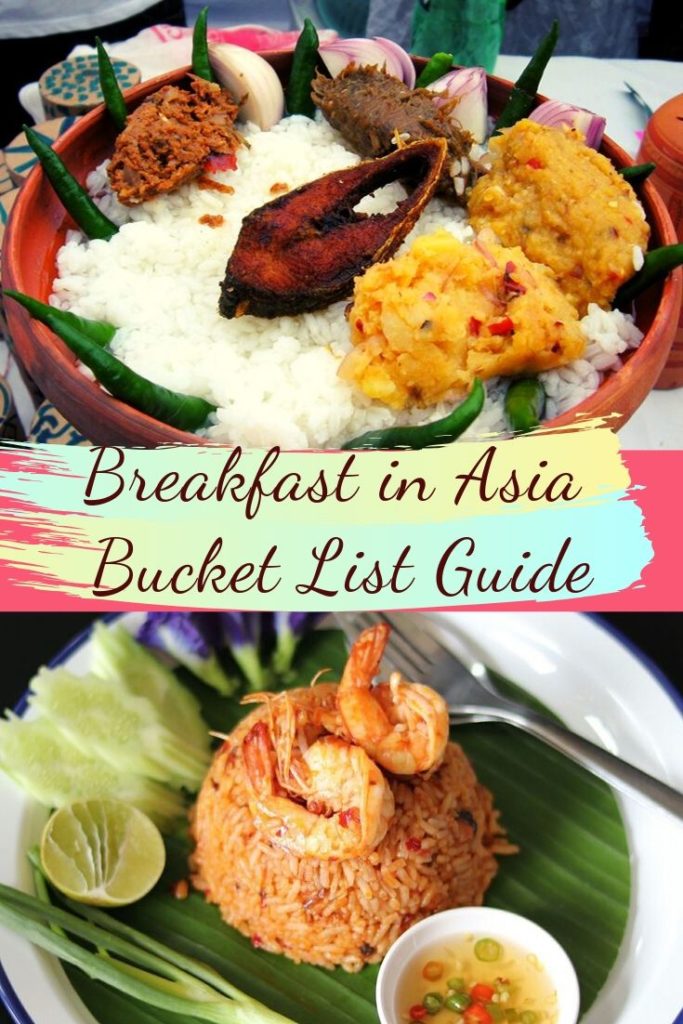 Let's stay connected on Facebook, Instagram, Twitter! You may also consider joining my mailing list. I send travel and photography related emails only once a month!