About this blog: Durgapuja is knocking at the door. This is the time of buying sarees in Kolkata and West Bengal. As Bengali we have a few favourite saree shops in Kolkata. They have been running the show for a little more than eight decades. These are some of the heritage saree shops that we love and adore and keep going back to, every year during festive season or for wedding shopping. I listed the best saree shops in Kolkata for your ready reference. they are located in North Kolkata. Some are in South Kolkata. I have personally gone to all these places and have brought sarees which I have worn all these years during my travels.
Saree is not just another attire for the Bengali community. It is an emotion. It is an art form that spans over eons and has evolved with the best of the artisans experimenting, designing and surviving the gnaw of time.
We buy saree to celebrate every occasion, big or small. My father has been benevolent with me the most about sarees and sarees only. He has never gifted me with mobiles or laptops as expensive as the sarees! I cherish the attire, I adore the stories associated with them, I recognise the emotion and I wear saree with absolute pride, even to the farthest corner of the world! I intend to do so till the time the Universe allows me to!
I was a fifteen years old girl when I got my first saree. It was a zardosi Benarasi with plenty of stone work, something in line with the style of Devdas movie. During my childhood, they would come up with various dresses and name them after Hindi movies. I went to Adi Monihi Mohan Kanjilal at College Street and bought it. It cost me INR 1500 back in 2005. It was a lot in those times.
I remember the saree (I still have it in my Kolkata home) to be of a lighter shade of coffee with lots of sparkle and glitters. The blouse was woven in golden brocade. It has been more than 10 years, I have outgrown it.
That was the start of it and till date, buying a saree is a temptation which I find hard to resist. Traveling, eating Birya
ni and buying saree are some of my weak points that would not let my bank balance get fat!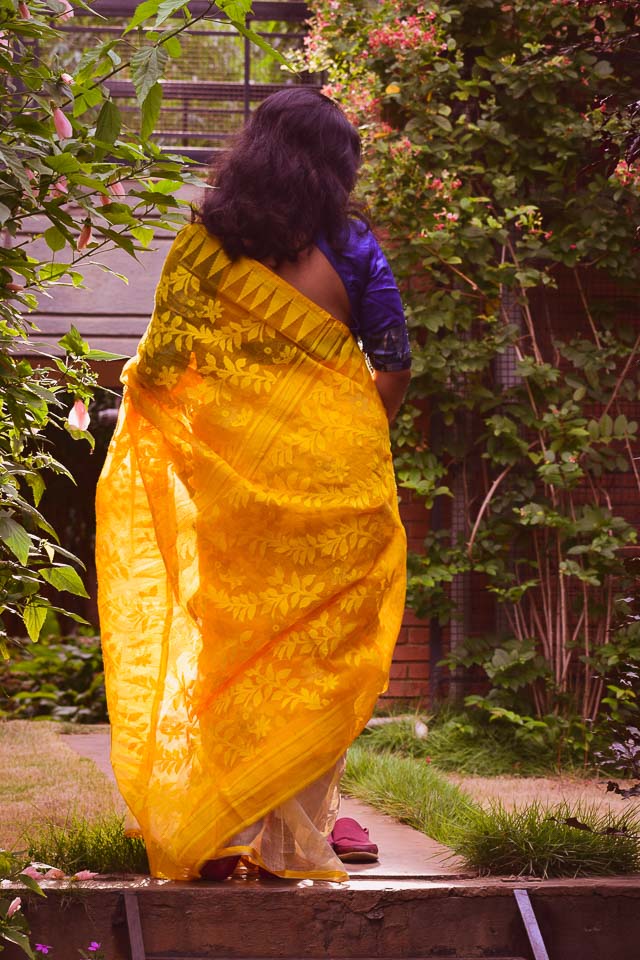 Since I live in Behala and sometimes in New Town, I have seen the best of the world! Both North and South Kolkata and their saree shops have had me as frequent visitors. For my cousin brother's wedding or making a new trip to Africa or the customary Durgapuja shopping, I have visited many market areas in Kolkata where sarees are said to be the best in Bengal. I found some shops to be overrated. Some of them were underrated gems! Some of these saree shops had me pondering if I should change my career and move to investment banking or sorts! There are just so many varieties of sarees. I can have them more than the number of times I have occasions to wear them!
In this blog post, I will share a few of these rare Saree shop finds with you. They range from the well known places to the hidden obscure gems of Kolkata! By the virtue of social media, many of these shops are present online and are selling sarees. Their stocks do not last for long. I am old school when it comes to buying sarees! I feel I need to go and see the sarees, put them on my soldier and get a feel of it and compare between 10 more sarees and then buy one! This is what the New Markets or the Gariahats of Kolkata has taught me. In Bangalore, I try to satiate my saree hunger with Nalli and occasionally Chickpet but my heart longs for Kolkata, the best city in India to shop for sarees!
There are different types of weaves in India. The Bengal cotton tant sarees can give a side eye to the Begumpuri saree! The timeless Jamdanis can put the linen handloom sarees for a run for money! The Benarasis and the Paithanis are iconic sarees of India. The Orissa Ikat woven of tussar are some of the finest sarees of the world!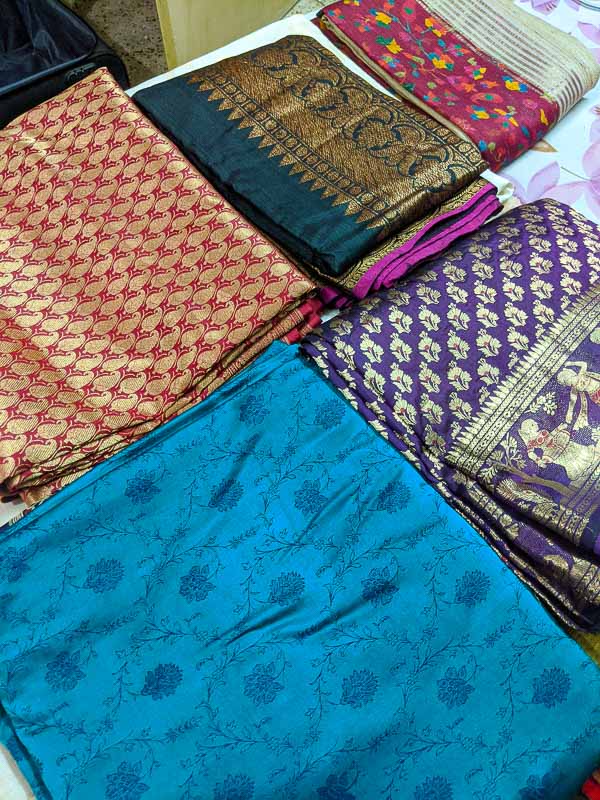 Adi Mohini Mohan Kanjilal, College Street
Swarnali Kanjilal is the owner of this stunning heritage saree house. For a wedding trousseau of a North Kolkata bride, there is no looking beyond the Kanjilal's saree! My first saree was bought from the Kanjilal's shop.
The Bengali mothers call it, 'College Street er Kanjilal!" It is a brand. Undisputedly one of the oldest and leading brands of saree sellers in Kolkata. Adi Mohini Mohan has evolved their strategy with time, by incorporating trendy and modern outfits including Lehenga and costi=ume jewelry. Mens wear like sherwani and clothes are available here as well.
Adi Mohini Mohan Kanjilal is famous for selling the most beautiful Bengali wedding Benarasi sarees. Brides' favourite banarasi sarees are available from different price ranges, from 5000 to 50000. If you ask for pure Kanjivaram or pure Benarasi with exquisite weavings, they can make it for you.
I love the Tussar benarasi and Dhakai Jamdani they sell along with colourful Katan sarees. Price range of Adi Mohini MOhan is usually in the higher range however Tant or Bengal cotton sarees are reasonably priced. Those who are not keen on buying sarees with silk marks, can also find artificial silk sarees for half the cost. However, Adi Mohini Mohan Kanjilal specializes in pure handloom sarees and provides authentic silk mark and stuff.
If you are heading for the Kanjilal Shop, head towards College Street afterwards and indulge at the old Coffee House or the Swadhin Bharat Hindu Hotel, one of the best Pice Hotels of Kolkata!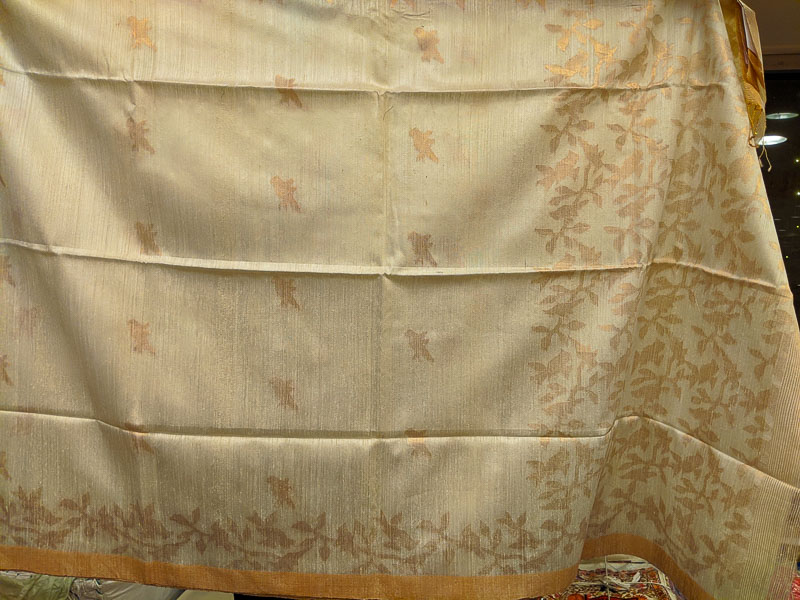 Priya Gopal Bishoyi, Gariahat (Also at Borobazar)
My wedding Saree is from Priyo Gopal Bishoyee, Borobazar. I had heard many of my friends say this with a certain amount of pride. Inquisitive, I wanted to see what they make and visited the Gariahat Brunch.
Surprisingly, I found their Benarasi collection to be mundane and repetitive. By Benarasi, they were selling Katan sarees in various tones and gold thread works. They look rather petty. Sighing, I looked at other counters where a beautiful surprise was waiting for us!
I suggest heading to Priyo Gopal Bishoyi for beautiful Silk Sarees! Silk in Baluchari, silk in Murshidabadi or Bishnupuri style. Tussar silk with Madhubani paintings. They have a decent range of tussar silk sarees starting from 4000 onwards. I especially loved the Kantha Stitch sarees Priyo gopal sells. The seller was an experienced middle aged man, who sensing my disappointment after the Benarasi experience made every effort to showcase the best of silks for which Priya Gopal Bishoyi is famous! Their Gariahat Branch is a huge shop sprawling over three floors. The Tant sarees and shawl counter had reasonably priced products starting for as low as INR 500.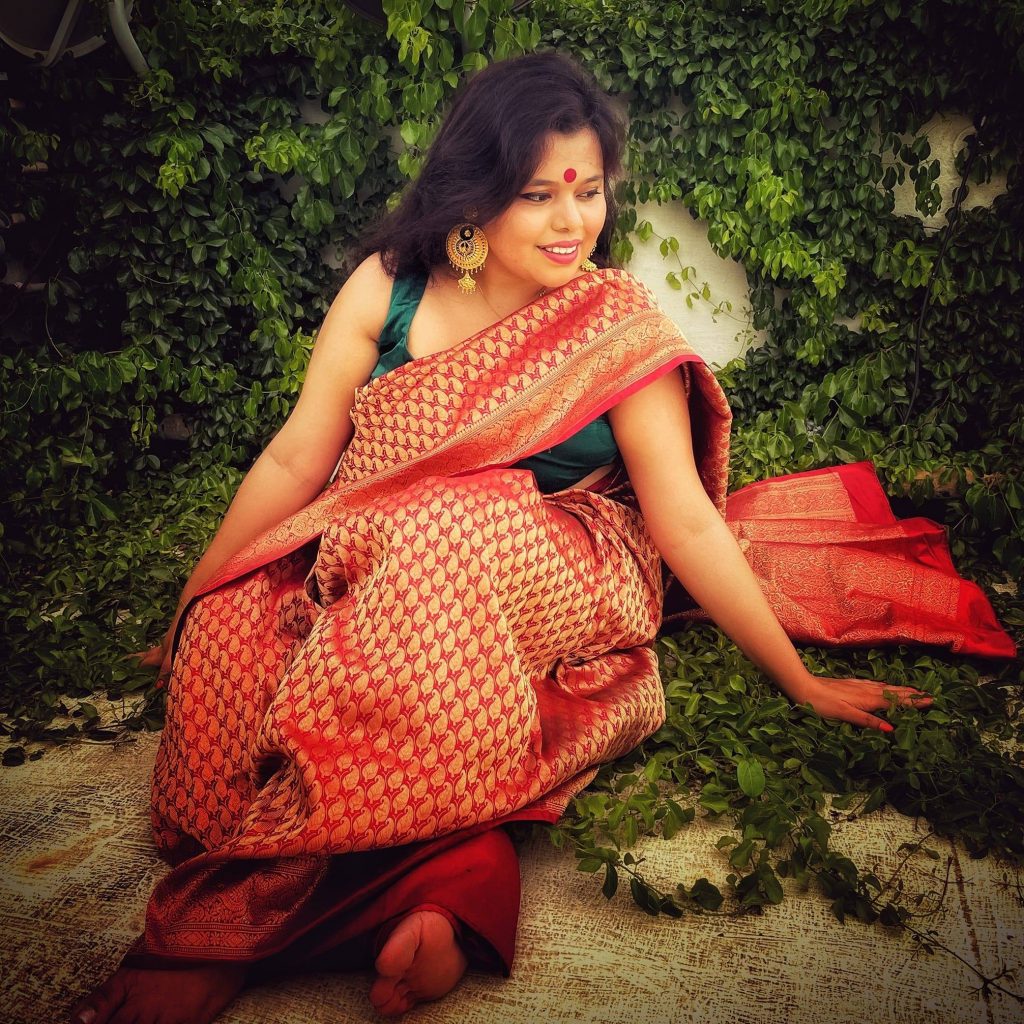 Vyasdev Tolaram, Triangular Park
If you want to head to one place where your mind would be blown, especially after seeing 1000s of sarees of the same design and pattern, head straight to Vyasdev and Tolaram. It is a tiny family run shop who owns a loom in Benaras and brings sarees directly from the old city! I found a few beautiful exclusive pieces of Benarasi sarees at Vyasdev and Tolaram. I wanted to own them all. They are expensive. Price starts from INR 12000 and more. I got my first banarasi Saree in deep marron and real zari from Vashdev Tolaram and I absolutely adore this.
Vyasdeb is a lot like a boutique store. They do not have a lot of supply of similar products. However whatever they have, chances are you will end up loving all of it! I loved Vyasdev's Kanjivaram too. On brocade thick saree, they had beautiful temple border details running. Price ranged from INR 8000 onwards.
For a discerning saree lover who wants a different saree for D Day I recommend a visit to Vyasdeb. They sell the best Benarasi saree in the city according to me. It is a blink and you miss the shop[ located right at the Triangular Park. Price is on the higher side. However, truth be told it is worth it!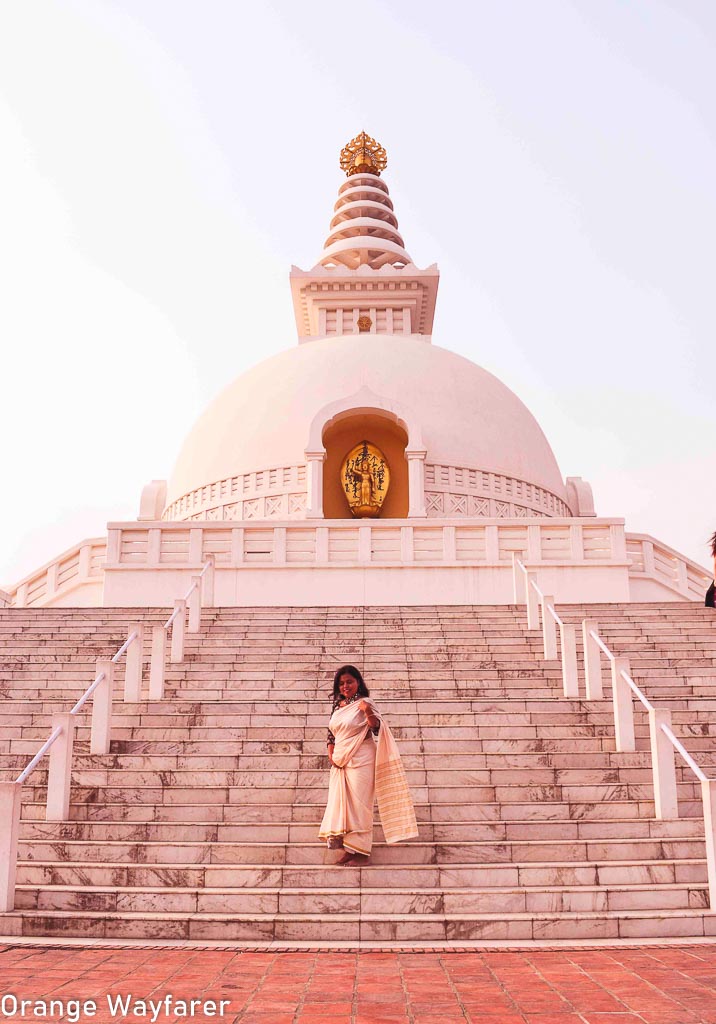 Adi Dhakeswari Bastralaya, Gariahat and Rasbehari
Right on the opposite side of Vyasdev Tolaram, you will find another soaring saree shop appearing in all the glitters and pomp. That, my friend, is another stalwart of Bengal's saree industry. The Adi Dhakeswari Bastralaya.
The original shop was located at Gariahat Mor. It was a tiny shop with everything old school. The decor. The small wooden stools. The show case.
I recall visiting Adi Dhakeswari original store as a kid. I remember being overwhelmed and almost on the verge of tears.
Despite that I remember Adi Dhakeswari Bastralaya at her prime. The most beautiful Tanchoi Benarasi or Pashmina Benrasis adorning the glass enclosure with pride. Peacock blue shimmering in the glitter of golden lights! It was a beautiful experience!
The new shop of Adi Dhakeswari at Triagular Park has owned up the heritage brand and has build up on it substantially. The sarees on sale here are usually spanning over three floors. One floor sells only In Cotton sarees and tant. One floor specialises in Baluchari. There is a lift in the shop. I also spotted few lehengas as a sign of changing times. The third floor department had stunning sarees, dupattas, stoles and shawls on sale. Pashmina shawls are available? I remember asking. The man said no supply from Kashmir is thwarted. It was the year of 2019, after th 370 was called up and Kashmir was under virtually cut off from the rest of the world. Trade demands peace and prosperity to flourish.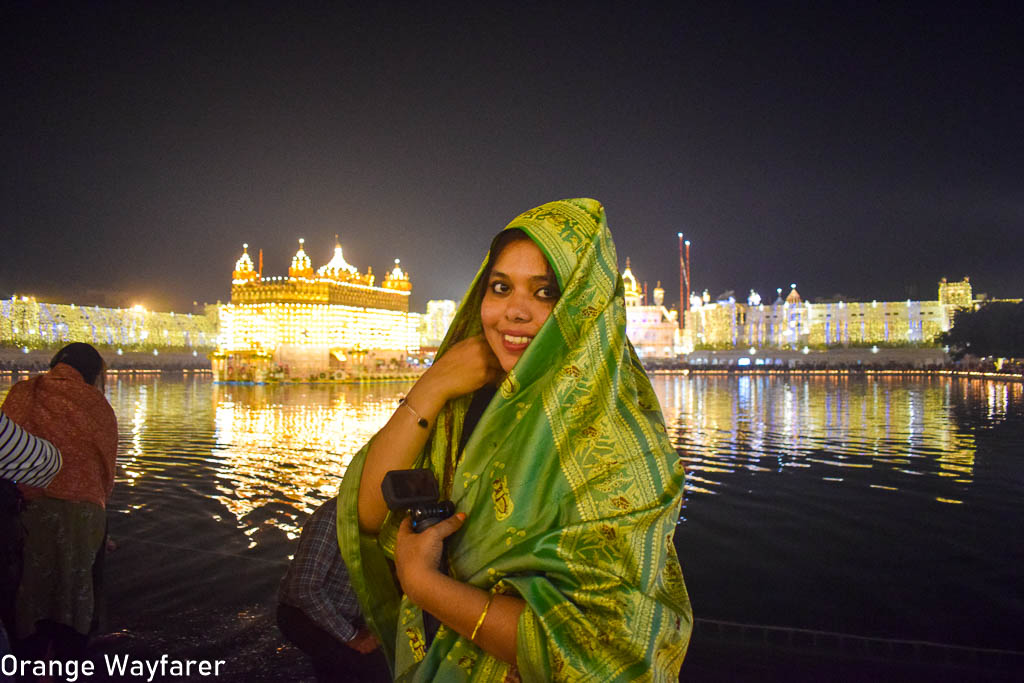 Nijawsi Boutique
My mother is a die hard fan of Nijaswi Boutique and the owner, Mohan da. With black and white curls, Mohan da occasionally appears on his Youtube Channel and shows some of the finest picks of quality silks and Bengal cotton sarees. He owns a shop at Madhyamgram. Earlier he had a shop at Gariahat but he closed it down. Eventually, I happened to visit there on the day of closing itself. He does not sell Benarasi per say, not the typical wedding couture. But for tussar Benarasi or tant benarasi or the most beautiful Balushari and Swarnacharis, you should try Mohan da. His sarees are very sober in colour and perfect for corporate wear!
Being a boutique, Nojawsi sells saree at a relaively higher price point however sarees are amazing in quality.
Dhakeswari Bastralaya, Gariahat
One of the oldest shops located right at the junction of Gariahat, Dhakeswari is a small family owned shop which sells some of the finest tant Jamdani sarees of all times. For Bhagalpuri tussar or murshidabadi silk, you may visit here. There are beautiful fancy sarees available at the store as well. Price range starts from 2k INR. for Silk sarees, you should start anywhere from INR 5000 onwards.
Basak, Gariahat
One of the oldest saree shops in Kolkata, Basak in Gariahat is a proud contender who upholds the heritage of Bengal tant in their products. Basak is known for selling reasonably priced and authentic handloom Jamdani sarees. Basak sells a number of affordable cotton and linen sarees as well. The set up is a bit archaic, with floor sitting arrangements in front of piled up sarees. It may be a bit overwhelming for a first timer. The employees do not usually take a lot of time to show what you want to see. But you need to find your pick and at Basak, you can do so with a little bit of saree shopping experience. A lot of wedding families visit Basak to get their Pranami sarees from the shop.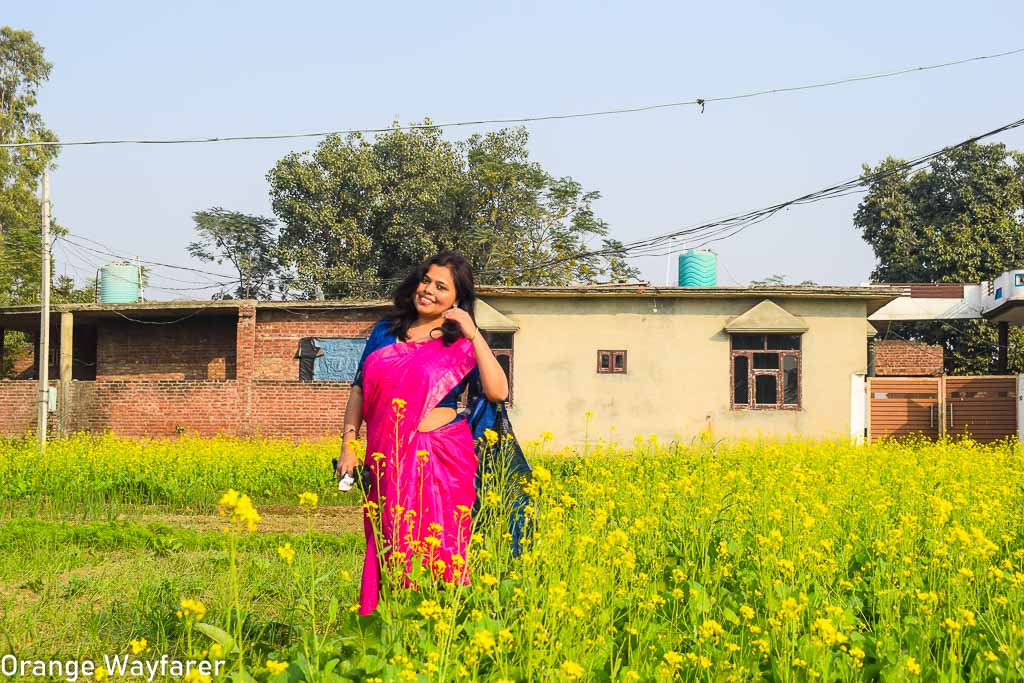 Saha Textile, Barasat and Amar Bari, Gariahat
I had heard rave reviews about Saha Textile. That they are the best at selling reasonaly priced beautiful sarees. the owner is a gem of a person. I only came to see their products during lockdown when the lady took it to Facebook. And boy oh boy am I in love? My phone is full of screenshots from her show!
The sarees she shows range from Bidharva Tussar to handpainted Kalamkari and exquisite Chikankari and stunning Paithani silks. I wish I could own all of them! Someday!
Saha Textile also takes pride in reviving a lot of old weaves of bengal. For example, Noakhali Muslin Jamdani has made a comeback with their effort. They have been effortlessly working at promoting Bengal's own Baluchari and swarnachari weaves as well! The elaborate ramayana or Mahabharata stories woven on the paad and Anchal of Baluchari and Swaranachari have gone through a lot of experiments with elaborate colonial scenes and likes.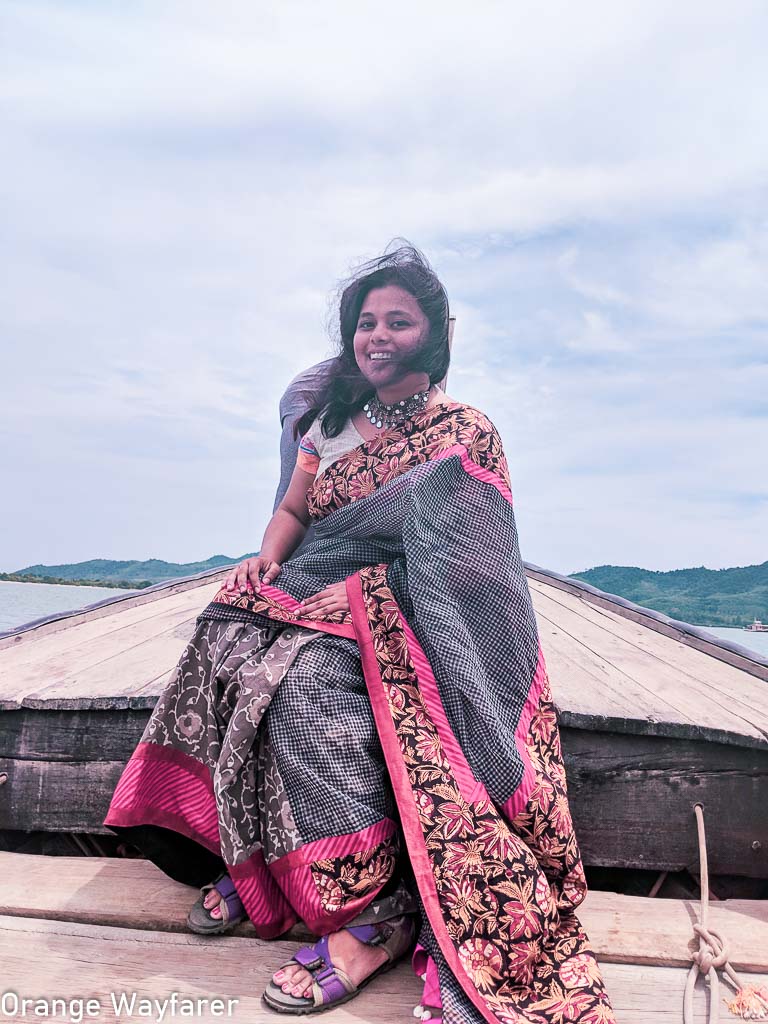 Saarang
One of the new age saree shops of Kolkata, Saarang sells very stylish designer silk sarees. Plenty of Instagrammers have adorned their products. If I recall correctly, Subhashree, the Bengali Tollywood actress wore a yellow mustard Katan for her baby shower. Later, the market was inundated with replicas. However, I have seen Sarang sarees. I found they do not shy away from drastic experiments with traditional weaves which often yield stunning results. Price range at Saarang starts from INR 10k at least and goes upwards.
Jayalakshmi Heritage, Golpark
A lot like Saarang, Jayalakshmi heritage at Golpark targets the affluent segment of the saree lovers. The Sarees are exclusive, trendy and exquisite in threadwork and weaves. The staff are courteous and cooperative. The silk sarees are some of the finest collections of the city. Price is high, so is the quality of the product. This is not where you go to buy trendy regular wear sarees. For a special occasion, or a choice-able gift for your loved one, Visit Jayalakshmi Heritage House.
P Majumdar
Within a reasonable price range, P Majumdar at Rashbehari sells some of the finest sarees in Kolkata. I remember buying at least 5 silk sarees based on Bishnupuri Katan from them. The sarees shed colour heavily the first time I tried washing them. Naive me had no clue they needed dry washing. Nonetheless, it was cheap. It didn't burn a hole in the pocket.
At P Majumdar, I recall seeing some beautiful Begumpuri and Dhaniakhali sarees as well as crepe fabric with beautiful prints. Overall, if you want to buy a fancy saree which can be styled easily, head for P Majumdar.
Bhojraj Creations
Almost on the same range of P Majumdar, Bhojraj at Ras Behari is a beautiful saree shop where you can find plenty of trendy Bengali sarees at a reasonable price rate. I love the raw silk sarees they sell in neon hues. I loved the organza collection as well. For the best South Indian Silks in Kolkata, I trust Bhojraj. It is one of the oldest shops in Gariahat Rashbehari area. The staff are kind and always have a warm smile!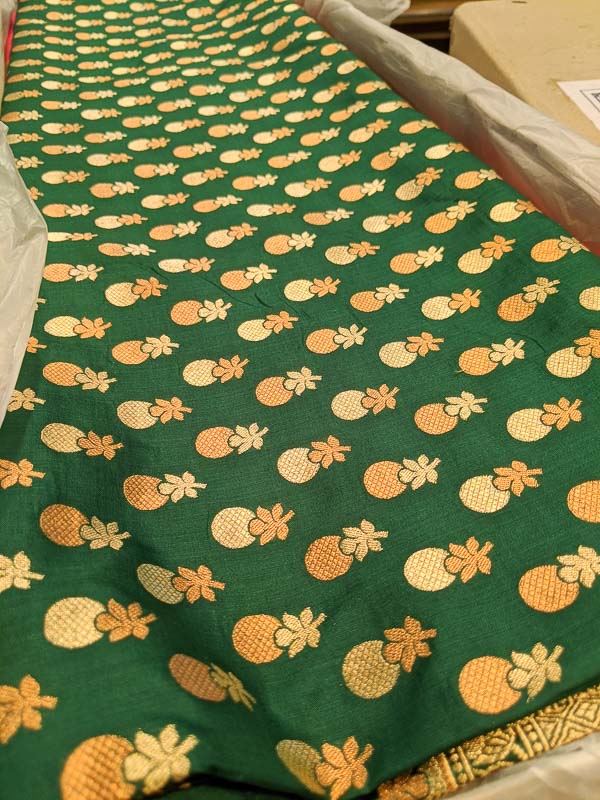 Balaram Mallick
Located at the second floor of an old shop at the Gariahat Junction, Balaram Mallick sells some of the most beautiful sarees of Bengal. The decor is old school. You will sir on the floor or low lying stools while the sellers will sit on the white Gadi. Sarees are well kept inside glass doors of wooden almirahs. I felt like I was transformed into another era! At Balaram mallick ,we picked up some linen sarees. The price was in a slightly mid budget range however the products were very beautiful. I wore one of the sarees at the Taj Mahal.
Ramprasad
A 75 years old shop at Gorabazar, Dumdum, I was introduced to Ramprasad by my fiance's mother. She wanted to give me the saree I was going to wear for our engagement day. We visited Ramprasad, one of her favourite places. Next places to visit on our checklist were Indian Silk House and Jashoda.
I was surprised to find the beautiful Linen saree they brought out for us from the store house as we were disappointed seeing the regular Katan Sarees. We bought two Linen Benarasi. The price point was perfect. Later I learnt, the sarees sold at ramprasad are particularly cheaper during Chaitra Sale. Plan your trip accordingly.
For more sarees, you may wander aimlessly at the prime market places of Kolkata. The shyambazar area and college street have more than plenty of saree shops. I saw them at length but I found my heart to be firmly set on Gariahat and south Kolkata Saree shops only.
For beautiful blouse pieces that go well with these traditional silk sarees, trust Handloom house. That is yet another shop near Rashbehari in SOuth Kolkata. From Brocade to Chanderi, they have every kind of material available on sale. Choose what you like and design a blouse for yourself which will complement the timeless sarees of your wardrobe!
---
This post may contain affiliate links. Please read the disclosure post. If you have liked the article, you may support it by buying using these links without any extra cost to you.
Let's stay connected on Facebook, Instagram, Twitter! You may also consider joining my mailing list. I send travel and photography related emails only once a month!