About this blog: This is a photo-blog on traditional Bengali wedding celebration. It illustrates wedding rituals, Bengali culture, what we eat, how we roll and captures moments that I found evocative!
One of my cousin brothers got married less than a month back!
By the virtue of now-fading-but-once-thriving great Indian joint families, we had spent a prolonged part of childhood together, sharing everything from leftover fishhead to high school notes. So, when the marriage date was fixed, I knew I am cancelling upcoming trips, rescheduling travel plans and traveling all the way back to Bankura.
This was not the typical trending gaudi big fat Indian wedding that dazzles eyes with pretentious galore! Instead, this wedding was largely a DYI celebration, which kept us on toe all the while and rendered exhaustion and overwhelm on cyclical order. We tended to all the task as labor of love and brought home the bride! There was nothing more than pure joy and love, and that was more than enough!
This is the first Bengali wedding I attended, as a grown up. Grown up is the key word here considering how we behaved on the big cousin sister's wedding. More on that will be elaborated in later part of the blog!
Also read: The best of Indian weaves, fine sarees and where to find them!
Considering I have a penchant for photography, and now that I am a content creator by profession, I left no stone unturned to soak in the grandeur of rituals, activities and emotions of a traditional Bengali wedding celebration. There was bounty of food and laughter and glimmer and gold and ornate decorations ranging from table linens to the canopy of flowers overhead and the most gorgeous Benarasi weaves!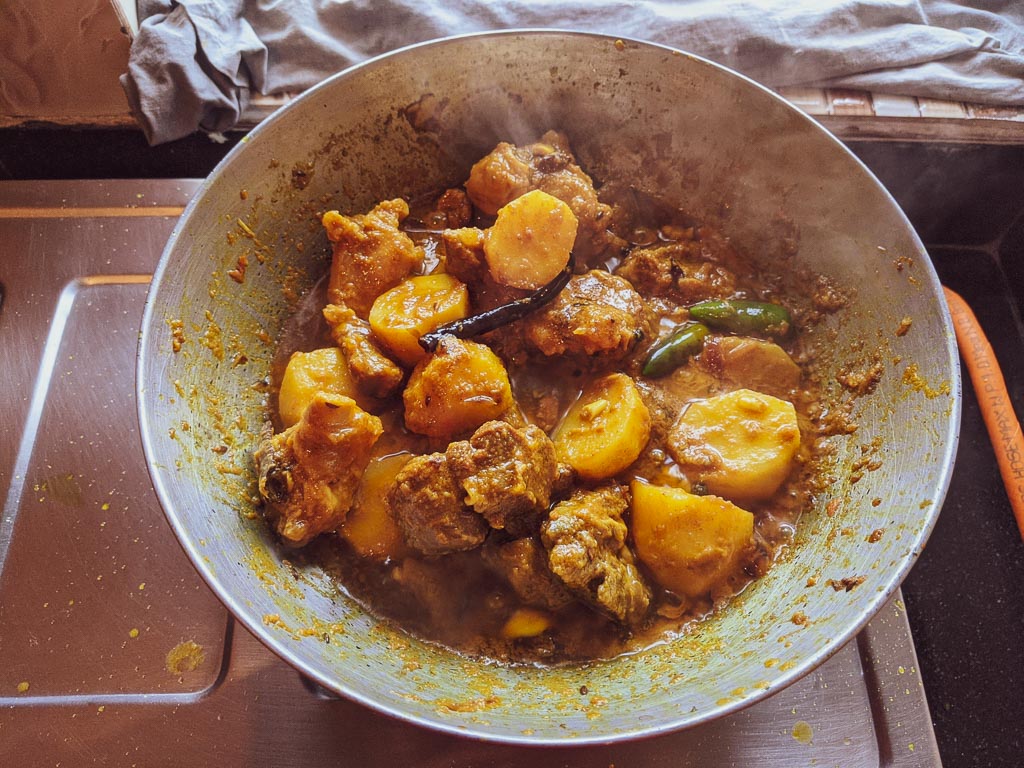 We cooked a Kadai full of Mutton Kosha and that helped us recharge well for the shopping spree!
How many saree is too many Saree?
I reached Kolkata, quickly finished last minute shopping in one evening, and started for Bankura with some 14 sarees for 5 days. You read that right!
For the Benarasi for this particular "Biye", my mother and I went to Gariahat and scouted for half a day till Vashdev Tolaram brought out exquisite weaves of North India from their hidden closet!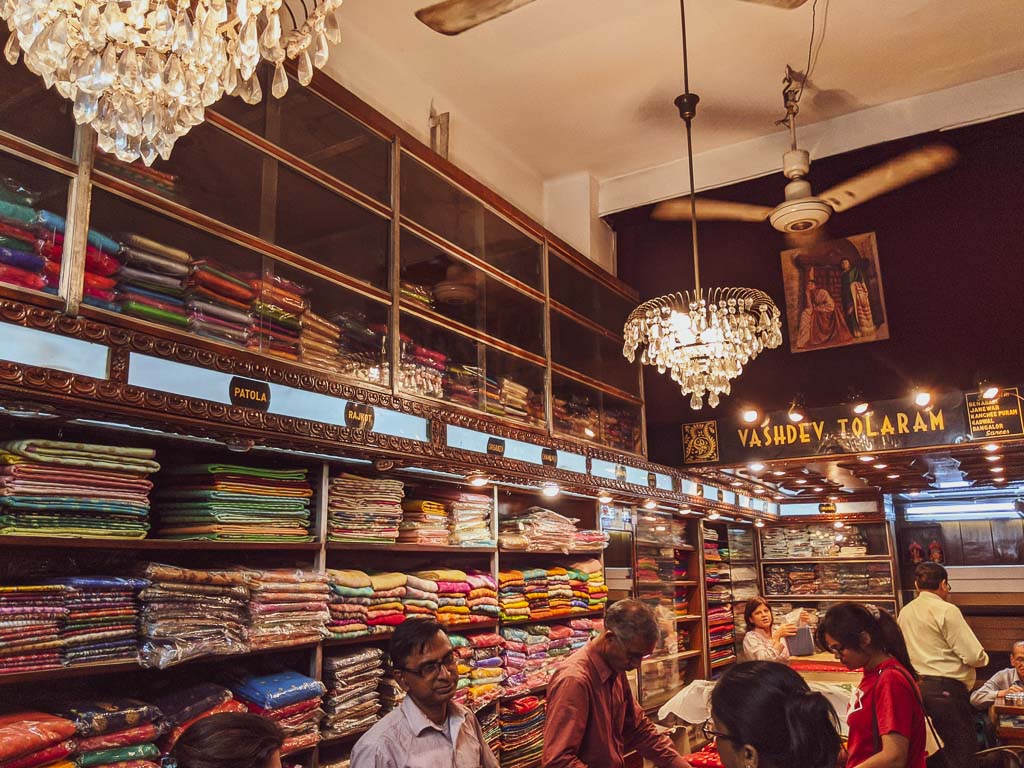 Winter is usually a busy season. Everyone is either getting married, or celebrating their wedding anniversary. The quest for the perfect Benarasi is real!
We looked around in the famous Saree shops but none of the Benarasi made me feel "arrived". Adi Dakeswari and Priyogopal Bishoyi are the household names for wedding Benarasi saree, however they fell into the vortex of a dreaded repetitive Katan show. Disappointed!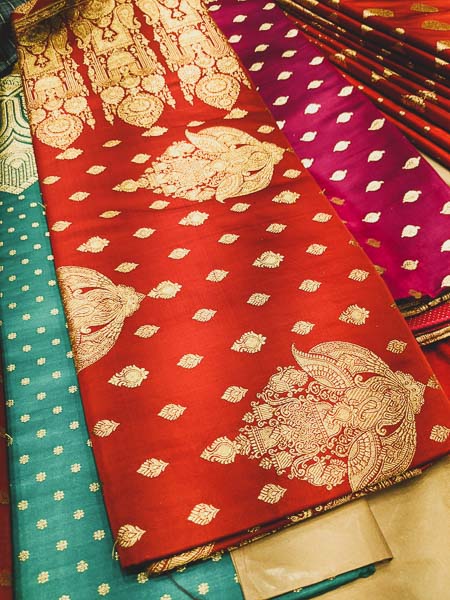 Finally, I got what I wanted from Vasdev Tolaram. Later, I came to know my cousin sister is their loyal customer as well!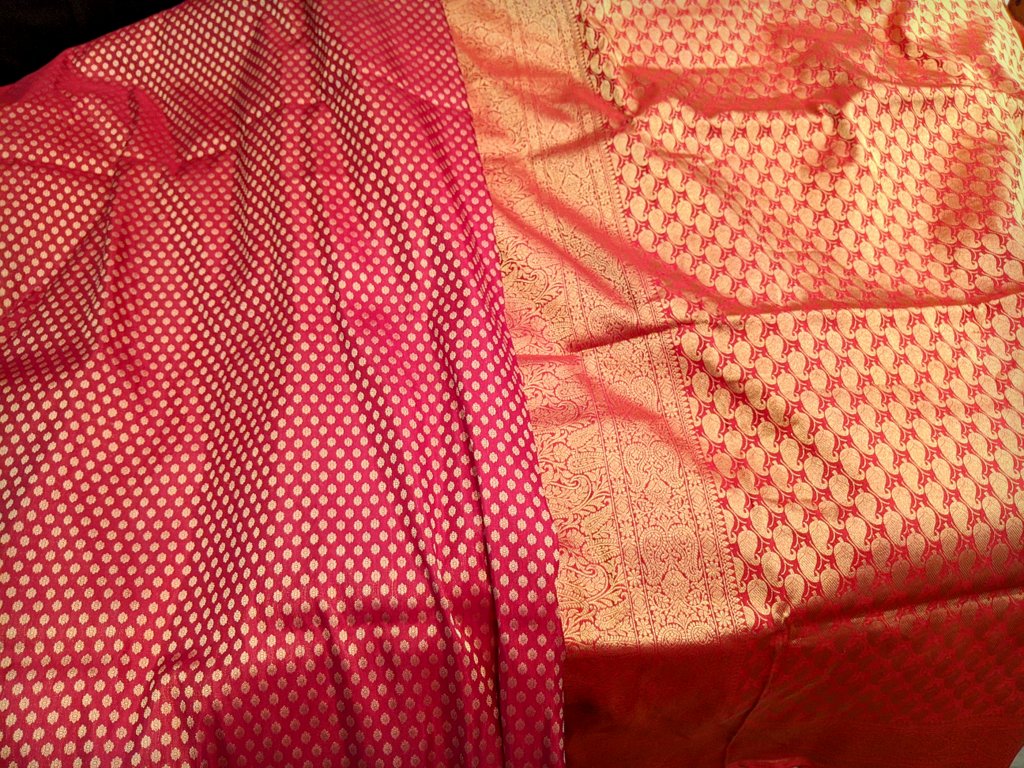 The Benarasi that I bought finally!
Then, one evening, Maa and I sat and shifted through all the sarees and packed the ones we "thought" we would wear! Needless to say, I did not end up wearing all of them. But how would I have known already?
What you see in this carousal are some of the selected Ghicha, Tusser, Madhubani, Tanchoi, Pashmina, Muslin, Baluchari, Chanderi, Bapta and Handloom Tant sarees! These are all labor of love and collected directly from the weavers as I travel across India! (okay, mostly my mother buys!).
Also read: how far will you travel for Indian textiles?
Then one fine afternoon, we finished our lunch of "Lafano Charapona", literal translation of which will be of "Jumping baby carps". "Lafano charapona" usually indicates fresh produce of a local pond and add a feather on the cap for those who are particularly savvy in dealing with a Bengali fish market!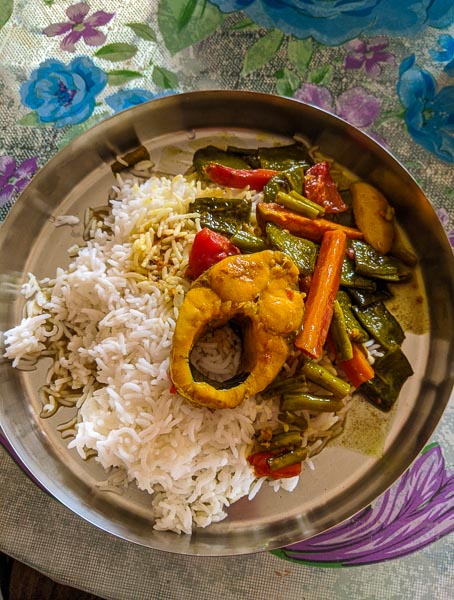 …and went to the bank to bring in home some of the gold jewelry from the locker! I will practice reservation here and would not publish all the pictures, even if my alter ego wants to post everything.
Picture 1: Maa looking for an old nosepin.
Picture 2: This is Maa's wedding neckpiece. I think it is called "Lohori".
Picture 3: Little rings my brother received as gifts during Annaprashon! He was 7 months old at that time!
We started for Bankura in the wee hours of the day and made a customary stop at Shaktigar to eat Lyangcha and other delightful savory. If you are journeying on this road, make it a point to stop at Nabanno to eat good food!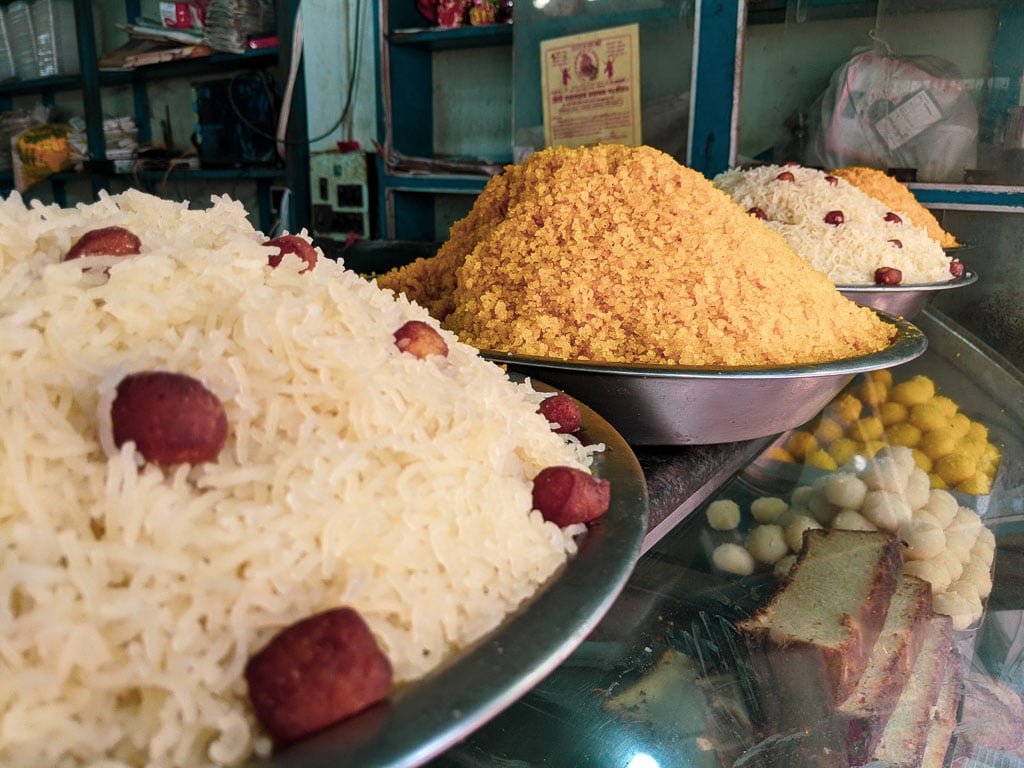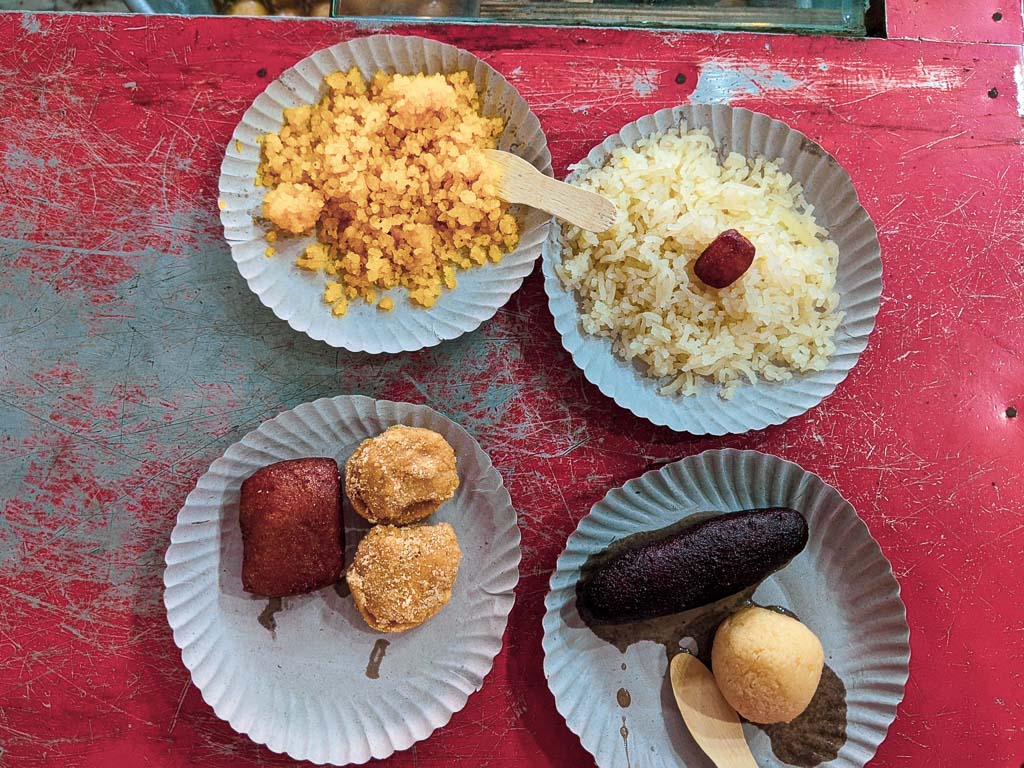 Clockwise from left, Mihidana, Seetabhog, Lyangcha and Gurer Rosogolla, Mithai, Sorbhaja! They say, "Bengal the sweetest part of India" for a reason!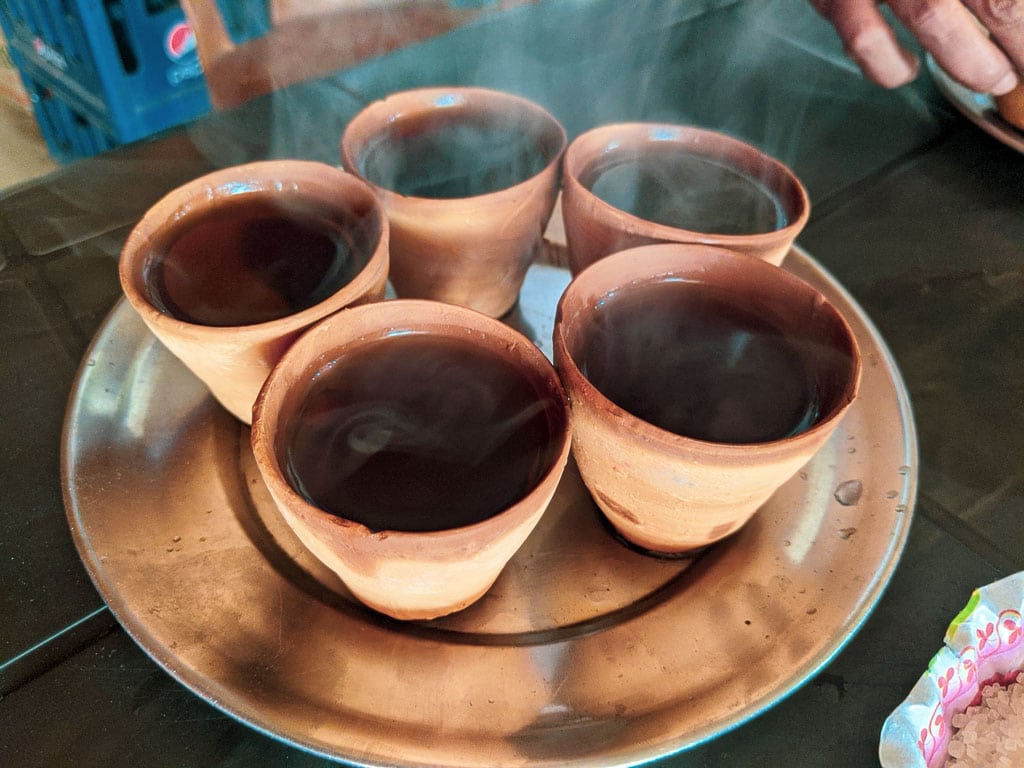 Smoking hot tea served on clay pot which will fuel the entire "Biyebari" for next 5 days.
Some Jhalmuri and a "Gamla" of Lyangcha. Quintessential part of roadtripping in Bengal.
Also read: 20+ beautiful destinations to visit in West Bengal for the first time visitor!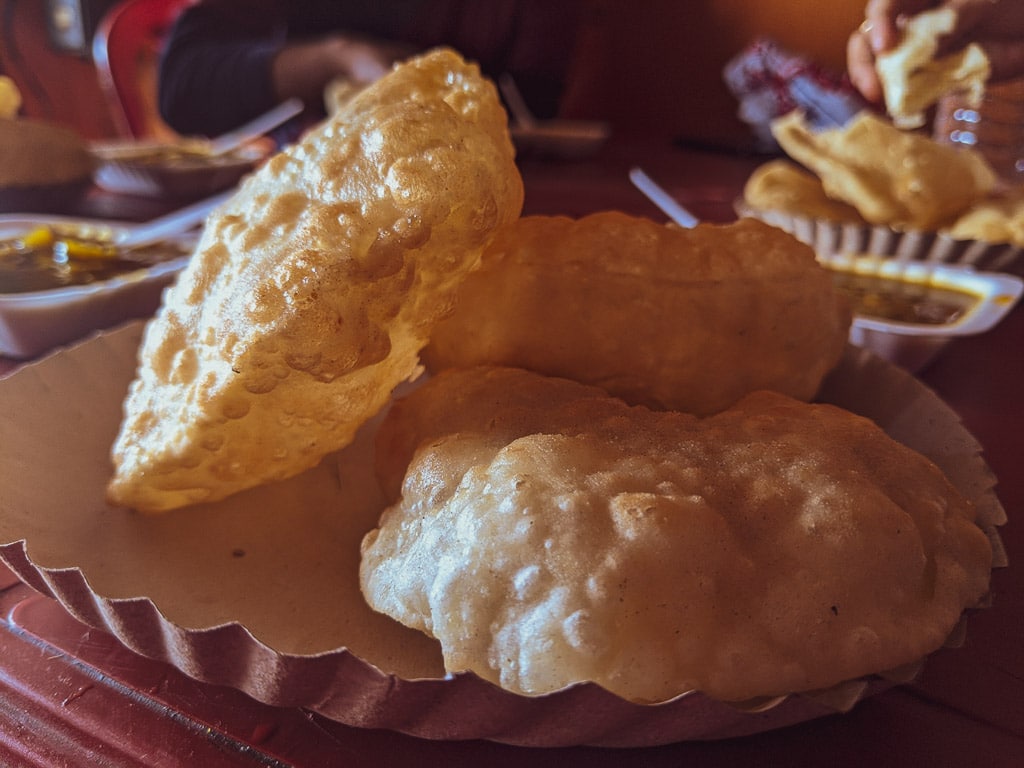 Shopping for food and raw materials from the old wholesale market of Bankura where even a armed forces tank could also meander through!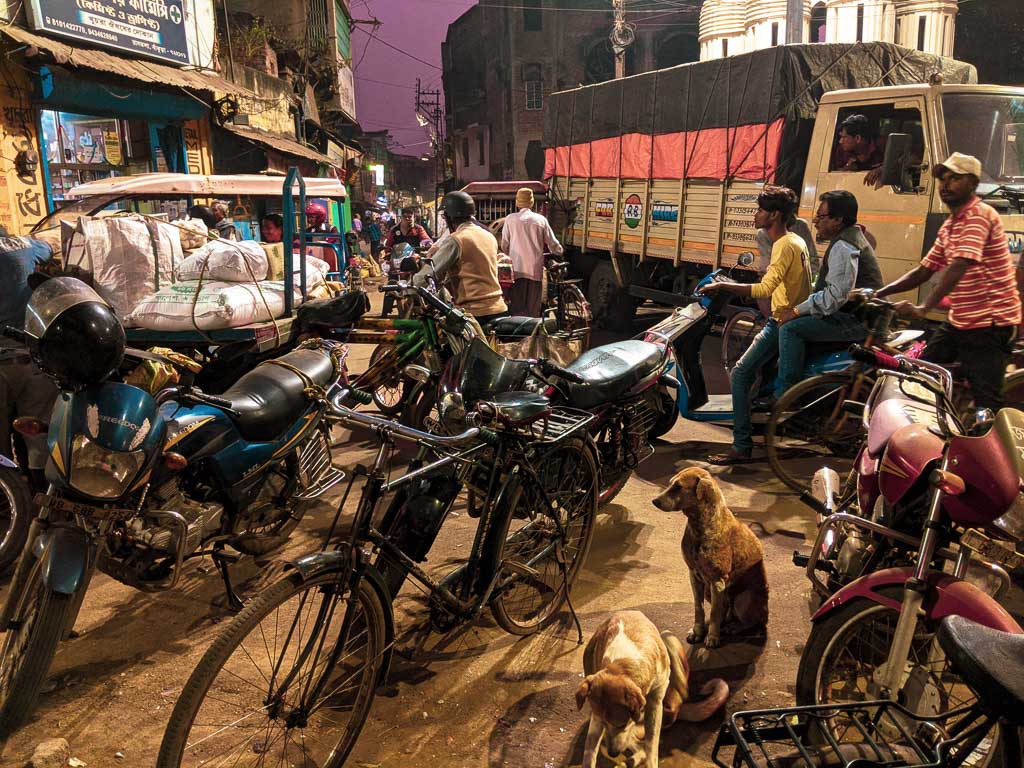 Seal the Deal with Rosogolla!
A Bengali wedding in winter is absolutely incomplete until your house puffs an aroma of "Notun Nolen Gur", seasonal date jaggery! Jaggery will go into the Chena mould of Rosogolla, making it a divine delicacy. Gur will assimilate in Norom Paker Kachagolla!
Because this is Bankura, we will also include Lobongo Lotika in the business.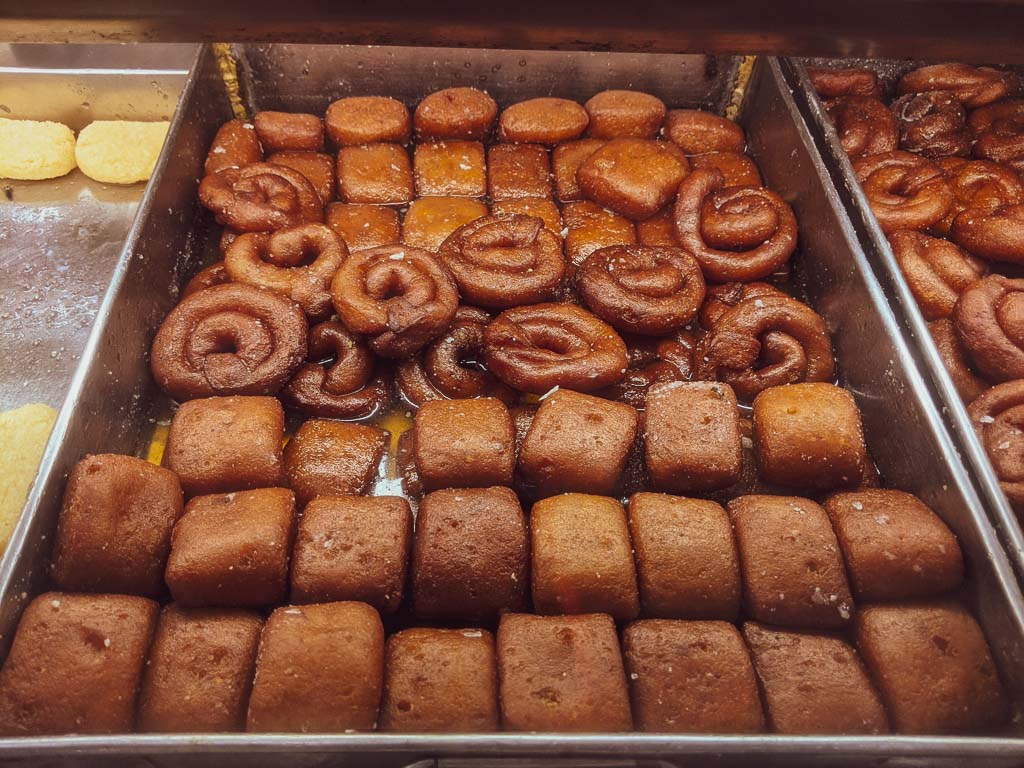 From top to bottom, Sarbhaja, Chanar jilipi, Lobongo Lotika. at Guiram Mishtanno Bhandar, Bankura's most beloved "Mishtir Dokan", sweet shop.
In this part of the world, a few traditional sustainable practice is still prevalent. Take for example, the Shal leaves as a cover. Tribal women ferry them from jungle to the town and they are further used for myriad utilities!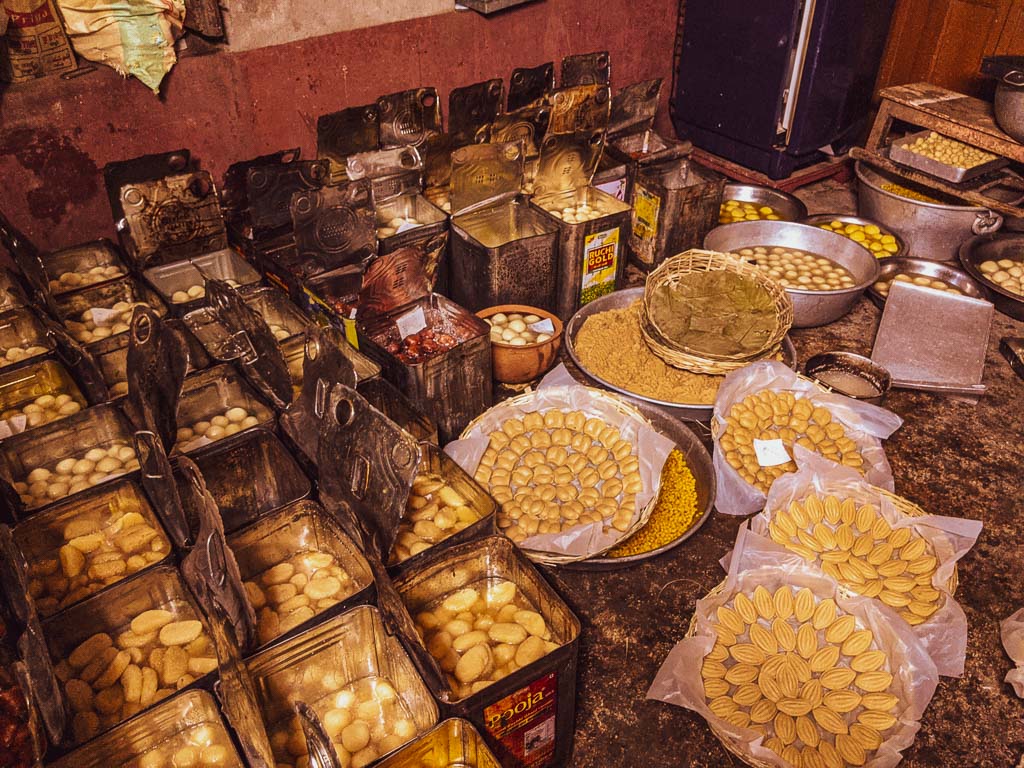 The interior of an old Mishti Dokan, the "kitchen", because we do not bake our sweetmeat. They are handmade, stored in sugar syrup. All have the yellow hue due to seasonal addition of Gur (jaggery).
A mug of tea finds a way inside the Mishtir Dokan too!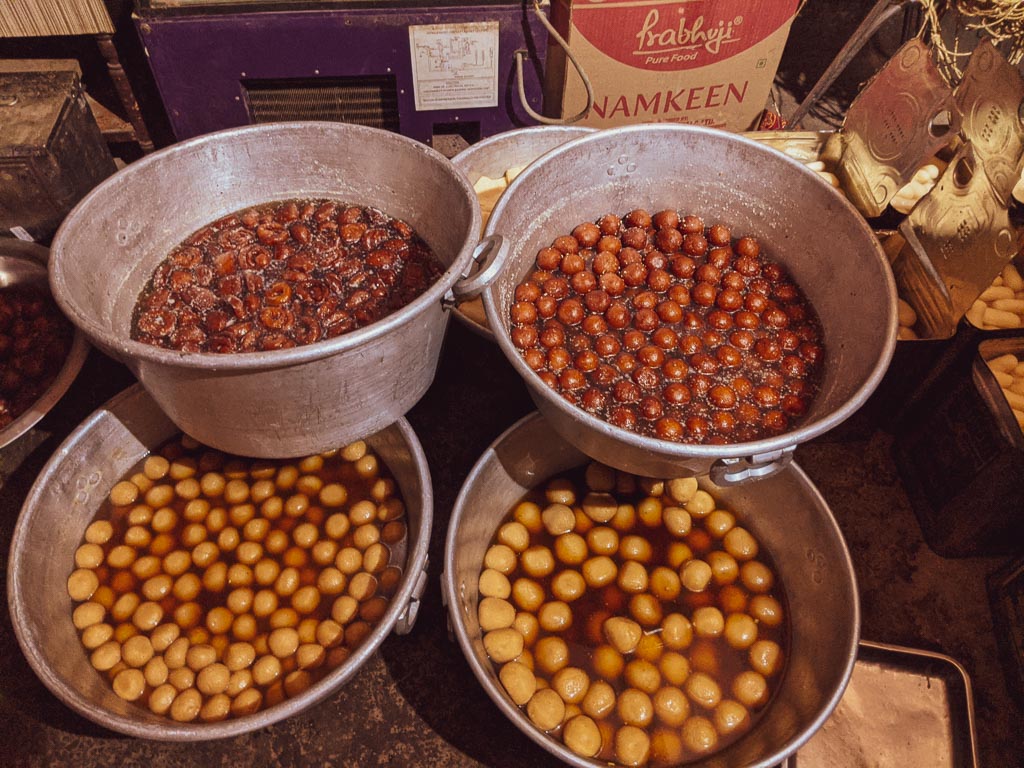 Rosogolla, a thing made of dreams. A divine dream because these Rosogollas have Nolen gur in their soul!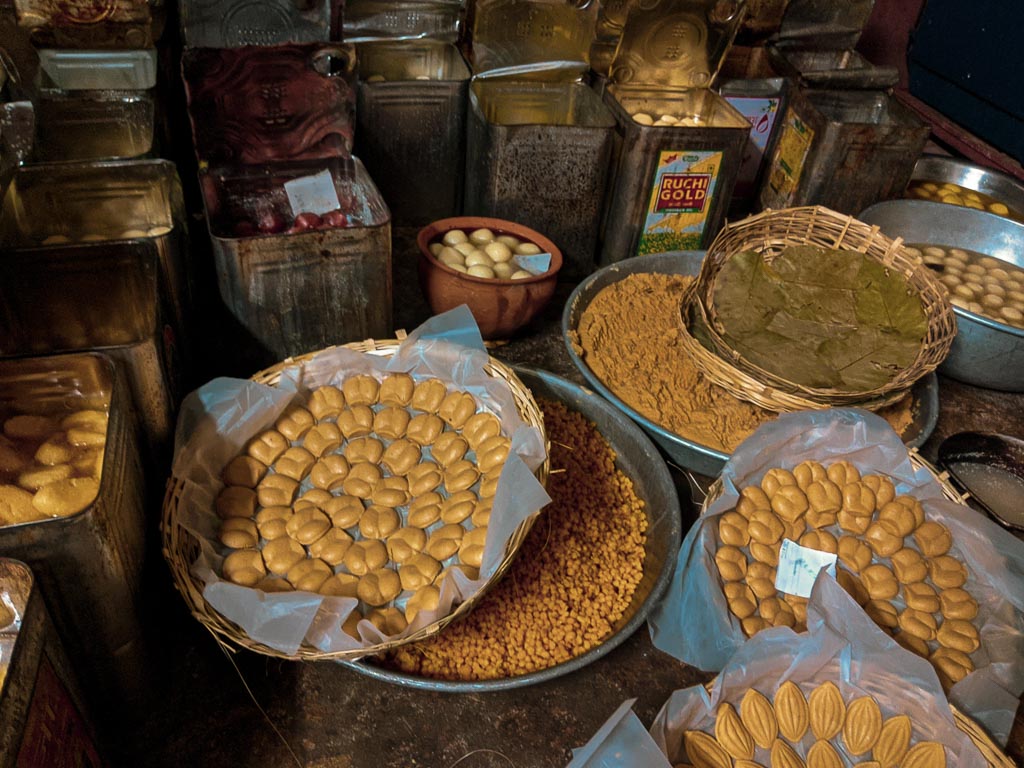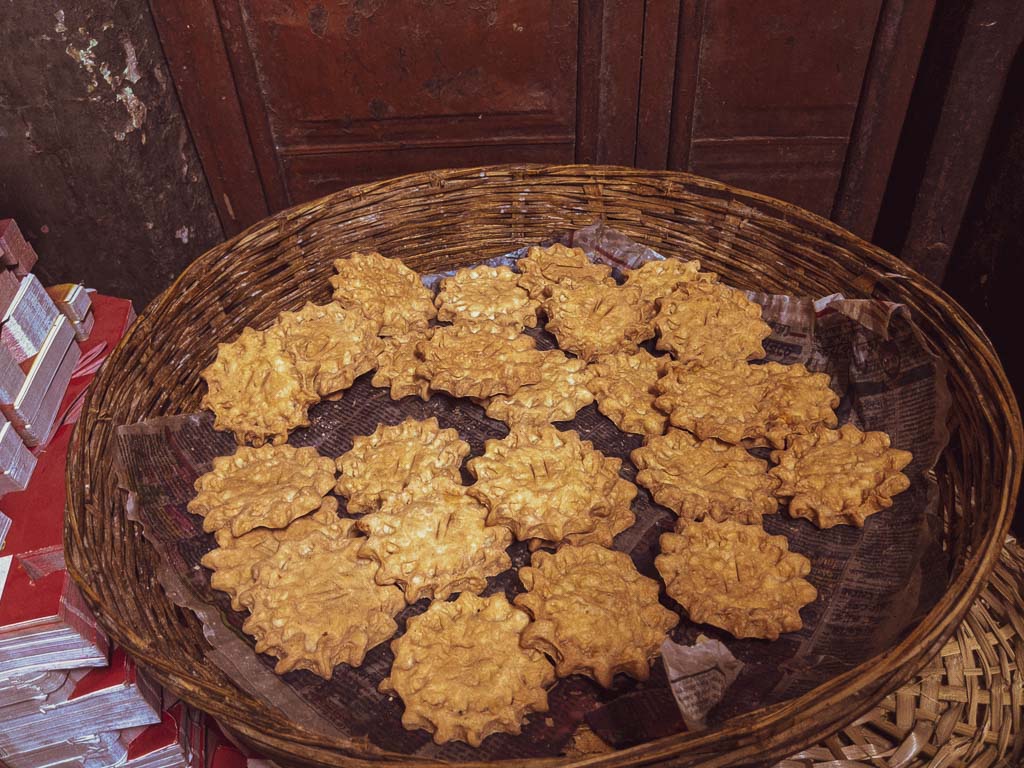 Goina Bori: A lentil made savory usually added in curry (fish or otherwise). These are elaborately designed for wedding.
Mammam, the eldest of the family and our grandmother eats some Lobongo Lotika that we sourced from Guiram the night before!
Also read: Cabin Restaurants of North Kolkata!
Bengali Family needs their Cha!
Usually we do not do alcohol in Bengali wedding. Not on a single day. So what's our poison, you ask?
It is "Cha", tea, Chai!
The elixir from the Himalayan highland of Darjeeling will traverse all the way down south at the wee end of Chotonagpur plateau and sit pretty by the corner. Tea can fuel those annoyed with higher quotient of sugar in blood too. It will leave sugar aside and marry the hot water you pour in willingly, thus bringing in the concept of "Bina Chini", suiatble for the diabetic lot in family!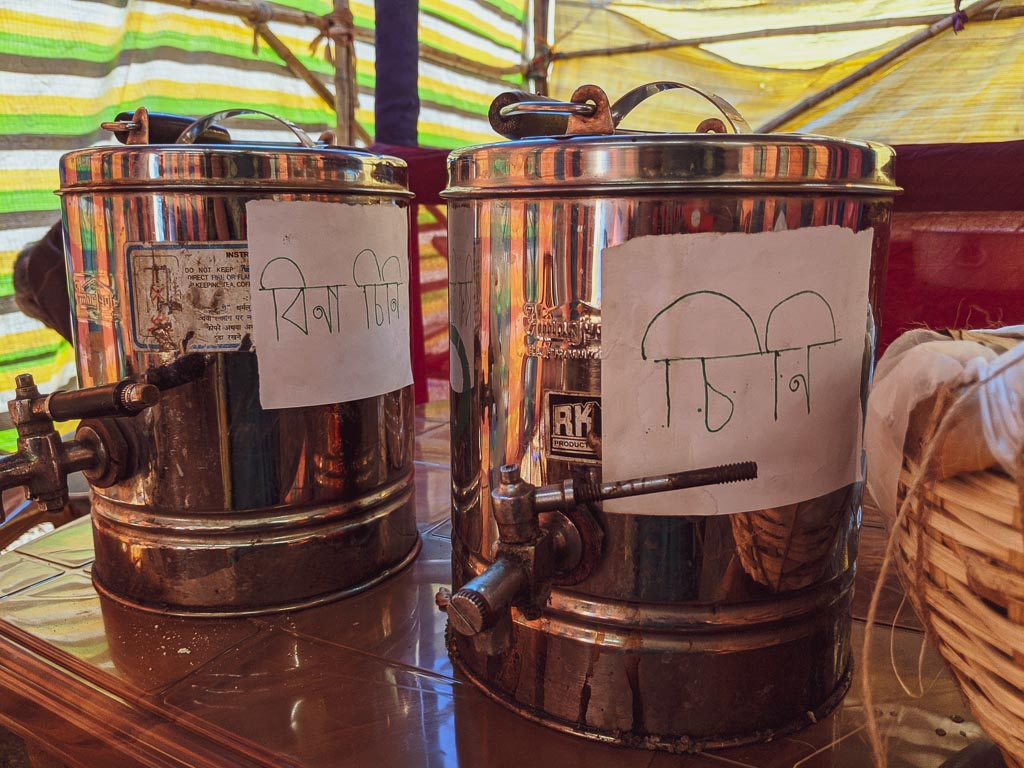 Tea served, for the diabetic, without sugar, and for the ones who cant do without sugar!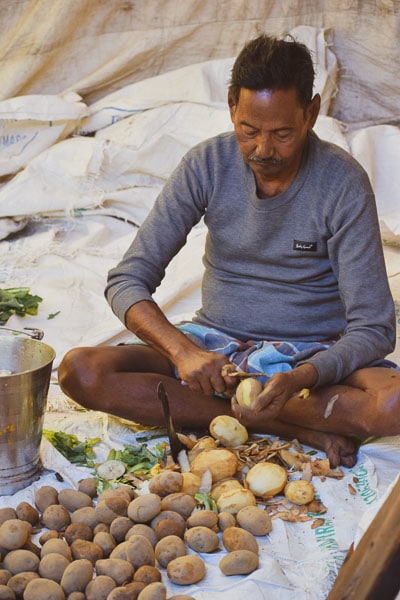 "Thakur" peels potato for breakfast for the first day of wedding.
We do very well with Luchi and Cholar Dal for breakfast for a traditional bengali wedding. That Cholar Dal with have pieces of crunchy coconut too! Longo Lotika comes at the end to do "all's well that ends well!"
Bankura is located close to Bishnupur, the ancient temple town of Malla kings. Bishnupur is famed as the weavers of Baluchari silk saree. Usually, tales of Ramayana or Mahabharata, the Indian epics will be inscribed on the saree. Do note the famous Bankura Terracotta Horse at the background. It is also the symbol of Indian folklore.
Aaiburobhat: the Bengali version of Bachelor Party!
When the entire family comes together to celebrate your last meal as a bachelor, Aaiburobhat it is!
Payesh being cooked for Aaiburobhat. Payesh, Gobindobogh rice mixed with Nolen Gur (because winter is coming), is supposed to be the "king" of all meals cooked. The groom fills his heart with the aroma and his expression says it all! You are missing something serious in life if you have not had Gurer payesh till date!
Note those 5 Sindur marks on the Handi indicating 5 "Eyo", married women took part in preparation!
We drew Alpona on the floor with rice flour, turmeric, vermillion. An elaborate meal on Brass plate and utensils is served on it. The plate has 5 types of fries, rice, and the bowls have fish, Daal, vegetable, Chutney and Payesh.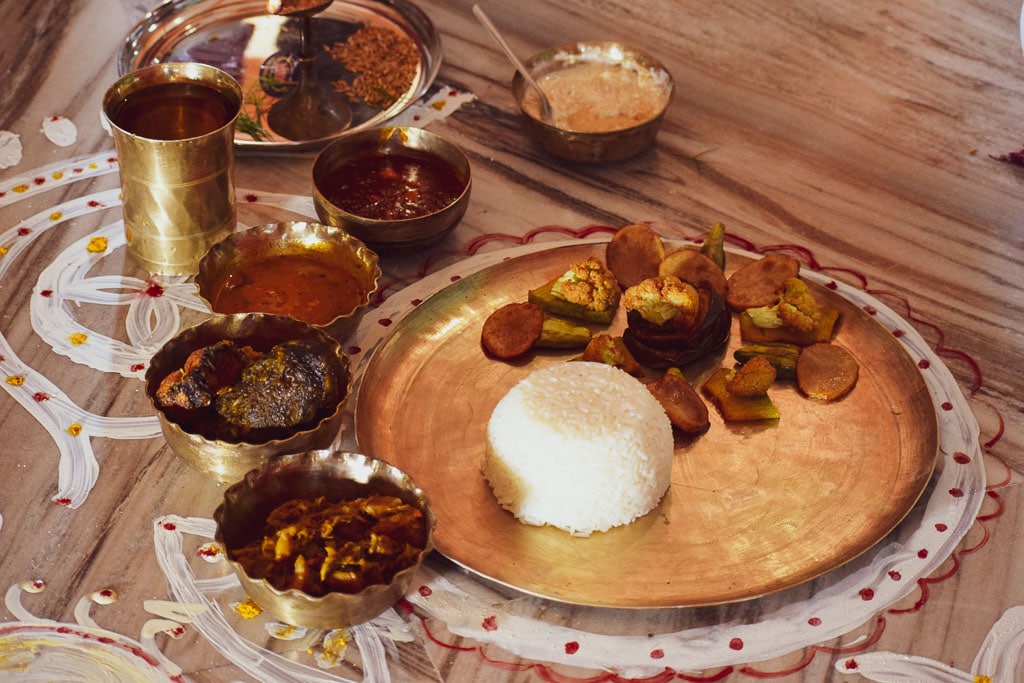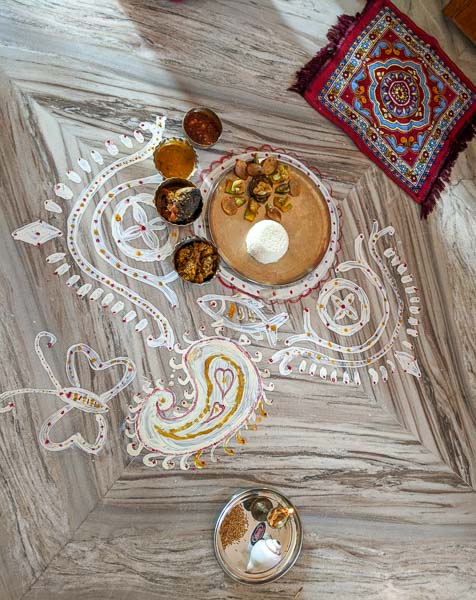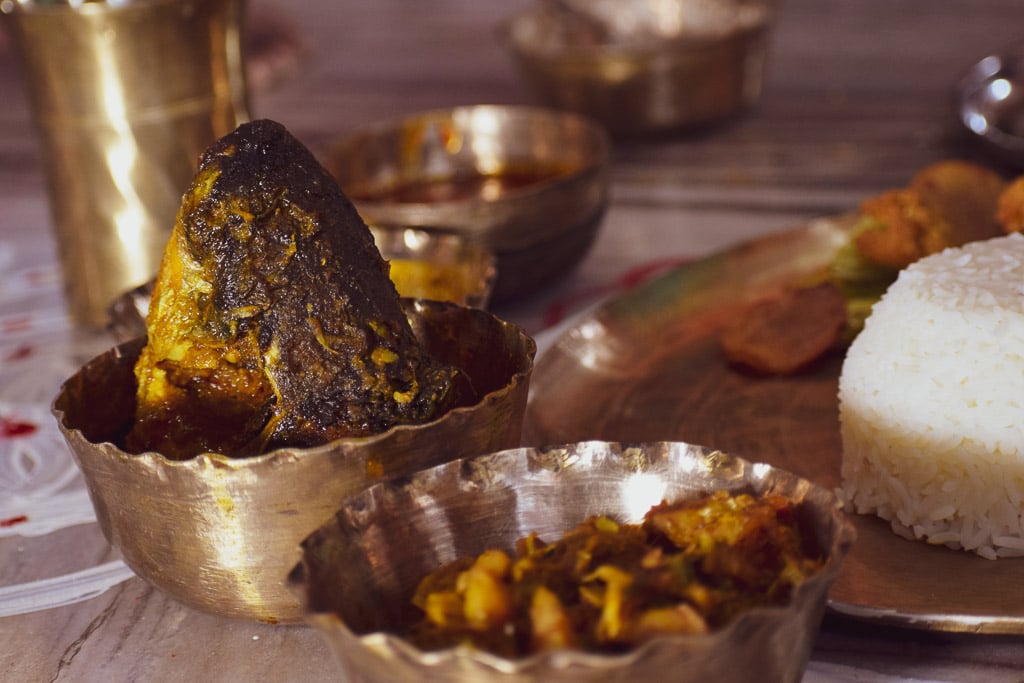 The fish head! Because the groom got the coveted fish head, (because it is his marriage), my Tutu got two extra fish tails for two other fish loving members of the house, who love fish (moi included)!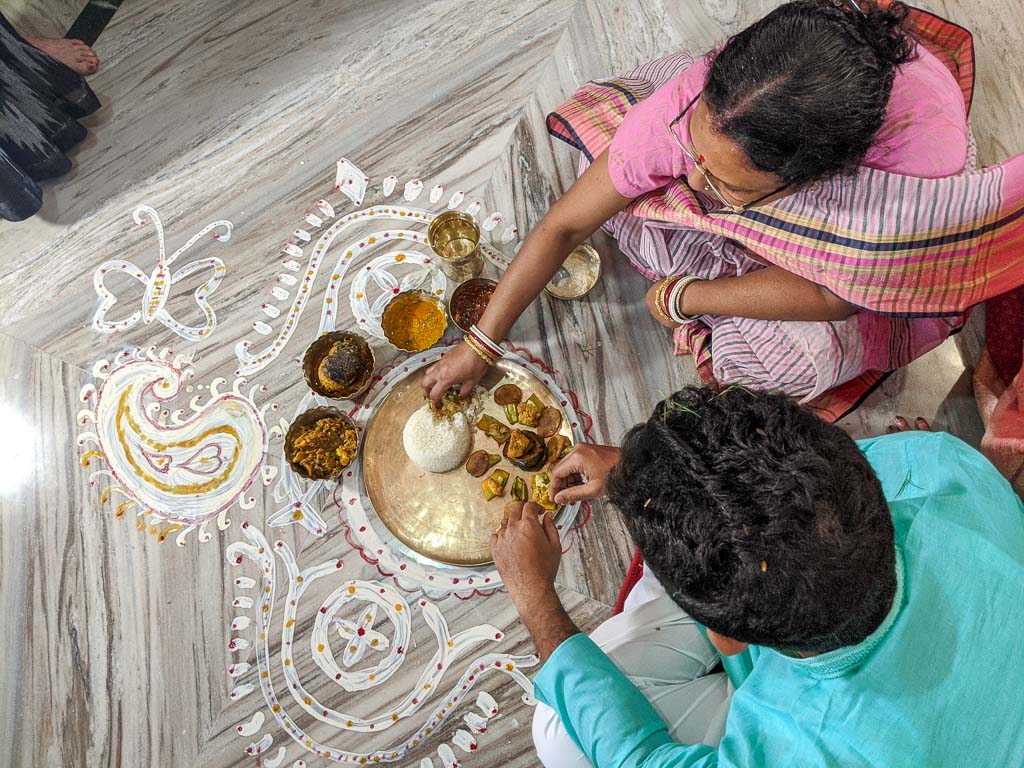 Bomma sits with her son and feeds him the last meal as a bachelor!
Aww! I would just leave it there!
The Art of "Totwo Sajano", the gifts!
The first time I saw Totwo was when the cousin sister was marrying.
Our age group had not reached 2 digit mark yet, and we found a room full of Totwo gifts during a wedding! From exotic perfume to star studded hills, there was nothing amiss. However all that caught our fancy were designed paper cutting that listed Totwo ingredients!
We thought those were extra. I mean, really! Why will you need a paper fan or paper palanquine alongside a purse or lipstick or powder case? Totwo consists of everything you may need to start a new family.
We had let alone the "whatever you need to start a family" things and plucked the extra namecards and numbers, fancy in shape and sparkling with glitters. The day before wedding started!
Mayhem followed as an aftermath!
I will not go into details but lets just keep it short! "Shoitan Polamaiya!" ensued!
"Mishti" and Fish are included too! They go to the bride's house as "Gaaye Holuder Totwo".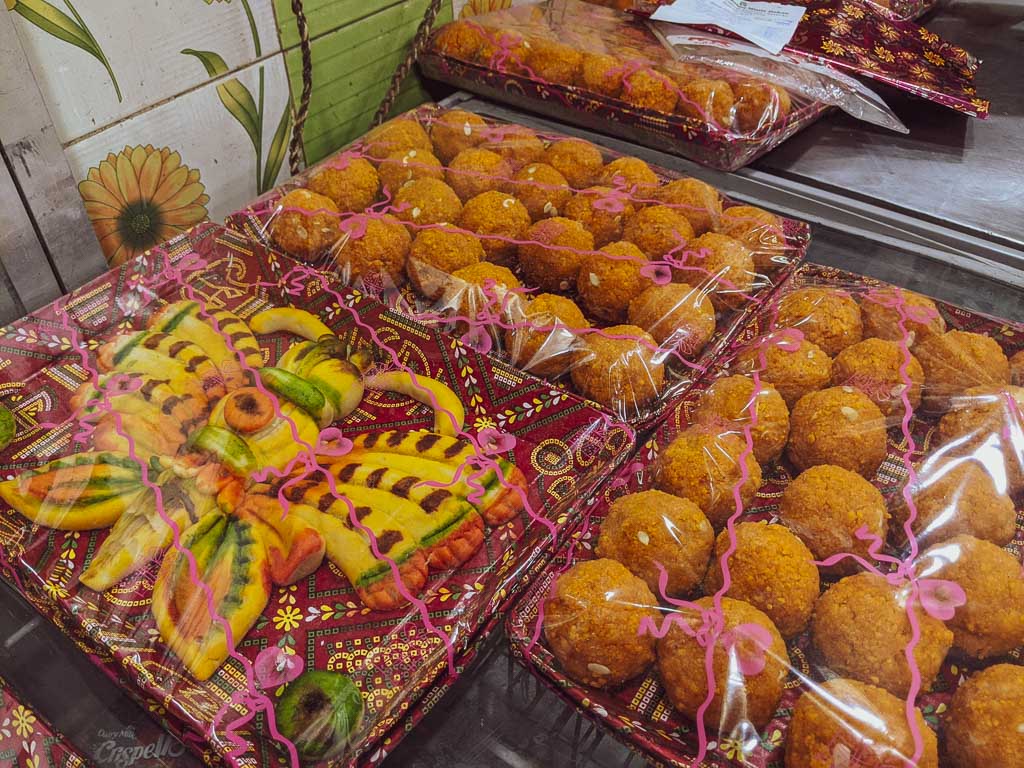 Anyway, two decades later, it was our time for penance!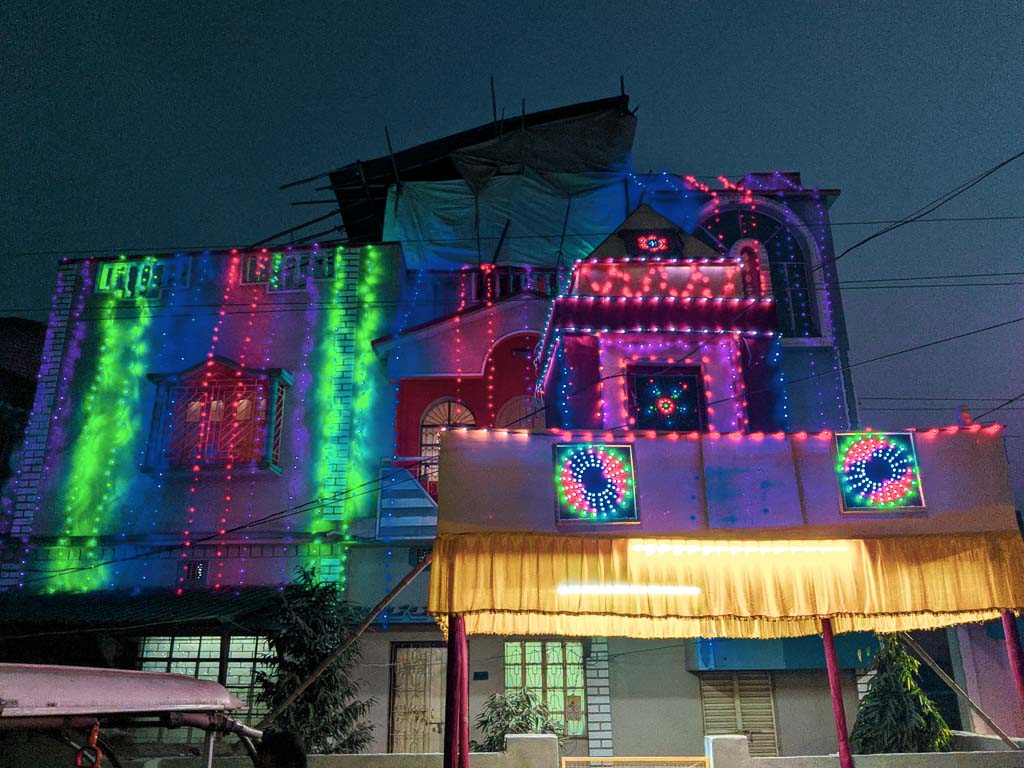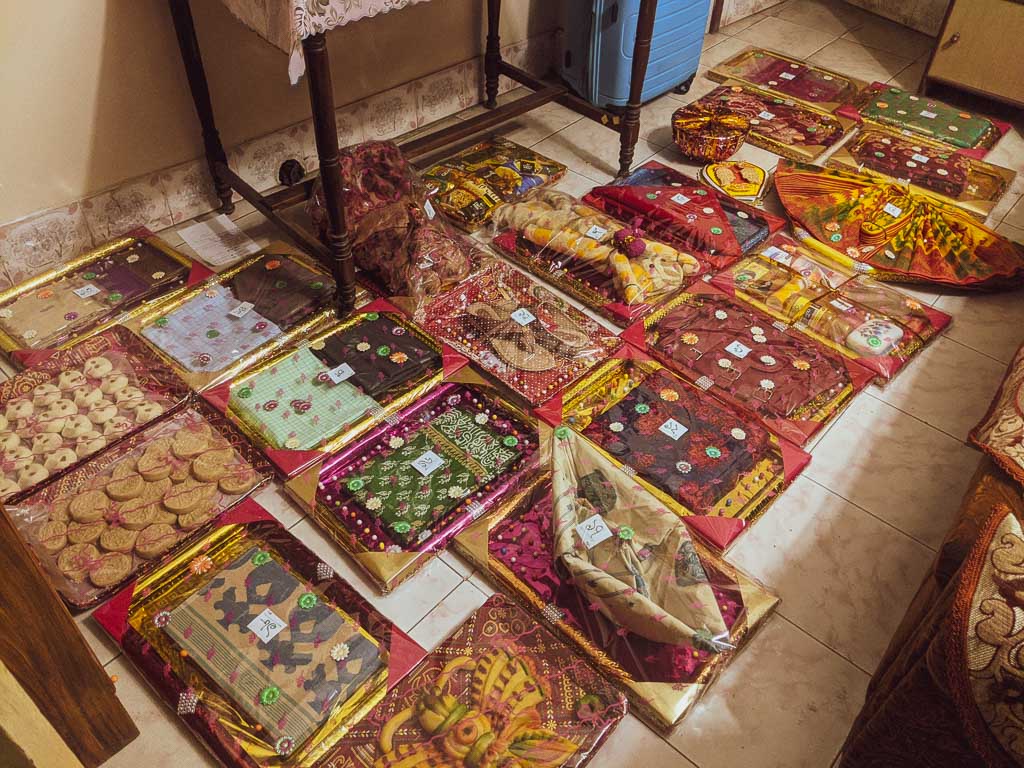 A room filled with Totwo. Some are shaped as Boat, some look like butterfly!
Carrying a Rui fish bathed in turmeric and Sindur to the bride's house as a good omen!
The Wedding!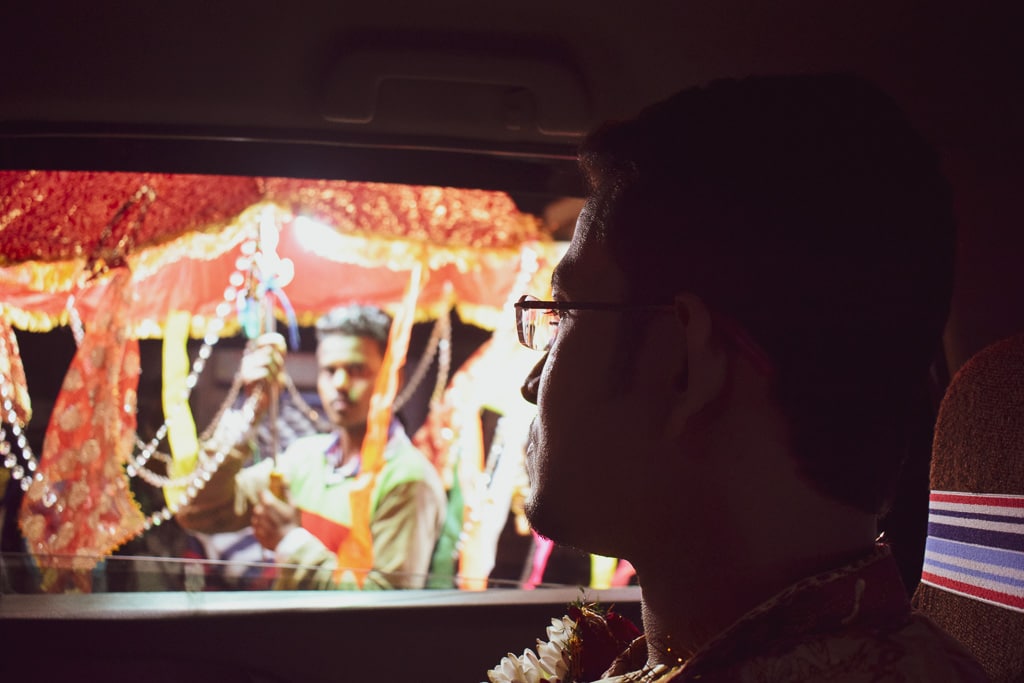 Fish swims deep in the Bengali Blood!
I think by this time, it is obvious! A Bengali wedding is incomplete till you have shown the fish!
In winter, it is next to impossible to find Ilsih (Hilsa). But the bride's father arranged for it, straight from Kolaghat, where Hoogly river merges with Rupnayaran!
I will let the pictures do rest of the talking.
Just a gentle reminder, whatever you eat, remember you have to excrete too! It can be a particular challenge in a busy, really busy marriage hall!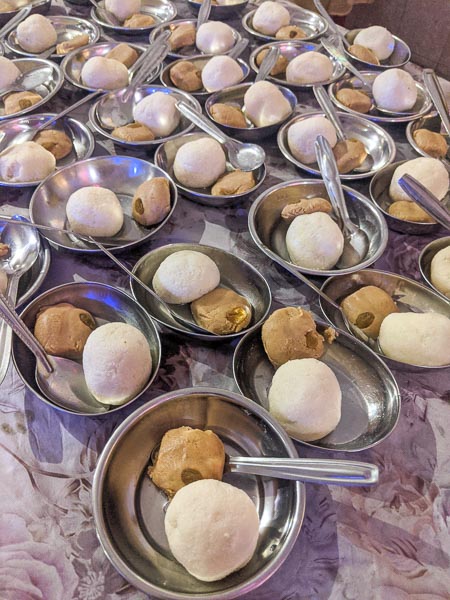 No wonder, why Mach Mishti and more is the name of a movie in this part of the world!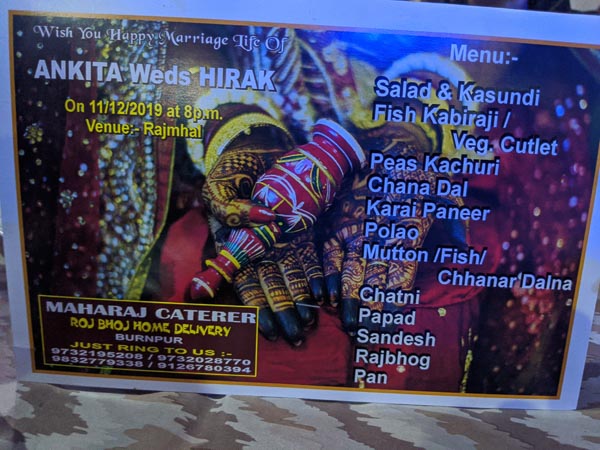 Shubhodrishti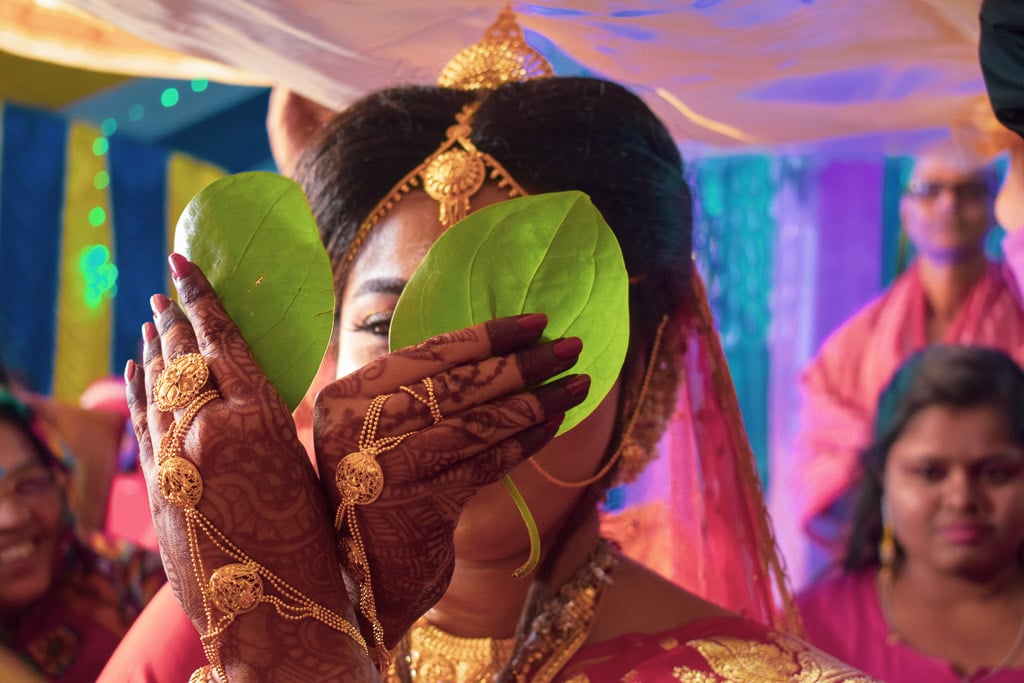 Paanpata, Benarasi saree, glitters!
Breakfast on the next day. Because we had moved out of Bankura, Lobongo Lotika gave way to Rosogolla!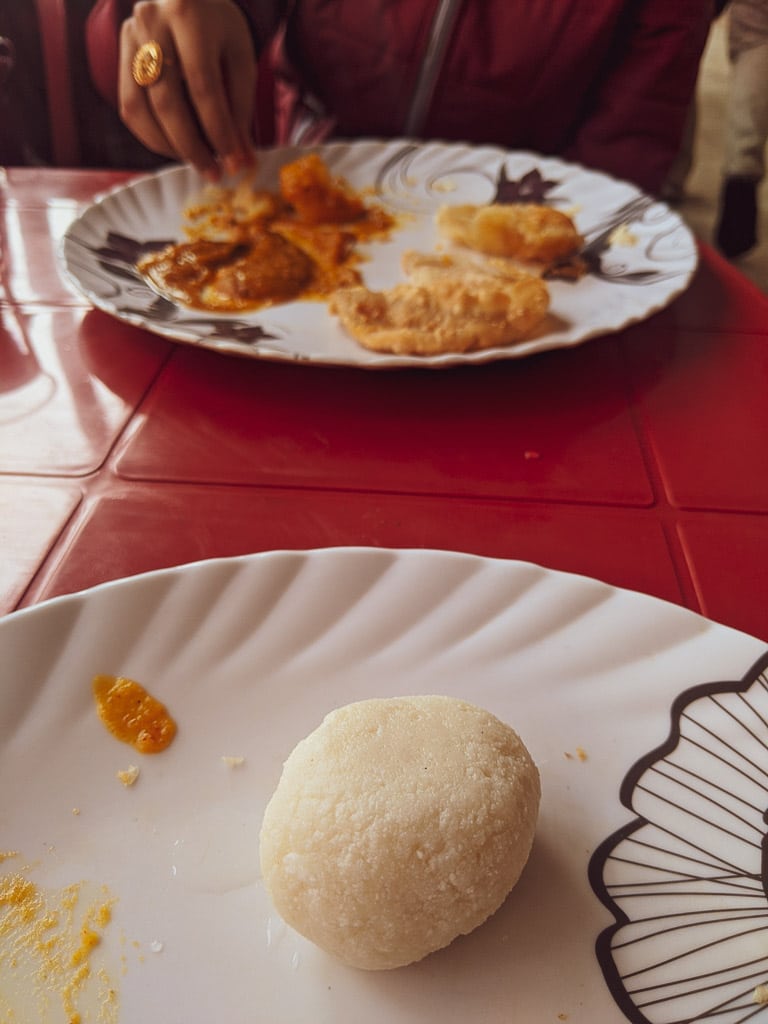 Tears can be of joy too!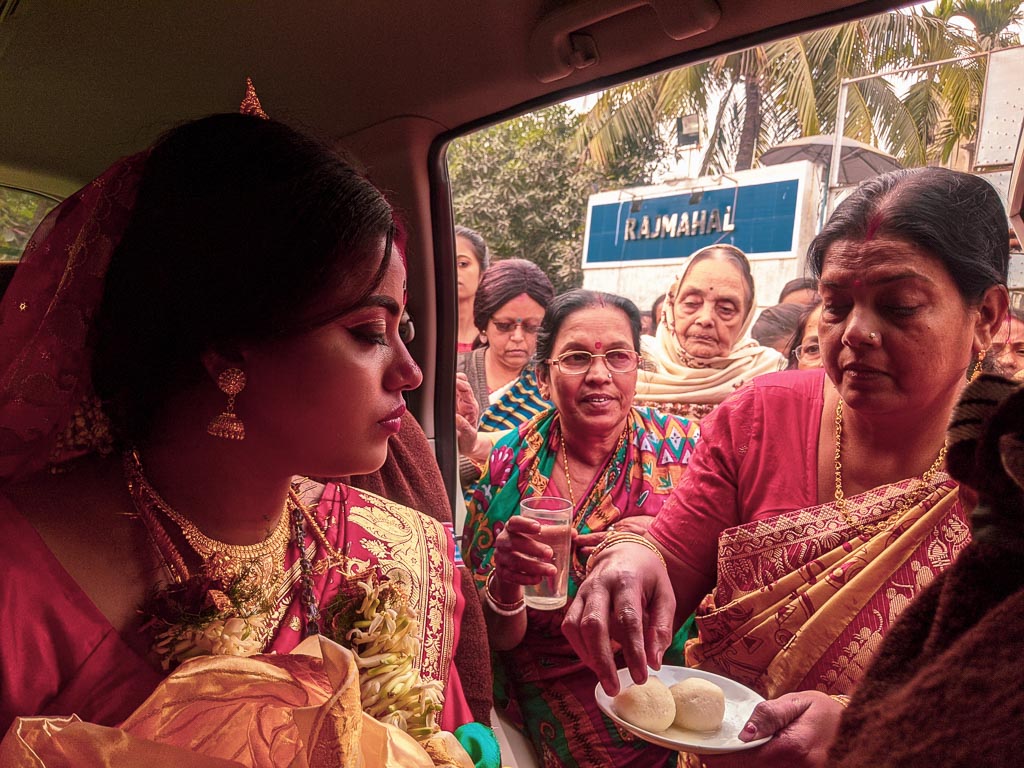 When the mother and the daughter parts, words fail to console!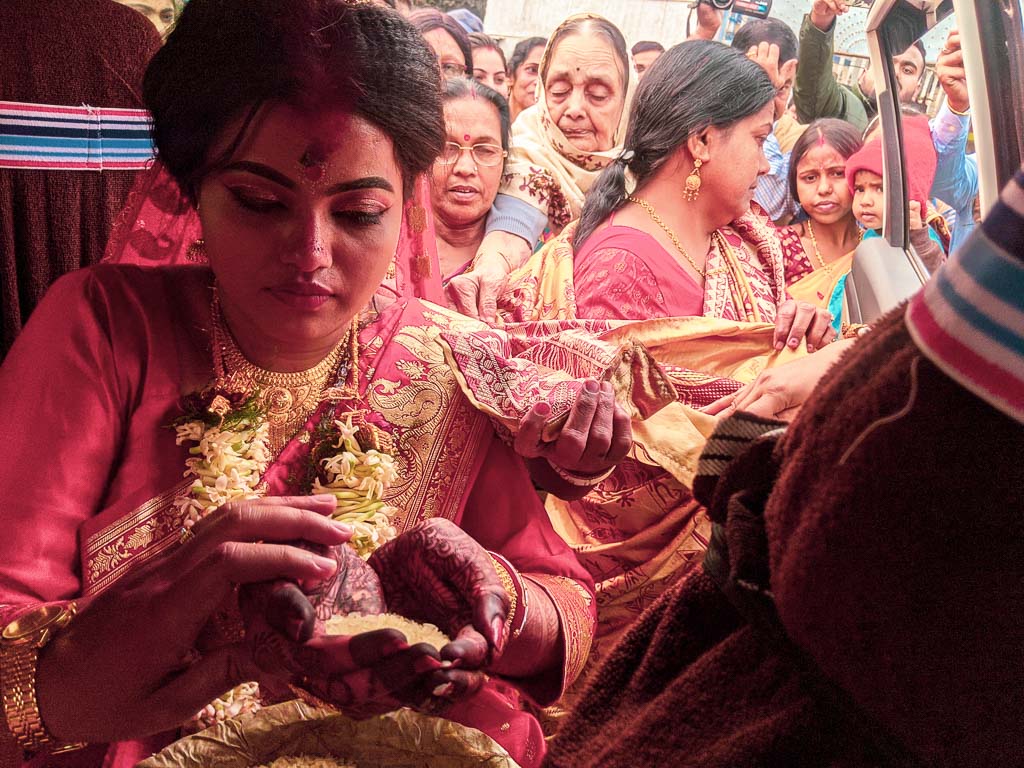 Bodhuboron!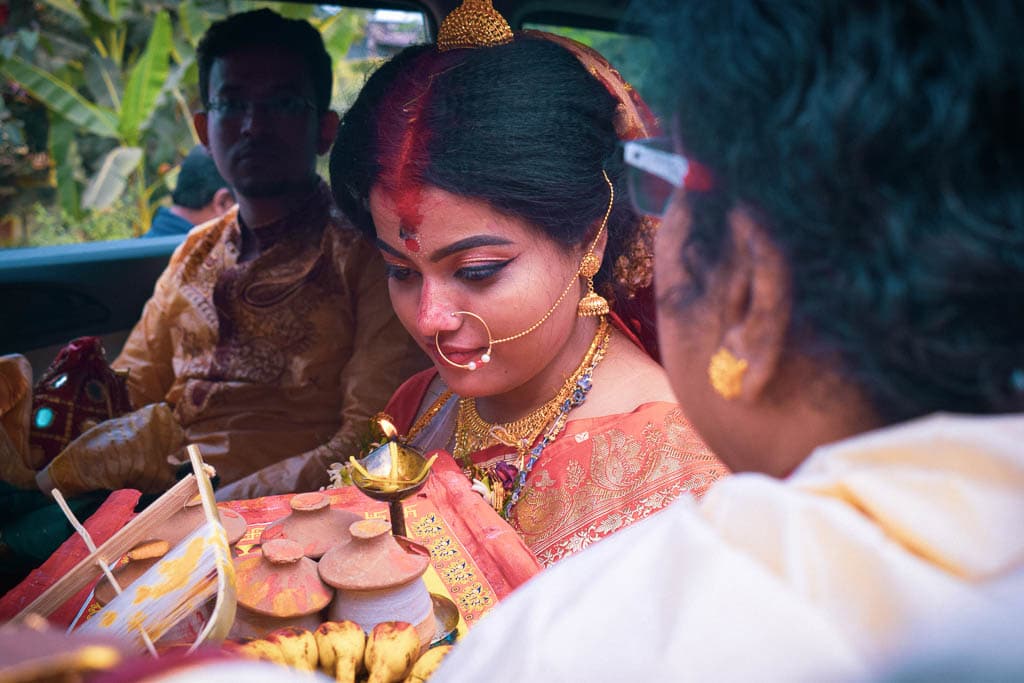 Then a new mother steps in!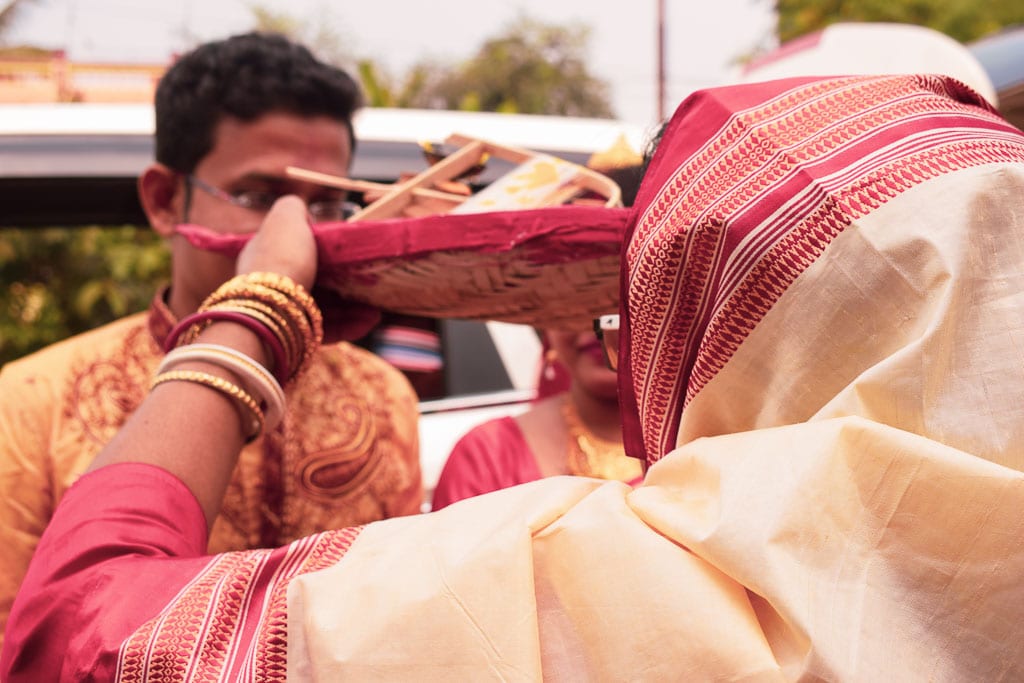 The bride steps on a bowl mixed with Alta and milk and walks over a white and red bordered saree!
Stealing a glance in-between crowd!
"Call her Rai, that's the new name!" Said Pishu. Bengalis love their nicknames!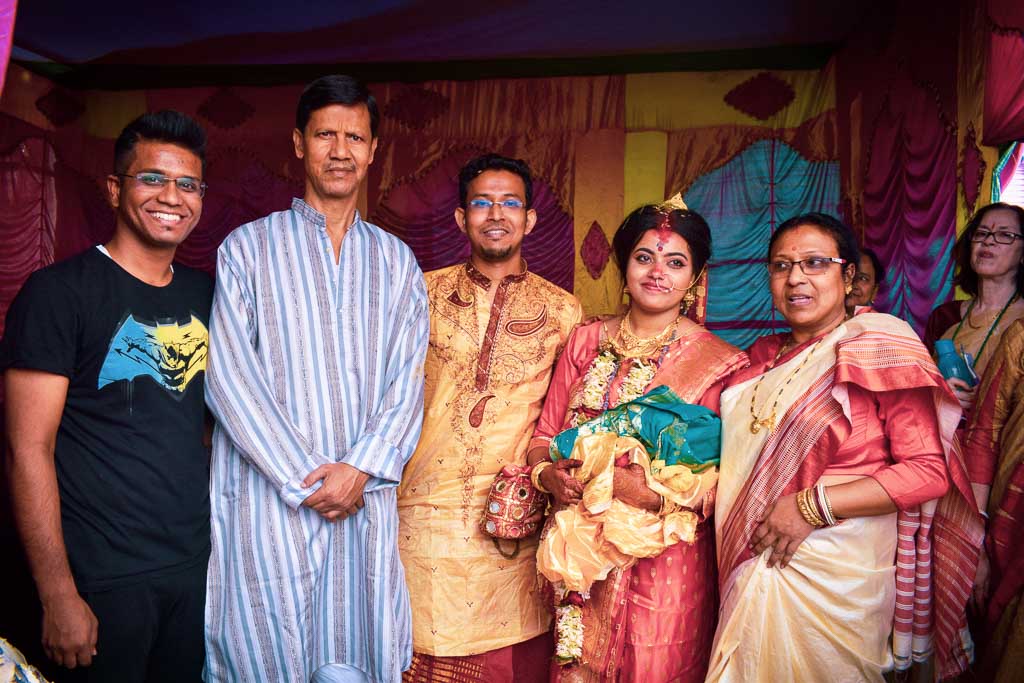 Our deceased grandfather watches it all.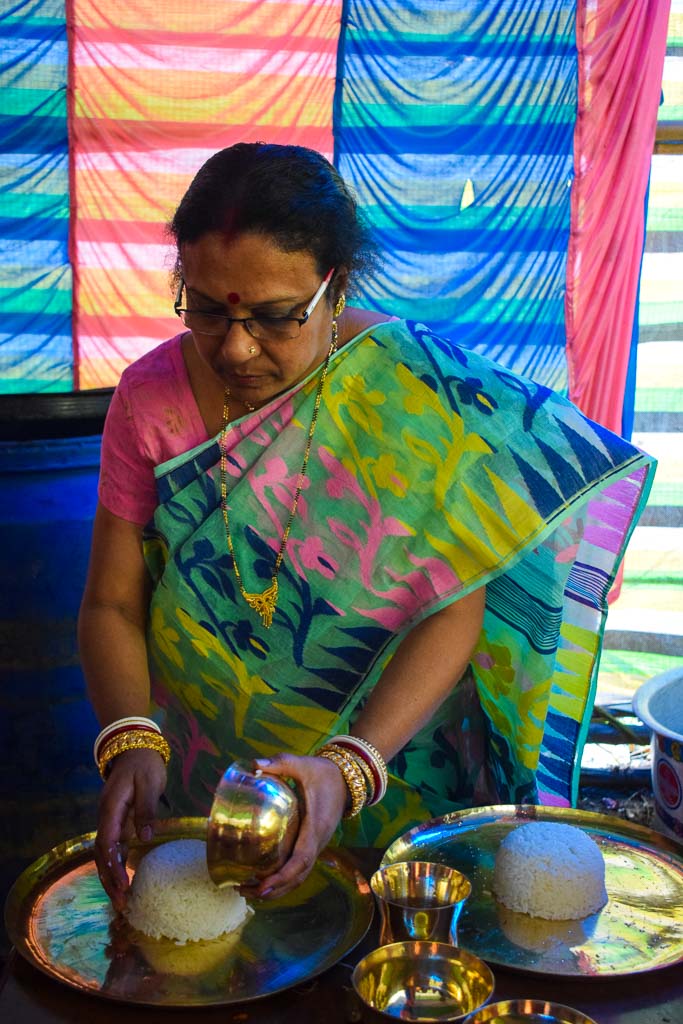 Bomma readying the first meal, also known as "Bhaat Kapor Thala", upon sharing which the groom agrees to take responsibility of the bride's food and clothing for the rest of the life.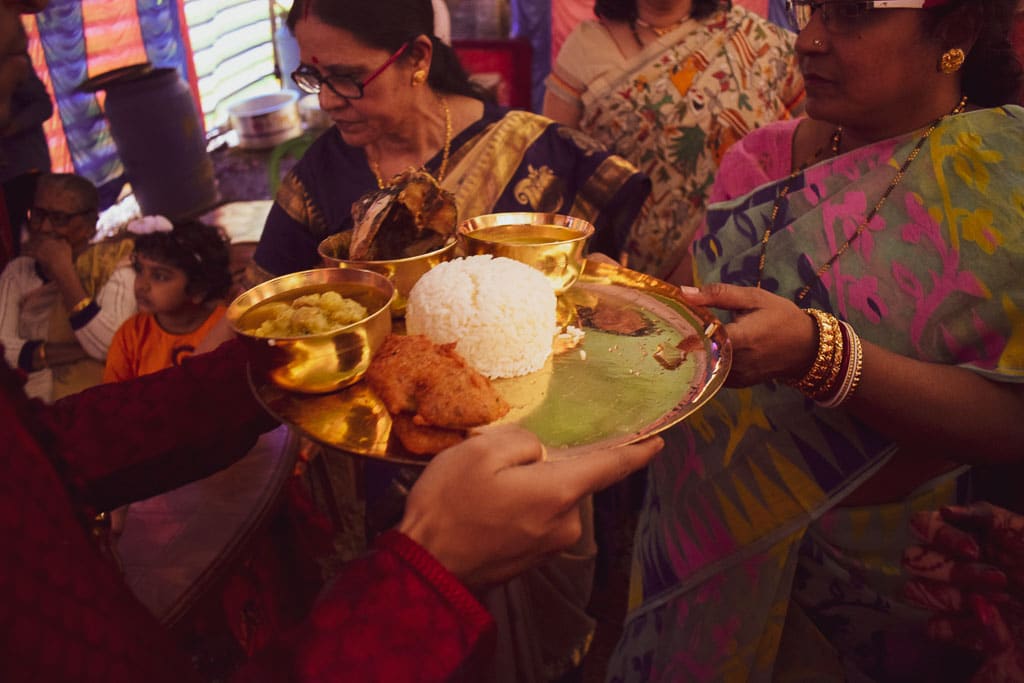 Meals in Bengal are heavy on rice. Chapati makes a fringe appearance for the diet conscious.
Serving a spoonful of Ghee on piping hot rice!
I am honestly amused to find Coca cola at the background! How invasive is their branding? Needless to add, this Pabda, coming all the way from the banks of Damodar of Durgapur, was delicious!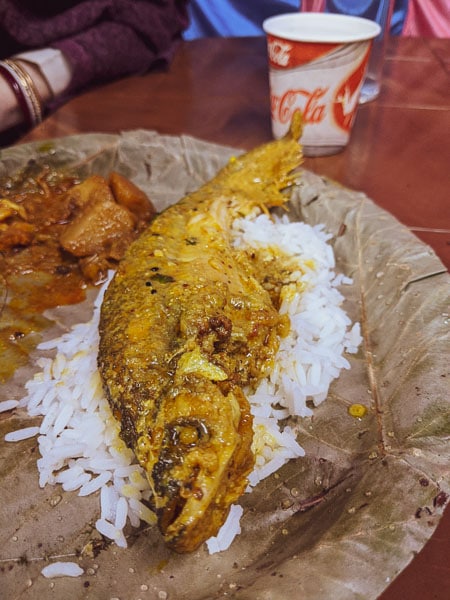 Because it is Bankura, Alu posto and Beguni has to find a place in the wedding menu!
Authentic Before-after picture of a Doi er Hari!
The Boubhat: Reception!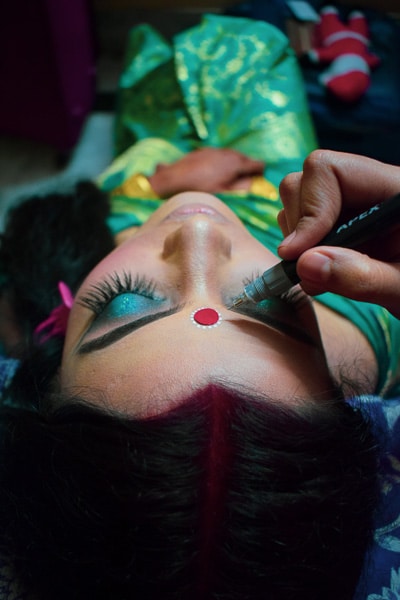 Flowers & Foliage, Thy Be Exotic!
Back in 2012, a friend of mine eloped with her boyfriend and got married. She called me and said, "I put on orchid on my hair"!
Ever since she said that, I wanted to wear orchid as head crown. And I did! This also happens to be the last time I am flaunting curls on hair!
Family: All that Stays till the end!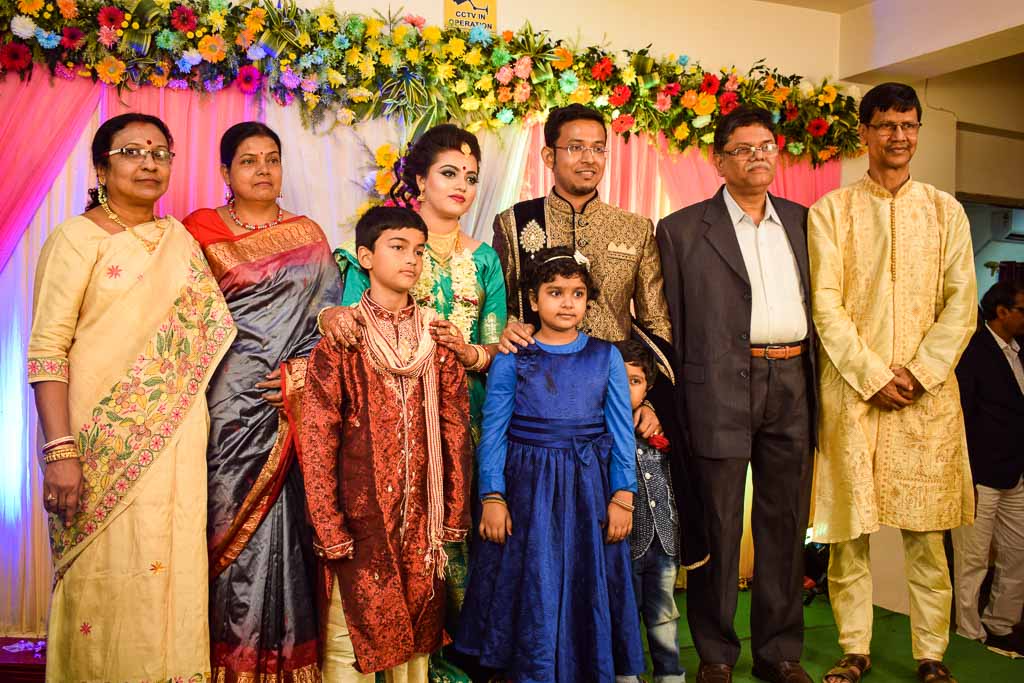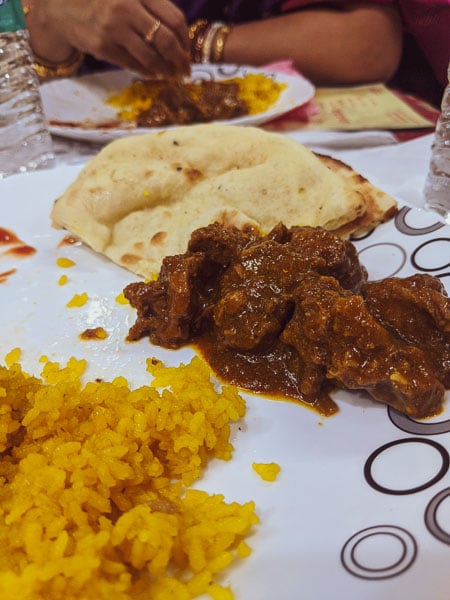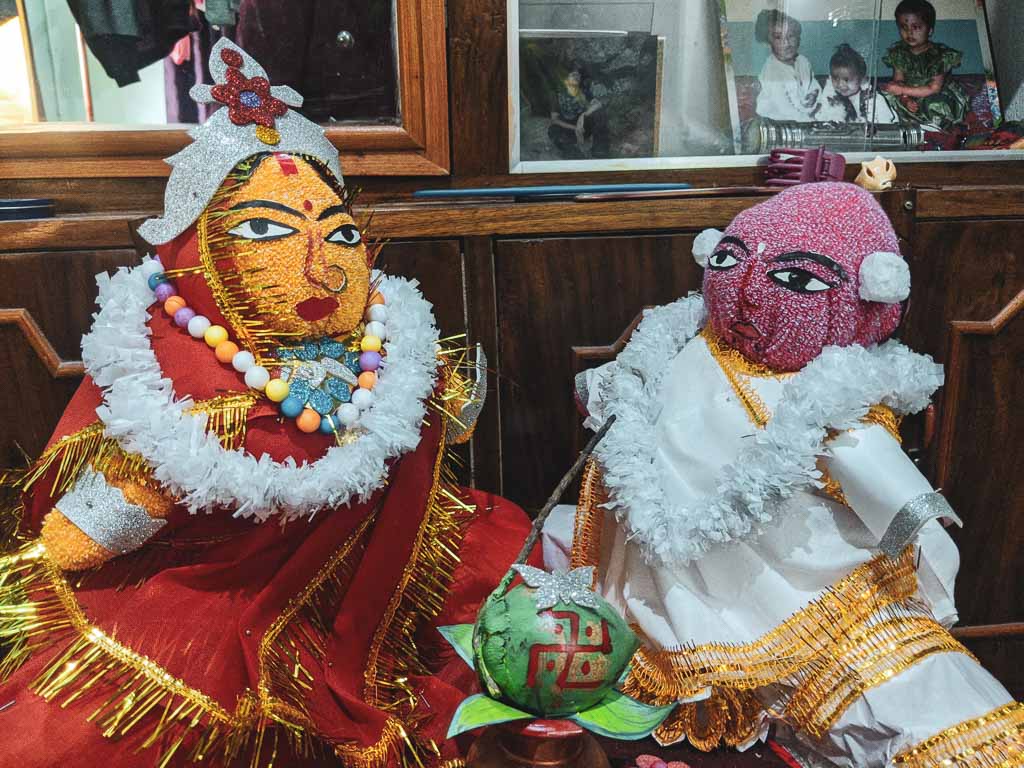 After everything was over, we sat down and opened the piles of gifts received. It is fun. Exhaustive too, but fun!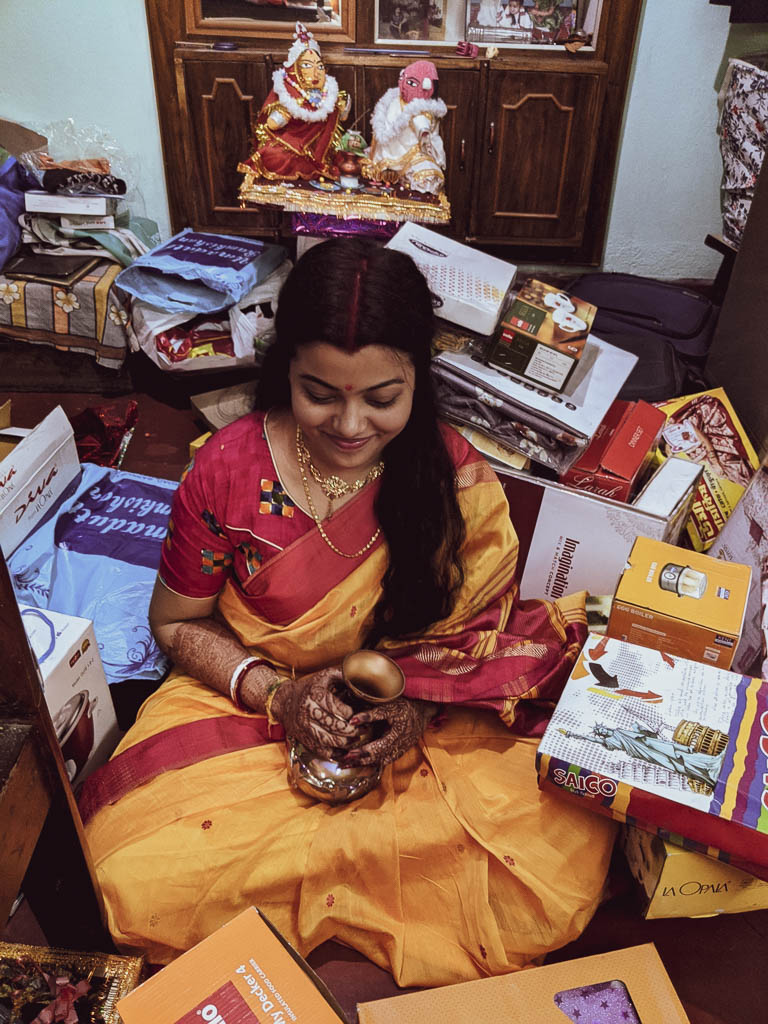 Before leaving for Kolkata, we made a quick visit to the pottery neighborhood at Rampurhat, Bankura. Check out the famous Dhokra work and terracotta horses from this place. More on this will come soon on the blog!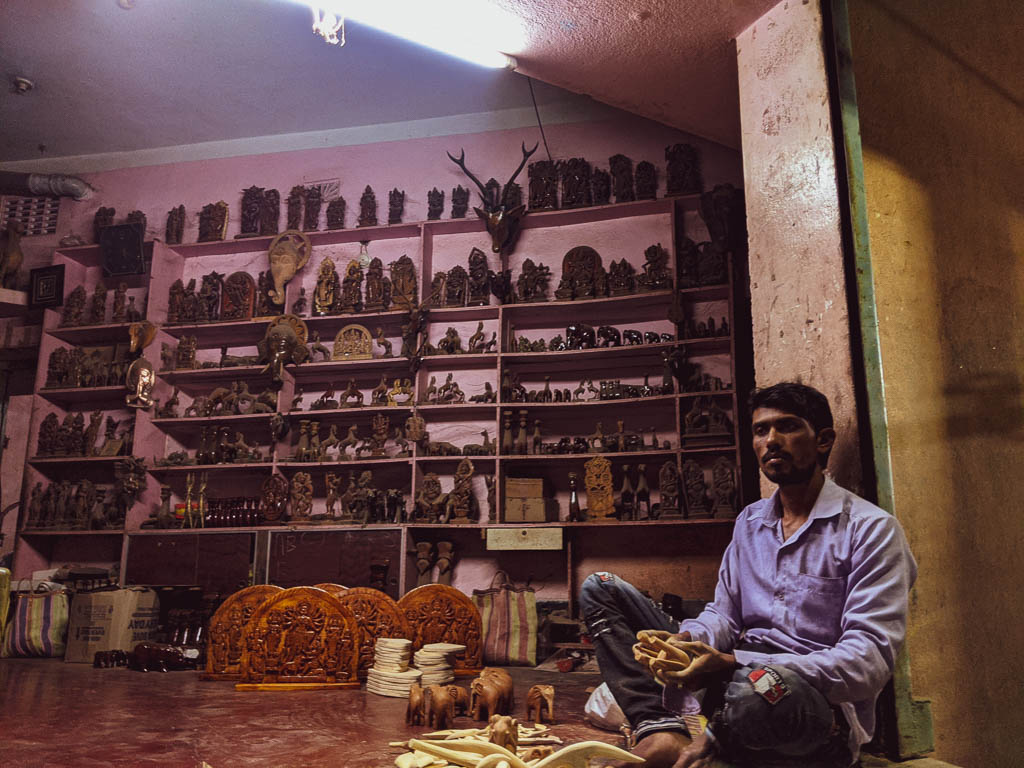 Pic 1: Bankura horses curved out of Sonamoni wood.
Pic 2: tribal woman sits pretty with Aanshboteen. I loved this one in particular but the seller was not around!
This post may contain affiliate links. Please read the disclosure post. If you have liked the article, you may support it by buying using these links without any extra cost to you.
Let's stay connected on Facebook, Instagram, Twitter! You may also consider joining my mailing list. I send travel and photography related emails only once a month!