"Do not make this class a fish market!" our teachers would chide invariably at the onset of a new session post summer holidays!
I vaguely remember visiting a fish market, the chaos, the mayhem, the excited middle aged Bengali fathers, in search of the freshest carp!
It was not until I started living in Delhi I started going out to the mandis and Fish Stalls, "Bengali Fish Stalls" as they would be named. I started picking up nuances of "Bajar Kora", simple pleasures of choosing and collecting the fresh produce of the day, bring it home, cook, often grow a plant from a leftover seed!
A wet market is a photographer's delight, a food aficionado's pleasure path, an exciting base for people watch!
This fish market is located in Bakultala, the closest one to my home in Kolkata!
Also read: with love, from Kolkata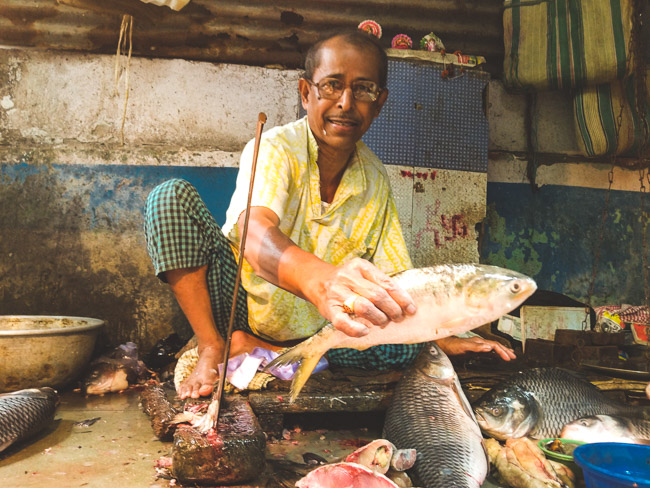 Subal , who approved and loved this picture, and got a printed copy for himself as well, shows me the best Hilsa of the day!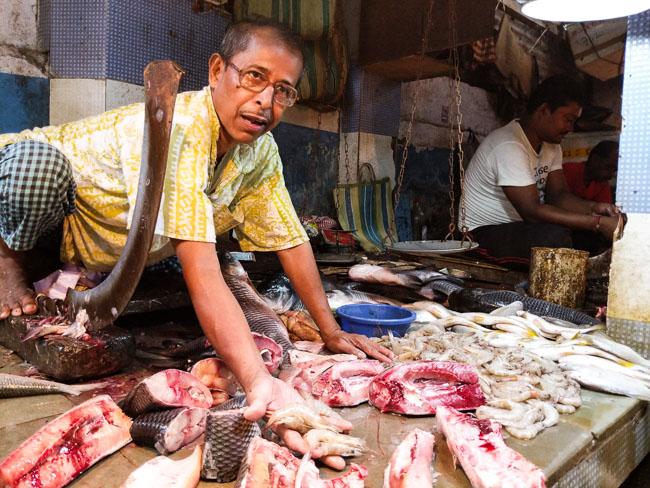 Subal "da" also shows some tiger prawns, Bagda Chingri. Stripes like a tiger prominently shows on their shells. He claims them to be the best produce of the day! "Niye jan, ami bolchi, kharap hobe na!"
Also read: 33+ Best beaches in Goa!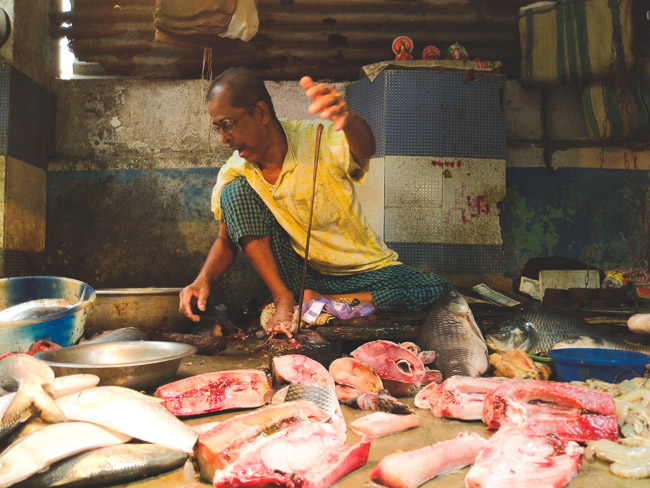 "What else I can give you today?"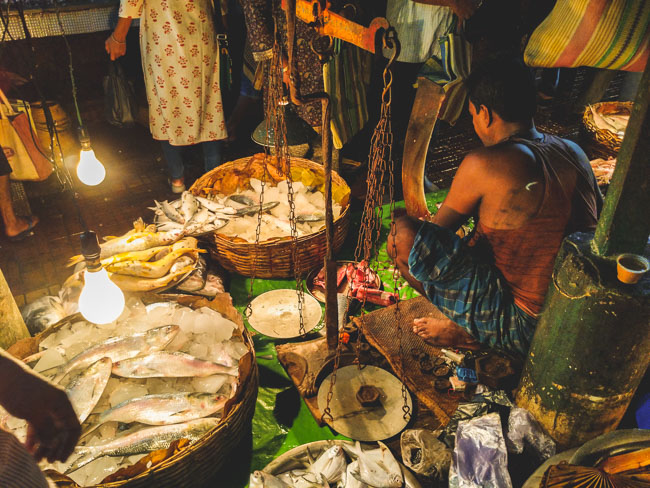 Look at the "Boteen", the sharp edges of the traditional fish cutter. We don't do knife in this part of the world. "Aanshboteen" is also believed to be a weapon of Shakchunni, a female ghost frequenting the rural folklores.
Also read: 50+ pictures from Kolkata Durgapuja!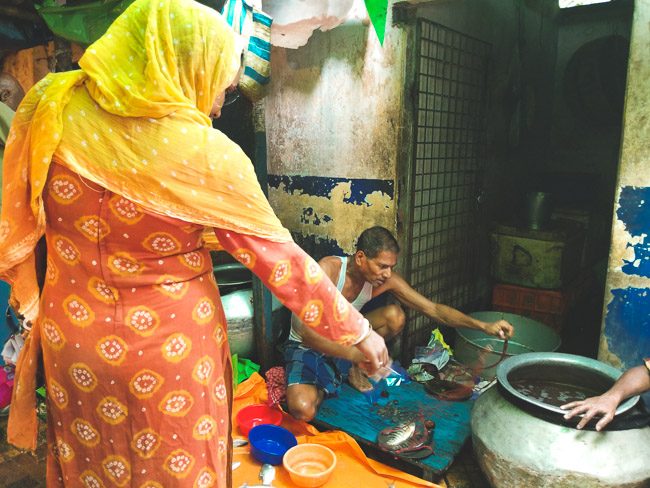 A big Hnari is used to store "Jeol mach", fishes that live and tastes better when eaten fresh. Koi, Singi, Magur find a place in that Handi.
Also read: 20+ beautiful pictures from Sikkim roadtrip!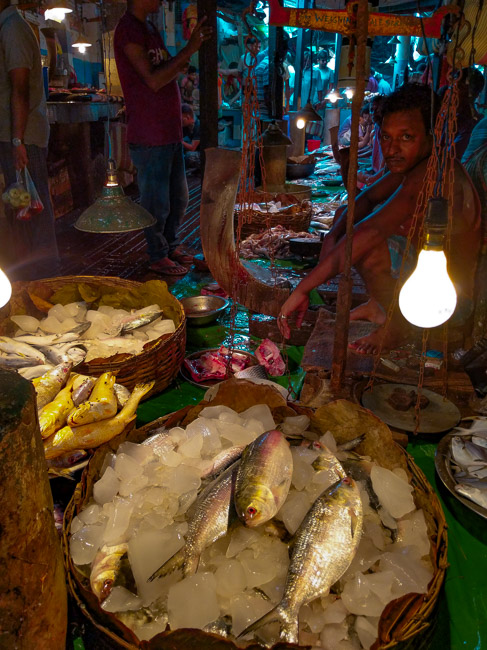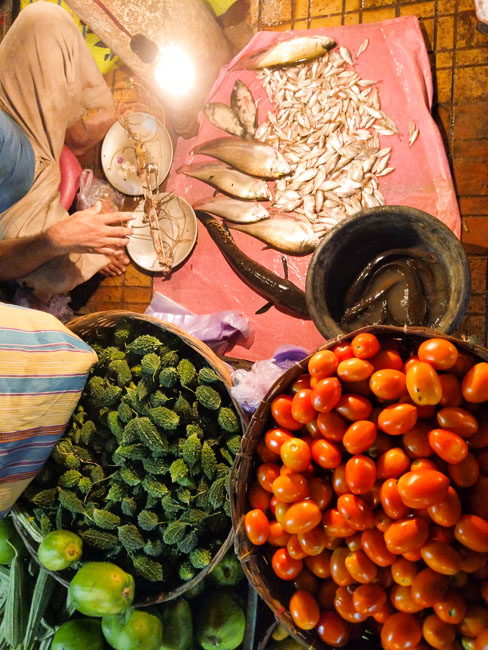 A Bengali meal starts with crisp fried Ucche and culminates into a macher jhol!
Also read: Bengali wedding rituals, a photo blog!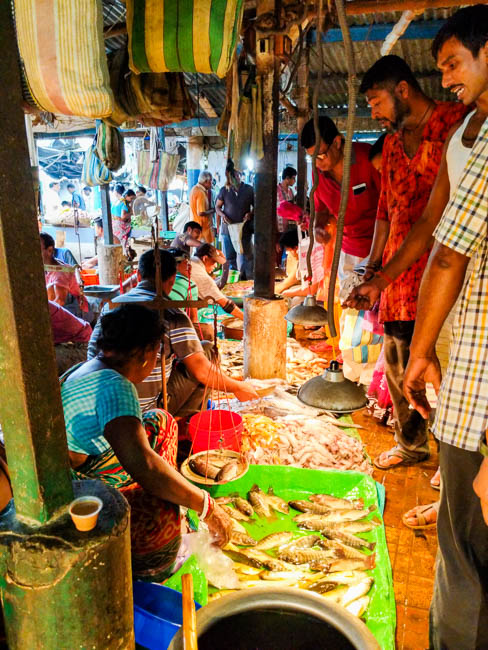 A busy scene at the fish market.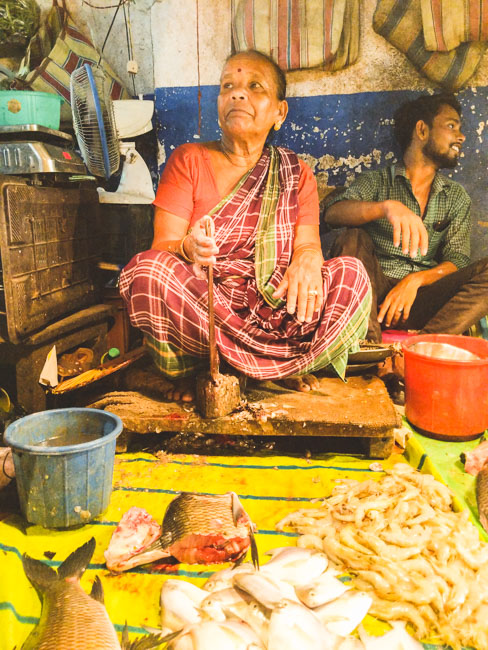 Aanshboteen makes appearance one more time!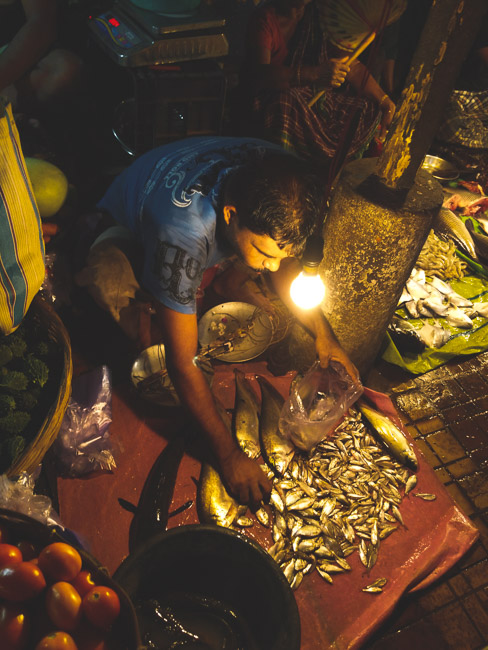 Puti mach, a very small variety of fish, frequently found in the ponds of Bengal!
Also read: Complete Guide to experiencing Bonedi Barir Durgapuja in Kolkata!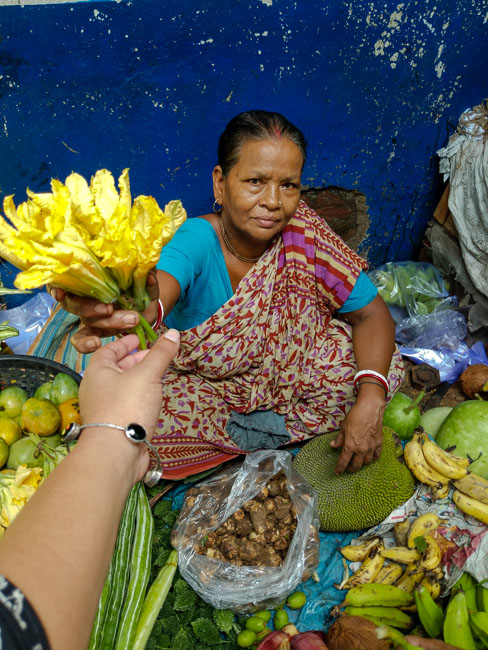 Say it with flowers!
A lady sells Kumro phul, a bouquet of pumpkin flowers which are batter fried and eaten with a rice and dal meal.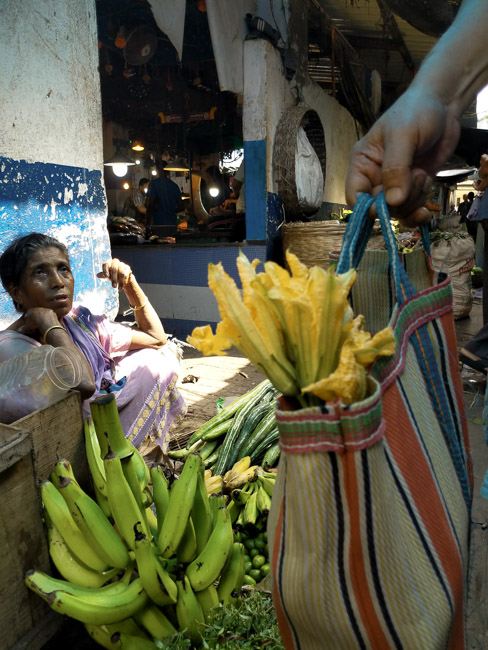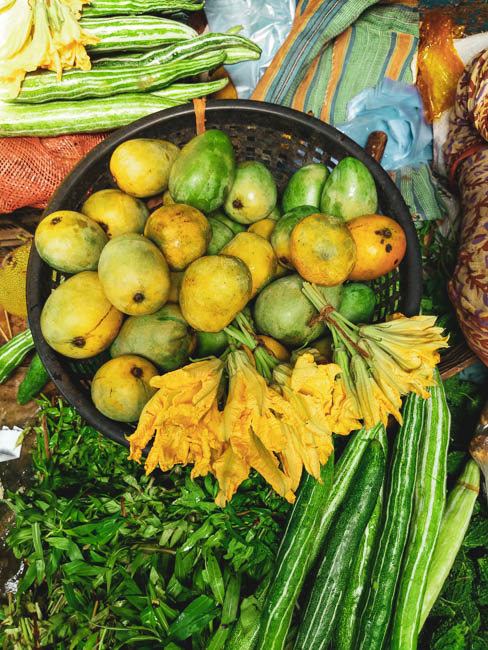 Mango, snake gourd and pumpkin flowers.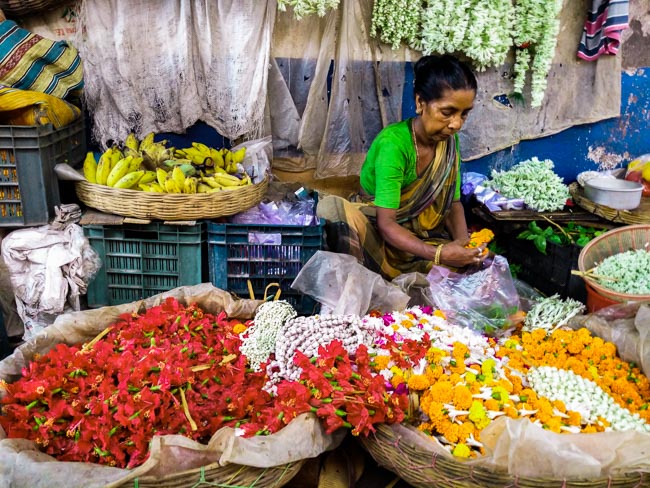 Flowers will find a way to the Thakur Ghor.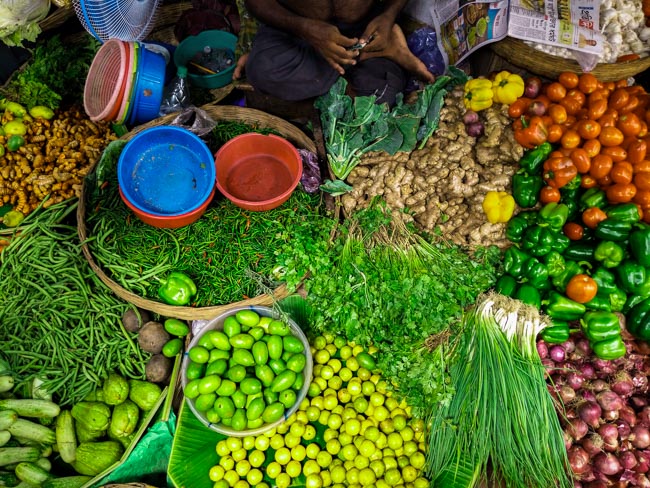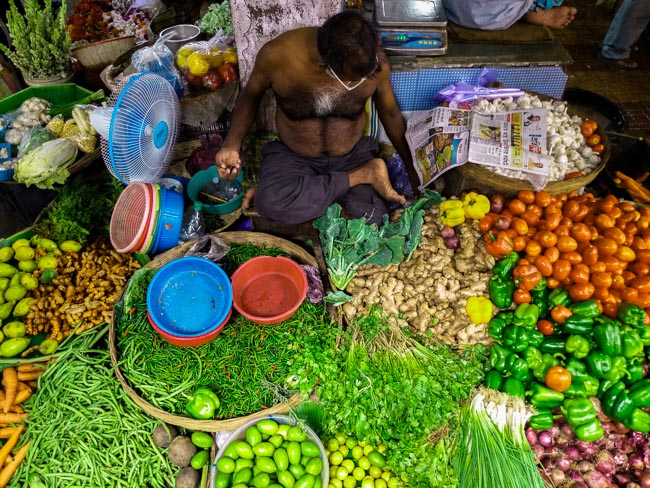 Pride of a farmer! All produce comes from his field!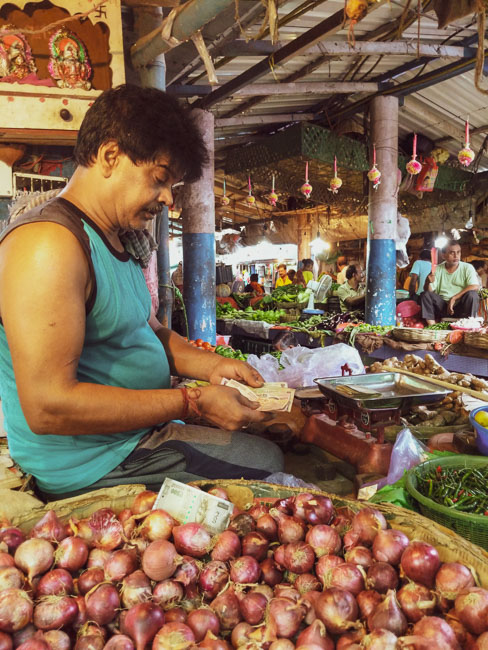 Gandhiji smiles!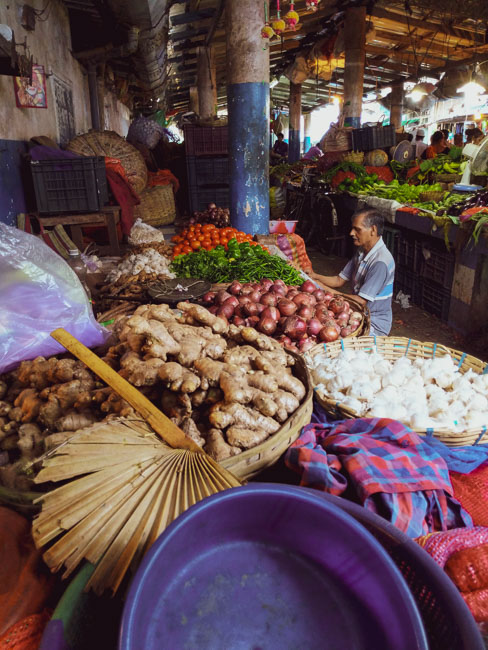 A handheld fan made of palm leaves rests.
Also read: A photo blog on Zanzibar, the pearl on Indian Ocean!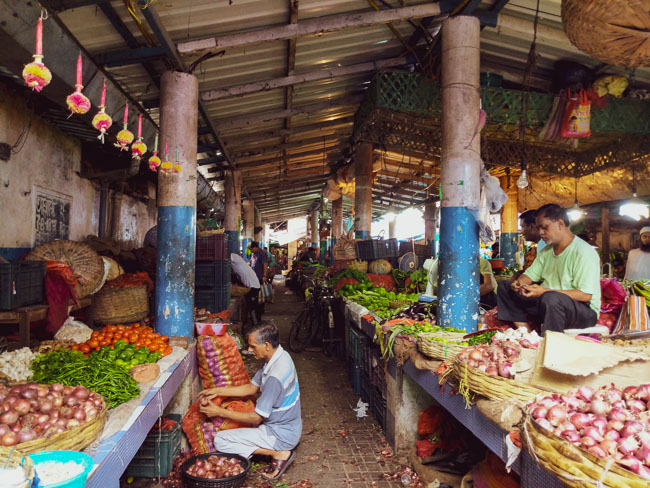 A walkway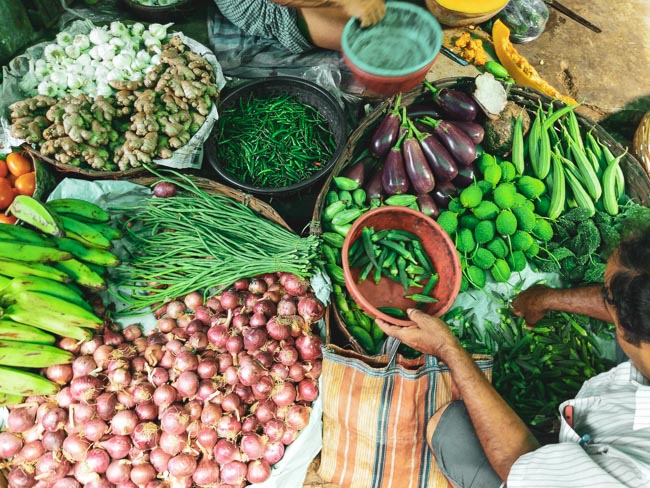 Handpicked!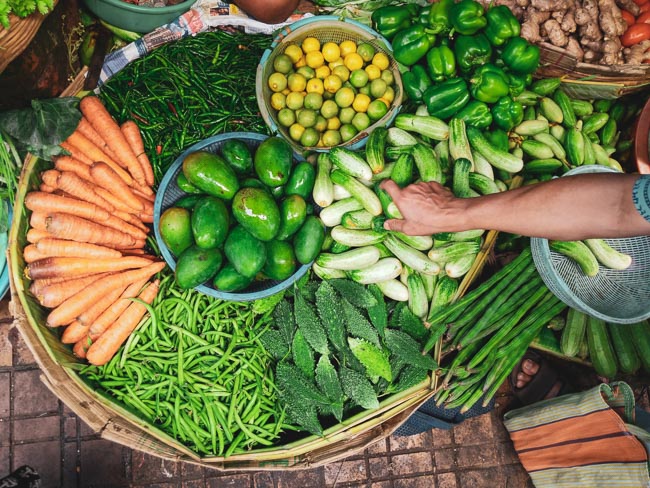 Raw mangoes are considered as vegetables.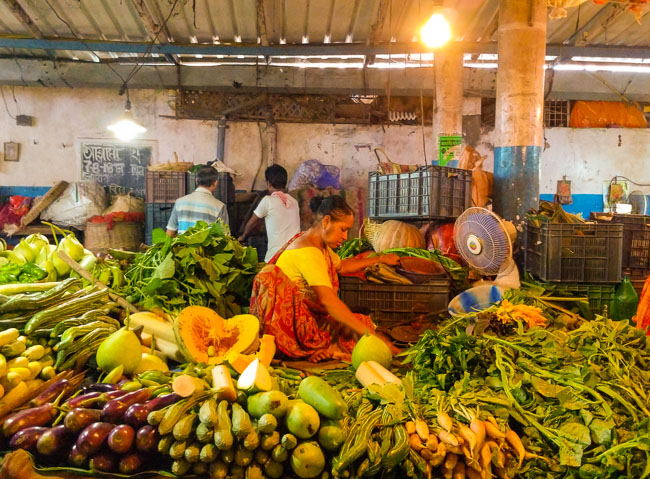 A blackboard at the background announces an upcoming festival, handwritten with chalks!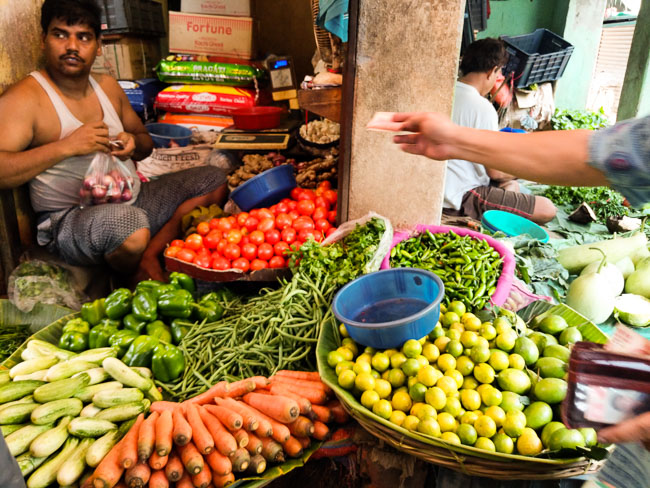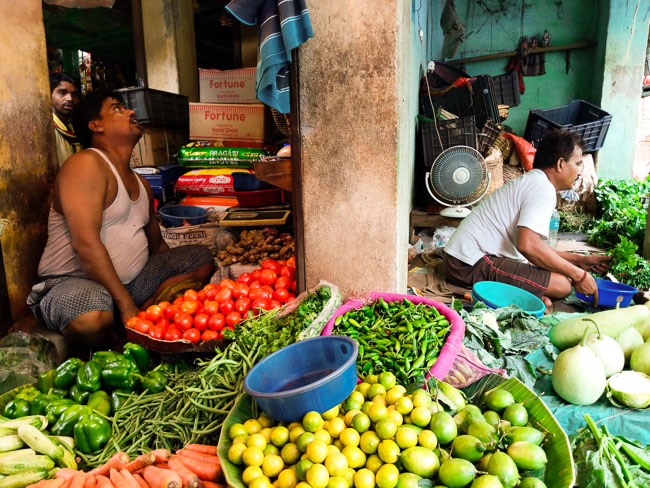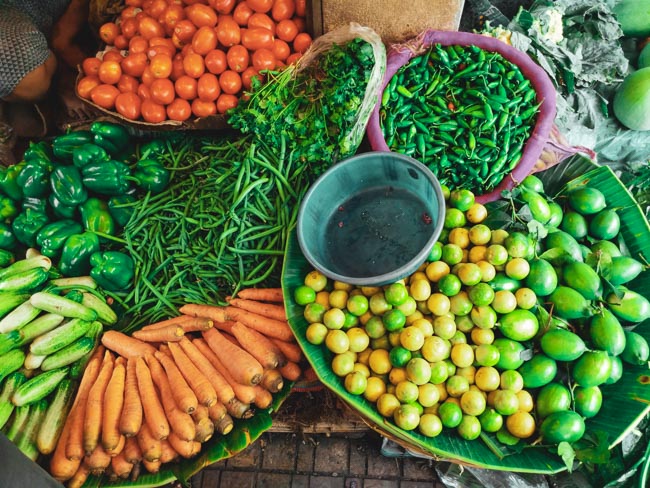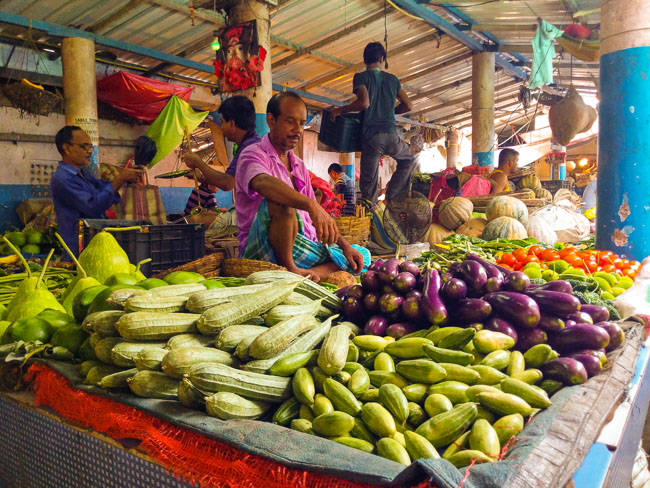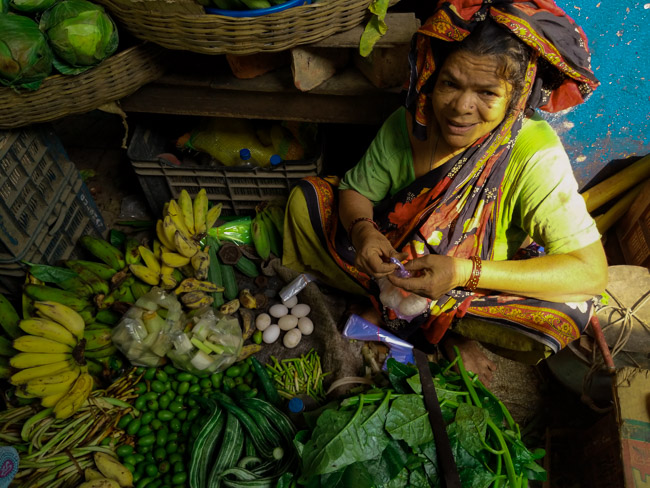 The lady brought a few duck eggs, which is close to impossible to produce in poultry and hence deemed rare and a gourmet product.
The banana is grown at home too!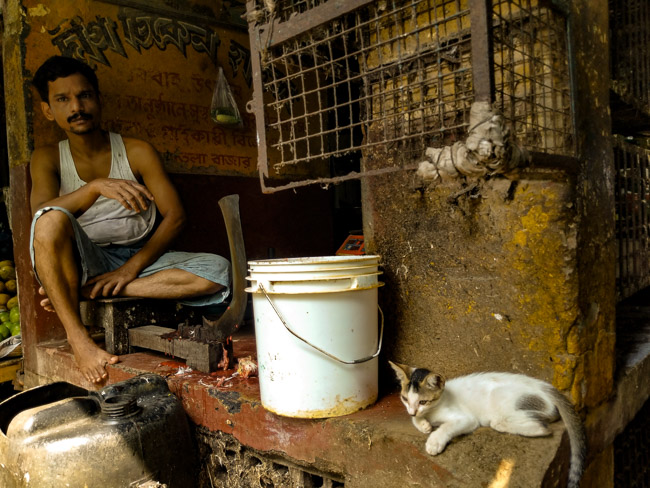 The cat waits.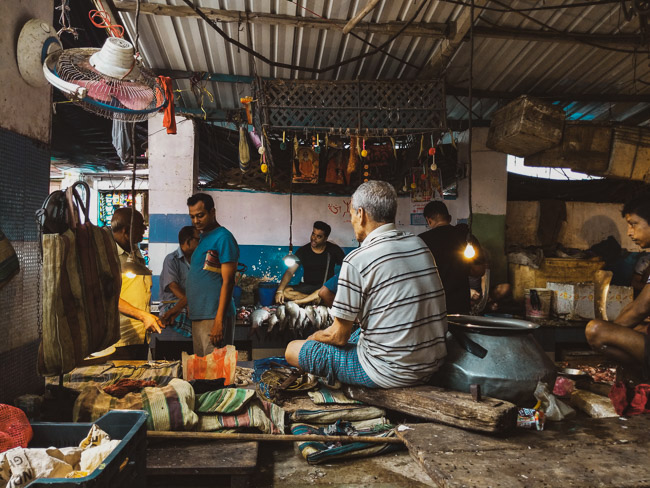 "Hat Bhanga!", end of a market day!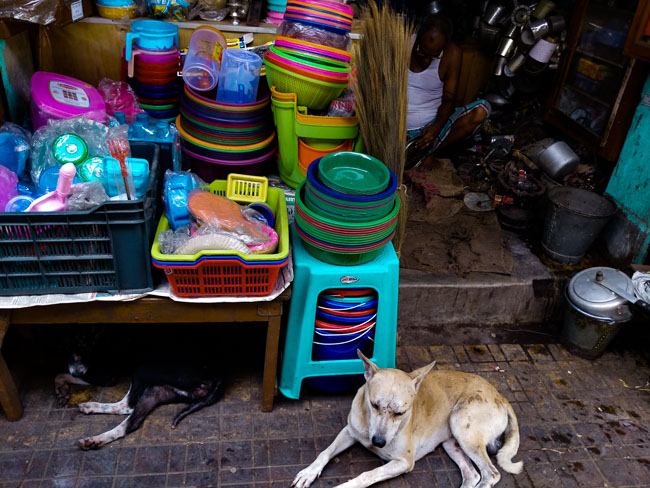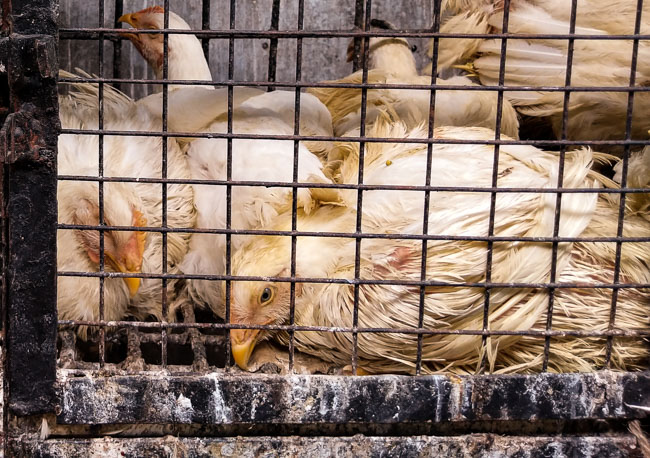 Born to feed…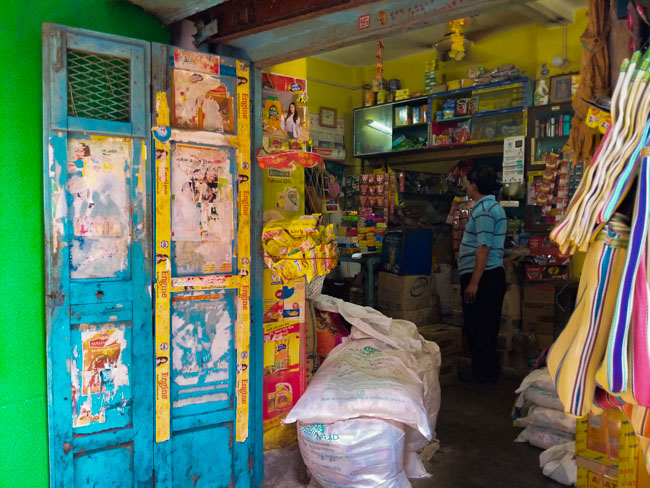 A traditional grocery store, known as Mudir dokan.
Tips for visiting a wet market in Kolkata!
Most of the Kancha bajar or wet markets in Kolkata are held from early morning. Sunrise is the time when fish comes from the suburbs.
Most of the fresh produce are sold within 8 am. The rush is at highest point. If you visit with a camera, you are likely to capture the best of human emotion at that time.
If it rains, the walk can be a real pain.
Every Bajar will have its own pets, dogs, cats, rats (pests not pets). Be careful on what you step.
Keep changes ready.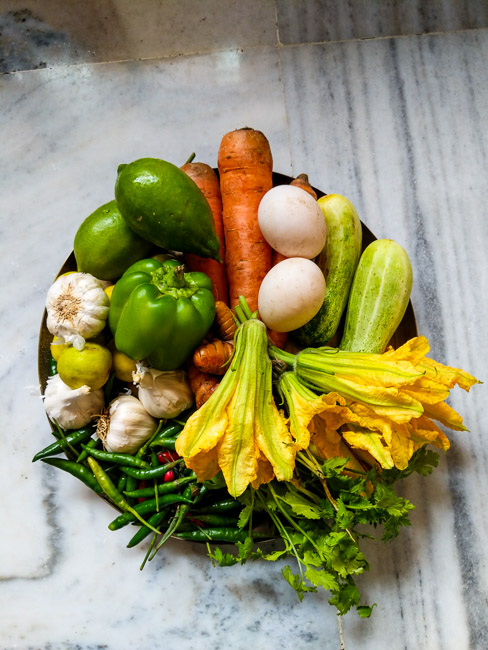 Day's yield!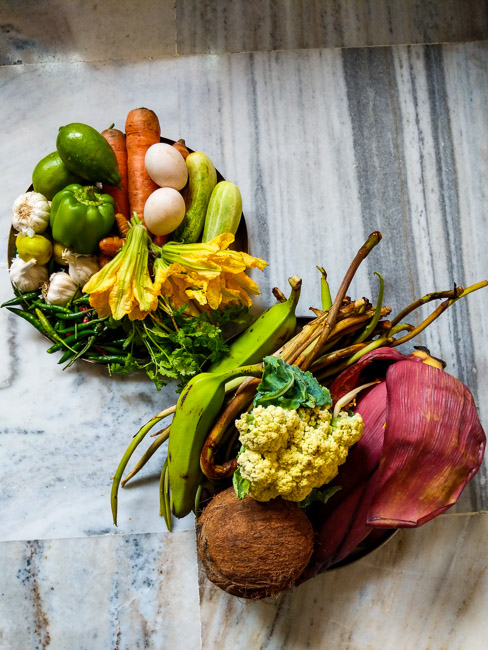 Preparing a feast!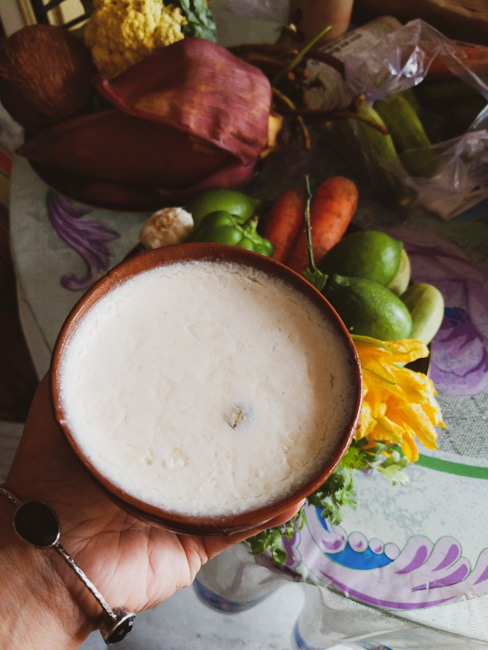 Mishti Doi. There will invariably be a sweet shop near wet markets!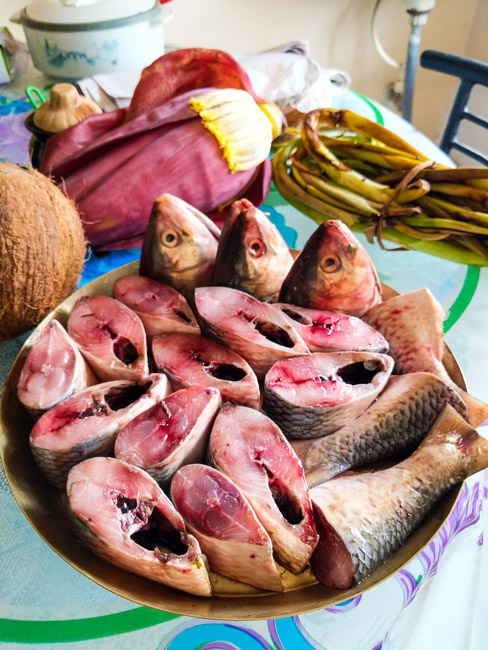 A plate full of delight!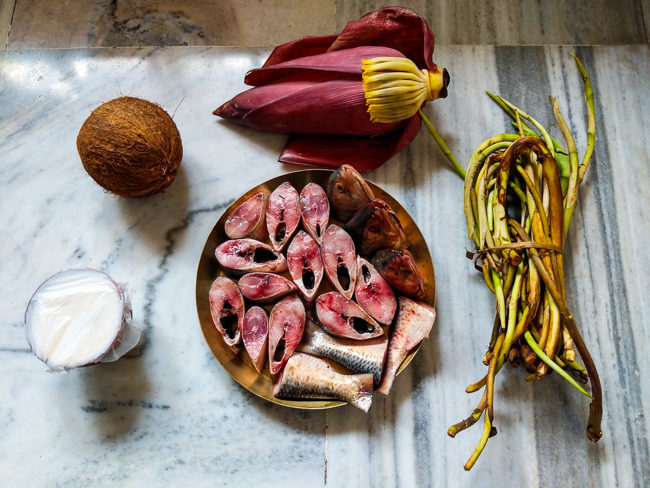 What we brought from the morning market: clockwise from right: Mocha, banana flower; Kochur loti, roots of colocasia, Hilsa fish, Laal Doi- the iconic sweetened red yoghurt of Kolkata, coconut.
Let's stay connected on Facebook, Instagram, Twitter! You may also consider joining my mailing list. I send travel and photography related emails only once a month!