About this blog: Kolkata Durgapuja is an enigmatic celebration of life and Bengali culture. Inclusive in nature, Durgapuja in Kolkata touches life at the most obscure points. From marginalized groups of child labor and sex workers from city's oldest red light zone, to Rabindranath's nuanced literature, Durgapuja transforms the city into a fairy tale land of all engulfing festive spirit. This photo blog on Kolkata Durgapuja is dedicated to the Goddess Durga and her extended mortal family from Bengal.
For more content on Kolkata, read here.
By the middle of previous century, Durgapuja celebration in Kolkata came out of the Bonedi Bari, the landlord's houses and became a part of Barowari (Baro Yaar, literally 12 friends) celebration. Every neighborhood would contribute Chanda to crowd pull the expenses of Puja.
With the advent of commercial sponsorship, Durgapuja loaded on pomp and galore and became event alike famous carnivals of the world. More intricate designs, thriving ideas, diverse themes started to be a part of the Durga Puja celebration.
Nowadays, the famous Durgapuja committees of Kolkata want to convey a message, a pressing issue to visitors. The message finds its root in current affairs or politics or a social cause. And many a times, the art work is built in and around Kumartuli, where Durga idols are made.
During Swadeshi revolution, India's struggle for independence, the Asur (the buffalo God, whom the Goddess is believed to have defeated) often had his face modeled after the British collector. Obviously, such incident had brought in much hue and cries, and the British ire.
The idea was to stir people, evoke an idea and send a message. The tradition does not cease to exist.
If you study the Durgapuja Pandals of Kolkata, you will find a message behind. Beside being incredibly beautiful, I try to grab the idea when I Pandal-hop with million others on the 5 nights of Durgapuja! Only in Kolkata.
Also read: First time in Kolkata during Durgapuja? Read this ultimate guide!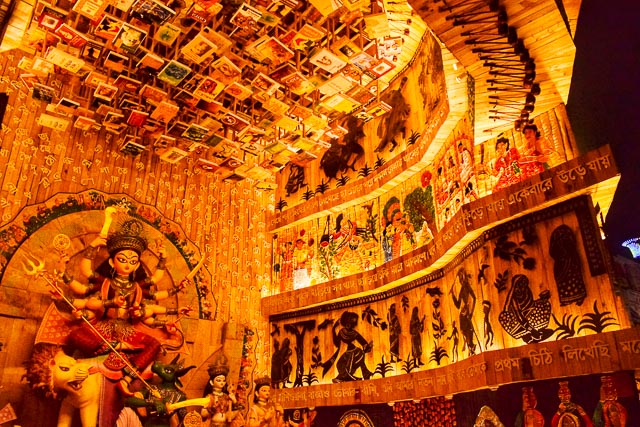 A Durgapuja Pandal at Chaltabagan, North Kolkata. The Durga pandal is created with plethora of literary works by Rabindranath Thakur.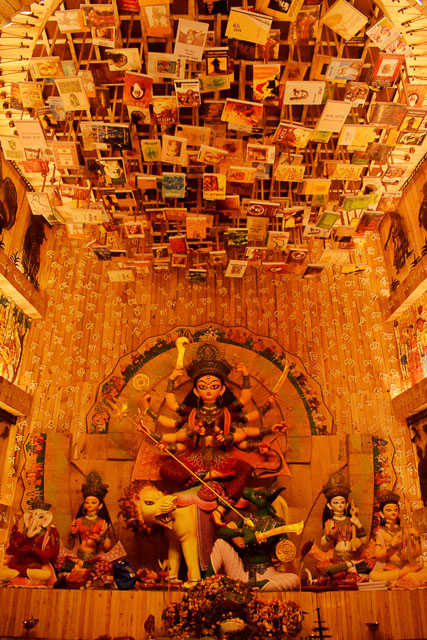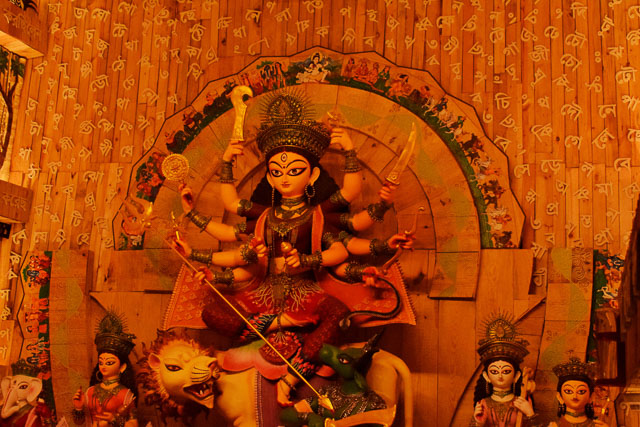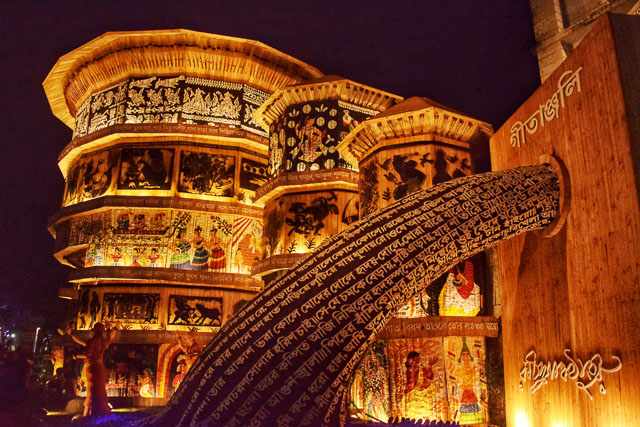 The Pandal from outside features Rabindranath's signature. Also features words from Geetanjali.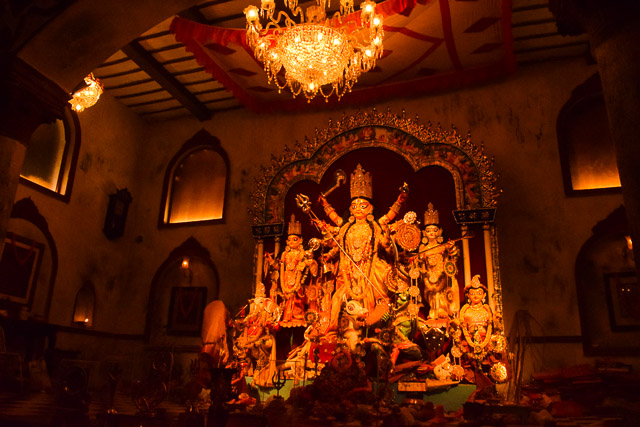 Kumartuli Sarbojonin Durgapuja, another iconic Puja from North Kolkata that is modeled after a Bonedi Bari. Bonedi Bari is the erstwhile Jamindar or landlords of Bengal, who initiated the festivity pertaining to Durgapuja. At present, there are close to 30 Bonedi Bari Pujas celebrated in old households of Kolkata.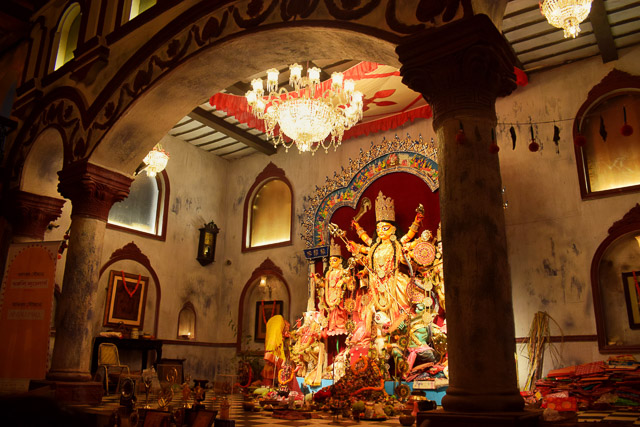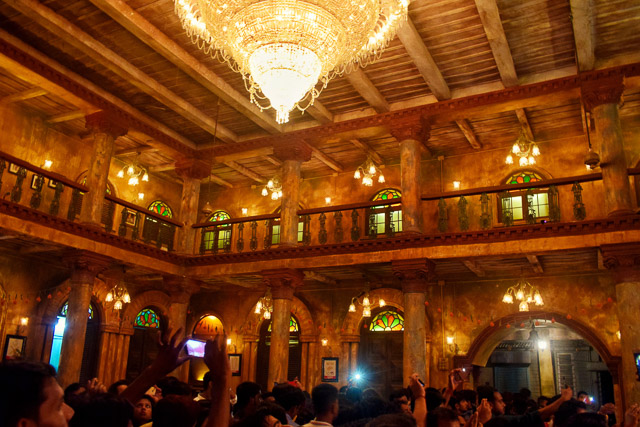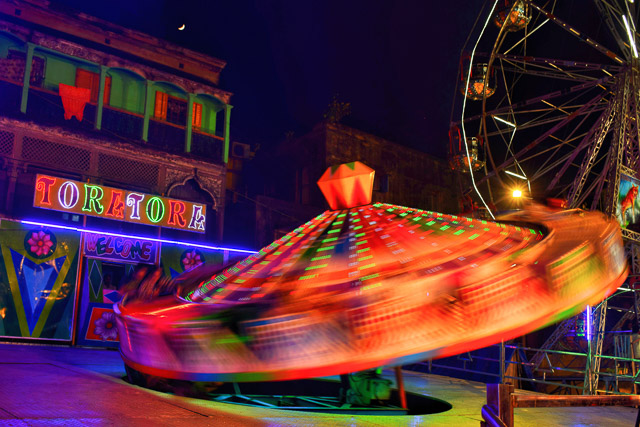 Many a times, Durgapuja is celebrated with a full fledged Mela (fair) by the side of the pandal.
Also read: 20+ Fun and Offbeat things to do in Goa!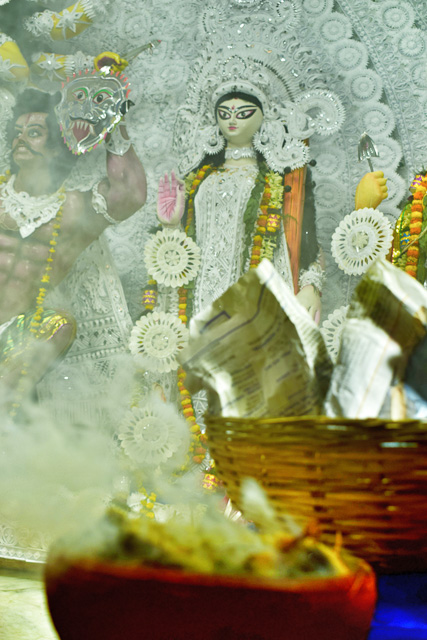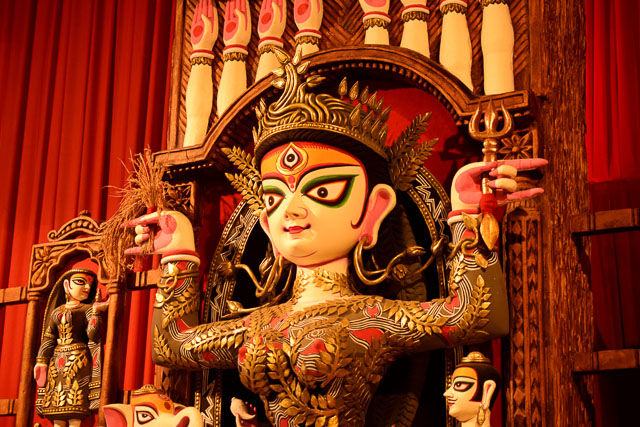 Many a times, Durga is created by the eminent art college alumni. This one, for example, is a Goddess created by famed artist Sanatan Dinda.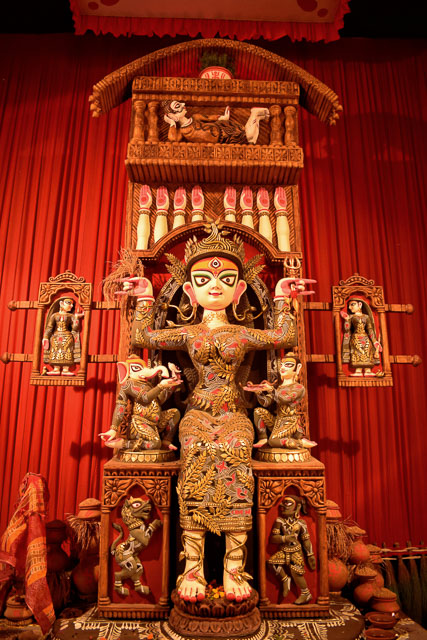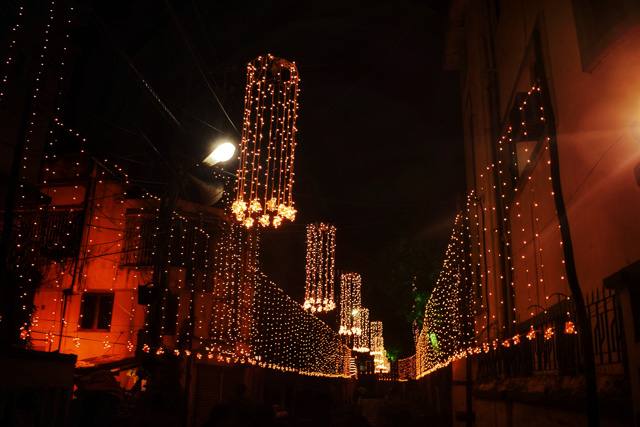 Lights and Shamiana will guide you home!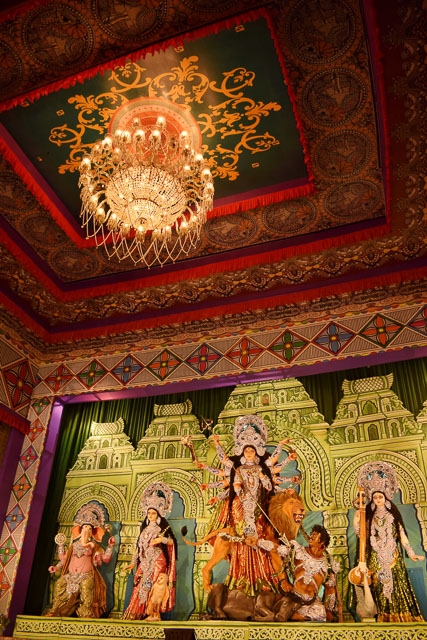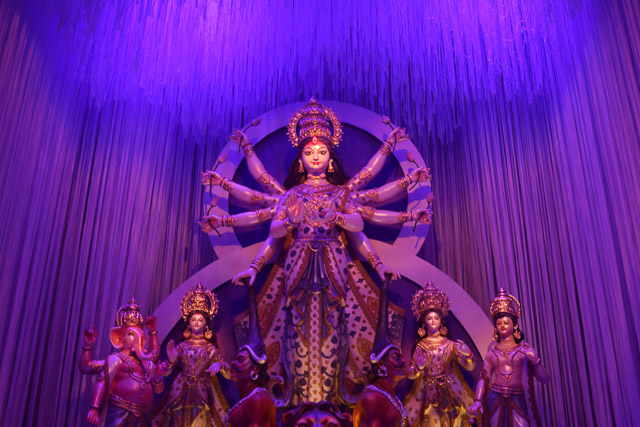 A Durga Puja Pandal celebrating nuances of Bangla language. You step into this Pandal to hear various Bangla poetry by poets from West Bengal and bangladesh as well. This was somewhere in Parnasri, behala.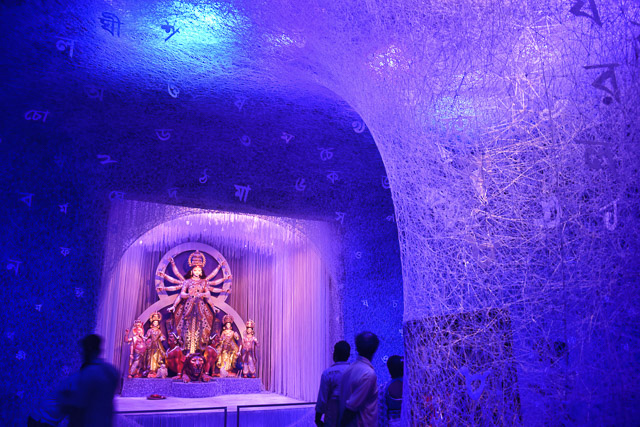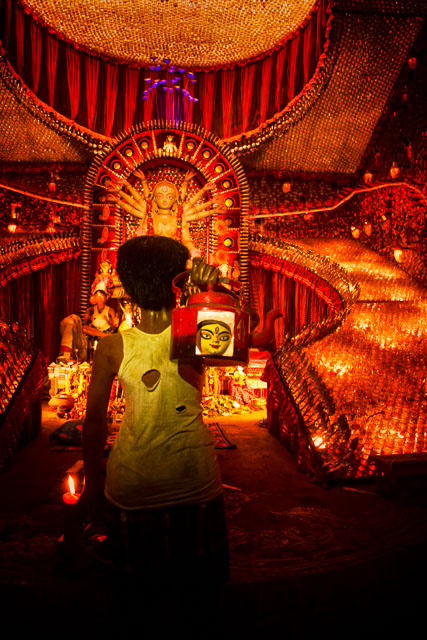 This Durgapuja Pandal aimed at raising awareness at child labor was celebrated somewhere in Dumdum. India runs on Chai and Bengal is no exception. Many a Chotu or Paltu loses their precious childhood days working at these tea stalls. Leave alone a chance to get education, they are subjected to various exploitation, ranging from low wage to molestation and sodomy.
This Durgapuja pandal at Dumdum was an eye opener to the prevailing situation. We entered the pandal and was stuck with a heavy air. The clay dolls were almost alive, with their skin polished with Gorjon oil.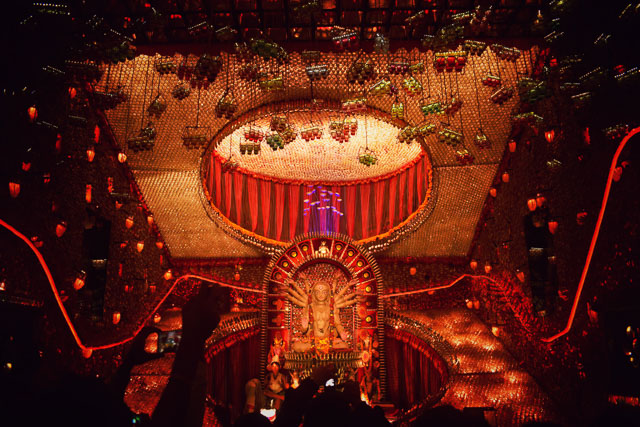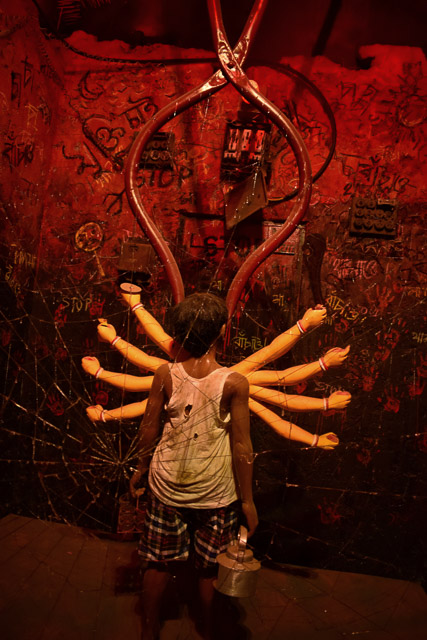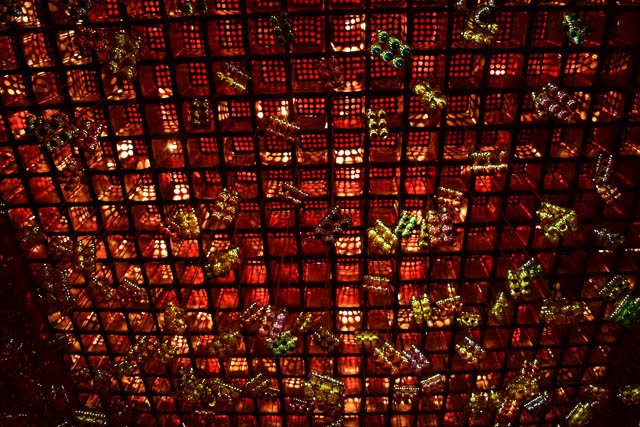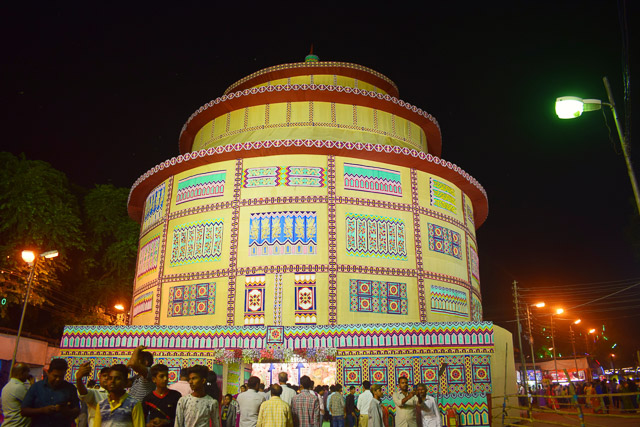 Apart from other things, Park circus seven point crossing Durga Puja Pandal signifies prevalent communal harmony in West Bengal. It showcases, no matter what the political ploy is, people in Bengal have always preferred to live in peace and integrity.
When in Park Circus Puja Pandal, ensure to eat a packet of mutton Biryani with extra potato from Arsalan restaurant. "Ekta extra aloo", the extra piece of potato is the keyword here!
Also read: Bijoya Sammilini: notes of food and frolic, a very Bengali thing!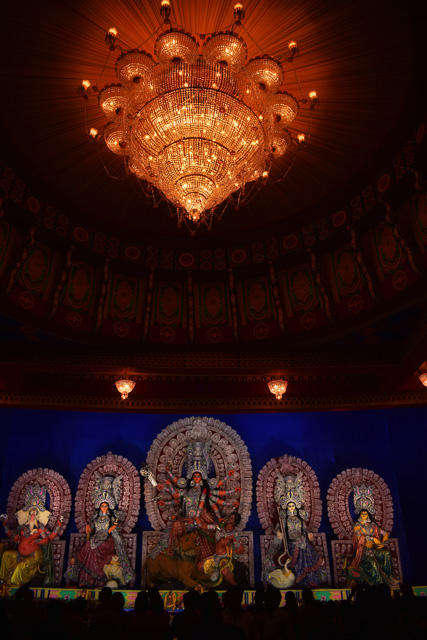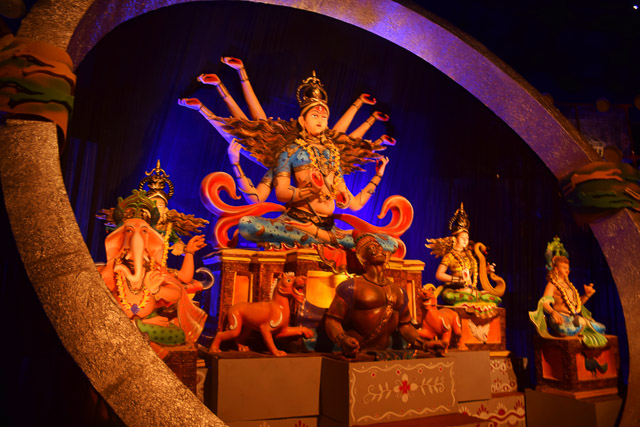 A Puja Pandal where Durga Thakrun arrives on boat along with her family, symbolizing refugees of the world!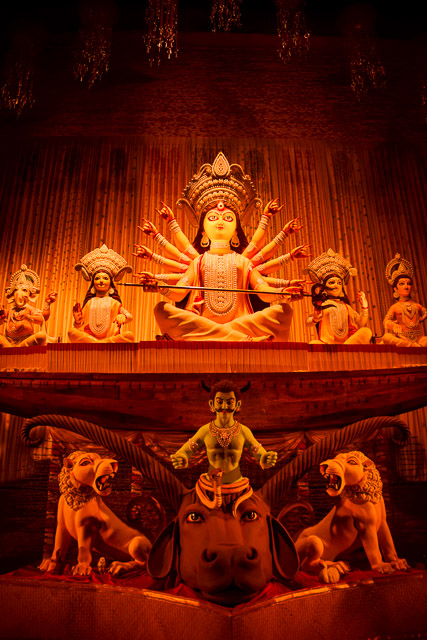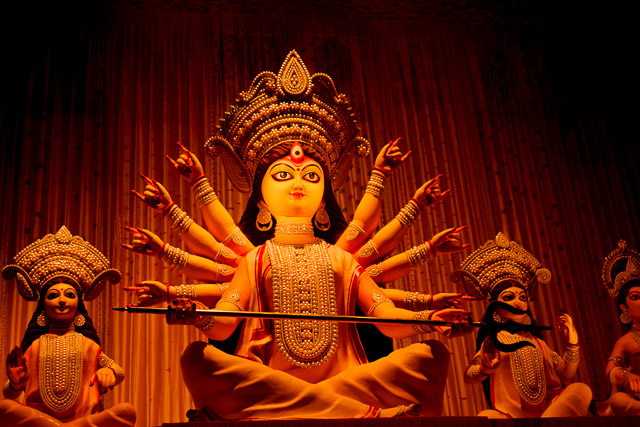 Bengal has a painful history of partition at the advent of independence in India. Colonies mushroomed around Kolkata suburbs, rendering them names like, Arabinda Palli, Jadu colony etc etc. Colony, the word is a remnant of neighborhoods termed as refugee colony.
This Durgapuja Pandal was an ode to the nameless lot of displaced population, from erstwhile East Pakistan to Myanmar to Syria. One of the placards read, "Refugees are welcome". It touched my heart.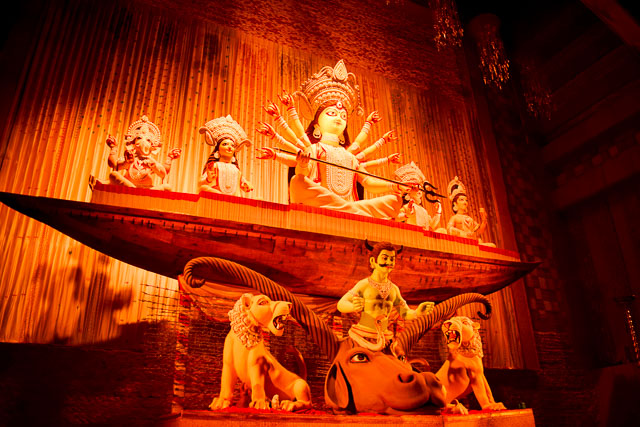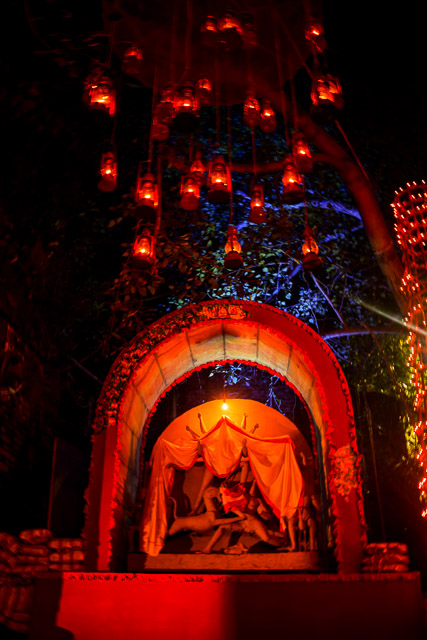 An unfinished Thakurdalan stands meekly.
I want to go home, but home is the mouth of a shark

home is the barrel of the gun

and no one would leave home

unless home chased you to the shore

unless home tells you to leave

what you could not behind,

even if it was human.

no one leaves home until home is

a damp voice in your ear saying

leave, run now, I don't know what

I've become.

Home, by Warsan Shire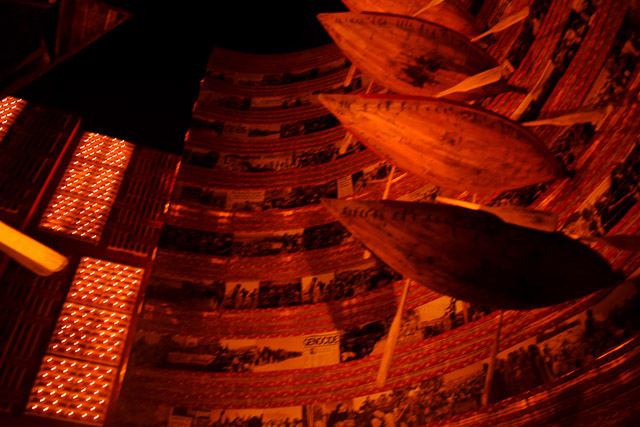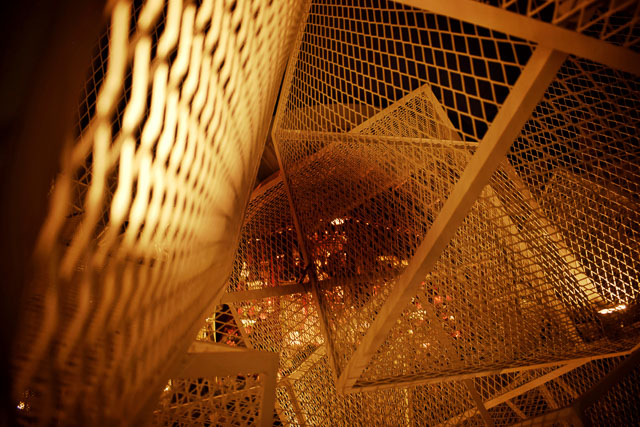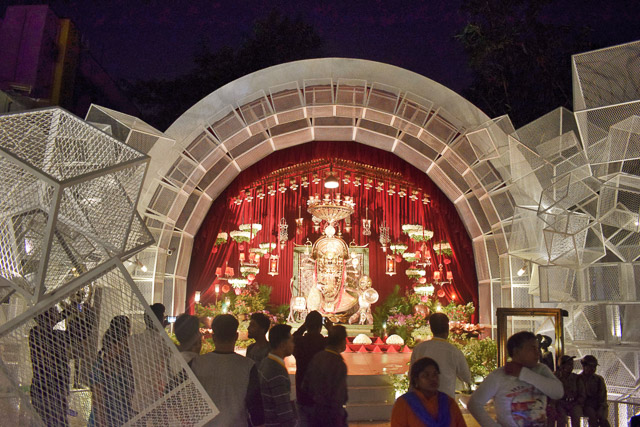 Notun Dal at Taratala had modeled their Durga idol as a medley of engineering and art.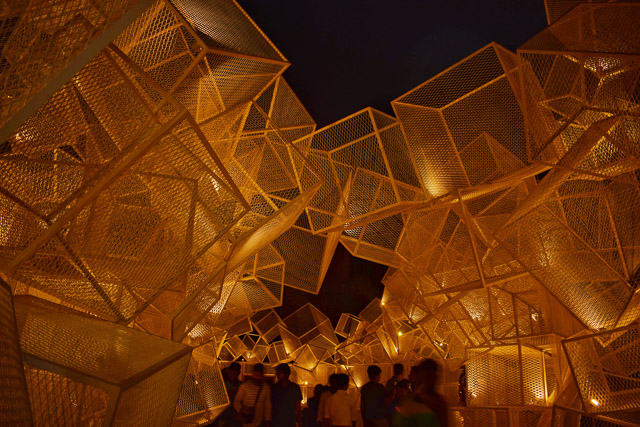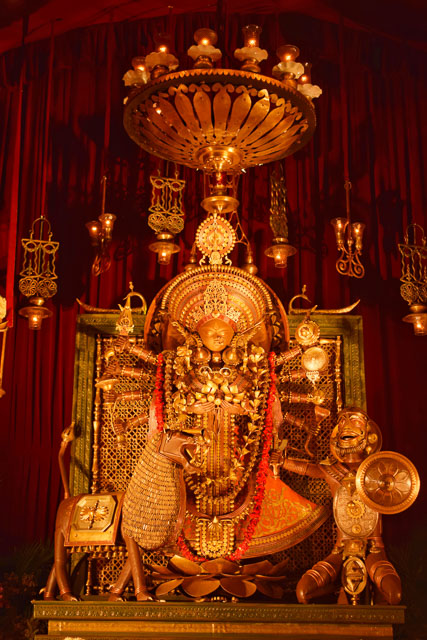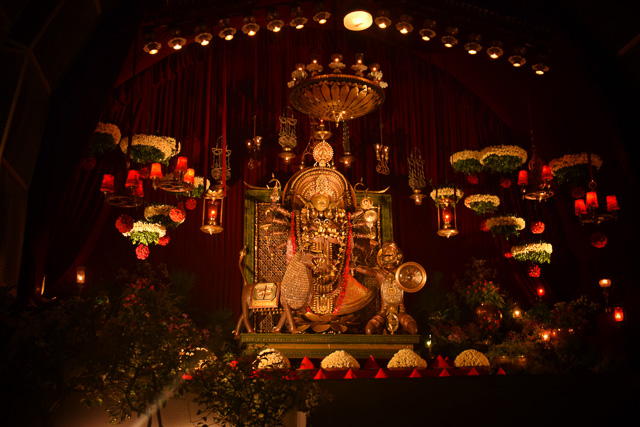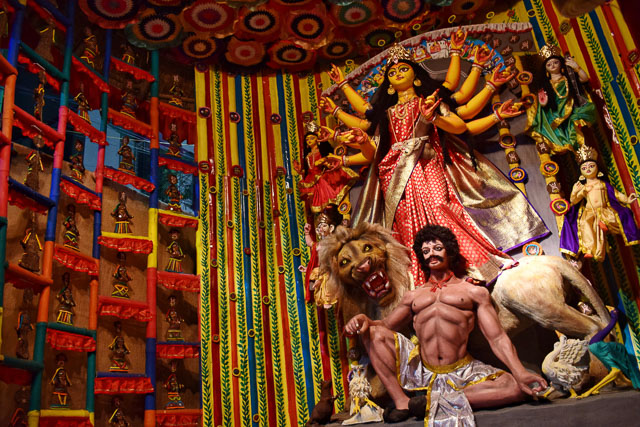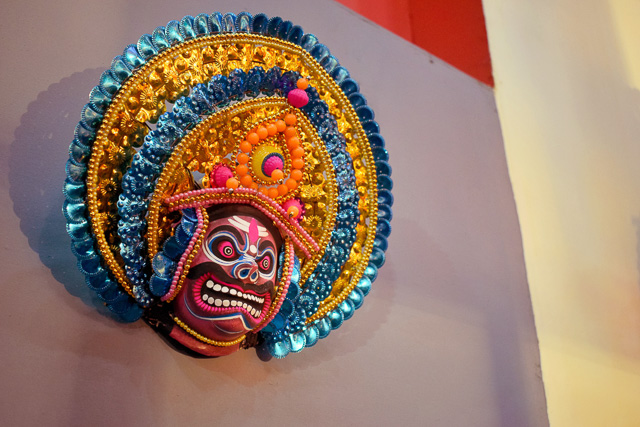 A Chhau mask used to decorate a durga Puja pandal near kalighat. Chhau dance is a tribal and folk art form that enacts stories of Indian epics through a masked-dance form.
Sonagachi, the red light area of Kolkata, has a dedicated welfare association named Durbar. Durbar has a traditional Puja celebrated by the sex workers of the locality and is a major attention drawer. A Puja committee close to Sonagachi decided to borrow the idea and installed many art works to recreate a red light zone. Durga idol was placed in one such recreated zone.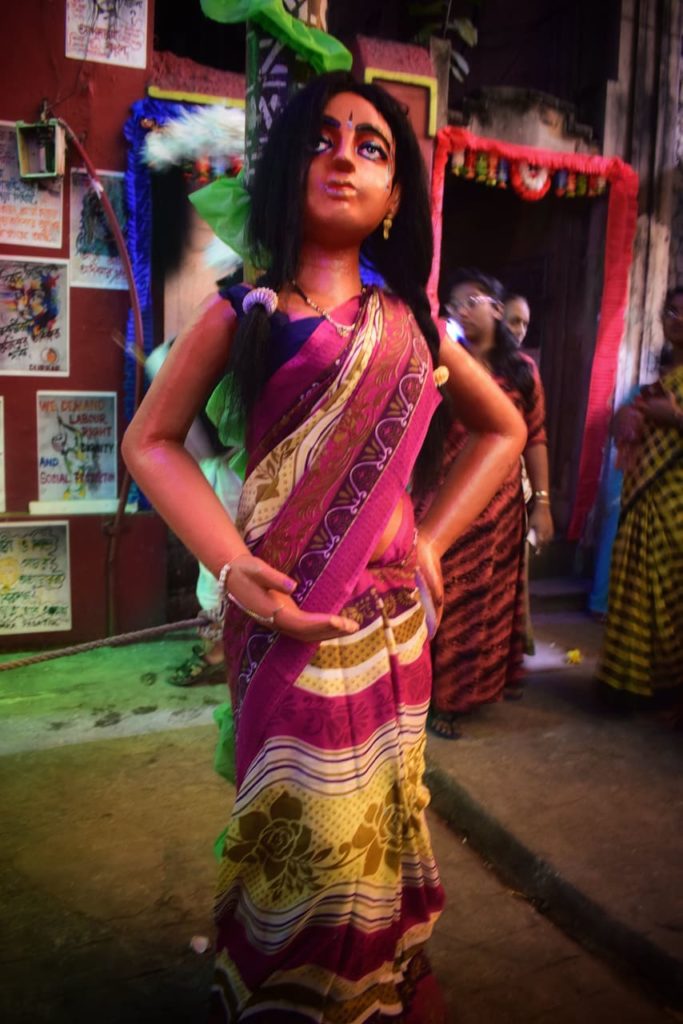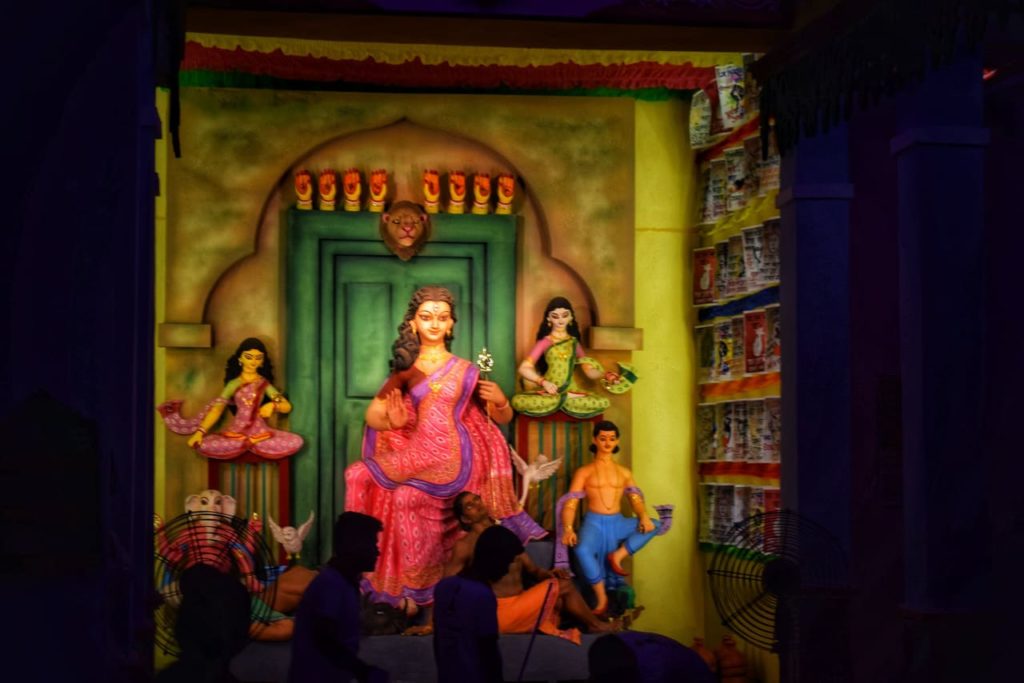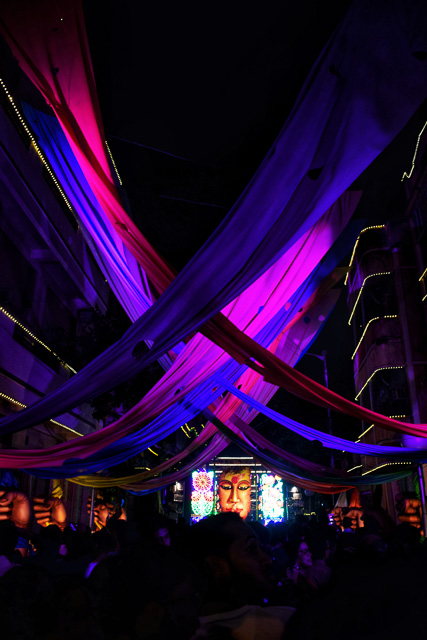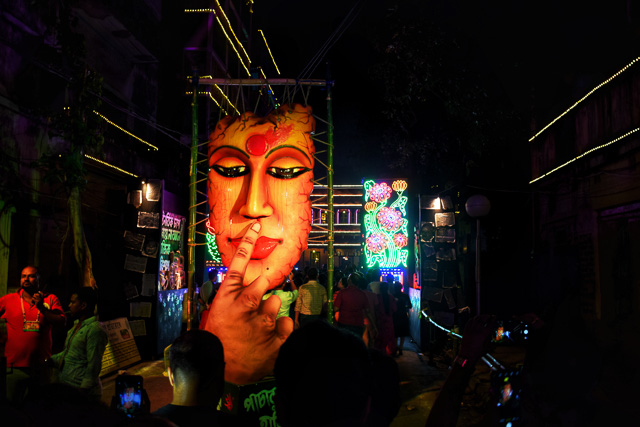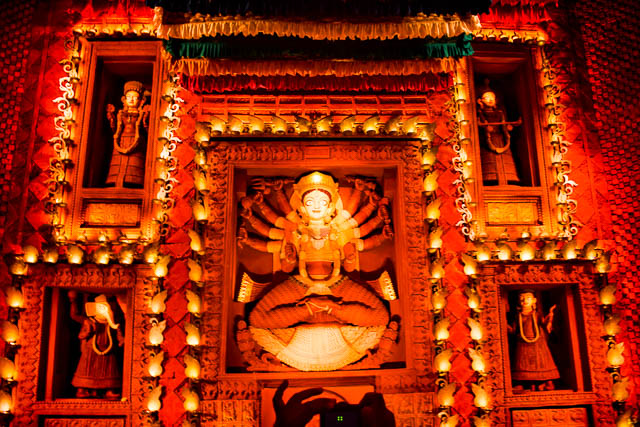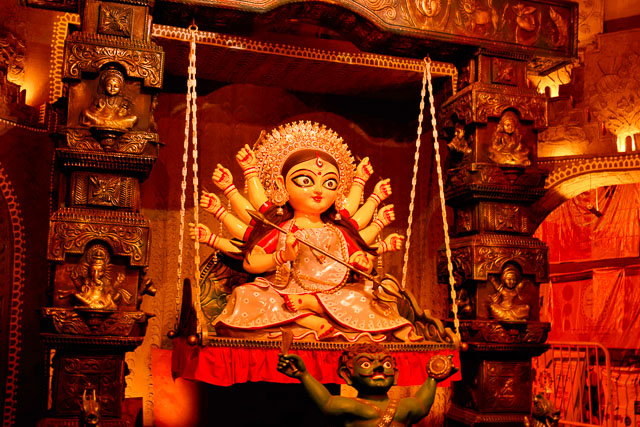 Modeled after typical south Indian lady, this Durga idol sits pretty on a wooden hammock. Her 4 children are inscribed on the rocks.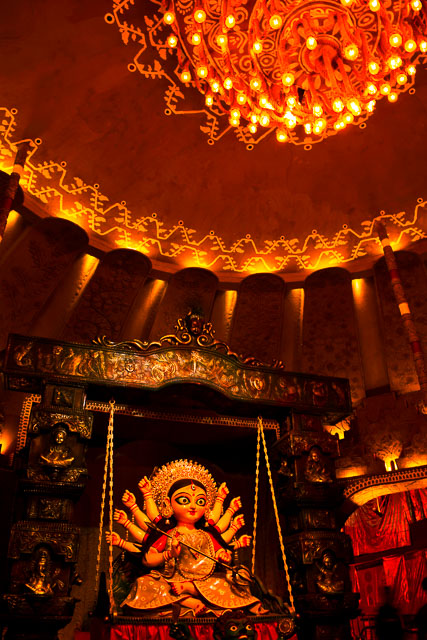 This Durgapuja pandal was inspired with age-old handloom art of Bengal. Below is a picture where Durga Thakur is clicked through a loom!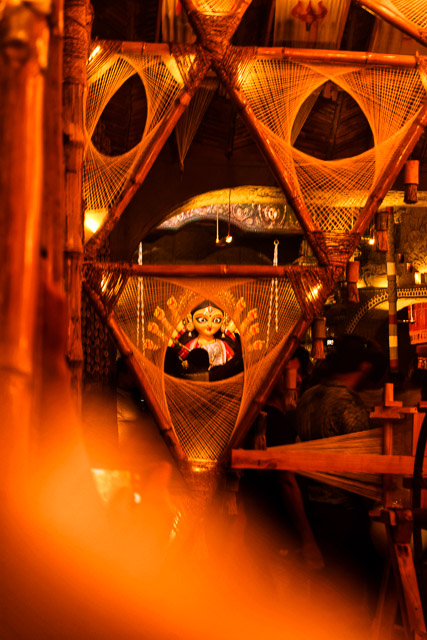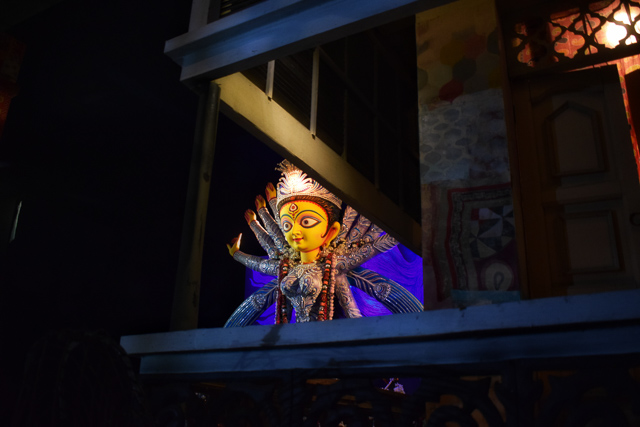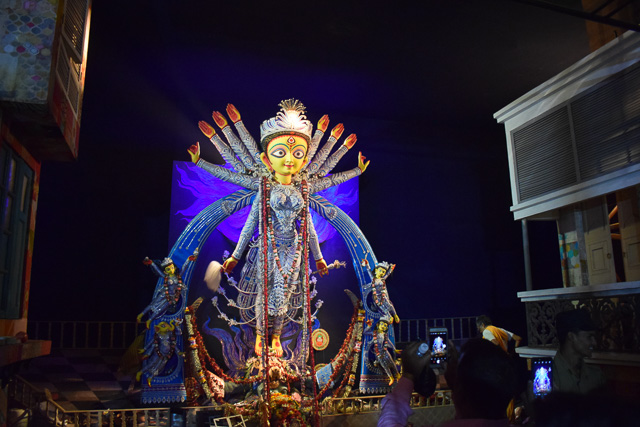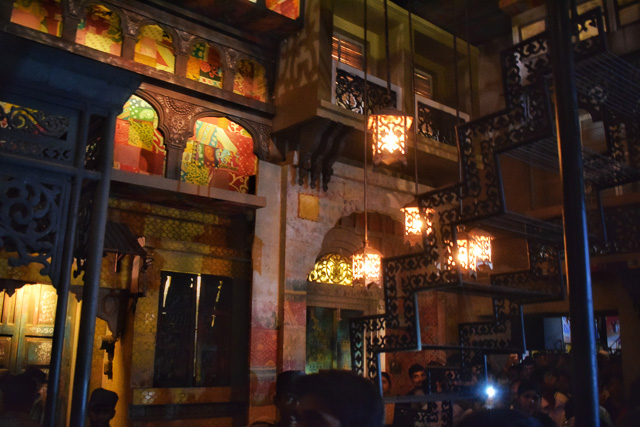 A Durgapuja pandal modeled after a palace.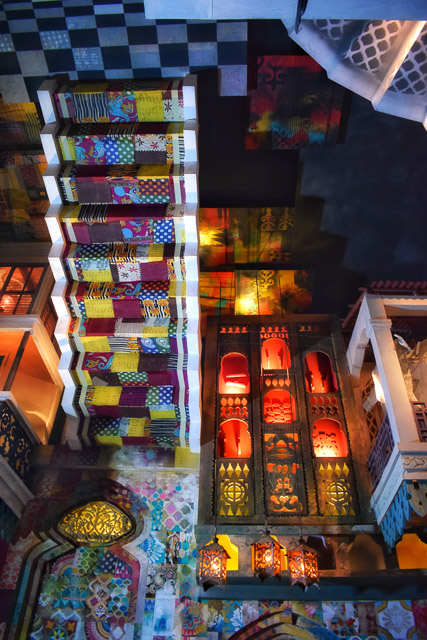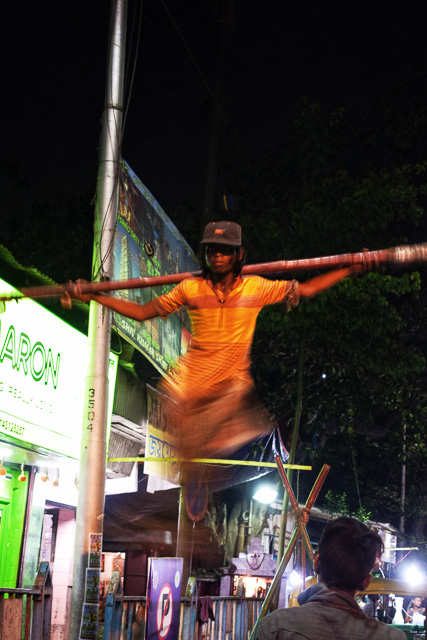 Durgapuja also means creating earning opportunity for different strata of society. I thought this only happened during 80s Bollywood movies. But I was wrong.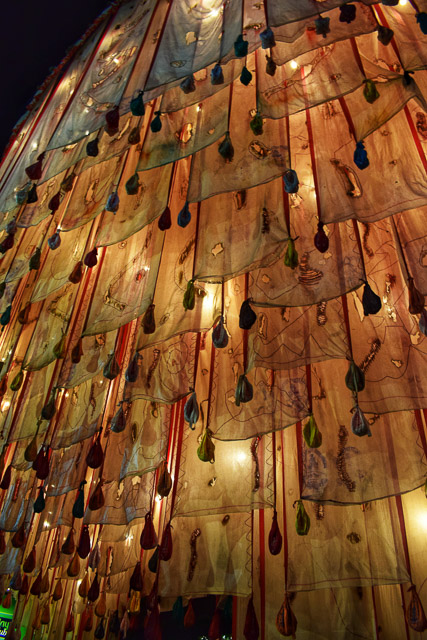 Barisha club Durgapuja in Behala prepares an astonishing Pandal, every year. take for example this one. The entire Puja Pandal showed an embryo, transforming into a human, a connection with its mother. The story eventually ended with the mother being left alone at old age home, one of the banes of modern society.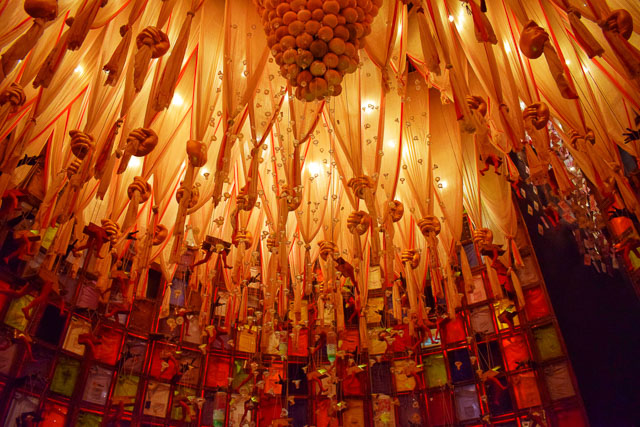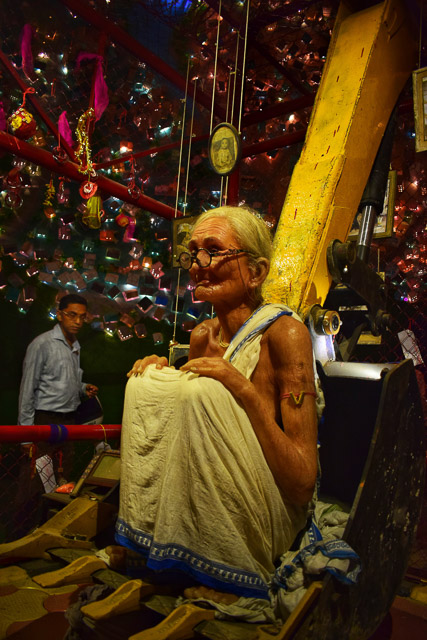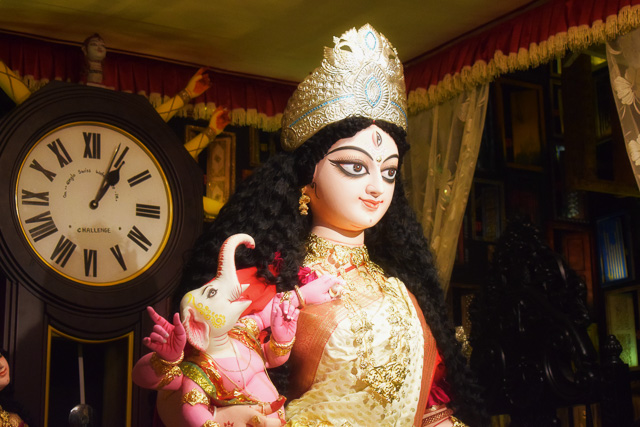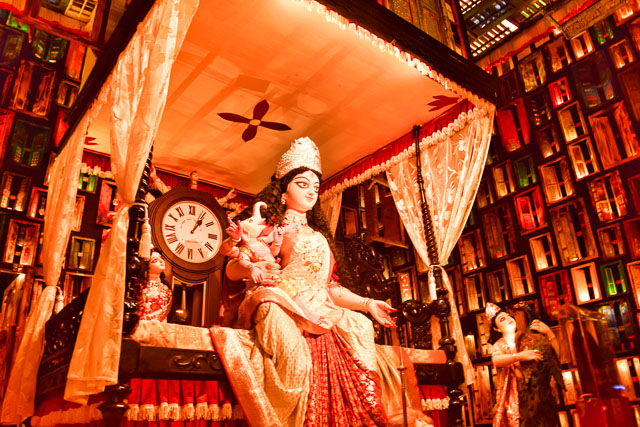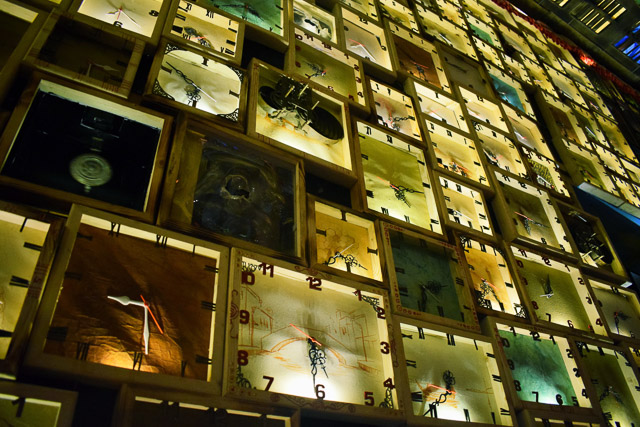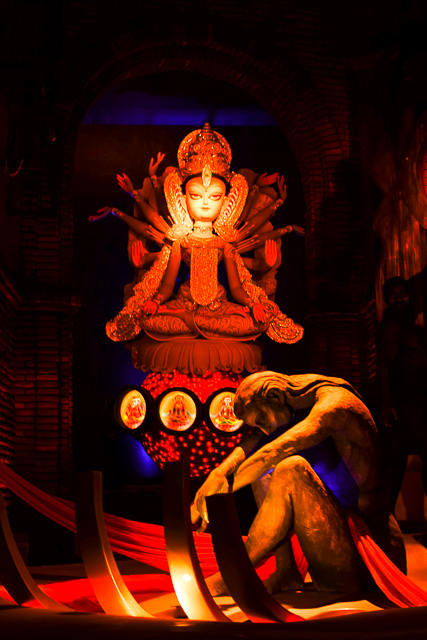 I think this Puja Pandal at Kalighat attempted to showcase human evolution.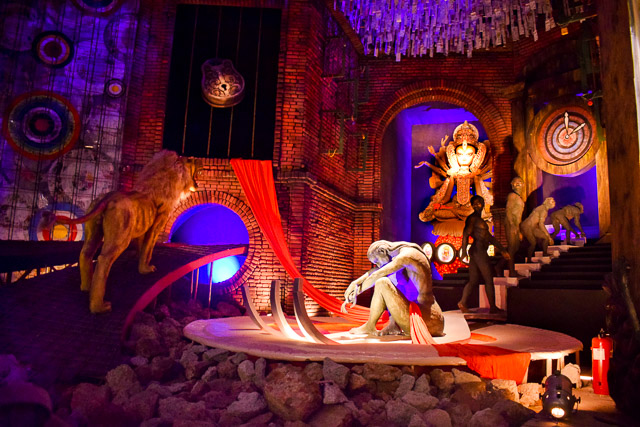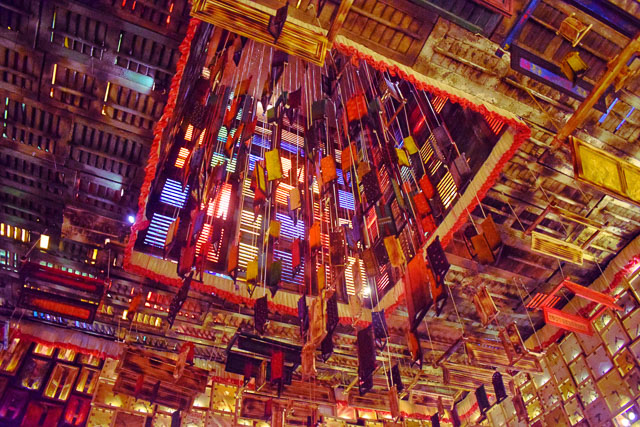 Tridhara Sammiloni on Rasbehari road in South Kolkata specializes on intricate details.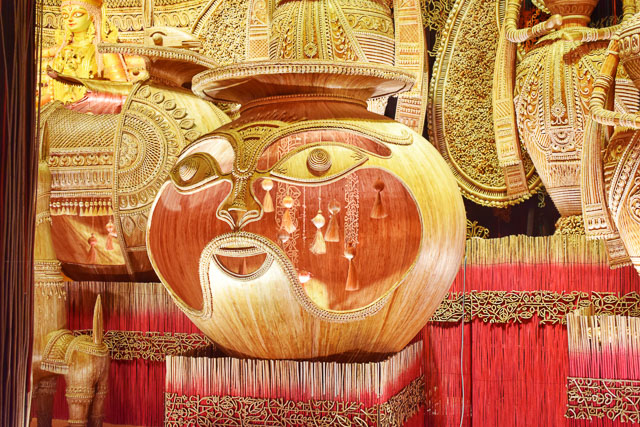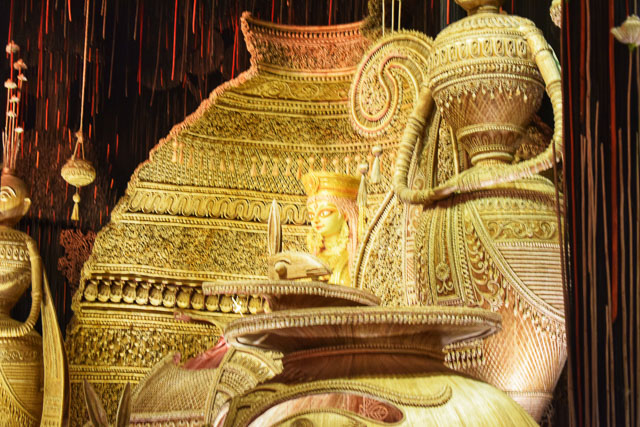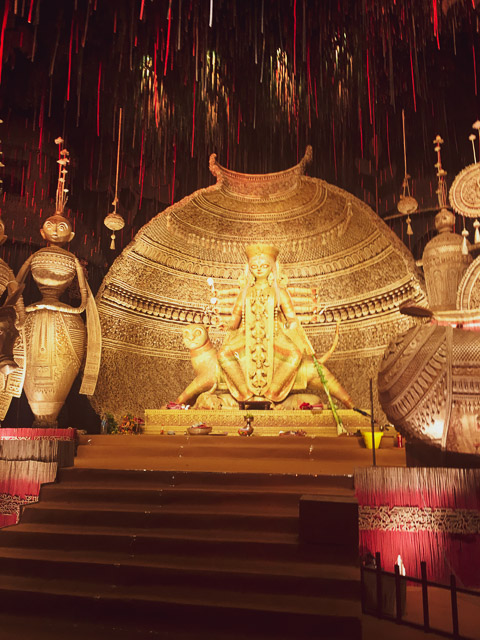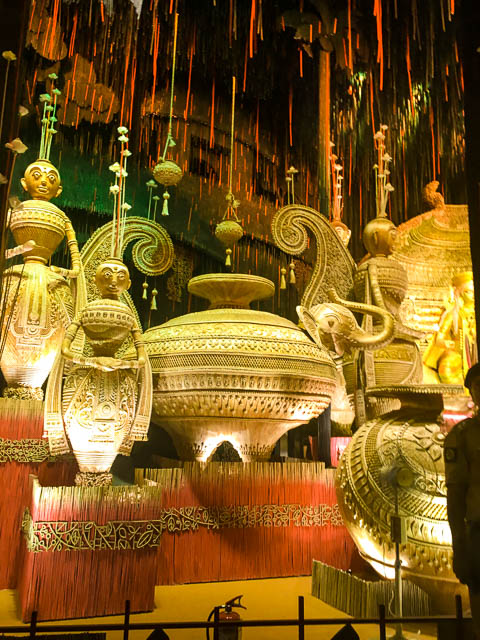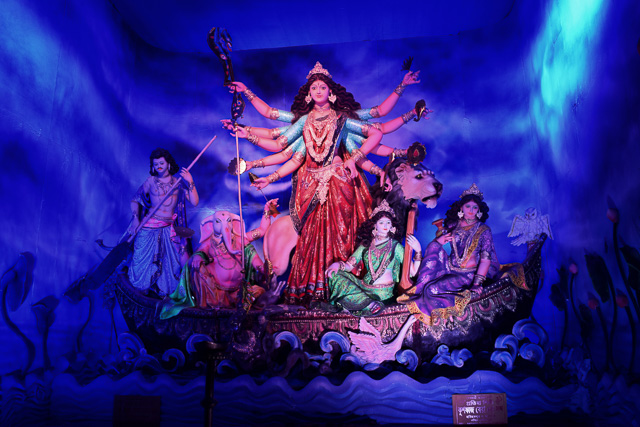 Chetala Agrani Club drew inspiration from Rajputana Mahals of Rajasthan. Little wonder given this was also the year when movie Padmavat was released.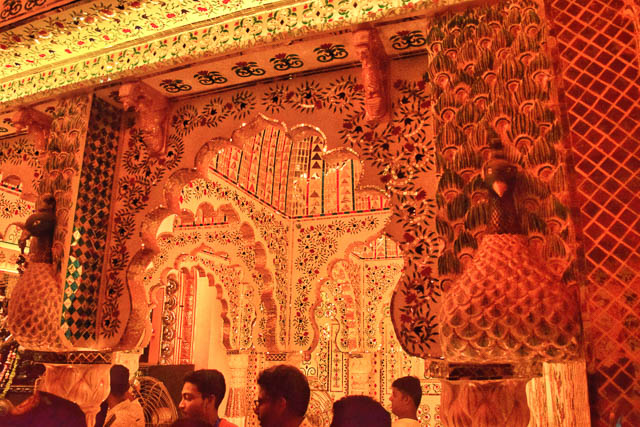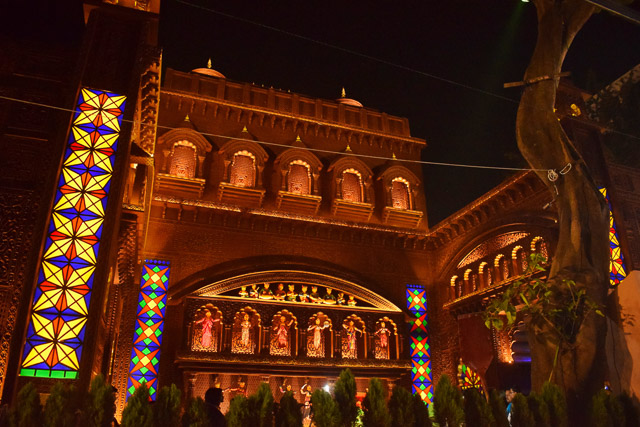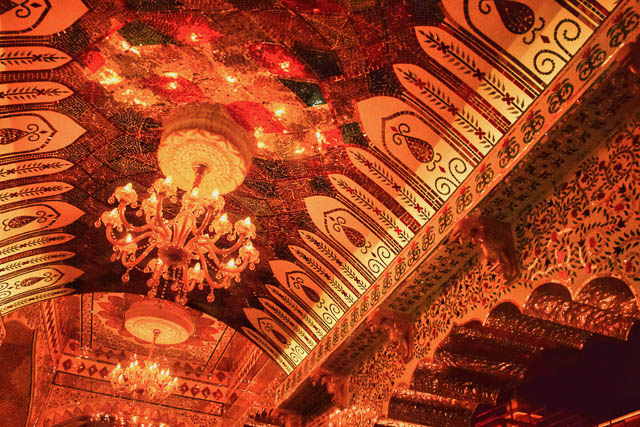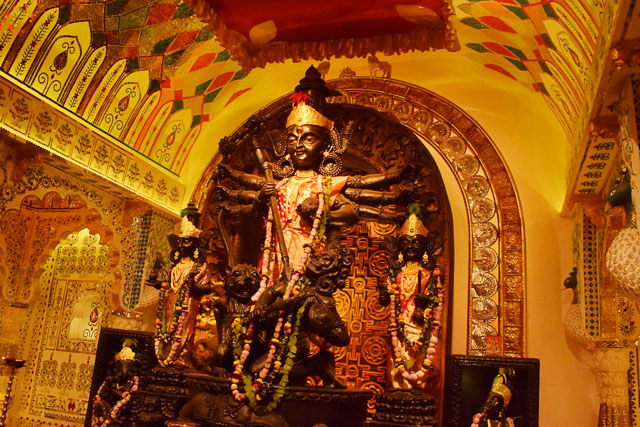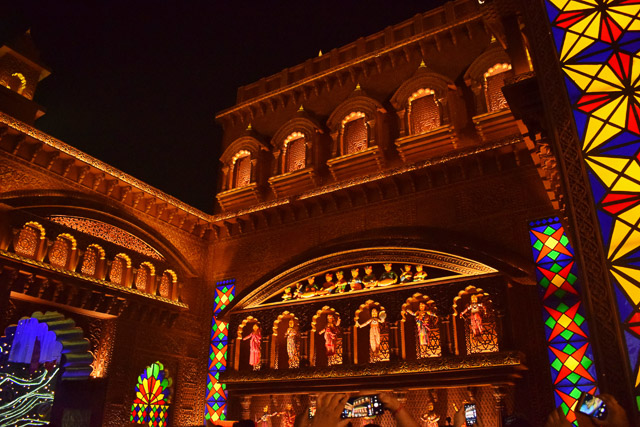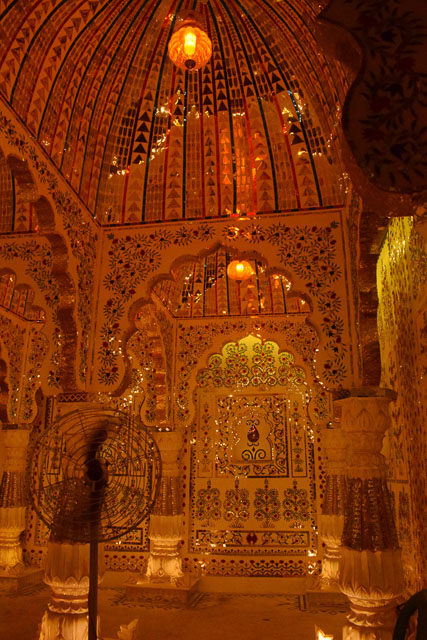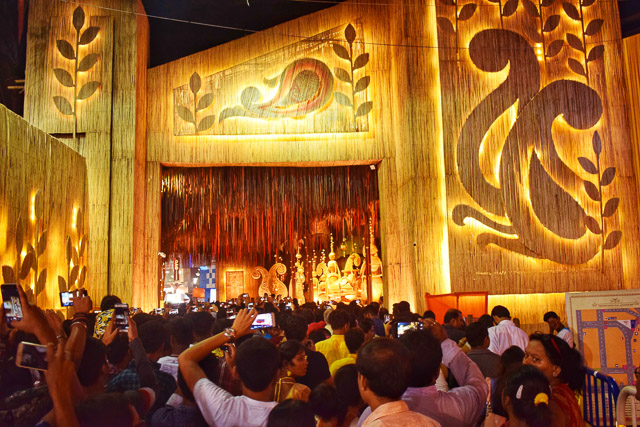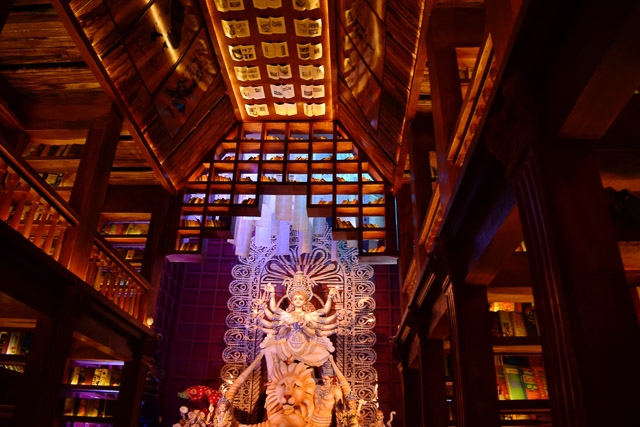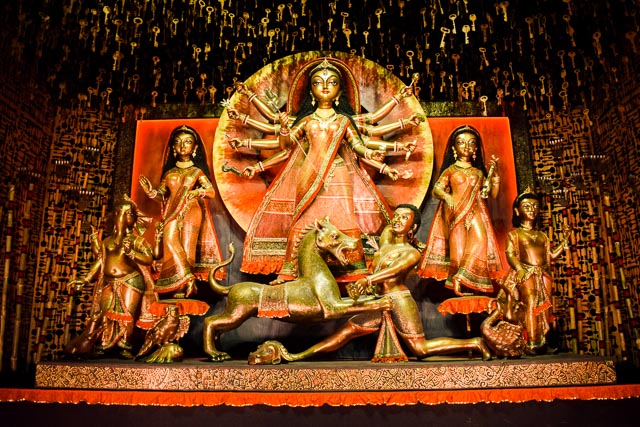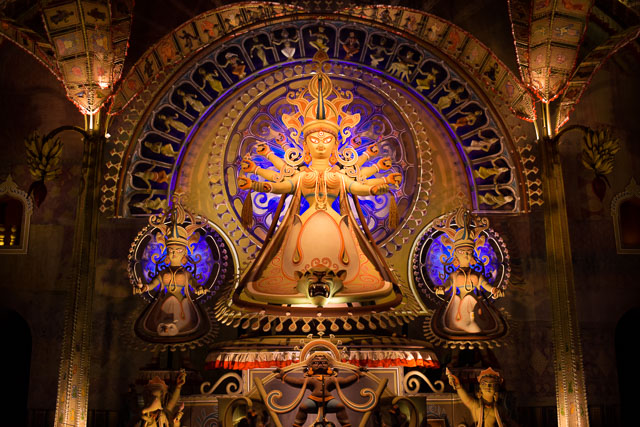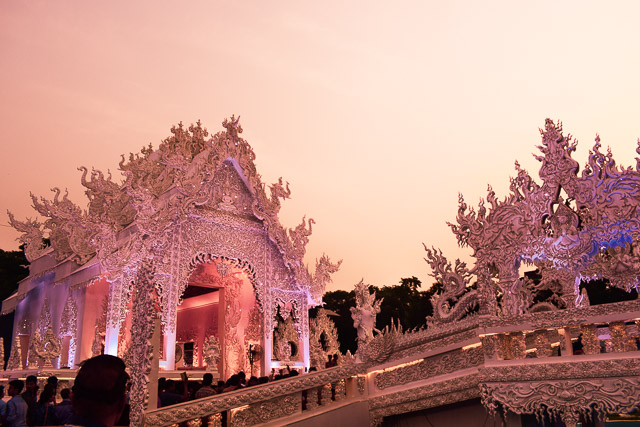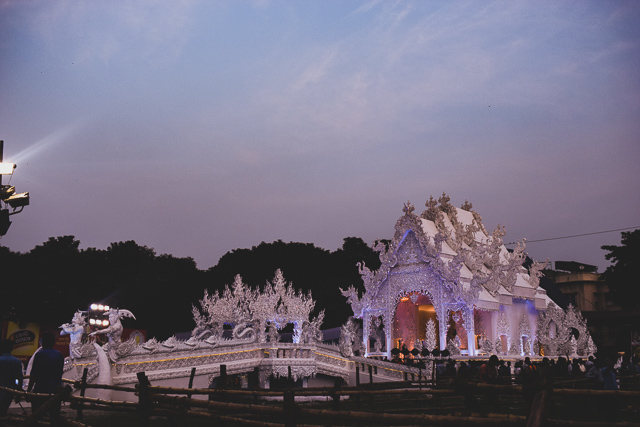 Deshpriya Park Puja Pandal is famous for creating a pandal of scale and inspiring awe among the visitors.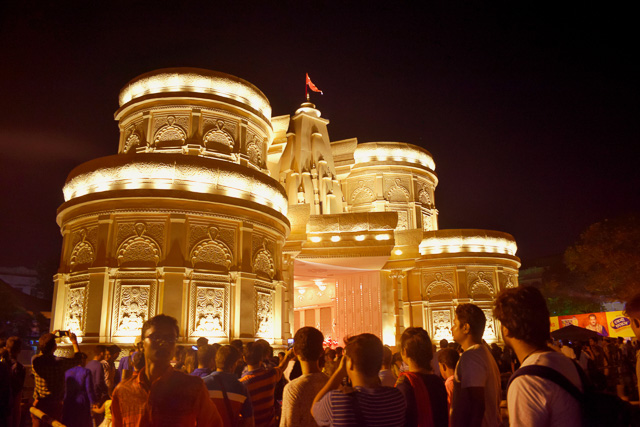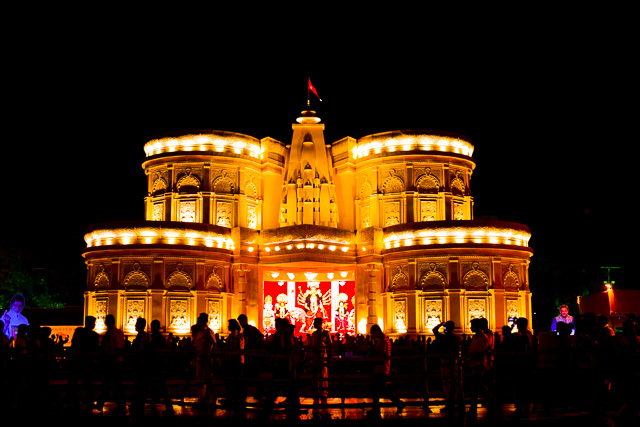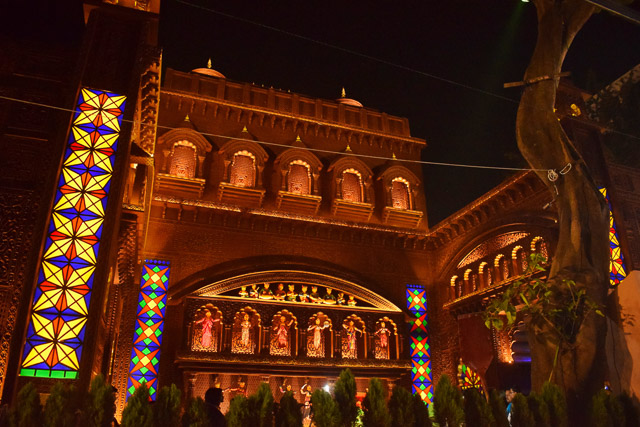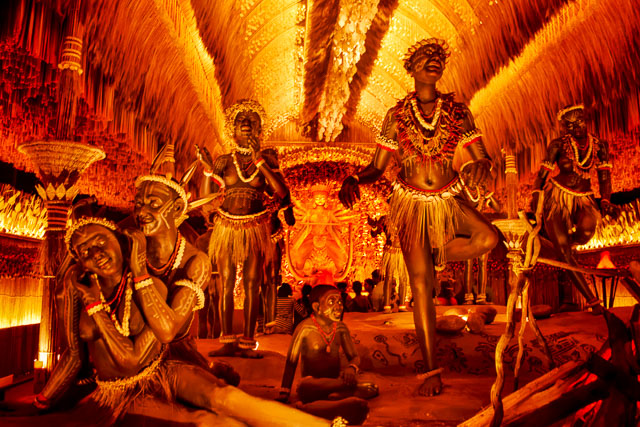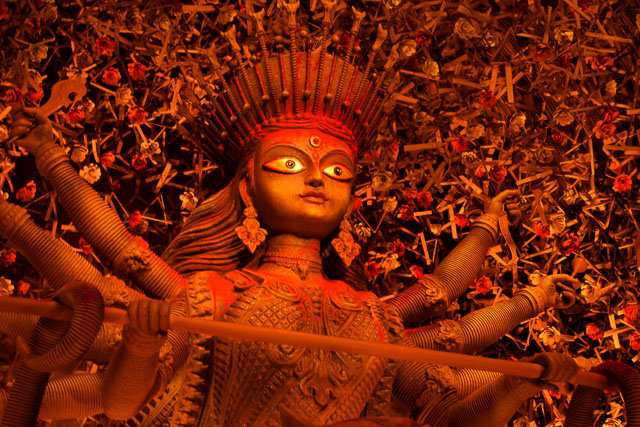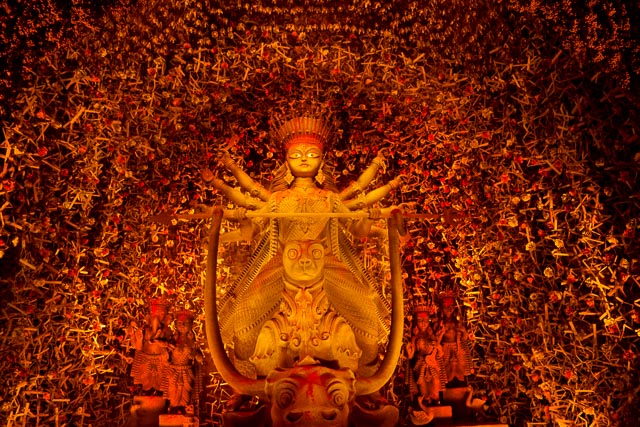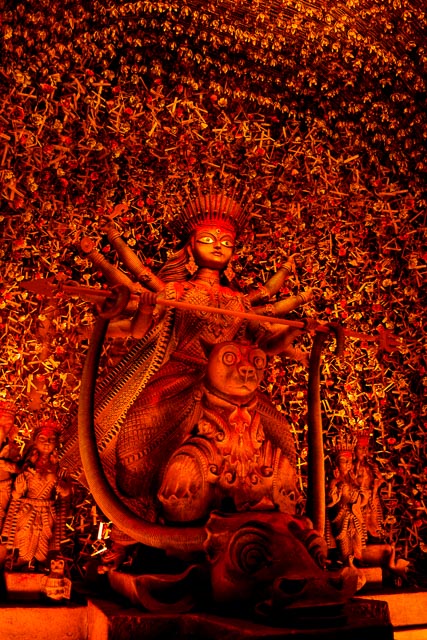 This was also the year when a foreigner ventured into the distant islands of Andaman Nicobar archipelago where Jarowa tribes live. His intent was to "civilise" them, bring them closer to God. The "Godless" people as the indigenous tribes were referred to.
Of course the man met with resistance by the tribesmen, where no man has ever ventured in and had been been killed eventually. The incident met with a lot of criticism and sparkled debate of responsible travel practices.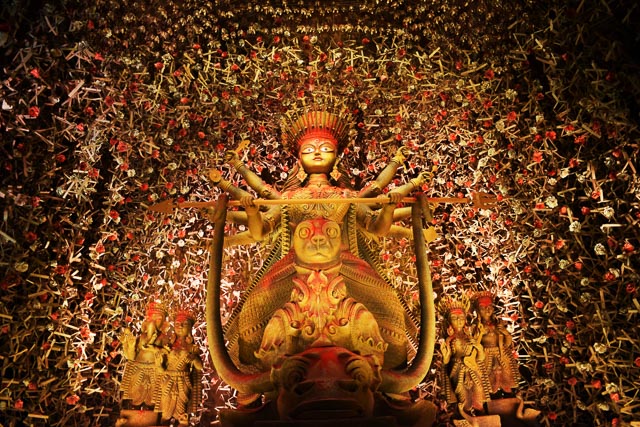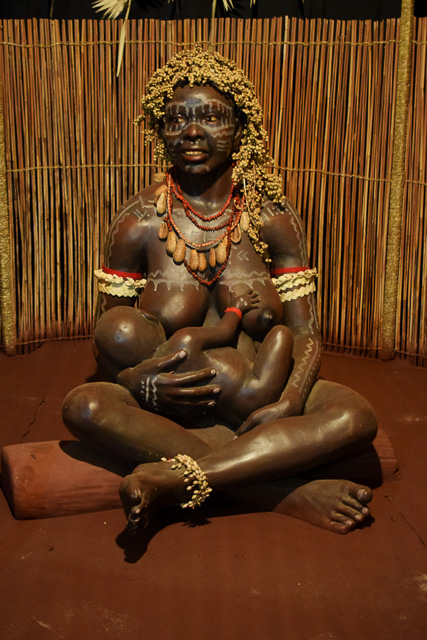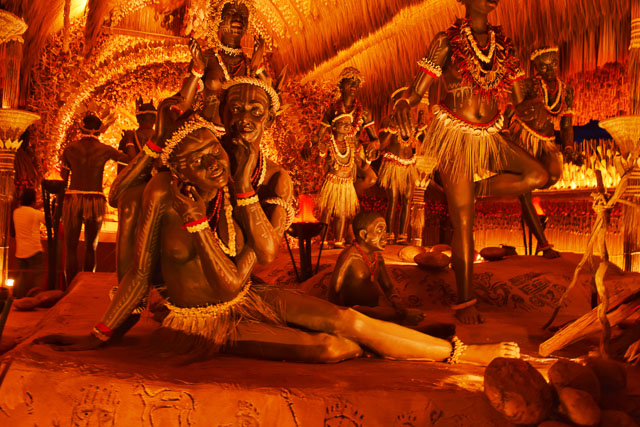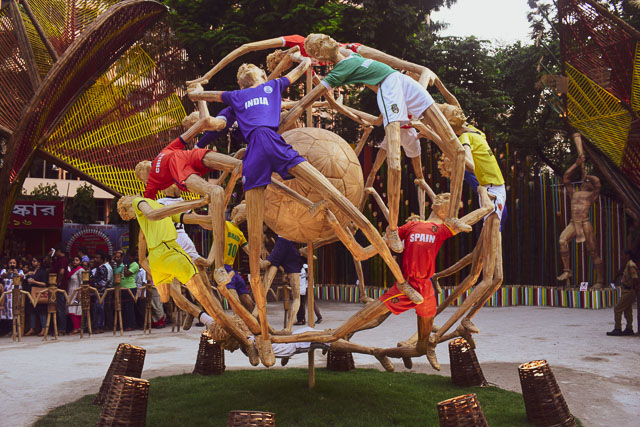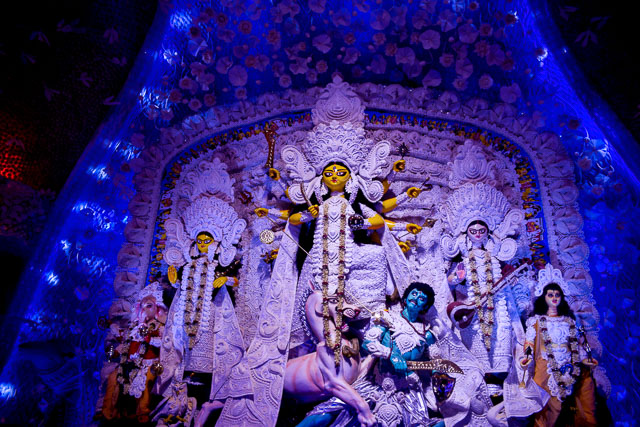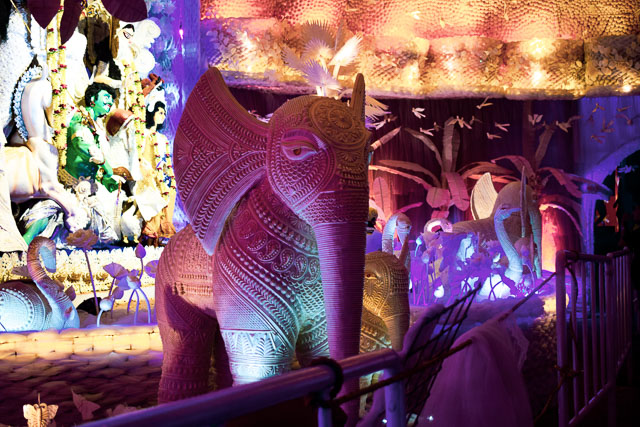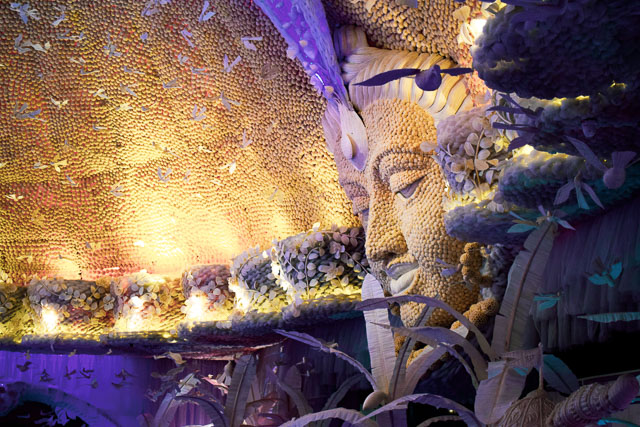 Currently there are close to 2000 Pujo Committees in Kolkata, each being a cornerstone in Bengali social lifestyle. Some of these Pujas are close to 80 years old. Fund raised go upto 15/20 lakhs or more for the entire celebration, apart from sponsors.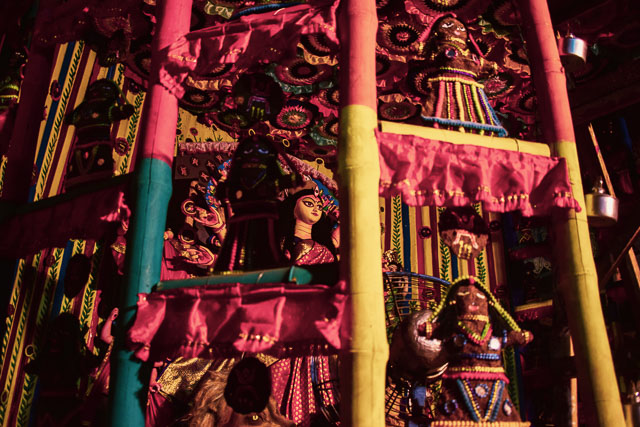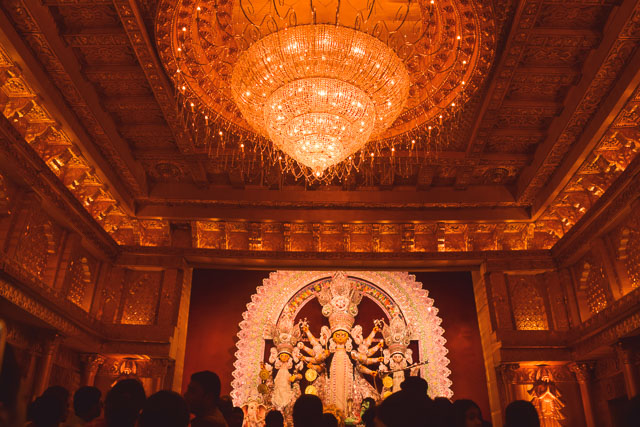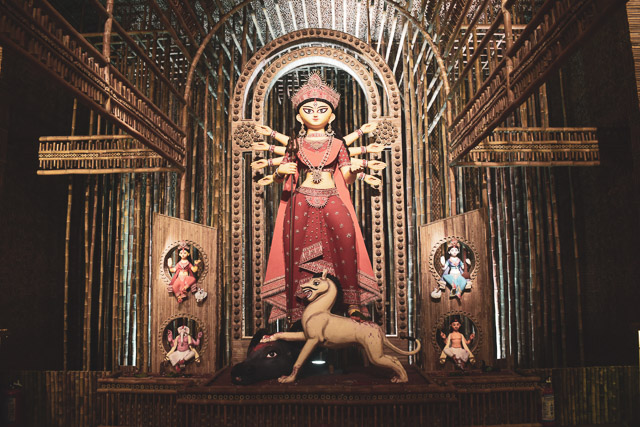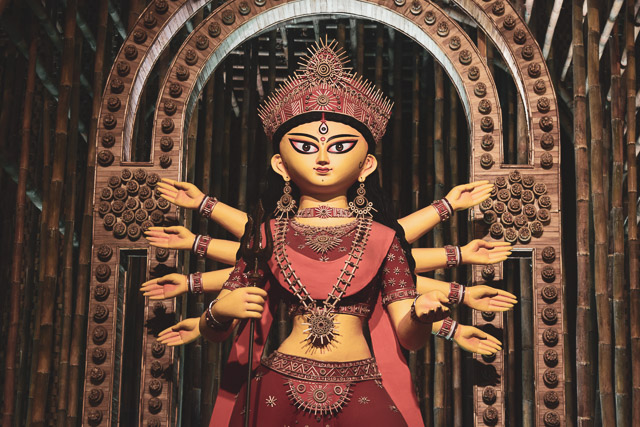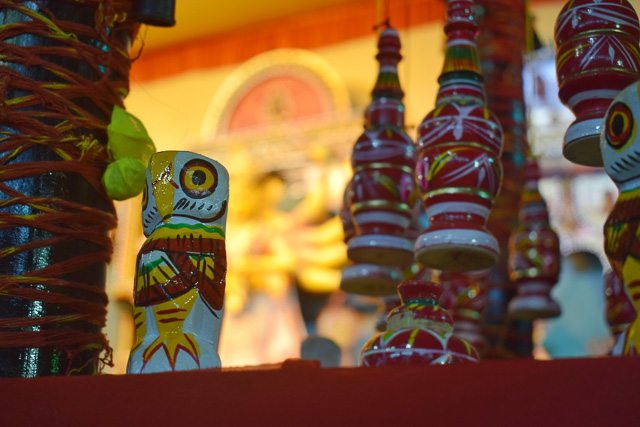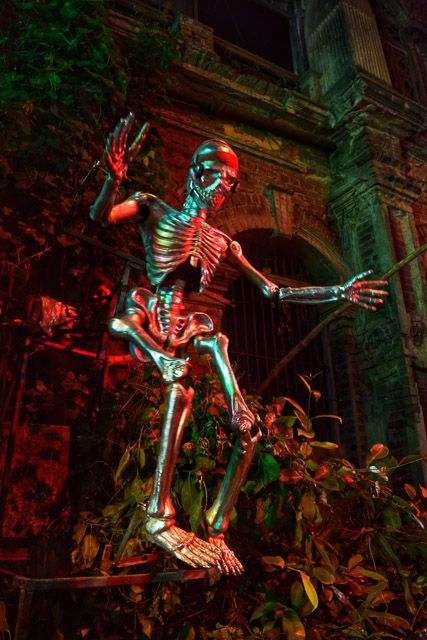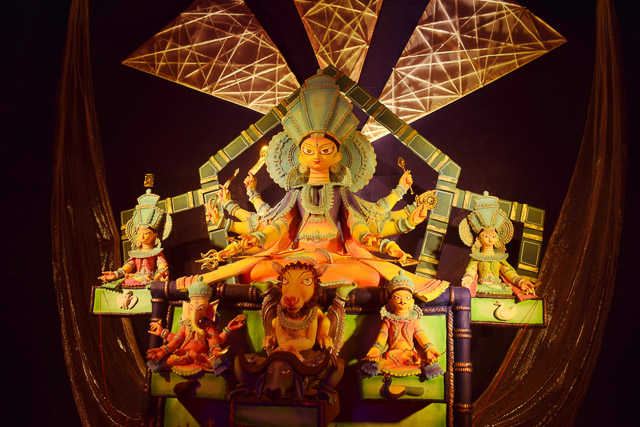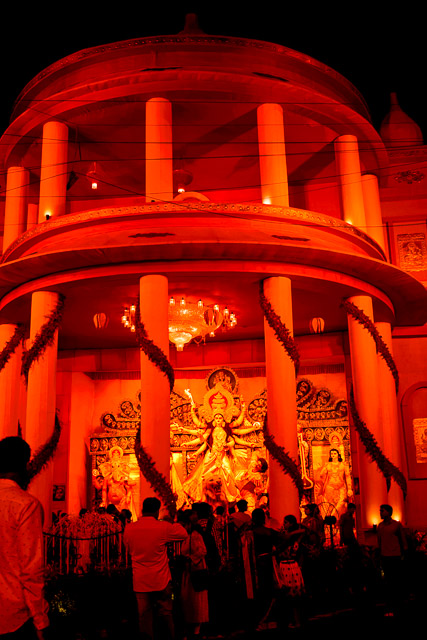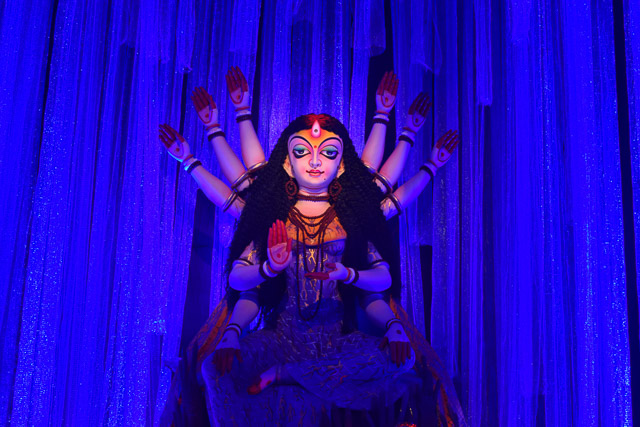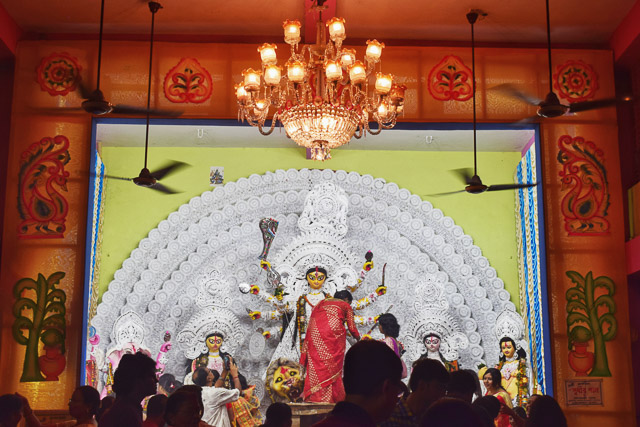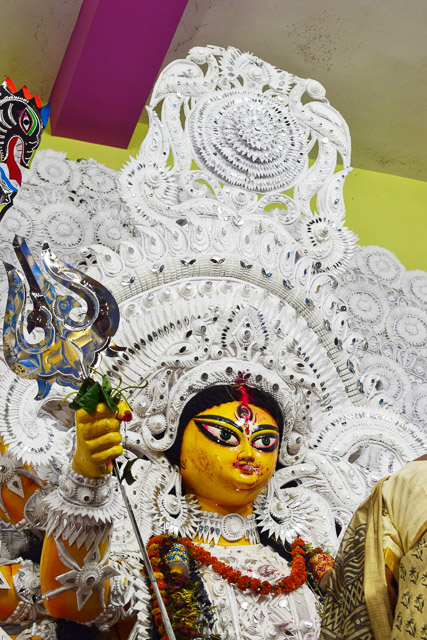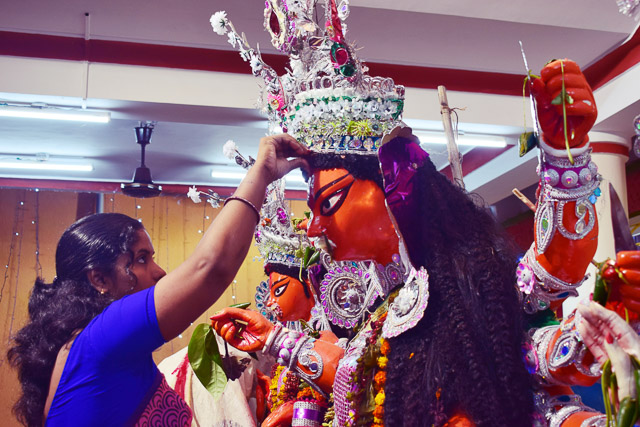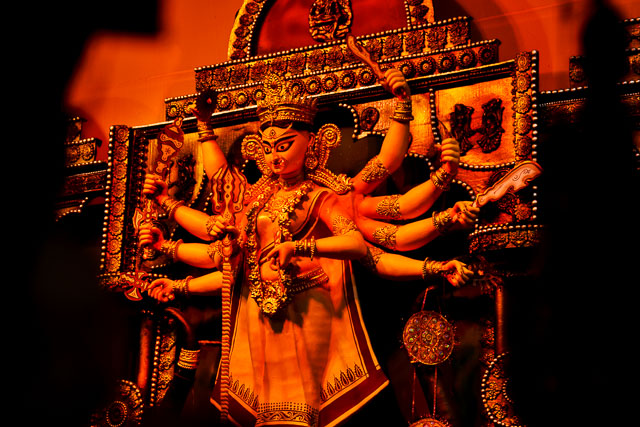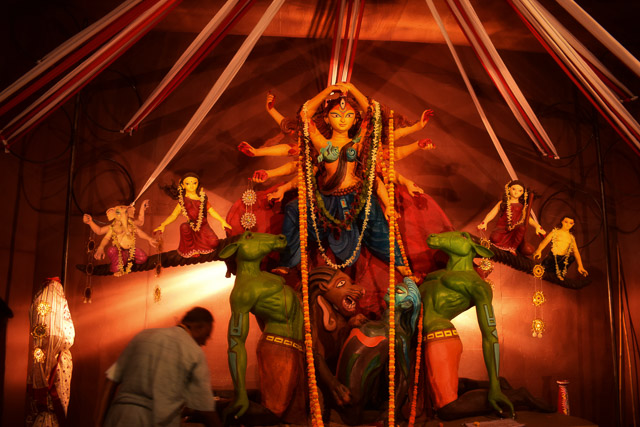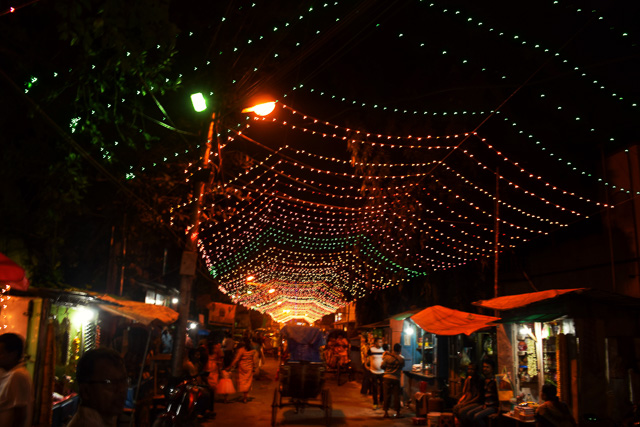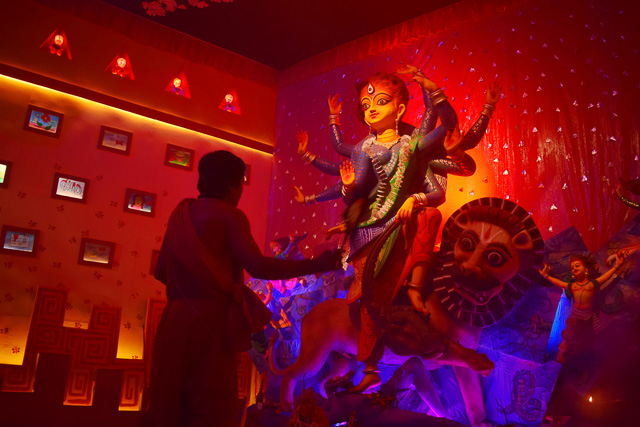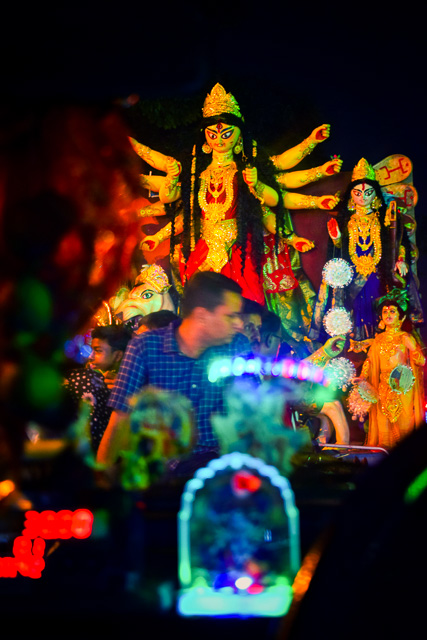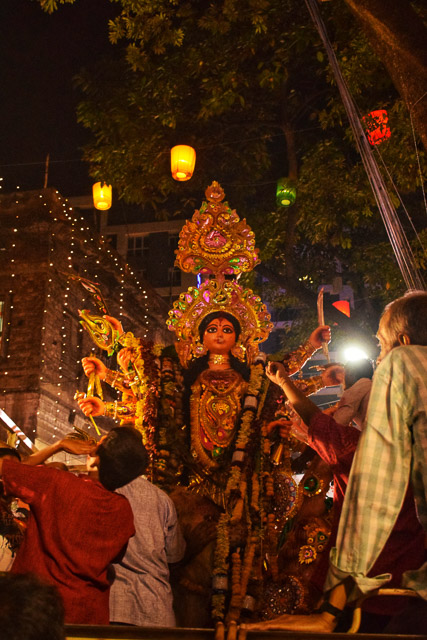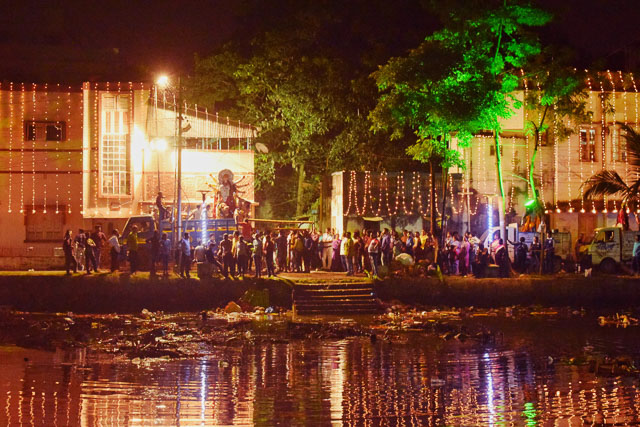 Also read: Dakini Jogini, an ode to Kolkata Kalipuja when the rest of the country celebrates Diwali!
Let's stay connected on Facebook, Instagram, Twitter! You may also consider joining my mailing list. I send travel and photography related emails only once a month!