About this Blog: I am a Kolkata girl. If you scratch my hands a little, you will see Kolkata in blood.
I do not live in Kolkata anymore. It is painfully overwhelming to even try to write about home. So, I decided to let the pictures talk on my behalf.
These pictures are clicked over a couple of years as I was visiting the erstwhile capital of British India, where heritage, culture and intellectual "addas" find an easy way to live with a hot cup of tea. More often than not, the cup is made of red earth!
Also read: A photo essay on Kolkata fish market!
Pin it for Later!
The Howrah Bridge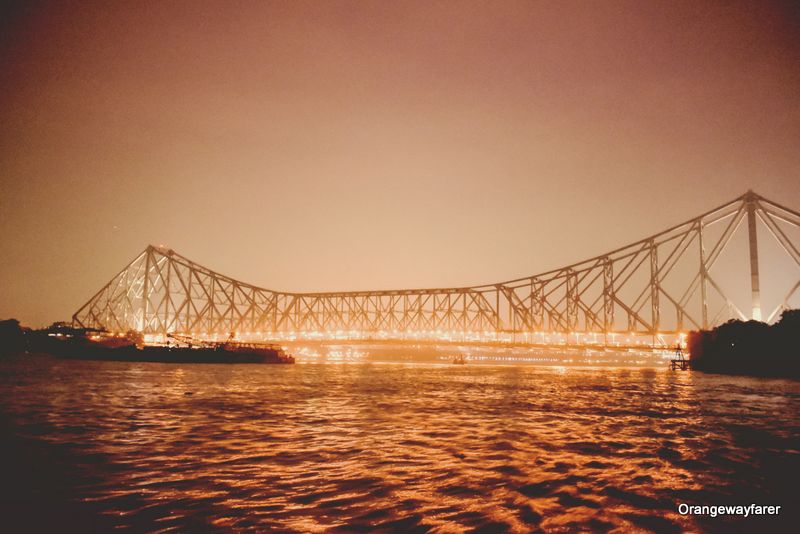 Pretty and Iconic? Yes. But Howrah bridge holds a secret. She is alive.
You need to go stand on her, on a busy workday as million humans, and it is likely that number is an understatement, cross the bridge in strict discipline, head towards the city. Thumping footsteps makes her quiver.
She prefers those young cricketers reclaiming a playground on a Bandh day. Seldom, a madman takes up on her cantilevers, climbs atop them and sits in peace, keeping an eye over civil society.
"He was a Naxal whom the Calcutta Police wasted!" I heard this as a school going child, which shaped much of my political identity in later life.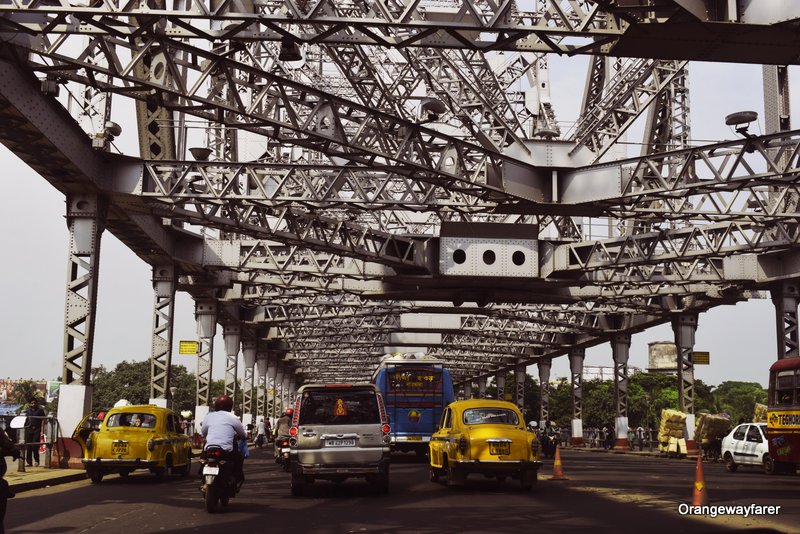 Hoogly Nodi and Titli the Cyclone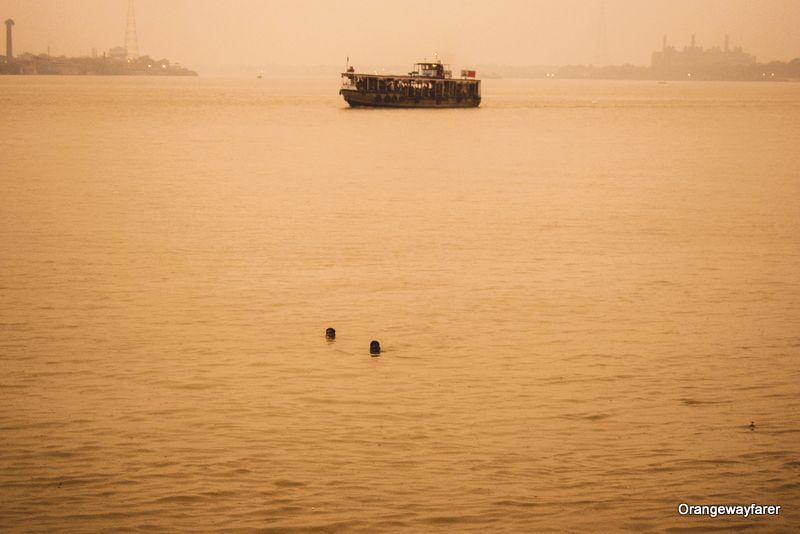 A pregnant river ready to birth an apocalypse at the onset of Titli, a tropical cyclone.
But these friends don't really care. They jumped into the river from Bagbazar Ghat and came downstream at Kumartuli. A steamer at a distance is heading towards Howrah Station.
Close proximity to the Bay of Bengal is a boon to the region with ample rainfall and a higher degree of humidity. However, pre-monsoon depression reigns havoc on Bengal and areas close by, without fail.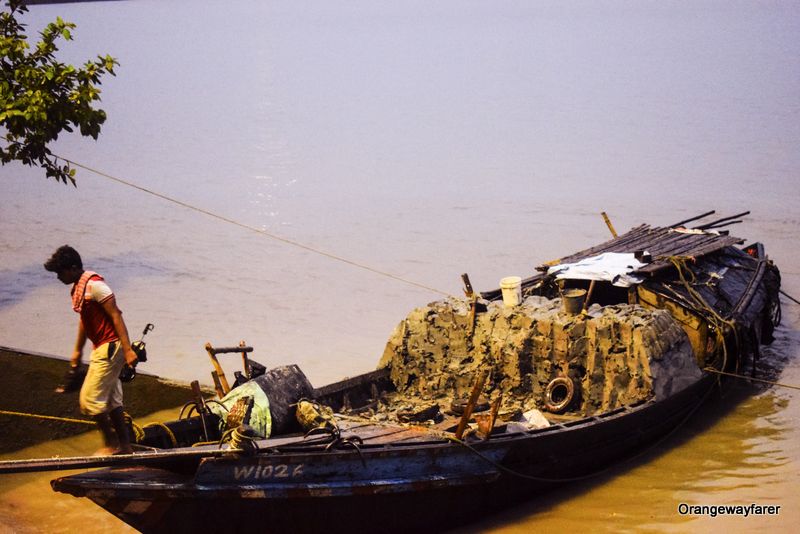 A man collects "Entel Mati" from the river bed. This soil will go to the pottery workshops at Kumartuli, where Durga idols are made.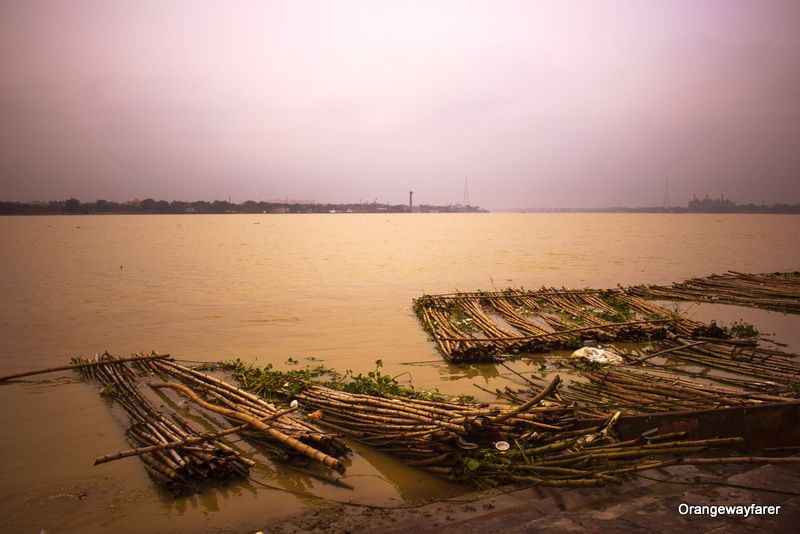 "Bansher Bhela", bamboo rafts floating by Nimtala cremation ghat. Deads of young and snakebites are not cremated. Many legends have the dead come back after a while. One notable incident is of Bhawal Raja.
Also read: Why this Holi, you must attain the Dol Utsab at Shantiniketan?
Coffee House, College Street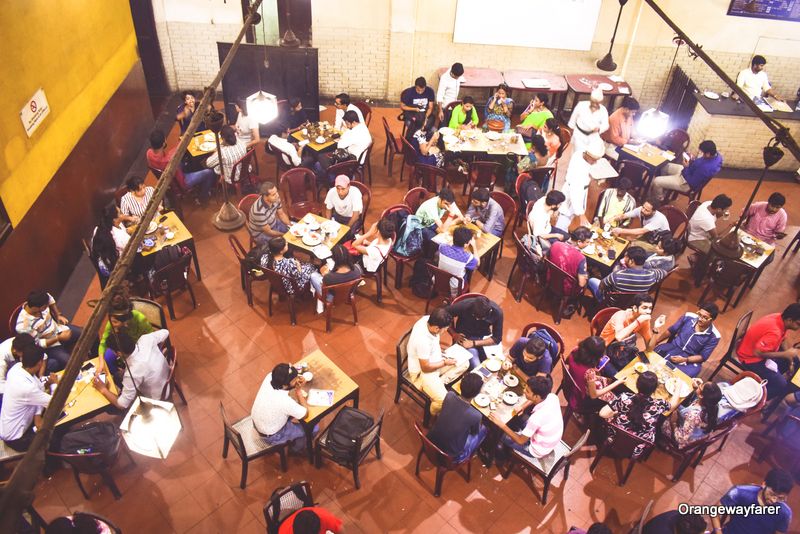 Back in 2005, I visited Coffee House with my first date. The man was not worthy enough to keep, but Coffee House was and is!
There is magic in its ambience. The sepia-toned interiors, the nonchalant orderlies and revolutionary ideas over a cup of bitter black coffee transport you in a time capsule.
In the world of pretty cafes and Insta-worthy places, Coffee House is the epitome of nostalgic pleasures!
Opposite to Coffee House, housed is the Chuckervertty, Chatterjee & Co, an iconic bookstore! This bookstore inspired me to start my second IG feed dedicated to food, Malaicurry, Paturi and Co!
They provide 20% discount and do not drive you out even if you don't buy the book, but instead decide to sit and finish it there. I did, many times, a decade back!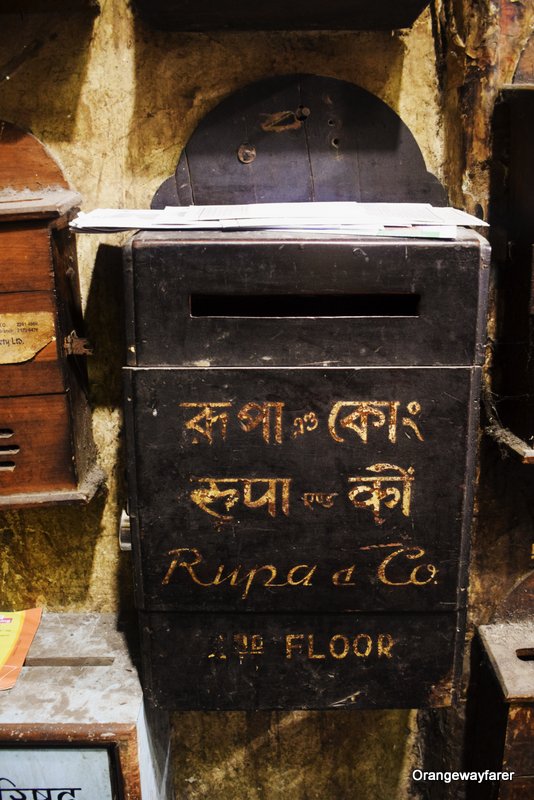 A postbox! I wonder who writes a letter these days!
BTW, Rupa & Co is a famous Publishing house of Kolkata!
Also read: The Best Camera for Travelers!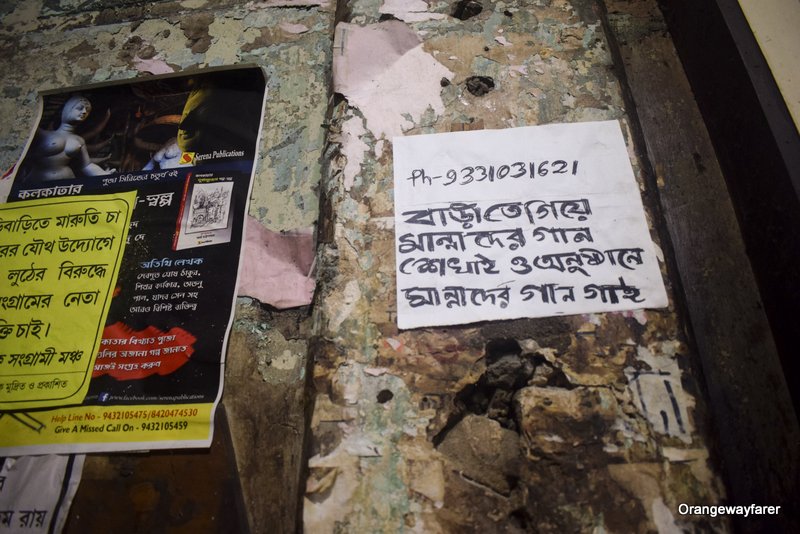 A pamphlet stating "I will come to your house and teach you Manna Dey songs." is stuck on the entrance of Coffee House. For the uninitiated, Manna Dey is the singer of the iconic "Coffeehouse addata" song!
College Street: Un-apologetically Political!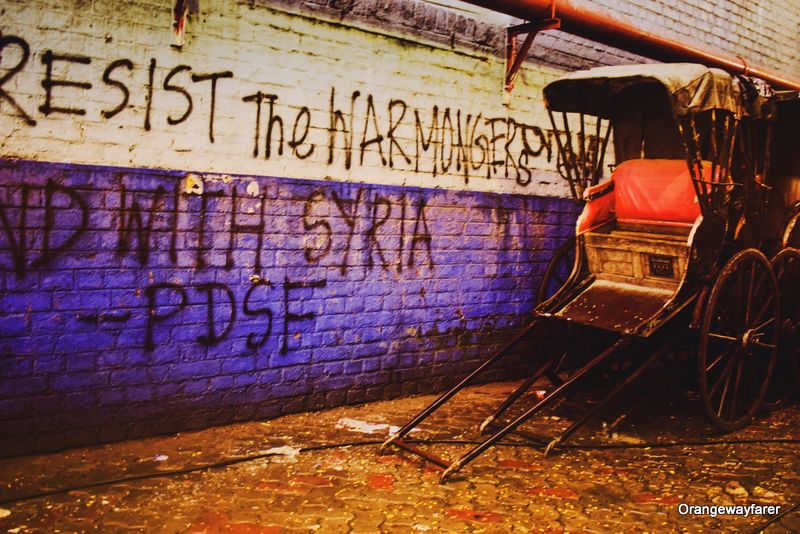 A hand pulled rickshaw rests by the wall that condemns the ongoing war on Syria. Monsoon, 2018. The wall borders the Calcutta medical college Campus.
The Pice Hotels
A traditional Bengali meal served at the Swadhin Bharat Hindu Hotel, Kolkata! The name celebrates liberation from British rule! Legends have it, Netaji preferred luncheons here, with a sumptuous plate of Masoor daal and Murighanta as sides with rice!
India's partition left a lasting impact on the culture of those who came from the other side. One place where it reflects the most is the kitchen, especially Bengali Kitchen.
Bangal (those with a root in East Bengal, now Bangladesh) and Ghoti (Son of the soil Kolkatans) have a distinct taste in their respective cuisine. I am a "Bangal Barir Meye", meaning my tryst with sweetish Ghoti dishes is a rare event.
Then the Swadhin Bharat Hindu hotel appeared on one balmy afternoon as I was searching for one book in College Street as every Bengali school child did at some point of life!
They put raisin in Malaicurry? My wonder knew no bound!
Till date, my homecoming is incomplete without a hearty meal at the Swadhin Bharat Hindu Hotel!
Kolkata Streetfood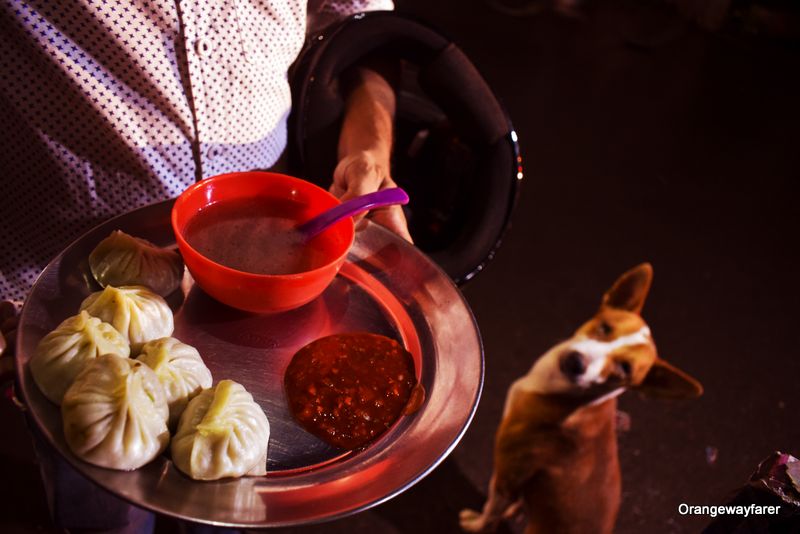 A stray looks at the plate of momo. Momo traversed all the way from the Himalayan Terai of Darjeeling and came to be pampered on the streets of Kolkata!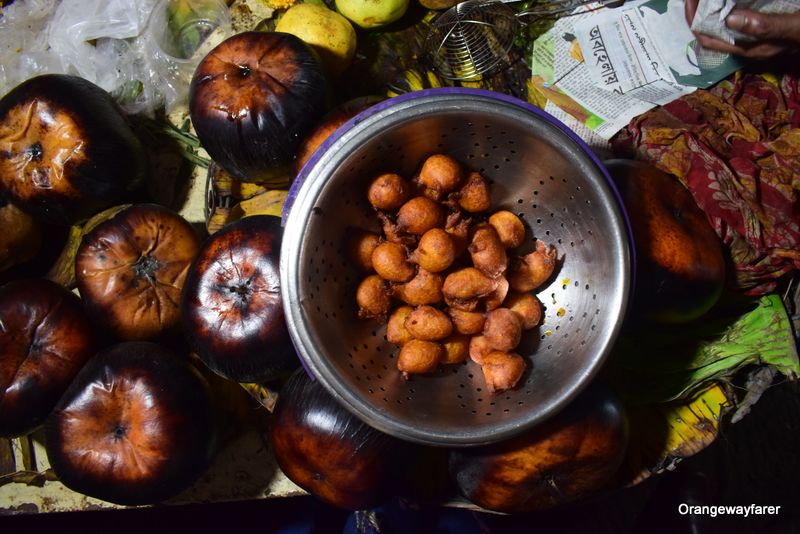 Taler Bora. A delicate Bengali snack, made of deep-fried palm pulp. Vegan in every way possible. Healthy? That is questionable. Tasty? Oh my god! Yes yes yes! Found this on the street of Behala, opposite Haji Ali Biryani shop. I spent all my money to buy the remaining Boras. They sell like the way hot "Boras" should and get finished before you know! Available only during monsoon season!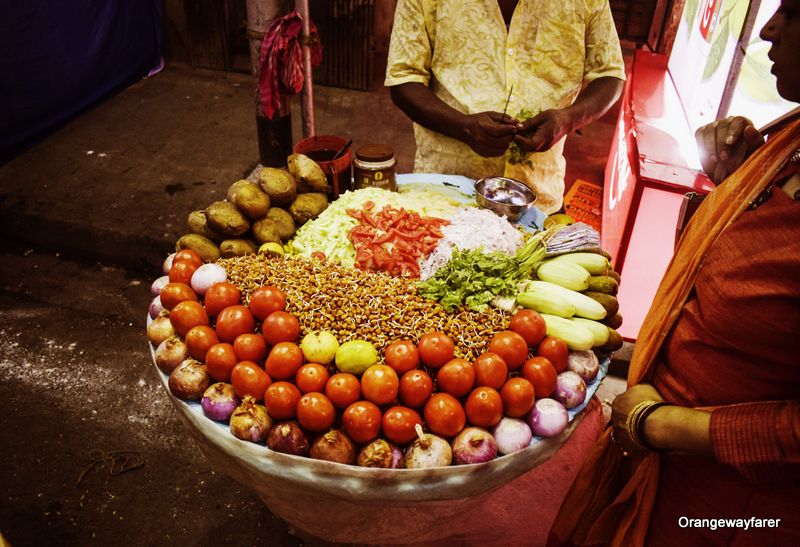 Alu Kabli. A salad-snack made sour with gentle addition of "Tentul Jol" (tamarind pump in water and spices and lemon) to beat the humid hotness of Kolkata! This was my staple school lunch which my mother does not know till date! They would serve it on Shal Pata (leaves of Shal tree) and charge only INR 2. I think the price increased to INR 20 now.
Cha, Chai, Tea: the elixir that runs India. Cooked with milk. Served on earthen pots.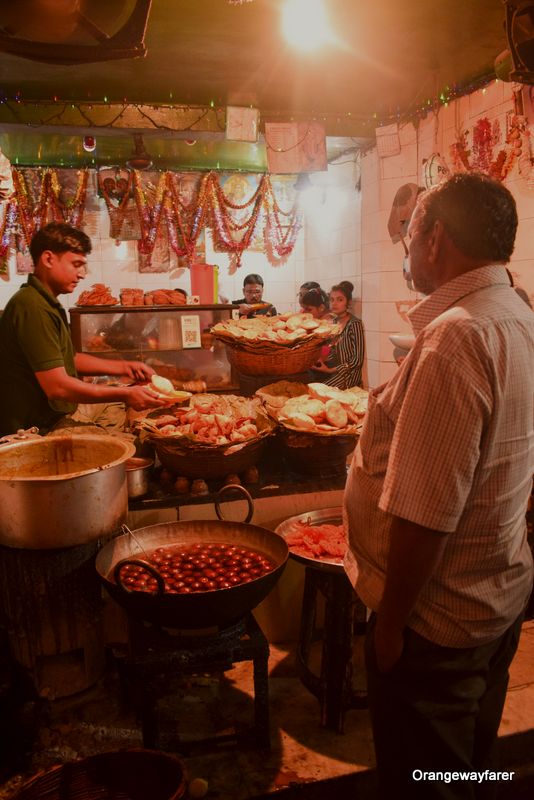 A man sells Golap Jam and Kachuri in the evening. Somewhere near Girish Park, North Kolkata. Opposite to this stall, stands Niranjan Agar, one of the cabin restaurants of Kolkata!
Around Kalighat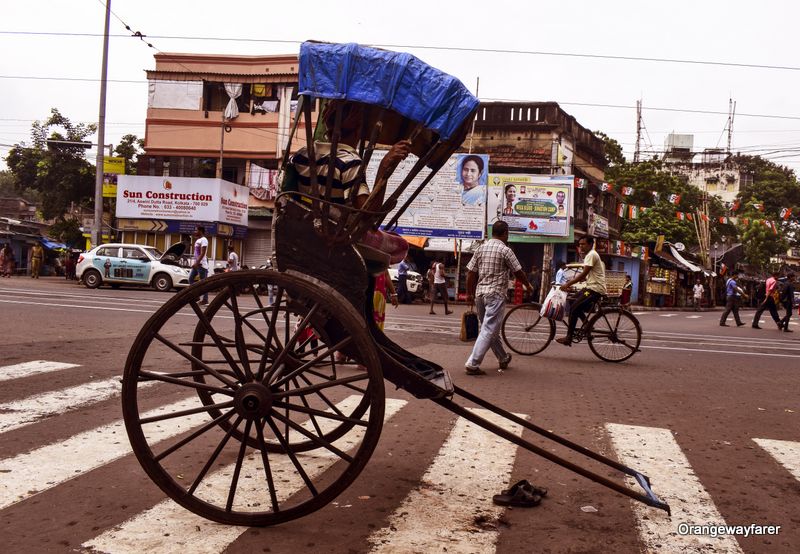 A hand pulled cart is parked near Kalighat, Kolkata.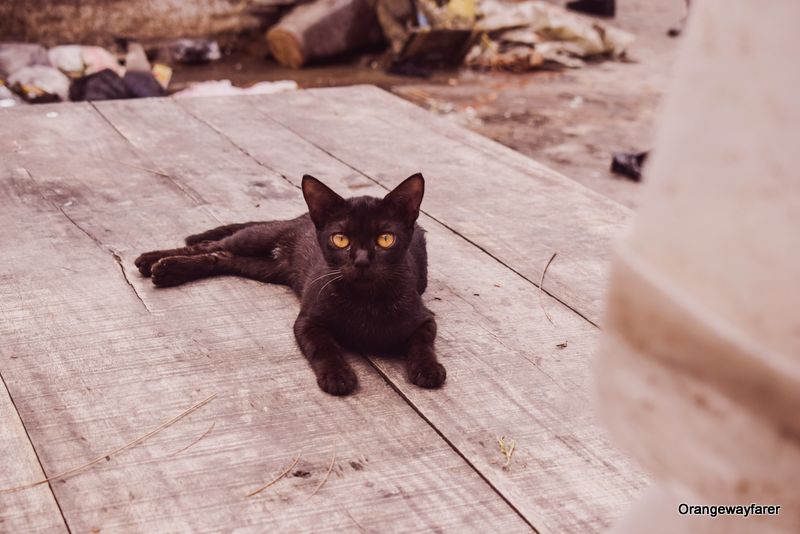 From Ma Shashthi's Bahan (Shashthi Thakrun is one of the many demigoddesses, believed to take care of children of the family) to the symbol of imminent evil, the Black Cat lives a rather colourful life in Bengal! Black cat's fur is one of the ingredients used by the Tantriks of East.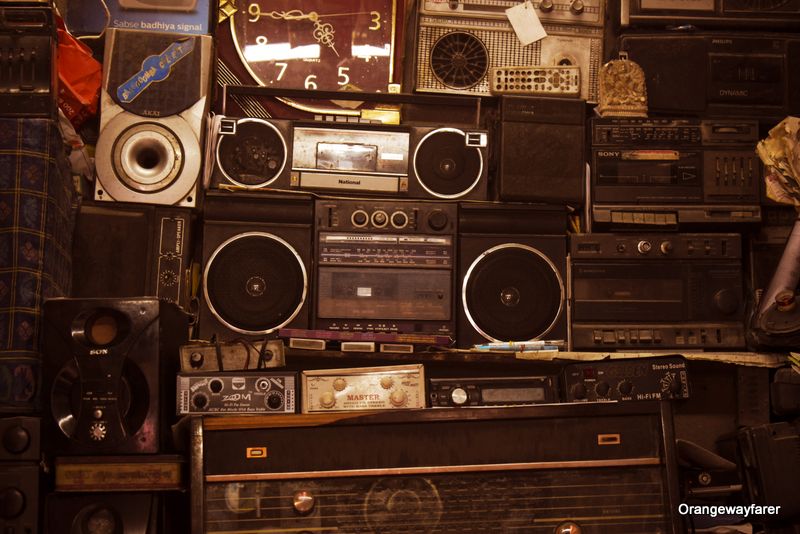 A store stores all the music players from the days of yore. They are rented out for movie sets.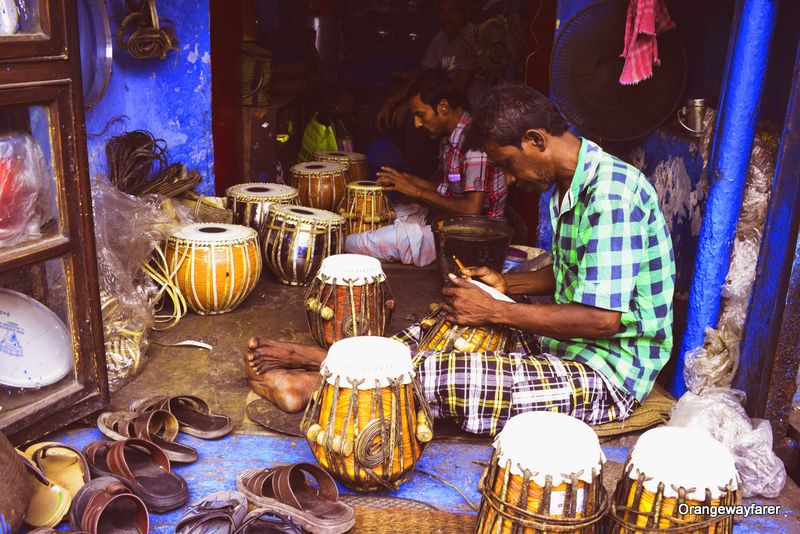 A man prepares a Tabla, a musical instrument used alongside harmonium. Never was a Bengali boy born in Kolkata who did not learn and practice Tabla in the evening, after his football match.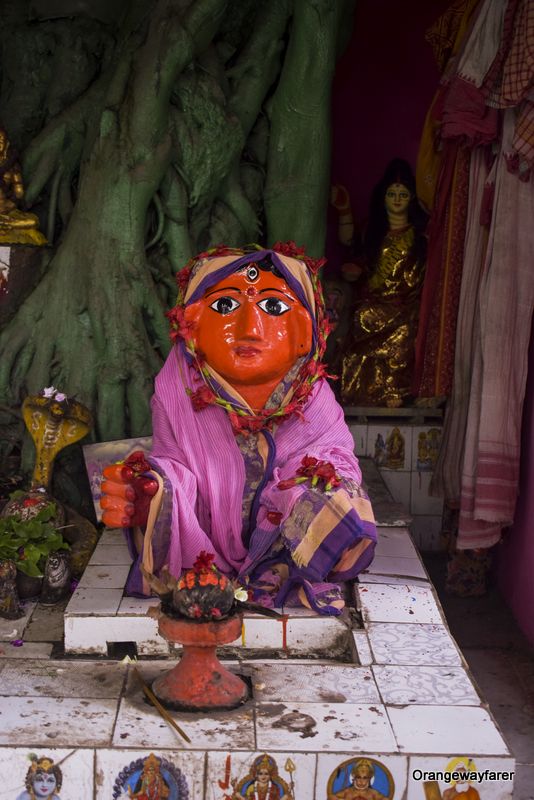 One of the many goddesses worshipped by the banks of river Ganga. I am taking a guess, maybe she is Siddheshwari Thakrun.
Kumartuli and Durga Thakrun
I have also compiled a photo essay on Kolkata Durgapuja with more than 50 pictures!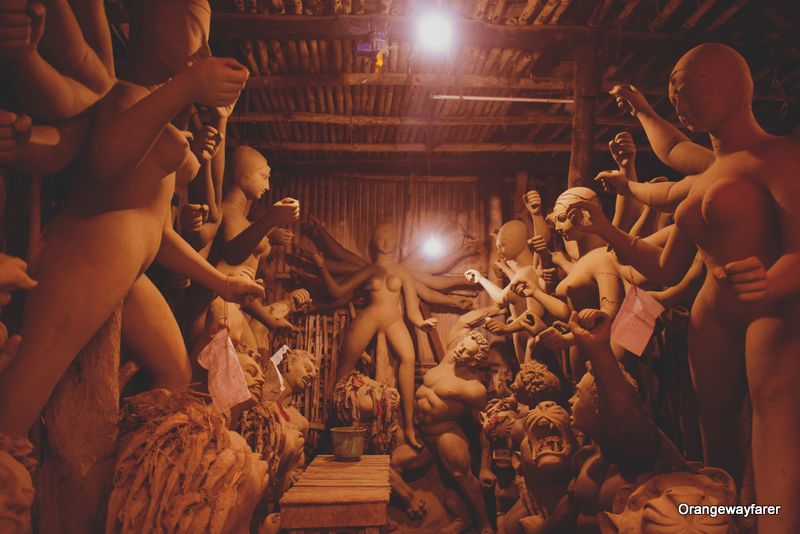 Kumartuli, where Durga idols are made. They are shipped to distant parts of the globe, including the US. The Bonedi Baris although bring the potter home and makes their idol.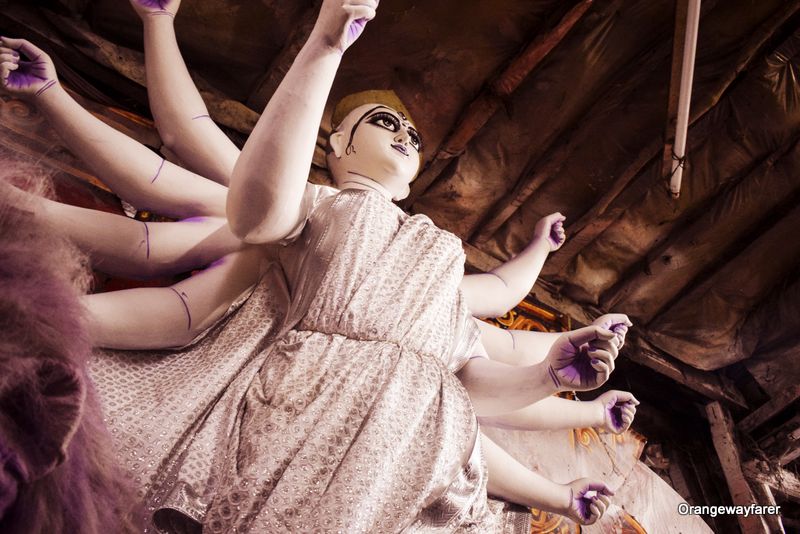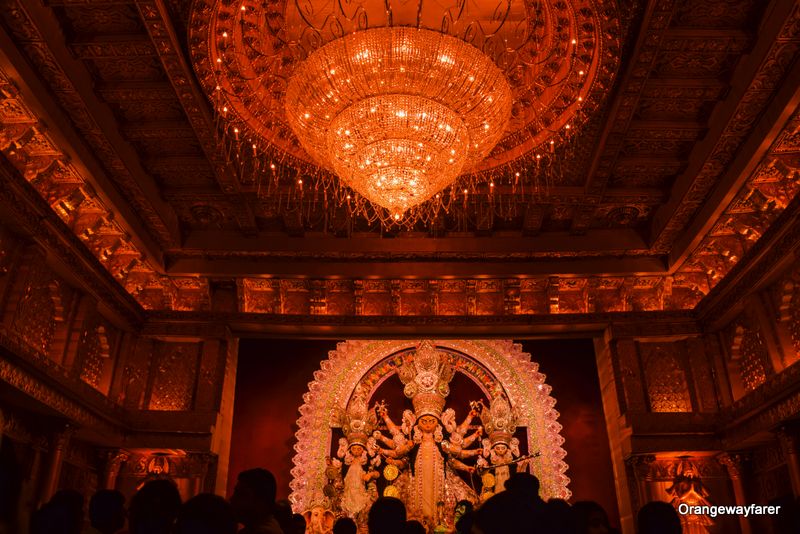 The iconic Bagbazar Durgotsav of Kolkata! Celebrated in October every year, Durgapuja to Kolkata is what the "Biggest festival in the World" to Google!
It is way more than just another religious festival. It is inclusive in nature (or if I am to put it correctly, it has adopted the inclusiveness successfully with time), grand in scale, ushers us with hope and leaves on a melancholic note.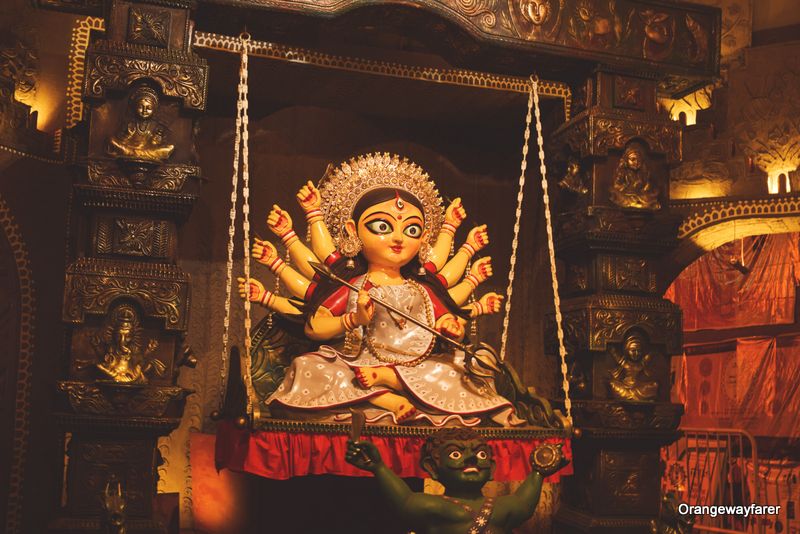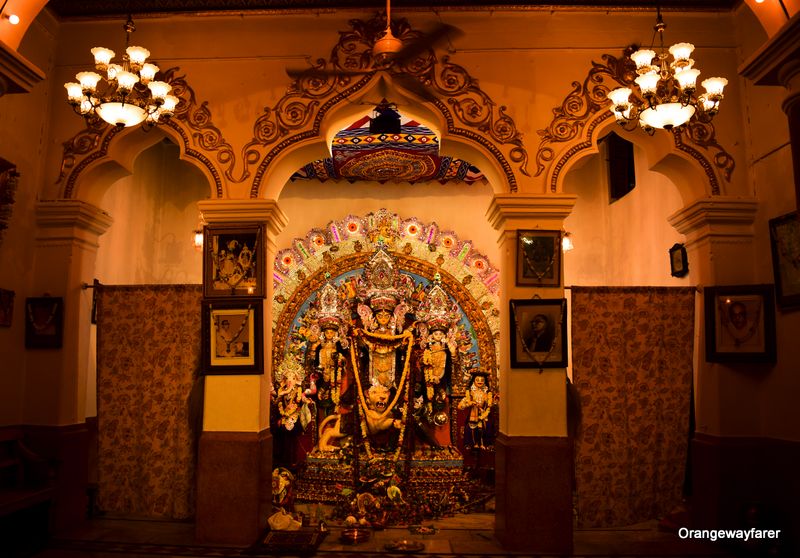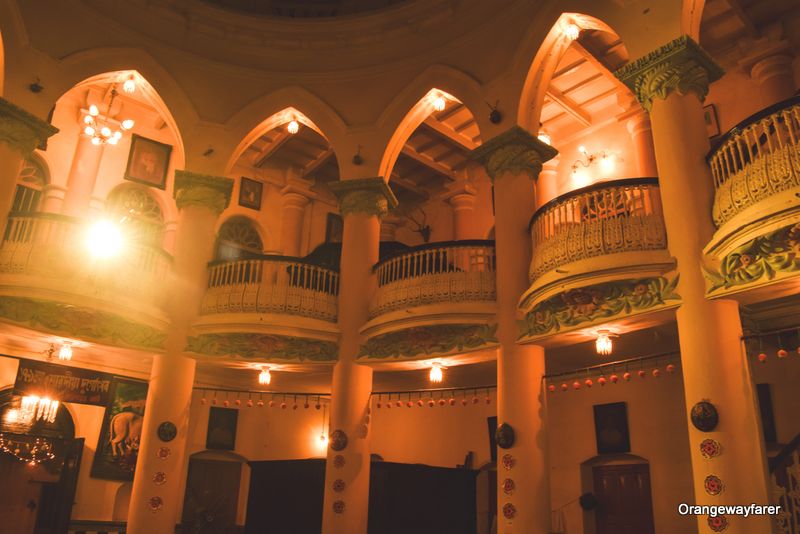 Glimpses of the interiors of one of the Bonedi Baris of Kolkata, where the who's who of British court lived and thrived in the last century. They are only open to guests during Durgapuja.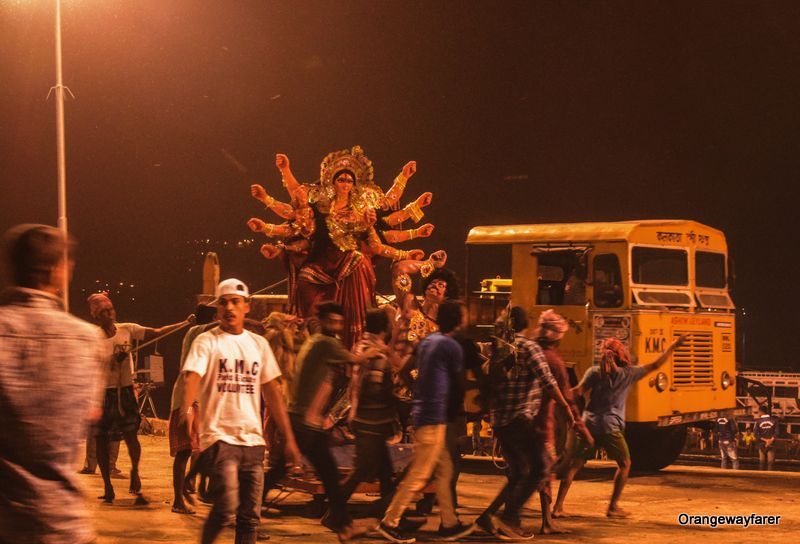 Onwards her Shashurbari!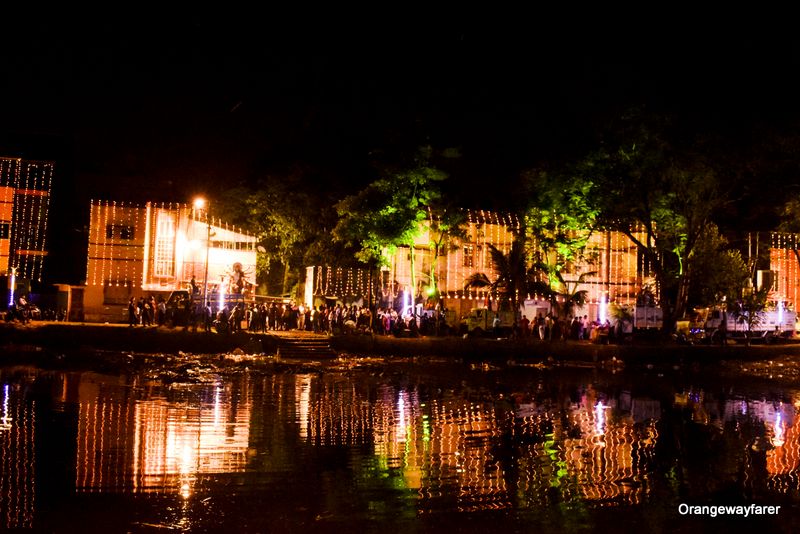 One of the many ponds in Behala that has escaped greedy promoters' business plan, all set to take her in at the end of the festival!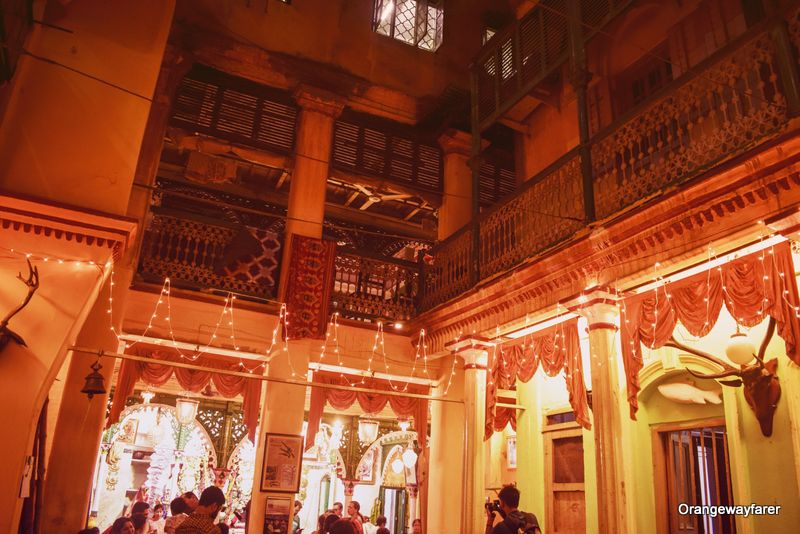 Sarees of Kolkata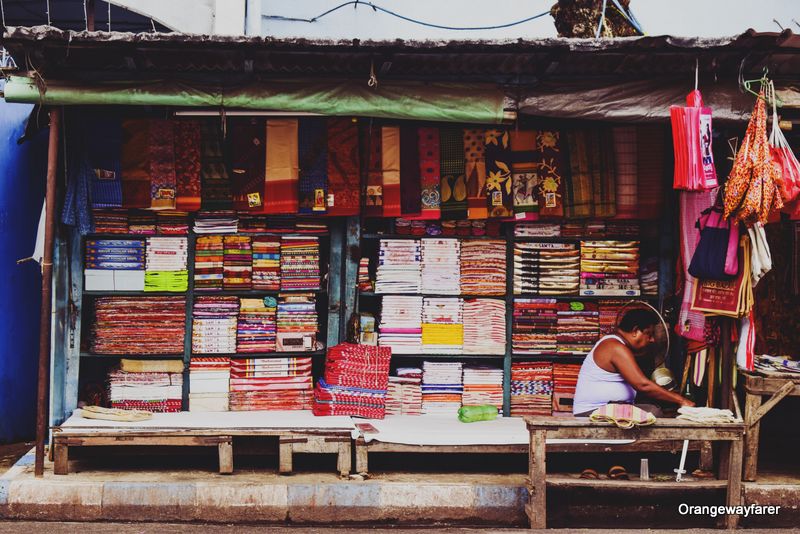 A saree shop outside Kalighat temple. The shop owner eats his lunch. The steel made round three-tiered tiffin box which has rice and daal and fish curry, hopefully.
Note the red and white sarees which defines the uniform identity of Bengali Women's grace and beauty!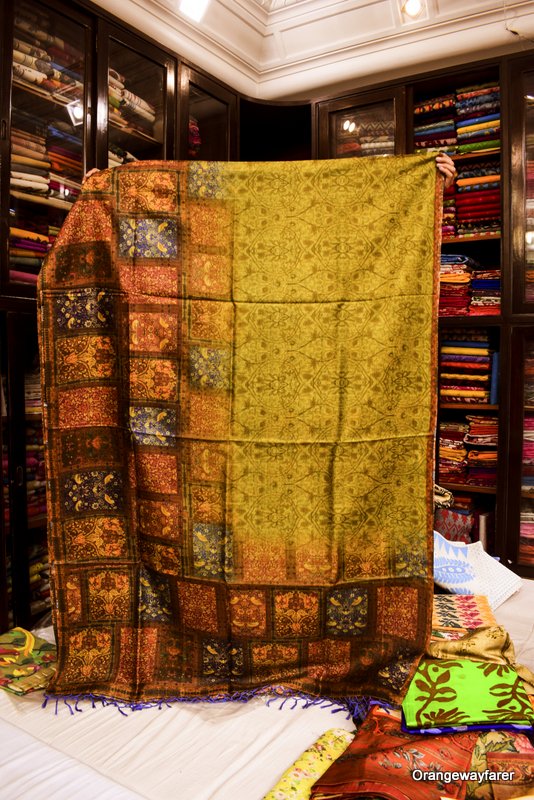 An old saree shop, Balaram Mallick's at Gariahat, where they show you saree while you are welcomed and beseated on a Gadi. On display is a Satin silk saree priced at INR 14000 ($200).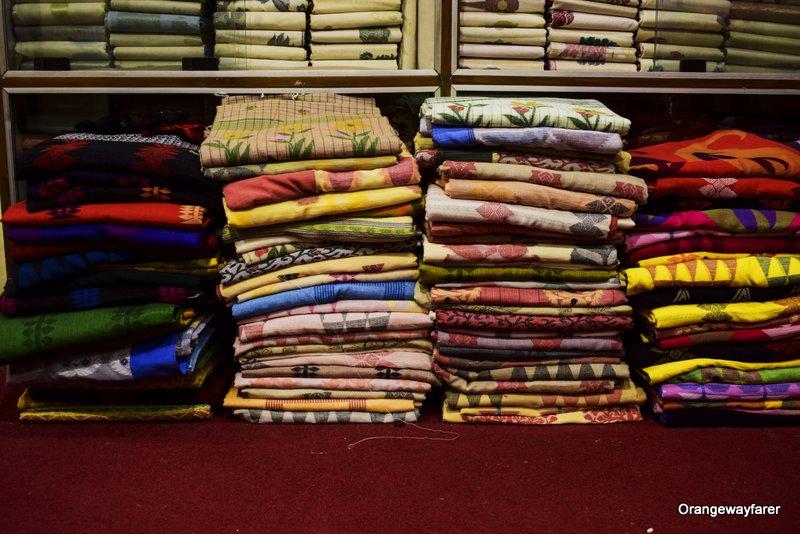 Kolikata of Kali of Kolikata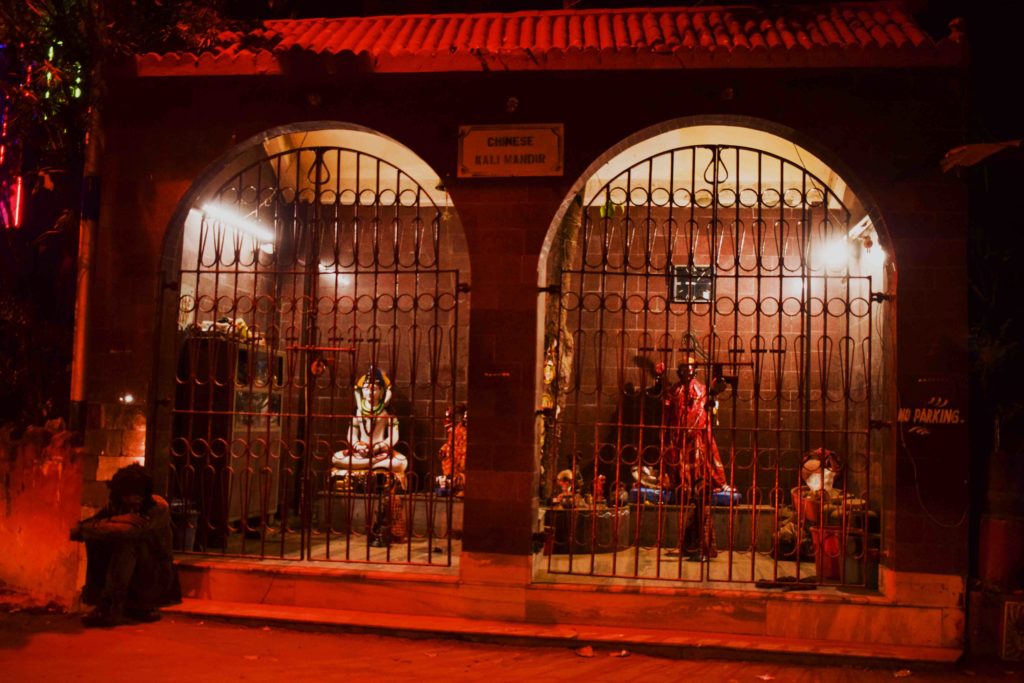 The Chinese Kali temple of Tyangra, a habitat of Kolkata where all the Chinese immigrants live and cook sumptuous Chinese dish. Needless to say, Kali of Kolkata's China Town is offered Noodles in Bhog. So far, she has been relishing it!
In Shuddha Bengali, Kolkata is spelt as Kalikata, a direct reference to a land where Kali is worshipped. It is of little wonder you grow up with her being omnipresent everywhere.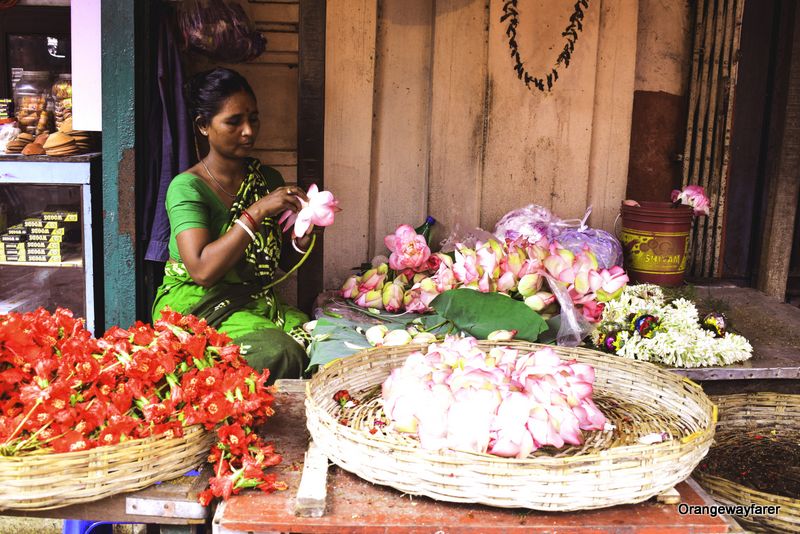 Kalipuja is incomplete without Raktajoba, blood red hibiscus who easily finds a way in the pretty garden of Bengali households at Kolkata suburbia!
And, because Kali is also wife of Shiv, he will have his share of lotus too!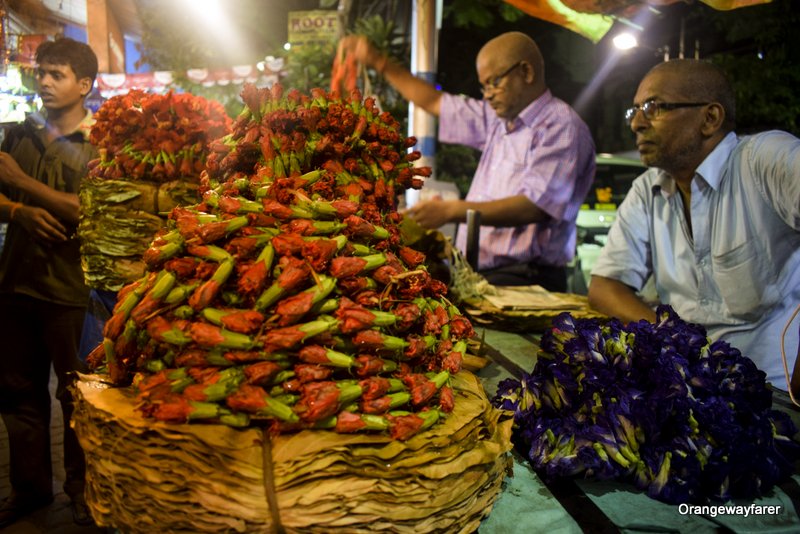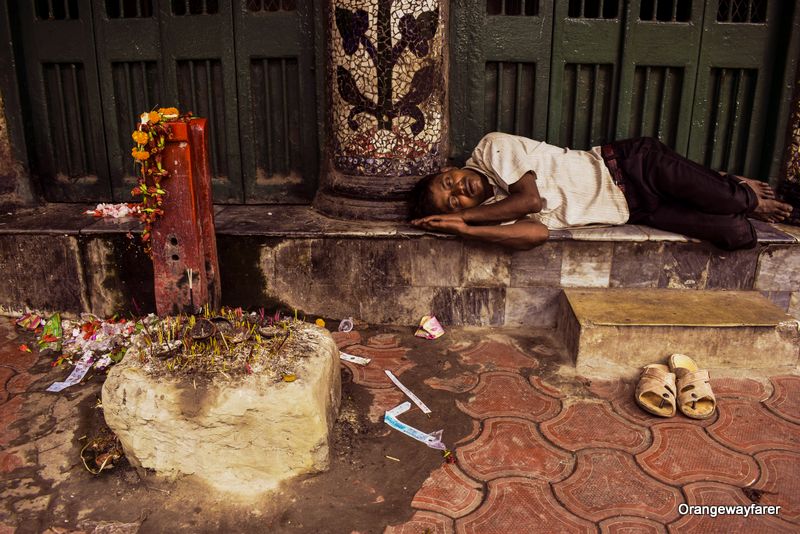 A man takes a quick nap by a Kali Temple near Kumartuli. Notice the "Hnari Kath", believed to be a place where human sacrifices took place! Now they sacrifice Patha, a goat and the meat is cooked and consumed with reverence. Sleeping by it is easy for a Kolkatan, I believe?
Walls of Kolkata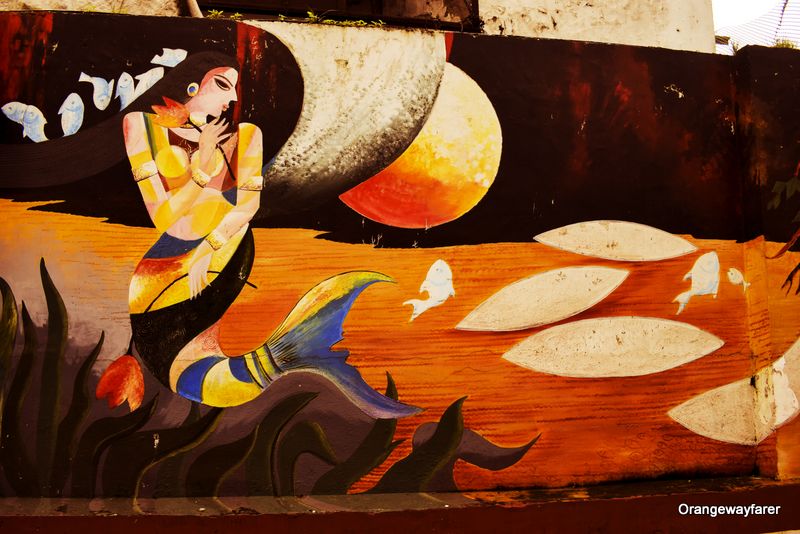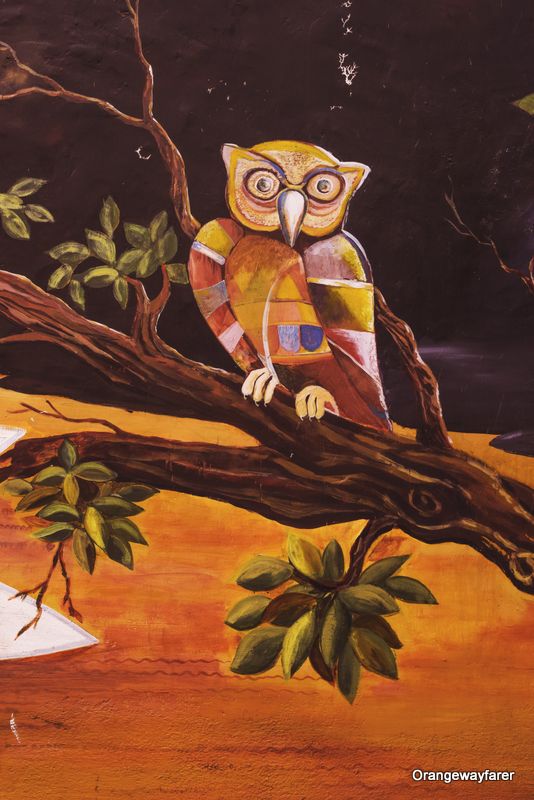 Rabindra Sadan is decked up with beautiful graffiti these days. Though I love JU's wall adorned with Graffiti, especially the ones drawn by Koshada!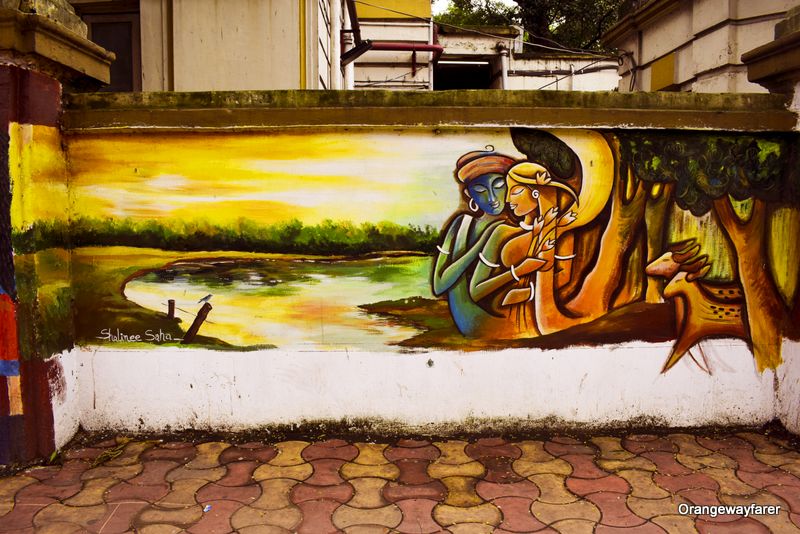 Old Houses of Kolkata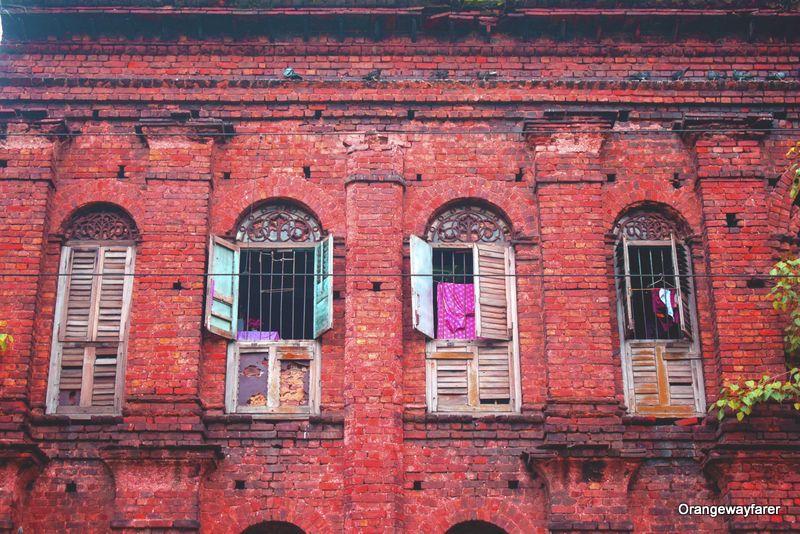 A red house stands by the Ahiritola Ghat. inspired by British architecture. "Laalbari", "laalmandir", "laal party" (laal is red) are pretty iconic terms in Kolkata.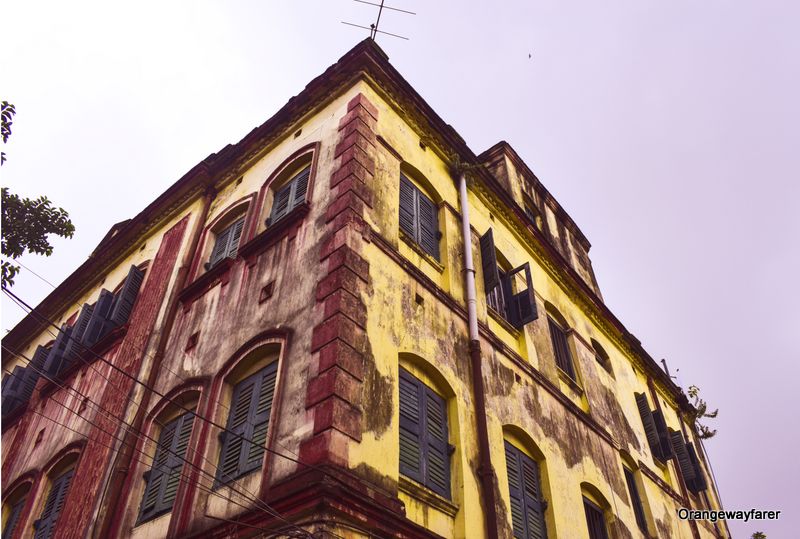 Chowringhee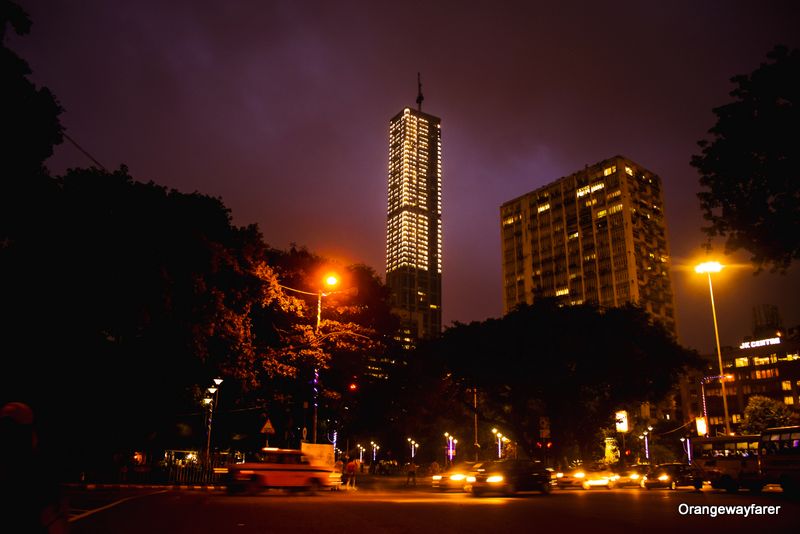 The Chatterjee International and 42, two highest buildings from different era stand near Maidan. What a face off!
I remember taking the staircase to sixteenth floor of the Chatterjee International building in search of a job! They were closed because it was a Saturday. And the lift was not working!
Chowringee and Part Street particularly come alive during Christmas.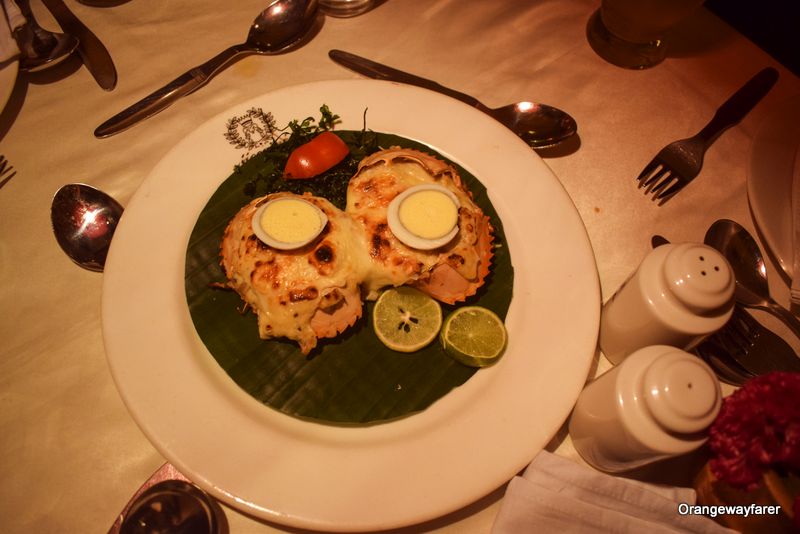 Devilled Crab from Mocambo, a finedine restaurant straight from the streets of London! The menucard is inspired from 17 course French Classical list!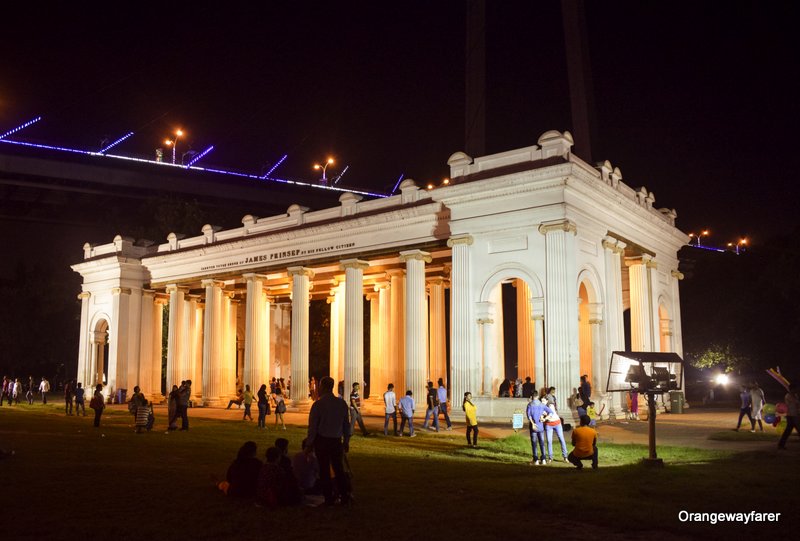 Princep Ghat: Once a lovers point now slowly turning into pre-wedding photo shoot spot!
The Evergrowing Kolkata
"Obokkhoy"
A JNNURM bus slowly kissing grounds. Somewhere near Sarshuna.
In case of a road accidents, buses in Kolkata are often set on fire or rammed with vigour. I suspect this is a similar case.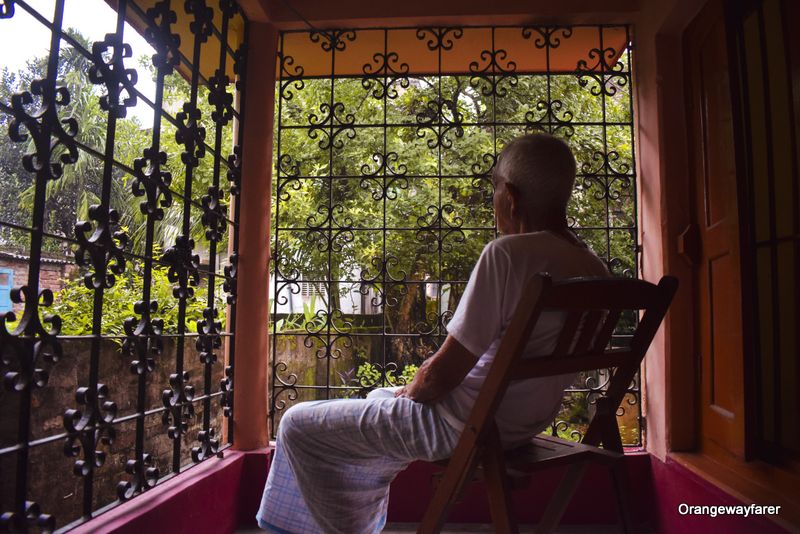 The Kolkata suburbs housed a number of refugees post 1947. The areas were loosely referred to as "Palli" or "Colony". Jadu Palli or Arabindo Colony, ring a bell?
In the picture, sits my Dadu. His life was arduous for reasons I would not list now.
He lived a good life, even after a rough start. A government job, a house in Kolkata, the only daughter married to a doctor. With his schoolteacher wife from Barishal, the man of Maimansingh tried to relive fleeting moments of "home" in his Basha.
I have literally seen the house being built from a makeshift humble abode to a rather big one over time. But they did not match up to the stories of what they left behind. Neither it matched up to the houses of North Kolkata.
You say North Kolkata houses are crumbling? I agree. But then there is an intangible enigma associated with each one of them, even in the rubbles.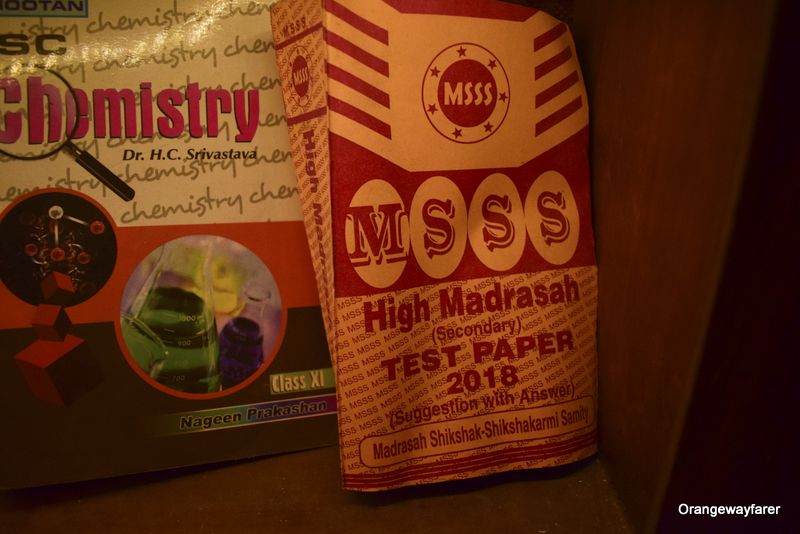 I solved ABTA test papers mostly while preparing for school final, but then they featured a few of Madrasa questions too. English and Maths had same syllabus. In every honesty, that's all that mattered for Madhyamik exam anyway!
But I loved history and tried solving a few Madrasa Papers on history too. Their Arab section was expansive and intriguing.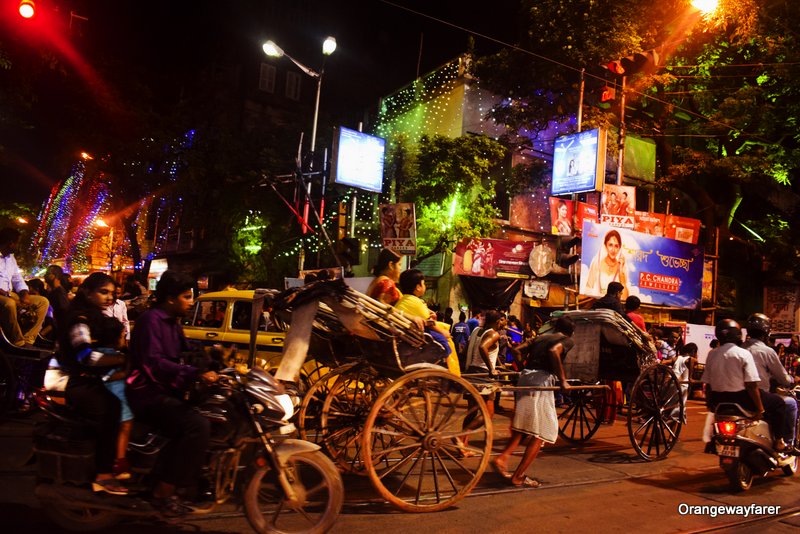 The Kolkata cacophony!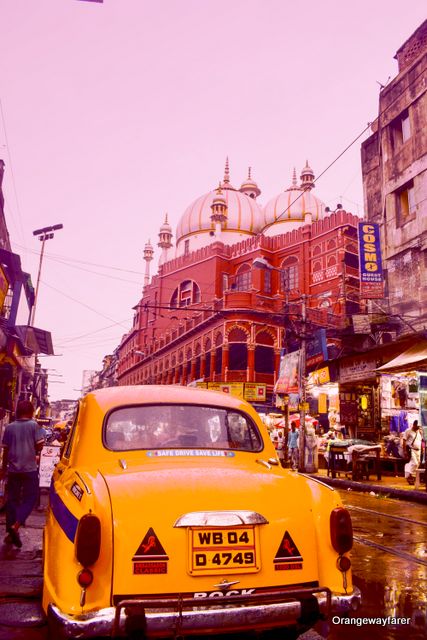 The Nakhoda Masjid and yellow Taxi of Kolkata at Chitpur near Zakaria Street!
At a stone's throw away from Rabindranath Thakur's house, there lives and thrives an Awadh in Kolkata!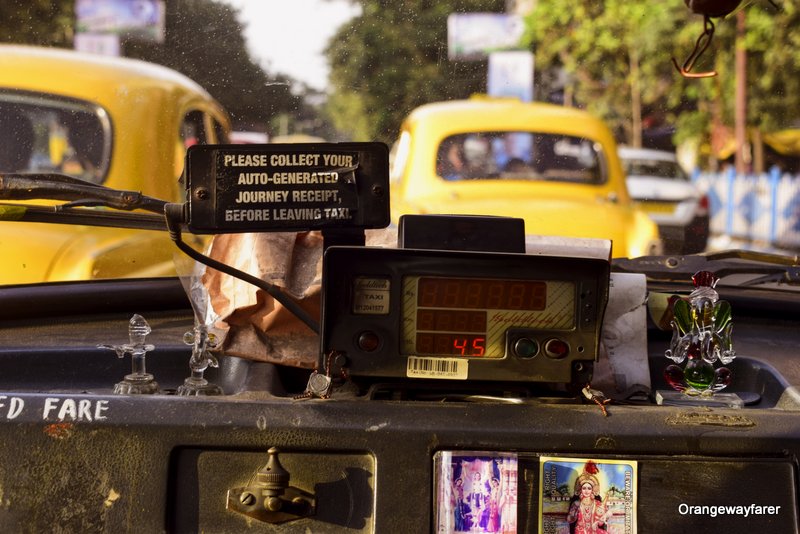 Meter Taxi of Kolkata!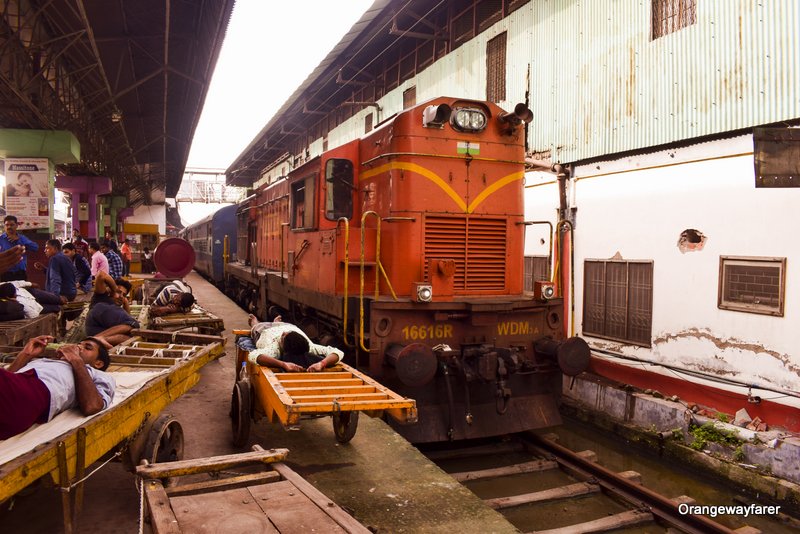 A superfast express train rests at the Howrah Railway station. A group of Coolie naps on a balmy afternoon.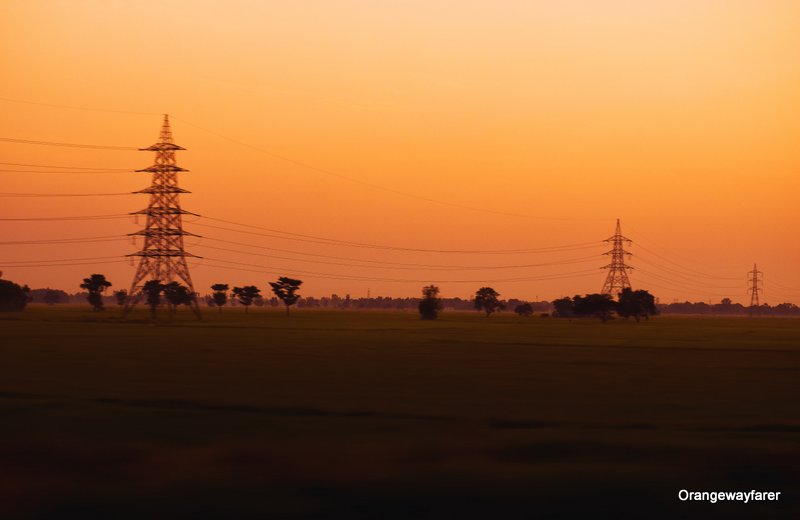 Just another sunset in rural Bengal, as the train leaves Howrah Railway Station. No wonder why the land produces prolific poets. You cannot go wrong with this copious amount of romanticism.
Let's stay connected on Facebook, Instagram, Twitter! You may also consider joining my mailing list. I send travel and photography related emails only once a month!
This post may contain affiliate links. Please read the disclosure post. If you have liked the article, you may support it by buying using these links without any extra cost to you.