About this blog: Zakaria Street is located near Chitpur, one of the oldest localities in Kolkata. Zakaria Street houses Nakhoda Masjid, the largest mosque of East India! During Ramzan (Ramadan), Zakaria street comes live with various food for Iftari. Gastronomes of Kolkata highly revere Zakaria street's Iftar spread of Biryani, kebabs, haleem, halwa etc. This blog aims to be a guide for your Zakaria street food expedition.
Pin it for later!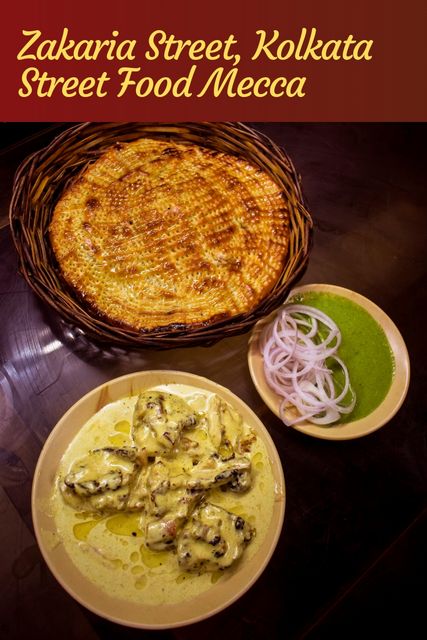 Distant Memory of My First Introduction to Iftari
"This is your Ramzan gift." Told me the pretty lady over the counter at Anjali Jewellers on a balmy afternoon visit at the Gold jewellery shop in Kolkata, sometime in 2008.

I opened the box to behold the first ever Laccha Sewai in my life! What is this? How do you eat/drink this? Neither I knew nor my mother, the kitchen goddess apparent had a clue! Dida knew, though. She would mix the sewai in a glass of warm milk, sprinkle rose water and present in pretty La Opala glass set that evening.
That box of sewai was instrumental in making me curious about the nuances of Ramzan street food stalls of Kolkata, and further India.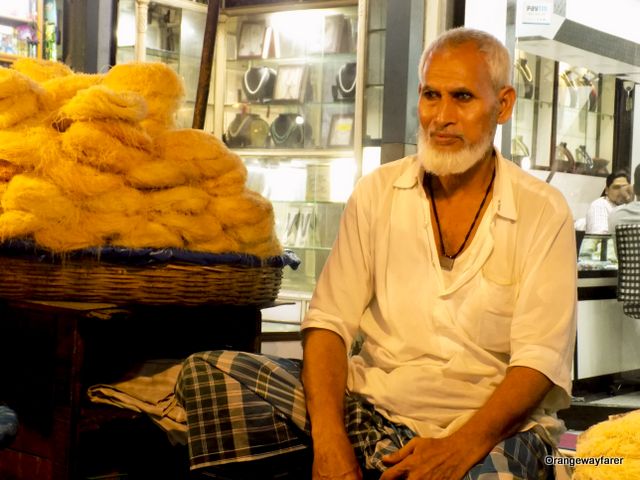 Even though I spent a decade at a Bengali Medium school at Howrah, a suburbia region of Kolkata, I hardly noticed the cultural aspects of Ramzan from fellow girl-children. Little did I know of the pleasures of sharing a plate at Sundown, after a prolonged day at of fasting for faith, days often under the gruelling heat of scorching Bengal sun.
Also read: The best places to eat Kolkata Mutton Biryani in Kolkata!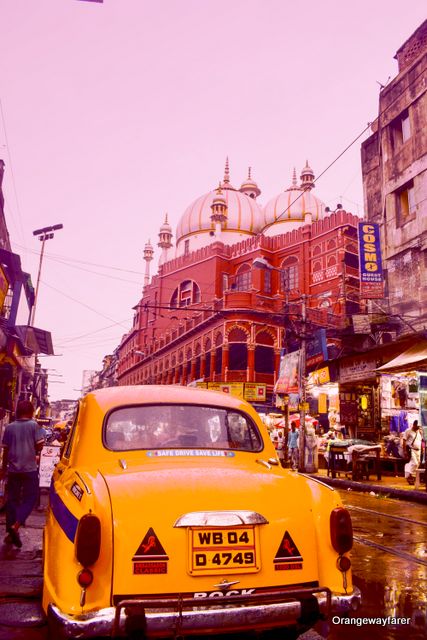 I was interning with this luxury hotel at downtown Kolkata when a Muslim girl befriended me. She changed her work schedule from 6 am to 6 pm in the month of Ramzan and would wait enthusiastically at 6 pm to get that call from her mother. "It is time for Iftar, please eat something."
Also read, a photo blog on Kolkata that captures the culture of the city!
I accompanied her for those feasts a few times, on the hotel rooftop towering over New Market, with the sound of Azan resonating on Kolkata sky. The sheer pleasure and camaraderie of sharing a plate of cut fruits, a bottle of Roof Afza and a few fried items…
Life happened, I shifted to Bangalore. Feasting with S in Bangalore meant regular visits to the Mosque road, especially during Ramzan. The glorious celebration at Mosque road and Kormongla were subsequently documented and shared on social media, on which friends exclaimed, "Oma! This looks exactly like Durgapuja!"
Food has been historically acclaimed to play a catalyst in the amalgamation of various culture and bringing mankind to one plate, leaving hostility and political agenda behind. The precarious statement finds a strong foot at Zakaria Street Kolkata!
Did you know? Gobindram Mitter (Mitra in Bengali), a Babu who grew his property exponentially during the British Raj, established the temple of Chitteswari, from which the name Chitpur is derived! A Nabaratna temple of the Goddess (nine-turreted) featured prominently by the banks of Ganges at Kumortuli. Kumortuli is famous as the place where Durga idols are made. The Chitteshwari temple back in the late eighteenth century was called Pagoda by the sailors who used it for direction. The temple fell during an earthquake in the early nineteenth century.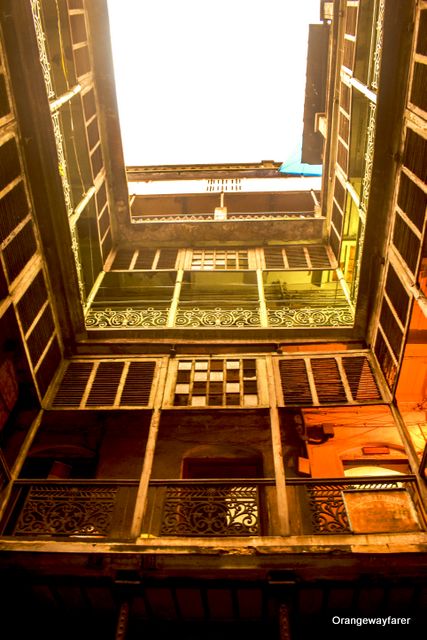 Chitpur houses Salim Manjil, home to Gauhar Jan, the legendary singer of the previous era of Hindustani classical music. The gramophone records have immortalised her voice.
Also, read about The iconic Cabin Restaurants in Kolkata and where to find them!
Iftari and Street Food, is that the Norm?
No. Most of the Muslim households I came to be familiar with in the later period of my life have their mothers or womenfolks busy in the kitchen, preparing a sprawling Iftar spread. You are more than welcome to join, usually. However, you need to get hold of a friend. Besides, Zakaria street has a distinct spread available.
Zakaria street at Chitpur stands out as a melting pot of different culture at a prime location in Kolkata. The erstwhile Zamindar houses of Thakurs (Rabindranath's family), Mallicks, Lahas stand at close proximity. Several old Chinese eateries testify a strong oriental influence. (Quick Tip: Do not miss Tirretti Bazar Breakfast in Kolkata).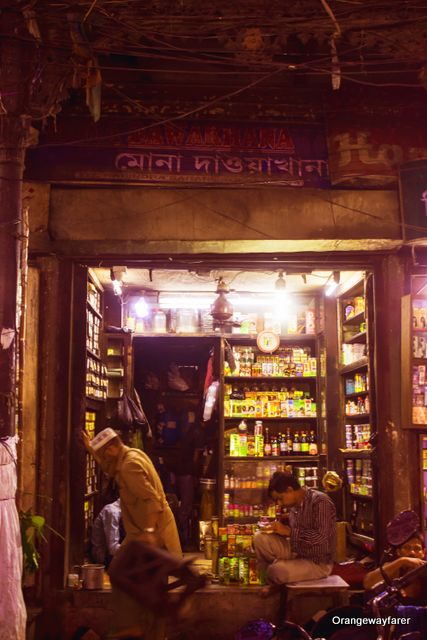 Chitpur was one of the 33 villages directly under the constituency of the exiled Nawab of Awadh, Wajid Ali Shah. Many of the shops we have discussed and praised in the article are directly manned by these Awadhi migrant families for nearly a century.
Zakaria Street is dotted with small and old eateries which prepares amazing food 365 days a year surrounding the Nakhoda mosque. It is only during Ramzan when people of different faith visit Zakaria street motivated by Iftar spread. Usually, a lot more makeshift stall mushroom up, catering to food enthusiasts and making room for heavy footfall!
Also read: 20+ beautiful destinations to visit in West Bengal for the first time visitor!
Nakhoda Masjid: the Largest Mosque of East India!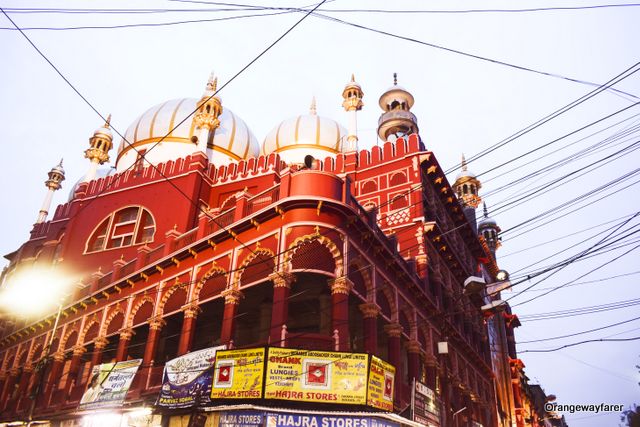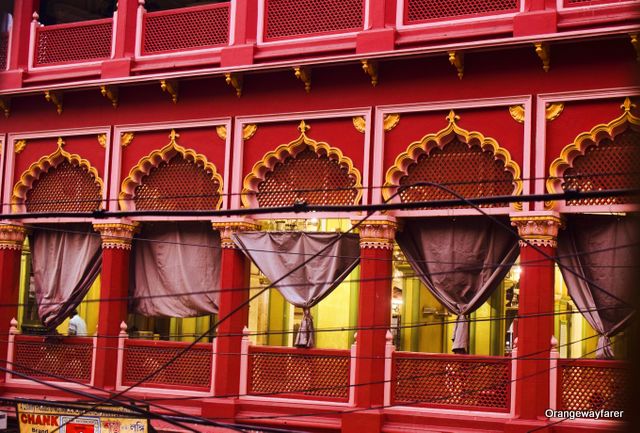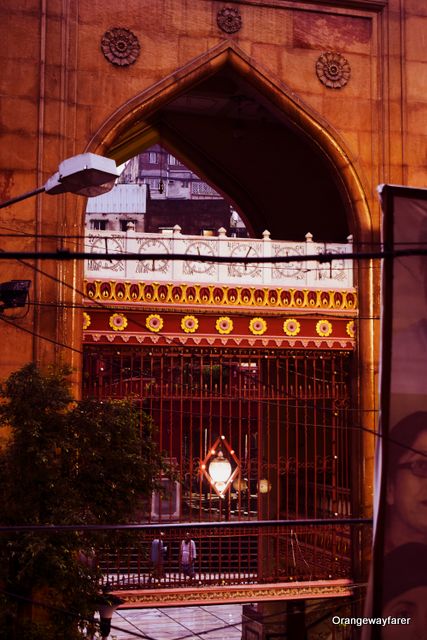 Nakhoda Mosque is the largest mosque of East India. It was built by the Kutchi Memon Jamaat community of Kutch, Gujrat. The mosque was built after Mughal Emperor Akbar's Mausoleum, Sikandara (arguably modelled after Buland Darwaza, Fatehpur Sikri). The name "Nakhoda" refers to the captain of the ship!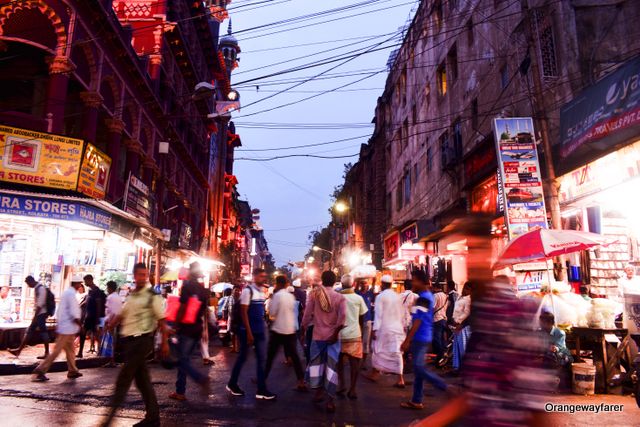 I visited Zakaria street on a monsoon day! Meandering through nameless ancient shops, old households whose interiors now houses tiny offices very typical of Barabazar, the heartthrob of East Indian economy, the glitters of Zari work on sale, stink of open drain and aroma of Ittar, I knew it is a vivid continuous show of "Dream in a dream in a dream."
A little worrisome, because I do not know if I can make out of it. A lot of amusement for a DSLR owner, for each frame, is stunning and distinct. But that is where you feel Kolkata pulsating, ain't it?
Also, read about this Bangladeshi restaurant in Kolkata surprised me with the menu!
How to reach Zakaria street, Kolkata?
Nestled somewhere between Barabazar and Chitpur, Zakaria street is sombre in appearance with a parallel tramline running straight towards oblivion by the side of Nakhoda Mosque. Get down at Central metro station or MG road and walk for 10 mins to reach Nakhoda Masjid. The lane opposite to Md. Ali Park is the best landmark I found.
In case you are visiting Zakaria street early morning, make sure to stop at nearby Tirretti Bazar for the sumptuous Chinese Breakfast.
The Best Places to Eat at Zakaria Street during Ramzan
Royal India Hotel
The quintessential grandfather of Kolkata Biryani, Royal Restaurant is loved and revered among gastronomes of Kolkata!
The Karigar sits by the main road and slow cooks chunks of mutton. The aroma is irresistible. You have to stop by, steal a few glances and finally set aside other work and enter Royal as one of the hedonists! The Royal Indian Hotel has a generic sitting area downstairs, a place with cabins on the first floor (suited for families) and an Air Conditioned dining hall on the opposite side.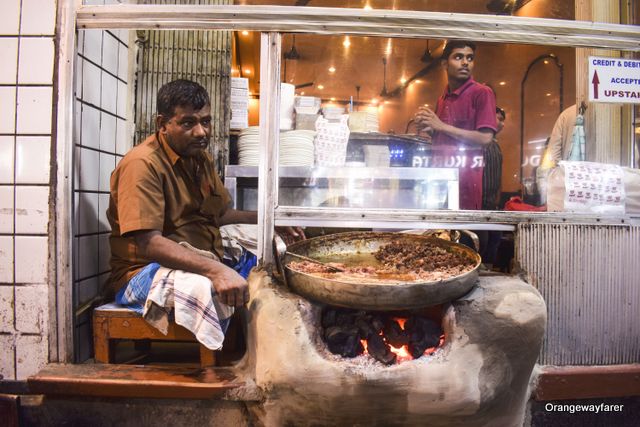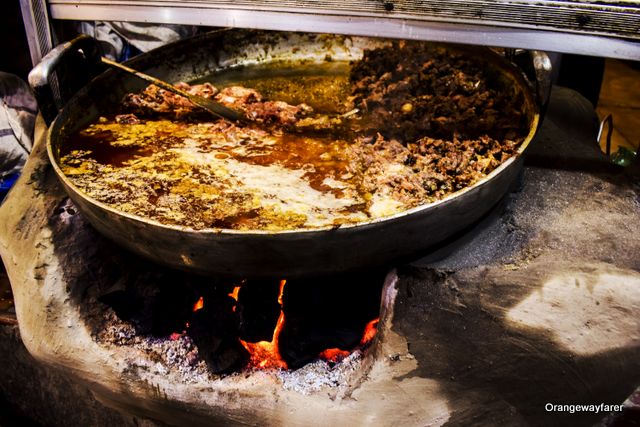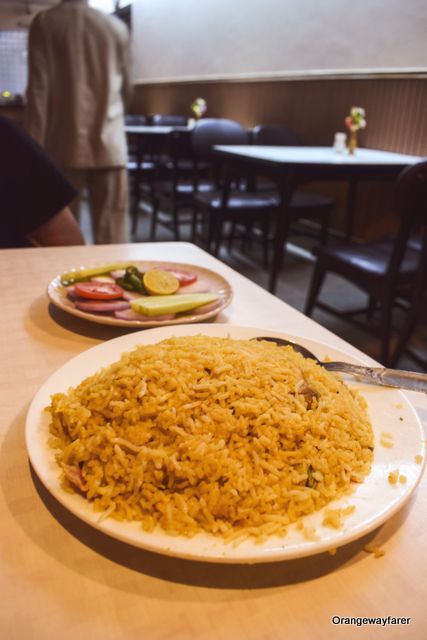 The biryani was very mild in taste however had the best rice grains I ever found.
Best known for Mutton Chaap with Roomali Roti, Pasinda Kebabs and Biryani (Kolkata style biryani without the piece of potato).
Pocket pinch: INR 900 for 2 people (higher compared to the area, yes but hey, this is Royal!)
Dilli 6
Just opposite of Nakhoda Mosque stands the unassuming kebab shop which served me the best kebab of this lifetime! I am still unsure in my mind, which one tasted better; the Afghan Chicken kebab smeared in heavenly curd with a creamy white texture or the Sheermal, one of the exotic slices of bread straight out of Mughlai kitchen?
I think I tasted something similar at Noor Mohammadi hotel at Md. Ali Road, Bombay!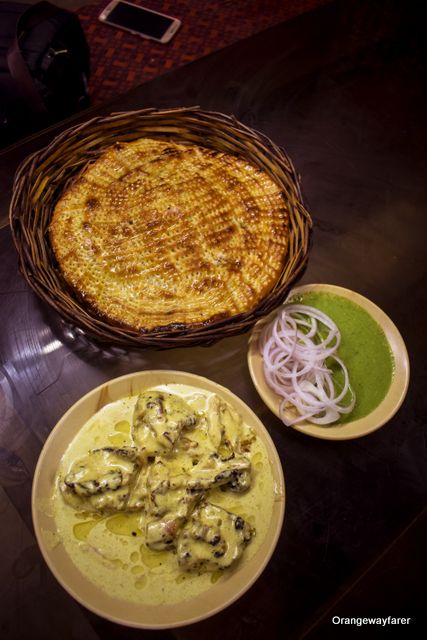 Best known for Changezi Chicken (available only during Ramzan), Chicken Tandoori Butter Gravy, Afghan Chicken.
Pocket pinch: INR 200 for 2 people
Taskeen
Adjacent to Dilli 6, Taskeen seemed to be closed when I visited. I was about to walk past when the young shopkeeper quipped, why am I not filming their shop? Surprised, I said, are you guys open? In return, I got a glass full of yellow milky liquid straight out of the fridge.
-What is this?
-The best Falooda of Kolkata!
To me, the taste of milk seemed a bit overwhelming and I handed the glass over to my brother, who being the good boy he has been always, drank without any qualm! He loved it!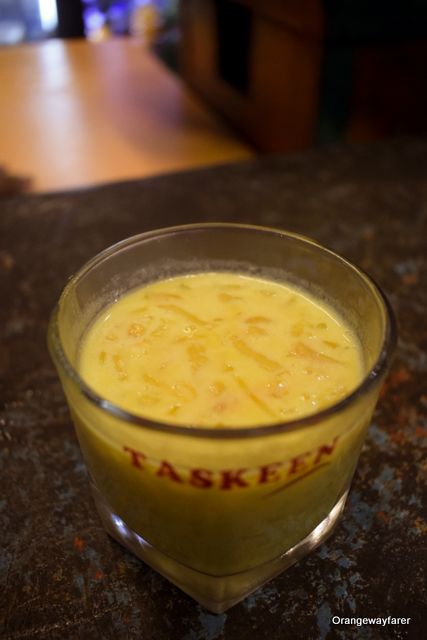 -Where is the chicken?
-We bring them during Ramzan, Tomer samne Bheje debo (will fry in front of you). I wanted to ask if he goes to school. He pointed towards the Madrasa standing next to the street, where we went a while ago aiming for the iconic shot of Nakhoda Mosque!
"Our homegrown KFC version Chicken Changezi is sold basis on weight. So does Mahi Akbari." Told me the Taskeen man, a hint of pride beaming in his voice. Some 80 and 52 number of spice mix is used in the marination, respectively. My Bengali tastebuds get rather sceptical thinking about Katla turning into Mahi Akbari, but we shall see someday!
Best known for Changezi Chicken (available only during Ramzan), Mahi Akbari (fried carp fish), Rabri Falooda (all the year round)
Pocket pinch: INR 200 for 2 people
Sufia
Alas, I had my fill of biryani at Royal already. But Sufia at Zakaria street is the real charmer when it comes to Biryani! Beef (real beef, not buffalo) biryani served at Sufia is a delight to taste. They also have a chicken variant.
At the wee hours of the day, Sufia serves a flavorful meat broth, also called Nihari. the heavenly beef soup is drenched with the caress of Dum cooking for prolonged night hours. There is a Mutton Paya variant available as well.
The stock gets over by 8 am so you better get your hindsight at the hotspot ASAP. Nihari is served with Dal Puri and is a quintessential Mughlai breakfast of Kolkata!
Sufia has a very humble sitting arrangement and a mess upstairs, priced at INR 300 per night.
Best known for Beef Bhuna, Khiri kebab, Haleem (Only during Ramzan), Tandori roti (the softest in the city), Beef Nihari, biryani
Pocket pinch: INR 200 for 2 people
Adams: The Sutali kebab (Kebab sewed in strings)
A stone's throw away from the entrance of the Nakhoda mosque, in a dingy lane also known as the Plearse Lane/Chuna Gali sits an old man with a rimless glass like Gandhiji, weaving magic.. erm.. meat on a thread. Yes, you read that right!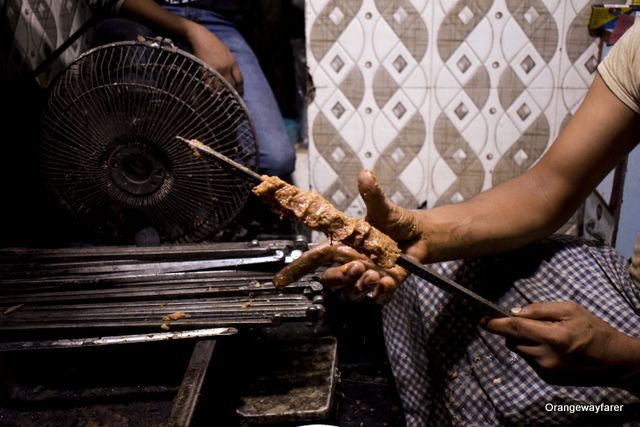 There is a shop in Kolkata that weaves meat and puts that on skewers and creates astonishingly good Sutali Kebab. I tried finding something similar in Hyderabad or Lucknow in vain until Alex of Lost with purpose showed similarly styled kebab being made in Pakistan in one of her Insta Stories.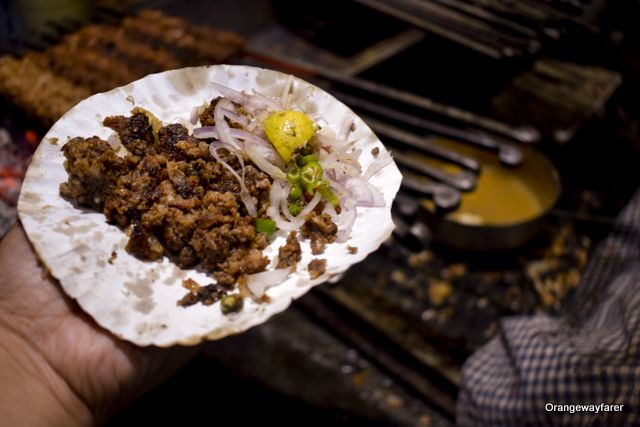 It is a blink and you miss the shop. I made a quick stop seeing the quirky way of making kebab, ate it and then realised that was the legendary Adam's Kebab.
If I could made Anthony Baudouin taste one thing from Kolkata, It would be The Sutali Kebab of Adam's!
Adam's only sell Boti Kebab and Sutali kebab for half a dollar a plate. The shop is open from 4 pm. Food gets over by 7/8 pm.
Best known for Boti kebab, Sutali kebab (all beef)
Pocket pinch: INR 100 for 2 people
Al Baik
Whether the Saudi Chain has anything to do with Al Baik is a question to ponder on while you chew on their crunchy layer of Parathas. Al Baik is a new addition to the Kolutola shops and has taken a lot after Dilli 6, with Afghan Chicken and bread prominently featuring on the menu at a very economical range.
Hajji Allauddin Sweets
It is not every day you spot a sweet shop which stands out as a worthy contender to the desert race with Kolkata Rosogolla. However, Hajji Allauddin does that with elan.

Imagine this, balls of Mawa deep fried in pure desi ghee. Or milk solid residue being rounded off as a Malai Laddu. Or the Halwa with carrots coming to you with ghee drippings at the corner of the plate. Okay, this is getting torturous, I should stop.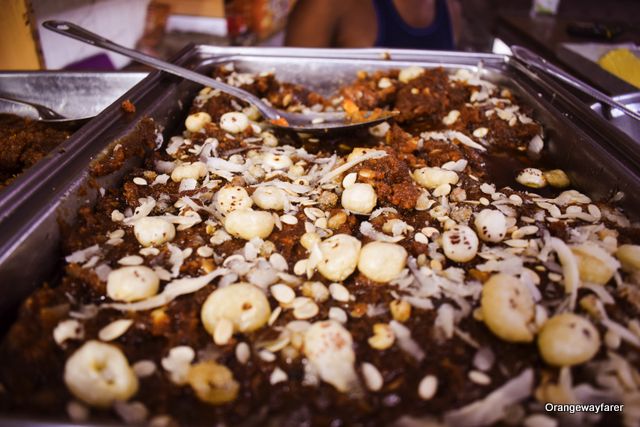 Battisa Halwa, 32 ingredients coming together to explore every taste bud and those crunch on the dry fruits topping is another pleasure find.
Haji Allaudin shop also sales a bread called Khajla, a fried variety which is crumbled and eaten with hot milk usually during sehri.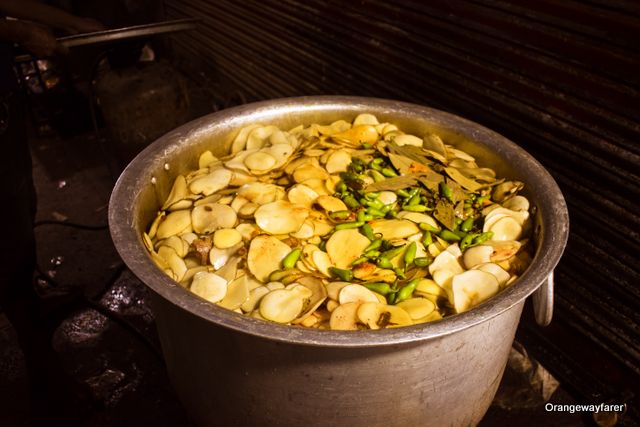 Besides being the best Moghlai sweet shop in the locality, Hajji Allauddin also serves Puri Bhaji for morning breakfast, and beef/mutton samosa for evening snacks.
Pocket pinch: INR 250 for 2
Best picks: Malai Laddu, 32 Halwa (Battish Ka halwa), Gulab Jamun, Gajar Ka Halwa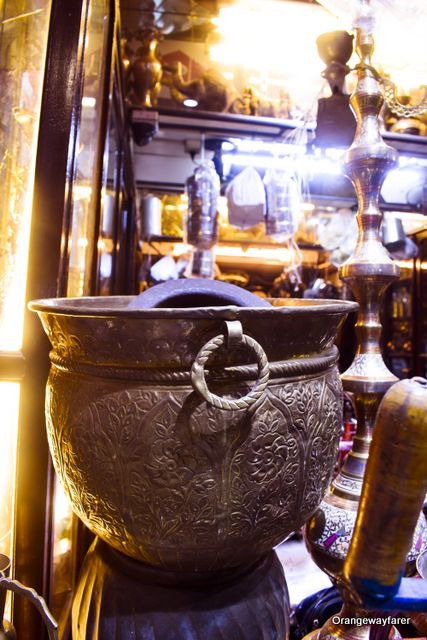 Besides these heavyweights, I have a few more suggestions to be added to your bucket list!
Haleem at Zakaria Street, Kolkata
Iftar spread is synonymous to Haleem in India. Though I am more of a fan of this lentil, wheat and meat preparation that found a thriving presence in the Nizam's kitchen down at Hyderabad, I liked the heaviness of Kolkata haleem as well.
A descendant of Arabic Hareesah, a Yemeni dish with meat, wheat, cinnamon and ghee as the major constituents, Haleem is an improvised version. One of the dishes which I highly recommend to bring home from Zakaria street.
10th-century Baghdad scribe Abu Muhammad al-Muzaffar ibn Sayyar penned down a recipe for Hareesah in the Kitab al-Tabikh (The Book of Recipes).
Also read, The iconic places to eat in Hyderabad during Ramadan!
Following are a list of go-to Haleem shops near Zakaria Street!
Irani Reshadar Haleem at Bihari Food Corner (located at the next street to Central /Chittaranjan Avenue)
Sufia sells 3 variants of Haleem, namely beef, chicken, mutton and Magaz (the brain, yes!)
Arbi Haleem sold at Aminia
Islamia
Bashir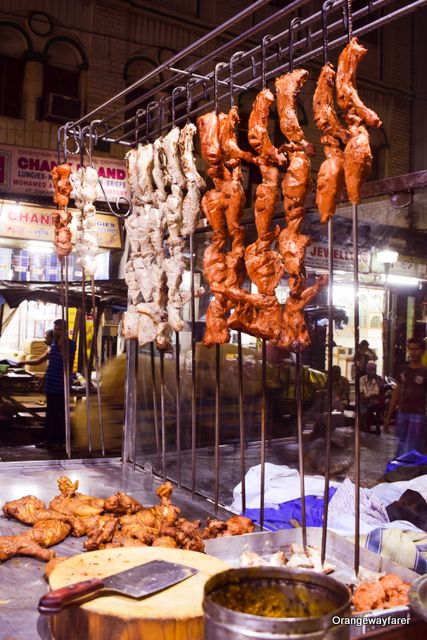 Kebabs: Zakaria Street is the best street in Kolkata that sells a wide variety of Kebab!
While Lucknow or Delhi hold prowess of the meat in the skewer, Kolkata's Zakaria street showcases exceptional deeds at using redundant parts of the carcass and turning them into mouth-watering kebabs, befitting a curious foodie. Kebabs at Zakaria street come directly from the kitchen of Awadh. With time, Bengali influence has caved in.
Also read, Karims Delhi, An ode to the Mughal Kitchen!
The Khiri kebab, made of cow udder is a major draw towards Hajji Abdul Hamid Chacha's shop. He sells a piece of bread separately. You can combine that to go with the kebab, with a side of cucumber-onion salad. Life is good.
Also try Gurda, Kaleji, Dahi Boti, Malai Kebab, Kakori from Dilshad Bhai!
Rooh Afza
… or the Refresher of the soul. The Indian equivalent of strawberry milk finds an easy appreciation in the hot summer month. The red Shorbot mixed in cold water and ice cube may be alluring, but stop there and think of the source of the water before you drink. I will leave it there…
Shahi Tukra
The best Shahi Tukra, bread soaked in condensed milk and heaped with dry fruits can be found at Royal Indian Hotel and Taskeen's
The Awadhi Biryani
Aminia (the original shop) prepares especially during Ramzan is distinctive in appearance. The plate contains meatballs, meat chunk and an egg beside fragrant basmati rice.
Bombay Hotel, also referred to as Bombaiya serves one of the best plate of beef chaap in the city of Kolkata.
Muradabadi Laziz Kebab Stall for chicken fries and a wide variety of fish, including fish head fry.
Malai Ice cream (a remnant of Malai mar ke you get in Lucknow!)
Stock up: Bring home
Zakaria street also sells a handful of homemade food products which I highly recommend to bring home. They stay fresh for a while and can be savoured later. You will find them at the stalls mishmashing Zakaria Street road.
Laccha Sewai, also known as pheni
Bakharkahni: a type of bread tastes amazing with milk
Naankhatai Biscuit (Biskoot as the locals call it)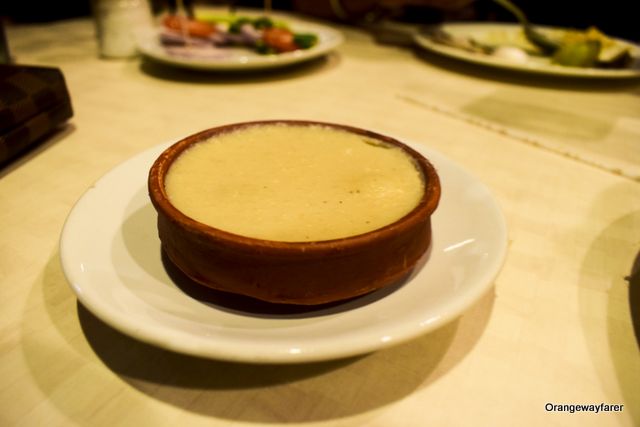 The Map of Zakaria Street, Kolkata where you can find good food during Ramzan!
Where else Ramzan Special Street Food is Available in Kolkata?
While Zakaria Street steals the limelight for Iftar party in Kolkata, you can taste different types of Iftar preparation at many other places, especially if there is a prominent mosque at near vicinity. Khidirpur, Beckbagan, Taltala, New Market are few areas where you can easily scour through a good plate of kebab variants and aromatic Kolkata Biryani with Aloo.
Things to Remember before you head out to Zakaria Street
Bring your recyclable water bottle.
Carry your belongings with care, especially phone and purse since it gets extremely crowded.
During Ramzan, the stalls gather pace post-Fazr Azan. Plan your time accordingly.
Don't even think of getting your car there
Dress Modestly
If you are a solo woman, you are more than welcome. The place is safe to visit.
If it rains, you may want to stall your visit. On the hindsight, the roads will probably be empty meaning you won't have to jostle with a million and half other hungry souls.
None of them accept cards except places like Royal Hotel (expensive compared to other Zakaria Street food place). Bring enough change.
Let's stay connected on Facebook, Instagram, Twitter!
This post may contain affiliate links. Please read the disclosure post. If you have liked the article, you may support it by buying using these links without any extra cost to you.