In this blog, I write about the best places to travel in West Bengal. Travelers have explored these tourist attractions in Bengal since millennia. They loved the mountains of the north of Bengal, the beaches beyond Digha, the overwhelming cultural presence in the city of Kolkata, the remnants of history that is presence in the melting pot of Bengal. The Mughals, The zamindars, the British and the first renaissance in India. Bengal paved way for a new dawn in the subcontinent. Read on and decide on your next weekend destination in West Bengal, away from the maddening crowd!
I think I have written about Bengali's fascination about DiPuDa trail as the ideal places to places in West Bengal. Dipuda is not Dipu dada though but it could well be! Legends have it Bengalis travel extensively to DiPuDa and DiPuDa only. Digha for beach breeze, Puri for pilgrimage (or is it the Khaja?) and Darjeeling, the Himalayan queen! Among these places to visit in West Bengal, Puri is in Orissa. I stand corrected!
But West Bengal itself is a world full of beautiful possibilities and countless tourist attractions. The state is quivering with a jeweled chest of valuable lessons in history. The battle of Plassey took place here that arguably shaped the most important chapter of Indian history, bringing the British East India Company to this part of the world! The British Indian capital of Calcutta, equipped with modern institutions imparting scientific education rising over caste and gender identity paved way for the Indian renaissance. Calcutta is where the bill passed that restricted Satidaha, burning of Hindu widows, a barbaric medieval ritual among the upper caste men. Bengal is where the sapling of modern India was reared with care until the turbulent days of Partition arrived that mass mobilized millions across the subcontinent causing a generational trauma and suffering. Memories of partition remains etched forever in the history of the land and continues to influence politics till date in West Bengal.
I do not believe travel can be apolitical. A man is loyal to his politics. In travel, a joyful and spontaneous activity, his political leaning will be manifested without an iota of doubt! Tourist attractions in West Bengal will feed you to heart's content if political history of Indian subcontinent fascinates you!
Traveling in West Bengal is in many ways similar to reading various chapters of history. Her nuanced culture manifests through various subtle traits in food habits, cultural celebrations, rituals, olden verses and idioms. Today, in West Bengal, you can find an astounding display of cultural amalgamation in the tourist places. The very English breakfast of Flury's is celebrated with much fanfare similar to the homely plate of Luchi Begun Bhaja and sumptuous Nihari of Zakaria street that runs short in supply even before sunrise during iftari!
In this blog post, I will try to paint a pretty picture of tourist attractions in West Bengal, with the highlights, the lesser known offbeat destinations as well as the grandeur of celebrations! I repeat, a pretty picture of Bengal since the focal point of the state is often captured by the city supreme, Kolkata! Not that I can complain much, but lest we forget it is the iconic rural beauty of Bengal that inspired poets to create timeless literary genius since millennia!
West Bengal is an ideal tourist destination for solo female travelers, slow travelers, family and cultural travels, leisure travels and those keen on shopping and living a city life. There are plenty of places to visit in West Bengal.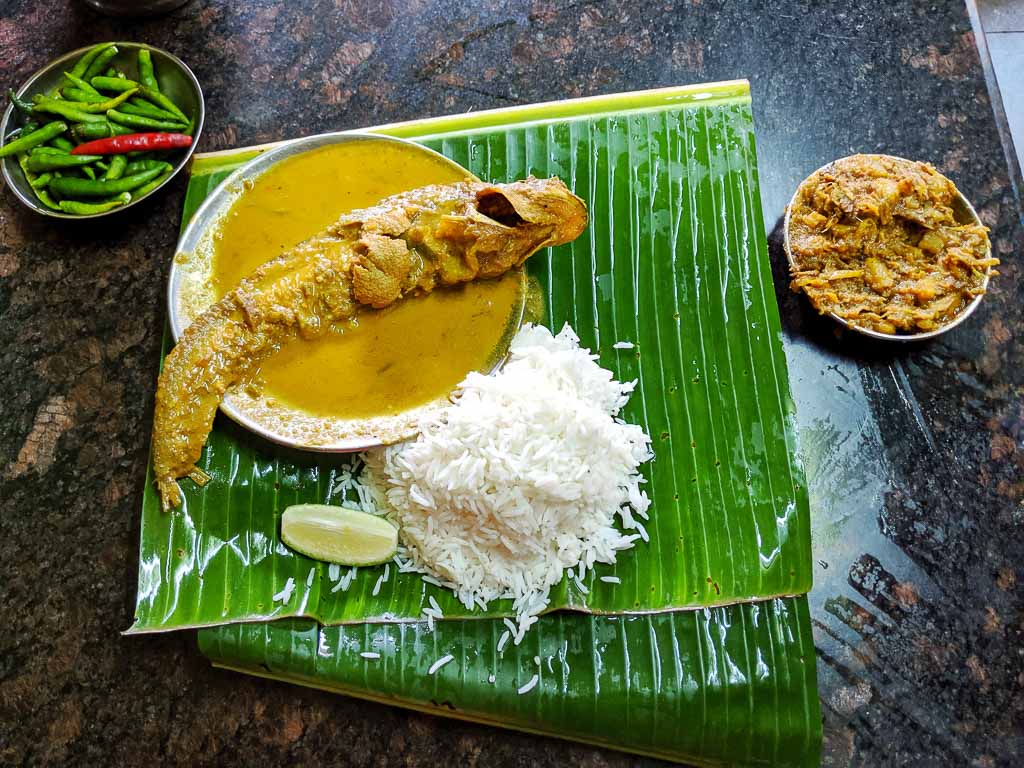 Kolkata… Calcutta… City of Love!
Kolkata is a city of languish, now. But history had been kinder to Kolkata in yester years. The city, originally three rural settlements of seventeenth century Bengal, served as the capital of British Raj until the turbulent days of Bengal partition. Your travel in West Bengal would ideally start with Kolkata. Howrah Station, to be more specific.
Traveling to West Bengal requires you to spend at least a few days in Kolkata, even better if you are there during the eclectic celebrational times, the famed Durgapuja! If time is not a luxury, assign Kolkata at least a week of travel time. The cultural capital of India deserves all of it, and more!
The north of the city retains old charms, in Gothic structures of the old crumbling palatial houses, also known as Bonedi Bari of the Babus employed directly under British payroll. The old narrow lanes of Burrahbazar area, the refined Uttor Kolkata ness of Shyambazar residents, the sombre tram rides and the stunning college street area appeals to one and all. In Kolkata, your morning routine should have a visit to the markets, ideally a fish market to witness cacophony first hand, followed by a sip from a warm cup of tea served on an earthen pot.
The Chowrangee area, also known to be the Dharmotola or Central Kolkata is where the Britishers had established their offices and courtroom. The Maidan, also known as Garer Math, has witnessed revolution and love. Visiting Park street and the pubs of the area remains exclusive to the more privileged urban class of the city. And I can bet my life on the fact, experiencing pub culture in Park street is not comparable to anywhere else in the country. And yes, I live in Bangalore.
Pubs are the forte of this city! Check out the old school fire dining restaurants like Mocambo or Peter Cat decked with handpicked tablecloth linens and fresh flowers as centerpiece that serve classical French full course, starting from Chicken Ala Kiev to Lobster Thermidor!
The south of Kolkata, where pretty picturesque places like Gariahat and Ballygunge are, is posh and more expensive to hung around. The bazars are inundated with stylish picks that are hard to ignore. The saree shops are plenty and all of them have exclusive collection! Dare I say Saree Shops of Kolkata feature on the higher side of the list of tourist destinations in West Bengal!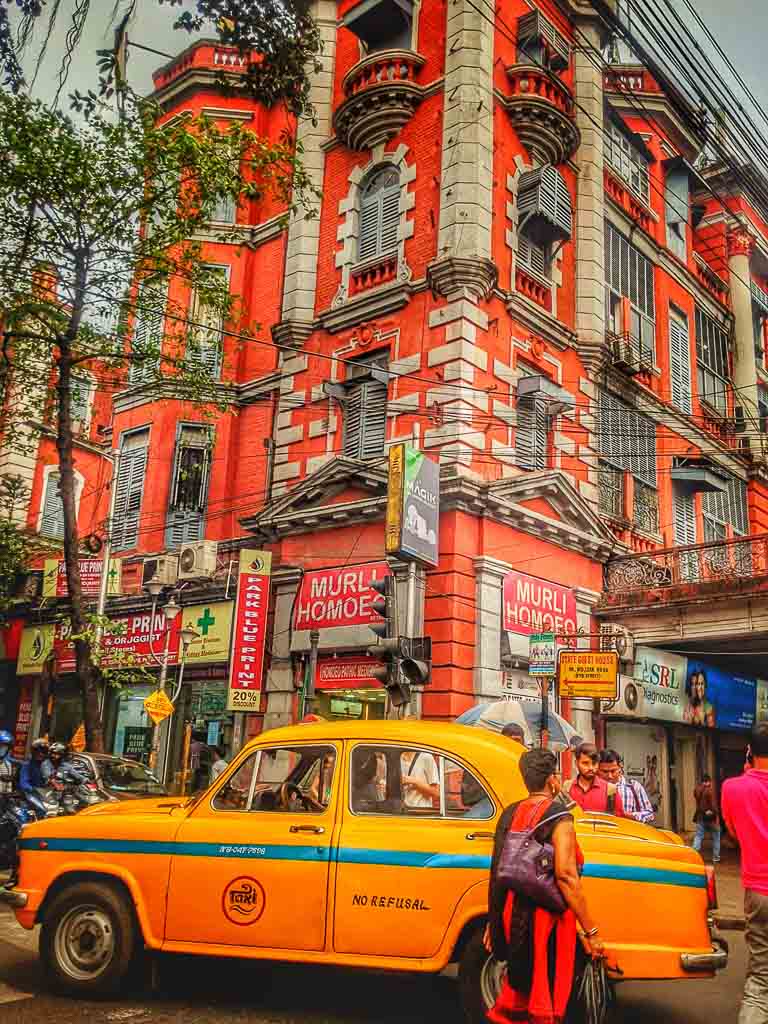 The river Ganga flows by her side, making beautiful promenade and intriguing history at the ghats. Unless I mention about the exorbitant Durgapuja pandals of the city, any mention related to Kolkata remains understated. The city of joy boasts of an unprecedented celebration which was nominated to be the UNESCO World Heritage but sadly did not make it to the final selection. However, I feel every living person on the Earth deserve to experience this beautiful overflowing 5 days of joy and mirth.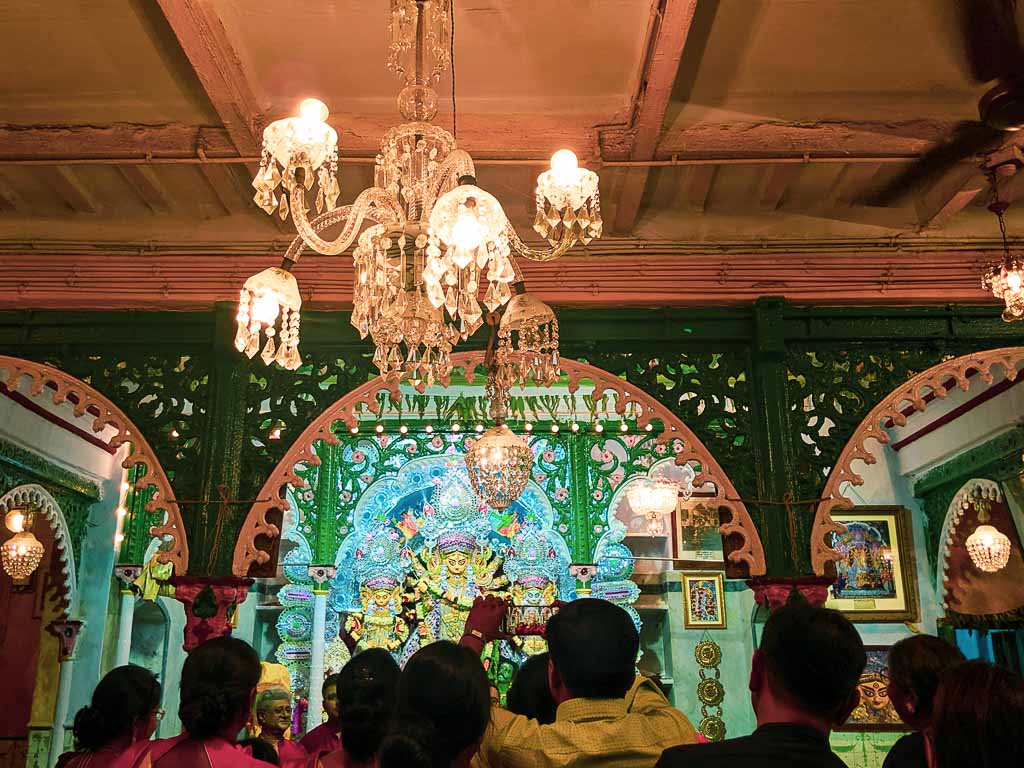 Reaching Kolkata is easy. Being the nodal point of business of the East and Northeast of India and an important juncture of Indian politics, Kolkata has always been well connected with the rest of the country, as well as the world. Reach the Dumdum airport named after Netaji Subhas Chandra Bose and run through the sleek road of VIP avenue. Or, reach Kolkata by an express train to Howrah station, from where Burrahbazar is just the distance of a cantilever bridge. You can also reach Sealdah station, a rail station swarmed with millions of footfall each day!
Kolkata is famed to be an extremely affordable metropolis. While you can splurge at certain pockets of the city that produces one of the largest numbers of billionaires, you may also experience Kolkata at a shoestring budget. From INR 300 (USD 4) to INR 2000 (USD 30) per day, you can have a plethora of experiences in Kolkata.
Darjeeling… the Queen of Hills!
After Kolkata, you need top head north of the state, to the Himalayan abode named Darjeeling. The world knows Darjeeling for the aromatic first flush but for us, Darjeeling is the queen of Hills, our first refuge from the mundane world. You can visit he mountains and bury your gloom and sorrow and come back to the plain land as a new man!
Darjeeling served as the summer capital for the Britishers for those who wanted to escape the punishing humid summer of Bengal. The foothill of Himalayas here are adorned with rolling tea gardens and beautiful jungles. The town of Darjeeling is inhabited by the Nepalese, Gorkhas, Tibetans and houses plenty of churches, convent schools and quaint little cafes.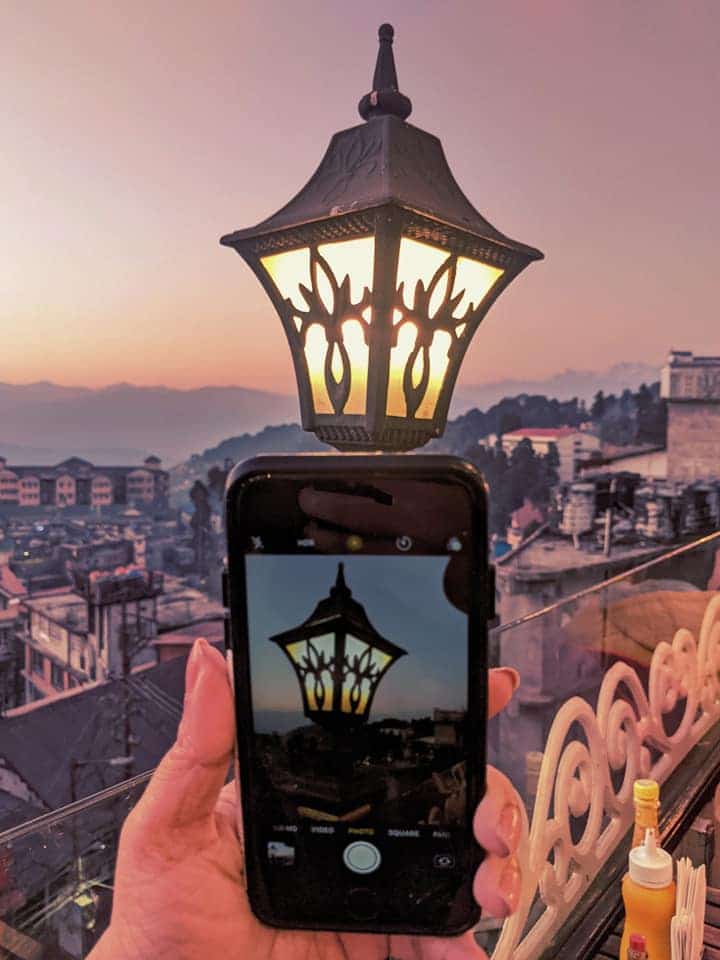 You can spend a quick weekend in Darjeeling. You may also extend your stay a bit and spend a week in Darjeeling. Choose one of the heritage bungalows built as summer escape by the erstwhile Maharajas or beautiful homestays hued in myriad mountain bloom, watch the azure sky kiss the entire range of Sleeping Buddha. At night, go seek the ghosts of Darjeeling, the lost Britishers whose soul could not depart from this mountain station!
Darjeeling is beautiful despite being loved to death by over tourism. Thankfully, a series of new destinations are making their way to the tourist map, thanks to social media. Most of these destinations resemble a utopic land. Days are made of snow capped mountain at a distance, a thin mountain stream which becomes voluptuous at the advent of monsoon, a quaint little hut and a meal of fiery hot country chicken. Ahaldara, Lataguri, Jhalong, Tumling, Dhotrey are some of these beautiful offbeat places in North Bengal which can be easily clubbed with a visit to Darjeeling. I recommend Sandakfu, especially.
Of course, tourists can opt for the 7 points or 9 points day trip surrounding in Darjeeling on a daily basis. When in Darjeeling, two things you must not miss, gorging on steamed momo and sipping on the first flush. You can skip the early morning visit to Tiger hill and thank me later!
Also read: 20+ beautiful pictures from Winter Sikkim to inspire your next travel!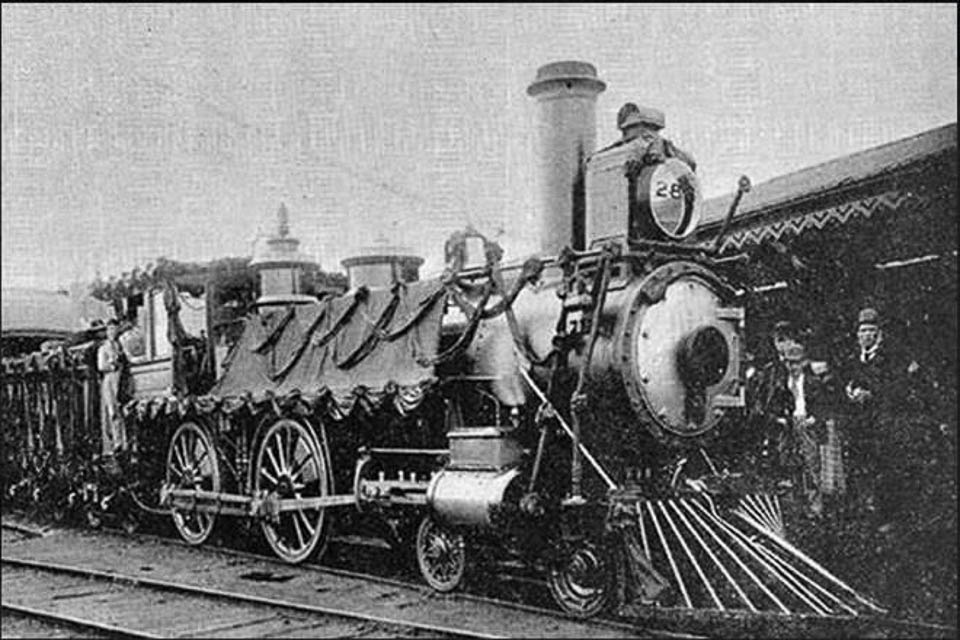 To reach anywhere in North Bengal, head straight to the Bagdogra airport. It is a tiny airport which serves sumptuous fish fry and a local beer named Denzongpa. Bagdogra airport is also an army airport. Otherwise, take the night train from Kolkata and reach New Jalpaiguri (NJP station) at the start of the day and take the 4 hour drive uphill to reach Darjeeling. This is also the way to reach Sikkim in case you are traveling by train!
Due to overwhelming tourist footfall, Darjeeling can be particularly costly during tourist seasons. Consider a budget of INR 3000 (USD 30) for a comfortable stay in Darjeeling. If you can manage to visit with a group of friends, this price will come down considerably. The queen of hill now has a hostel for backpackers as well. For the luxury travelers, I recommend a stay at the Elgin, one of the most beautiful hotels in Darjeeling!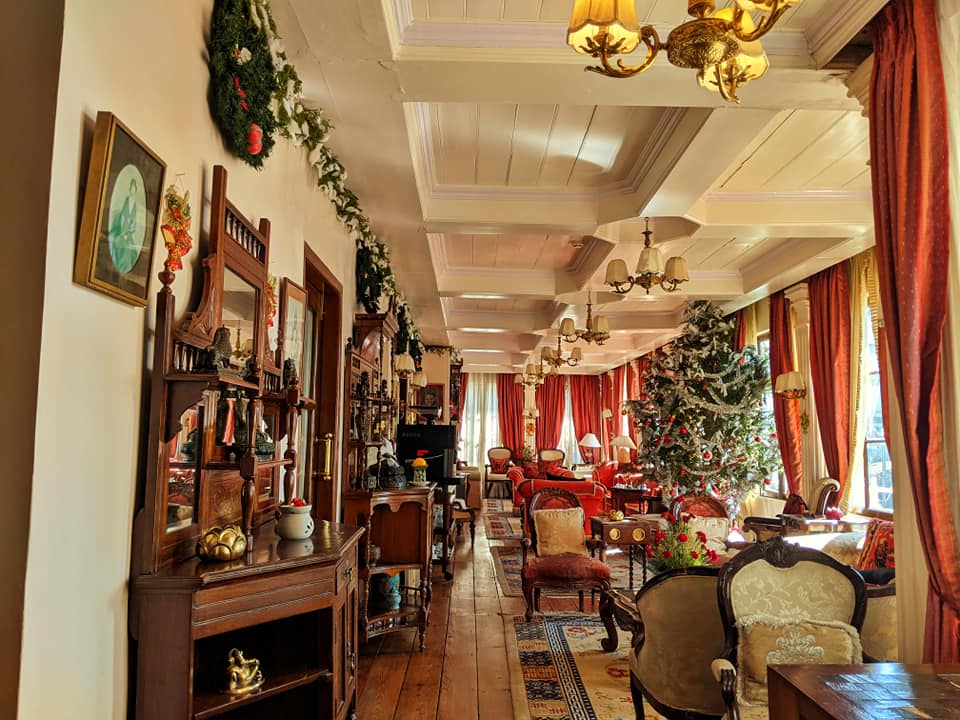 Also read: A week in Shillong, the beautiful old town of North east India!
Kalimpong: A Sleepy Tourist Destination in North Bengal
Surrounded by rolling tea gardens at every direction, Kalimpong is one of the most pristine hill station of West Bengal. Kalimpong boasts of a number of tea estates first set up by the Britishers, convent schools, churches, colonial buildings, meadows from where paragliders take a flight towards the sky. For the hiking enthusiasts, there is an inevitable charm of winning over the Deolo hills.
While Kalimpong is comparatively more serene than Darjeeling, it is here or in Kurseong you can truly escape the urban madness yet indulge in the usual privileges. A budget of USD 40 each day (INR 3000) is enough to travel in Kalimpong, which also happens to be one of the most solo female travel friendly destinations in India.
Sonada, lesser known mountains of North Bengal!
Sonada comes on the way back from Darjeeling to New Jalpaiguri. It is a Himalayan hamlet covered with dense towering deodars where mist is omnipresent. The tiny serpentine track of toy train runs by the side. Your eyes will run as far as the mountains roll with tea gardens. At a distance, Kanchenjunga dazzles. The jungle derives her sheen from the insurmountainable morning mist. Sonada is a rural settlement, devoid of tourist vanities yet stunningly beautiful. To taste the true feel of an obscure mountain life, head to Sonada, and spend considerable time in the jungle if you are not staying in at the homestay for the better part of the day!
Also read: 5 days traveling in Leh and exploring the offbeat day trips from Leh!
Cooch Behar: Abode of the Erstwhile King
Set at the Himalayan foothill, Cooch Behar is a prominent town in North Bengal. From Siliguri, plenty of buses run each day that will take you to Cooch Behar. While in the town, be sure to check out the Victor Jubilee Palace, also known as the Cooch Behar Palace. Often compared to the Buckingham Palace in London, the Cooch Behar palace was built by the Maharaja Nripendra Narayan, an erstwhile Maharaha of the Koch Kingdom. Maharani Gayatri Devi, quintessentially the epitome of grace and beauty from India, belonged to the Koch dynasty.
For the nature enthusiasts, cooch Behar is located close to Rasik Bill, a wet land where plenty of migratory birds reside. Cooch Behar is a very Bengali town, located by the banks of Teesta river, which takes a muddy form as every river does while nearing densely populated locales.
Dooars… The Forests of the Himalayan Foothills!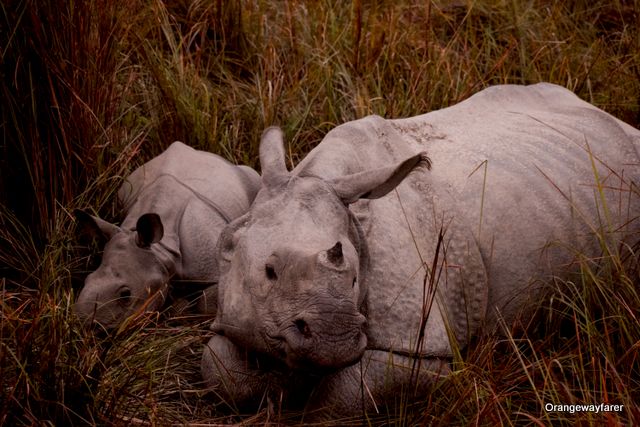 The foothills of Himalaya is usually rich in diverse flora and fauna. North Bengal is no different. Once you reach the rain station at Alipurduar, you will be spoilt for choices while choosing a place jungle safari.
Dooars region spans across a vast landmass between Teesta in West Bengal and Dhansiri in Assam. Historically, this has served as a gateway between India and Bhutan with 18 passes. Interestingly, Manas National Park in Assam is also a part of this landmass.
Indian Railway runs straight through the heart of the jungle connecting various tea gardens for obvious business interests. There have been multiple gruesome reports highlighting collision of locomotive engines with elephant herds.
The jungle of Dooars are called home by a number of precious endangered species of the world: Bengal Tiger, Asiatic elephants, Indian rhinoceros, deers like chital, sambar, elusive clouded leopard, Black bear, Indian leopard, the great Indian hornbill, newts and monitor lizard, Indian Python, very rare hare species (Hispid), Himalayan tahr etc. The rivers are home to crocodiles and gharial. Birding enthusiasts can expect to find a glimpse of the rare avian species like Eurasian spoonbill, brahminy duck, storks, such as painted stork, Indian cormorant, red-naped ibis, kingfisher etc.
The forests of Dooars jungle are well equipped with forest bungalows, cottages, and safari cars. For a fortunate visitor, there is plethora of surprise in the deep of the jungle.
Continuous encroachment of forest land due to widening tea estates had been a real threat to the wildlife of the region. However, once these jungles have been covered under the umbrella of national reserve forest, tourism has experienced a steady growth and poachers have been shunned away by the local protectors.
Gorumara Forest and Lataguri forests are nearby and can be covered in one trip. You need at least couple of days here.
Visit Jaldapara and Buxa Tiger Reserve together. Buxa tiger reserve is also known as Chilapata jungle.
While a stay and food at Dooars will not cost you more than USD 40 (INR 3000) each day, the jungle safari should be anywhere between INR 200 to INR 4000 depending on the choice of vehicle (or elephant ride, which I do not recommend).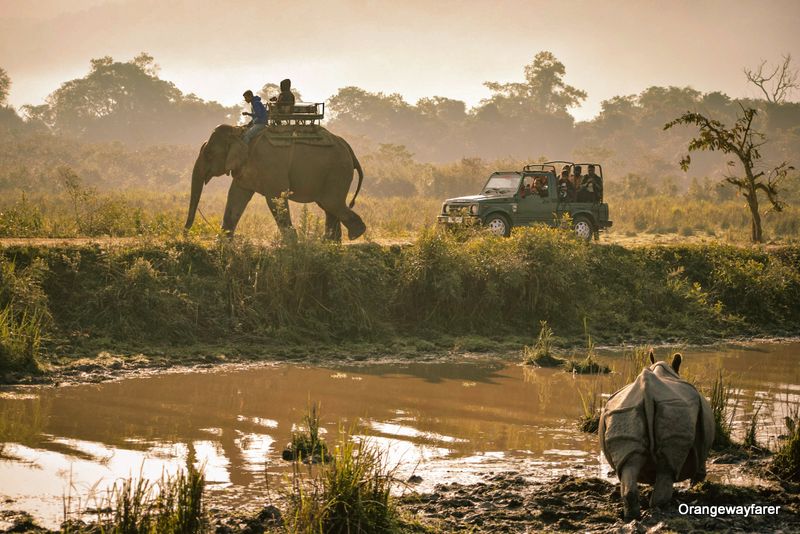 Also read: How to plan a trip to Kaziranga national Park, a UNESCO World Heritage Site!
Shantiniketan, Abode of the Bard! The most Cultural Place to Visit in West Bengal!
Acres of land was bought by a visionary of Bengal years ago. Rabindranath's passion project, Shanti Niketan gained popularity as the address of Biswa Bharati University, a premier institution imparting independent education dating back to colonial era. In the age when every middle class aspired for a government job, Biswa Bharati was an exception. Soon, it attracted the brightest of minds from around the globe, who had the sheer privilege of studying right under the able guidance of none other than Rabindranath Thakur.
The famous poet of Bengal, Jamini Roy, practiced his art here. Other notable alumni included Indira Gandhi, Syed Mujtaba Ali, Satyajit Ray, Amartya Sen, Ramkinkar Baij, Mahasweta Devi etc.
Shantiniketan today is more famous for the vivid celebration of Dol, Basanto Utsab. What is known as Holi in north India, is celebrated as the advent of spring in Bengal. It is the same in the spirit but Biswa Bharati stresses on a cultural program as a prelude to the colour catastrophe.
If you want to experience Holi in India but are afraid of venturing into the heartland of Uttar pradesh due to safety concerns, head towards Bolpur shantiniketan instead. It retains the regional charm and how!
Shantiniketan is also famous for Sonajhuri Haat, a weekend bazaar where tribals come and sell a plethora of beautiful art and woven products along with stunning Dhokra jewelry (sustaining since the days of Indus valley civilization. Roughly 4000 years).
The arid land known as Khoyai by the river bank is another beautiful somber attraction of Shantiniketan. Many Bengali movies are shot here as the protagonists prance around towering shawls and teak trees in order to romance on screen!
It takes less than 3 hours to reach Shantiniketan from Kolkata by the morning train from Sealdah. Hotels start from 1000 rs per night. Do indulge in a sumptuous Bengali lunch when traveling to Shantiniketan. Shantiniketan is one tourist attraction in west bengal that has the right amount of culture, nature and gourmet cuisine. Moreover, it is a budget friendly tourist destination of West Bengal!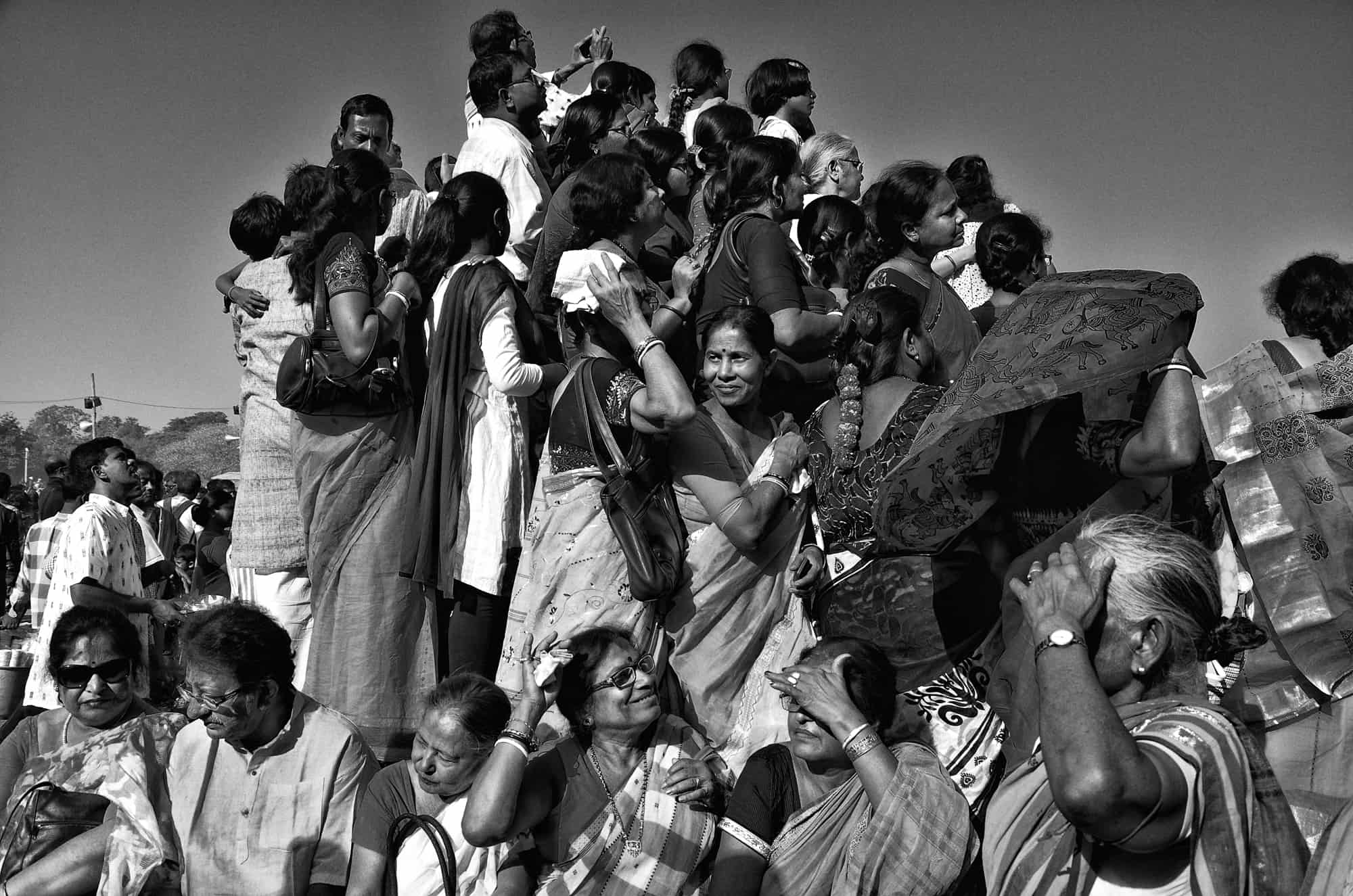 Also read: The best places to visit in Karnataka!
Chupir Chor, Purbasthali for the Birding Enthusiasts Traveling in West Bengal
Chupir Chor is a rather offbeat destination in Bengal. Famous for birding, Chupir Chor is a riverine marshland in Bardhaman that is home to a number of avian species, many of them being migratory birds who visit only during the misty winter mornings. This is indeed a birder's paradise, a lot like Dandeli in North Karnataka. To reach Chupir Chor, get onto a Katoa Local, get down at Purbasthali station.
The waterbody is also known as Khari Ganga to the locals. It is an almost stagnant water body, with hyacinth and dense foliage crowding the river bed. Rent a boat during sunrise or sundown and trace the birds at Chupir Chor. Avoid monsoon since visibility is limited during that time. Mayapur temple of Nabadwip is located very close to Chupir Chor as well.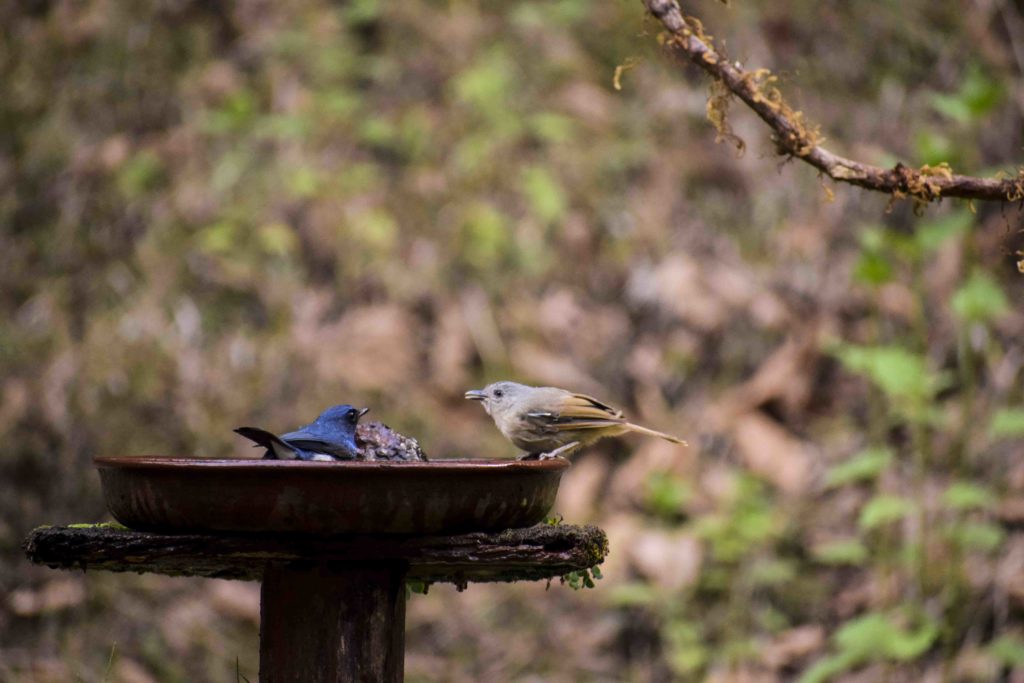 Mayapur, Nabadwip
A major pilgrimage stop for the Vaishnavite sect of Hinduism, Mayapur nabadwip is the birth place of mahaprabhu Chaitanya deb. With Mayapur, I find an uncanny similarity of Varanasi. The town chants sacred hymns at every corner, even in silence.
By train or bus, Krishnanagar or mayapur is only 4 hours away. Though it was a prominent stop for the pilgrims traversing all the way from as far as Manipur of North east India.
The Mayapur ISKCON temple is a beautiful religious institute where people from all over the world come and live and they have facilities to host guests as well. I vividly remember the tune to which they perform hare krishna dance every evening during prayer. My heart was filled with joy by seeing that unhindered show of mirth and joy.
The old town of Nabadwip is dotted with plenty of temples dedicated to Chaityadeb. This is where Geetgobindo was penned down by the eminent poet Jaydev in another era!
Please wear modest cloth and be informed the town does not serve non vegetarian food.
108 Shiv Mandir of Kalna: Religious Travel Destinations in West Bengal
The 108 terracotta Shiv temples of Kalna is a quintessential example of expert craftsmanship and beautifully planned architecture. Located at Ambika Kalna of East Burdwan, the 10 Shiv mandir belonged to the erstwhile kingdom of Tamralipta. Built two centuries ago, the 108 temples consist of two circles with 74 and 34 temples in each stretch. It provides a beautiful photography opportunity. While visiting this destination also check out nearby attractions: Lalji Mandir, Krishna Chnadra Mandir, Projapori Bari, Gopalbari mandir etc.
While visiting Kalna, you can plan a trip to Phulia as well, famed for producing the best of Bengal Tant cotton sarees of the state.

Hangseshwari Temple, Bengal's Real Hogwarts!
At the town named Bansberia of Hooghly, the Bengal's Hogwarts, Hangseshwari Ratna temple stands in all her glory. In of the offbeat tourist destinations in West Bengal, Hangseshwari Ratna Temple has come to limelight with many travel groups present in social media! The presiding deity of the old temple is Kali, the eternal mother figure of Bengal and her hinterlands. In the late eighteenth century, the stepping stone to Hangseshwari temple was laid by Raja Nrisinhadeb Roy Mahasay and later finished by his widowed wife.
The temple has 13 distinct minars, resembling lotus petals. Five stories of the temple resemble five parts of human mechanism, as illustrated in Tantric rituals. The temple can be accessed by a quick train ride on the bandel line from Howrah station. This is a perfect day trip from Kolkata.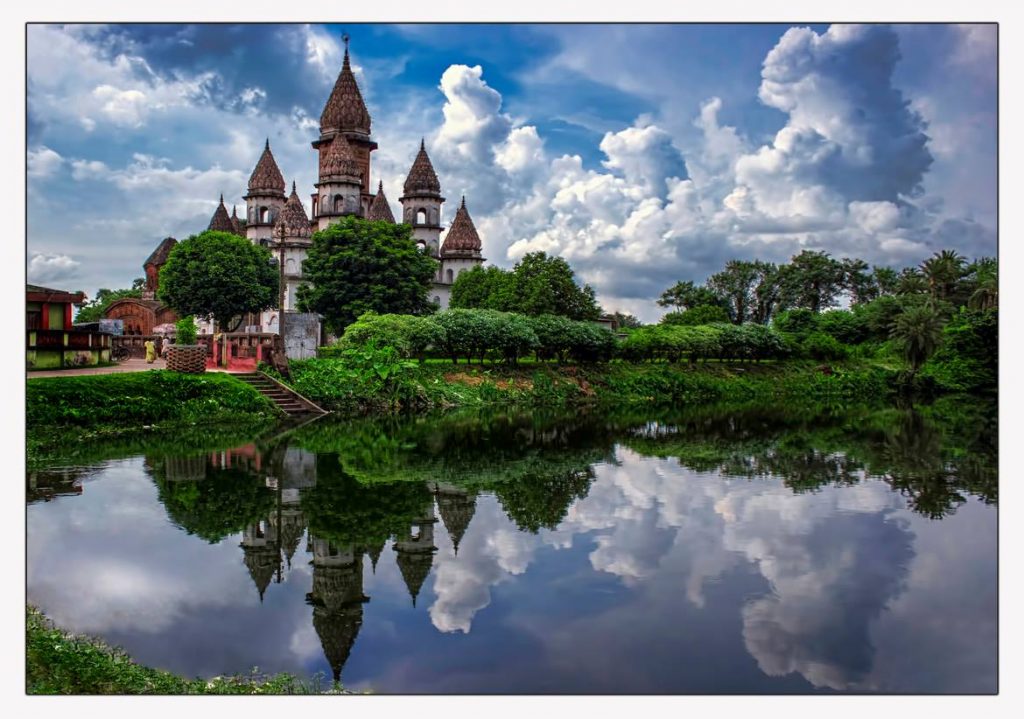 Bandel Church, a stronghold of Portuguese Days
One of the oldest Portuguese churches of Bengal, the bandel church, also known as Basilica of the Holy Rosary is little more than 400 years old. It is one of the historic places to visit in West Bengal. Bandel, the port town was frequented by the Portuguese who obtained permission to establish a church by the emperor Akbar. It shares some semblance with the church architecture of old Goa. The entrance of the church is adorned by a ship's mast in memory of a vessel that survived a dangerous storm on the sea!
I have had a chance to taste the distinct Bandel cheese as well, which was inspired by the missionaries of Portugal. You get that in the New market at a stall opposite the Nahoums.
While visiting the Bandel church, you may also make a quick detour to the Hoogly Imambara. Bandel is easily accessible from Kolkata by trains and you may finish this trip in a day.
Gadiara, the Obscure village on the confluence of major rivers
Gadiara is a small village some 100 km away from Kolkata. I visited Gadiara with my school teachers as a part of an excursion. Gadiara is where rupnarayan river meets with Hoogly river. The confluence is highlighted by an olden lighthouse and a typical rural set up, mostly safeguarded from the urban vanity. Book a stay with the Gadiara tourist lodge if you are planning to stay for a night. You can also make a day trip and head back home in the last bus to the city. Gadiara stages some of the most beautiful sunsets! Gadiara is one of the most serene places to visit in West Bengal with tranquil nature!
Taki, the border town: one of the most scenic places to visit in West Bengal
Standing by the banks of river Ichamati, Taki is a border town between India and Bangladesh. This could have been a serene peaceful rural bengal settlement but the fuming politics of present day subcontinent is progressingly making an impact in Taki.
Once upon a time, Taki the border town used to see the best of idol immersion of both the bengals during the end of Durgapuja. Boats of various shapes and sizes would crowd the river stream. Durga idols will come from various parts of the land to be immersed into the water. Taki made for a stunning photo op. However, that has ceased now because a porous border gives rise to various political debates. Who is crossing over… what is one's identity and many other uncomfortable questions arises.
Nonetheless, Taki remains a stunning destination. Various river streams cut through each other. Mangroves grow in abundance. Boats frequent the water.
Taki can be visited by state run bus and locals trains heading towards Hasnabad and Bongao. A few guest houses are there, one of them being government run.
Also read: the most beautiful Beaches in Goa for the first time visitor!
Gongoni, West Midnapur: Stunning Tourist attraction in West bengal
Often hailed as the Grand Canyon of India, Gongoni is a deep protruding gorge on Shilabati River that stands out in distinct deep rust hue in stark contrast to the azure sky!
You may access Gongoni by the morning train, Ruposhi bangla. Get down at Garbeta and hire a rickshaw van to reach Gongoni gorge. This place is particularly popular during winter afternoons and turns into a picnic spot, thanks to water level that hardly crosses ankle depth.
Gongoni is enormous and that is where her charm lies. Not a soul could suspect such vibrant arid land mass could be somewhere close to Bengal that is otherwise lush green and fertile in demeanor. Do check out a few of the ancient stone temples of Garbeta which was the dominion of old Bagdi kings. Mythology connects Gongoni with Bheem of Mahabharata who slayed Demon Bakasura.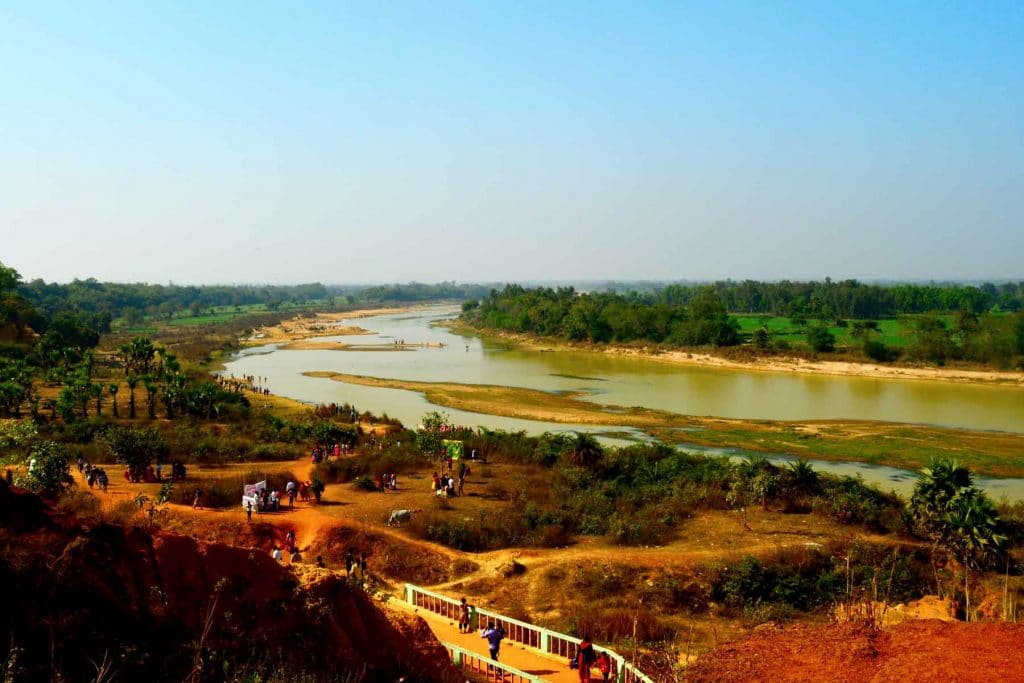 Also read: Complete guide to traveling to Hampi!
Purulia, The True Surprise of Rarh Bangla!
The charm of the red earth lingers in a visitor's mind when the soul is attached to Purulia! The infectious energy of Chow mask dance, an elaborate costume worn by the artist while performing to the storylines of Ramayana and Mahabharata, the bounty of Palash Blossom during spring, which makes the land looks like red woven on red, the intangible heritage of ancient art and craft: Purulia is the best kept secret of not just Bengal but the entire India!
Now hailed as one of the most beautiful tourist destinations of West Bengal, Purulia was the hotbed of Nakshal insurgency in Indian Red Corridor even a decade back. To trace back the history, go through the posters of the village walls.
Hop onto Purulia Express and spend the evening from on the train that departs from Howrah station on a regular basis and you shall reach Purulia. For a first time visitor, Purulia demands at least 5 days. If you fall in love, allow Purulia a significant time and unearth beauties which remained hidden at the nameless corners of the district. Here in Purulia, you get a chance to be the explorer in a true sense!
Purulia has some of the profound dam systems built on the course of Damodar river as a part of the archaic 5 year plans India took up as a sovereign country in the initial days. You may spend the nights at adjacent government tourist bungalows. Baranti hill, Jaychandi Pahar, Garpanchkot Dam, Khairabera dam, Bamni waterfall are some of the premium tourist attractions of Purulia!
If possible, watch a Jatra performance in the typical rural set up. That in my opinion will be one of the exclusive local performance experience for you!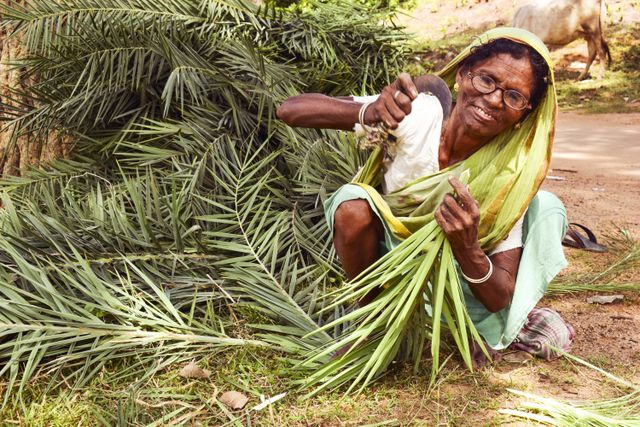 Temple Town of Bishnupur: The Quintessential best place to visit in West Bengal
My ancestral house is in Bankura. I spent the initial 5 years there and always remained connected to the land no matter how far I live. The red earth of Bankura has this magical pull to my soul. Now that I have a platform, I leave no stone unturned to amplify Bankura's (or the Rarh region of Bengal for that matter) art and culture and heritage.
If I am to highlight a single destination of bankura, this has to be Bishnupur, the temple town. History tells us Bishnupur was established by the Malla kings. History traces back to three centuries or more when all the ornate terracotta temples of Bishnupur were established. Red burnt bricks were made to use. The small aatchala temples invoke intense appreciation with prolonged walls filled with handwork that sustained the gnaw of time and retained glorious remnants of the king's patronage.
Radhashyam temple, Rasmancha, shyam rai temple, Gar darja, Dalmadal kaman, Chinnamasta temple are some of the tourist attractions of Bishnupur.
When in Bishnupur, do check out the intricate weaving process of Baluchari sarees. These sarees were initially woven at Murshidabad, where the artisans received direct patronage of the nawabs. Later, the empire fell and they moved and settled at Bishnupur and imbibed the heritage of Bishnupur temples of the border and anchal of the silk sarees. It takes anywhere between a week and a few months to weave beautiful Baluchari sarees, which was earlier used for Bengali wedding ceremonies. The weavers work hard and find little to no taker to pay the price for their toil, which is why many do not want their children to take up the profession. Revival project of Baluchari is undergoing an attempt though by the government.
A pure Baluchari silk saree will have stories of Ramayana or Mahabharata or trade routes (like they show on many temple panels of Bishnupur) woven on them. Bishnupur is indeed one of the stops for textile tourism in India!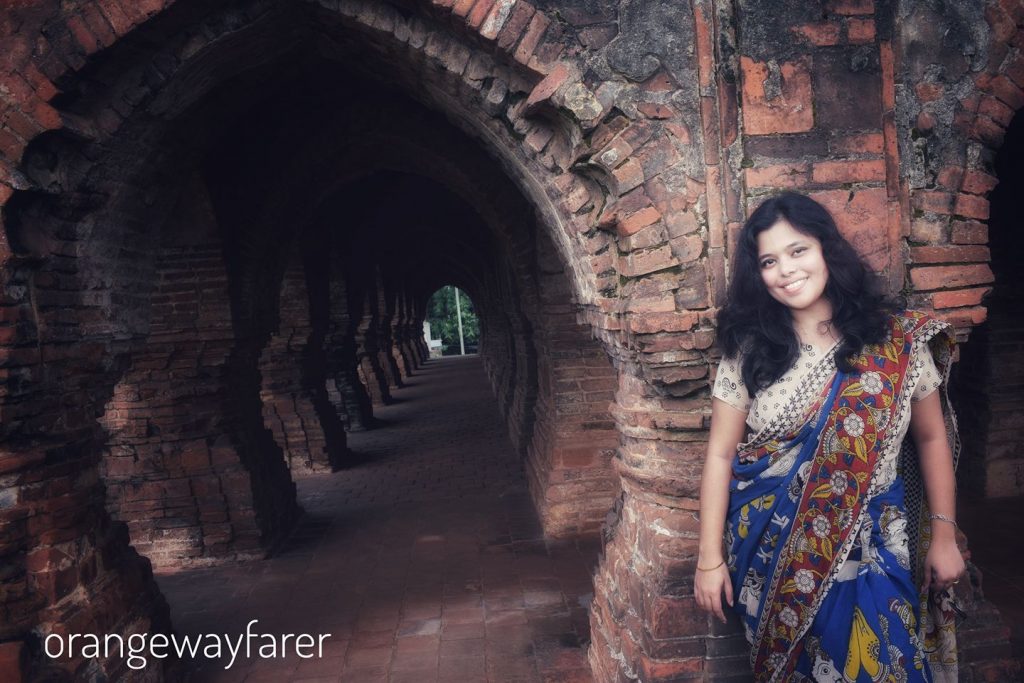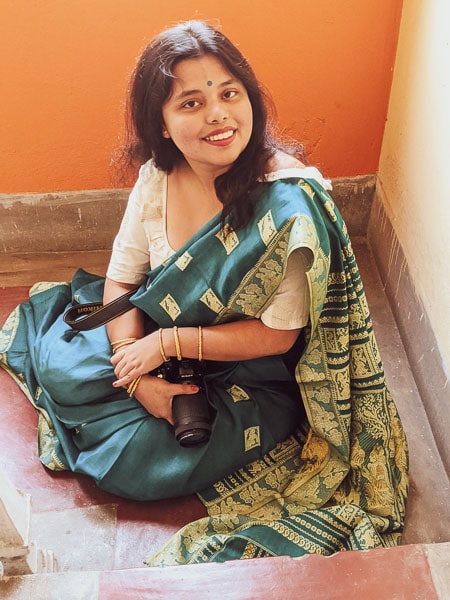 A beautiful Baluchari saree that my Pishi had gifted my mother and I wore during my brother's wedding. One of the most beautiful weaves of ancient India.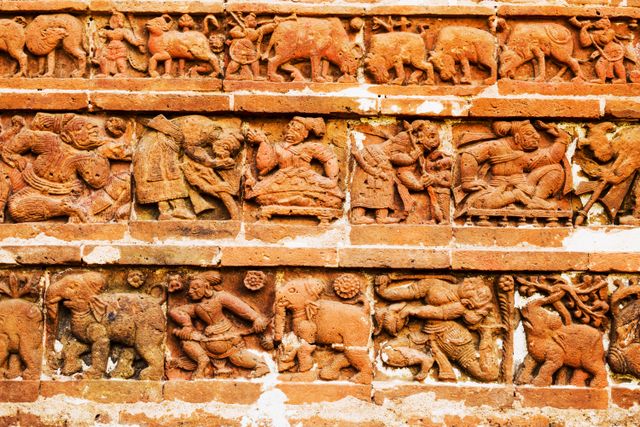 The temple motifs of Bishnupur which often appear on the border of Bishnupuri Baluchari sarees!
Jhargram: A Tourist Destination in West Bengal Tucked away in the Dense Forest!
If your heart longs for a quick escape to the dense canopy safeguarding the elephants of Dalma, head straight to Jhargram. Once a part of the notorious Red Corridor of central India plagued by Maoist Insurgency, Jhargram has returned to normalcy and has started to host tourists in picturesque serene cottages hidden underneath tall eucalyptus.
Jhargram came as a pit stop every time we headed to Bankura on Purulia Express. It is situated 3 hours off the railway track from Howrah and now connected to the city through national highway.
Jhargram is the closest you can come to live Sunil Ganguly's Aranyer Dinratri. Located close to the tribal heartland, Jhargram retains a rustic charm about her appearance. The hills of belpahari, red earth rich in iron ore, serene subtle Subarnarekha, older than time Kanak Durga temple, nameless falls complimenting the major one, Ghagra falls, Chilkigarh Palace are some of the usual tourist attractions of Jhargram. However, Jhargram's heart lies in the stark arid nature which comes to life only during the advent of monsoon. Summer is scorching in this land. River Streams dry up, avians flee. Dense jungle safeguard many a secret of ancient India and her political upheaval which is impossible to witness in a quick trip. Had I been a film director, I would have shot Aranyak written by Bibhutibhushan either at Jhargram, or in the wilderness of Purulia!
Also read: Explore Kargil before you hop onto Leh: Offbeat Destination in Ladakh!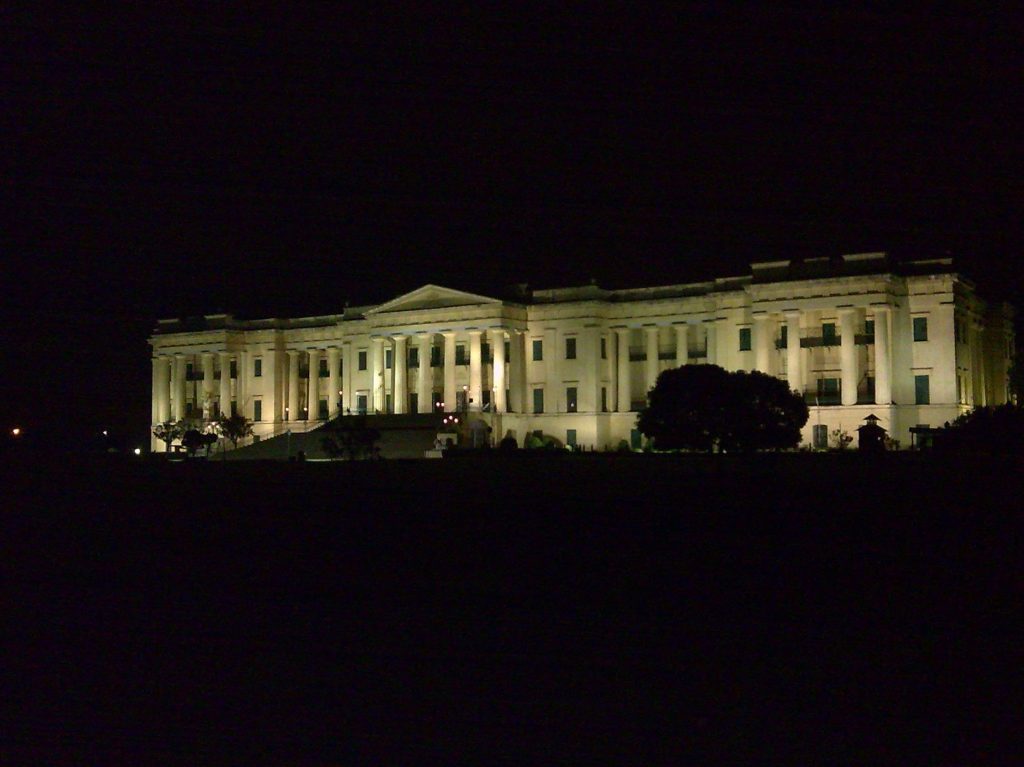 Murshidabad: One of the most Prominent Historic Places to Visit in West Bengal
Now hidden in the obscure times, Murshidabad (erstwhile Kansona, Karnasuborbo) was the capital of Bengal (and Orissa & Bihar, political boundaries were volatile those days) until the advent of East India company. The glorious Nawabi rule of Bengal and its remnants are found aplenty in Murshidabad, a perfect weekend gateway from Kolkata.
Hazarduari express takes tourists swiftly from Kolkata to Murshidabad. Spend an extended weekend exploring the nook and corners of this old land, specially the humongous Hazarduari palace with an astounding 1000 stair cases. Also check out the Nizamat Imam bara, Madina Masjid, katra Mosque, the Jahankosha Topekhana, Nashipur Rakbari etc. The Kathgola Palace of Murshidabad appeared in Srijit Mukherjee's visually stunning feature film, Ek je chilo Raja!
Maldah, the Mango basket of India
While the mango orchards of Malda are opening a new avenue in experiential tourism in West Bengal, few remember the historic heritage of the city Malda, also known as the gateway to North Bengal. Hop onto Shatabdi express and reach Malda in a few hours from Kolkata. Head straight to English Bazar or old Malda.
Malda was the capital of Bengal before the British history started. The Goar-Pandua town is preserved by ASI. Check out Firoz minar, Chika Masjid, Kotwali Gate, Baroduari when in Malda. A shrine named Qudm-e-Rasul is believed to be the home of an original footprint of the Prophet Mohammad.
For me, a major attraction of visiting Malda was to go to Farakka barrage. This is where Ganga gets divided into two, with the bigger tributary Padma making her way into Bangladesh. Farakka barrage is an important political tool of the international diplomacy of the subcontinent.
Do try Kansat and Chom chom by a sweet shop named after Ratan and Kheer Kodom when you are in Malda.
Also read: 3 days spent in the breathtaking beauty of Western Ghat Monsoon at Chikmagalur, Karnataka!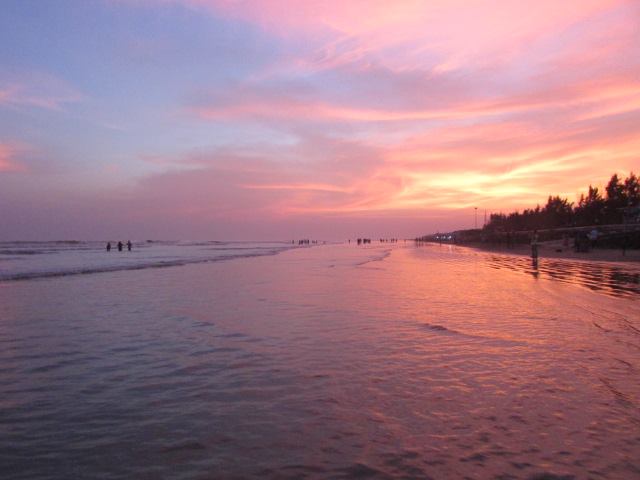 Mandarmoni: A romantic Escape in West Bengal!
Do Digha a favor. Spare that scheduled visit to Digha, instead save for a while and go to Mandarmoni.
While Digha is the ubiquitous choice of every Bengali household seeking a beach vacation, the sea-shore is decaying faster than light year by day. Tons of families, individuals and tourist groups visit Digha, Some of them camp on the beach and make a feast, especially on new years and other days of collective celebration. Mics scream Bhojpuri music. Country chickens crow before being cut into pieces. Is it overwhelmingly ugly.
My memory of Digha is filled with disdain. I recall the site of a used condom floating on a wave. Ideally, I would not mention Digha in my list of places to visit in West Bengal. To a certain extent, because I understand how over tourism is eating away her beauty and ruining the Digha beaches.
Instead, visit Mandarmani, the vast sea-shore with calmer waves and dotted with a handful of fishmen's villages.
Mandarmoni is changing its face fast with a steady flow of discerning tourists, mostly wealthy groups seeking a resort stay. The shore is a vast swath of land. The sea recedes and comes back based on the tidal cycle. Be careful before venturing into the sea. I recall by the end of the day, the waves reached right in the front of the resort gate.
In the morning, Mandarmani beach had a few sailboats making their way into the sea, to collect the day's yield. The beach shacks sell plenty of coconuts and fish fry. Local moonshine is available but I suggest refrain from drinking it. It can kill. I am serious.
Tajpur, the lure of stunning sunset sky!
Take an early morning bus to Digha from Esplanade in Kolkata. Get down at a bus stand named Balisai, a few km ahead of Digha. Hire a toto and reach your hotel or accommodation by driving on a road which seemed to be built during the reign of Alexander in Greece.
Tajpur has a beautiful beach where you may sunbath and indulge in a few boat rides with the local fishermen. On a good day, you can see mandarmoni at a distance too. There is nothing much to do in Tajpur apart from relaxing. ALthough a secluded and printine beach, I would not recommend Tajpur to solo female travelers. This is an ideal weekend getaway from Kolkata for family and friends.
Hotels will cost you anywhere between 1500 to 3000 per night. Guest houses provide limited accommodation with a budget as low as INR 500 per night. For three meals a day, you need another INR 600. Check out Viceroy resort, Tajpur Nature Camp and Tajpur retreat. Tajpur is an emerging tourist destination in West Bengal among the peaceful thrill seekers.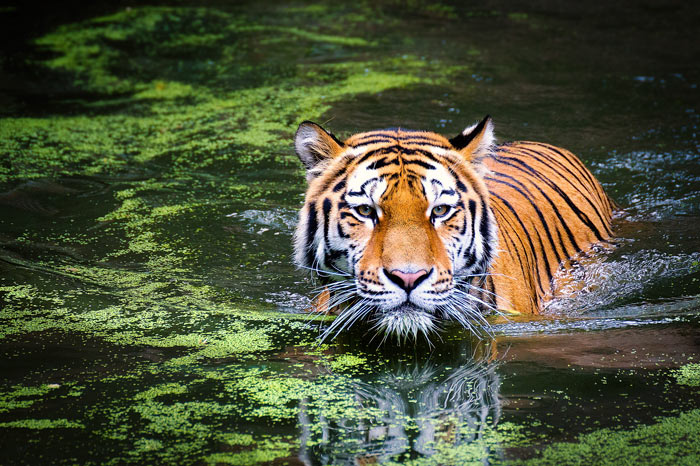 Sundorbon, Mangrove Kingdom & the Royal Bengal Tiger
If you are bored of consecutive visits to Digha and Mandarmani and Puri and looking for a serene beach destination somewhere near Kolkata, Tajpur is your friend!
The largest mangrove delta of the world, Sundarban is a national park of India, a UNESCO heritage site and the ubiquitous home to the elusive Royal Bengal Tiger. Visiting Sundarban is a crazy adventure. Raintracks cease to exist after Canning station. The roads are inundated during prolonged monsoon of Bengal. The rivers are ferocious. It is where their plight has ended. They seek refuge in the womb of Bay of Bengal! The river mouths are as gigantic as the home of prehistoric Megalodon had been!
Sundarbon stands out with her insurmountable wealth of natural resources, flora and fauna, humans and the grim realities… If you delve deep in the history of the mangrove delta, Sundorbon will show you the grim reality of man-animal conflict and the twisted course of politics plaguing the subcontinent for ages.
Sundarban is shared between India and Bangladesh. While only certain parts of the mangrove forest is accessible to tourists and locals, lion's share is actively patrolled by forest guards and kept off limits to humans in order to safeguard the predators.
An ideal trip to Sundarban revolves around sailing on refurbished junk boats, and keeping a watchful eye for the birds and the tigers. Sometimes a crocodile, a lizard, a few deers will appear out of nowhere to give you company. If your guard is adventurous enough, you might just venture into the wilderness once in a while, take a dinghy boat at a moonlit night and explore the narrow channels. Needless to say, visiting Sundarban also equates to feasting on sumptuous luncheons of fish and rice! And river crabs, that too!
It is wise to spend money in Sundarban in such a way that it directly benefits the locals instead of the resort owners who hail from the metropolis. I visited Sundarban with the Backpackers' Sundarban Eco Village and stayed at a hut and a steamer for consecutive nights! The eco resort was strategically located right at the heart of a real village and we had ample chances to interact with the villagers.
Also read: The Chitwan National Park, Travel Guide to offbeat Nepal!
Gangasagar: Poetry By the Ancient Sea! (Sea Side Destinations in West Bengal)
Hindu religious scriptures mentions of an atheist sage in high respect, named Kapil Muni. His Ashram remains till date tucked in the sandy shores of Ganga Sagar. A 3 hour bus ride from the heart of Kolkata followed by a boat ride on the river Muriganga will bring you to Gangasagar. Ideally you should spend a couple of days here. If you are starting from Joka, a day trip is a possibility.
Every year, thousands of devotees walk to Ganga sagar to worship at Kapil Muni's Ashram during mid January (famed as the Ganga Sagar Makarsankranti Mela or Ganga Snan). The ritual involves taking a dip in the river mouth at the crack of the dawn.
The place is also known as Sagar Deep, an island in the maze of humongous Gangetic delta. This is where river gaga leaves the landscape and merges with Bay of Bengal. Set up in simple rural Bengal, a visit to Gangasagar is a distinct beach experience, soaked in reverence by devout religious men for an atheist saint! That is the beauty of this country.
Like many other pilgrimage spots in India, Ganga Sagar is a very budget friendly destination. On a daily basis, you do not have to spend more than 500 rs a day here. Please note, hotels and restaurants are very basic.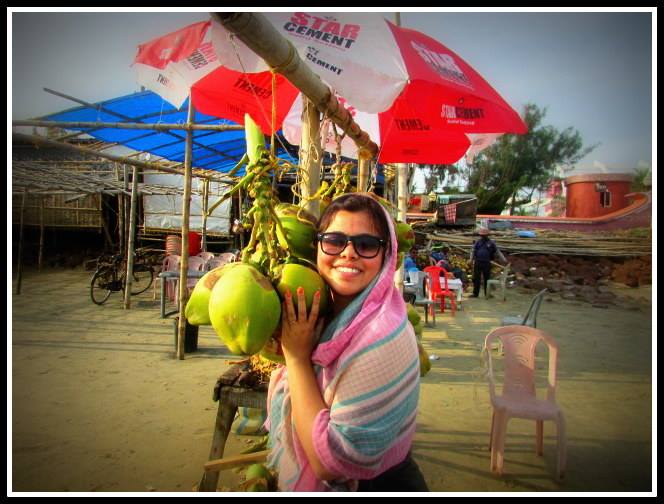 Bakkhali: A Tranquil Place to visit in West Bengal by the Calm Sea!
I saw those gigantic buses running frantically on the Diamond Harbour Road as a girl growing up in Behala, south Kolkata suburb. The buses will flaunt parrot green colours, strange horns, and the destinations would be written in bold, Kakdwip, Bakkhali, Fraserganj, Diamond harbour. All of them were destined to reach the wee end of this Gangetic delta, where Ganga will soon merge with the Bay of Bengal. The landscape will have distinct signs of a progressing sea, saline water, palm groves, coconut groves, lush green paddy fields chasing ultramarine sky. This is where the iconic beauty of rural Bengal gets highlighted!
Many small islands of the region (for example Henry island) had witnessed efforts being in place to a certain extent to establish a tourist infrastructure. Few resort style big hotels have sprang up, Hotel Punyalakshmi being a prominent one.
Bakkhali also has a number of budget friendly hotels and thriving markets. The pice hotels serve fresh catch of the day for a surprisingly affordable price. You would not need more than INR 1000 each day to have a good stay at Bakkhali. Be mindful of the time you visit though. The seaside destination gets ravaged by periodic cyclones and you do not want to witness nature's wrath.
While this is a seaside town, Bakkhali does not really have a proper beach. It looks like a profound mouth of a waterbody.. It could be a river, it could be a sea… reality gets blurred at the surge of tidal waves.
I listed only a handful of prominent Tourist Destinations in West Bengal. Al beit, there are many more beautiful places to visit in West Bengal. The sleepy quaint villages at the border, the busy district towns with a distinct timeless feel, azure waterbody at the south of the state and countless rivers. West Bengal is a jewel for a discerning traveler who is yet to unfold many layers of her unexplored face! I will list down a number of hidden places to visit in North Bengal where beautiful family run homestays are eagerly waiting to host you at the fold of the mighty Himalayas! Stay tuned!
---
This post may contain affiliate links. Please read the disclosure post. If you have liked the article, you may support it by buying using these links without any extra cost to you.
Let's stay connected on Facebook, Instagram, Twitter! You may also consider joining my mailing list. I send travel and photography related emails only once a month!