About the blog: Royal Chitwan National park tells the tale of one of the best wildlife conservation success stories in Asia. With a rebounding number of endangered Royal Bengal Tiger and one horn Rhino population, Chitwan National Park in Nepal is home to myriad species of mammals and colourful avians. A part of ancient Terai jungle at the Himalayan footsteps, Chitwan National Park has been rightly accredited the UNESCO status for its immense impact on biodiversity.
If you are asking yourself, "Is Chitwan worth a visit?" hold your thought and read my stories! I am sure, your answer will be a resounding yes!
Here is a complete series of travel blogs from Nepal!
Pin it for later!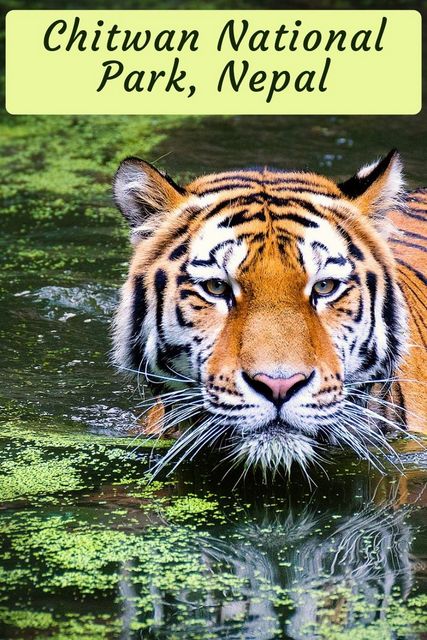 In this blog, we discuss few experiences from the heart of Chitwan Forest, the curious case of elephant labour (and how you can avoid using elephant labour and yet enjoy a rewarding safari experience at Chitwan) and useful travel tips to experience Chitwan Jungle Safari!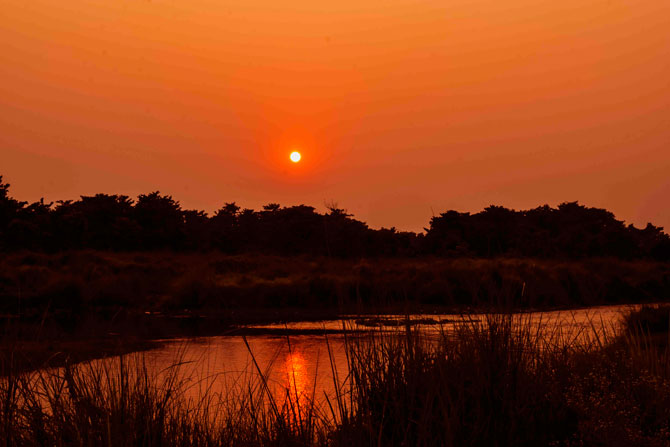 Read: The masks of Nepal!
Exploring Chitwan National Park: a UNESCO Heritage Site
Yet another glorious sunrise beckons at Chitwan as we embarked on a jungle safari to the heart of the Terai. We walked past sleeping Tharu villages, low thatched straw huts safeguarding men of wood.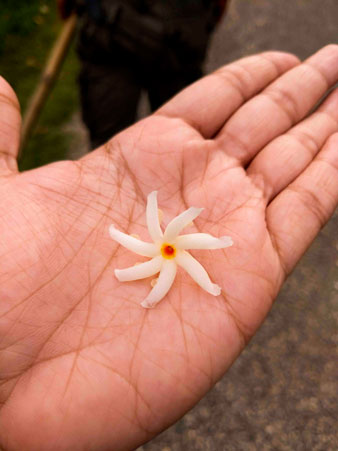 The kitchen gardens of the Tharu courtyard were quivering with last night's dream. A shining dewdrop on the Parijat flower, yet to fall off from the loose branches, a hesitant Lojjaboti, whispering "Touch me not!" to every curious soul, the wise old Bhringoraj flower swaying their heads with an Ayurvedic promise of resisting badness; all stood witness as we hastened past to find that elusive predator with yellow and black stripes at Chitwan National Park!
"As ancient as Mount Everest!" Our naturalist guide explained to us the importance of the Chitwan National Park. Chitwan was established as the first national park in Nepal, back in the late twentieth century. The British colonist kings had waged their game safaris and came back massacring her precious wildlife in early 1900. From that to March 2014, when Nepal celebrated the first year of no instance of poaching activity at Chitwan, we humans have come up a long way, close to redemption.
Did you know? Chitwan National Park is one of the last surviving National Park at the Terai region with distinct ecosystem and important biosphere reserve!
The Canoe Ride on Rapti River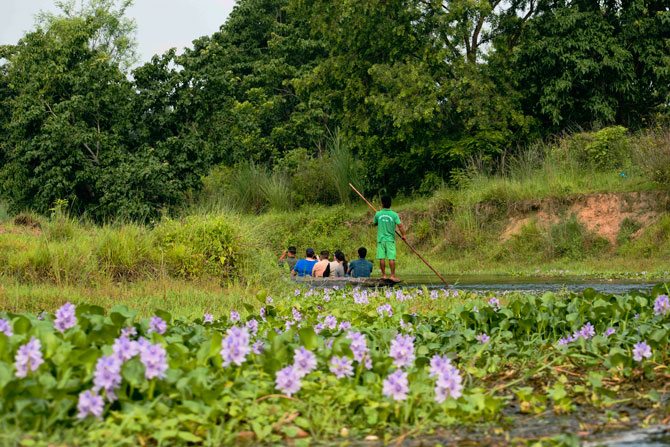 Between the jungle and the village settlement laid is a buffer zone, a community forest and river Rapti! Once in a while, a hungry old injured tiger will swim across the river, tiptoe the buffer zone and come to Tharu village sniffing a man!
It is of little wonder that the domesticated water buffalo or the brace of ducklings are given Z category protection in the fringe jungle villages of Tharu tribe. Men sleep wearing a mask, sometimes, on a particularly excruciating humid summer night!
Tigers only attack from the back and the masks play the role of a scarecrow (erm.. scare-tiger?).
The Chitwan National Park houses 68 species of mammals. The King of the Jungle, Royal Bengal Tigers (close 200 in number), Leopards, Sloth bears, Otters, Bengal Fox, Hyena are some of the notable predators. Prehistoric one-horned rhino, also known as the Indian rhino, now strewn down to a population of only 4000 worldwide, lives here. Their number comes close to 800. Besides, you also find wild Asiatic elephants, Gaurs, deers etc. The bordering rivers are home to endangered Ghariyal, Crocodiles and Gangetic Dolphins.
The community forest has grown dense vegetation of wild medicinal plants, including turmeric, century-old Shal trees, a faint walkaway built by footsteps and elephant poop, and redundant fern bush. River Rapti helms the landmass between the buffer zone and the core of the Chitwan Jungle.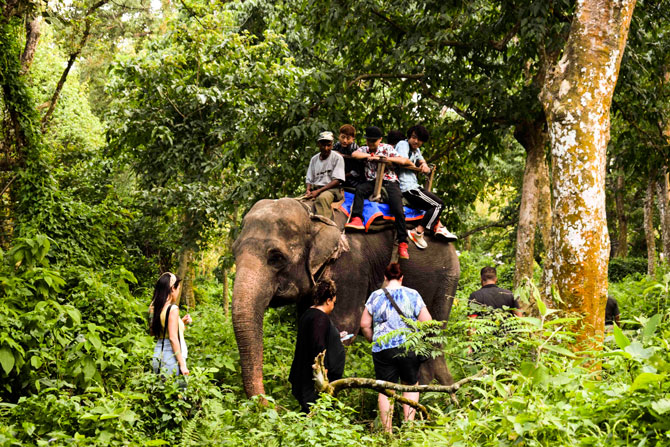 Marching for a while in the humid morning along the buffer zone community forest at the Chitwan National Park, we came across this gentle beast carrying 4 men atop! While Chitwan is constantly experimenting with bringing in more humane nature of treating elephants (think elephant walks instead of rides), there is no denying that domesticated elephants play a huge role in anti-poaching activities and thus the practice of domesticated elephants will not be done away with any time soon. More on that shall be discussed later.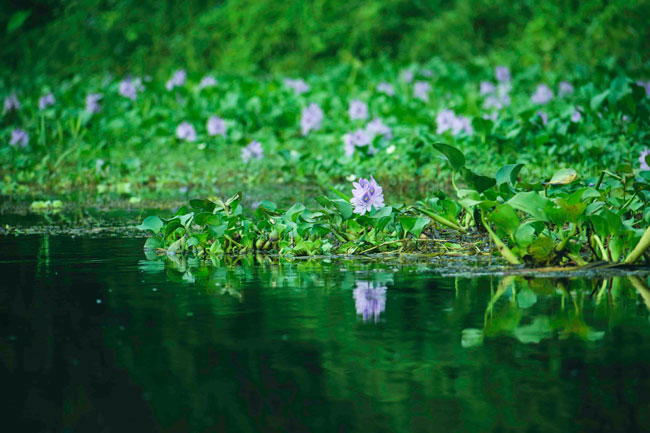 A few young Tharu boys were awaiting us at the waterfront. Green of their tees merging seamlessly with the green of hyacinth and the jungle, the purple flower blooms only helped to distinguish the surreal. A dugout wooden raft, with small Piris (wooden seats), set loosely in its belly, looking dangerously wobbly, would take us into the heart of the jungle!
"Never did any boat topple in my lifetime!" Declared our guide Goutam. That's suitably Buddhist, I thought in my mind!
Read about Bhaktapur, a UNESCO World Heritage Site in Nepal, a day trip from Kathmandu!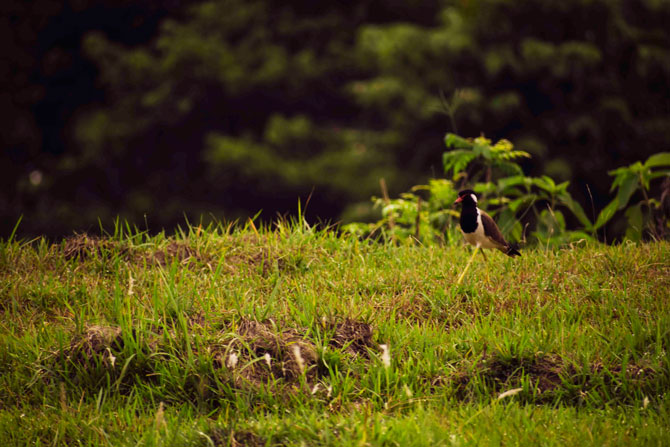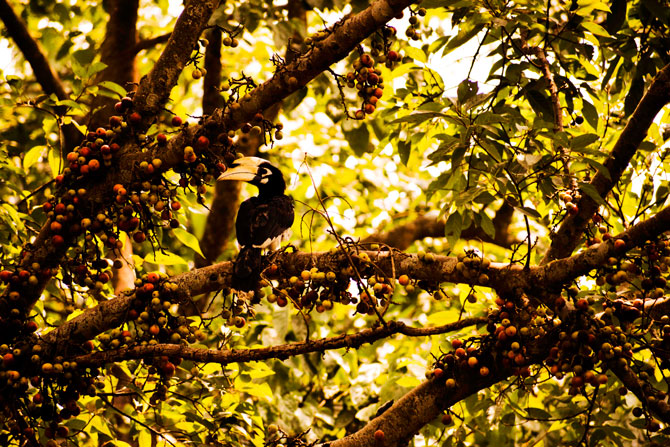 Also Read: Birding at Dandeli National Park, Uttar Karnataka!
Rapti Riverbank is dotted with profound trees nesting birds of different feathers, quite literally. Both the kingfisher and the grey header fish eagle await for the day's first catch, the latter being more sombre, more tactical. Red-breasted parakeets take the first-morning plight. And the Pied Piper hornbill, my bird-crush, gets busy eating figs.
Chitwan National Park is home to nearly 544 types of birds species and 67 types of butterflies. The Black butterflies of Chitwan can grow as big as a human palm! Endangered Bengal floricans have found a nesting ground at the Chitwan Park's alluvial grasslands. Besides, the park also houses Honey Buzzard, Darter, Parakeet, Hoopoe, Plover, various types of Kingfishers etc, all are a delight for a birder!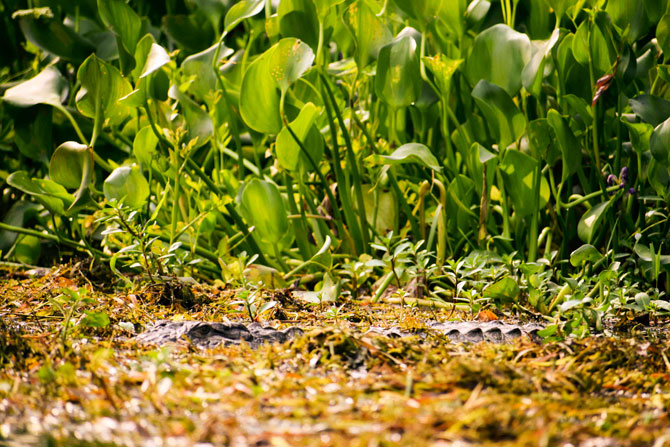 The predators of Chitwan National Park slowly reveal themselves. A cruel cold pair of eyes keep a watch on us from the dense aquatic bush. Is it one of the endangered Ghoriyals or an adult croc? The river is barely knee deep at places, with transparent "Kakchokkhu" water flow.
Also read: A week in Shillong, travel stories from the heart of Meghalaya!
The Jungle Walk: Walking to the Core area of Chitwan National Park!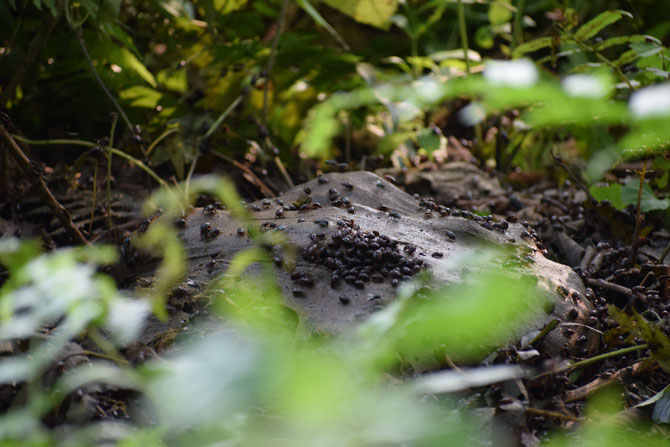 The canoe ride at Chitwan National Park is an hour-long conditioning exercise before you step into the core of the jungle. Yes, you read that right! Only at Chitwan, with an EXPERT GUIDE, you are allowed to step into the interior of a core reserve area.
The canoe emptied us on the "jungle side" of the river, two steps from where was left the remains of a wild boar! "A catch from last night!" Whispered Goutam. It is the sight of the maggots on the meat and receding tracts of the canoes leaving for human habitat, that jilted me to reality!
Are we really at the core of the jungle? There is no way back if a tiger appears in front of us, or a rhino or an elephant charges? Or if a snake bites? My extremely urbanised DNA failed to recall any traces of the early days of Homo Sapiens living in the woods!
A few steps forward, a foul pungent animal odour hit my nostril! My lived experiences reminded me of the Alipoor Zoo visits in Kolkata and leaning over the rhino house, my reflexes screamed, "Run!"
Walking in the jungle is as simple as walking on glass, a broken one at that. Being mindful to not step onto the fallen branches will ensure fewer disruptions, thus increasing your chances of survival!
Good to know information if you happen to (you must) do the jungle walk!
If a tiger approaches, lower your eyes and retreat. Do that till you can hold your nerves steel. If you start to run and show your back, it will probably eat you. Then, I say it will eat you, either way, so be experimental and die a brave death! Do not show your back and run as fast as you can, says the urban woman!
If a rhino charges (and they run surprisingly fast) climb atop a tree and do not run straight if there is no tree to climb nearby!
Same goes for a wild elephant. Run into the denser forest so that it has to struggle to get inside!
The Rhino Encounter at Chitwan National Park
The first sighting of rhino happened almost immediately! There were five of them, basking under the warm sun at a swamp! The mighty matriarch senses eight of us approaching and immediately scrambled her group into the jungle. Now, this is a tricky situation! You know there are 5 (or more) rhinos running around in less than 10 meters. You may want to watch the video on my Instagram Post!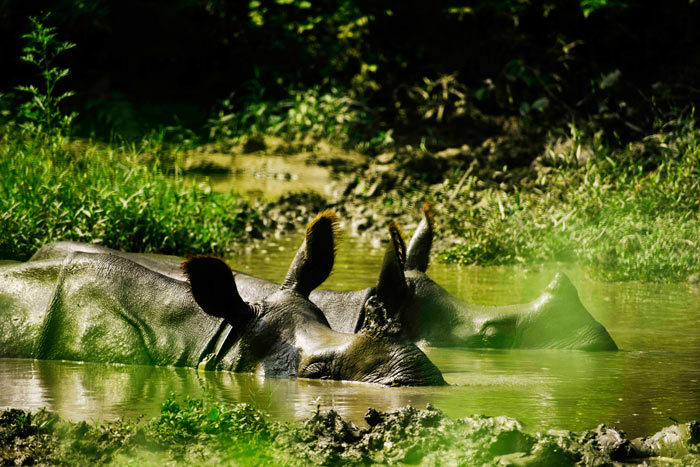 Also Read, In search of the one horned rhino: Kaziranga, Northeast India's most scenic wildlife Safari!
You are standing in the middle of nowhere, sans any poetic pleasure, not knowing where to run if a rhino happens to see you on its course of already intervened morning bubble bath. An unhappy rhino charges at the speed of 40 km per hour. And you hardly have any clue of a direction in the jungle!
We retreated, waited and hoped (faithfuls prayed) that the rhinos take westward!
We walked further. There was one guide in the beginning of the group. One at the end. And a member of Nepal Tourism Board, somewhere at the middle. The idea is, in the likely case of an animal encounter, if at all, we will follow the guide we first lay our eyes on!
Long elephant grass, empty grazing land, dried up salt pans, lingering traces of rhino poop came on the way. The jungle is preparing for monsoon. Tall standing termite moulds, wild mushroom and flowers make a heady aroma everywhere.
The silence of the jungle was broken with a trumpet soon after. A mother rhino took along her calf and entered into a swamp. We stood for a while as the mother grunted long enough, "we do not approve of you being here!"
I almost wanted to cry!
If we retreat now, there is a tiger somewhere closeby. The riverbank is at least 30 minutes walk, near to which a ceased wild boar is rotting a prey's death!
the first picture is of a 15 minute old tiger paw, enough sighting I would say! One of our guides climbed atop a tree! He pictured the rhino and the baby in everyone's camera!
We retreated after the rhino came on our way, walked to the other side of the jungle where docile antelopes incessantly moo.
Once upon a time, an injured orphaned one-horned rhino found its way to the human habitat. He was received with great care and love among the residents of the fringe villages, who take immense pride in the conservation of the endangered prehistoric animal. The rhino was tended to, fed for and efforts were made to rehabilitate it. The Chitwan's beloved pet rhino can be seen wandering off the road in Meghauli at times!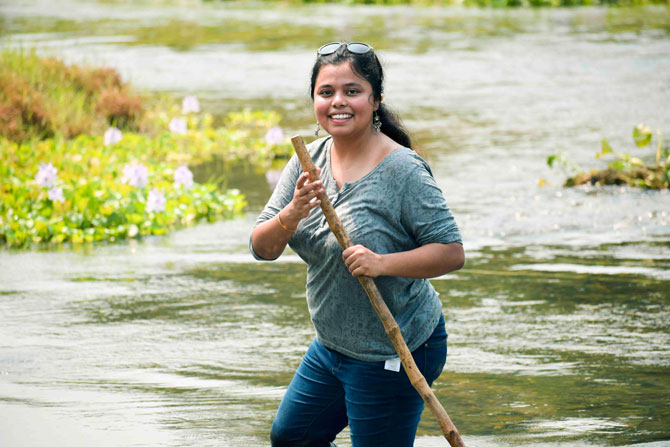 Walking back to civilization and crossing the river Rapti. Now that I think of it, there was an alligator lurking behind the hyacinth bush in less than one KM!
Jungle Safari at Chitwan National Park
We reached the entrance of the park, rode the canoe briefly, watched a Ghoriyal basking under the sun, walked along the tiger grass and reached the jeep station. A residue of (not cemented) road stretches deep into the jungle. The jeep was to tread on that path.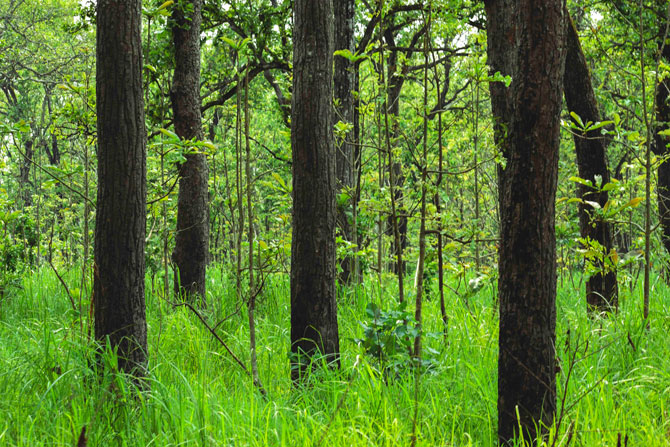 Ancient Sal forests occupies around 70% of the park. Another precious and protected flora of the Chitwan National Park is Kapok tree, Cotton tree.
Jungle jeep safari is roughly scheduled for upto 4 hours, post lunch or early morning session. A bumpy ride, elephant grass as tall as an adult elephant, surprise streams, wild vines, army camps adorn the road. Army camps are instrumental to control Maoist insurgency as well as poaching.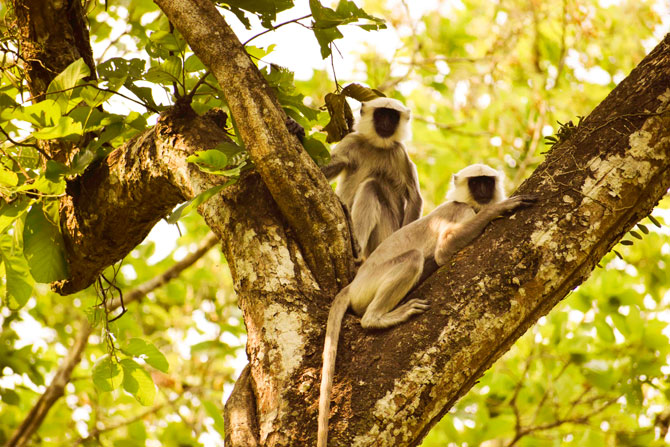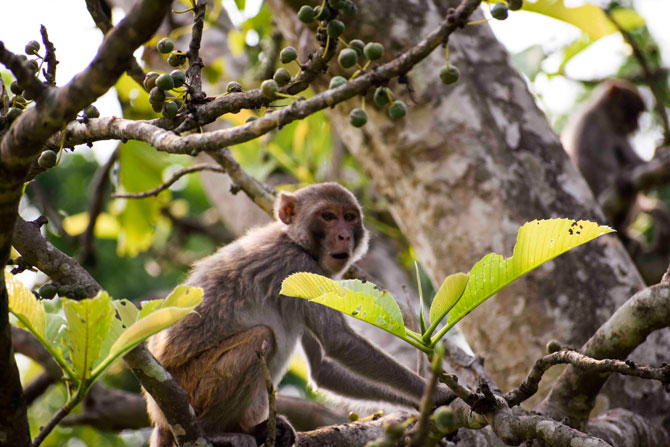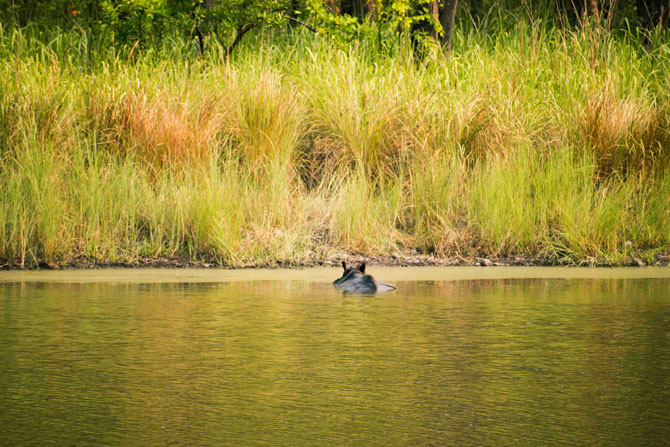 Political turmoil brings in doomsday for animals, once rendering a ravenous 200 population for the park's one-horned rhinos. Bringing back the population from the brink of near extinction is a commendable job, especially when the neighbouring Chinese market is inundated with demand for rhino horn medicine!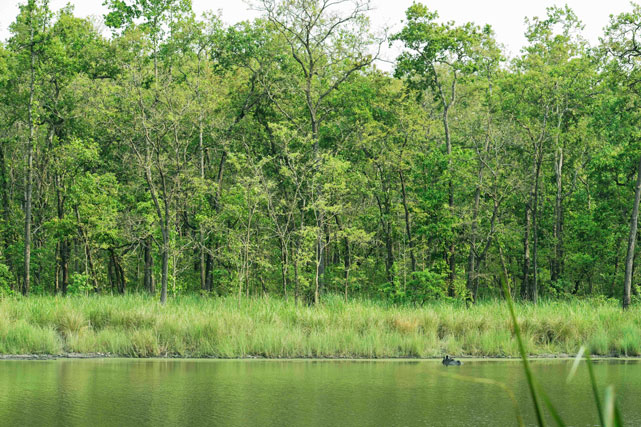 A single black horn and skin folds that look like armour are identical to Greater One-horned rhino or the Indian Rhino. Extremely endangered, their number has gone down to a mere 3000 thanks to the nd of rhino horn in black market. The horn is made of keratin and can grow up to 25 inches long. Rhino is a solitary animal. They eat leaves, branches of shrubs and trees, fruit, and aquatic plants apart from the grass.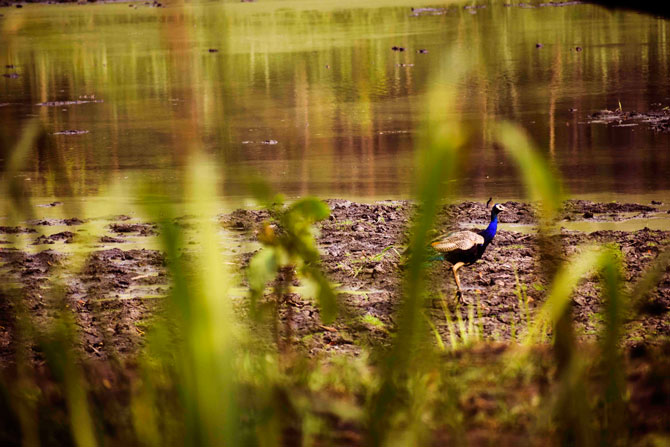 Peacocks and Pehens crossed our road several times.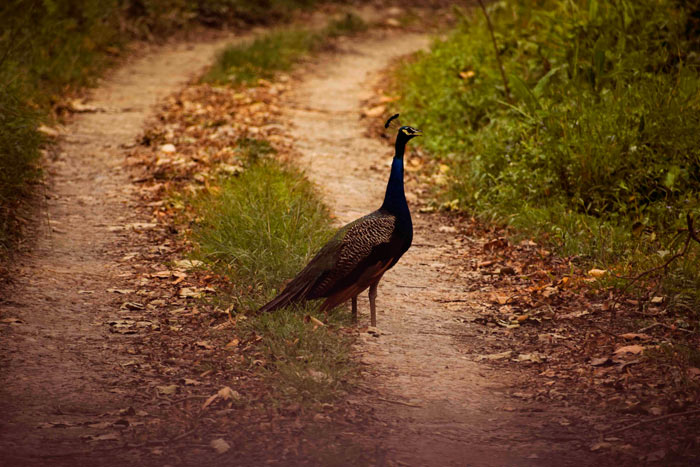 The park also has a Ghariyal conservation centre. A number of critically endangered Ghariyal species are kept in an enclosure, bred in the incubated environment and shall be repatriated to riverine habitat once they attain adulting age!
50+ pictures from Nepal, a Photo-blog!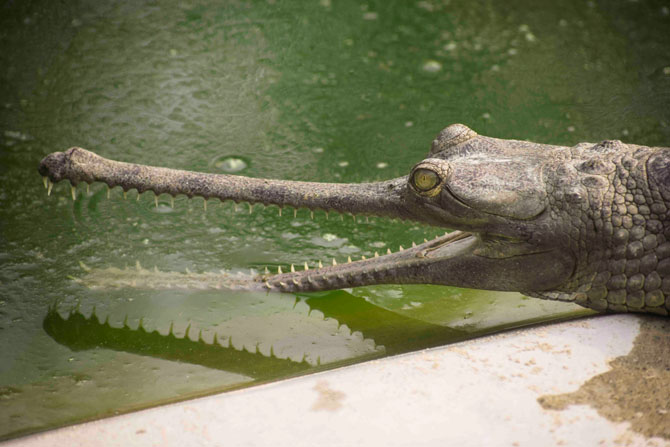 A grown up Ghariyal can have upto 110 sharp teeth which plays vital role in their fishing diet.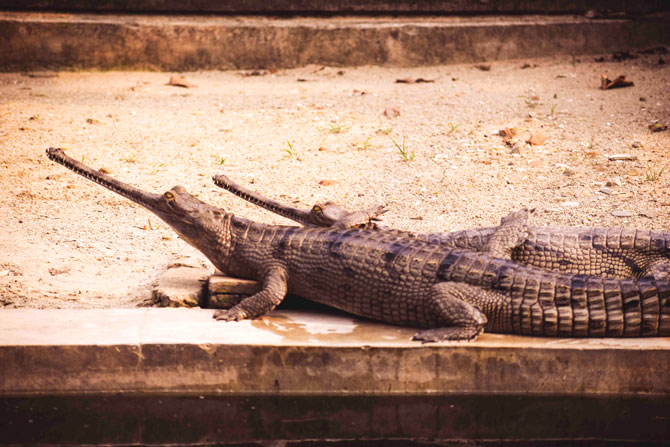 A Ghariyal can even eat a soft shell turtle apart from preying on small fish!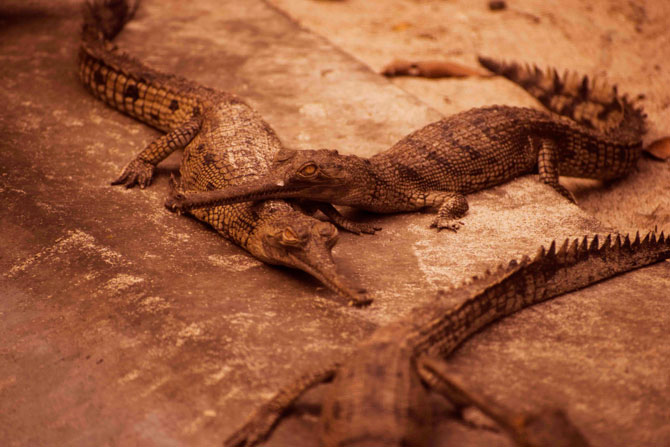 Did you know: Tablets and seal discovered from the era of Harappan civilization has Ghariyal portrayed on them, with fish on their mouth.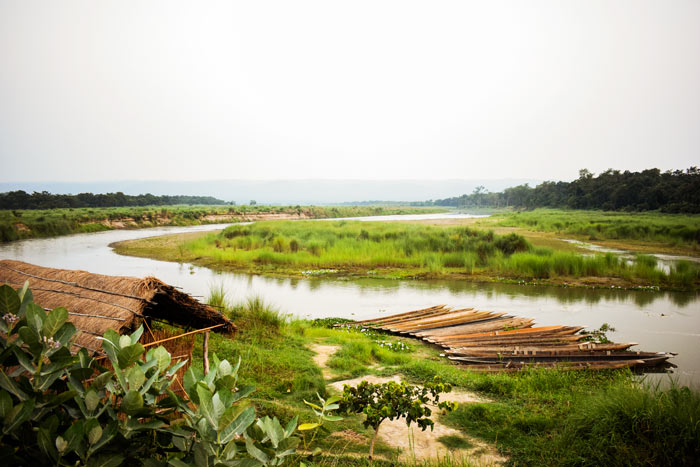 As UNESCO official website says about Chitwan, "The spectacular landscape, covered with lush vegetation and the Himalayas as the backdrop makes the park an area of exceptional natural beauty."
Tiger Tiger Burning Bright!
A deeply personal and unguarded encounter with the Royal Bengal Tiger of Chitwan National Park!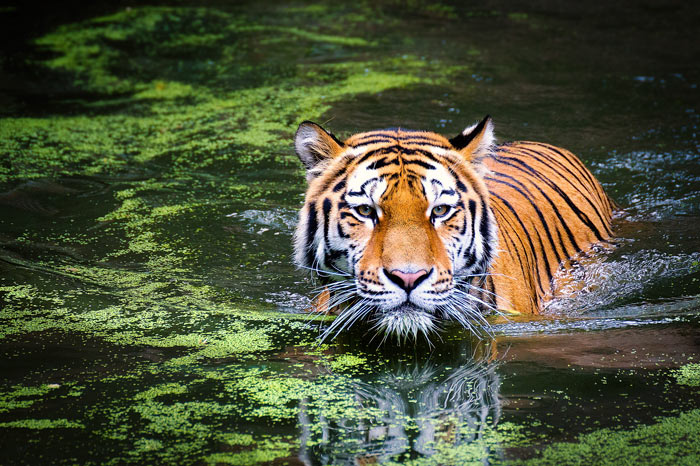 15 jaws draped unequivocally as a Truck rolled past us with a yellow and black striped animal on it, sleeping and two men standing with guns by its side! We were 15 people on two Jeep safaris at the Chitwan that evening.
"Be calm, my mind, be still!" I murmured!
It was none other than a Royal Bengal Tiger, the elusive predator of Terai jungle!
It so happened, the night previously this young adult cub attacked an army man stationed at Chitwan National Park! Unaware of the power of his prey, the tiger brushed past his shoulder, ending up the wounded in hospital and alarming the sentries! The next morning, a large force came in search of the "Maneater"!
They found it, tranqulised it with a gunshot, and took it into captivity.
What happens next?
What I gathered from the broken English by the local guide is:
They will put the tiger in a cage, observe for a while and take further action. They are likely to release it to the jungle again, however after a while.
A maneater has serious implication for the human habitat close by. The adjoining Tharu villages of Chitwan National Park houses a lot of unarmed humans. Maneaters tend to tiptoe around human habitats for easy prey, ranging from pes ducks and goats to elderly humans. A maneater is also likely to be a wounded animal, not able to catch his prey in the regular environment of the jungle.
How did the tiger turn into a Man-eater?
Probably its mother left it early?
Probably it did not find the Sambar deer as tasty?
We will never know for sure!
Number of tigers in Chitwan National Park is estimated at 139. Each tiger needs around 52 KG meat every week. That roughly translates into 3 to 4 Sambar Deer each month! Rampant increase of Tiger number is a threat to sustainability of the eco system as well.
Delicious walking reverie meets a prized ending with sunset sky!
It is mandatory to leave the park before sunset.
Also see this photo blog with stunning sunset scenes from Masaimara, Africa!
Tips for Dressing during Jungle Walk or Jeep Safari at Chitwan National Park!
Dress natural colored informal clothes. Cover your skin to protect from scratches and leeches. The jungle pathway is muddy and full of leeches.
Wear comfortable walking show
A swimming costume may be needed if you opt for elephant bath
Sun protection in the form of sunscreen lotions and hats.
In winter , a warm jacket should be carried.
The Town: Sourali/Maghauli
There is a small town catering to all touristy needs located by the Park's entrance. It starts from the dainty cafes overlooking "the Beach", the banks of Rapti river where Ghoriyals and humans stand in unison to witness orange sky! I had some amazing Chicken Pakora and ice cream Lassi at the Rapti beach Restaurant.
Behind it, narrow lanes with wall graffiti illustrating why One-Horned rhino are national treasures are drawn by school children! A "Theatre Hall" stands in close vicinity where Tharu cultural show takes place. And the hall is Air Conditioned, a much-needed respite from the humid weather!
A skull of a male antelope. Watch out for the horns. Males use these horns to mark territory and often engage in fights during mating season.
Tharu Village
If towns tire you, take a walk along the buffer zone, where Tharu villages are rolled into a line. Home is an understatement if you take a lingering look into them. A tune of harmony brings humans, dogs, ducks, roosters cows, buffalos, even elephants under the same roof!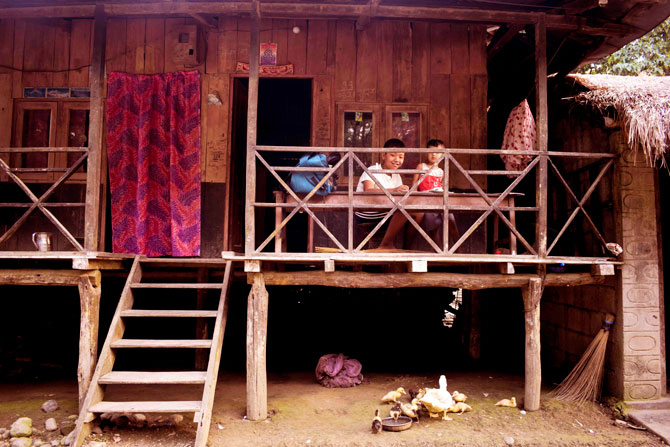 Tharu children practicing school homework on the balcony. Homes are made to resist extreme humidity of the land.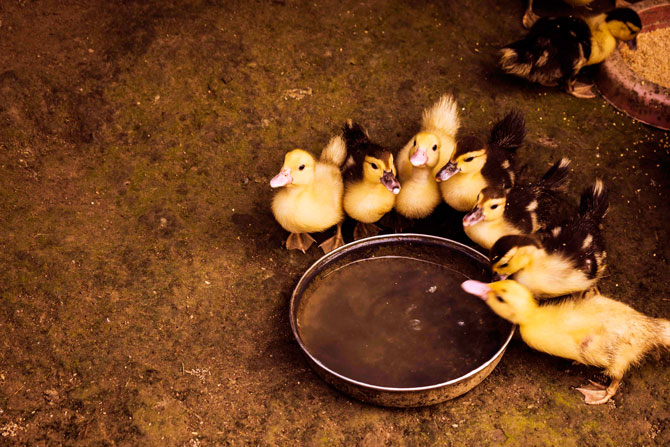 A kitchen bush stands still by a Tharu cottage where gourds, tomato, tulsi, vines and everything delicious grow. Best place to be a vegan?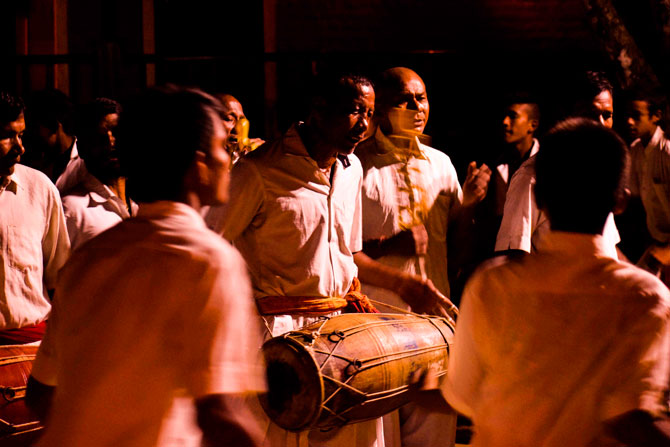 Tharu Cultural Show
Unlike Manas National Park or Kaziranga in Assam, Chitwan does not have any tea garden in close vicinity. It directly translates Tharu village being sprung in bordering the jungle, often posing close human-animal encounter. The risk is countered by using loud music and fire as a form of entertainment!
Local moonshine at Chitwan is also called Roxy. It is advised to drink responsibly! It is basically homemade rice wine, same as Apong we tasted at Arunachal Pradesh.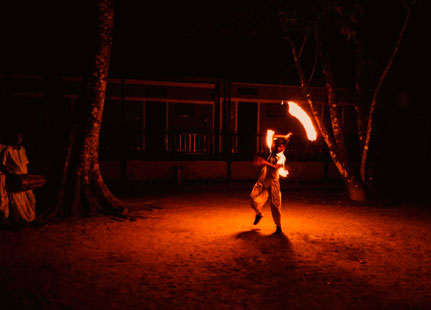 Also read the culinary delights at a Bodo village at the Manas National Park, Assam from India.
Resorts generally arrange for a cultural performance. You get a chance to shake a leg as well!
Historically Tharu community, the son of the soil men and women of Chitwan National Park, have been loyal to their homeland and never went away in search of work, as many other tribal communities do in Nepal. This enabled them to preserve the distinctive culture and cultures, which draws its elements of lifestyle directly from the woods.
The case of Elephant riding in Chitwan National Park (and how to avoid it?)
In those three days, we only met the elephants for 5 minutes. The elephant camp had a Makna ( a male without tuskers, and perceived to be more dangerous, even when domesticated) and a tusker standing by. We walked past them on our way to the Sunset point near Nature View Restaurants and Bar.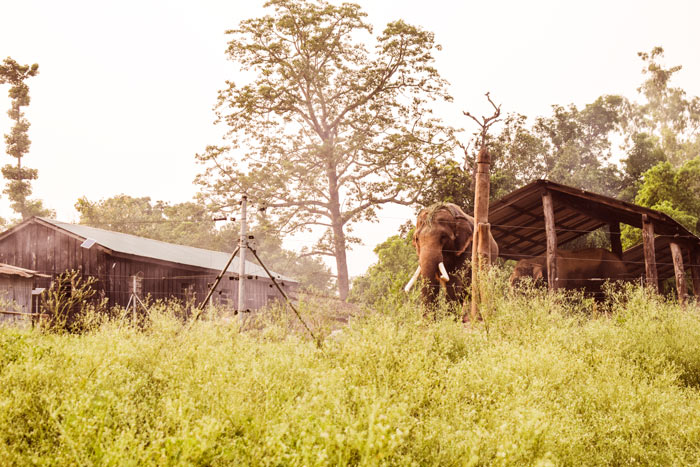 Also read about Amboseli National park: A UNESCO site where the largest herds of elephants live in Africa!
I have heard people actually visit the Hatisar elephant breeding centre and watch the Poseidon play cheerfully, bath etc. Albeit a Mahout will be present with his stick by the side, occasionally beating the animal, making it "behave" with tourists.
Then there are government elephants. Sold to the Nepal Government, these elephants have fixed timing for safari, a couple of slots each day and then they proceed to patrol the jungle.
Into the dense woods of Terai forestland, where jeep and humans have only restricted entry a trained elephant can treat in easily, thus containing poaching incidents. It directly translates into a successful conservation effort for rhino and tiger population.
Other Things to do at Chitwan National Park!
While I recommend you to take at least couple of Jungle Safaris and jungle walks on different dates, there are other activities in and around Chitwan National Park. Some of them are religious in nature. Some of them are naturally scenic offbeat attractions.
Bis Hazari Taal or 20000 lake
The Bis Hazari Taal, or 20,000 Taal (lake) is an Ox-Bow lake (U shaped lake formed as a result of changing course of river bed), a wetland at inner Terai. It is a Ramsar conservation site. The Mahabharata and Shivalik Himalaya: both the ranges are viewed from here. Shivalik Range is known as Churiya Hills to the locals.
Bis Hazari tal is one of the best place for bird watching at the Chitwan National Park.
Other water bodies around the park include lake Lamital and Lake Devital. Lamo Jharana, a nearby fountain is particularly stunning.
The Historical and Religious sites around Chitwan National Park
Locals of Tharu, Kumal and Darai community flock to Bikram Baba, a religious site located inside the national park. It is open to visitors at a particular time of the year, for 15 days only. Bikram Baba is located near the park headquarter at Kasara.
Releasing pigeons or animal sacrifice are part of rituals here.
Located on Sunauli(Closest to NarayanGhat Bus Stand)-Bharatpur-Mudling Highway, Devghatdham is a Hindu temple.
Kailaspuri, Balmiki Ashram, Pandavnagar are other points of interest near Chitwan where ancient customs and local religious practices are observed with respect.
World Elephant Polo Competition is also observed on certain dates at Chitwan National Park. The domesticated elephants take part in the game.
You can rent a bicycle and spend a day exploring and observing the locals, whose life is interwoven with the Chitwan forest in every sense!
Where to stay at Chitwan National Park?
There are eight entrances to the Chitwan National Park, with Sauraha and Meghauli villages, on the east and west sides of the park, respectively, being post accessed by tourists.
Sauraha is the nearest town to Chitwan National Park. It is a node of activities and tours run by local communities.
These days, around 5 Tharu community Houses have opened their doors to the visitors. However, there are many efficient eco-lodges around the jungle, especially at Sauraha, by the bank of river Rapti. This alone translates into beautiful view and chance encounter with wildlife.
We stayed at Maruni Sanctuary Lodge, Chitwan. It was a vibrant, pretty place, surrounded by nature.
I would recommend Maruni Sanctuary Lodge, Chitwan for its extremely well aware guide, Gautam. Also, it is nestled between the sheer presence of nature!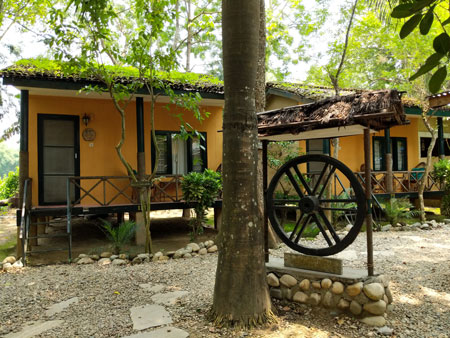 However,the luxury jungle camps are situated at Meghauli. Notable of them are Meghauli Serai Chitwan National Park – A Taj Safari Lodge, Barahi Jungle Lodge. These jungle lodges are located at the outskirts are Sauraha, take particular care for sustainable practice and are generally much lauded among the local community.
If you are on budget, consider staying at Sauraha Backpackers Hostel.
You can see and compare many more accommodation options at Chitwan National Park here.
Please note, it is not allowed to stay or camp inside the Chitwan National Park.
Best time to visit Chitwan National Park, Nepal
October to April months are the best time to visit Chitwan National Park.
May is extremely hot and humid, followed by the monsoon season where heavy rain sweeps across the wetlands.
In February, the elephant grass is burnt in control, thus enabling higher visibility of the animals.
How to Reach Chitwan National Park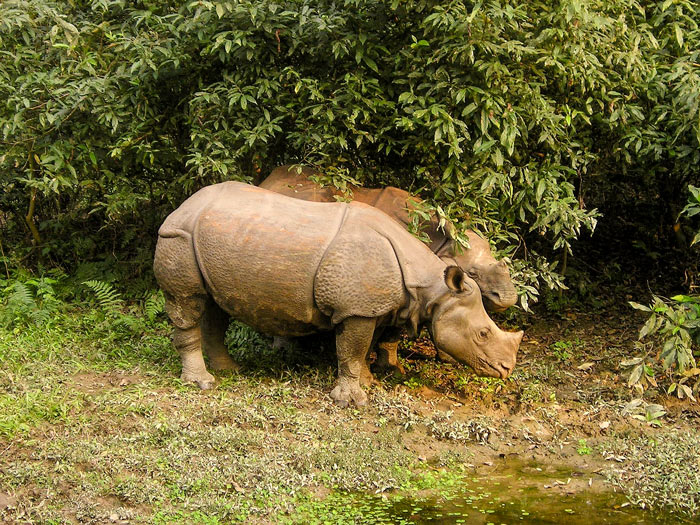 By Flight: The nearest airport to Chitwan is Bharatpur. It is located just at a distance of 10 KM from Sauraha. During low season flight frequency comes down. Otherwise, it is a good and speedy option.
By land transfer: From Kathmandu, buses leave early morning at 7am from Thamel market. It takes around 5/6 hours to reach Sauraha.
Some of the reliable bus companies are Holiday Adventure, Blue Sky travel and tours, Rainbow Adventure, Sarada tours & travel, Baba tours & travel, Sai baba Tours & travel Sanjok tours & travel, Kasara tours & travel etc. The AC usually works and you may get a bottle of water. there is no washroom onboard. The bus usually makes a couple of pit stops for lunch and washroom enroute. Usually, bus service is priced at 600/800 NP. If you are looking for luxury, opt for Mountain Overland and Greenline, priced at $15 each seat with better air conditioning and less number of stops.
You may also take a bus from Pokhara. It takes slightly longer, think 6 to 7 hours. Minivans ply as well, depending on the number of passengers.
Alternatively, you can rent a car with a driver at $100 for transport from Kathmandu to Chitwan.
Someone suggested you may raft to Chitwan from Pokhara. I am yet to verify the information from someone who has done it in person!
Did you know: Kathmandu>Pokhara>Chitwan form one of the best travel routes in Nepal! Located at a rough distance of 6/7 hours from each other, these destinations are well connected with daily run bus.
Expenses for Chitwan National Park Safari
A Canoe ride along with walking safari and jeep safari (both for 3 hours) and park entry fee shall cost around $70. For a private canoe ride, the price will be around $30. This is highly recommended for birding enthusiasts.
Jeep safari at Chitwan National Park excluding the entry permit is priced at NR 800. Entry to Museum showing Chitwan Park and Tharu villages is priced at NR 30. (NR is Nepalese rupee).
Entry fee to Chitwan National Park:
NR 1500 (for foreigners)
NR 1000 (for SAARC country citizens)
NR 50 (Locals)
Entry fee to Elephant Breeding Center at the Chitwan National Park:
NR 50 (for foreigners)
NR 25 (for SAARC country citizens)
NR 200 (for bathing the elephants)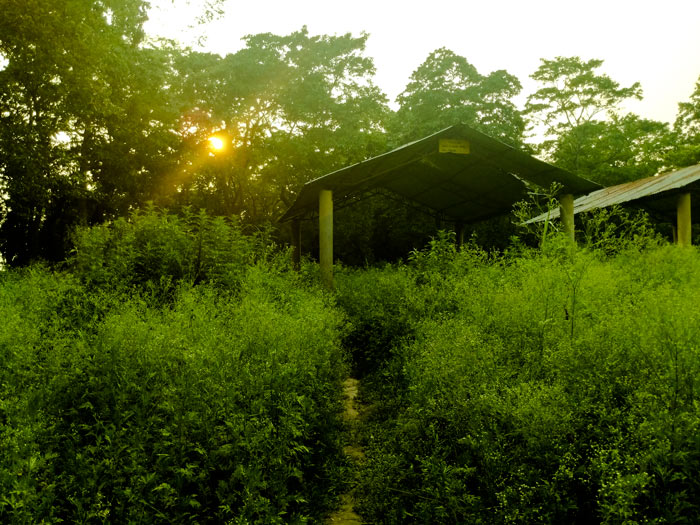 Permits for Chitwan National Park
It is mandatory to purchase a permit for entering into Chitwan National park. The same permit will be valid for accessing the Bis Hazari Tal and other activities, including jeep safari, elephant safari, jungle walk, walking at the buffer zone, visiting the Tharu village etc.
Permits are priced at for SAARC Nationals are 200 NC and Non- SAARC Nationals are 500 NC.
Tip: Purchase the ticket after 2 pm, take an afternoon jungle safari and use the same ticket for a full day Chitwan Park excursion for the next day!
You are not allowed to enter the park without a guide. Guide prices are extra.
Other good to know information before visiting the Chitwan National park!
Carry a mosquito repellent to prevent Malaria consdition.
Tipping the guides are a custom. Consider 20% of the tour cost. You may want to tip the Safari cab driver as well.
Self driven safari is not permitted inside Chitwan National Park, Nepal.
Local beer brand is also named as Rhino Beer, I loved it!
Chitwan is famous for its organic honey. You may buy that from the main street 'Hatti Chowk' in Sauraha. Various wood curving is also on sale at this place. Watch out the walls for beautiful Graffitis.
From the vast and wide open sky of Africa to the dense jungle of Indian peninsula, I have seen it all. Yet, Chitwan surprised me to a large extent. Only at Chitwan, you are allowed to tread on the core jungle area. Only at Chitwan, you see a local community (the Tharus) living soaked in the blessing of jungle life. Chitwan is fierce, unapologetically raw and more complex. Besides, it is tourism that is driving all the conservation effort at the park. As a result, Chitwan now homes the highest density of endangered rhinos.
If your Nepal trip was primerily focused at the high ranges of Himalaya, do not shy away from seeing what lies at the foothill of these mountains! Chitwan is gorgeous!
Let's stay connected on Facebook, Instagram, Twitter! You may also consider joining my mailing list. I send travel and photography related emails only once a month!
This post may contain affiliate links. Please read the disclosure post. If you have liked the article, you may support it by buying using these links without any extra cost to you.