A tale of Manas Jungle, Bodo Cuisine, Ethnic treasures of Assam and more!
There is more to Assam's Manas National Park than the thrilling jungle safaris in search of the elusive tigers or one horned rhinos and watching majestic sunsets by the mountain rivers! And Manas Spring Festival shows you just that with Indigenous Bodo culture loaded with delectable food and music!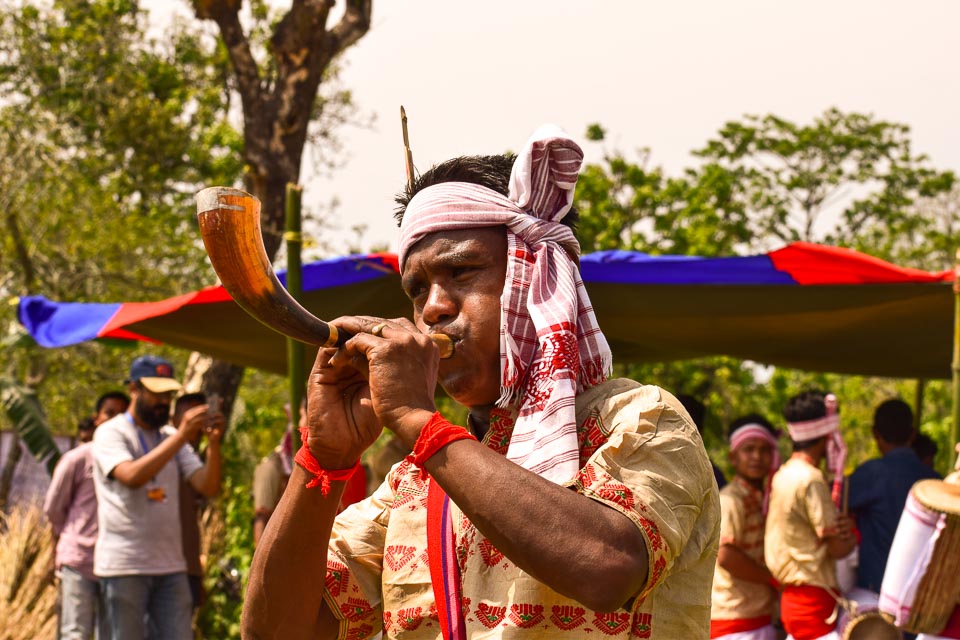 As I took the first helping of grilled Silk worm on my Shawl Pata Plate, my fellow blogger friends exclaimed in disbelief! "Will you eat this? have you ever tried this before? Are you sure? How does it taste?" Some of them readied the DSLRs for a close up shot for the innocent worms who would have otherwise produced the amazing Silk mekhlas of Assam! I munch on the treasure of Bodo Cuisine with glee and tell them it tastes a lot like Macher dimer bora (fish roe fritters)!
It was the middle of the day, sun shone bright. Our hosts from the Bodo village had overwhelmed us with multiple folk dance performance. The cactus tree, worshipped by the locals, has seen us clicking numerous pictures, feeling eletaed as the perfect shot came in where the Bodo girl transformed into a flying soul, exclaimed once more as the Bihu performance was over and finally taking refuge under the bamboo hut, exhausted. It was the season of Bwisagu Festival, a celebration of harvest! Of course a delectable Bodo spread was awaiting us!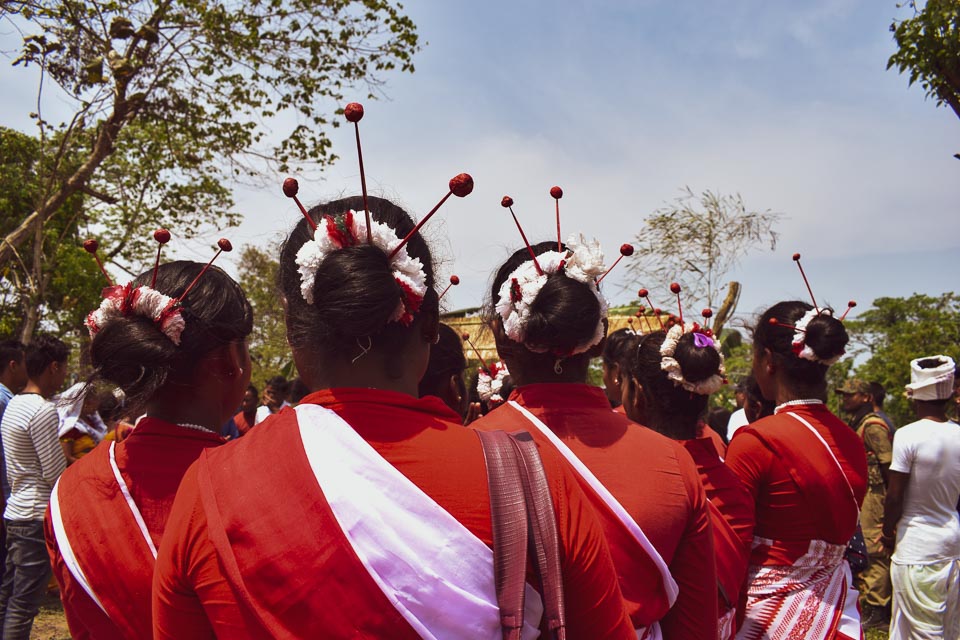 Promoting Community Tourism in the Bodo Fringe Villages by Manas National Park
We had been a part of the bloggers' delegation that was to experience the Manas Spring Festival and revive the spirit of Manas, which goes beyond the recent history of bloodshed and ethnic strife that took a heavy toll on the one horned rhinos. But the good sense prevailed soon after. People are striving hard to bring tourists back to one of the quintessentially most beautiful forest of the world!
Oh, did I mention? Manas National Park holds the crown of a UNESCO heritage site which was not stripped off even during the time of turbulence!
Bodo villagers have found the best way to warm up to others is to offer the coveted seat at their dining hall. Born was Gunzema from this idea where former poachers and now rangers' wives will treat the fellow explorers with the delicious Bodo cuisine! And there you have me, munching on the silk worms, fresh out of its cocoon!
All that pours, are not mustard oil! Hello Khar, you shape the feel and taste of Assamese cuisine!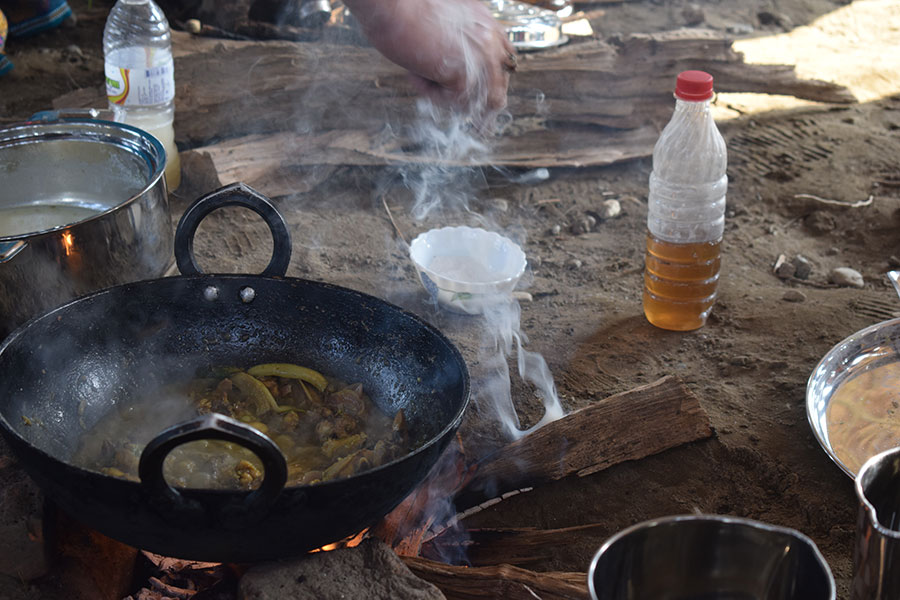 Also read: these cheap eats from Kolkata streets will blow your mind!
In Bodo cuisine, I learn grilling and smoking are the ways of food preparation. Then what is the liquid the Dokona clad women are pouring like we bengalis pour Mustard oil in Hilsa Jhol? A lady smiles and says it is Khar. An organic form of alkali, which also cleanses our stomach, Khar entails an exotic preparation process where water passes through sun dried banana skin. Khar is also the starting point of the luxurious Assamese thali and a vegetarian (and vegan) dish of its own!
Also read: 6 reasons why North east India should be on your next travel list!
Bansh keno jhare? esho amar thalay! (Oh Bamboo, why are you in the bush, come adorn my plate!)
More than a tree from the grass family, bamboo is a part of traditional Bodo life. In a couple of day's stay in the fringe village that lies in the outskirts of Manas National Park, I saw the villagers use bamboo as a source of fire to cook food, a mean to protect rural households from wildlife by making fences, a way to walk in the muddied road, build up those little cottages and more! But those are obvious use of a sturdy plant stem. What is the exotic deal?
Exotic is when you find the Bodos smoking bamboo shoot and pork inside a hollow bamboo stem! For a foodie, the joy is enormous, to witness gourmet celebration in such a massive scale!
Agricultural bliss and the yield of river
The Bodo kitchen is out in the nature, in the sprawling fields, the lush green and mountain streams.It is an ageold kitchen by the Himalayan foothills. The villages are punctuated with two mountain rivers, Beki and Manas, allowing them a never ending source of fresh river yields! Be it the small crabs, Eel fish (also known a kechki in local terms) and myriad varieties of fish (which I love), snails and more!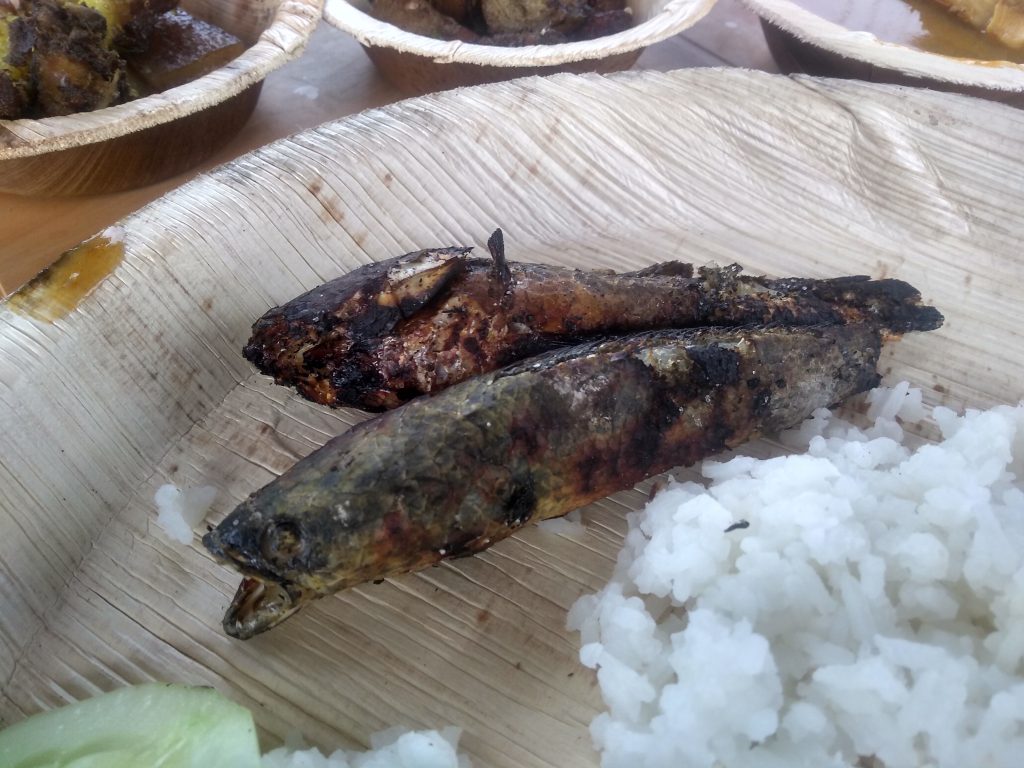 Acres of paddy fields produce the quintessential staple of Eastern India, rice which is served as boiled, powdered as a thickening agent or even brewed as Jouw , a local moonshine. Bodos prefer pig and country chicken over mutton or Mithun (which is popular among the tribes of Arunachal Pradesh, the adjacent state). Pork is barbecued with zeal.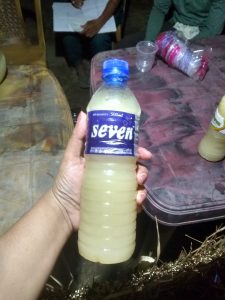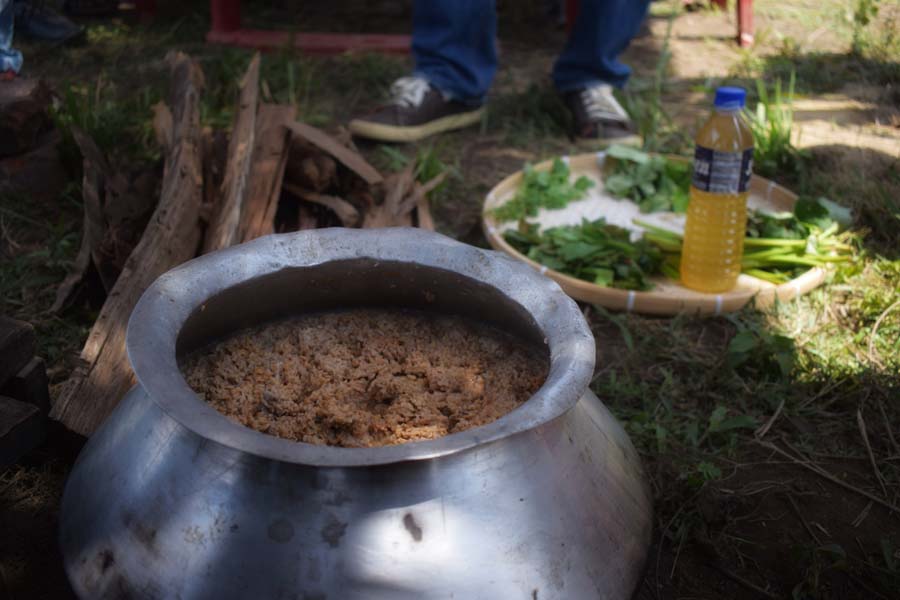 Also read: A week in Shillong, travel stories from the heart of Meghalaya!
The quintessential Pork Delights
The love for Pork meat in Bodo household goes unequivocal. For an experimental gourmet enthusiast, the opportunities are manifold! You have the succulent pieces of pork belly smoked and served with finely chopped chilies and onions, waiting to be devoured with the local moonshine. If that is not enough, go ahead, explore the pork cubes floating in the comfort of rice flour curries! The cooking procedure is zero waste, meaning even the entrails of a pig is cooked to perfection, often mixed with strong flavored herbs.
Herbs: The Bodo's go to flavor god!
One distinctive style of Bodo cooking is to balance strong flavors of fresh or dried meat or fish with various types of herbs. I saw bitter Jute leaves mixing up well with pork meat or Puti mach tasting delicious in a green sauce made with rare but local herbs. Living by the jungle has its own perks!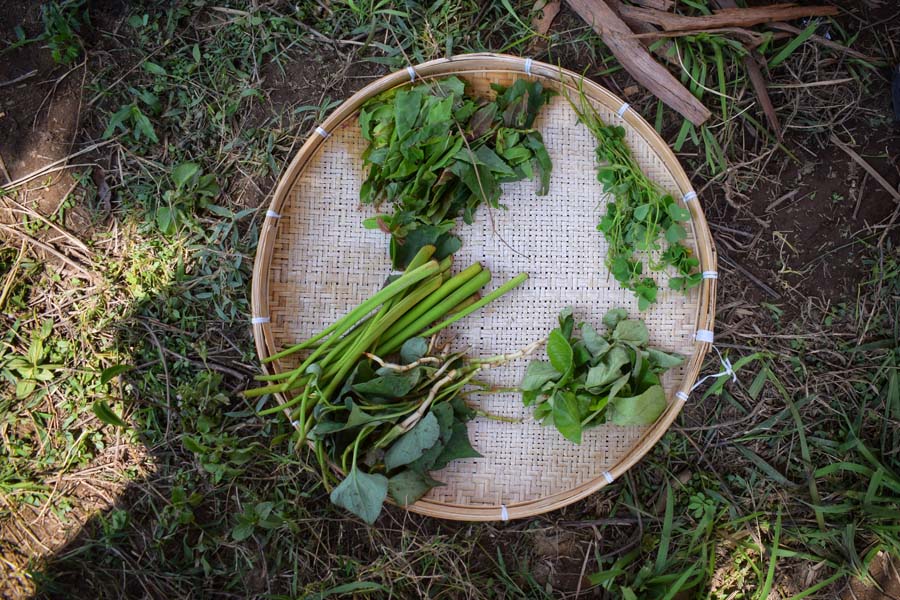 Also read: Did you know about this authentic Mughal restaurant of Delhi?
Dried stuff tastes so yum! Shutki and more…
Manas National Park is situated by the foothills of Himalaya. Seasonal change can be punishing with extended period of rainfall or bitter cold. Traditional methods of stocking up food for the trying time is still in practice, in form of dried fish mostly. Dried fish, otherwise known as Shutki in Bengal, is a delicacy when cooked with generous amount of mustard oil and tons of spices. Yes, stay away from it if you are a faint heart! It is in the Bodo village I came to know that Shutki tastes equally good when made into a chutney with green herbs! The aroma could be daunting but when eaten with steamed rice, it is a delight!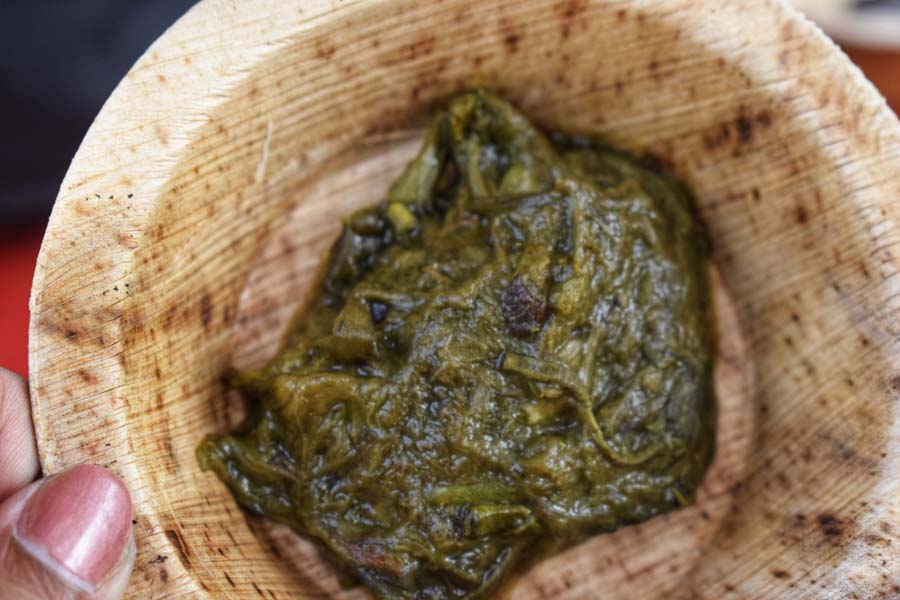 The Bodo Thali and its ingredients!
The entire of Assam state has multiple offering for a food enthusiast but the semblance lies in the inheritance of a Thali. You cannot help but feel overwhelmed when served with a grand Thali, white rice like Beli flowers at the center and small bowls full of cooked delights circling the plate! Here is one I found at Bodo Village.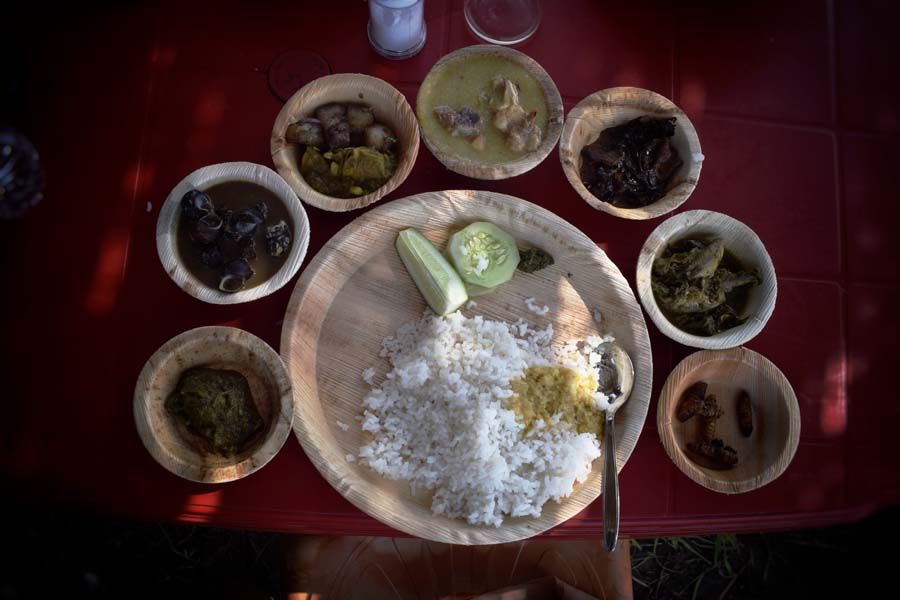 Clockwise if I have to describe what is on my plate:
Silk worm, grilled. Tastes real good. Don't eat gingerly when you are out there in the wild.
Puti mach in green leafy vegetables sauce
Jute leaves cooked with pork, tastes bitter in general
Country chicken cooked in rice flour gravy
two types of pork, grilled. Oma, as the Bodos call it.
Snails in a light stew
Dried fish in a green sauce, beware of the strong aroma
PS: Look at the rice. It comes with a slice of fresh lemon to enhance the meal experience. The green chutney is made of chilli and an absolute delight!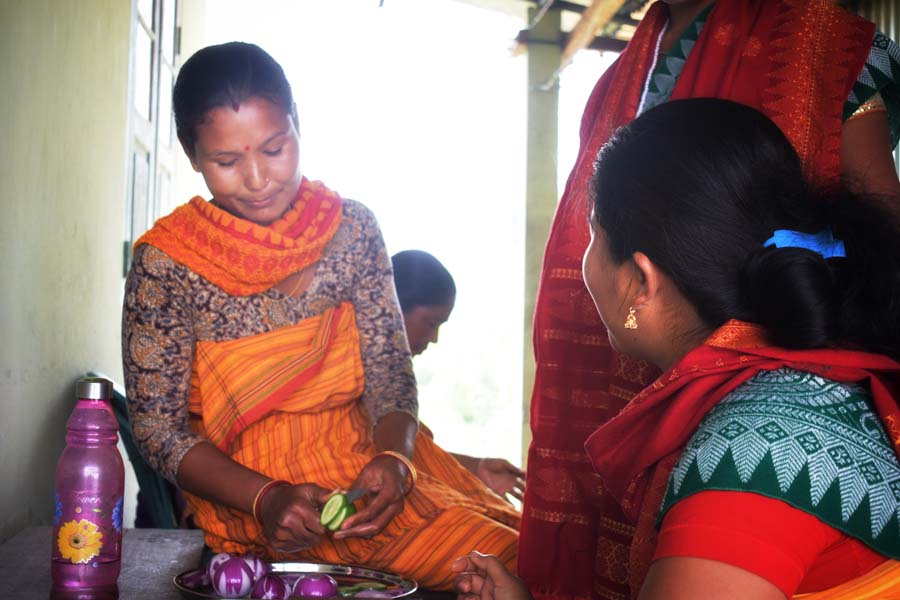 While the abiding reputation of Manas National Park is of its rich wildlife set at the backdrop of a dramatic scenery, we were introduced to the other side, where locals have sustained a culture dating back to millenia. The program had celebrity chefs coming over and introducing newer techniques to his traditional counterparts. Ebbing away the vices of past, this festival aims to provide employment and training to the optimistic youth, specially the women of the community.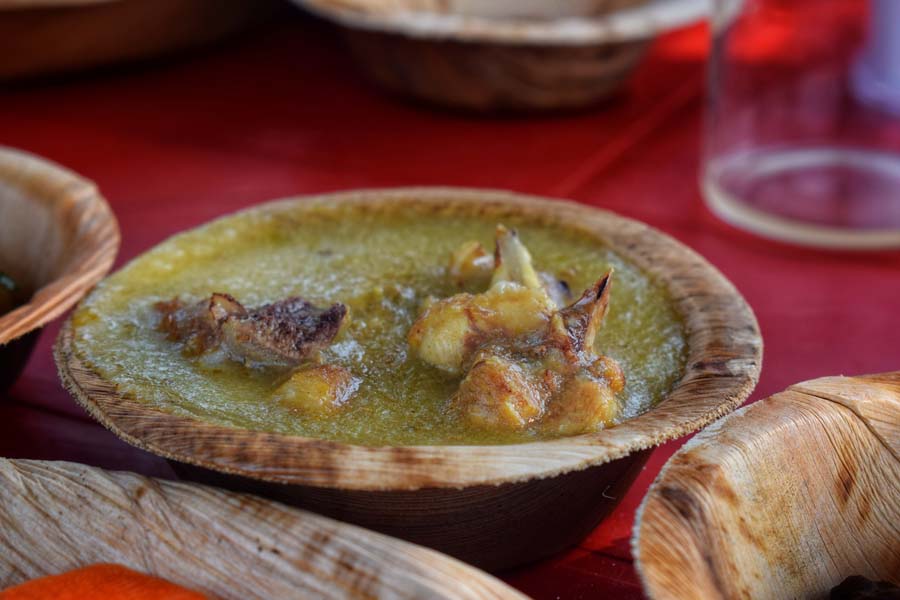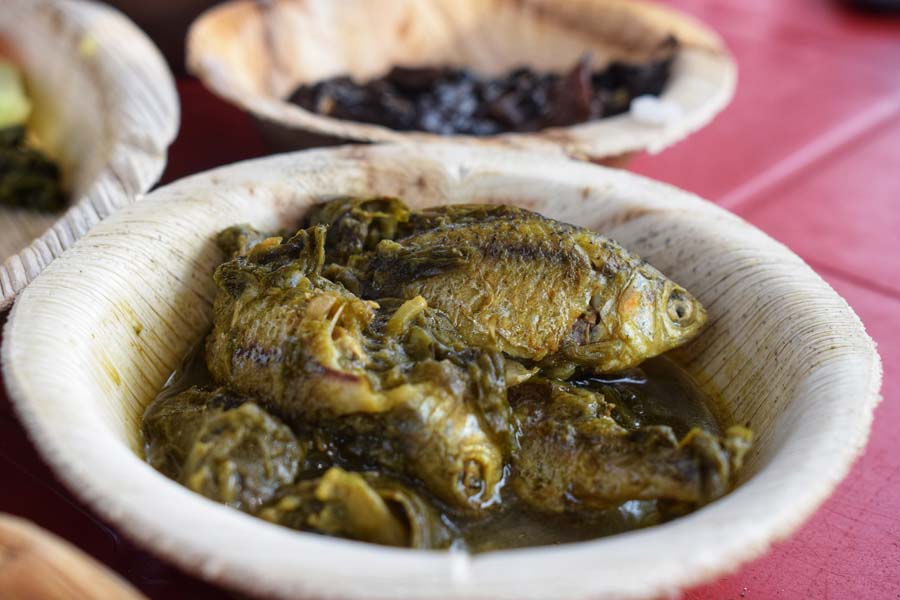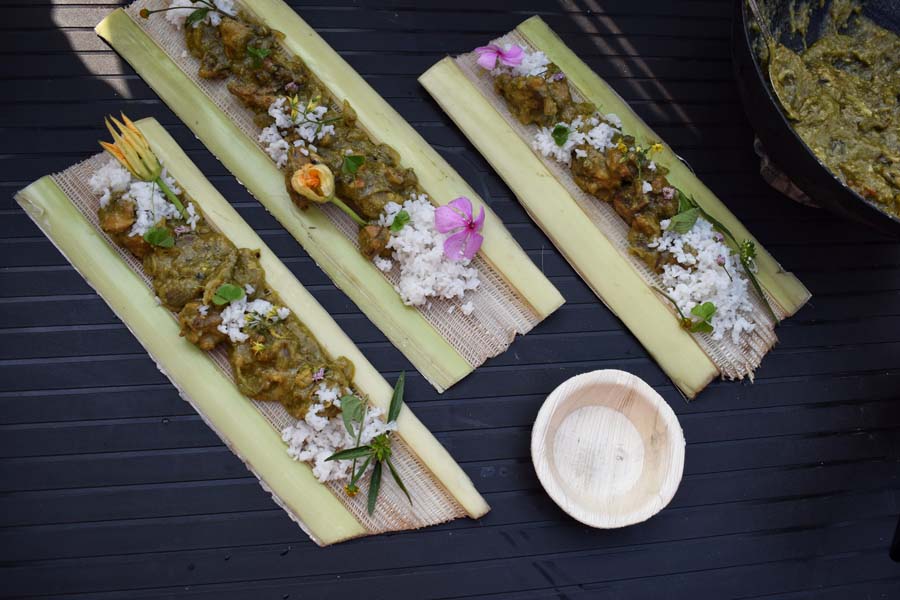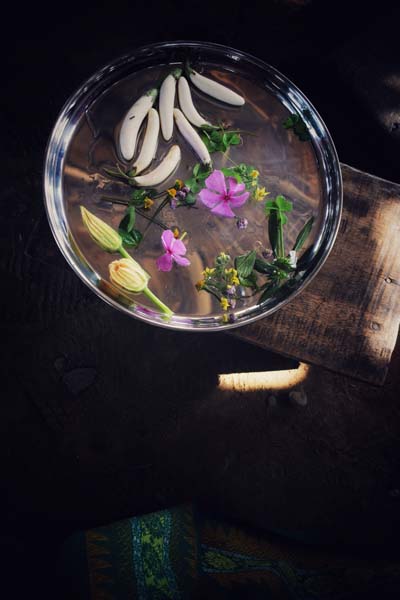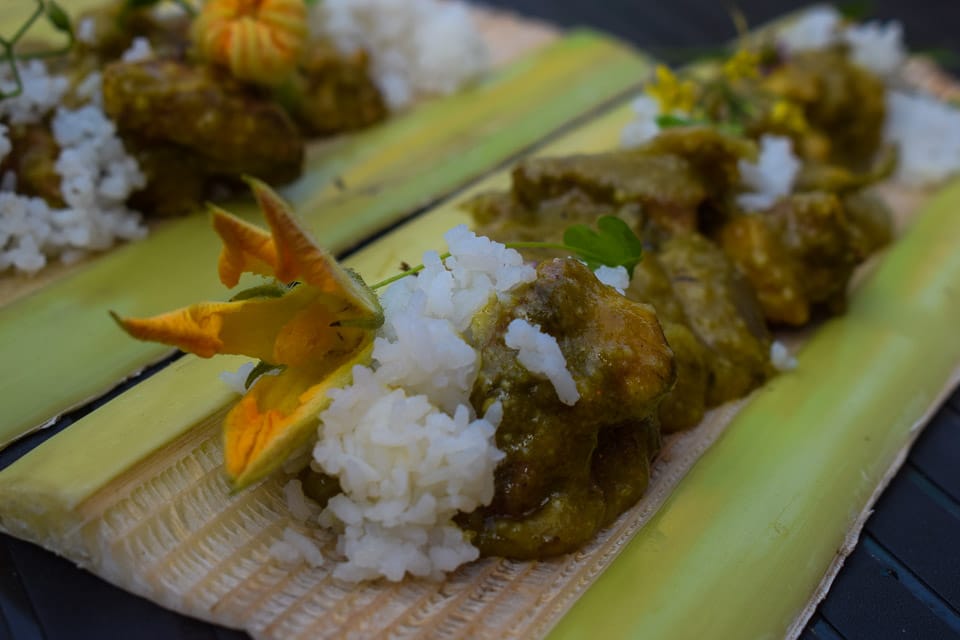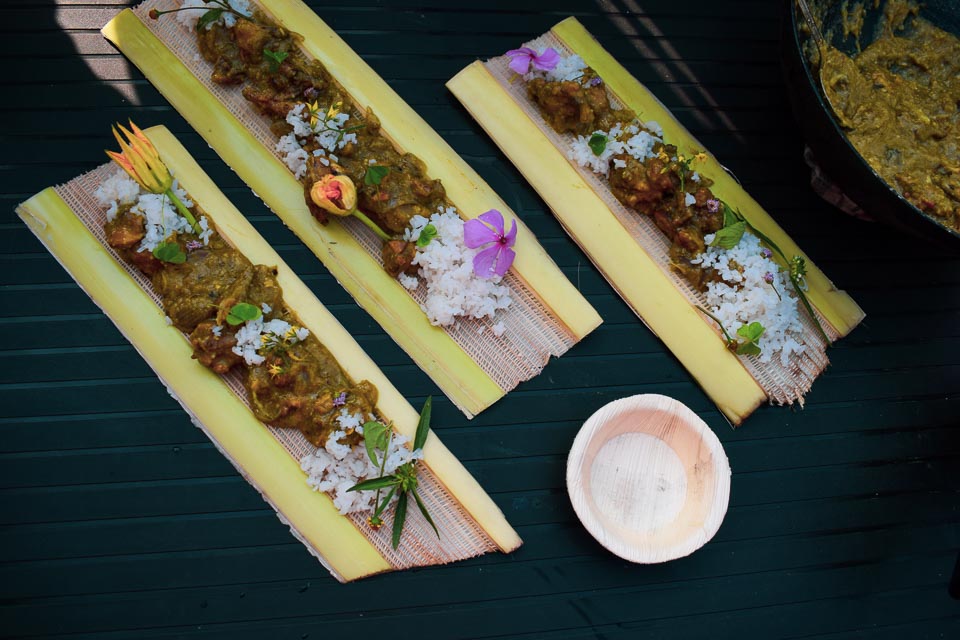 FAQs
How to taste the grand Thali:
Call the ethnic community center GUNGZEMA at 8133069620/9365465351
How to reach Manas National Park:
Reach Guwahati and hire a cab. That is the easiest way to visit Manas National Park. Guwahati is also the nearest international airport. Fancy a ride with Indian railway? Come to Barpeta station, 44 KM ahead of Guwahati. Take a taxi ride from there.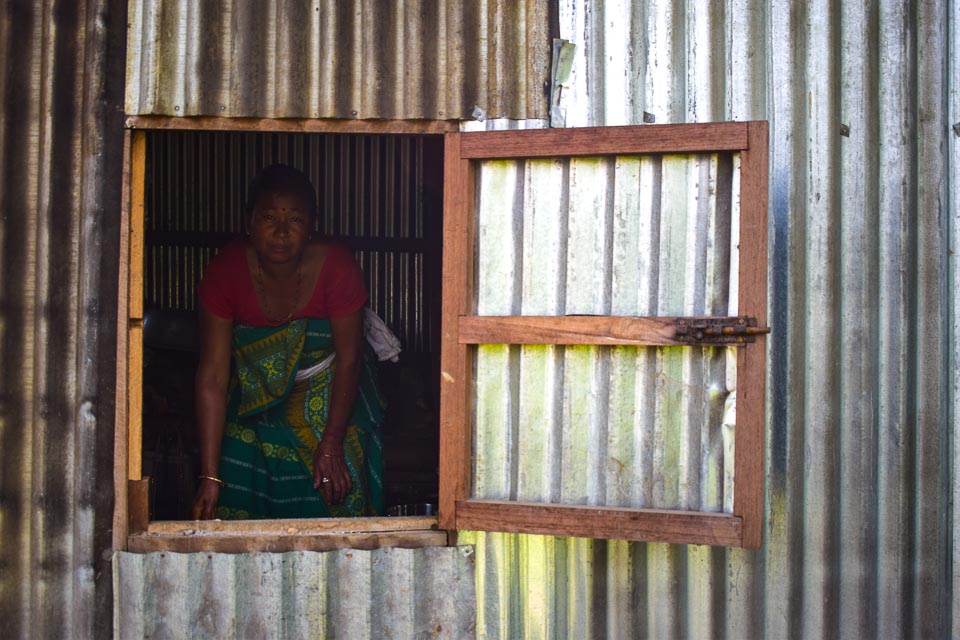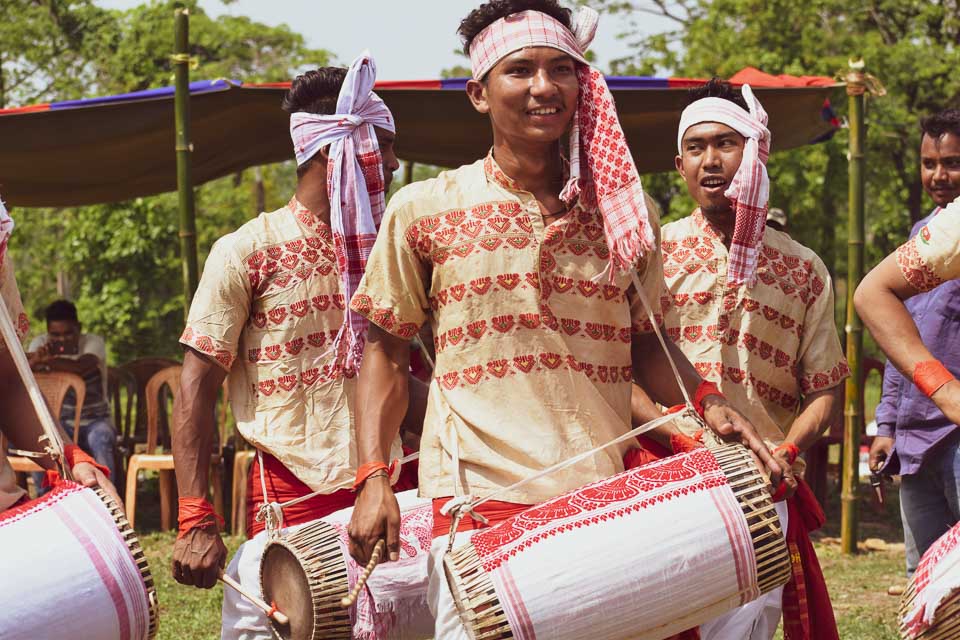 Want to get real time updates of my travels?
Get updates and read additional stories on the Orange Wayfarer Facebook page.
Follow Orange Wayfarer on Instagram.
Follow Orange Wayfarer on Twitter.
You may also subscribe to my weekly newsletter!