The Assamese Thali: Highlight of North East Roadtrip!
Travelling Northeast India calls for long hours of being on the road! Which also means a handful of exciting meals. It is the roadside Dhabas en route Guwahati to Tawang where I tasted the best of Assamese food! An Assamese Thali is a huge spread of really good food, mild in spice count, flavoured with the goodness of vegetables and plenty of non-vegetarian and seafood dishes, and in a nutshell, is an embodiment of all the good things of life!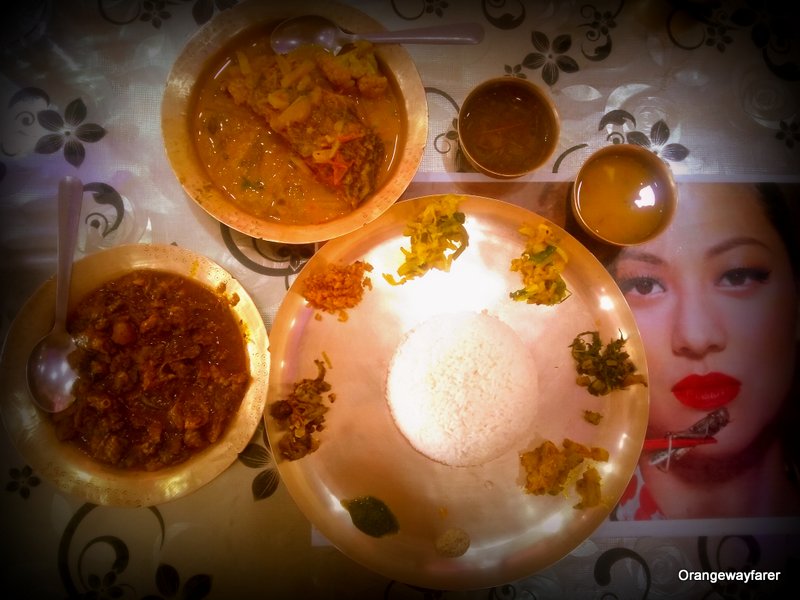 The Assamese soil is irrigated with river Bramhaputra and the plates are supplied with carp fishes from the same river with diligence. "What a huge river it is, no wonder it is a Nod (a male river meaning masculine and more powerful. Geography lessons says, it has no tributary)!" I thought in my mind while crossing the famed bridge of Saraighat. The bridge helps connect the Chicken's neck that Guwahati was, with the rest of seven sister states of North East India! The land is huge. War history with hostile international boundaries looms large everywhere.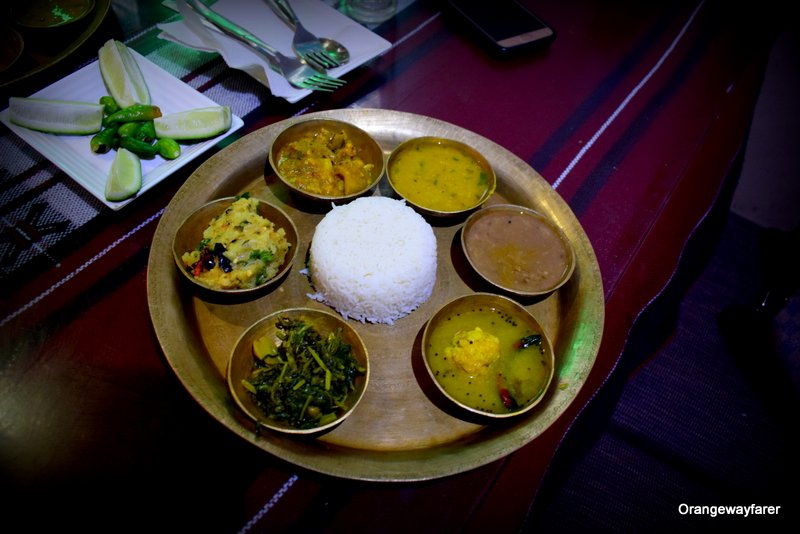 But I grew up reading a book or two that emphasised on the mystery of the region. Where beautiful Apsaras will turn men into sheep… the fictional stories published on Shuktara related to Tantrik customs will send the shiver down your spine.. where Rabindranath will make quick pit stops before proceeding towards Tripura (or did he? He did not live long enough to experience the painful period of India's partition!) and appreciated his Assamese meals of Khar…
Wait. You read that right. Rabindranath Thakur appreciated the Assamese Khar profusely. Delve deep into his candid letters to the family and friends and you shall find your reference.
Since the pioneer of Bengali (or shall I write the world?) literature wrote about it, who am I to visit Assam and not taste a classic Thali that leads all the food-senses into a pleasure game?
Pin it for later read!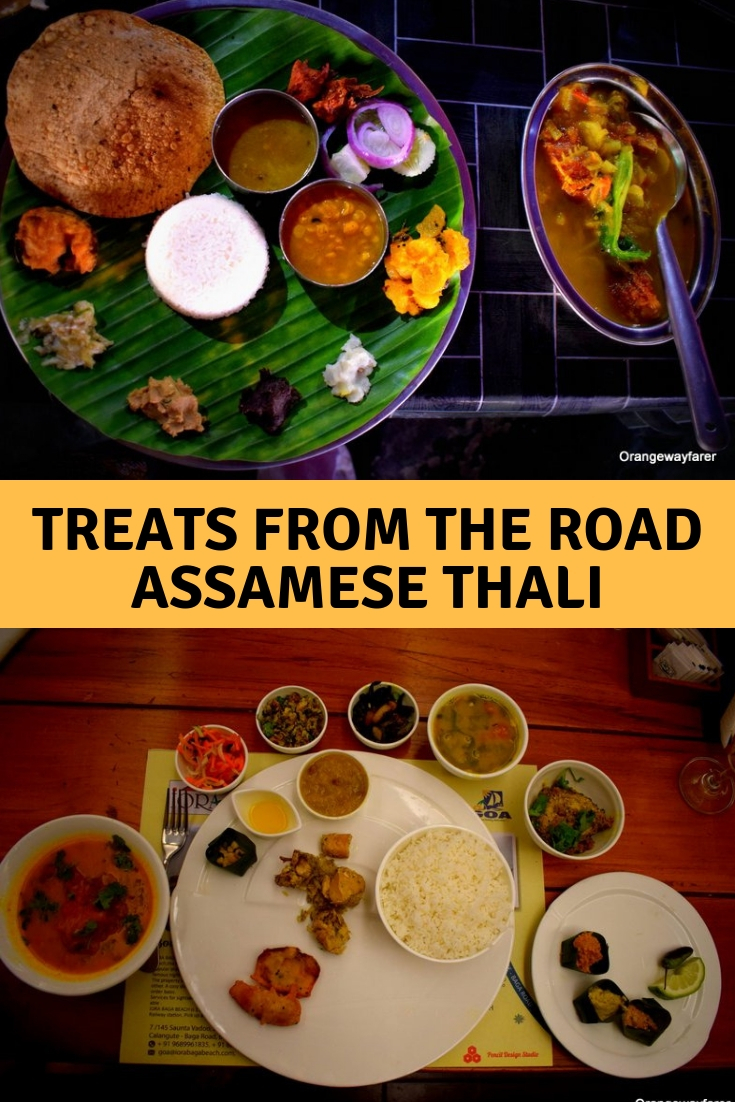 Exploring the Flavours of Assam on its Highway!
We were driving towards Arunachal from the very first day. Lying on the other side of the spiralling highway that runs parallel to the bustling almost-capital city of seven sisters region, Guwahati was yet to spell a cast. Stardy highways seamlessly blend into the horizon where army tanks proceed in a staunch discipline to the highs of Himalaya, making fellow "mango" passengers feel awkward! We passed a few convoys and couple of amphibian trucks and stopped at a place called Seven Sisters Dhaba.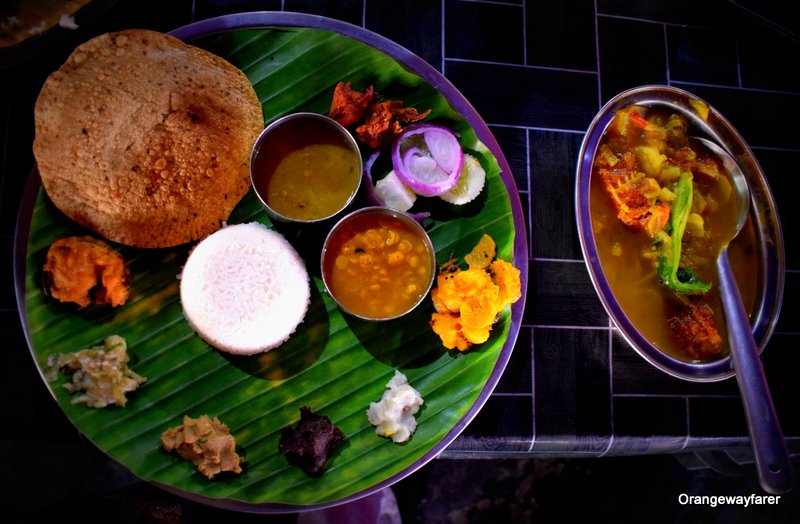 The very first Assamese Thali I saw and instantaneously fell in love with! Take the fishbowl out and it becomes your vegan Assamese Thali!
Rediscovering The smell of my Grandmother at Seven Sisters Dhaba on NH 37
My Mammam is born in Tripura. When I spotted a statue in Don Bosco Museum in Shillong, I screamed, "Sayantan this is my Mammam!"
Mammam has a way of life in her kitchen. A practising Hindu Bramhin widow, she can teach a thing or two about cleanliness even at her 90s. Her kitchen smells of fresh lemon and nigella seeds. And a few more intangible things. A mixed aroma of the Kuyo, a private well, camphor she uses in water, Posto, poppy seeds mashed in Sheel, old-school mortar pestle made of black stone and more add up!
The prevailing aroma at the Seven Sisters eatery evoked an instantaneous memory of my childhood. I kept stressing on the fact that it is of my Mammam's. But I could never really pinpoint what exactly was Mammam standing. Is it the moong daal that came accompanying Shiuli flower like rice? Is it the Kagji lemon they serve with the meal as a condiment?
Bewildered, we started with the luncheon.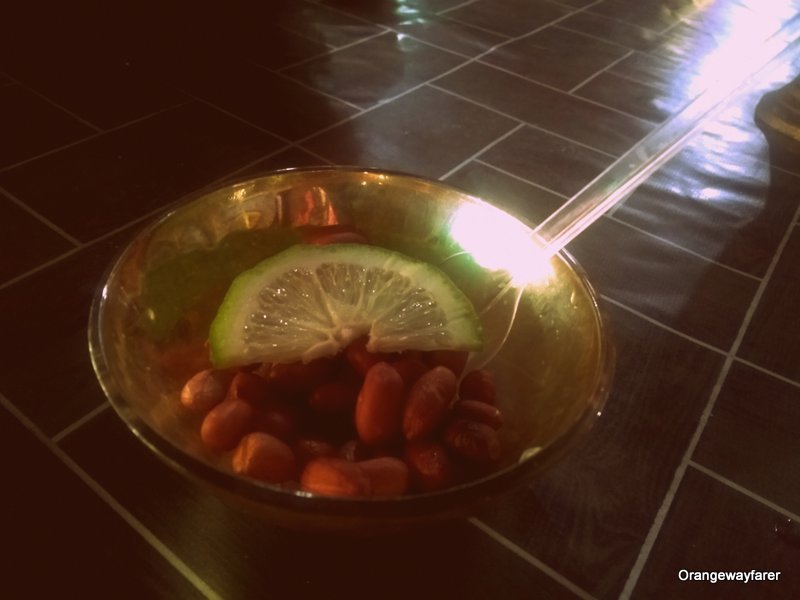 A halve of lemon and a few raw peanuts.. what you get before you place the order!
Also read: A week in Shillong, travel stories from the heart of Meghalaya!
Not two Thalis were the same in Assam: Surprises galore!
A Bengali will find it easy to fall in love with Assamese food. especially if the said Bengali is a Bangal, with roots in erstwhile East Pakistan, now Bangladesh. Assamese food does away with excess sugar and embraces sourness with elan. Masor Tenga becomes a new favourite where the Brahmaputra's carp yields are dealt with care in mustard oil and sour spinach!
Our first introduction to the Assamese meal was with the varied types of Bata! Morsels of various vegetable paste,  are often boiled and mashed and serves as a side with rice, which is the quintessential staple of North East India. A bowlful of rice is carefully served at the center of the plate with many small bowls following up rounds!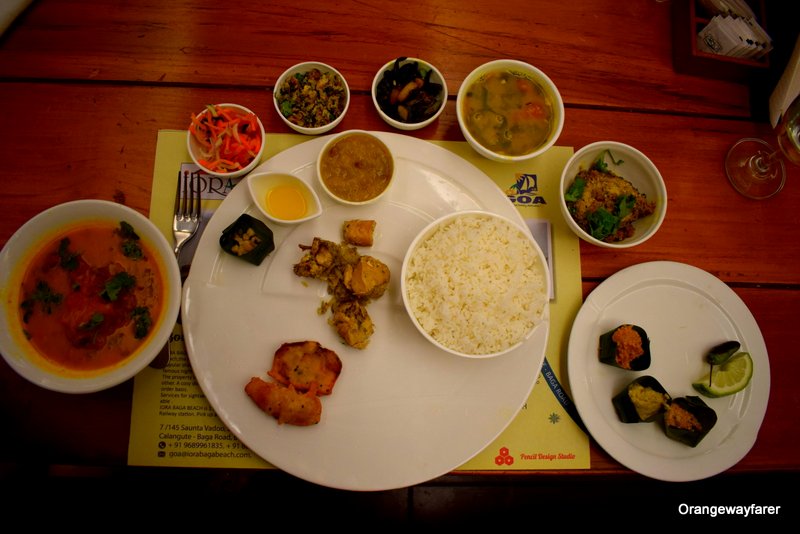 An Assamese Thali in full pride! The extreme right plate shows all the Bata. The leftmost bowl is of Maser Tenga. The plate at the center has rice, daal, Ghee, khar, fried bringle and potato and bamboo stem smoked chicken on it!
If you are lucky to be invited at an Assamese household, you may be served in a "kanh baan bati", which is a bowl with a stand, the traditional way of serving this dish.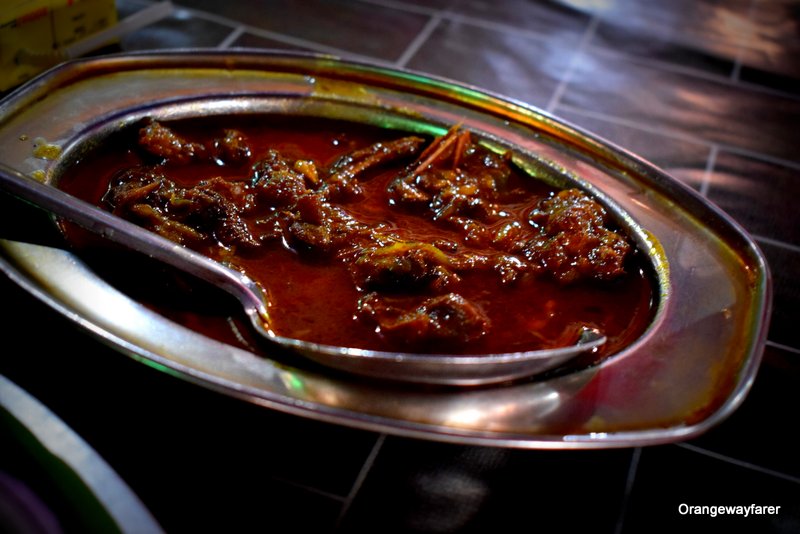 The Rogroge duck curry which I love!
Mustard, chilli and mild spices and herbs are added to enhance flavour. Achar (pickle) and salad are the generic addition, at least in Seven Sisters Dhaba.
It was the winter evenings. Fresh vegetables found an easy way to make it into the fish stew. Capsicum, gourds added to the flavour.
The real winner of the Assamese thali was the duck curry though. When in Assam, in case you like to keep the meaty affair simple and 'white', stick to duck meat. I tried the duck meat in Kerala and Vietnam but none of the places matches up to the Assamese affair!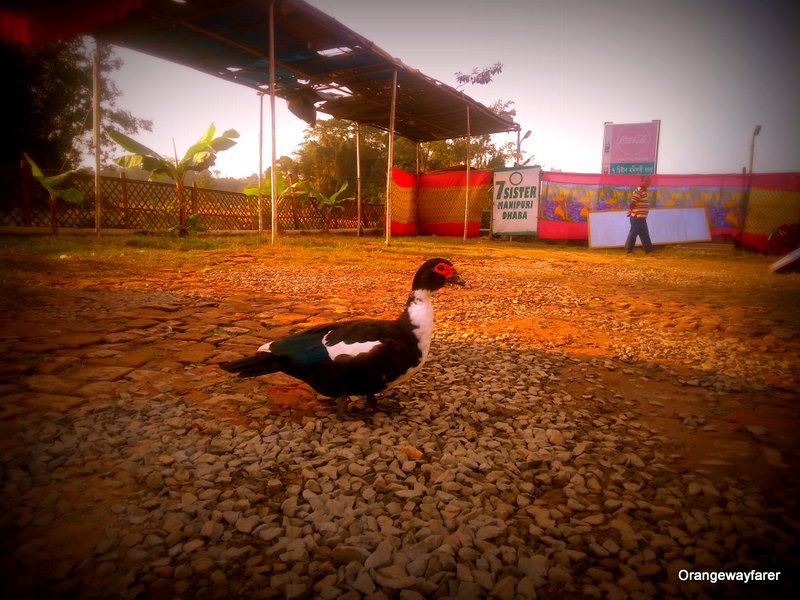 A duck we spotted at the Seven Sisters. Is it a pet or a food?
The Assamese prefer eating Paati Hash (waterfowl and not the swan). Cleaning the meat is a cumbersome process and calls for an expert to pick on all the numerous and minute features. The local practice is to burn it on a high flame, adding a smoky flavour, for ease of plucking features and keeping the skin intact to be cooked in the curry. Consider yourself lucky if you can order the traditional dish of duck meat cooked with ash gourd.
The locals said depending on the speed at which the duck runs, they decide on the catch of the day!
Spice quotient is very high on this dish. If you are ordering at a highway dhaba, ask for a milder version!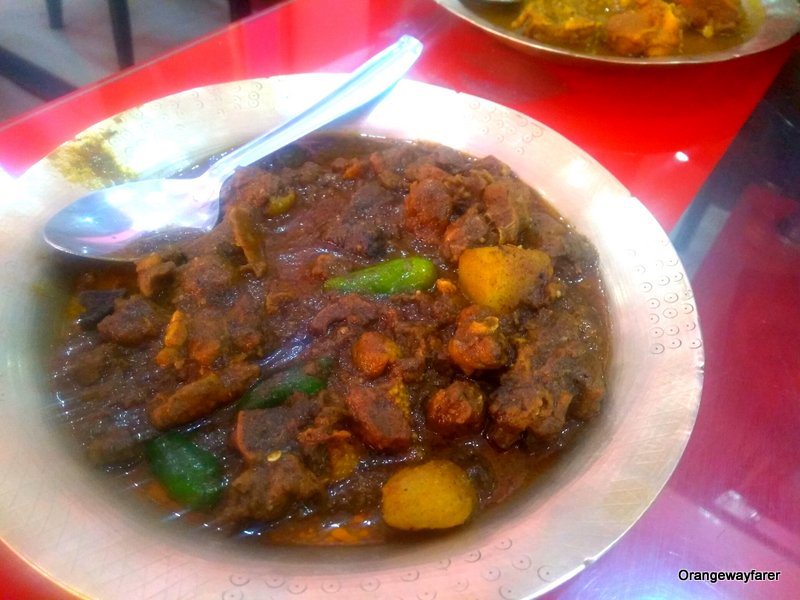 A typical dhaba style Assamese duck curry, cooked with green chillies and potato slices! Heaven!
We frequented the highways three more times on that month. Once we were descending from the mountain and heading towards Shillong. The next in line was Kaziranga from Shillong. We tried a few more dhabas among which I loved Anurag Dhaba the best!
No two highway eateries serve the same kind of food. While one the Seven Sisters Dhaba serves a slice of lime and few peanuts as munchies, one served a bowl of raw posto mashed with mustard oil! How good it tasted with rice!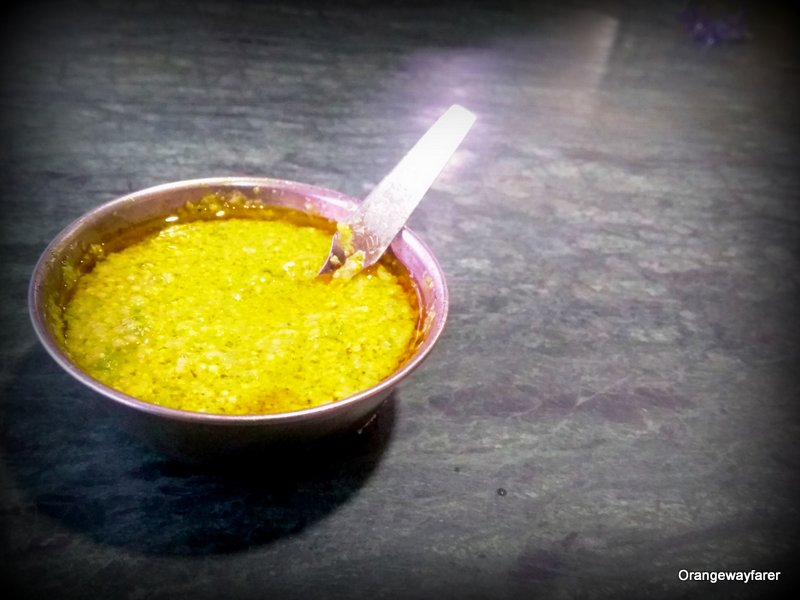 This Posto paste in Mustard oil is all I need to savour a plate full of rice!
Tips to find the best Dhaba en route since most of them are not geotagged on Google yet!
Choose a dhaba basis on the number of cars standing in front. it indicates the place is a favourite among the locals.
The dhabas (the roadside eatery) may not be serving alcohol basis on the rule of the land.
Ask the waiter for the fresh catch of the day if you like to eat fish. He will guide you for the best boal, a type of catfish or the best chital.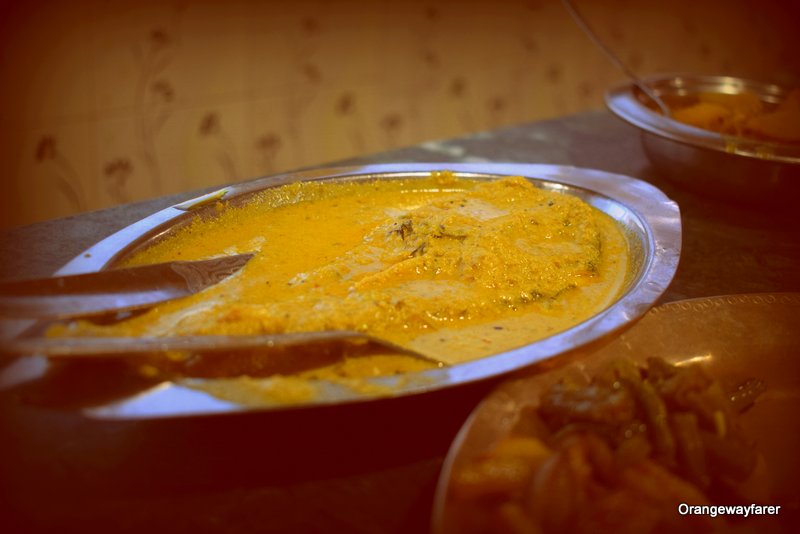 Chital Peti, a delicacy that I ate at Anurag's Dhaba in Assam! Made with poppy seed paste, it exceeded all expectation!
The Assamese thali contains numerous courses, exceeding number count every time I tried counting. The regions from upper and lower Assam contribute their own identity basis on the route you take. The lower Assam will fill your platter with dry fish and bamboo shoot while the northern Assam will cook up some serious pork curries!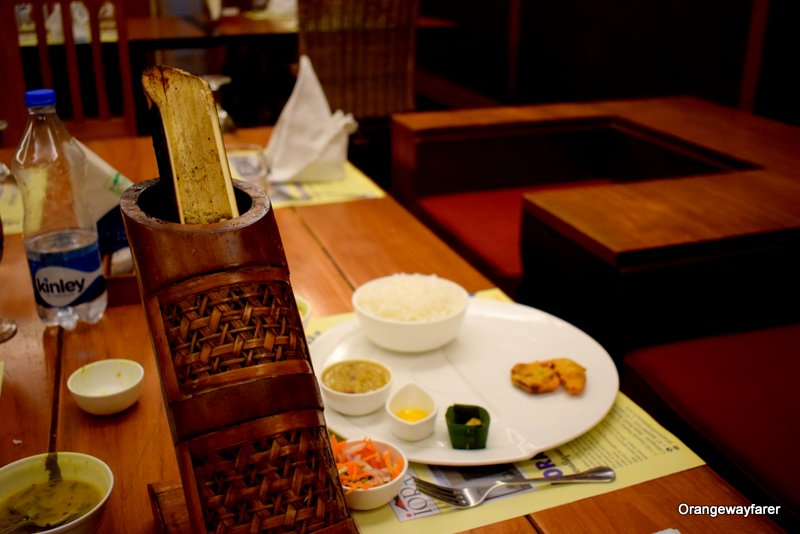 The smoked chicken cooked inside bamboo stem (very fancy I must admit) being served at Iora resort, Kaziranga which is in the lower Assam area!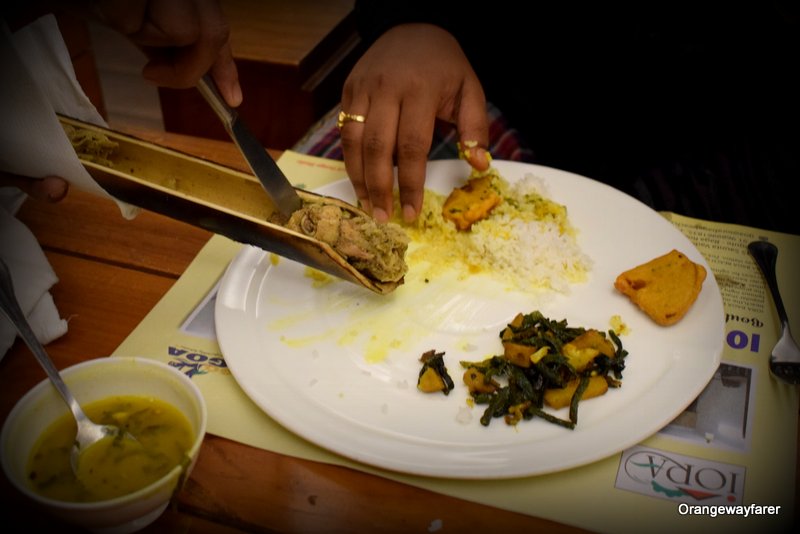 Eating with your hands is the norm in Assam, as with the rest of India!
No matter how I loved the spread, the Bengali tongue was craving for some sweet at the end of an elaborate rice and fish and other things meal. We ordered kheer and Dahi a couple of times. My observation is Assamese prefer to keep the sweet quotient low, really low, Which is healthy and is very effective to render the nutritious value for the meal. The dahi is nothing like the mishti Doi of Kolkata. At times, it was served topped with a few nikutis. Nikutis acted as the added sweetening agent.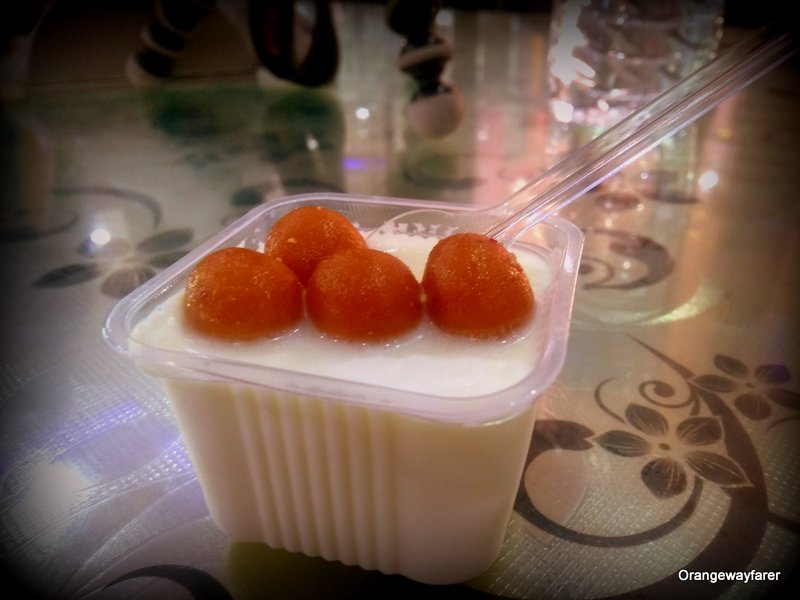 The gurer Payesh (Payesh mixed with jaggery)  on the other hand is not limited in sweetness. It tasted very familiar with the counterpart from Bengal. Rice and jaggery slow-cooked in thickened milk with an excellent aroma of Gobindobhog is always a winner!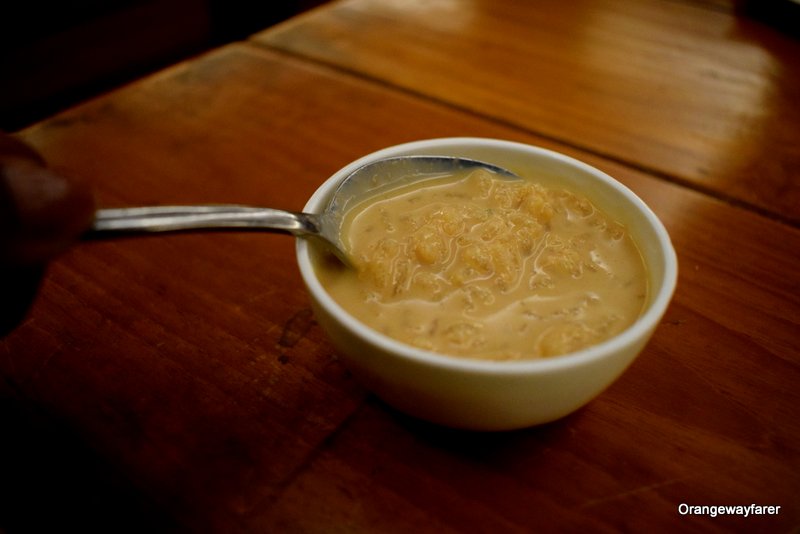 Bodo food: A pleasant surprise from Assam!
While you may not want to give up on the binge eating on Ahomia food anytime soon, a secret cuisine from the tribal belt of upper Assam is awaiting to surprise you! A few eateries in Guwahati or food pop ups (one example is food sutra by Mitali) can help you find it in the city. I had the good fortune of eating homecooked Bodo food in at the Manas National Park.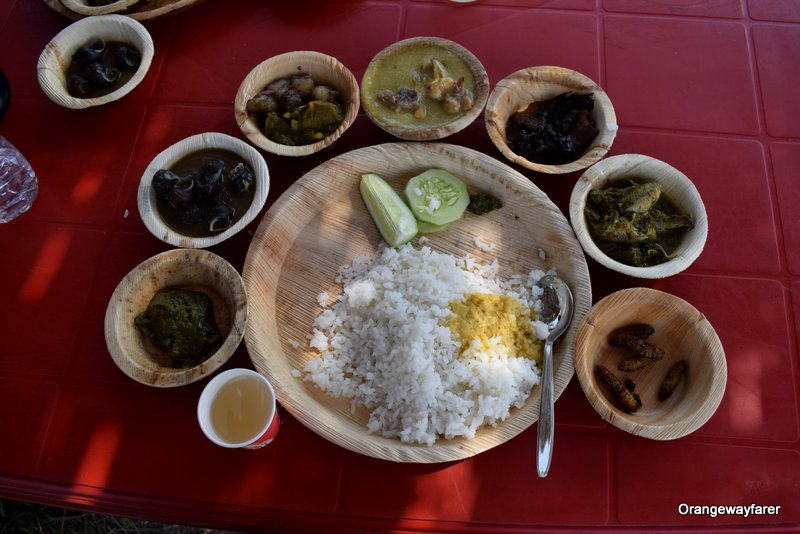 This thali of typical Bodo cuisine is a pure bliss! Anticlockwise: Apong the rice beer, Dried fish, snails, pork and chicken khorika, chicken stew, a local Shaak cooked with pork fat, small river fish Putimach, silkworm fried. On the plate, rice and daal and a slice of lemon, a pickle made of green chillies!
you find Kukura (chicken), Gahori (pork) and Maas (fish), all in one plate here!
Also read, Manas Spring Festival, Assam!
Devoid of any trace of oil, the Bodo food is heavily dependent on Khar, rice and rice wine along with Fresh produce of the land. Silk worms, eel fish easily find a place in a traditional Bodo plate that has rice as a staple, khorika as a starter!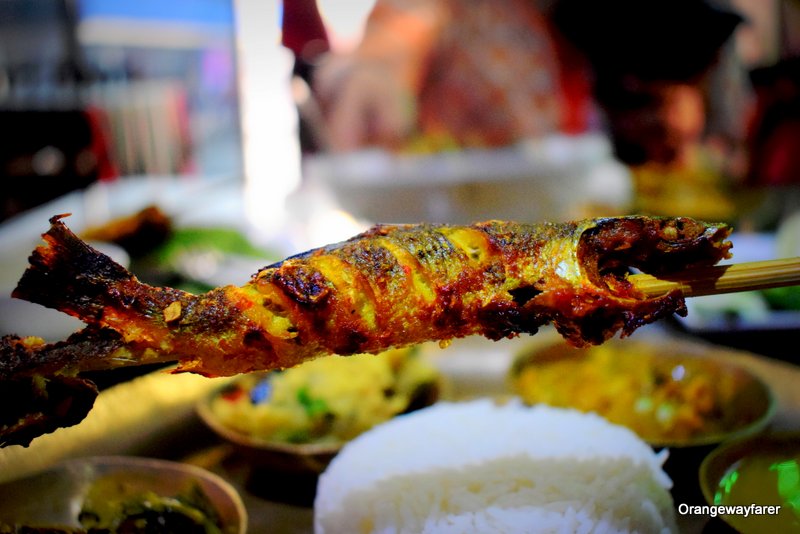 I learnt the style of eating Khorika in the Bodo village. The meat (depending on you are eating fish or pork) is flaked out and made into a mash with finely chopped onion, chillies and coriander. It uplifts the wintry evenings at the foothill of Himalaya with a gentle helping of rice wine!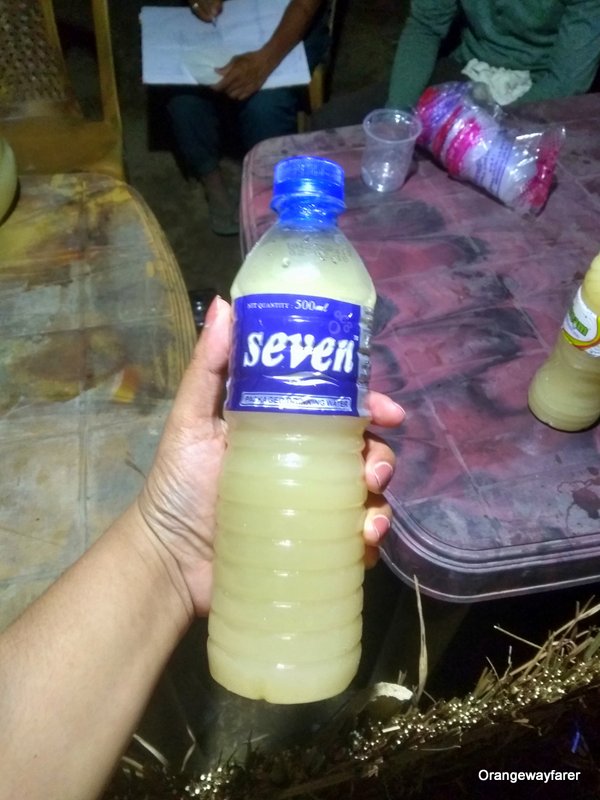 The local speciality, Rice beer or Apong will cost you INR 100 and good times start!
Khar: A chemical lesson
Khar reminded me of the high school chemistry classes where we toyed with the idea of color change and making soak with alkaline resources. But life was yet to surprise me! "Khar is a base or alkaline component made of ashes of banana skins dried." told me a Bodo girl. "It is 100% organic!" pride reflected in her statement.
In the extreme climatic contidition, with little economic resources, the Bodo community has been practicing traditional wisdom in their kitchen and daily livelihood.
Khar is served as a side along with rice and acts as a cleanser. In this small bowl of indegenous food, the entire identity of Assamese plains is stored!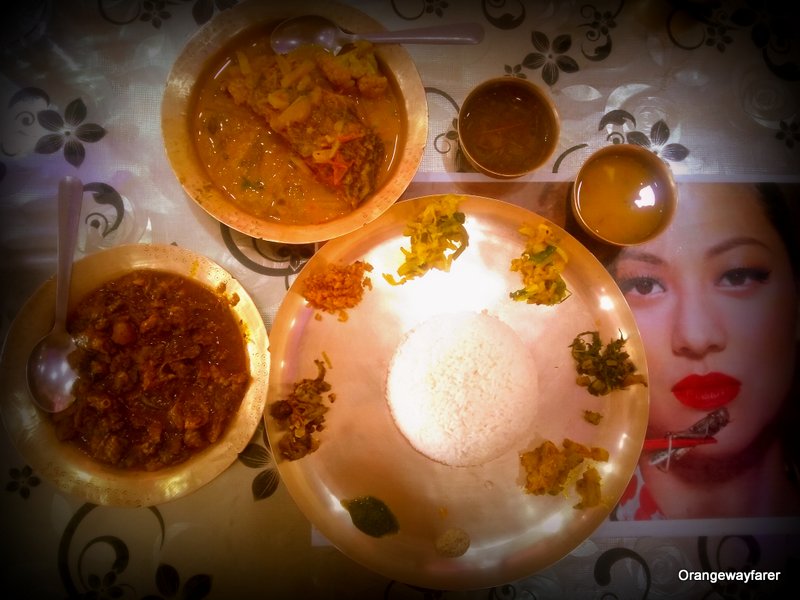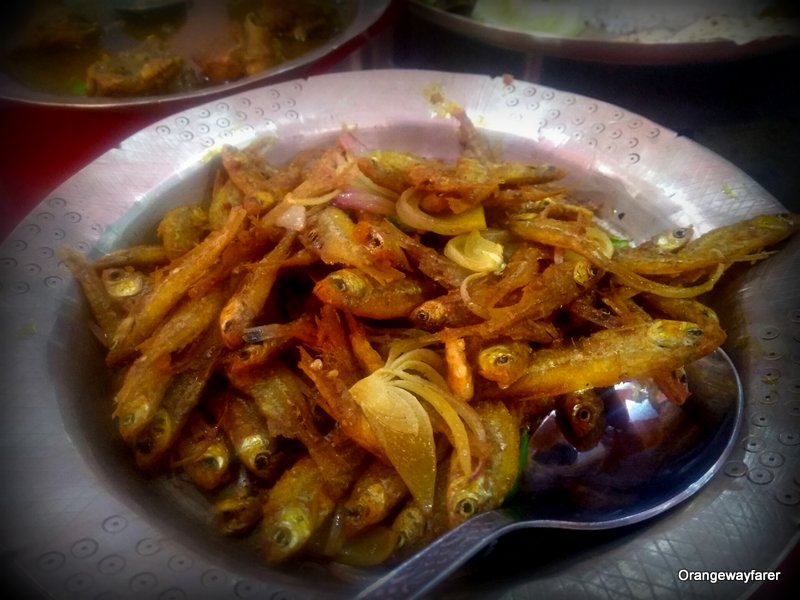 Tiny dhangon mas (local anchovies) cooked with onions and mustard oil.
The fine-dine scene in Guwahati and the search for Assamese Khorika, the Barbequed meat!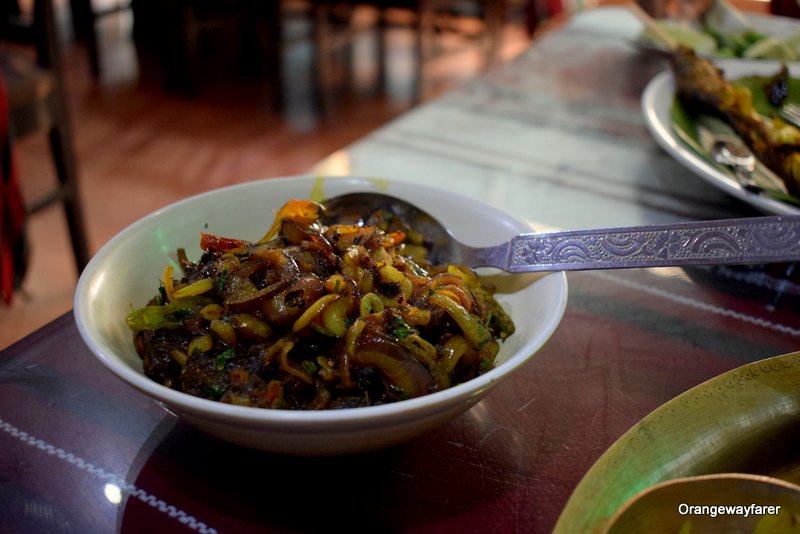 Pegion meat fried with onions and served at Heritage Khorika, Guwahati!
Most of us stay in Guwahati as a transit point before spreading out into the interiors of North East India. The city has an exquisite collection of exotic far eastern tribal food, authentic Ahomia dish and sumptuous street food as well!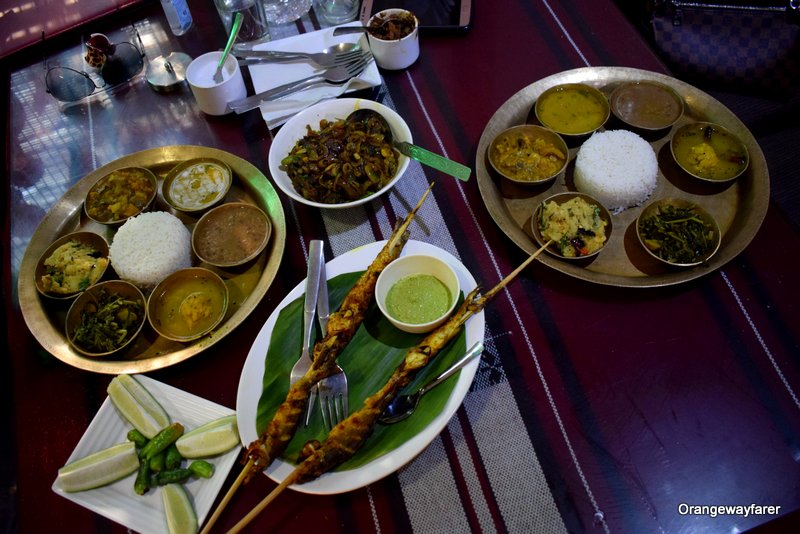 A decked up Assamese Thali meal in Guwahati which highlights the best of Assamese cuisine! Khorika is  highly recommended for any foodie!
Befitting the identity of a busy city, there are plenty of fine dining options in Guwahati. they serve exotic Chinese dishes, Bengali meals and the authentic Assamese. My favourite is Heritage Khorika from Shakharipukur! A warmly lit ambience with bamboo made interiors, Heritage Khorika stores many publications detailing travel routes in North East India
The street food of Guwahati!
We lived in Paltan Bazar area. Paltan Bazar is also a railway junction, making a quick night stop for long distance travellers. The streets are lined with a hole in the wall kind of eateries. You can binge on river crabs and shrimps deep fried. The stationary shops store local bakery food along with Til Pitha. The white sesame seed made pancakes are stuffed with jaggery and is best described as an acquired taste!
You can also venture into the local raw market and buy a few things. My favourite are Supari (betel nut), baby potatoes, jaggery and all! The Bhoot Jolokia achar is another prized purchase if you like your meal super spicey! Pickles made from bamboo shoots are a collector's choice as well!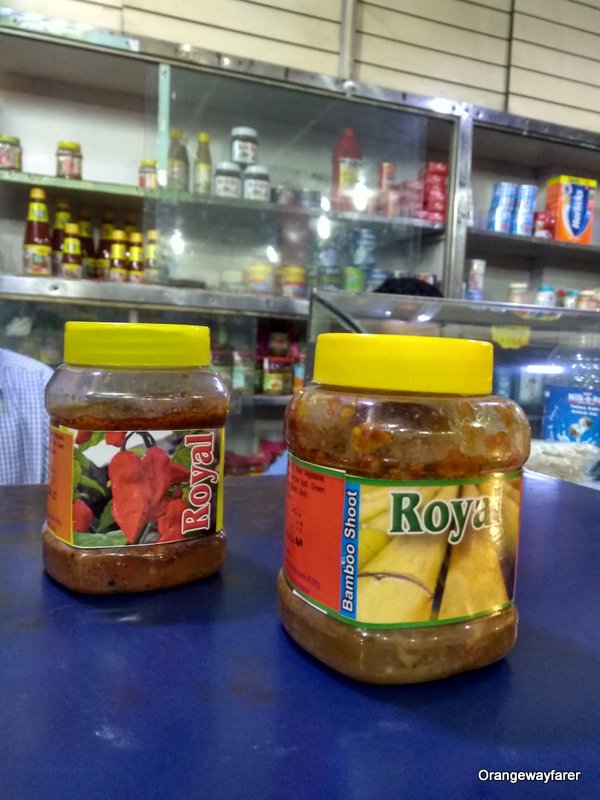 Buy them at your own risk!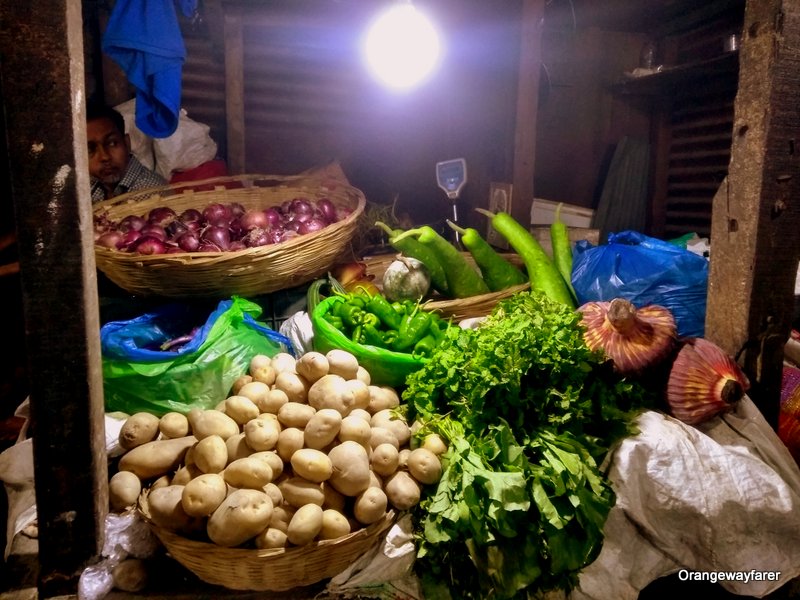 Love visiting local markets of a destination!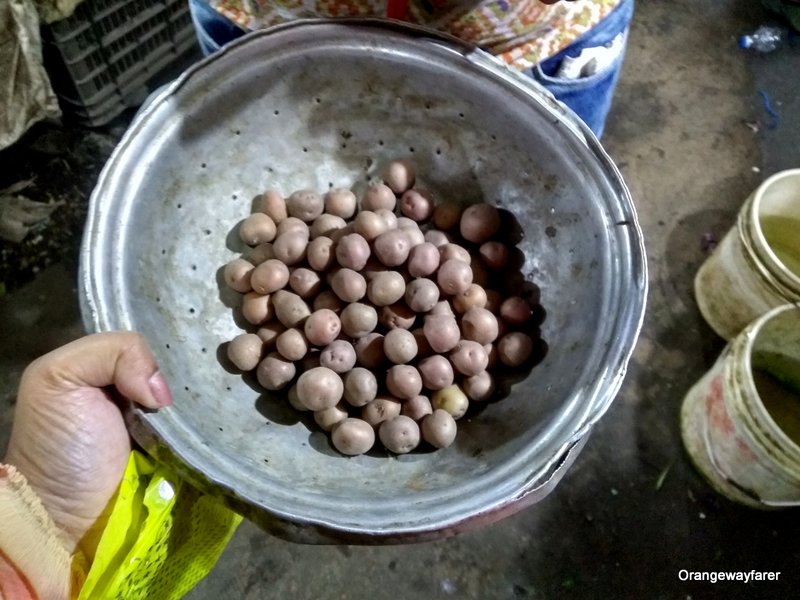 These baby potatoes make for amazing Alur Dum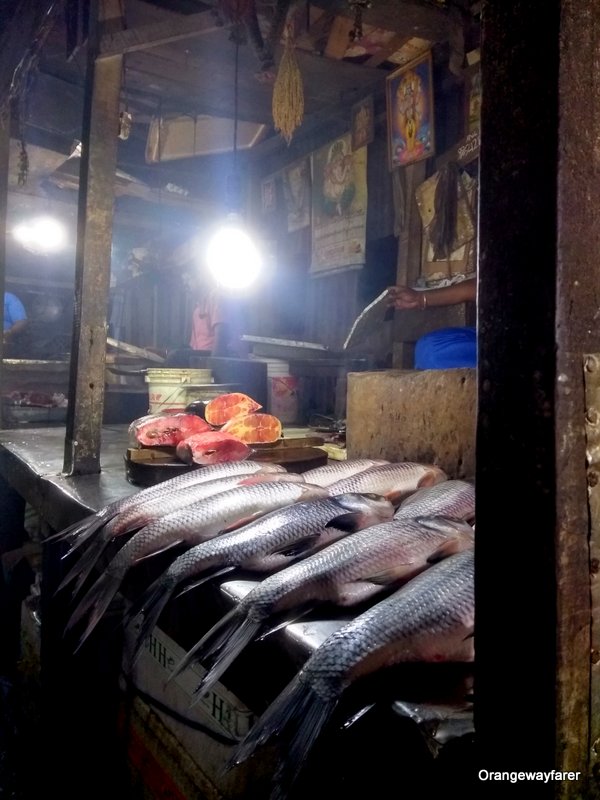 Fish markets of Guwahati!
Make an effort to try and find Narasingha bora, a famous and regal fritter from Assam which I have missed but have heard foodies raving about!
Food bloggers Puspanjalee Das Dutta and Ishani Nath from Guwahati recommends the following restaurants in the city:
Heritage khorika
Khorika
majulir ahaj
Paradise
Michinga
As we ventured into the distant parts of northeast India, the terrains changed. The Himalayas or the mountains of Khasi Jhantia hills make life a bit difficult with scarce food and water and possess many logistical challenges. While the scenic beauty is largely incomparible, the foodie in you has to suffice with butter tea and momo (though Shillong offers amazing food experience for pork lovers). I recommend at least a day's stay in Guwahati and experience the varied offering of an Assamese thali. Do not forget those pit stops on the highway as you leave Guwahati and embark on the epic North East Indian roadtrip!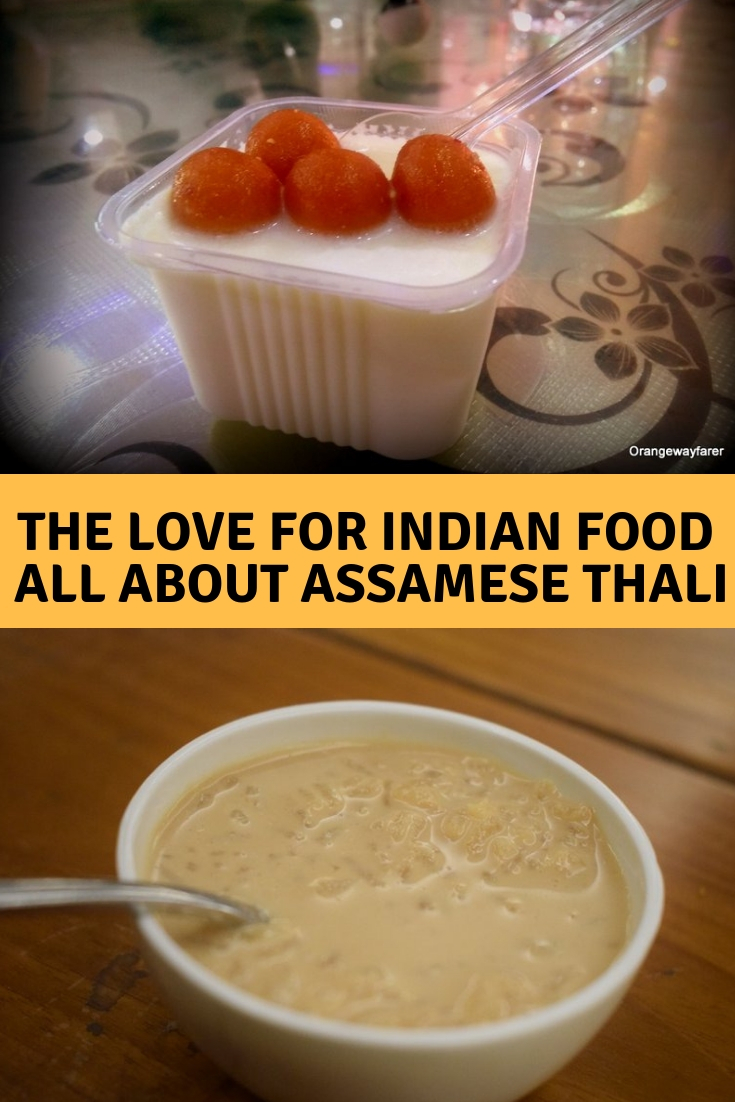 Let's stay connected on Facebook, Instagram, Twitter!
This post may contain affiliate links. Please read 
the disclosure post. If you have liked the article, you may support it by buying using these links without any extra cost to you.
Want to book a stay for the next vacay