About this blog: A road trip from the plains of Guwahati to the high of the Tawang is a time consuming yet rewarding journey showcasing the very best of Northeast India! In this blog, I tell you how to plan the road-trip to Tawang, Arunachal Pradesh as a part of a DIY trip.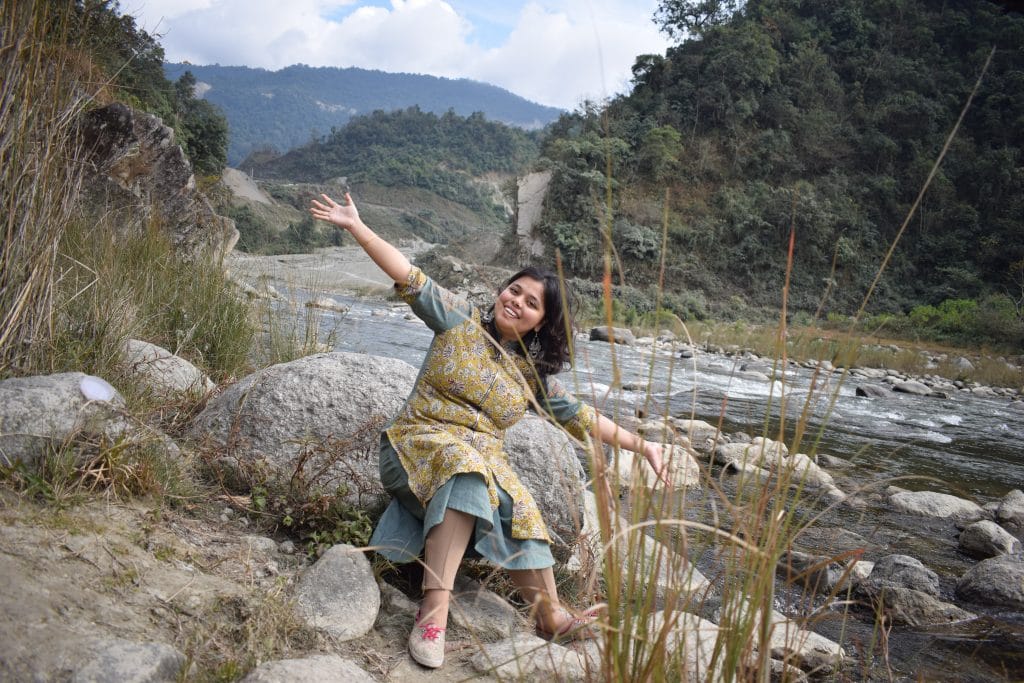 Tawang remains the most sought after destinations in Arunachal Pradesh, North East India. Hundreds of travellers flock to the high mountains every year. The snow of higher Himalayas, multiple unexplored trekking routes, the glacier trail, frozen lakes: you name it and thou shalt get it!
However, the mighty mountains are not reachable by regular flights, let alone be the great Indian railway. Flight remains a hastily arranged helicopter trip and the avian route takes away from the nature trails. Road trip from Guwahati with a strong SUV is practical the way forward.
Of course, you can also share the ride if you avail a seat with the shared sumo cars! Plenty of these shared jeeps leaves from Guwahati and Tezpur. So does a state run bus. The only caveat is you have to start as early as 5 am in the morning. that is fine considering Arunachal Pradesh is the eastern most state of India and morning starts here before you know it!


Also Read about Three days in Tawang! You may consider exploring Kaziranga National Park on the way back.
Save it for to read it later!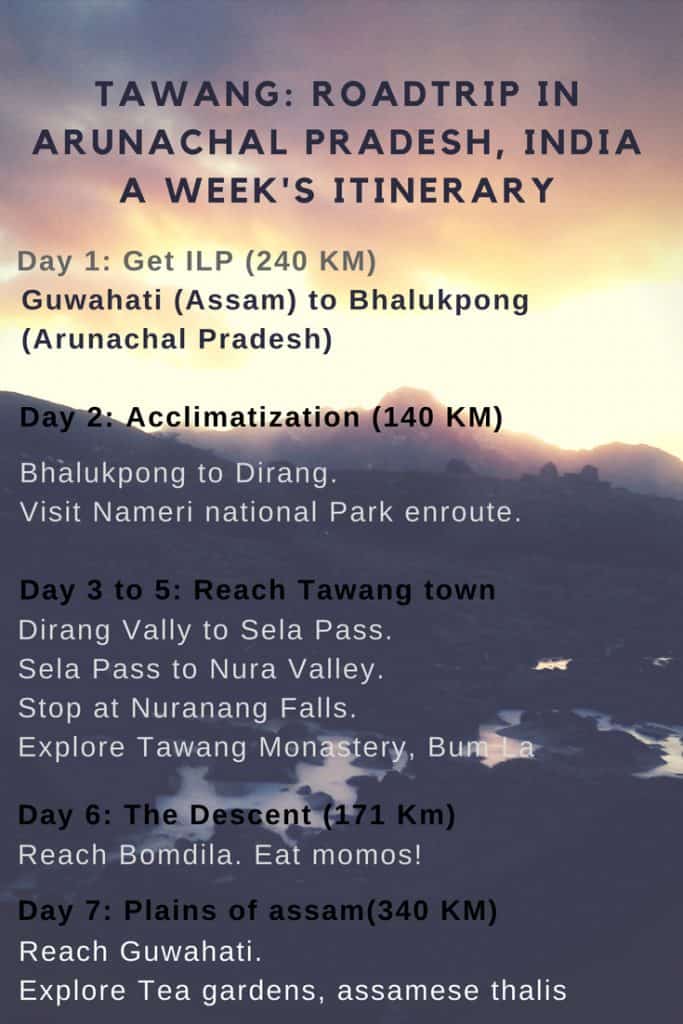 Assuming you are prepared to scale 15000 feet of Himalayas, physically, mentally and are equipped with documents (read the ILP, Inner Line Permit: a necessary document to visit anywhere and everywhere in Arunachal for those outside of the state), here is a guide for a week's travel in the last pristine wilderness of Himalaya, largely staying away from touristy crowd.
Please note, we traveled by the end of December. The snow had melted, the fall was on, greens of the mountains had disappeared. If you are planning to visit during monsoon, you will see a different world altogether! However, monsoon also sees frequent landslides enroute Tawang, be advised of that.
A few basic information on our travel to Tawang
We reached Guwahati by flight from Bangalore
We traveled with a private SUV car. If you are planning to travel in the same way, I suggest hire an SUV. Charges (INR 5000 , $74 per day)
We had skipped Nameri national park for we were visiting national parks of Assam. Otherwise, I would have spent a day at Nameri National Park too.
If you are planning to ride a bike to Tawang, this guide will still be helpful. Just plan for a steep ascend.
A hurricane tour of Guwahati, en-route Bhalukpong
We reached Guwahati on a mushy afternoon. The capital city of Assam city that loosely connects the extended seven sisters state with mainland India, also termed as chicken's neck, reminds me of Kolkata for many reasons. I bid adieu to Guwahati quickly as our car took the highway towards upper Assam. The leisurely strolls by river Bramhaputra and gaping with tenderness at the pretty old colonial houses can wait until next time, I console myself.
We were headed for Bhalukpong for the night. The long stretch of highway bypassing the plains of Bramhaputra's alluvial soil, vast water bodies and green croplands stretching till horizon are such a treat to the eyes. The roadside is dotted with little Dhabas, which serve the best (and I repeat, the BEST) Indian thali.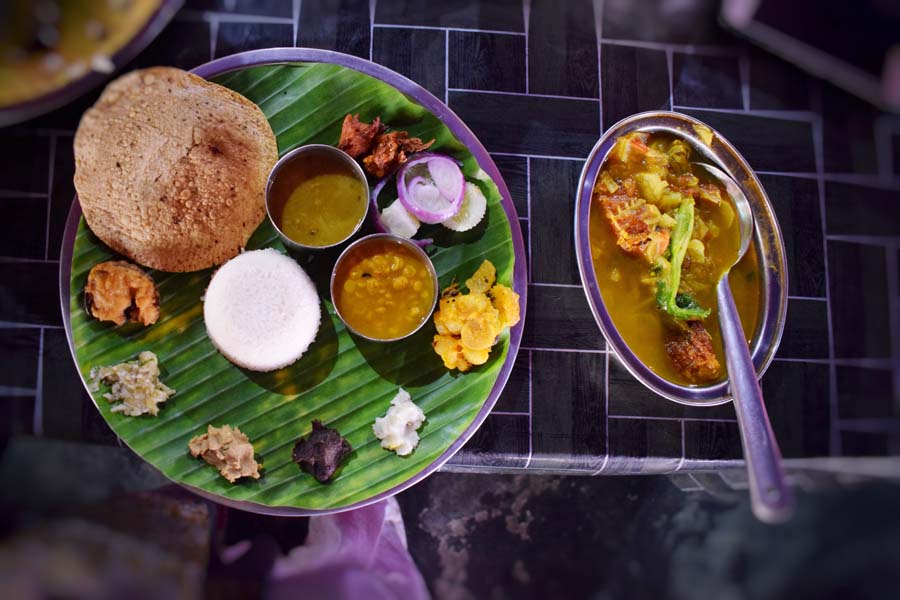 Also read: A sumptuous spread of authentic Bodo cuisine!
The traditional Assamese thali comes on a Kansha er thala (brass plates), with neatly filled up bowls circling, containing delicacies like leafy vegetables, fish, meat, daal and more. Assamese love their rice. My Bengali palette was excited and got more excited when the macher jhol (fish curry) came with little taste of sugar and more of a tangy sourness!
By dusk, we reached Koliabhomra bridge (literal meaning a black bee bridge). As the name suggests, the Koliabhomra is humongous bridge connecting the banks of Bramhaputra, and a road to Arunachal Pradesh, the state that is India's far east. If you plan rightly, you can witness a majestic sunset on the river.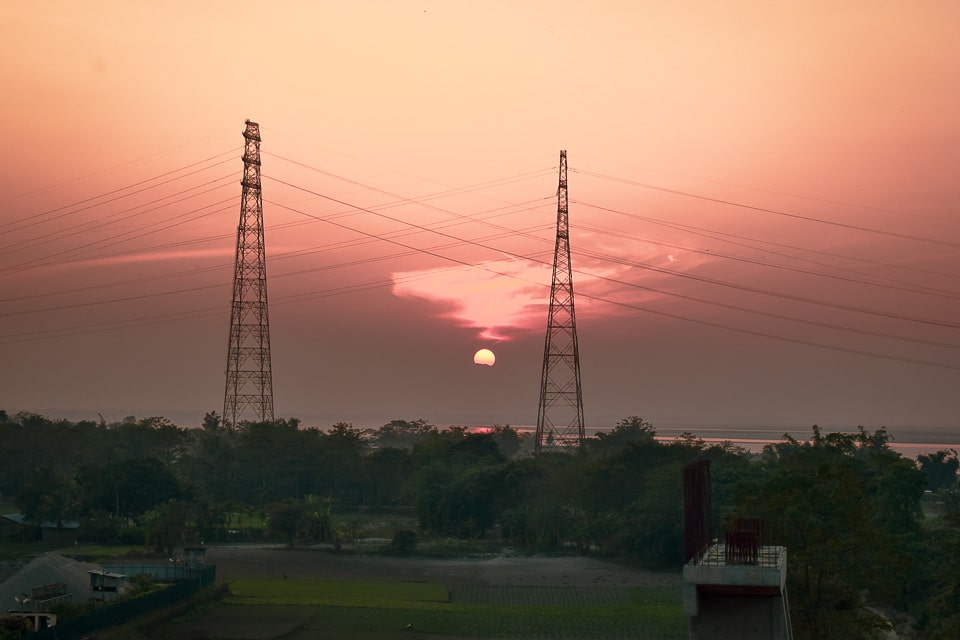 My mother recalls her younger days from Shillong and talks about Bramhaputra dearly. In her opinion, the monstrous river was actually a sea! Imagine watching a sunset over a sea like water body at the Himalayan foothills?
Be careful of the travel season. Monsoon gives extra volume to the Bramhaputra Nod (and not a nodi, a feminine figure that usually describes Indian rivers. Bramhaputra is a male river, merciless).
Good to know to information:
We reached Guwahati at 11 am in the morning and decided to proceed for Arunachal Pradesh on that very day. The onward journey took us roughly 5 hours and we were at Bhalukpong by a little after sundown.
Bhalukpong is at the border of Assam and Arunachal Pradesh. Crossing border will require you to get an ILP, which I have written at details here. We got our ILP online. Alternatively, you can decide to spend the night at Guwahati, specially if you are reaching late at night and have little time buffer for travel on the same day. Ideally you will be proceeding for Bomdila the day next.
Pros of visiting Bhalukpong and not heading for Bomdila:
More time to acclimatize.
Extend the travel, especially it is a road-trip!
Meeting the beautiful river named Jia Bharali (also known as Kameng)
Cons (not really):
You cover more distance and spend extra money.
Not soaking in the gentleness of Guwahati!
A night at Bhalukpong and romancing river Jia Bharali
Jia Bharali, Jia Bharali… ever since I heard the name of this river, I knew I gotta go and meet her. I have a thing for the rivers!
Bhalukpong welcomes us with darkness, punctuated with transcending cars' headlights. The tiny roadside stalls has Maa Tara written on them! I knew Arunachal is Bengali's own Switzerland but why indulge in maach-bhaat-daal in Arunachal? (guilty I am since I gorged on the same in a couple of days' time!)
Soon after we caved into our hotel Druk and ordered for dinner. The hotel runs of minimal resources however has all the goodwill to provide you comfort. As a result, we had a great meal of roti and Chicken curry along with daal and salad with warm hospitality.
Arunachalis will overwhelm you with the efforts they put in in order to make you feel comfortable. Water is sourced from outside, so is food. You are expected to cooperate and not generate waste out of what you are provided.
A melancholic Momo shop as the town was undergoing a power cut. Memories of my melancholic momo…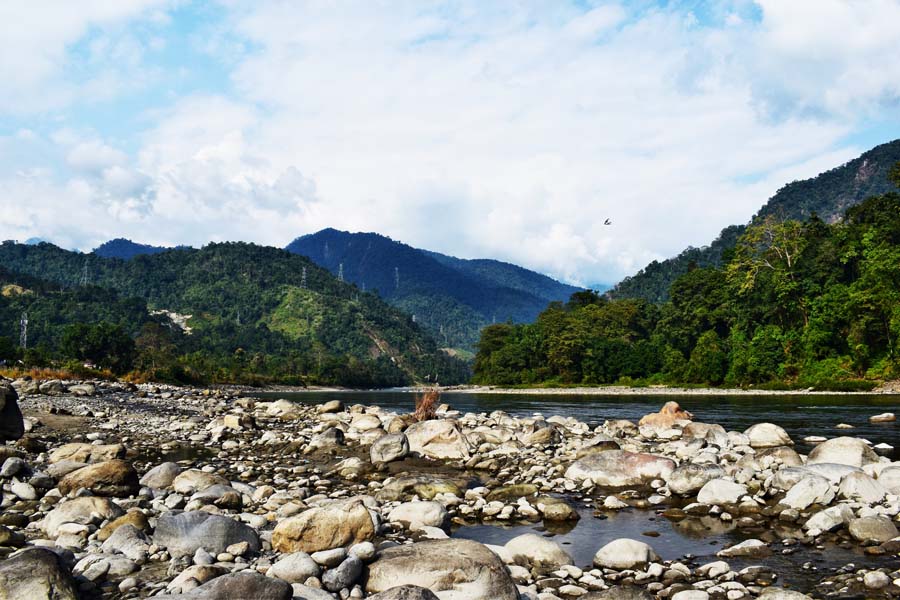 It is a small town by the mountain river. Early morning rendezvous with Jia Bharali is refreshing.
It was actually from the second day that I realized I have escaped the urban shackles and living in the true wilderness. The river is made out of small rocks, formed over ages as ice melted and brought them down from upper Himalayas. Jia Bharali sows you kakchokkhu jol, (in Sanskrit, we don't compare water with crystals, but with a crow's eye). Locals live by the river. Every now and then, you will spot an old lady sitting by the rocks with a cheep. I remember our Kashmir trip where we spotted the snipers like bounty hunters. Jia Bharali flows fast, full of energy, temps you with her beauty, yet scares you when you go nearby. You know you cannot swim in that water. Mountain rivers.. hidden currents…flash floods…
Reality hit me hard as I proceed a bit further on the river bed. A tiny opening from the town opens it's mouth on the river. Tons of plastic, rejected waste and much more are flowing in. Is that how we treat our rivers?
Jia Bharali is called as Kameng in Arunachal and is originated in the Tawang glaciers, where we are headed for. Many a rope bridge connecting marooned villages adorns the river.
Good to know to information:
if you want to binge on cheaper alcohol, stock up here. do not indulge in kiwi wine et al unless locals offer you at the home-stays. Do try the rice wine though, one of the best local moonshines from North East.
Do carry a torch. Entire Arunachal suffers from power cut after sundown.
Love birding? do not miss Nameri National Park. (Advice coming from birder Rupankar Sarkar).
Love the local portraits? Ask before you use your camera. The mountain people are descendants of royal tribes and may not feel exactly amused being subject of DSLRs.
Leaving Jia Bharali behind in search of the elusive to Dirang Valley
Bidding adiue to Bhalukpong was easy as I chinned up for the upper Himalaya. The wind will be thinner, colder and sheer in a few hours, I promised myself. Scaling up the dodgy BRO roads can be a challenge for an unaccustomed.
We saw groups of children on their way to school in blue uniform. It was the end of December. Fall colors made love with the mountains, it was all read. Did not spot any snow en-route, It never snows in Dirang, locals said.
People climb up the slopes of their terrace at ease. A few roadsides vendors are selling garlic and bamboo shoot achars. Bamboo shoot achar in Arunachal has a strange aroma and style of melting well with the food. Wild banana plantations make for a green hollow in the valleys. Sights of previous landslide intrigues me. several army vehicles pass through.
In Arunachal, I have experienced innumerable umber of army vehicles, surpassing local populace. Especially on my way to Tawang. I found people DM-ing me, post my IG stories how Doklam possess a threat for international security and demands convoy movement. The thought is scary.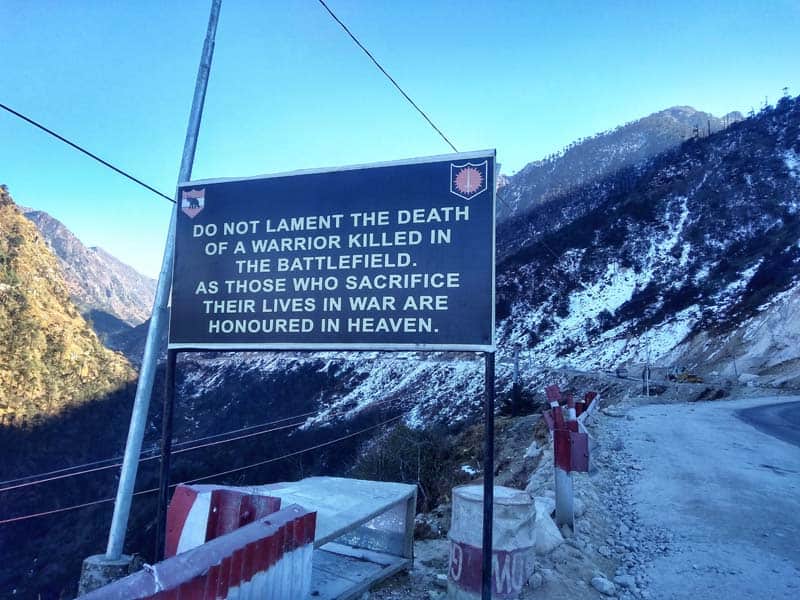 We stopped a little ahead of Sangti valley and has lunch. Humble daal, rice, raddish shaak never tasted better in my life. You can also order a bowl of warm maggi. The tour agencies plying people from the plains will arrange for a dining hall and serve steamed rice and other delicacies the thakur cooked early in the morning.
The Shangti valley we crossed en-route is a military camp. It houses army hospitals(which also serves locals), churches and a prominent kabarsthan (burial ground).
Dirang town is small and bustling, surprising given it's high altitude. At one side, the serpentine path goes towards Tawang. On the other hand this river Kameng flows and sings for the entire night. What is not there to love in Dirang?
The local market has dominant Marwari business population, selling coconuts, Hindu worshiping ingredients and woolens.
It is possible to find a few home stay accommodation in Dirang market, which you do not get to see online. Home stays are often spread through word of mouth, by seasoned traveler.
We lived in the sole hotel of Dirang, Pemaling, acquiring a prominent cliff as you enter the town and looking over the majestic mountains. Local cuisine is served here, decor is very old school, which I love!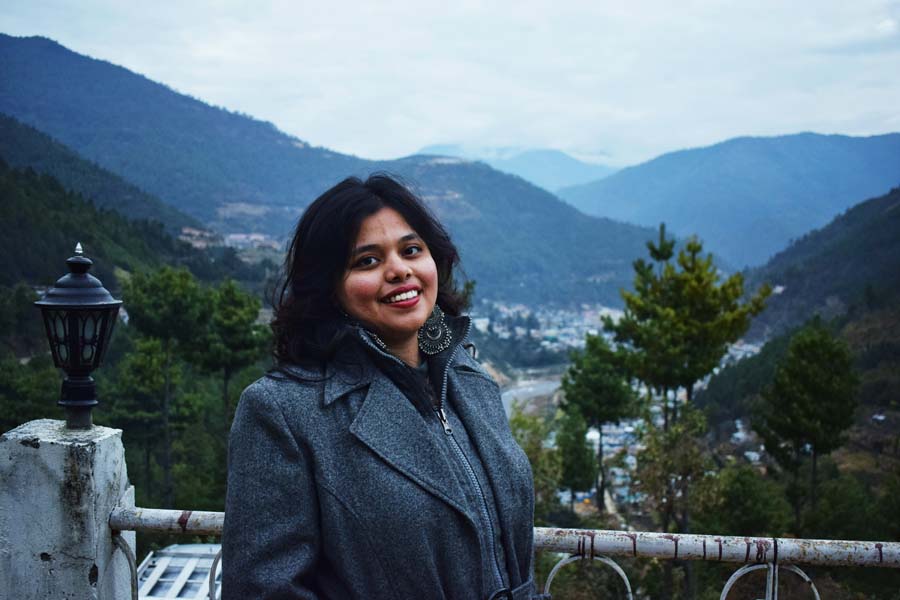 Good to know to information:
Again, allow yourself enough time to acclimatize. Cannot stress enough!
There is only one route to Tawang and with heavy snow means it may be closed.
Road is spiral. Get medicine if motion sickness bothers you. A quick home remedy: use garlic pods in drinking water. Learnt from a lady selling breakfast.
Do make plans to spend a few days in the serene Dirang Valley.
There is a national yak research center which was closed when we went.
Do not buy woolens from Dirang unless you wanna pay extra price and help the business men. Army camps sell the same thing for cheaper.
The last lag of the road-trip: Dirang to Tawang
While standing by the high cliffs of Dirang, a splash of cold Himalayan wind caressed my cheeks. I knew I have reached home!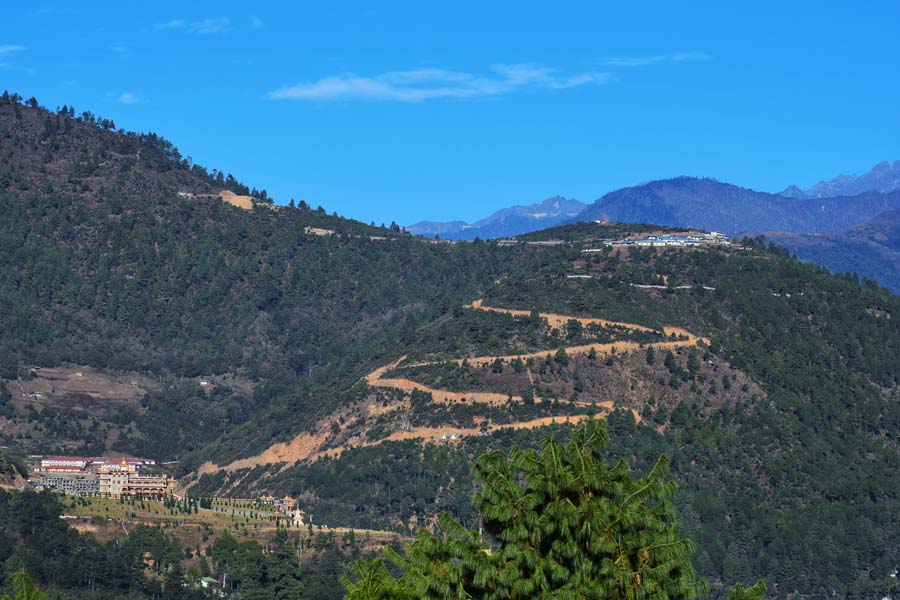 Also read: What are the things to consider before this Tawang trip?
With a couple of boiled eggs as breakfast, a few pine nuts collected from the hot spring, we start for Tawang. Jia Bharali dances by the side. River bed has become deeper, broader. With a few bends, we lose her and proceed to a broken road. There are walls made with huge stones to prevent landslide. Roads and dust show nature did not oblige to human effort. Soon after, the mountains started to look tinier, Dirang valley looked like a miniature human habitat from afar, we were about to tread on Sela Pass.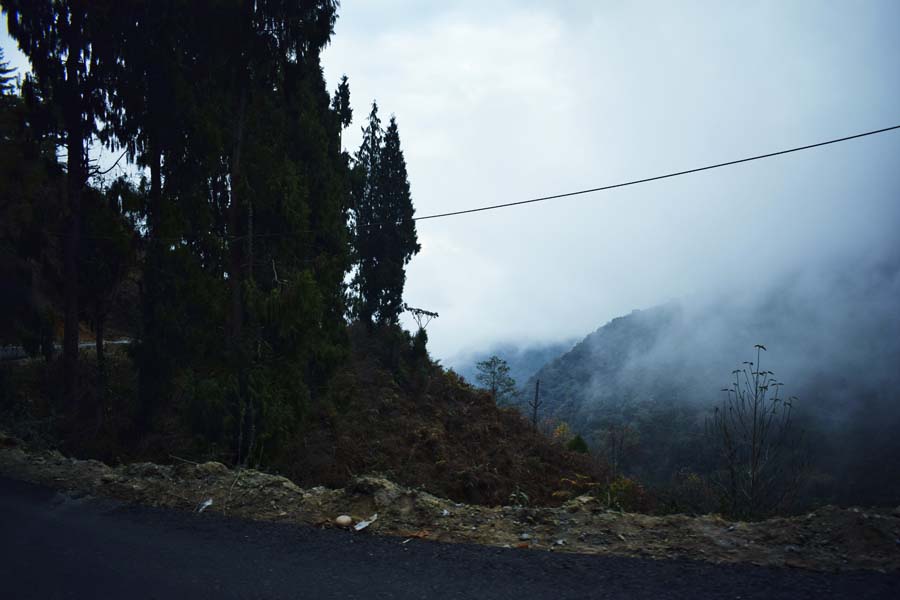 The first time I heard about Se La Pass, I hardly knew about the regal entrance and the stunning lake. I knew army men died here during Indo-Sino war out of bitter cold, only to be found later as "frozen body".
Sela Pass and Nura valley
Risk scores high rank as you cross Sela, one of the highest motor-able pass in the world. The lake retained frozen shape by the banks, allowing visitors to tread carefully. In good summer days (if there is summer at all in this part of Himalaya), the arid land grows moss, making a lounge for the wild yaks. Many small Buddha stupas are raised by the road. They are decked up with yak skeletons, bright colors, flags marking peace mantras and dharma jantra, chiming in a peaceful vibe.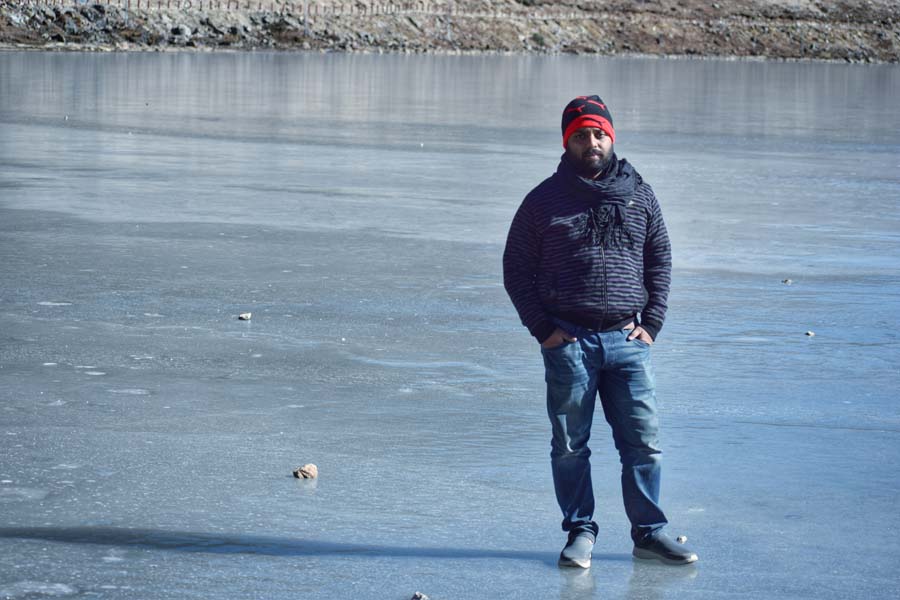 You will ideally stop at Sela and make merry by the bans of the lake. Once content, your journey to Tawang starts. The wind is bitter cold, yaks are all wild, the mountain stream is fearsome, army camps look like glasshouse and show no photo signs everywhere. Sela lake is neighbours with Nura Valley. Named after the local women who helped Indian warriors during the battle of Nuranang, the valley will inspire awe.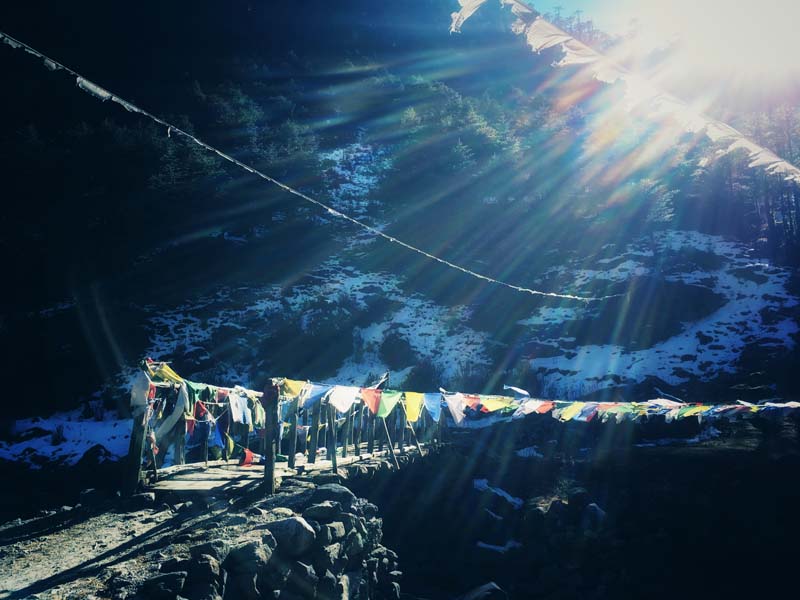 Peaks of Himalaya scale up to the sky. In January, you will see a few glimpses of ice. Ice sheets cover the road. Road is newly built, after much toil. At the moment around half a million warriors are sharing Indo-China border. The road was built in order to provide easy access for military convoy.
Jaswant Garh
Soon after, you shall reach Jaswant Garh. The road to Tawang bears legacy of Indo-Sino battle field, some of the horrific cruelty and accounts of bravery. Back then, India, a newly independent country was using ammo similar to those used in WW1. Sepoys were left to encounter an unknown and stronger army from human and nature as well. Jaswant Gagh is a Buddhist inspired dome where locals come and offer there worship to Jaswant Rawat , a sepoy who resisted Chinese army for a couple of days, before being beheaded. The bunkers remain. Moss grew on them. Yaks graze by its side. Dainty women click selfies with snow capped peaks of Himalaya at the background.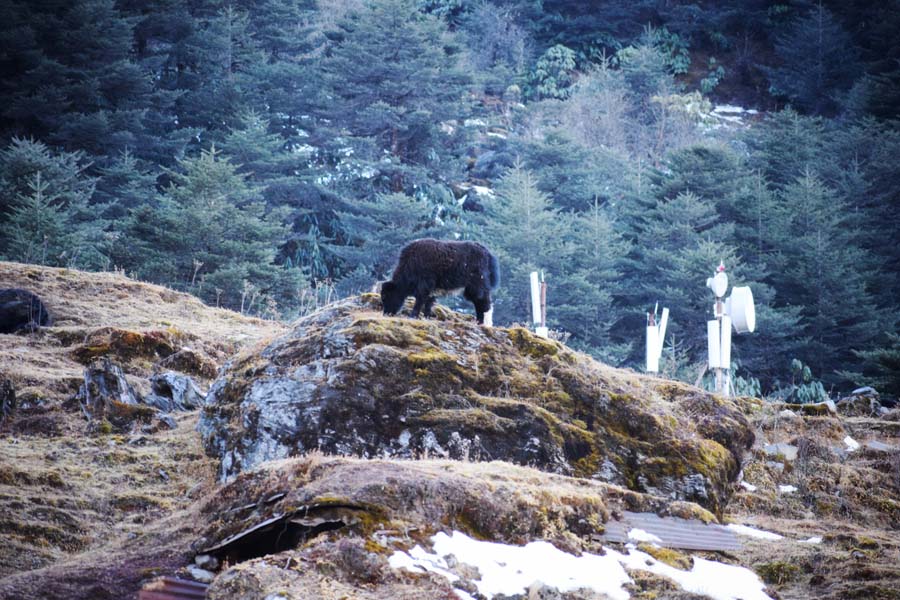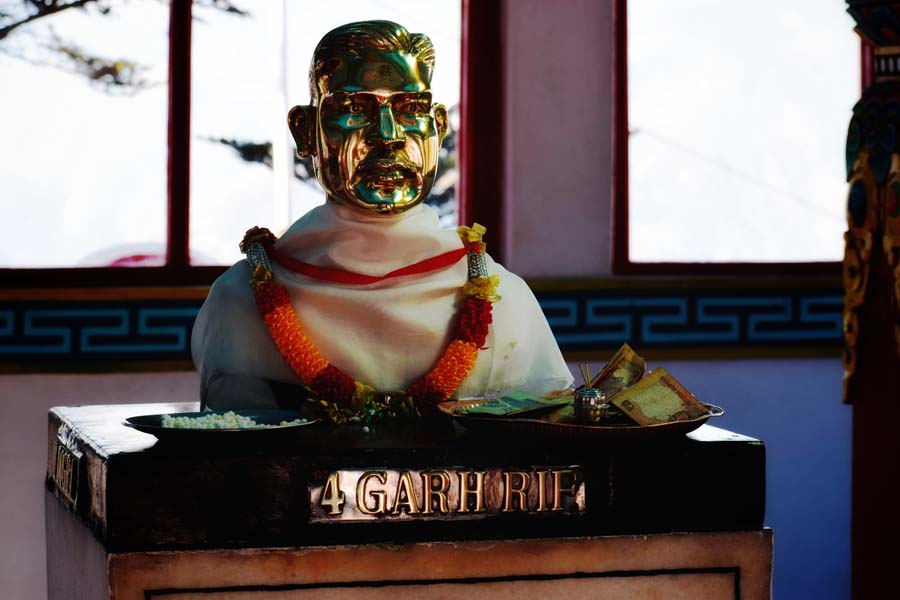 Army has opened a canteen here to provide free Chai, samosa, maggi and a washroom. I must admit, this washroom was on of the best in cleanliness I had used en-route. A lot of army convoys make a stop here. Legends of the land says Jaswant's spirit comes to slap the sepoys who fall asleep on duty!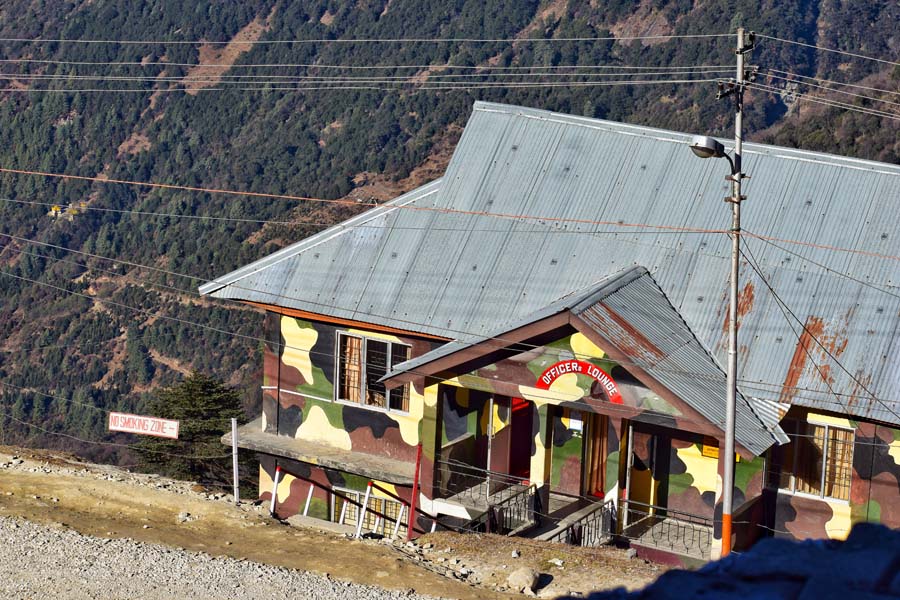 The Jang Village
The descent starts towards Jang as you have crossed Jaswant Garh. You will spot a lot of menacing looking black furry dogs on the road. Dogs at Bomdila eat men. I read somewhere. I keep safe distance from them. The small town has a petrol pump by Assam Oil, a few eateries serving maach and bhaat (yes, i succumbed to greed and regret. DO NOT eat fish here). A grocery shop next is selling yai yai, dried corns, a lot of vegetables and more.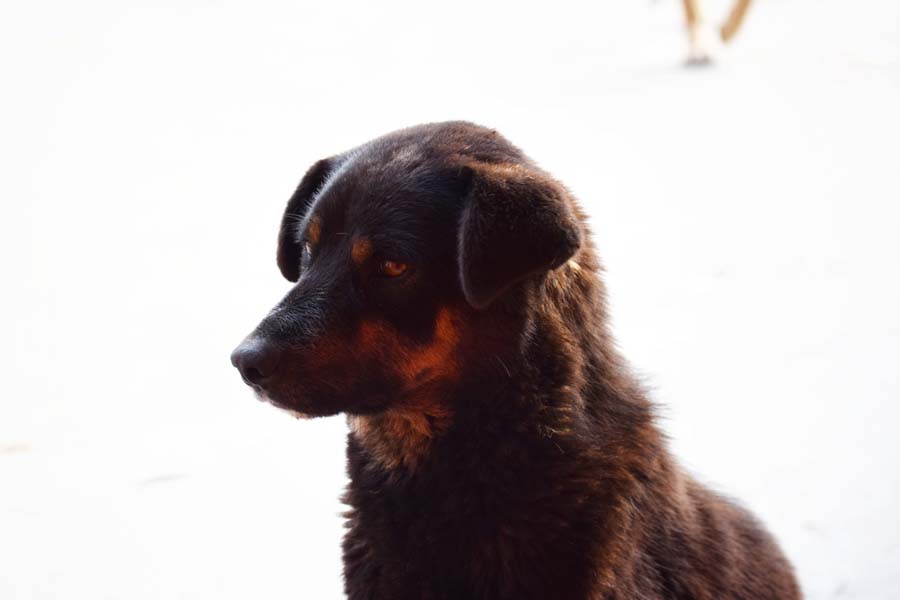 Every house in the villages has there own kitchen garden. Real estate is more REAL here, with a sprawling courtyard scaling higher. It is easy to grow your own cauliflower, radish and the domesticated Mithun go for a stroll with the toddler. Life is laid back, easy, calm, resources abundant: all the things we dream on!
You can speed up post lunch and head straight to Tawang if the sundown starts! However, with a little extra time take the deviation to head for a majestic glimpse of Nuranang Falls.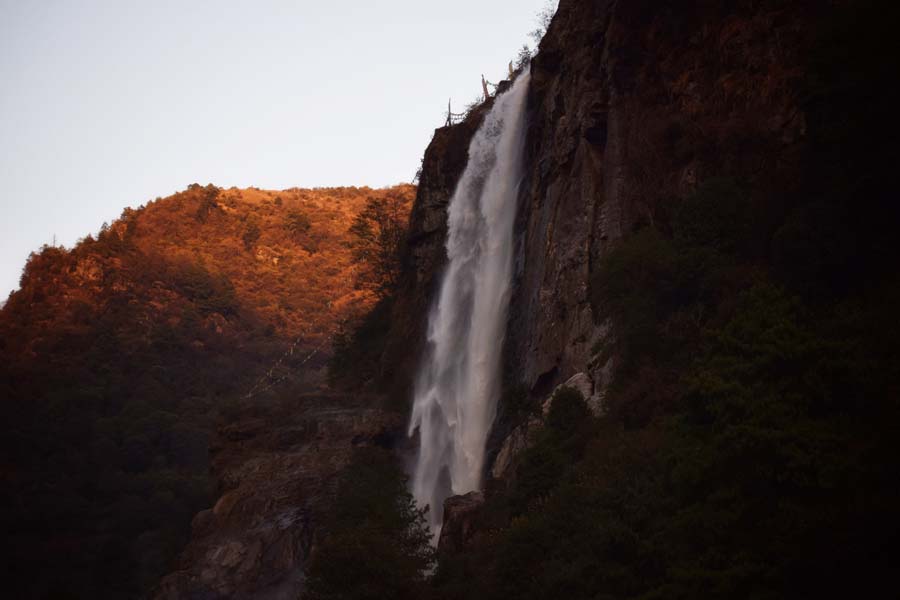 Shahrukh Khan romanced Madhuri Dixit with a flute on the top of the waterfall. The king of romance could never go wrong with the choice of a venue!
Nuranang is a major tributary of the river Jia Bharali. A Hydel project stands at the bottom, providing power for the town. The waterfall is set amid a wild set up, away from the hustling of human civilization. On the other bank, Yaks graze gracefully.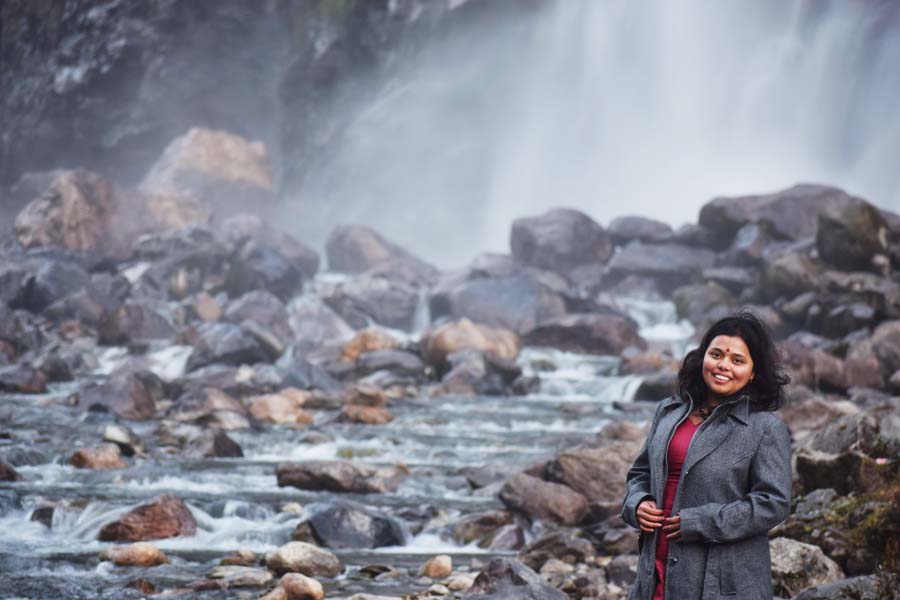 We sped up to reach Tawang at the sundown.
SBI board says welcome to Jang. So you know banking facilities can be availed here.
If you are traveling by shared Sumo, you are likely to miss Nuranang Falls and spend lesser time by the Sela Pass. However, upon request and a bit of luck, it is doable (provided you reach Tawang before it is dark).
Talks are in progress for a tunnel proceeding towards Tawang from Dirang or Bomdila, so that the weather cannot gnaw much on the accessibility. However, I wonder how the road-trip to Tawang will shape like if that happens!
Tawang: the elusive white horse
(also details where shall you visit in Tawang)
Crossing these treacherous yet stunning landscape in a few day's time, as we reached Tawang town, hidden from the plain-lander carefully, at the highest cliffs of Himalaya, I wonder how did the monk reach here ages back. I wonder at his energy, enthusiasm and vision while sipping on a cup of warm butter tea, a Tibetan delicacy.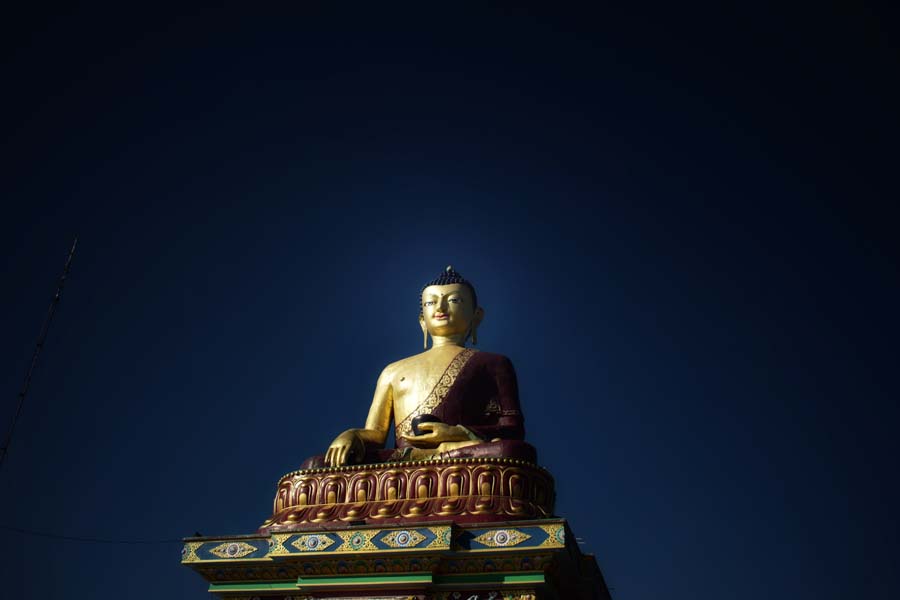 Tawang is influenced with Tibetan culture at large. Once a part of greater Tibet, it was annexed with India with the old British McMohan line. Much political bickering has been hurled at it. The Chinese Dragon looms large at the border. Yet, the home to sixth Dalai lama, Tawang is a peaceful city of maroon cloth clad monks. The Sakyamuni Buddha, the oldest form of Buddha worship in India, smiles at his devotes, from his gigantic crown.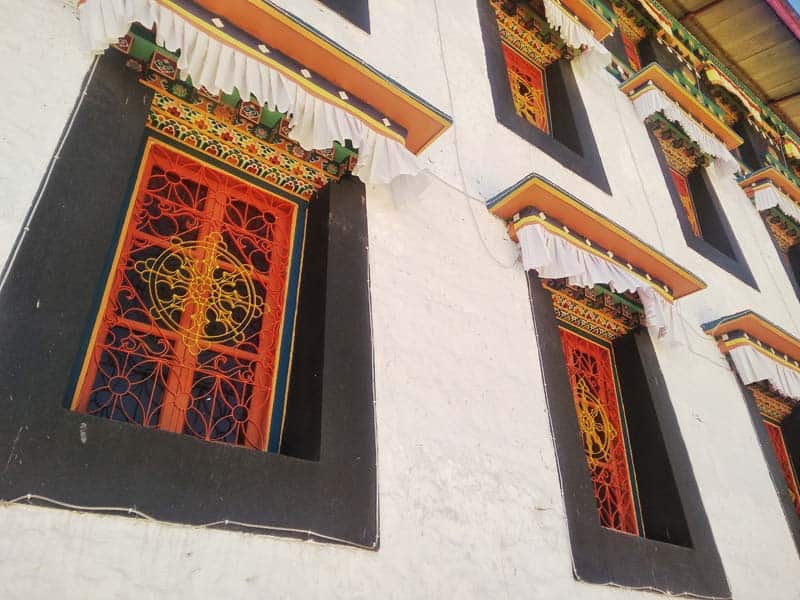 the town of Tawang is old and nothing spectacular. It's busy, small, roads are dwindling, night falls suddenly after a spectacular sundown with pink smeared all over the sky, bitter cold gnaws your skin deep.
If you hike a little you will confront barriers, army jeep, may be asked to show permit at every check point and an overwhelming presence of khaki uniforms will make you gape.
But Tawang also houses India's largest monastery. You need a day to explore the old monastery, its museum, library, quarters housing the young monks and more.
Want to explore more of Tawang? Head to the nunnery where the sixth Dalai Lama was born.
Visit Bum la (exclusive to Indian Passport holders)
The real prowess of an Indian Passport comes when you apply for a visit to Bum la. International travelers, I am sorry but this is solely Indian territory and no other countryman is allowed in.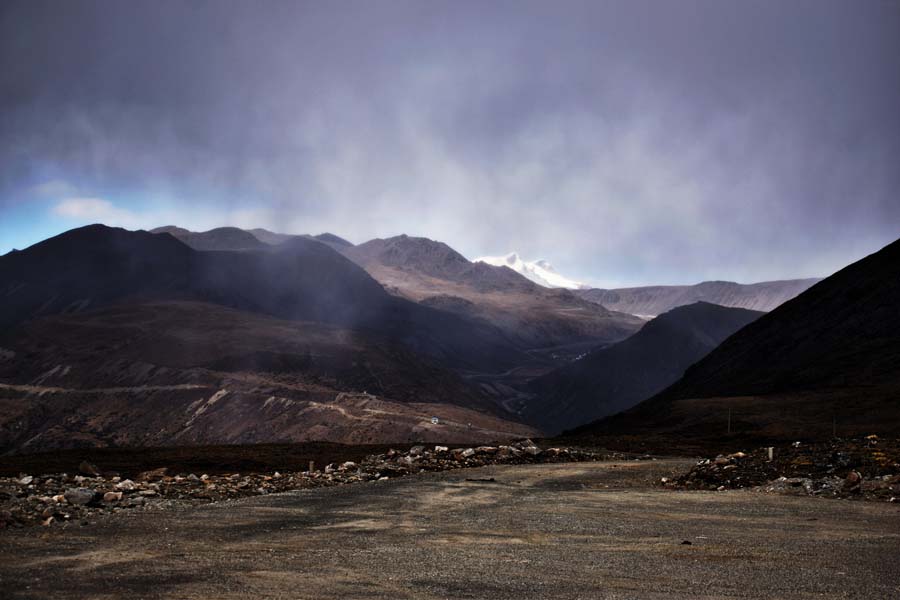 Spare a whole day for Bum La. Arrange for a pricey Arunachali car (highly a sumo, if lucky you shall get to share), and ride the sojourn into what can be described as Himalaya's last true wilderness. Roads are on the make on many occasions. People are at work. A single car comes at the end of the day to take them back home. They wait with a lit fire. From a distance that fire looks very much like what hope looks like!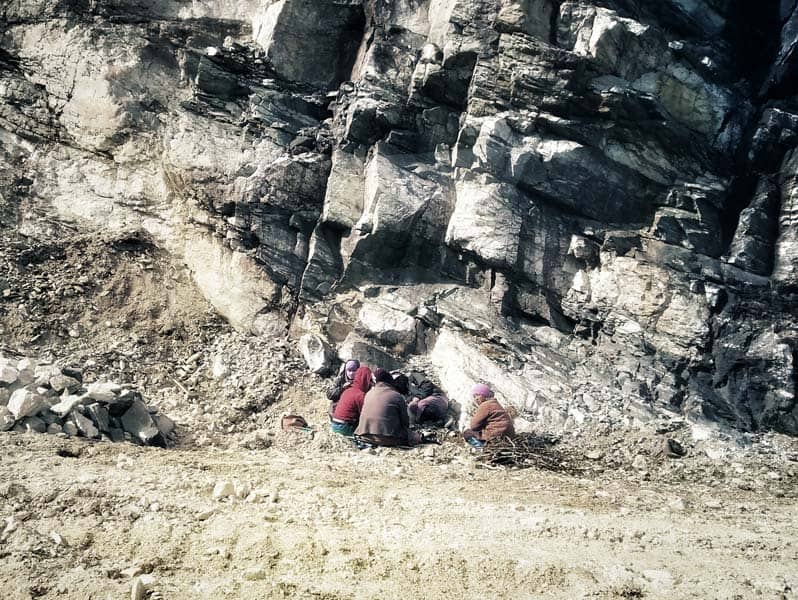 Also go to the Madhuri Lake, locally known as the Sangteshar lake. Migratory birds roam freely.
And then the return journey begins! Tawang to Bomdila
Killjoy starts when you have to bid adieu to a mountain town bordered by glaciers and azure water (or is it the sky)! The descent starts with a heavy heart as we proceed towards Bomdila. One last time I could look at the tiny monastery at the lap of the mountain. One last time i could walk on the ice cover of Se la lake. Haaye!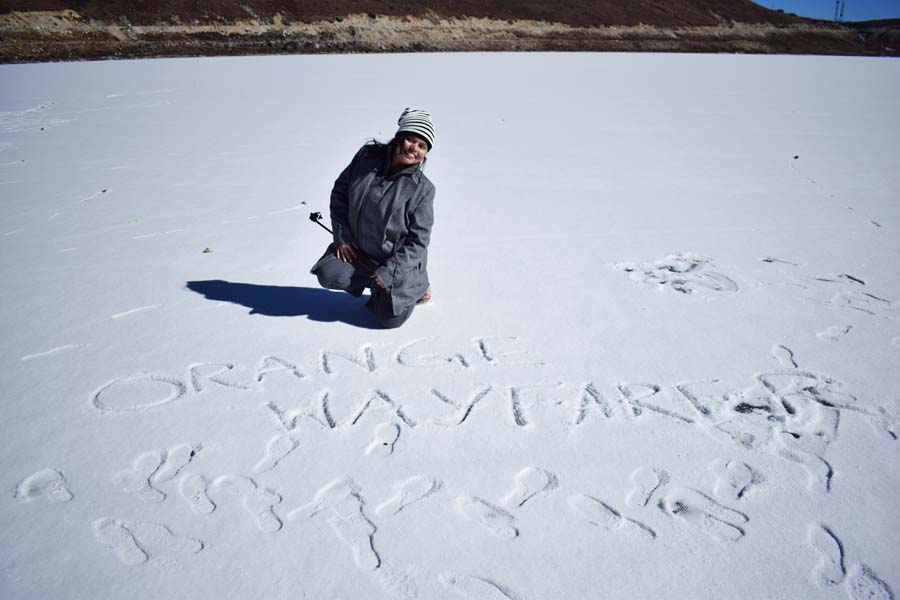 Also Watch: A series of roadtrip in youtube!
The descent was rather fast. We reached Bomdila by 3 pm.
The town of Bomdila showed us the much coveted local life and let us interact. Our hotel overlooked a football ground. A tiny Chinese restaurant served us great food, spicy with fiery chillies (which I love)! At night, we went for a stroll and lost one of my my ear ring. The next morning, as I went for a lookout, the kind man came out with his dustbin and rampaged through it all. I wish I would not have make him do this!
A lady came to sell her day's product. Mithun jerky, yak cheese, different types of seeds and other delicacies that they love were on sale!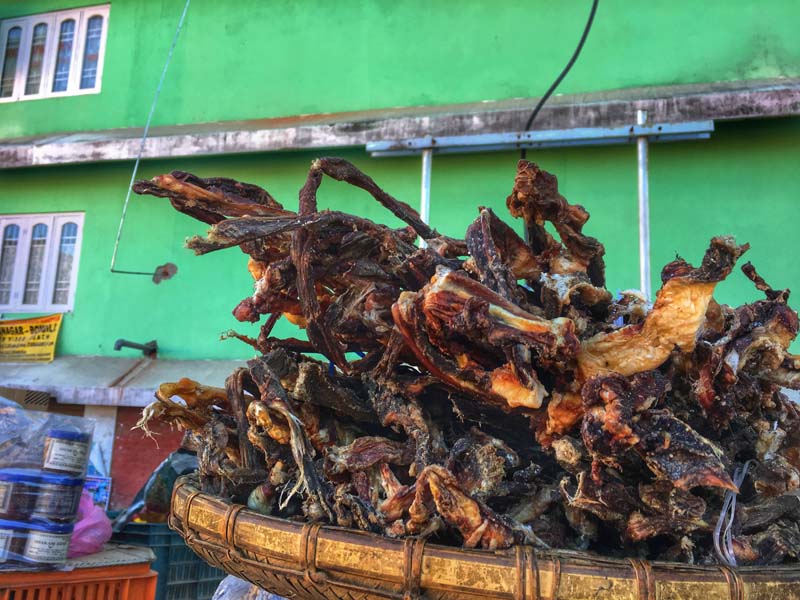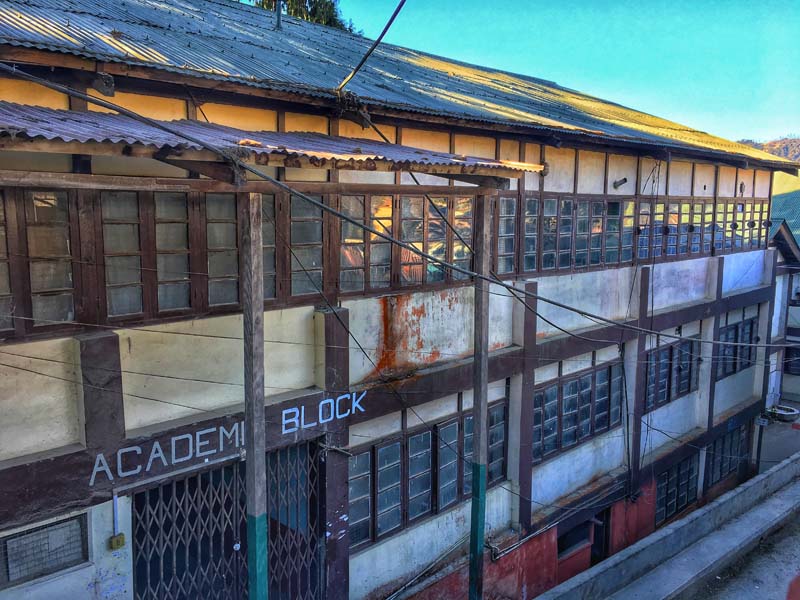 Bomdila may not match up with Dirang when it comes to natural beauty and of course Jia bharali does not flow by the side. However the huts are pretty and show a fest of color in plant pots, resting on each balcony! How I love the mountain towns! I hear there is a gompha nearby as well.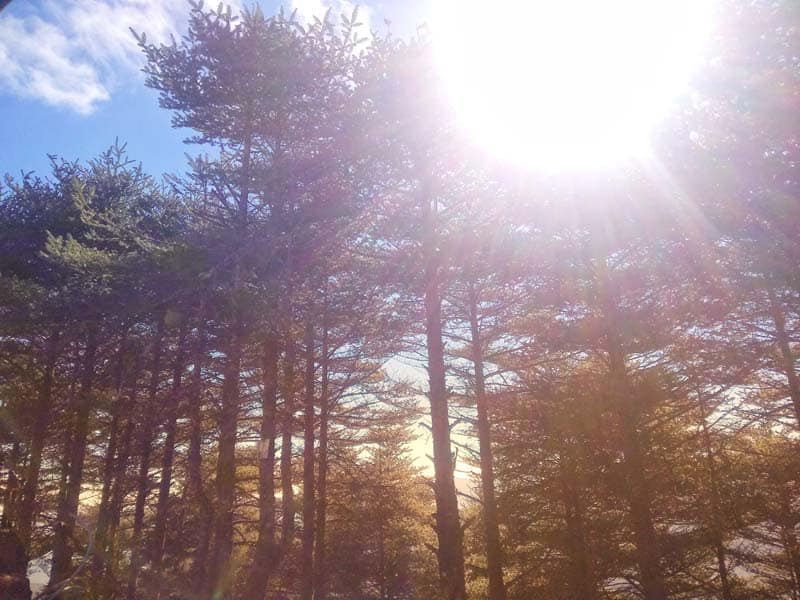 Bomdila to Guwahati: That's a wrap!
We were further traveling to Shillong and had a long day ahead! For Guwahati you need around 9 hours. The descent is rather dramatic. Yaks get replaced by scenes of cows grazing! The cold air does not pass through the car and you start to sweat in awhile!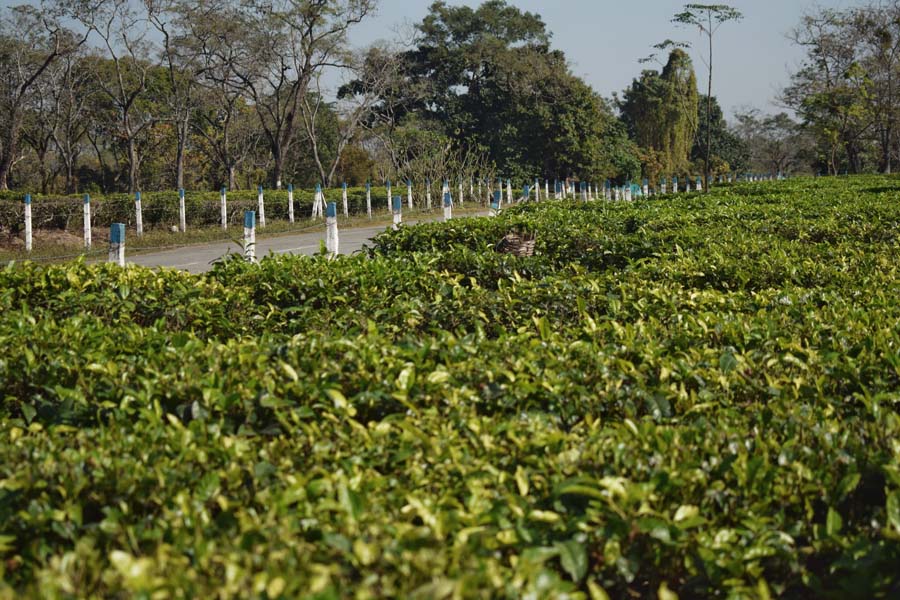 You know you have reached the plain land, in the comfort of home once the Assamese tea gardens show case it's legendary stretch.
Also read: Why you cannot resist traveling to India's North east!
Want to get real time updates of my travels?
Get updates and read additional stories on the Orange Wayfarer Facebook page.
Follow Orange Wayfarer on Instagram.
Follow Orange Wayfarer on Twitter.
You may also subscribe to my weekly newsletter!