About this blog: We traveled to Chikmagalur after Bengaluru unlocked. It was a weekend trip from Bangalore. We stayed in Chikmagalur for 4 days, relaxing in the lap of the Western Ghats dazzling in the warmth of monsoon rains. An apt weekend destination, Chikmagalur is a rewarding road trip from Bengaluru, with plethora of cultural experiences, ancient temples of Belur and Halebidu, sumptuous Benne Dosa doused with butter, aromatic filter coffee and rolling hills covered with a blanket of evergreen forestland! If you are planning a trip to Chikmagalur, read this blog with essential travel tip sand secret finds!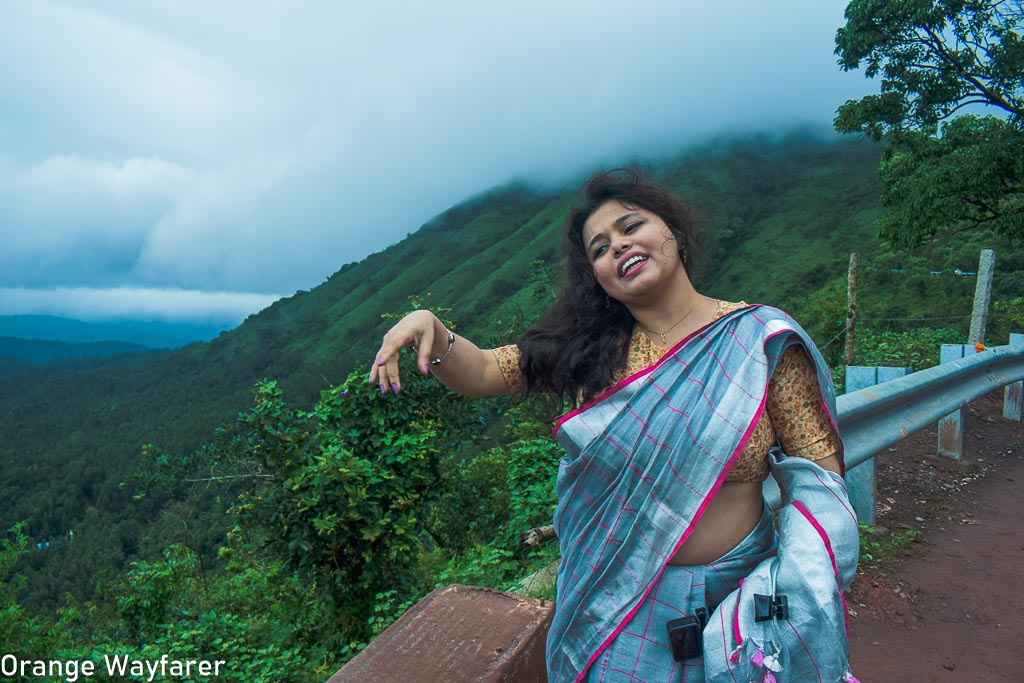 Nights roll into days slowly as we count yet another spin around the Earth's vertebrate. Homo Sapiens around the world patiently await normalcy. Nature reclaims the sprawling fields. Monsoon clouds roar. White night illuminates the poles and yet there is no "chaser" posing and rejoicing.
Visiting Chikmagalur was our frantic and desperate attempt to break the mundane and get closer to nature. As close as we could.
The second wave in India was nerve-wracking. After a prolonged slumber of a few months, we were slowly coming out of the shell. Bangalore unlocked. First for the weekdays, then for the weekends. The night curfews are still in place? Are the pubs and bars open yet? Are they serving alcohol? Is Coorg allowing tourists? Eager questions floated around. The state buses painted in red eventually hit the Karnataka highways connecting state's hinterlands to the city that boasts of India's info-tech prowess, Bangalore.
We were hesitant to move out of Karnataka. What if we get stuck in Goa? What if Delhi undergoes the same eerie silence once again? What if we end up in a hospital without an oxygen cylinder? The what ifs are a scary zone, forever ruining the travel space. In current circumstances, they are all the more pressing.
Let us go to Chikmagalur!
We chose Chikmagalur. Not because we were keen on Chikmagalur. But the rest of the options were weighing heavier. Coorg, Goa and Pondicherry, the hot favourites of weekend destinations from Bangalore were cut off the list due to accessibility issues.
We had little to zero expectations from Chikmagalur. We knew the small hill town tucked away in the western ghats is famous for lush green coffee trails. But that is more or less the usual story of all of Western Ghats. What more? We searched the world of web and found a few trails and monsoon treks which were again off the list due to the small kid accompanying us. What more? There was no answer but we had no other options. "At least Chikmagalur lets us get away from the bustle of morose Bengaluru." We said to ourselves. "At least this will be a holiday!" We thought.
Boy oh boy, could we have been more wrong?
S had been to Chikmagalur before. He said it is a place located right at the heart of nature. You do not have much to do there. You do not need much to do here. He stressed the last sentence but I did not quite trust him.
Also read: 2 weeks backpacking trip to Turkey!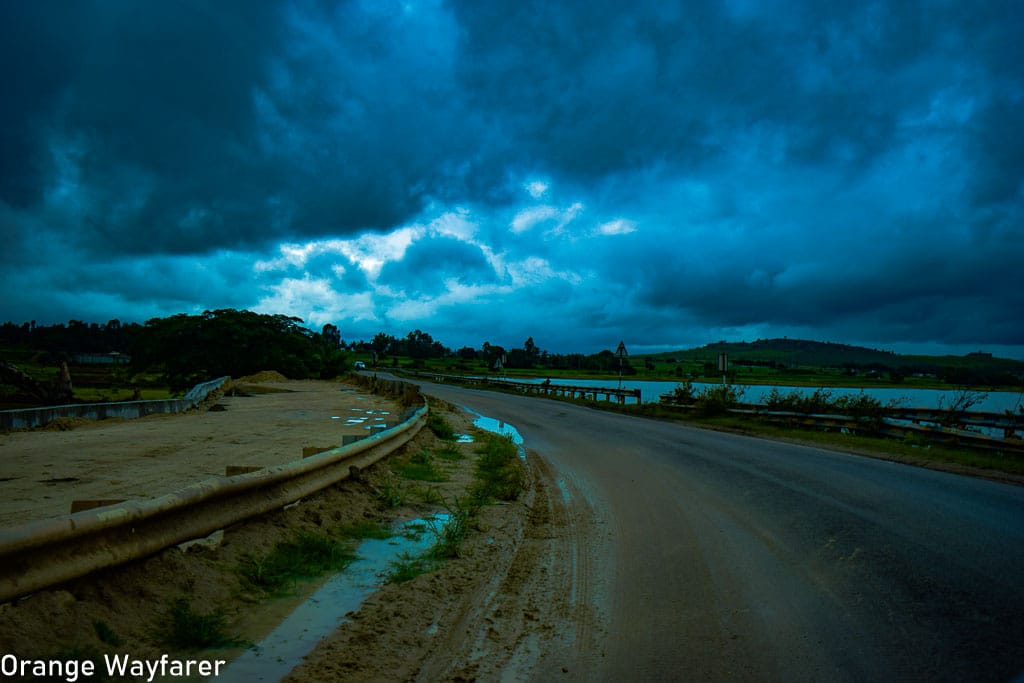 Preparing for a road trip to Chikmagalur from Bangalore
At the wee hours of a monsoon morning, we started from Bengaluru. Driving to Chikmagalur requires you to drive the car for about 5 hours covering 243 km. In between, you come across a few toll gates and pit stops serving Mangalore special fish dishes or Bengaluru famous Empire chains.
The sky was overcast. The roads were long stretched and empty. The birds chirped sitting on the swaying palms dotting country roads. I felt elated as soon as we crossed the city boundary.
We had rented a car from Sawari rentals. The driver, Sai hailed from Hassan, a tier two city located midway between Bengaluru and Chikmagalur. He was blind at the heart of Bengaluru but manoeuvred the car like a trained stallion on NH 75.
We rented an Innova. The middle sit was perfect for a toddler who usually stays protected on a car seat. For 4 days it charged us 14 thousand INR. That included driver's stay and food and a total commute distance of 900 km. Sai was a nice man who hardly spoke a word and surprisingly did not play music while driving. At the top of Mullayanagiri, he was more eager to click a selfie than the rest of the group! I recommend Sai highly if you are traveling with a family.
Also read: A complete guide to visiting Hampi for a first timer!
The Western Ghats had packed a Surprise for our trip to Chikmagalur!
We say Chikmagalur but we were heading for a holiday at the foothills of Western Ghats. The iconic and ancient bio reserve, a UNESCO heritage sight that stands tall along the west of the Indian peninsula and an important factor for deciding climate factors for the rest of the country, Western Ghats is a minefield of experiences for a keen observer! The snow-capped Himalayas (think Tawang, Sikkim, Ladakh, Kargil and likes) steal the limelight on the gram but monsoon in the Western Ghats elevates the region to an ethereal aura. We had rented a hotel at Chikmagalur. The idea was to explore tourist attractions, a few peaks, plantations and beautiful lakes but head back to the usual comforts of a town by the end of the day.
Chikmagalur is a small town that came to prosperity with the boom of coffee trade. Baba Budan Giri's Coffee plantation produces export quality coffee. It also happens to be the oldest plantation area in India. It has an interesting story of travel and pilgrimage associated with it. We will come to that later.
A little of it remains for local filter coffee consumption and the rest seamlessly gets shipped internationally. In early days, a few plantations opened their doors for experimental travelers. A family looking to spend the summer in the hills. A writer looking for a peaceful nook. A heartbroken lover seeking to deal with grief in the silence of towering trees. Chikmagalur was the secret gateway for all of them. The city grew. More footsteps followed suit. A few luxury properties bloomed in the dense forests of Chikmagalur. The Serai. Java rain resort. Trivik.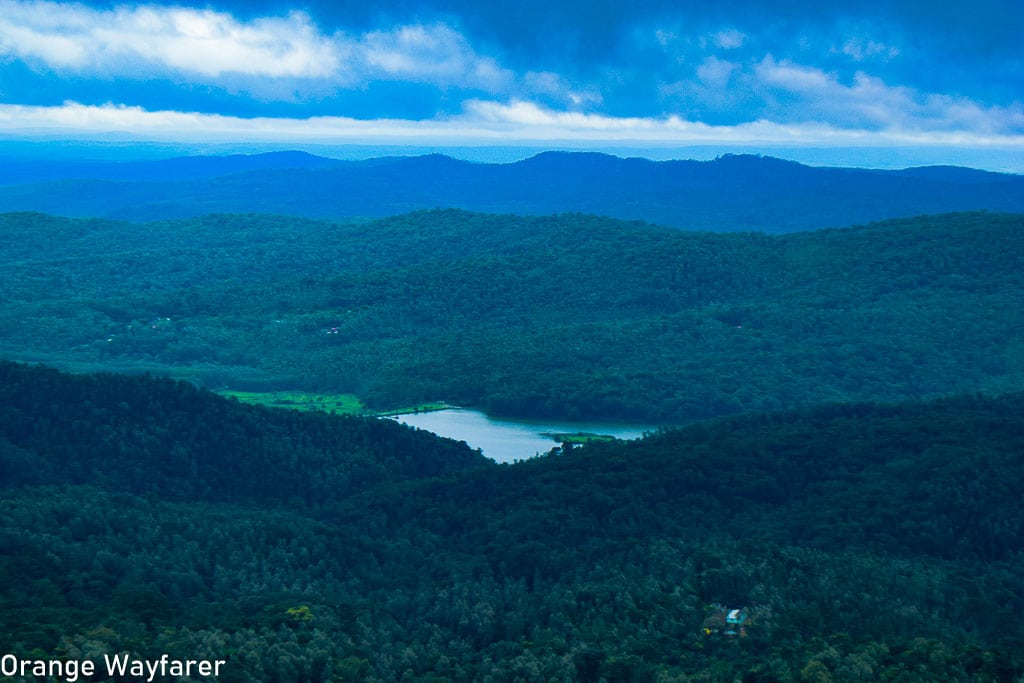 Also read: A week in Shillong, Meghalaya!
Choosing a hotel in Chikmagalur is easy!
The hotels were beautiful but not prettier than the small town. It had a lot of characters. Two parallel roads run simultaneously with a thriving marketplace. I could walk there all day! A few small cafes. Coffee selling shops. Bakeries. Several silk saree shops. Old buildings with distinct architecture. A number of Canteens for a quick refreshment. Chikmagalur surprised us with the number of eateries. Arabic food was found in plenty.
I have previously stayed at a Rainforest Resort in Madikeri. The Taj Madikeri Resort is one of India's finest and I remember the couple of days I spent in the absolute splendor of nature's bounty. Vacations like them are tailor cut for the royalty. For the traveler keen on exploring local society, it is important to find a balance between nature and a semi-urban set up. I recommend you stay at the heart of the Chikmagalur Town if you are traveling on a budget.
We stayed at Hotel Aadrika Chikmagalur. This was a three star property located right at the heart of the city. Here is my honest review.
Pros of staying at Hotel Aadrika:
Centrally located. The bus depot is located right next to it. The auto stand is walking distance.
Market place is very close. So is a bakery and super markets.
Plenty of eating joints are operational outside. Swiggy and Zomato make food delivery a smooth experience.
The Service is nice and prompt.
Rooms are large enough. Rooms had large TV for Netflix and chill kinda days.
Food was decent. They allowed us to heat food for the child.
Cons of staying at Aadrika
They charge for water beyond two bottles of mineral bottles.
They charge of ice.
They charged for cutlery. That was a new thing!
Wi-fi was weak.
Overall, if you have your own wifi and carrying disposable plates, Aadrika was a decent hotels. We chose rooms with balcony. One had a view of the main road. the other one was looking at the hill ranges afar. Nothing outstanding though.
You may choose to watch my 4 part long travel vlogs from Chikmagalur. We traveled to Chikmagalur in July end, at the peak of monsoon. These travel vlogs are created in Bengali.
One day, the driver Sai said, most people come here to relax. I could not agree more. If you have seen our travel vlog series from Chikmagalur, you would know. We were mostly inside the hotel for four days. Except for a few hours when we were driving around the town or the hills. It was a nice little gateway with curated experiences that spanned from culture to nature to gourmet delights. I am gonna list out my favourite things to do in Chikmagalur so that when you plan your next trip to the hill station with family, you can add some of these to your Chikmagalur bucket list!
Also read: Most famous tourist destinations of Karnataka: Dekho Apna Desh!
10 Beautiful Cultural Experiences from Chikmagalur Roadtrip!
List of the best things to do in and around Chikmagalur!
Chikmagalur lies in close proximity to the ancient western ghat hills. The protected bio reserve has a rich history of flora, fauna and cultural ties of the region. Let alone coffee, the hills are often frequented by the Royal Bengal Tigers. Did you know Karnataka has the highest population of Royal Bengal tiger in India (and not the Sundarbans of West Bengal)?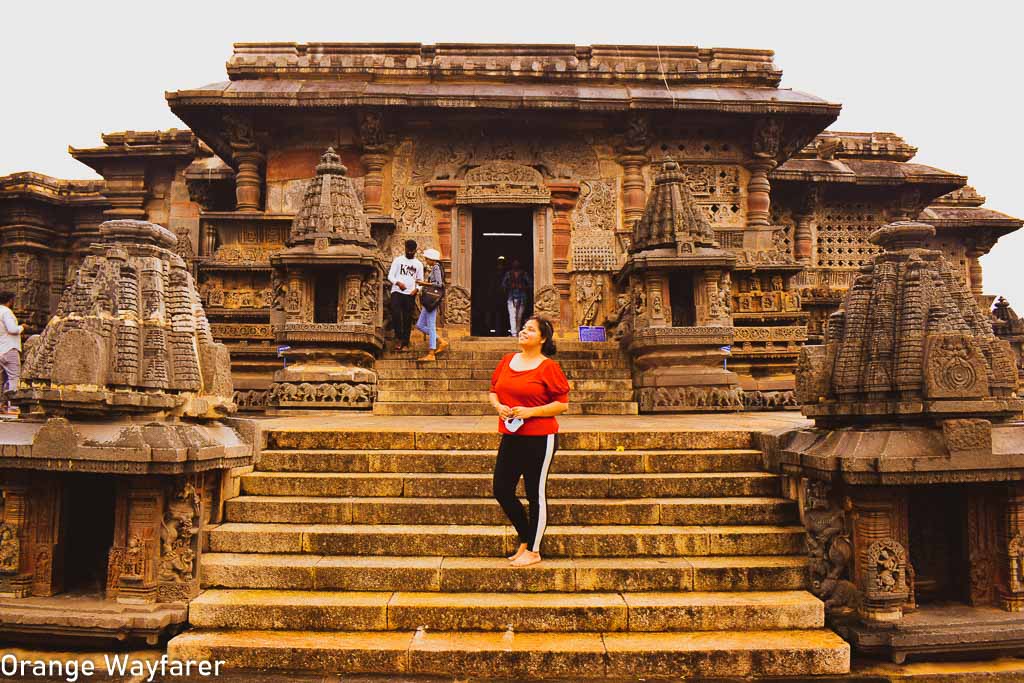 Explore the ancient Hoysala temple clusters of Belud and Halebidu
On the way to Chikmagalur from Karnataka, you will come across the stunning Chennakeshava temple from the days of the Hoysala dynasty. It is located at Belur, a little ahead of the Hassan city. Hassan itself is famous for the Gorur dam on Hemavathi river. The fish dishes we eat in Karnataka are mostly procured from Hassan.
Belur is often referred to as the Varanasi of south India in ancient texts. The Hoysalas ruled the region in the early 11th century and Belur was the state capital. In recent times, the Chennakeshava or Keshava temple of Belur and Hoysaleswara temple of Halebidu have been proposed to be included in the list of UNESCO world heritage sites from India.
The massive Gopura of Kesava temple of Belur city can be spotted from a distance. The Hoysala emblem of a lion is very much visible at Belur temple. Chenna Keshava temple is made from soft rocks. The finery and intricate detailing on the temple walls are comparable to that of Ajanta Ellora.
You need at least a couple of hours to study all the details engraved on the walls of these temples. The stories date back to contemporary life, courtroom, reign of the rulers, kings and queens, dancers and mythical depictions of Mahabharat and Puranas! Keep an eye open for the music instruments depicted through the stone work. It is a wonder how these artworks sustained the gnaw of time through thousand years and remained intact!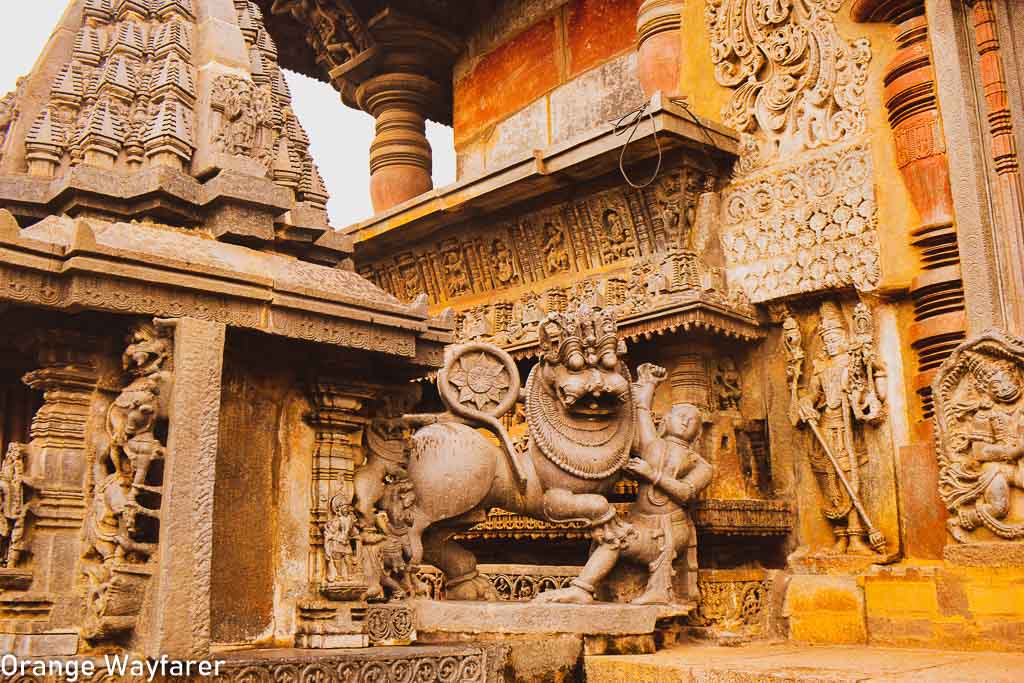 Pro tip: For a rather unusual experience, head to the Amrutesvara temple located in Shimoga district, closer to the town of Chikmagalur. The ancient Hoysala temple is dedicated to Vishnu. It was established by Amrita Dandanayaka, an army general from the king's troops.
Explore the Stunning Coffee Trails of ancient Mountains, Chikmagalur
Located in the Malenadu region of Karnataka, the land of rain, Chikmagalur has a perfectly moderate climate for growing coffee! The plantations and estates are found everywhere as you leave the city behind and head towards the hills.
In India, coffee was first cultivated in the hills of Chikmagalur. Precisely the reason why the rolling hills in this part of the Western Ghats are specifically known as "Land of Coffee".
As we approached the base of Mullayanagiri, we came across sprawling acres of coffee plantation. Estates and plantation workers have claimed the lower parts of the hills, somewhat reminding me of Darjeeling and the road to Kaziranga.
Variants like Arabica and Robusta grow here in tonnes. The finest Coffee of Chikmagalur is exported from India. Price of coffee in Chikmagalur ranges from 200 to 11000 per kg.
To experience the best of coffee trails of Chikmagalur, you need to spend a few nights at an estate. Ideally, choose to stay at one of the old estates, to taste the authentic old world charm of the land of coffee. Most of these estates are family run properties. You may come across a few guns in the living room. This is to scare away the wildlife, I was told.
"Wildlife frequents here?"
"Yes, many. Elephants, deer. Sometimes tigers. Though they shy away from humans."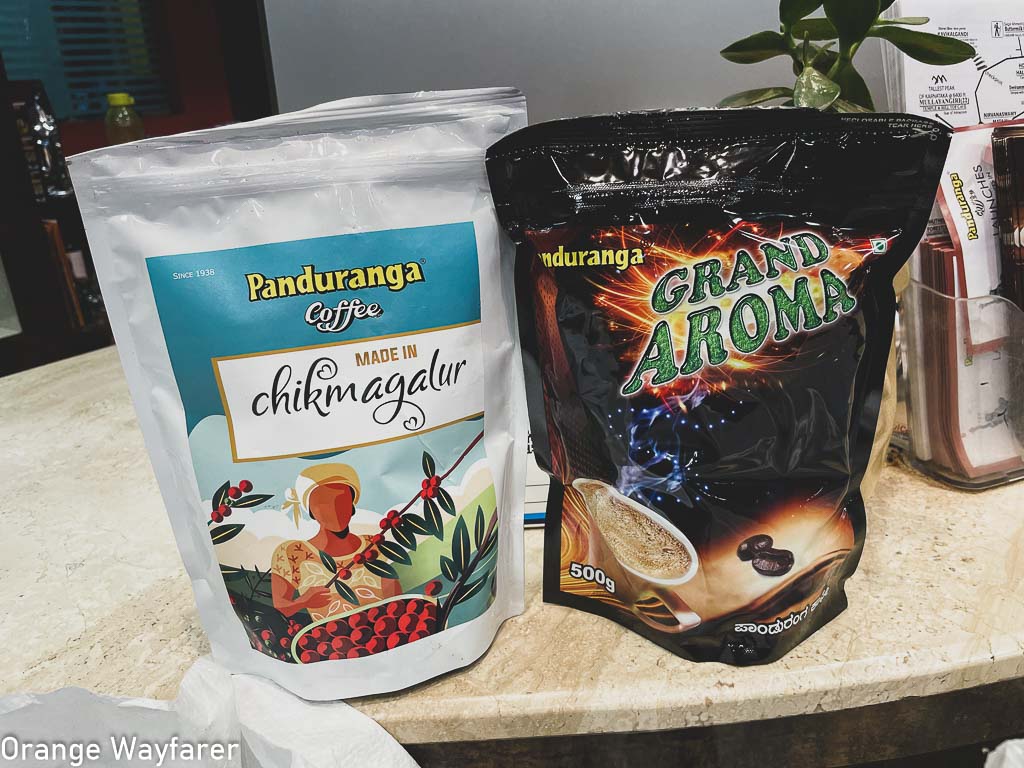 Buy Filter Coffee when Traveling in Chikmagalur
Traveling to Chikmagalur and not buying a packet of filter coffee equates to blasphemy! Many brands sell myriad varieties of coffee but try to get your pack from either Jayanthi cafe or Panduranga. Running since the days of India's independence, Panduranga coffee is a family run business. The shop is centrally located at the market. It is run by a group of efficient local women.
At Panduranga Coffee experience center, I even found a classic filter kapi mug, dazzling in the glitters of gold! Perfect for a discerning traveler to collect as a souvenir. The lower bottom of this set is to help you blend the filter concentrate with that of a thick later of milk.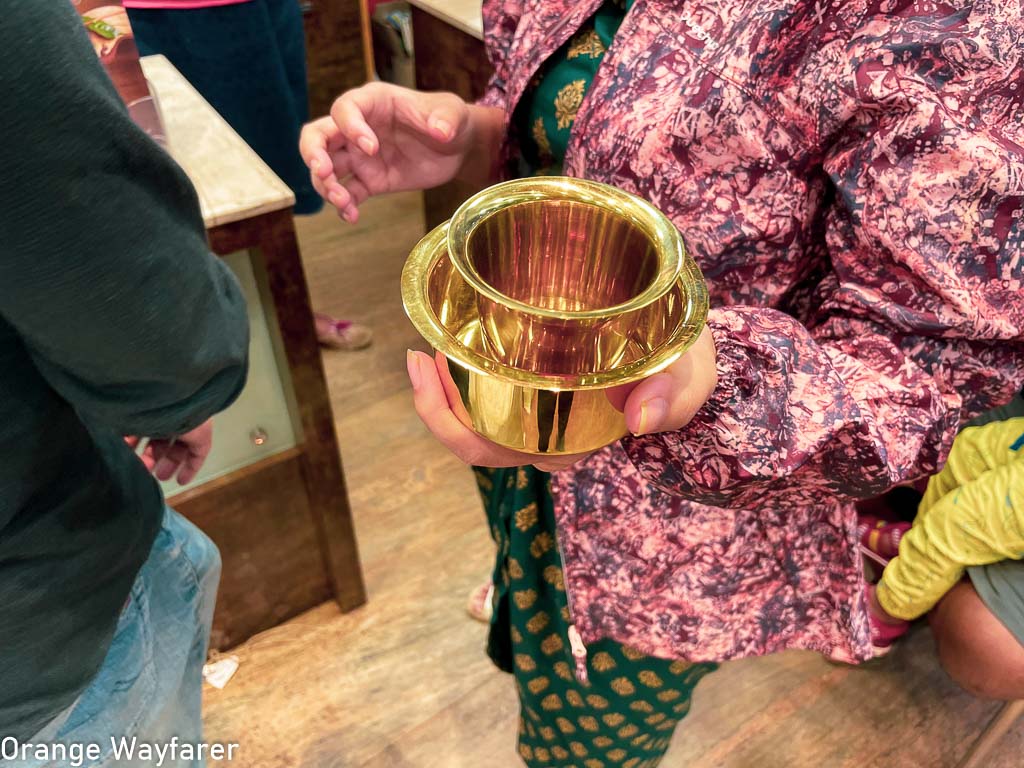 Glide to the Western Ghats, Especially in Rainy Chikmagalur
It is always a delight to be in the Western Ghats during the monsoon. The Monsoon in the Himalayas could be scary with shooting stones and sudden cloudbursts. Western Ghats are relatively tolerant. The clouds come down to kiss your cheeks. The greens soothe your eyes. The air breeze smells of fresh pollens. Mist and drizzle come hand in hand to romance you on the road. Nameless streams trickle down the tall mountains and the roads get inundated with overflowing fountains.
During the monsoon, taking a bath in these mountain streams is a thing here. In Vagamon, I had seen a few water trucks filling up at these fountains. The higher up you go the purity of water becomes more desirable!
The rainforest on the Western Ghats becomes a living thriving form of a whistling being! It is a world afar, from the world known to mere mortals. I can go on with the praise but the truth is you need to be there to understand! Riding in the mountains of Western Ghats during monsoon feels a lot like a green dream. A little hazy with the mist. A little risky with the constant shower. But fresh and alive! I felt like being one with the world!
The forest being a protected area and home to a number of rare wildlife, visiting Mullayanagiri may require you to cross a few check point. Carry your vaccination certificates if you are fully vaccinated.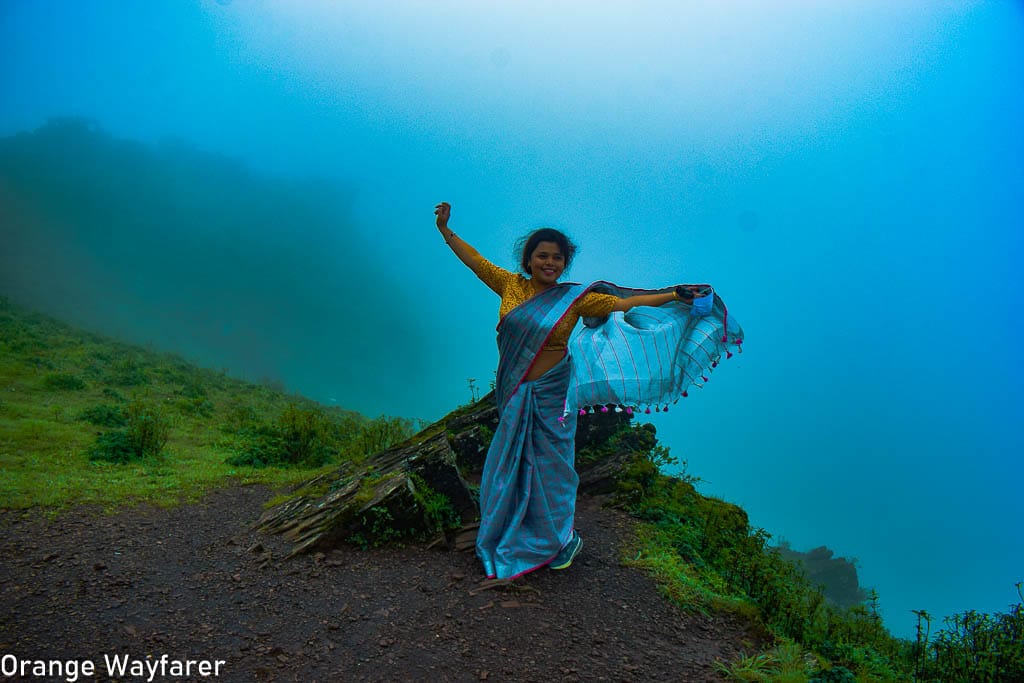 Also read: Essential travel tips for your first visit to Egypt!
Head straight to Mullayanagiri peak
At 6300 ft, Mullayanagiri Peak is the highest hilltop of Karnataka. Standing at the edge of it, your eyes will sweep through vast acres of green rolling hills. Being a soothing climate area, you will always find a cold breeze reaching the top of the hill. However, you can also start the day early and reach the top as soon as the day breaks for a cleaner view. It felt a lot like visiting the sky cable bridge of Langkawi.
Many choose to trek through the mountains, follow the marked trail and reach the top. It is easily accessed by car and then followed by 200 steps. Due to excess mist and absolutely zero visibility, I did not climb further. Men standing a few meters ahead were whistling and blowing yet I could not see a single face. By the way, many rowdy groups of young men were playing music in high volume. I would have shrieked had I had seen their faces!
On the way back, stop at the Siri Cafe and enjoy a soothing cup of coffee and snacks from the comfort of a pretty decked up eatery.
The Shrine of Baba Budan Giri
Baba Budan is a famed Sufi preacher. He is the man who brought the first grain of coffee from his Hajj pilgrimage to Mecca. The story goes back to the 16th century. He is known to have brought 7 seeds of coffee plants which clearly started a new era of coffee plantations in Karnataka and the rest of India gradually.
Baba Budan giri hill is located at an elevation of 1800 meter. It is known as Dattatray Peeta among the Hindus who visit there as a part of a pilgrimage. Caves and waterfalls adorn the area. However, every 12 years the hills see a spectacular phenomenon of Kurinji flower bloom.
Witness Mesmerizing Sunset at Hirekolale Lake
About 9 km from the center of Chikmagalur, located is a beautiful freshwater lake named Hirecolale. The ride to this lake is a short distance. It is a beautiful ride crossing a number of quint little villages. Life unfolds in myriad colours at the local houses. Try to visit during sunset on a sunny day and find the lake coloured in bright red hues! It is a pleasant walk and much suited for a family holiday.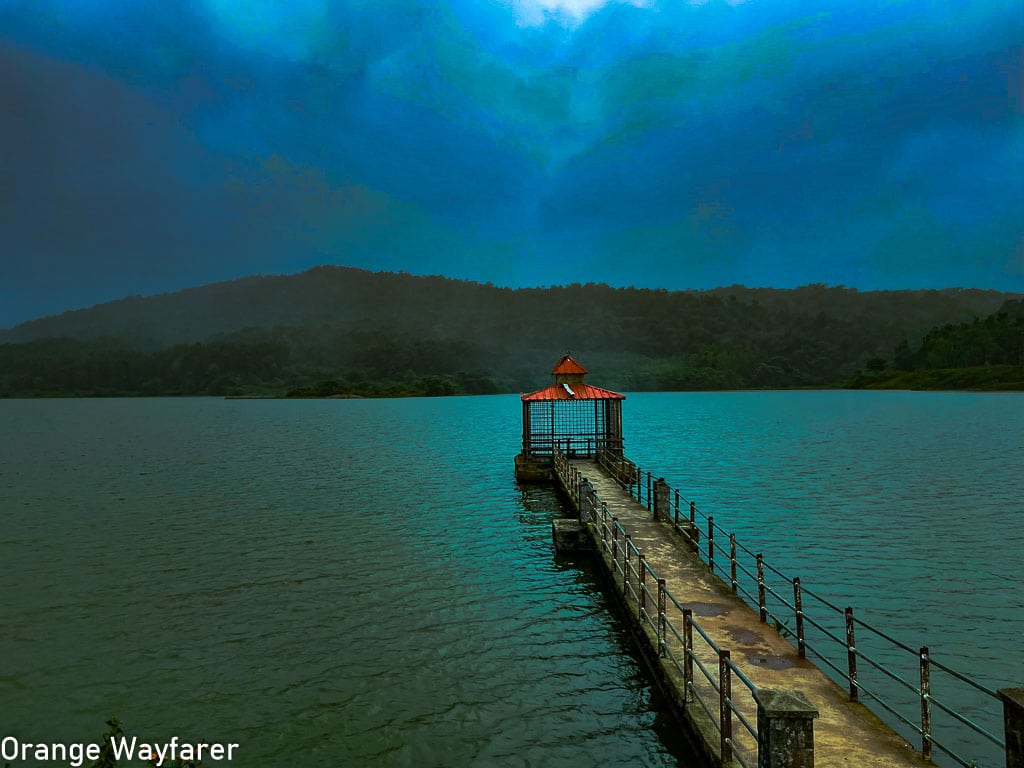 Head to Bhadra Wildlife Sanctuary: One of th eoffbeat Tourist Attraction in Chikmagalur
While the way to Mullayanagiri was dotted with marked trail announcing frequent tiger crossing or deer areas, for a close encounter with the elusive tiger, head to Bhadra Wildlife Sanctuary. Safari takes place from morning 6: 30 to 9 am and in the afternoon it starts from 3 pm for 3 hours. Stop at Hebbe (Staircase waterfall) on the way.
The best time to visit the sanctuary is from October to April. In the monsoon months, roads are often inundated with overflowing mountain streams. Do opt for a night stay at the jungle lodges.
Cafe Hopping at Chikmagalur
Chikmagalur has a number of beautiful cafes. I assume the cafe culture in the town slowly grew with more number of tourists flying in to the city.
We chose to visit cafe Agape but that was closed. Cafe Agape had good reviews. We headed for Jayanthi Cafe instead. More than a cafe, Jayanthi cafe was an experiment center elaborating on the history of coffee arriving in India. Despite looking stunningly beautiful, Jayanthi Cafe was extremely slow in providing service. They had interesting stuff like blue berry cheese case and Vietnamese coffee in the menu. It was a hang out zone for the young and enthusiasts of Chikmagalur. I say this by looking at the crowd!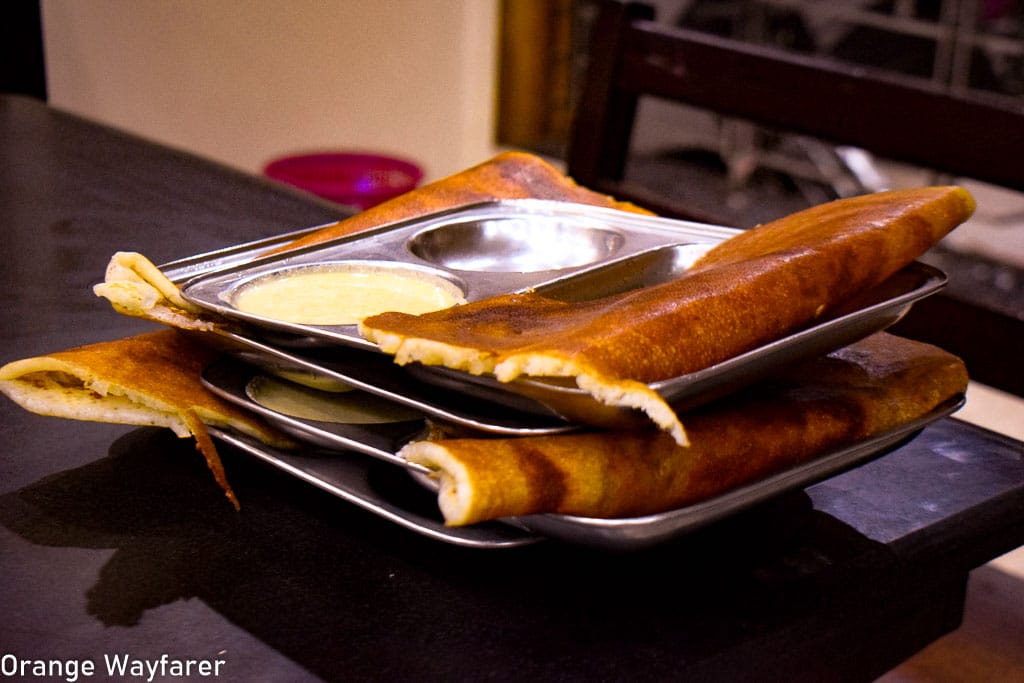 Binge Eat Bene Dosa at Town Canteen, Chikmagalur
In normal circumstances, I would have never paid attention to benne Dosa. Sorry, pardon this naïve Bengali girl. But then Town Canteen Happened to me and the one thing I look for in Bangalore these days is a good meal of Benne dosa. The crispy fried dosa with crunchy outer layer and beautiful dollops of butter dripping through its side is a beauty to behold. the Town Canteen in Chikmagalur is famous for serving the best Benne Dos and aromatic strong Filter coffee for half a century (or more?) and attracts customers from all over the globe! The menu is simple, in fact non existent. It is either masala dosa or crispy dosa with extra bene (butter). You can order for more sambhar and you will be served!
Heaven cometh to your plate!
Things to eat at Chikmagalur
For the four days we were at Chikmagalur, we made it a point to order in on a daily basis for our dinner. We chose to eat Arabic cuisine mostly because the kebabs were lip smacking. they did try to smuggle some of the North Indian Mughlai dishes in the name of Arabic. But they belonged to nowhere yet managed to taste decent. I will list down a few must try food items when you are in Chikmagalur.
Order in Mutton biryani from Maharaja restaurant. A variant of donne biryani with bright yellow rice grains, the Dum Biryani of Maharaja restaurant was generous to feed 4 hungry souls for breakfast. need I say more?
Do order Mutton Chatpata Kebab from Table Top restaurant. It is one of the finest kebabs of the world. Overwhelmingly good!
The Chicken Shawarmas are generally a safe bait if you are a picky eater.
The bakery served a beautiful milk cake. But the pasties were horrible.
We traveled to Chikmagalur from Bangalore right after the second lockdown. The rules were a bit relaxed but not entirely loosened. There was makeshift RAT testing camps as you approached the road leading to Mullayanagiri Peak. Shops were closed after 9 pm. Delivery was also scheduled within 9 pm. Night curfew was in place and widely followed. The cafes had locals incoming when we were visiting Chikmagalur. Needless to say, mask and sanitization is being carried on every step of restaurants, hotels, cafes, shops and everywhere.
Have you visited Chikmagalur? Traveling to Chikmagalur proved to me a beautiful surprise where we chanced witness the splendid nature of western Ghats during monsoon. We crossed multiple streams and fountains as ice cold wind caressed our hair! Visit the mountains before the lockdown is eased out completely and thousands rush. The charm of Chikmagalur is reserved for the first few.
---
This post may contain affiliate links. Please read the disclosure post. If you have liked the article, you may support it by buying using these links without any extra cost to you.
Let's stay connected on Facebook, Instagram, Twitter! You may also consider joining my mailing list. I send travel and photography related emails only once a month!