Apart from exploring the typical touristy spots, do explore the Madikeri rainforest and her hidden treasures while you are traveling to Coorg. Malabar squirrels, Malabar gliding frogs, elephants and myriad snakes are some of the prized wildlife sighting that happens in the region on a regular basis!
Several murky trails crawl around the lush green rain-forest of Madikeri, Karnataka. Jungle is dense here. Ample sun-rays reflect the other way from the tall standing trees. They hardly ever make their way to the ground earth.
While walking on one such nature trail, we came across a serendipitous encounter with a green vine snake. I remember this one from childhood. Laudoga Shap. Loosely translating into the tender branch advances of a gourd tree. If the naturalist would not have pointed out, I would not have noticed it at all!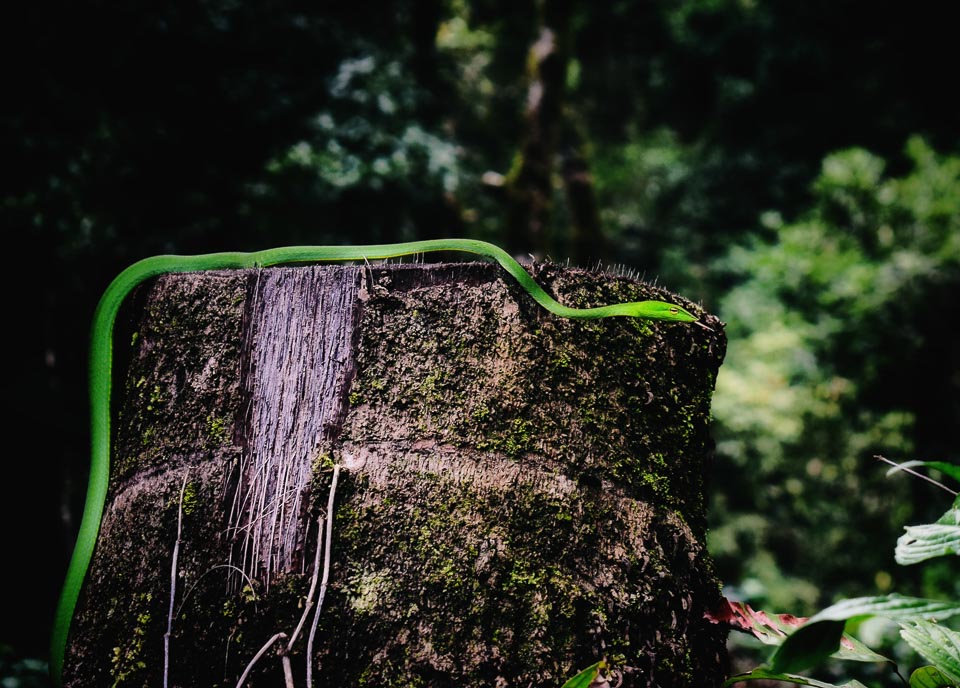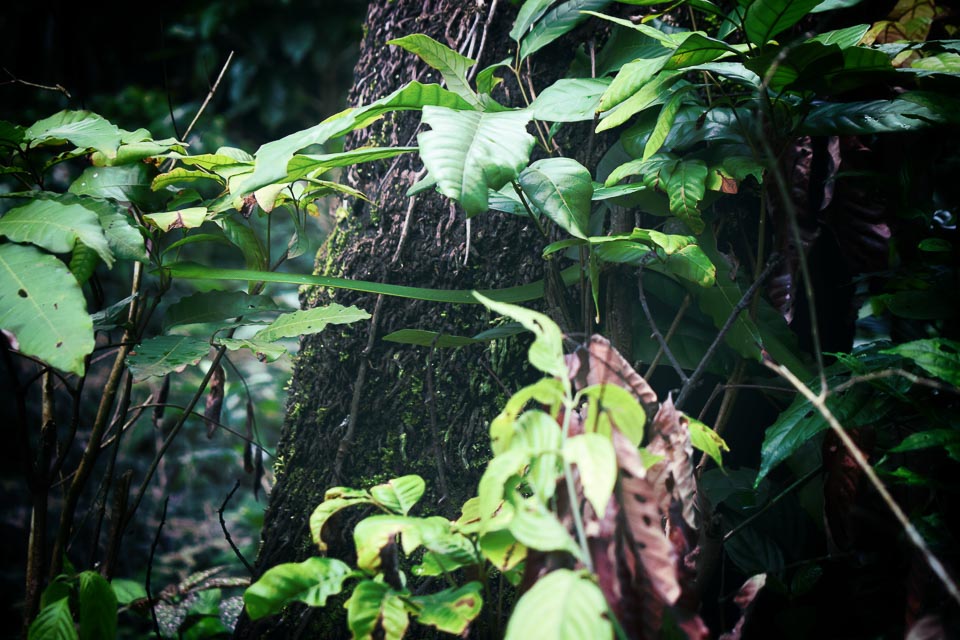 The green vine snake is known as AHAETULLA NASUTA in the Latin genome chart. It lives off eating lizards, frogs and small creates alike. When the baby snake is born, instead of eggs, it is born of mother's body. I think that is phenomenal in the snake family!
At the Madikeri, there are multiple trails that crisscross the ancient rain forest. I was staying at the Taj Madikeri Resort, which is spectacular property and safe from such apprehensive encounters.
It was monsoon and the earth was remitting an intoxicating aroma of petrichor. We also learn, while walking on the way that elephants sometimes walk on the same trail. They trample trees and rub their coarse skin at the trunk of enormous trees at times. Continuous rubbing around those trunks make the tree incredibly polished and smooth to touch to!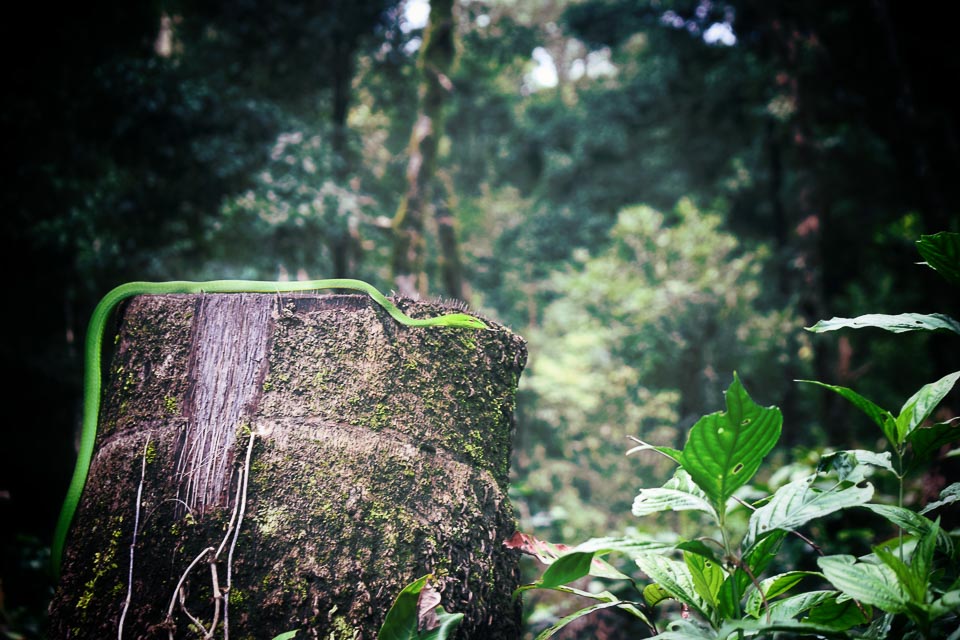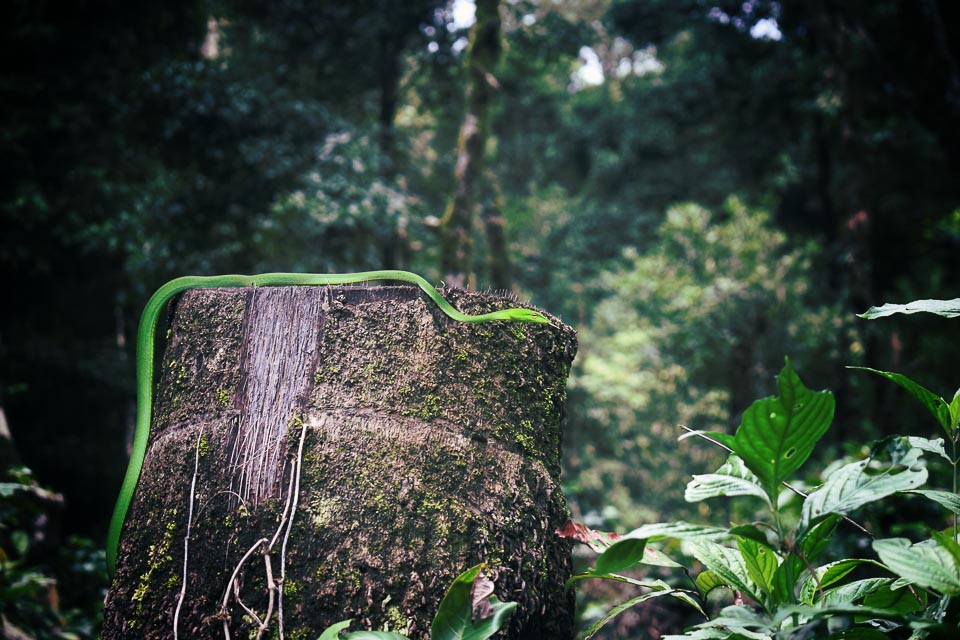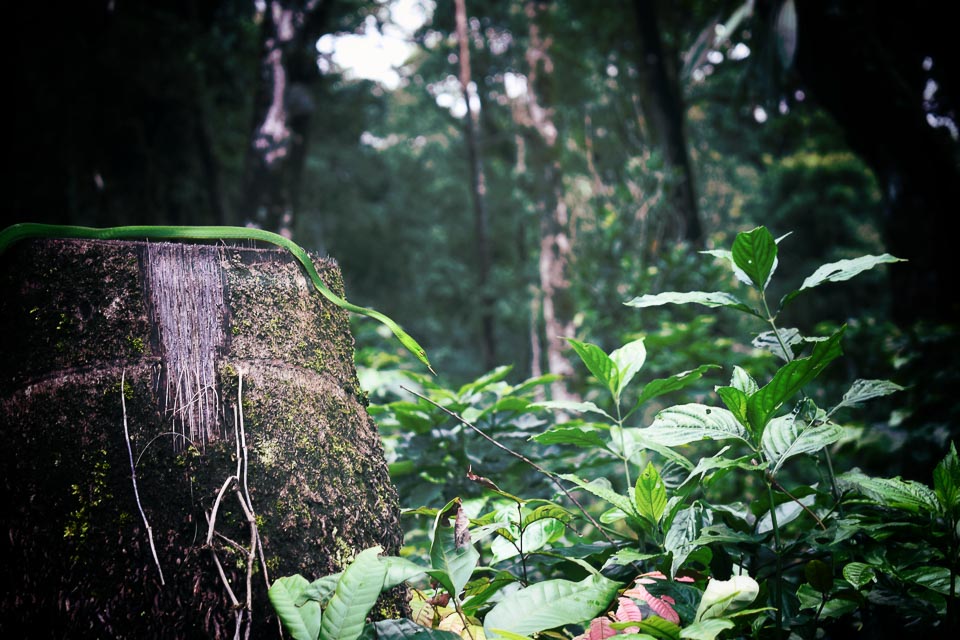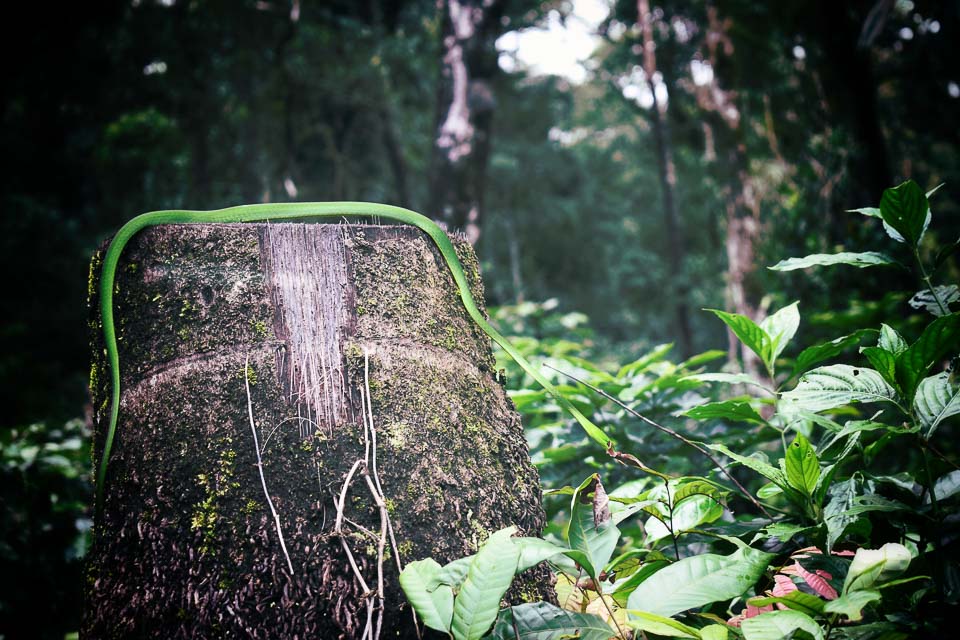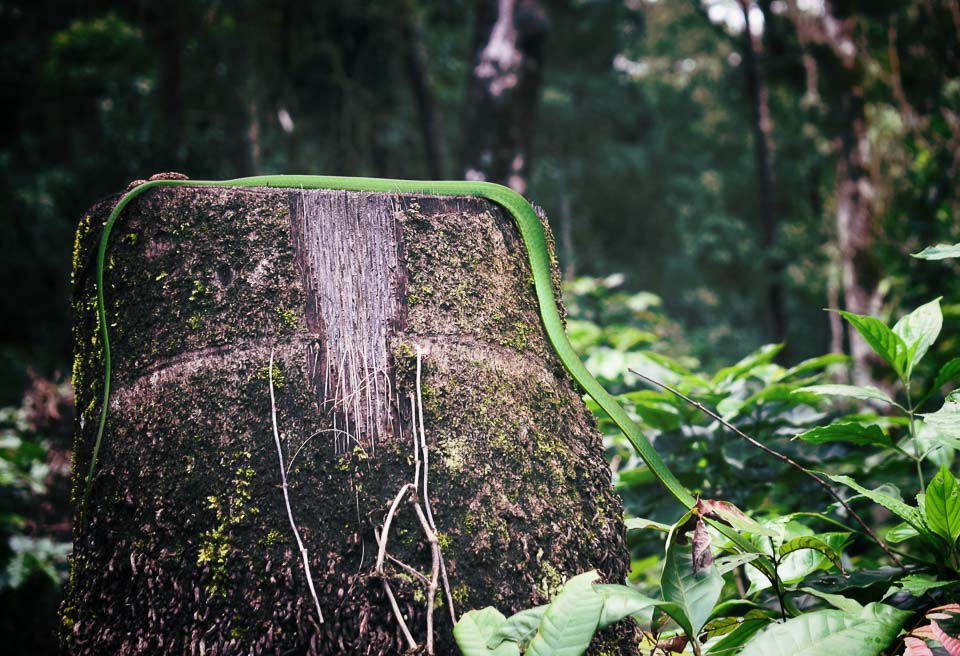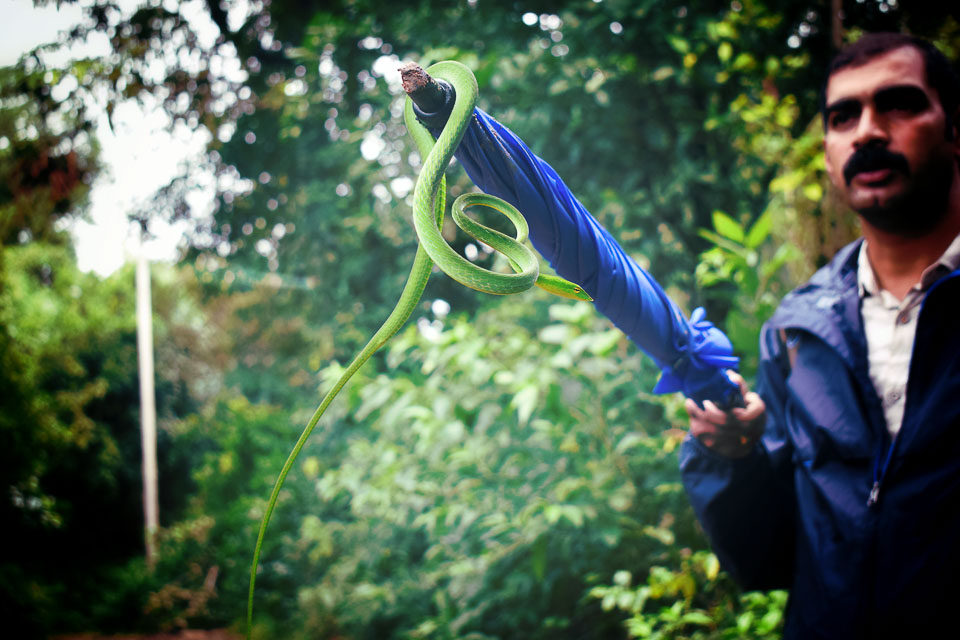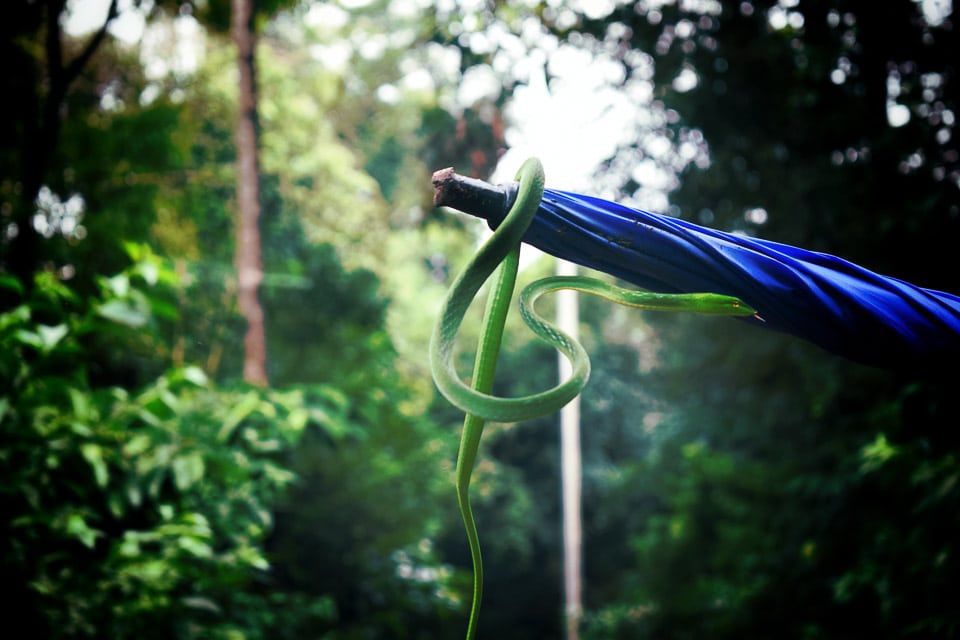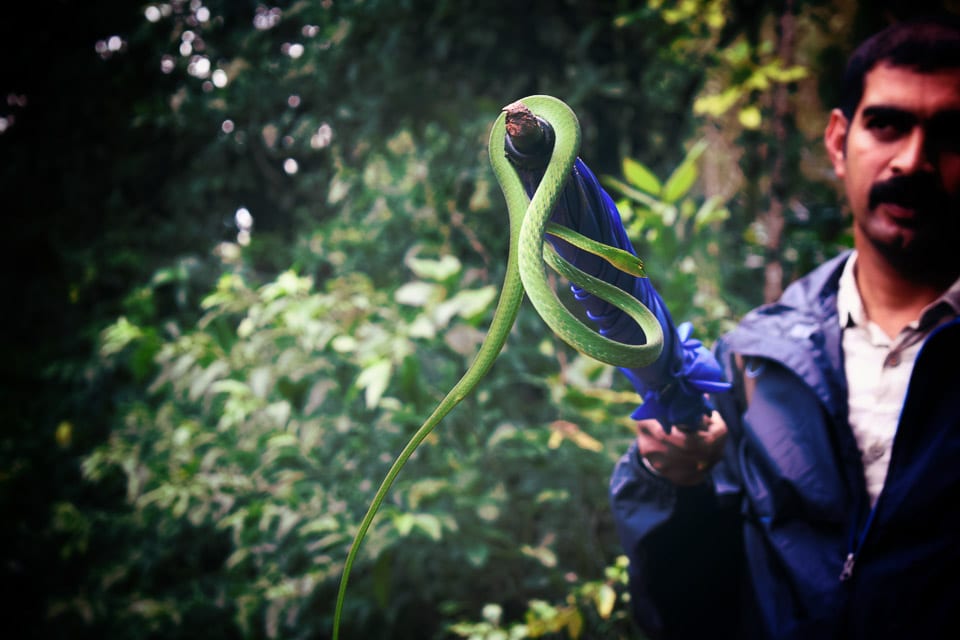 Our guide picked up the snake with the wee end of his umbrella, hung it on the air like a display and sent it back to jungle! These snakes live close to human settlement and those who know are not very scared of it. Mostly because it lives inside the foliage. Sons of the soils of national parks in Indian subcontinent (in Africa also) share a close affinity with their wild counterparts. Take for example rhinos that stand by the paddy fields in Kaziranga.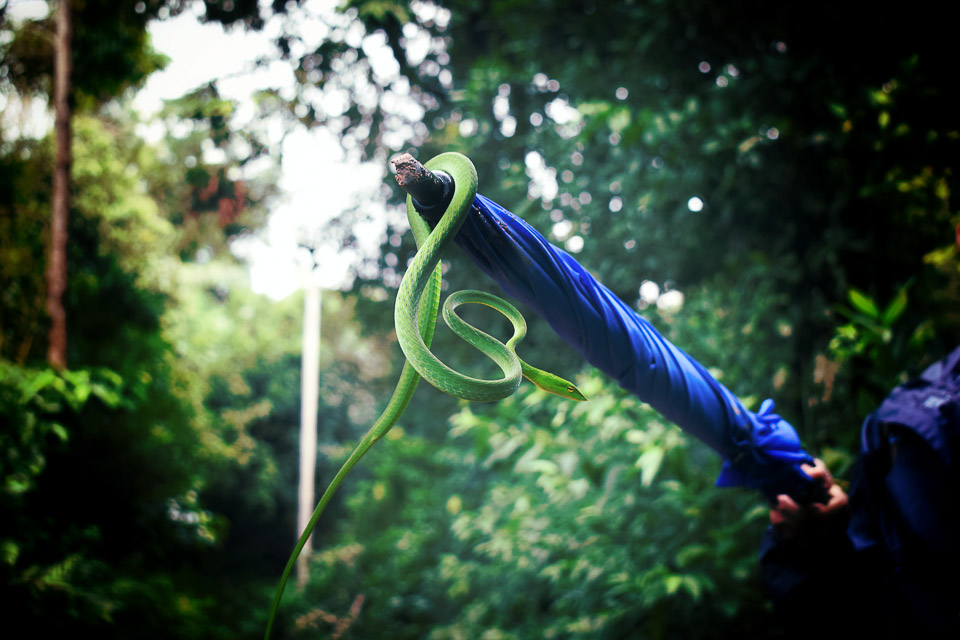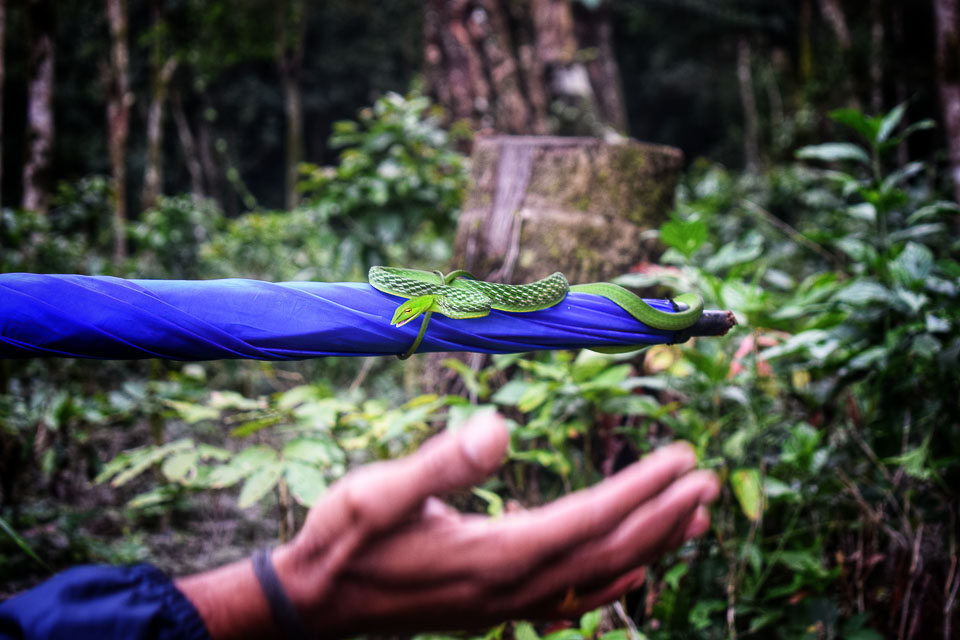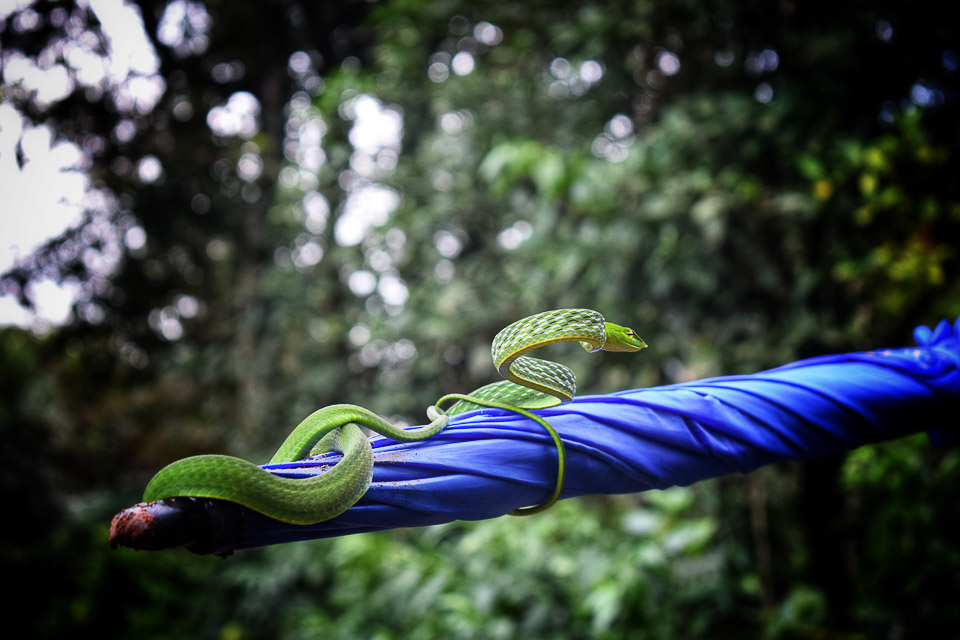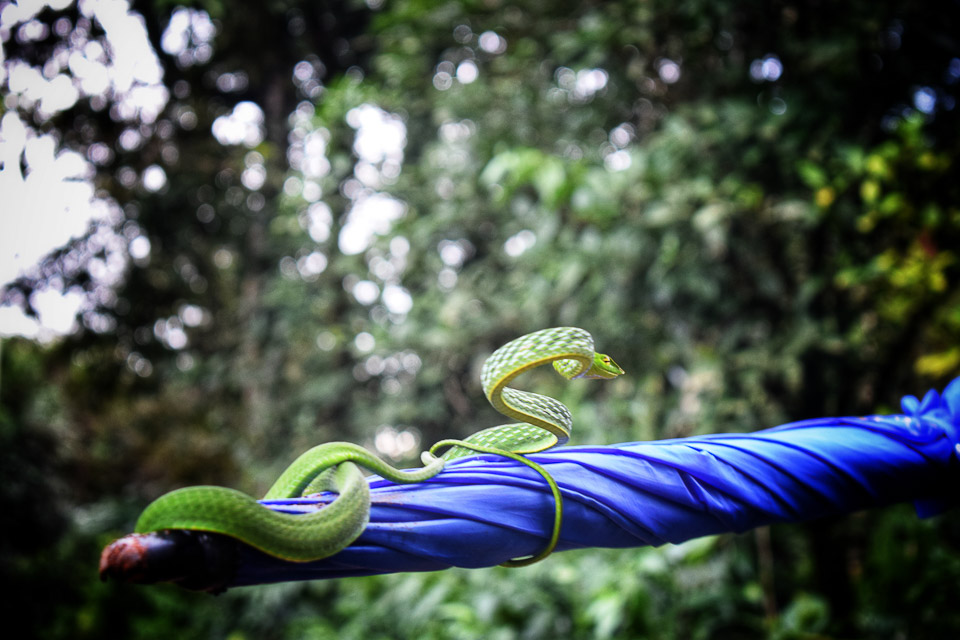 The snake kills by squeezing very slowly. This is how the civilized world slowly, slowly pushes into the forest and takes away the world that used to be.     
Did you know: Snakes are found in every continent except Antarctica!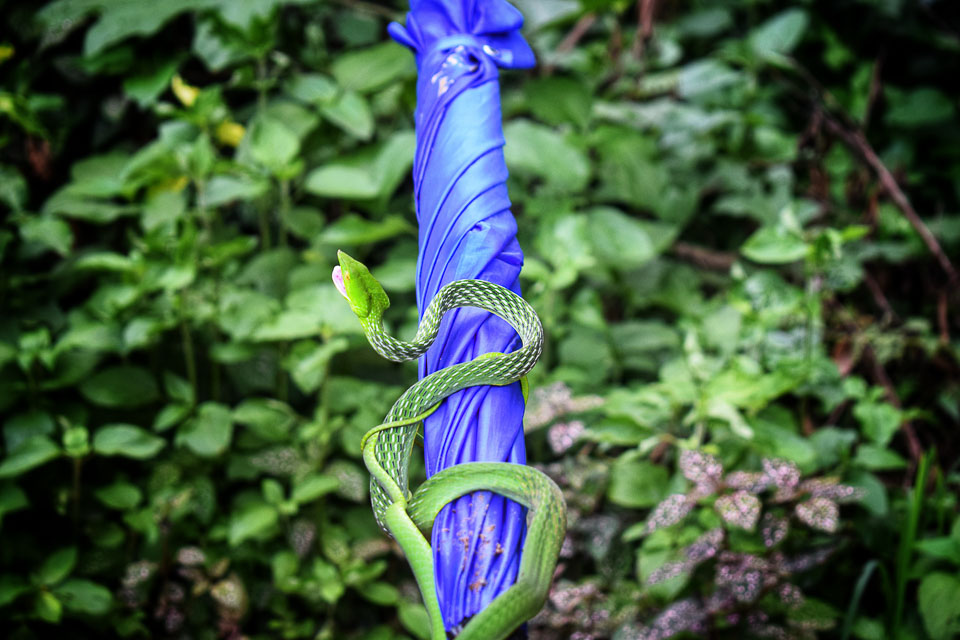 There ability of camouflaging is amazing. I think this green slithering beauty of the vine snake is what makes it so intriguing! I have always heard that snakes hypnotize, with their cold stare and supple moves. But Green vine snake is simply magical. Specially when it is angry. It opens its slightly long and elongated mouth and you can see the end of the world in it!
Look at this picture. Its mouth open, ready to bite and the animal is quiet angry that we plucked it out of its natural habitat, which is the shadow of green leaves!
Also read: Dance of an elephant at the Manas national park: photoblog!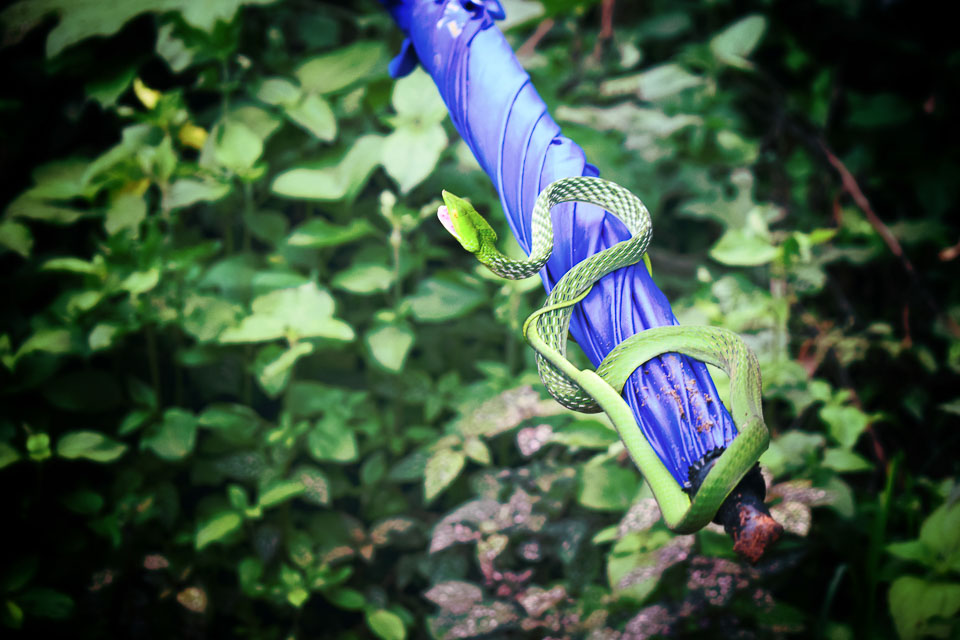 Green vine snakes are mildly poisonous. They do bite and their bites are painful, with pain lasting for upto 3 days. In case you are bitten by the snake close to your head, it could be fatal.
Also read: Living with birds at the Old magazine House, Dandeli!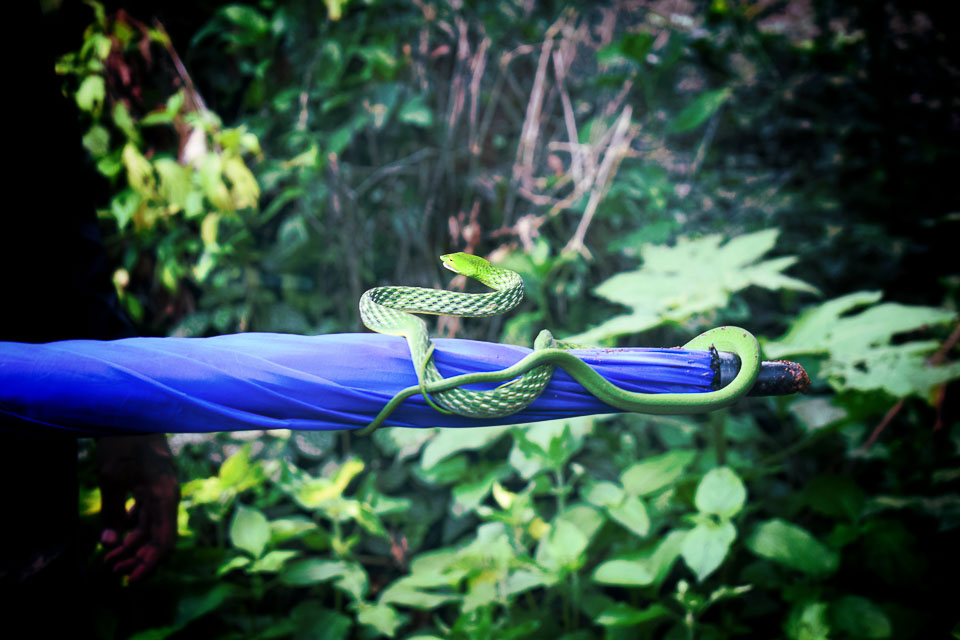 Another time I saw snake was at the Yub Yum Resort Goa. The sky was broken those days with an impending cyclone Kyarr. I was on a quest to explore offbeat Goa and when I saw that large black snake slithering its way into the beach bush from the straw cottages, I ran behind it hoping to create content! Later, I learnt that was a Cobra! Indian cobras are dangerously venomous snakes, and cause maximum number of kills among humans.
Surprisingly, not all venomous snakes actually kill people!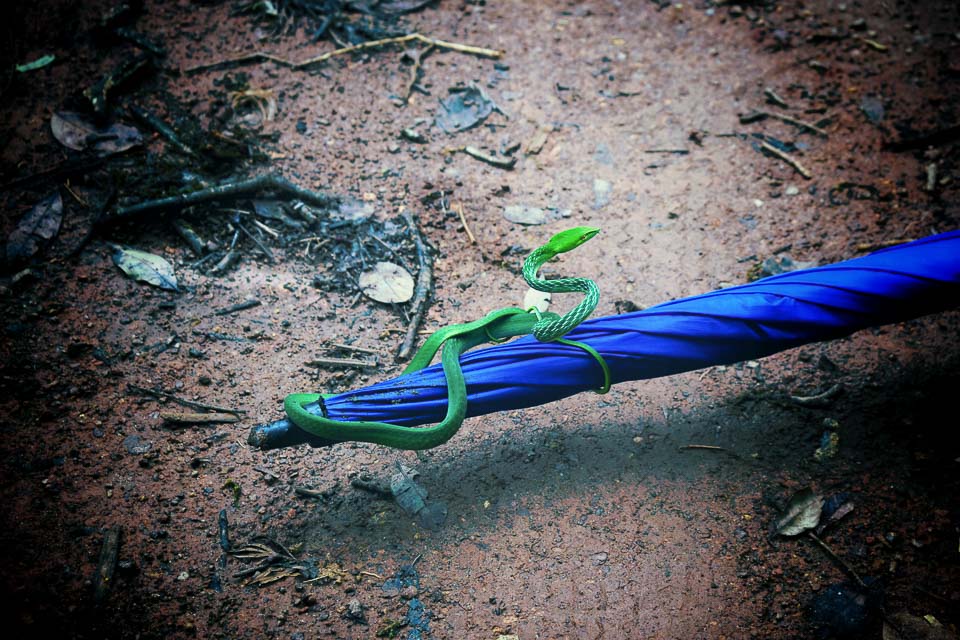 ---
Read more articles of destinations in Karnataka.
This post may contain affiliate links. Please read the disclosure post. If you have liked the article, you may support it by buying using these links without any extra cost to you.
Let's stay connected on Facebook, Instagram, Twitter! You may also consider joining my mailing list. I send travel and photography related emails only once a month!