About this Blog: this blog on Dandeli and things to do there will help you explore Dandeli Wildlife Sanctuary of Karnataka, which is conveniently located between Mumbai and Bangalore. It is actually a stone's throw away from Goa. A paradise for birding enthusiasts, Dandeli is also famous for white water adventure activities on the Kali river and houses important historic sites in close vicinity!
This post on things to do in Dandeli is the first post on Dandeli series.
Adventures in Dandeli: Kali River Rendezvous and Plethora of Activities
The guide from Old Magazine house, who takes us for a quick jungle drive is born and raised in Dandeli, North Karnataka. He is fluent in Marathi, Kannada and Hindi. If the tourist group consists of more number of people from Bangalore (which is the norm here), he starts to speak in Kannada!
Thanks to my 4 years stay in the city, now I understand it all. Though, on that day, standing by the backwaters of Kali river, witnessing a gorgeous sunset, how I wished I would not have understood!
The jungles of Dandeli is home to all kind of wild beasts. Unlike other parts of India, you can not sight them, they sight you. And on a good occasion, irked by incessant human commute, they may come out and give you a few love bites!
The guide was talking about a sloth bear caressing a human and his bike, an incident that took place a few months ago! I gape in awe!
It was my third jungle safari for the year. From the far east's Manas National Park or Kaziranga to the south west of Karnataka's Dandeli, difference in feel and form of the jungle are huge! Suddenly the plains by the river Bramhaputra or the evergreen forests of Himalayan foothills get replaced by misty Sahyadri Range, the mighty western ghats of Indian peninsula.
The green is a bit thicker, foliage is denser, the boundary between wildlife and towns are blurred. You will not get aghast with multiple incidents of poaching, but "you will be watched" by the black panthers, tigers and elephants from the dark beyond of the tall teak trees and bamboo bush!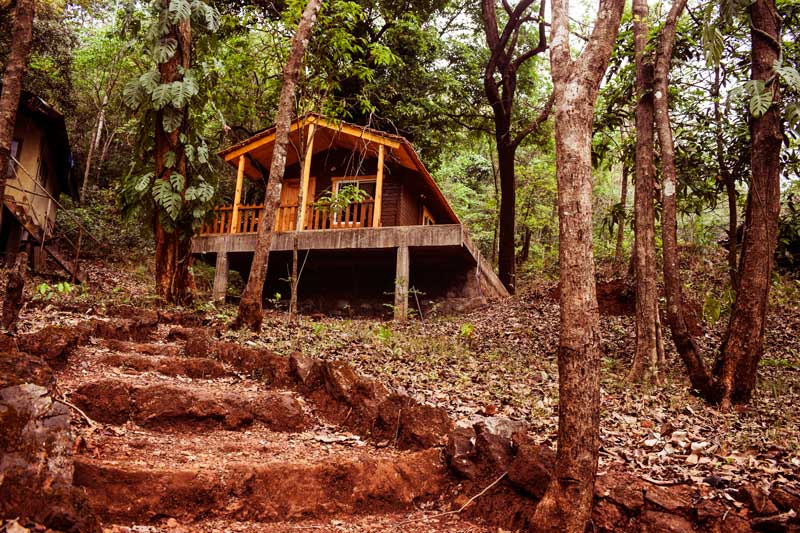 Dandeli : So Near yet So Far from the Indian Metropolis!
Once a lush jungle between the border of North Karnataka and Goa, Dandeli town has experienced a rapid spread of industrialization post Indian independence. While human population grew in leaps and bounds, it became an imminent threat to the wildlife.
Allow me a moment of pride as I profess appreciation for my fellow countrymen who largely treasure and celebrate their wild neighbors and have taken plenty of initiatives to protect the forest. Result? Dandeli has made its way to the bucket list of urban populace who seek refuge where chaos gives way to tranquility!
I lived in Dandeli for couple of nights. A night bus from Bangalore took me to the town of Dharwad, from where Old Magazine House is a half an hour taxi ride. I have only heard about the luxury of Indian forest bungalows and probably eaten the namesake mutton curry.
This was the first time I experienced a gorgeous stay in the wild! En-route, the driver told me stories how he has spotted multiple animals crossing the road as he plied his passengers from the town to the jungle stays. It could be a humongous Indian Gaur or a predator black panther (hi Bagheera!)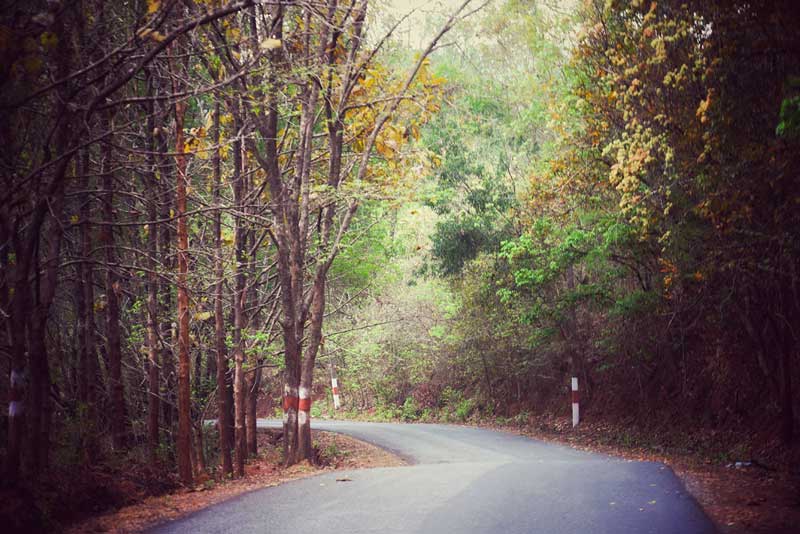 Anarchists or not, I fell easily into the Dandeli ritual. A knock on the door at 7 a.m. brought coffee or tea, shortly followed by a majestic breakfast in an open hall! We would then either wait to shoot the birds, or pile into open Jeeps with a driver and a guide, and headed for the interior of the park.
Dirt tracks crisscrossed under a high dark-brown canopy of teak, rosewood, sandalwood and bamboo. A perfect end of the day will be a leisurely stroll by the crystal clear water of Kali.
Then you may ask, why would you not travel for another hour and visit Goa, which is close by, and has plenty on offer?
Because, far from the maddening crowd, Dandeli offers you peace and thrilling experiences one after another. There are splendid moments of spotting a crocodile basking under the sun, or finding the muddy holes by the river banks where she laid her eggs, or plucking the fresh raw mango direct from the tree as you are sailing on a Bothua (Coracle).
Falling punch drunk in love with the Kali river
Living in the metro city of Bangalore, where the lakes are not spared from urban sin, I pine for a riverine encounter frequently. The endless spread of Hoogly river comes back in my mind as frequent flashbacks. Dandeli quenched my thirst with elan. Kali river, born from multiple streams descending from Dudhsagar falls, has been bound here by Supa Dam and lifts up livelihood for entire northern state of Karnataka.
After quenching the thirst for millions and sustaining wildlife by the Sahyadri range, the river proceeds in rapids and steady flow to meet Arabian sea.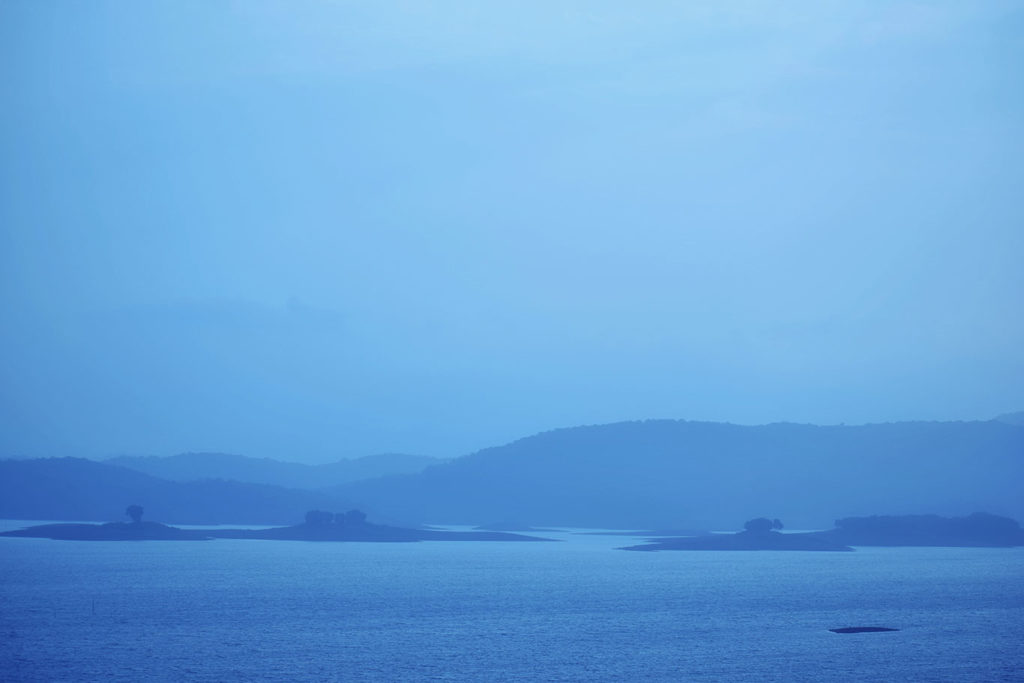 Also read, Purushwadi Fireflies festival: a celebration of monsoon in rural Maharashtra!
Play in the River Kali: Plenty of Water Activities
I know nothing of swimming! I love to sit by the river and ponder. You may disagree on such a boring encounter. What's a rendezvous with a river unless you have splashed its water on your face, sped up heartbeat with cascading rapids?
Kali river offers you plenty of water sports activities and more! Indulge in the white water rafting on Kali river at Dandeli. Dandeli jungle camp arranged it for me (which is potentially dangerous during monsoon).
Such is the wonder of nature that there are nascent areas of Kali river that has formed to be a part of natural Jacuzzi, particularly favorite with tourists. Hoards of them visit the site, equipped with life-jackets and more!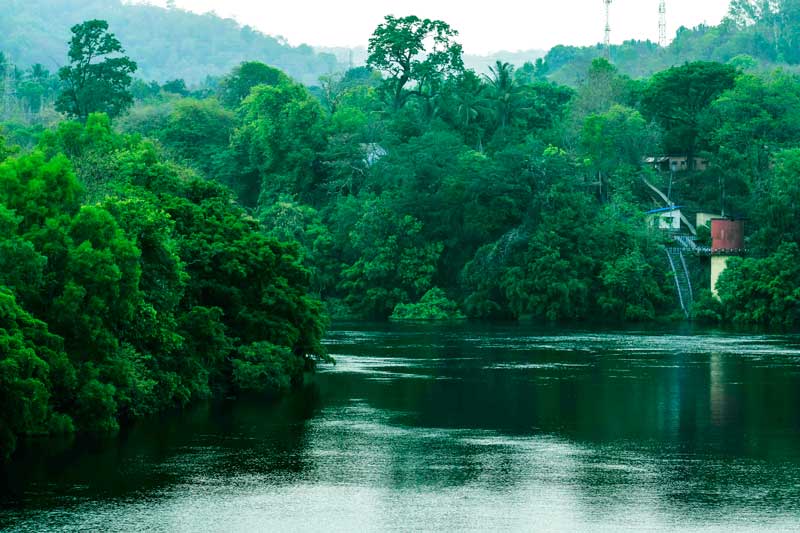 Hike to Syntheri rocks and spot the Bee Hives
sated with splashing water in and around river Kali, let us go and explore the hillocks by her side! Around 10 KM from the jungles of Pradhani lies the huge limestone karsts. The heights of the rock is dotted with plenty of bee-hives.
I spotted a lot of them on the road spiraling in the jungle, however spotting one in the wild, safe from human reach is kind of reassuring. No-one is going to displace the bee-queen in quest of natural sweetener! (No, I am not vegan, I just feel for the displaced!)
You have to enter the jungle to access Syntheri rocks. Road condition is excellent, bends are tender. Hiking down around 200 steps is not a challenging task, provided weather is pleasant.
A lot of vendors up there are waiting to sell you locally produced carbonated drink. The bottles form doppelganger of thumps up but in reality they taste more like Masala Cola (We love spices in our carbonated drinks).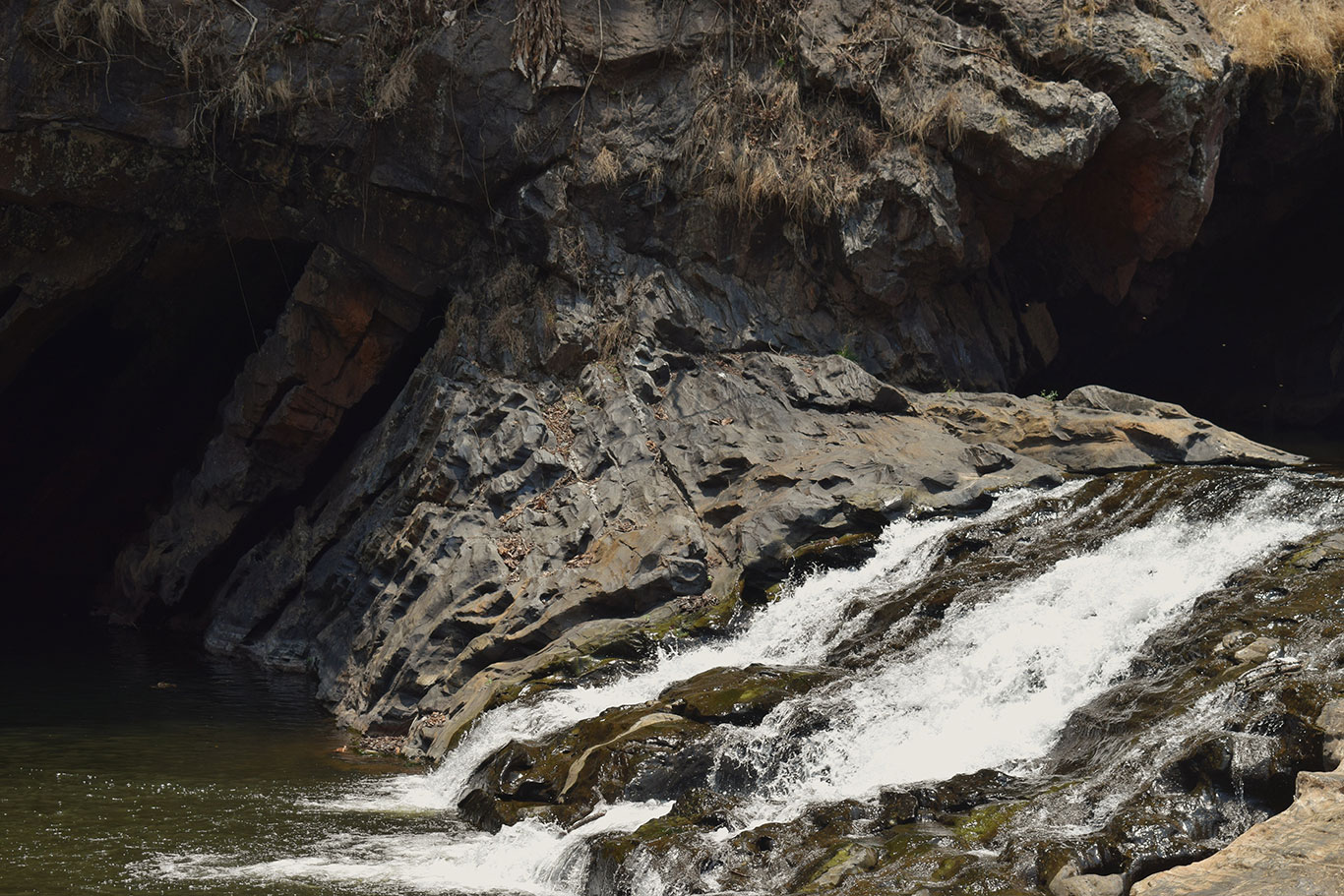 Explore the Quaint little villages by River Kali with a Coracle Boat
If I have particularly psyched you already with a list of activities and you prefer your vacations in a relaxed manner, let me not be a killjoy anymore! The round Boats, locally named as Bothua, (the ones you have sailed in Hampi already) are ready to take you for a ride. Kali river is dotted with trees that many will mistake as mangroves for there bending appearance on the water.
The boatman took me under those trees, helped me pluck some raw mangoes and lemons, showed me the mud holes where crocodile come to lay her eggs. Plenty of pretty birds flew threw. A peaceful village life unfolded in the river banks vividly. The ghat is basically a temple where Hijab clad young girls come and play. Women smile and clean the raw mango and thus rise above language barrier. How I love the Bharatbarsha, extended and sprawling for acres, barring the metro cities!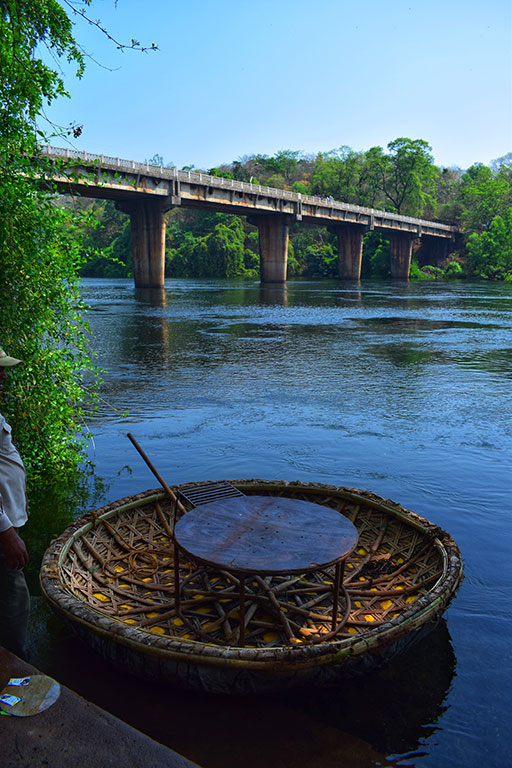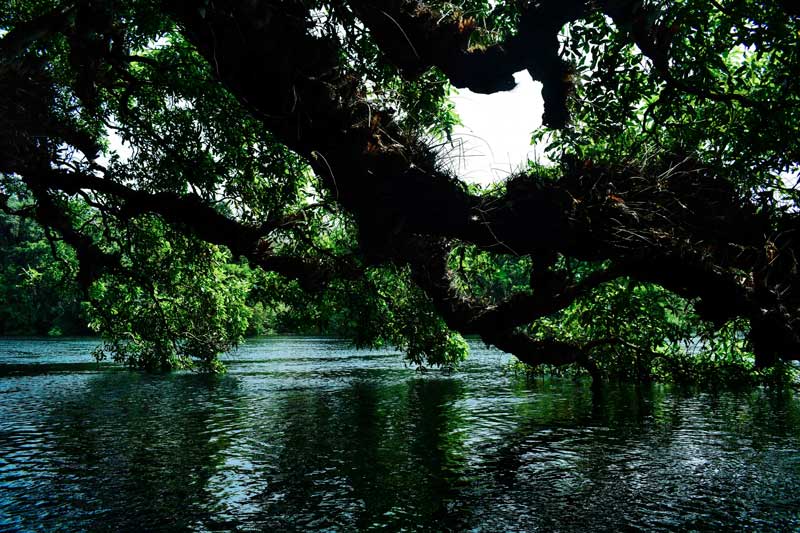 Kali River and her prized Backwaters
I never knew what a backwater is before coming to south India. As I stand on a hilltop and witness a firey sundown, I was told the wildlife come to drink water at this time from the backwaters. What is a backwater? where is it? It is the vast reservoir the locals refer to.
For past three years, they are awaiting good rainfall. The water level is decreasing. The backwaters are receding, emptying rustic ancient earth. Long back, it rained a lot and water level came upto the village houses, I learn. No-one wishes on the same catastrophe, but "Allah Myagh de, Paani de" is what they pray for anyway!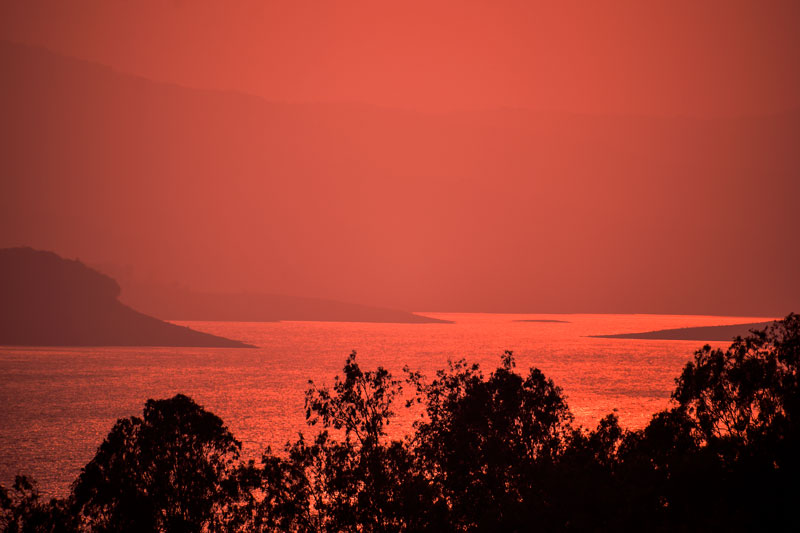 No need to feel guilty for traveling thou, not yet! The dam is single-handedly making a show against the water crisis.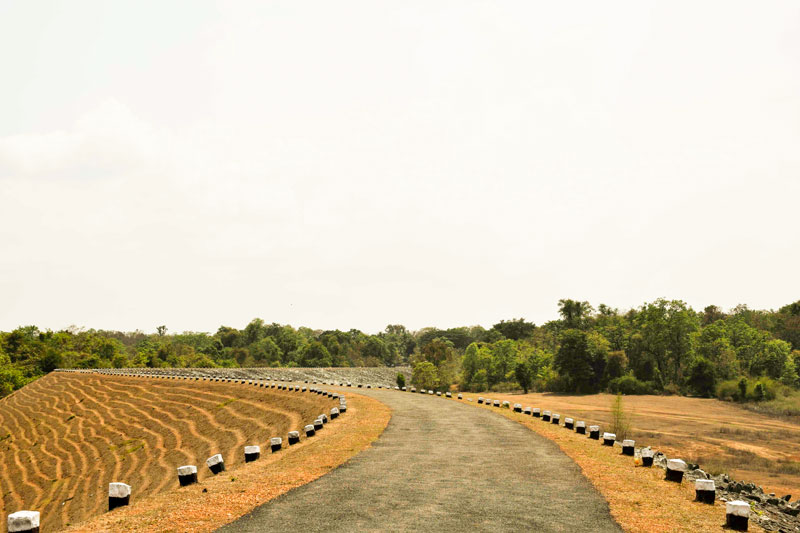 Dandeli's Ganeshgudi is the legit Paradise for the Birder in you!
More number of people love Dandeli for its potential in bird watching than the animal safari. A home to 4 out of 9 species of Hornbills of the world, it is renowned as a Hornbill sanctuary. However, locals will show you other birds with more enthusiasm! "It is more like a crow. .
They come and go" the woman guide told us! She is a school teacher in her early twenties and conducts the early morning bird walks! I was quite impressed with her knowledge, enthusiasm and love for the tiny flying creatures, who often visit Dandeli basis on season change!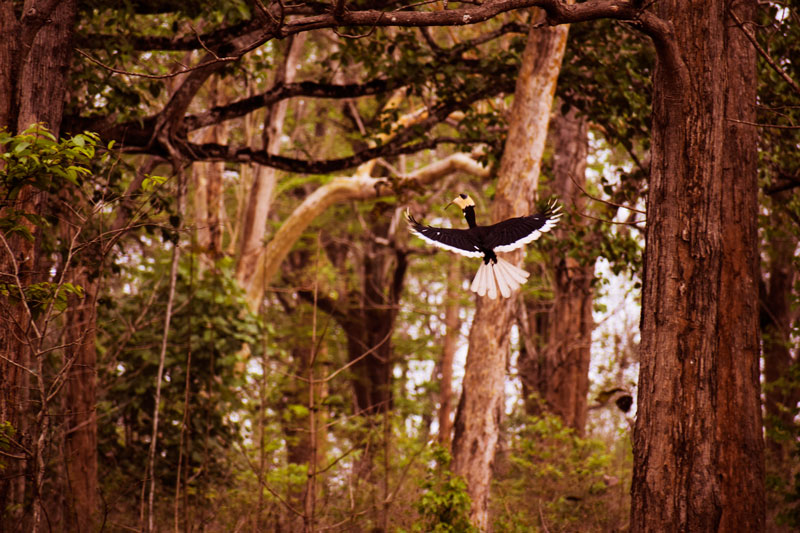 Also read: Birding at Ganeshgudi, Dandeli!
Old magazine House overwhelmed me with the way it welcomes birds. Early morning and late afternoons are the best time to spot them as flocks of bird come to drink and make merry in the stone water bowls. Once in a while a few inquisitive giant Malabar Squirrel come and go!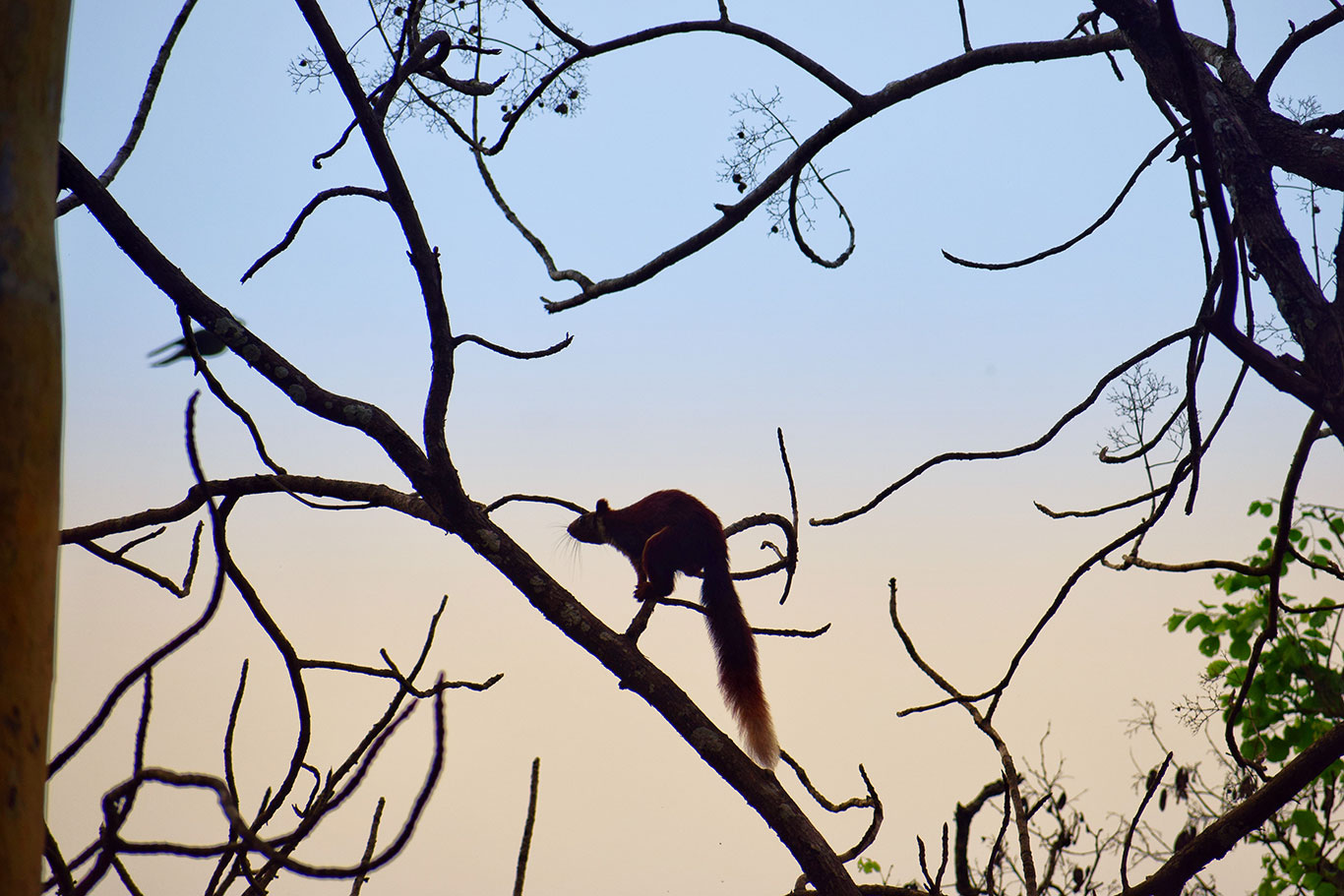 A Malabar squirrel jumping from the branches as the Sun rises.
Want to know about the best spots for bird watching at dandeli?
Visit Kulgi Nature Camp environs, Ganeshgudi, Dandeli Timber Depot, Shirali Village, Bomanahalli dam, Syntheri Rocks!
Hello Hello Crocodiles of Kali river
As much as river Kali provides the villagers with access to fresh river catch, she also has a repute for being a home to the ancient predators. Plenty of crocodiles live in the river. There is a particular place (which also happens to be at the heart of the town, near a paper mill) where Crocodiles have found easy access to remains of chicken and mutton.
A kind soul provides them with daily meals and they refuse to leave the spot. Visit the house to see a dog in a cage and crocodiles in the wild. Also spot a few exotic trees, (eg Cashew) but please refrain from plucking the flowers.
If you are lucky, a few crocodiles will come and hibernate right in front of the fence! Scary it may sound, but the experience was amusing nonetheless!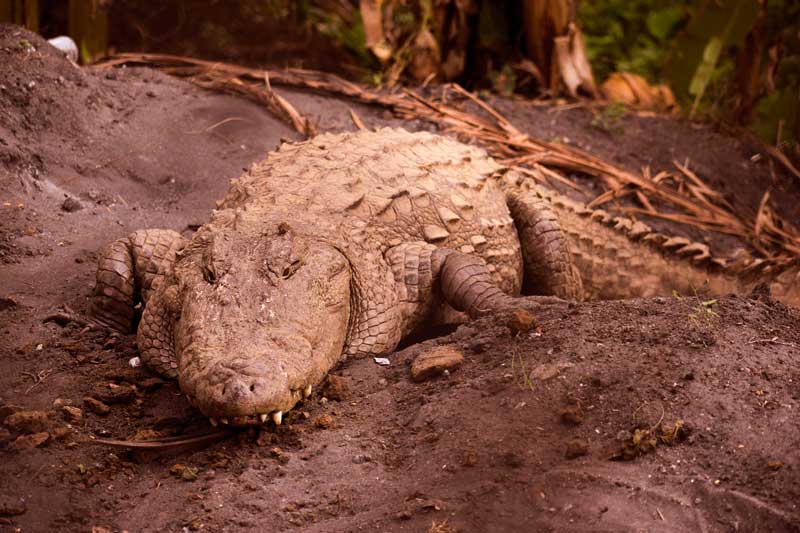 Jungle Safari in Dandeli: To go or Not to go?
I was dissuaded from taking the jeep safari multiple times! I was told animals are in the deeper and darker region and it is not easy to spot them. In one occasion, I was walking with a guide in the jungles of Pradhani! He showed me Gaur's footsteps, elephants' shit, the empty water canals that the "junglee people" had prepared, heard a deer's call, numerous monkeys, the wild curry leaves (yes, thats a thing).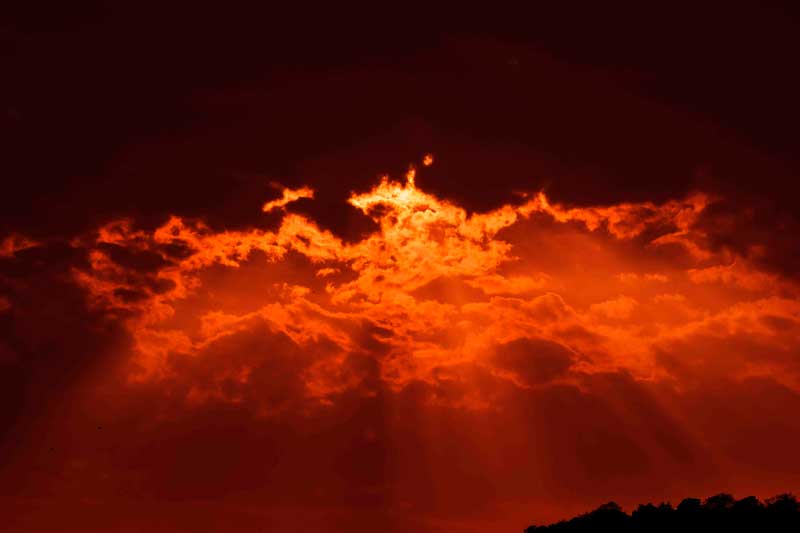 However, Jungle safari does take place early morning. You need to get in touch with the ranger's office. More often, your host will arrange the necessary details. Look out for the prized sandalwood trees of the region.
Earlier elephant Safari was a touristy attraction but the mighty animal had refused to take men unsolicited rides. Till this day, she lives in the outskirt of the jungle with her child. You can go, visit her and feed her something.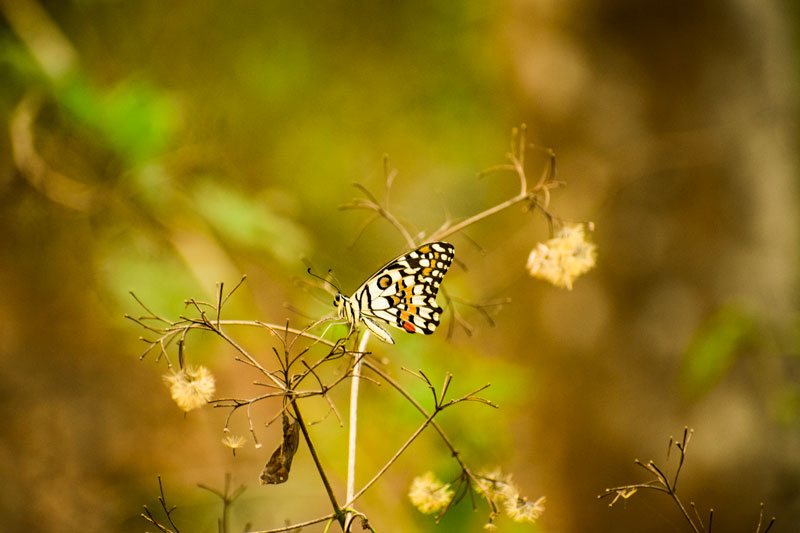 The great Malabari food affair: What to eat at Dandeli?
During my stays in Old Magazine House and Dandeli Jungle camp, I was treated with a wide spread of local food from Dandeli. Trying out local cuisine is nothing sort of an adventure in Dandeli, considering the generous uses of black pepper and other spices grown on the Western ghats!
The moment you smell the aroma of black pepper from the chicken gravy, you know you dinner is going to be amazing! For me, the winner was a river fish, fried crisp with salt and turmeric!
Locals love their plantains and Dahi (yogurt).
In case you are a vegan or vegetarian, like other places in India, you shall never have an issue. Feast of daal, roti and sabji, cooked with the freshest of ingredients and oozing out goodness of a vivid jungle life!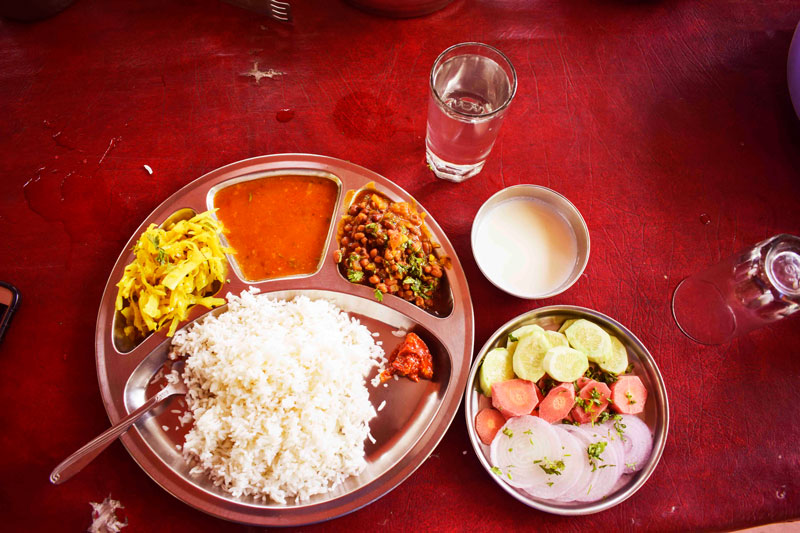 Also read: the best way to live your jungle dream at Dandeli!
I remember Dandeli nights with love and longing, as I slept soaked in the forest soundtrack: an avian orchestra with its barks, hoots, chuckles and whistles, a well chalked escape from the hustle of the city!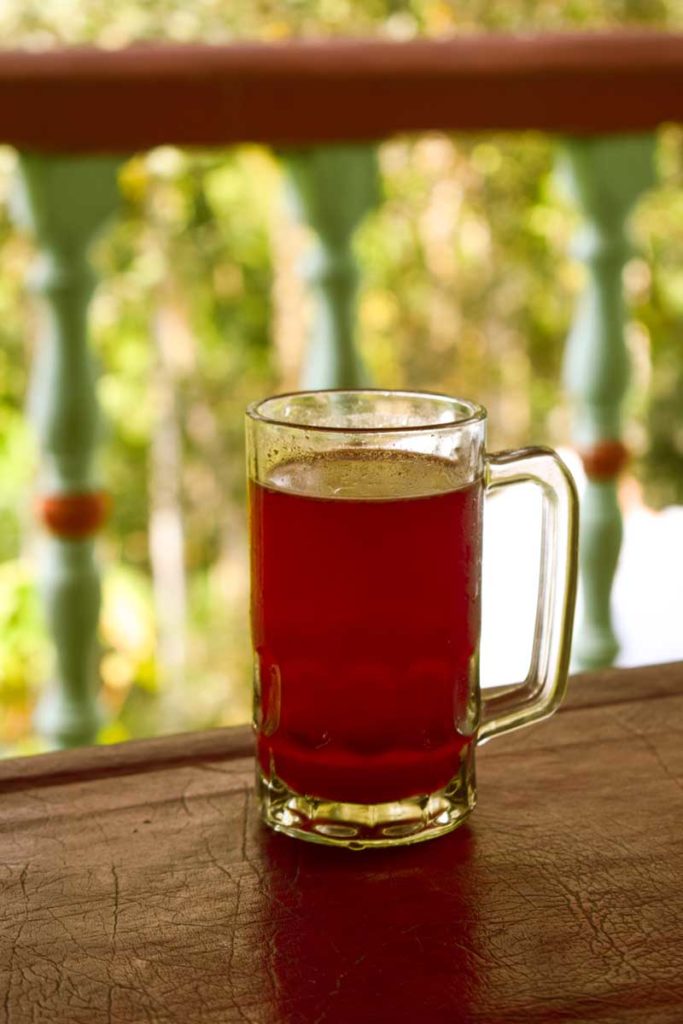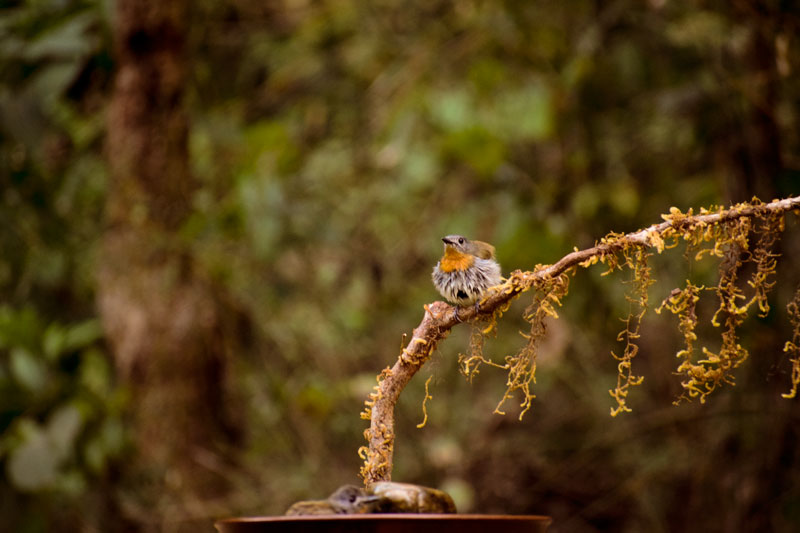 Dandeli remains a soggy green paradise, it is home to 400 species of birds, some of them are rare and many other wonders of the wild! Eco tourism in the region has recently seen a surge owing to local initiatives. As a responsible tourists, here are the things you should know before you visit Dandeli:
Best time to visit Dandeli: If birding in your motivation, avoid summer. Rest of the year has a pleasant weather. December is particularly favorite among tourists.
Respect the rules of the land: You cannot not respect a place yet travel to it. The owner of the crocodile trek complained how "educated" people come and pluck flowers from his garden without telling him a thing. Do not be the person without Tameej (Urdu for respect, but those who know Urdu know Tameej is much more than respect, right?)
Also read: A few days in old magazine House!
Is Dandeli is safe place for solo traveler? The question had bugged me for long before the visit, especially because it was the time India raged over Asifa incident. I wondered about the goodness of humans as I stepped into the real forest with an unknown man at the advent of evening. The only thing you need to be worried about is scorpions and snakes at the dark of night. Go out with a torch if you must.
Crib about tiger sighting: I have listed so many places to explore in Dandeli and yet you are cribbing for the tigers? Sigh! Bengal tigers are on the knife-edge of extinction and only 1700 are living in India. Let them live in peace.
(I would never have found myself in this primordial wilderness were it not the www.Dandeli.Com , the renowned tour operators from Dandeli had invited me and treated me with gentle hospitality!)
Want to get real time updates of my travels?
Get updates and read additional stories on the Orange Wayfarer Facebook page.
Follow Orange Wayfarer on Instagram.
Follow Orange Wayfarer on Twitter.
You may also subscribe to my weekly newsletter!