About this blog: Purushwadi is a tribal village in Maharashtra where beautiful fireflies lit up the night sky, especially during monsoon. I visited here to attend the famed Purushwadi Fireflies Festival. I also stayed at one of the Purushwadi homestays and camped on the mountains. Located at 3 hours drive from Mumbai, Purushwadi is one of the best weekend gateways for monsoon hideouts! In this travel blog, I tell you stories from the distant village of Purushwadi, how I reached there from Mumbai by a local train and how I loved reconnecting with nature!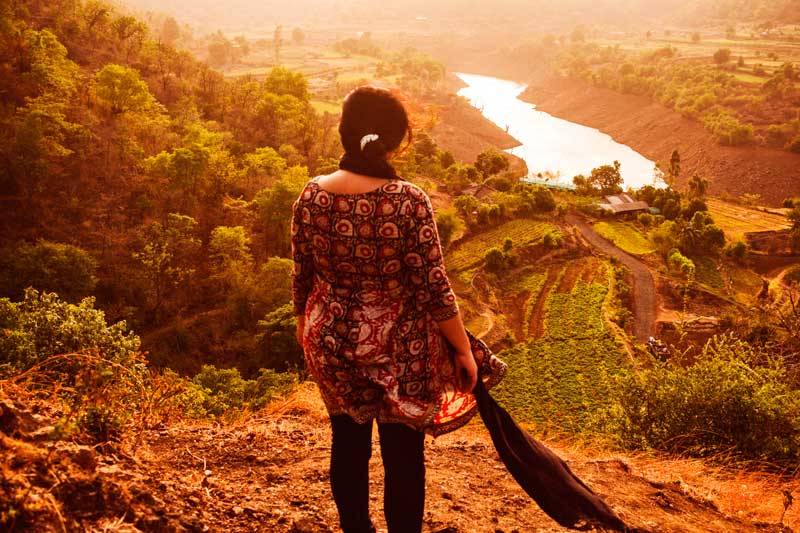 Reaching the village of Purushwadi, where thousands fireflies gleam and the famed fireflies festival beckons!
As the last remnants of urban life receded with a speeding Bombay local, I could feel my lungs feel with fresh air. In a short two hours ride from downtown Mumbai, I reached Kasara, the gateway to the Sahyadri mountain range. A vast terrain lies ahead with ripples of old mountain ranges.
True the terrain was hued in yellow ochre and sparsely grown bush adorned earth. The spiraling highway vanished fast behind the ancient hillocks, punctuated by rail tracks and pretty tunnels.
But then, I am told, at the advent of monsoon, a lush carpet forms over this vast land. Trees bloom in gorgeous fiery red flowers . New crops are sowed. Fringe villages make merry with fresh grown crops and more.
Reaching Kasara station will make you overwhelmed with options to ply in and around Government buses ply to Nashik, the nearby big city. Plenty of makeshift vans will join in the competition. Battling the crowd, I went out and called up Santosh, my saviour, the driver who came to rescue with a tata sumo like vehicle.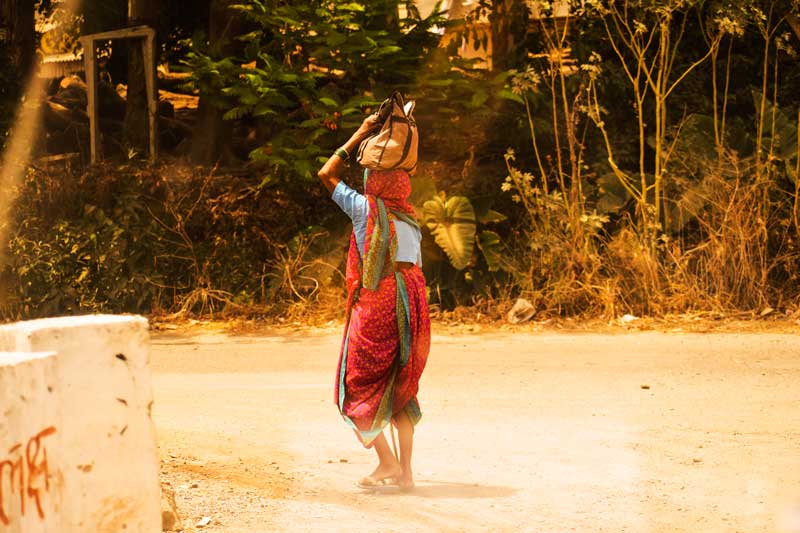 A woman walks clad in a traditional Marathi dress at rural Maharashtra!
To much of my surprise, I discovered the van is amphibian. Many cycles of evolution have been practiced to change the back of the van be a broader, bigger place to accommodate men, luggage, at times chicken and goats (!) ! It is no doubt a sturdier version of our good old home-bred Sumo. Sooner, I will learn this is the only mode of transport for the population living in villages nearby. A short plight to Rajour, a nearby town, demands many people share a vehicle or spend a significant amount of money!
Also read: Bishnupur: the kingdom of Malla kings at Bankura, West bengal!
The Purushwadi Firefly Festival: a celebration with the least of human involvement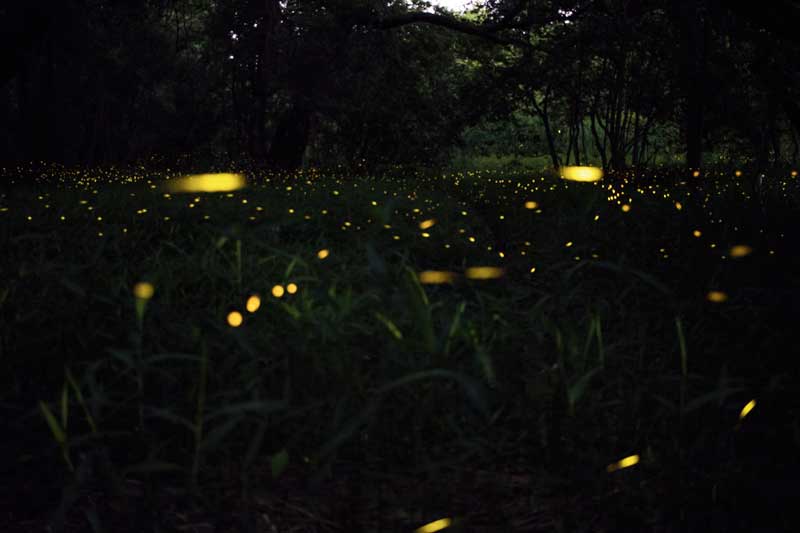 Grassroutes informed , the village of Purushwadi is famous for fireflies, Jonaki, as I have known them since childhood. Glimpses of worry-free days from childhood flashes in my mind. The nights of Kolkata rains, when I would tuck in the mosquito net after the late night show of the ghostly series Aahat, a bit scared with possibility a ghost watching me from the television box, dadu standing in the veranda and reassuring how ghosts don't exits and a firefliy, amid all these, somehow escapes the worldly hurdles and make a little space in the upper corner of the net, the meek light on the beetle trying to remove fears from my mind… Dida would say not to touch it, "It will die, the light will go…"  
The children of Purushwadi tell me how they would keep some of them caged in glass jars in yester-years. They know better now. They take one bug or two on their hand and let it breathe, even let you touch. I still do not touch the fireflies, as Dida suggested.
At Purushwadi, you need to take a brisk walk down to the river bank, to witness the majestic show of fireflies. Unlike the marshland of Kolkata suburbs, the Sahyadri of Maharashtra has given them a better stage to put together a grand show! By the river, in the bush, in the branches of tall trees, millions fireflies live and glow. Legends of the village tells, the denser the swarm, the better the yield for the year!
But then, the village has plenty on offer other than the Purushwadi Fireflies Festival!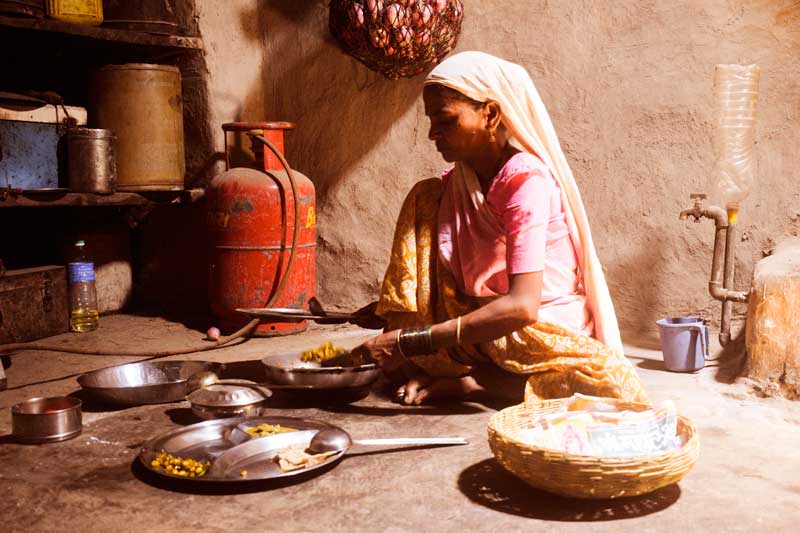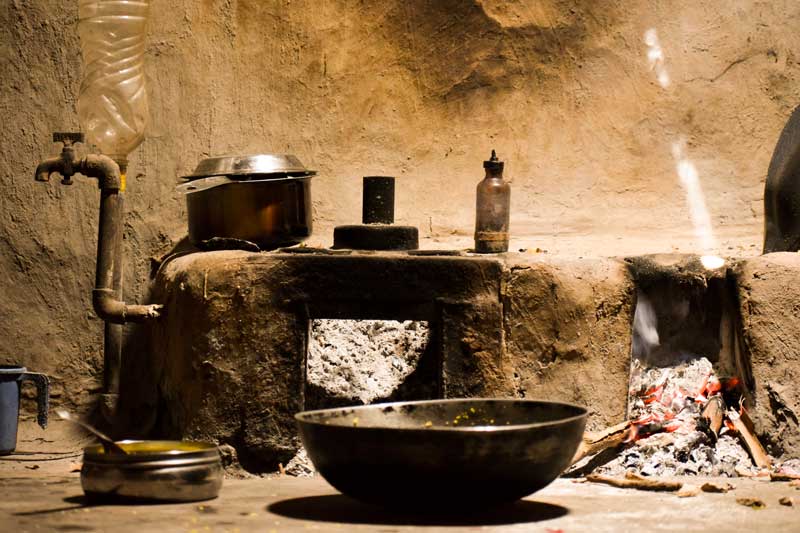 The poignant details of a kitchen from a rural household. The forest provides with plenty of wood that helps fuel cooking and warms up water at the same time!
Also read, Darjeeling, a travel memoir from my Himalayan Abode!
Need an excuse to reconnect with nature? Think camping at Purushwadi, or choose a homestay!
May be the urban kids of these days have never had the fortune of experiencing fireflies. The grand show of a huge tree gleaming with the warm flies is a sure site, but Purushwadi appealed to me more with the expand of nature trails.
A handful of berries that grows in abundance in and around the campsite!
Also read, a plate full of Bodo cuisine from the interiors of upper Assam: tribal food from Manas national Park!
The pretty trails on the hillocks go endless and branch out to unknown corners. Chance encounters with wild berries and Hirada plants are in abundance. Climbing to the the top of Matha (the name of the hill I hiked and the tallest one near Purushwadi) lets you take a lingering glance a the vast terrain. Sunsets make the river Kormundi sparkle.
A village school at Purushwadi and moments of unspoken pride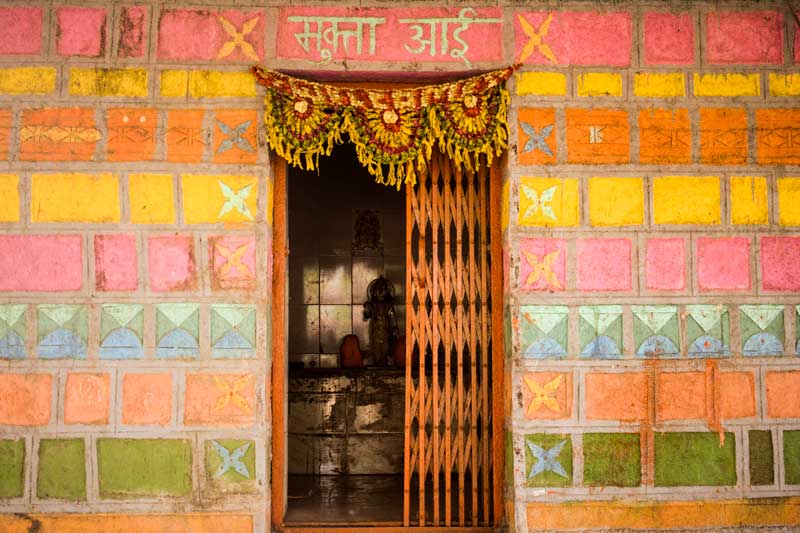 Santosh shows me around his school with a dearness. These are the small treasures of rural life. They take good care of the compound. The walls are painted bright and many characters from folklore and school share space there.
Everything is written in English but students learn Marathi as the first language. In my interaction with villagers, I found they do not speak Hindi very well either. Surprising that the place is just 4 hours away from the heartland of Hindi film industry! A temple of Muktabai stands close by.
I am told that Mukta bai shares bitter relationship with Hanuman, and the temples of both are by rule set up at a sizable distance.
Various Graffiti at the primary school at the Purushwadi Village, drawn by students!
Also read, Indian weaves, how far will you travel for saree from different parts of India?
If eating organic is what your prefer… Purushwadi is your best place!
The village has no grocery shop, Mudir dokan, if you know what I mean. I wondered how do people here snack. One hour in the rural life and you know how they do it! They just pluck the freshest of yields from trees around, and eat. No need to wash either. In two days stay, I ate various types of berries to my heart's content.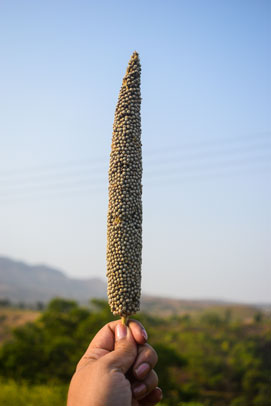 The heavier meals generally come in with more surprise. In a room cleant and made up with cow dung (yes, the rural villages use cow dung to flatten the rough surface and keep the floor insect free), I had the honour of sharing a meal with the Purushwadi rural women. She plucks an aubergine from her kitchen garden, mixes in homegrown spices, makes roti with Bajra (millet) and cooks up a beautiful meal.
The homestays of Purushwadi village, a look from outside
Also read, Kaziranga where one horned rhinos are saved from oblivion!
Leave a part of you behind: plant a tree at Purushwadi
The campsite s situated on a small hilltop, a few minutes walking distance from the village. It is arid and bald, except for the short bushes at the camp boundary. To make your visit memorable, they might ask you to plant a tree or so. Consider this as a privilege!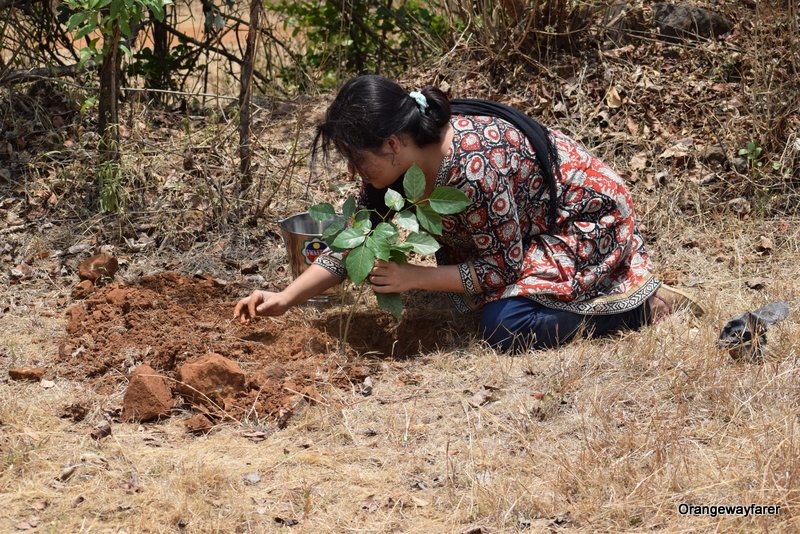 Also read, why you should drop every plan and travel to India's Northeast right now!
A possibility of bird watching
The early morning campsite is serene and surreal. Various birds come and chirp by your bed..erm…campsite. ""wake up and smell the tea!"A cup full of black tea will be made on request and served with a couple of breakfast! You can also take a stroll to the river downstream to sot a few of them more dearly!
Also read: Birding at Dandeli, my first hands on experience with avian friends!
Be a part of the broader picture: Purushwadi does not need your touristy club
Nature in it's empty profoundness is sufficient to sate our soul and mind, but Purushwadi is so much more than just a regular holiday making! You cannot help but notice how the entire village and campsite remains free of plastic pollution (writing this with immense pride on a world environment day).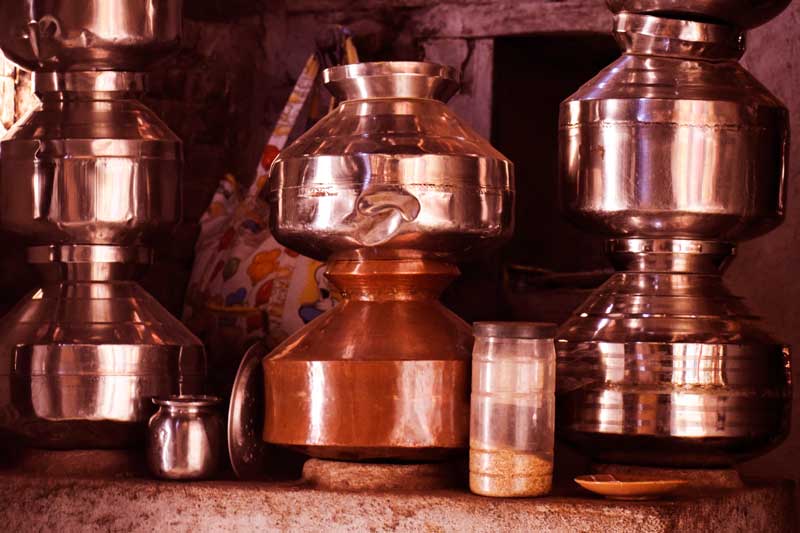 As I bid adieu to the camp, I mentioned about the water bottle they have provided and I used (the recycle one does not last all day and I did drink fresh water from river, I am Indian.) My guide smiled and said they shall take care of that. On conversation, I came to know how well aware the villagers are about the menace of plastic and how vigilant they arr to keep it away from Purushwadi.
It is an honour to be part of an empowerment project that uplifts our countrymen, restores the dignity. The confidence beaming in my guide's voice, the contentment in his smile and assurance on the commitment is more than praiseworthy and brought in a lot of joy to me, and many other travelers who practice zero waste travel!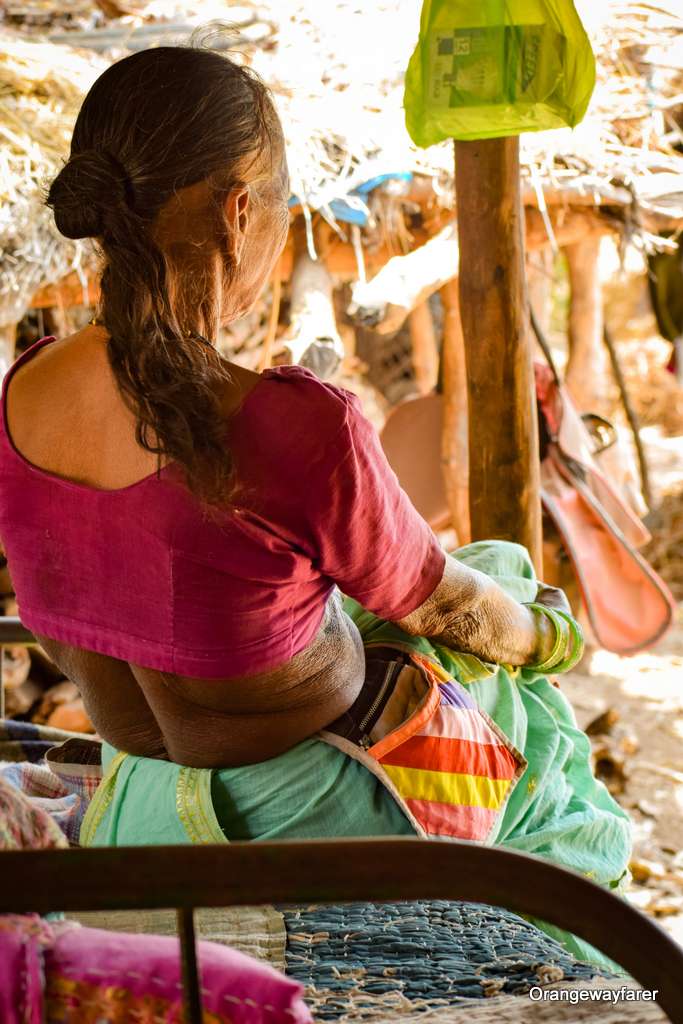 Should you choose camp or a homestay at Purushwadi?
The camp is as pretty and neat as it may get and surprisingly void of any mosquito. Though regular insects are common, the camp stay is highly recommend, even more than the homestays, in my honest opinion.
Please carry your recyclable water bottle, Mosquito repellent cream, and camping accessories for camoing at Purushwadi during the fireflies festival.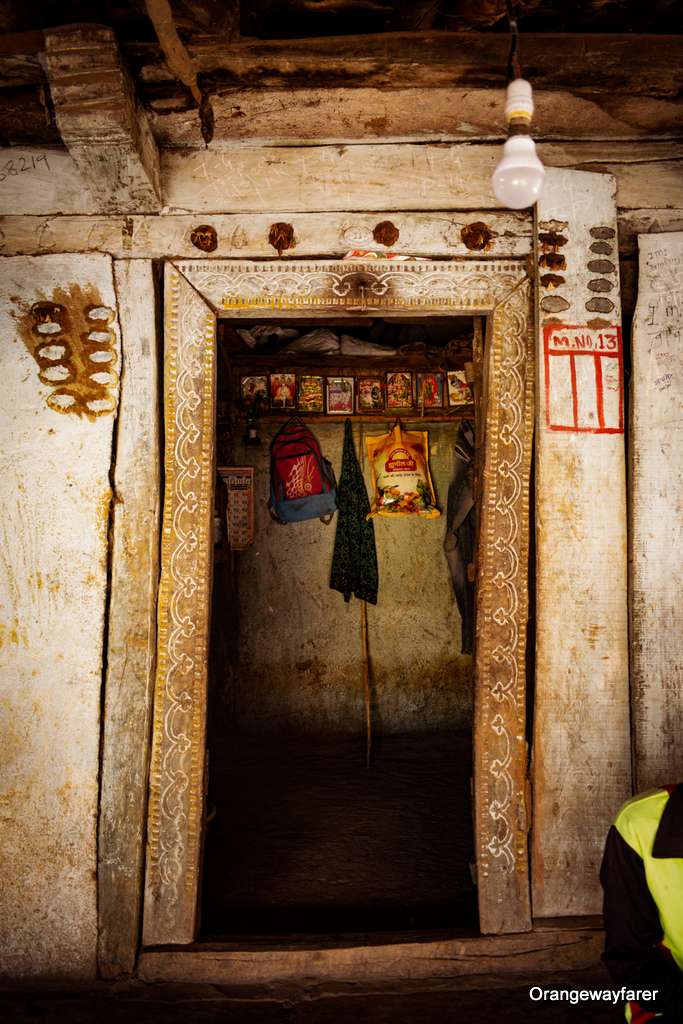 Doors of India: Entrance to the homestay of Mirabai from Purushwadi who cooked lunch for us
Traveling with Grassroutes: A community based responsible travel organizer
The fireflies festival is an initiative by the Grassroutes. The wise minds have emphasized more on a zero waste travel and have kept the arrangement as natural as it may get. This is not your regular holiday making experience with amenities galore but a Real and responsible travel experience that truly reconnects our soul with nature. To soak in the gorgeous wilderness of Sahyadri range, shoot an email to them. You may also use this code Madhurima5 to get a 5% discount! What are you waiting for? Monsoon is magical in Sahyadri with fireflies lighting up the ancient mass of rippling hills!
Before you visit, carry you recyclable water bottle,
Please note, this post may contain an affiliate link. Do read our disclosure!

Want to book a stay in India?
Booking dot com
Want to get real time updates of my travels?
Get updates and read additional stories on the Orange Wayfarer Facebook page.
Follow Orange Wayfarer on Instagram.
Follow Orange Wayfarer on Twitter.
You may also subscribe to my weekly newsletter!