Prologue to the blog: Bishnupur temples or Bishnupur silks (Baluchari saree) of Bankura are world famous. So are the horses of Bankura. I am a native of the district and may get a bit overwhelmed. Instead of a typical "things to do in Bishnupur", I tried to share my personal experience as the old temple city with all her exquisite marveled me in the recent trip.
Bishnupur, Traveling down the Memory lane!
During 90s, Bankura used to experience frequent power cut. As a result, our nightly regime of homework will be stalled, and we cousins will always end up being on the rooftop, under a gorgeous starry night, listening to stories from Mammam and finally falling asleep on Madur. The last whistle of Purulia express, from far away, will cut through the silence of night's peace. In the stories, Mammam has told how the Malla king had braved the dangerous jungle of Dalma in search of his demure princess."What will he eat in the jungle?" I often asked. Mammam would assure me saying he had an acquired taste for fruits from the wild.
Later, as the family was preparing for cousin sister's wedding, I got acquainted with the finery of Bishnupur Silk sarees. Baluchari Saree, as often termed it was, resembles excellence of an age old style of weaving stories on silk fabric. The stories often take reference from Ramayana, or the old life style depicting women chatting, busy in household chores, dating under the tree, the ships set on sail and much more. One weaver told me how he takes almost an entire week to prepare this piece of art.
Since our family hails from Bankura, frequent winter picnics to Bishnupur were made with baskets full of Roti and Kosha Mangsho (bread and chicken). I would marvel at the iconic greener pastures of Bengal more than the Terra Cotta walls of the old temples, back then. As far as I remember the temples were dilapidated, with cobwebs and Indian males names proclaiming love for a sweetheart everywhere. I remember the Ghumghar with awe, where the kings will imprison the POWs. Darkness will blind them there, before sending them off to die under an elephant's feet. That vivid description will come back in my dreams several times!
Also read: Bonedi Barir Durgapuja in Kolkata!
It was not until I travelled to Hampi, I regained interest in the lost kingdom of Mallabhum. The old ruins of Hampi evoked a sense of longing for the world I saw always but never really cared enough to explore in detail!
It was not easy protecting the monuments, dating back to millennia, in West Bengal, the state with maximum population density in India. In this regard, ASI deserves all the applaud. The manicured garden around the Bishnupur temples, restored wall panels depicting stories of Ramayana and contemporary world, protected and walled temple complexes tended with care, they all certify the place is in the list of being featured as a UNESCO heritage sites.
Things to know before you plan a visit to Bishnupur from Kolkata (or Bankura)
Bishnupur is famous of multiple terracotta Hindu temples of the Vaishnavite sect dating back to middle age. There were a few palaces and forts too but they are now lost with the gnaw of time. What remains of the glorious regal past of Bishnupur is the heritage temples of rust orange, with walls panels inscribed with eloquent stories. While in Bishnupur, you must look for the stories on the temple wall. the temples are not as huge as that of South India but they appeal lies in the intricate artwork adorning the walls since millennia!
Bishnupur is a temple town in Bankura, a district of West bengal, India. In colloquial Bengali, Bishnupur is also known as Bishtupur.
It is okay if you are in a rush and want to explore Bishnupur in a day trip only. Start early, finish early should be your motto. Hire a rickshaw when in Bishnupur. It is a small rural settlement. People in Bishnupur are extremely cordial and more than happy to help you see what you want to see.
What to wear in Bishnupur: What you should ideally in wearing while exploring the Bharat of India, would work fine in Bishnupur. The temple town is full of old living temples so modest clothing is your best bet to avoid lurking eyes.
Best time to visit Bishnupur
The dry and cooler months of October to February is perfect for a day trip to Bishnupur. You may plan to explore the temple town during other times but beware monsoon in rural Bengal equates to sighting a snake here and there. It wont kill you since most of the snakes are non venomous but be cognizant of the fact that you might just come across a reptile friend on the road!
Temples of Bishnupur are open from 8 am till sunset.
Bishnupur mela is one fine festival that takes place in the Bengali month of Poush every year (December end/January beginning according to Gregorian calendar).
How to reach Bishnupur?
Train: Take the early morning train Rupashi Bangla (literaly meaning Beautiful Bengal) from Howrah station. Eat the Jhalmuri and chop. Drink some green coconut water. In three and a half hours, you shall reach Bishnupur station. In case you are traveling by Purulia Express, you will reach there by night and need to look for a lodge.
By Bus: Housed at Esplanade/Dharmatala area of Kolkata, you shall find multiple state transport bus plying frequently to Bishnupur. Within 4/5 hours, you shall cover 150 km. Frequent bus leaves from Durgapur, Bankura, Bardhaman, even Darjeeling!
Once alighted, you can cover the whole city by walking, or taking the Rickshaws. Get a map or the books streetvendors sell for INR 10. It lists out all the temples and
Road trip: Have a car? Roadtrip to Bishnupur is the other option. Expect nature unfold in scenic manner as you traverse through the highways of hinterlands of Bengal!
Read about the people I met at Hampi
Exploring the heritage of Bishnupur, with its legend and labyrinths
Things to see/do in Bishnupur!
The sound and smell of legend thrives in the sprawling gardens of the temple compound. As I entered the labyrinth of Rasmancha, and the earthen paths became darker than usual, my mind automatically sought out help from the goddess of the land, Bipodtarini. The goddess who saved the Hindu queen from the sin of touching beef, an act of blasphemy in local rituals. The queen could have been killed by the warrior Malla king, but her prayers turned the meat into bright red hibiscus.
In case you loved this saree, here is a sneak-peak to the saree I wore in Goa
Best places to visit in Bishnupur (in no order of preference)
Start exploring Bishnupur from Rasmancha area. It will help you with a rough map. All the temples of Bishnupur lies within walk able distance but you can always hire a rickshaw or the day (and they are not very expensive if you know the at of bargaining).
Rasmancha
Shyam Rai temple
Radhashyam temple
Lalji temple
Raj bari (the erstwhile palace, now in ruins and inhabited. Do not walk in without permission)
Bara darja (gateway to Bishnupur old town)
Gar Darja (a profound door made with rustic bricks, now restored)
Dalmadal Kaman
Chinnomasta temple
Jor mandir
Nandalal temple
Radhamadhav temple and Kala Chand temple
History of Bishnupur!
The Malla kings were prosperous. Even though the literal meaning of malla is wrestling, constant war was not the only forte they had. Their expertise extended to music, craft and the fine things of life. Take for example Posto er bora, a fritter made with poppy seed paste. Trading with Portuguese and French was common.
The notable king Bir Hambhir, an ally of Mughals, became a disciple of Vaishnav guru Srinivas Acharya. As a result, the Bishnupur temples are rich in Terracotta decor, unique to the land. The temple walls are adorned with unprecedented finesse. The aerated soil of the land is transformed into bricks, later burnt with inscriptions and arranged together to form the signature "Chala" style of the temples. Those built on the later period have been influenced with Islamic style as well. the Arch of Rasmancha is an example of the same.
The temples of Lalaji, Madan Mohan, Radheshyam and many others still have the idols intact inside with regular worship offered by locals.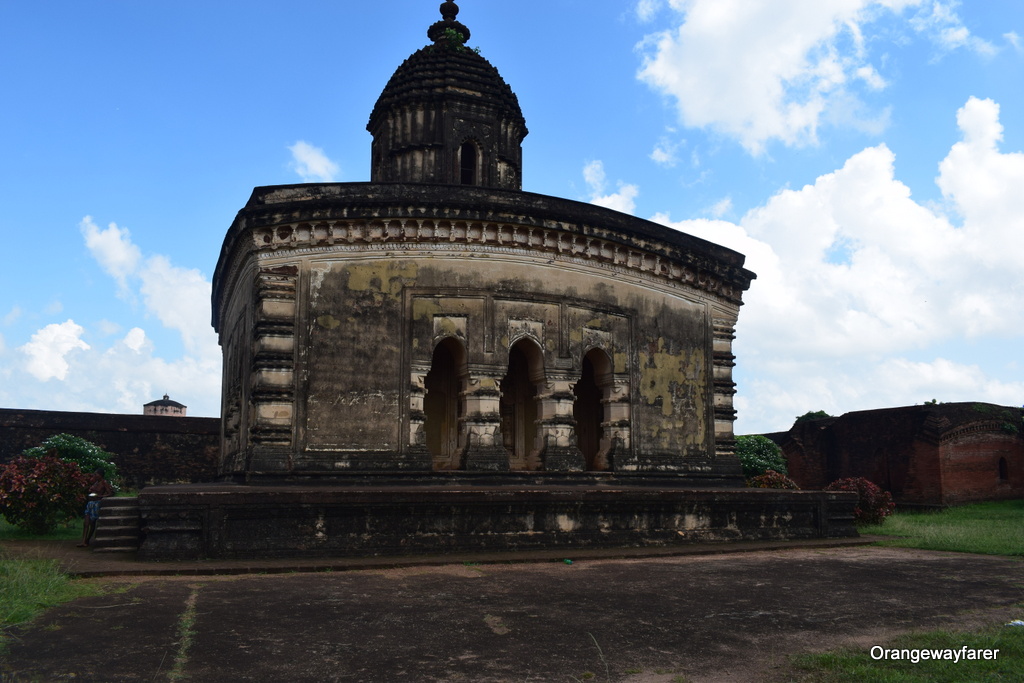 Terracotta, the fine art form
The Bishnupur temples are storytellers. They are poignant with tales from time bygone. They reinstate history is not about date and place and war. Krishna plays a flute as thousands of Gopi dances by his side. A group of men set sail on a ship with firearms. An elephant carries log and treads on the jungle path. You need to get up close and personal with the wall panels for time travel.
Hanuman inscribed on the temple wall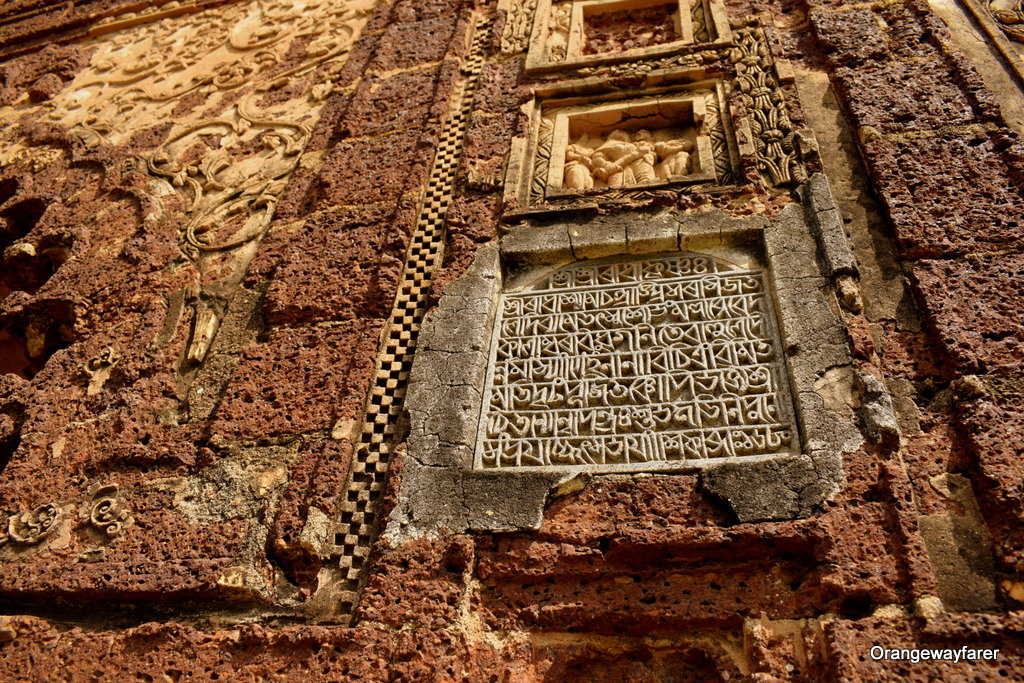 The bricks are old and frail. They have succumbed to cruel time with breakage here and there. Some of the wall are molested by us as we decided to collectively inscribe our self proclamation of love inside the temple complex .
I venture for a little into the jungle grown by the side of an old house. Lizards, Shuili flowers and few squirrels are visible. Board read it was the kitchen for the lord Vishnu in the heydays of the kingdom. The clay oven lay still at one side.
The livelihood
Unlike Hampi, Bishnupur is densely inhabited. The roads reach out amid lush green paddy field, pasture with cows grazing, residential areas where women are busy chiding their nabbing kids,tending to their cows and goats, or chickens. Few people run the show by setting up small souvenir stalls by the temples. They are happier to talk to you more than making money. Ask about the rice and potato price, they will lament about price hike and plummeting economic condition with same eagerness.
The old capital was surrounded by forts and a moat. The moat retains water till date. The city has expanded beyond that.
It was one of those walks, we discovered an almost ruined gateway to a house. Houses in Bishnupur, where real estate brokers have not spread their business network, retain the charm of a big good Earth. They have space for the cows, the trees, the kitchen garden, a pond and few Dalans. The bathoom and latrine are traditionally built away from the main house. I wonder how do they manage to go to washroom in the dark of night. Snake bite is a possibily you can not do away with.
At the edge of the town, a sudden sprung of shops is remarkable. A small populated lane leads to the Chinnamasta temple by he Dalmadal Canon, I soon discovered. Dalmadal canon is iconic is the region and stands of extreme valor. Every souvenir shop will show case a miniature canon. As much as we know of Qutb Minar, the canon deserves national fame. So long, yet not a bit of rust, the canon has protected dynasties, seen countless warfare, human mechanism collapsing on the battlefield and has become sombre mute representative of Malla kingdom.
"People have to experience things that terrify them. If they don't, how will they ever come to appreciate safety?"
― Jodi Picoult, The Storyteller
The Chinnamasta temple is a stark difference compared with the Vaishnav worship prevailing at large in the area. It houses the goddess of Mahabidya with severed head, standing atop Shiva. The gives life to the twin consorts by her side with jets of blood spurt out of her body, and she takes her own life in the process. The compound is marble white, extreme clean, guarded by police and show cases cleanliness. Many devotees offer Puja with flowers and Bel leaves wrapped in Shaal pata. Boli or animal sacrifice takes place here. Vibe at the Chinnamosta temple of Bishnupur somewhat reminded me of that of the Toumudhi temple of Bhaktapur, Nepal!
Did you know? While in Bishnupur, you need to try your hands of eating Postor Bora, poppy seed fritters! It is a local delicacy of Bankura!
Horses of Panchmura
What made me wonder the most are the curvy horses the artisans make in the village Panchmura, a short drive from the town of Bishnupur. Given the kingdom ceased to exist, and not a single living horse in near vicinity, these craftsmen instill life in each of the earthen pieces with care.
The earthen or wooden horses of the land are well acclaimed in the country and outside. They are undoubtedly cheaper when sourced from Bishnupur. However, without proper emphasis and exposure, many of the artisans are eyeing for alternate work opportunities, threatening the art to die.
Check this page if you like to have a closer look at the Dhokra and Terracotta artifacts.
Is it safe for solo women traveling in Bishnupur?
Although I have traveled to Bishnupur with my brother, as a native woman of the state of West Bengal, I can recommend Bishnupur to be an overall safe place for solo female travelers. Just be respectful of the local culture which is steeped deep in spirituality and dress modestly, you are good to go. Bishnupur does not have a lot of places to stay hence you need to book a hotel as soon as possible, lest the swarming family crowd gets the better of it.
Explore Dihar, a lesser known historic spot near Bishnupur!
8 KM north of the Bishnupur town, remains buried under the thick of Earth a 3200 years old civilization contemporary to the copper bronze era! Dihar, also known as "Pandu Rajar Dhibi" referring to the great king of Mahabharata, the Indian epic, is now a part of Dharapet village. 
Historians have come to conclude, Dihar was inhabited by a group of proto-urban people. The banks of Dwarakeswar river were a sprawling land of ancient human habitat.
Potteries of myriad styles, Black and Red Ware, Red Slipped Ware, Grey Ware, Northern Black Polished Ware, have been unearthed and tell the stories of an ancient time bygone!
It is believed people of Dihar were ardent followers of Shaivism. Shnareshwara and Shaileshwara temples stand till date with intricate floral designs and dramatic human figurines adorned on terracotta wall panels. Both the temples are enlisted on Monuments of National Importance in West Bengal by the Archaeological Survey of India.
Things to buy in Bishnupur
Art and handicraft of Rarh Bangla can put the best of the fire art exhibitors at shame. When in Bishnupur, do collect some terracotta jewelry for a surprising price! they often act as show stopper!
If you budget agrees, invest in some Dhokra art work. This art is born and reared in the region and a labor of love by the artisans who carry brass art legacy since the days of Mohenjodaro civilization! I can not emphasis enough how much I adore Dhokra art and my dream house will have all the hand picked pieces that i shall collect from the Dhokra village of Bikna in Bankura!
Take back home some of the iconic terracotta horses of Bankura! From 2 inches to 2 meters, they can be customized as you want!
I am saving the best for the last! You can not visit Bishnupur and come back without buying a Baluchari saree. this GI tagged rare and prized weave is born to Murshidabad region of Bengal and eventually shifted to Bishnupur. Only a handful of Tanti, weavers practice this art these days. Visit their houses, ask them to show the Tantghor. They will be happy to take you around. Learn about the intriguing history of Baluchari saree and bring back home one exquisite piece of saree or fabric!
I got my Baluchari saree from Anushka opposite the Chinnamasta temple. But then, I buy Baluchari saree pretty frequently and I am not a loyal customer as such!
"Bishtupur" is serene, mellow with a sense of forgiveness and mysterious with forgotten tales of the land. The rich culture instills a sense of pride in my mind as I trace my ancestry to the land. There is no doubt, I would love to inspire more people to visit and explore in the glorious past. Yet, my mind worries, with an easy reach of day trippers, Bishnupur will soon turn into a commercial hub. The gentle smile of locals will be a rare find with more people ready to sell away "packages". the lizards and birds will retrieve to a faraway land. The roads will be busy with vehicles commuting, making little place for my old lady to sun-dry up leaves to make the magic broom.
Want to get real time updates of my travels?
Get updates and read additional stories on the Orange Wayfarer Facebook page.
Follow Orange Wayfarer on Instagram.
Follow Orange Wayfarer on Twitter.
You may also subscribe to my weekly newsletter!