About this blog: Bankura Horses (Bengali: বাঁকুড়ার ঘোড়া) are superior examples of ancient Indian folk art. Heavily revered for "elegant stance and unique abstraction of basic values" imbibed in this art form, Bankura horses are worshiped as Dharmathakur's bahan and often symbolically sacrificed at "Thans". The terracotta art-forms of Bankura horses have made entry to modern households as a priceless addition to home decor. If you are looking to get home just one Indian souvenir, you do not need to look beyond Bankura horses! Bankura horses are featured as the logo of All India Handicrafts.
Bankura Horses: More than an Art form, a part of Rarh lifestyle!
A number of horses and an elephant stand at Dukhu Majhir Than at Duber Bandh, Bankura. Only a handful of such large fresh water lake exist in this arid plateau.
The horses are painted bright red. The elephant is of primitive shape. At one corner, a Manasha Chali stands with its intricate design, with a net like crown set atop the head. We were on our way to do the Pindo Bisorjon when I spotted this place the first!
The horses has a supple yet elongated round neck. Their bulging eyes reclaim this part of the world, "I am here to stay!" They fire up! It is Rarh region of Bengal, starkly different than the alluvial Ganges delta where waterborne economy is the usual way of life.
Rarh region is also called Rangamati, the Red earth. Frowning much thinking of the Maoist movement? Whatever! Bankura and her sister districts stand on Red Earth since time immemorial.
Did you know? One of the post intriguing art piece in Indian painting is one painted by Jamini Roy, of Chandar, Bankura. Look it up here.
Finding the True Identity of Bankura Horse
For the rest of my stay in Bankura, I keep my eyes open to find these horses. Not the kind of horses we grew up with, in our house, decked up at every corner and generously treated as a gifting item for every occasion. Our origin from East Bengal had always fostered a unique mothering with "Bankurar lok", the son of the soils. Our way of life was slightly different in the beginning though colloquials has taken over language even before some of us knew it. What I reckon is the cousins gladly accepted the spoken language, since it helps make friends and find roots!
However, we are still far from worshiping the Bankura horses. People of Bankura do. A few houses has those small terracotta horses erect at the entrance. Jol-Batasha and a marigold flower are all you need to treat him. Pujar ghora, as they call the Bankura horses used for worshiping, are not hollow from inside. Their detailing is not as intricate either.
For past three century and more, the Bankura horses have reigned the region. An elephant, shaped round and known as Bonga Hati, worshipped by the Saotal (Santhal) tribesmen also reigned Dalma region. I understand the case of elephant, because they are aplenty in the jungle of India's heartland. However, the case of the horses is a curious one.
It was only during the reign of Malla kingdom of Bishnupur, the kings had brought in horses for the force. Did Bankura horses exist before that? The terracotta art form reached its zenith under the royal patronage. Temples of Bishnupur testify to this fact.
One look at the horse and you know they are yields of the Rangamati region. Their rust red and burnt brick skin is hued from Bankura's soil, rich in iron ore. They are unabashedly local. In an arid, dry and often drought prone region, these starkly aesthetic art forms will strike your heart. And the fact they are scattered under almost every other banyan tree shows a beguiling mix of tribal animist faith which later became a part of mainstream Bengali Hindu lifestyle. In Kolkata, you will probably see "Shitalar Than" which is a just comparison.
Also read: A Guide to the best beaches in goa!
Bankura Horse as rider of Dharmathakur!
Dharmathakur, one supreme deity worshipped in Rarh region, rides on these horses. Researchers have opined Dharmathakur is a heavenly body ascribed independent to Aryan influence and even superior in local influence compared to Hindu trinity of Bishnu-Bhamha-Maheswar. Many a Thans will have a number of terracotta horses dumped in large number. This is the symbolic sacrifice by the village folks, to ensure small pleasures of life. More rain in the season. More crops. No more snake bite. Some rice with a side of Posto. You get the drift.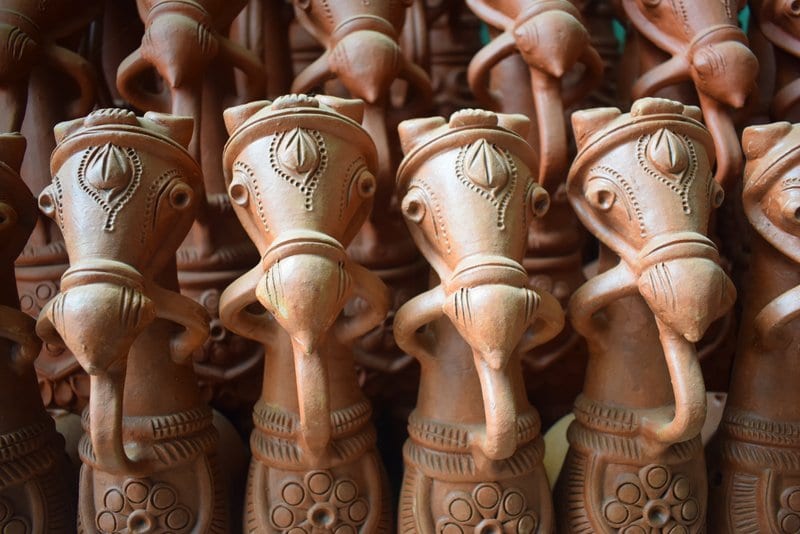 Also read: 20+ beautiful destinations to visit in West Bengal for the first time visitor!
Finding the Artist
"This one… look at this… the mane is all trimmed and decked up. He is going to war." Told me the shop owner at Shilpayan. His hands caress the metal mane of the Dhokra horse in hand.
He was in his Sunday siesta when we visited the shop at Machantola Bankura. His neighbours showed us the house. "TV theke esechen?… Are we guys from media?" They were curious. In that small neighbouhood of the forgotten distric town in Bankura, the artist and his art is thing of pride.
The shop is a small one, with two small locks at the doorstep… The owner is an old guy, slightly weary of his age. He asked me " What exactly you are looking for?" I tell him I want to see some wooden elephants. I had seen one elephant at the old alleys of Stone Town, Zanzibar, priced at $80. The ele was greeting the world with its trunk hoisting in the air.
He showed me a couple of wooden eles from the show case. A couple of eles, walking in Dulki move, with trunks touching the ground. Unlike the African elephants, Indian elephants have shrunk head and are generally calmer. The story differs if the bull is in mast and drinks up some Mahua, local moonshine of the tribal belt.
The shop is stocked up with beautiful art pieces of terracotta horses, wooden elephants, dhokra figurines. Thick layer of dirt covers them. He dusts each one as he brings them down. "Where do you have takers from?" I ask.
He thinks for a while. It is mostly the urban art collectors and home interior enthusiasts. I know, because we are no different.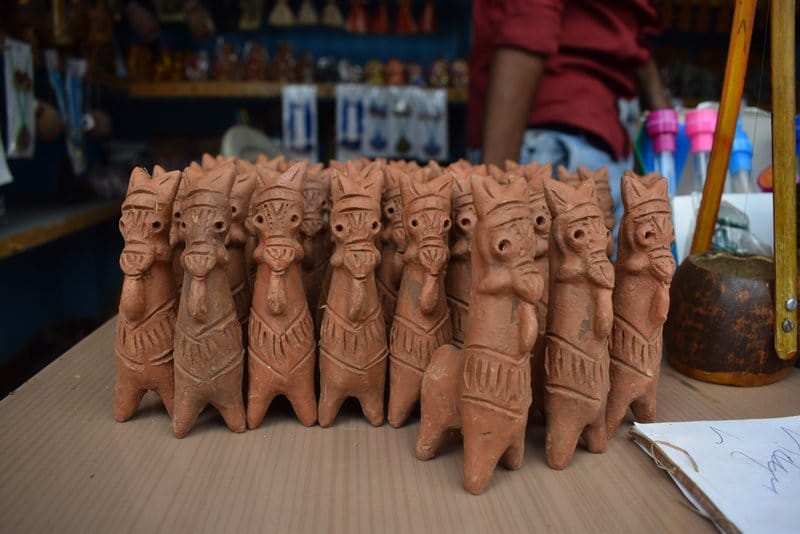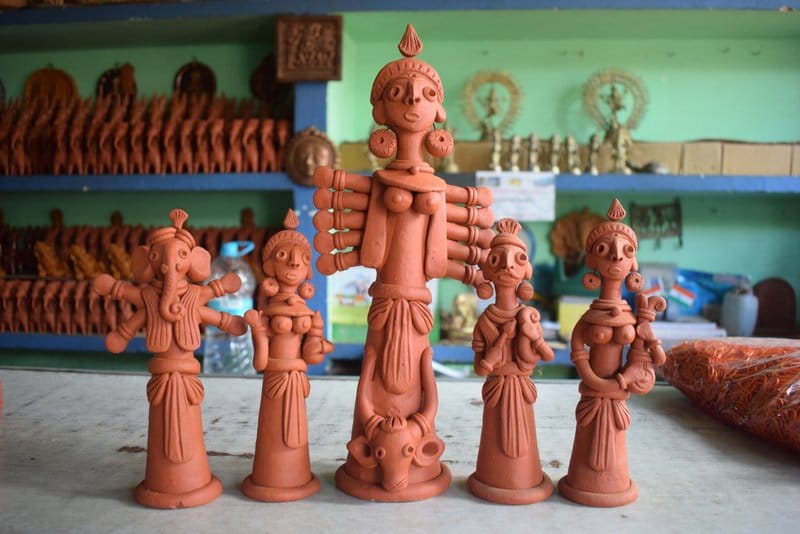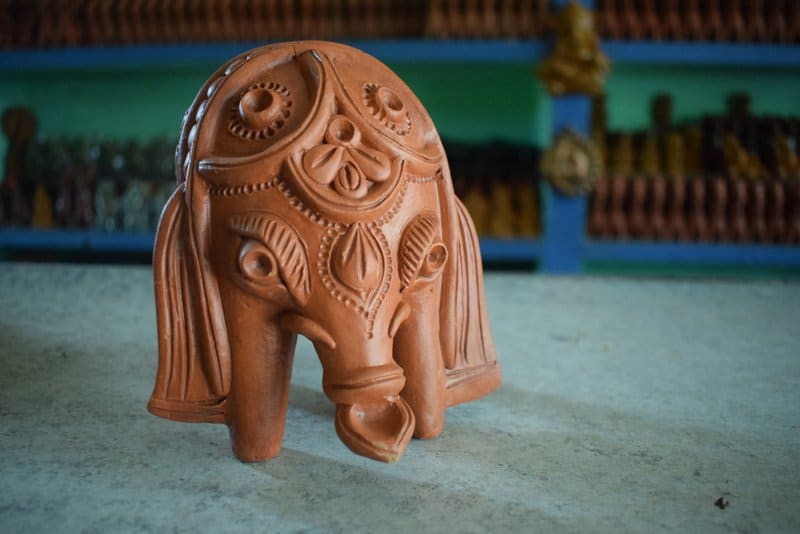 Also read: Complete guide to exploring Tawang, Arunachal Pradesh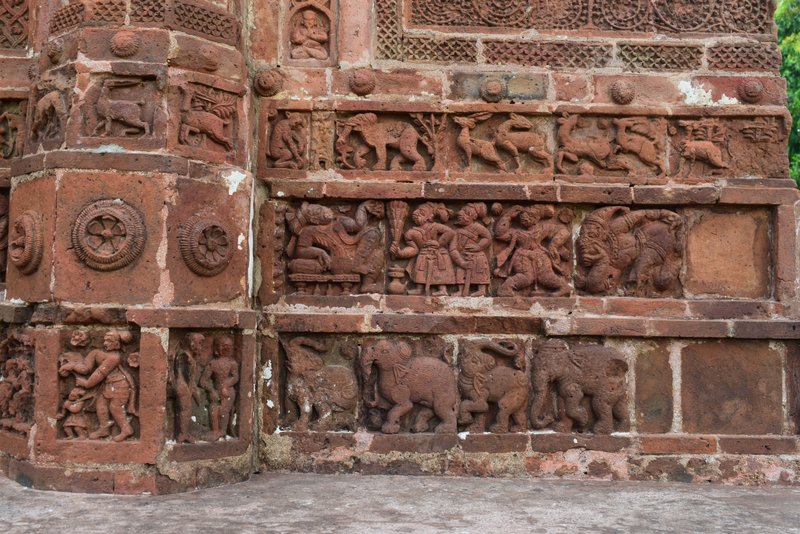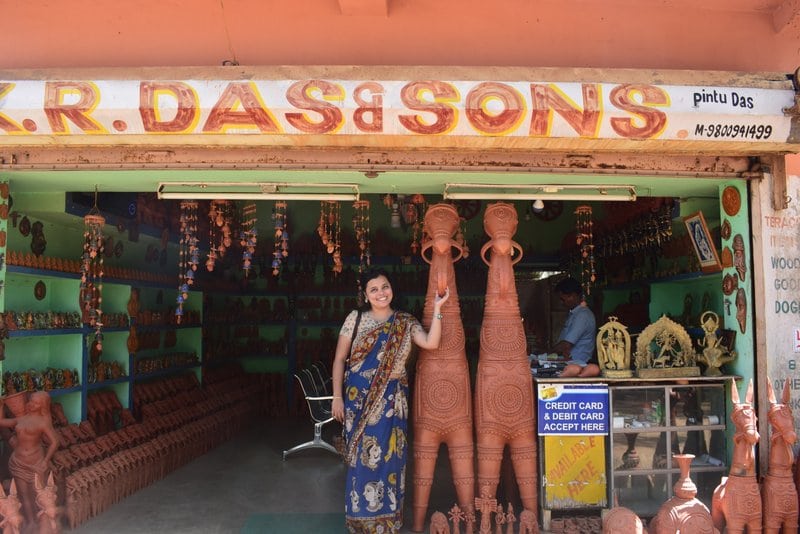 My dad was born and raised in Bankura. All through his life, he had visited these small shops in Bankura and gathered beautiful horses and elephants to bring back our home in Howrah, Kolkata and now New Town. I will probably take one along when I will visit the other hemisphere of the world and live to tell the tale.
The first pair of horse he brought home was made of terracotta, with a Chandmala on the forehead. The burnt red color of terracotta would also remit an aroma, specific to the land of Rangamati. My toddler brother swiftly passed the football towards it. The horse, not only did not reciprocate, but also lost a leg! My memory fails me but the horses were reduced to sand in a few years.
Dad brought another pair of horses, this time wooden one, burnished and smelling an uncanny newness. I had been to the artist's house this time. His name is Kanai Karmakar. he quit school after tenth grade and accepted apprenticeship under his father. He makes these horses and sells them to different fares taking place in and around Kolkata. He gifted me a fish key ring with the horse. "No one wants to pay the artist!" He said. An oil lamp barely lits up the shop. Kanai is not the best person with calculation either. I help him with the math after we have bought the horse.
I had attended a few Mela in Kolkata but those beautiful horses hardly ever made it there.
It takes anywhere between a month or two to prepare these horses, season permitting. Kiln fire and harsh sun do their part. If the kiln is not open, the horses are black in color. The smoke makes a way out of the kiln, the horses turn our red, the color of the earth. Chalk white Khadigar, Bhalogad is yellow ochre hue and brown banak are the three types of rare pigments used to shape the horses (and other terracotta figurines) alongside water, dried paddy plants and sand. A number of horses are handmade but potters wheel is used widely. The artist community is known as Khumbhokars.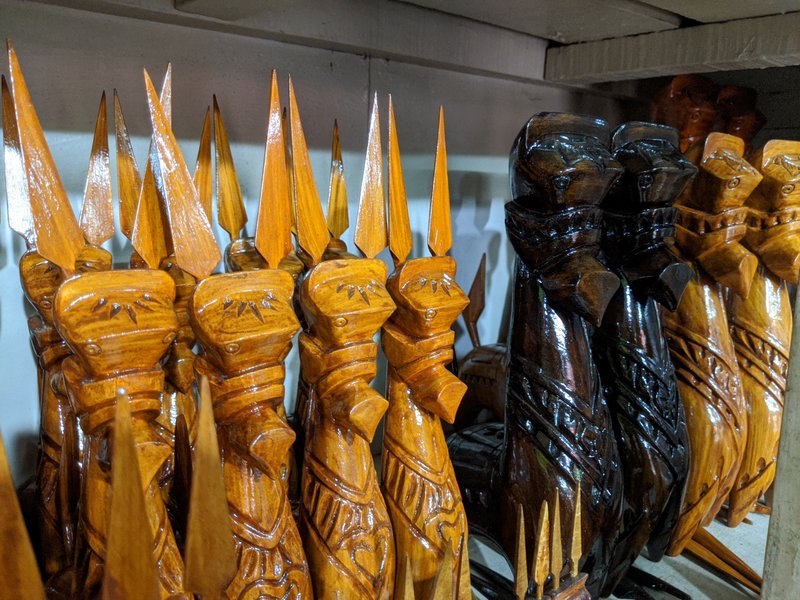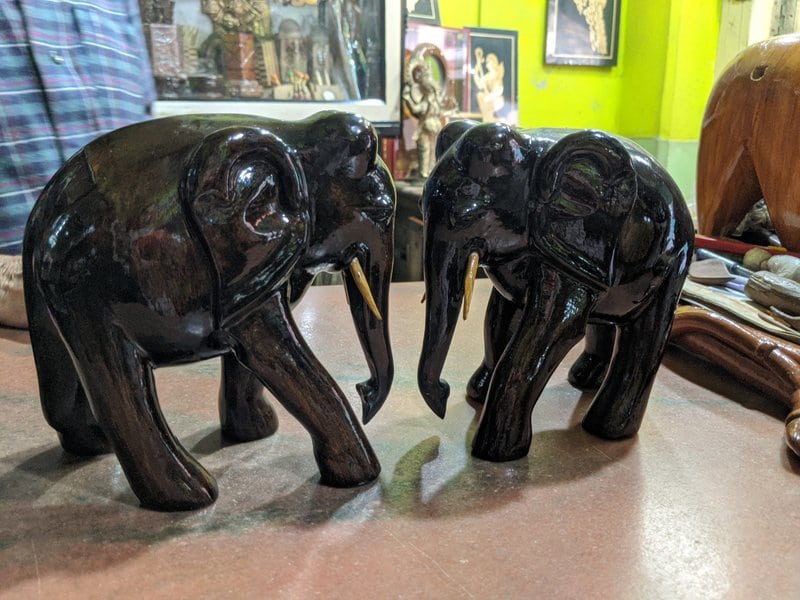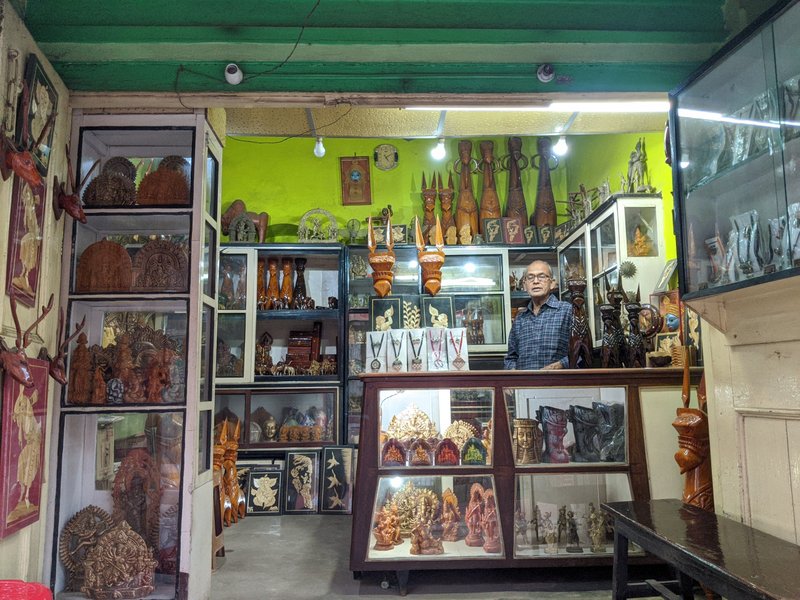 A number of artists of the region has been ascribed with Rashtrapati Puraskar (Presidential Award). You can make out the difference looking at the finishing of the horses.
Also read: A photoblog depicting beautiful road trips across Ladakh!
Where can one buy Bankura horses and other terracotta artifacts?
Shilpayan, Bankura (a small store at Machantola) (Ashis Kumar Das: 9475685025)
For wooden horses, visit this artist's workshop opposite to Gui Ram Sweet shop.
Next to the wooden artist, a shop sells amazing dhokra art
In the same vicinity, another shop sells Dhokra. However the owner is amiss most of the time
Three shops at Lalbazar sells Terracotta but my favorite one is Akash Deep Terracotta by Jiten Sutradhar ( you can call him at 8670526396, 6294447617)
You can directly visit Panchmura village. It is one hour drive from Bankura town and flaunts Terracotta art work at every village doorstep. You can visit here anytime but winter is preferred.
Make it a point to visit the terracotta temples of Bishnupur on a weekend or day trip from Kolkata and you will be surprised with the amount of terracotta artwork on sell. This is a regular tourist hub and products are varied and aplenty.
Panchmura, Rajagram, Sonamukhi and Hamirpur in Bankura district of West Bengal are the four prominent villages where terracotta horses are made. Each village has its own distinct style. Panchmura is the most famous one for beautiful Bankurar Ghora.
Rarh is beautiful only when you start to look at her beyond the privilege color rims of your spectacle. The artists toil night and day and usually heavily underpaid. I will not tell you what price we paid for the horses. Go and find out and you will NOT want to bargain, I guarantee.
I remmeber visiting the Bikna village where Dhokra art form is practiced. I bought something and asked for a change of 500 rs. the entire village tried but could not get me change. I was dumpstruck and spent all I had in my purse.
Under the lock down, I shudder to think what is going on there. Only a handful of local tourists visit in season. otherwise, they bring their artwork in the winter dares of Kolkata, like Saras Mela and likes. Their children refuge to learn the generational know-how in fear of being stuck in striking poverty. Government aid is there but it is erratic. Also, government can only do so much unless strategic decisions are implied.
In the age of over-tourism, it is important we make it a point to visit places like Bankura. If you are traveling to Kolkata, chalk out a plan to visit the stunning terracotta temples of Bishnupur, the profound gorge at Gongoni and search for unique Monda-Mithai and Chanar jilipi of Bankura city. Buy a Sonamukhi silk saree and a Bishnupuri Tusser Silk (another GI indicator and I need to write a blog post on them) from the house of the weavers. Help them sustain their lifestyle and conserve these age old art forms. Unless we do, who will?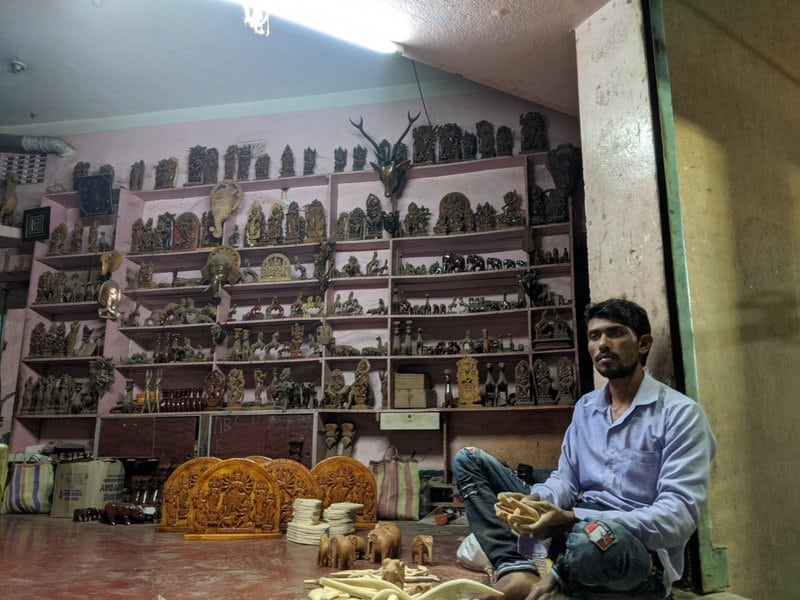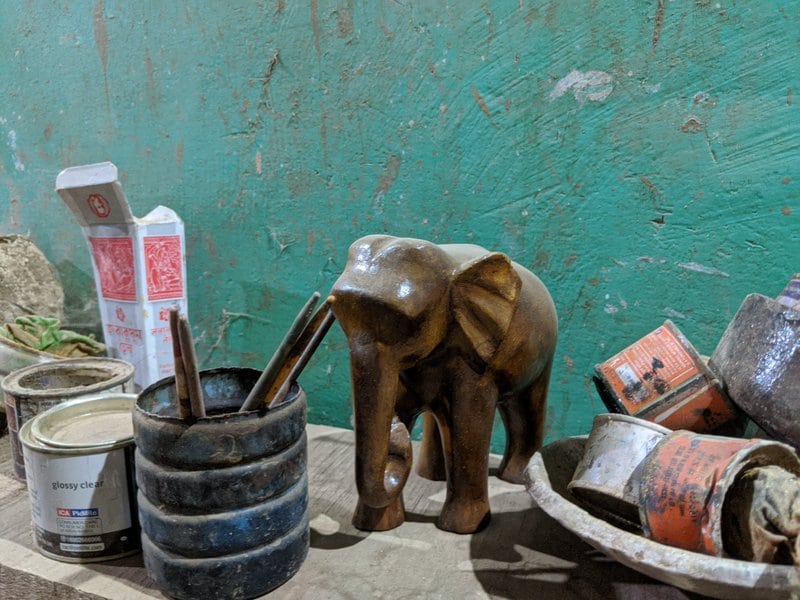 Terracotta Horses of Gujrat
Caroline of Currylines had visited Poshina in Gujrat, a bordering village with Rajasthan, and found similar terracotta horses at a a tribal village too! It gives me goosebumps to think how ancient Indian tribal lifestyle persisted and thrived despite we sending a satellite to Mars in recent times. And to think of that, the geographical distance between two regions is more than 1800 KM. Below is a video that you should watch!
The Ayyanar temple of Chettinad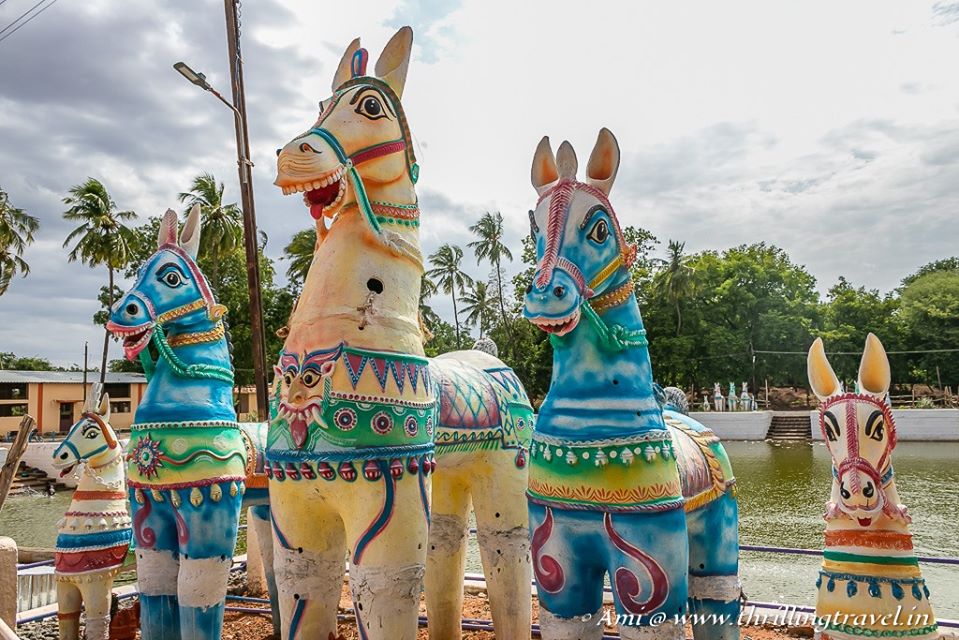 Gram Debota, a village deity appears in Indian peninsula in these clay made and painted horses also hailed as Andavar Solai by the locals. Ami from Thrilling Travels has a detailed post on these terracotta horses in her blog post here. Known as Ayyanar temple, the hrses appear in a row, in multiple numbers, and requires an animal (usually chicken) sacrifice during the festival of Maha Magam. I have seen these idols in Bangalore, many places in Karnataka and during my long weekend trips to Goa as well!
This post may contain affiliate links. Please read the disclosure post. If you have liked the article, you may support it by buying using these links without any extra cost to you.
Let's stay connected on Facebook, Instagram, Twitter! You may also consider joining my mailing list. I send travel and photography related emails only once a month!
Pin it for later!