About this blog: A Photo blog that sends an odd to the land of high passes, Ladakh. I get goosebumps even looking at these pictures. Ladakh, the cold desert beyond the high Himalayas that connects this part of the land to Central Asia and eventually transcends into the world of west is an intriguing destination! Ladakh is beautiful. It is harsh, barren, lifeless. Ladakh is also a Pandora's box, filled to brim with surprises.
The ice cold gusts of winds ruffle my hair. Unfiltered sunrays scorches my skin, giving in unforgettable tan lines and scars that i shall cherish for this lifetime! The long stretched roads of Ladakh send an allure to touch the heaven! It is unfathomable to stand at a bend of the road and imagine this vast land belongs to a country that is home to a billion and some more people! But then, that is the beauty of Ladakh! It is tough love, but it is love in its best form indeed!
I am creating this blog post and simultaneously my cousin is making this epic journey in Ladakh. His travel snaps, as he shares them on the family group, makes me restless and longing to take this epic road trip yet again! I look at these pictures and pleasant memories fill my heart! I am born to a middle class Bengali family where women are encouraged to get married and produce children in the late twenties! While growing up, I would have never believed i would be experiencing this distant and stunning parts of the world!
But then, life is beautiful! Here, I am, sharing with you snapshots from Ladakh Road trip, one of the most intriguing road journey that one can experience ever!
I clicked this on the way to Chiling village from Leh city, somewhere close to the magnetic hill! I do not know if the Magnetic hills really pull the vehicle down without ignition. However, I sure know these roads pull you towards Ladakh like any other destination that seldom does! The roads in Ladakh acquire prime importance in the oropolical position due to strategic position between India and China. Pakistan is close by as well. These roads have been prime enablers since the days of ancient caravans in the prime of Silk Routes!
Also read: 5 days itinerary for Leh and offbeat day trips from Leh!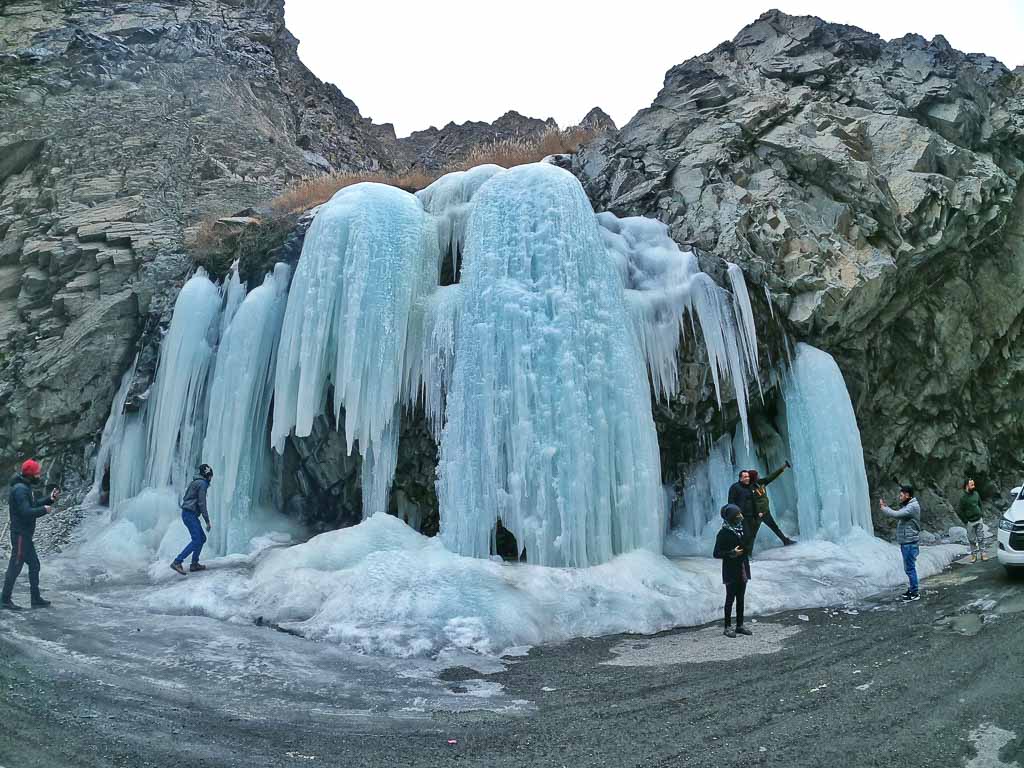 These is a short lived natural wonder a little ahead of Lamayuru on the way to Kargil from Leh. I shot this in February. Harsh sunrays of the day was about to melt this formation in a few more weeks. I had visited Lamayuru in September as well but did not have a chance to find this ever again! You may walk inside the cave too but beware of the slippery floor. Please pack proper shoes when you are visiting Ladakh! They should be covered and should be able to give you a good grip!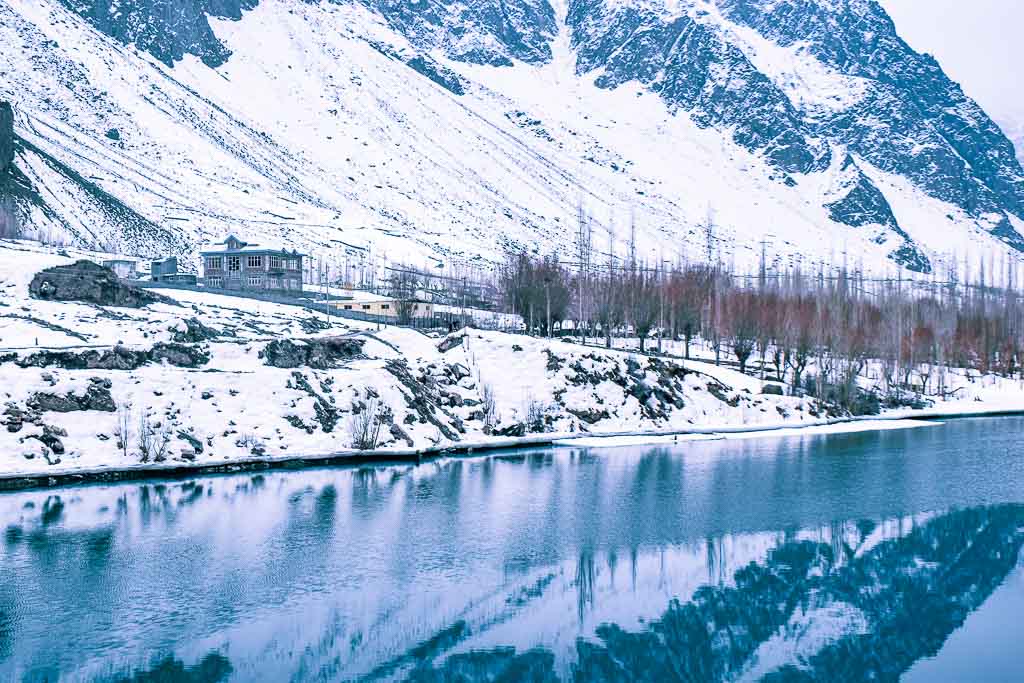 The majestic Suru river. We were heading towards magical Suru valley from the densely populated Kargil town! This was a pitstop near Trespone resort and we were drawn towards the river bank for this transparent and royal azure hue!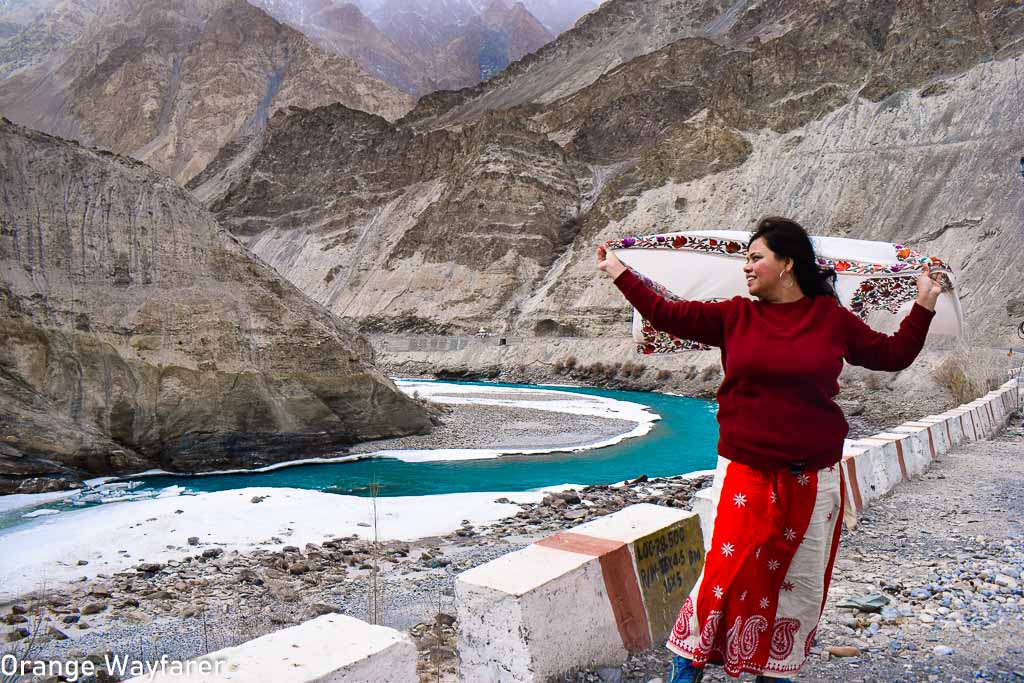 Visiting Chiling village was quite an experience! A village inhabited by a few coppersmith families, chiling remains cut from the world for a larger period of time. A few yards ahead, the famous zanskar Chadar trek starts at the peak of winter! Chiling village was filled with apricot coves and men at work who had thousands of stories to tell! One of the men had prepared a trumpet for an English man five years back. His customer had paid a flimsy advance. He never returned the finished product. The trumpet stands at the corner of his workshop. It was such a mellow encounter!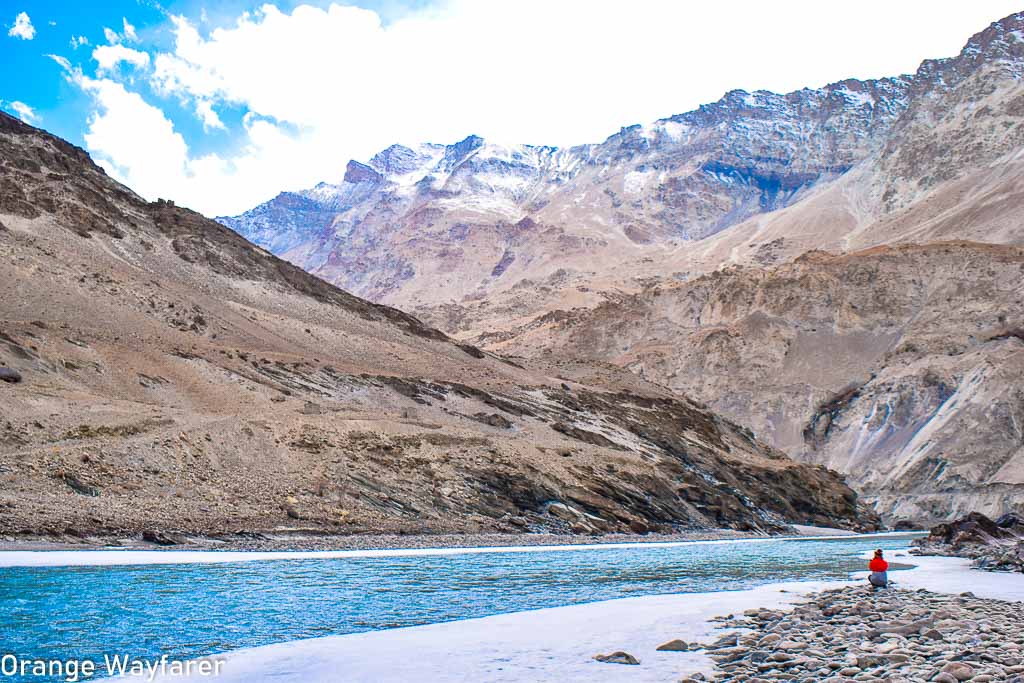 We drove past Chiling and the ice sheet over Zanskar river was too much to let go! We stopped, came close to the river, walked on the ice sheet and made merry. All this under the supervision of a guide who kept a close eye whether the ice cover was about to break or not! It was the advent of spring in Ladakh. White Ladakh was waking up from a prolonged slumber!
Not everyday you get a chance to walk on top frozen rivers. when you do, you make the most of it!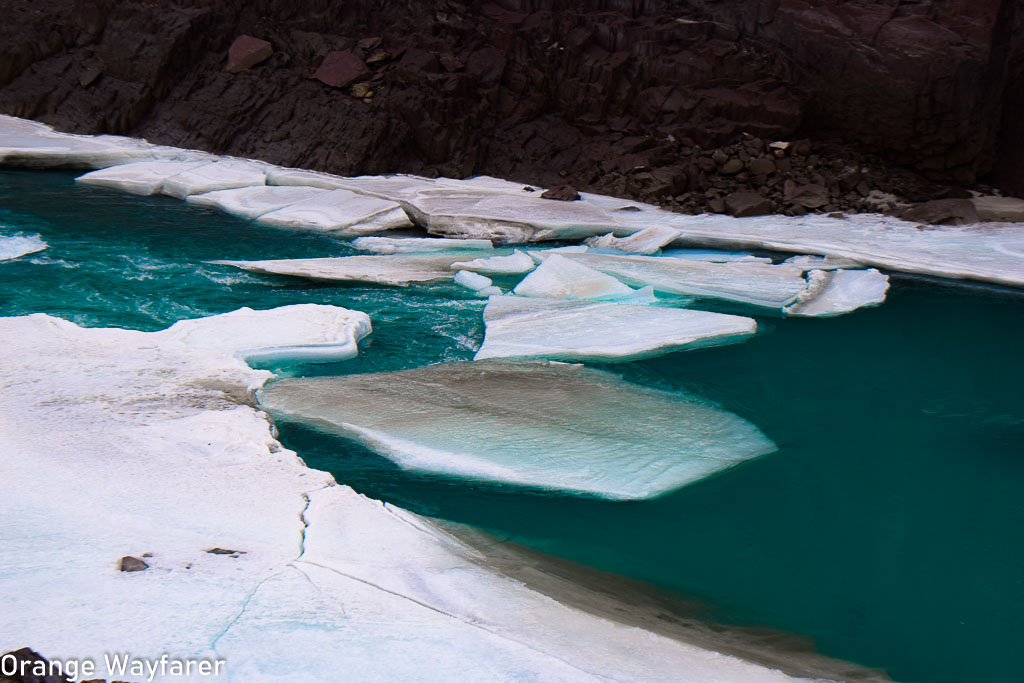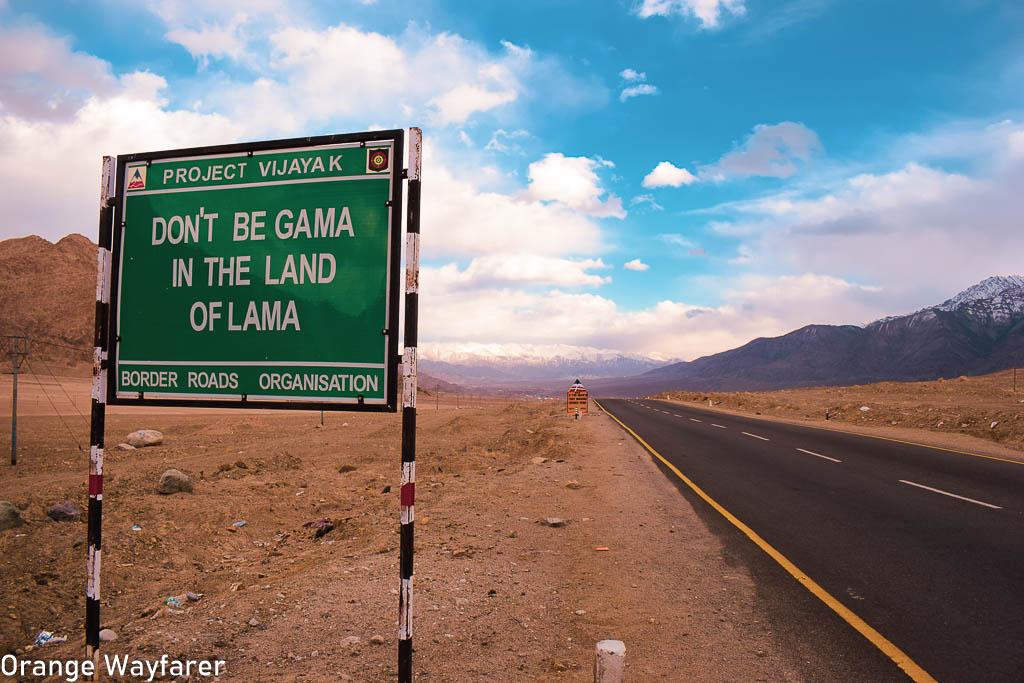 In my experience, BRO makes the most sturdy roads as well as most quirky jokes! I had seen this on the road to Sela Pass as we were heading to Tawang in Arunachal Pradesh as well! Sikkim was not much different either!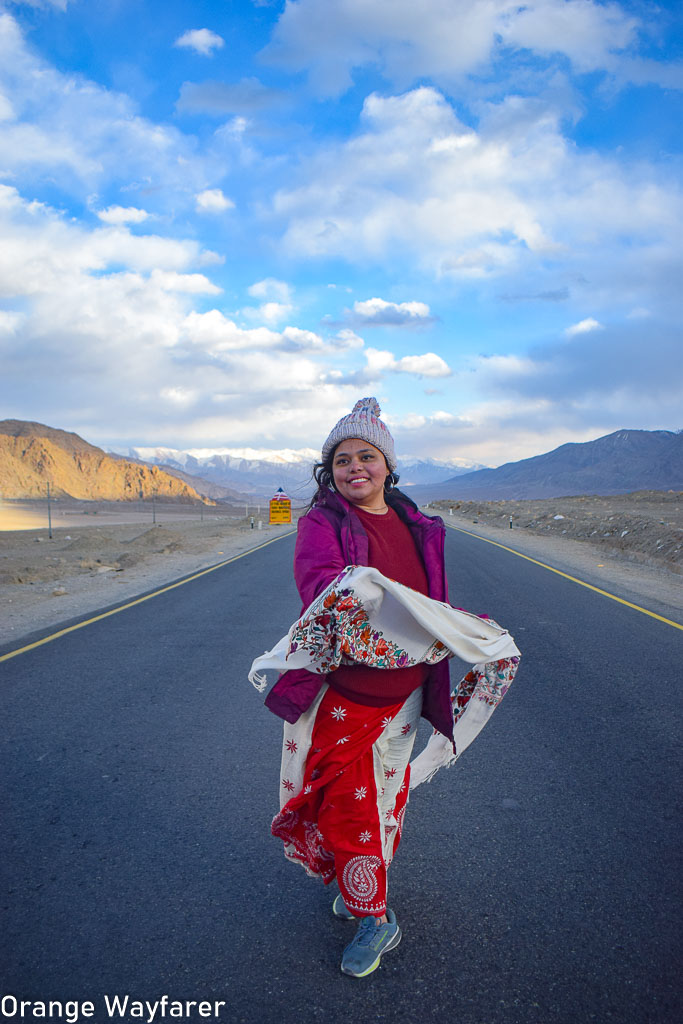 Posing at the Ladakh roadtrip with the long stretched roads is a must!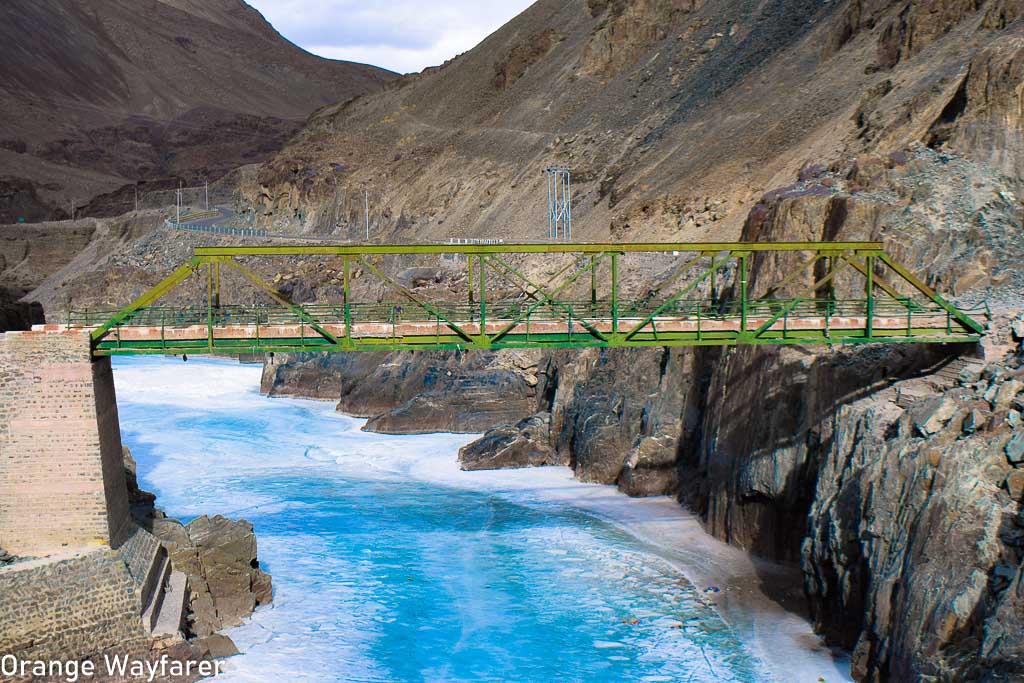 Zanskar river. In her frozen avatar. I had the fortune to witness strong ice cover as well fragile ice sheets that were floating on the cold water of Zanskar!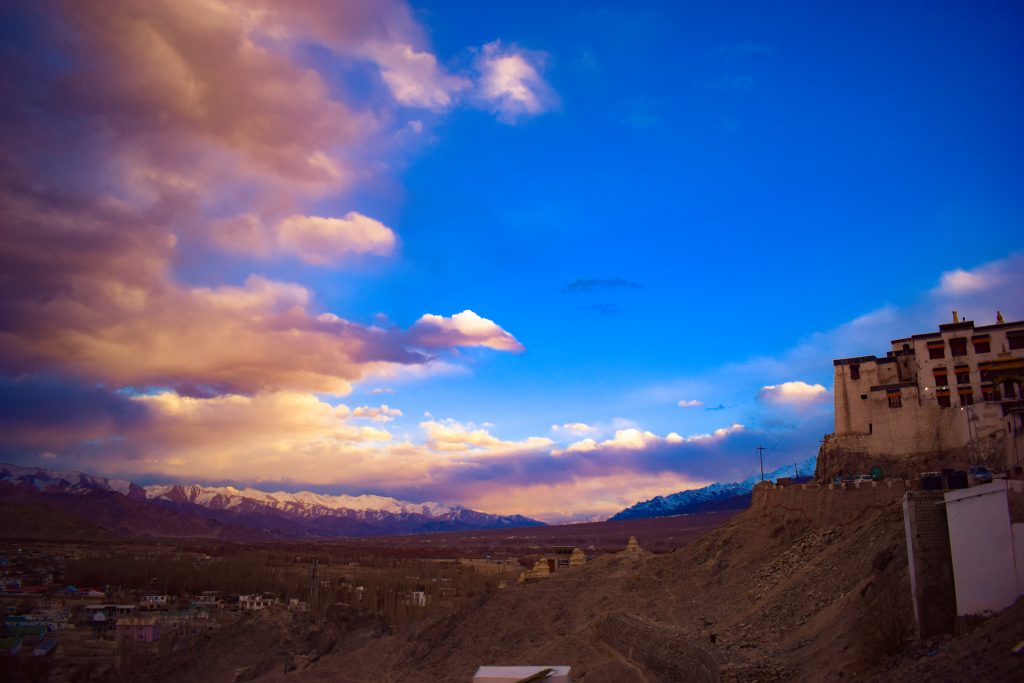 Spituk Gompha is worshipped by the Buddhist. A few steps on top of it, you have the Kali temple that is frequented by a few Hindus. Tantrik practices are observed here. At a distance, road to Khardungla stands!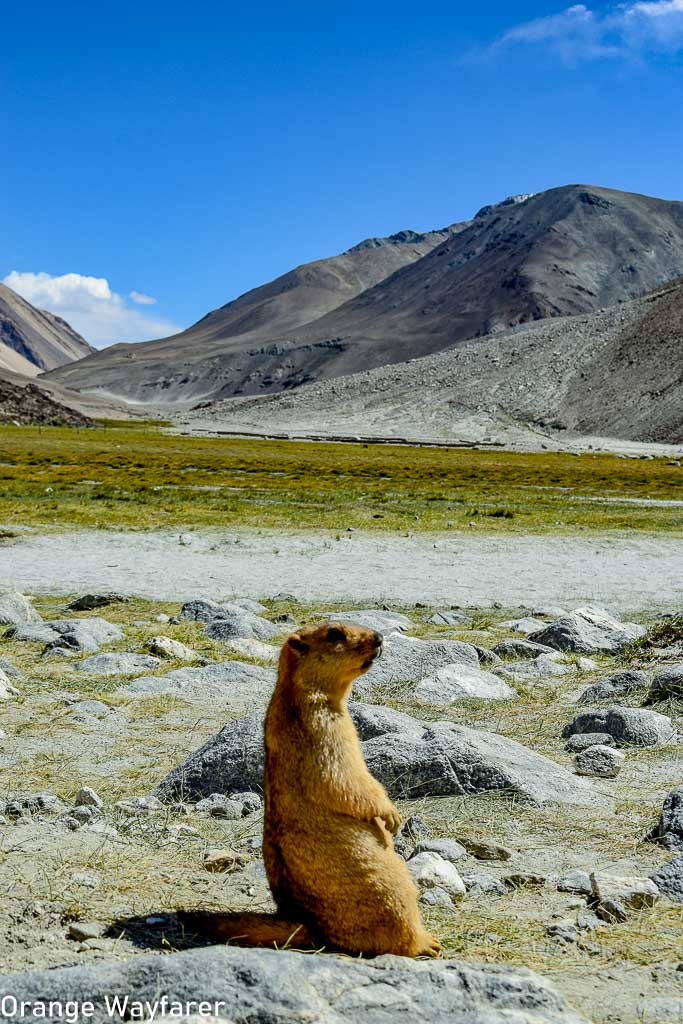 Marmots, or the fat rats or rodents you meet on the way to Pangong tso, the most beautiful destination in Ladakh!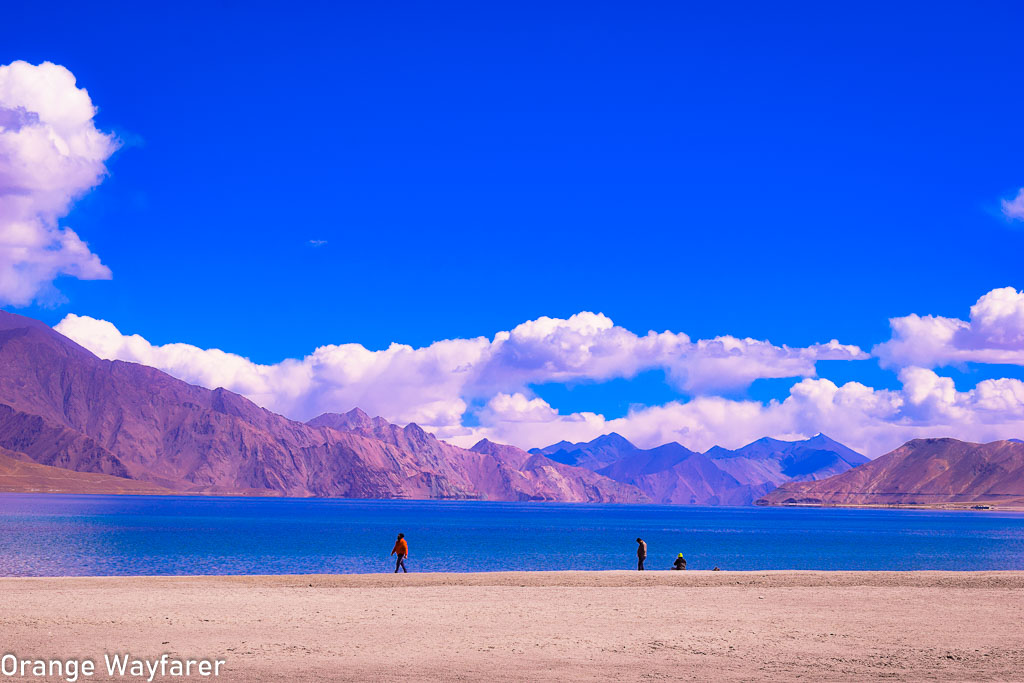 The ultra marine hues of Pangong Tso reflects the bright sun against a barren lifeless backdrop and makes up for a spectacular view!
At the doorstep fo ALchi monastery. One of the oldest and most beautiful monastery in Ladakh which has a medley of of Kashmiri, Dogra ruler and Ladakhi architectural styles!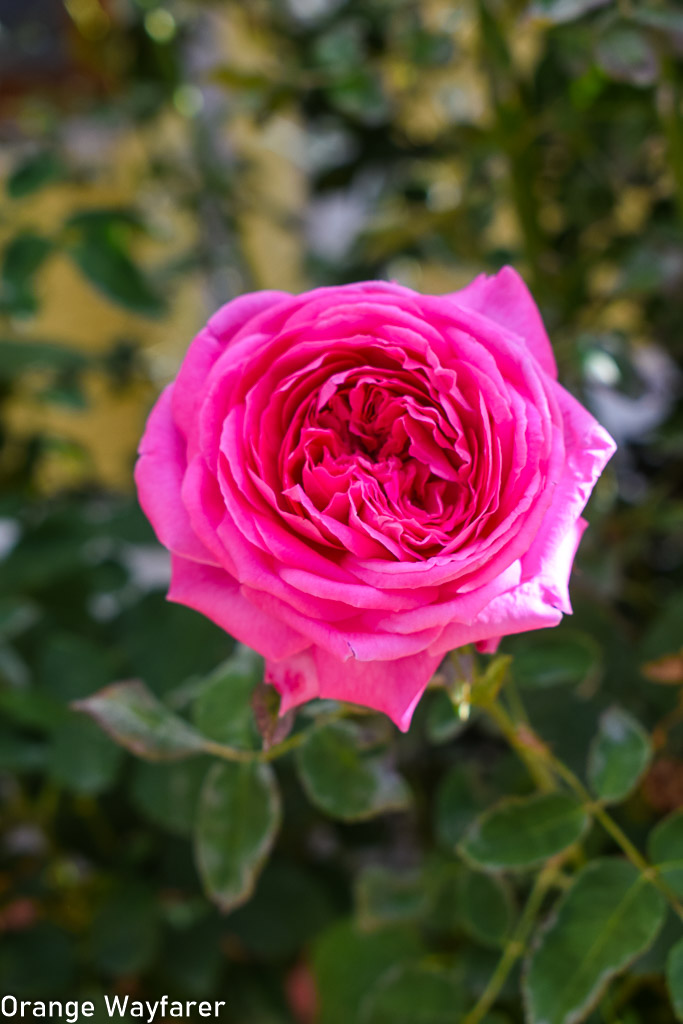 A bright pink rose in full bloom in late autumn in Ladakh. This is the month of apples being ripened!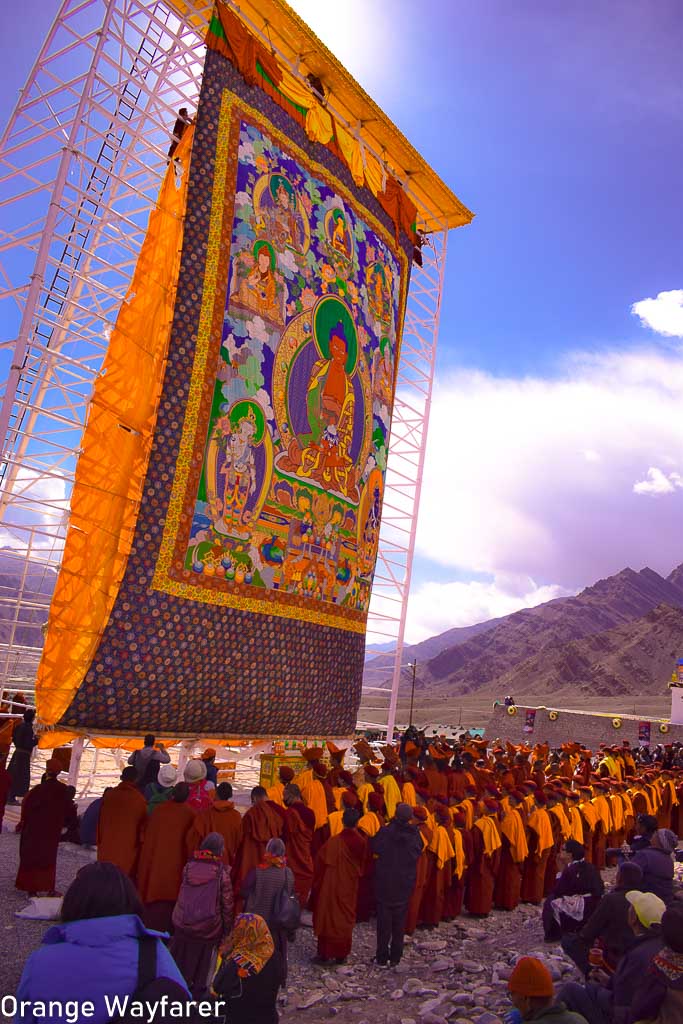 Devotees stand at the footstep of Naropa Photang and worship this treasure, the Thangka painted with the face of Guru Padmasambhava! I saw this while attending the Naropa festival, Ladakh!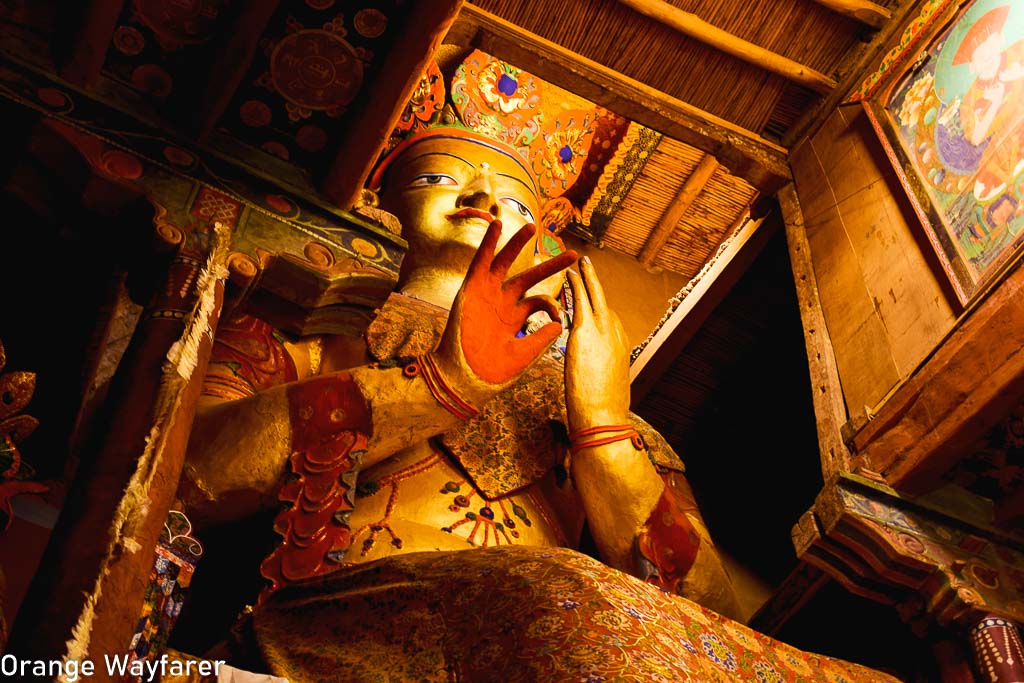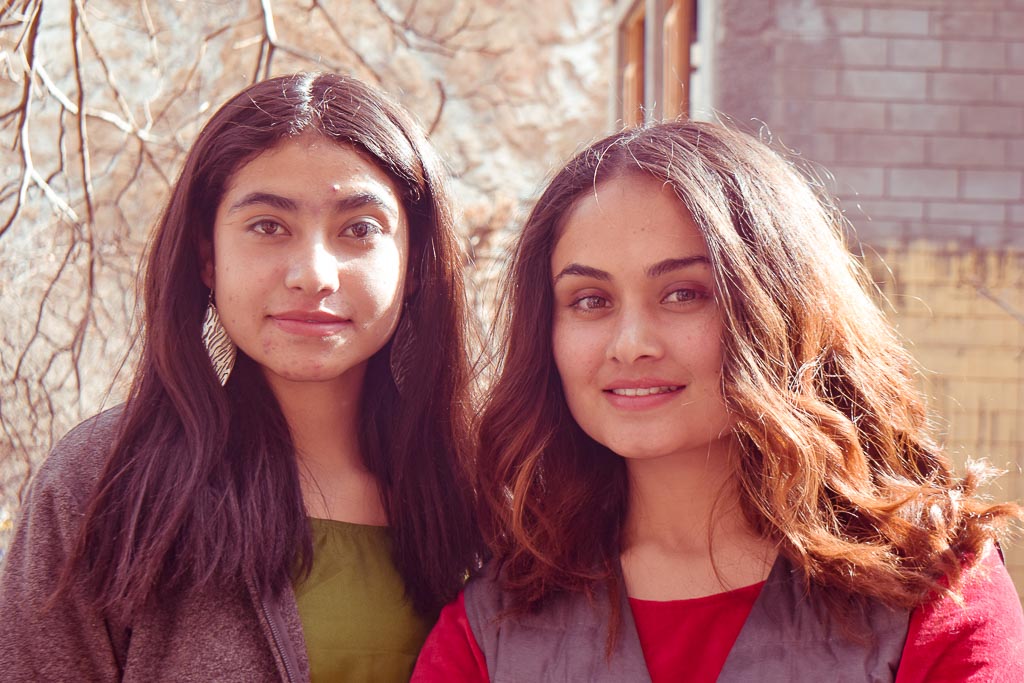 Aryan tribes is believed to be descendent of the army of Alexander. They usually do not marry off their small community. They have a high literacy rate, exceeding 90%. These two women posed for my camera who have also been in Bombay for higher studies. Due to lockdown, they headed back home! Visiting the Aryan Valley in Kargil is quite an experience!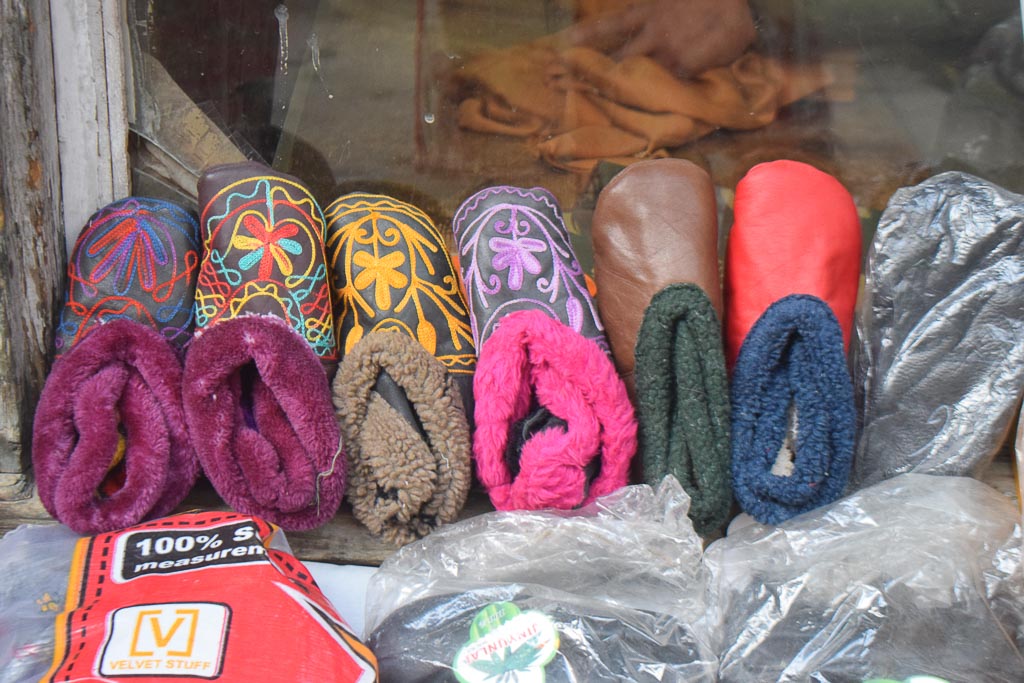 Covered woolen shoes being sold at the Balti market of Kargil. This is a must have to trudge through the prolonged winter in Ladakh. please note, Kargil is an essential and huge part of Ladakh which is not barren land and sparsely populated.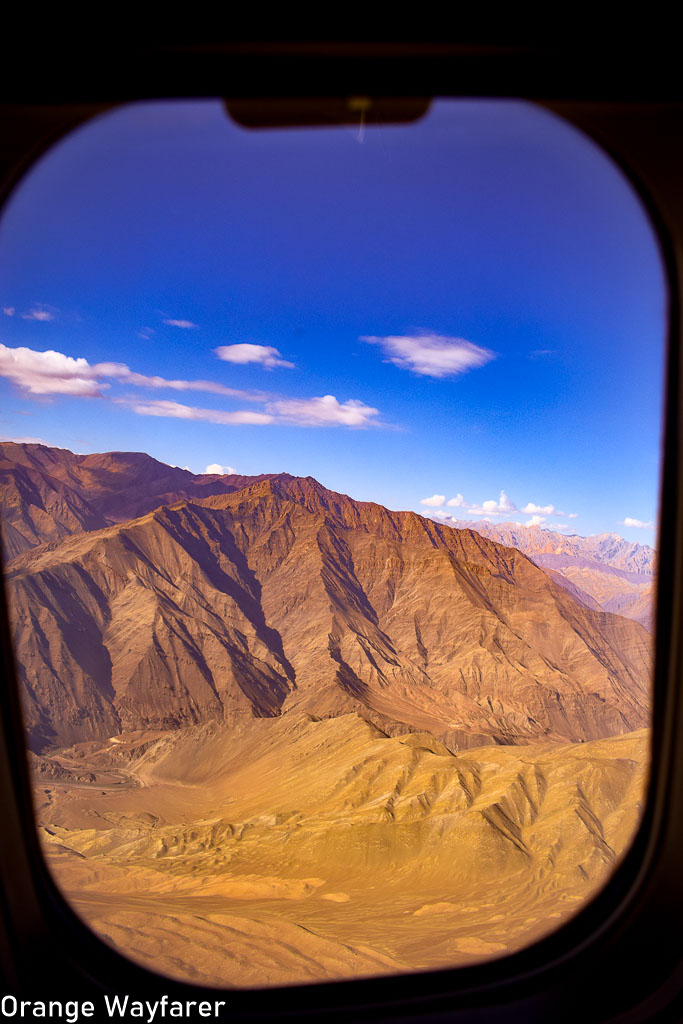 Leh airport is administered by Indian Armed forces. Post 12 noon, commercial flights are not allowed to alight to fly away except for some drastic rule change. Keep your eyes and camera ready as you start to touch down. Please note, photography at the airport is not allowed by rule, like it is the case with other army airports like Goa or Bagdogra. Please be responsible in what you post on the social media.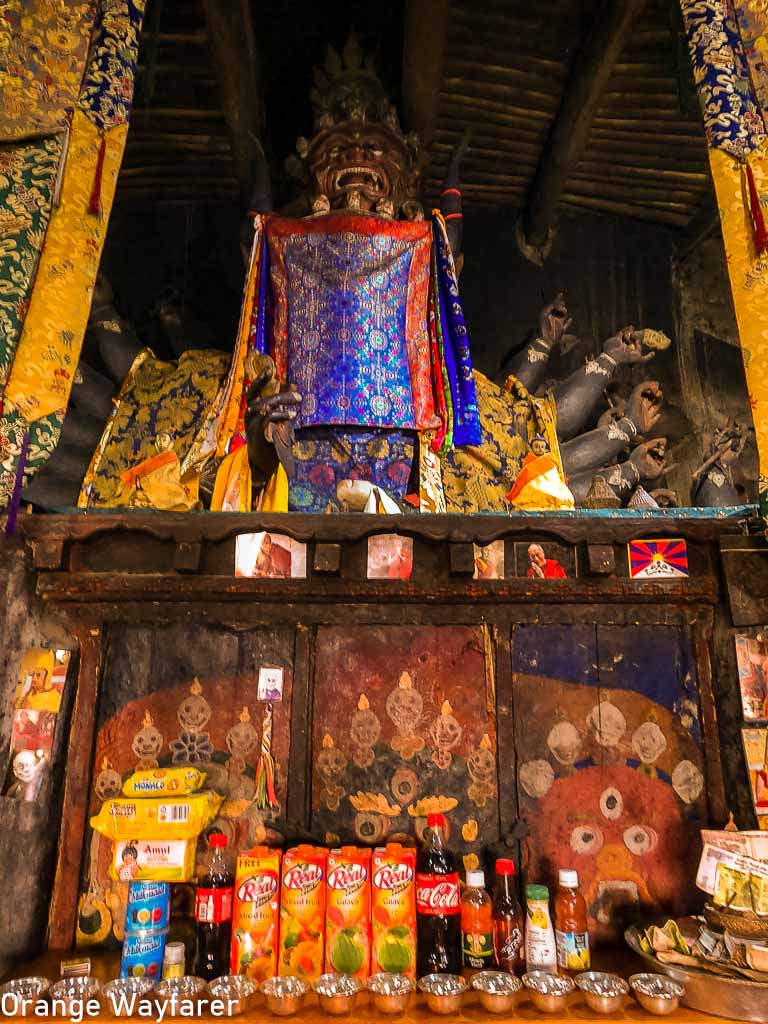 The Mahakal deity as I clicked at Thiksey Monastery. His face remains covered for the year around. Once in a full moon the deity is worshipped and is taken out of the sanctum! This reminded me of the Kal Bhairava statue I saw at the Kathmandu Durbar Square, Nepal.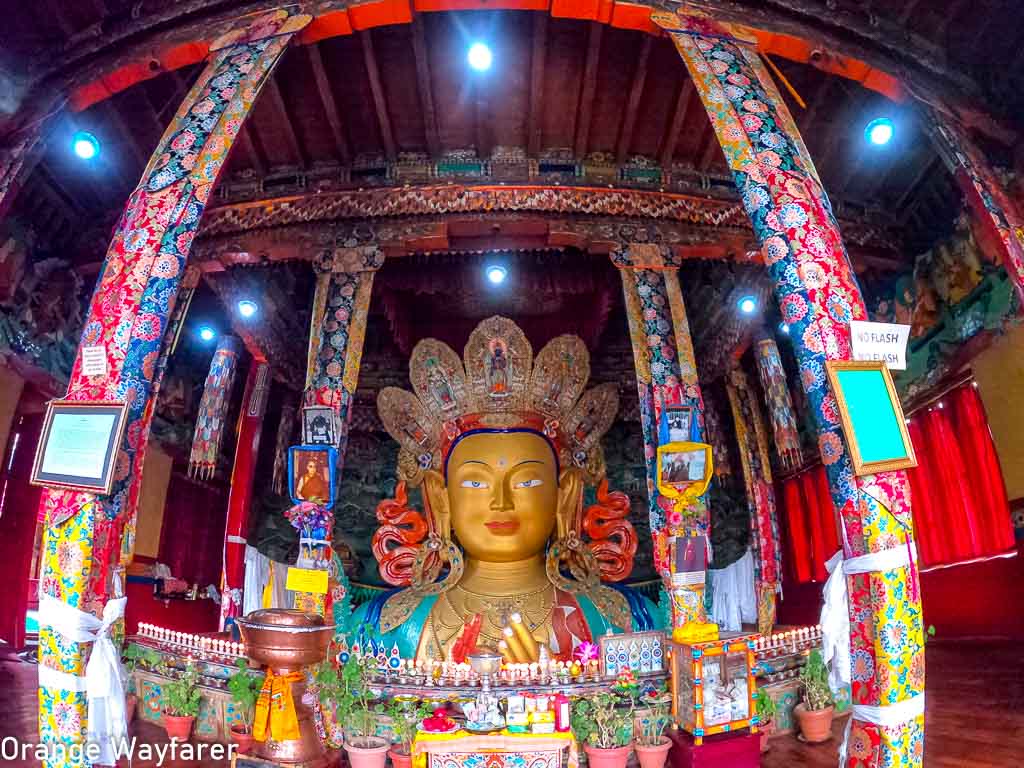 The most profound face of Maitraya Buddha that I witnessed at the Thiksey Monastery! If you watch closely, you will be able to find the inevitable influence of Gandhara art on the face of this Maitreya Buddha. The Indus valley area is filled with historical anecdotes that paint a vivid picture of Alexander and Kushana period despite the real events taking place a few thousands of years back!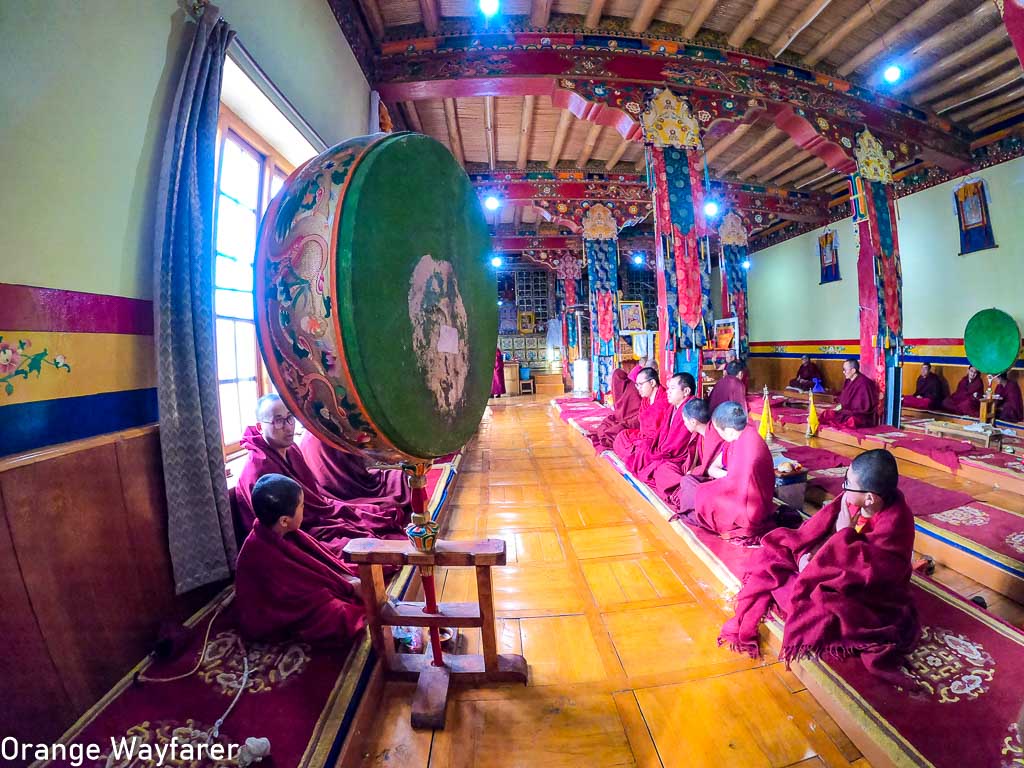 Start early a day from Leh and visit the Thiksey monastery as the crack of the dawn. As the valley gets awash with plenty of Sunrays, somber drum and trumpets resonate in the air from Thiksey monastery, also known to be a replica of the famous Potala palace from the forbidden land! It reminded me of the early morning alms ceremony of Luang Prabang. Traveling to the UNESCO heritage temple town of Luang Prabang is incomplete until you have seen the Buddhist monks collecting alms from the locals!
At Thiksey monastery, children and young monks from nearby villages visit and pray at the start of the day. A procession heads towards the village shortly after. The day starts with a high note from Thiksey monastery as you experience this beautiful positive vibrancy!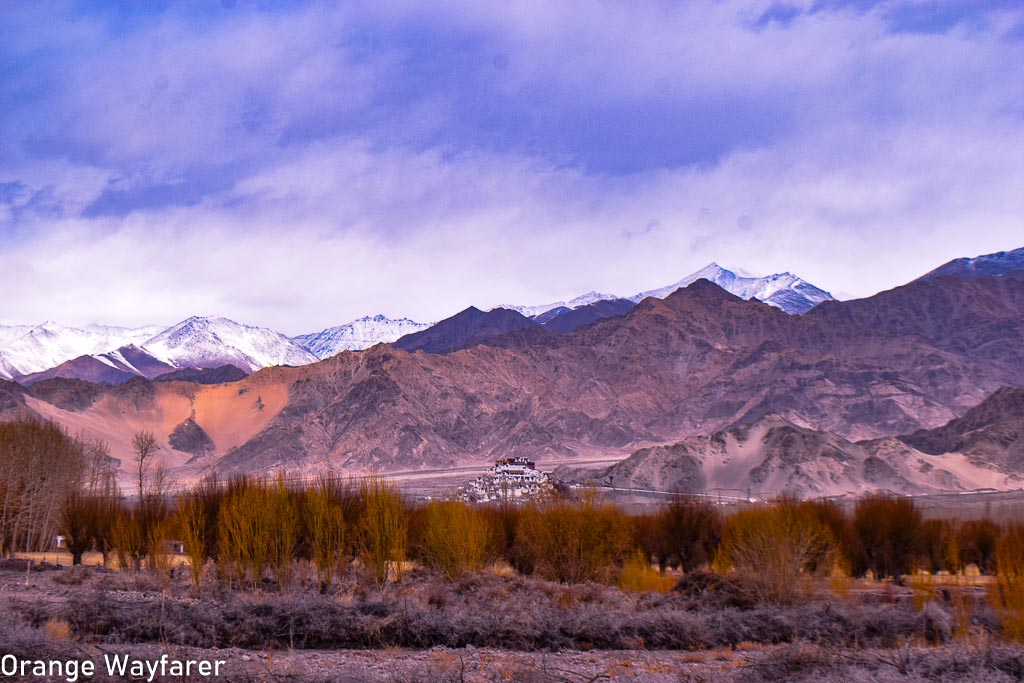 Towering Poplar trees dot the horizon dominated by high passes that connects Ladakh with central Asian plain land. At the end of December, the high passes are covered with a blanket of snow! Look closely. At the center stands a monastery. It is Thiksey monastery where I visited at the start of the day with Grand Dragon Hotel to witness a somber early morning prayer.
These are just a handful pictures from a month in total that I have spent in the high Himalayan land! I feel I have not even been able to put a scratch on Ladakh's surface! Stay tuned as more blogs will come n your way!
---
This post may contain affiliate links. Please read the disclosure post. If you have liked the article, you may support it by buying using these links without any extra cost to you.
Let's stay connected on Facebook, Instagram, Twitter! You may also consider joining my mailing list. I send travel and photography related emails only once a month!
---