A photo blog depicting the best of Kargil, Ladakh's oft-ignored second district next to Leh, now steadily paving a way as an emerging destination. In twenty odd pictures, I try to present you the very best of Kargil, her craggy mountains, nature's bounty, thick blanket of snow as a way of life for the larger part of the year and and an impressive cultural wealth dating back to centuries.
Click here for more Travel photo essays.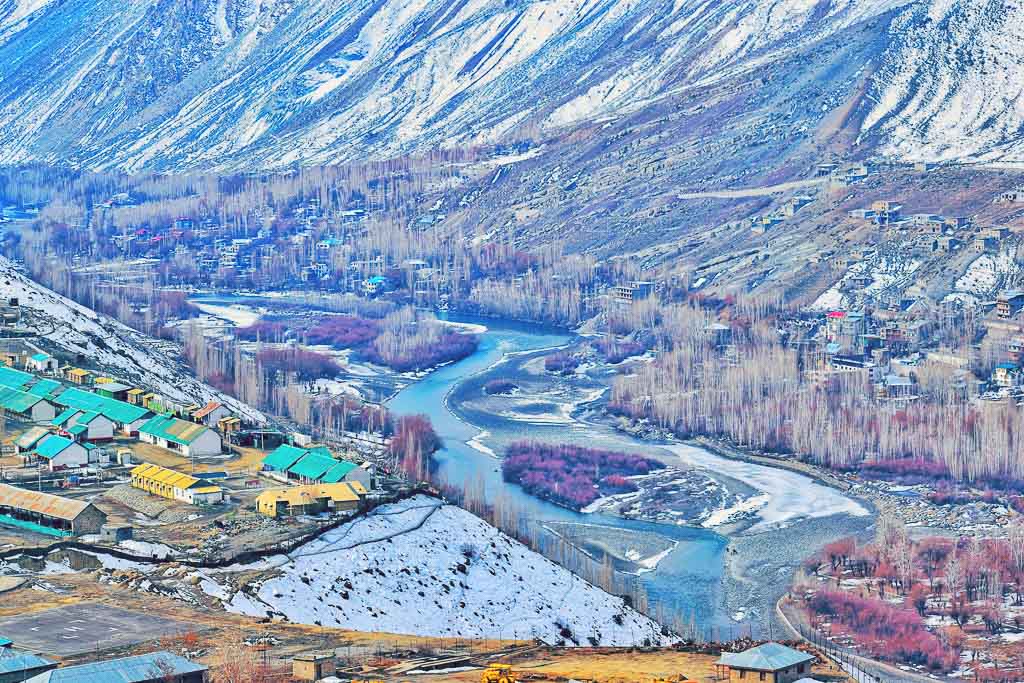 Suru river bends around the town of Kargil. Many a glacial streams from Himalaya give birth to Suru river which plays along the Line of Control and enters Baltistan, originally part of Kargil a few decades back, merrily. Further, it is joined by Dras river. Together with Dras, Suru river becomes a part of mighty Indus, one of the greatest seven rivers of the world which gave name to a civilization and a country, now a billion people strong!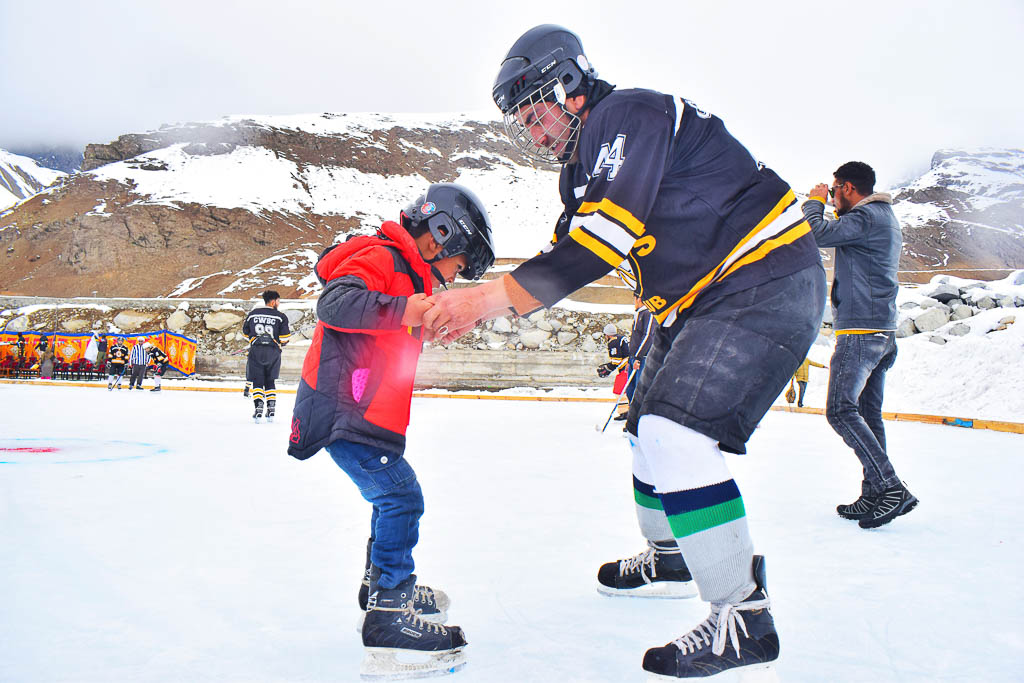 A father teaches his boy to skate on a frozen ice rink at Dras. The brutal and long winter of Kargil is enjoyed by the locals in the form of various winter sports. While this was a more formal yet natural skating rink, I have seen teenage boys playing hockey on frozen sheet of nameless streams as well. This is a common practice in the whole of Ladakh. A lot like Parar cricket of Kolkata, specially on a leisure Bandh day.
Dras, a region located at a distance of 60 km off Kargil town, is also hailed as the second coldest inhabited region of the world. The one ahead of Dras is Oymyakon of Siberia in Russia. Who would have thought I would have to refer to Siberia while writing about a destination in India!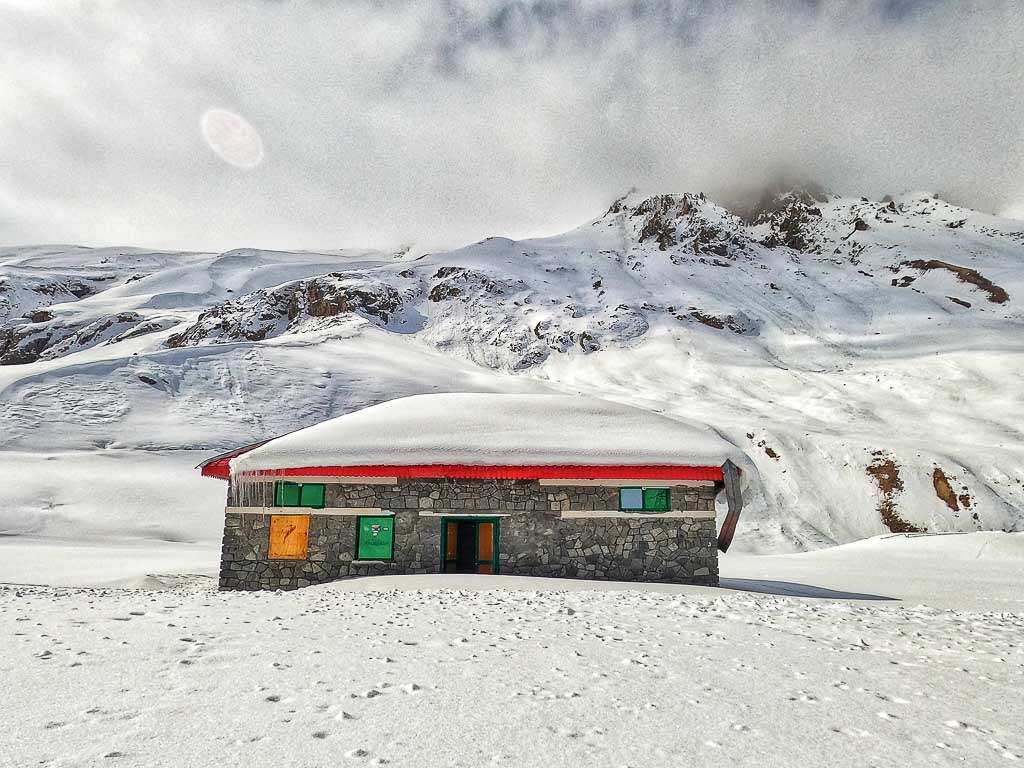 Also read: Practical travel tips for traveling to Egypt!
Just a grocery store at Dras located close to Droupadi Kund, a place referred to in the Mahabharata. Note the fresh sheet of snow covering the approaching road. I clicked it from the main road at a few meters distance which gets regularly cleaned up by the army. Kargil is an extremely important strategic border point along the LOC. Dras is also known as Drass. I could not venture through the snow to take a sneak-peak into the grocery store.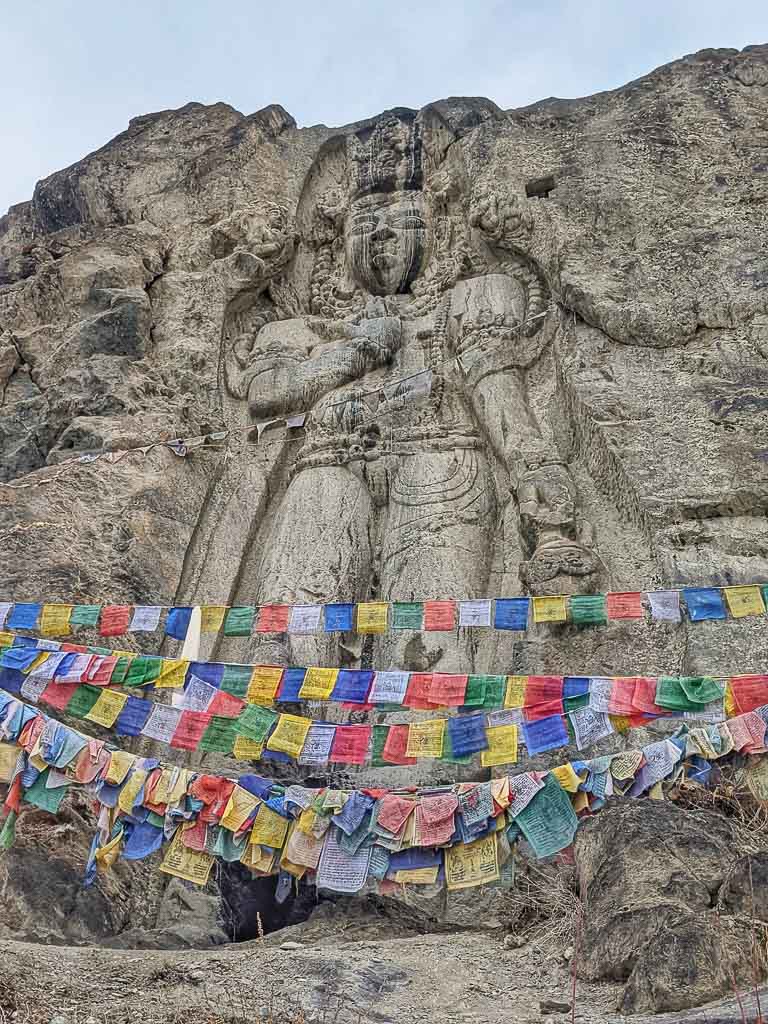 The Maitraya Buddha of Khartse Khar village, Chamba near Suru Valley. Epiphany has it, he is the Buddha of future, yet to appear on the face of the earth. A small village inhabited by Dard Muslims guard the rock curved giant statue, rightly compared with the iconic Bamiyan Buddha which was infamously bombed out by the Talibans at the beginning of this century.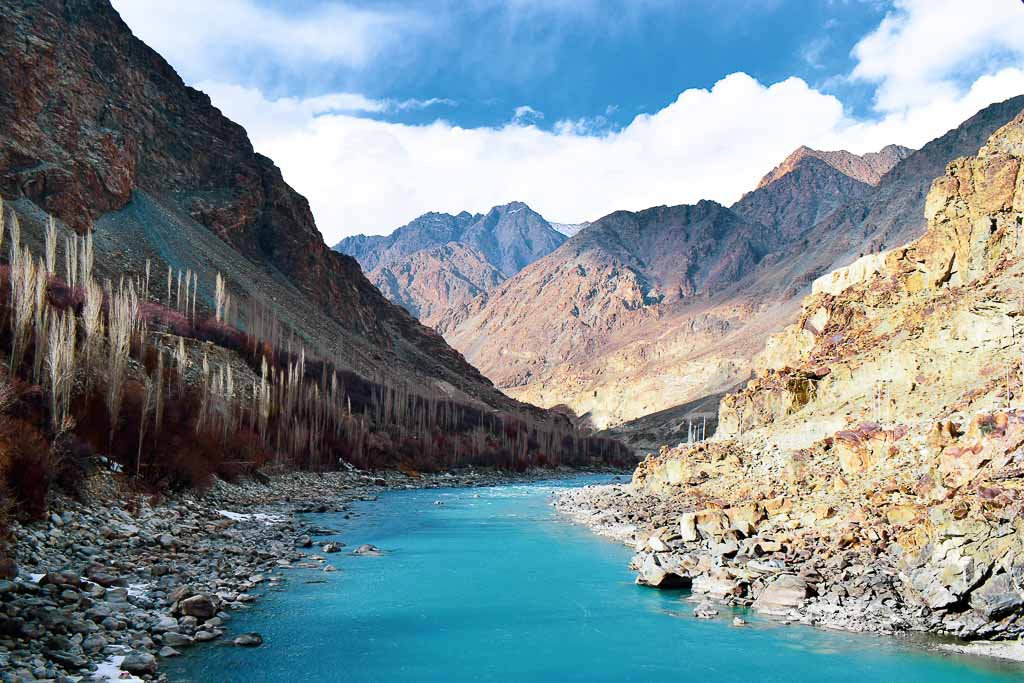 Also read: A detailed review of the Grand Dragon Hotel, Ladakh!
Just a stop among another million along the road that runs parallel to Indus river. I do not have enough words to express how humbling it is to witness the beauty of this river. I derive a large part of my identity through this river. Although I have met him after almost three decades of living in the Gangetic planes. Indus is way different than any other river I have met in all these years of travels. However, I am often reminded of Nile river of Misr while looking at Indus. The stark contrast of a free flowing waterbody along the barren cold desert that Ladakh is can be easily compared to the wilderness of Sahara desert.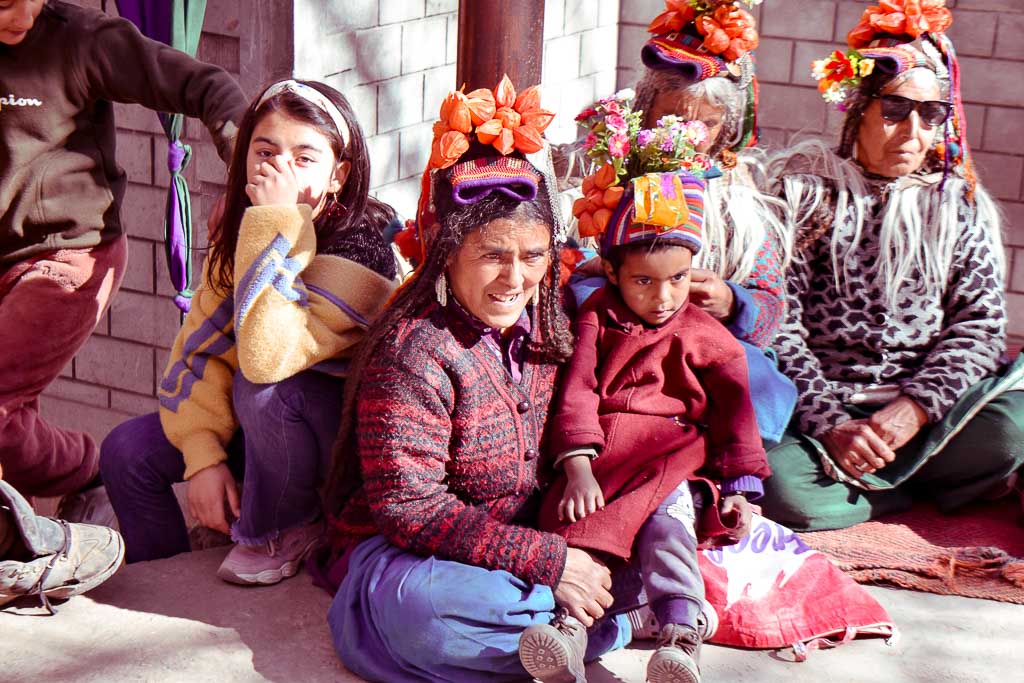 Legend has it a small section of Alexander's army stayed back in the region while the Greek emperor had retreated from this point, leaving behind him dream of ruling through the world. Today, the descendants of that army is known as the Aryans.
This was my second visit to the Aryan village. The last time, in the peak of summer I found my way to Dah village through the dense Apricot bloom. A kind Aryan lady with exorbitant hairdo gifted me more Apricots than I could carry back home. In Bengali, we say it, Bhore bhore! When I asked her son about the prevalent rumor of pregnancy tourism to ensure a "pure racial bloodline", he blushed and his cheeks turned magenta from pale pink.
This time it was different though. Arrangements were made. By the privilege of being part of a press trip, we were to witness a traditional performance staged by the Aryan troops. 
Also read: 5 days travel itinerary for Leh with offbeat day trips suggestions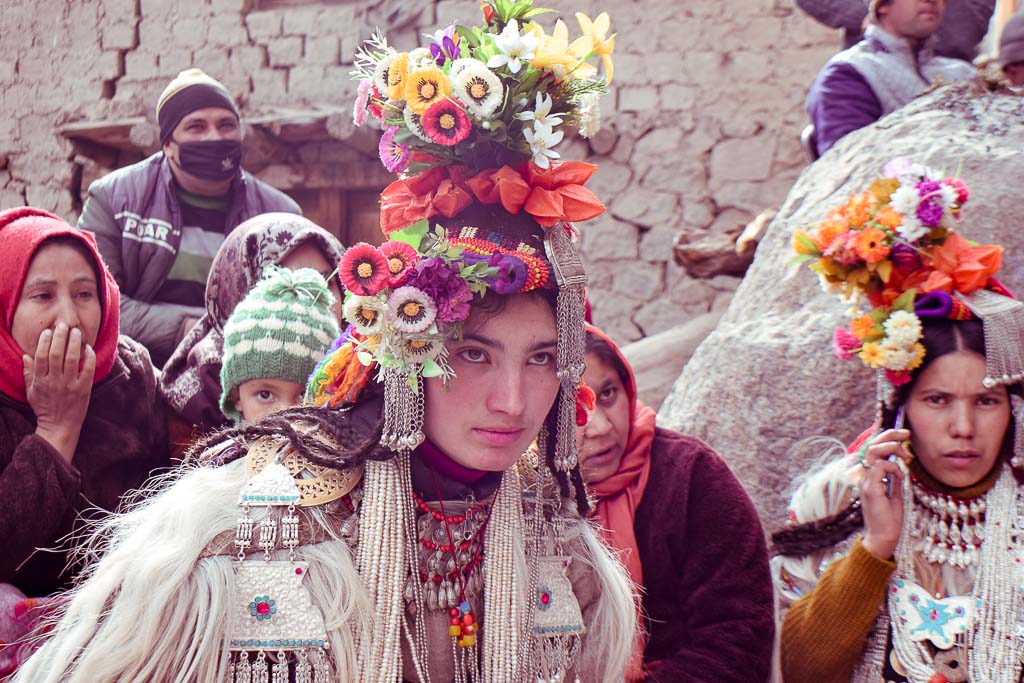 An impeccably beautiful Aryan woman is decked up in her traditional attire. Although now Buddhist or Muslim by religious faith, Aryan's daily life remain deeply rooted in nature's generosity.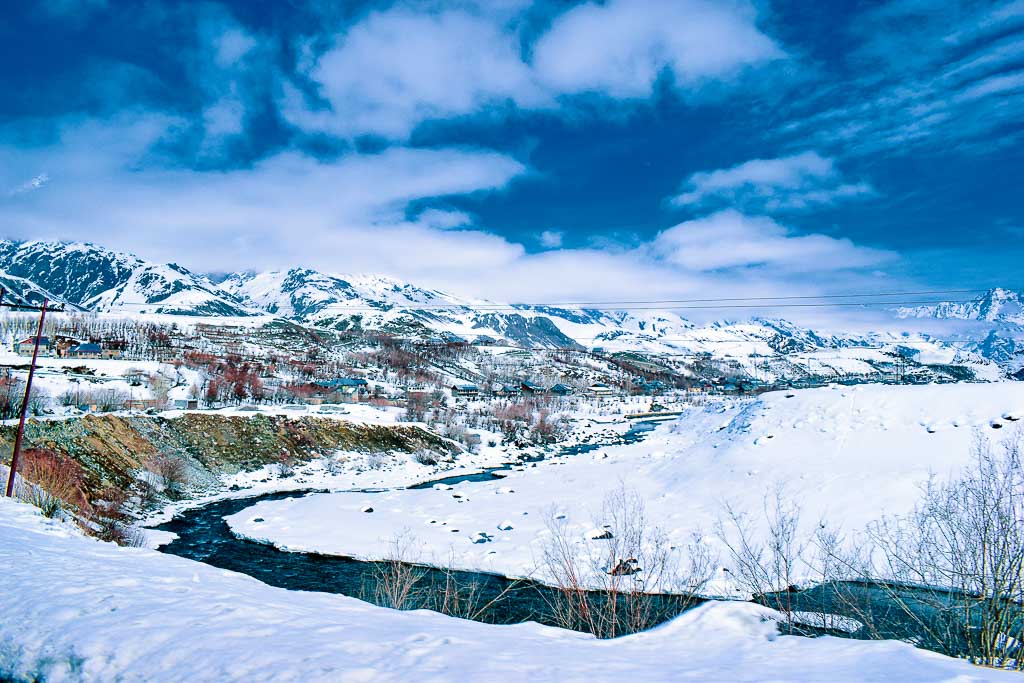 Dras. The river bend is heaped up with thick snow. As far as your eyes go, you are greeted with snow. Yet, we were told the cold is way off the usual degree. Thanks to rapid global warming, the decay in ecological balance is evident, specially in places as ecologically fragile as Kargil.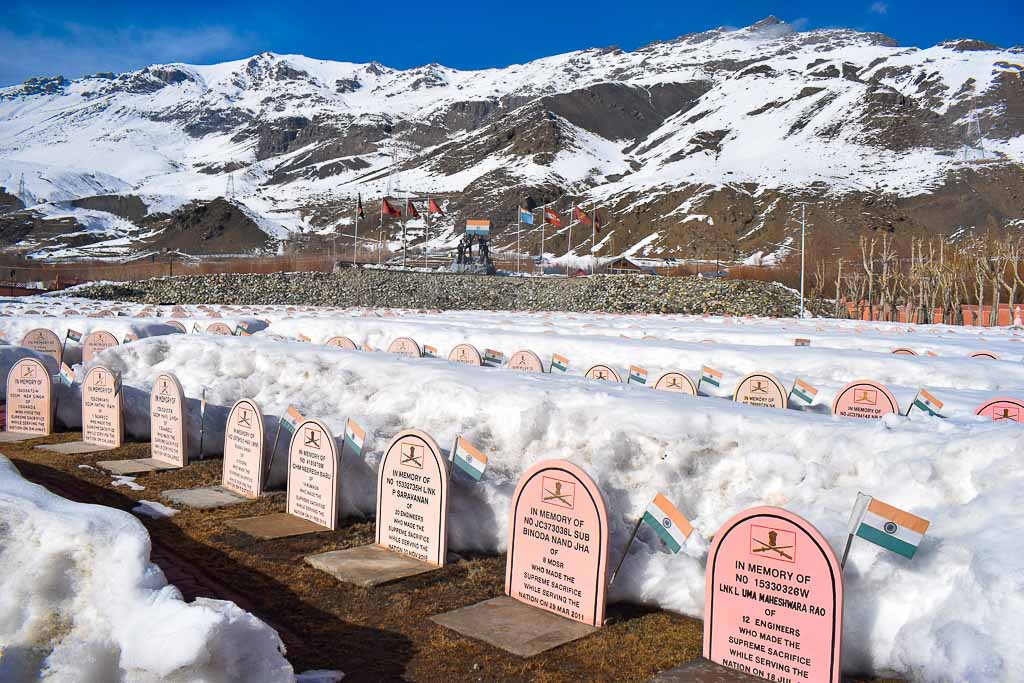 From a distance I could not make out due to thick snow blanket but as I approached the main altar of Kargil war memorial, I was startled to see many plagues, not less than 500, laid on the ground. The dates ranged from 1965 to 2020. Soldiers who fell during the Kargil war, before it or even during patrolling as recent as 2020 remain immortal there. It is difficult to stand in front of this insurmountable ground and not taste blood on your mouth.
Also read: Bum La Pass, where Chinese dragon had to stop after gulping down Tibet!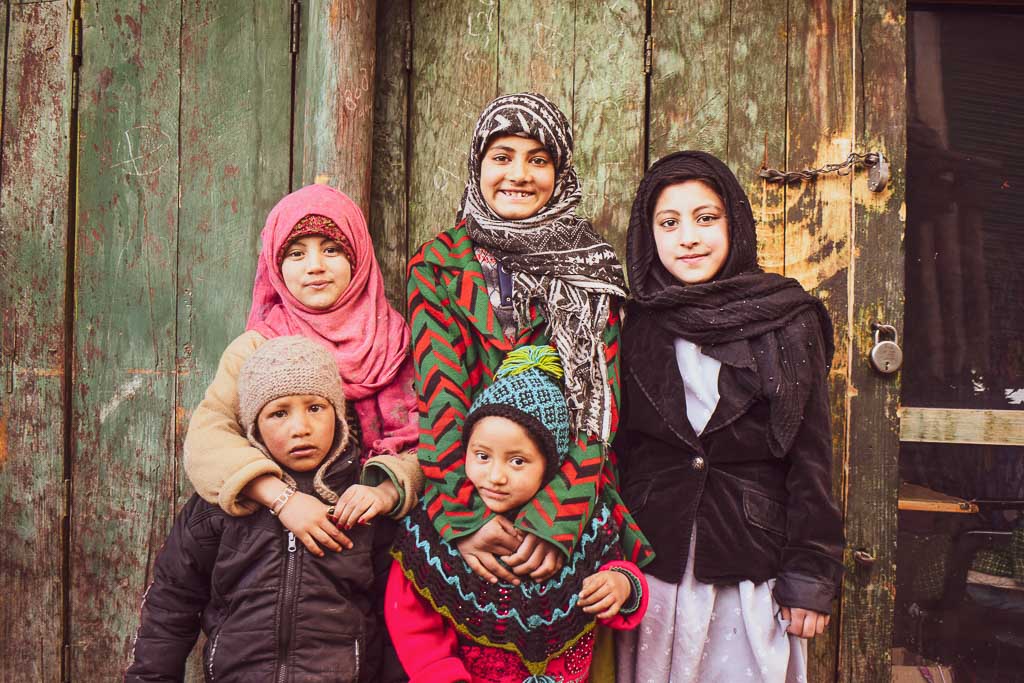 All the girls smile while Akbar, the small boy, looks with a lot of questions! But he had to be a part of the photograph because his elder sister insisted! Shot this at Apo bazar, the old market of Kargil which was also a part of the ancient silk route.
Also read: Bhaktapur of Nepal, A mandatory stop along the old Silk Route!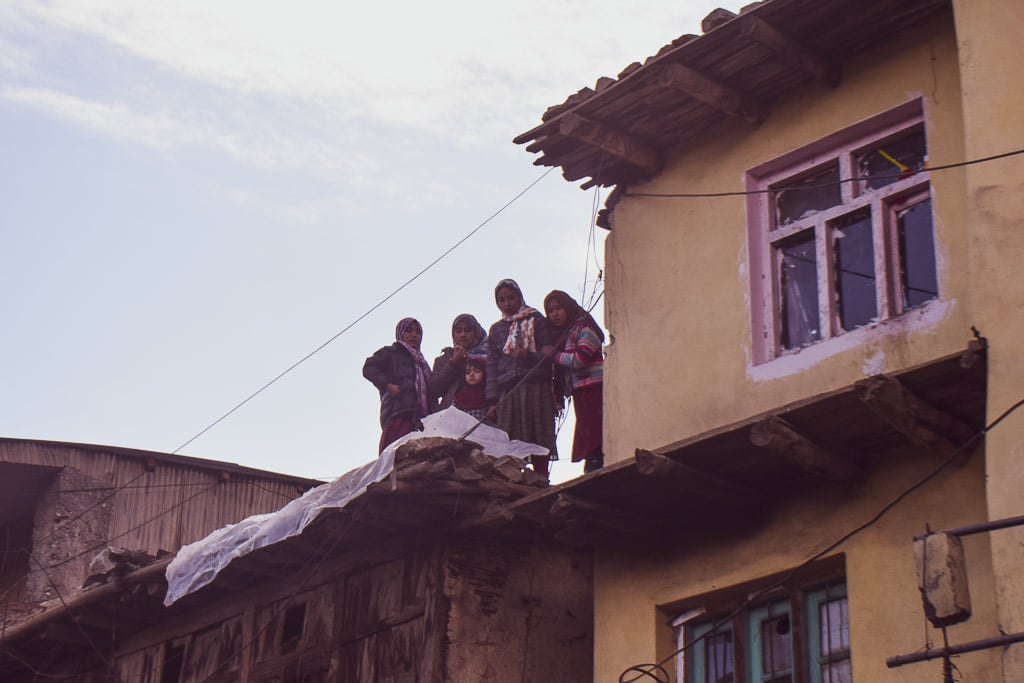 A group of curious kids observe as we made our way inside the apo Bazar, a rather dense locality with countless houses, graffities, kebab shops and tiny shops inviting you indoors.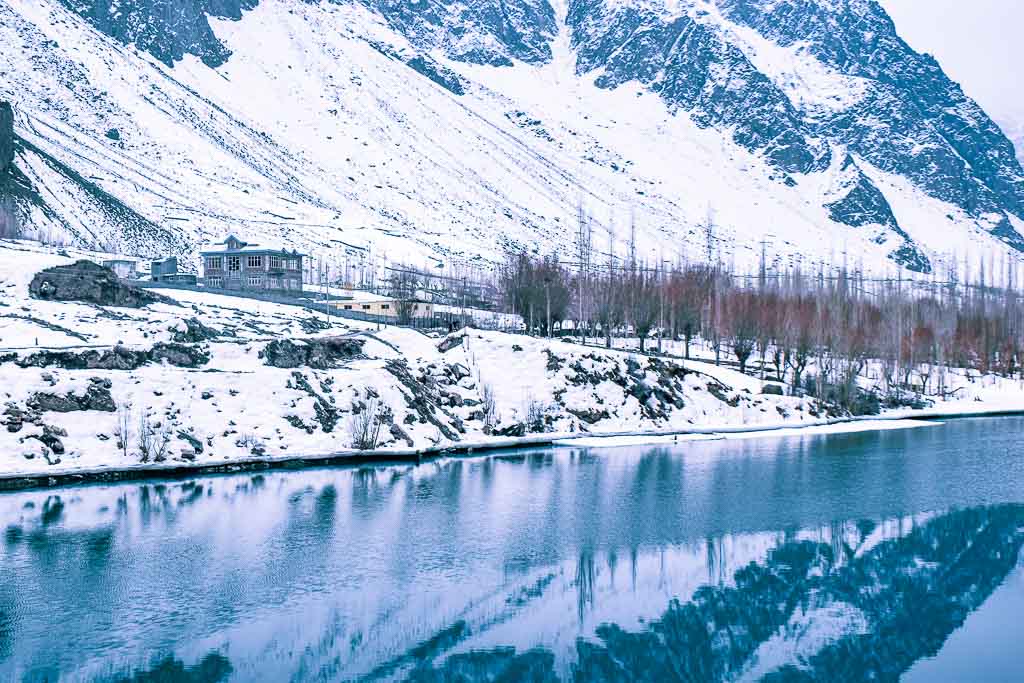 Believe me or not, this is a scene near the Chutak hydroelectricity plant on Suru river. Where we stopped to take this picture was basically a dumping ground of the locals. So while the scene looked like what you see on the photo and pulled us like a magnet, we also had a hard time making our way through litters of yak shit and what not, I do not even want to recall. A cafe and the Trespone Eco resort is located close by though and you may stand atop the roof for a cleaner experience. On the hindsight, you have to be tolerant to many wires and electric poles which usually don't do well with photographers.
Also read: Colors of Naropa Festival at Hemis Monastery, Ladakh!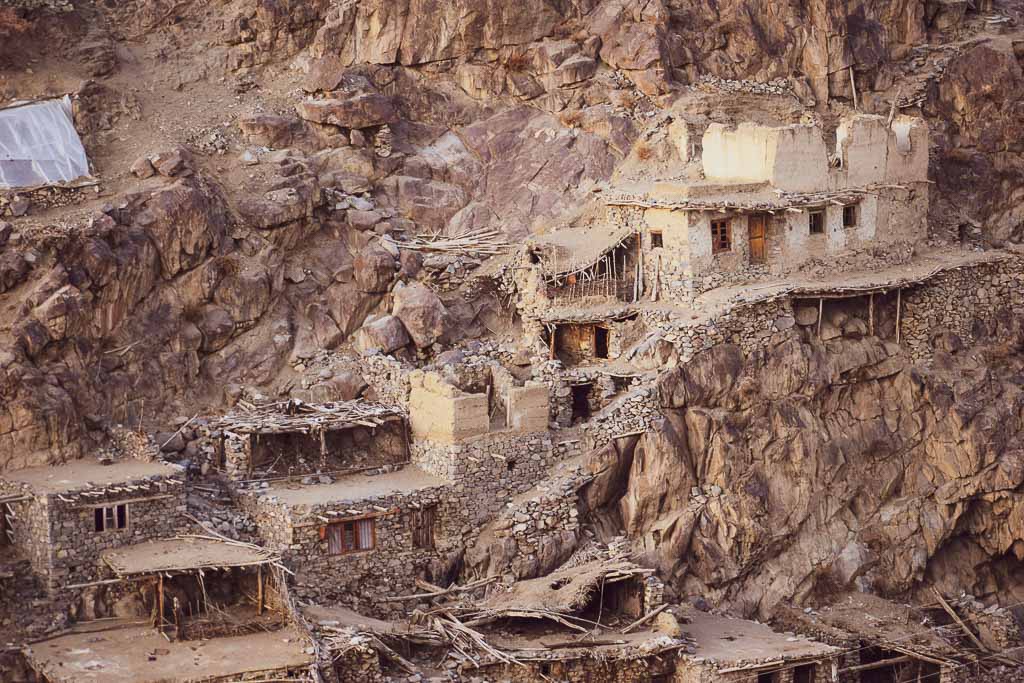 The living museum of Hundarman village, erstwhile a part of Pakistan, seats right atop the LOC between India and Pakistan and reminds you of the grim reality of a conflict zone. The joys and sorrows of losing a large part of your family due to a war zone is a hard pressing reality in Kargil. Even during the time of peace, the pain is palpable. Half of the village and its resident reside in its Pakistani counterpart opposite the mountain. The mountain tops are heavily guarded with armed forces of both the country. Hunderman, as of 2021, is mostly abandoned except for a few families sporadically coming to live here with their bovines.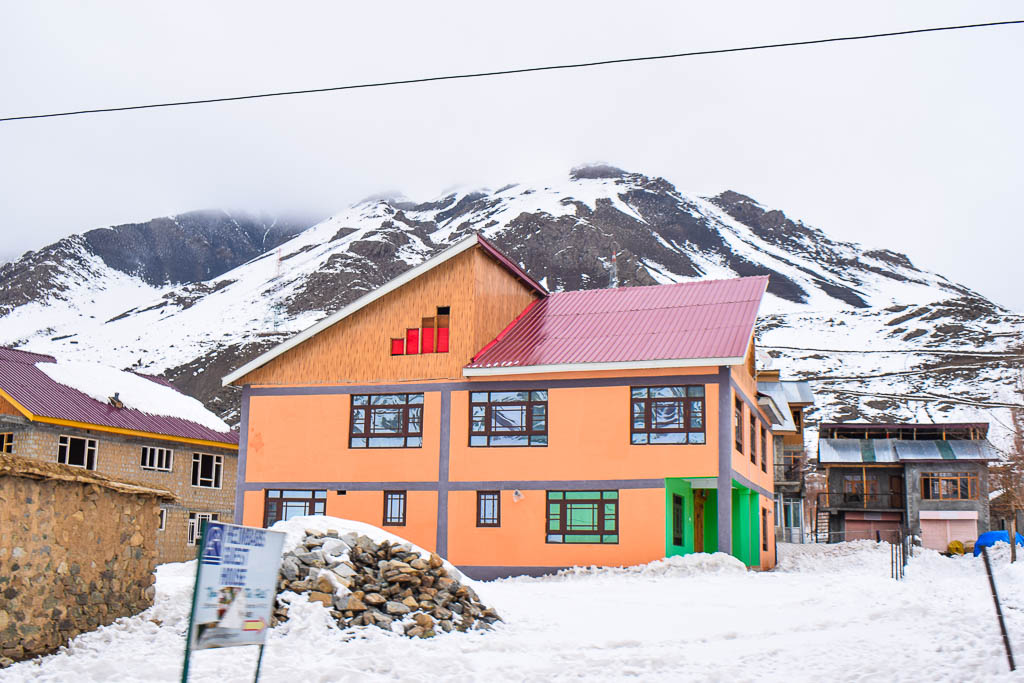 The brightly painted houses of Kargil blooms like a flower after a night of heavy snow fall!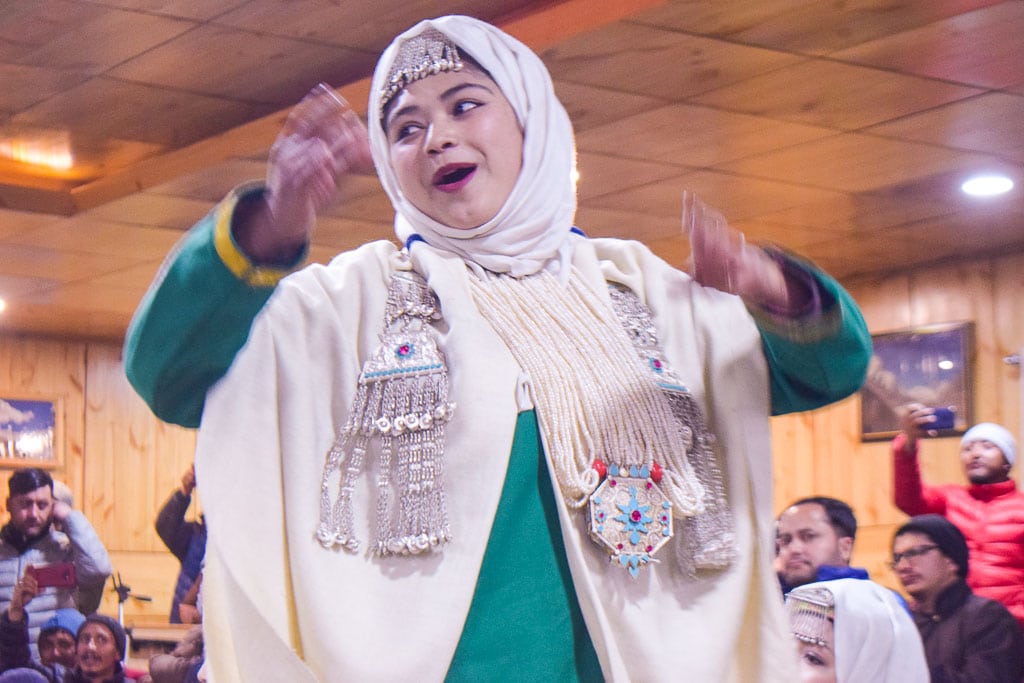 A woman performs a traditional dance. Women in Kargil take equal part in household as well as outdoor activities. It is heartening to see the feminine gender taking part in everyday life despite Kargil's smeared past of a conflict zone from a few decades back. This helps break many a stereotype.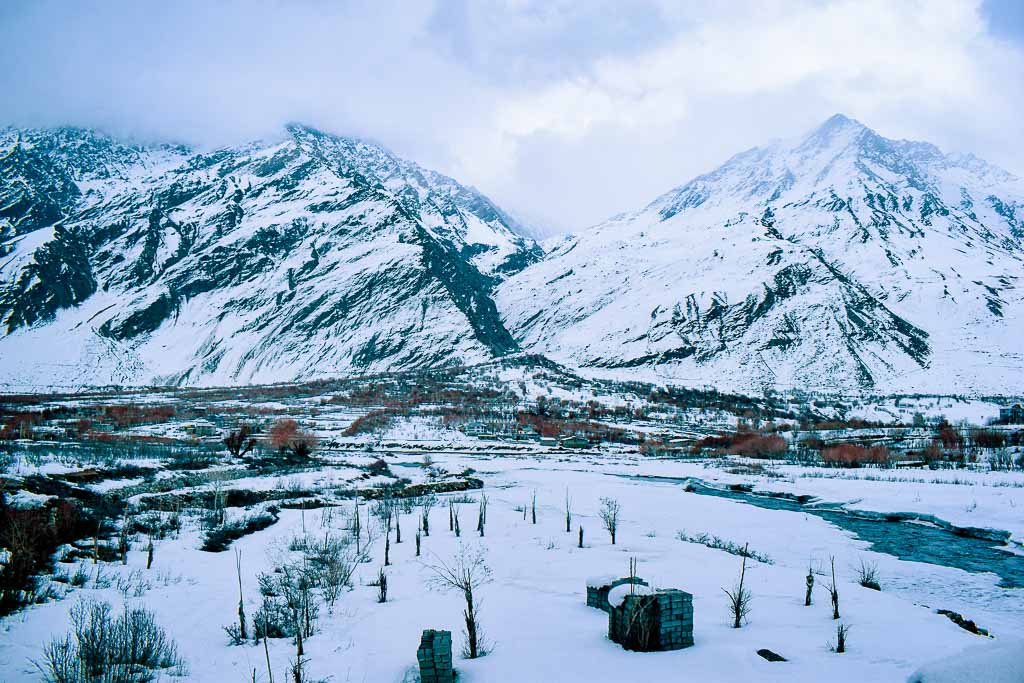 The magnificent Suru valley. I wonder how beautiful it would be during the green summer months or red-yellow hues of autumn.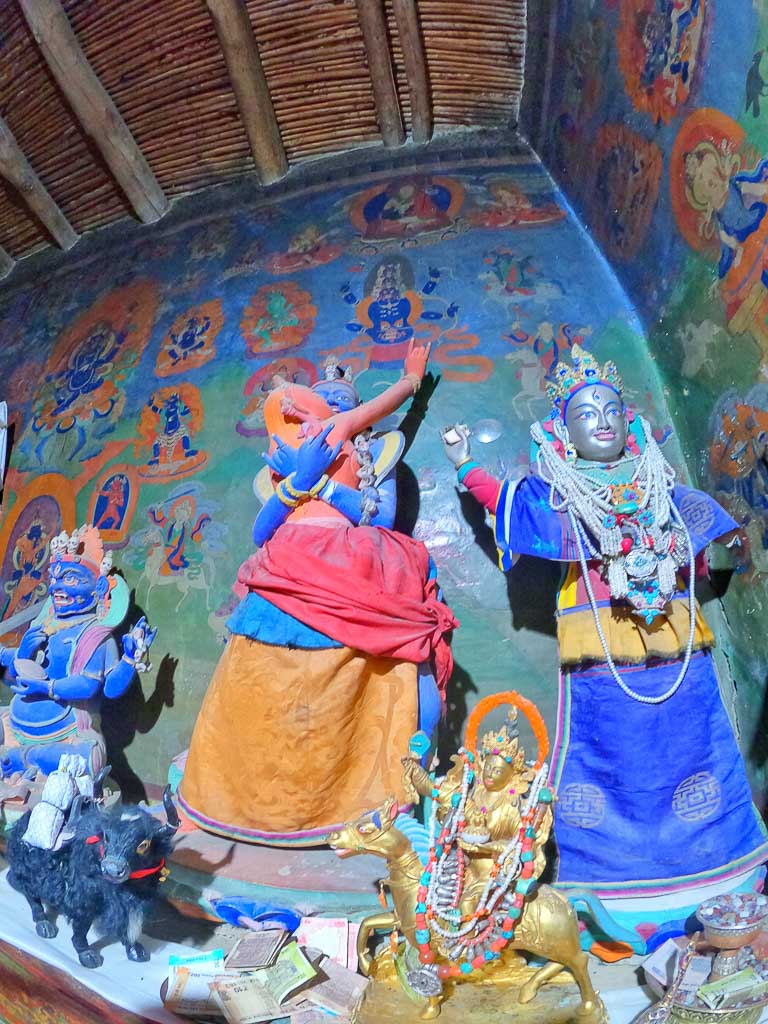 From the inside of Bodhkharbu Monastery of Kargil, an idol of Kalvairab, Mahakal and Tara. Tantra practices and various cultural manifestations find a way of expression here. The yak you see at the left corner is used for worshipping at the Buddhist monasteries and often sold as souvenir at the Leh market.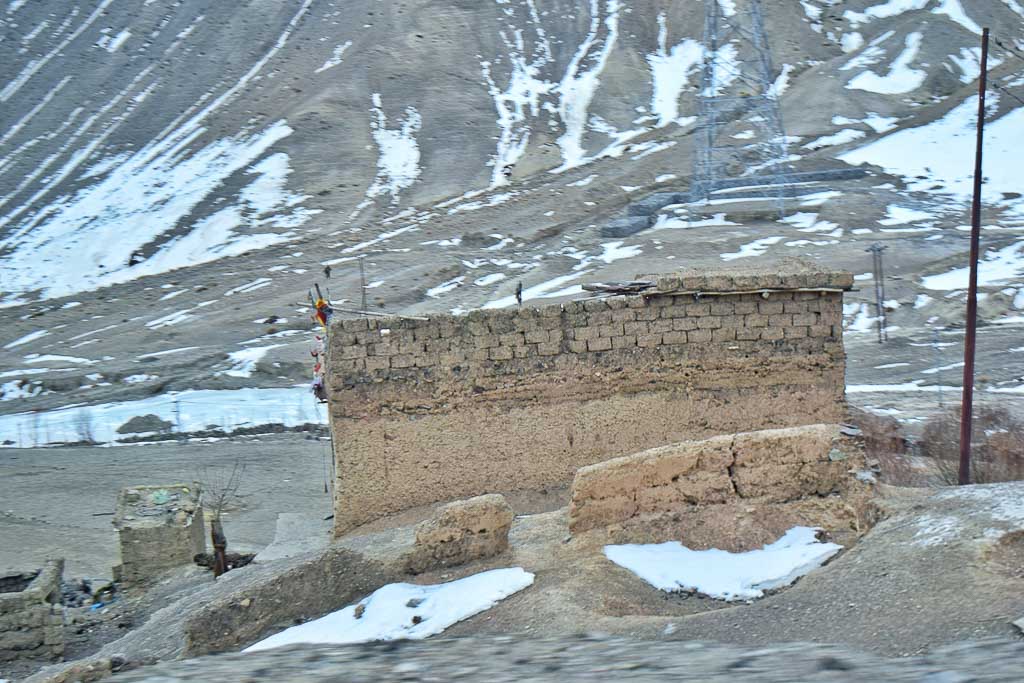 A makeshift night halt for the sheep herders who occasionally come down to Leh with their animals. Shot this a little ahead of Lamayuru monastery.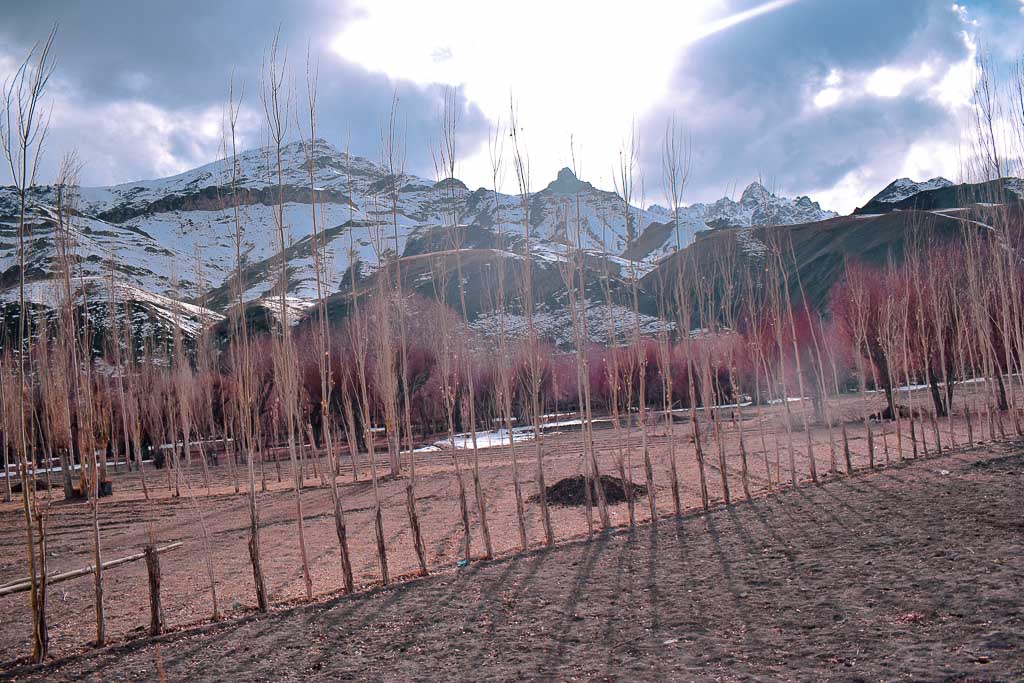 One of the many sunsets of Kargil. Due to heavy snowfall, the sunsets were rather damp and devoid of red hue. The diffused sun and lifeless trees remind you yet again what a privilege it is to live in a tropical land, where life is found in abundance and usually greeted with glee.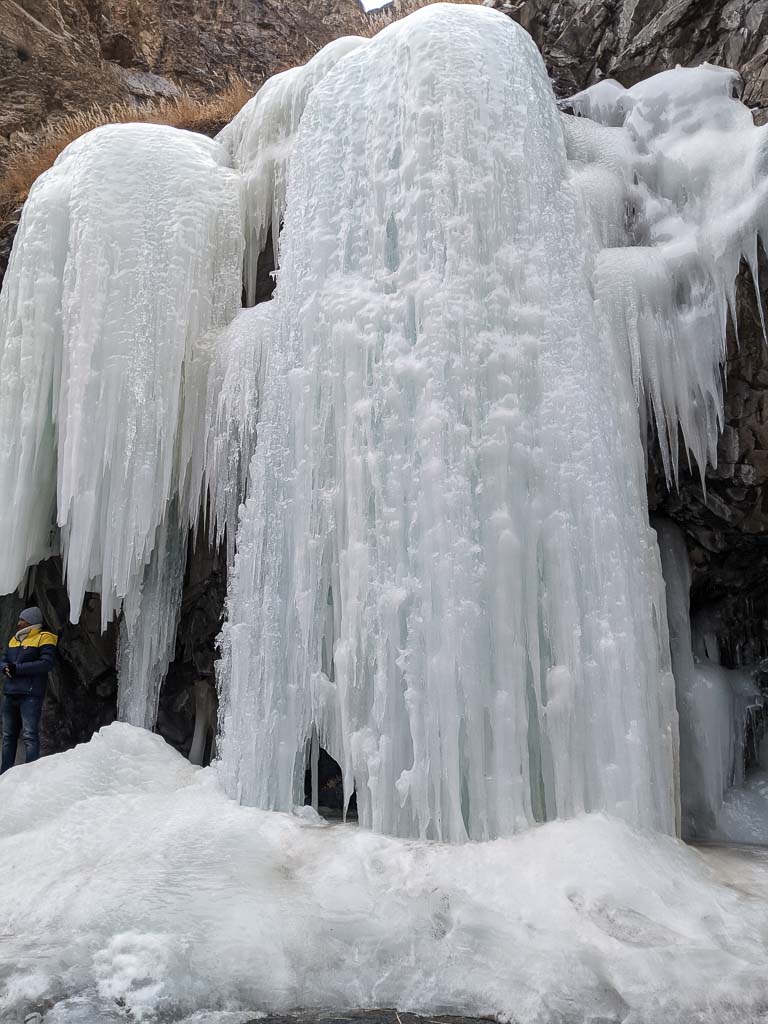 A frozen waterfall we saw on the way to Kargil from Leh. A rickety guideboard suggested its name as "Snow Flower". On the way back from Kargil, under a moonlit night, we stopped here again and while I do not have a picture of that scene, it easily triumphed many natural marvels I had witnessed before! When I posted about it on Facebook, a reader commented "Wow, this is even better than Niagra!" Well, Niagra is one waterfall, frozen. Kargil as the entire region was under snow cover and I, for one, had never experienced anything like that beforehand!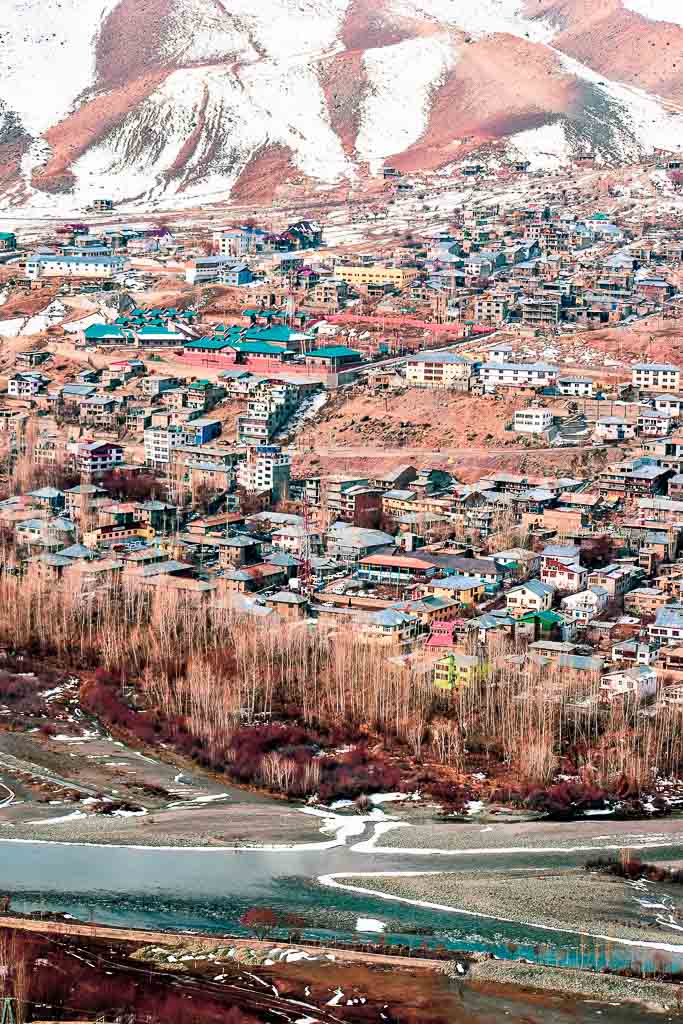 The Kargil Town sits like a beautiful yet melancholic lady by river Suru. Once you leave the town and drive towards Suru valley, you will be rewarded with this astounding view from the mountains opposite the valley. Standing there, I could never get enough of Kargil. The cold bitter and prolonged winter. The proximity to LOC and shivering thread of diplomacy. There are countless imminent risks. Nonetheless, Kargil endured all and persisted. And thus she wins over thy heart.
---
This post may contain affiliate links. Please read the disclosure post. If you have liked the article, you may support it by buying using these links without any extra cost to you.
Let's stay connected on Facebook, Instagram, Twitter! You may also consider joining my mailing list. I send travel and photography related emails only once a month!