About this blog: Sela pass is one of the highest motorable roads in the world that connects Tawang to the rest of the world. Although the pass and the lake is mostly covered with snow for the larger part of the year, you may stumble upon an azure blue waterbody on the brief episode of Himalayan summer. Sela pass and Sela Lake are the quintessential highlights of a trip to Tawang!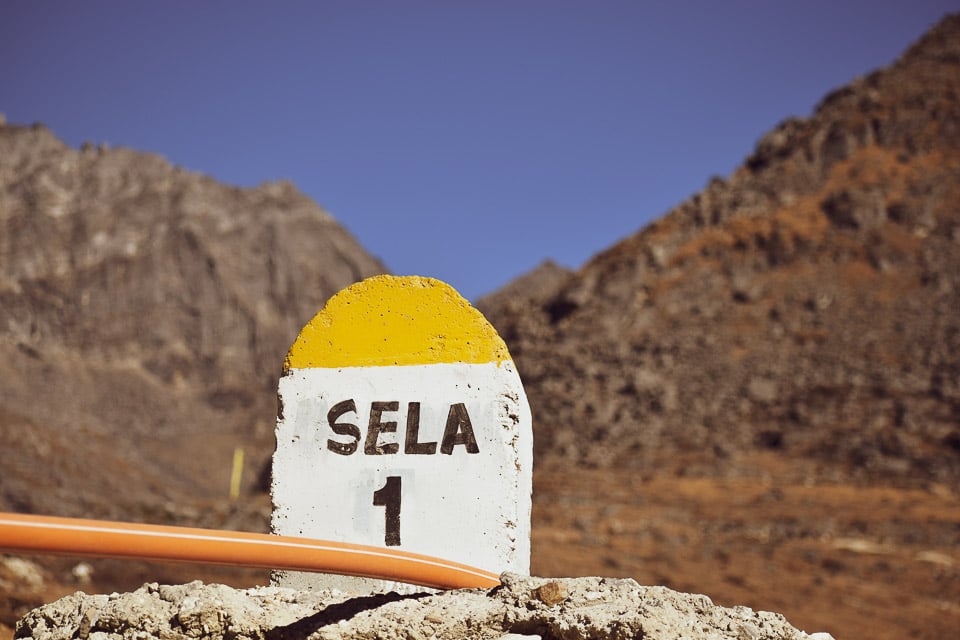 I shook my head in disbelief. Is it true? I am standing atop an ice sheet. A thin one at that. No amount of consuming travel photo blogs will prepare you to experience this realm of the ice-throne!
We drove for a couple of hours leaving behind the lush green valley of Dirang, the last bastion of human civilization where the internet is a thing. We were enroute Tawang from Guwahati and looking at a whole day of driving! In Dirang, you can still go out in the evening hoping to stumble across local food joints. A Marwari family runs a business of woolen clothes, settling in the far east of India with memories of a desert land as ancestors' land. Locals and you will "interact" and Dirang feels like one of our kind yet beautifully distinct human habitat.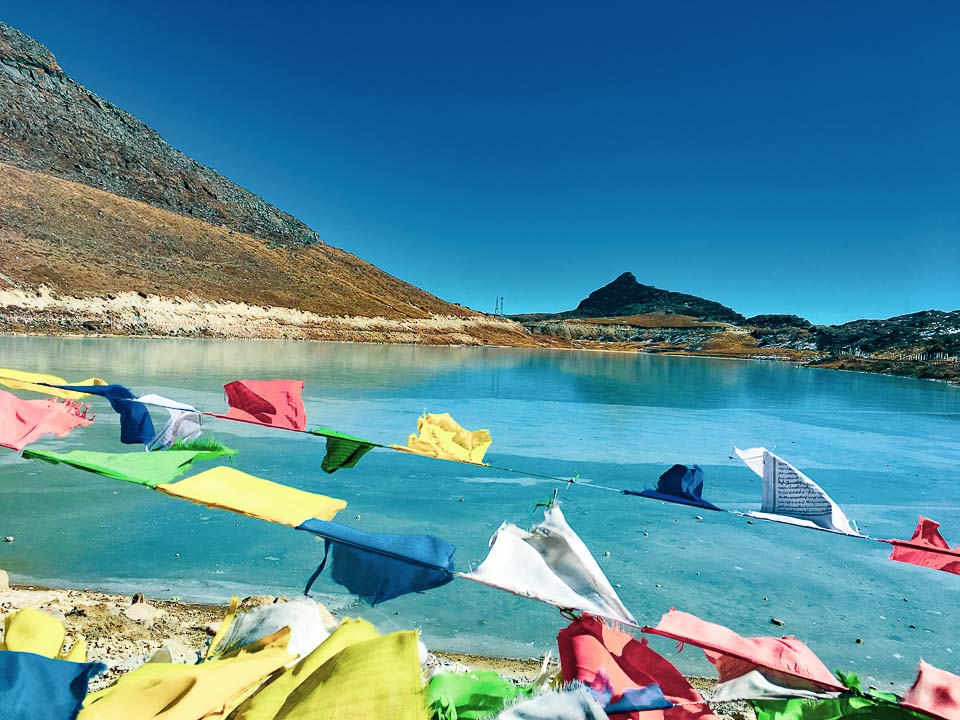 Also read: How to score an ILP for Tawang?
Standing at the serpentine bends of the paved road, riddled with shooting stone, I look at Dirang valley. Yes, it is far away. And faraway is an understatement. "Will I ever be able to make it back to home?" My mind wondered. Frags hued with bright yellow, red, blue flutter by my side. A small Chorten (local name Buddhist Stupa) is located by my side, adorning a yak skeleton at a side. You are enroute Tawang, the last Shangri La of a lost land called Tibet.
In the meagre time allowed to me in this lifespan, I have not been able to go far. By dint of racing network connectivity, far is difficult to define. You are not really far in the African savanna. Are you really far while rowing through the dense canopy of Amazon forest?
Not just distant, Sela Pass also had an air of the absolute untamable! All the if and buts of visiting Tawang finds a definitive answer once you are able to cross Sela pass. Sela has to allow you, bestow you with clear sky and ice free paved highway in order to advance towards the forbidden kingdom. If Sela pass closes her door, you are better off exploring Sangti Valley near Dirang and go back to home. Tawang will have to wait for another time.
Pictures and videos of Sela pass I had seen had shown Sela in snow clad form. A charming white night's dream! I could mistake it for a meadow if I would not have known any better.
We drove on a steep road, steeper than words could explain. The road felt a lot like a staircase to heaven! Clouds at one side, barren steep walls on the other. Life found a way in a menial tiny form of moss grass. Cold wind brushed past my eyes, face when I lowered the car window. Wind so cold that my Antaratma shrieked!
The world looked pale, lifeless as the sky had sucked out the life of everything still and pumped in blue blood in her own self, until we reached the Sela pass gate. A bust of colors awaited us at the welcome gate. You can stop there, drink a cup of tea from the Army camp, look at the serpentine road that you just braved. Floating clouds and craggy peaks stand patiently with you, the new entrant to Sangri la!
Also read: 5 days travel itinerary for Leh with offbeat day trips suggestions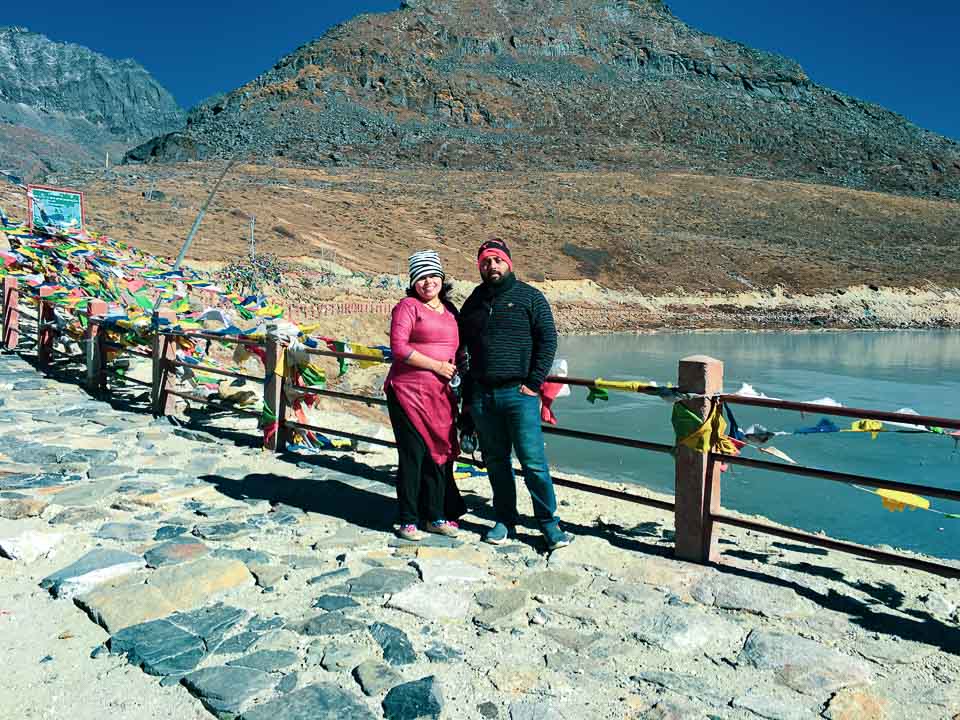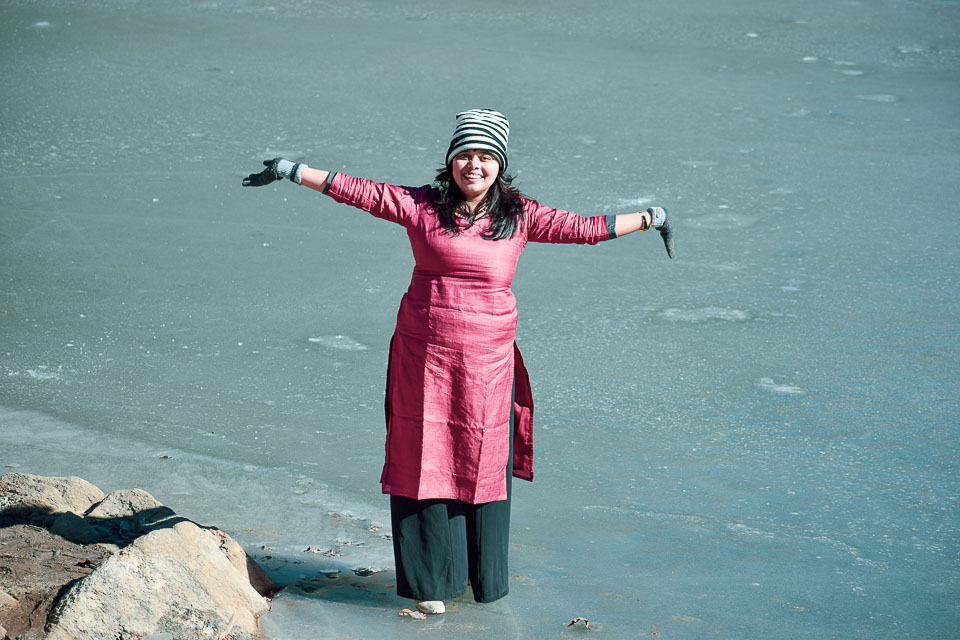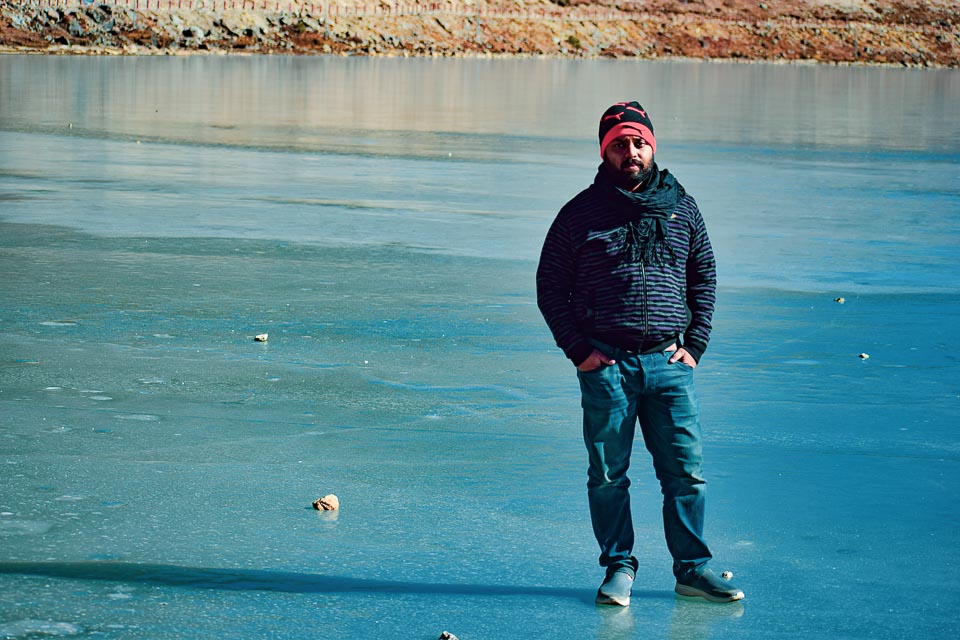 We drove the car for a few minutes until we came across a dried up meadow. Is that Sela Lake? I was quick to judge. I knew Sela lake was next due once you cross the gate, but I saw an azure and large waterbody, reflecting the dome of the sky. This is just a dried up meadow!
A little forward, and Sela Lake unfolded in front of our eyes!
The water had just turned into ice. It's chic body holding onto the last sheen of bluish tint, before giving up to the world of white snow (which we chanced to experience on the reverse journey).
There was not a soul around. We were told it is important to make it to Sela Pass before 12 noon. The sky becomes erratic after that. The pass may close, meaning your attempt to visit Tawang is thwarted for the day. We had hurried. As a result, we had the entire Sela lake to ourselves, not a soul around!
At 4170 meter high (roughly 13700 feet), Sela Pass does not let life thrive in any form. A few yaks may graze. Locals worship Sela lake as a sacred waterbody, like many other water bodies of the mountains. There are many things to learn observing the symbiotic relationship between Monpa tribesmen and the profound nature of Himalayas.
Se La pass is located at a distance of 80 km from Dirang, 100 km from Tawang. NH 13 highway runs through the incredible height.
Best time to visit Sela is the shoulder months of winter (early December and lake April). You are likely to find a clear way. However, mountains are whimsical. The day we descended down to Guwahati, we also got newsflash of hundreds of tourists being stranded in tawang due to heavy snowfall at Sela.
Should a situation like that arise, the army steps it to pave a way. But that takes a while and is not always a benign experience. I vaguely remember a friend telling me about being stranded in a car for days due to a landslide on her way to Tawang. My intention is not to scare you off but to provide you with necessary information so that you can take an informed decision!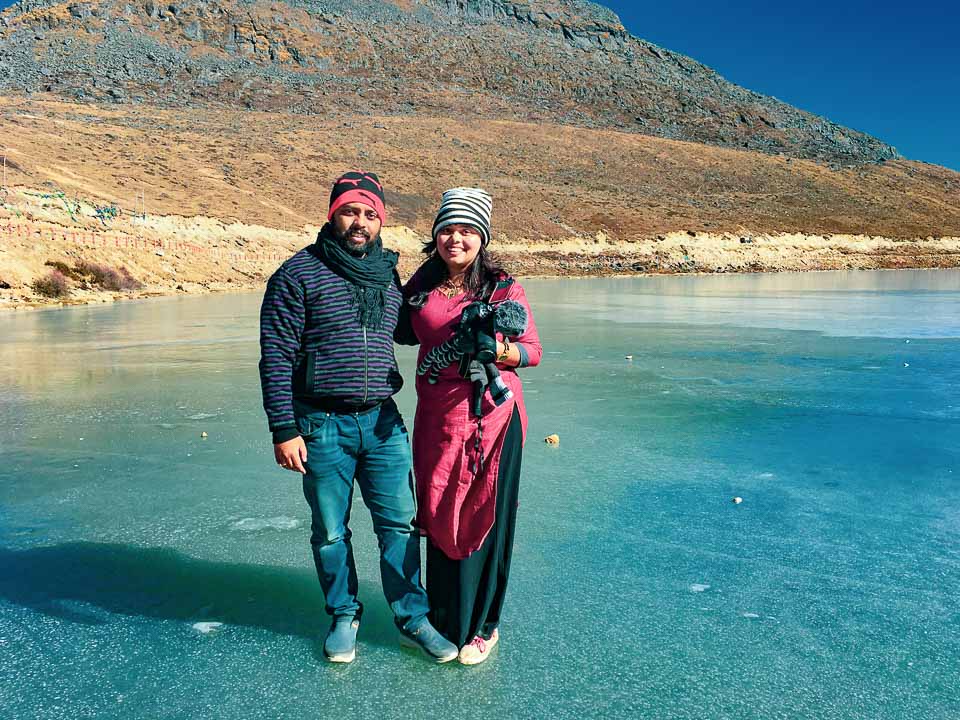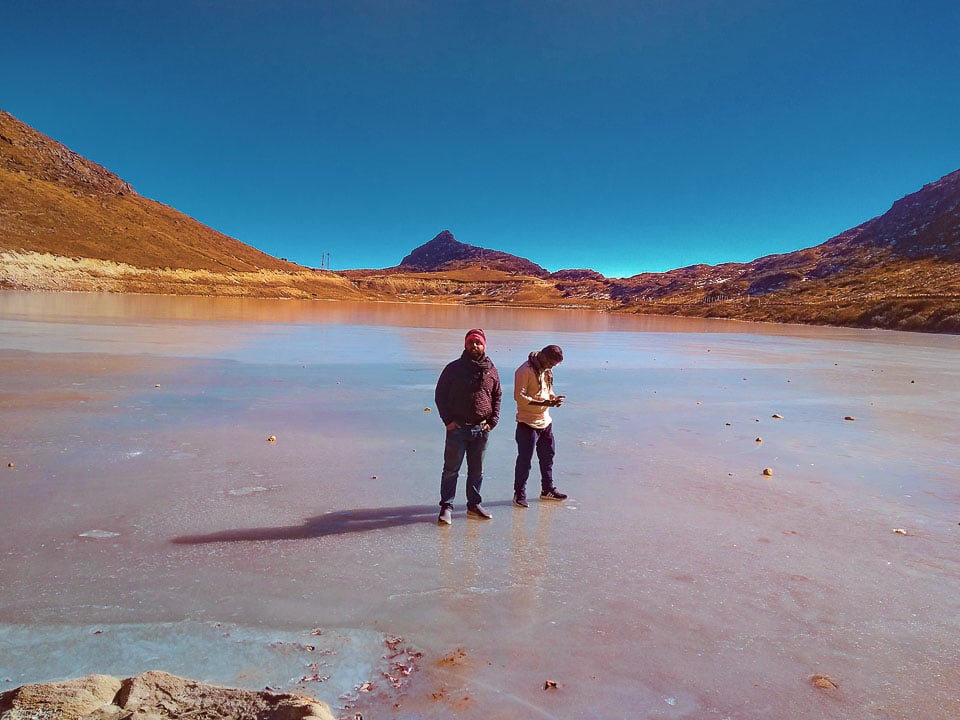 I had seen pictures of Balkan lake turning into ice, trapping water bubbles and reflecting myriad hues. I never thought I could see something similar in India. And here we were, at Sela lake.
I was scared to walk on the ice floor, fearing a breakdown and losing my life in the glacial waters. Our driver, Anirul, assured us that is not the case. If the ice is thin, you can see water beneath. If the ice sheet is not translucent any longer, you can jump on it.
I did not trust him yet and he jumped to convince me! I screamed, don't! What if? But to my dismay, the ice sheet remained intact. I took baby steps and walked on the "glass cover" of Sela lake! I think I would trust glass covers more than the ice sheet covering!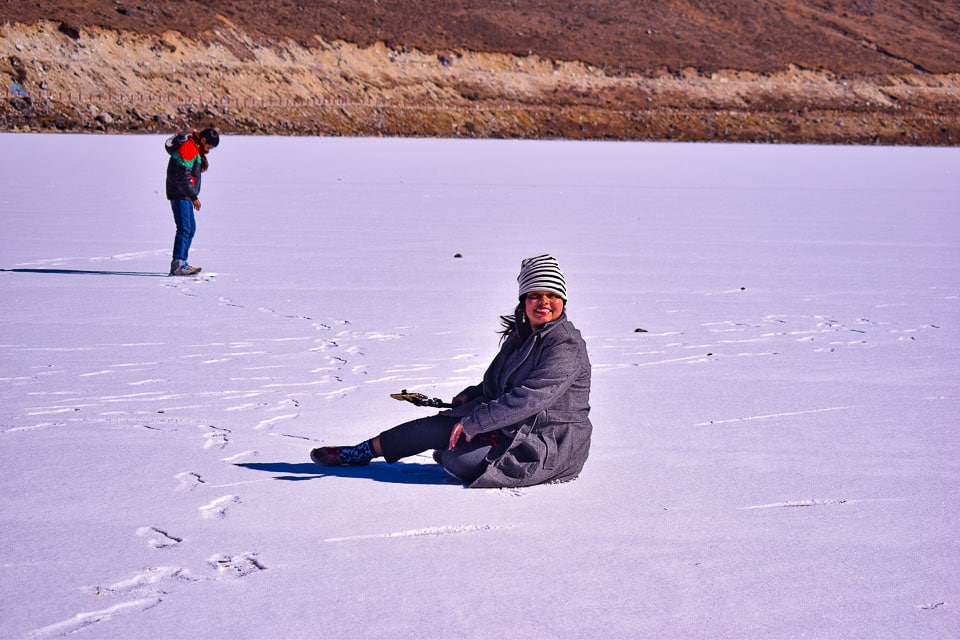 You will meet Sela lake twice. Reverse journey from Tawang is designed through Sela Pass. It has been the norm historically. Legends have it, Sela pass (Se La, la meaning pass in Tibetan language) has been a place for meditation for numerous Buddhist monks since antiquity. You will encounter a few monks in Bomdila monastery who have done the same in recent times.
I wonder how humbling that experience must have been!
During the Indo-Sino war, many frozen bodies of deceased soldiers were drowned in the lake. Some remained mummified due to excessive cold in the ridges of the nearby mountains.
We explored Tawang and ventured further atop Bum la, literally the top of the world. Meanwhile, Se La adorned an exquisite beauty with a thick blanket of snow!
This time, looking at Sela, I was not scared any longer. Partly because it was a white plain land. My brain would not instantly recognize that as a danger, at least from the first appearance. Besides, on the way back we found a few more tempo travelers stopping by the roads. Tourists of various age groups and sizes were frolicking on the lake. I didn't think twice and jumped in with the bandwagon!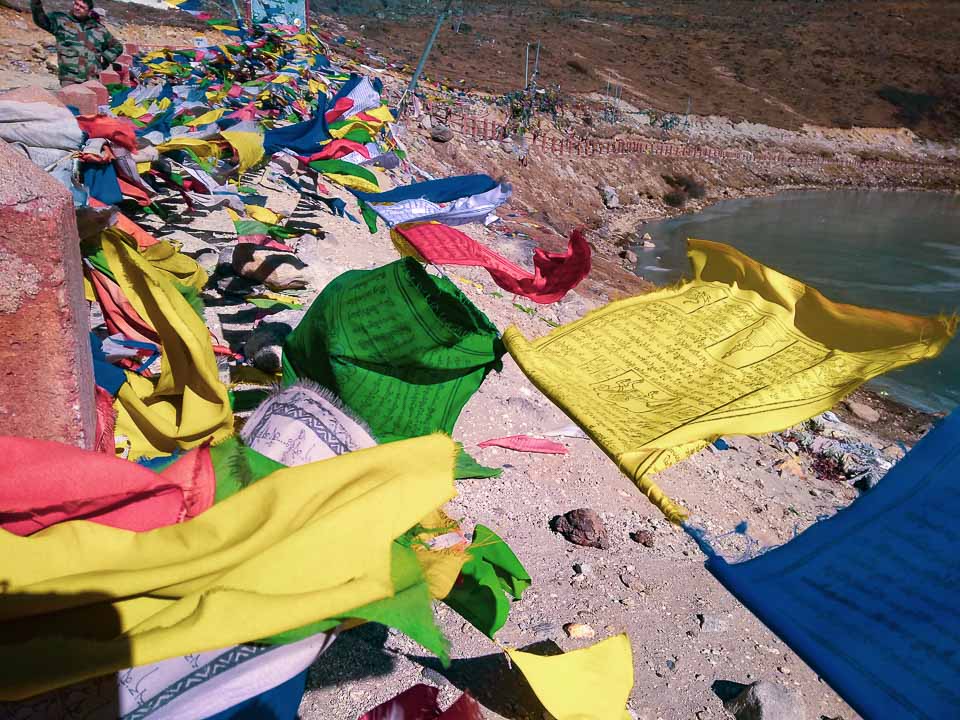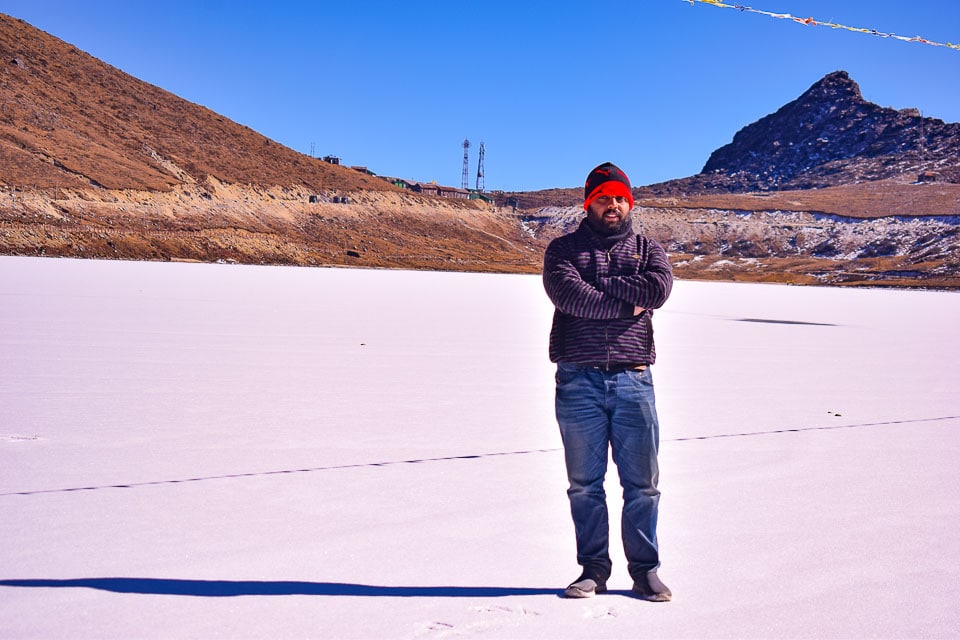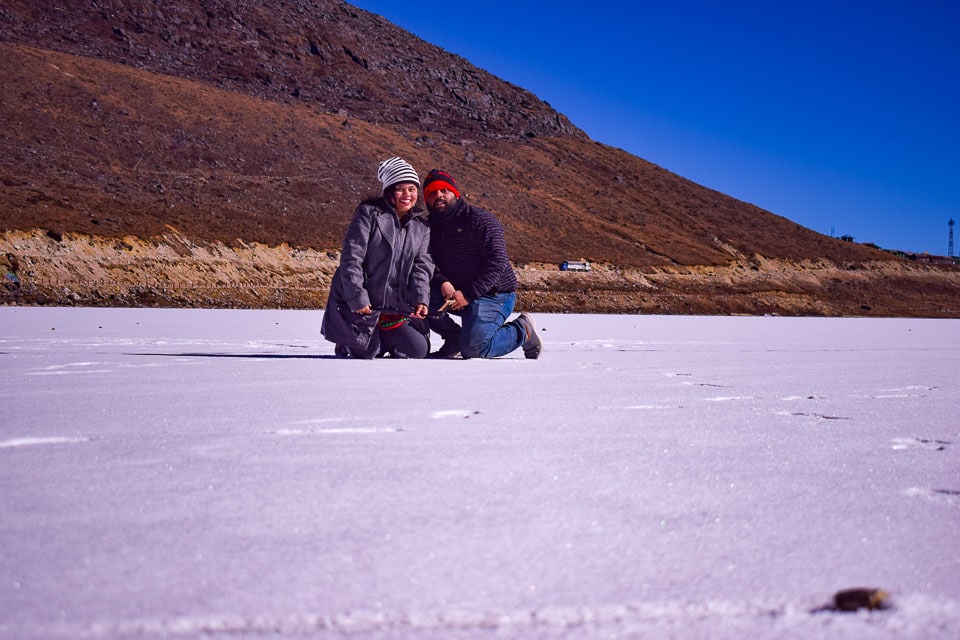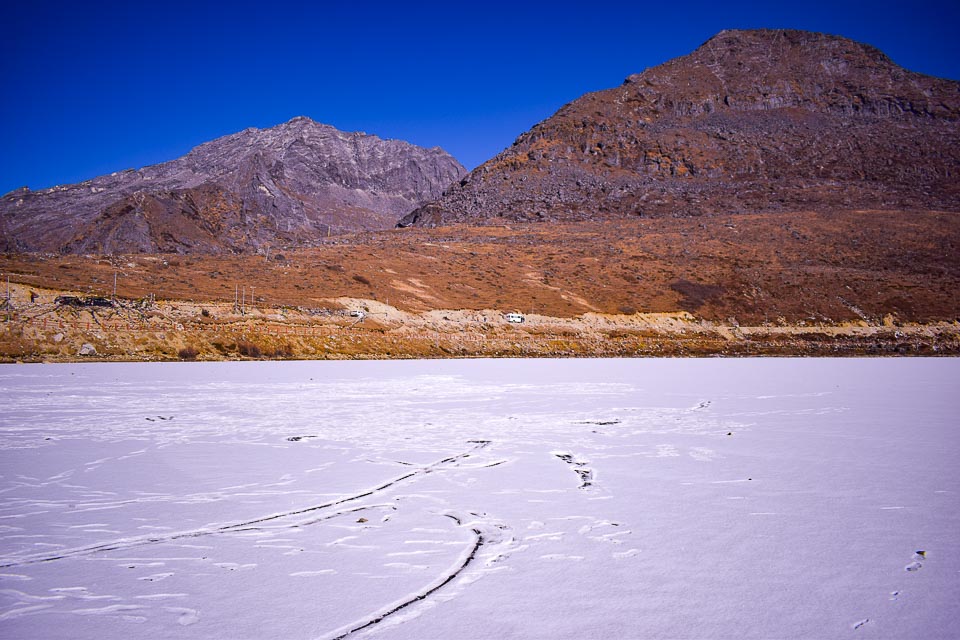 Count for an hour to live the best moments at Se La Pass. The cold becomes unbearable with wind flow, so wear protective clothes and undergo enough layering. Besides Sela Pass, you should look forward to stopping at the Nuranang Falls (Jang Falls), Jaswantgarh War memorial as well. Sela lake also gives birth to a narrow stream of river which eventually becomes humongous, coupled with many other glacial streams on the tract and take a leap of faith to meet Tawang Chu (Chu is river) at the Nuranang Falls.
A few Assam oil petrol pumps stand alone on the road, ready to fill up your vehicle. ATMs are non-existent. So are cafes or medical centers or washrooms. Please bring down any plastic that you end up using at the mountains. Do remember to look at the hilarious border road slogans to pep up the journey!
In the thrill of seeking beauty everywhere, take a moment to pause and remember Sela. Sela, a Monpa woman of the nearby hills, resisted Chinese aggression as long as she could, till she succumbed to the situation. She and Nura's heroic sacrifice are incumbent part of local legends. Our history has not been very kind to women, especially those who resist. Sela did. No wonder this paradise lake has put her heart and soul in the name of Sela!
---
This post may contain affiliate links. Please read the disclosure post. If you have liked the article, you may support it by buying using these links without any extra cost to you.
Let's stay connected on Facebook, Instagram, Twitter! You may also consider joining my mailing list. I send travel and photography related emails only once a month!