About this travel guide: Luang Prabang is the crown jewel of Laos. Not the capital city of Laos, yet Luang Prabang is an ancient town steeped deep in the culture of Buddhist teaching preserved with perseverance at her 33 gilded monasteries dating back to antiquity. The fact that Luang Prabang assembles herself by the banks of the mighty Mekong river add to her glory! A UNESCO world heritage site, Luang Prabang has so far successfully steered clear of the madness that sweeps off her neighboring destinations and preserves the pristine oriental beauty of an idyllic life! A rather offbeat destination of the backpacking route of Southeast Asia, Luang Prabang is often hailed as one of the last bastions of hope and beauty in the region!
From easy visa on arrival rules to a list of must see attractions of Luang Prabang, this blog post is gonna be a handy guide for every traveler taking the road lesser taken!
Click here for more Travel blogs on Laos!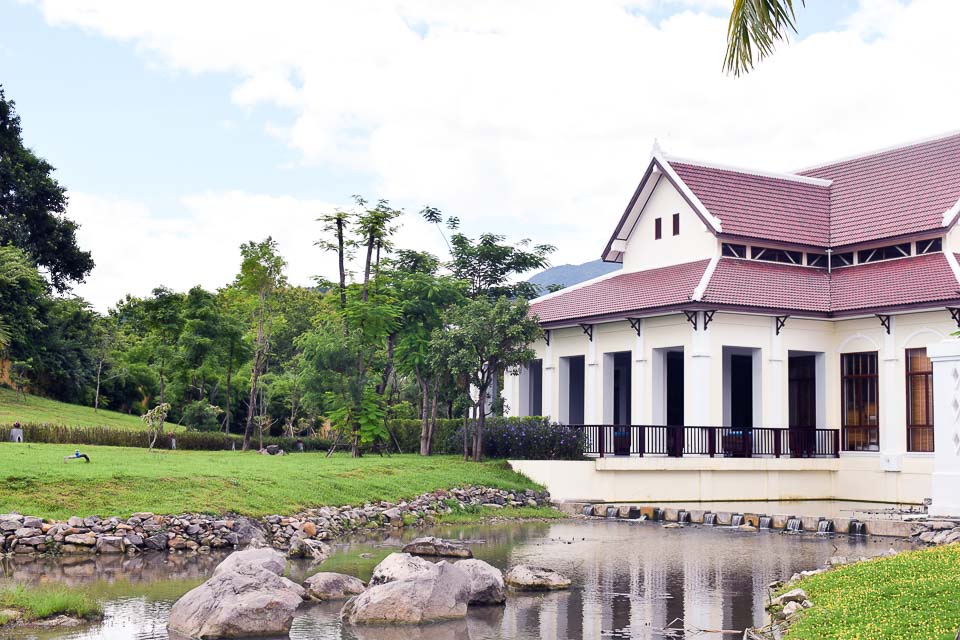 The Mystique that masks Luang Prabang, a UNESCO World Heritage site
Mountains covered with dense foliage stand tall, guarding Luang Prabang from the world outside, safekeeping her secrets from olden days. Ancient mythology reveres them as dragons, protecting Luang Prabang from the evil eye that pry on the plain-land! "Fire can not kill a Dragon!" Landlocked from every aspect, Luang Prabang takes her sheen from the rusty orange water of Mekong.
The town sits pretty at the confluence of Nam Khan and Mekong river. Abundant signage of life prevails everywhere. Flow of Mekong continues from China. Periodic flooding of Luang Prabang and greater regions in Laos is an annual occurrence in this part of the world! New layers of alluvial soil carpets the soil that grows plenty of vegetables. A taste of traditional cuisine of Luang Prabang will hard press you to bow down to the mighty Mekong, Mother mekong to the residents!
I close my eyes and take a deep breath. Air in Luang Prabang fills wholesome, soulful. It reaches my heart and cleanses the path along the way! From the air, the town looked exceptionally pretty! Tiny houses with bright red thatched roofs thrive amidst manicured gardens! Dots the land shining pagodas with gilded heads! There are 33 of these old temples, I learned from the UNESCO portal! Luang Prabang is one of the three UNESCO Heritage sites in Laos.
The Old Town of Luang Prabang has preserved age old architectural wonders of various kingdoms that ruled over the land and brought in something new at every fold of history. As a result, you will find a quaint little French style bungalow with ivory white glass panel juxtaposed alongside a Buddhist pagoda inscribed with traditional folktales on its golden wall panel. Monks in blood-maroon robe cross wooden bridges from distant rural areas to reach Luang Prabang at the wee hours of the day break to collect alms.
Tourists can further break their fast with freshly baked baguettes and steamed Poisson smeared with exquisite dill! Luang Prabang is an extraordinary yet tiny hamlet where cultural traits of both the world are hemmed together! Both of them have grown roots and intertwined somewhere resulting in intangible cultural heritage glimpses of which we can see at Chhatrapati Shivaji Terminus in Mumbai or Yangon in Myanmar!
Luang Prabang means "Royal Buddha Image" in Lao language!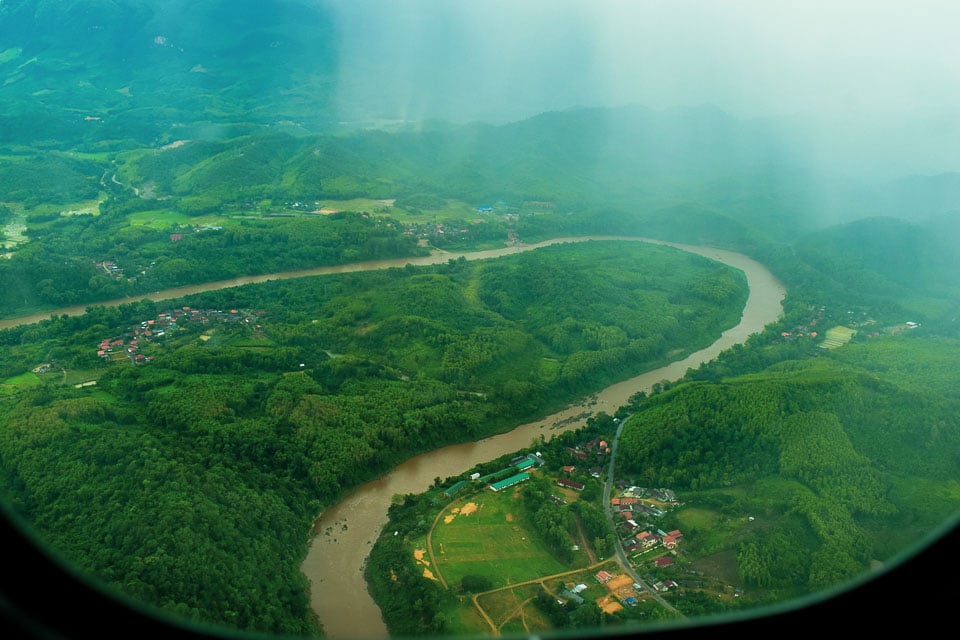 The land of Million elephants: Guide to Luang Prabang's History
Strange as it may sound, it was not all siesta and jolly times for this idyllic retreat in Southeast Asia! Luang Prabang has witnessed turbulent times until recent political history. Flames of the Second World War touched her scantily with Chinese and Japanese troops, then loggerheads with Vichy China. Western Colonists of French sucked out plenty of resources until the recent communist upheaval. There have been instances of violent clashes between Pathet Laos and Viet Minh, political streams of the region inspired by communist ideology.
Not many know that Laos PDR remains the most heavily bombed country in Southeast Asia, thanks to the ensuing Vietnam War in close vicinity. I recall climbing an old cave perched atop a steep monolith somewhere at Nong Khiaw, a quick day tour from Laos (even better if you stay there for a few nights). The trail was marked with plenty of bombshells and bullets, reminding you of a madness that brushed past Luang Prabang in the recent history. Suddenly the air feels heavy and somber, reminding you what a privilege it is to be able to travel and soak in the grandeur of the world!
Keeping aside the gloom of an unjust war (lest we forget), one cultural attribution that has been ascribed to Laos from the west is the habit of drinking coffee! The French started to experiment with coffee harvesting in Laos and the yield was beyond expectation. Today, Laos exports close to 5000 tonnes of Arabica and Robusta, which is a triumphant result of that experiment! It is intriguing how a buffalo dairy has been established and working full fledged to supply dairy products for quenching the thirst of the hospitality industry.
"Do you like to drink milk?" I asked the Laotian guide.
He smiles and shakes his head in negation, embarrassed!
Water buffalo, both wild and domesticated, roams freely in the verdant valley adjacent to Luang Prabang. They contribute immensely to the agrarian economy of Laos. Water Buffalo meat is used in Laotian cuisine, both fresh and dried! I did not see any cow in Laos. However, traditional Laos culinary skill has no use of dairy product.
History traces back life and culture in Luang Prabang circa 8000 BC. Though Laos PDR has succumbed to poorer scale of economic segregation at this moment, it reached the zenith of art and culture during 14th century which is the time span while most of the temples and monasteries were built!
Did you know: Mekong river is also known as Nine Dragon river in Vietnam (Sông Cửu Long) !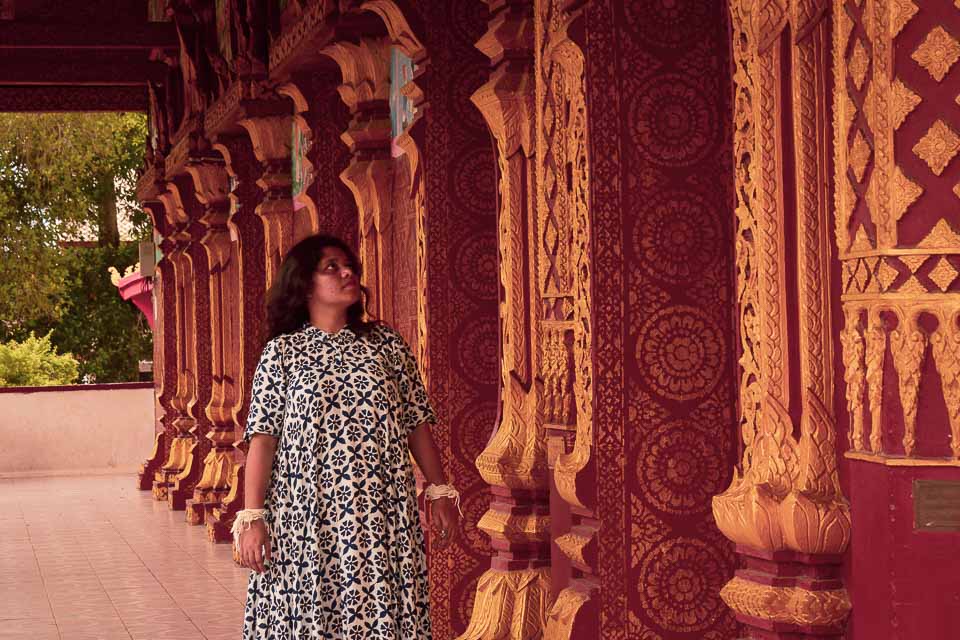 How to reach Luang Prabang
To reach Luang Prabang by flight: Laos airlines, Bangkok Airways are some of the most famous airlines connecting Luang Prabang with the rest of the world. You can also take the night train from Bangkok and continue to Luang Prabang from the border crossing point. Airport Code of Luang Prabang: LPQ (Luang Prabang International Airport).
To reach Luang Prabang by slow-boat: You may sail down to Luang Prabang from the hills of northern Thailand (Chiang Mai region). It is one the iconic boat-ride route in Southeast Asia, a lot like the boat that sails down from Mandalay to Bagan on the Irrawaddy river. Though time is a luxury that many of us may not be able to afford! Nowadays, luxurious teak wood boat frequent on this course!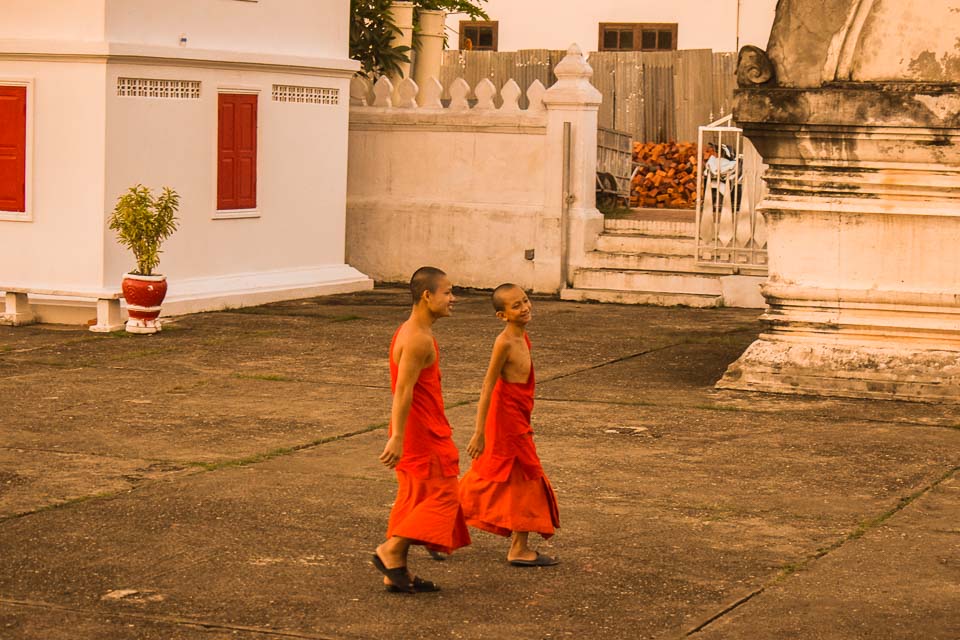 Scoring a Travel Visa for Laos on Indian passport (Get Visa on Arrival at Luang Prabang International Airport)
Laos is one of the few countries that allow Visa on Arrival for Indians passport holders. You may fly in or cross the border from Thailand and get your visa stamped. For details of obtaining a tourist visa for Laos, check out this website.
Documents to produce for applying a Laos Tourist Visa on Arrival with an Indian passport:
Confirmed accommodation in Luang Prabang or other destinations in Laos
2 passport size photo (4*6 CM. Transparent glass if you wear specs)
Return airfare (within a month of date of arrival)
Visa Fee (30 to 42 USD for various countries). For Indians, you need to pay INR 2180 (USD 30). Currency accepted for obtaining a Laos Visa on Indian passport: USD, Lao Kip, Thai Baht
Visa on arrival is granted at all international airports and most international border crossing (for example the Chiang Mai to Lao border which many opt to visit on a slow boat if not a bus.)
You may stay in Laos for 30 days with a Visa on Arrival. For extension, you can opt for another 60 days visa from the embassy.
(Please note, once travel resumes post lockdown world, visa rules may change. Request you to call the Embassy for best practice before you travel to Laos!)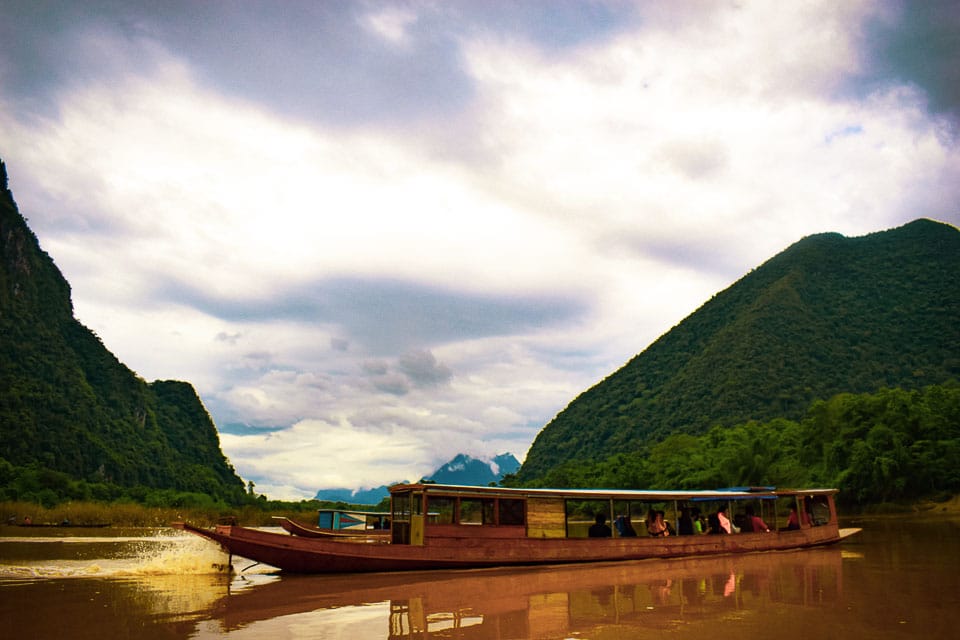 Also read: 2 weeks itinerary for traveling in Myanmar!
Things to know about Traveling in Luang Prabang
In this section, I will furbish a few essential travel tips for the first time visitor to Luang Prabang. If you are a Southeast Asia pro, you can be rest assured of many similarities between tourist infrastructures and cultural nuances between Laos and Thailand or Laos or Vietnam! The only difference I found in Luang Prabang was a gaping absence of a Chinatown and glass noodles that the Chinese traders ferried across the globe through maritime activity. Be rest assured, Chinese were there, building dam, making roads, progressing metro ready to swallow down Luang Prabang melancholy!
Currency in Luang Prabang
Lao Kip is the currency of Luang Prabang and the whole of the country, Laos PDR.
While lao Kip is the legal and national currency, many tourist establishments actually accept USD as well. Keep some changes handy. While partaking one such transaction, keep a track of the ongoing exchange rate.
Usually, 1 USD is exchanged for 9,500 kip!
Cards are accepted at big establishments. Changes will save your soul at rural areas and small food joints.
I did not spot many money exchange spots in Luang Prabang. One was at the airport. the other one was near night market area. A few sparse ATM machines here and there. But cash walks the talk in Luang Prabang so get money exchanged when you can.
Count the change given to you at the exchange parlor to avoid confusion. You will be a millionaire in Luang Prabang after exchange is done, all thanks to inflation legacy ensued from the days of Pathet Laos!
Best time to visit Luang Prabang!
Usually, the dry months of October to March are the best time to visit Laos, like the rest of Southeast Asia. I visited Luang Prabang in July though. It was humid, but not as sweaty as Bangkok.
By the end of July, the rainy season starts in Luang Prabang. Just the week after I left, Laos was heavily flooded. I would suggest you avoid the rains at all costs. Flooding a possibility. Roads are often inundated and pose a threat to commute system.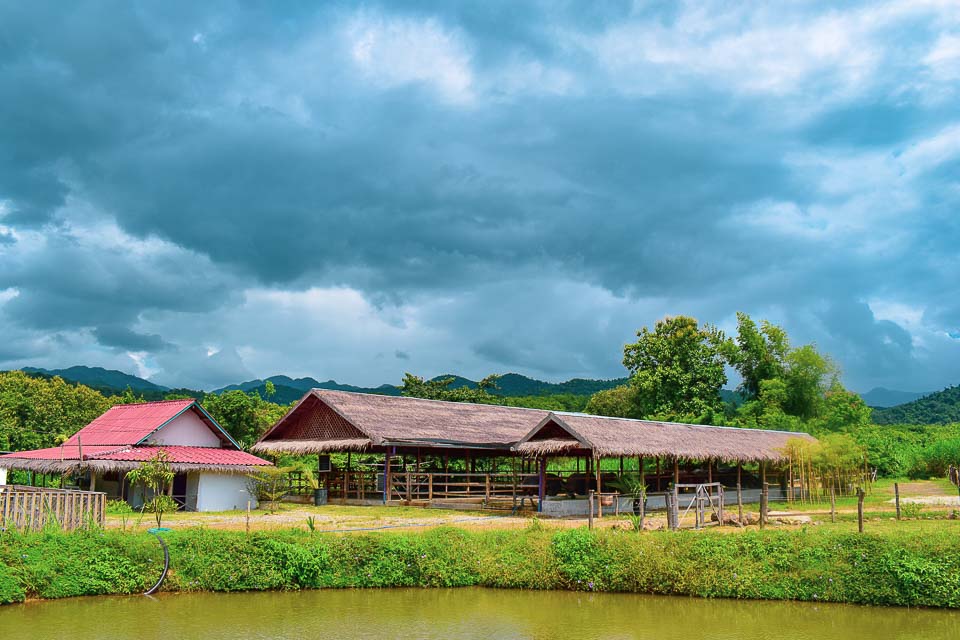 Dos and Don'ts of Luang Prabang: Culture Nuances!
As a travel blogger forever on a quest to explore a destination through its culture, it was rather easy for me to fall in love with Luang Prabang. Countless temples dating back to olden days, generously genteel and kind commoners, working from the crack of the dawn till the day break, having a square meal of rice and fish with widespread smile, world's seventh largest river, Mekong flows as a silent witness to these myriad vintages of life. Luang Prabang felt like that promised land, where misery is kept tightly locked inside the Pandora's box!
Laos PDR is a Communist country
And no, they do not sell Che Guevara tees at the night market in Luang Prabang!
Laos is one of the last few remaining communist countries of the world. A visit to rural Laos could be an eye opening experience! It reminded me of the old Soviet propaganda posters and magazines of a shared farm, compassionate (and just) village system and food for everybody, an essential promise fulfilled. But I was there for a couple of hours only.
They say laos is a poor country. Well, we can not ignore economic indicators. There is no denying to the fact that Laos, though doused with nature's abundance blessing, is yet to overcome the lasting impact of the colonial system. Chinese debt trap looms large at the doorstep.
But the wide smile and warm hearted people of Luang Prabang show a content lifestyle in everyday chores.
At Luang Prabang, with more influx of foreign tourists, the communist face of Laos may have taken a backseat. But the usual hustle of the shopping mall and a handful of human mechanisms rushing towards a tube-rail was not found anywhere. What a relief that is, I wish I could express in words.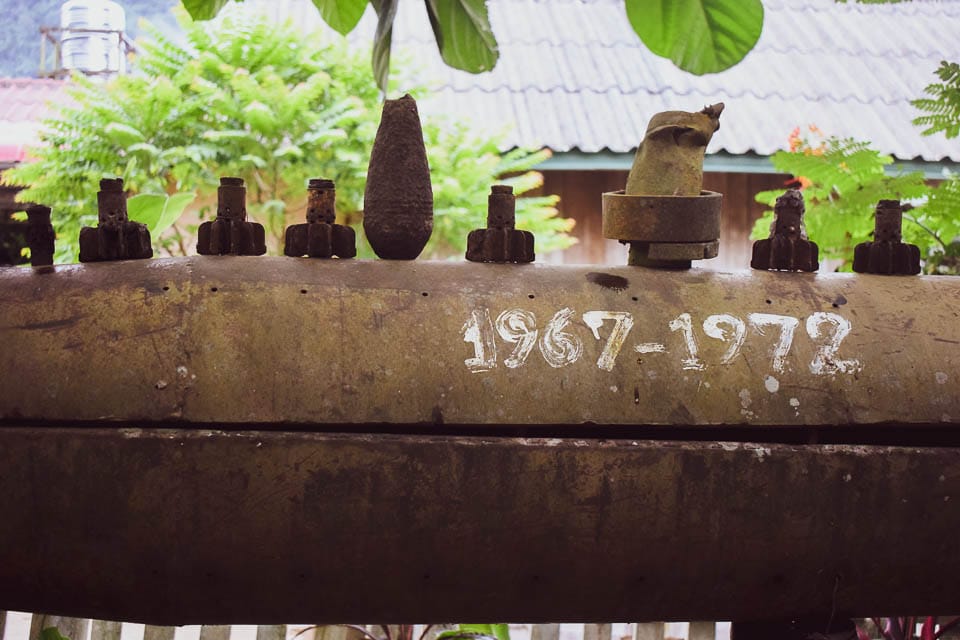 Slow is the order of the town in Luang Prabang!
Time stands still in Luang Prabang. I am not exaggerating a bit! Even when thousands of backpackers or french vacationers flock in to get a taste of their erstwhile "Oriental land", Luang Prabang operates on a separate time zone. Life is a lot easier and calm in this tiny old town and you better revere it like that! If you fancy slow travel, Luang Prabang will enamor you like no other place in South east Asia! Sip on a chilled glass bottle of BeerLao and watch the Sun go down by Mekong and monks clad in maroon robe cross the river! In many ways, Luang Prabang reminded me of the unequivocal charm of Varanasi.
Don't touch the monks
I stood in the crowd at the night market of Luang Prabang, dodging from one vendor to another, when the locals all of a sudden stood in caution and sobriety. Curious, I looked around while a woman with a baby on her shoulder snatched my absent minded body to one corner of the paved road.
"Monk.. stay away!" she wailed.
It dawned on me that I am a mere mortal, a woman and supposed to keep distance from the Buddhist monks, even if they are just children. Ashamed, I learnt a lesson for life!
NEVER TOUCH THE MONKS.
Not that my intent was to touch them. Not even a stumbling is allowed. This is as important as wearing long skirts and modest dress before visiting the Buddhist temples in Luang Prabang!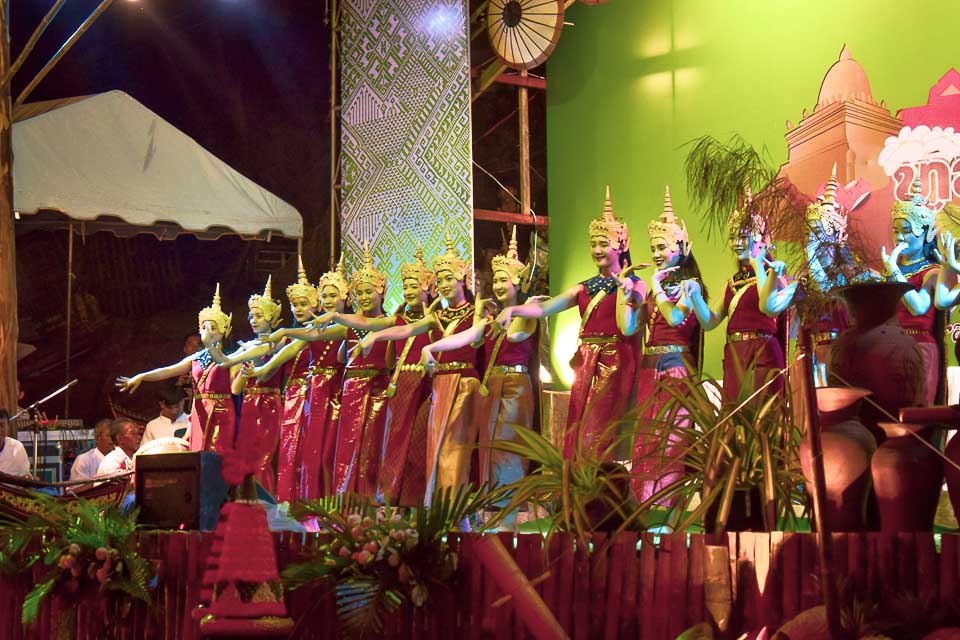 What to Wear when traveling in Luang Prabang?
Try to stick to comfortable cotton wears while traveling in Luang Prabang. The place does not get very warm, neither winter is tolling here. You shall love the mild evening breeze during golden hour. The sunrays will kiss your skin aplenty while going for the quad biking and other action packed adventures in the mountainous regions adjacent to Luang Prabang, Laos.
Be mindful of what you wear while visiting the old temples of Luang Prabang, Laos! There are plenty of Buddhist temples, one at every bend of the road and they are beautiful! In fact, these temples are the main constituents of Luang Prabang's ethereal character!
While visiting the temples of Luang Prabang, check for the following:
Is your dress covering your shoulder?
Is your skirt or pant going below the knee?
Would you consider them as modest/appropriate while visiting a place attributed to spirituality?
Modest clothing is advised while visiting the temples of Luang Prabang. I always carry a scarf. That saved me from from quite a few embarrassing moments during travels!
Luang Prabang is the new entrant in Backpacking Route of Southeast Asia
Luang Prabang only opened door to tourists in the year of 1989. Laos was a closed country before that and traveling to Luang Prabang and other parts of Laos was a rare occasion in the world before!
Speak English/ French/ Body language in Luang Prabang!
English is spoken and understood in Luang Prabang, to some extent. Beyond that, smiles connect! Since Luang Prabang was under the rule of French, French is spoken and understood widely. Chinese and Thai can do the job as well.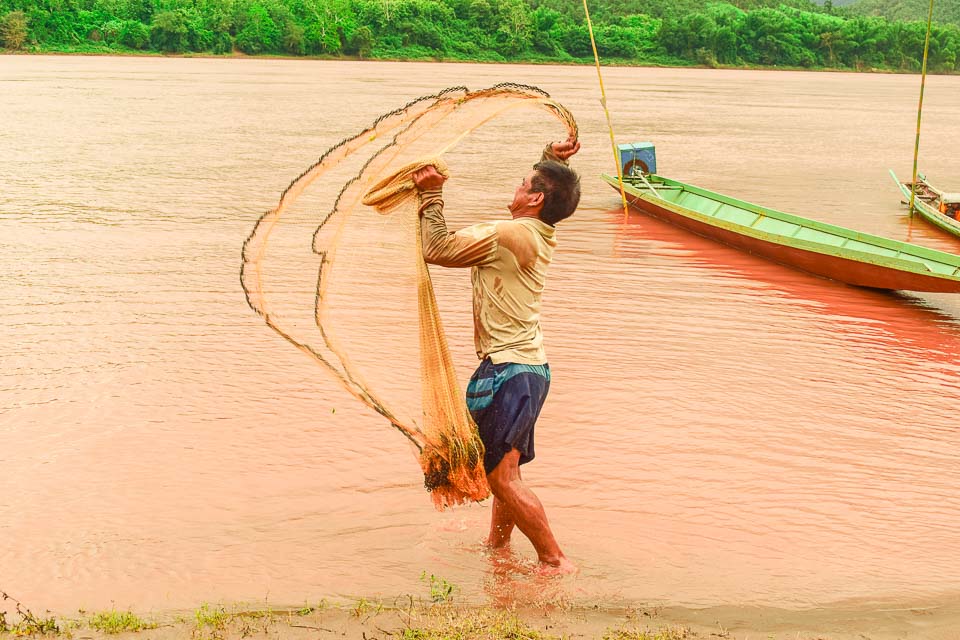 The Shrimp season in Luang Prabang!
Fancy dining on the "river pearls" or shrimps from the heart of Mekong river? Plan a visit to Luang Prabang during July or August. These sweet river prawns differ greatly in taste from their marine counterpart and have distinct flavor, enhanced with the chilli sauce produced at Laos households. If you visit areas close to Sop Jam or Muang Ngoi, you might find fisherman folks using bamboo sticks and diving to the river bed in search of these prawns.
Frangipani: the flower of Eternity!
Frangipani is the national flower of Laos. In Luang Prabang, you will see frangipani in bloom everywhere. The flower is used in abundance to decorate a traditional dinner spread in Laos. It is not edible though. In fact, Frangipani is poisonous. While in Luang Prabang, try the local moonshine that is procured from frangipani. Go slow with the drink. It hits you hard, specially if you are an occasional drinker. In Luang Prabang, I also spotted wine bottles that caged a snake or scorpion, a lot like Hanoi. These bottles of moonshine are to be consumed in Luang Prabang itself, you can not bring them back home.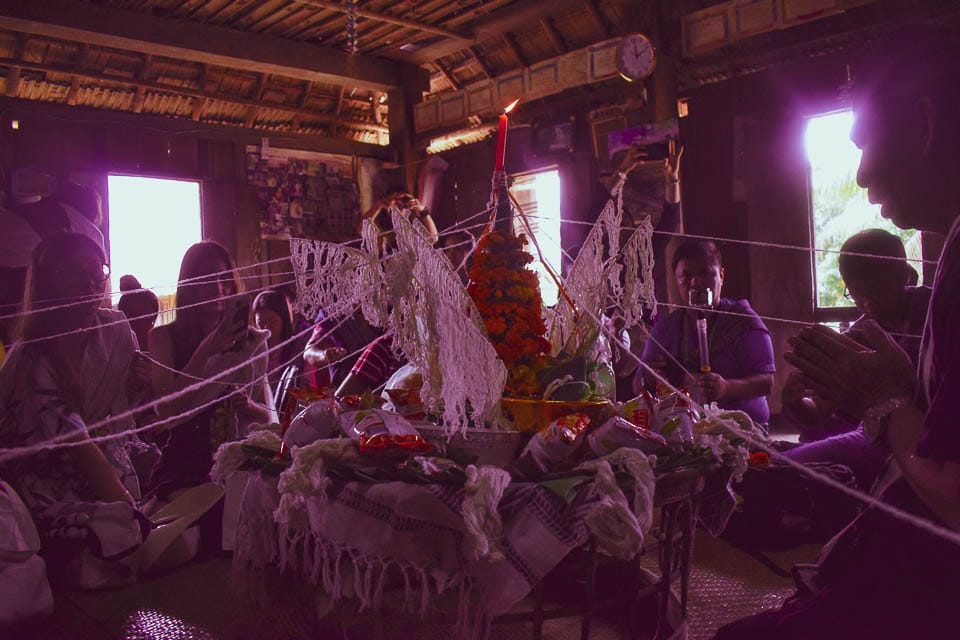 Festivals in Luang Prabang
In Luang Prabang, you will find a medley of cultural celebrations that find root steeped deep in Buddhist practices as well as communist ideology. It is intriguing to see how the two of them form an integral part of socio-political culture in Luang Prabang, Laos.
If you are lucky, you shall come across a Baci ceremony. Staying true to the ancient tribal system, Baci ceremony is held to render respect and commitment to new form friendship and born between a guest and the head of a clan. Incense, food and threads are offered at an altar prepared with cane and bamboo. White threads are tied to the wrist of the guest, which is not to be altered with for next one week. I had the pleasure of taking part in one Baci ceremony and will write a separate post on that!
January/ February: Chinese New Year
Jan 08:Pathet Lao anniversary, to commemorate the victory of communist movement that emerged out of Laos civil war. History is written by the victors!
February: Boun Khao Chi (Makhaboussa), Buddhist festival contemporary of Wat Phou Festival in Champasak.
February: Elephant Festival, 50 eles walk around the province and rural corners of Luang Prabang
March 8: International Women's Day, local women takes a break and indulges in Beerlao
August: Boat racing in Nam Khan River, during Buddhist Lent
December 02: Laos National Day
December: Khmu New Year
December: Full moon day, a day off for the artisans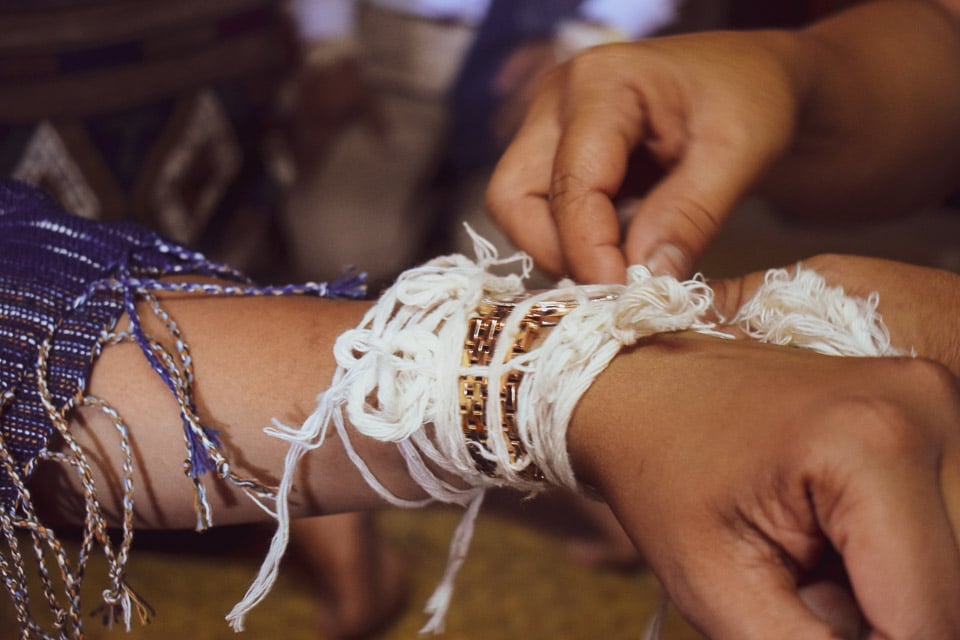 Also read: Century old Bonedi barir Durgapuja of Kolkata!
Local commute in Luang Prabang
Luang Prabang does not have an Uber/Grab system yet. The three wheeled tuk tuks are your best friend in the city. In Vientiane, I heard they started a cab service named Loca.
For a taxi, you need to contact your guest house. Airport at Luang Prabang has a taxi stand too.
The easiest way to commute in Luang Prabang is to rent a bike. You can rent a cycle from the hotel/hostel/guest house you are staying in as well. Hiring a scooty in Luang Prabang should cost you around 100k kip for a day. Like Langkawi or Goa, renting a scooty gives you an edge over other methods of commute and certain degree of independence. People in Laos drives on the right side of the road.
Legacy of Laotian Coffee
While Vietnamese coffee often steals the limelight for coffee lovers in South east Asia, the coffee connoisseur soul of yours are in for a surprise treat in Luang Prabang! There are plenty of pretty cafes, Saffron cafe being the oldest of the lot, who serves freshly brewed Arabica or Robusta of your choice!
Coffee in Laos is prepared with condensed milk with heightened tones of sweet buds. In Laos, Coffee is mainly harvested at the Bolaven Plateau area in south.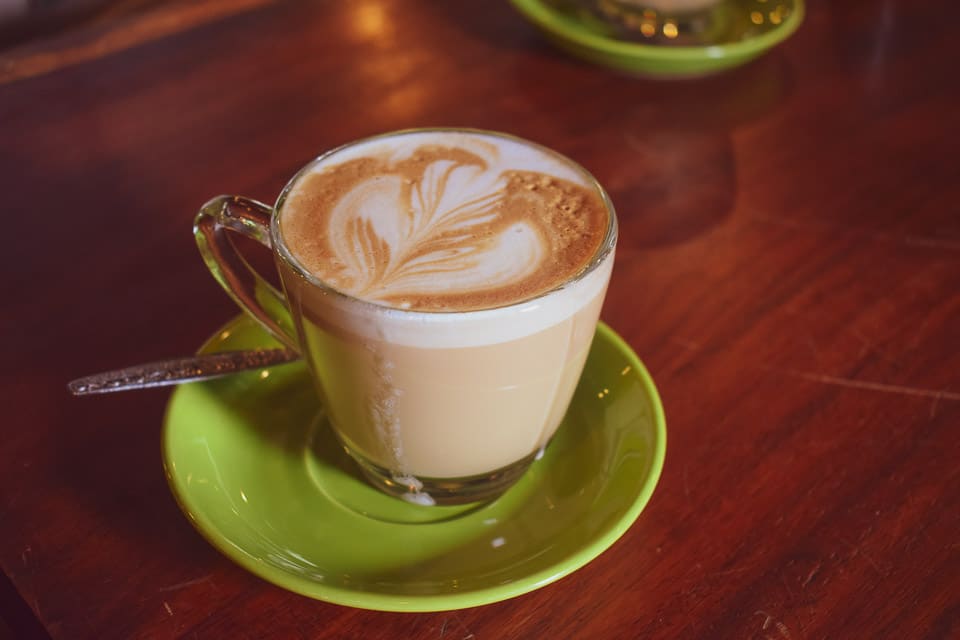 Nightlife in Luang Prabang!
After nightfall, Luang Prabang is not a Phuket or a Hoi An! Even when there is an increasing pressure of tourist footfall, Luang Prabang retains its sleepy charm with elan. Nightlife in Luang Prabang is rather mellow with a vibrant night market selling local produce by the distant hill communities, intricate textiles and rustic Laotian food. A handful of bars operate. A few alleys go abuzz with live music. A Khon dance performance with masked dancers take place at the Royal Ballet Theater. Luang Prabang seeps early and I love her like that.
After 11:30 there is a curfew at the Old Town of Luang Prabang that forces all establishments to shut down the doors. the midnight curfew in Luang Prabang is enforced by UNESCO and duly observed. If you want to live up the night, drive for 10 more minutes and reach Bowling Alley for more fun.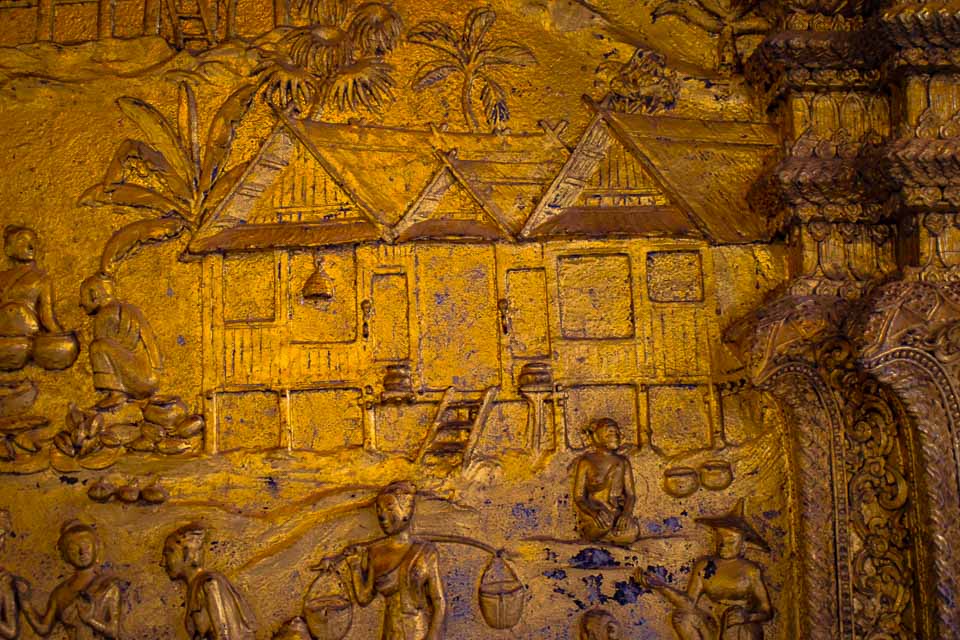 Is Luang Prabang safe for solo travelers?
I was traveling with a group of people in Luang Prabang, Laos. I was a guest of the Luang Prabang tourism board. I am not the one to comment if it is safe to travel solo per say.
But then I traveled solo in Uttar Pradesh, in the north of India and remain unscathed. And I think Luang Prabang is a safer place compared to that. So, there you go!
I feel people in Luang Prabang are the kindest lot in the entire region of Southeast Asia! They are ever smiling, the guides are kind and they often go out of their way to show you the best of their country. Think about the fisher man whom I had shown in my Luang Prabang vlog. He showed us the tricks of fishing, invited us over home, was eager to share the catch of the day and introduced us to his kittens. A fisherman who fishes for his cats. This has a tune of melancholy steeped deep somewhere!
People are very friendly in Luang Prabang. If you have to walk alone at night, be careful of the stray dogs. Some of the lanes did not have night lamps. The night market of Luang Prabang and adjacent area were safe though.
as a rule of thumb, do not drink with strangers, get back to your stay before nightfall and keep a vigil for the stray gods to remain safe in Luang Prabang. All these, added with covered clothing shall help you not attract undue attention which can be a challenge to deal with while traveling solo.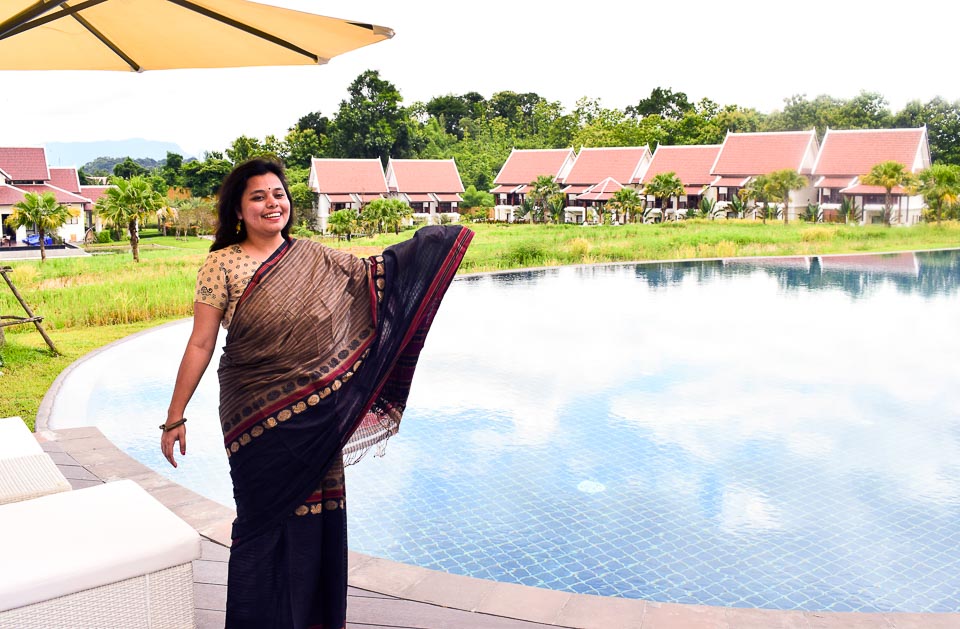 Best Neighborhood: Where to stay in Luang Prabang?
It is always wise to stay close to the Old City of Luang Prabang for easy access to all the central attractions. Luang Prabang largely remains devoid of the nuisance called traffic. Walking is a delight here if you are ready to discount the stray dogs. To be fair, there were not many.
You should ideally be looking for a place to stay in Luang Prabang that is by the banks of the river, yet close to the night market and cafe area.
If you fancy staying further and securing a place by the river, ensure your guest house has a free shuttle to the center of Luang Prabang at regular intervals. Otherwise, commuting could be a challenge.
Check out this map for easy understanding. Your hotel/guest house must provide you with a local map as well for sightseeing.
Neighborhoods in Luang Prabang with practical comparison:
Old town/ The peninsula
Pro: UNESCO heritage zone, Close to all the main attractions & Mount Phousi, great for family
Cons: Night curfew and no pool allowed at the hotels
Mekong Riverfront
The area between Phothisalath Rd (the main road) and Khem Khong (the Mekong road). Dotted with budget guest houses. The area has a residential feel about it. Plethora of makeshift restaurant dots the riverbank in the area, perfect place to hang out in my opinion.
Nam Khan side
Pro: Backpacking vibe. Vibrant nightlife (outside the night curfew zone), cheap hostels
Cons: Further away from the major attractions of Luang Prabang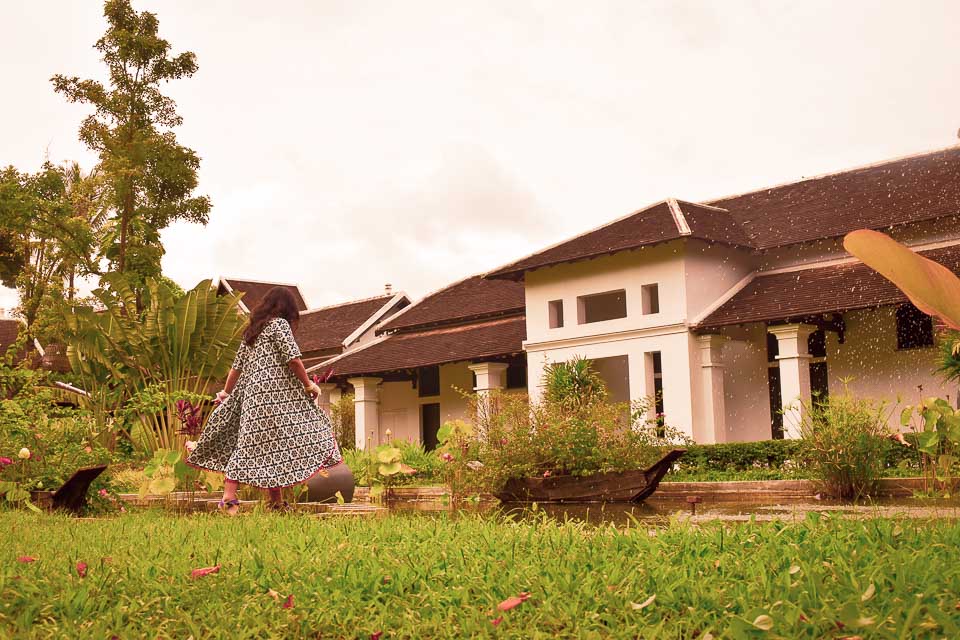 Many of the old French colonial buildings have been refurbished into luxury stylish boutique accommodation. You may book a stay with these bespoke properties as well. I stayed at Sofitel Luang Prabang, one such property. I had a chance to go to Pullman Luang Prabang and Avani as well, both beautiful luxury properties. These luxury stay options in Luang Prabang often are located far off the city, allowing a shuttle to arrange periodic transport to the city center.
Also read: Old Phuket Town, a culturally immersive guide to explore Phuket!
Best things to do in Luang Prabang, Laos: Cultural Experiences
For a curious observer Luang Prabang unfolds each day with newer quirks. For a typical 3 days itinerary in Luang Prabang, you can keep the mornings reserved for alms giving ceremony. Follow that up with a visit to the morning market. Look for the honeycomb, a rather bizarre dish from Luang Prabang that I never found anywhere else in Southeast Asia!
The day can be kept for a boat ride down Mekong river, visiting the hill tribes or going to the Kuang Si waterfall. Reserve one day to walk around the Old town of Luang Prabang and explore the 33 ancient temples with exquisite art work. In the evening, you may climb mount Phousi for excellent sunset view or experience the thriving night market of Luang Prabang. I visited the night market of Luang Prabang each day in evening and absolutely loved it!
Sign up for a cooking school or try out the local Laotian food with Backstreet Academy for one evening! Do not miss the vintage cars that dot the roads of Luang Prabang. Remnants of French colonial past of Luang Prabang!
The early morning alms giving ceremony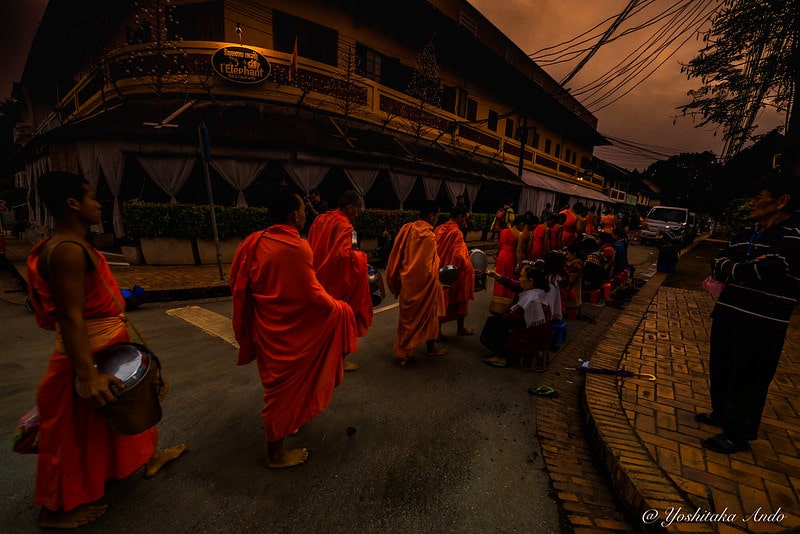 The alms giving ceremony in early morning in Luang Prabang is a deeply cultural event. The practice has been performed since eternity.
Young monks come from distant villages to Luang Prabang and collect sticky rice as alms. We have a beautiful word for this practice in Bengali, "Madhukari". The alms giving ceremony is an excellent event showcasing the inherent community spirit of the Laotian society.
Off late, the alms giving ceremony has been hijacked with extremely enthusiastic tourists standing on the opposite side of the road with a camera. I stood there in the crowd and felt a lot like Durgapuja days except in this case living human monks are at the center stage of attraction, not the idol.
If you want to experience the alms giving ceremony without the tourist crowd, ask your guest house and opt for a lesser known spot where locals visit.
Mount Phousi: Phousi hill tourist attraction in Luang Prabang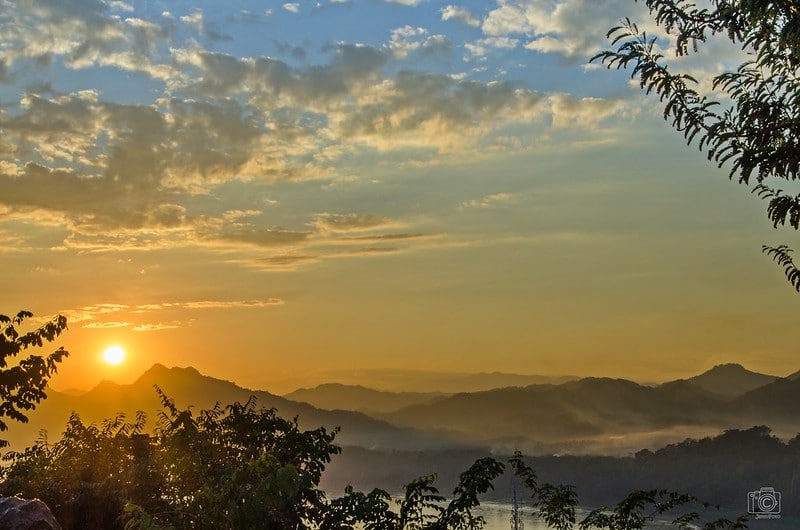 For a beautiful Sunset visa, hike up the 100 meter tall Mount Phousi located at the heart of Luang Prabang! The mountain is sacred among the locals. Entry fee to Mount Phousi is 20,000 Kip and there is a marked trail (narrow staircase) upto the top. Dress modestly. Visit at least an hour before to grab your seat!
Explore the Old temples of Luang Prabang!
When in Luang Prabang, it is a no-brainer to explore the old temples! They are omnipresent! At the bend of every street, an exquisite temple stands in pride with all her gold and red intricate detailing!
You can also indulge in a cooking class in Luang Prabang to learn the business of Laos cuisine! Everything said and done, my favorite activity in Luang Prabang was to sit by the river and watch life pass by! It sort of reinstated purpose to my life!
In Lao language, you say "Sa Bai Dee" for "hello"!s
The Famous Night Market of Luang Prabang!
One thing you must not miss when in Luang Prabang is exploring the night market at the old town city center. It is a bustling and vibrant confluence of world travelers and hill tribes who live adjacent to the old town. I can not begin to list out all the products on display and sell at Luang Prabang night market.
On display are beautiful indegenous textiles, handwoven with care and hues with indigo cultivated at the backyard of the communities. The space is also shared between various handicraft, say a miniature wobbly dragon or an elephant woven in shining threads. Local moonshine and Laotian rice wine are on sale. There are glass bottles filled with snakes and scorpions. Some of the vendors bring in buffalo horns and old figurines, looking like antique pieces. I dare not ask what is the source of these products!
The night market of Luang Prabang takes place everyday from 5 pm to 11 pm. You can try bargaining before making a purchase. Transaction takes place in Laotian Kip.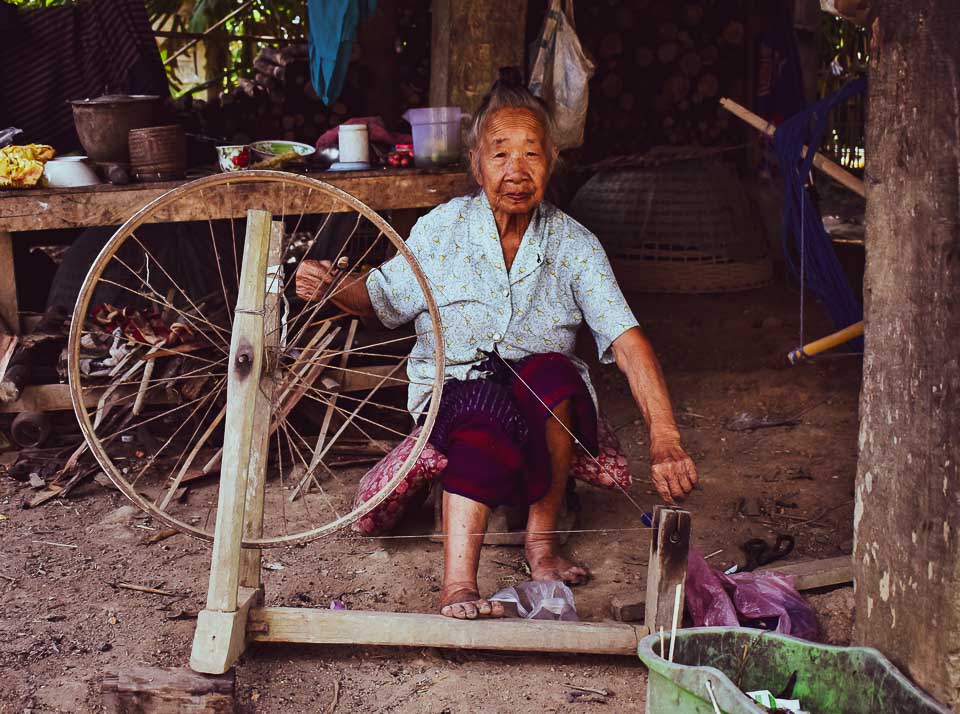 Day Tours from Luang Prabang & Offbeat attractions!
Luang Prabang has seen tourist footfall and has significantly changed over time. To feel the honest pulse of rural Laos, you need to veer towards the hinterlands!
Kuang Si Waterfall
Located at a couple of hours distance from the old town of Luang Prabhang, Kuang Si waterfall is the quintessential hidden gem of the entire Southeast Asia. I have seen quite a few massive waterfalls around the globe including Mosi o Tunya, otherwise known as Victoria falls. However very few waterfalls in the world can come close when it comes to the natural beauty of the cascading water flow of Kuang Si.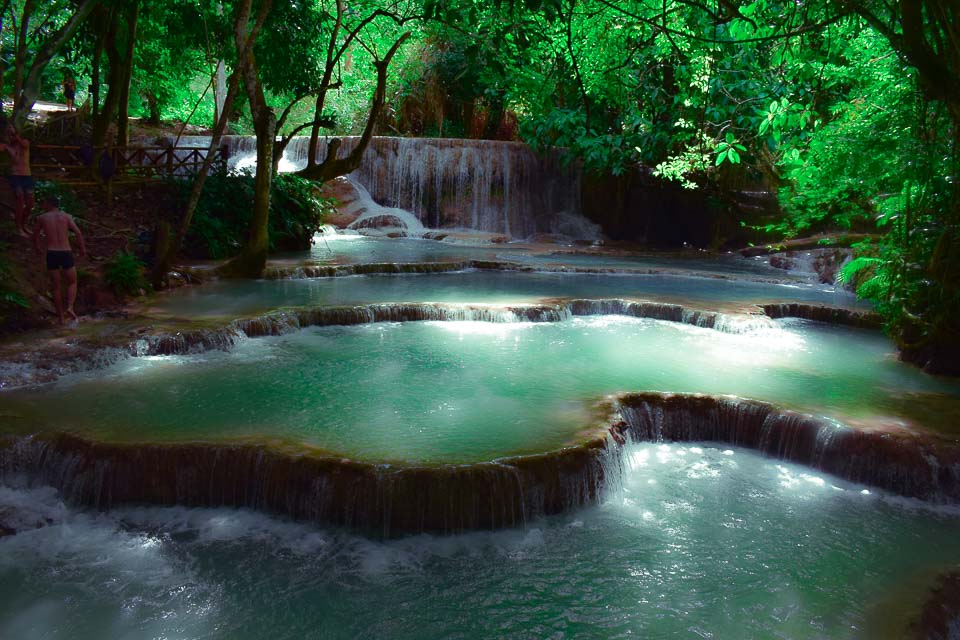 Kuang si is a multi tier waterfall. You can easily spend three to four hours here as a day trip from Luang Prabang. If you love photography and are a water baby, you can easily spend the whole day at Kuang Si. Kuang Si is one of the best places in Southeast Asia for a drone photo enthusiast.
Since Luang Prabang itself stays rather secluded from the crowded backpacking trail of entire Southeast Asia, Kuang Si is not on everyone's bucket list as a Phi Phi island or a Hoi an is! Nonetheless, Kuang Si deserves to be and will probably scale high up the radar once the Chinese rail line project connecting Luang Prabang to the world outside is completed.
While climbing the waterfall you need to enter the park by paying 20000 kip as an entry fee. For children below 8 years that fee is waived off. You will be greeted with a few playful bears covered with shining black fur. The poor creatures are after hunted for traditional Chinese medicine that needs their bile. The government of Laos has taken a few preventive measures against bear poaching and created a bear sanctuary at the entrance of Kuang Si. Spend some time spotting the bears hanging around the hammocks and bamboo structures. Then proceed towards the fall.
Pro tips for visiting Kuang Si fall as a part of a day tour from Luang Prabang
Visit as early as possible. You shall have the whole fall to yourself.
There are multiple spots at Kuang Si waterfalls; each of them will allow you to jump straight into the water. Hold on till you reach the largest section of Kuang si waterfall. That's a 60 metre high plunge. Swimming is prohibited here.
There is a dirt trail beyond this, marked but not paved, which takes you to the top of the waterfall. I did not venture because the path looked slimy and slippery but some of my friends went on. At the top of the fall, they found a precious still water body of aquamarine hue and a lonely pretty sling indicating human footfall. Infrequent but definite.
Kuang Si is beautiful provided the weather is sunny and bright. If it rains, the waterfall changes its colour from tepid cyann to monstrous flow of muddy untamed water. Forget swimming, half of the trail would be off limits for security during the rainy season in Luang Prabang. Plan your visit accordingly.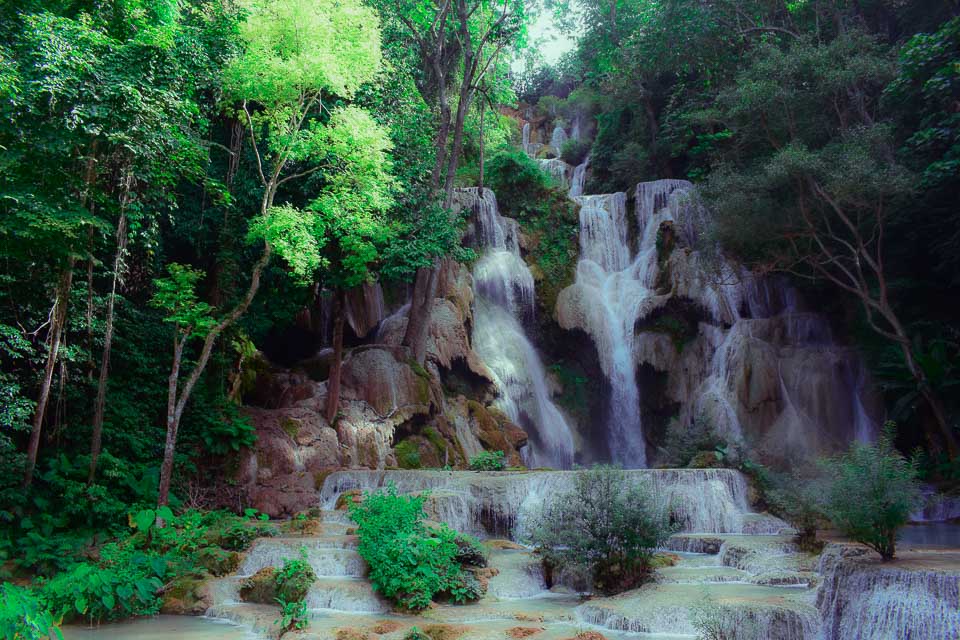 Did you know: Tad Sae Waterfall is an offbeat destination near Luang Prabang. This spot is frequented by locals, even the young monks. Best time to visit Tad sea is from August to November, with beautiful blue water making multiple cascades. Tad Sae can be visited by a boat ride on Nam Khan river. Not many travel Guide to Luang Prabang has a mention of this but Tad Sea is definitely on my bucket list.
Laos buffalo dairy
Since the rural part of Laos is largely dependent on agriculture, cattle are a huge part of the local economy. The mountains of Laos had plenty of water buffaloes which later became domesticated and an integral part of the local culture, a lot like what cow means to rural India.
However people in southeast Asia usually do not indulge in dairy products. Milk is not a part of regular consumption here. Laos is no exception.
Luang Prabang receives a number of tourist footfalls each year. Demand for milk or dairy products is constantly on the rise. There is no ready substitute in Laos which can go into the coffee mug or cheese platter. Understanding this gap a group of people from Australia took the initiative of starting Laos's first dairy farm. Laos buffalo dairy is a part of the day trip that you would be taking to Kuang Si waterfall. I recommend making a stop at the Laos Buffalo dairy and checking out their delectable offerings.
Ban Phanom
Famous for the weavers' village who designed royal clothing in erstwhile kingdom! Ban Phanom appears on the route that you take to explore mountain hill tribes adjacent to Luang Prabang. Also check out the ruined Phon Phao temple and Henri Mouhot's tomb in close vicinity.
Nong Khiaw
Located at a distance of hours off Luang Prabang, Nong Khiaw is the most beautiful scenic place I have been so far in my life! This is where the heart of true Laos culture lies, protected by the tall standing monoliths that once provided a cave of respite for the communist revolutionaries. Pha Kuang and Pha Thok caves still have war memories inscribed in the bullets and aircraft destroyers littered around.
Stop by at the village called Ban Nanyang where the Tai Lue community (descendant from Yunnan, China) live in accordance with ancient rules. This is where I took part in a Baci ceremony.
At Nong Khiaw, you may take a hike to the top of Phadeng Peak for a mesmerising view of the Nam Ou river snaking up the mountain hamlets.
Muang Ngoi: If hiking is not your forte, take the long boat and visit the sleepy village of Muang Ngoi, 1 hours upstream ride. This place is known for boating, camping and kayaking for adventurous travelers. The town still harbours memories of the Vietnam war in many war artifacts now repurposed for everyday use.
Pak Ou Caves
take a river cruise across the Mekong river and visit this ancient cave where 4000 Buddist carvings have been present since centuries. Visiting Pak Ou cave involves a bit of hiking up to reach the upper cave, Tham Theung.
Whiskey Village (Ban Xang Hai)
Remember those snake wine bottles from the night market of Luang Prabang? This is where that local whiskey is distilled and packed. Whiskey village is a part of the Pak Ou Cave outing and rather touristy
Is Luang Prabang Expensive?
Luang Prabang often earns a reputation of being overly expensive compared to her neighbours. While LP does feel a bit more on the steeper side of price-scale, though less when compared with Phuket, I think you can manage fairly well in a backpacker's budget. Choose staying at the quaint little guest houses over boutique stays. Eat local Laotian food, robust in flavour with dried fish, mushroom, lemongrass and bamboo shoots. Chuck out the typical tourist activities and you are good to go!
I could spend a week by the banks of the Mekong river doing absolutely nothing yet not get bored. At the minimum, you can have a daily budget of USD 60 per day in Luang Prabang. That budget includes stay ($40), food from a local Laos buffet, entry fee and a bike rental.
$60 per day is a decent budget to explore Luang Prabang!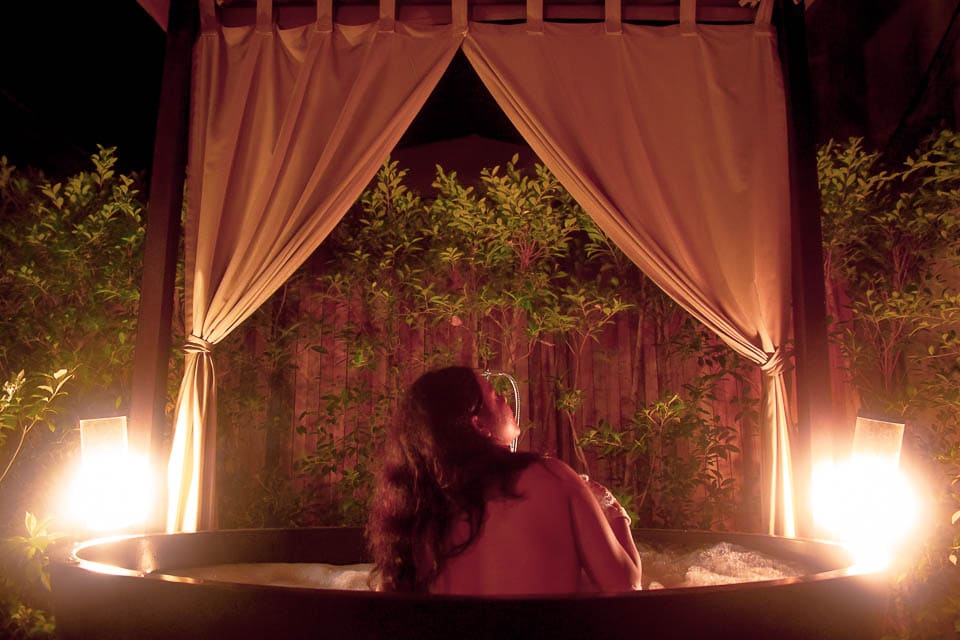 Money saving tips for the pro backpacker in Luang Prabang!
Rent a bike. They are cheaper than Tuktuk.
Get money exchanged at airport. The Night market had steeper exchange rate when I visited.
Gorge on great Laos food from the buffet at the night market of Luang Prabang. starting price 15,000 Kip only.
People watch by the riverbank and ditch other touristy activities. You will be rewarded with incredible vintage shots of a life bygone!
The Exotic Lao Food that I tried at Luang Prabang (and you should too)
Because the French stayed in Luang Prabang for a substantial part of history, much has been said about the French food and its reflected influence on traditional Laos cuisine. The croquette . The baguette. The macaroons. A lot like our Cabin restaurants of Kolkata! However, truth be told, Laos meals are full of robust flavours, often reminding you of a rustic dining experience.
There has been a sustained endeavour to bring out the best of traditional Laos cuisine, rich with a medley of ginger, garlic, lemon grass (and hence very appetising for my indian taste buds).
We went out with a food walk with the backstreet academy in Luang Prabang and tried and tasted almost all sorts of local food in Laos. The chili wood that doubles as a spice quotient generator in lieu of fiery chilies, grilled carp fish, Laotian Khao Soi with handmade noodles. Delight is when you get to taste local cuisine with a local foodie, which is exactly the case with backstreet Academy!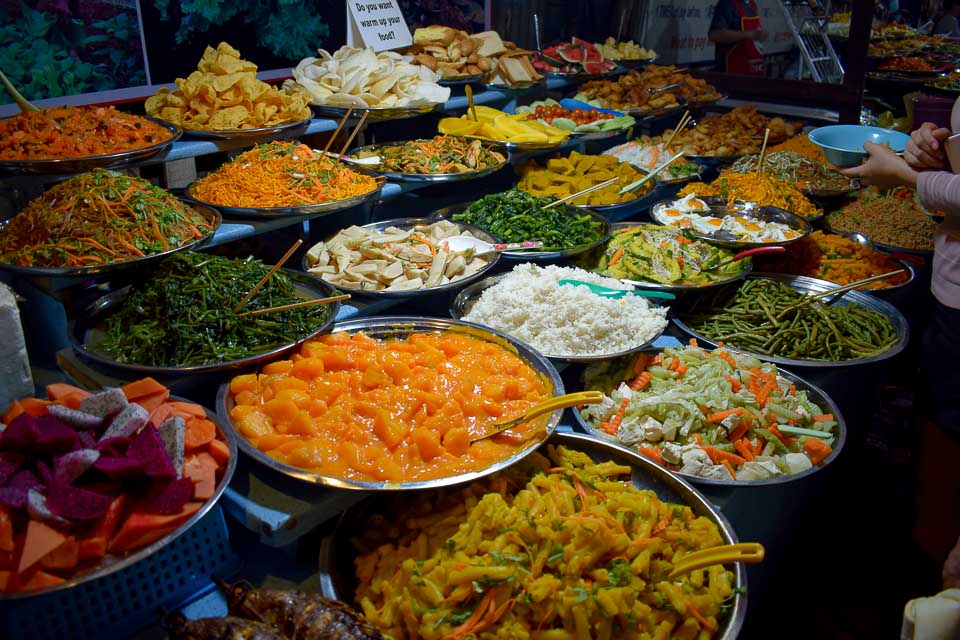 At night, visit the famous night market of Luang Prabang and indulge in a buffet. They are very affordable. From 15 to 20 thousand kip, you are allowed to fill up your bowl with as much food as you can, though only once! The local Laos food buffet is usually huge and consists of a great spread of vegetables, meat, fruit, eggs and noodles.
For a fine experience, save a dinner at the restaurant called Blue Lagoon. I absolutely loved their Laos cuisine which had plenty of fish dishes, cooked with vegetables, steamed or braised.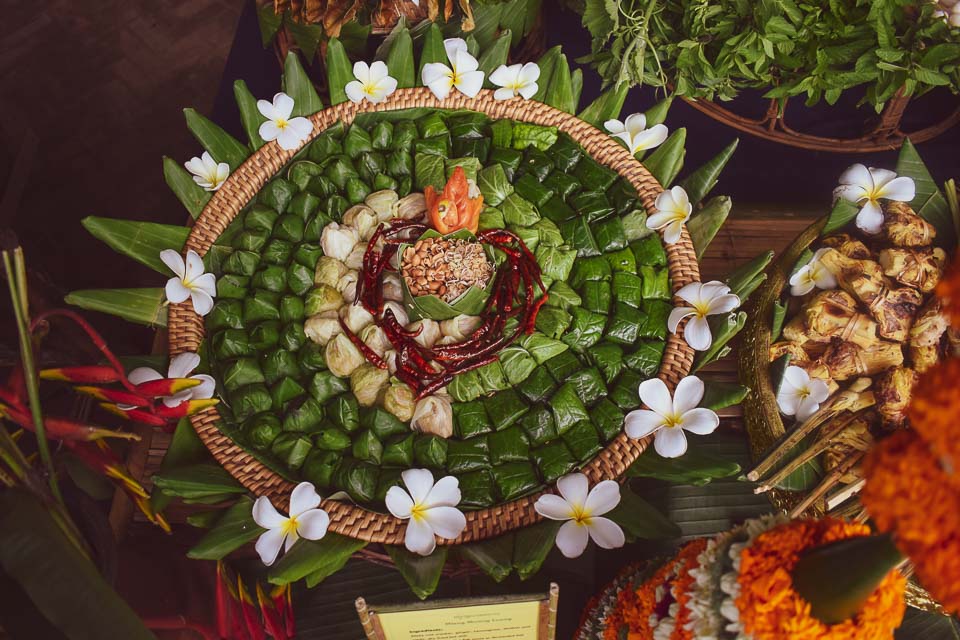 A Responsible Traveler's Guide to Luang Prabang
Participate in endeavour to successfully tackle waste management in Luang Prabang.
You will leave Luang Prabang but the plastic waste you have left behind will stay back for the next 450 years. Think about the ecological impact it will leave for a landlocked country like Laos! Clean up and leave no trash (specifically single waste plastic) behind in Luang Prabang.
Traditionally residents in Luang Prabang use banana leaf to pack daily errands. Try them. They are green and effective.
If you do not do this, the trash you generate will add up to the handful of landfills that Laos has in larger cities. That is a nuisance.
It is estimated that 100 million plastic water bottles are consumed in Laos every year. You can reuse one and that will make a huge impact and support the Refill Not Landfill initiative taken up by the local businesses of Luang Prabang.
2. Support local artisans of Luang Prabang.
Look around. See a painter? Support by buying a small souvenir, say a bookmark. If you have the space for it, invest in a wall painting. I have seen many small sellers creating ornaments or souvenirs from the scraps of the fighter jets left behind from the war. They are usually sold at the famous night market of Luang Prabang. Buy some of these.
3. Buy beautiful fabric and textile products handwoven by the Traditional Arts and Ethnology Centre (TAEC).
4. Learn about the devastating and long standing history of Indochina war at UXO Laos Information Centre.
5. Visit the Luang Prabang public library and support the initiative of a book boat that takes book for children to the remote villages by the banks of Mekong river. You can buy a map or a book or simply donate as you please.
6. Support family run local business, like Bamboo Laos (Connect with them on Facebook here) and spend a day exploring the local culture of Laos in the bamboo orchard. Eat like an elephant is one such business as well.
7. Take informed decisions: What is an ethical experience in Luang Prabang? Take for example the act of bathing an elephant.
Luang Prabang was known as the land of million elephant.
Today, not only those elephants stand threatened for their existence but also have been malhandles at the logging business for decades. Many a sanctuary keeps them chained. In the name of compassion, elephant washing is often the front face of a money making deal, soaked in cruelty.
Do your research before you visit such sanctuaries.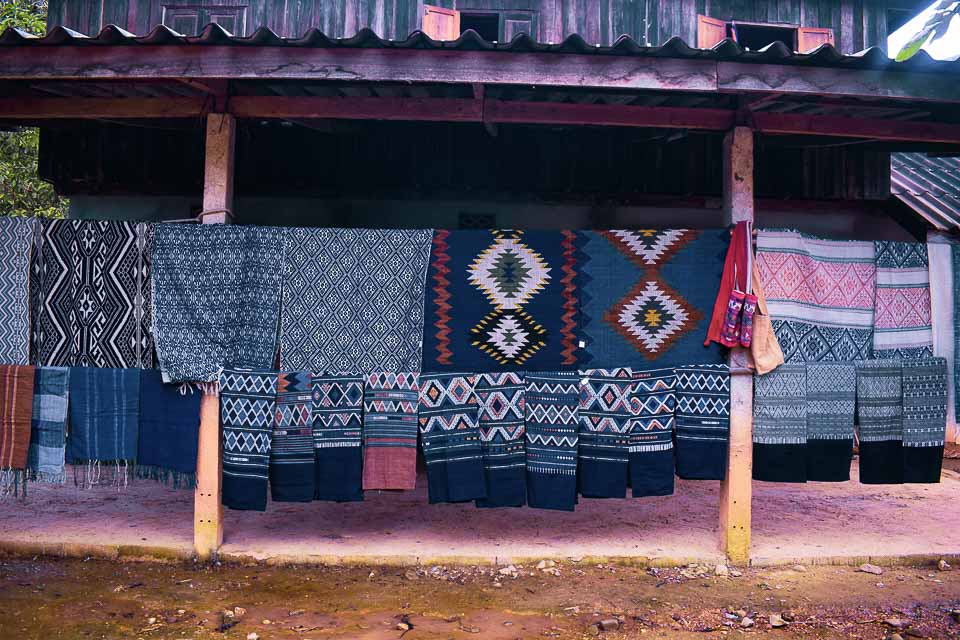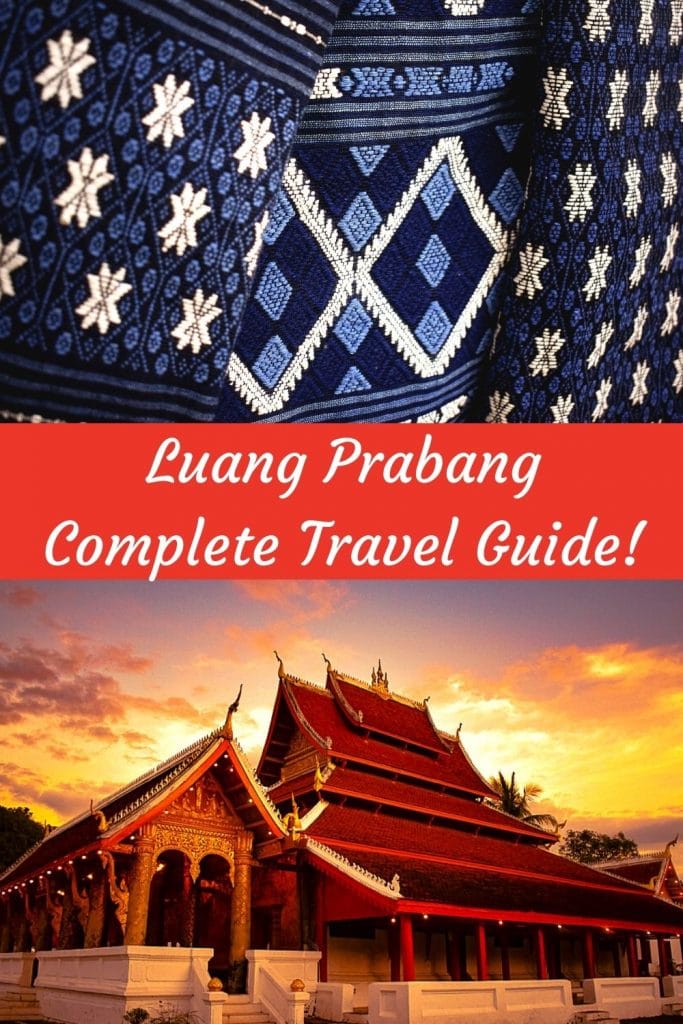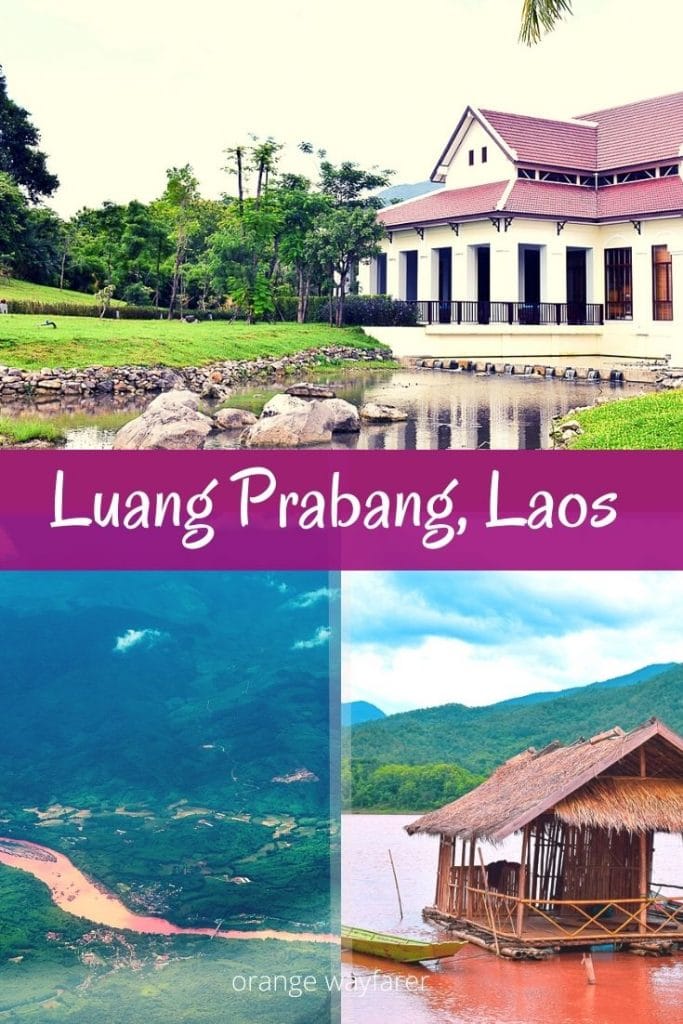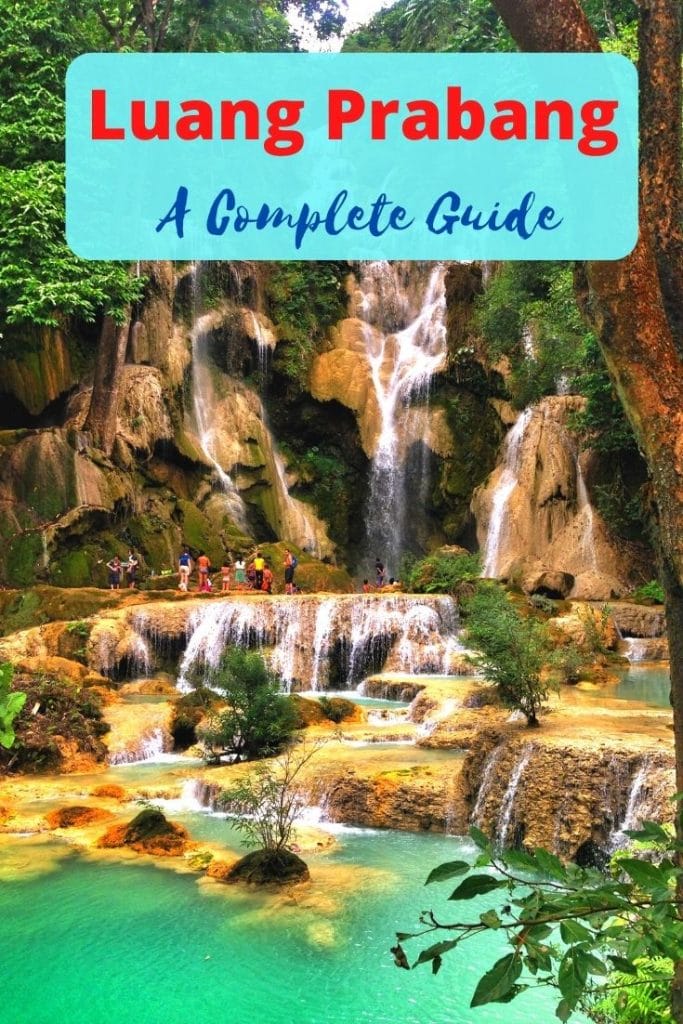 FAQs about Luang Prabang
Is Luang Prabang worth a visit?
Even though Luang Prabang has increasingly been known to greater number of tourists, it has somehow escaped the wrath of tourist bus savvy travelers. Luang Prabang retains its idyllic charm and old town vibes to a great extent, partly because strict UNESCO rules enforced around the town.
Is Luang Prabang a befitting destination for backpacking?
Luang Prabang is a paradise for backpacking. You are in for a treat if you are a flash-packer. Since Luang Prabang has a number of handpicked fine luxury establishments, you can also splurge on this holiday. A number of action packed activities will keep you busy in Luang Prabang.
How many days are enough to explore Luang Prabang?
In Luang Prabang, I suggest you spend at least 3 days. If you can, 5 days will be a perfect plan for Luang Prabang with a room for a couple of day tours.
How to reach Luang Prabang city from airport
From airport, rent a taxi and reach Luang Prabang. If you walk out of the front gate, you will be seeing a lot of tuktuks as well. Tuktuks are cheaper than taxi-ride.
This post may contain affiliate links. Please read the disclosure post. If you have liked the article, you may support it by buying using these links without any extra cost to you.
Let's stay connected on Facebook, Instagram, Twitter! You may also consider joining my mailing list. I send travel and photography related emails only once a month!