Traveling to the UNESCO world heritage old town of Luang Prabang, Laos and want to indulge in shopping for local souvenirs and handmade products? Trust the famed night market of Luang Prabang to meet all your needs and serve more delectable bonds over local food and chilled glass of Beerlao by the banks of ancient Mekong river.
Click here for more Travel blogs on Laos!
The Night market: A Human Face of Luang Prabang
Luang Prabang celebrates myriad colors of life at the famed night market that takes place every night. Both the sides of otherwise busy Sisavangvong road located strategically at the heart of Old Town of Luang Prabang get blocked routinely in order to make space for Luang Prabang Night Market, one of the major tourist attractions of the city.
Otherwise sleepy and idyllic, Luang Prabang negates all the peaceful ambiance at the advent of the bustling marketplace where buyers from the far off corners of the world and sellers from the hinterlands of tribal heartland of mountainous Laos come together, negotiate, exchange niceties and products. Joy and content flow everywhere! 
The night market of Luang Prabang proves, yet again, trade is the most intimate business shaping and reshaping human history since millennia!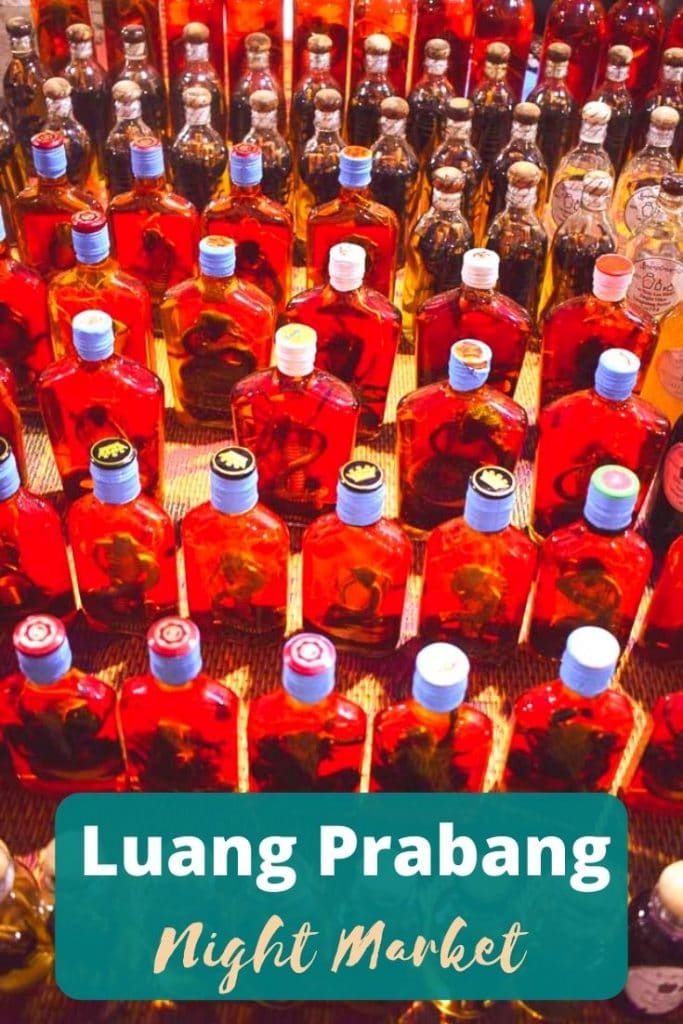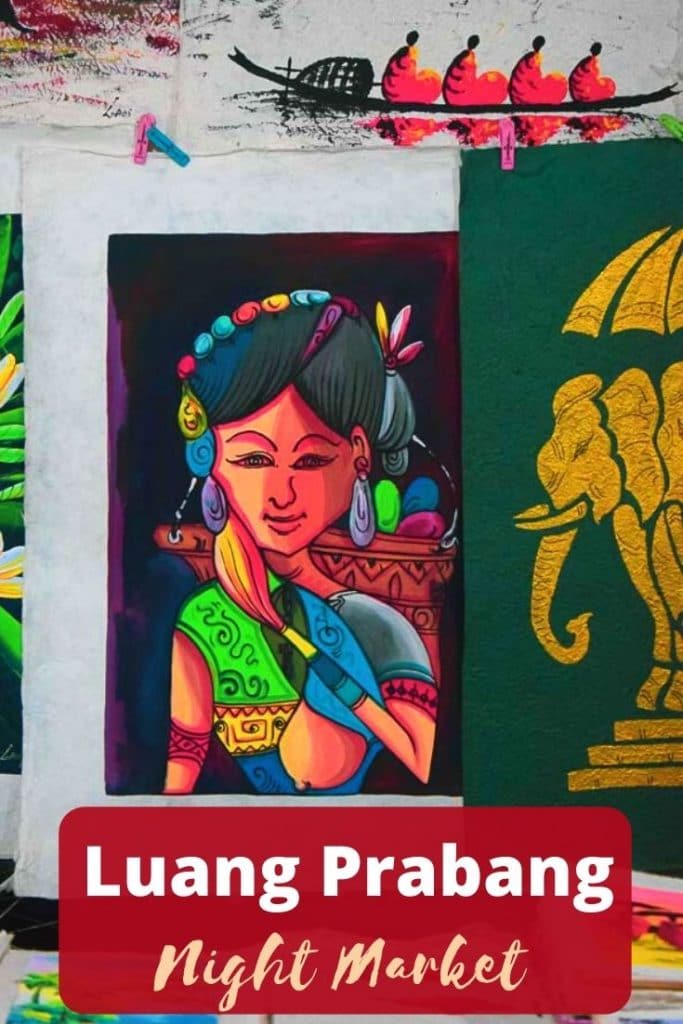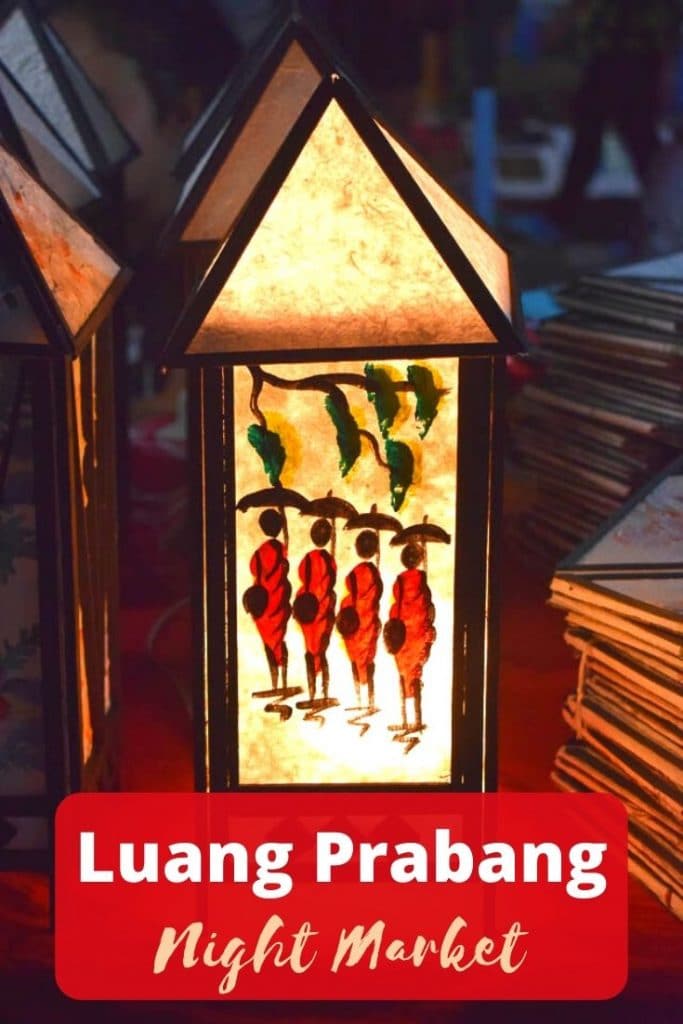 The History behind Luang Prabang Night Market!
During the initial days, the Luang Prabang night market was a small intimate affair run by the Hmong and few more tribal communities who run their business under the candle light. "Candle Market" as they were known!
Luang Prabang was off limits to outside tourists until 1989. With the waves of 90's globalization, tourists surged at the land border of Laos, especially those backpacking across the other major players of Indo-China, namely Thailand and Vietnam. 
Increased tourist footfall brings in newer opportunities for business! It is uncanny that locals would not take due advantage of the opportunity. At that time, Laos PDR, one of the last communist nations of the world, was recovering from the deep bruises of unjust Vietnam war that did not leave her rural areas unscathed. 
The Hmongs had taken the first initiative of the night market!
The Hmong Tribesmen of the Laos mountains had expressed a provision of a marketspace back in 1993. The community excels in handwoven artifacts, and has been designing intrinsically sustainable and eco-friendly products. Think a tea strainer made of bamboo scrapes. Long lasting pieces of handwoven fabrics, hued with deep shades of Indigo.
The Laos government and UNESCO heritage protection committee agreed and thus started the legacy of the night market of Luang Prabang. However, gone are the premier days of intricate exotic local Laos products in all exclusivity. Now the Night market flaunts various stuff from Thailand and … hold our breath… China! One look at them and you know!
A heavy sign leaves my chest. Competitive market system ruins the essence of fair play when you are uninitiated in the production field. Besides, with changing world order, the dragon heaves heavy right at the neck of Laos. The dams, the road constructions, the advancement of railway tracks, all bear semblance to passive aggression.
But for the prying eye, there are glimpses of good old Luang Prabang. In the coffee, in the fresh produce, along the small stalls hanging beautiful weaved bags in geometric fashion. Some of them carried elephant stamps. The gorgeous Poseidon with its trunk uplifted in the air and greeting the world! There was a time Laos used to be called the land of Million elephants. Unfortunately, these elephants were mainly used for logging at the dense forest. Time has changed considerably and so has the use of Laos eles. Now there are ethical elephant sanctuaries and efforts are in place to rehabilitate the once a slave animal.
Also read: Suggested 3 days itinerary in Luang Prabang!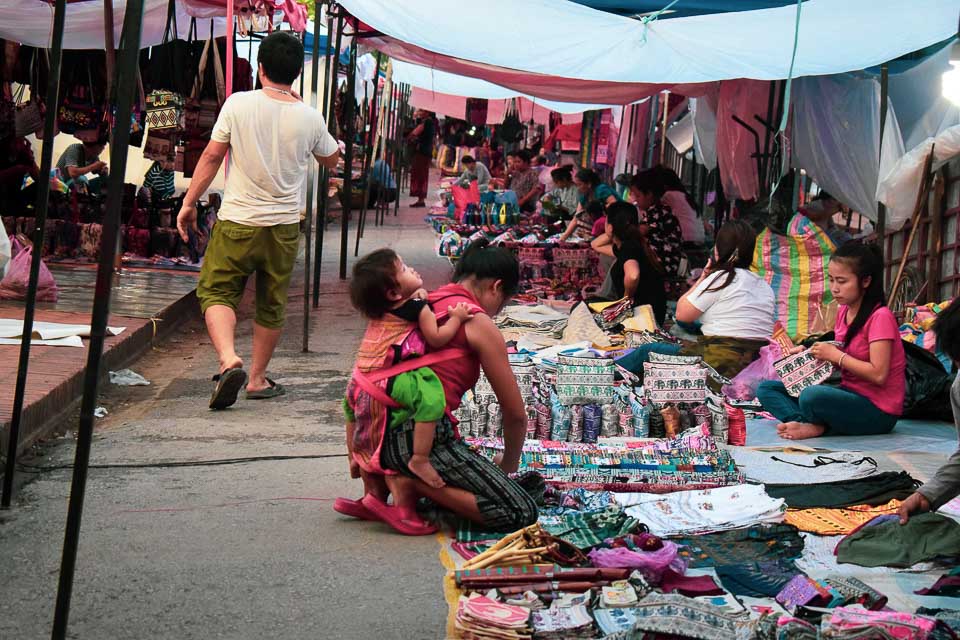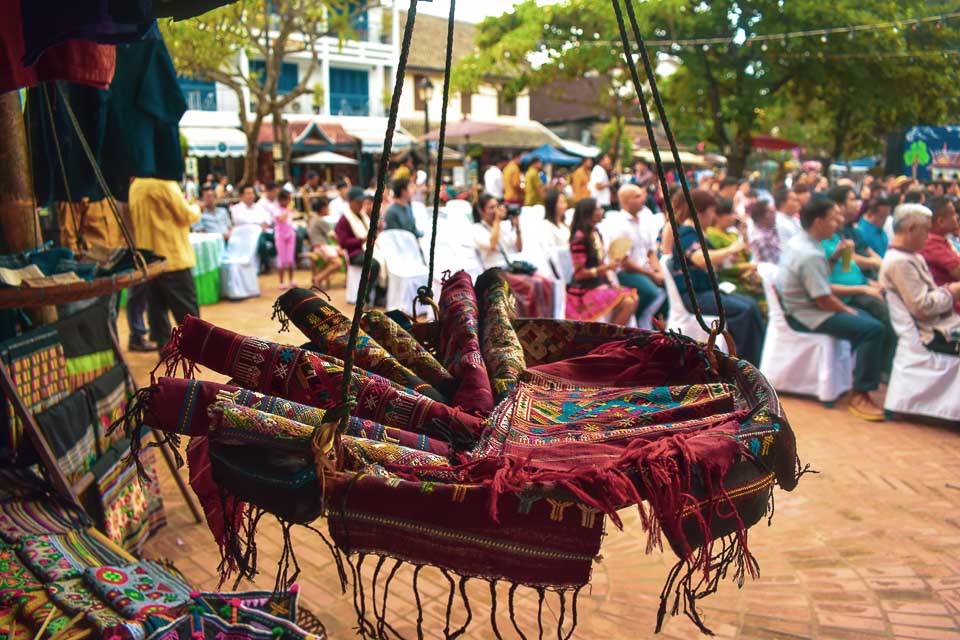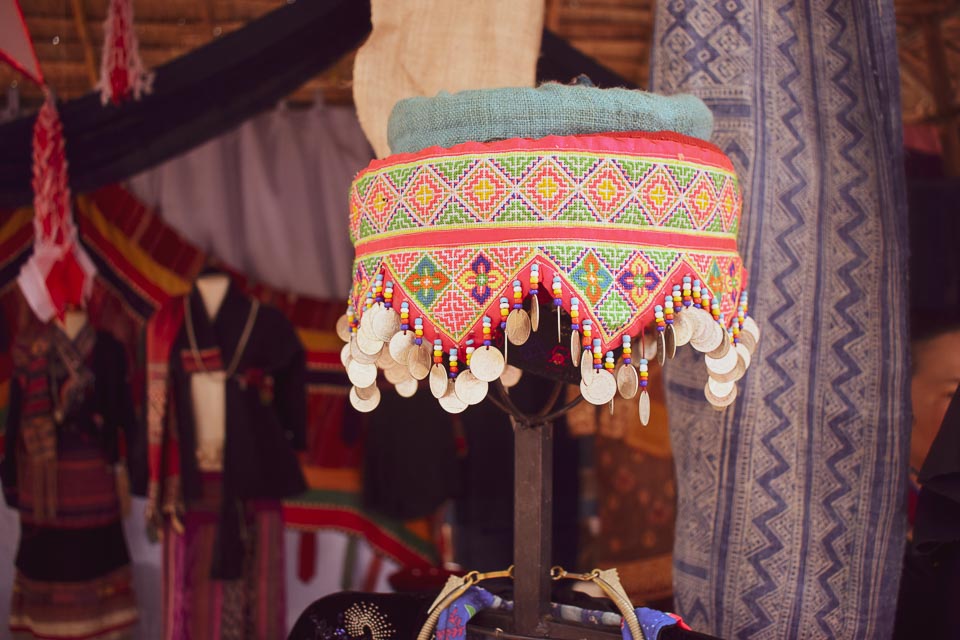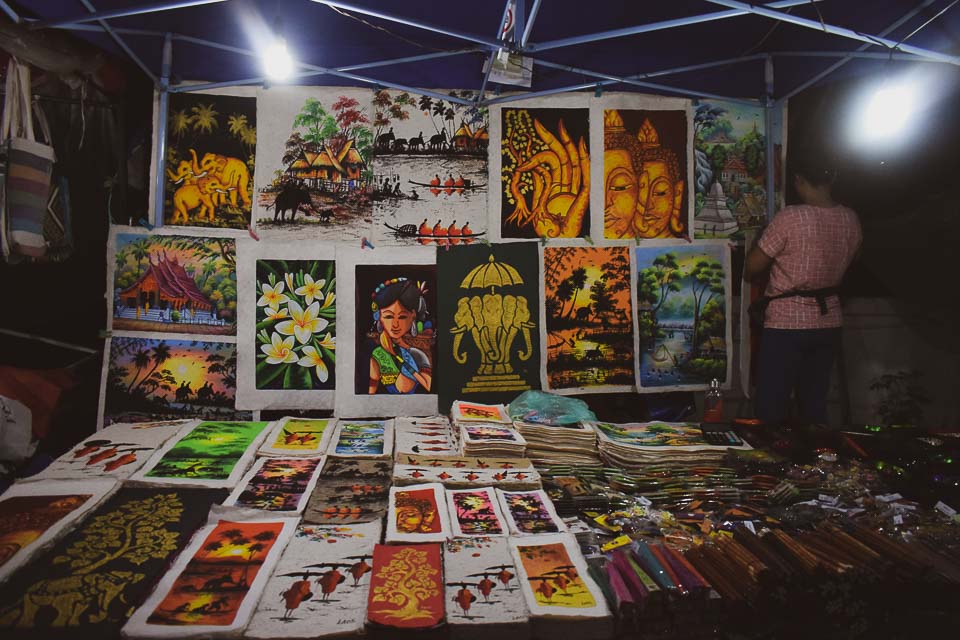 Useful tips for Visiting the light market of Luang Prabang
The night market of Luang Prabang takes place everyday from 5 pm to 11 pm. Everyday! At Sisavangvong road.
The market has multiple stalls selling clothes, small souvenirs, fabrics, masks, paintings. At the wee end, you will discover a bustling corner selling tastiest Laos food, ranging from tropical fruit juice (think mango, think dragon fruit), French remnants of baguettes (they make amazing French styled bread in Laos), and countless Asian BBQs. We will talk about food at the Luang Prabang night market in detail in the following section!
Cash is the king here, like many other night markets in Asia. So carry cash and change. Usually, in Laos, USD and Thai Baht works as well but I encourage you to do as the law of the land demands. At the entrance of the night market, you will be greeted with a money exchange store. There is an ATM close by.
Prices are reasonable and I would not haggle considering the hardship locals take here to move this enormous amount of products all the way from the hill top villages. that said, I understand USD tends to dilute value proposition for various currencies (I use INR and I understand, trust me when I say this!). For a better price, head to the shop at 9 pm, when they are packing up. That's an obvious tip, duh but just in case you missed…
If you are running on a tight schedule in Luang Prabang ensure you visit the night market of Luang Prabang on your way back from the sunset hike from the hill top of Mount Phousi.
If a monk walks in the market, stay away and ensure you show respect as the locals do. It was safe and nice to explore the night market with no imminent threat around, not even pickpockets looming large. In fact, I stopped midway and entered the temple complex of Wat May Souvannapoumaram. the wall panels tell stores of Buddha Jataka and enamored with golden wash.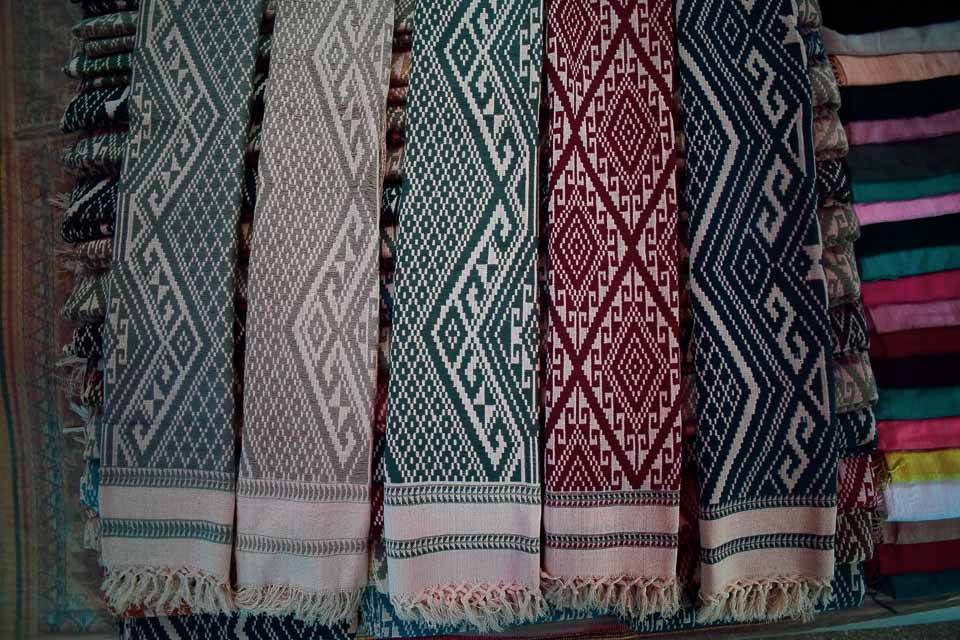 Price at the Night Market of Luang Prabang (Should I bargain?)
Price range of all the products ranged from half a dollar to USD 20 (for a beautifully handwoven traditional skirt and I think that's totally worth the price). There are hand painted posters highlighting everyday life unfolding in Luang Prabang which are easy to carry back home and that's cheap too.
A number of baggy dhoti pants were on sale (USD 7 or 8 for each) and if you ask me I was not very impressed with the quality. Those are similar to what they sell at the night market of Hanoi or Hoi An so there you go! I have heard many opining these stuff look similar to those available at Chiang Mai, Thailand.
You can bargain or haggle at Luang Prabang. Since it is not as tourist as its counterparts in South east Asia, sellers are kind, jovial and simple women (and some men, many children). They are yet to unlearn the basic goodwill with which a human mechanism comes wired with. They do not charge exuberant tourist price (yet). Scams are less.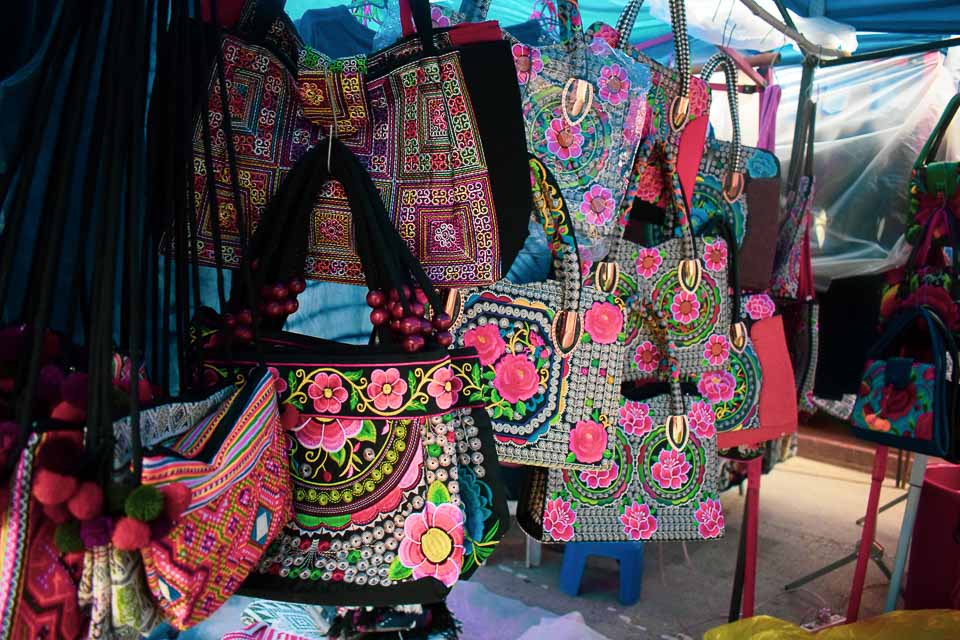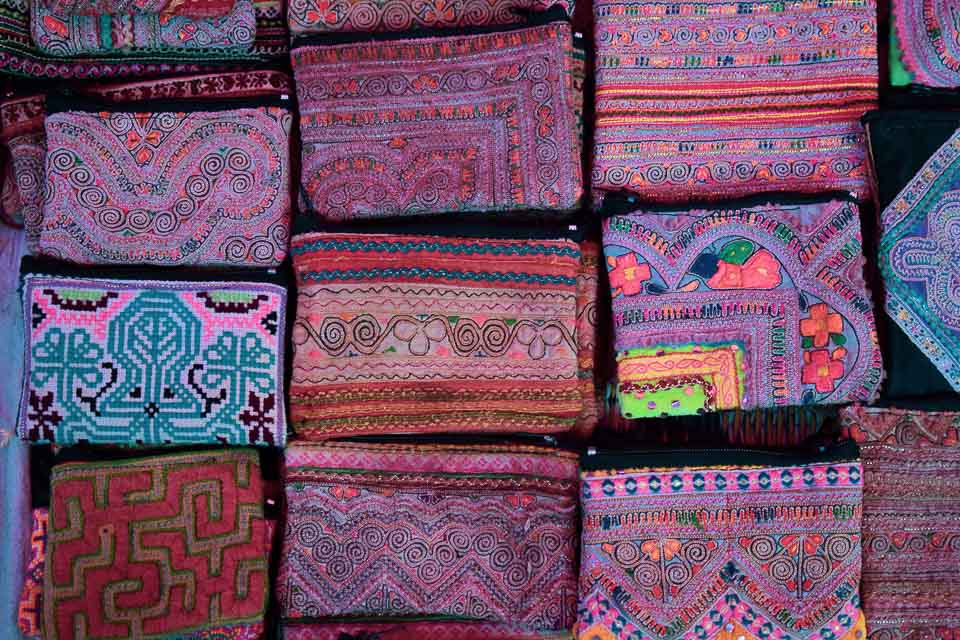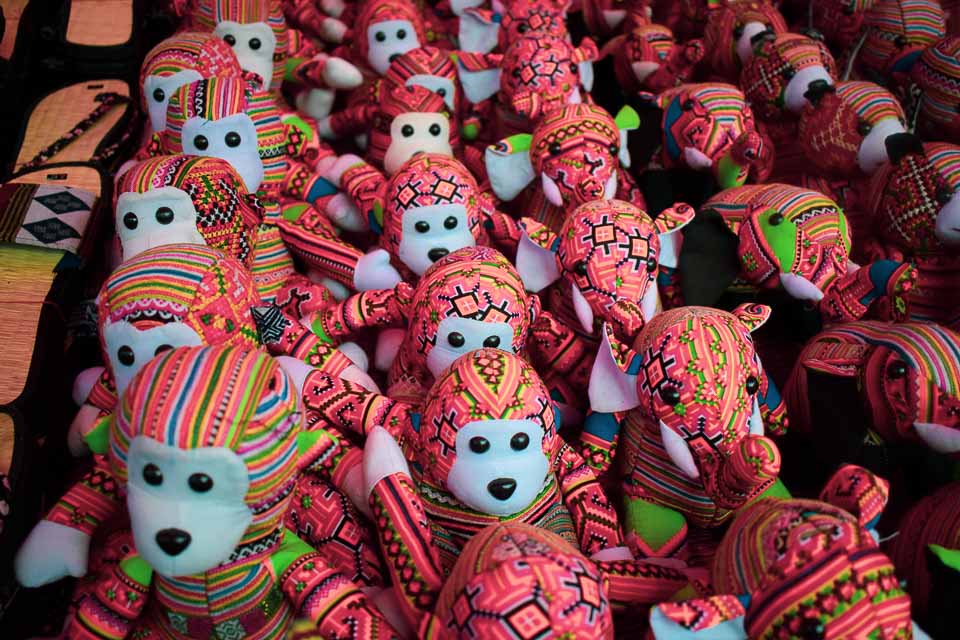 Souvenirs to look for when you are exploring the night market of Luang Prabang!
The Luang Prabang Night market is mostly famous for souvenirs. From elephant pants to Buddhist paintings, many innovative and cute colorful products are on sale here. However, I will list down a few things that I saw and loved as a part of my quest of local, ethinic cultural prowess. I also think they perfectly fit in the box of sustainable souvenirs to be brought back home from Laos!
Fabrics: From subtle batik print of Indigo or intricate weaving of an elaborate skirt (some of which takes a month to create and bear identity to specific tribal communities of the mountains) to a blast of colors weaved by cross stitch, the weavers are the most astounding artisans of Luang Prabang, Laos. Not just clothes, they are bringing in a touch of ethnic in backpack, camera bag, scarves, sling bag as well.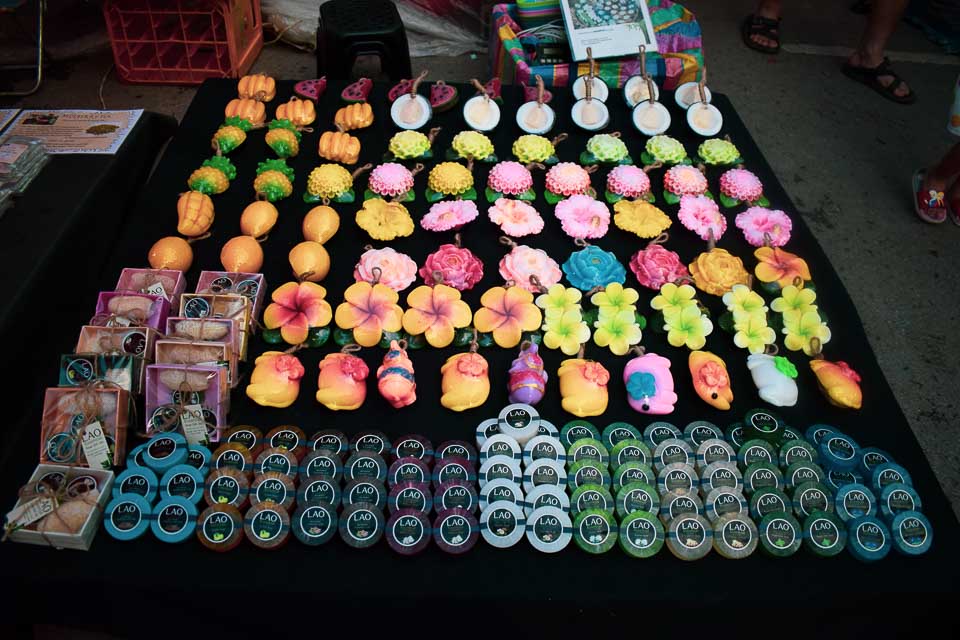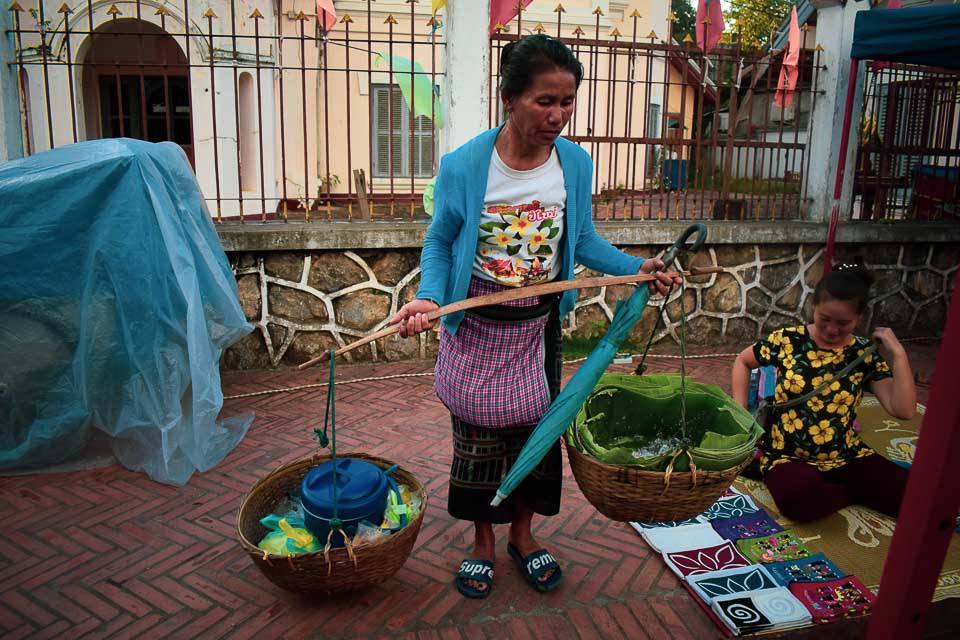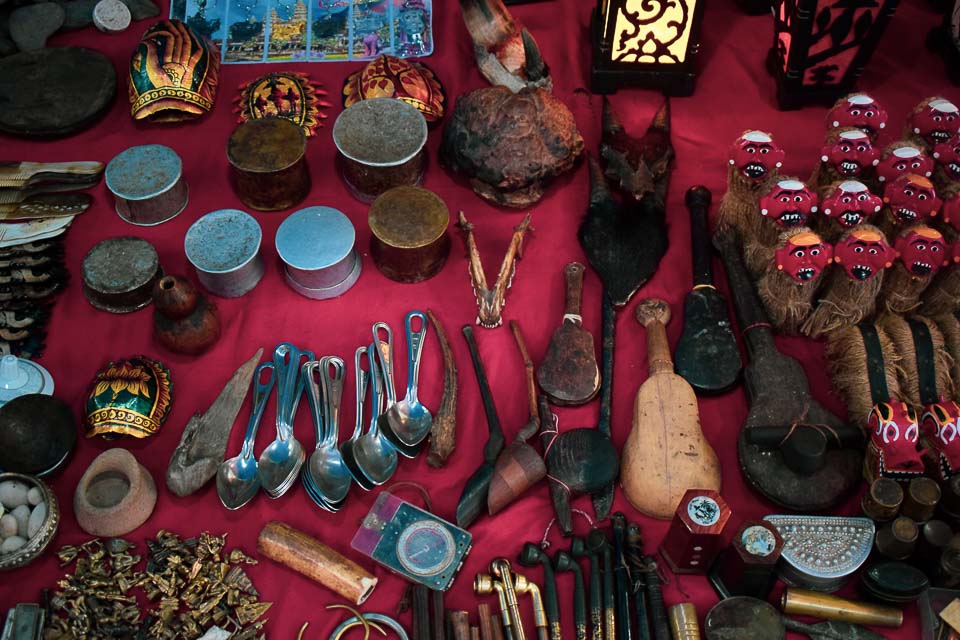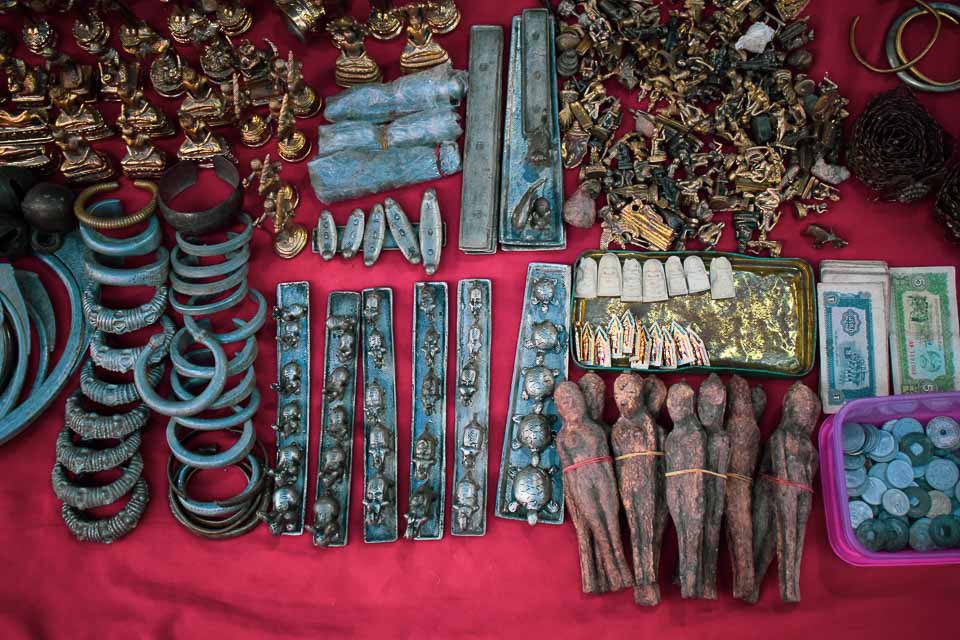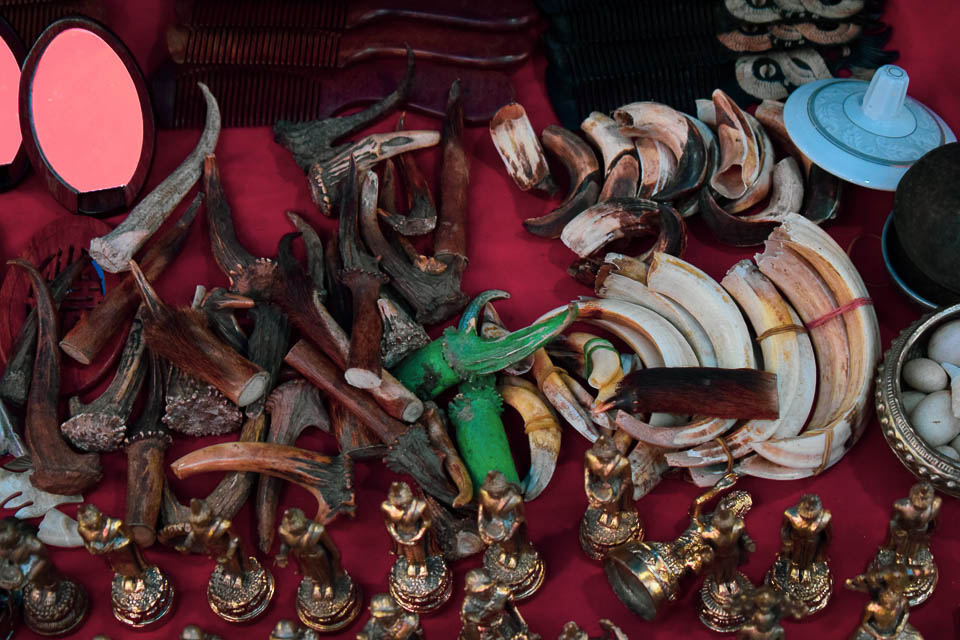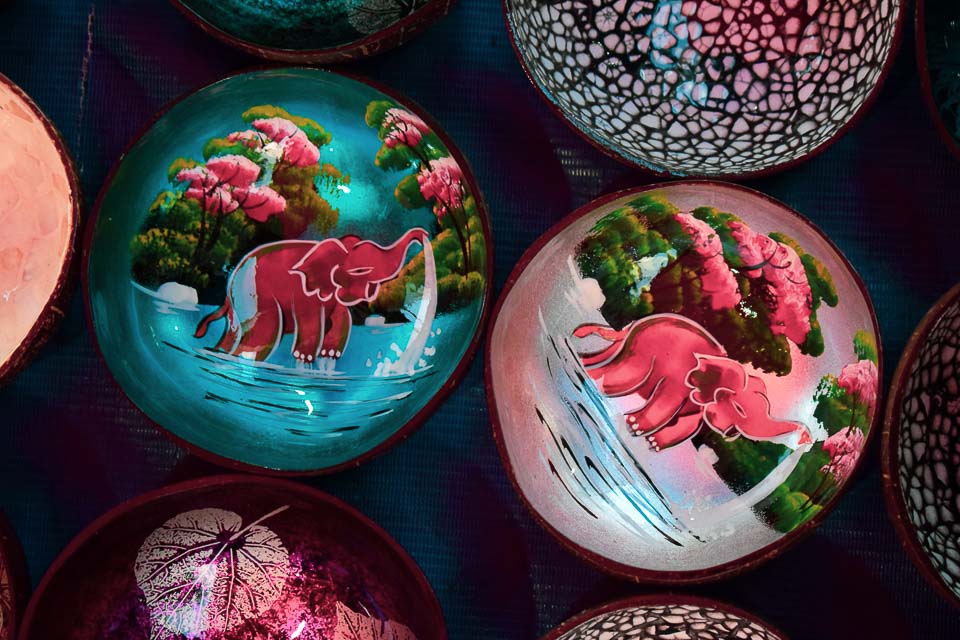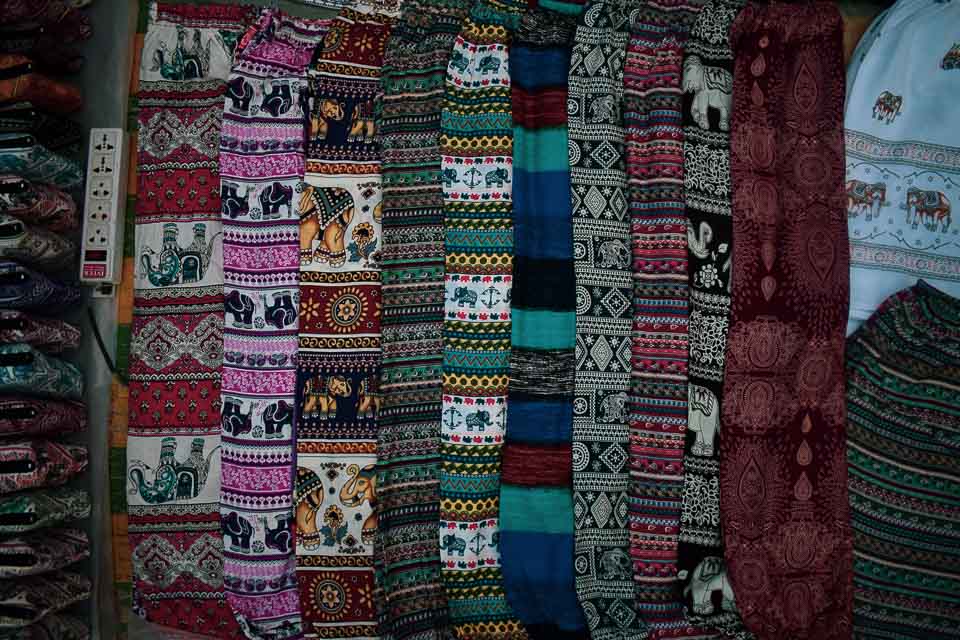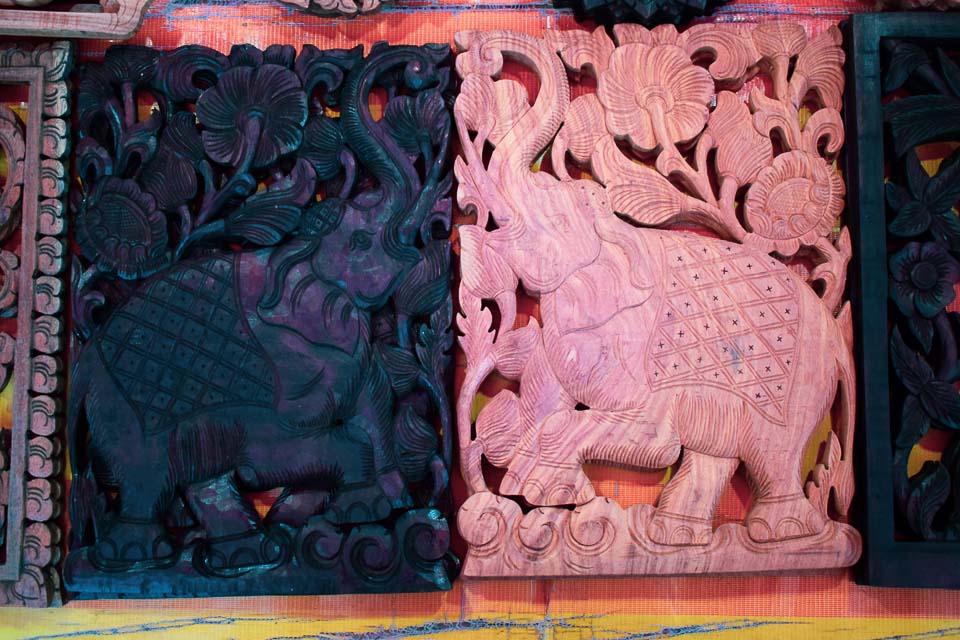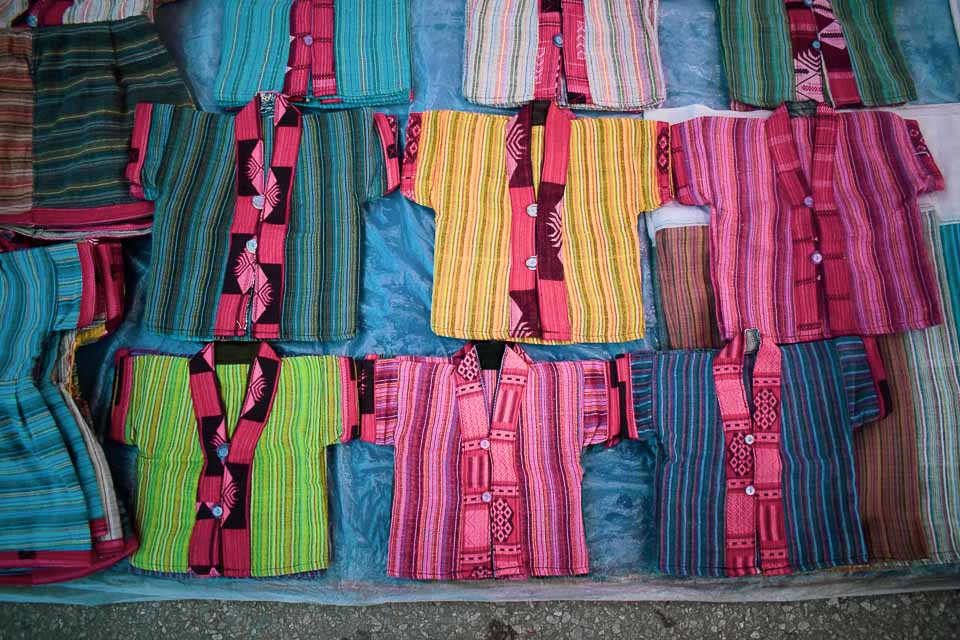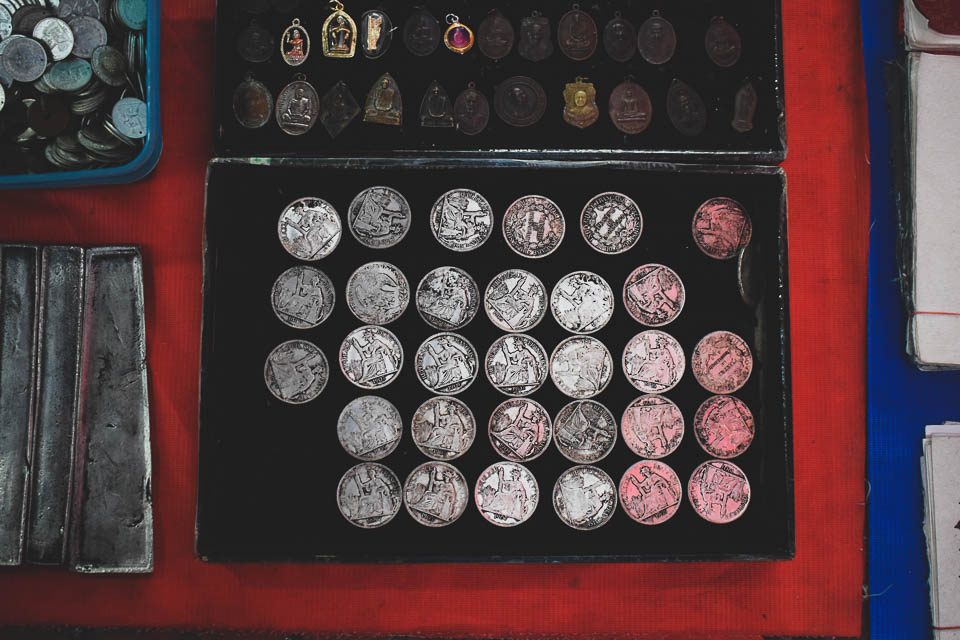 Other products that you can buy from Luang Prabang Night market (which I do not think will cause outrageous impact on the environment yet support the local community): Handmade straw, paintings, book marks, masks, purses, wooden dolls, cushion covers etc. These are free of single use plastic and doe snot generate too much trash in the making process.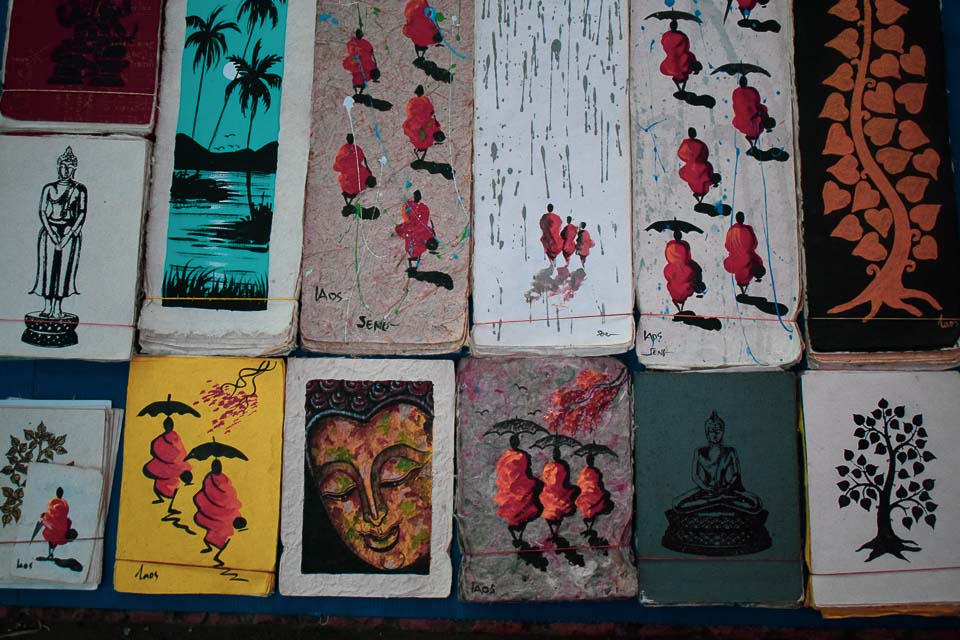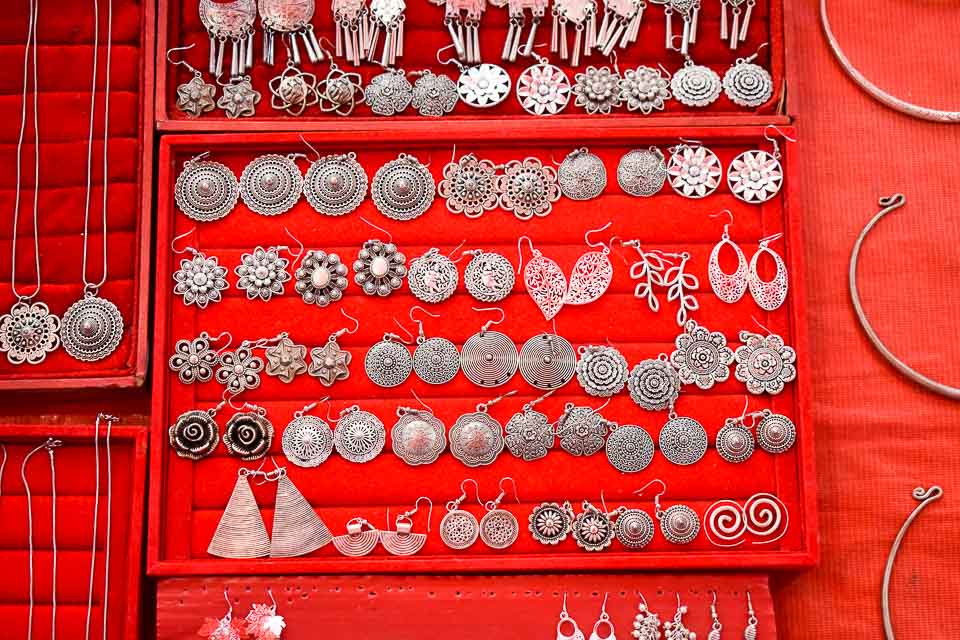 Ear rings! Who does not love ear links? I love the typical round shape and floral design. Reminds me of Hatibagan market of Kolkata!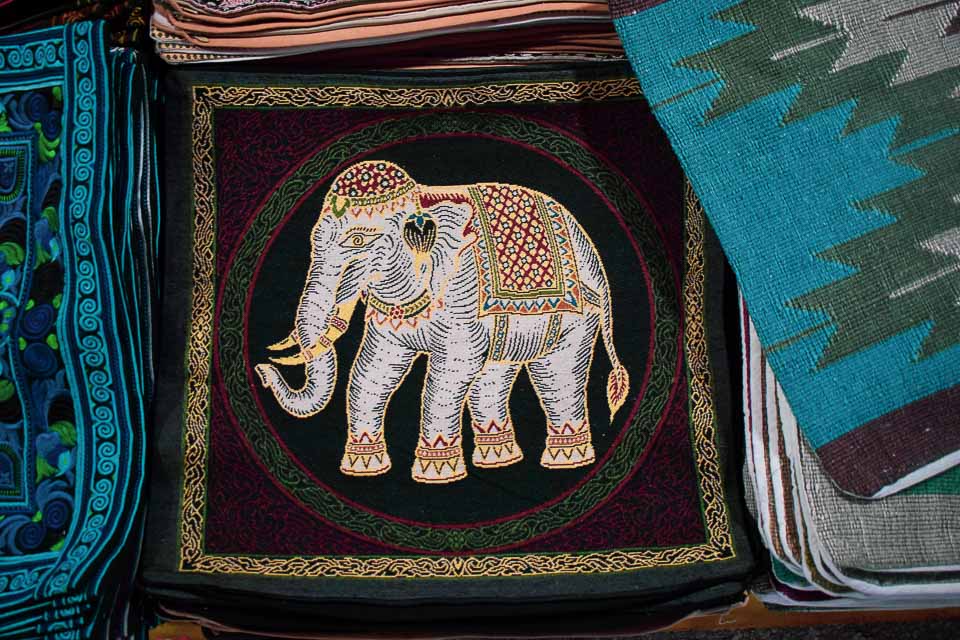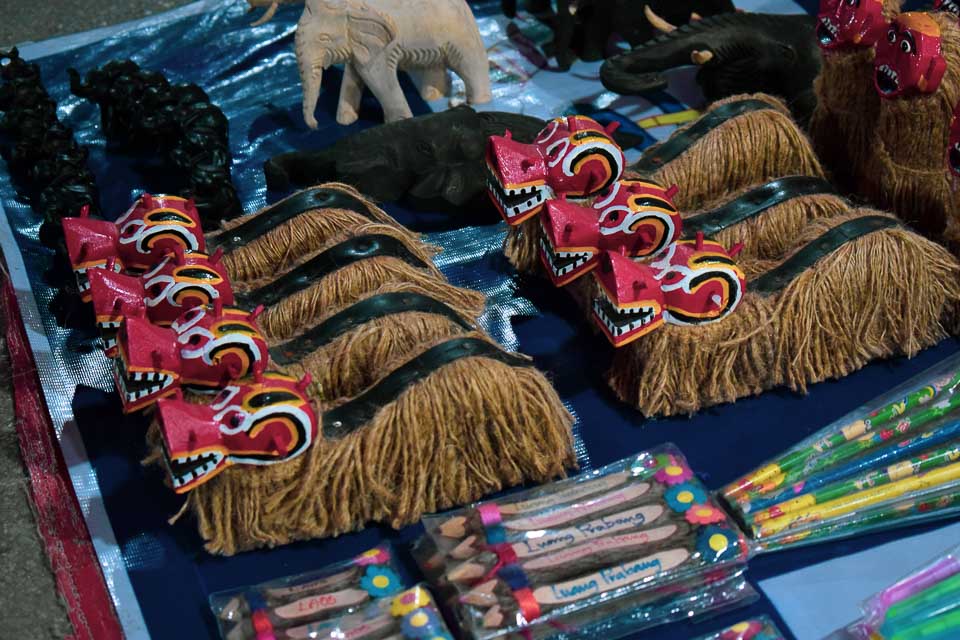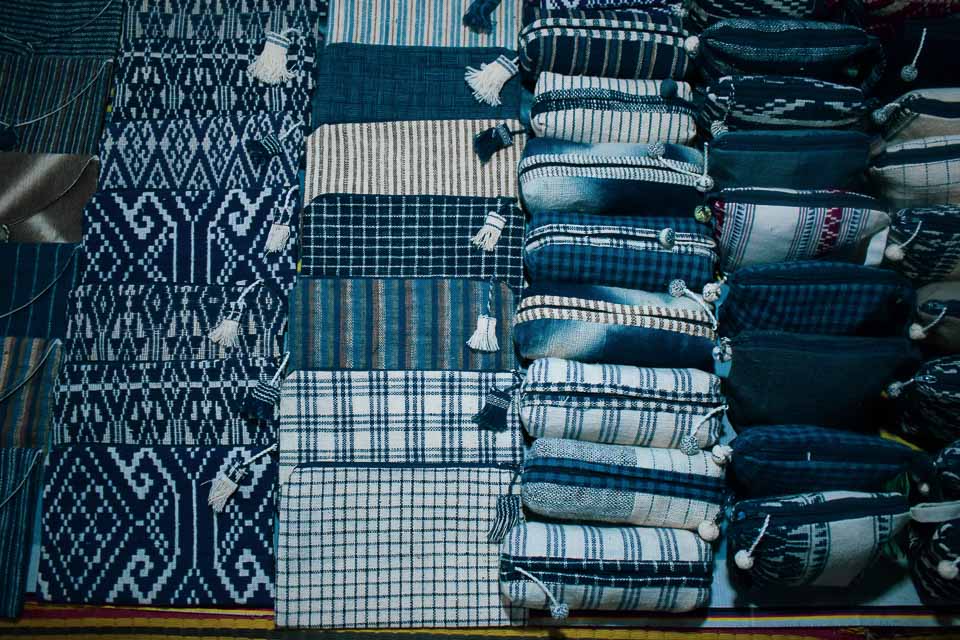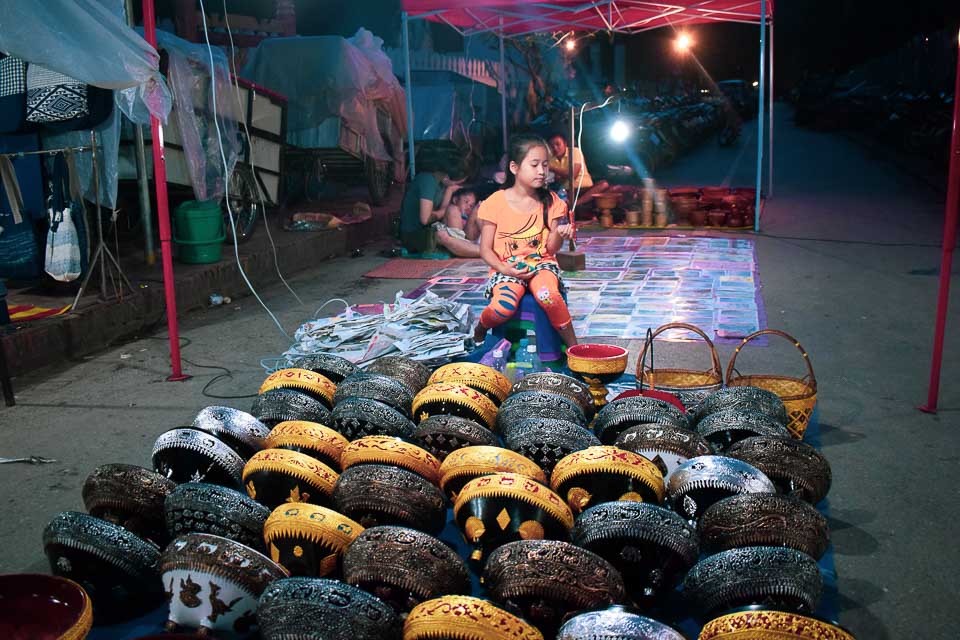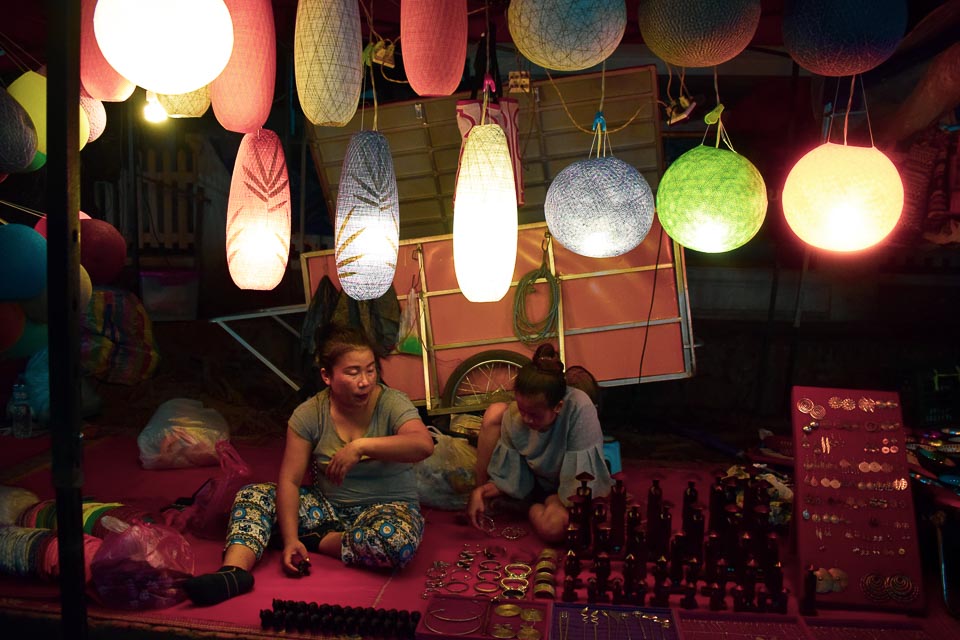 Luang Prabang is home to plenty of handmade lanterns. Much like Hoi An in Vietnam. In fact, it looks a lot similat when you visit a river side cafe by the Mekong and indulge in a sisha or a drink of Beerlaos!
Lao Lao Whisky (Snake Wine in Laos): This is another product that attracts outright criticism from the international community. The Lao Lao whisky is derived from infusing a live snake/scorpion/lizard or other reptile inside a glass jar. I think I drank this whisky at the Baci ceremony on my way to Nong Khiaw, since Lao Lao is a staple rice wine of Laos and served extensively at any festival or ceremony. A visit to the Lao Lao village as a part of day trip from Luang Prabang is often partaken by tourists.
Tribal women brew this whisky. This is a strong tasting local moonshine which often derives its robust flavor and taste from the addition of honey or scorpion (or snake).
Also read: Complete Guide to explore Nong Khiaw: a remote mountain paradise in the Northern Laos!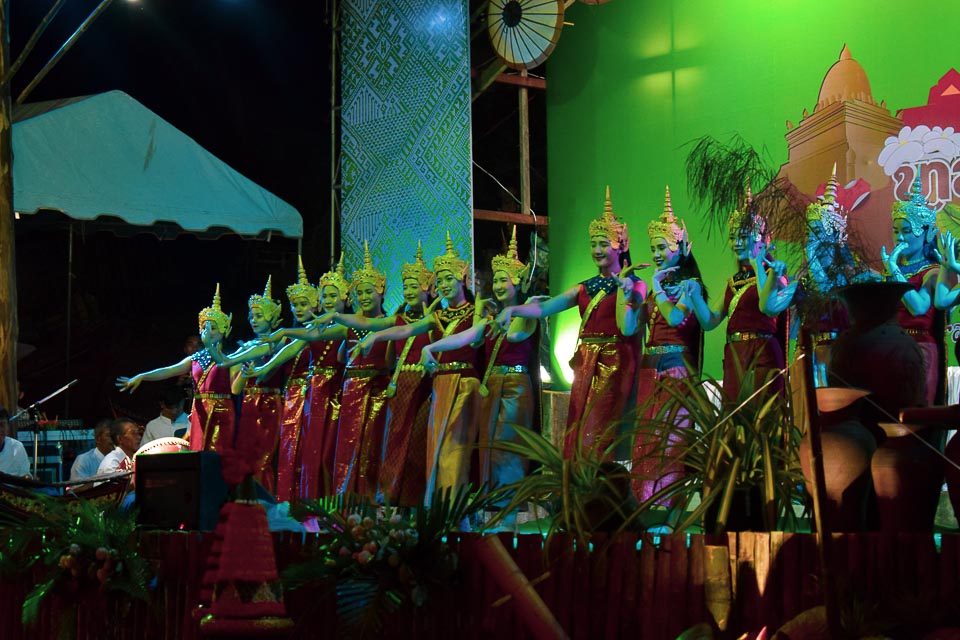 After Shopping is complete, what's next at the Night Market?
There are plenty of things to do in the area once you are done with shopping at the night market of Luang Prabang. You can drink, eat, relax. Let's take a look at one by one!
Eat: Two of my favorite places to eat at the night market of Luang Prabang are Blue lagoon and Coconut Garden. Both of them serve traditional Laos food with a stylish facelift. Blue Lagoon is remarkable in this! The chef was trained in India. The steamed fish he served me inside a banana leaf pocket was an instant reminder to Bhetki Paturi back home!
Eat Street Food at Luang Prabang: The narrow alleys branching out of the main road (Sisavangvong road) are teeming with plenty of small street-side food stalls, serving a full fledged Laos style buffet. You pay a specific amount and you can fill up your bowl to the brink with vegetables, noodles, eggs, fish, chicken, sausages etc. Got a sweet tooth craving? Do not forget to try Kanom krok (coconut rice pancakes) cooked right in front of you on a cast iron pan with numerous holes!
Drink: Visit the top floor of the Indigo restaurant from which you will get a bird's eye view of the market and enjoy a cold Beerlao while your hair kiss the cool breeze coming from the banks of Mekong!
Relax: Indulge at the handful number of foot spa or herbal body massage or secure a seat at the traditional Laos theatre hall.
---
This post may contain affiliate links. Please read the disclosure post. If you have liked the article, you may support it by buying using these links without any extra cost to you.
Let's stay connected on Facebook, Instagram, Twitter! You may also consider joining my mailing list. I send travel and photography related emails only once a month!