About this blog: Nong Khiaw is a remote village located perched atop the monolithic limestone karsts that inhabit Northern Laos, where China and Vietnam straddle the country's border. While most of the tourists consider Luang Prabang to be the last bastion of wilderness in Southeast Asia, I recommend taking your boat a little further deep into the heartland of ancient tribal habitats of Laos and be gently surprised!
Village of Nong Khiaw is famous for incredibly scenic pastures, the river Nam Ou flowing by the side. You can spend a few nights here, take a boat ride on the river, explore the surrounding Laos villages, trek to the interiors of the dense forest land. Be cognizant of meandering your way through all the unexploded bombs littered in the area during the Vietnam war in the region. Laos was not spared of the bloodbath.
Nong Khiaw is also misspelt as Nong Kiaow or Nong Kiau.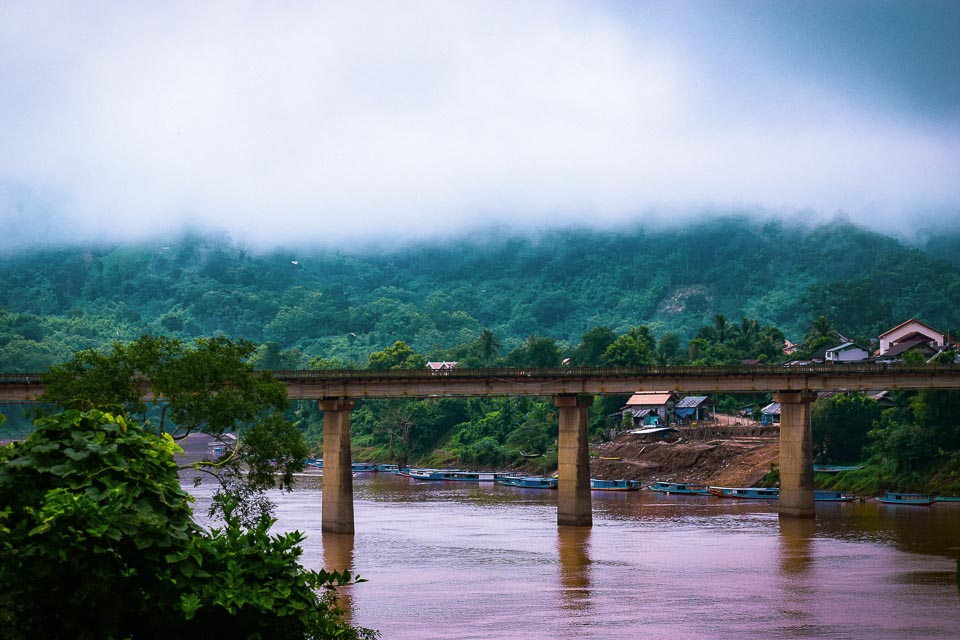 Nong Khiaw: a Remote Village in the North of Laos!
A face of Earth, unabashedly rural and humane. Nong Khiaw village. A sleepy idyllic Village in the North of Laos, taking pride in a cemented bridge on the river Nam Ou, hued in rustic brick. The Chinese-made bridge that suddenly made way for the world to intrude in Nong Khiaw's silence stands a rather misfit here. The princess was asleep. Relentless tourist vehicles from Luang Prabang now frequent to interrupt her peaceful slumber. To cater to them, now Nong Khiaw has plenty of things to do and places to eat.
Yet, Nong Khiaw remains secured as a hidden hamlet from the prying eyes, rather shy. And how beautifully she secures her magical pristine self! A lot of it is a direct result of the local residents of Nong Khiaw being absolute lot of humble people. I prefer to call them, Nature's favorite children. Taking a dip in the flowing stream is all they need to love life! A boat is a treasure here. Time forgets to hurry at Nong Khiaw!
I spent a couple of days by the banks of Nam Ou river. Making Nong Khiaw a base, I explored the nearby villages, ancient jungles, unmarked hiking trails, foliage drenched in the fresh rain of the season and remnant of an unjust war that keeps haunting this part of the world. If you seek peace, and treasure a deeper human connect with destinations you travel to, Nong Khiaw will cement an obvious place in your heart, mellow with love and a sense of hurt.
Also read: Suggested 3 days itinerary in Luang Prabang!
Pin it for later!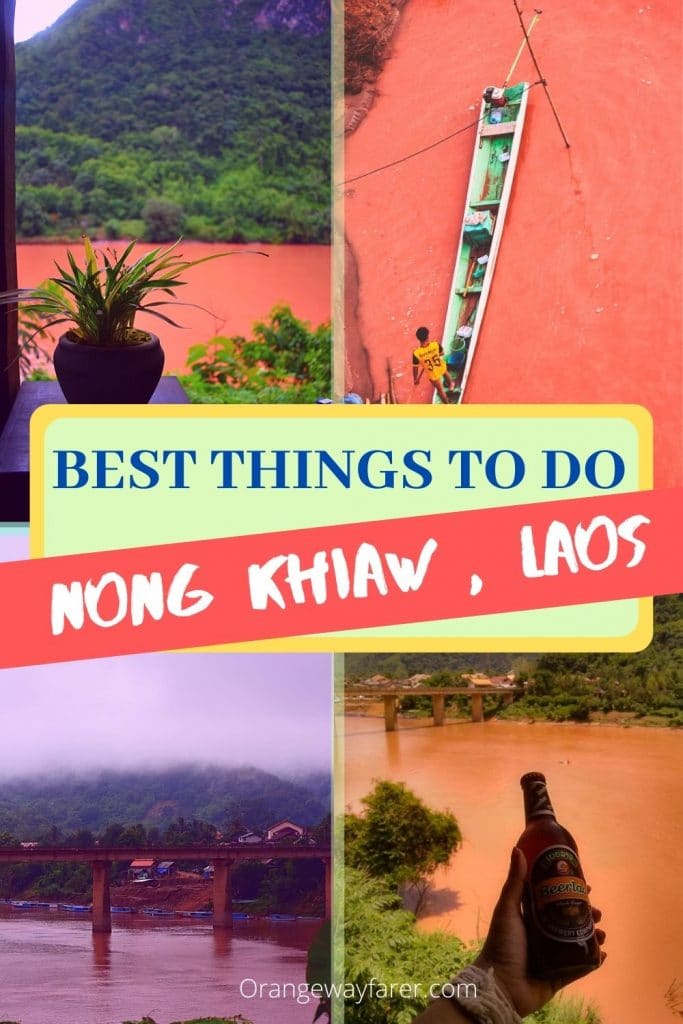 Click here for more Travel blogs on Laos!
How to Reach Nong Khiaw from Luang Prabang by Land/Boat?
With a new highway connecting Luang Prabang to the distant corners of Northern Laos, Nong Khiaw is now only a 4 hours drive away from the downtown! On the way, you can stop by a few traditional Laos villages. These are not typical tourist places with "experience local life" traps instead showcase an authentic way of rural living in Laos! Indeed, you may skip and choose to explore many such villages once you are in Nong Khiaw! The further off the mainroad and Luang Prabang, the better your chances of living the true Laos life!
We traveled in a private minivan from the center of the Old Market. It was a comfortable journey with roads paved well for the larger part of the journey.
You can also opt for a shared minivan or bus journey to Nong Khiaw. Several buses leave for Nong Khiaw from the heart of Luang Prabang at 9 am, 12 pm and 3 pm. Timing might chance as the country reopens her door for tourists.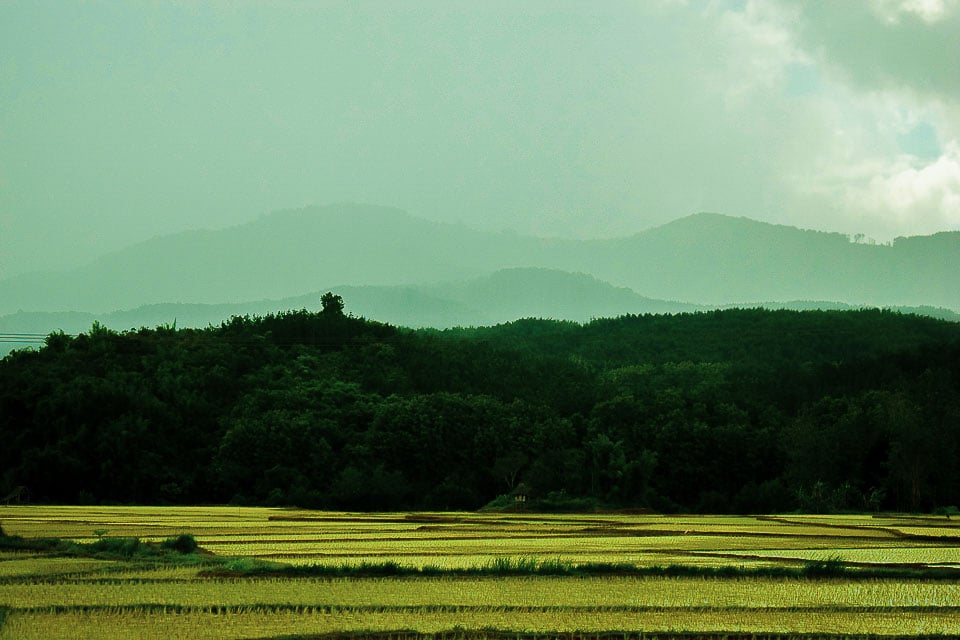 It costs a meagre USD 5 to make the journey. Nong Khiaw is worth all of it if you are in Luang Prabang and have fallen for the Laos way of life and called for a two days stay after you have spent 3 days in Luang Prabang exploring the ancient monasteries.
Taking a long boat journey is another endearing way to reach Nong Khiaw from Luang Prabang and exploring the Laos hinterlands on the way. Plenty of travel agents at the Sisavangvong road did advertise about this trip. Price depends on the number of people in the group. A boat can accommodate 12 people at one go with a backpack or small luggage. Refrain from risking it if you have a heavy luggage.
However, I have heard the service has been interrupted ever since the new dam they are building up on the river! With the Xayaburi dam (Ayaburi) in between, you are required to change boats with a tuk tuk cross the dam and embark on a different boat to continue with the journey. It is still worth taking all the pain if you love rivers!
Also read: Day trip to Kuang Si Fall from Luang Prabang
Stop at the Weavers' village enroute (Na Yan Tai Village)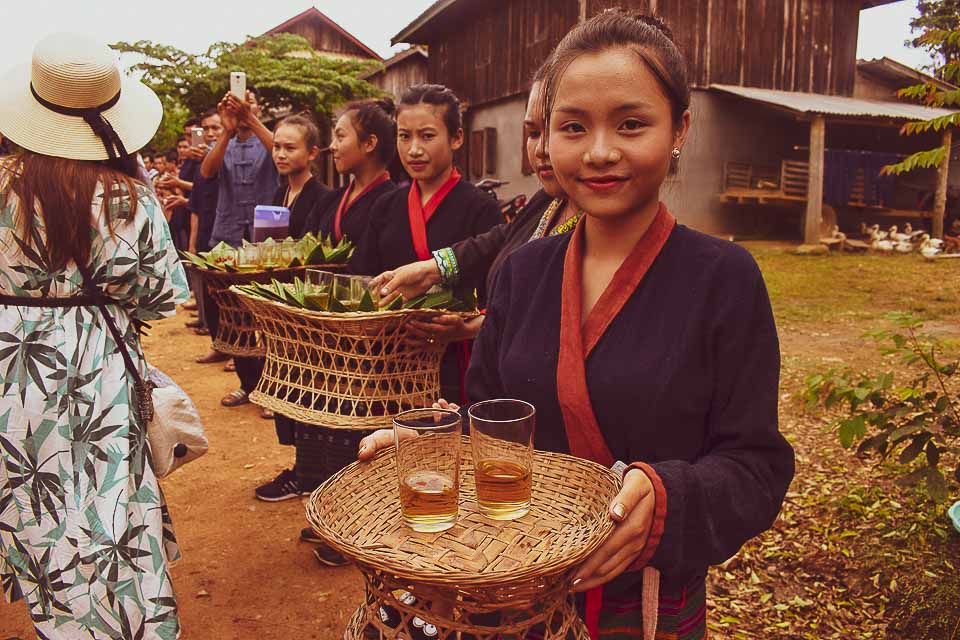 On the way to Nong Khiaw from Luang Prabang we made a couple of shirt stops at the ancient tribal villages of Laos. One of them even had a few homestays (contact given below).
At first, we stopped at the Na Yan Tai Village. The village is inhabited by the people of Southern China, who traditionally kept moving from one place to another. Although for past decades, they have settled in the village, built beautiful homes and nourished generational know-how of art of Indigo tie dyeing.
Weaving is the main source of income here, apart from growing vegetables on the collective farm. Cash-poor yet living in the abundance of nature, this village showed us glimpses of an old Soviet poster book.
Log houses hoisting flags inscribed with hammer and sickle alongside the flag of Laos PDR shared space. One of the most profound cultural experiences at the Na Yan Tai Village was to take part in the Baci ceremony. This is the traditional way of making friends with strangers, making the bond official with Baci cotton threads made sacrosanct by the chantings performed around the flower filled cane basket. Buddhist Animist, Laos people adhere to various old intriguing local practices of the land. Baci ceremony is also held in the North of Thailand (tribal villages accessible from Chiang Mai) and Sapa, Vietnam. 
We looked in awe at the various handwoven fabric put on sale at the village. These are labor of love and artistic excellence! The weaves on an indigo skirt takes anywhere between a week and a month to be created.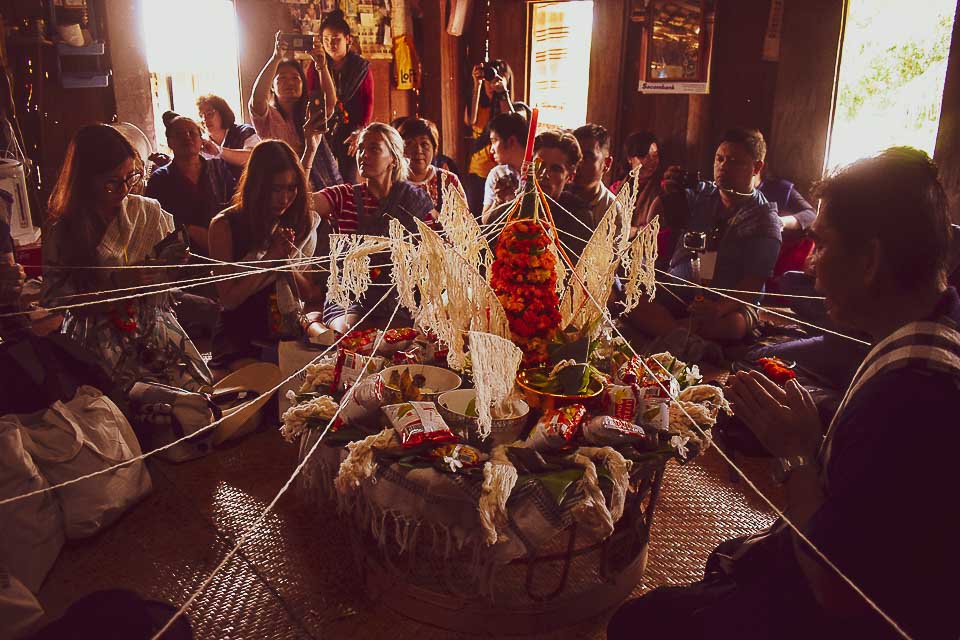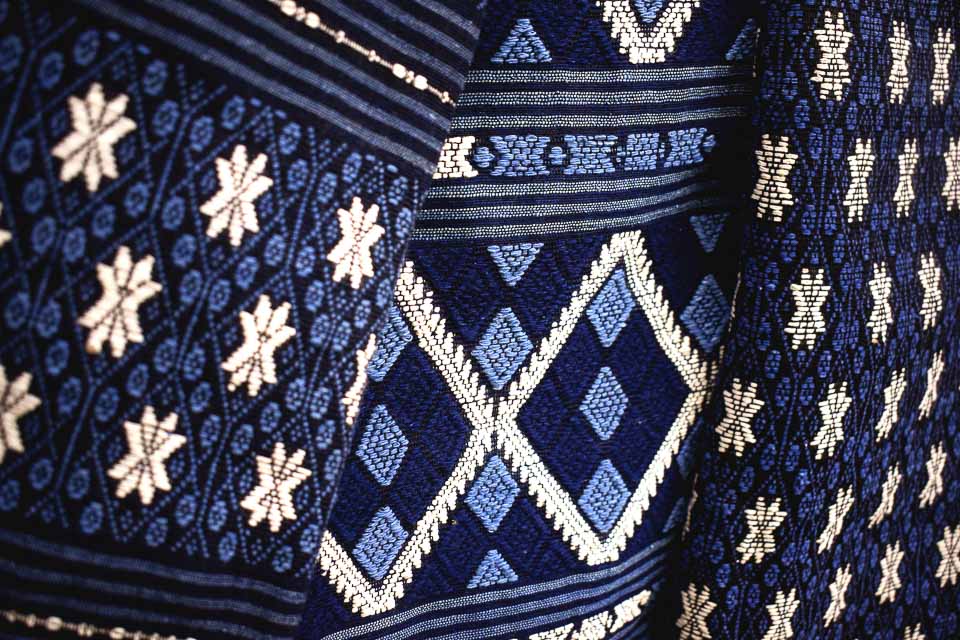 Also read: Beautiful and varied traditional fabric of India!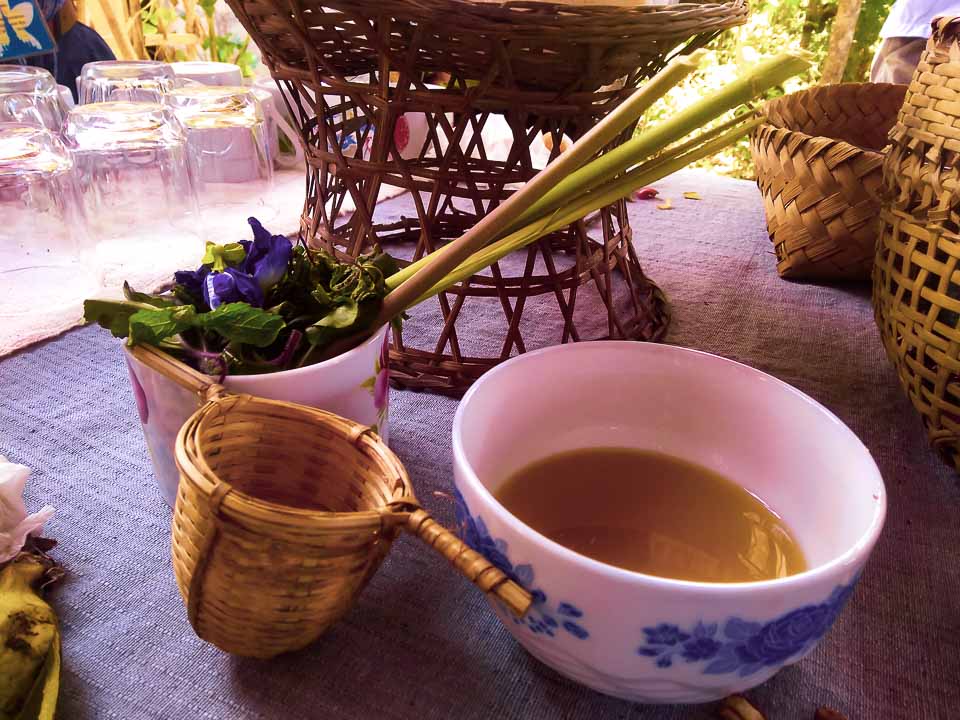 Ban Lue Handicrafts
Within a 15 minutes drive-way, you will reach Ban Lue Handicrafts. Another village in Laos which has provision for homestay to experience authentic Laos style of living. The village runs a community center that helps tourists with training in the traditional weaving machine, making cotton fabric in a rural set up and experience village living in Laos! It is here, I tasted a "tea" made of Aparajita flower (also known as Clitoria) and honey strewn through a cane basket!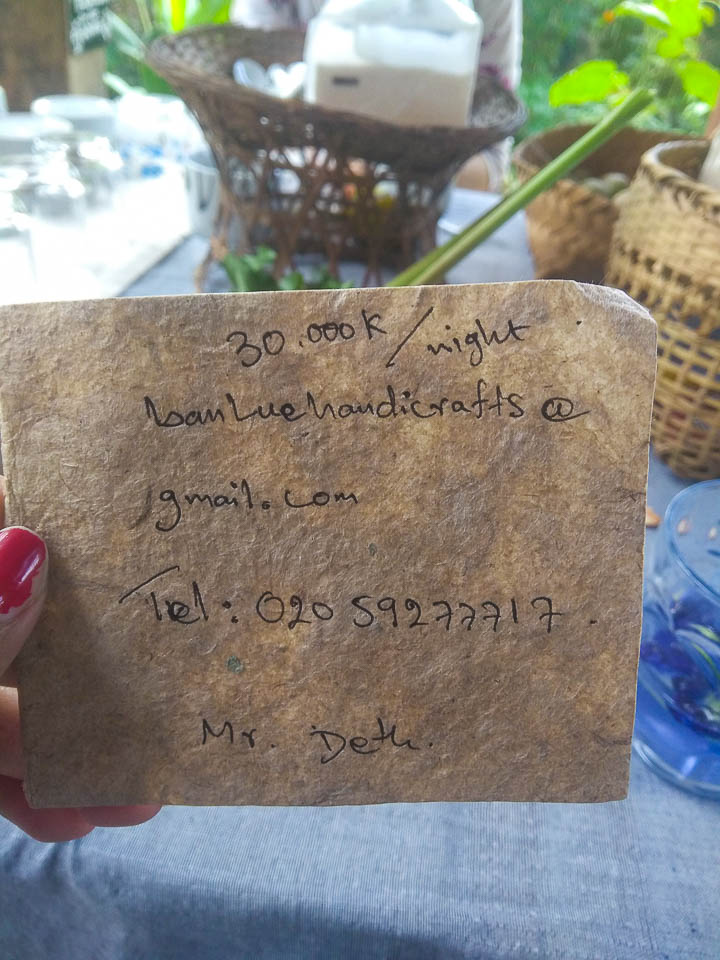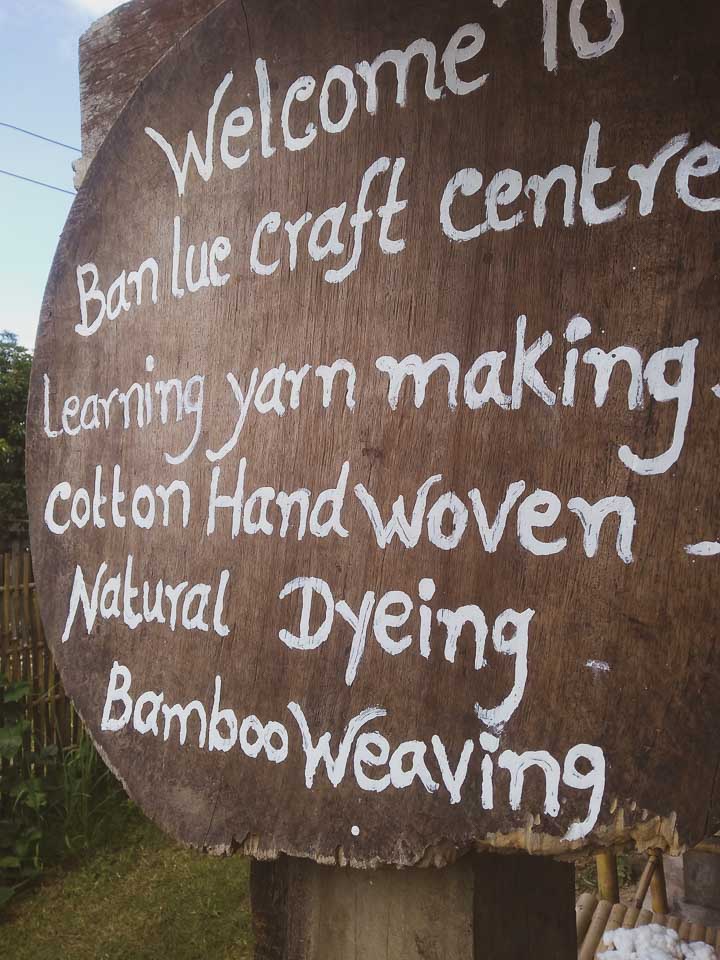 Where should you stay in Nong Khiaw
Nothing Khiaw has a handful of beautiful hotels standing by the banks of Nam Ou river. For best accessibilities to restaurants and cafes and other activities around Nong Khiaw, I suggest staying close to the Nong Khiaw Bridge. The town can be covered by brisk walking for 20 minutes. Nong Khiaw has plenty of guest houses or homestays that can be booked as you reach the town. You do not really need to book beforehand.
Booking Nong Khiaw Hotels on the spot might surprise you with an unprecedented price, with the middle player being omitted! Though with increased appearance in travel maps across South East Asia, I do not know how long Nong Khiaw will retain this old world practice!
Staying close to the bridge will save you a lot of time in commute to partake in various activities.
However, please note the bridge is also making a sea change with new projects coming up in vicinity almost every day with construction skeletons scattered around the place. Which further translates into Mud and litters.
I stayed at the Riverside Resort that had hidden these effectively. You may also choose to stay at the Mandala Ou Resort. This place has a herbal spa and a pool, though staying here requires you to take a longer walk from the bridge.
Other good value for money options to stay at Nong Khiaw are: Ou River House, Sabaidee Nongkiaw River View, View Point Resort, Khamphan Riverside Hotel, Artith Guest house.
Review of the Nong Khiaw Riverside Resort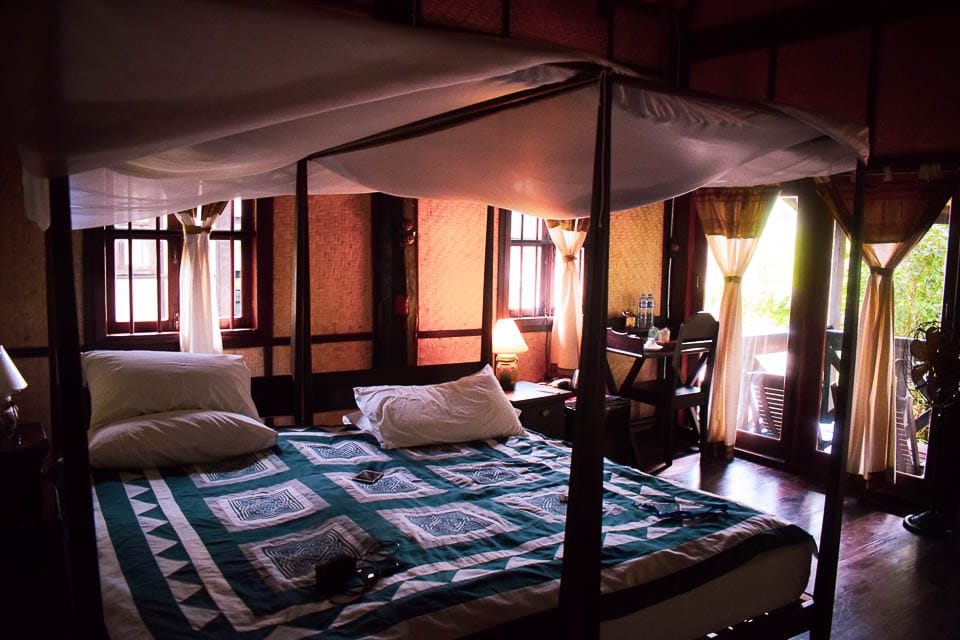 I stayed at the Nong Khiaw Riverside Resort. It is one of the handful of upscale lodging options in Nong Khiaw, located at the south of the bridge and does not overlook any ugly construction site.
The resort has 15 beautiful eco friendly riverside cottages, standing on a cantilever and opening glass doors to a sprawling river. The room is spacious and decked up with local decors and art. I loved the bed spread inspired by local Indigo fabric.
The room had an adjacent washroom, which was pretty basic with supplies and a commode. Plenty of trees, one of them being an orange tree, surrounded my cottage. I was reminded of my stay in Darjeeling with an early morning view of clouds kissing the towering monoliths just at the opposite bank.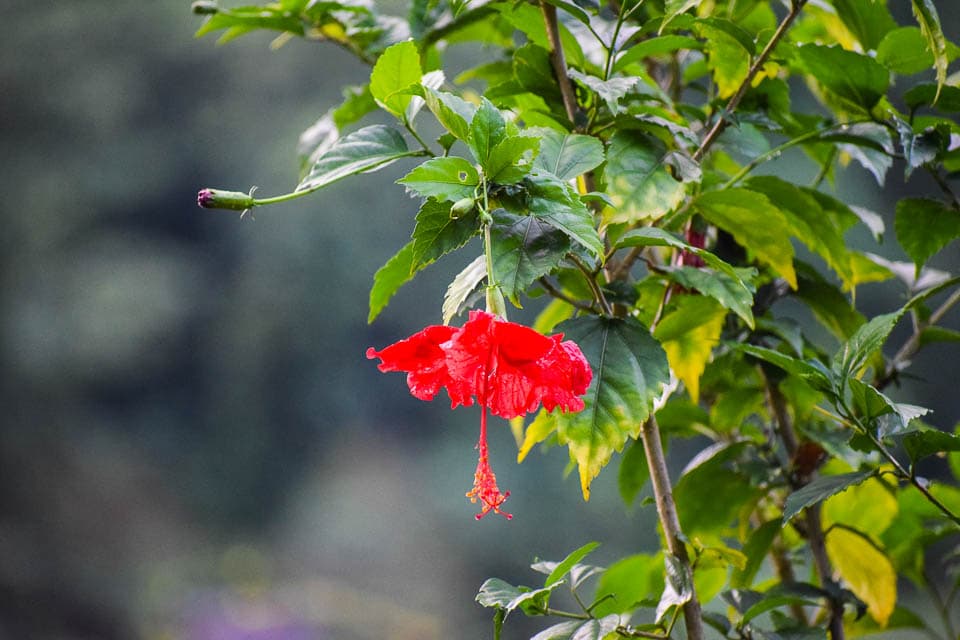 Nong Khiaw Riverside Resort had a walking trail by the river bank, studded with beautiful flowering plants and canopy which I absolutely adored. The day we reached Nong Khiaw, it rained the first time for the season. The land ruminated on the aroma of petrichor!
Nong Khiaw Riverside Resort served us meals thrice a day, with breakfast, lunch and dinner. Rice and noodles are omnipresent alongside a handful of French breads and butter. Tropical fruits bejewelled the buffet. Chicken, pork, buffalo and eggs were found aplenty.
If you are aiming to soak in nature's bounty and just want to relax, I recommend a few day's stay at one of the riverside cottages of this property in Nong Khiaw. Just spend a day by the balcony, breath in fresh air, watch Kris boats pass by. Laos boats are called Kris in the local language, pronounced as KREA. Sip on a chilled bottle of Beerlao. Keep yourself warm.
Exciting and Offbeat things to do in Nong Khiaw
If you are weary of traveling and want to respond to the call of inertia, you can spend a few days at Nong Khiaw and maybe take a boat ride because the river is too gorgeous to not touch and feel and play with! If relaxing bores you and you are ready to take on the unexplored mountains of Northern Laos, there are a plethora of exciting things to do in Nong Khiaw! Experiences in Nong Khiaw range from cultural encounters, rediscovering the horrors of an unfair war and romancing the most pristine natural landscape!
1. Explore the Nong Khiaw Bridge during Sunset!
The tall standing cemented Nong Khiaw Bridge was the catalyst to eventual change of lifestyle that nudged Nong Khiaw from her deep slumber. A recent gift by neighboring China, the Nong Khiaw bridge stands determinant to bring the world outside to Nong Khiaw and change the landscape of the region.
To a large extent, it has been successful in the intent. Development, tourism, various infrastructure has started to pour in. Slow is no more the mantra of life in Nong Khiaw. Boat industry has taken an inevitable hit but new opportunities are opening up everyday with the heart of the town now equipped with various establishments (cafe, internet parlour etc) to cater to outsiders.
At the wee hours of the day, I could spot soft cotton like clouds coming down to kiss the bridge. Sunset in Nong Khiaw is best viewed from the Nong Khiaw bridge. At the end of the northern side of the bridge, you have a small market that caters your daily needs alongside a few restaurants. Reserve an evening to walk around the bridge for a rewarding experience.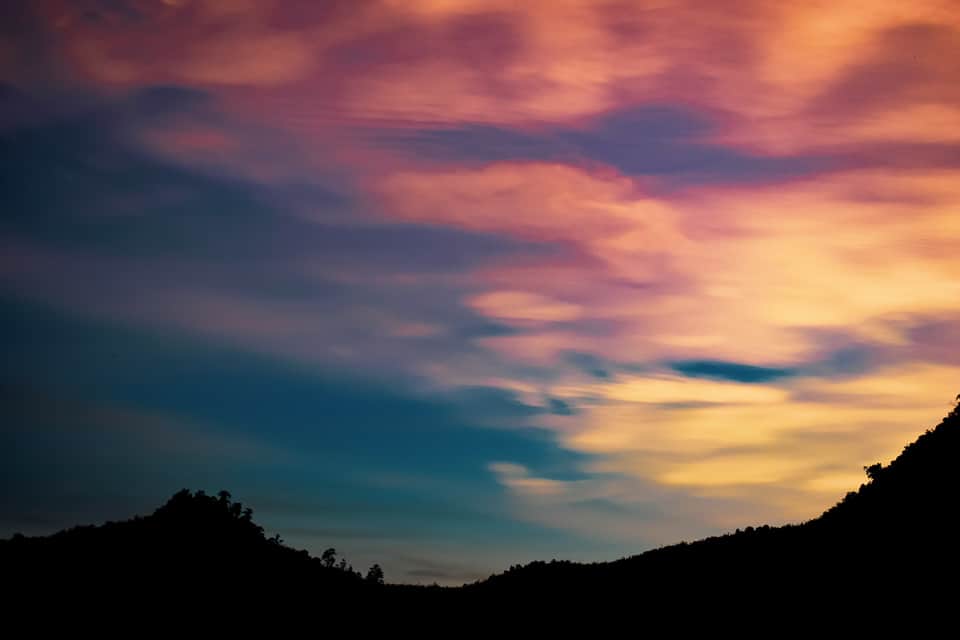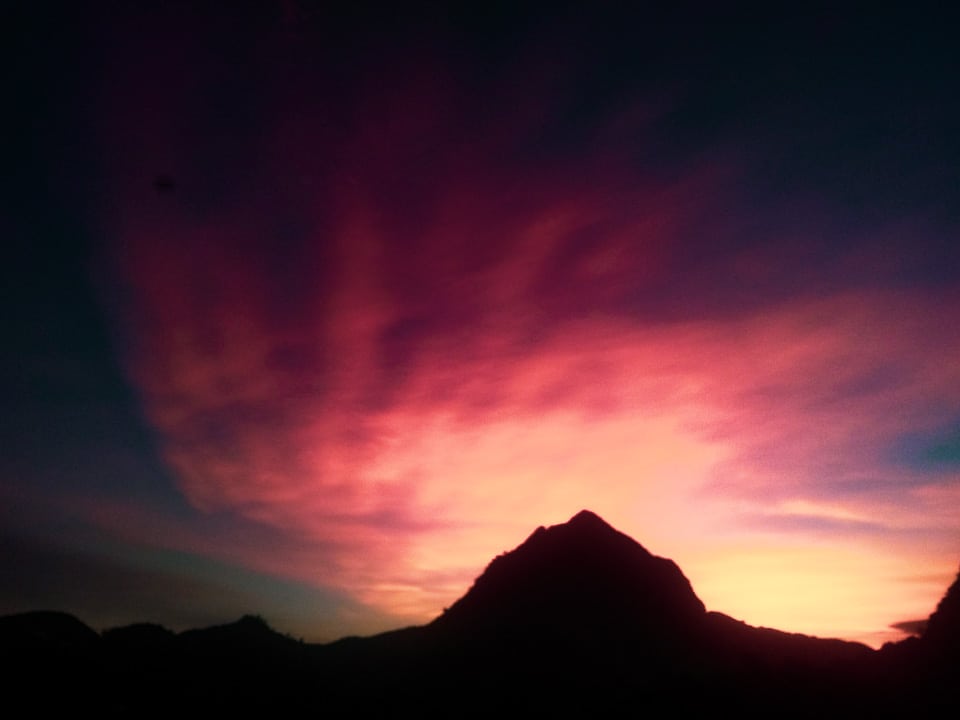 Also read: The most beautiful sunset skies of Masai Mara, Kenya!
2. Rent a bike and explore the town
In Nong Khiaw you may rent a bike or a cycle and tour across the nearby area. It takes anywhere between 5000 kip to 15000 kip a day to rent a bike. With a bike at spare, you can visit the nearby village or embark on the marked trail off the main road. It is a scenic ride indeed.
3. Romancing the river Nam Ou!
Going close to the beautiful river Nam Ou will certainly leave you overwhelmed! The river is distinct in the color, a bright orange. The buoyancy of water is palpable. Her call is intense and joy is overflowing!
You will ideally want to kayak in the river, swim in if you are a pro while being fully beware of the undercurrent and ensuing danger. Embark on a boat ride on Nam Ou and explore the floating villages by her banks. There are mangroves, remarkably distinct from that of a river mouth opening into the sea. A few sandbanks by the banks of the river are forlorn landmass where no one lives. Locals go fishing here at the end of the day. Naked children splash water.
Laos is indeed a waterborne economy, more evident by the banks of mighty Mekong. But Nam Ou provides equal numbers of evidence to state how codependent people are on the river. No doubt the hydro electric project on the mountain river and various streams are causing heated debate in the current geo-political scenario.
4. Boat trip to the village Muang Ngoi from Nong Khiaw!
One morning, we packed a baguette sandwich and embarked on a journey to explore the pristine village of Muang Ngoi. The place has the vibes of the banana pancake trail embossed at the ferry! A number of ramshackle guest houses and few restaurants adorn the riverfront. They advertise kayaking, camping and caving to nearby areas. Most of the guest houses boast of 24 hours electricity (that's a thing here)!
Further you go off the main road, the more rustic things become in Laos. Muang Ngoi is no exception. The village is only connected by boats and has one temple cum monastery run by the Buddhist monks.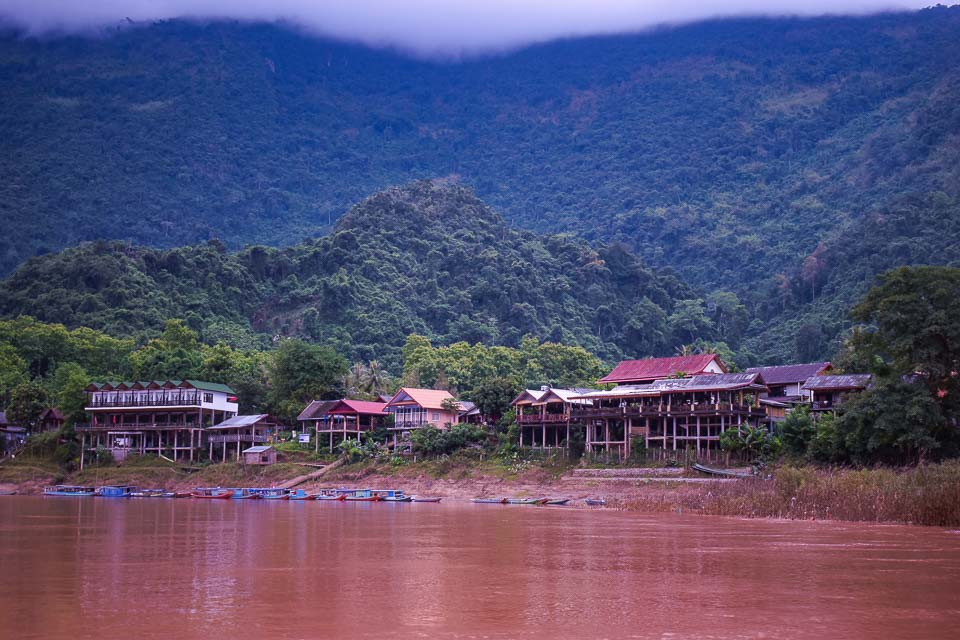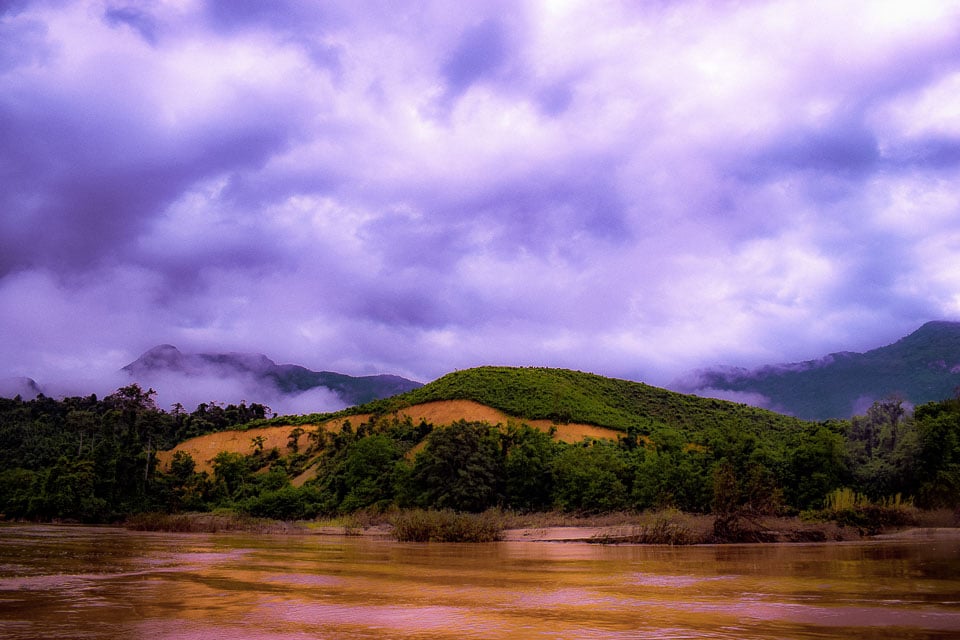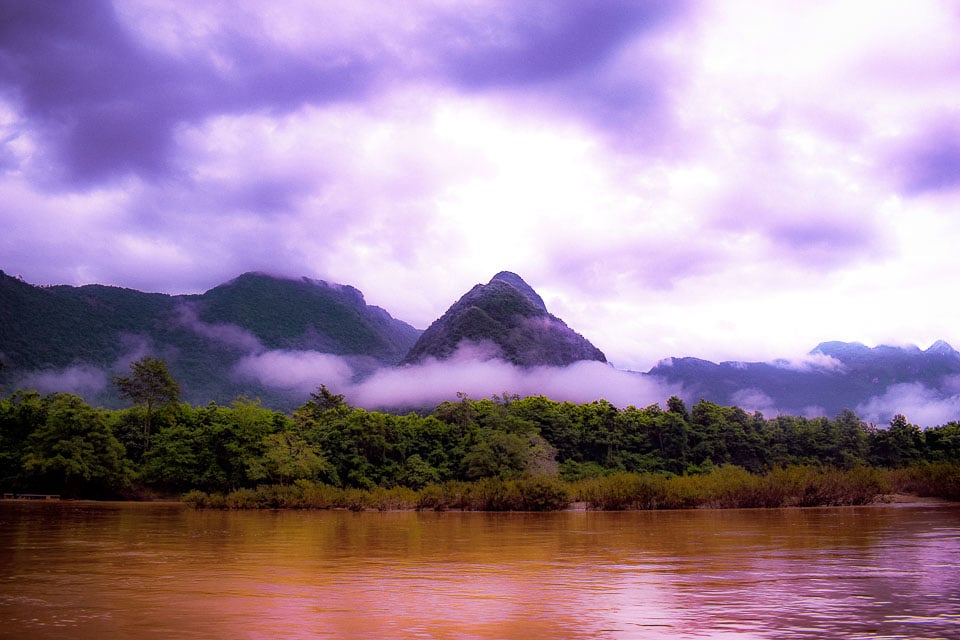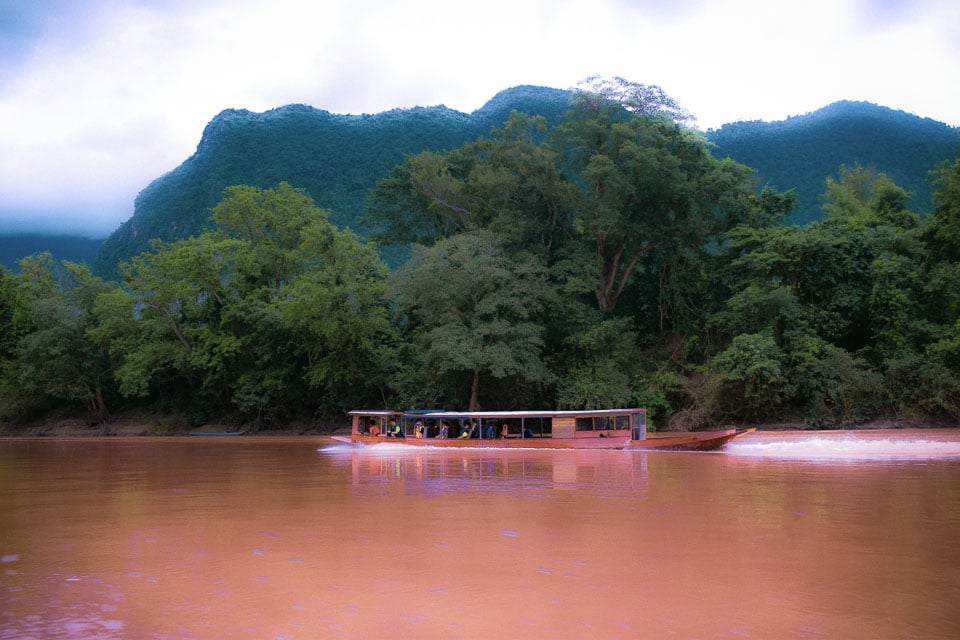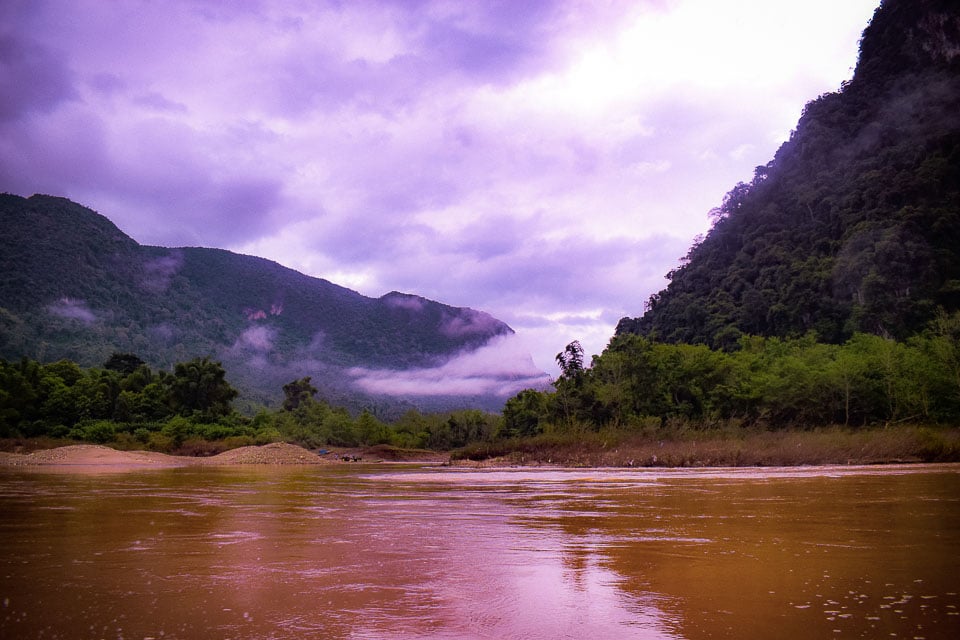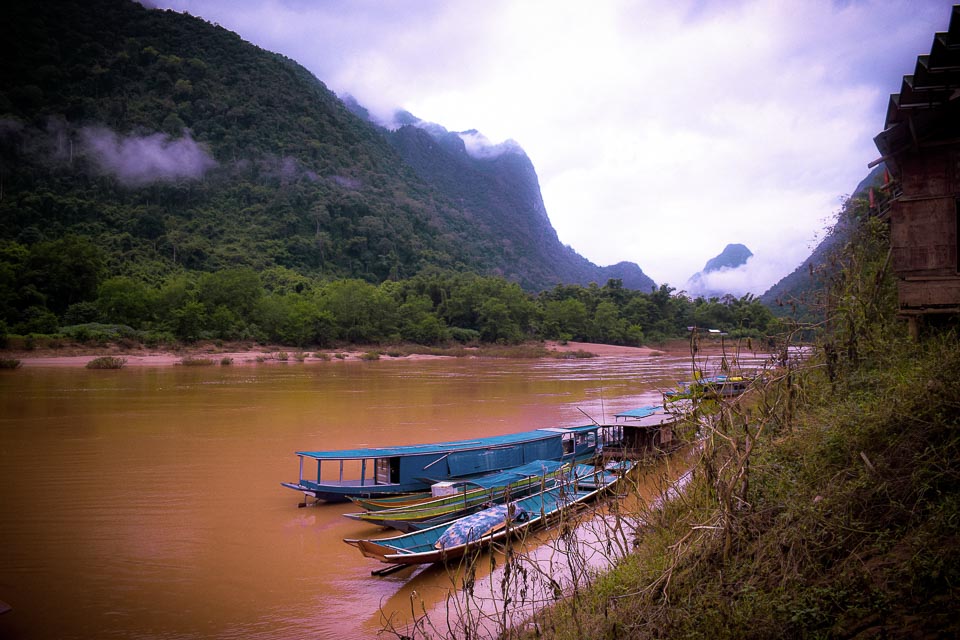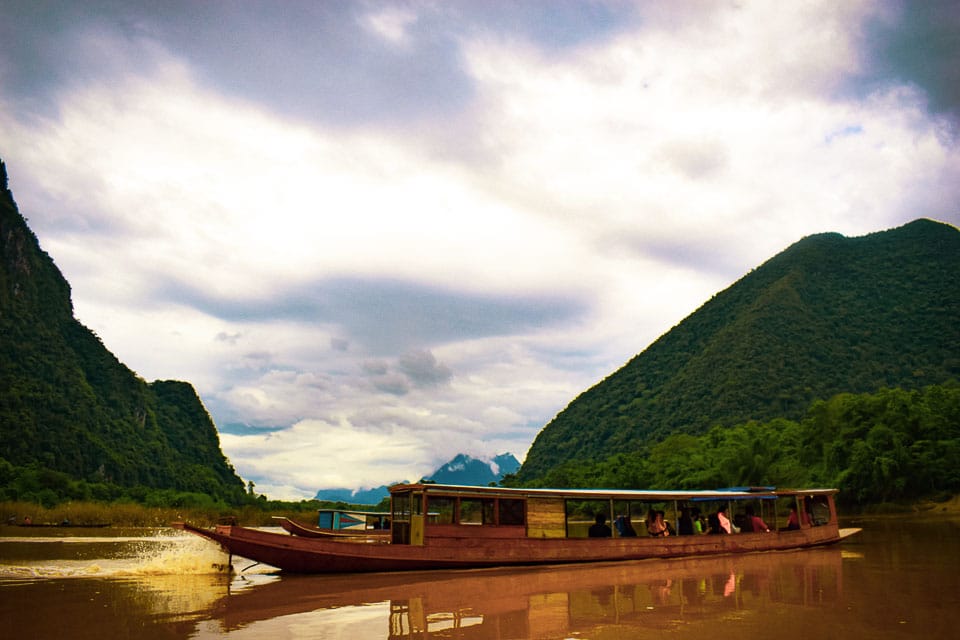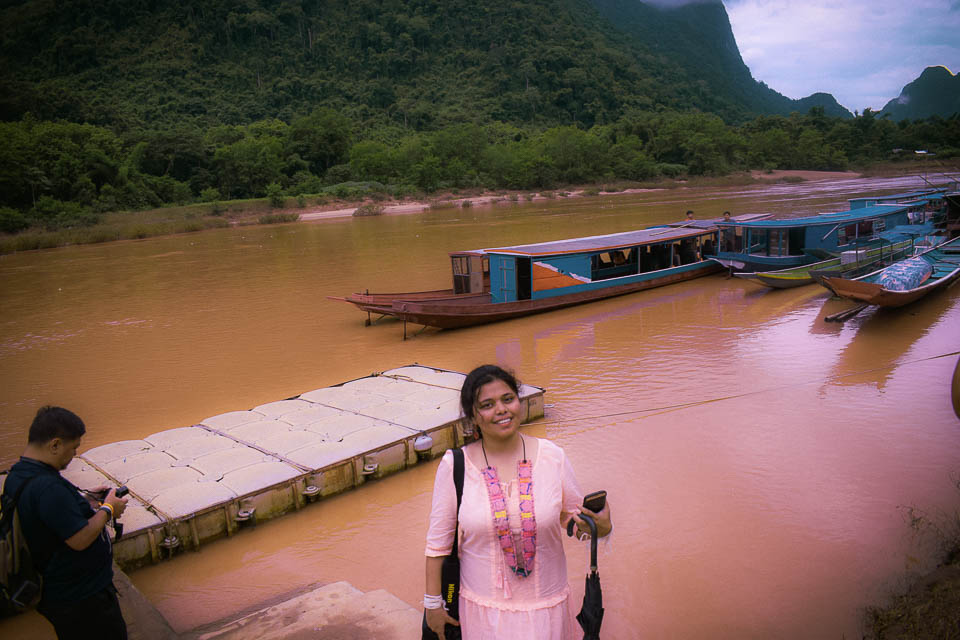 Restaurants here often use unexploded cluster bombs as a showpiece. Though the USA never publicly declared, it dropped thousands of cluster bombs in Laos mountains during the 70's war. Some of them keep taking lives of locals or even maiming them even after all these years. In fact, I witnessed more number of old ordinances in Laos than Vietnam in my travels across Southeast Asia.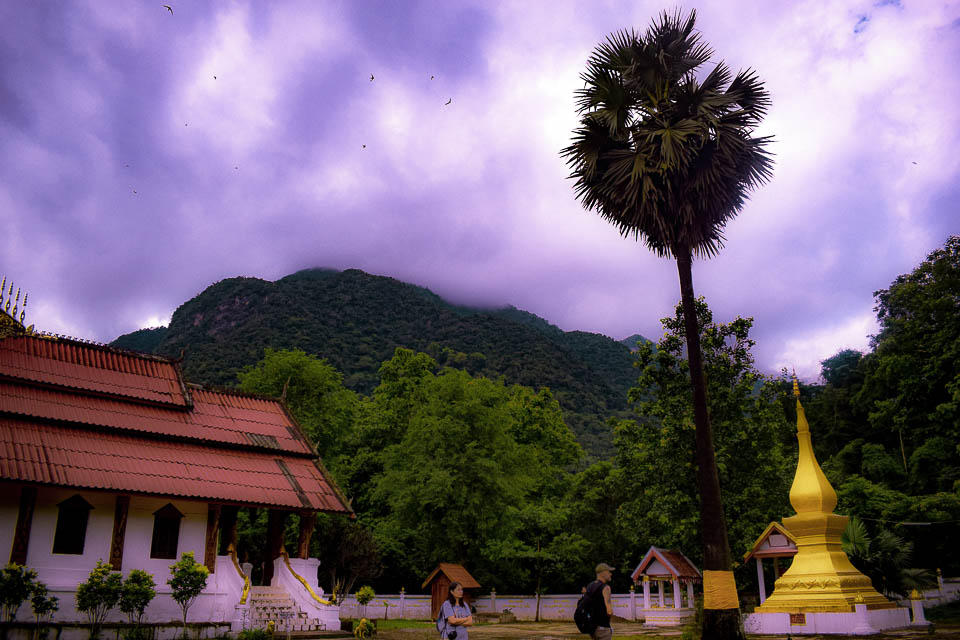 Things to do at Muang Ngoi village
Visit the nearby villages of Huay Sen, Huay Bo, and Bana. All of them are within hour long bike road and has one guest house in case you want to spend the night here. Staying in the home-stays of the villages vaguely reminded me of living with the hill-tribes of Sa Pa, Vietnam!
Rent a bike and explore the marked nature trail around the village.
Visit the ethnic minority weaving village of Sop Cham (take another boat ride) and the village of Sop Keng (located between Nong Khiaw and Muang Ngoi) for a scenic rural hike to a waterfall.
Indulge in the beach (river sandbank) during the dry season.
Hike upto the Phanoi viewpoint. The last stretch of the hike is rather steep here.
Tham Kang cave: Just 5 minutes walk off the main road from the village, you will come across this rather long stretched ancient cave. There is a swimming hole at the bottom of the cavity that houses large fish, which are not hunted by local customs. Entry fee for Tham Kang Cave is 10,000 Kip. Carry a torch.
5. Hike to Phadeng Peak (Nong Khiaw View Point)
Entry fee: 20k Kip
If you love hiking, do not skip the sunrise trek to the top of Nong Khiaw viewpoint. From the top, you get a chance to witness a mesmerising view of the Nam Ou river taking a serpentine bend across the Nong Khiaw village. Clouds come to kiss your face here. The hike is marked by a murky trail, which gets rather steep at the end. Come rain, there will be mud and slipping would be a real possibility.
Yet, Nong Khiaw viewpoint is indeed worth all the effort for the stunning view that awaits you at the end of it! Visit early in the morning because after sundown, you will not find electric lights to guide you home!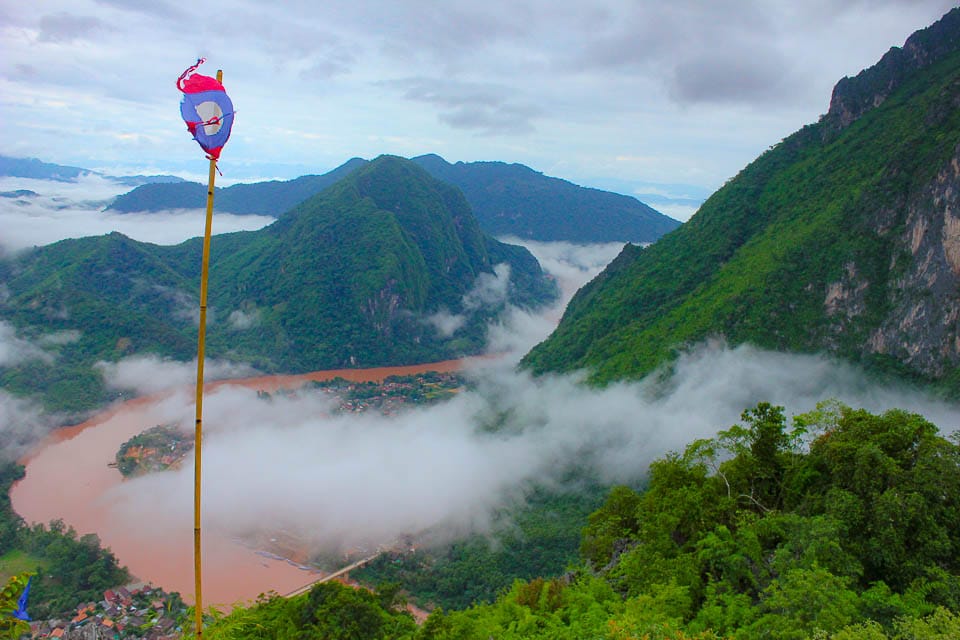 Sleeping Woman Viewpoint: Another beautiful place to hike upto is the Sleeping woman peak which takes around one hour to climb up and rewards with a 360 degree view of the area.
6. Trek to the 100 waterfalls!
Sign up with the local tour operators named Tiger Trail who will guide you to a hidden cascade in the mountains of Nong Khiaw. It is known as 100 waterfalls. The trek through wild blossoming fields and lush green paddy fields is rather rewarding. It is ideally conducted as a one day trip, with picnic lunch packed and to be savored atop the hill. The trekking route has been open for foreigners since 2008.
On the way back you may want to explore the local village named Hoya Hoya. Inhabited by the Hmong and Khmu tribes, the villagers make brooms from giant coconut and palm leaves. Also ask for local handicrafts like the mulberry paper umbrellas (called "Khan Nyu" in the Laos).
Ideally, tagging along with a bigger group will help you to bring down the price. trekking to 100 waterfalls and swimming at the waterbody is a rather off the beaten track travel experience not only in Nong Khiaw but in entire Laos!
7. Adventure activities in Nong Khiaw
Home to a young river and craggy mountain peaks, Nong Khiaw inevitably suited herself to the needs to adventure seeker tribes! You can zipline through the verdant valleys and sprawling paddy fields at Nong Khiaw. You can embark on a bamboo raft or a kayak on the river bed of Nam Ou. You can indulge in rock climbing activities (a lot like Railay, Krabi) and explore the number of monolithic limestone caves of the region, who often played hideout for the political activists not very long ago!
Please ensure you wear a comfortable hiking shoe before you step onto the mountain in Nong Khiaw. Cemented road in Nong Khiaw recedes before you can predict and dirt road and muddy trails start. While the Laos children brave that with flip-flaps, you might not find that to be best suited for your journey!
8. Exploring the Pha Thok & Pha Kuang Cave of Nong Khiaw: Looking back at the violent war history of Laos not so long ago!
Entry fee: 10000 Kip
Just when you will think you have reached the most stunning landmark, a melancholic chapter of history will unfold in front of you!
On the way back to Luang Prabang, we stopped in front of the massive monolith that housed the iconic Pha Tok Cave.
This is a wide spread cave network that housed a makeshift government and political party with a vision to rebuild Laos based on local value. Laos was a French colony before that time. During the second Indo-China war, a group of political activists made the caves their home, used a makeshift staircase made of bamboo and cae to climb atop, fought a violent ruthless army, and technically ran a government from here.
The guide showed us a marked compartment in the cave premises that was home to a hospital, a bank, a first-aid unit, a security center, an arms bank. Looking at the rice paddy fields that surround that cave system today, it is difficult to believe a violent chapter of history was endured here. From the Indo China war to the Vietnam war, those are a number of apocalyptic decades!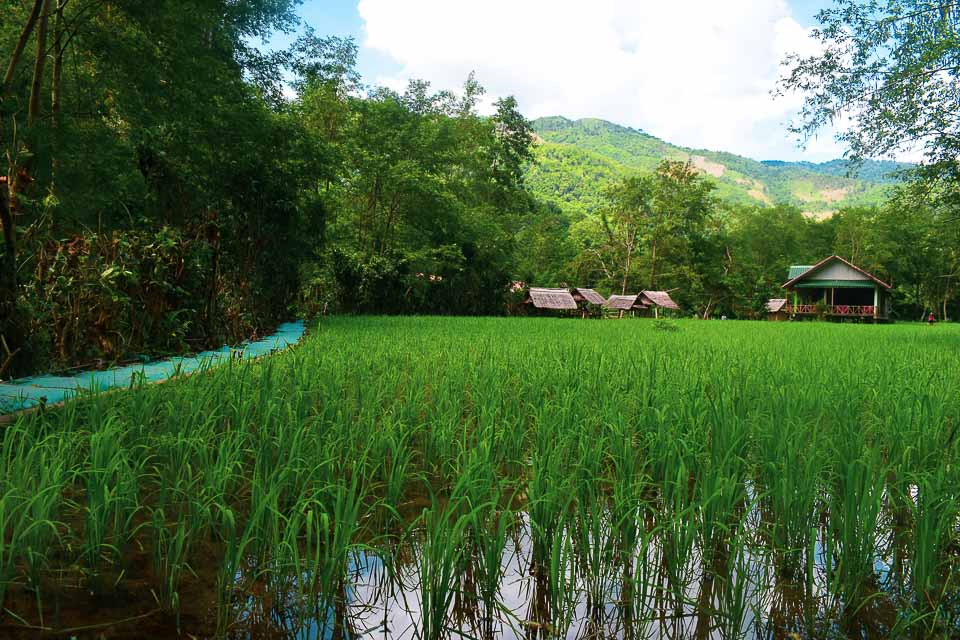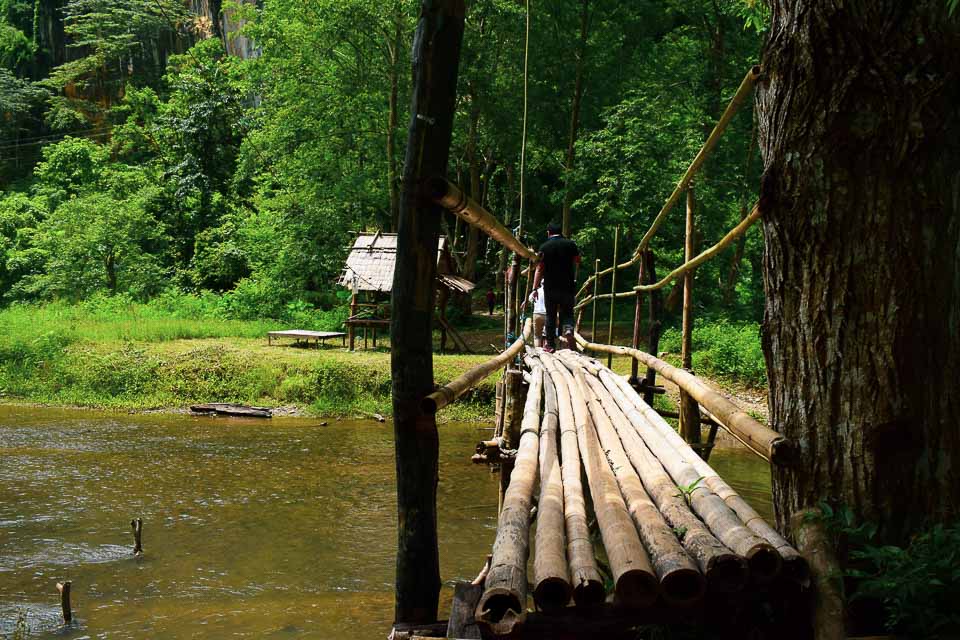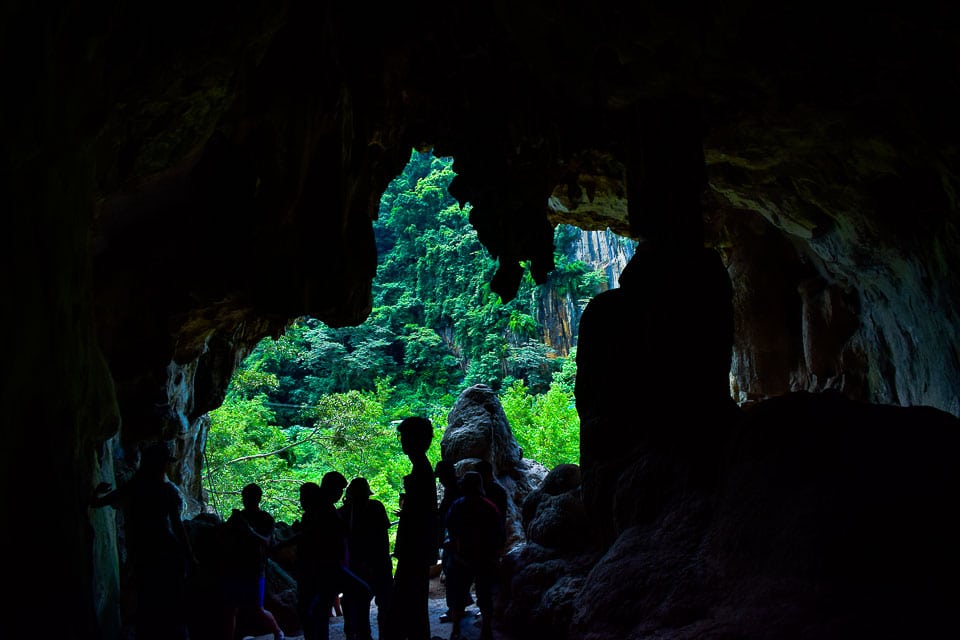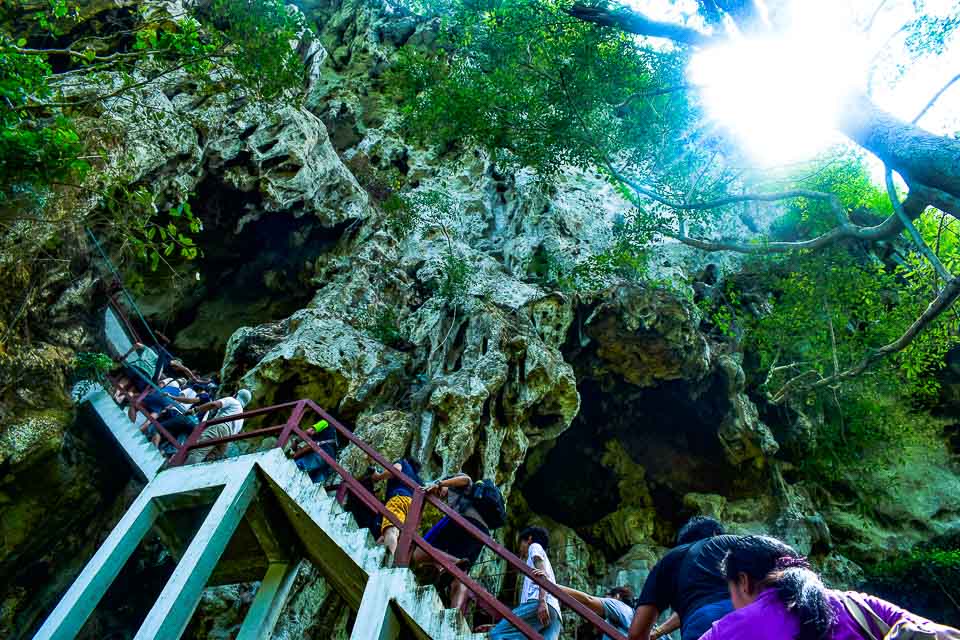 However, more intriguing is the story of the cave next to the hill that houses Pha Tok. A small hike will lead you to the Pha Kuang Cave. Locals said, this cave burnt for straight three days, with armours and soldiers housed in it. Such was the battle fought here!
We saw a small opening to the cave. Next to it stood a longer and elongated hole, caused by bombing. Walking here, you will come across multiple bullets and what a lot littered around. A few remains of anti aircraft destroyers and a tomb of the martyrs are erect inside.
Ivory white Stalactites and Stalagmites rock crystals shimmer inside, as if teardrops of humanity.
9. Relax in Nong Khiaw!
I can not emphasise on this enough. Nong Khiaw is the untouched gem of northern Laos. I am not saying this because I have to but I truly believe this! If I am to relax somewhere "hidden" in SOutheast Asia. I would choose Nong Khiaw as a hill destination. I fell in love with her nature. Unabashedly unique. Unapologetically rustic!
The only other place which astounded me similarly impactful nature were the Koh Yao yai and Koh Yao Noi twin islands of Phang Nga Bay, Thailand!
This reminds me, while at Nong Khiaw, do sign up for a herbal steam bath with Sabai sabai. You may also sign up for a traditional Lao style Massage. I can feel the "Creek" sound on my spine at the end of that hour long season and I need one now that I have been writing for 3 hours.
The best Massage at Sabai Sabai would not cost you more than USD 5.
You can leave all these and spend the day on a hammock on the hut of your guest house as well. With a book on hand. That is the kind of vacation I am looking for as the world reopens!
A guide to eating great food in Nong Khiaw
Almost all the cafes or restaurants in Nong Khiaw serve local fare alongside experimental western cuisine. Tropical fruit juice and delicious Laos coffee is a must!
Deen restaurant: One of the quaint little Indian restaurants of Nong Khiaw for great Tandoori Roti and Kebabs!
Coco Home: For an old world movie hall, head to Coco Home. For breakfast, lunch and dinner, there are three movie slots. Movies are scheduled from beforehand and advertised too. The show is usually in English. Low tables and pillows are definitive lounging spot here with decent wifi.
Delilah: One of the finest expat run bakeries of the region, Delilah serves cakes, pastries, Italian pizza. They have good wifi to get some work done as well.
Sabai Sabai: Serves fruit shakes and Western-Asian fusion food. It is a nice spot for vegetarians.
CT Restaurant: Famous for home-made cakes, muffins, donuts and pies. Great to dine during the sunset hours.
Things to know before you plan a trip to Nong Khiaw
Best time to visit Nong Khiaw
White the best time to visit Laos (Luang Prabang or Nong Khiaw as an extension of the trip) is often advised for the drier months from October to March, I visited ong Khiaw in July. It was the first day of rain. It was beautiful! The river was voluminous. The rain rendered some of the dirt roads inaccessible. Hiking trails were slippery. It also meant rockclimbing was put on halt for the time being. Otherwise it was perfect. While drier months ensure you have more activities, the rains make Nong Khiaw look nature's betrothed.
ATM/ Money transactions in Nong Khiaw
Nong Khiaw had only one ATM located close to the bridge. Amenities are limited and cash is the king here. Be cognizant of the fact while traveling in Nong Khiaw.
While visiting the distant villages off Nong Khiaw, ensure you have enough cash along with you. Carry a torch light just in case. It tends to get chilly so be prepared for a cold and often dump weather. Mosquitoes and insects could be a real challenge hence take repellants while venturing into the wild. Invest for a good hiking boot.
Healthcare and medical shops were limited in number in Nong Khiaw.
Internet/ Electricity in Nong Khiaw!
While Nong Khiaw (at least the main town) enjoys uninterrupted internet and electricity, it is not the case as you venture deep into the rural hinterlands. Phone networks tend to go amiss as you leave the main road. Many of the villages are run by micro hydel power plants that can ensure electricity for a few hours a day.
For a savvy traveler, these are the quirks of the wild but many would not prefer to holiday like that. So take informed decisions on what are the things you want to do in Nong Khiaw.
Is it safe to visit in Nong Khiaw as a solo traveler?
It is absolutely safe to travel in Nong Khiaw as a solo traveler. People in Laos are generally more than friendly and simple. English is spoken by the hospitality service person. Those who are not a part of the industry, tend to get the job done with a wide smile! It works, surprisingly!
Is it expensive to travel in Nong Khiaw?
Compared to Luang Prabang, I found Nong Khiaw had at least 20% reduction in prices for cafe, bakery, restaurants. Even the hour long boat ride to Muang Ngoi village was a meager 10000 kip. It was a cheap destination however with influx of tourists exploring the hill town, things are set to be changed forever.
Suggested 4 day (3 nights) itinerary for Nong Khiaw, offbeat destination in Laos
A 2 nights and 3 days stay in Nong Khiaw is ideal while you can easily spend more time and indulge in relaxing amidst abundance of nature!
Day 1: Reach Nong Khiaw from Luang Prabang. Visit the villages en-route.
Day 2: Hike upto the Nong Khiaw View Point for Sunrise. Spend the evening at the Muang Ngoi village.
Day 3: Trek to the 100 waterfalls. Spend the evening by the Nong Khiaw Bridge. Indulge in a spa session!
Day 4: Return from Nong Khiaw. Sto by at the Phathok Cave on the way back.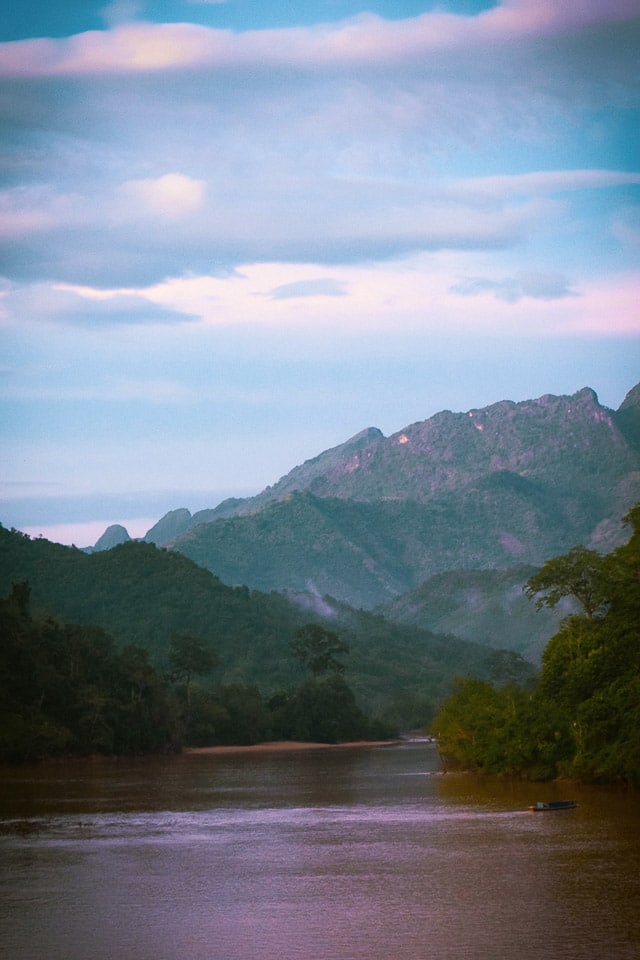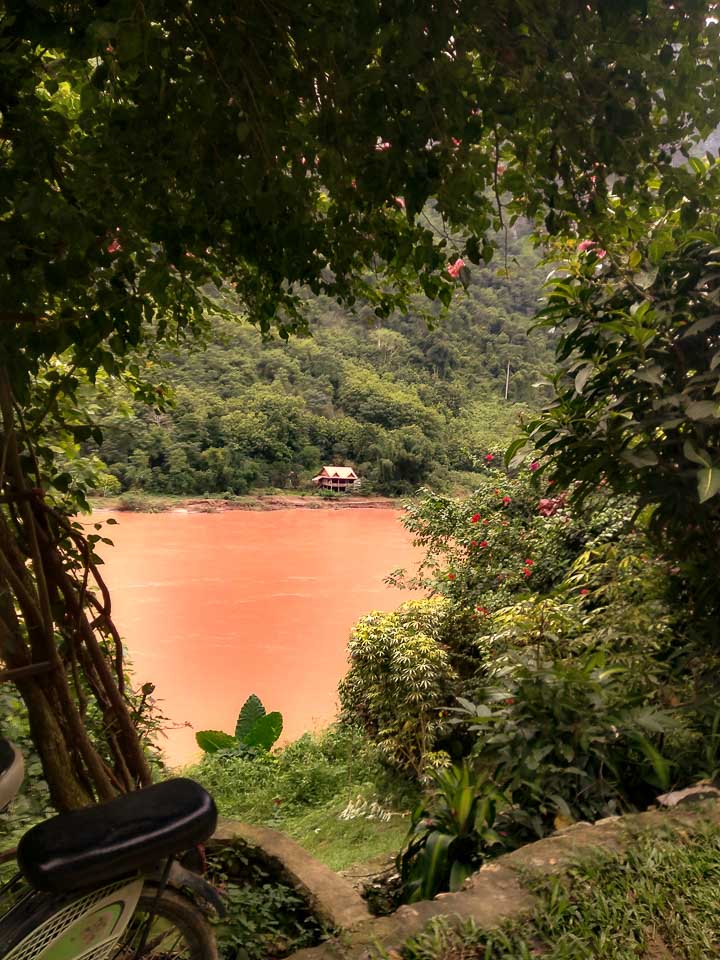 Also read: The incredible night market of Luang Prabang!
Practice Responsible Tourism in Nong Khiaw
Do not litter your trash in during the hike and make a conscious effort to reduce trash. Laos is a landlocked country and processing tourism trash is a real trouble here. In a year alone, laos is forced to process a million or more plastic bottles for potable water, which in my honest opinion is nothing short of wasting resources.
While traveling in Laos, specially in the countryside, alway try to help people by purchasing local made art work or exchange for a service. Do not provide pencils to children on the road. It just strips humans of basic dignity. Refrain from taking child guides. Instead, invest for locally owned eco tours and homestays which directly leaves a lasting impact for the Laos economy, which is otherwise heavily dependent on China.
Most importantly, do not embark on unmarked trails in Nong Khiaw. Each year, a number of unexploded ordinances dating back to the Vietnam war takes a heavy toll on local lives or mimes some of them. You do not want to be reduced to a bloodied piece of meat, while unknowingly stepping into one of the sinful acts left behind.
Beyond Nong Khiaw, the Unexplored Laos!
From Muang Ngoi, take a boat trip further north and reach Muang Khua. The boat is irregular and you might have to wait for upto 3 days at times depending on the number of co-passengers and other factors. Muang Khua is located at a 6 hours distance from Muang Ngoi and has an extended cave system at Ham Kang Cave and Tham Pha Kaew Cave.
From Muang Khua, it is possible to cross over the land border and reach Dien Bien Phu (Vietnam).
---
This post may contain affiliate links. Please read the disclosure post. If you have liked the article, you may support it by buying using these links without any extra cost to you.
Let's stay connected on Facebook, Instagram, Twitter! You may also consider joining my mailing list. I send travel and photography related emails only once a month!