Luang Prabang in Laos has one of the best night markets in the entire southeast Asia when it comes to collecting handmade artifacts and other souvenirs. Laos hill tribes excel in weaving silk and Indigo hued natural sustainable fabrics which is a must in any collector's wardrobe. This guide on the bespoke souvenirs from Luang Prabang, Laos will tell you how to give back to the people of Laos in a mindful way. You also take back home something from Laos to be treasured for a lifetime and beyond. 
Read all my articles of Laos travel.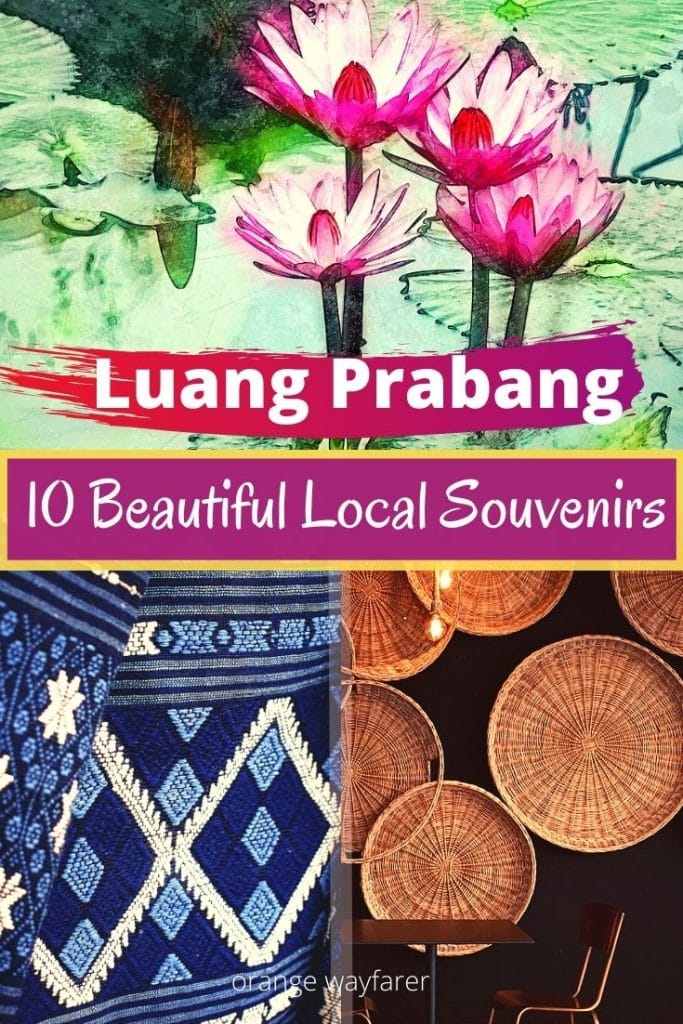 Why I endear handmade artifacts as souvenirs?
Usually a day in my life while I travel is reserved for visiting the local markets and collecting some of the handmade art distinct to the land. Like many other discerning travelers, I appreciate everything handmade, even though they come at a premium price. If the price is too steep, I buy a small book mark, which is exactly what I bought from Luang Prabang. As long as it is handmade, I feel I have brought home a living and breathing part of the destination!
It is a pity now most of the markets are inundated with cheap Chinese made copy artifacts. I will refrain from commenting on economical effects but what is the point of buying a China-made Anubis from Khan-e-Khalili just because it is not taxing on your pocket? Imagine a woman who sits by her window and paints the sunset on the cotton canvas with her needle and thread. Her children bring home the cow at dusk. She has to hurry at sunset because "Sondhye dewa" awaits at the Tulsi Mancha! Her Kantha Stitched Saree would make a prized addition to the Indian weaves collection at an urban closet upon completion.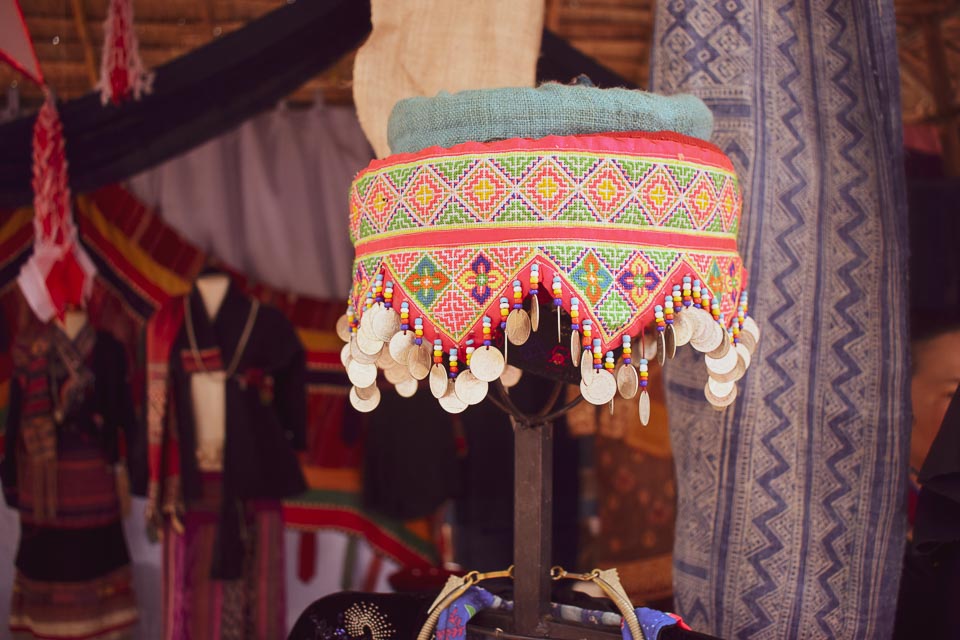 In my study, I look at them endearingly on many a following balmy afternoon, like now that the world is under an indefinite lock-down! And I get transported back to the night markets, the rural Mela, the souks, the walking streets. The inexplicable human connects and associates stories of kindness never fails to bemuse me. The terracotta Horses of Bankura, the asbestos stone souvenirs of Egypt, the wooden miniature doors of Zanzibar, the old Soviet propaganda magazine that S picked up from Coorg.. the list goes on.
But I digress.
I wanted to list down the most authentic and beautiful artifacts I found on the streets of Luang Prabang. During my rather rushed three to four days of Luang Prabang itinerary, I religiously spent the evening scurrying around the Sisavangvong road. It is where the iconic night market of Luang Prabang takes place.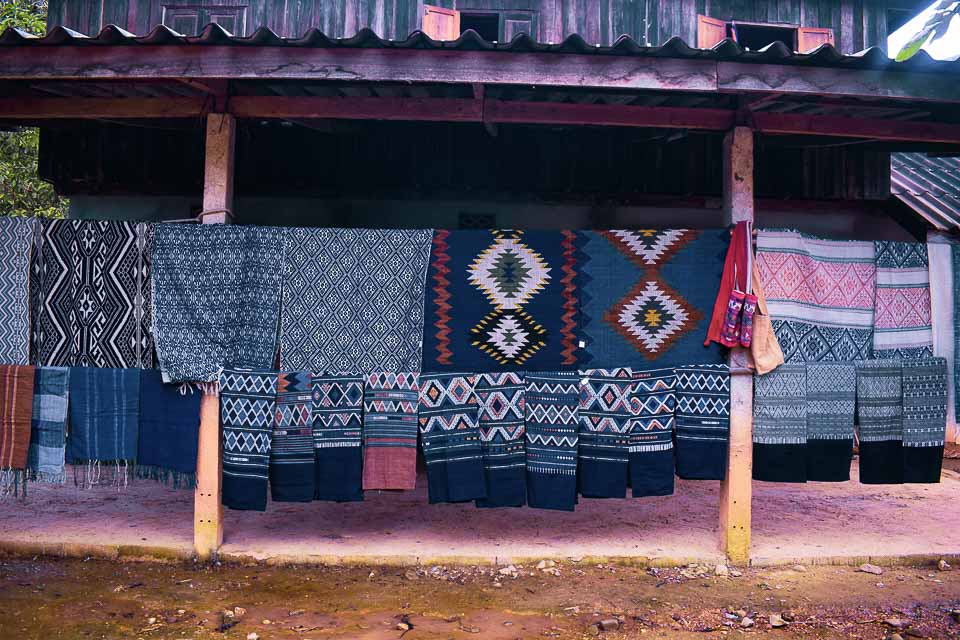 Finding Authentic Handmade Souvenir from Luang Prabang
The idea of starting the night market of Luang Prabang was originally conceived by the Hmong tribesmen. They wanted to interact with tourists visiting this small landlocked country, which only opened its door for tourists in the late 90s. Hmong's handwoven fabric and naturally sourced art work have earned a separate fanbase in the world outside. They wanted to cater to the increasing demand.
With changing time, the market had survived a paradigm shift in the industry. The local markets are now inundated with copy products sourced from China, Thailand or Vietnam. For the savvy traveler in Indo-China, one glance is enough to identify and pass on.
If you still have doubt, look for the 'Handmade in Luang Prabang' symbol attached to the product. It is like the silk mark that we use in India to ascertain purity of a fabric. The handmade in Luang Prabang Symbol testify to authenticity as the committee Luang Prabang Handicraft Association certifies to its local origin.
In Luang Prabang, your focus should be to single out the indigenous handmade products sourced by the locals. They are worth every penny spent, when you judge by the artistic value and inherent goodwill gesture.
Following is a list of souvenirs I found in Luang Prabang. Of course I did not buy all of them. My favourite ones were hand painted bookmark and local fabric. Love for textiles comes to this Bengali girl naturally!
Pha khan mon in Laos means small pieces of hand woven silk clothes. You can frame them and display at home. These pieces of clothes are gifted as a token of love.
Buying a silk Sinh (skirt) is a delightful experience in Luang Prabang.
I suggest looking for a knee length skirt. Usually the blouse is made of a single color but the skirt is richly embroidered. A long skirt with detailed hand embroidery costed me USD 20 (only) at the village we visited. I know as a matter of fact the price will be higher in Indian brands (think Fab-India). The price goes higher for a silk skirt with rich hand embroidery. For machine made products, price comes down significantly.
Ban Xang Khong is a weaving village close to Luang Prabang where you may go and buy products directly from the weavers. We visited the weaving village of Na Yan Tai on the way to Nong Khiaw. We also stopped at Ban Lu handicraft center who even arrange for home-stays in Laos. All these places are a short drive (a couple of hours at max) away from Luang Prabang.
Rent a Sinh for a day in Luang Prabang!
Sao sinh is a service that allows visitors to rent a Sinh for a day in Luang Prabang. You may plan to avail their service while visiting a Buddhist temple.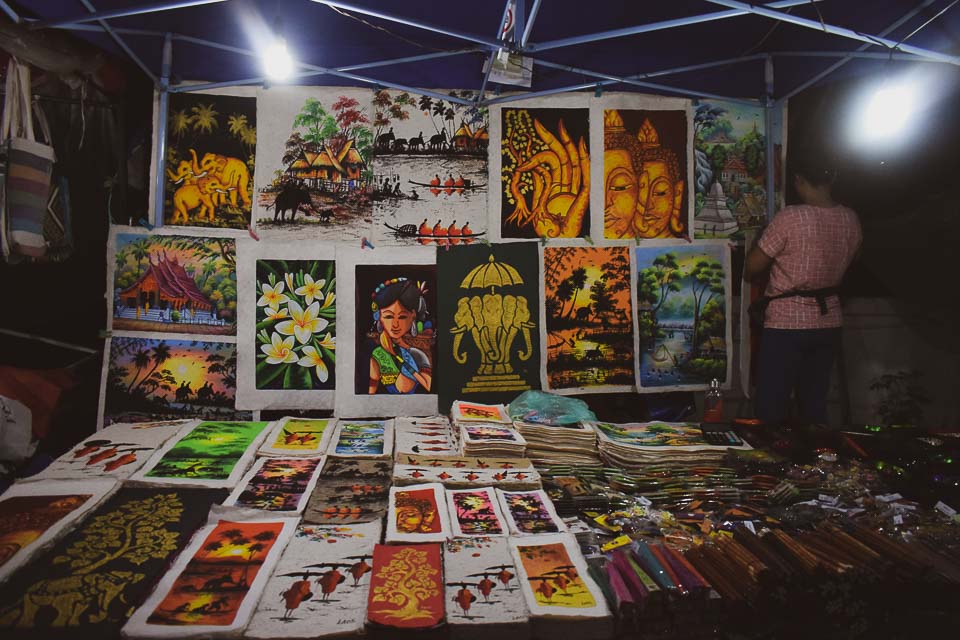 Everyday life of Luang Prabang on a Painting Canvas
As an amateur painter, I do not think there is any better way to support the locals and deck up your home space than buying a painting by a local artist.
Taking a cue from everyday life, Laos artists depict Luang Prabang beautifully on the canvas. It is intriguing to find a few strokes on a blank paper that bring life to an evocative face.
Paintings are available in small as well as large canvas. Mostly oil paintings were being sold with a few exceptions of being mixed media or water color. I did not see any fabric painting on sale at the Luang Prabang night market.
You can shop around any antique store if you want to see more variants on painting. I loved the tribal women's faces which were also carrying a few branches for fuel, apparently.
The most vibrant of all the paintings were definitely morning alms giving ceremony coming alive on paper. Maroon robe, Yellow paint brush, bamboo storage boxes. The repeated occurrence of this particular subject showed how deeply studded the ceremony is in the context of local people. A lot like the coffee ceremony of Ethiopia.
Also read: Old face of Kolkata in 50 pictures, a photoblog!
Natural Handwoven fabric of Luang Prabang
I wish I would know enough to express in words how beautiful the fabrics of Luang Prabang. I had a glimpse of the world of Hmong fabric while traveling in Sa Pa, Vietnam. At the restaurant called, Hmong sisters, they had adorned the wall with handwoven natural fabric.
Later, they appeared in front of my eyes in Luang Prabang. The astounding human heritage of shared intangible cultural elements made their presence felt again!
A lot of weaving villages surround the Old town of Luang Prabang. As a part of a day trip from Luang Prabang, you can visit them coupled with the waterfall or the caves. 
Ma Te Sai and Kop Noi Gallery are some of the premium choices if you are looking for natural and locally sourced Laos fabrics.
Ock Pop Tok Living Crafts Center
Instead you may visit the Ock Pop Tok Living Crafts Center. It is closer to the town, has a complimentary shuttle system from Old Town City center and has a number of workshops to take part in. From weaving a bamboo basket to learning the secret of silk weaving, you have endless opportunities here. Ock Pop Tok employs local Laos women from distant villages, is pretty popular among tourists and significantly gives away to the society. I saw them setting up a stall as the Visit Luang Prabang festival was on full swing near the night market. Their art is exquisite and customized to suit the needs of western travelers.
This organization employs as many as 500 rural artisans and you can see them at work. Ock Pop Tok is a fair price organization. Employees are paid fair price for the work they do.
Visiting a weaving village near Luang Prabang!
However, we visited the Na Yan Tai Village on our way to Nong Khiaw and made our bond of friendship stronger by taking part in a Baci ceremony. It felt a lot more authentic to visit a real village and buy from the traditional practitioners.
To be honest, I prefer this more for its authentic appeal.
Visiting the weaving villages gives you a chance to experience generational know-how of weaving being applied as a life skill. The tribes were often part of Southern China but have historically denied authoritarian rule and divulged deeper into the south. I learnt a great deal on Hmong from the book, A Great Place to Have a War: America in Laos and the Birth of a Military CIA, a Book by Joshua Kurlantzick.
At the night market, there are a plethora of small and big souvenirs made of traditional Laos fabric to be picked up.
Look for a subtle color with rough edges. The higher the price, the chances are better it is handmade.
There are table spreads, bed spreads (magnificent ones but I wish they would not add to my luggage anyway), cloth shoes for children, sling bags, gorgeous ornamental head gears on sale.
Also read: An alternate guide to explore the offbeat destinations in Goa!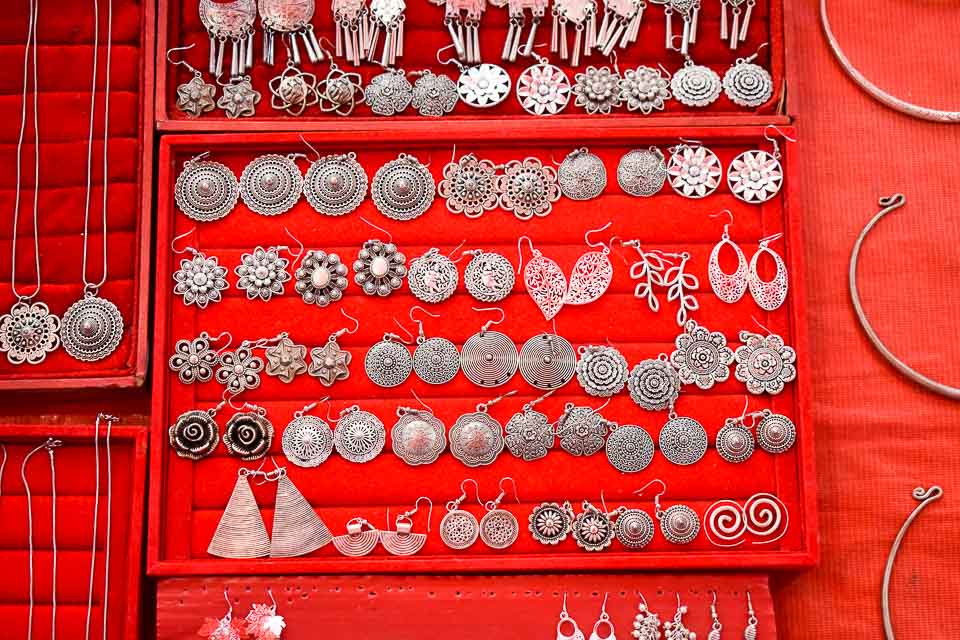 Traditional Gold and Silver Jewelry of Luang Prabang
Gold and silver were traditionally used as portable wealth by the Laos tribes. Like many other Asian societies, gold in Laos is considered a family wealth and comes at an astounding 99.99% purity level. It is NOT cheap. Gold is a staple in a Bengali wedding and I could not help but appreciate the floral motifs and figurines carved out of the shining metal with impeccable artistry in Laos. Laos has a few gold mines and the metal is one of the precious resources of the nation.
Gold jewelry of Luang Prabang is sold at a standard price while silver belts, head gears and ear rings are sold in abundance at the Luang Prabang night market. You might find few vendors sitting with gemstones too.
Also read: Travel guide to Koh Yao Yai and Koh Yao Noi, twin islands off Phuket in Thailand!
Paper lantern make for great Souvenier from Luang Prabang
The lanterns being sold at the Luang Prabang night market reminded me that of Hoi An, except for the fact there was no canal estuary reflecting the light like a mirror. Also, the paper lanterns of Laos were adorned with hand paints and looked gorgeous with dim yellow bulb within.
Hand painted umbrellas in bright colors make for very cute and light weight souvenirs of Luang Prabang. For a boho house, this is the best decor item!
Also read: A guide to explore the century old Bonedi Barir Durgapuja of Kolkata!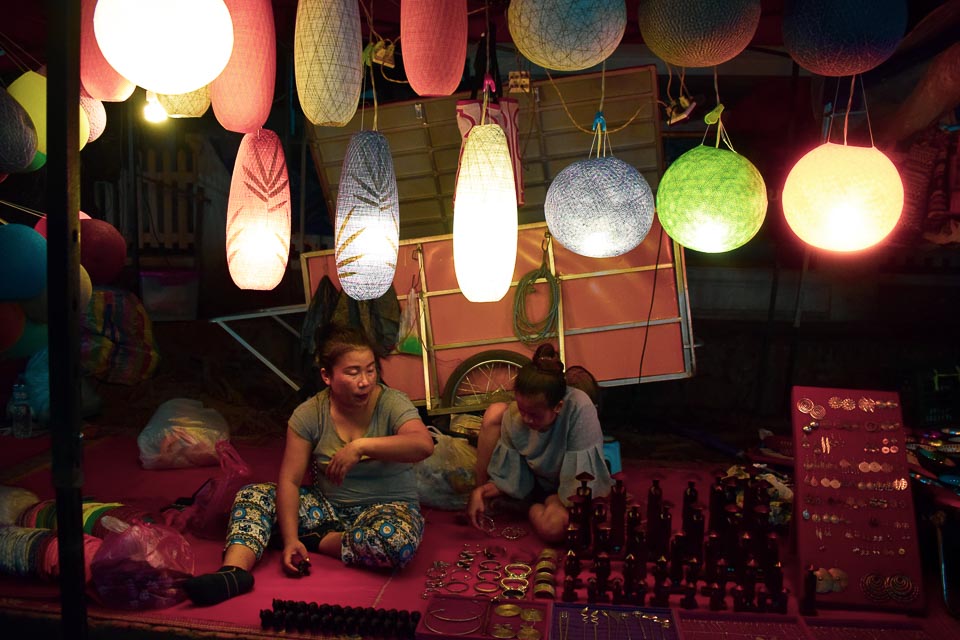 The famous handmade Saa Paper of Luang Prabang
For those with a penchant for stationary, Saa Paper makes for an interesting product. Saa paper traces back its origin to the days of Opium trade of indo-China. Made of the bark from Saa (Mulberry tree), Saa paper is used to paint, bind small notebooks and card holders. Colorful Saa papers are used to create various shapes of lanterns as well. Villagers of Xang Khong Posa have been preparing Saa paper for writing and painting for thousands of years!
Shop for Everyday Wear from Luang Prabang
In case you are on the lookout for a tee shirt, look for the one with a Frangipani (locally known as Champa) imprint. This is the national flower of Laos. Frangipani makes appearances on notebooks made with handmade papers as well. Do not miss the tranquil night walks of Luang Prabang ruminating on the mystique aroma of Champa.
Talking about tee-shirt, another cultural icon of Luang Prabang is the Beer Lao brand. The local brand of pilsener is a part of every celebration. As the wise had said, "A man who lies about beer makes enemies."
I also spotted elephant printed baggy pants, jackets and caps on sale at the night market of Luang Prabang.
Laos is truly called the handicraft heaven of Southeast. There are 49 recognized ethnic groups in Laos. Each of them have mastered their excellent skills in art and craft through generational practice. You may learn more of them at The Traditional Arts and Ethnology Centre (TAEC). Plenty of home decor items are available for sale. Wood carved, antique pieces are prized finds for this purpose. Ceramic vases can be a graceful choice of souvenir and brought home as well.
Bamboo Rice basket: Thip Khao
I tasted Laos special sticky rice, served in a petite bamboo basket from a restaurant called Blue Lagoon in Luang Prabang. The Bengali in me is usually happy to spot a bowl of white fluffy rice, which I often describe as the bowl of happiness. But in this case I could not get enough of the serving bowl of rice! The small bamboo basket came with a lid and made for the most perfect lunch box. Sustainable, increasingly good looking and effective.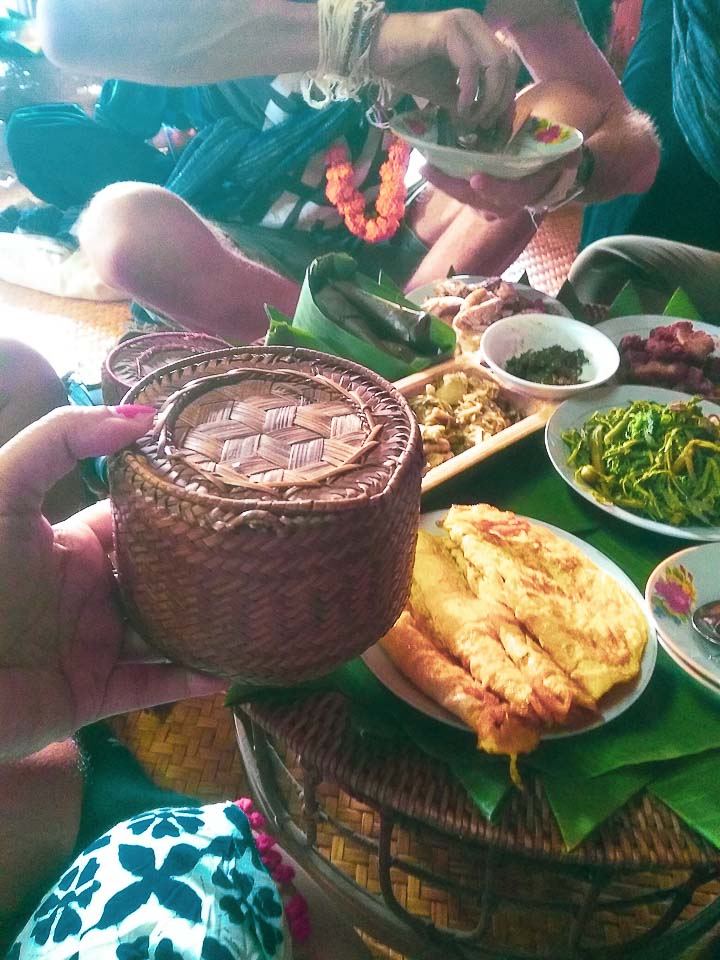 Also read: Foodie's Guide to Luang Prabang, Laos!
Later, at the Luang Prabang night market, I spotted bamboo tea strainers as well.
The older men of the family usually engage in weaving these bamboo baskets, which are lightweight and come in different sizes, befitting one serving or family serving as you please!
Thip Khao is also carried by the Buddhist monks of Luang Prabang as they set off for the morning alms ceremony.
Bamboo made stuff is widely available beyond the night market, even as you venture into the town of Luang Prabang. Probably the price is a little better when you buy from a regular shop.
Bamboo is grown in abundance in Laos. Basket weaving is an important life skill of locals, which results in a very sustainable lifestyle as well.
Ka Toke: Bamboo table top
Laos Ka Toke is a flat serving table top made of Bamboo. I saw it first at the village where we took part in the Baci ceremony. It is perfect for arranging a meal or as a side table. The challenge is larger sized ones will be harder to fit in a plane luggage.
Traditionally Ka Toke is used to serve meals. The family sits around it and takes their share of food. It looked a lot like the ones they have in Ethiopia while the latter one celebrates a riot of color.
The Alms Bowls (Bat) of Buddhist Monks in Laos
A day in Luang Prabang starts with the humble and timeless alm giving ceremony for a local. Needless to say, this event will make frequent appearances in every cultural expression of Laos.
The Alms Bowls are reproduced as souvenirs as well and sold at the local market as an easy and lightweight gift.
The alms bowl can be made of precious metal like silver and gold. This is particularly the case when they are passed down through generations.
For ease of tourists, the replica of the same is now available in lacquer-ware or steel. Bright paints on red and black lacquer are eye catching. Often it has a pedestal attached, making it a single standing show piece. There are other variants of Bat available, made of aluminium or steel.
Also read: The most beautiful beaches of Thailand!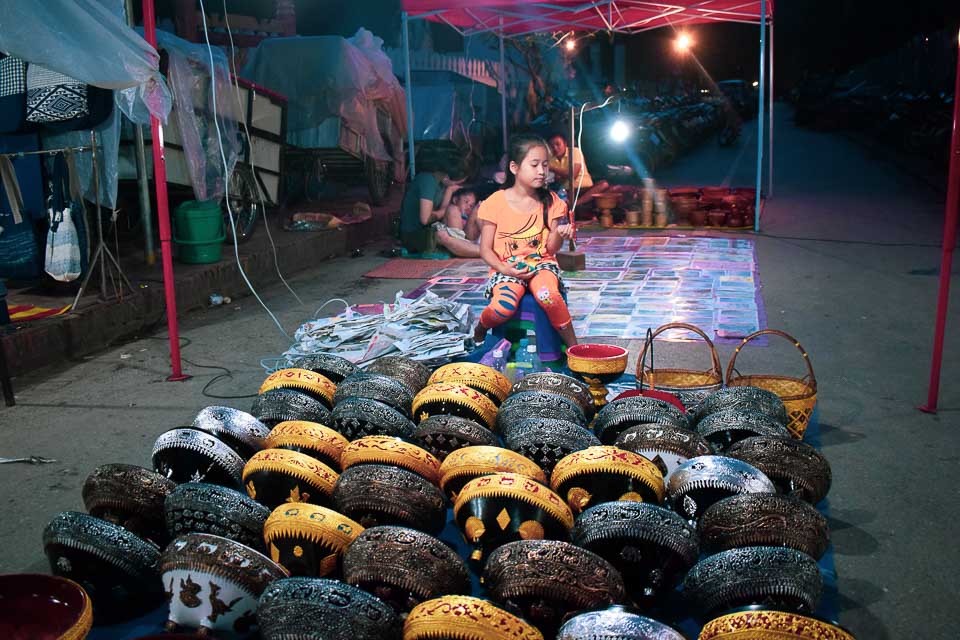 Wood Carving: a Traditional Laos skill and a local souvenir to buy from Luang Prabang
Wood Carving is an inherent skill of the Laos tribes residing on the mountain tops. From crafting a piece of wood into a soulful elephant to narrating a story through rich intricate details, the artists are immensely skillful.
A look at the Buddhist monasteries of Luang Prabang (that earned it the UNESCO world heritage site fame) and you know wood is a part of the local lifestyle.
There are wood carving workshops conducted by local guides like backstreet academy. You can learn the age old craft from locals and get to see how nature dependent life is in Laos, originally.
The Colorful and Handmade Akha Dolls of Laos
Handmade by the rural Laos women from Phongsaly province, the Akha dolls are soft toys made of discarded cotton fabric and elaborately decked up with colorful accessories, headgears and traditional musical instruments. Hand embroidered ornaments are used to complete the look. Usually, Akha dolls come with a male-female pair but you can also find a frog, a dragon or a bat styled on the Akha way!
To buy a real Akha Doll, head to the shop named Naga Creations near Tangor restaurant in Luang Prabang.
Also read: Is it ethical to visit Myanmar?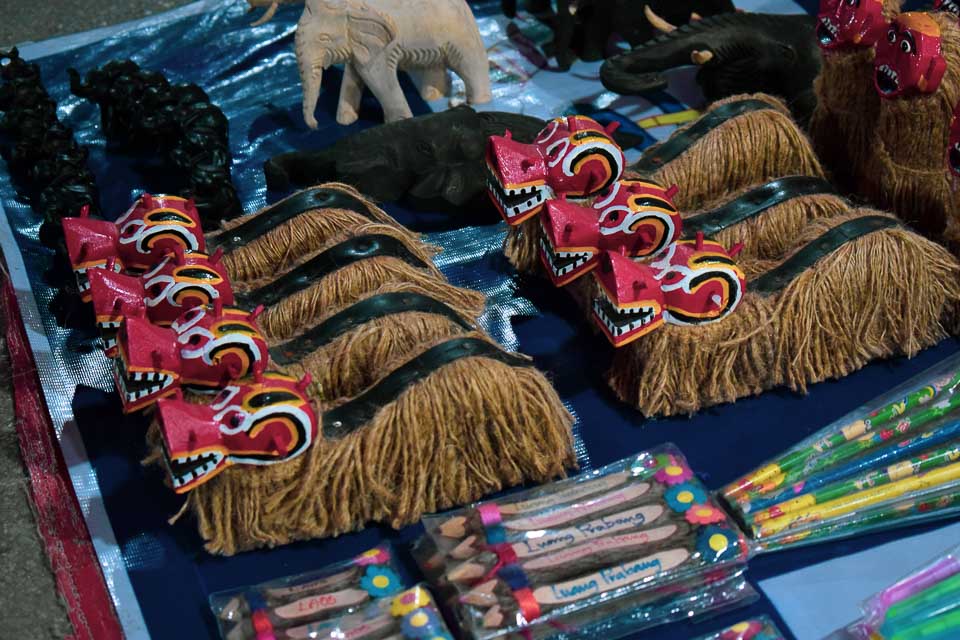 Hmong Courtship Balls: Pov pob balls
AMong the Hmong hill tribes, different communities indulge in age-old ceremonies to find a soul mate. Playing with a soft cotton stuffed Pov Pob ball isa continuation of the age old matchmaking.
During Hmong New year, couples stand in open space and play "Catch-Catch" with the Pov pob balls. The ball is made of soft cotton and covered with colored clothes. Music and laughter accompanies them.
Also read: Offbeat places to visit in Malaysia!
Pottery in Laos
Multiple historical accounts provide evidence that Laos was inhabited by ancient tribal communities. One of the biggest historical sources to trace back Laos life is by understanding their longstanding art of pottery.
You can buy pottery from the local market. However, for the footloose, I recommend visiting a nearby pottery village. The village is named Ban Cham. You can cycle through the paddy fields and reach here by yourself.
Ban Cham is a pottery village located close to Luang Prabang. You can visit here as a part of the day tour and buy pottery, even take part in a workshop and take home your own artwork.
Pottery making tradition in Laos dates back to ancient times. Village women take the lead at creating ceramic pottery of Laos. pots, urns, roofing, and floor tiles are made of ceramic as well as decorative art items.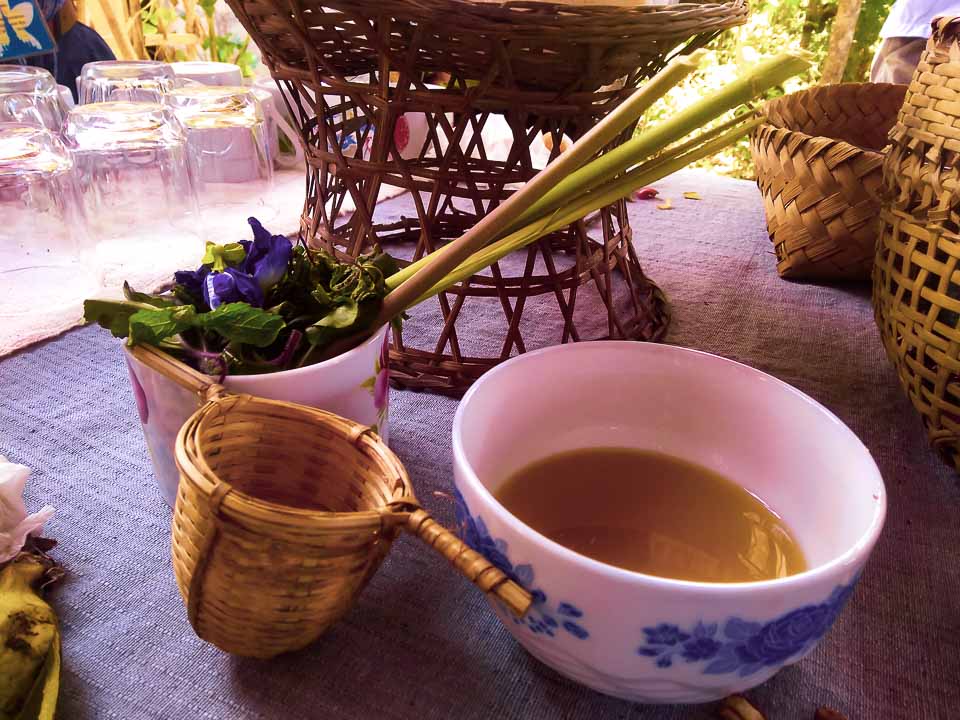 Make Spoon not War
Laos remains one of the most heavily bombed countries on this planet. Many of the cluster bombs remain unexploded till date. There is an entire industry thriving out of making souvenirs of the scrap metals of these bombs.
Make SPoon Not war is the tagline of the products made at the Ban Naphia village of Xieng Khouang Province. Riddled with UXO (Unexploded Ordinances), the villagers found a karmic way to use the cluster bombs. They produce bracelets, bottle openers, spoons, key chains among other products of the scrap metal and sell throughout Laos.
Many an NGO (Swiss NGO Helvetas together with the British NGO Mines Advisory Group- MAG) support them in this endeavor.
The bomb bracelets are sold sometimes at the Luang Prabang night market too, but be aware of what you are purchasing. Small children are often used to procure the scrap metal of these UXO which often kills people.
Also read: Exploring the Chitwan National Park, A dense forest at the foot-hill of Himalaya!
Take home teachings of Buddha expressed through Art
A society stepped deep in Buddhist teaching, Luang Prabang shows artistic prowess in creating various forms of Maitreya Buddha. From wood carvings to sublime painting, you may choose one face of Buddha as a souvenir from Luang Prabang.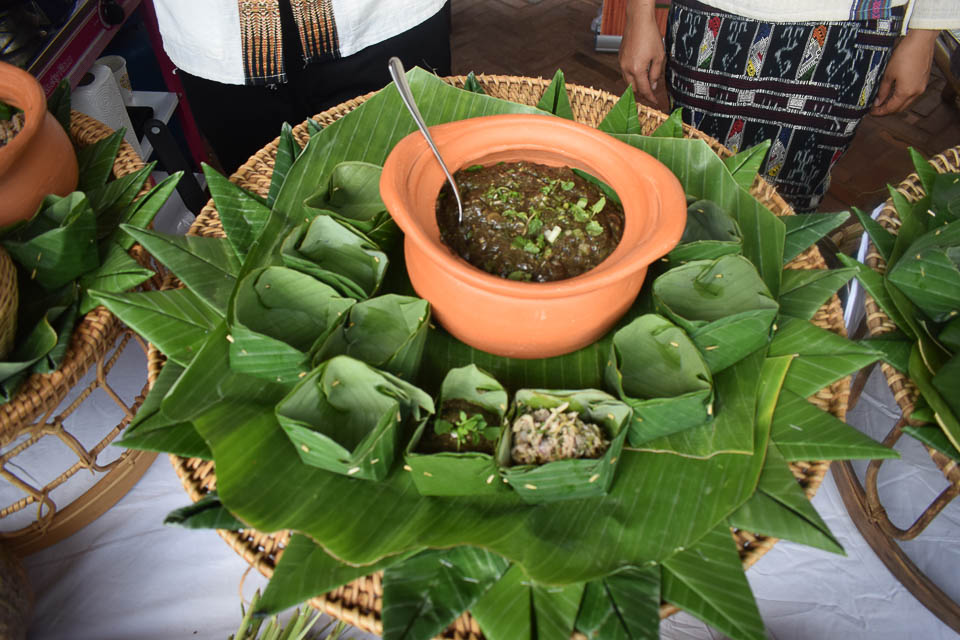 Recycled products as Souvenirs in Luang Prabang
Being a landlocked country, Laos faces tremendous pressure to recycle hard waste. One way to reduce the load is by buying recycled souvenirs. There are colorful paper mats, beaded jewelry like necklace and earrings, and bags are being sold. Oftentimes, NGOs run the production with women of rural Laos households taking the lead. Discarded magazines and newspaper rolls are often tuned into beautiful artsy necklaces. I think they make for thoughtful gift items. You find these products at the night market of Luang Prabang.
Reusable bamboo straws are becoming an increasingly popular product at the night market. They are either made of stainless steel or bamboo, both environmentally friendly.
Also read: 7 Astounding reasons to visit Mauritius!
Locally Sourced Organic Beauty Products
With the Frangipani filling the air with fragrant aroma, and a bounty of easily accessible tropical fruits, can Laos be far away from producing an entire range of organic beauty products? Queen Design Laos is one shop that sells a range of essential oils, lip balm, bath and body products. There are Indigo dresses on display too. You may be able to spot these products at the night market. The flower shaped soaps and likes which reminded me of Krabi, Thailand. I am not sure if those are locally made.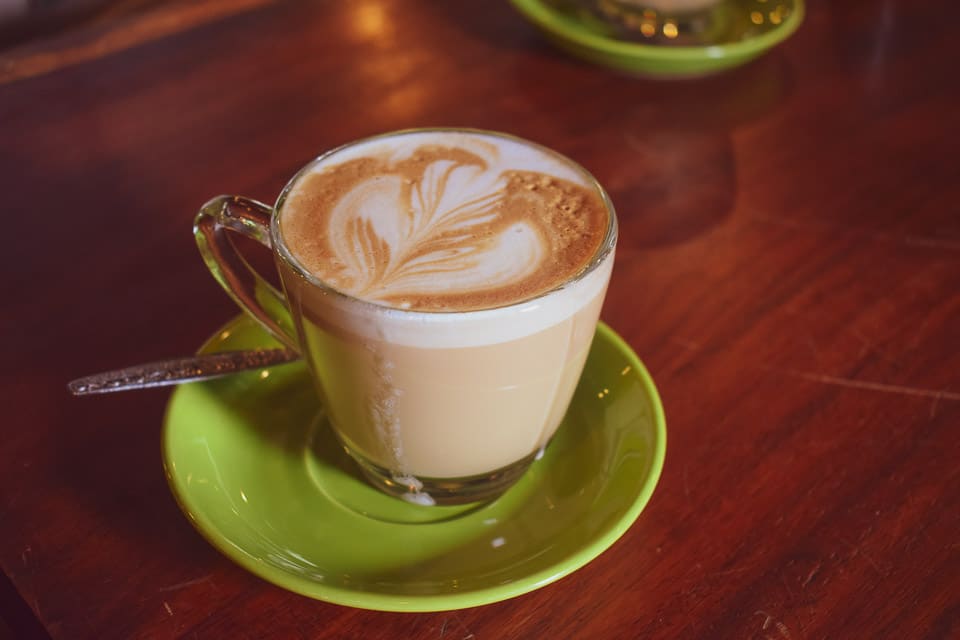 In search of the best Laos Coffee in Luang Prabang
The Vietnames coffee takes the lion share of global accolade when it comes to name and fame but every coffee connoisseur has showered Laos coffee with respect and nothing less. The strong flavored Laos coffee is rich in body and traditionally prepared with a thick layer of condensed milk.
It is the French who started harvesting coffee in Laos. They made use of the fertile Bolaven Plateau of the Southern planeland of the country and grew Arabica and Robusta crops.
Look for the brands: Laos Sinouk Coffee and Laos Mountain Coffee, both are flagship organic coffee makers of Laos.
In Luang Prabang, Laos Saffron Coffee is my most favorite local store to shop coffee from. The night market has plenty of retail coffee packets, often packed for gifting.
Also read: Best destinations in Europe for a foodie traveler!
Edible Souvenirs from Luang Prabang
One of my favorite collectibles while traveling to a new destination is to pick up food items. They are usually perishable but super sustainable. I also feel they add a meaningful experience choices in the long term!
In Luang Prabang, there is no dearth of buying local produce for a gourmand. This is also the most perfect excuse for a local market visit and understand myriad cultural dynamics.
Organic Green Tea and Mulberry tea from Paksong
Artisanal Chocolates
Tamarind candy
Spice-wood (similar wood is used in the coastal region of Bangladesh as well)
Tropical fruit jams made of mango, dragon fruit etc. Even tropical fruit if your home is close by!
Local moonshine. The snake whisky can be tricky to bring back home for the bottle is filled with strange creatures but Laos Rice Wine is a winner!
Sticky rice. I dropped my camera in the sea at Phi Phi island and got a kilo of sticky rice to *fix* it. It never got fixed but we bright home the rice and that was tasty!
Also read: Learn to cook various regional Indian dish at home!
Laodi Rhum: Laos's own rhum!
For a country laden with ripe sugar cane plantation and generous flow of Mekong river, it is unbecoming of being bereft of Rhum. The artisanal rhum makers of Laodi distillery took care of that and produced award-winning original rum of Laos. And I though rum is only available at tropical islands with a history of colonial rules like Mauritius!
Sample Laodi Thum for free at the Luang Prabang night market and decide what you want to buy. Their small distillery is set in Vientiane. You may buy Laodi Rhum at the international airports.
Laodi Rhum is infused with the flavors of coconut, plum, coffee and passion fruit.
Khaen a unique musical instrument
The indigenous mouth organ of Laos, Khaen is made of elongated bamboo reeds. It is a UNESCO intangible cultural heritage.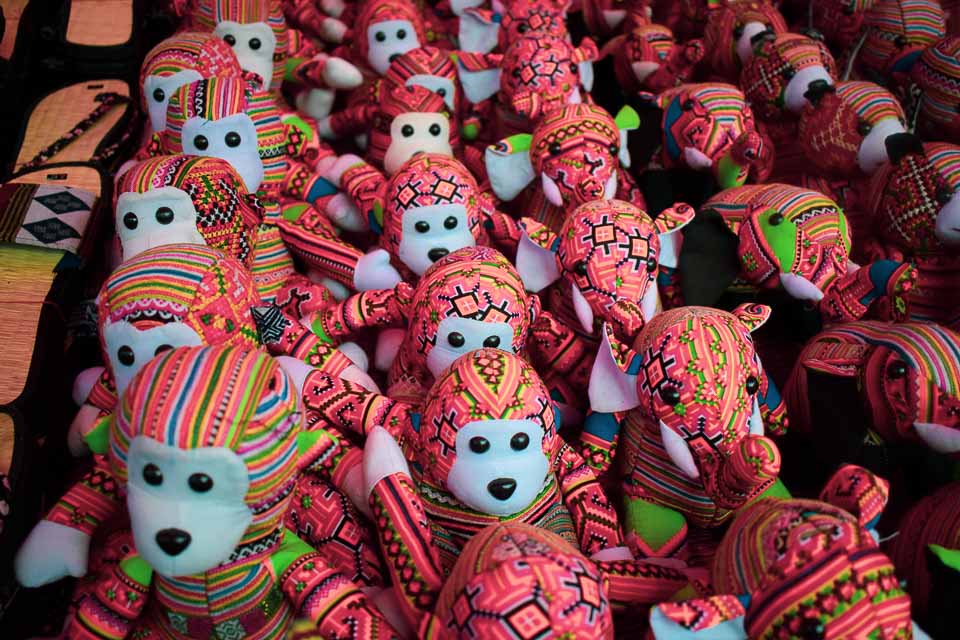 Buy a book in Luang Prabang
One great way to get familiarized with a new land is through reading books written by local writers. While very few of Laos writing has been translated into English (sadly I can not read Laos or French in print, the other languages used to narrate Laos stories), I recommend a visit to the Monument book store and picking up a few illustrated Laos folktales.
L'Etranger Books & Tea is another family run shop where you can exchange books. This is the country's first licenced book store and also has a movie night every day at 7 pm. Movies are shown for free but you can order a tea as goodwill.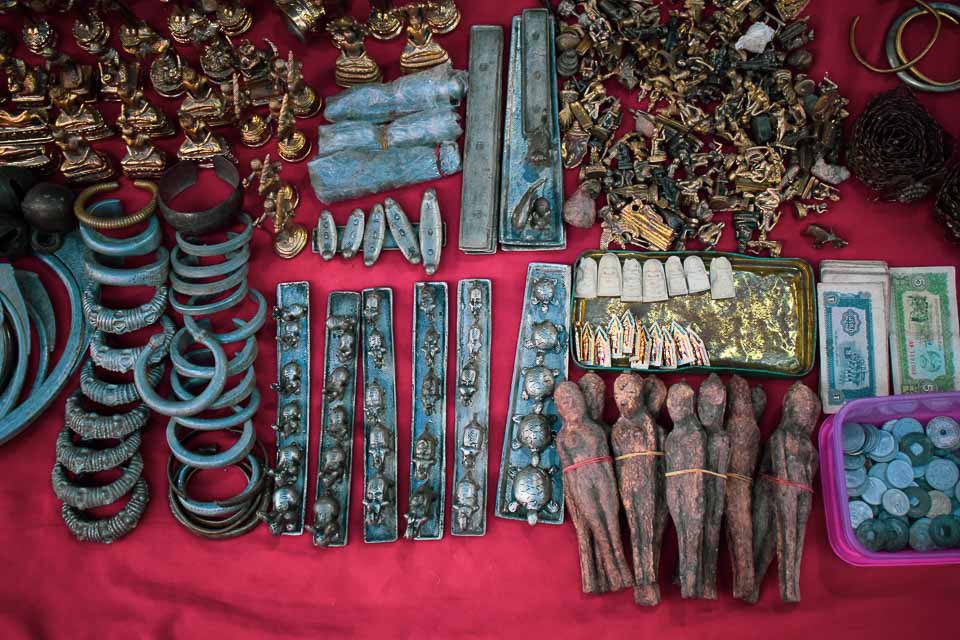 What are the Souvenirs you must not buy from Luang Prabang
I have already talked about it in the Night market blog. There are many vendors in Luang Prabang who sell animal parts. I spotted furry animal skin and horns of goats and water buffalo. Painted tortoise shells were there. I have heard they even sell ivory.
Please note, you will be barred from customs if you are packing animal products in your luggage while leaving Laos. It is an illegal act, not just in Laos but elsewhere as well. No ivory is written at multiple places.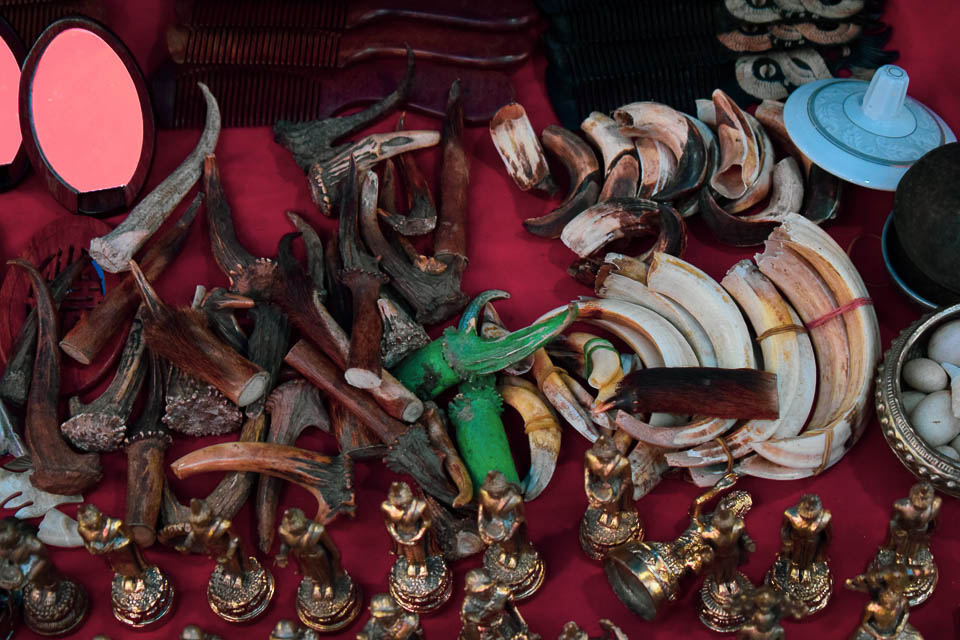 Be a responsible traveler. Same goes for the priceless antiques being sold at the Luang Prabang night market. If you see earthen statues, and get tempted, please remember the local government frowns upon carrying antique across international borders and you will be subjected to a lot of grilling at the transit if proven guilty of smuggling out country's heritage.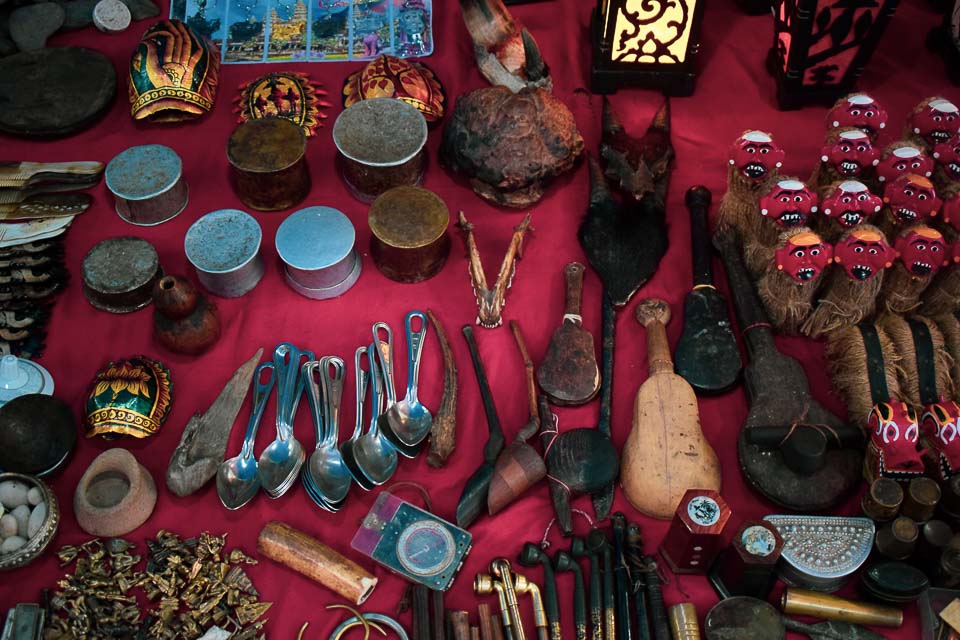 Prices at the night market of Luang Prabang are usually kept on the lower side. You can still haggle if you want to but chances are it wont get any lower.
Please bring your own bag to reduce the use of plastic and carry back all that you buy. We faced the same issue at the night market of Langkawi as well.
Look for the fair trade mark to ensure fair compensation has been paid to every worker associated with producing the souvenir you are bringing home.
Ock Pop, Mulberry Fabric Boutique, TAEK are some of the shops in Luang Prabang that source their produce from locals and indulge in responsible trade practice. Apart from Luang Prabang night market, another great place to shop for Laos souvenir is from the Pho Si market on the way to Kuang Si waterfall. If you are in Vientiane, visit the Xao Ban group and Laos Farmer's Market to buy authentic cultural souvenir from Laos.
---
This post may contain affiliate links. Please read the disclosure post. If you have liked the article, you may support it by buying using these links without any extra cost to you.
Let's stay connected on Facebook, Instagram, Twitter! You may also consider joining my mailing list. I send travel and photography related emails only once a month!