About this blog: Laos food is rich in the produce of river Mekong, sprawling green paddy fields and fresh meat of water buffalo. Rustic ways of preserving food is practiced in abundance in Laos households. Some of them are quite bizarre from an outsider's perspective. Cherry on top in experiencing Laos cuisine is when you stumble upon nuances of world famous French food in Luang Prabang! The freshly baked bagels and croquettes sold by the Laos women at the morning markets speaks volume of cultural crossroads prevalent in Luang Prabang, a stronghold of erstwhile Indo-China. And the strong aroma of filtered coffee! What is not there to love?
I have also listed a handful of cute cafes and romantic restaurants in Luang Prabang in this blog, where I tasted the finery of traditional Laos fine dining amid a serene set up. Read on!
Click here for more Travel blogs on Laos!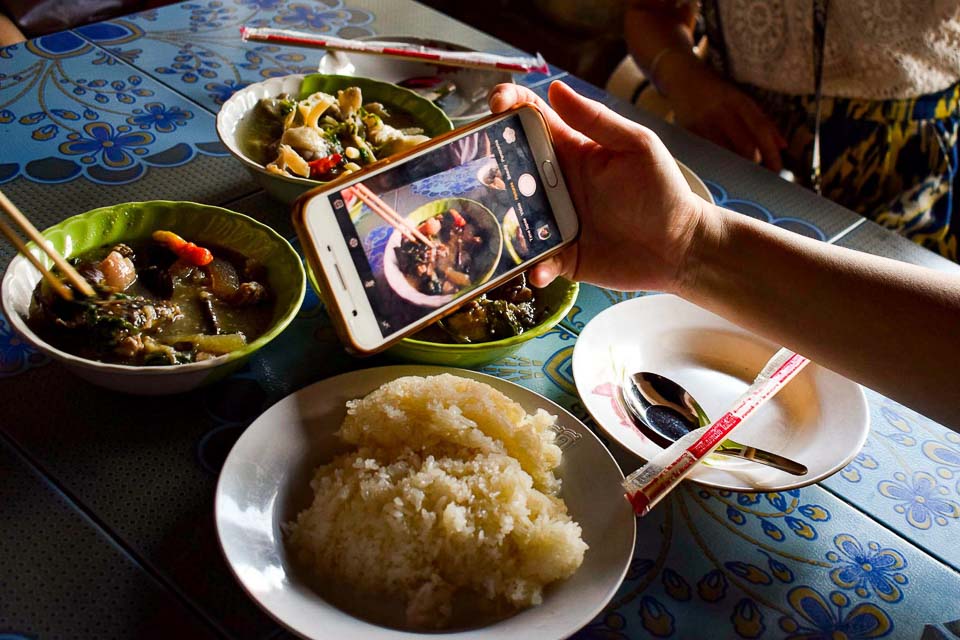 How I fell in love with Laos Cuisine in Luang Prabang!
Cuisine of Laos remains integral to the identity of Laos people. The aroma of a sticky rice with faint purple glue, rustic charm of leafy mountain shades and warm smoke of a bamboo vessel are some of the regular items you spot at the Laos kitchen. 
Meals are a communal affair in Laos households. A bamboo table is placed at the center of the dining hall. Bamboo boxes full of rice are shared between families. Sticky rice is the quintessential staple of a Laos dinner plate. Among other choices, I can not take my eyes off grilled buffalo meat, omelets, wafer thin crisps of river weed and steamed exotic vegetables. Mushrooms and noodles make grand appearances.
I "thought" food in Luang Prabang would not be drastically different from that of Thailand. In fact, the whole of Southeast Asia broadly features similar nuances of cuisine. Herbs steamed, fiery chili sauce, bowls full of happiness also known as sticky rice, tropical food, shredded pieces of meat, grilled fish. Vietnam pitches in with the iconic Pho. Thailand stands out with Glass noodles and Mango sticky rice. However, Luang Prabang stands as a winner for your Bengali girl with an unending offering of river fish from the depth of the river Mekong!
During my 4 days in Luang Prabang itinerary, I was quick to sign up with Backstreet Academy to embark on a journey to explore local food. The "walk" started in the early evening, with local guides coming to fetch us from the hotel in a tuk tuk, an electric vehicle found everywhere in Luang Prabang. The tour lasted for 3 hours with stops in between at many roadside pit stops and finally ending at the famed Luang Prabang night market!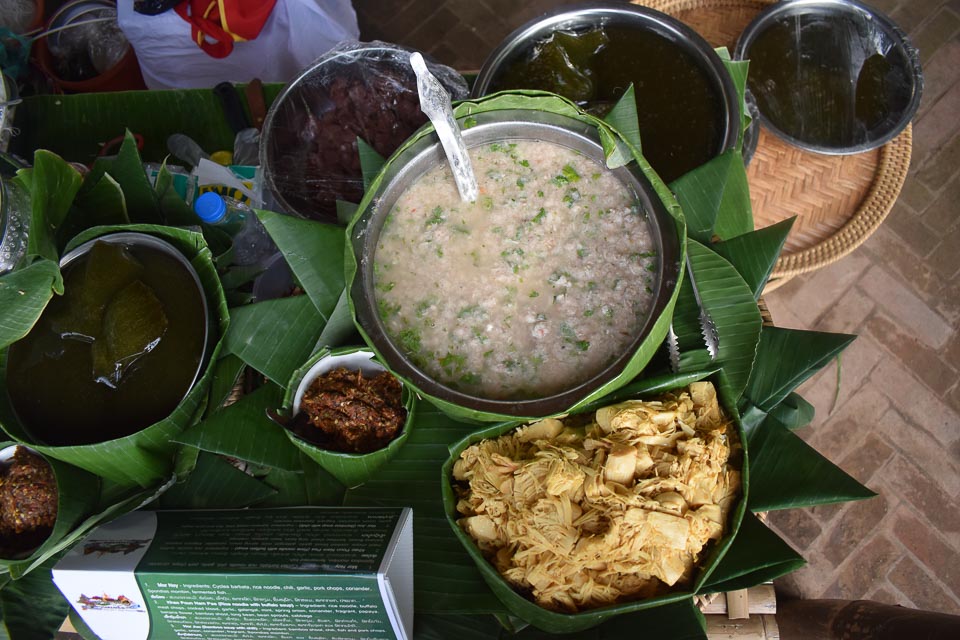 Street Food in Luang Prabang: One World & Many Quirks!
The roadside makeshift stalls in Luang Prabang are usually run by Laos households. The cafes have a dainty sitting arrangement. Staying true to the languid life in Luang Prabang, you might catch the owner sneaking a prized slumber in between Lunch and Dinner.
An array of choices between exotic-looking food beelines the stalls. There are pink preserved eggs, entrails of animals, crispy fried herbs, myriad rice and meat items steamed inside banana leaves, dried fish. The air is filled to the brim with usage of lemongrass. Buffalo meat is preserved as sausages and dried meat. Not a single part of an animal is wasted in Laos cuisine, including blood.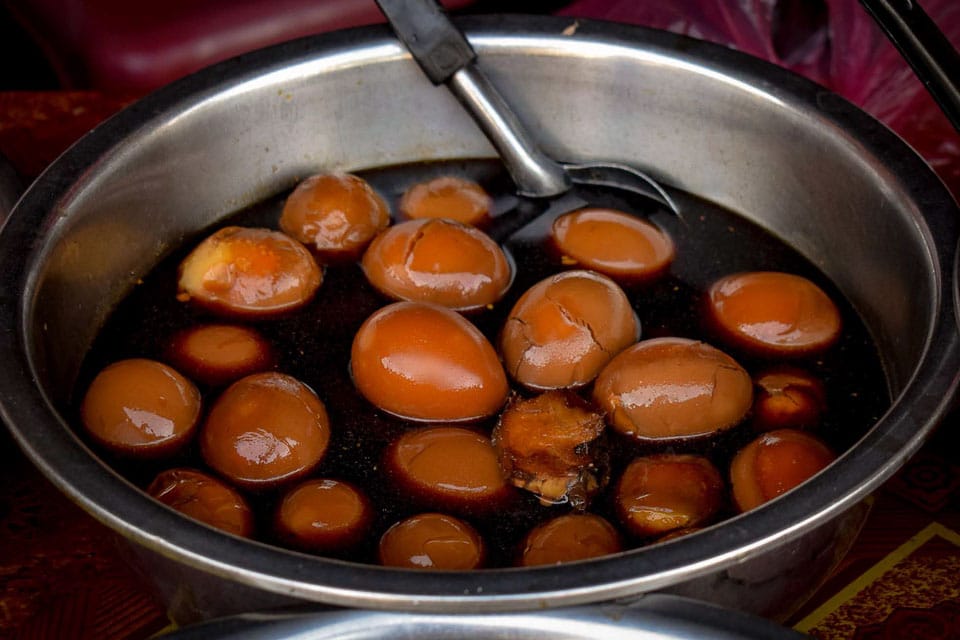 I am not a vegetarian. While traveling to a new place, I do not necessarily look for a vegetarian friendly menu. Do you get anything for vegetarians in Luang Prabang? I would say that is a resounding yes. The herbs and mushroom along with tropical fruits and sticky rice makes for a great meal. Then there are pizza and other new world vegan friendly cafes coming up. The fruit juices can put people to a state of elation! I understand, it is still not like Dal Makhani or a Matar Paneer or Spicy Bhindi Curry or a Dosa (this one I dig the most) like they serve back home. But then, it is sad to travel half way across the world and seek similar comfort in food you eat. Or so I feel. Or may be it is homely for me anyway with the bowls of sticky rice and the aroma of a grilled fish!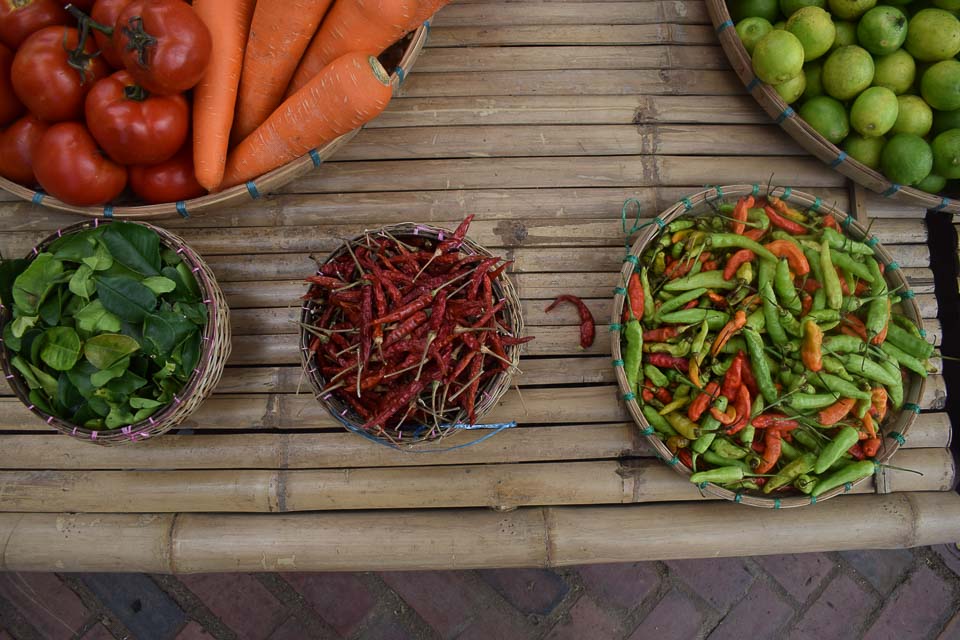 Sakhaan: The Spice Wood or Chili Wood of Luang Prabang
Chilli is a relatively new entrant to the world of a Laos kitchen. Traditionally, people in Laos made the best use of a spice wood produced abundantly in the dense forests of the hills. Locally known as mai sakahn, the plant is from the house of black pepper.
The spice wood is used to make the curry hotter than you can handle. It adds a sharp hint of chilli and intricate flavors of pepper to the stew, by adding just a few inches of the wood at a time. I chewed it while having the stew. I would not recommend that for the faint hearted. One of the best food souvenirs to buy in Luang Prabang, Spice wood must be stored in a air tight container for long shelf life.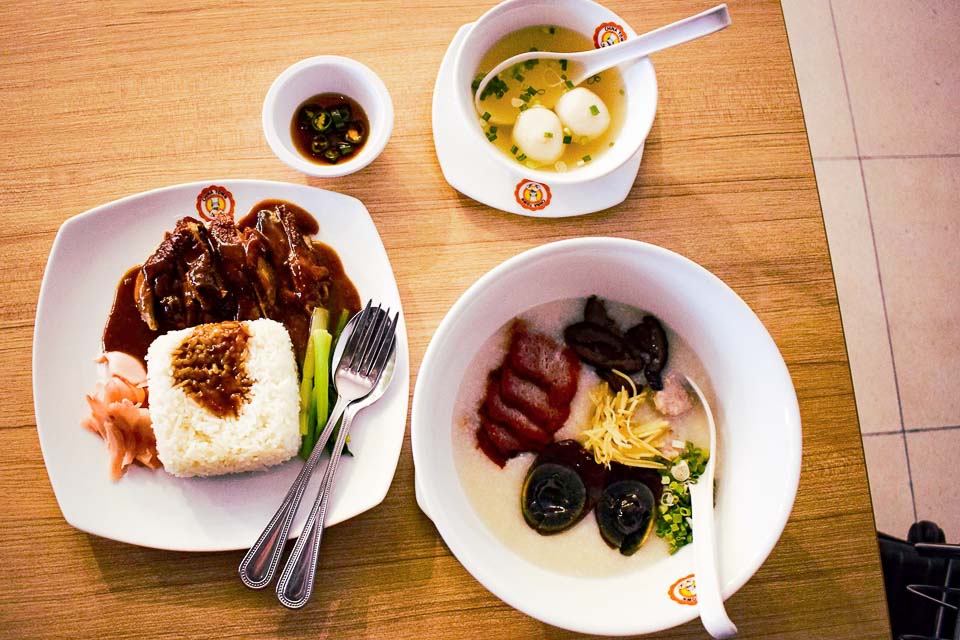 The Pink Eggs of Laos: The Thousand Years Old Egg
You will stumble across many local shops in Luang Prabang selling colorful eggs. Brown ones. Pink eggs. Yellow.
My pick would be the pink eggs. Also known as the Thousand years old eggs, I tried these eggs at the Suvarnabhumi Airport in Bangkok. Preserved for a prolonged period of time, the pink eggs are as bizarre as an egg may get!
Not just Laos, many Asian countries follow the tradition of preserving eggs in clay, ash and other natural materials for several months.
Once you open the shell, you find a blackened, hardened egg, almost like that of a boiled one. It remits a strong pungent aroma reminding you of ammonia.
I am worried if that stops you from experimenting though. Once you have put the egg in your mouth, it blends in with a creamy texture. It was creamier than a usual spoonful of mashed potato and instantly uplifted the experience of eating a bowl of congee.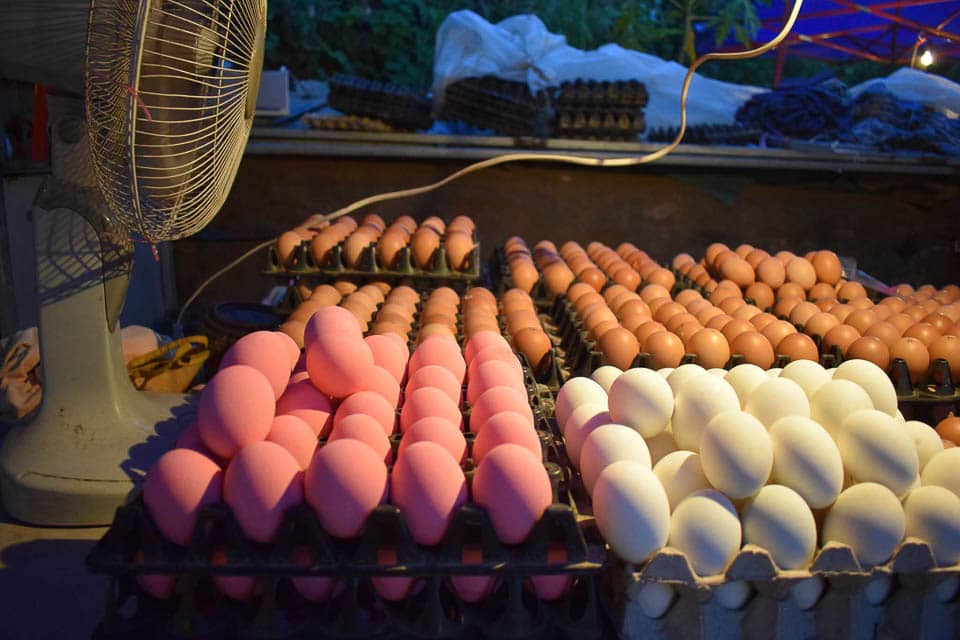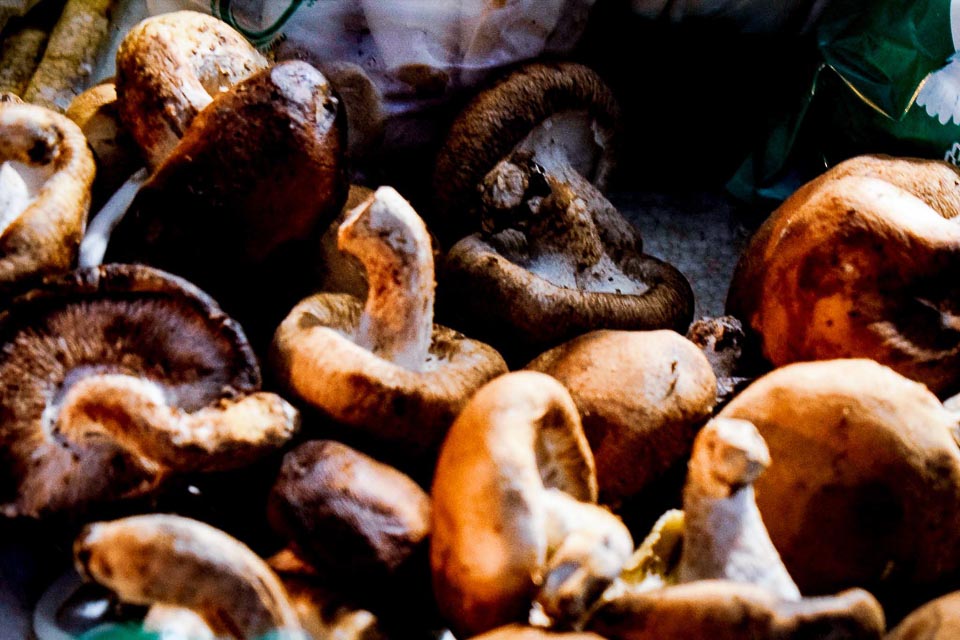 Ear Mushroom
Being close to the hills, residents of Luang Prabang have unrestrained access to nature's yields. One of them are exotic variants of mushroom. Mushroom is grown in the jungle, farmed with care, made into stew and served alongside rice. I would take the ear Mushrooms of Luang Prabang over any type of meat dishes, any-day!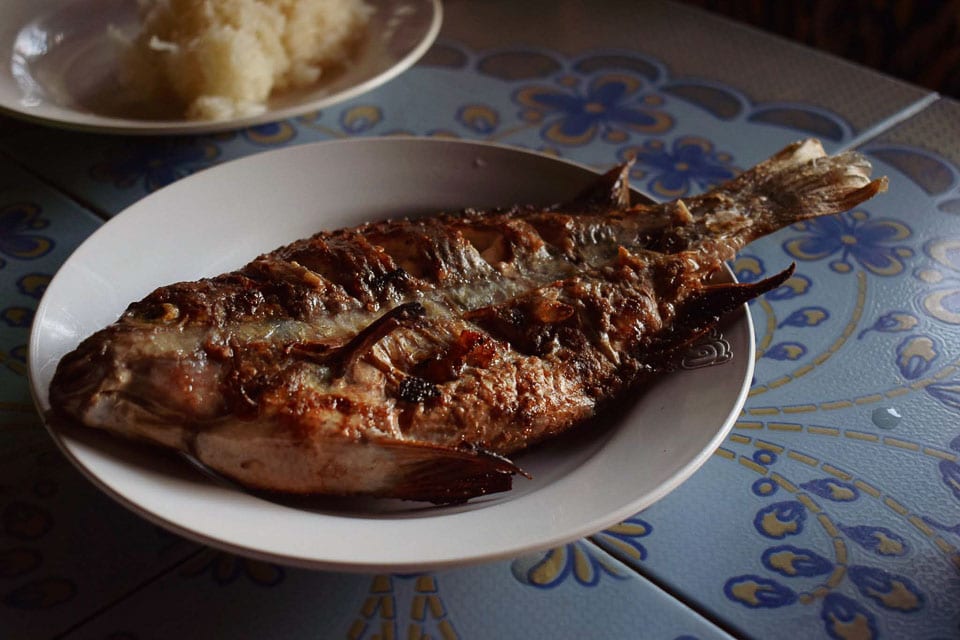 Yield of Mekong river
The river Mekong feeds an approximate amount of 60 million people in the world. What an honour it had been to be one among that great a population! I am not just talking about irrigation! Fish, river weed, snails are some of the delights men collect from the fluvial flow.
The Bengali heart of mine was filled with joy as I could spot plenty of river water fish on offer at the food stalls. The Chitals and the Boals and the Katlas of Luang Prabang are cooked differently though.
Usually, a carp fish is hooked in between bamboo sticks and grilled on fire. You serve it with a plate of rice and stewed vegetables. Chopsticks, spoons are used to eat this food.
Mok Pa is one of the dishes in Luang Prabang that will blow the mind of every fish lover in the world! It is a tender piece of fish steamed inside banana leaf. A lot like our Bengali Paturi but the overwhelming mustard paste is amiss in Laos cuisine.
Mekong is revered as mother Mekong in Laos culture. An intense look at the Laos kitchen and you know why! Had there been no Mekong, people of the region will struggle harder to forage for food. This is true for any waterborne economy. It is all the more worrisome at this age, given Mekong has been subjected to be used as a pawn in the geo-political situation in the region. talk to the locals of Laos and everyone will lament the making of the multiple dams limiting the river's natural course.
Use of Buffalo in Laos Cuisine: From Farming to Meat
Buffalo is used in Laos at large. In my 7 days trip to Luang ptabang and beyond, I could only spot cows once, near the Pha Noi caves.
While beef is a part of Laos' meal, I reckon it is more special than the usual suspect, Buffalo meat. From the buffalo skin sun dried to the bags of buffalo blood and the prized parts of buffalo meat, everything is used in a Laos kitchen. Animal meat is the major source of meal in Laos. Buffalo Sausage can be spotted at almost every local market in Luang Prabang.
You will easily find country chicken, duck and pork parts in Luang Prabang as well. But I had never seen such a widespread presence of buffalo meat before. It also puts me to think, in India the beef that is sold is mostly that of "Bari Gaai", Buffalo except for a handful of states in the South and Northeast part of the country. And Goa too. However, our food habit does not entail preserving I suppose. The only time I saw buffalo meat was at the Taleju bhabani temple complex of Bhaktapur, Nepal. The animal was used for sacrifice and meat was being prepared for the ensuing feast.
Among other dishes, Or lam is one of the must try buffalo preparation is Luang Prabang. A slow cooked beef stew, Or lam assimilates flavours from lemongrass, eggplant, and other riverside ingredients.
Chicken skewers in lemon grass sticks are grilled and served as a quick snack.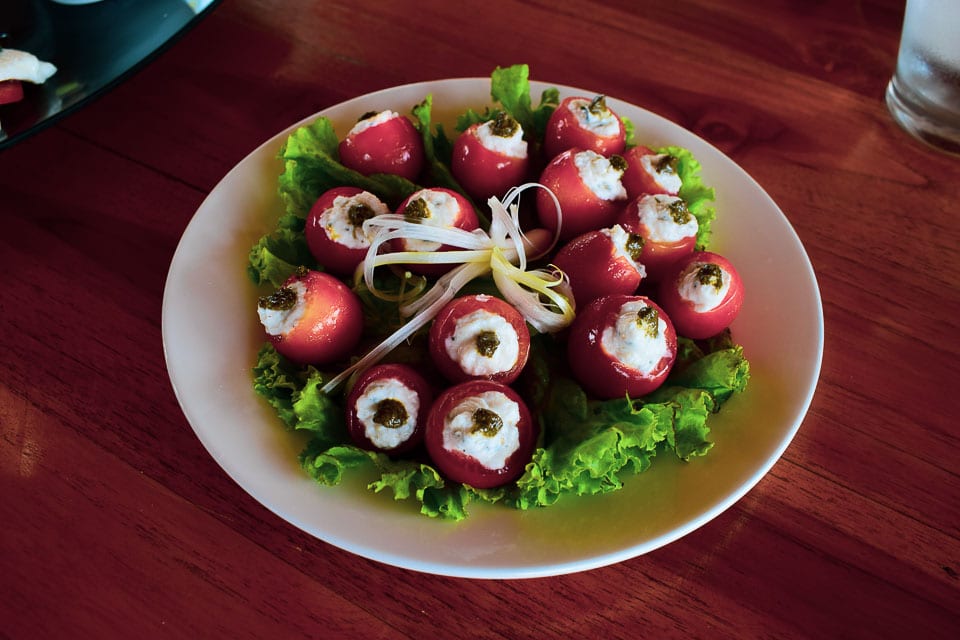 Laos Buffalo dairy is the latest entrant to the world of Laos Water Buffalo. Not meat, Laos Buffalo Dairy has taken an alternate approach to the business by producing dairy products of the Laos water buffalo. Dairy had been a non-existent product in the Laos plate.
With increased scope of tourism, demand for dairy product has been noted on the rice. Laos Buffalo Dairy steps in as a supplier of that. As a day trip from Luang Prabang, you may visit the farm and relish the lip-smacking ice creams and cheese they prepare from the water buffalo!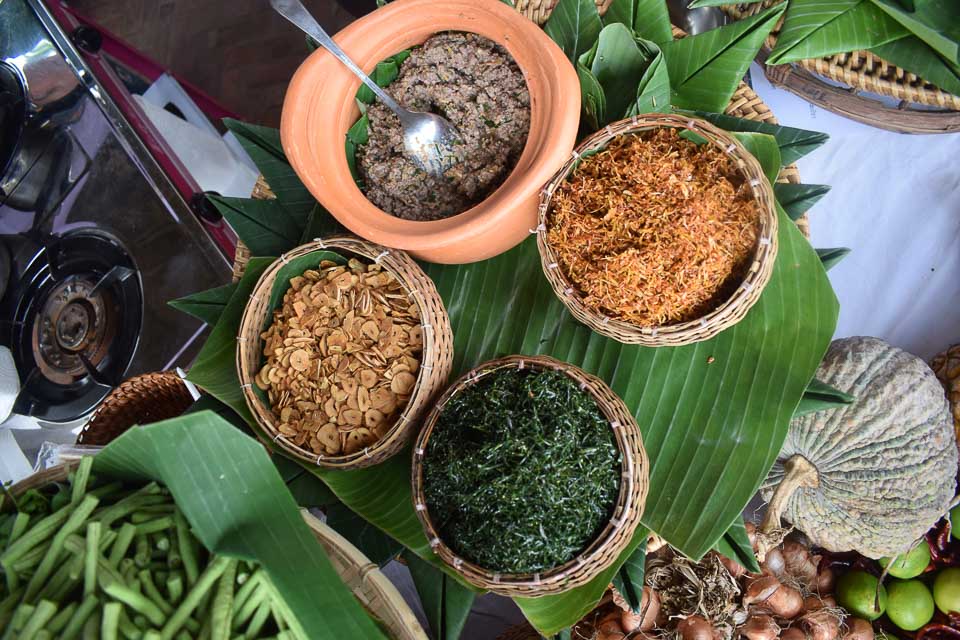 Sticky Rice of Laos!
You can not go to Luang Prabang and skip the sticky rice section at the Laos buffet or a fine dining space! It is impossible to ignore the uber-cute bamboo boxes in which the glutenous rice comes. It differs in texture than what you get in Thailand.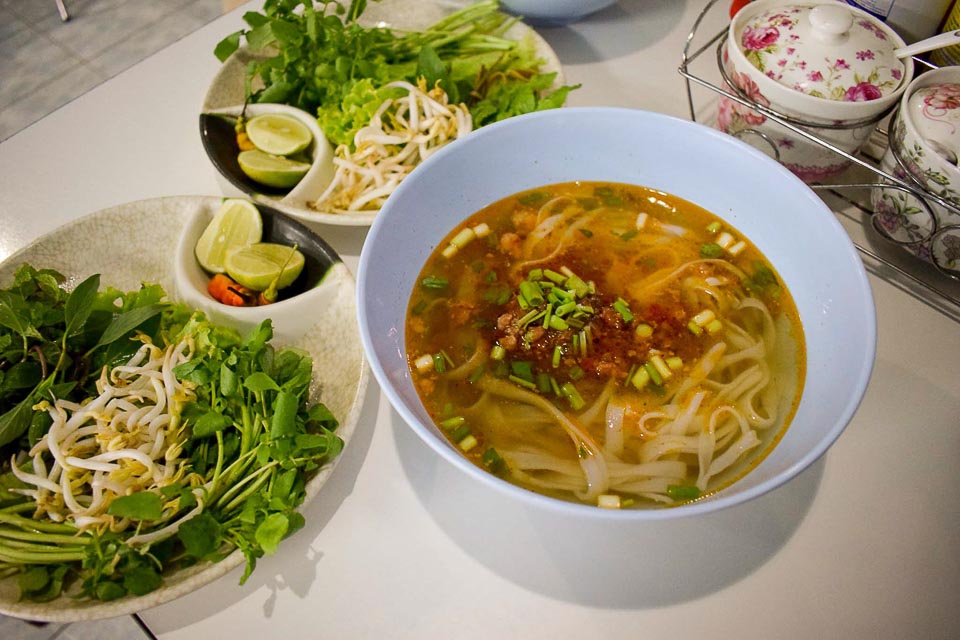 Khow Suey (Laos Khao Soi)
It is the Chinese of the Southern part of the country, Yuhhan to be more specific, who brought Khao Soi to the hills of northern Laos. The Burmese Noodle soup is a favourite dish among the locals of Luang Prabang!
The Khao Soi we had was a watery noodle soup. The bowl was filled with aromatic herbs and fermented vegetables. You may add seasoning and fish sauce if you want to. Pork rinds and curdled blood are often added. But I prefer a vegan friendly treat as my guide from backstreet academy had said this was his style of eating laos food. I had previously asked him to feed me one Laos thing if he had to choose just one!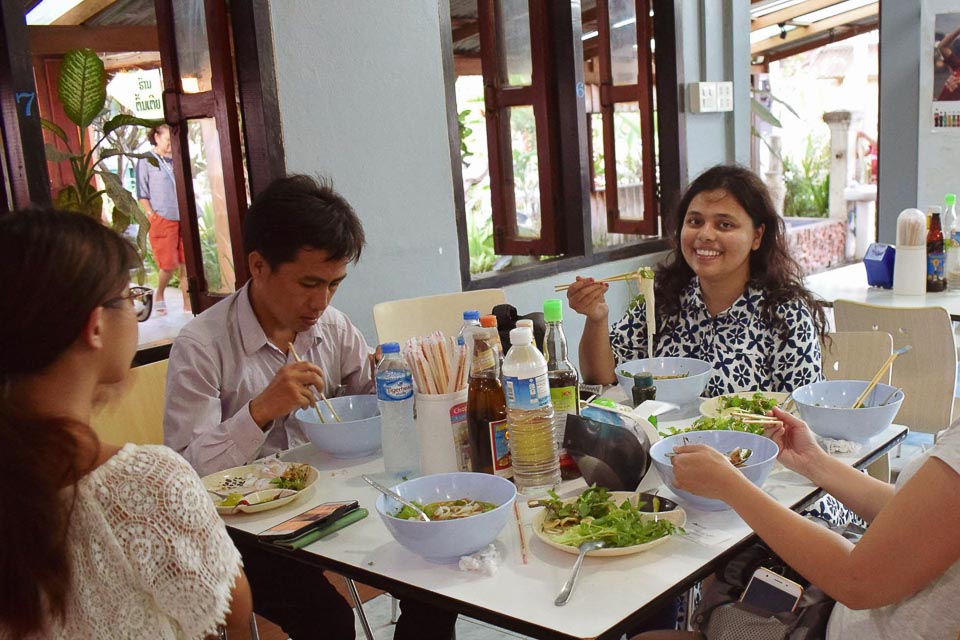 Lao Lao: Local Moon Shine of Luang Prabang
Lao Lao is the local moonshine. Not just Luang Prabang, you will come across every destination in Laos that produces its own style of Lao Lao from glutenous purple sticky rice. It is drunk like a tequila shot, from a small bamboo container at one go. To add extra flavor to Lao Lao, reptiles like lizards and snakes and roaches are added. Adding honey to the Lao Lao beer is also a known practice. ANother local moonshine is prices with frangipani flower essence added to transparent Laos rice wine.
For a country laden with acres of sugar plantation, it is no wonder Laos produces its own share of rum. Luang Prabang has a few stalls of Laodi Rum, a distinct style of rum produced with the water of the Mekong river. It tasted way different than that of mauritius, a tropical island where rum production has shaped the history of its people!
For the beer lovers, you must drink Beer Laos everytime you decide to pause from exploring. "I could spend the whole day on this hammock and drink Beer lao!" Announced a fellow traveler from Canada while we were exploring the tranquil mountain hamlet of Nong Khiaw.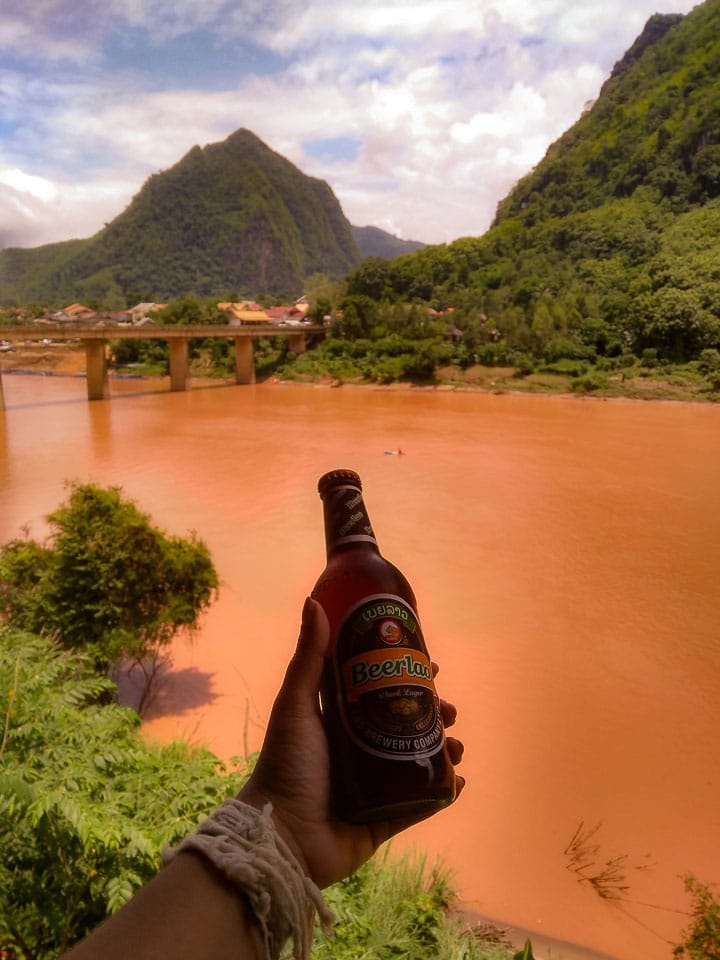 The Morning Market of Luang Prabang
The morning market of Luang prabang is the most intriguing local market of Southeast Asia. This is where members of distant hill tribes meet the everyday residents of Luang prabang, and the tourists with rosy eyes.
If you want to know what Laos people eat on a daily basis, visit the morning market. You are likely to spend the wee hours of the day watching the monks collect alms. There is no excuse to miss the Morning market that ensues afterwards.
The food items being sold at the morning market borderlines the limit of exotic orient. There are frogs that a farmer catches from his paddy field, and brings to sell. Bags of blood, honeycomb larvae are found extensively.
Is it a sustainable practice to eat these stuff? I know this question bothers a lot of travelers to a visceral level.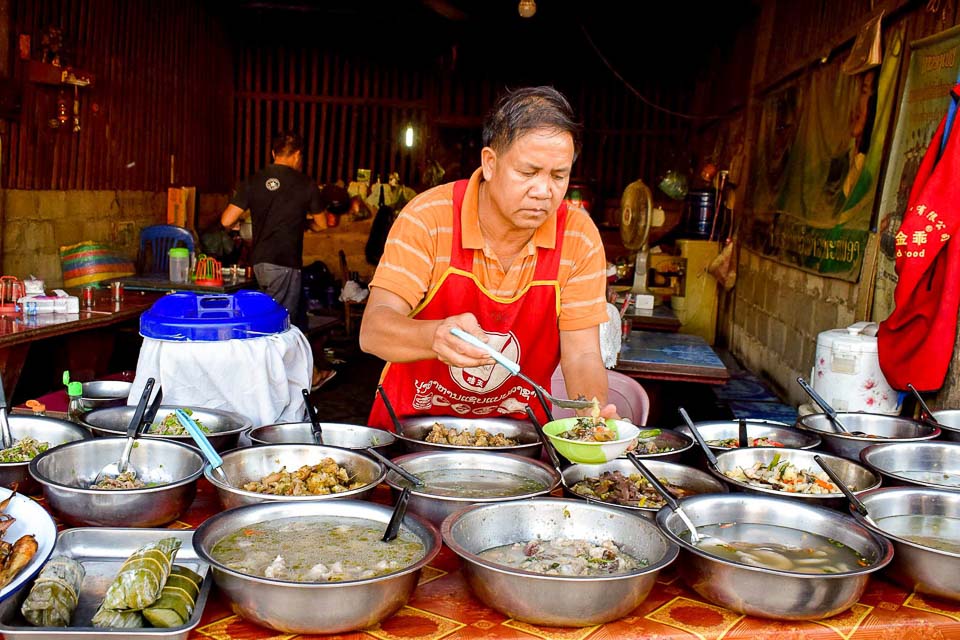 What I think is eating everything within a limit must not cause a widespread trouble of species extinction. A lot like what we say about Hilsa fish, an iconic dish in Bengali cuisine. Besides, the morning market is majorly aimed at the locals of Luang Prabang. Their eating habit has been developed with years of co-dependence with nature. Who am I to judge if that is causing harm to the world, without having sufficient data?
Looking at the overwhelming localness of the morning market of Luang Prabang, I am averse to call it exotic! Besides, I have seen similar products being sold at the remote corners of Northeast India and the jungle heartland of Bastar. Humans eat what he/she may manage to collect from what nature offers. It almost stinks of privilege when you level a local produce otherwise. 
Look out for myriad types of vegetables in the morning market as well, including the iconic river weed collected from Mekong. Many women sell freshly baked homemade bagels and cookies as well.
Also read: 25+ pictures of Luang Prabang!
Food at the Night market of Luang Prabang!
The Night market of Luang Prabang is more famous as souvenirs of thrift shopping, mostly prepared by the Hmong tribal community. However, at the wee end of the road, you will come across many stalls selling Laos food.
The Laos buffet, as they call it, has a selection of food items for a fixed price. Say, you pay, 15,000 kip or so, you are allowed to fill up your bowl to the brink only once from the selection of eggs, meats, rice, fruits. grilled chicken in lemon grass and what not!
There are stalls selling fresh herbs and fruit juices. A number of women take a seat just outside the night market and sell warm pancakes made of coconut. The large iron cask often reminds me of the puttu making utensil of Kerala. I have a doubt the coconut pancakes of Luang Prabang are an ode to the banana pancake trail of Southeast Asia. Locally customized and improvised version of a coconut dish that suits the taste-buds of visitors.
Also read: Where to stay in Luang Prabang for a first time visitor?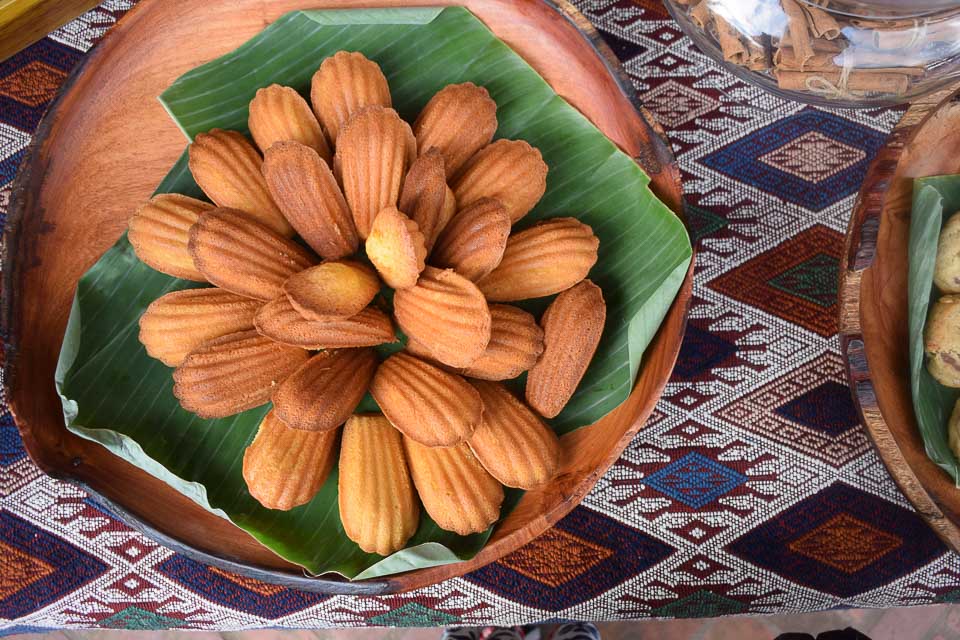 French-ness in Laos Food and Western Influence!
A lot has been listed about the French food in Luang Prabang. The French were here. The Bungalows, the heritage assembly halls, the elongated glass panels, the vintage cars on the streets of Luang Prabang: all testify to the fact!
It is rather obvious that the French will influence the gastronomic norms of Luang Prabang. An upscale restaurant serving macaroons for Lunch, a street side vendor serving you a delectable buttery cookie, use of dill to steam the river fish: all add up to the factor! Fresh baguette (khao ji) that the Laos ladies sell on the streets of Luang Prabang are often served with filling of Pate!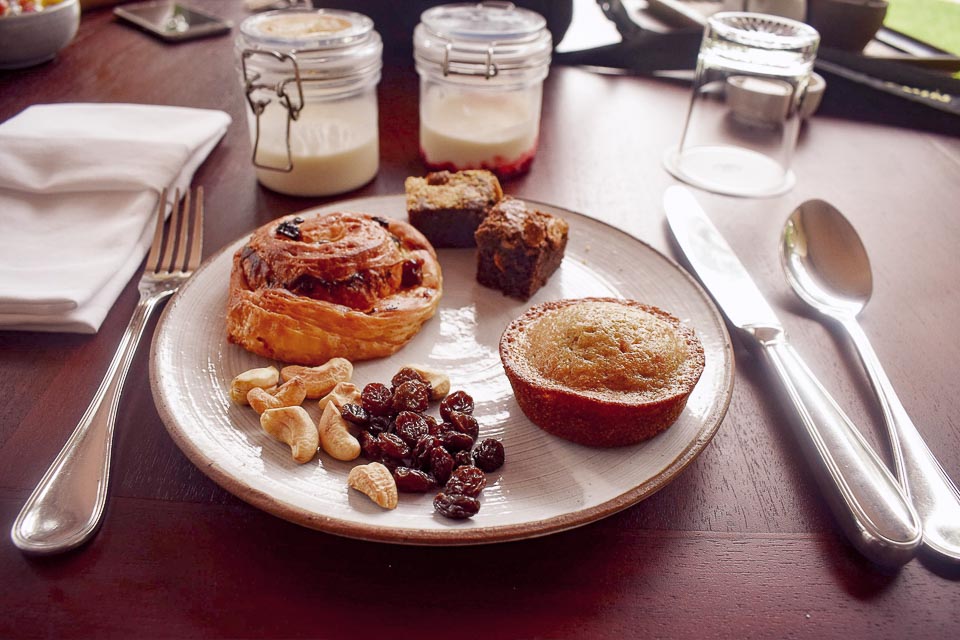 Beautiful Riverside Cafes in Luang Prabang
Most of the Laos cafes and street food places that I tried food at, had no name. A girl has no name! Not that kind of no name. It is just that locals know where to visit in Luang Prabang to take the best of the treat for the day!
To save the first time foodie visitors to Luang Prabang, the new world cafes are coming up with specific names, addresses and other etiquettes of a dine in experience.
I am going to list down the names of a few cafes that I tried food at, loved and wished I would have traveled there with the partner by my side!
The Belle Rive Terrace
A serene set up for a great sunset view. It is open for the entire day, serves juice, Laos meal and beer.
Ock Pop Tok Silk Road Café
There are two branches of this café. One close to Nam Khan. the other one is by the river, a bit further to the town of Luang Prabang. They serve delicately prepared authentic Laos cuisine in the café adjacent to the art and craft center that employs a number of Laos women.
Utopia
The iconic Bar with lounging decks by the Nam Khan river! You will not get a sunset view from here though.
Beer Garden should be your go to if you are looking for a bar by the Mekong river to watch the sunset!
Popolo
Popolo des not overlook the river Mekong, but it serves some of the best cocktails in town along with a slice of freshly prepared pizza!
Top 5 Cafe for in Luang Prabang for Great Laos Coffee
The Laos Coffee was a serendipitous find for me as I meander my way through the old lanes of Luang Prabang! No one had warned me that Laos has been producing world class beans of Arabica and Robusta on the southern plains irrigated with Mekong's warm water! Coffee so good that the government imports better part of it.
The coffee connoisseurs in my travel team had unequivocally voted for the chocolaty, sweetened with thick layer of condensed milk Laos coffee over its Vietnamese counterpart. The latter is a "thing" in the foodie traveler's circuit too!
Saffron Cafe
The most famous coffee roastery in Luang Prabang, Saffron Cafe also has exquisite lemon tea and coffee cheesecakes. They have a dainty sitting arrangement outside the café overlooking the Mekong river.
Joma
Famous for various types of cakes and coconut flavor infused coffee.
Le Bistro Ban Vat Sene
Serves great Lao meal and French influenced western bites too. Choose this place for a full meal of lunch or dinner.
Le Banneton cafe
Serves the quintessentially best pastries of Luang Prabang along with great coffee.
Luang Prabang Artisan Cafe
Visit the Artisan café in Luang Prabang and pick up a few handmade souvenirs once you are done with sipping on the warm cup of coffee as well!
Cafe de Laos
It is situated close to the night market of Luang Prabang and sells a number of artisanal coffee.
Best Romantic Restaurants in Luang Prabang
More number of locals in Luang Prabang, Laos are being trained in intricate nuances of hospitality sector and bringing out the best of their world in the place. It was heartening to observe the new world restaurants in Luang Prabang presenting and promoting authentic Laos cuisine in all her might and glory.
Khaiphaen
A training restaurant, Khaiphaen is a non profit place where young Laos students of hospitality sector are training. If you are fancying Laap, the ubiquitous national food of Laos, try it at Khaiphaen. Laap is minced meat of chicken or buffalo cooked with vegetables.
Manda de Laos
Set amid serene lily pond (which is also UNESCO classified), Manda Laos brings out the best of the Thai and Laos culture. Make sure to reserve a table before you visit. It is one of the high end restaurants of Luang Prabang!
Blue Lagoon
The best place in Luang Prabang where I had a hearty meal and chatted with the chef for long. he had trained in Switzerland and the food he prepared had an eclectic mix of western influence. This is where I had Mok Pa, the steamed fish in banana leaf and loved it!
Governor's Grill at Sofitel Luang Prabang
I stayed at Sofitel Luang Prabang during my stay in Luang Prabang and had the opportunity of dining at the Governor's grill twice. It is a classy place with impeccable style and gorgeous food.
La Belle Epoque at The Luang Say Residence
If classy and stylish fine dine options is what you are looking for in Luang Prabang, this is another serene high class restaurant serving amazing food! Incredible food is served as your eyes are fixed on river Mekong.
Tangor
Serves amazing fusion food and great cocktails. If you are searching for French food in Luang Prabang, this is where your search must end!
L'Elephant
One of the oldest fine dining restaurant in Luang Prabang, L'Elephant serves the best specimen of food that is born to the marriage of Laos and French cuisine!
Carpe Diem
Run by a swiss couple, Carpe Diem serves simple Laos meal in an outstanding set up. It is located close to the Kuang Si waterfall.
3 Nagas
Serves plenty of pork dishes that are cooked in an authentic manner in Laos. Price is reasonable.
Dyen Sabai
You have to cross the rickety bamboo bridge and visit this restaurant on the other bank of Mekong. But once you have reached there, you are unlikely to leave! It is a beautiful set up and serves the rare Laos BBQ (also known as Laos Fondue). You have a chance to grill the food yourself and eat as you do so. Allow yourself one evening to visit this place and savor the dishes. This is quite an experience not to be hurried up!
Tamarind
Famous for running a Laos cooking Class, Tamarind also serves great local food in Luang Prabang. Food is served in traditional earthen ware. Service is swift and often comes with gleeful smile. It overlooks the Nam khan river.
---
This post may contain affiliate links. Please read the disclosure post. If you have liked the article, you may support it by buying using these links without any extra cost to you.
Let's stay connected on Facebook, Instagram, Twitter! You may also consider joining my mailing list. I send travel and photography related emails only once a month!