About this blog: Luang Prabang offers a plethora of cultural activities in and around the UNESCO accredited Old Town, including exciting day trips. In a typical three to four days itinerary of Luang Prabang, you should be exploring the pretty old town on foot for a couple of days, stopping in between to interact with numerous local hill tribes of Hmong descent. Take part in workshops and learn the tricks of faring up a typical Laos dish. The one extra day you have at hand, you can explore the outskirts of Luang Prabang at leisure, sail of the majestic Mekong River, swim in the transparent water of multi tier Kuang Si Falls, venture deep into the dense forests of the monolithic hills surrounding Luang Prabang! 
I have a chance to embark on a few day trips from Luang Prabang. In this blog post, I will recollect those fond memories and furbish you with necessary travel tips to make these side trips along with Luang Prabang as the base destination!
Click here for more Travel blogs on Laos!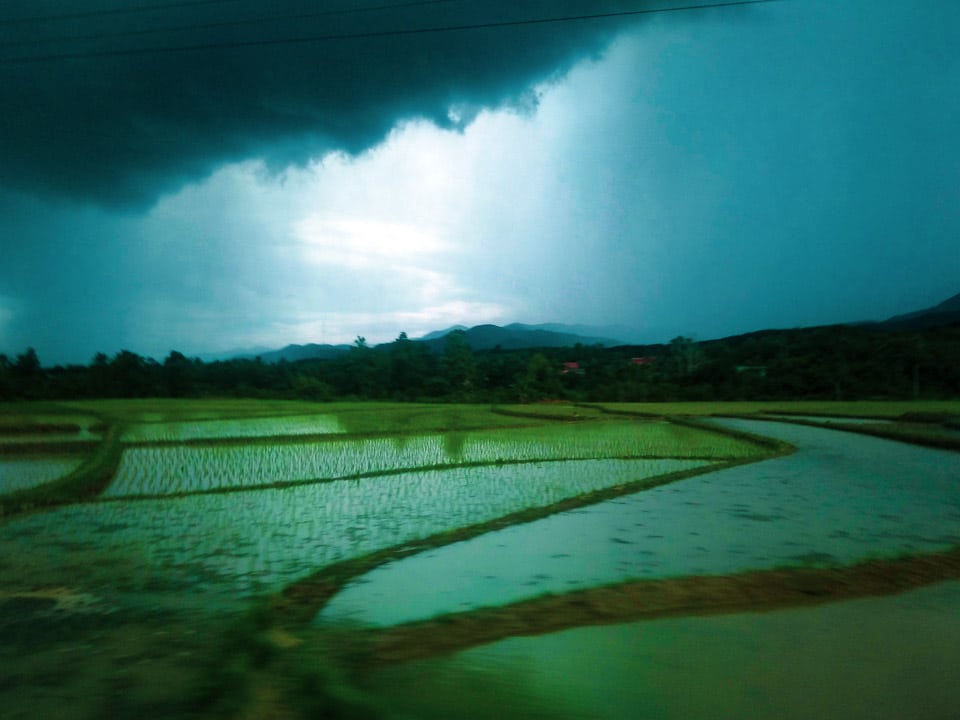 "Earlier Luang Prabang used to be a sleepy old town. Tranquil life knew the beauty of serenity. Now, there are so many things to do, so many places to explore around the town!" My guide said with a coy smile. I could not make out whether this was a cause for elation to him, or he anticipated troubled times ahead!
With changing times, more tourists have come "discovered" this painfully beautiful secret of Southeast Asia. The Kuang Si Falls, one of the most beautiful waterfalls of the world with gorgeous aquamarine hue has been lately advised with the regular caveat, "Go early because with day unfolding, tourist footfall increases at Kuang Si!" A lot like the Taj Mahal of India! No matter how much Luang Prabang emphasizes on timelessness and a content, slower pace of life, increased tourism possess a potential risk to the age old social tapestry.
One sustainable way to deal with the unprecedented volume of tourism is to ensure tourists gets effectively dispersed to many areas of interest surrounding the Old Town of Luang Prabang. Sustainable tourism development initiatives included the near by weaving villages, made path inside the jungles and paved way to the top of waterfalls. Waterways surrounding Luang Prabang happily made place for tourist sailboats and luxury cruises. With such systematic development around the town, benefit of tourism gets effectively distributed to the residents of a handful of villages surrounding Luang Prabang. Day trippers will have a perfect excuse to bid the city good bye for a while and explore the lesser known faces of Luang Prabang, Laos.
Truth be told, the further off you wander away from Luang Prabang, the sooner you will get a glimpse of the real face of Laos. Luang Prabang, despite not being very prominent tourist spot, is a well maintained and organized city. many have compared it to be a show case of what Laos wants to show you. The grandeur of old warm. The romance of old French colonists. The hustle and bustle of the large night market. To touch the pulsating heart of Laos, you need to veer towards the unknown, unkempt and naturally stunning vistas tucked away by the towering limestone mountains.
Also read: Where to stay in Luang Prabang for the first time visitors?
Kuang Si Falls: A Day Trip from Luang Prabang for the Water-baby!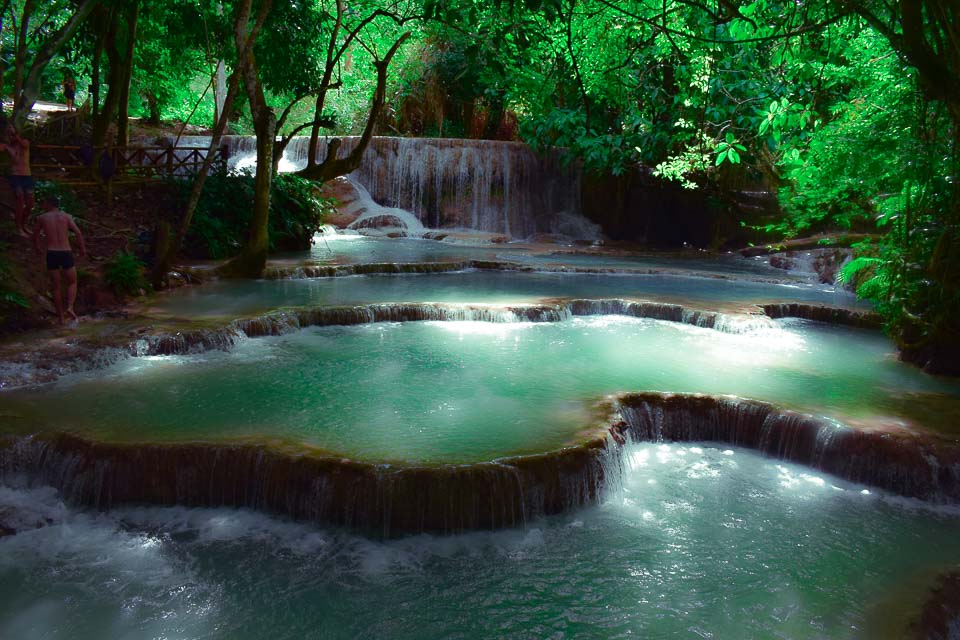 Timing for visit to the Kuang Si waterfall: 8 am to 5:30 pm
Entry fee for Kuang Si Falls: 20000 KIP (2.2 USD)
Carry: Swimwear, insect repellant
Parking: Available
Distance from Luang Prabang: 29 KM south of Luang Prabang
Travel tip: Avoid visiting Kuang Si Falls at the peak of monsoon if you are keen on swimming. The water force drastically increases and brings in mud and pebbles from upstream.
Kuang Si Falls, also known as the Tat Kuang Si, is a multi-tier waterfall sloping down the mountains and a dense forest. Pristine aquamarine water plays with sun rays all day long. You can not visit Luang Prabang and not go to the Kuang Si waterfall, I found it that beautiful!
The secret is now out to the world and everyone visiting Luang Prabang, usually signs up for a half day tour to Kuang Si, coupled with a visit to the Laos buffalo dairy or Pak Ou caves.
We started our day at around 8 am, drank some coffee at the saffron cafe, boarded onto a wooden boat, visited a fisherman's village, the Laos buffalo dairy and then proceeded towards the Kuang Si Fall. I believe you should change your timing and make it a point to visit Kuang Si the first thing in the morning.
Legend associated with Kuang Si Falls, Luang Prabang
In Laos language, "Kuang" means deer and "Si" stands for digging the earth. Ages ago, an old monk sought the earth for a blessing of water. Water emerged alongside protruding giant rocks, making a streaking echo. It resonated far and wild, to the interior of China. A golden deer appeared from nowhere, and made the rock its home.
Things to do at the Kuang Si falls
Visit the Moon-bears Sanctuary (at the entry point)
At the entrance, a few moon-bears are kept at an enclosure. Laos moon bears were brutally hunted down. Bear bile were in demand for use in traditional Chinese medicine (A lot like Rhino horns of Assam). As of today, Kuang Si is home to roughly 20 Asiatic black bears. They are beautiful, and often found hanging out swinging on a hammock. It is depressing to learn these beautiful creatures are hunted to cure petty hang over to cancer and the bile finds a way in bath soaps too! Though legal restrictions are now in place to curb this practice.
Close to this, Kuang Si fall is home to a Butterfly park as well. To enter the butterfly park, you are required to pay an entry fee of 60000 KIP. A guide takes you around the well maintained garden and shows you different species of butterfly, a lot like what they did in Ponda Butterfly sanctuary, offbeat Goa!
Swim at the multiple pools of Kuang Si Falls
Kuang Si fall is made of numerous small pools. These pools are shallow. You may even walk on some of these.
There are ropes, hammocks, tree branches jutting out making for the perfect diving spot.
Take your time, explore the fall and then jump onto the pool you liked the most.
At the highest, Kuang Si fall is 50 meter high. The pool near the main fall is kept off limits to visitors. This is where you find a wooden bridge to walk on and snap a few pictures of the main fall in all her glory. Kuang Si Fall is one of the best places in Southeast Asia for a Drone photography enthusiast!
Hike the Kuang Si Falls! (and find secret spots)
At the foot of the main fall, you will stumble across a muddy trail going higher up.
Even though the climb is steep and slippery, with the right kind of hiking show, you will be able to make it at the top of the waterfall, with still water on a sacred pool and a land of peace and tranquility. Not many tourists can make it to the top. In fact, some parts of the pool are separated with makeshift bamboo barriers.
The picturesque scenic hike is brief but rewarding. The water at the top is green, filled with tiny fishes.
Learn about the Giant Trees!
The giant tropical trees of Kuang Si Falls, Luang Prabang are tall standing historical figures that actually let the sun rays reflect on the while limestone waterbed and create the magic! Find out Mr Bounmee's special tree on your walk.
While it is fine to wear any kind of swimwear in the pool, it is recommended to wear modest clothing while reaching the fall entry point. There are changing rooms at the Kuang Falls. A few local shops sell grilled fish and fresh fruit juice outside the fall as well. It is possible to buy a few small souvenirs from the local shops as well, mostly handmade bamboo baskets and indigo fabric, flagship cultural icon of Laos.
How to reach Kuang Si fall from Luang Prabang?
Kuang Si waterfall is a one hour return trip from Luang Prabang by road. You may also take a boat ride and reach the village close to Kuang Si fall. From there, you need to hire another van/tuktuk to reach the waterfall.
Public Transport: A minivan leaves the center of Luang Prabang everyday at 11:30 am for Luang Prabang. It makes a way back to the city within 2 hours, leaving you with only an hour to explore the fall. But it is the cheapest way to travel to Kuang Si waterfall, if you are traveling solo and are on a shoestring budget. Price for a minivan return trip is around USD 7 (60,000 Kip) per person.
Tuktuk: With a private tuktuk, traveling to Kuang Si is the sweetest deal, especially when you have got other travelers sharing the trip with you. The Tuktuk drive will pick you up from the hotel, drive you there, and wait for 3 to 4 hours for you to come back. All these, for a combined price of USD 22 to 25.
Rent a Scooty: You may rent a bike for a day, and travel to Kuang Si. Renting a bike is USD 15 to 20 depending on demand.
Also read: Complete Travel guide to Luang Prabang, Laos for the First timers!
Visiting the Na Ya Tai Village for a Baci ceremony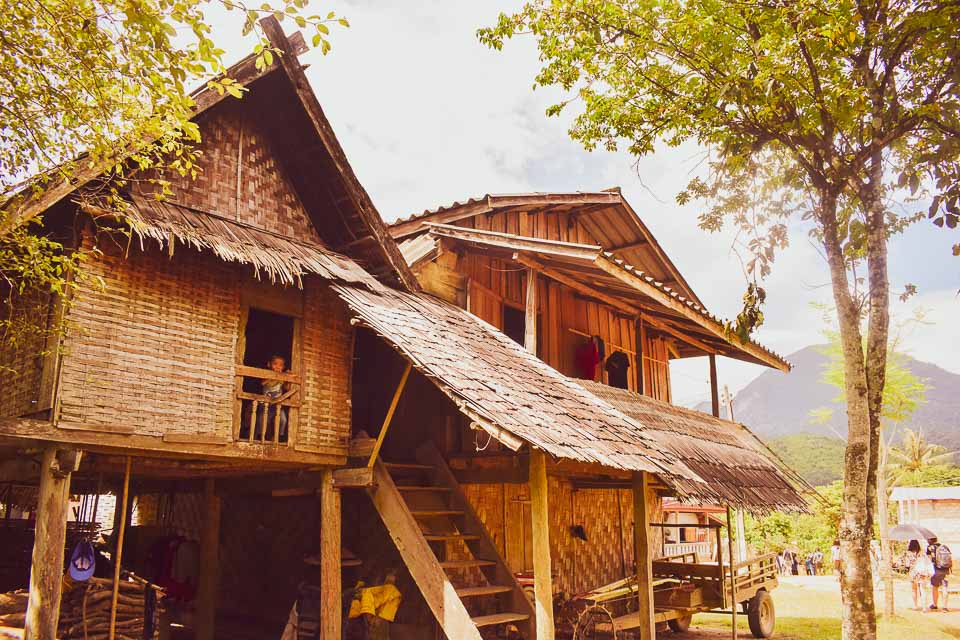 One intensely cultural thing you must experience while traveling in Luang Prabang is to witness the Baci ceremony.
Prevalent among the hill tribes of Laos, Thailand and Vietnam (more usual with the Hmong tribes) Baci ceremony (pronounced as Basi) is a traditional festival to commemorate a new friendship, a commitment. In the local culture, documentation came rather late in time. The age old practice was to honour oral customs. Baci is a part of that.
A round bamboo table is seated in the middle of the house. On which cotton threads are tied. The loose end of it is held by the participants. Myriad offerings of fruits, food, chicken and Lao lao wine are placed. The priest sprinkles holy water in the house, chants hymns and the ceremony lasts for half an hour.
We stopped at the Na Yan Tai village on the way to Nong Khiaw. The small village is home to the Chinese tribes who descended from the mountain ages back. The villagers are highly skilled at weaving. Life here is intertwined with nature as the primary provider. 
Also read: 3 days itinerary in Luang Prabang, Laos!
Trip to a Botanical Garden: Pha Tad Ke Botanical Garden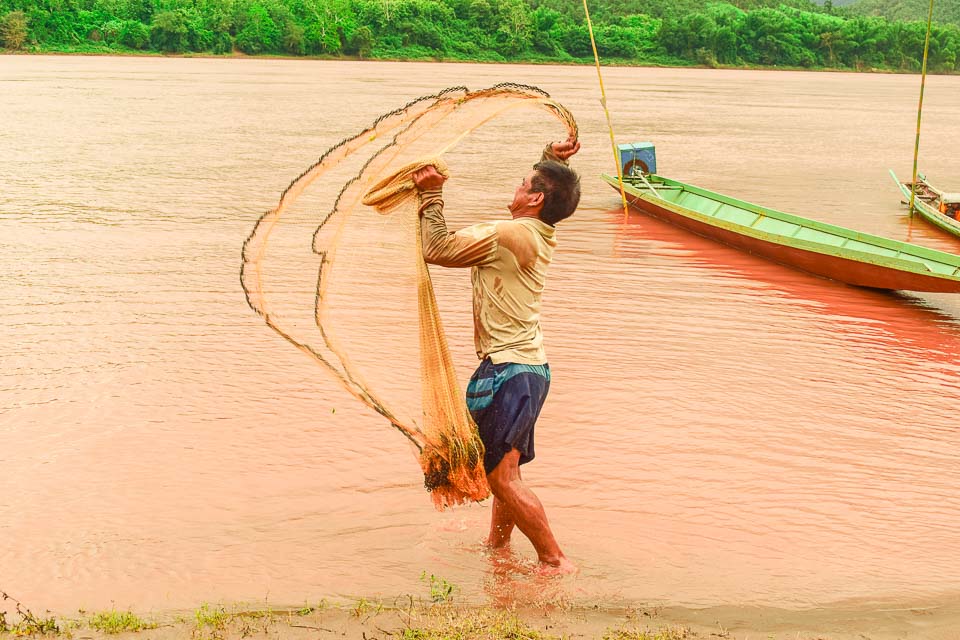 Timing for visit to the Pha Tad Ke botanical garden s: 8 am to 5:30 pm
Entry fee for Pha Tad Ke botanical garden : 15 USD, included is the round trip Boat ride
Carry: Scarf, insect repellant, hiking shoe
Parking: available
Distance from Luang Prabang: 15 minutes by boat ride. Account for a couple of hours.
Located at the opposite bank of Mekong river, the Pha Tad Ke botanical garden is a fifteen minutes boat ride away from Luang Prabang. Plan your trip in such a way that you can watch the sun go down on the way back. Sunset on the Mekong river is an unforgettable experience.
There is a beautiful cafe to rest and snack on. The plantation is huge (40 hectares of fertile land) and dotted with unique flora of Laos. Exquisite orchids adorn the glasshouse. You may hire a guide to better understanding of Laos Etho-botanical garden. During rainy reason, this Dutch operated garden becomes muddy sloped yet stunningly lush living center of Laos's abundant nature.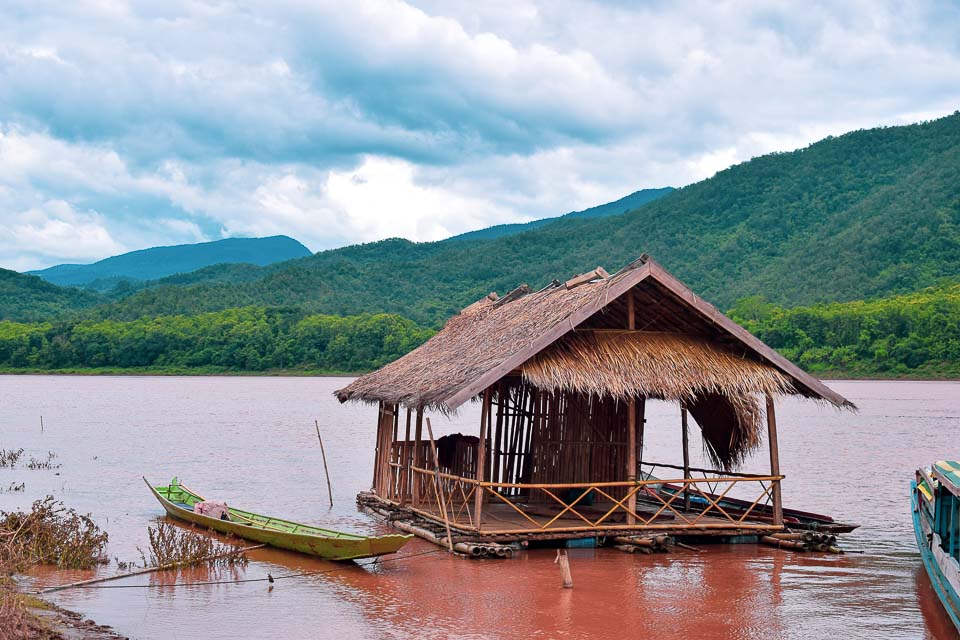 Also read: Celebrate a Baci ceremony in a Laos village!
Laos Buffalo Dairy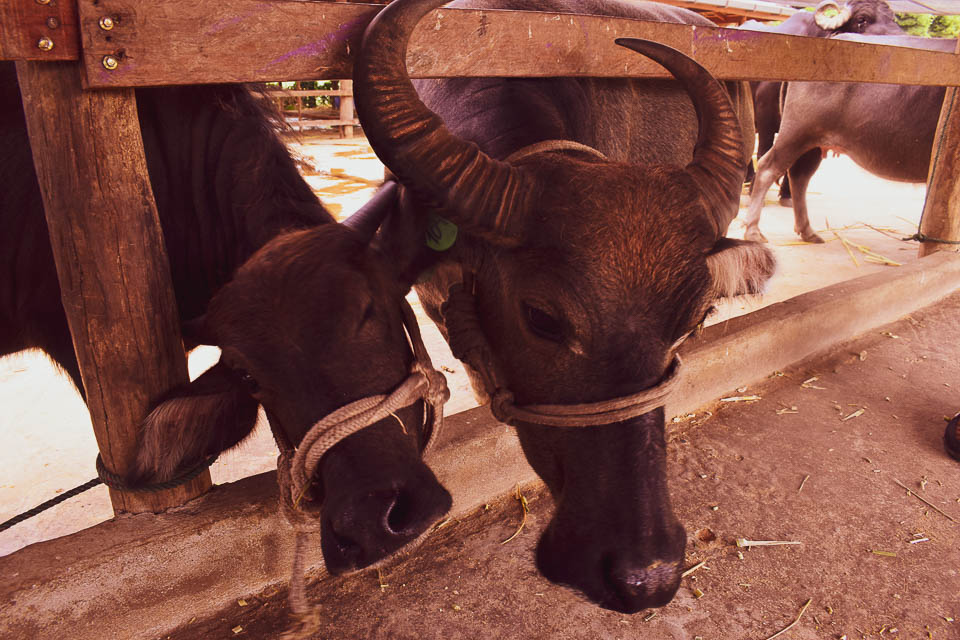 The Laos Buffalo Dairy is such a fun place, you will believe this only once you have been there!
We stopped there enroute the Kuang Si waterfall. In a brief couple of hours, we learnt the basics of establishing a sustainable dairy farm in a country where locals do not drink milk, bathed the buffaloes, tasted multiple delicacies made of buffalo milk.
If you are visiting the Laos buffalo dairy by boat, account for an hour of sail time. By road, it is located 23 km (around 30 minutes bike ride) from downtown Luang Prabang.
I recommend a lunch session at the buffalo dairy, tasting various cheese balls, ice creams, salads, croque sandwiches. Price is higher than what you pay at the street side vendor but that is justified for the amazing quality of the dishes you get to eat!
People in Laos, and the rest of Southeast Asia are lactose intolerant. While dairy is a part of everyday diet, and an essential part of ploughing fields, milk is non-existent in Laos cuisine. However, with increased tourist footfall, Laos saw a heavy demand for milk and dairy products to prepare the famed coffee and French desserts.
In such a situation, the founders of Laos Buffalo dairy stepped in to meet the demand. Originally from Australia, the owner Susan established the dairy, "loaned" the female buffaloes from locals, imported an Indian Murrah buffalo of China, and started a breeding program.
I had initially thought what is the big deal of watching Buffaloes. It was only at the dairy farm, I touched them, smeared their bodies with water, fed them straws, put the milk bottle on the baby buffalo's mouth and my heart was filled with an inexplicable joy! Buffalo meat is not sold here at the Laos dairy farm. However, you get chicken. You also spot pigs, rabbits and birds in the farm premises.
Also read: 11 alternate cultural experiences in Luang Prabang, Laos!
Weaving Village of Ban Phanom
Ban Phanom is one the weaving villages located close to Luang Prabang. The weaves of Luang Prabang is one of the prominent part of identity of local tribes. Each hill tribe follows their own style of weaving. It is an honour to witness the elaborate labor intensive weaving process. It takes anywhere between a few weeks to several months to prepare one of the long skirts made of silk or natural fabric.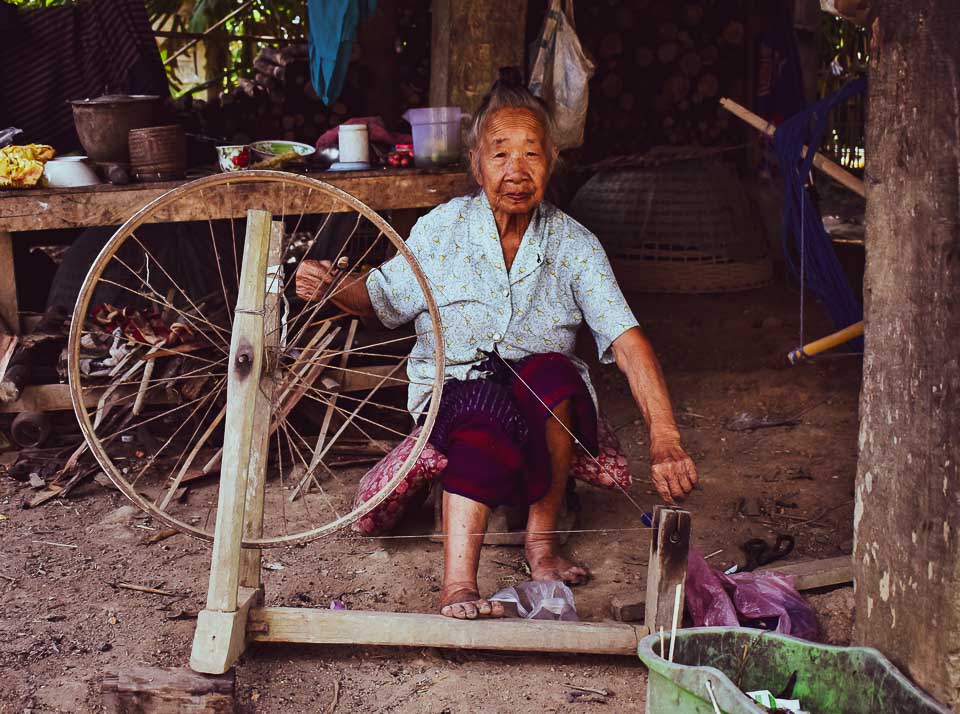 There are several villages of weavers in and around Luang Prabang that deserves at least one visit. Ban Phanom is your best bait if you are looking for a guided tour and villagers who are accustomed to visitors and can conserve in English to a certain extent in order for a transaction to take place. please carry cash if you plan to buy fabric (which you most definitely should).
Also read: The night market of Luang Prabang, Laos!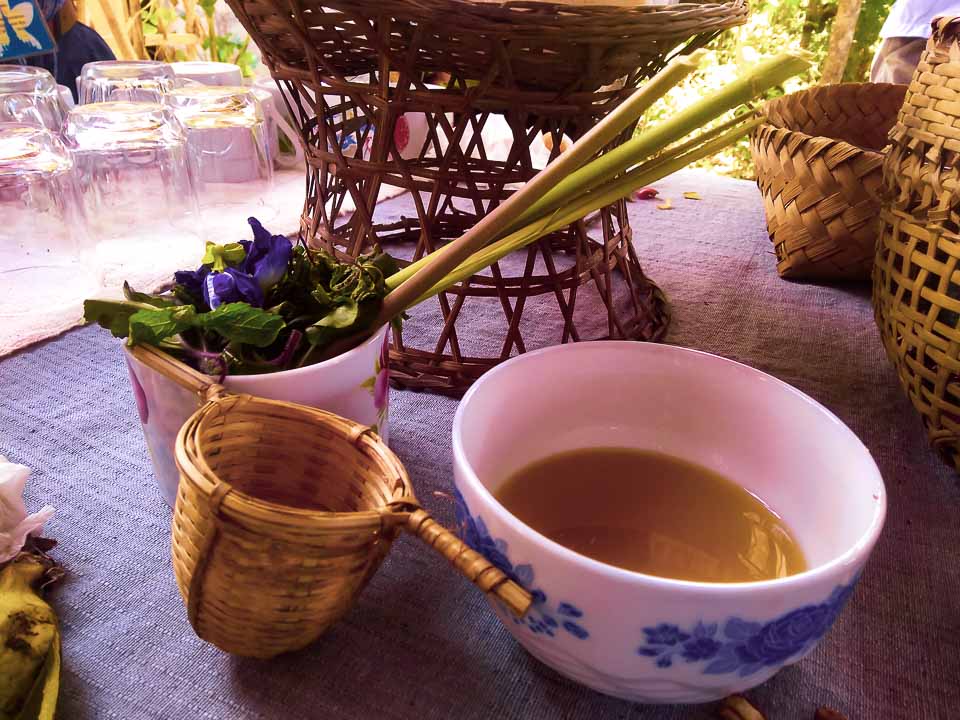 Ban Lu Village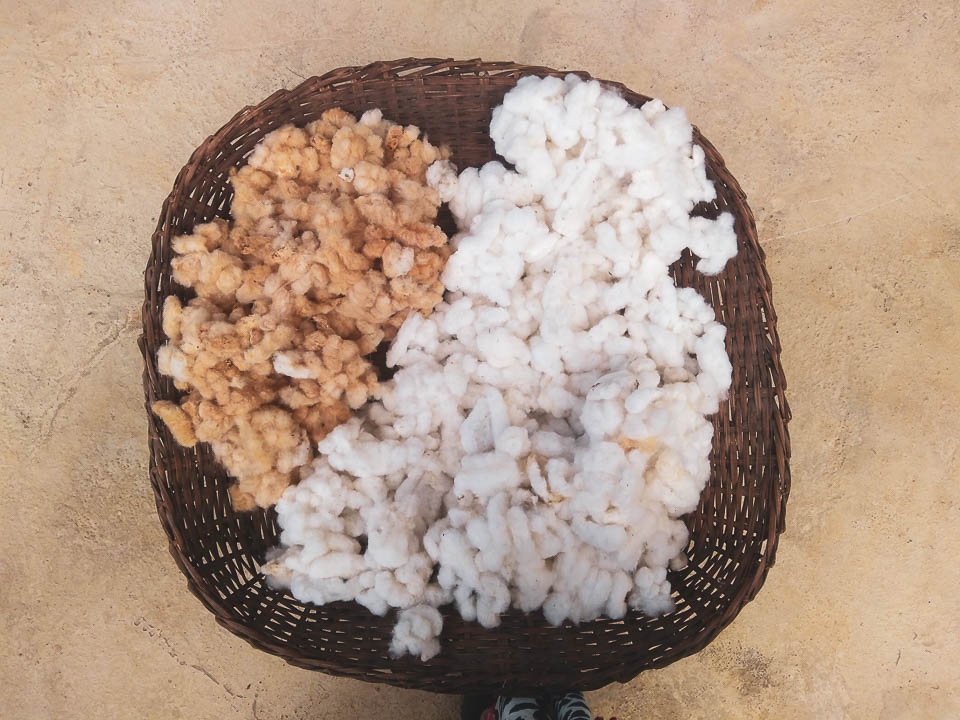 In case you want to live with the locals, choose a home stay and understand the art of traditional Laos weaving in depth, choose to stay with the community at Ban Lui village.
Small yet swank clean guest houses are set up by the villagers here who are keen on welcoming guests and show them generational know how on making cotton and preparing skirts using that in handlooms. You can visit Ban Lui as a day trip from Luang Prabang. You may also choose to spend a few nights here, accept Laos hospitality, drink local tea made of Aparajita flowers and honey. It makes for a pristine experience.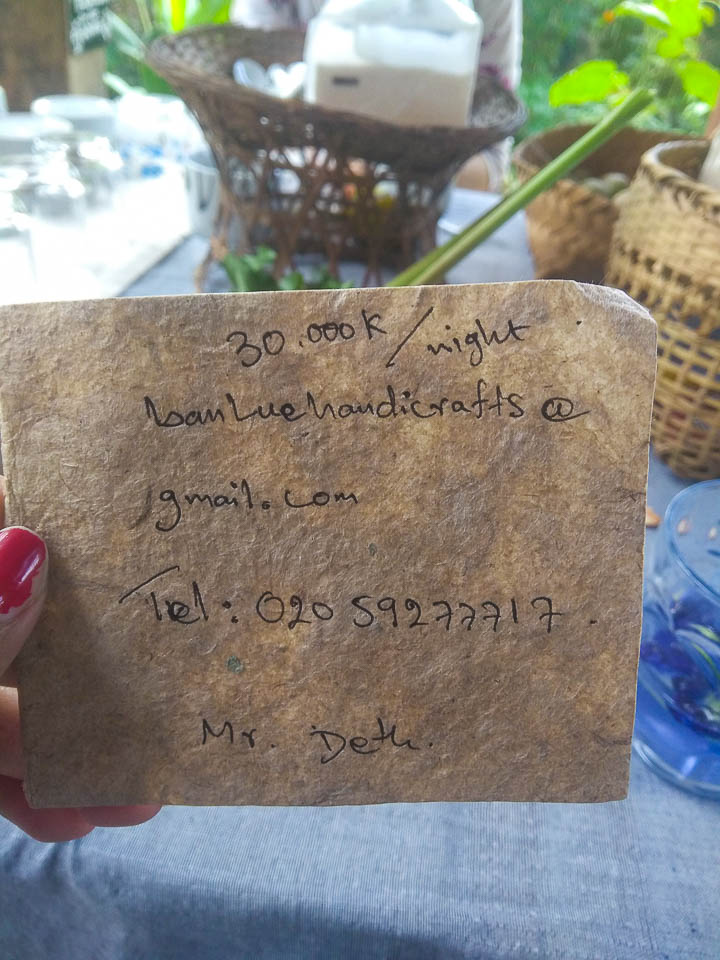 Also read: Reasons to visit Luang Prabang, Laos!
Saa Paper Making Village (Ban Xang Khong)
Just across the Mekong river where the iconic bamboo bridge ends, starts the ancient village of Ban Xang Khong. If you are keen on exploring handmade craft and textile, do include a visit to this village. You may take a cycle and ride till the village.
Bark of Saa (a type of Mulberry tree) is used to prepare this paper. The usual process of paper making of turning the bark of the tree into a thick pulp, following up with spreading on a wooden spread, and drying out under the sun is practiced. As a special addition, colorful flower petals and leaves are added to the paper to give it a dentist texture.
Saa papers are surprisingly strong and result in robust notebooks, cards, wrapping paper and lanterns. Price starts as low as USD 1. Saa paper made products are some of the best souvenirs to be bought at Luang Prabang!
Also read: Nong Khiaw, a hidden gem in Laos: complete travel guide!
Nong Khiaw: the Remote Corners of Northern Laos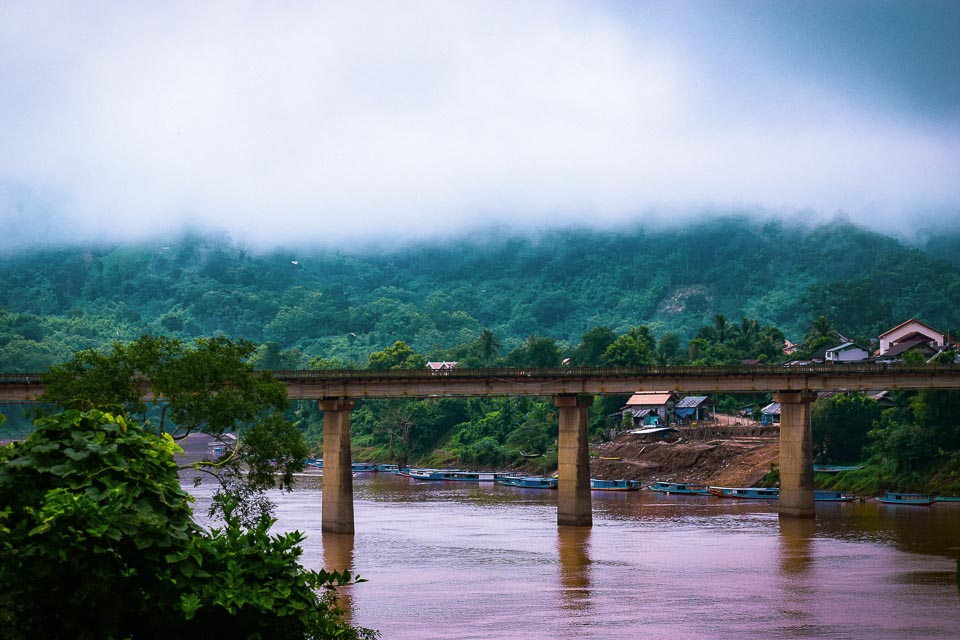 Nong Khiaw is a remote village located in northern Laos. It is 4 hours drive away from Luang Prabang.
In olden days, it was possible to visit Nong Khiaw on a boat trip from Luang Prabang. With changing times and new development in geo-politics (read building dams), the river way has been cut half way. New bridges have been built connecting banks of Nong Khiaw village.
The rural settlement is located by the banks of Nam Ou river. Towering monoliths surround the area, like the rest of SOutheast asia. In Nong Khiaw, you can hike up to the view point, take a boat trip on Nam ou river, go caving and spend a few relaxing days swinging in the hammock. A handful of upscale resorts are operative here. Rest are bespoke homestays.
While you can hastily make a day trip to Nong Khiaw from Luang Prabang, I strongly recommend staying at least one night here. This is where the true soul of Laos is found!
Also read: Sofitel Luang Prabang, an eco-luxury stay in Luang Prabang, Laos!
Nong Khiaw to Muang Ngoi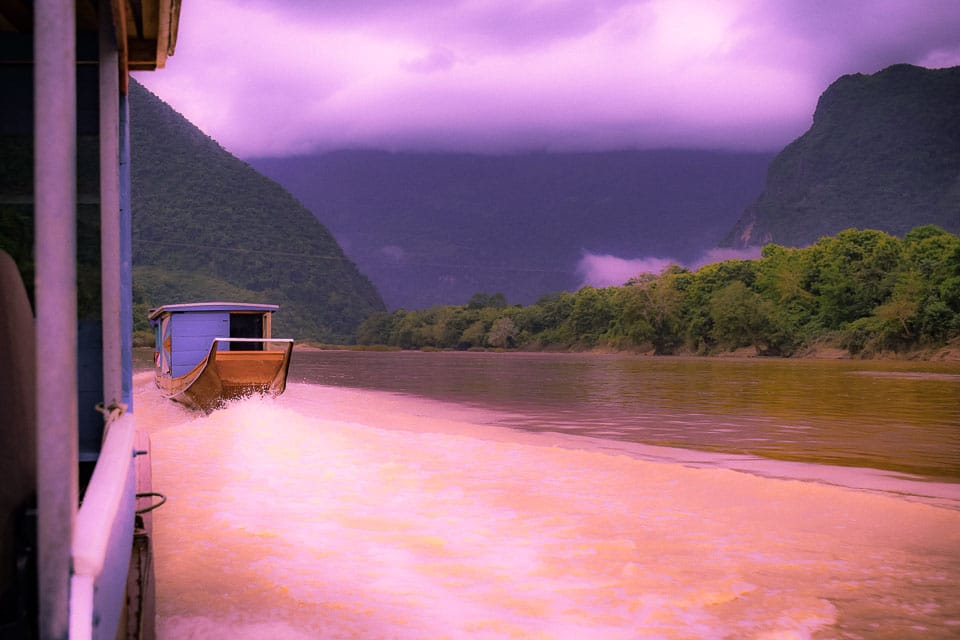 Muang Ngoi is a more remote village located 1 hour north of Nong Khiaw. Except for a dirt road, the village is still located far off from the touristy trail. Take the boat ride and spend a few hours exploring Muang Ngoi, its caves, the paddy fields, spirit houses and temples. The boat ride upstream is ethereal where you find clouds coming down to the mountain peaks, mangroves, sandbanks and wild untouched nature.
Muang Ngoi is that kind of village where electricity is sparse and pricey. Guest houses offer electricity for a certain hours of the day. Do not forget to pack insect repellent while venturing into the deep of remote areas of Laos.
Pha Noi Caves of Laos: Trace back Ho Chi Minh Trail!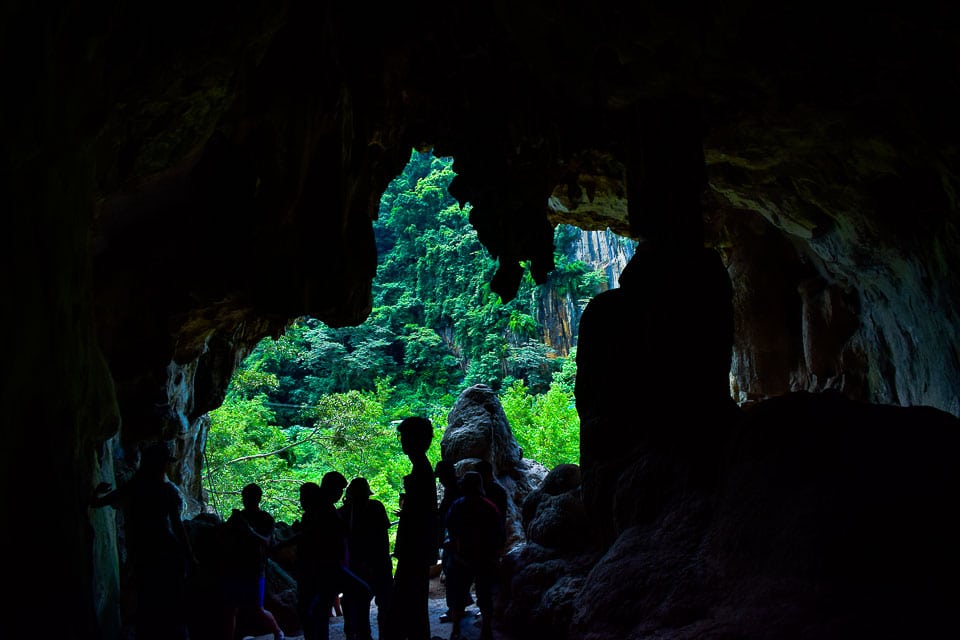 Not many know, but Laos was one of the most heavily bombed countries during the 70s war in Southeast Asia. Along with Vietnam, America had conducted a secret war in Laos, specifically air raids. Obama's latest visit to Laos was basically a way to seek redemption.
The remnant of the war is found aplenty in terms of landmines and UXO. One place where you can see Laos resistance was the Pha Noi caves. Tall monolithic limestone karsts raise their heads towards the sky. A staircase takes you atop the hill where a small mouth hidden behind dense tree branches lets you in the secret world.
Once a part of the Ho Chi Minh trail, these caves were the base of political activities and running an operative government. One of the caves had sprawling compartments that doubled as banks, armoury, hospital and ministry for the locals during the war.
The cave opposite had burnt for 3 days straight during one air strike. A martyr's altar is dedicated there alongside a crumbled up aircraft destroyer.
Trip to the Whiskey village: BAN XANG HAI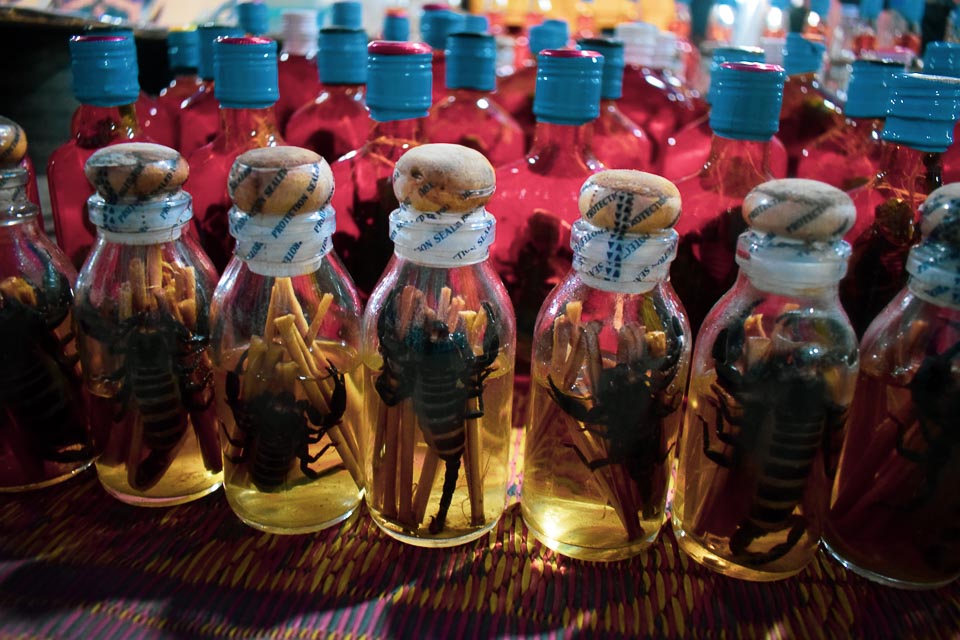 The rice wine that locals drink in Luang Prabang, Laos is known as Lao-Lao. Lao-lao is a strong moonshine, hitting all the right chords even when you just take one quick shot. 
You will come across various glass bottles filled with a snake and alcohol ready for sale at the night market of Luang Prabang. In case you are keen on visiting a village that produces such wines, Ban Xang Hai is your closest option to Luang Prabang. Every Laos village has their own production process of Lao Lao wine though.
Ban Hang Hai, or Whiskey village is located at a distance of 22 km from Luang Prabang. The village is set up by the bank of Mekong river and can be accessed while visiting the Pak Ou caves. It would take half an hour to go there by bike from Luang Prabang.
It is a common practice to put snakes, lizards and scorpions inside the Lao lao bottle. They are believed to add to the essence. The snakes used are venomous. The protein derived from the venom is supposed to be coveted. I can not tell. I did not taste. But it is bizarre to watch for sure.
Women of the village are producers of the wine. The rice wine (whisky as you would like to call it) is distilled in three variants. The clear one is the strongest (I had this during the Baci ceremony). There are Black sticky rice (mild) and white wine (sweet and mild) available for the wine enthusiasts.
Not just wine, the village here sells handmade artefacts and indigo fabrics as well. Villagers are kind and not pushy even when you do not buy. Do try wine shot glasses while visiting the Ban Xang Hai. there was no entry fee for the village.
Lao Lao has a stronger version named lao-hai loved by the Khamu community. Pour this drink on earthenware pots and drink using a bamboo straw.
Also read: Handmade souvenir from Luang Prabang, Laos!
Pak Ou caves
Timing for visit to the Pak Ou caves: 8 am to 5:30 pm
Entry fee for Pak Ou Cave: 20000 KIP (2.2 USD)
Carry: Scarf, insect repellant, hiking shoe
Parking: available
Distance from Luang Prabang: 15 KM (
Luang prabang's unique geological set up h to as brought plenty of limestone monoliths at the bank of the Mekong river. Needless to say, these mountains are home to multiple caves. Caves in Southeast Asia have been home to a number of sacrosanct cultural aspirations. Be it the touristy Cat Ba caves of Ha long Bay or the offbeat pak Ou caves of Luang Prabang. hours of boat ride one way)
In my honest opinion, the best part of visiting Pak Ou caves is the boat ride. At one point, you hop on to a bamboo raft and float on Mekong! That feels surreal. You can reach Pak Ou (also known as Naga caves) by road but that is not as scenic as the one on the river.
The caves are a praying place for locals. There are two halls and the upper one commands a steep hike. The halls are enamored with multiple Buddha statues. A number of pushy kids want to sell you birds. Buying a caged bird and setting it free is one of the scams abundantly seen in Luang Prabang.
Get a hiking shoe that does not slip. Please do not walk on the altar while wearing the show. Carry a flashlight while walking inside the cave.
Boat trip on Mekong River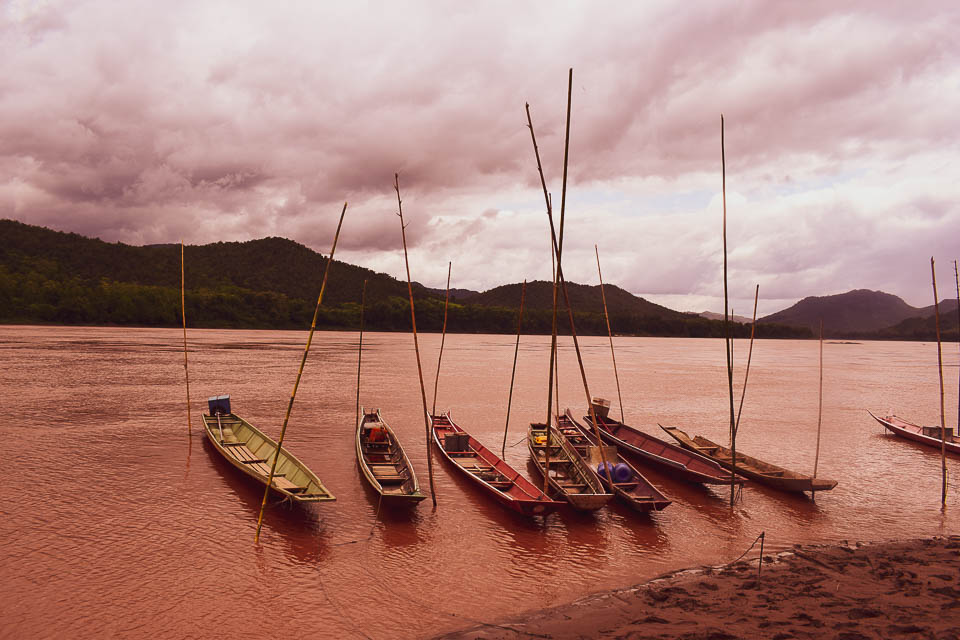 It is imperative you will take some time out and hop onto one of the wooden boats by the banks of the Mekong river while traveling to Luang Prabang. Take a sunset cruise on one of the wooden boats and see the day end in florid hue. The sunset cruise boats are elaborate, have the option of drink and dine on board and the boat trip lasts for a couple of hours.
You may take up a cooking class on board. A sunset cruise on Mekong with a glass of cocktail will cost you USD 20 for a couple of hours.
If you are boarding one of the smaller boats, look an eye for the caged birds. Many boats has caged birds on them. Many of them are motorized.
It is tranquil to sail on Mekong river. Watch life unfold in the villages by the banks of the river.
Also read: A list of book to read before planning a trip to Laos!
Visiting a fishing village on Mekong river!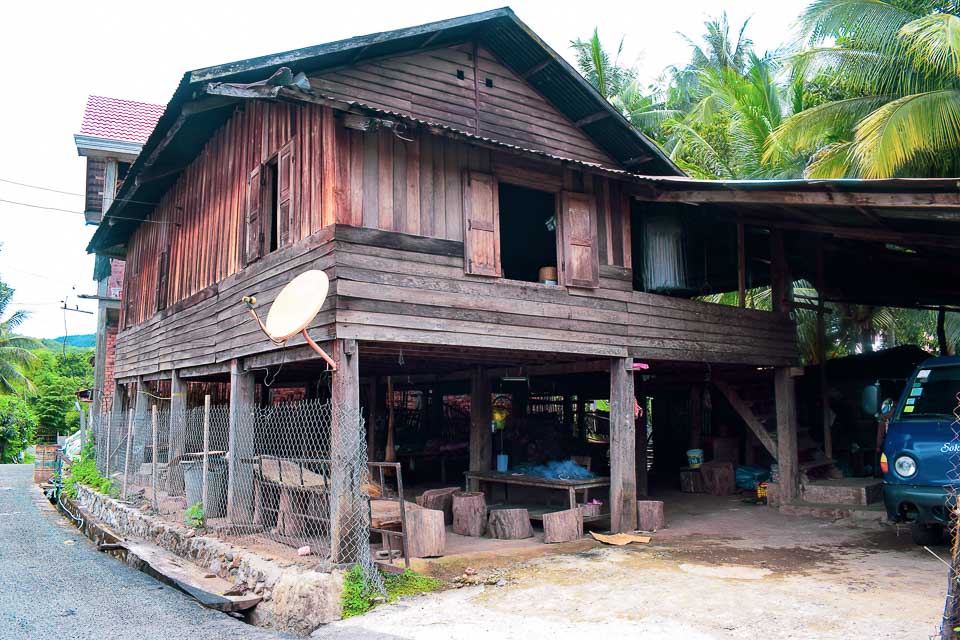 Around Luang Prabang, the bank of the Mekong river is dotted with multiple villages. By the virtue of being essentially a waterborne economy, everyone has assimilated the river in everyday way of life.
Children go to school by boat. They make the river bed a playground. Swimming is just another way of crossing a distance. It is no big deal if you come across yet another fishermen's village while crossing the Mekong river.
The one I will talk about came on the way to Kuang Si falls. We disembarked the boat, and was about to board a minivan to reach Laos Buffalo dairy. This fisherman's village came in between.
A man stepped into the mud adorning the banks of the Mekong river with a fishing net in hand. He spreads the net, like an eagle spread its wings and churns out jewels from the river bed. We stood in awe as he picked up fishes, prawns both big and small from the river. The tiny ones he throws back at the river. "These are carps. They will grow bigger!" Our guide explains.
He carried those fishes home. A two-storey wooden house with the ground floor reserved for his cats, hens, dogs and a cooking place. He grilled the fishes with some salt and fed his cats. There was one cat mother, a black cat with sparse yellow stripes. Some three or four kittens kept an eye at us from a distance.
Also read: A photo blog on Luang Prabang, Laos!
Pottery Village of Laos: Ban Chan
Hire a boat from Luang Prabang pier to reach Ban Chan Neua and cross the mighty Mekong. You may carry a bicycle on the boat in order to include Chompet Loop in the day tour. The ferry that leaves from the behind of Laos Royal Museum is a public one and shall cost you 5000 kip to cross teh river. You need to pay 5000 Kip extra to carry the cycle.
The village of Ban Chan is open to visitors from 8 am to 5 pm. Pay an entry fee of 10,000 kip to the Nai Han to enter the Ban Chan village.
Pottery House Food Tour is one local guide that conducts daily visit to the potter's village, conducts a workshop for you and lets you have a hearty meal by the river. the meal shall constitute of typical Laos salad, lap and river weed.
Watch the local artisan practice this 400 years old art of terracotta. It takes anywhere close to 4 days to light up the kiln and bring the desired temperature at which earthenware needs to be shaped.
Meanwhile, watch the potter's wheel churn out beautiful pieces of pots, urns, lamps and other products of everyday use in a typical Laos household. If you watch closely, you will see almost every house in northern Laos has an earthenware as a decorative piece in the house o r the garden. In fact this place reminded me of Panchmura where the Bankura horses are made.
There was a place in the village that produced bricks made of red clay as well. The Terracotta bricks and handicraft needs time to cool down slowly before color is applied. You must but small souvenir from the village as gift back home. They are precious. They also ship worldwide in case you fancy a heavier product.
Chomphet District: Biking around the Chomphet Loop!
4 km off the East of potters village, lies the pristine Chomphet district. At the top of the hill, stands a lonely wat (temple). This is known as Wat Chomphet. Entry fee is charged as 10,000 kip. Hiking to the temple guarantees you get a stunning view of Luang Prabang on the other side of the river.
The lesser known trail is also known as Chom Phet Hike. Hiking involves climbing roughly 123 stairs to the top of the dilapidated temple. It demands half a day of your stay in Luang Prabang. Heavy-duty mountain biking around the Chomphet Loopis a popular activity. Bikes are available for rental at Luang Prabang and can be brought across the river on a ferry by paying extra.
The Chomphet trail is a lesser known alternate experience in Luang Prabang. The trail is beautiful but not very well marked. It is recommended to bring a detail map and take time to unfold various mysteries buried under the earth in this part of the world.
Mount Phousi: A Hike Right at the Heart of Luang Prabang!
If hiking is what you fancy but do not have time to leave Luang Prabang for a day tour, consider hiking up the mountain Mount Phousi. It is located right at the heart of Luang Prabang, by the tail of where the Luang Prabang night market ends. However, the top of Mount Phousi gets overcrowded during sunset as most of the tourists climbs up the stairs and jostle for a seat at the top.
Elephant Conservation Center: A Day Tour with the Elephants
From million elephants of the ancient Laos mythology, the current population of Asiatic elephants in Laos has come down to a drastic drop of 400 only. Logging industry and abundance of ivory trade contribute to this downfall.
With logging now abolished and more tourists taking active participation in elephant riding activities, things hardly looked positive of the Eles of Laos. The wild ones get into captivity, broken, sold and finally used for riding or other entertainment purposes.
Be careful into choosing the elephant activity you are signing up for. I loved how they treated the giant kind animals at the Manda Laos Elephant Conservation center.
Located 20 km away from Luang Prabang (half an hour's drive from city center), Manda Laos conducts various full day and half day trek with elephants. This activity does not involve elephant riding. You walk with the gentle giants and end the day at Manda Laos restaurant. I had a fortune of doing something similar in Chitwan forest Nepal and it was an amazing experience to walk with the elephants.
Tad See Waterfall
Timing for visit to theTad See waterfall: 8 am to 5:30 pm
Entry fee for Tad See Falls: 20000 KIP (2.2 USD)+ 10,000 kip for the boatman
Carry: Swimwear, insect repellant
Parking: Available
Distance from Luang Prabang: 15 KM
Located close to the elephant village, the Tad See waterfall is another beautiful small water cascade. The water stream dies down during the dry season however the wet season is different. The fall is three tiered and a cave is located somewhere close by.
Monkeys., peacocks are found plenty in and around the Tad See falls. However, Tad See is the one place where elephants are seen in the waterfall in Laos! You do not have to ride the elephants even though the facility is there. Just feed them some mbanana for a meagre 5000 kips.
Boardwalks, ziplining, hiking are some of the options to explore Tad See. On a good day, you might also find a few monks there. Tad See is 45 minutes drive and boat ride (boat ride is mandatory to reach the Tad See falls) from Luang Prabang.
Visit the Living land farm fields!
To give back to the community and living with the locals, head straight to the Living land farm at the outskirts of Luang Prabang as a day tour. Watch old methods of sowing rice with the help of two water buffalos, alongside other rural activities like bamboo weaving, sugar cane pressing, black smithing.
The Rice Experience program contributes to Laos children's studies and English classes that equip them with necessary hospitality skills. Booking a homestay is possible here.
Nahm Dong Park
It is a sprawling park located at the outskirts of Luang Prabang. It is roughly 9 km away from the city center. There are ziplines, canopy walks, boat rides, and a picnic spot inside the park. It is popular among the locals for winter outings.
---
This post may contain affiliate links. Please read the disclosure post. If you have liked the article, you may support it by buying using these links without any extra cost to you.
Let's stay connected on Facebook, Instagram, Twitter! You may also consider joining my mailing list. I send travel and photography related emails only once a month!