Luang Prabang opens a whole new world of peace and slow living for the world outside, which is always rushing for the unattainable! Three days are all you need if you want to "do everything" in Luang Prabang. For truly soaking in the glorious old world culture of Luang Prabang, I recommend at least a week in this UNESCO world heritage site.
In three days, you can explore the ancient temples of Luang Prabang, take a boat cruise on the Mekong river, go for a hike, explore Kuang Si falls, shop from the vibrant and famous Luang Prabang night market. For sustainable travel practice, you should check out the book cafe, elephant rescue center and Hmong weaving villages in and around Luang Prabang and partake in one of the many local-led tours that explore Luang Prabang and surrounding areas.
Click here for more Travel blogs on Laos!
I spent a week traveling in Luang Prabang with a small detour to a hill station named Nong Khiaw. I could go on with my idyllic stay in Luang Prabang for another month, truth be told.
Hence, I had a Luang Prabang bucket list ready in typical novice tourist fashion, to be ticked off as I rushed past from one museum to the next Wat. I also had a list of all the exquisite day trip destinations in and around Luang Prabang.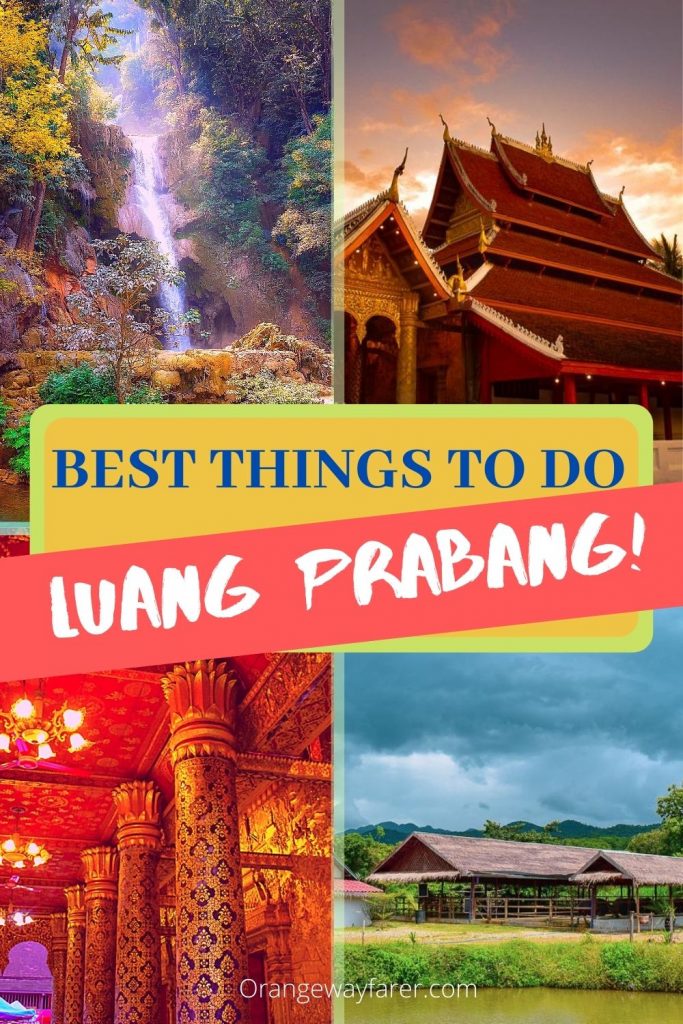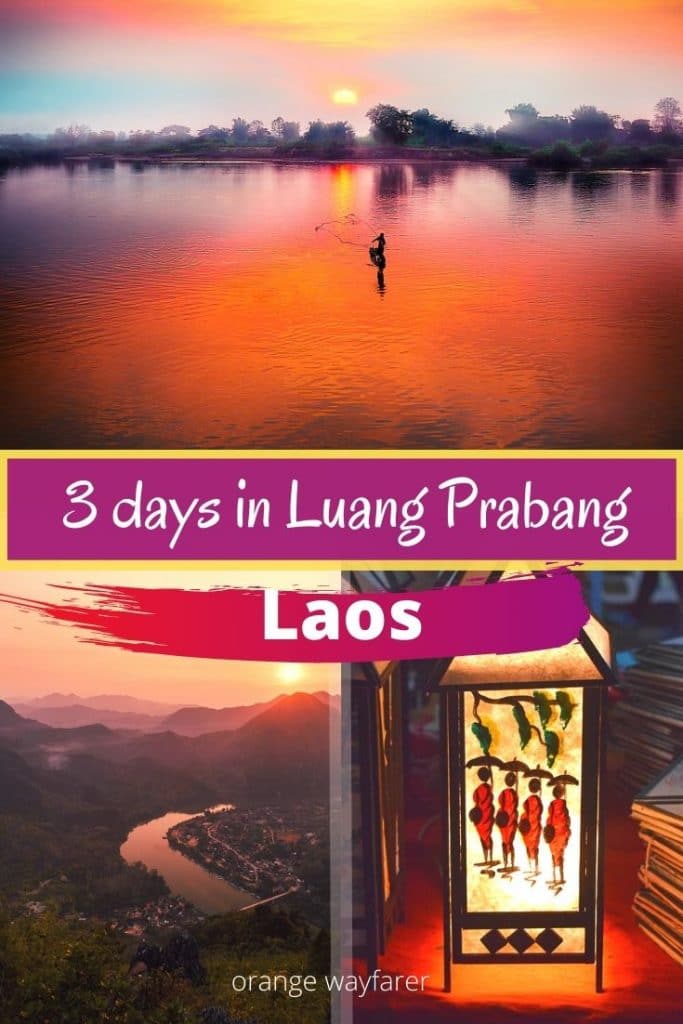 My enthusiasm and to-do list became meaningless as I stepped by the banks of the Mekong river. The profound river Mekong is also known as "Mother river" to the locals. The seventh largest river of the world, Mekong nourishes various forms of lives by the banks, including roughly 7 million humans!
In Luang Prabang, it is enough to see life unfold by the banks of Mekong. That is all that you need to "do" here, really. The river will whisper the secrets of antiquity in your ears if you wait patiently. The battles fought in the land by the French and the Communist Pathet Laos. The melancholy of unexploded American cluster bombs, which puts Laos people in an uneven battle to secure lives at the most surprising nook of the dense hill-forest. One wrong step can annihilate men, and it does. Killing and maiming continues even after all these years.
The makeshift bamboo bridge connects the two banks of river Mekong. Every season of rain, flash flood skids away the last trace of connectivity. But people build the bridge again. "This has been the order of our world. We know no other way!" Fishermen, rickety wooden boats, sunset cruises, school going children,bamboo fish nets, towering limestone karsts: life unfolds in myriad ways by the banks of the Mekong river in Luang Prabang. Hence, the itinerary is incomplete without allotting a generous amount of time romancing the river!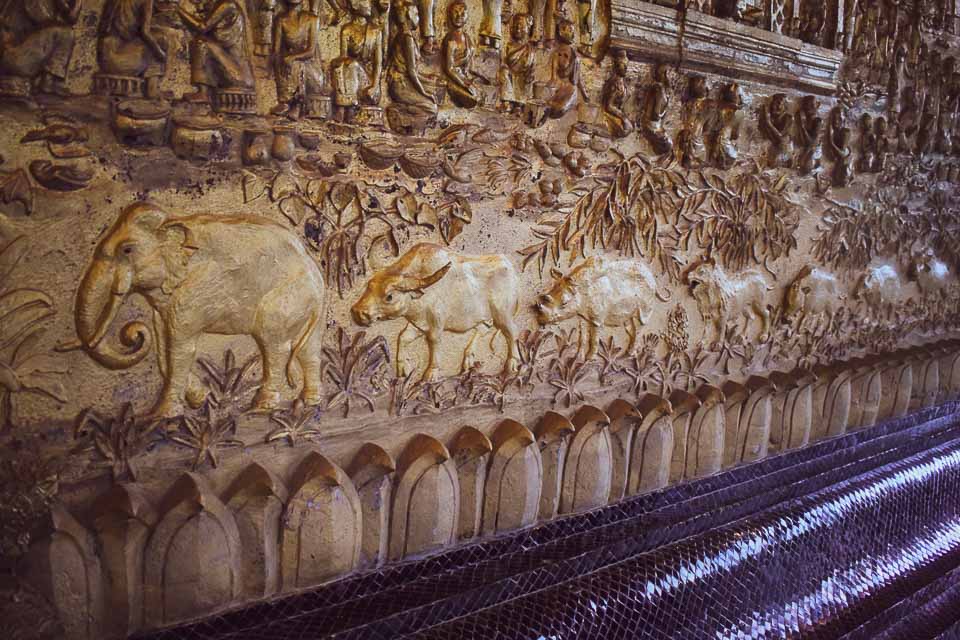 But do not get me wrong! Luang Prabang itself is beautiful beyond words. So pretty decked up Luang Prabang is, you will be hard pressed to trust this make-believe world! Everything is synchronised, in order, peaceful. Life is slow. Air ruminates an aroma of the rustic river and paddy fields. You take a deep breath after waking up in the morning. You are rejuvenated. There are tourists in Luang Prabang but the rush is not comparable to that of a Hoi An or ahem, Bangkok!
I recall sitting at the Suvarnabhumi airport on my way back from Luang Prabang, gasping at the sheer speed a human mechanism can adjust too! My mind had just been de-cluttered in Luang Prabang! I do not know if for better or worse, but I was overwhelmed for a while to process this rush!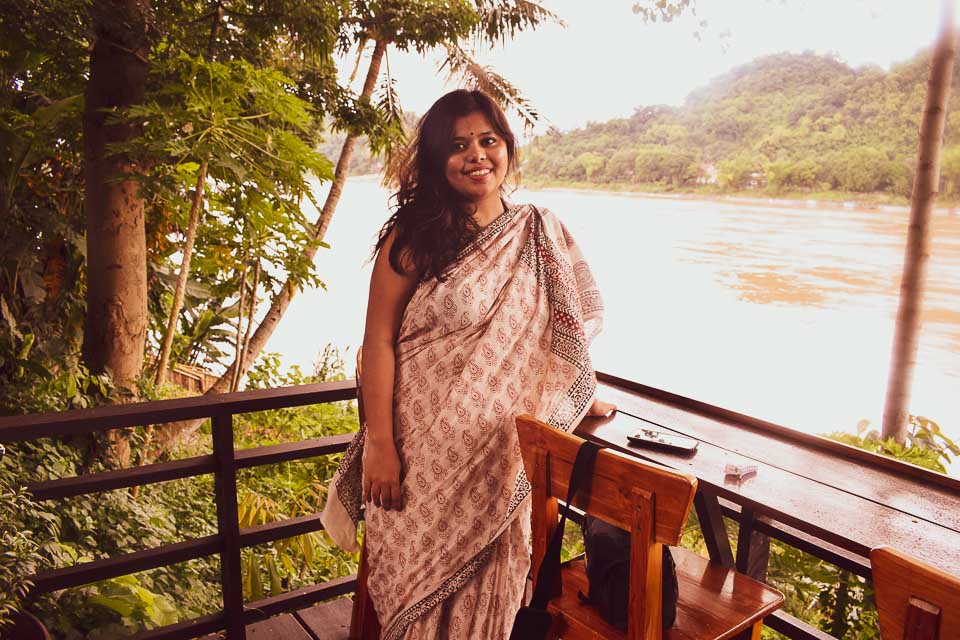 The French colonists have left but the unique architecture they brought along remains etched at every corner of Luang Prabang. Nuanced western culture finds a way in the vintage cars, panelled glass walls, freshly baked French baguettes at Laos households served for a neat breakfast!
Interesting, that did not take away anything from what Luang Prabang's real identity is! It is a temple town, one of the last bastions of Buddhist studies and cultural nerve center in not just the communist country of Laos PDR but the whole of South East Asia. The Old Town is studded with beautifully gilded Buddhist temples. I had relieved the vibes of Luang Prabang in Bagan, Myanmar. In fact, Luang Prabang has been conferred with the status of a UNESCO world heritage site for her unique preservation of architecture of the East and West! Artistic ability of human civilizations can co-exists. Problem starts when it gets a Machiavellian twist.
In this blog post, I will try to paint a rough three day's itinerary in Luang Prabang. You must NOT follow it to the T if you are one of my diligent readers, but you are to take some idea and derive a plan for yourself! But do stick to the food suggestions I give! They tend to be fantastic!!! This blog post is also followed by a rough cost of traveling to Luang Prabang.
I take it as you have three whole days in Luang Prabang. That is, you are leaving on the fourth day and have spent at least three nights sleeping in Luang Prabang. The more, the merrier!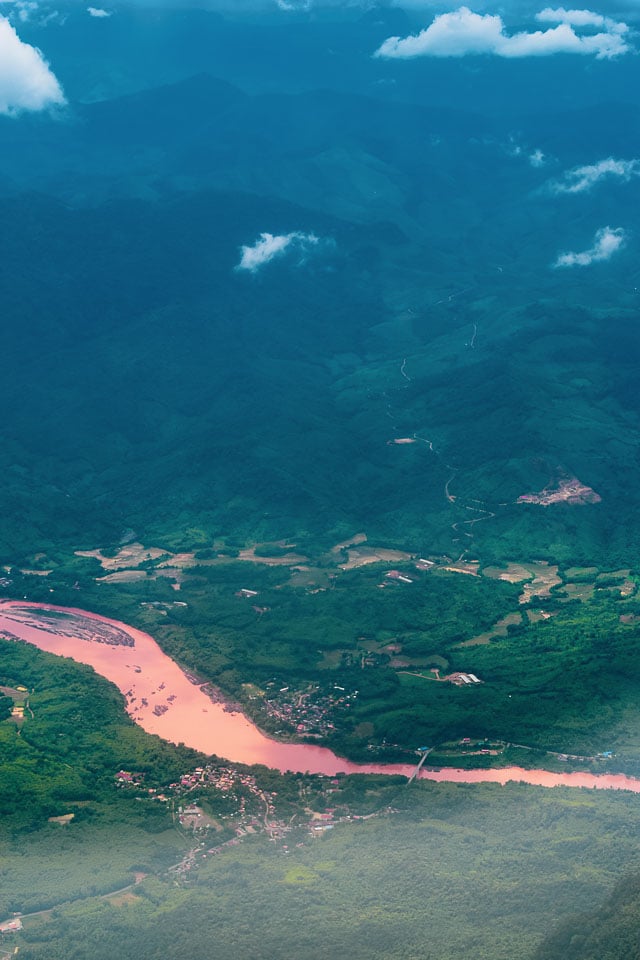 Also read: The most beautiful local souvenirs from Luang Prabang, Laos!
Day One in Luang Prabang, Laos (Arrival)
Taste local food of Laos, a Sunset cruise on river Mekong, explore the Night Market
Assuming you reach Luang Prabang early morning, you should ideally take an hour to complete immigration and visa formalities and move to your hotel or guest house.
Where to stay at Luang Prabang
I strongly recommend staying close to the Mekong river in the Old Town area. This gives you an edge over other hotels by bringing you close to the star attractions of Luang Prabang. The famed night market takes place in close vicinity. The Old Town is home to the prominent Wats (temples) of the old town.
1. Explore local food in Luang Prabang with Backstreet Academy
Reserve the first day in Luang Prabang to explore local culture by taking part in a food tour. I did so, with Backstreet Academy. 
Since the French were here, the European influence on gastronomic offering in Luang Prabang is massive! But traveling half across the world to eat French food may not be appealing to everyone and you may be left clueless as to where should one go to taste authentic Laos food! Backstreet Academy answers that worry.
Two local guides came on a Tuktuk (an electric vehicle) to pick us up from the respective hotels. We were three girls. Then they took us to local eateries around the town. Local eateries, mind you. Not the typical night market buffet stuff.
They introduced us to a local alternative to using green chilies to spice up food. It was called spice wood. A wood (not just the bark of it) is cooked in the gravy that is excruciatingly spicy!
The street side vendors sell river fish grilled, thousand year old eggs (preserved eggs), and various mushrooms. Use of oil is limited in Laos cuisine. Instead fresh herbs and meat take the front seat. A Laos version of Khaw Soi, which is vegan friendly, is local favourite.
Our tour ended at the famous night market of Luang Prabang.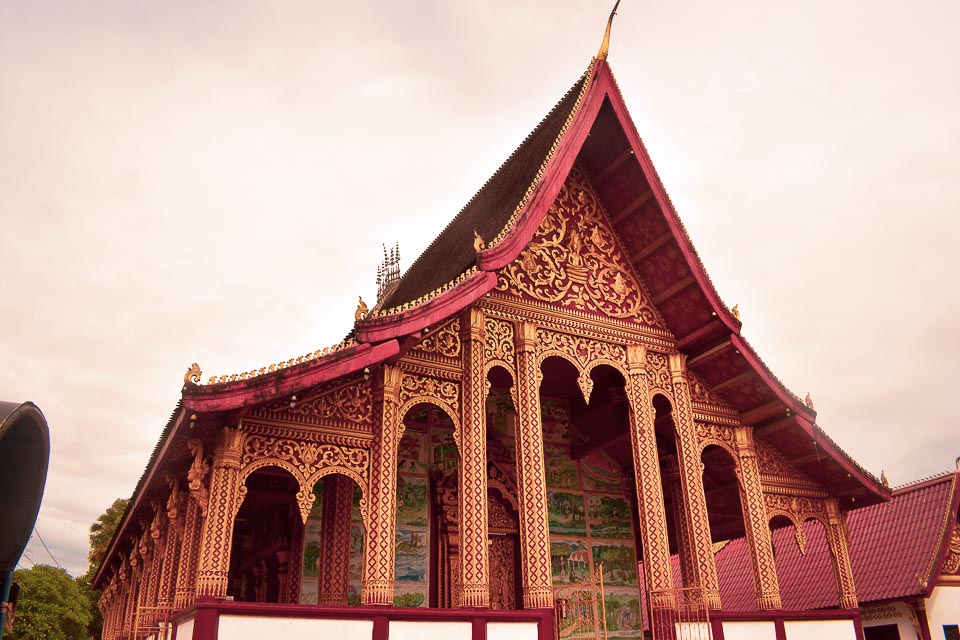 2. Relish the Sunset in Luang Prabang
But hold on, do not venture inside the night market as of yet! Sunsets in Luang Prabang are a photographer's delight. Grab your camera tight and hike up Mount Phousi. Though you might feel overwhelmed with the number of tourists joining you at the top. Everyone wants a pie of the sunset cake in Luang Prabang.
Instead embark on a romantic cruise on the Mekong River that bids adieu to the day in style. If cruise seems spicy, get onto a wooden boat. Sailing on Mekong is nothing short of a spiritual experience. I am from the country of Ganga-Brahmaputra. I feel it in my heart!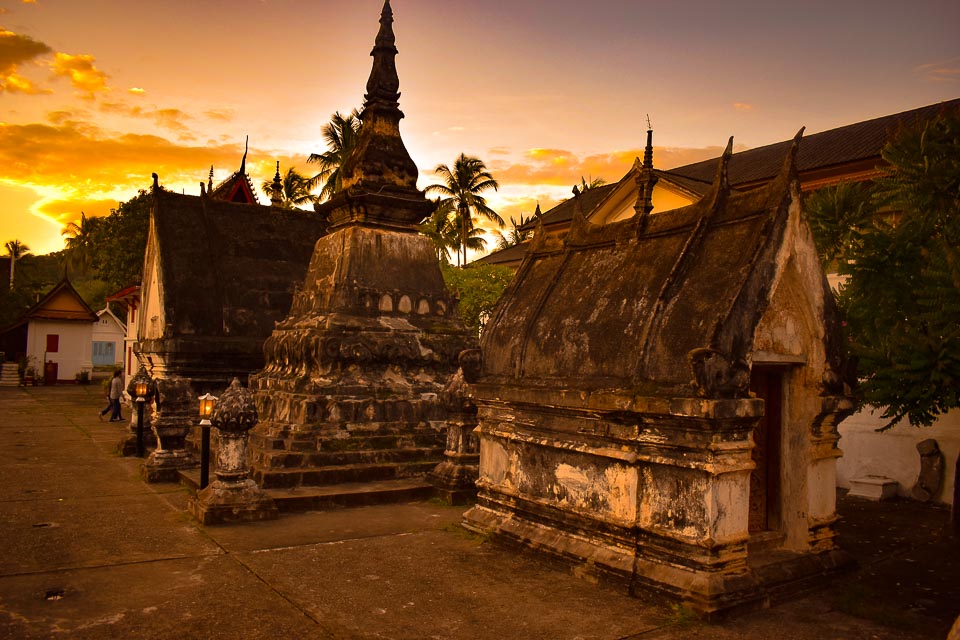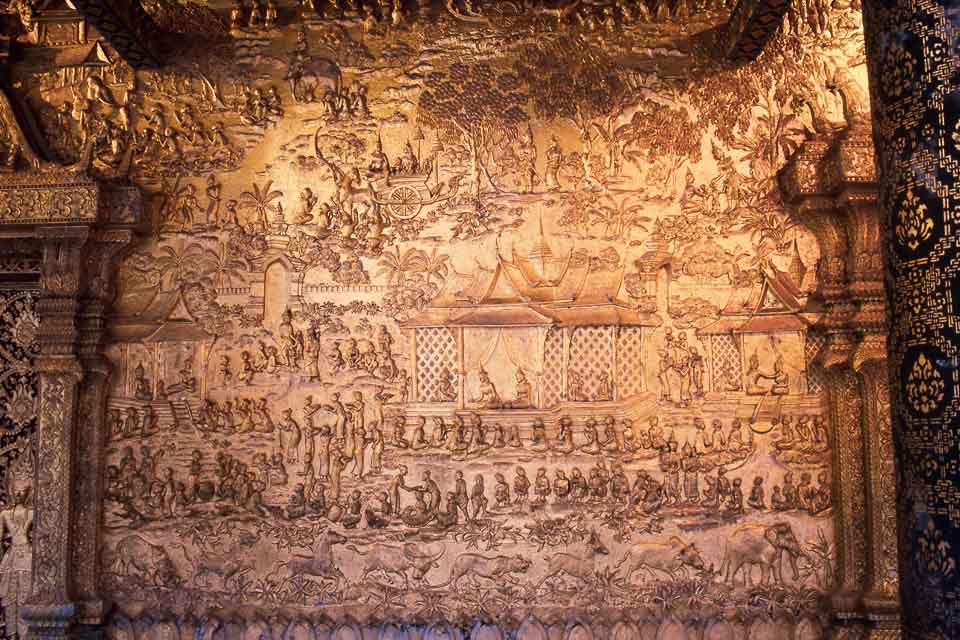 3. Relax at the Night Market of Luang Prabang
Nightlife in Luang Prabang is not as prolific as Phuket but is limited to a few riverside cafes and the vibrant night market. UNESCO pimples a strict rule on the town that business needs to get over by 11 pm. To reserve the sanctity of the temple town, and preserve UNESCO shield, the rule is adhered to by locals.
While the banks of Nam Khan river, known as the backpacker's den of Luang Prabang, indulges in late night bowling and bars, the Old Town wraps up life and goes to sleep by 10 pm.
But then if you have enough time to explore the night market, you have seen it all and done it all!
Luang Prabang's night market started as the Hmong tribe wanted to showcase their handicraft skill to the new visitors to the country. It was the early 90s. Laos had just opened the door for tourists. The night market started with candles and only a handful of people from indigenous groups.
Now the night market has made space for products from China, Thailand, Vietnam and more on the shelves. Handcrafted products do make up for a good competition however for the best handwoven fabric, you are better off to head for Ock Pop Tok living craft center. (more on that later).
Despite that, I ended up spending 3 evenings at the night market of Luang Prabang. There are plenty to see, eat, shop and photograph. Just be mindful of the controversial stuff on the sale. Say the animal products or spoon made of scrap metal which may be a child was employed to collect from the jungle. Otherwise, it is really cool. Snake stuffed bottles of rice wine share space with freshly baked pie! What is not to like here?
Do eat the coconut pancakes being sold at the edge of the night market. Usually a few ladies sit with cast iron cookware and prepare this spongy sweet dish, a unique one in the whole of Southeast Asia!
For dinner, I would recommend the Blue Lagoon Restaurant close to the Luang Prabang night market. The banana wrapped steamed fish (yes yes our Bengali Paturi sans the Bhetki but with an equally good river fish) and red rice served on bamboo basket are what dreams are made of!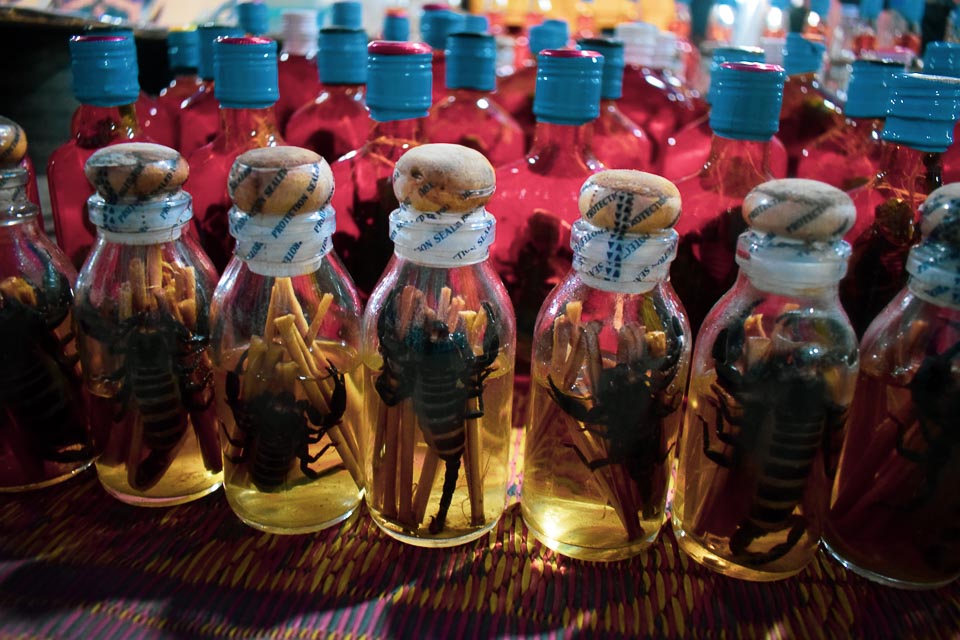 Day Two in Luang Prabang, Laos
Exploring the Old Town of Luang Prabang, the temples and local life at the morning market
Rise and shine at dawn in Luang Prabang the day next. This whole day is best explored by romancing the old Town. Today is also the day to soak in the historic city of Luang Prabang, an enigma in the travel book of a culture enthusiast.
1. The Alms Giving Ceremony of Luang Prabang (and how to take part in it as a responsible traveler)
You will be surprised to discover how much a monastery holds control in a traditional Laos society. Young monks, who study at the Buddhist monasteries, often come back to mainstream life once the course gets over. The monasteries and temples are not an aloof aspect of religious entities but largely steeped in social value systems.
The best way to experience this is to waitress the morning alms giving ceremony of Luang Prabang. 
Monks from distant villages walk all the way to the heart of the Old Town and collect alms from the city dwellers. Alms is given in the form of food, mostly sticky rice, from a kneeling position.
Things to remember as a respectful tourists during the alms giving ceremony:
Take pictures but keep in mind you are witnessing a 600 years old tradition, an intangible heritage of Luang Prabang. Maintain distance.
Dress appropriately. Modest clothing that covers your knee and shoulder are prerequisite. You need to maintain this dress code even if you are not taking part in the ceremony. This dress will help you enter the temples at ease.
Maintain silence. At least 200 monks walk the street without waking up the whole neighborhood. Tourists can learn a thing or two from them!
2. Breakfast at the Morning Market of Luang Prabang
Once the ceremony is over, head to the morning market. This is in many ways comparable to the fish market of Kolkata. A fresh produce market, the morning market of Luang Prabang has farmers and fishermen taking part with equal enthusiasm. Frogs from paddy fields, grilled bee hives are some of the "not seen everyday" kinds of things on sale here. The morning market of Luang Prabang takes place around Wat Mai. Have a hearty breakfast in true Laos style at the morning market. Congee, fruit shakes, fritters, cured meat are on sale here for a surprisingly low price.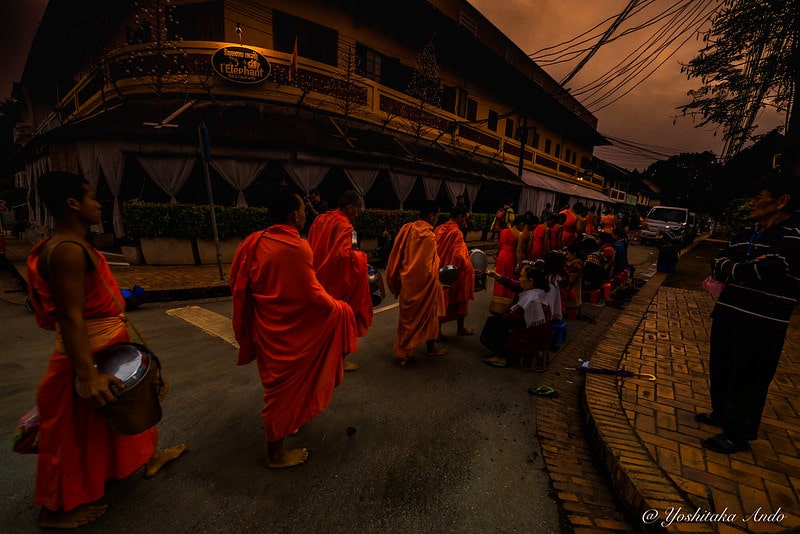 2. Drink Laos Coffee
Did you know every year Laos produces 20000 tonnes of coffee?
The French started to cultivate coffee in Laos and soon the alluvial soil of the Mekong river overwhelmed them with surprising yield! In Luang Prabang, my favorite place to drink coffee would be the saffron Cafe. Indulge in their cheesecake topped brownies too.
Saffron cafe takes the place by the banks of the Mekong river and gives a beautiful view! You also get to enjoy good speed wifi here which is as important as oxygen for the digital nomads.
3. How to see the temples of Luang Prabang
There are 33 important gilded temples in Luang Prabang. Then there are many more old structures, which look equally beautiful even without a fresh coat of paint. With each bend and turn of the town, you will be presented with a new wat!
Many of the Wat names sound very close to Bengali (or Prakrita Sanskrit) tongue. Wat Manolom (meaning beautiful). Wat Mahathat. Wat Aham. The Royal temple is the most beautiful one with a sloping roof and ornate golden details.
They say you get temples out in Luang Prabang. I say you do if you are in a hurry or you do not really enjoy stories (does a human like that even exist?). Each wall of the Wats of Luang Prabang are adorned with exquisite tales of Jataka, the story of Buddha's life. Tigers, water buffalo, fishermen, one horned rhino, sages, plenty of mythological characters share space in the panel.
It is imperative that you can not "see" all the temples of Luang Prabang in one day. In fact not even in three days. Start with the one closest to your hotel. The emptier it is, the better for you to see. Take minute notice on the wall panels and try to decipher the story each temple tries to tell. You will understand how Luang Prabang has been safeguarding immense Buddhist cultural heritage for several centuries despite violent political upheaval. 
Some of the most important temples of Luang Prabang:
Wat Xiengthong Luang Prabang: 500 years old. Ornate walls.
Wat Mai: Largest temple. 200 years old.
Wat Phon Phao: located on a hill across Nam Khan river
Wat Wisunarat: The oldest teakwood temple of Luang Prabang. Burnt down by the Chinese. Has a sloping rounded dome. Rebuilt later with brick.
Wat Chom Si: Located at the top of Mount Phousi (where you were headed for Sunset on the first day)
Also read: Durgapuja, Bengal's most loved festival!
4. Watch the sun go down by the river Mekong at one of the riverside cafes!
Retire for the day at the terrace of The Belle Rive Terrace restaurant to end the day. A melancholic sunset takes place over the Mekong river. It was a long day and you must have been tired with all the walking. The night market is still vibrant if you fancy people watching. 
Also read: 20 books to read about Laos before your first visit.
Day Three in Luang Prabang, Laos
Exploring the breathtaking Kuang Si Waterfalls!
I have seen Kuang Si waterfall. I do not wish to see any more waterfalls in Southeast Asia!
There I said it!
There is hardly a waterfall which is as beautiful as Kuang Si! This multi tier waterfall has a "no-filter" hue of aqua marine cascading through many levels, creating natural pools. I loved Kuang Si fall so much that I have written a blog post on Kuang Si Falls dedicated to this particular day trip from Luang Prabang.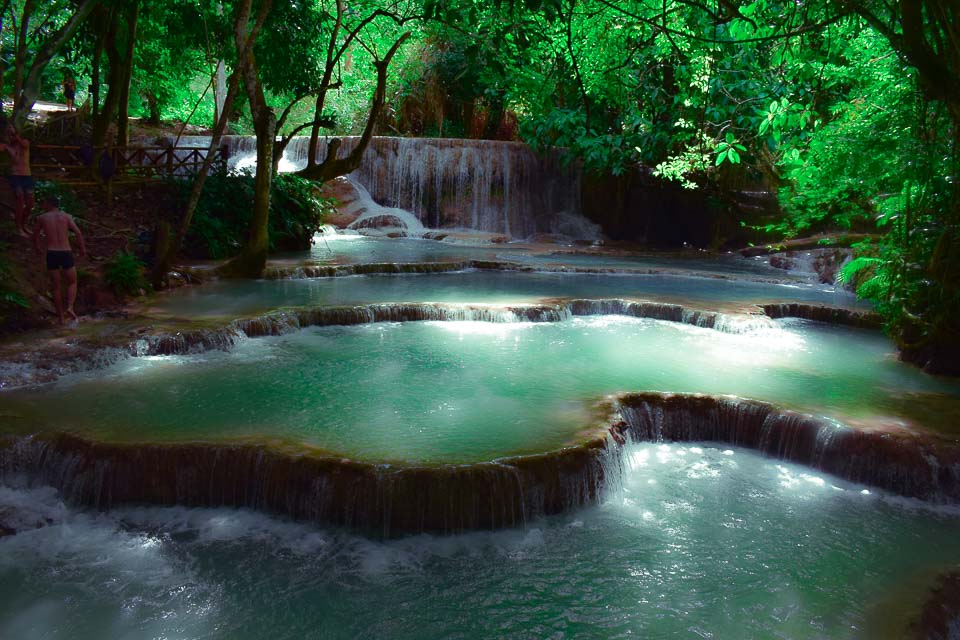 There are plenty of day trips from Luang Prabang but this one particular fall is not to be missed. If you want to see kuang si in all her pristine glory, visit as early as possible. Ideally around 8 in the morning when the gates are open. As the day progresses tourists buses roll in. You will still love Kuang Si!
At the entry gate of Kuang Si fall, you will see a near enclosure for the moon bears. Poor bears' bile is in heavy demand to make chinese traditional medicine. As a result, these animals are haunted. This bear sanctuary is a respite for a handful of animals.
Kuang Si demands at least 5 hours time to be explored in entirety. Each step will bring you closure to the ultimate drop where the fall is 60 meter high and looks most elegant. You can hike up the top but the trail looks muddy.
I have two suggestions for you: Go as early as possible to Kuang Si and pack a swim wear in your bag. And choose the dry season if you want to swim. If You can not swim, you can still stand in the pool at Kuang Si. Though there was no lifeguard in vicinity.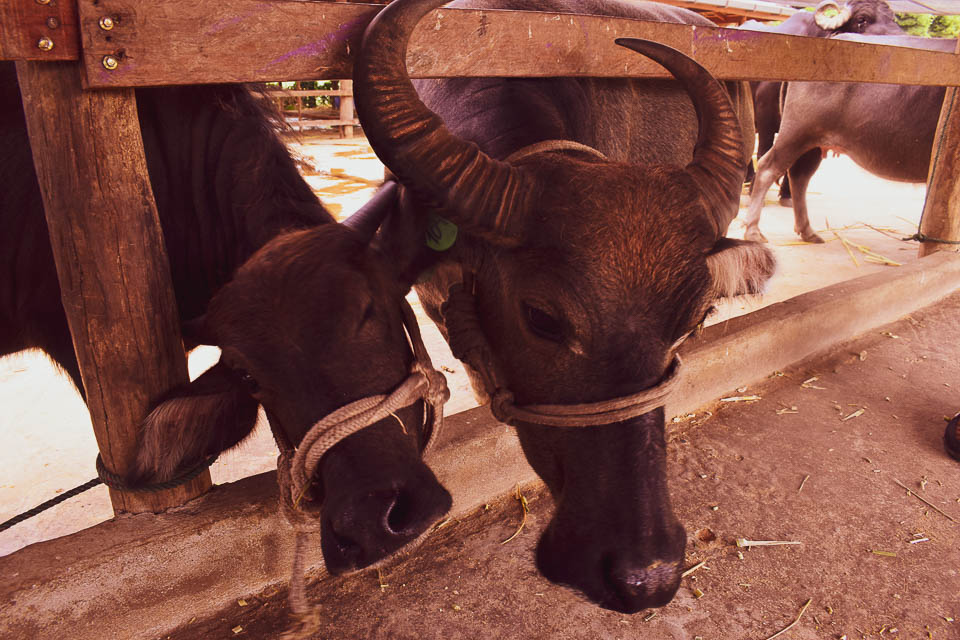 Laos Buffalo Dairy: Sustainable Cheesemaking in Luang Prabang!
On the way back from Kuang Si fall, stop by at the iconic Laos buffalo dairy. The only active dairy in the region, Laos buffalo dairy has rendered Luang Prabang self-sustenance in cheesemaking at an industrial level. Since tourist footfall is eminent in the region, hospitality partners require milk and dairy products to meet consumer demand. However, traditional societies in Laos (even large sections of Southeast Asia) are lactose intolerant and do not use milk (or milk products) in everyday cuisine.
Laos buffalo dairy had stepped in to bridge the gap. Murrah buffalo (of India) is bred with local water buffalo of Laos and used to breed genetically advanced buffalo, who live longer, produce more milk and are sheltered at the dairy. The Laos government is actively involved in this project.
We stopped here for a hearty lunch. From ice cream to sand witch, everything was made of buffalo milk! I especially loved the cheese. Ricotta balls, cheese and tomato salad.. The spread was endless!
Treat yourself with a bespoke dinner experience amid the lily pond at the Manda de Laos!
Considering this is the last night in Luang Prabang, reserve a table at the Manda De Laos, one of the finest restaurants in Luang Prabang serving Laos cuisine. The UNESCO classified lily ponds are unique attractions of Manda de Laos. Something similar can be seen at Udon Thani, Thailand but that is a natural setting. Do not forget a book a table prior. They have separate time slots for breakfast, lunch and dinner.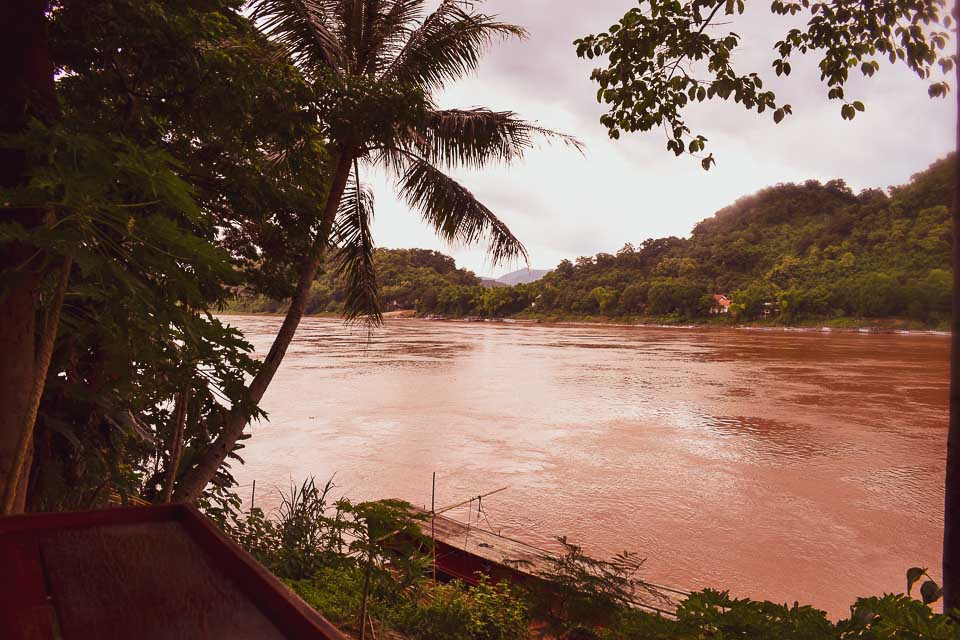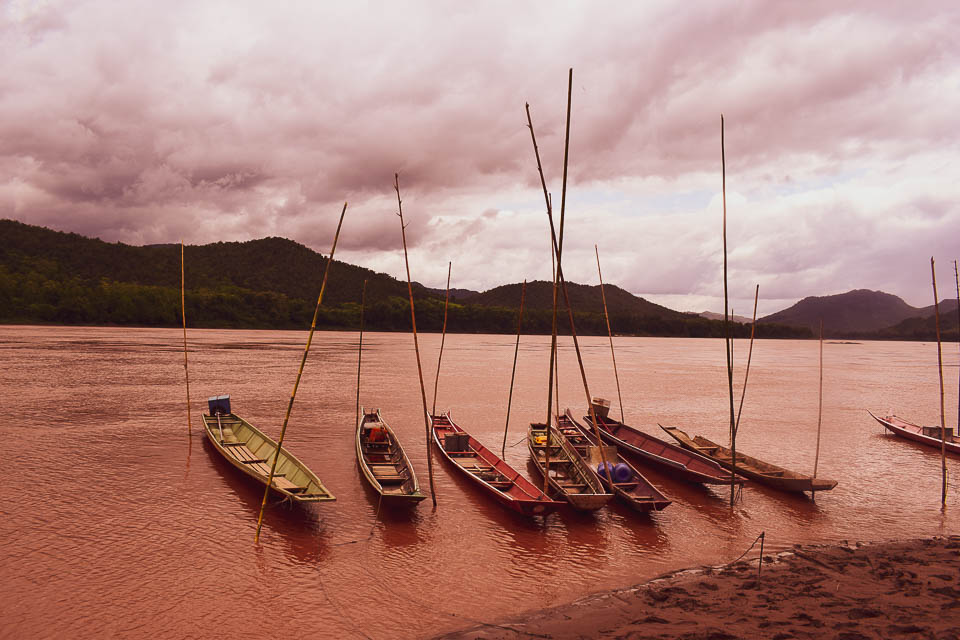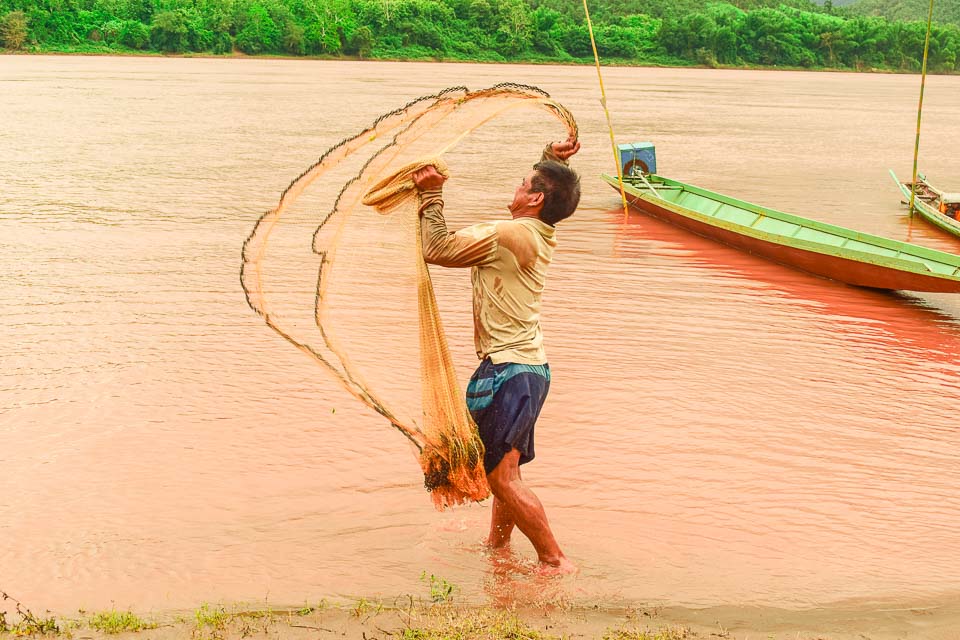 Day Four in Luang Prabang, Laos (Departure day)
Explore art and culture of Luang Prabang with a cooking class, a boat trip on Mekong
Fourth day in Luang Prabang is also the day you are going to bid adieu to this beautiful old town and get back to the ruthless world where you came from.
Considering your flight leaves late at night, you have the entire day to experience Luang Prabang.
I would recommend thinking of this day as giving back to the locals through specially curated experiences.
Since Laos remains the most heavily bombed country in the region, the locals of the nation as well as the economy is still struggling to come in terms with the uneven battle. UXO Laos visitor center in Luang Prabang reminds you of the horror of the war. It details the bombs, the land mines, the aftermath of carpet bombing Laos's mountainous north. Buy a T-shirt if you want to support the cause.
You can sign up for a traditional Laos cooking class in Luang Prabang. Most of the guest houses or cafes in the old town conduct them. A session usually lasts for 3 hours.
Luang Prabang was known as the land of million elephants. The last few surviving ones had suffered ill-fate in logging and trades. There has been an active attempt at rehabilitating these elephants. Manda Laos Sanctuary is one such organization where a few elephants reside. You can sign up for a day with these elephants, doing nothing but hike up the jungle, take a bath in the river, feeding them. Elephant riding is not a part of the business there.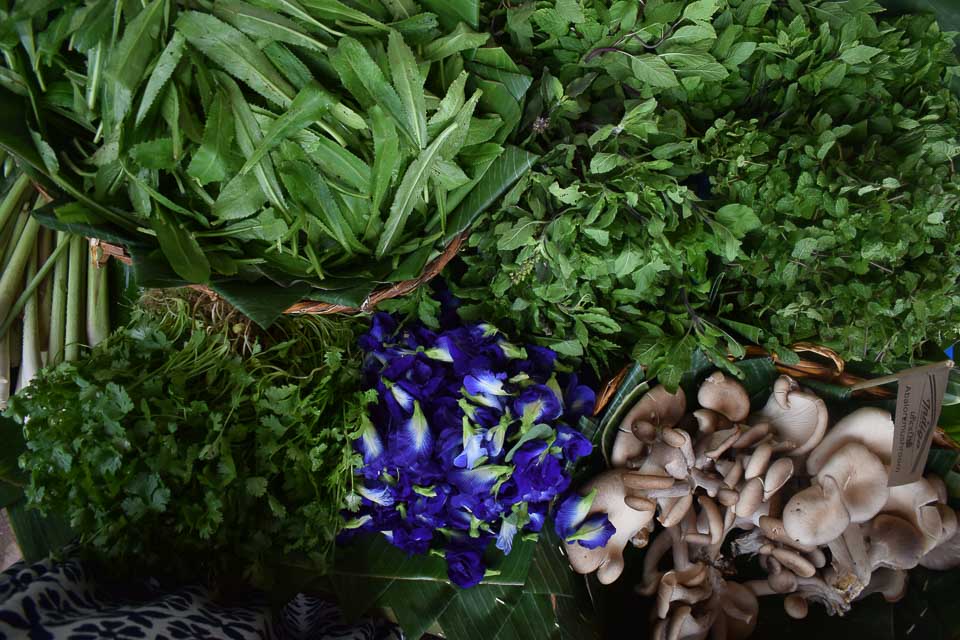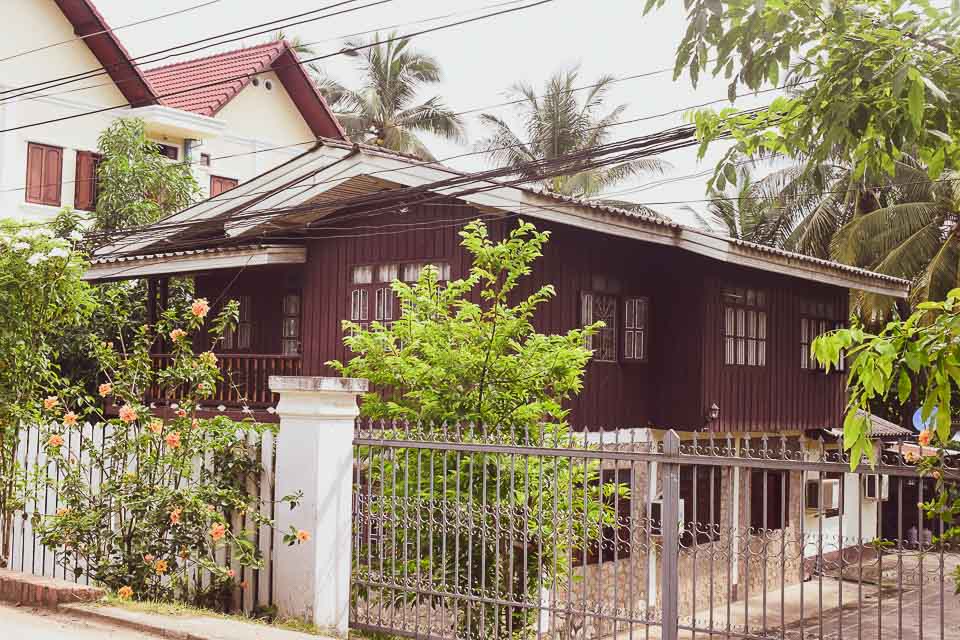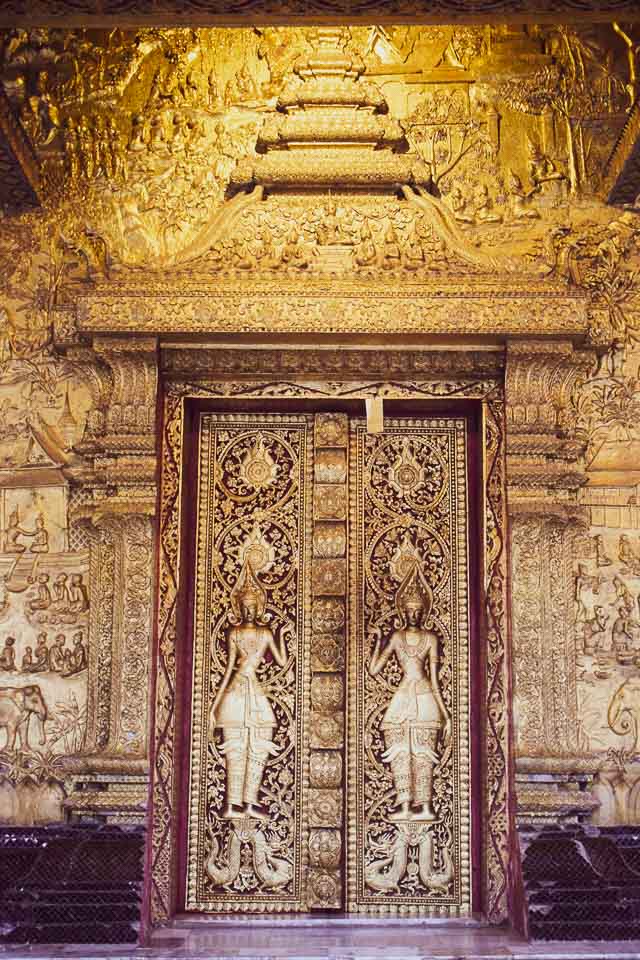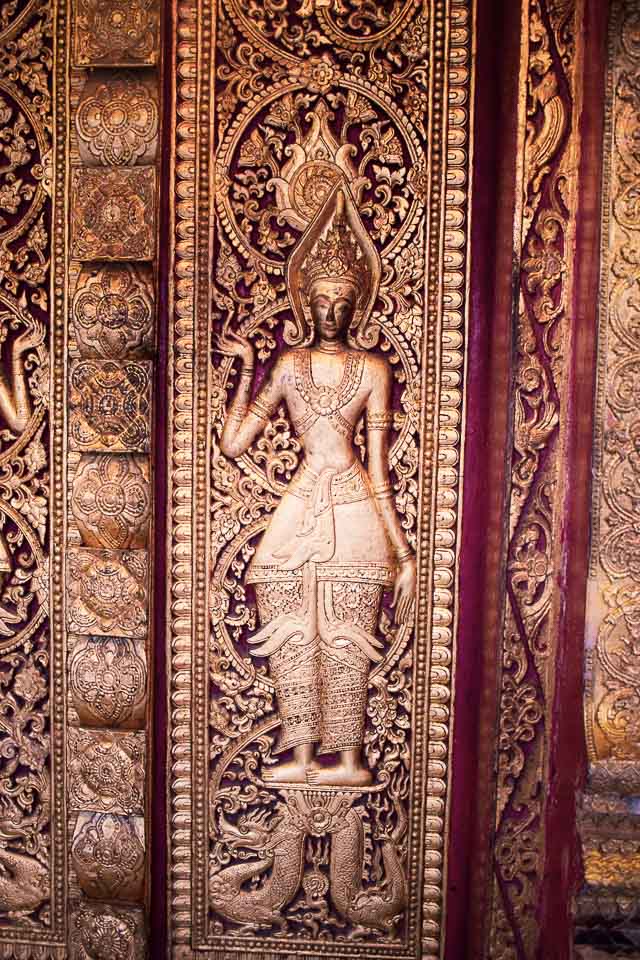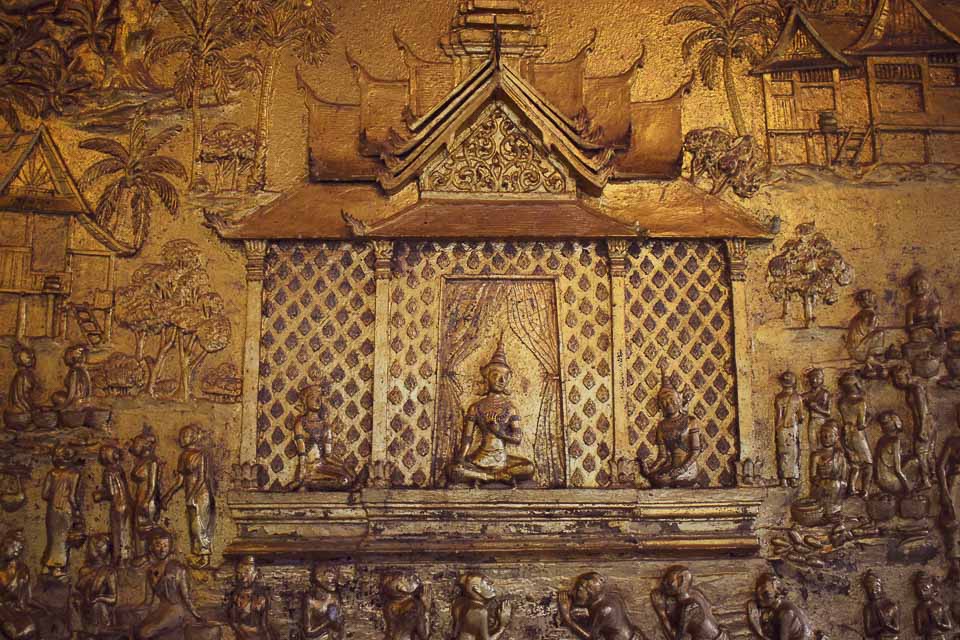 If you have more time in Luang Prabang, Check out the following activities!
Visit the weaving village of local tribes. There are plenty around Luang Prabang town. Long Lao Mai Village is located close (half an hour drive) to the Old Town of Luang Prabang.
Visit the Ock Pop Tok Living Crafts Centre. There is a free shuttle and entry is free which is very unlike the rest of Luang Prabang. Everything here has an entry fee otherwise. Plenty of Laos textile, handmade artefacts are created here with local artists. The center is open from 8 in the morning till 8 in evening with a cafe inside.
Visit the bamboo bridge that connects both sides of the Mekong river. It is one unique evidence showing how the town of Luang Prabang wants to cling to the olden way of life. You will probably come across this place while walking around the banks of the Mekong river.
Watch a traditional Laos theatre. A large dance group usually enact a dance drama from the chapters of Ramayana or Mahabharata. I am an Indian. A few minutes into it, I could spot who is Bali and who is Sugreb!
Buy a book from the Big Brother Mouse who has been active in promoting literacy at the distance villages surrounding Luang Prabang!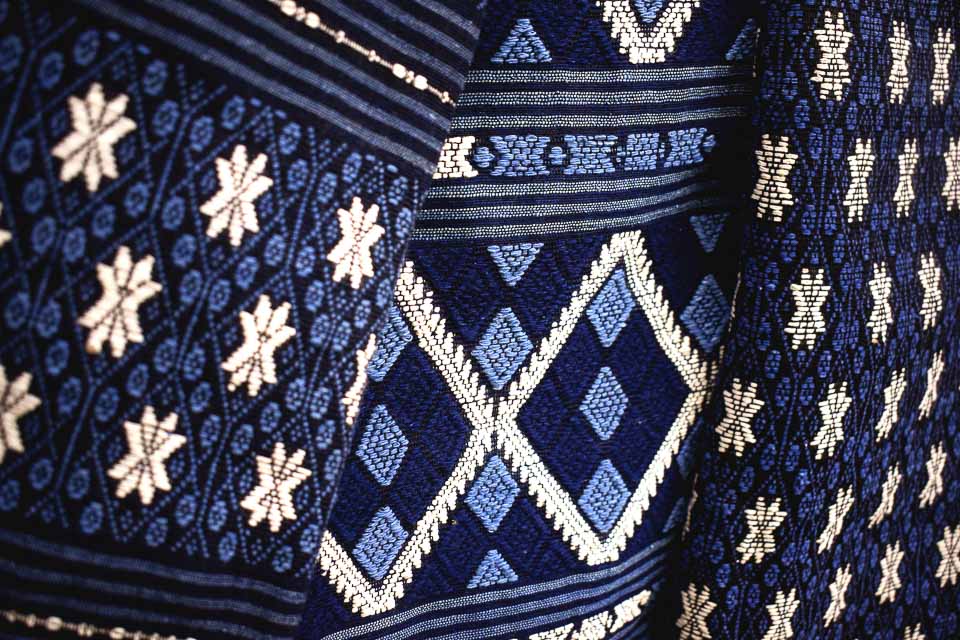 Also read: Weaves of India, an intangible cultural heritage!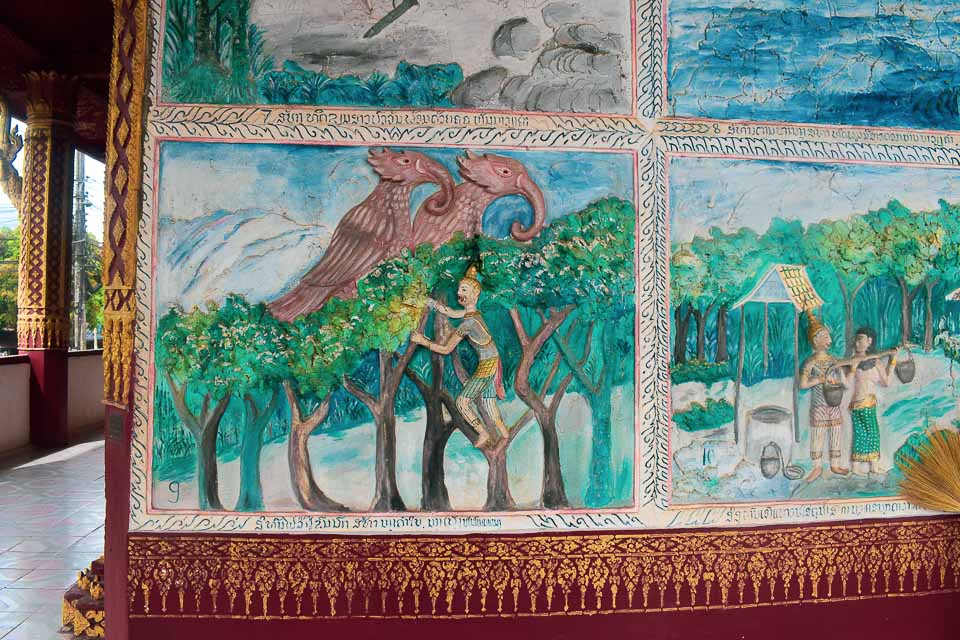 Cost of traveling to Luang Prabang
Traveling in Luang Prabang is more expensive than similar regions, say north of Thailand or even Sa Pa, Vietnam. Partially because Luang Prabang saved her soul from becoming a backpacker's next (like Vang Vieng is). And thankfully so.
Ideally, you should be spending USD 400 for 3 days in Luang Prabang, with taking part in almost every major activity, staying at a mid range guest house and eating local food. You will also be paying entry fee at temple or waterfall or village visits etc.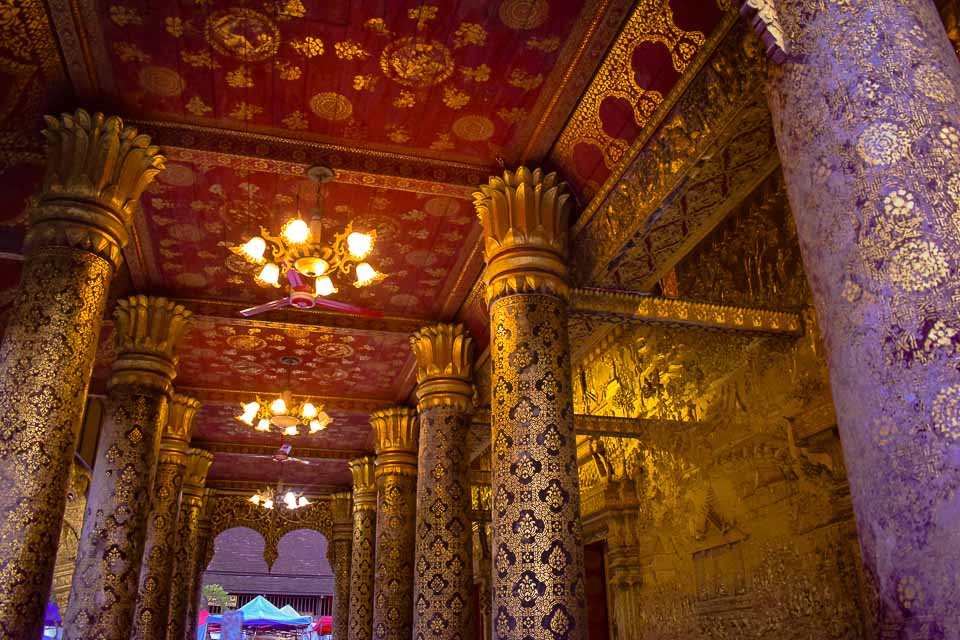 Nightlife in Luang Prabang is limited to the night market area. A few bowling and bars remain open at Nam Khan but truth be told, I didn't bother venturing in since my morning schedules were extremely busy.
You are better off with a guided tour to explore the city if you are hard pressed for time.
If you have just one day in Luang Prabang, dedicate some part of the day to see the old temples. Take a boost on the Mekong river. Do sip on Laos Coffee. And watch life pass by at the Night Market which will introduce you to the local Laos way of living in a rather short span of time!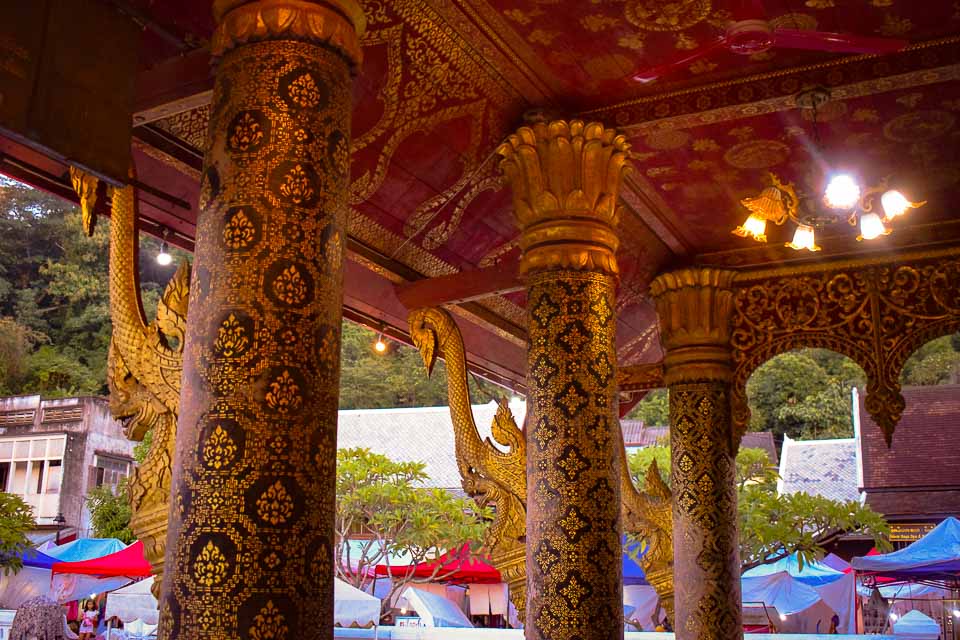 Disclaimer: I was a guest of Luang Prabang Travel Board for the Destination Mekong campaign. My trip was paid for but opinions are reserved by my own!
This post may contain affiliate links. Please read the disclosure post. If you have liked the article, you may support it by buying using these links without any extra cost to you.
Let's stay connected on Facebook, Instagram, Twitter! You may also consider joining my mailing list. I send travel and photography related emails only once a month!