In Luang Prabang, you have an array of accommodation options. From bespoke French bungalows now renovated to house discerning guests to eco-conscious sprawling resorts overlooking beautiful vistas of greenery and spartan guest houses befitting a backpacker on shoestring budget, Luang Prabang has something for everyone!
I am about to list the beautiful resorts of Luang Prabang in case you are on a honeymoon escape.
I have stayed at the Sofitel Resort in Luang Prabang and I have no qualms about hat stay. As a part of the FAM trip with a group of other bloggers, I also had a chance to experience hospitality from some of the most beautiful newly opened resorts in town.
I am designing this blog post with the most amazing neighborhoods to stay in Luang Prabang based on my order of preference with an array of stay options from suiting different budgets. I am going to add in the best resorts in Luang Prabang at the end. All of these resorts make efforts to administer eco conscious living to a large extent. Living there equates with sustainable green choices and empowering the local youths while not compromising on luxury on a vacation.
Click here for more Travel blogs on Laos!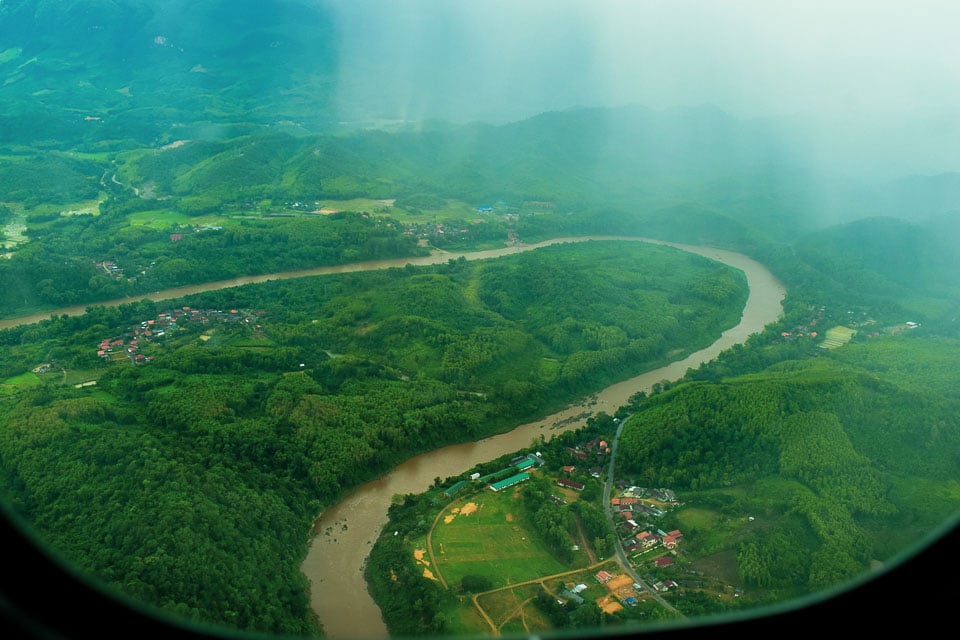 Old city of Luang Prabang
The heart of Luang Prabang, the UNESCO world heritage Town of Laos. The Old City of Luang Prabang is located at the peninsula where Nam Khan river and Mekong river meets.
Pros of choosing Old City of Luang Prabang for a stay
Most ideal location for family travelers or for those traveling in Luang Prabang for 3 to 4 days and has a lot to do in itinerary.
Strategically located at the center of the town.
Close proximity to almost every attraction of Luang Prabang including the 33 golden gilded temples and the Royal Palace.
Countless cafes in close vicinity.
Walking distance to the Night market of Luang Prabang, where you will go for shopping souvenirs and eating great and cheap street food.
You can easily walk till the river bank of Mekong for a stroll.
Cons of choosing Old City of Luang Prabang for a stay
The Night Curfew imposed by UNESCO is applicable in the Old city meaning every shop closes down by 11 pm.
Although Luang Prabang is idyllic and tranquil compared to other major destinations in Southeast Asia, it can get a little chaotic during tourist season. Old City Center is definitely not the place where you will take refuge at the end of the day listening to crickets.
Mid-budget hotels: Thatsaphone Hotel, Sala Prabang Hotel, Villa Chitdara, Lotus Villa Boutique Hotel
Guesthouses/Homestay: View Khemkhong Guesthouse, Y Not Lao Guesthouse Ban Wat Nong, Laos Hmong Inn, Bamboo Bridge Guest House, Rattana
Hostels: Tony Central Hostel, City Centre Hostel, Downtown Backpacker's Hostel
Splurge: Villa Saykham, Villa Ang Thong, Cafe de Laos, Khoum Xieng Thong Boutique Villa, Golden Lotus Place, Le Bougainvillier, Victoria Xiengthong Palace
Also read: 20+ day trips from Luang Prabang!
Mekong Riverside of Luang Prabang!
The majestic river Mekong flows in serenity by the banks of Luang Prabang. It is a beautiful feeling to be close to the river, second largest in Asia in terms of water flow (next to our very own Ganga) and nurturing 6 countries and 60 million people on her course. She is known as Mother Mekong to the locals.
Pros of choosing Mekong Riverside of Luang Prabang for a stay
Many choose to visit Luang Prabang on teakwood barges sailing down Mekong from Chiang Mai, the Thai hill station. If you did not have that much time, choose Mekong river as your next door neighbor while staying in Luang Prabang.
If you are a nature's child, river Mekong must be your option to stay close-by. From your hotel accommodation you will have a chance to witness ethereal sunrises and sunsets! What more you can ask for?
Riverside of Luang Prabang ensures the best view in the UNESCO town!
Center of Luang Prabang is just a few minutes walk from the riverside!
Cons of choosing Mekong Riverside of Luang Prabang for a stay
Be cognizant of the fact that staying at the riverside hotels might require you walking down the streets at wee hours of the day. Specially, in case you want to attend the morning alms giving ceremony. Beware of the stray dogs.
Mekong floods every year during rainy season. It might be intimidating to live with a monstrous river flowing next to your home. It is for me, a chronic sufferer of anxiety!
Mid-Budget hotel: The Belle Rive Boutique Hotel, Luang Prabang river lodge
Guesthouses/Homestay: Jumbo Guesthouse on the Mekong, Silichith Guest House, Khemkhong Guesthouse
Splurge: The Grand Luang Prabang, Mekong Riverview Hotel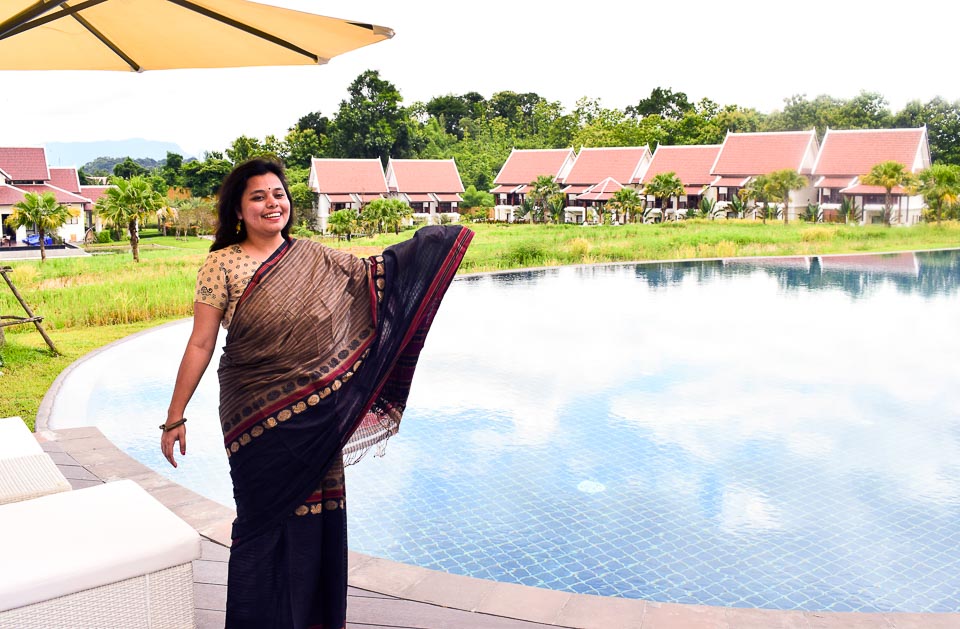 Also read: A guide to visiting Nong Khiaw, Laos!
Nam Khan Riverside
The Nam Khan riverside neighborhood came to be to strip Luang Prabang from the stereotype of being an expensive destination.
Pros of choosing Nam Khan Riverside to stay in Luang Prabang!
Plenty of budget options.
You will find a lot of budget hostels and guest houses of Luang Prabang in this area too.
Nam Khan riverside actually has a wee bit of night life although incomparable to that of Khao San Road of Bangkok or Phuket in Thailand. Think Bowling Alley or bars.
Nam Khan is the place to stay if you love to practice yoga on vacation.
Cons of choosing Nam Khan Riverside to stay in Luang Prabang!
The crowd is younger and makes lot of noise which is not the original vibe of Luang Prabang.
You will hardly find any local here.
A bit further off from the tourist attractions of Luang Prabang.
Mid-Budget hotel: Merry Riverside hotel, Nam Khan Riverside, The Deckhouse Villa, Cosiana Riverside Hotel
Hostels: Sunrise Riverside Pool Hostel, Y Not Lao Hostel, Soutikone Place House 2
Guesthouses/Homestay: Sa Sa Lao Mao Phasok Riverside Guesthouse, Cold River, Maison Vongprachan Hotel
Splurge: Villa Maydou Boutique Hotel, Villa Mahasok hotel, Le Bel Air Resort Luang Prabang, Moonlight Champa Riverview, NamKhan Ecolodge
Also read: 7 things to do in Luang Prabang at night!
Bespoke resort stays in Luang Prabang!
Fancy staying in French styled bungalows by the sprawling paddy fields? You want to soak in the serene ambiance of a resort that embraces the nature course of a river in her heart? What about a Luang Prabang resort that has a bunch of canoes serving guests as a part of room service plan? Read on and choose from some of the most beautiful and astounding luxury stays of Luang Prabang!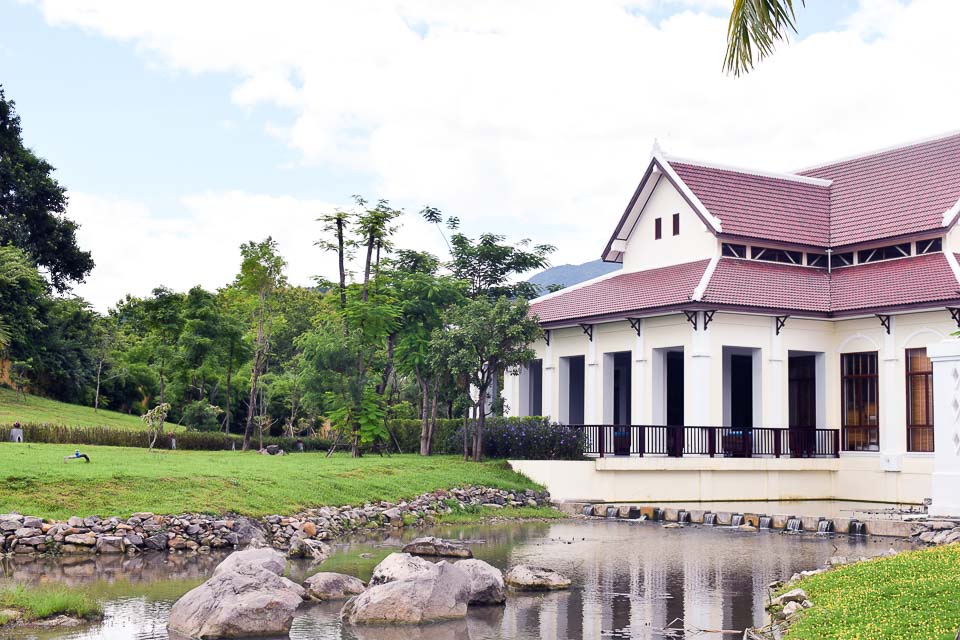 Pullman Luang Prabang
We visited Pullman on the day of the resort Inauguration. It is a beautiful chic property overlooking sprawling paddy-fields. The have buggy service till downtown and located at a tranquil part of Luang Prabang. The bungalows are inspired by French colonial style.
Sanctuary Hotel
Centrally located Sanctuary hotel was once the king's brother residence and hence flaunt an air of elegance in the wooden villa style building. It is not a very large hotel hence you can indulge in quiet times while lounging by the pool.
Satri Hotel
Famed as the last residence of prince Souphanouvon of the royal family of Luang Prabang, Satri hotel is a grand property flaunting proper French architectural style alongside a spa and a beautiful pool. One o fthe oldest and beautiful properties of Luang Prabang town.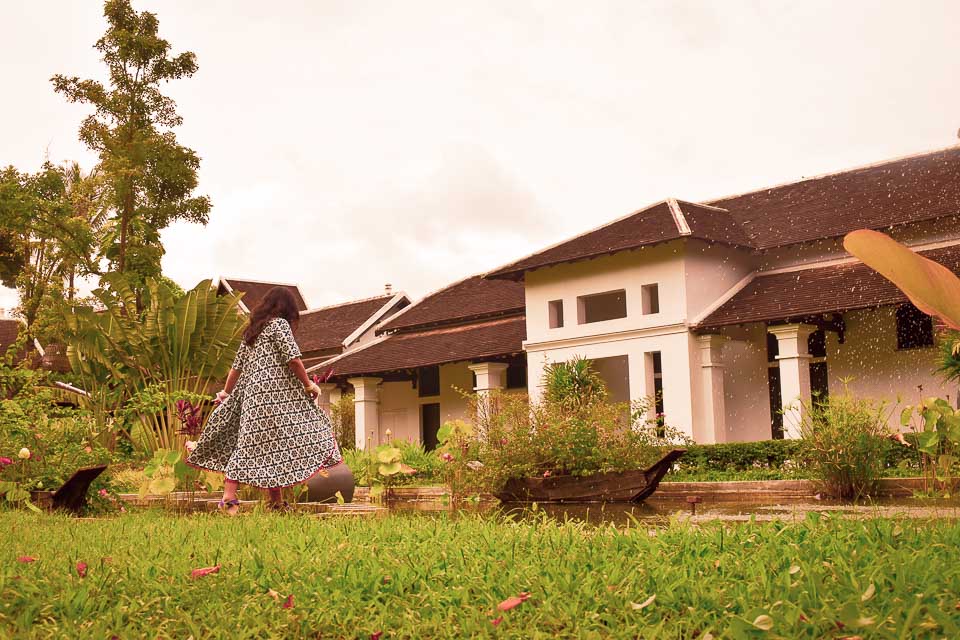 Sofitel Luang Prabang
I stayed at the Sofitel Luang Prabang hotel which had been a French governor's Bungalow in olden times. It is a green property with bespoke bungalows and a bathtub in the open area adjacent to every villa! Sofitel also houses Governor's grill, one of the best restaurant in the whole of Luang Prabang where you may take part in a cooking class with the chef as well.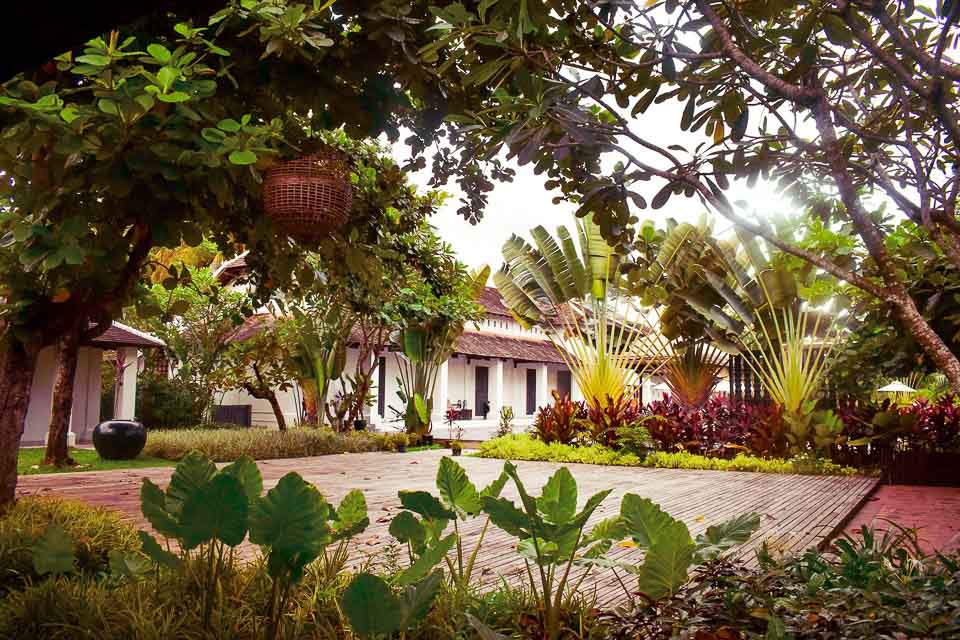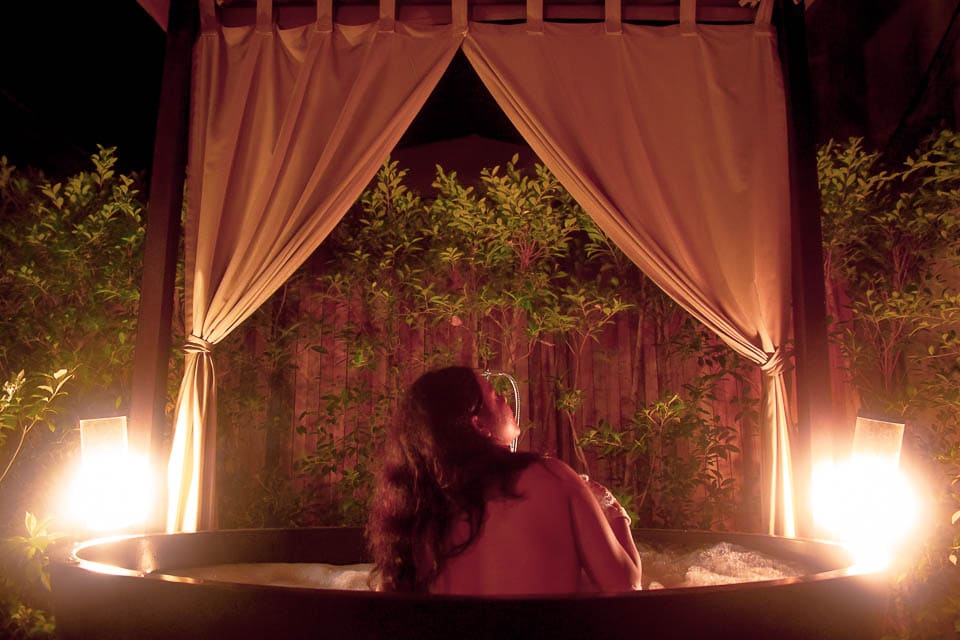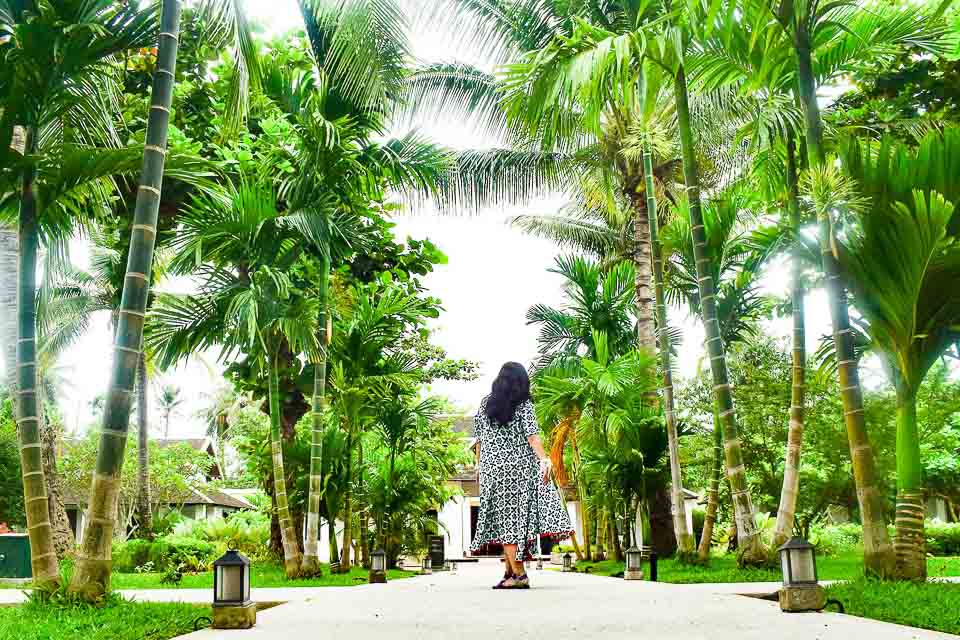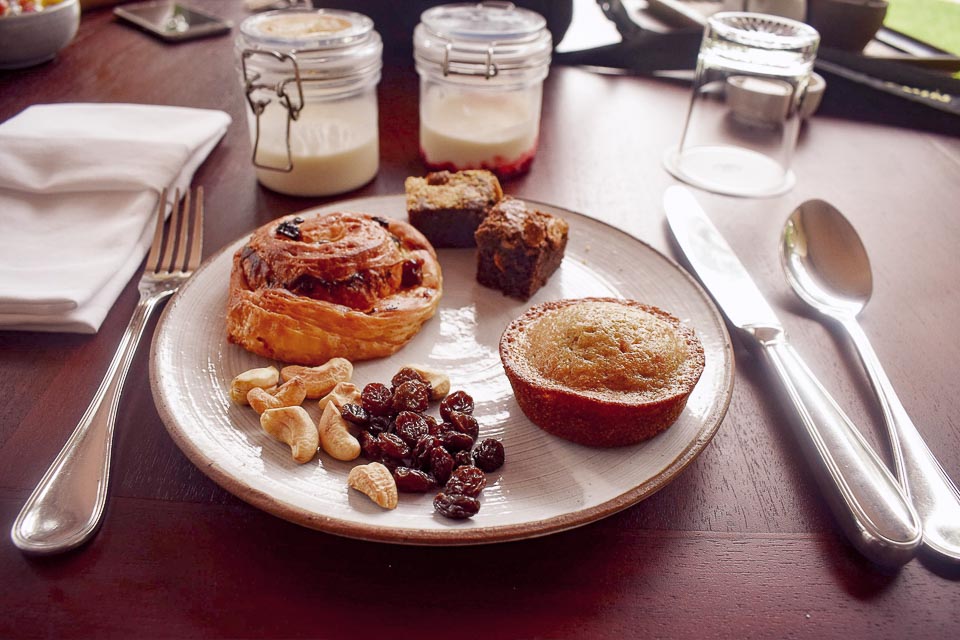 Also read: a foodlover's guide to Luang Prabang!
Rosewood Luang Prabang
One among the quintessential best resorts in the entire southeast Asia, Rosewood Luang Prabang is an iconic property. There is a river inside the property apart from a living thriving jungle which only enhances the impeccable hospitality of service personnel.
My Dream Boutique Resort
Located close to Nam Khan neighborhood, this is a boutique property with a spa.
Luang Say Residence
Styled after colonial rulers of Laos, Luang Say Residence is a romantic luxury property located 10 minutes off downtown area. The hotel has some of the best chefs in town and create bespoke menu for a gourmand.
Kiridara
A boutique property with less than 30 rooms and minute attention to guests' need, Kiridara runs a shuttle to the downtown for those who want to hop in and around. It is located far off the hustle of Old Town. Food in Kiridara is exquisite.
Burasari
A heritage 4 star property with great value, Burasari is famous as a wellness spa resort with easy access to main attractions of the town!
The Belle Rive Boutique Hotel
Located by the banks of Mekong river, this is a boutique property with the best of room and view in the similar price range.
Chateau Orientale Resort
Nothing can get more French in the whole of Luang Prabang than Chateau Orientale. This is more suited for the experiential travelers than the city-hoppers since it is located 15 km off the town. However, the distance is more than made up for with personalized service offerings available at the beautiful resort assembled in a colonial building.
Avani
Location of Avani hotel is as best as it can get for a luxury property in Luang Prabang, just opposite to the night market! Avani has buggy service to navigate the huge property! The food served at the breakfast buffet is prepared from ingredients grown in the organic kitchen garden!
Maison Dalabua
A boutique property surrounded with beautiful Lotus ponds. The wooden spacious rooms overlook lush green nature of Laos. Has a spa and the iconic restaurant, Manda De Laos!
---
This post may contain affiliate links. Please read the disclosure post. If you have liked the article, you may support it by buying using these links without any extra cost to you.
Let's stay connected on Facebook, Instagram, Twitter! You may also consider joining my mailing list. I send travel and photography related emails only once a month!