Critiques argue, Nightlife in Luang Prabang is almost non existent. Well, certainly Luang Prabang is the distant cousin to Phuket or LA when it comes to nightlife. There is hardly a shopping mall in the city, let alone a dance bar. I have had no qualms about that though! Primarily because during my short 4 days itinerary in Luang Prabang, I was hard pressed for time. I had to wake up early each morning to embark on a new journey everyday! Some days were reserved for the weaving villages we explored as a part of the day tours from Luang Prabang. Some days we decided to splash water by at the shallow pools of Kuang Si falls! It is imperative my nights were crisp with more part of spent in catching up with sleep.
But on a handful of days, specially by the end of my trip to Luang Prabang, I had a chance to explore the city at night. Firstly, Luang Prabang is a safe place to explore even for a solo woman traveler. A few stray dogs and whistling past cars are all that startled my walk of serenity as I embarked on exploring many nuances of Luang Prabang at night.
Besides, the city sleeps early. No matter how much tourist traffic has increased in the UNESCO famed city of Luang Prabang, and how much it is changing the societal fabric of the land as a result, Luang Prabang remains the quintessential abode of peace. Laos households are deeply steeped in spiritual practice that entails waking up early morning to take part in alms giving ceremony for the monks coming from distant destinations. The nights are meant for a family dinner shared from the top of a low lying bamboo table top.
Read about all blogs on Luang Prabang, Laos!
The Night Curfew in Luang Prabang!
There is a "night curfew" ruled that blankets the whole of the city. It is enforced by UNESCO to ensure the city retains its somber character. Shops and restaurants and cafe (including street food joints) are closed in the old Town of Luang Prabang by 11 pm.
Deviation from the rule might result in UNESCO withdrawing massive grants bestowing on Luang Prabang. Authority takes special care that the night curfew rule is maintained to the T at least within the peripheries of Old City of Luang Prabang (the UNESCO heritage area).
To live up the night in a traditional set up like this, I visited the Night market of Luang Prabang everyday!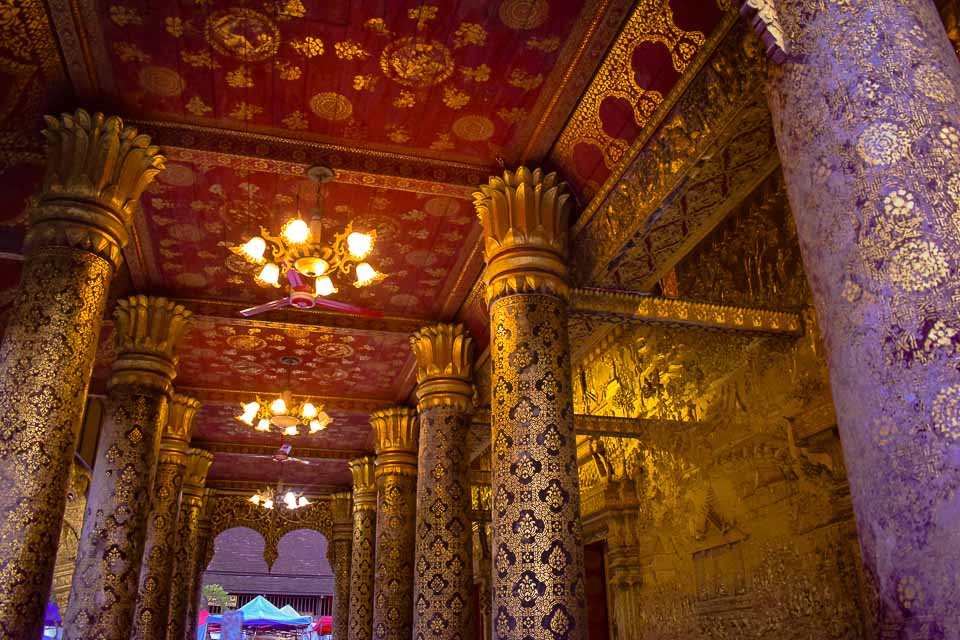 The Sundown at Luang Prabang!
Sunset in Luang Prabang is the marker of the nightfall! It is special because,
A) Luang Prabang looks absolutely stunning with the golden hour's light rays reflecting on the red and gold gilded monuments of Luang Prabang. The sheen reflects equally on the river bed of Mekong as well as the Orange robe of the monks!
B) A the sunset starts, the Night market of Luang Prabang!
To watch the sunset at Luang Prabang, you may hop into a sunset cruise ferry sailing on the riverbed. You can hike up the Mount Phousi at the heart of Luang Prabang for a bird's eye view of the surrounding. for the lazy birds, secure a deck by the riverside cafes of Luang Prabang and order a beer Laos or a cup of Laos coffee with extra condensed milk! Life seems perfect in such surreal set ups! You need to be closer to the Mekong river as Sunset takes place!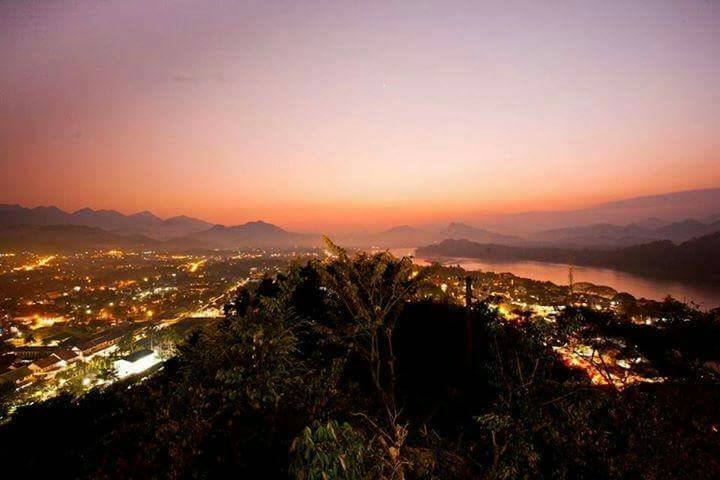 Watch the Bamboo Bridge Lit up!
Not every city has the courage to preserve a small little bamboo bridge on the face of a river as majestic as Mekong! Luang Prabang does. Mekong, I feel, endears this little human endeavor.
For a small fee, you may cross the river using this bamboo bridge which is located ta the mouth of Nam Khan and Mekong river. On the other side of it, lies Chomphet district.
At night, the bridge is lightened up with fairy lights. That looks intriguing. At the crack of the dawn, you might be fortunate to capture a monk crossing the bridge as he proceeds to take part in the morning alms giving ceremony. This spot is specifically for the photography enthusiast and Instagram spot seekers traveling to Luang Prabang.
Also read: 11 Cultural experiences in Luang Prabang, Laos!
The Night Market of Luang Prabang
The Night Market of Luang Prabang is the ubiquitous best place to spend the evening in the Old Town Luang Prabang.
Starting from 5 pm, the Night market of Luang Prabang goes on till 11 pm at night. From 10 pm, vendors start to pack up and leave.
The night market of Luang Prabang is home to various handicrafts, paintings, local fabric and souvenir vendors. For a surprising price, you get to see almost every quirk of tribal Laos lifestyle, including questionable fur and horns and antique pieces.
Walking around the night market of Luang Prabang and people watching is a delight. It reminded me of the bustle of China town, Bangkok.
Vendors are kind and gentle. Most of the shop owners are women. I did not find them pushing for sale. Prices were kept at the lower end. Luang Prabang night market was originally started by the Hmong community when Laos opened its door to tourists and the world outside. With time, Chinese made products have started to inundate the market with cheaper price.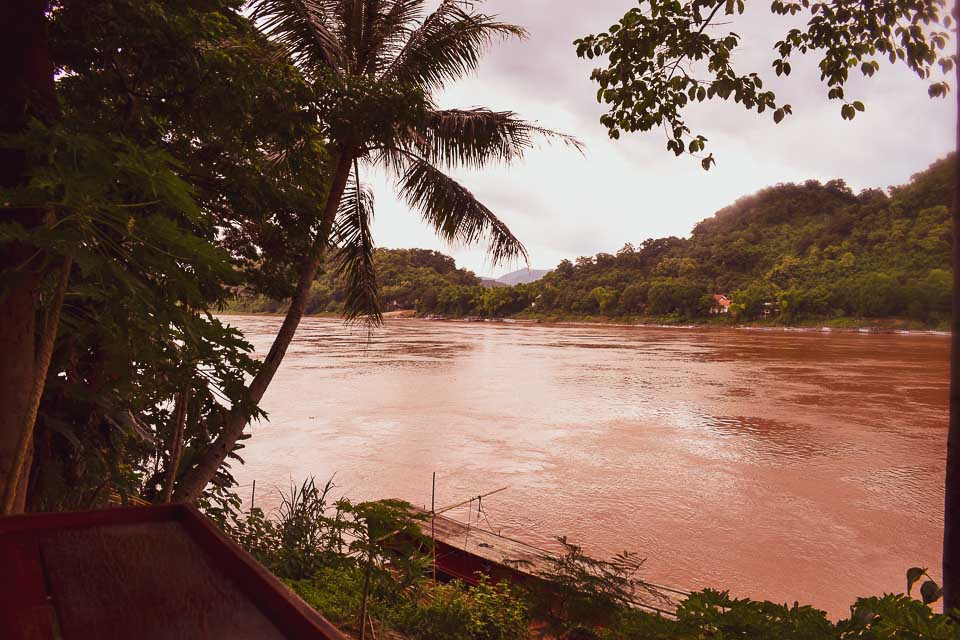 Movie Night in Luang Prabang
Laos has only a handful of movie halls, namely four or five. The major focus of the country is developing more into manufacturing. Movie industry is in nascent stage.
However with the advent of smart phone and wifi connection, how far at bay will be the willingness to experience movies? A number of offbeat cafes in Luang Prabang has come up with innovative movie nights. There show English Hollywood movies on a projector screen on the upstirs. Usually, the movie that will be screened will be mentioned on the blackboard at the entrance.
The movie cafes do not charge you extra for attending the show. However, it is expected you will order a drink or a snack while watching it. The play list is relatively new.
L'etranger cafe in Luang Prabang is one such place. So is Coco home in Nong Khiaw!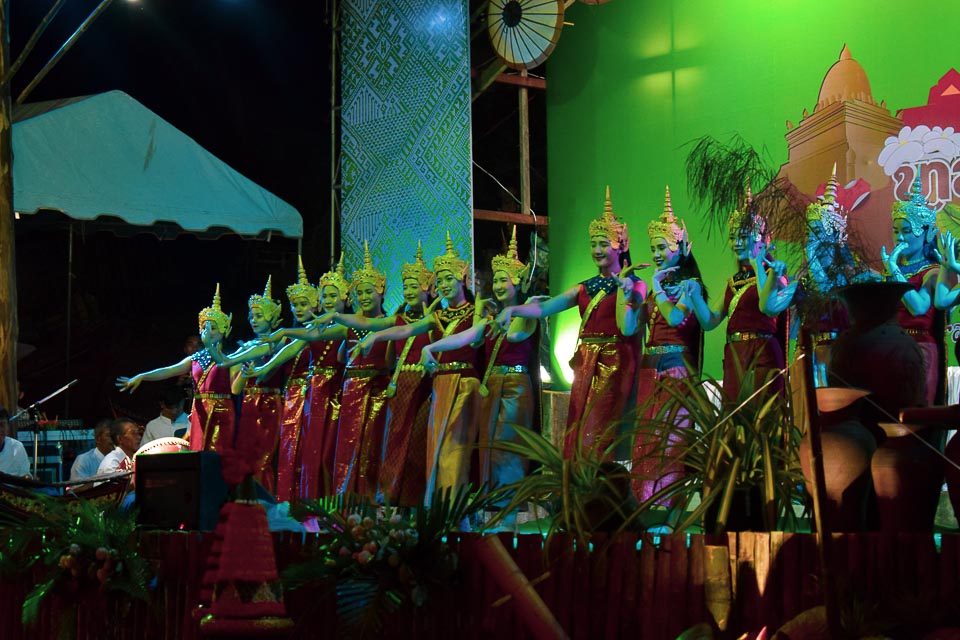 Theatre/ Puppet Show of Luang Prabang
The Royal Ballet Theatre in Luang Prabang stages traditional Laos folklore on Mondays, Wednesdays, Fridays, and Saturdays every week. The dance troupe performs a khon (mask) dance and classical dance drama inspired by the Lao version of the Ramayana/ Mahabharat. The dance performance starts at 6:30 pm at night and continues for a couple of hours ensuing.
Visit the Bowling Alley at night in Luang Prabang!
Technically Luang Prabang, but actually situated far off the Old City (10 minutes bike ride), the Bowling alley remains open till 2:30 am at night. this is a place where you can hang out with new people, mostly westerners. The Bowling alley has an entry fee of 10000 kip. For 40000 kip, you can get a vehicle back to your hotel or guest house close to old City Luang Prabang. Though we recommend you talk about this to the authority as soon as you enter the place.
for each game, you will be charged 15000 kip. After curfew hours, when crowd starts pouring in, prices go up to 20000 kip. Small selection of snacks, beer and Lao Lao whisky is available for sell as well.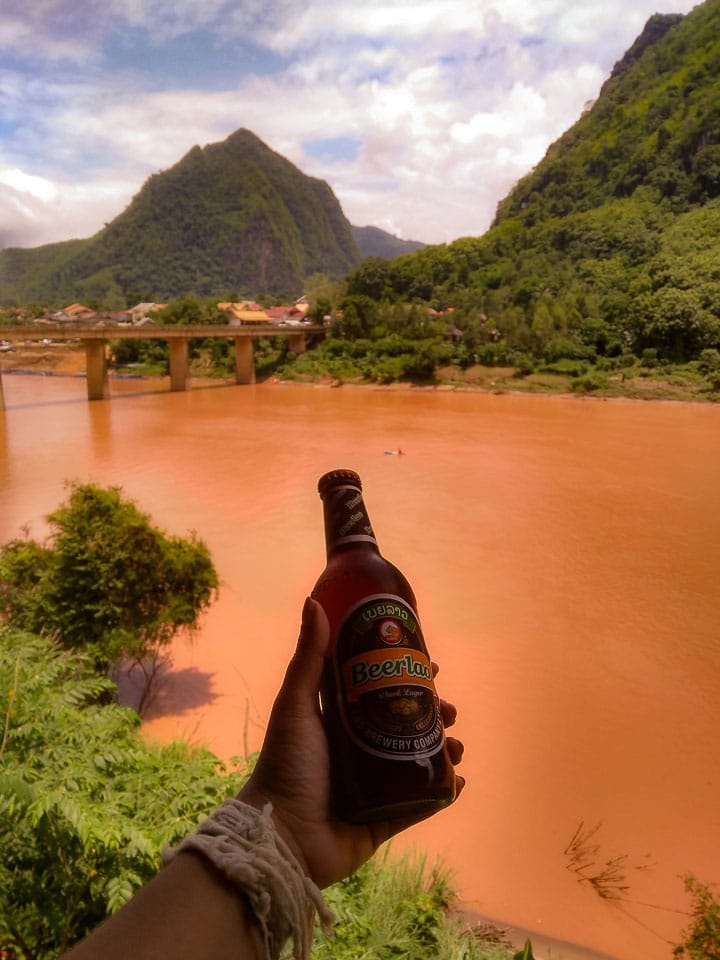 Drink Lao lao or Beer lao in Luang Prabang at Night and Party!
Visiting the Utopia Bar has become synonymous with being in Luang Prabang. It is a beautiful place to party, drink Laos Laos whisky and Beer Laos all your heart want and groove to the music. Laos Laos whisky or Laos rice wine is made of Jasmine rice. Usually an insect or a reptile is found coiled inside it to add to the flavor. It hits hard, drank like a shot and no water is added. Utopia closes down as per the rule of Night curfew in Luang Prabang. you may proceed to the Bowling Alley if you want to live the night some more!
---
This post may contain affiliate links. Please read the disclosure post. If you have liked the article, you may support it by buying using these links without any extra cost to you.
Let's stay connected on Facebook, Instagram, Twitter! You may also consider joining my mailing list. I send travel and photography related emails only once a month!
AHREFs, but SEMRush, Moz and Monitor Backlinks