Laos. the small landlocked country in Southeast Asia remains one country hidden under the obscurity from the rest of the world! There are beautiful destinations in Laos, often wrapped with a sheen of rustic charm, wild nature and untouched historic settlements. Majestic river Mekong and rolling hills riddled with deep caves adorn Laos countryside. Here is a handful of destination in Laos beyond Luang Prabang. Choose what suits your fancy in the next trip in Southeast Asia!
Click here for more Travel blogs on Laos!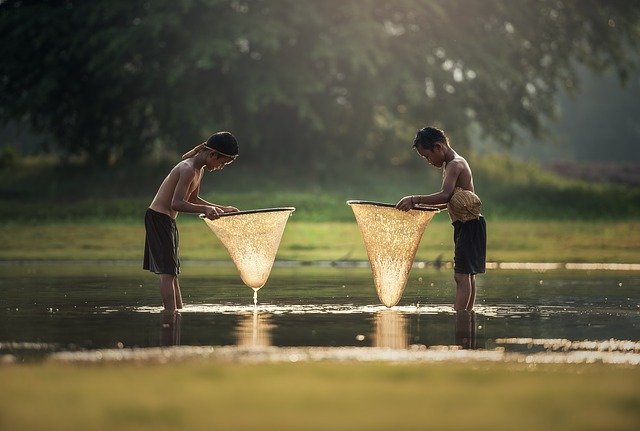 A leisurely stroll by the Mekong river's promenade in the evening. A day of temple hopping in the UNESCO city of Luang Prabang. Templed out exhaustion is battled with a quick sip at the serendipitous Laos coffee. After all these, if you are still enthusiast, scoot around the Laos countryside to take a dip in the aquamarine pool of Kuang Si falls!
Most people think they have seen enough of Laos in this worn out, over used Luang Prabang itinerary. 
If you are hard pressed for time, I do not blame you. Luang Prabang is a beautiful old town of Laos, a cultural melting pot of ancient Asia. You must not skip it at any cost.
The truth is, Laos hides a lot more painfully scenic spots in her heart. I can tell for myself. I did not even hear about most of them before I visited Luang Prabang. There is a stretch of islands featuring serene beaches by the banks of the Mekong river. The Plains of Jar, a sight evoking awe and reverence for a learner of prehistoric human history. The Pha-noi Caves, once a seat of Laos Politburo. Endless treasures are hidden inside Laos interiors.
Vientiane, the capital of Laos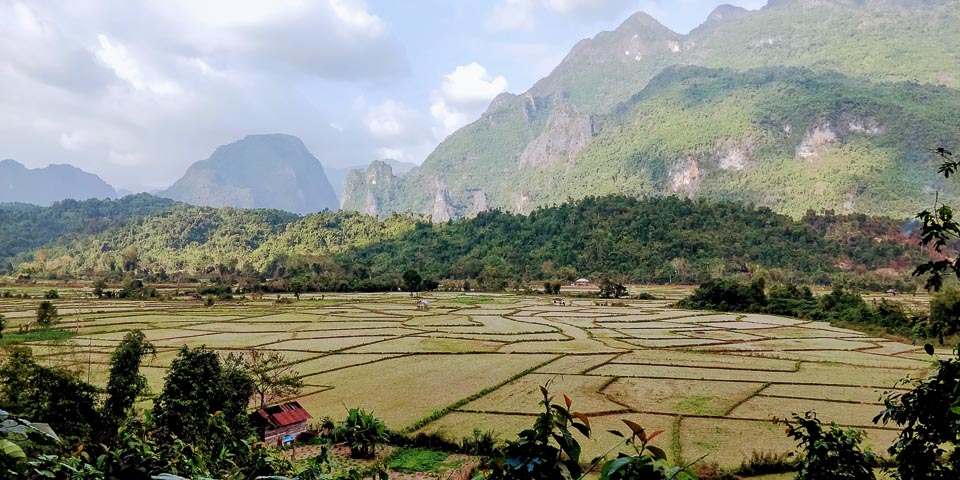 Home to the Luang, Vientiane is as idyllic as a capital city can get!
Amid countless ancient Buddhist temples and fairly new monuments commemorating the Laos independence and communist government, Luang Prabang hides remnants of French rules in her dingy narrow lanes. A chef, who never left Laos, continues to bake true blue French pastries and bagel. Buddha Park blooms in glorious bright yellow flowers! Gentle breeze sways in as a perfectly round sun bids adieu for the day!
Van Vieng, backpacker's paradise!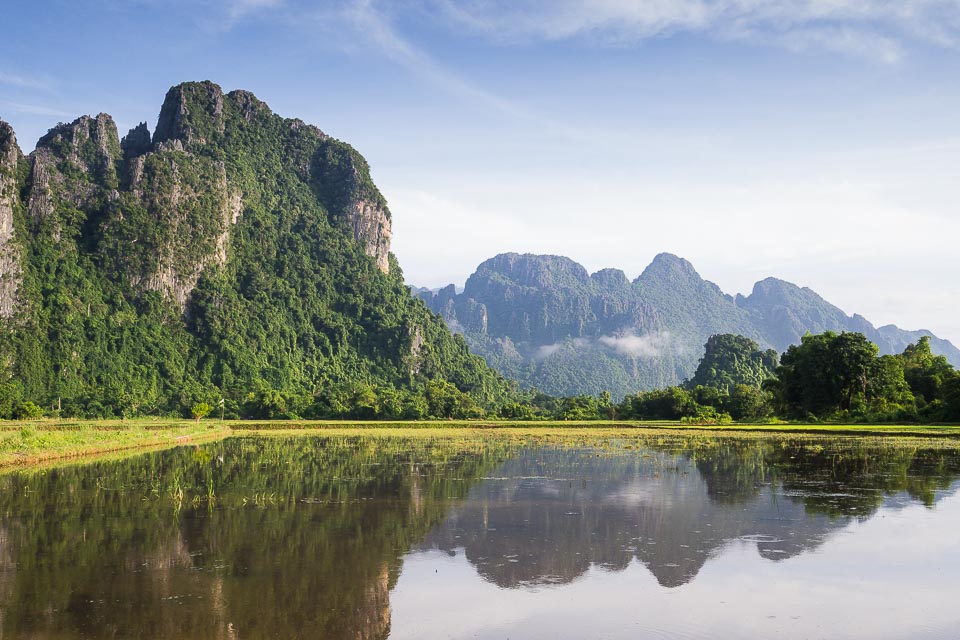 Towering monoliths of lime karst mountains and a serpentine river paint the face of Vang Vieng, a carefree stop of the ubiquitous Banana pancake trail of Southeast Asia!
You can rent a rubber tube for the day and romance in the waters of Nam Than river. The mountains gaze in as you frolic. Instead, take a tight seat on the mountain bike and delve deep inside the dense forests of the surrounding mountains. Rock Climbing and caving are some of the favourite seek outs of adventure lovers in Vang Vieng.
But if you are someone like me, keen on lazing around in a pristine natural set up, Vang Vieng is ideal. Backpacking spot also entails a promise of budget friendly stay with great connectivity. What else demands the life of a digital nomad?
Luang Prabang, a UNESCO world heritage site!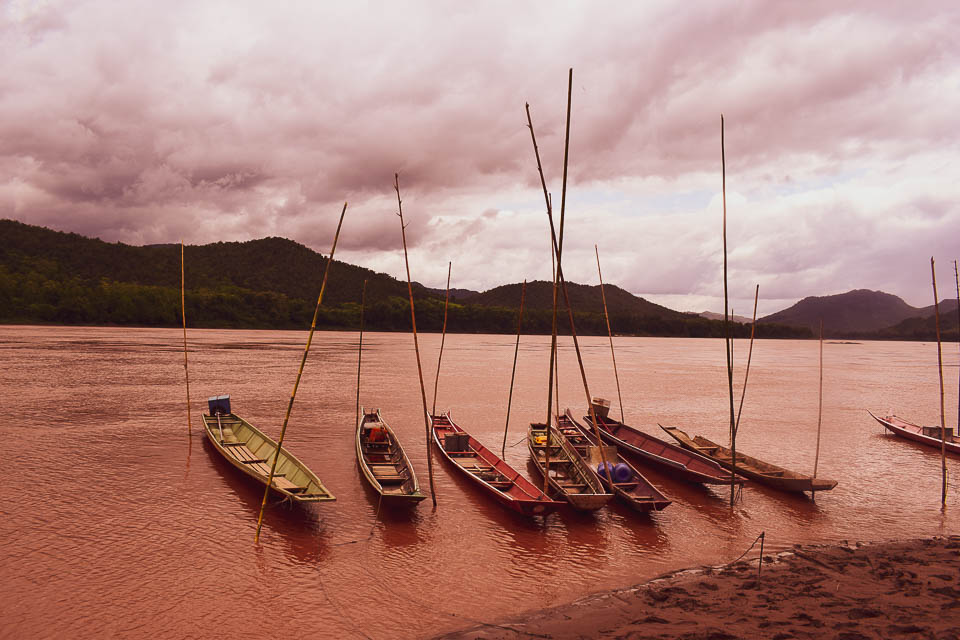 Luang Prabang is the prettiest of them all. I am talking about this list of travel destinations in Laos! Slow travel in Southeast Asia is synonymous with that of Luang Prabang. I could spend a lifetime here by sitting by the Mekong river and watching life unfold in this intensely rich cultural city.
The ancient town is steeped deep in the culture of Buddhism. In Luang Prabang, you can not miss the evident sign of French reign of the colonist era. French vintage cars, the pretty bungalows decked up with ivory white glass panels, locals selling home baked fresh bagels and a slew of cafes dotting the Mekong river back serving Laos coffee. Luang Prabang is simply beautiful, as the hospitality tagline goes. It is also the best connected town of Laos, with a ferry connecting it with the Northern town of Chiang Mai of Thailand being the oldest and the best option of slow traveling.
Luang Prabang is also the base from which you should be exploring Kuang Si waterfall, one of the finest waterfall in the whole world!
Also read: 20 day trips from Luang Prabang, Laos!
Nong Khiaw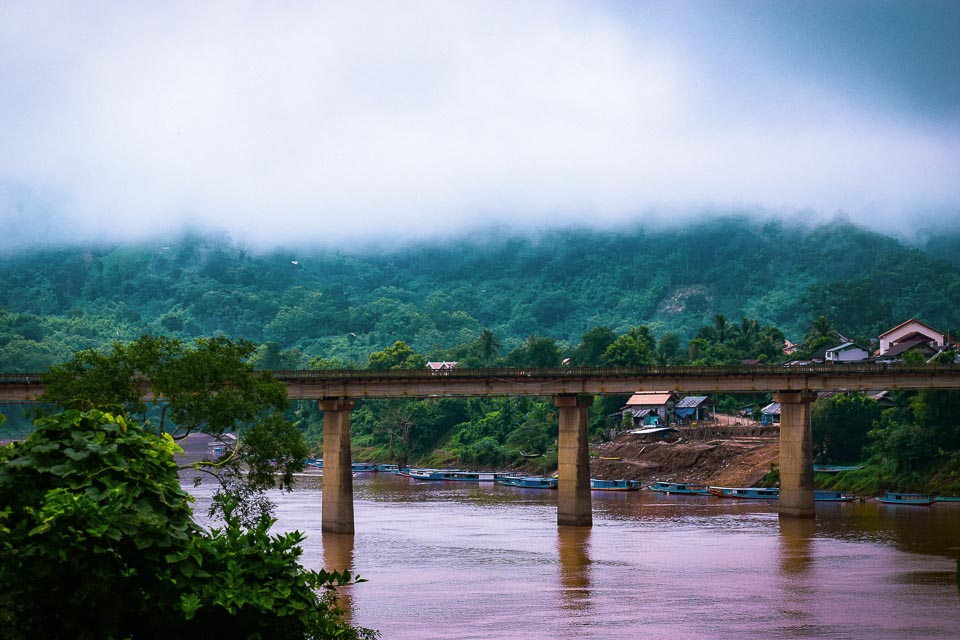 Nong Khiaw is the gateway to the remote northern mountains of Laos. Home to a number of nomadic hill tribes and hidden caves, Nong Khiaw is a sleepy town by the Nam Ou river. The river is gorgeous rust orange in color. Like any other mountain stream, the river flows with fierce power. 
Until recently Nong Khaiw was cut off from the rest of the country. China has built a bridge at Nong Khiaw as a part of the highway project in the recent past. The boats (Krea in local language) now sit idle and wait diligently for tourists willing to leap to the wild north of Laos, further up Nong Khiaw!
Muang Ngoi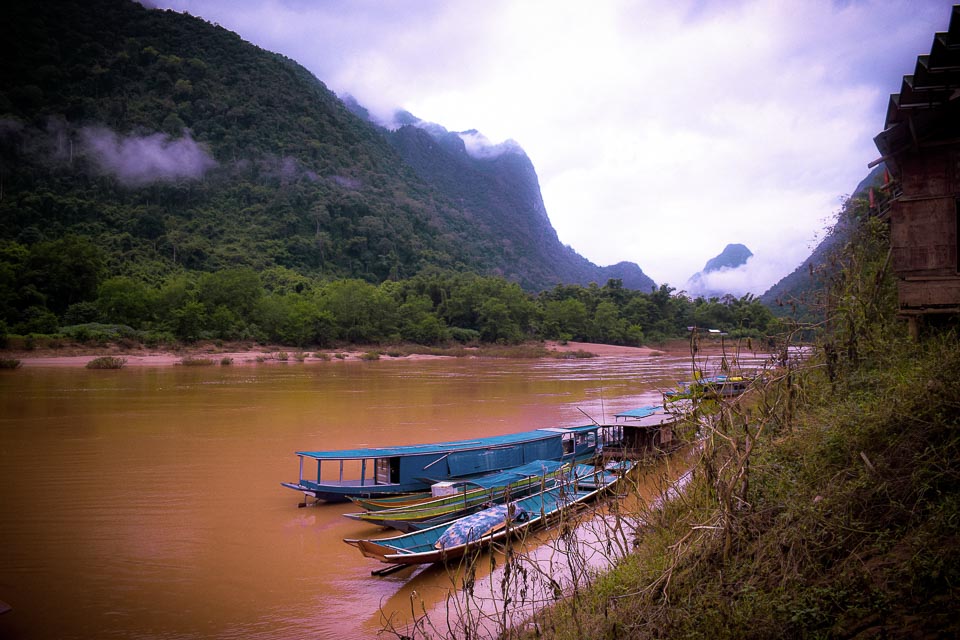 One hour upstream boat ride from Nong Khiaw, you will reach Muang Ngoi village.
To describe Muang Ngoi's remoteness, I would say guest houses here shut down power supply during day! And going here without insect repellant is similar to sleeping in the Sundorbon estuaries without a mosquito net! It is remote and beautiful and nothing like I have seen anywhere else!
Phanoi Caves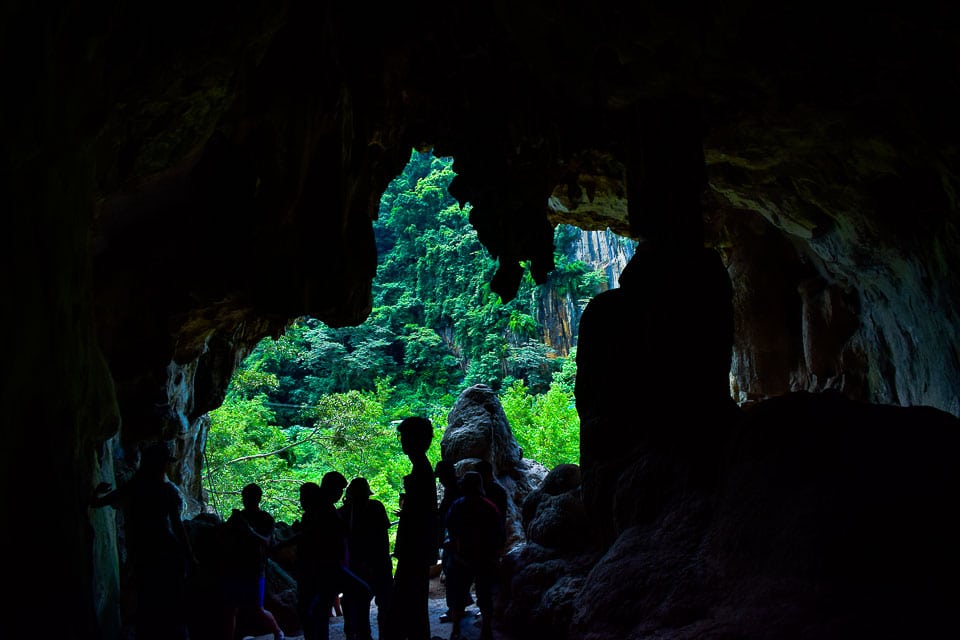 We visited Phanoi caves on the way to Luang Prabang from Nong Khiaw. You may choos eto stay at one of the homestays of ban Lu, the weaving village and take a tour here.
Pha noi caves are a network of profound large caves that played a pivotal role in Laos political history during the secret air war that the USA unleashed on the mountainous regions. The wilderness is haunting with a handful of UXO cluster bombs that takes Laos lives till date. Or mimes a large number of population.
At the Pha noi caves, you will come across dedicated chambers that had run the government in exile during war.
The caves are usually hidden from the world with dense foliage. Sprawling fields of paddy adorn the foothill of the hillocks. Some of the caves were bombed so heavy that fire raged for weeks. A little hike up these caves and you come across a number of bullets and armours. It sits heavy on your mind.
Phongsaly
This tea country in Laos is located between Vietnam and China, by the banks of Nam Ou river and has been historically influenced by Chinese traditions. Various trekking tours take tourists on a multi day trek to the interiors where ethnic groups reside since olden days. Some of the tribal communities are Phounoi, Tai Lu, Khmu, Akha, Haw, Yao,Oma, Poulee, Mouchee, Laoloum, Pala, Lolopho, Hmong, Cherpia, Laoseng, Laobith, Hayi, Tai Neua, Erpa. Their handmade artecrafts are stored at the museum of ethnicity.
Luang Namtha
Home to the famous lantern maker's village (Nam Dee) by the ethnic communities, Luang Namtha is a beautiful rural abode in Northwest of Laos. The town is dotted with Buddhist stupa, monuments, statues and other relics. You are best off with renting a bike and cycle through the valley explore the lesser known cultural nuances of this offbeat destination in Laos.
Nam Nern night Safari
Home to the last few tigers in Laos, Nam Nern National Park is home to a myriad wildlife in the remote North end of Laos. Deers, Bears, turtles and beautiful avian creatures call this place home. One of the emerging eco travel destination in Laos, Nam Nern is best explored on a long tail boat.
Long Tieng
Home to Hmong tribesmen, Long Tieng experienced heavy bombing during the Vietnam War. CIA described it as the "Most secret Place of Earth." Not frequently seen on the the Laos tourist map, Long Tieng remains a melancholic refuge to beautiful nature where humans played game of destruction not so long ago.
Si Phan Don Islands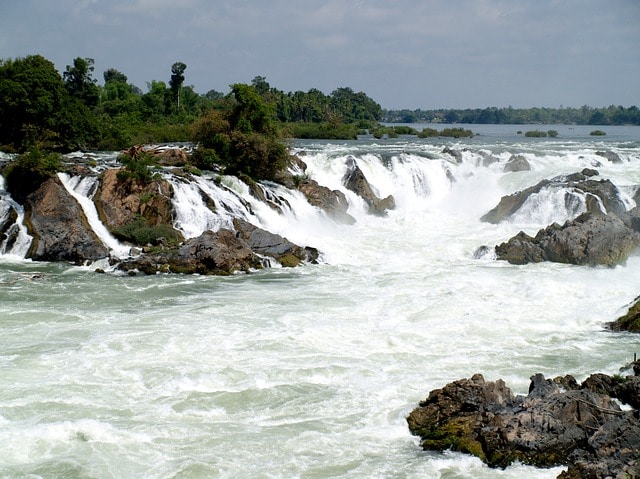 One of the largest riverine archipelago on the earth, Si Phan Don is dotted with multiple small islands on river Mekong. This is also known as the 4000 islands sin Laos. A natural phenomenon, 4000 islands is quickly becoming an emerging tourist destination in Laos for those who love nature. Wooden stilt houses, lush paddy fields, water buffalo, beautiful village life are some of the things you will observe here.
This is where you can spot the last remaining lot of Irrawaddy dolphins and the Mekong Giant Catfish, also known as the largest freshwater fish of the world! they weigh up to 200 kg and grows up to 3 meters!
Bokeo nature reserve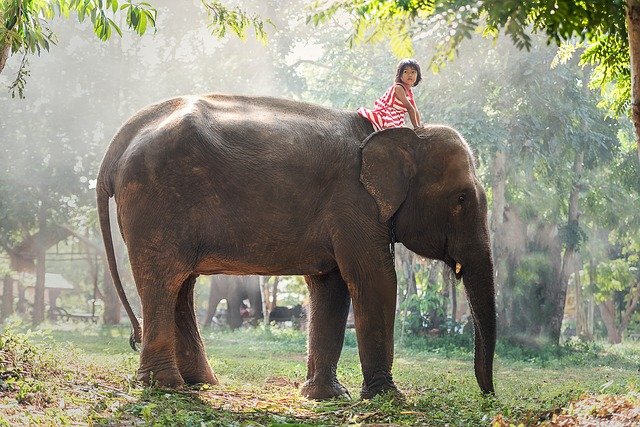 In the Bokeo nature reserve, you have the chance to spot the rare Laos Gibbon as you choose to stay at one of the beautiful treehouses of Laos mountains! To cut down on the effect of illegal logging and deforestation, this sustainable tourism project has been initiated.
Also read: A guide to visiting Masai Mara, Kenya!
Thakhek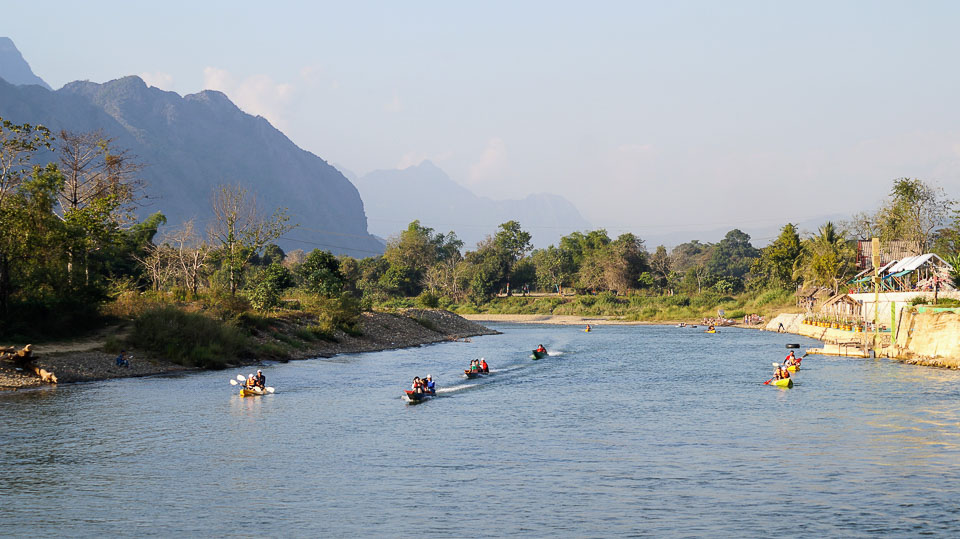 Thakhek is famous for a number of lakes, the Phalang lake, Khun Kong Leng lake among many. If you love biking, Thakkhek Loop is one experience you must not miss in Laos.
In 3 to 4 days time, you can cover the Thakhek loop, while meeting umber of rural villages, agricultural farming lands, rivers and mountains, nameless lakes and explore the heart of rural Laos!
Udomxai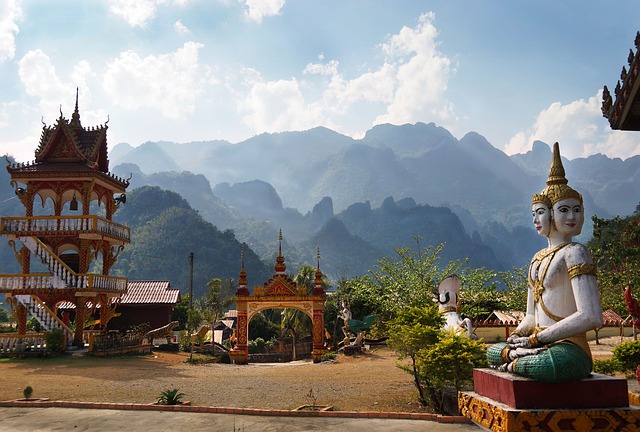 Also known as Oudomxay, Udomxai is one of the mountainous villages in North west Laos where agriculture is the main source of income. Alongside traditional Buddhist practice, you will observe various Khom traditions practiced by the Khmu tribes.
Wat Phu Champasak
Laos has been sharing geopolitical borders with various reigns and kingdoms in the past. The French were rather new entrants. Presence of the Wat Champasak, a ruined Khmer Hindu temple, dedicated to Hindu God Shiva, testify to old times with lost history. This is a UNESCO world heritage site in Laos.
Pakbeng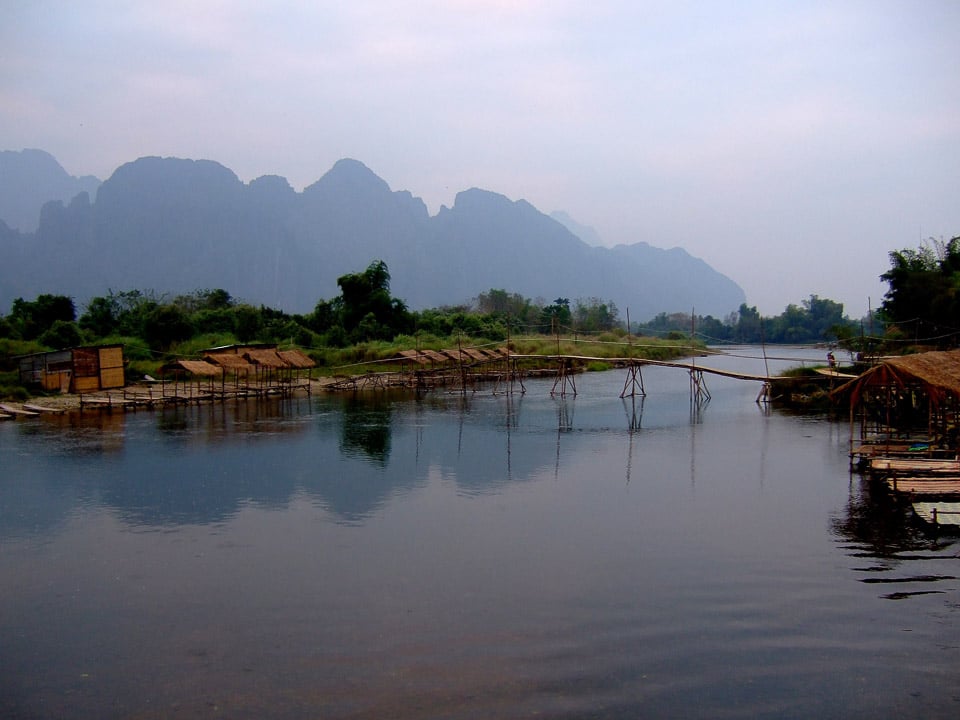 Located halfway between the Thai border at Huay Xai and Luang Prabang, Laos, Pakbeng is an overnight stop for transit passengers on the teak wood barge traversing the long way on river Mekong. Pakbeng has recently established an elephant sanctuary for the gentle giants who had been employed at the logging industry previously and often visited from Luang Prabang as a part of day trips.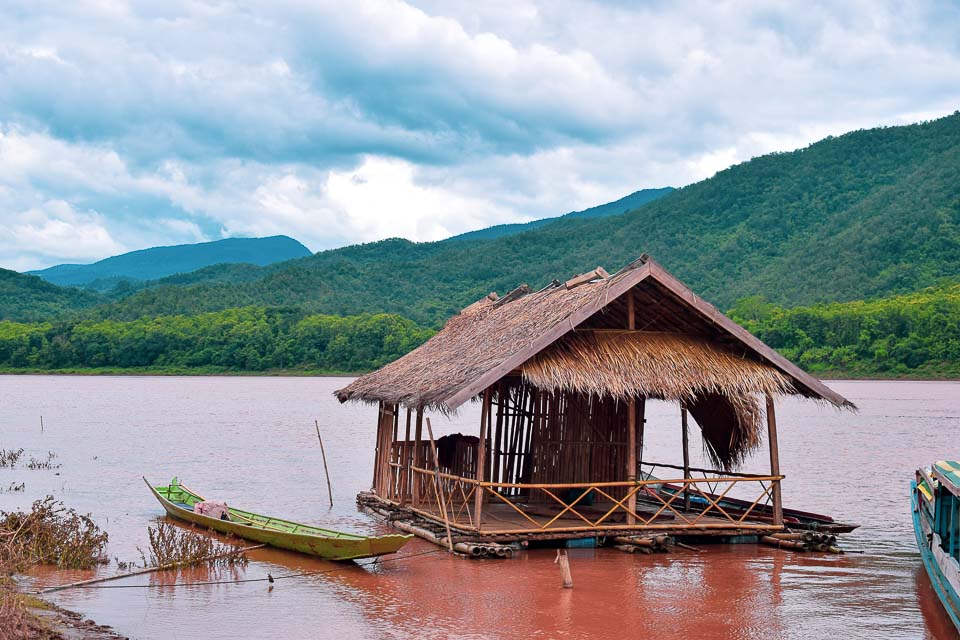 Huay Xai
Make Huay Xai the base for exploring the iconic Bokeo Nature Reserve, housing the Laos Gibbons. Located at the banks of Mekong river, it is imperative you will set a foot on the boats sailing down the majestic water.
Hin Boun
A nature reserve, Hin Boun is located in central Laos by the riverbank of its namesake river. You may take an idle boat-ride to watch village life unfold in the nearby rural Laos. Kong Lor Cave is a natural wonder located close to Hin Boun, perfect for a quick day trip.
Phonsavan
Dotted with craters and landscapes devastated with incessant bombing during the Vietnam war, Phonsavan is perfect for the dark tourism enthusiasts! Besides the ruin of war, visit the abundance of nature that kiss Phonsavan, rather endearingly as if to make us for all the hurt. Mount Phou Bia is located close by which also happens to be the highest mountain in Laos!
The Plain Of Jars, Xiangkhoang Plateau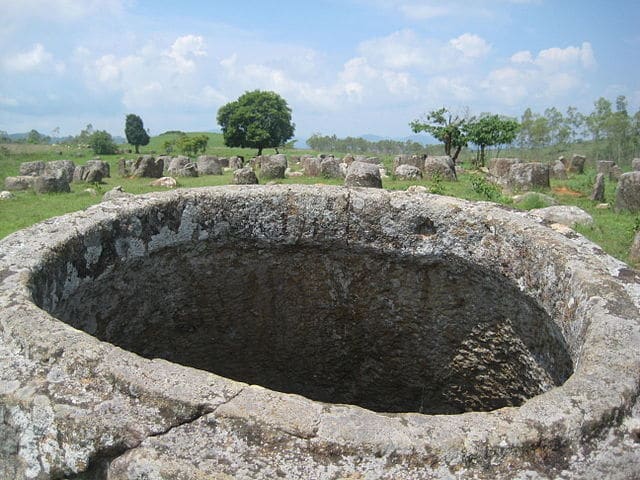 Thought to be remnant as a burial site of prehistoric humans of the Iron Age, the Plains of Jars is a UNESCO world heritage site in Laos. Laos legends associate them with that of a demon from old days. Historians suggest the trade caravans used rainwater stored in these stone jars as potable drinking water during medieval history. Tragically, this place of intense historical importance was not spared of US bombing either and many stone jars have been destroyed during the war.
Pakse
The capital of Champasak province, Pakse is the perfect base to make trips to nearby attractions, like the Bolaven Plateau and the Si Phan Don Islands. The town is dotted with numerous colorful Wats (temples) and a church named Sacred Heart. The church interior has paintings of Jesus visiting different landmarks as Khon Phapheng Falls or the Wat Phu Champasak in Laos.
Bolaven Plateau
The elevated plains of Laos heartland, Bolaven plateau is home to lush green jungles, plethora of waterfalls including famed Tad Fo, ethnic minority villages and countless coffee plantation. Besides, the mythical crater of Bolaven plateau intrigues geologists till date!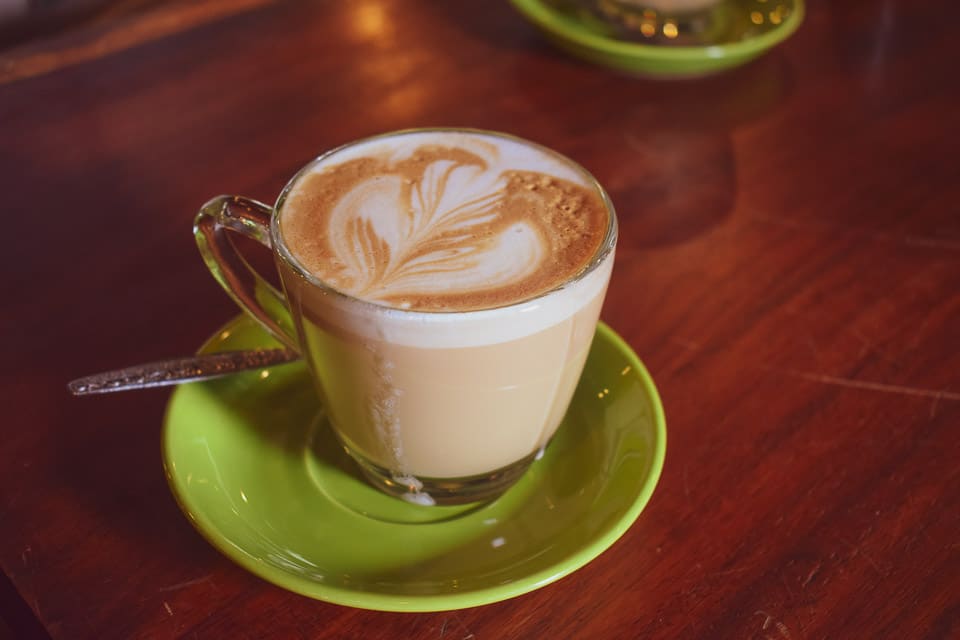 Also read: A foodie's guide to Luang Prabang!
Houy Siat, Paksan
A sleepy town in the Paksan province of Laos, Houy Siat is located by river Mekong.
Savannakhet
The large city of Savannakhet in the southern plain of Laos is a transit hub between the North and the south of the landlocked country. The historic city houses plenty of French architecture, Vietnamese community, temples and monuments, a casino and a museum that flaunts excavated bones of Dinosaur, or "Big lizard bones" as they are known in Laos language. The boat racing festival taking place on the mighty Mekong is quite the sight during October, the month of Buddhist lent.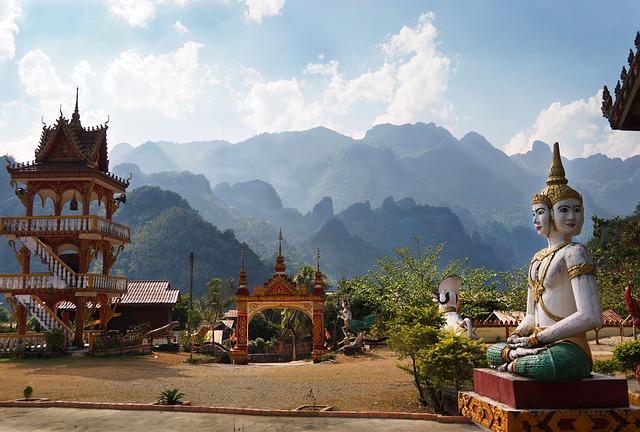 ---
This post may contain affiliate links. Please read the disclosure post. If you have liked the article, you may support it by buying using these links without any extra cost to you.
Let's stay connected on Facebook, Instagram, Twitter! You may also consider joining my mailing list. I send travel and photography related emails only once a month!