This is part 1 of the series called Garden of Eden. In Garden of Eden, I plan to experiment with the sarees I have and the landscaped garden where I stay! This is a lookbook of a yellow Dhaikai saree.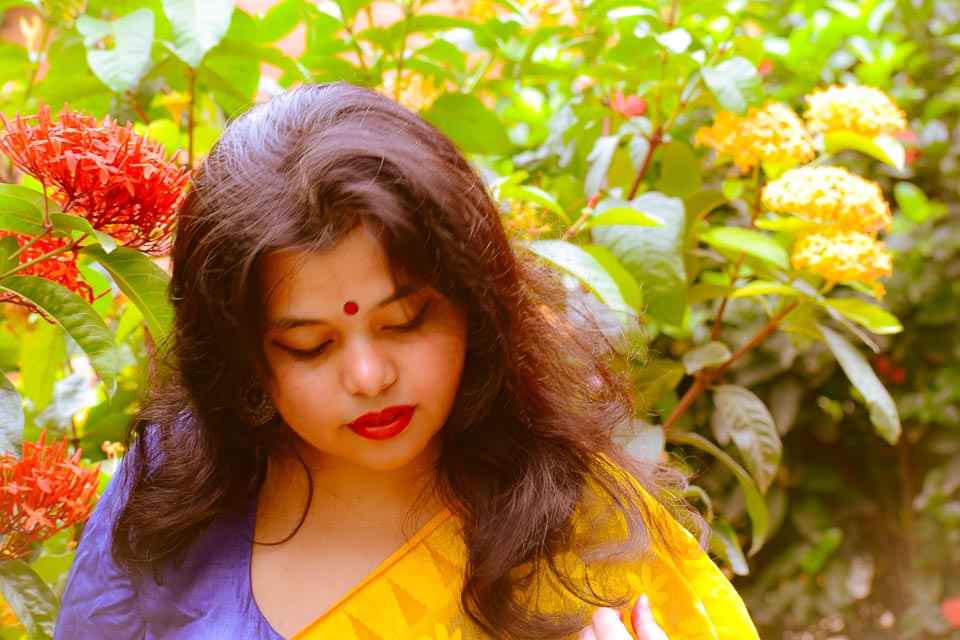 When I send pictures of what we cooked on the weekend to home, I practiced particular caution. Lest we get to be seen in the photos. The food is fresh, we are not. Our eyes have crows feet around. Our hair lacks the sheen. Our skin has not been tanned for long and we never knew before that tanning could be so coveted!
You can take care of yourself as much as you want but it is all in the mind which demands a taste of the mirth to add that tinkle in life!
Sadly, I did not. I can not travel, for obvious reasons, at the moment. Which means, I can not do a lot of things, ranging from earning money to wearing saree.
Hold on a second? Can I really not wear a saree? Umm.. probably not!
The red Dhakai saree I wore at Spring Lodge Inle while traveling in Myanmar for a couple of weeks. This one is in Kolkata at the moment.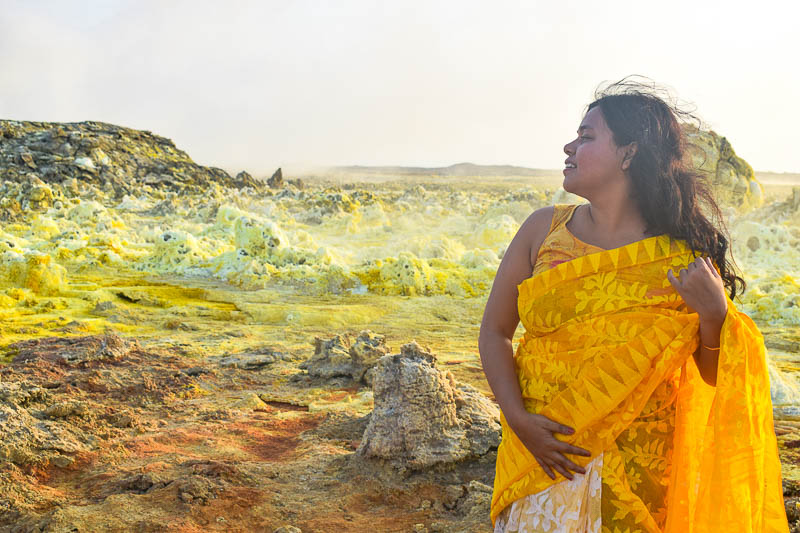 The Yellow Dhakai I wore at Danakil Depression in Ethiopia. This is a Dhakai saree that my sister in law gifted in as a part of Nonod putuli Nomoskari in her wedding. Nonod putuli is a ritual practiced in Bengali wedding.
There is only a handful of handloom weaves in India which can surpass the grandeur of Dhakai Saree. The yellow luminance oozing out the saree brightens a day and a night at ease!
Dhakai saree or Dhakai Jamdani saree traces back its origin in Dhaka, the capital of Bangladesh. The counties have been partitioned but custom goes on…. Take for example, gifting a Dhakai on a wedding! While Dhakai is a cotton saree, a pure Jamdani would be made of Muslin and price goes upto 60,000 INR or so. Muslin has been GI tagged for their intricate craftsmanship. Did you know weaves of India is a contender of a intangible UNESCO heritage tag?
Here is an ode to Indian summer. The Krishnachura flower (Gulmohor) and an overcast sky, announcing the onset of monsoon. I live in the Indian peninsula. Monsoon arrives earlier than Calcutta in this part of the country.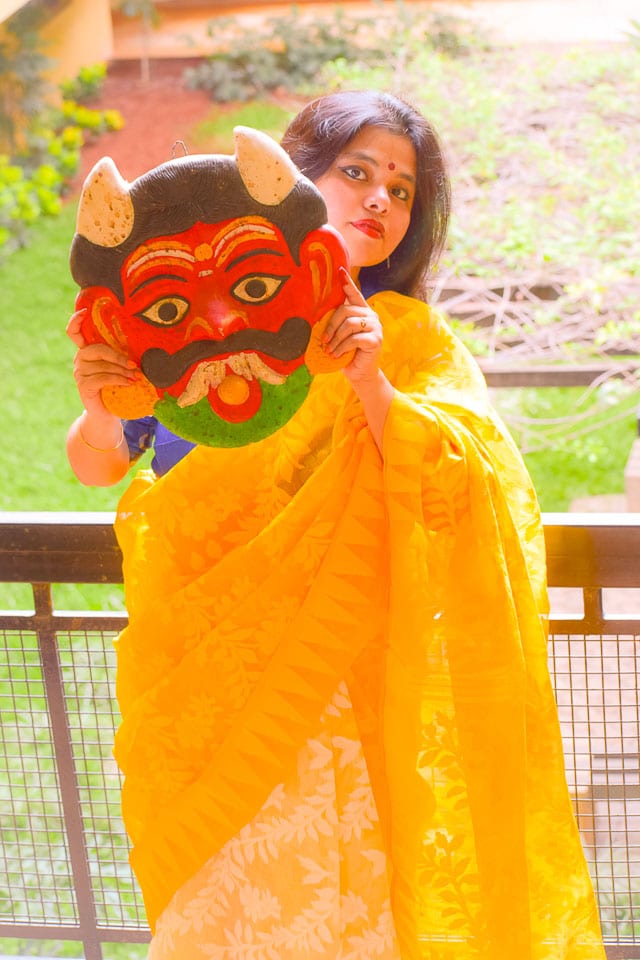 The demon face I am holding in the picture is usually hung at the door entrance. Faithfuls believe this helps to ward off negative energy. Well, with a vaccine seemingly away from us by a year, I would hold on to anything to ward off the enemy at the gate!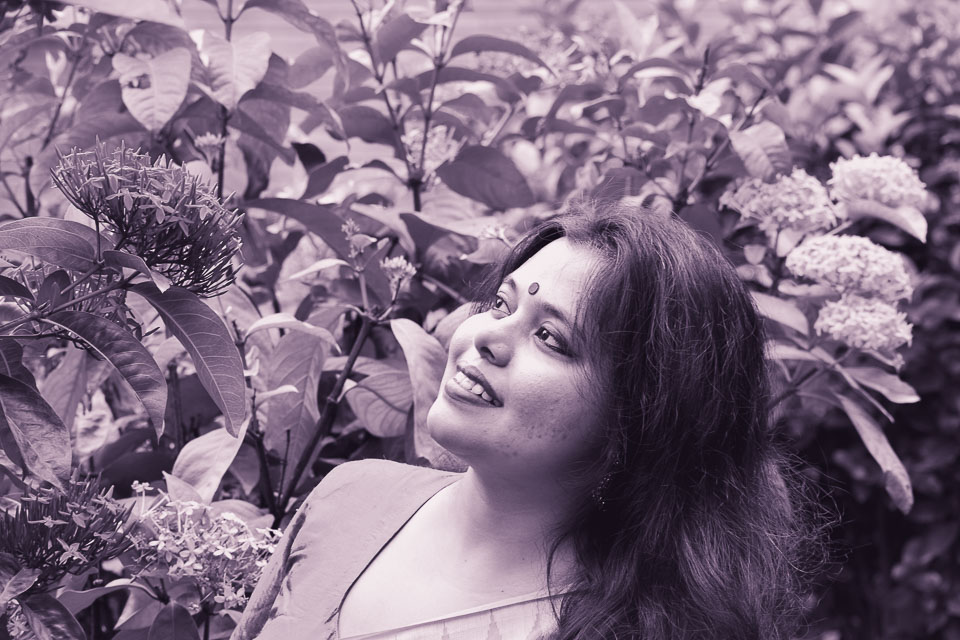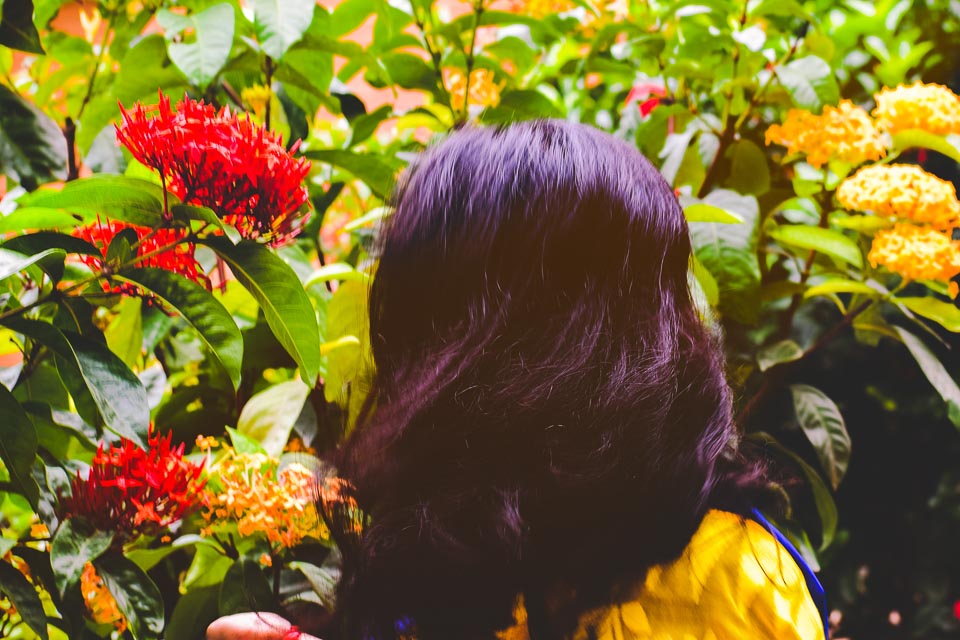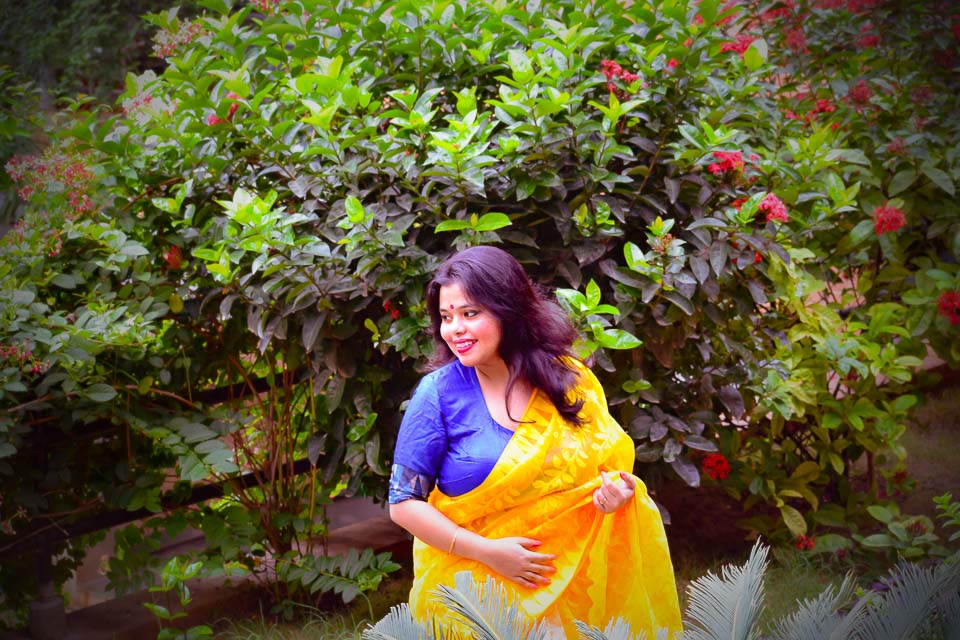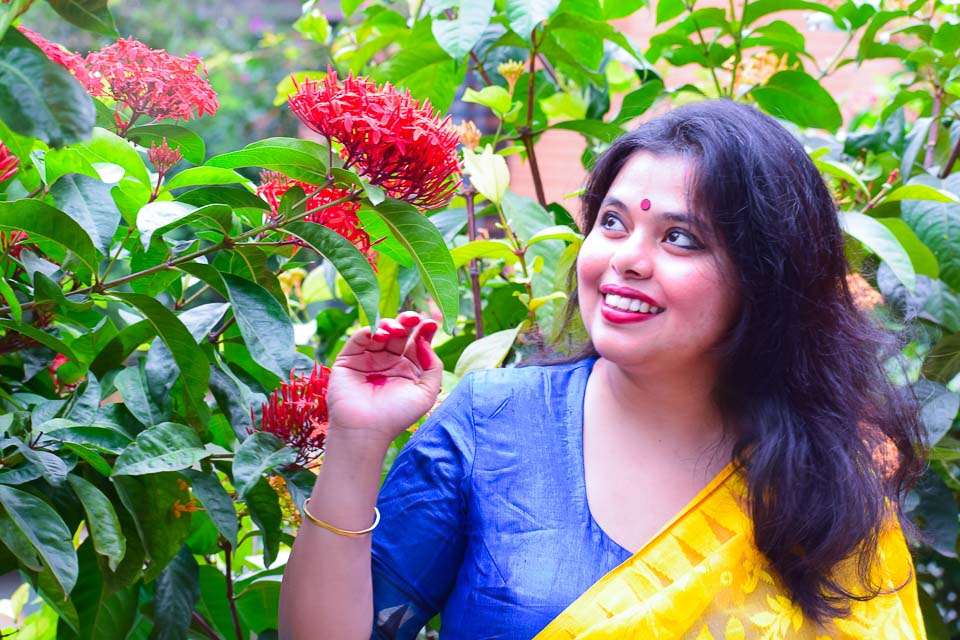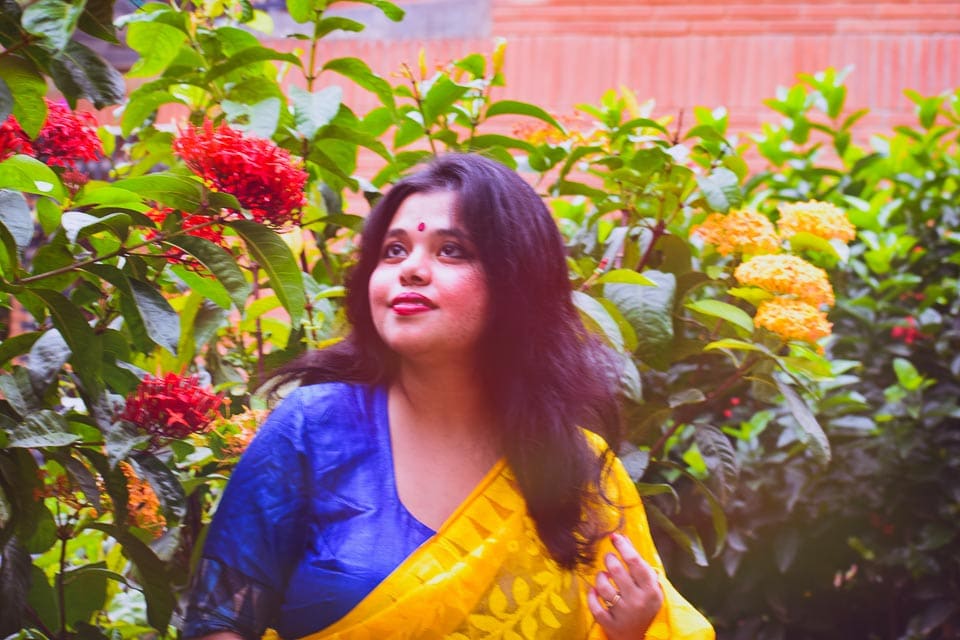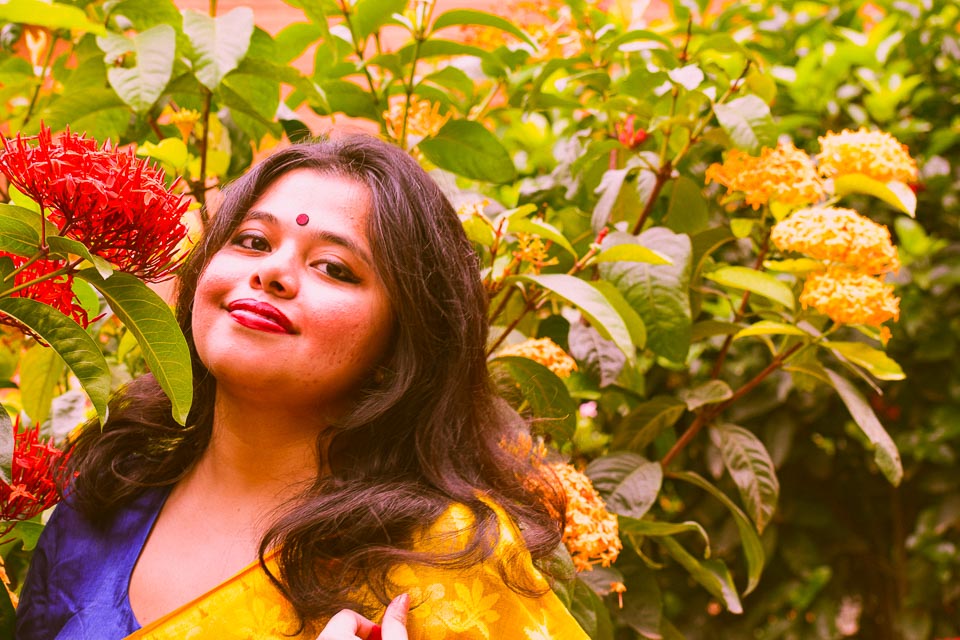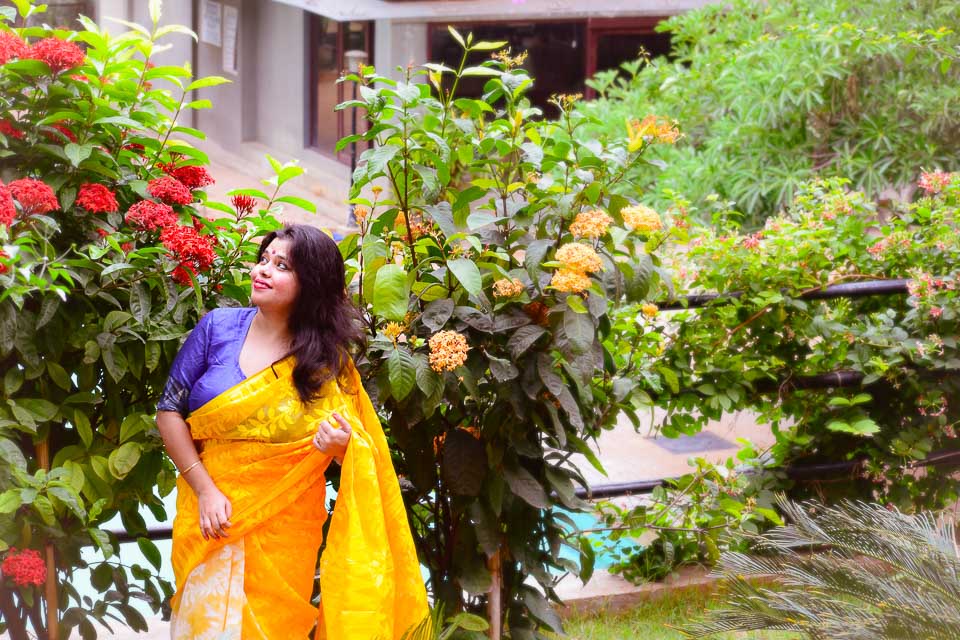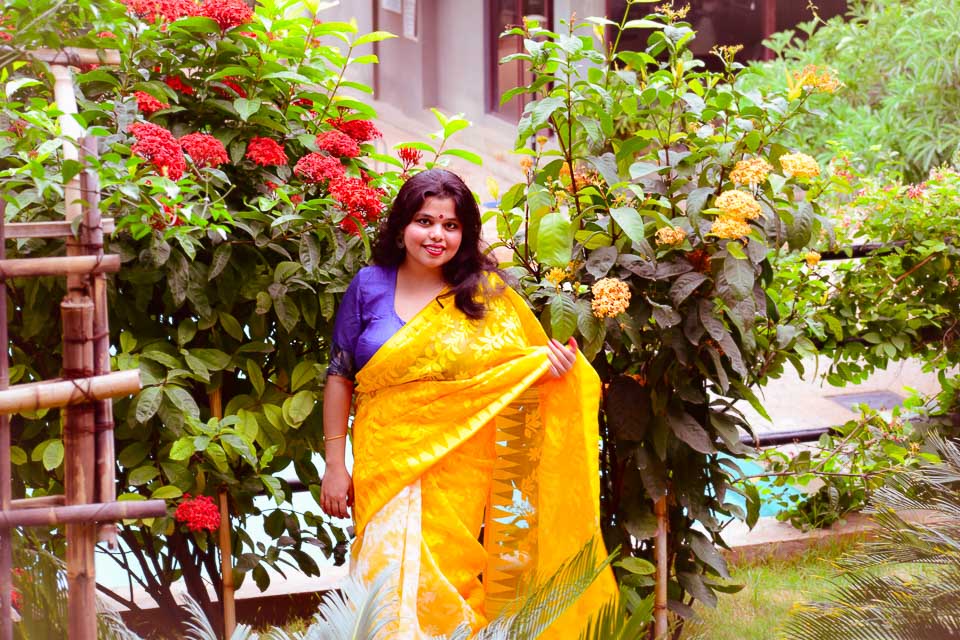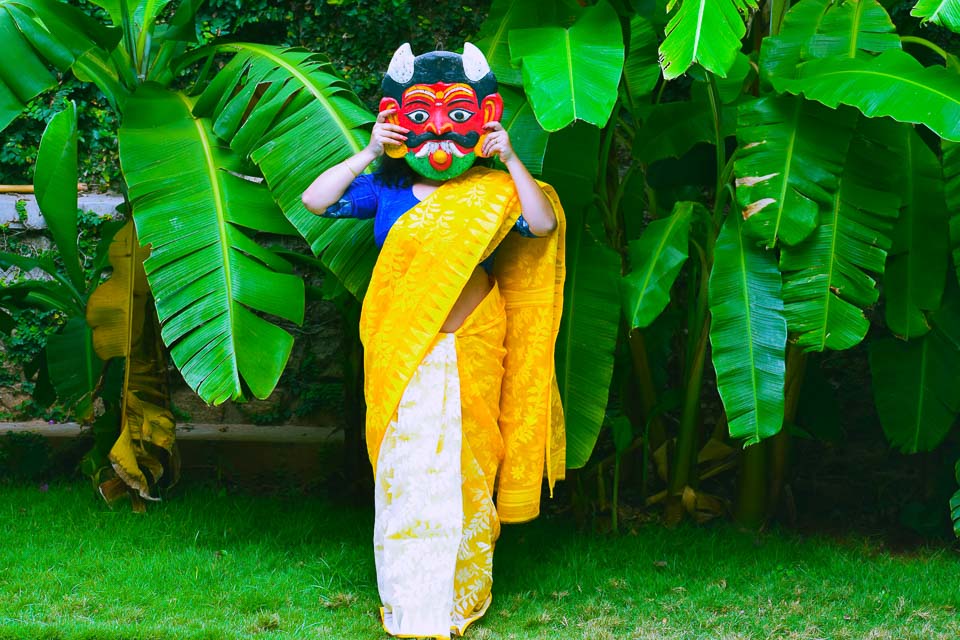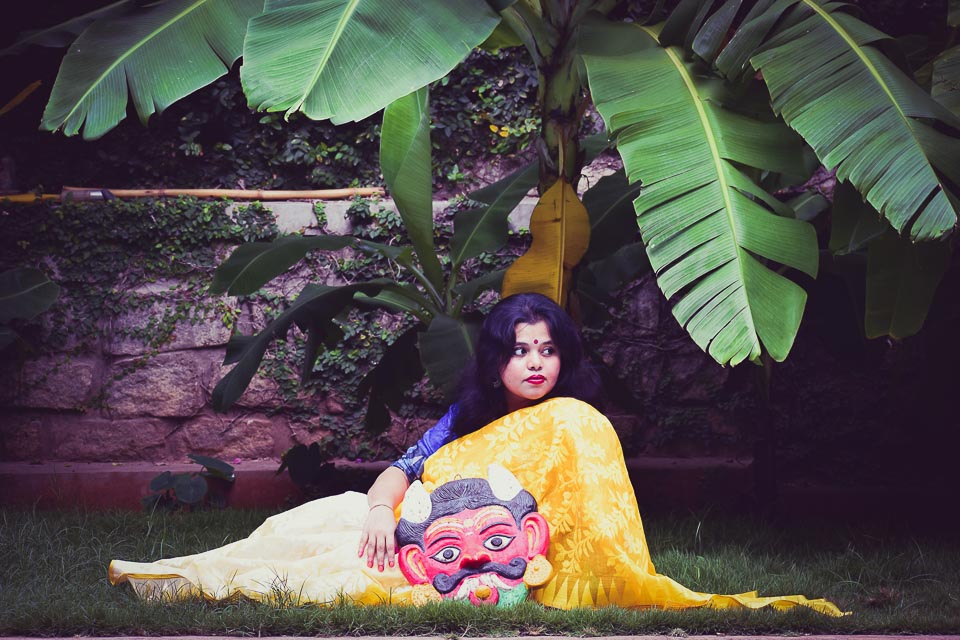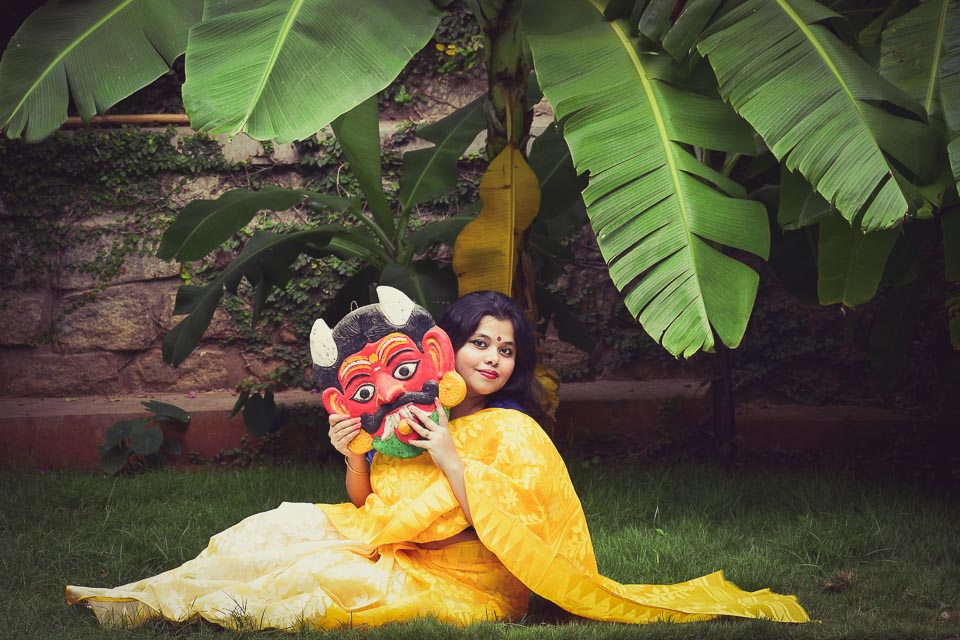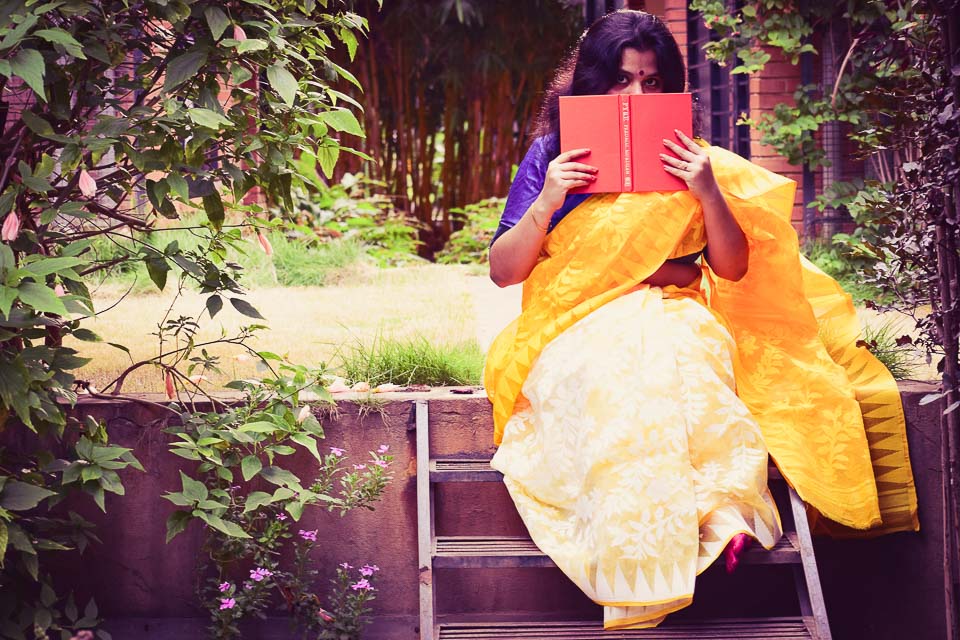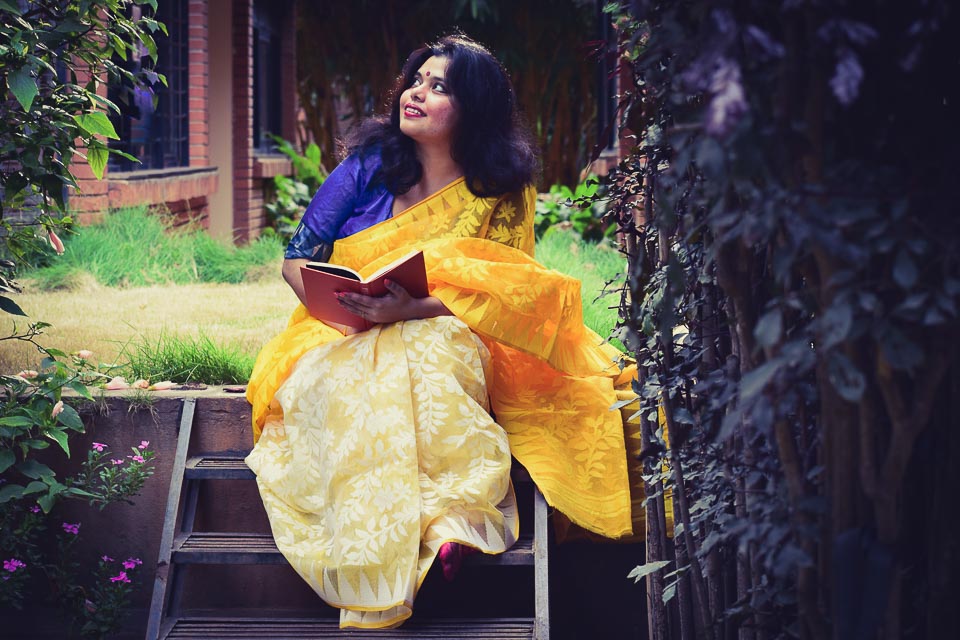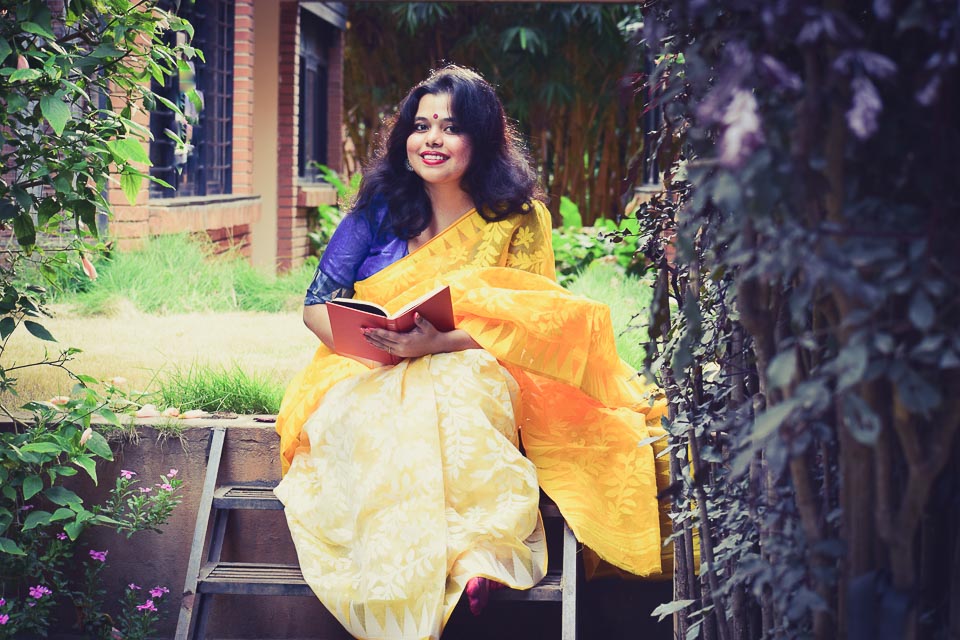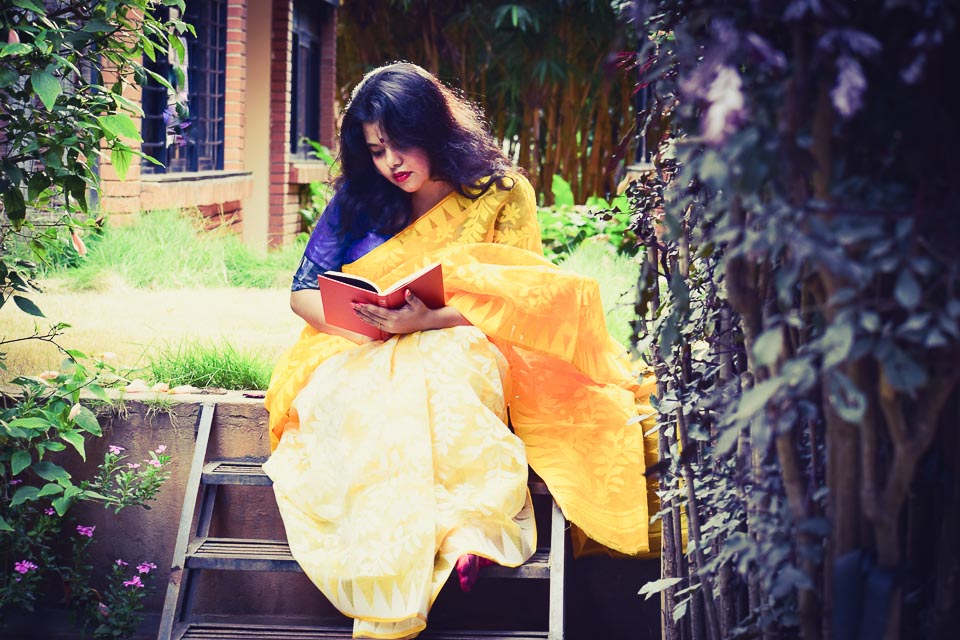 The book I am holding here is Pyre by Perumal Murugan. I wanted a red book and wanted to pick the 100 years of Soviet Revolution. But that one is heavy.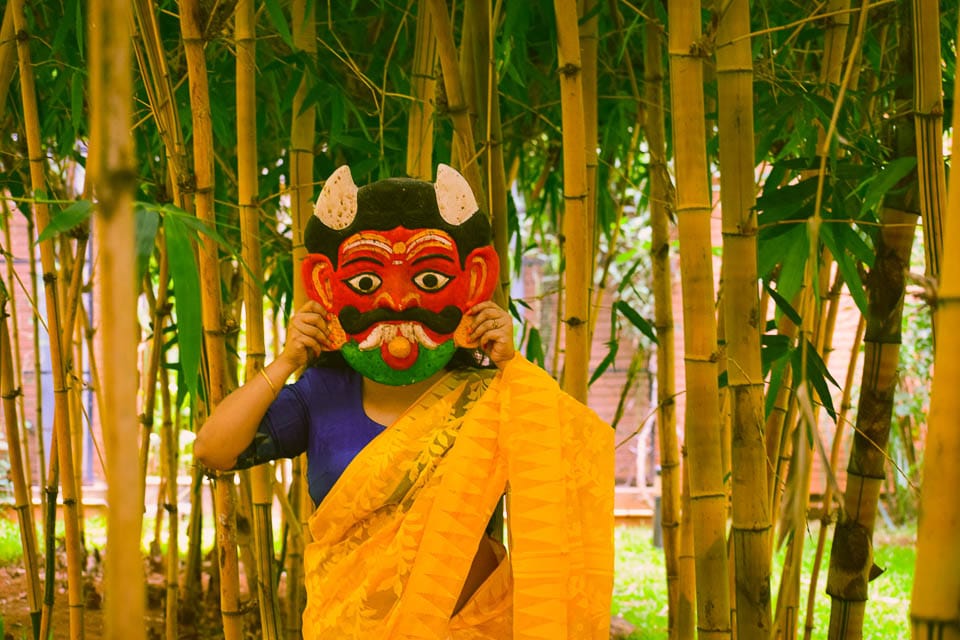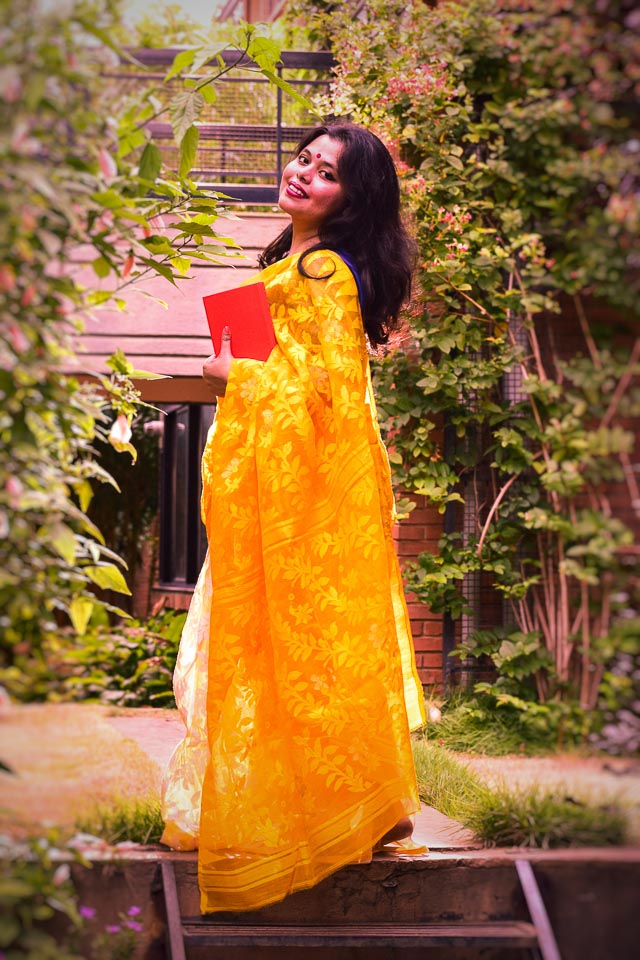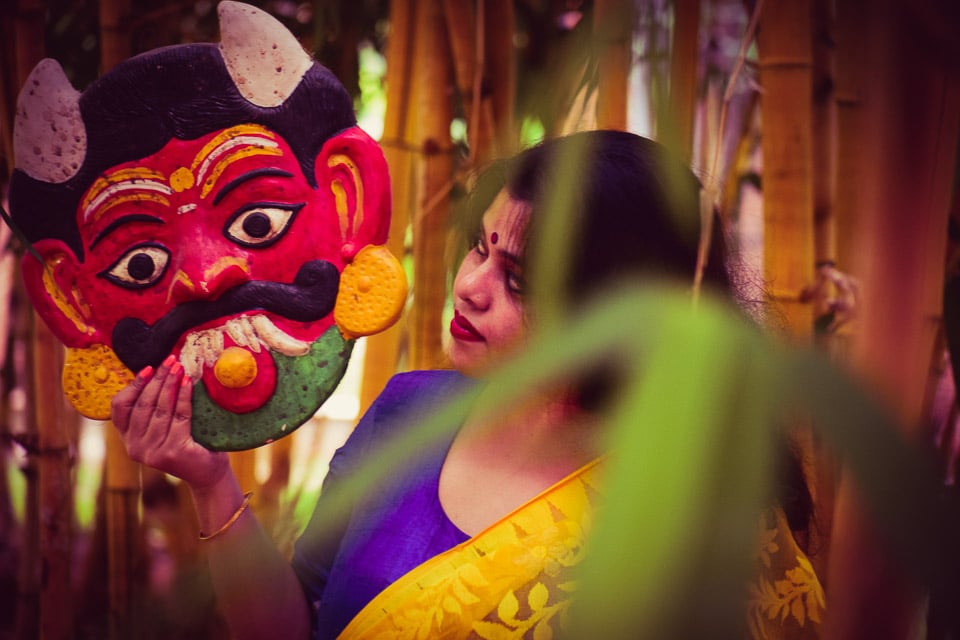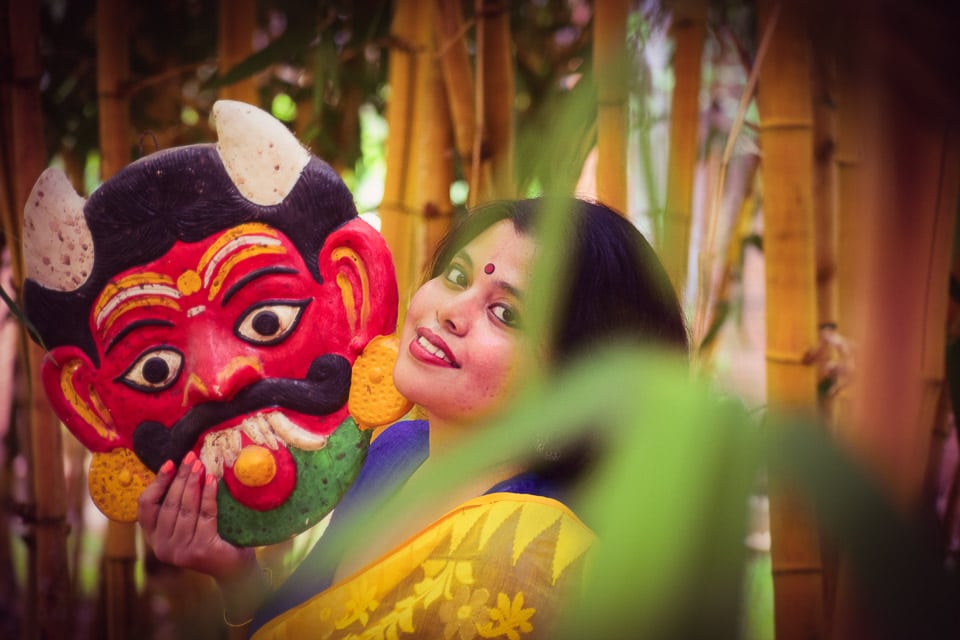 Few notes on styling this dhakai saree:
The blouse is originally paired with a Blue Tusser however I found the color perfectly matching with the day. It was about to rain and blue denotes being expectant to shower. I could also pair it with white, red or green blouse.
Dhakai saree would pair brilliantly with a set of Dhokra jewelry. I kept it minimal and used what I had, which is a gold bangle and a gold finger ring. May be next time I will bring out my box of Dhokra.
If you can let go of the Tip, I think this photoshoot could have been bolder. They call it Bindi in Hindi. I do not like to wear Tip all the time. But I am yet to gain confidence to do away with Tip while posing for pictures!