About this blog: This is a sample two week long itinerary to explore Myanmar. This allows enough time to travel through all the Big 4 travel destinations of Myanmar: Yangon, the erstwhile Burmese capital known as Rangoon, Bagan, Mandalay and Inle lake. The suggested itinerary takes you from North to South in Myanmar, over 14 days and gives you an idea of the offbeat destinations and cultural nuances of Myanmar.
S and I are in our late 20s and travel with a focus on experiencing local food and culture of a new destination. We love photo-walks in cities. We also prefer not to do very touristy things and stay away from animal activities. If these sounds similar to your style of travel, read on!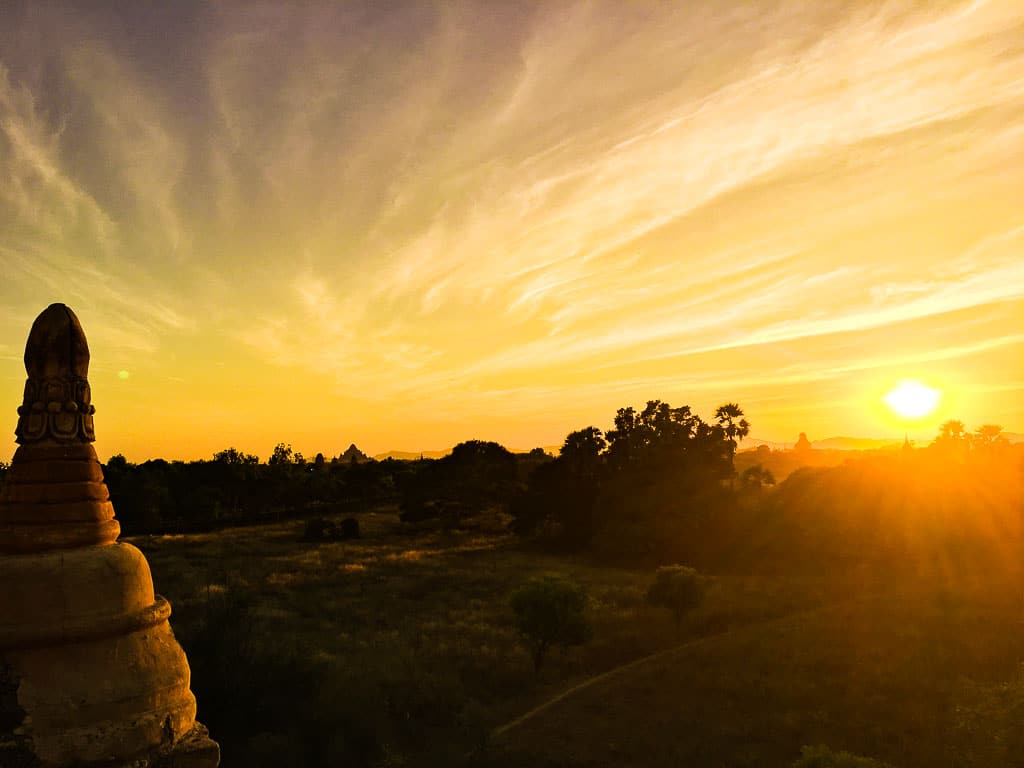 "Burma – a land whose cities had streets paved with gold and where Bengalis were at such a premium that they were lifted bodily from ships carrying them the moment the latter touched the shore, and carried away by Englishmen to be showered with jobs, money, power and prestige."


An excerpt from Srikanto by Saratchandra Chattopadhyay.
Myanmar. Despite being in the well tread travel circuit of South East Asia, remained a country shrouded in oriental mystery for years. Indian Hindu mythology illustrated visuals of ivory white elephants roaming free in the dense teak wood forest of erstwhile Burma, now Myanmar. We grew up with Saratchandra's hero chanting nationalist slogans against the British colonists from Rangoon. Myanmar was a make believe place yet we knew so less about the country.
Having been around the fur flung travel destinations of Myanmar for a little over two weeks, I can state the country is beautiful and so much more. It is calm. It has saved its soul from the maddening race of advancement.
All through the history comprising of a grim past by the British Raj, and that of Japan and ravaging world war 2 memories, people remain unchanged. Their skin is bright with Thanaka paste. They hardly understand English. In Myanmar, a smile and body language can gift you with unprecedented friendship. If you breath a full chest, you get an unadulterated aroma of the Earth. It is dry at the central highland of Bagan, it is sweaty humid down south in Yangon by the edges of Irrawaddy, it is azure blue by the Inle lake. And its people. What do I say? Eloquent eyes linger and speak volume as they prepare that exotic "paan"!
I am aware of the Rohingya exodus and ethnic genocide that took place over the years. I have written about how being a Bengali in Myanmar felt like, and how I weighed the ethical question of visiting Myanmar as an upcoming tourist destination.
Whether you want to support the regime with your travel expenditure is totally upto you. From visa fee to flying with state airlines and paying for those tax stamps accompanying every receipt and tourist fee, there is no escaping them.
However, please know, in the process of avoiding a tyrant government, many locals miss out from parks of tourism. Locals who strive everyday to make ends meet. Locals who have hardly a say what the military junta decides. You can argue these locals also form a part of the huge populace supporting and propagating hate. I agree. The world is not white and black. And I am sure this argument can be implemented for a number of countries. Anyway, this discussion deserves a different blog post.
What to expect from this blog: Myanmar in 2 weeks
This is a mammoth blogpost with a couple of Myanmar itinerary. Both are about traveling in Myanmar for two weeks. One goes from North to South of Myanmar, that is, Mandalay to Yangon or Rangoon. This is essentially recommended if you are road-tripping from India. The other one takes you from South to North of Myanmar, from Yangon to Mandalay. You can easily cross the border with Thailand, travel to Hpa An, reach Yangon and continue with traveling in Myanmar.
I will first list an outline of both the Myanmar itineraries and you can decide which one you want to stick to.
Along the way, I also discuss essential travel tips to make your life easy when traveling in Myanmar.
And finally, I shall delve deep into each destination. I shall tell you about the alternate and offbeat travel experiences in Myanmar. I shall tell you about the grass root travel organizers in Myanmar who are actually working with locals, including a handful of former political prisoners, so that your expenses are directed towards the locals of Myanmar at the grass root level.
Two weeks in Myanmar. Start from North or South?

Myanmar is a fairly large country. It is suggested you start at one end and continue further. I have personally traveled from North to South and find it the easiest and fastest route. However, it entirely depends on the international airport or port you are flying into.
Suggested 2 weeks in Myanmar Itinerary
Myanmar travel from Mandalay to Yangon (Rangoon)

This is the itinerary we followed during our two weeks in Myanmar. We flew into Mandalay from Bengaluru, India. Mandalay should be your first destination in Myanmar, in case you are over-landing from India from Tamu checkpoint.
Tamu is at the border crossing between Manipur, India and Myanmar. Long distance bus and shared vehicle go through this point. It is possible to reach even Thailand using this international highway. It is suggested to reach Tamu checkpoint as early as possible to make the most of the day and avoid traveling at night. Read more about over landing from India to Myanmar here.

Day 1-2: Mandalay and the ancient cities nearby
Day 3-5: Temples of Bagan, UNESCO Heritage Site
Day 6: Day trip to Mount Popa
Day 7-8: Mount Kalaw and Trekking
Day 9-10: Inle Lake, UNESCO heritage Site
Day 11-12: Yangon (or Rangoon)
Day 13: trip to Bago and Golden Rock
Day 14: Fly out of Yangon
You can add Ngapali beach instead of Mount Kalaw if you are looking for a few days of pristine beach vacation. It is accessible from Yangon by bus or a short flight.
If you are interested in hiking, do add Hpa An to this Myanmar itinerary. It is also a cool stop over before you overland to Thailand from Myanmar.

However, lately I have found plenty of cheaper flights frequent Yangon international airport. If you are pressed for time and have to fly, choose to travel in Myanmar for two weeks, starting from Yangon.
2 weeks in Myanmar Itinerary: from Yangon(Rangoon) to Mandalay
Day 1-2: Yangon (Rangoon)
Day 3: Trip to Bago and Golden Rock
Day 4-6: Temple Town of Bagan (UNESCO site)
Day 7: Day trip to Mount Popa
Day 8-9: Inle Lake (UNESCO site)
Day 10-11: Mandalay and surrounding cities
Night bus from Mandalay to Yangon which reaches Yangon at 6 am in the morning. The bus is run by JJ Express bus company. The overnight Yangon bus costs $12 and leaves Mandalay at 9 pm.

Day 12-14: Yangon-Ngapali Beach
Day 15: Fly Out of Yangon
Optional addition: Mount Kalaw to Inle lake can be trekked in three days if you want to skip the beach vacation at Ngapali.
If you can, add 5 more days to your itinerary. This way you can fit in Ngapali beach, Kalaw, Hpa An, Mawlamyine and Ngwesaung beach apart from the big 4 of Myanmar.
I am a bit skeptical about mountains because after the Himalaya in India (especially that in Tawang in Arunachal Pradesh) and Nepal, and Kilimanjaro in Africa, I expect so much more from the highlands! I know this comparison is lame however my heart refuges to get over the romance of Darjeeling! You ought to listen to Anan Dutt's music to understand what I mean!

The sprawling land of Myanmar is dotted with an overwhelming number of Buddhist relics. Well, it does not overwhelm me. My Indian mind is conditioned to see different manifestations of faith, consecutively, at every turn of the road. (Hello Varanasi, Rameswaram, Kolkata, basically everywhere in India!)

From north to south, Myanmar is no different when it comes to abundance of religious relics, with Yangon being an old cosmopolitan metropolis. So there is a fair chance of you getting "Templed out" (is that even a word?) over two weeks!

But the route embraces drastic changes in scenery. Many opine, if you have to remove one spot in Myanmar, Mandalay it is. Well, I would differ.

Mandalay and its surrounding ancient towns house some of the finest ancient Buddhist stupa, temples and relics. However it the the prized sunrise experience at U Bein bridge that remains vibrant in my mind. It is straight out of the cover of the book, the River of Lost footsteps.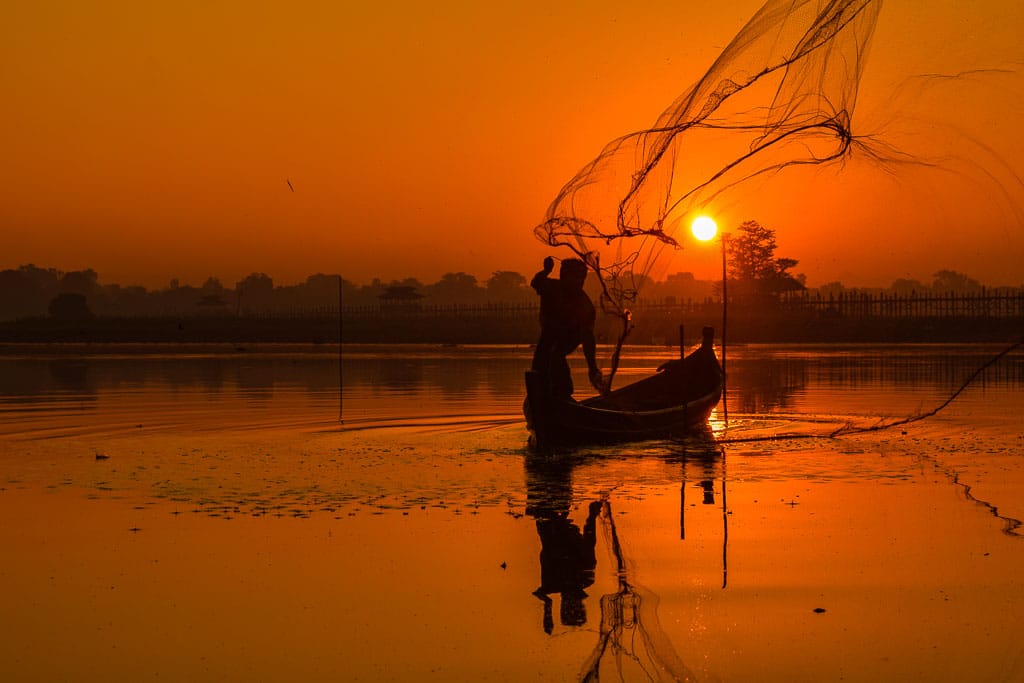 I will now delve deeper into each destination of Myanmar and talk about my experiences. I will start out with a few handy travel tips as I figured in my two weeks in Myanmar.
Travel Tips from Myanmar which will help you plan a DIY trip for 2 weeks.


Currency in Myanmar is known as Kyat ($1 = 1500 Kyat) Currency Exchange shops are available at all major tourist places in Myanmar. ATMs work fine as well, at Mandalay and Yangon.
There is a tourist entry fee at the entrance of each Travel destination, say Inle Lake or Bagan. Your bus will stop. You have to pay a sum of money and get a receipt in return, which you may be asked to produce at certain checkpoints. For example, we were in Bagan and shooting a sunrise at some dilapidated temple ruin. While returning we were asked to produce the ticket which we had left in the hotel room. We were asked how much we paid and then let go. Tripadvisor has a thread where latest entry fees are updated by tourists.
Tourist entry fee to Inle Lake: $10
Tourist entry fee to Bagan: $20
Dollars are accepted at handful of places. Please bring currency exchange.

JJ Express Bus connects the entire Tourist trail of the country. You can rely on them and book at the website directly. Seats are comfortable. Buses are air conditioned. They also provide simple snacks on the way and a bottle of water. There is no washroom on board the bus in Myanmar.
Every destination you visit, you should collect the route map of the surrounding from hotel or hostel. If you enjoy exploring a city by foot, these maps will be your best friends in Myanmar. (Same while traveling in Hanoi and Luang Prabang as well).
Wifi in Myanmar only worked fine in Yangon. Which also means, Inle and Bagan were particularly cases of forced digital detox. You can definitely collect a sim as you leave the international airport at Mandalay or Yangon. (Heho is 2019 was a cute time travel experience. I think we were back in 1960s?)
Mobile sim is priced at $10 and gives upto 10 Gb data. Works for a month. And you can recharge it online.
Cities like Mandalay and Yangon had Grab Taxi (download the app) apart from easy and effective public transport. Rest had quick and cheap transport system, including auto (Tuktuk as you know from Bangkok).
Tourist Visa for Myanmar
28 days validity for single entry
Evisa available for 100+ countries
$50 Visa fee
Myanmar issues e-visa for travelers for entry. Check out this website to procure a Myanmar Tourist e-visa before you go. Generally visa application gets approved in a day's time however, I suggest get you visa formalities done at least a week before.

Evisa for Myanmar costs $50 and valid for 28 days. You shall get an email document which needs to be printed out and presented at the airport during immigration in Myanmar.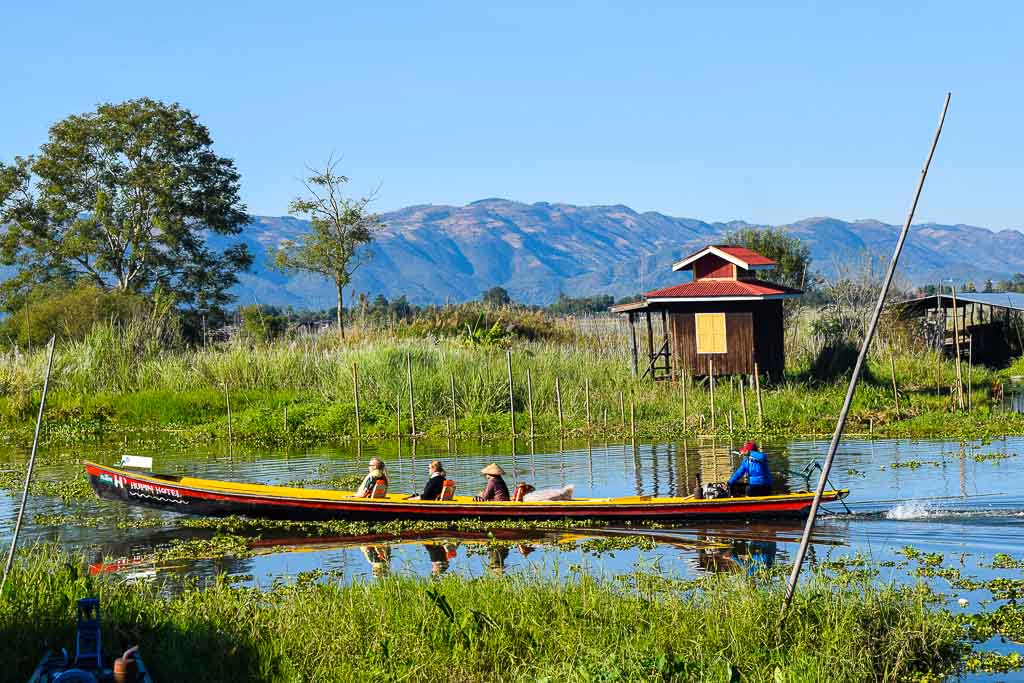 Train travel in Myanmar
Ever since Anthony Bourdain traveled to Bagan in one of those vintage looking Burmese trains, everyone has been hustling to get a taste of that intense cultural experience. And then, it is delightfully economic.

And it is understandably so. Trains in Myanmar has been equated with that of horse carriage by Lonelyplanet, with its characteristic narrow gauge lines, whimsical timing and slow paced movement.
In Myanmar, the most famous tourist route by train is that of Yangon to Mandalay. There are air con coaches and dining car on board. The train system in Burma, very much like India, carries British legacy. However, they are yet to have a Rajdhani or Palace on wheels in the country.

I recommend a train travel if you have a spare day at hand and traveling on budget. Otherwise, stick to the circular train during Yangon sightseeing and hop onto a bus to travel in-between cities. More on that later.
Also read: 20+ scenic Rail-journey across Europe!
Safety and Tourist Permit in Myanmar
Let us face it. Myanmar, like many other Asian countries, is going through a turbulent politics where ethnic communities are protesting against the government with armed uprising. This is prevalent in certain parts of Shan, Kachin state beyond Rakhine which regularly makes headlines in international media of Rohingya persecution.
This also mean uncharted road leading you to hidden landmines and armed groups, which I am not really interested to encounter on a holiday. It is always a good and responsible idea to stick to a tourist trail. For offbeat experiences, even hikes, do hire a local guide.

Locals in Myanmar are the most honest and friendliest lot I have ever met in the entire South East Asia. Please practice general safety precaution if you are a solo female traveler.

Snakes and mosquitoes are not as friendly as locals. So beware of them, and street dogs.
Best time to visit Myanmar
We were in Myanmar in December-January and the weather was pleasant, with a rare nip in the air at the wee hours of the day, as we were chasing sunrise in Bagan or at Ubein Bridge at the outskirts of Mandalaya.
Yangon, like her soul sister Kolkata, was mercilessly sweaty sticky humid. Though Kolkata becomes cold in winter. Yangon was not.
Myanmar has an intense rainy season from June to September which is best avoided if you are keen on exploring nature trails. March to May are the summer months, meaning bright sunshine and scorching heat. These months, in my opinion, are best avoidable for Myanmar travels.
Best time to visit Myanmar is from October to February, with pleasant weather and warm water.
In Myanmar, the annual water festival Thingyan is generally scheduled in mid April. This is the Burmese New Year celebration and a lot like that of Songkran in Thailand.
How many days are needed to travel in Myanmar?
If I could I would have spent an entire month in the country. That is the maximum e-visa would allow me anyway.

However, for those with time constraints, 2 weeks time in Myanmar is decent enough to cover the major attraction of the country. In two weeks, you will be traveling from the north to south, thus experiencing different cultures as well. However, with another extra week added to your Myanmar itinerary, you can very well cover the offbeat attractions like Ngapali beach and Hpa an. More on that discussed later.
Budget for traveling in Myanmar (2 weeks)
We spent INR 60,000 (USD 850) in Myanmar for two weeks apart from flight tickets and visa fees.
We dined at local restaurants, fine dined when in Yangon, traveled in Myanmar bus and one internal flight and explored the city mostly on foot. The major part where we spent money was (and I think you will also end up spending here) at the hotels.

Hotels are expensive in Myanmar, especially in Yangon. Hostels are less in number. Food and activities are rather economically priced compared to that of Bangkok from neighboring nation. Most of the tourist attraction has entry fee.
Mandalaya: Day 1 and Day 2
Explore Mandalay Town by foot/ cycle
The day we reached Myanmar, we spent the afternoon exploring Mandalay's regal relics.
You will have to purchase an entry ticket for Mandalay Archaeological zone at the price of 10000 Kyats which will let you access all the major Mandalay attractions.
We started from Mandalay Royal Palace. There are N number of royal enclosures and it will take at least a couple of hours to see all of them. I had been beautiful Buddhist temples in Bangkok, Thailand and Luang Prabang, Laos. Needless to say the Tibetan monasteries of Arunachal Pradesh and Ladakh are ancient and sombre with inexplicable heritage. Yet, Mandalay palace stunned me!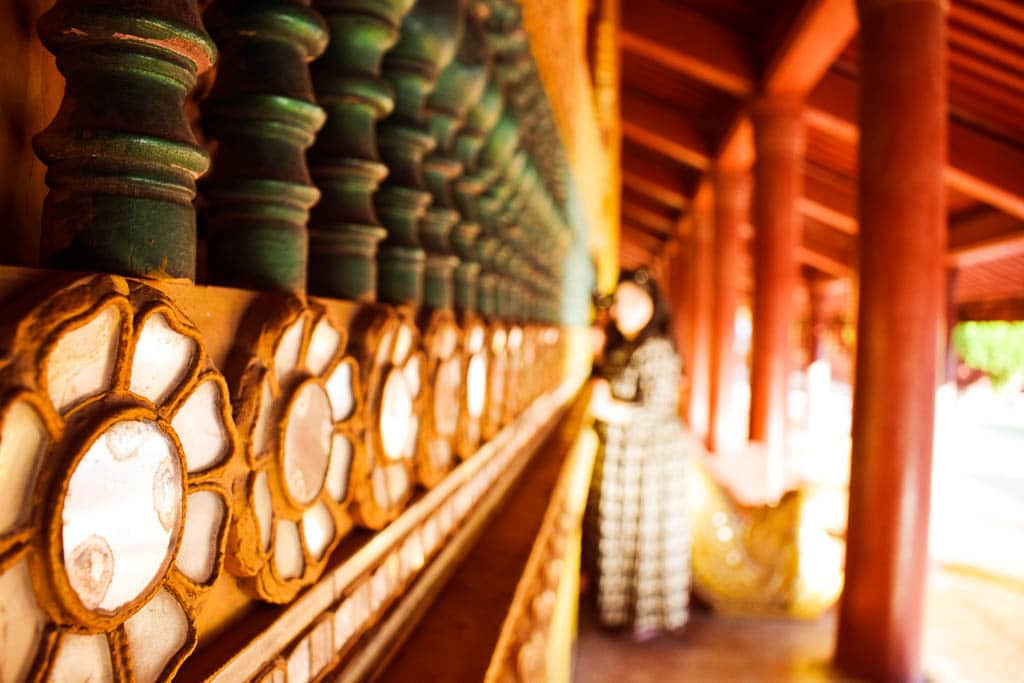 Exquisite work of gold and glass panels adorn the walls, complimented with wood paneling.
Check out the following places located close to Mandalay Palace:
Shwenandaw Palace (former Royal Palace): Burmese teak is widely acclaimed in South Asia. One look at the Shwenandaw monastery and you will know why! Tales of Jataka (lives of Buddha) are carved on the teak wood panels which basically builds the entire monument. Needless to say, it is a few centuries old and a worthy contender for the UNESCO tag.
Mahamuni Pagoda: If a Kasavu saree could have been built into a temple, it would look like the gorgeous Mahamuni Paya, an ensemble of gold and white tones to behold! Also the Buddha statue housed inside in profound.
Kuthodaw Pagoda, often touted as the world's largest book, is basically a cluster of more than 700 Stupas. The gilded pagoda at the center stands as a shining star. Each of this stupa has a marble slab inside, with Buddhist teachings inscribed on it, thus earning it the name, "World's largest book". If you have been to the temple of literature in Hanoi, you shall grasp the idea of Kuthodaw pagoda.
Mandalay hill allows you to have a lingering view of sunset vista over the town.
Mandalay Palace and other nearby monuments generally start closing their doors by 5 pm.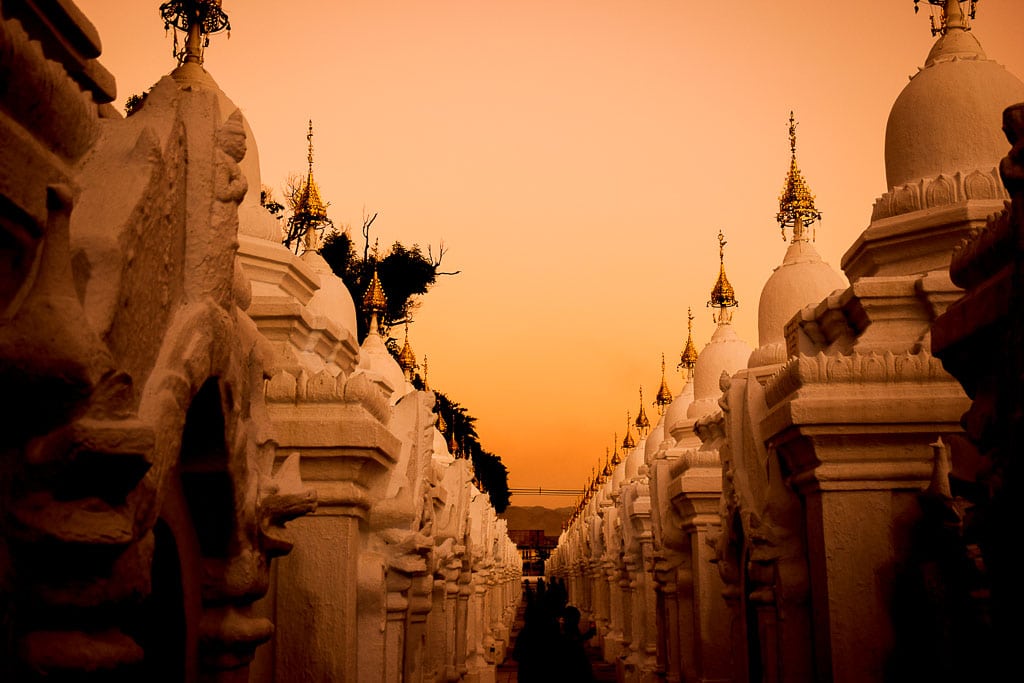 Support the locals in Mandalay: Moustache Brothers
At night we visited the Moustache Brothers show. Often touted as one of the resisting voices against Military Junta, Moustache brother was a tiny shop, which looked like the front room of a household. One of the brothers have died. Performers are mostly family. The remaining brother is now joined by his wife to perform the skits.
Moustache Brother show claims to fame with its humorous critique of the Junta. There was critique about bribery et al, however voices significantly meek against many other brutalities of the regime, including Rohingya Exodus. In the age when corporate media houses are basically government spokesperson, we cannot blame a one man show for a controlled demeanor, can we? Please note, they have been into trouble with the government before for the content of the show. Now the show at Mustache brother is more of a mix of stand up comedy, dance and heritage with a few sprinklings of mild critiques.
Dine at the Chinatown Night market: Lasho Shan Kao Swe, 33rd St, Mandalay
Night markets at Mandalay wrap up early so make sure to be there before 8 pm. They do not speak English but body language is a savior. For example, I ordered a plate of river crabs fried which was too hot (even for my Indian palette). The shopkeeper lady gave me a plastic to wrap around my fingers (that hot, no kidding) and eat those crabs! Kindness from strangers!
If you love fish, Lasho Shan Swe is a heaven. The fish steamed in lemon sauce served with rice is a things of heaven!
This market shows the true meaning of bustling in the morning, which I just glanced past as I was running to board the bus to Bagan. If you have time, I strongly recommend the mandalay China Town for a morning breakfast for an intense cultural experience.
Day 2 at Amarapura, Mandalay
Sunrise at U Bein bridge
The next morning, we rented a Tuktuk and reached Amarapura. At the edge of the lake, an astonishing Sunrise took place. U Bein Bridge, two hundred years old teak wood structure, elevated that experience to a large extent. We were there, alongside a handful of Chinese travelers, and a few hundred locals.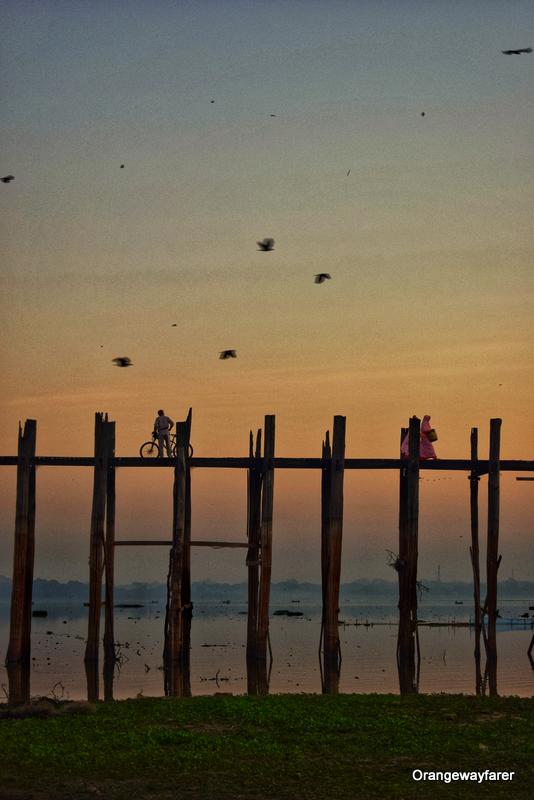 I fear a day will come when these locals will have to make space for an ever growing tourist influx, and their regular morning routine will subside from U Bein bridge experience.
Amarapura also houses Maha Gandayone Monastery. A number of young monks study here. The site of them having lunch is a beauty to behold.
Explore Mingun Pagoda on the other bank of river
The day at Amarapura is best spent while exploring the nearby ancient city of Mingun by boat.
Laze around the bridge for a while. If you are keen on photography, the adjacent flower market is a coveted spot. A typical Burmese breakfast can be enjoyed at the morning market too.
At 9 am, the boat on river Irawadi will start for Mingun. One of the ancient capitals of Burma.
Round trip boat journey will cost you 5000 Kyats. Entry fee to Mingun temple is 5000 Kyats too. The same ticket can be used to access Mingun Bell and the Hsinbyume Pagoda (Myatheindan). The latter is the ivory white Instagram famed pagoda of Mandalay with "Dragon teeth". Ironically, this too was built in the memory of late wife of Bagydaw prince, immortalizing his love for the queen. We have a similar story closer home! Hello, Taj!
Legends has it, Mingun Pahtodawgyi was intended to be one of the largest stupa monuments but the king feared a death bane and abandoned all the work. Time was not kind to it either, an earthquake hit and the stupa now features a prominent crack at the entrance. A reminder to the gnaw of time. Located close to it is the second largest bell of the world, the Mingun Bell. You can strike it with a wooden baton too.
On your way back, you can explore the King Galon Gold leaf workshop show room and Jade market. Jade is a prized stone in entire South east Asia and has found many manifestation in plenty of priceless ancient Buddha statues. If interested, you can check out silklooms and teakwood workshops too. Generally, there was no haggling in Mandalay.
When in Mandalay, you can rent a bicycle to explore the town and rural outskirts. Cost was close to 3,000 kyat (US$2.20) per person for a day.
Considering day 2 in Mandalay starts as early as Sunrise, you may want to take it slow in the evening and spend the night eating and drinking.
Trip to Inwa (Ava) the ancient Town
However, if you are an history enthusiast, I recommend a visit to the former royal capital Inwa (also known as Ava) during sundown. Remember the Mandalay site seeing ticket you bought earlier? This will let you enter this temple cluster.
The traditional horse cart rides are still available though the horses looked famished.
Things to see at Inwa (Ava):
Ancient royal palace, now slowly crumbling down. also known as the leaning Tower of Ava.
Maha Aungmye Bonzan Monastery where brick and stucco style married into each other
Bargayar Monastery made of impressive teak wood curving
The Nanmyint Watch Tower for a lingering sunset view over River Irawadi.
If you have more time at Mandalay, consider following alternate, offbeat activities:
There are beautiful waterfalls close to Myanmar at Dattawgyaik (Anisakan Falls). Dee Doke is another one which reminds me of Kuang Si Falls of Laos.
Train ride to Hsipaw. Hsipaw was an ancient Shan capital and a sleepy town in the lap of northern mountain ranges. Hsipaw is the quintessential hiking capital of Myanmar. However, the train ride to Hsipaw allows you to experience the Gokteik Viaduct. One of the tallest and oldest railway trestle in this part of the world. Guided tours are available from Mandalay if you do not want to take the 11 hours long train journey. At Hsipaw, we recommend this beautiful hotel for stay.
Visiting Sagaing Hill, the Spiritual heart of Myanmar: The Sagaing hil is studded with numerous pagoda, stupa, monasteries. More than 3000 monks call it home. Close to Sagaing, lies Monywa (4 hours drive from Sagaing, hence you should ideally spend a night here). Monywa is famous for a few 500 years old murals in sandstone caves. However, world's tallest Buddha statue adorns the land. Tourists can even climb halfway through the statue.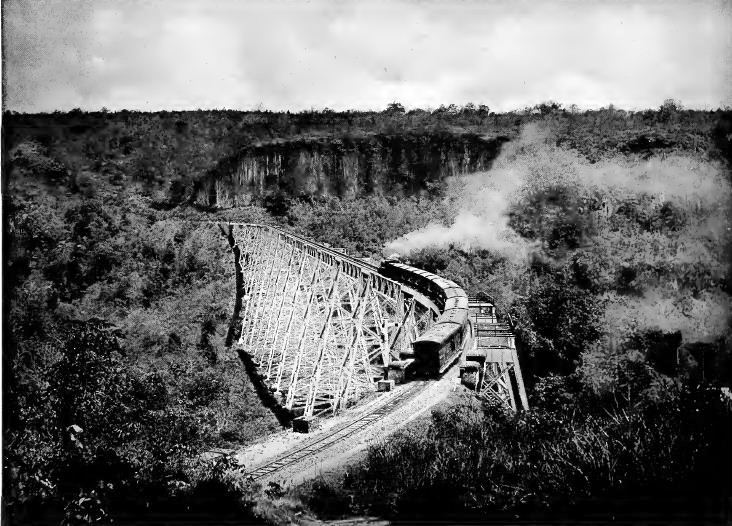 Exploring Bagan (UNESCO World Heritage): Day 3 to Day 5
How to reach Bagan?
We traveled by JJ express bus from Mandalay to Bagan. The bus journey was comfortable, with two toilet and snack stops on the way. It took us 5 hours to reach Bagan. It was reached on time.
Alternatively, you can take a traditional boat and sail down Irrawaddy from Mandalay to the banks of Bagan, the temple town, now a UNESCO world heritage. Burmese kings preferred this leisure cruise.
If you are keen on saving a night, take a overnight bus journey to Bagan. It costs somewhere $12 and reaches Bagan at around 6 am.
The closest airport to Bagan is Nyaung-U, a 20 minutes hour's drive. Train station is available as well. Being the prime tourist attraction spot in Myanmar, Bagan is well connected with Yangon, Mandalay and Inle lake.
Bagan and its outskirts has four major areas: Nyuang U, Old Bagan, New Bagan and the Central Plains. central plains is where the real action takes place! If you want a bit of a nightlife, you must stay at the New Bagan.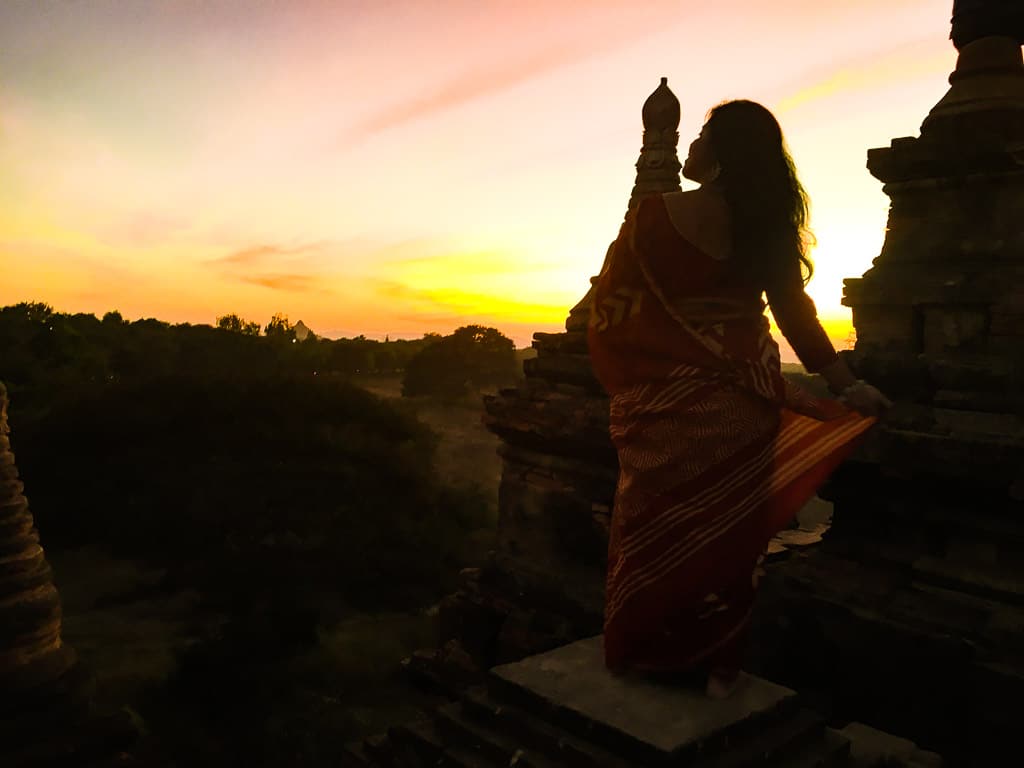 Arid rusty earth kisses some 3000+ ancient Buddhist temples scattered across Bagan. Bagan, the name is derived from a Pali word meaning scorched earth. Once a sprawling capital by the banks of Irrawaddy river and a prime liberal Buddhist study center of South Asia, Bagan fell prey to war and drought consecutively and shrunk to a mere village.
Temples of Bagan are best compared to the ghats of Varanasi. King, nobleman of his court and wealthy businessmen were instrumental behind the landscape of Bagan, which is dotted with Temples, Pagodas, Stupas of various shapes and size. Bagan does not have any local habitat close-by. thanks to tourist influx, New Bagan has grown in haphazard way.
Some of the temples in Bagan are maintained by families and you can only enter inside if they have unlocked the key.
Top travel tips for Bagan
Pay $20 for ticket to Bagan Archaeological Site one time and roam around Bagan as much as you want for next 5 days.
There are numerous temples and you can enter almost all of them. Local families are designated to maintain these temples and sometimes they will show you their paining, and try to sell them. You do not need to pay anything for showing the temple.
Bagan is safe and tourist friendly however after 6 pm it is pitch dark off the main road and best avoided, if not for men but for snakes.
Bagan is best explored on a rented scooty (only place in Myanmar where you can rent a scoory). We rented from the Heritage Bagan Hotel, where we were hosted during our stay in Bagan, and it charged us close to 20k Kyats. Local shops will be cheaper.
Bagan is the best place to buy souvenirs from Myanmar: Clay dancing dolls, umbrella, sand art paining, faux lacquerware, hand spun cotton clothes etc etc etc.
If you are really interested in history, Bagan will keep you occupied for three or more days. Ask yourself if you have been to Angkor Wat in Cambodia beforehand. Bagan is similar with different style of temples on the field. Otherwise, two days are fine for few temple hopping and the sunrise-sunset view in Bagan.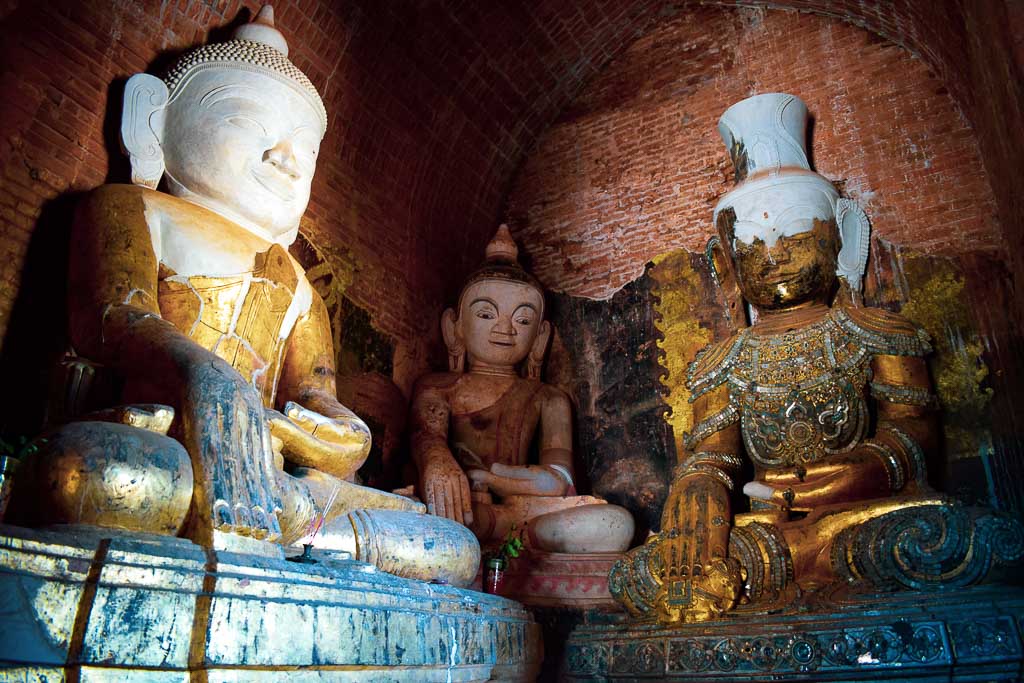 Horse cart rides are available everywhere in Bagan with famished looking horses. have some mercy and let them be. However, I doubt if their master gives them enough food if none rides the horses.
Prominent temples of Bagan
I will soon publish a blog post to help you explore some of the oldest and finest temples of Bagan on a self guided tour. However, here is just a sneak peak to the must visit temples of Bagan!
Shwezigon Pagoda
We started with the Shwezigon Pagoda. The temple heads are gilded in gold and glisten in the sunlight. Shwezigon is standing strong since early 11th century.
The famed Shwedagon pagoda of Yangon had many similarities with this, we later discovered. But the fact that it is open to worship and regularly receives large number of devotees plays a part in this too.
Gubyaukgyi (Also known as Wetkyi-Inn)
Handpainted ancient murals narrating stories of Buddha Jataka are found on its walls. Stucco art decor on its wall is admirable too.
Annada Temple
Among all of these temples in Bagan, the thousand years old Annada temple won my heart. The Mon art inspired white temple houses four profound Buddha statues in the inner sanctum, facing 4 sides, addressing human beings of the world. Annada's Hti (the pagoda top which melts in gold during famed Bagan sunsets) is 52 metre high and soars over the rolling plains of Bagan.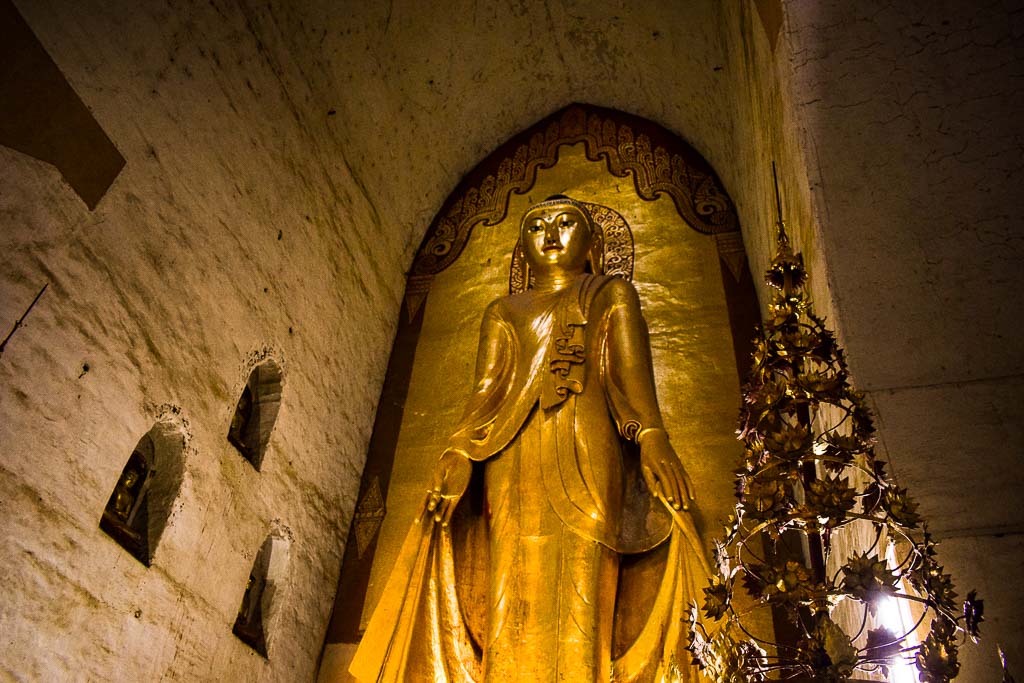 Other notable pagoda and temples of Bagan:
Damayangyi Temple
Payarthonezu Temple
Mon styled Nanpaya temple
Bamar styled Htilominlo,
Apyeyandanar Temple
Lawkannandar temple
900 years old Thatbinnyu Temple (Also refered as "temples of omniscience")
The Sulamani temple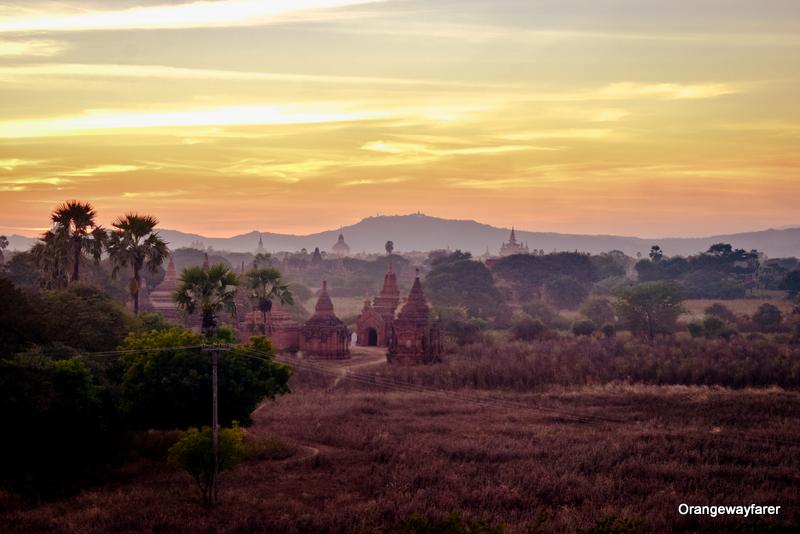 Support the locals in Bagan
In my three days in Bagan, I hardly had the time to go out from the old Bagan area. There was so much to discover, right from the pages of history, at every turn of the road.
However, it is important to address the locals who stuck to the ancient Burmese capital, who had long lost its heydays.
An early morning visit to Nyaung Oo market shall let you interact with farmers from surrounding villages.
I chose to apply some thanaka on my face like the locals do as natural sunscreen. It is derived from the bark of certain trees. Usage of Thanaka is most prevalent in Bagan. Mani-Sithu Market is another choice of local market, with almost same variety of fresh produce.
Many choose to visit the local villages close to Bagan, Min Nan Thu Village (more used to with tourists), Phwar Saw Village (slowly gaining a place in tourist map). It is very much like regular rural visit, which in my honest opinion, was very similar to those in India, with people speaking different language and Cigar being hand rolled instead of Bidi.
Catch the Sunrise and Sunset in Bagan
Pretty much every tourist in Bagan wants to climb one of the old temples and shoot a Sunset or Sunrise. It still is, with more stringent government rules being applied to save the old structures. Honestly, I appreciate it. Those crumbing thousand years of temple tops in Bagan are not prepared yet to receive truckload of tourists ready to go any extent to shoot that perfect sunset.
All the blogs I found on internet were basically outdated, hence I would not mention any name of the temple where you can climb and shoot Bagan Sunset. However, there are few designated spots which still receives tourists and stages a beautiful sunset over Bagan plains.
Bagan Tower: View was decent.
Sunset viewed from a boat on Irawardy river. I loved it. I always love rivers so that way it has to make it to the list. yet, this may not be the best spot if you are keen on catching sunset rays spreading over the temple top.
Hot air Balloon ride over temples of Bagan. It is expensive but it IS the best thing to do in Bagan. I did not get a spot because tickets were sold out. I suggest book earlier if you are keen.
The following pagodas were open when we visited for sunset viewing, however they may not be open to receive guests any more: Ta Wet Hpaya Temple, Utrecht Temple, Buledi temple.
The best Bagan Suset shot I could manage in bagan was near a local market. There was a pagoda open at that point of time for climb, the locals pointed it to us. We climbed, alongside 25 other people and was constantly worried if something breaks. A few young boys helped with torch light and immediately asked for money. We did view those post card perfect sunset but that experience was not very commendable.
Eat your heart out in Bagan!
Bagan had the best variety of food available. From Indian to Italian to cute cafes and local food, you name it and you get it in Bagan.
Golden Bagan: The best place to eat in Bagan. Not just because they serve KACHIN food but also the owner is extremely generous and kind. He does not speak English but he fed us the best food in entire Myanmar, for two consecutive nights. It should have been on the main road for more people coming in nonetheless, this calls for at least one visit when in Myanmar. The same street also has a coupl of foot massage parlours, fish spa etc. Find it on map.
Black Bamboo: Just opposite Golden Bagan. More expensive than nearby cafes but set up is very pretty. Perfect place to celebrate a romantic date night in Bagan.
Sharkys: Run by an European lady, this one can double as a digital nomad hub in Bagan. Serves mostly European food with burger and Fondant etc. Loved the atmosphere. Suggest going in the morning.
La Terezza: Who knew we will have the finest pizza of Southeast Asia in Bagan. Another family run place and serves delicious pizza in Bagan.
Squid curry sold at 7 sisters is highly acclaimed by foodied in Bagan. ALso try fried shrimp by the banks of Irawardy, from where those boat rides starts.
Also read: India's Far east, road trip from Guwahati to tawang in Arunachal Pradesh
Day trip to Mount Popa from Bagan: Day 6
Located at an hour's drive from old Bagan, Mount Popa is an intense cultural experience, especially if you are game for a not very challenging hike.
You can catch a bus to Mount Popa from Nyaung U Highway Bus Terminal for 1500 Kyat. Rented taxi for the whole day should cost you close to 30000 Kyat. Most hotels in Bagan can also arrange for an organised tour upon request.
A volcanic monolithic rock stands with a monastery named Taung Kalat on top of it. The monastery is home to 37 Nats (spirits worshiped in Myanmar and other Buddhist countries in Southeast Asia). 777 steps are to be climbed in bare foot to ascent the mountain. Views are extremely rewarding from the top of it, with eyes stretching as far as the plains of Bagan on a clear sunny day.
However, the real challenge lies with your skills to maneuver your way through the wild monkeys. Not just a group of them, at certain steps. Monkeys at Mount Popa have unabashedly claim the entire staircase, marking their territory with feces and urine, often dried up and littered across the floor, which mind you, needs to avoided as you make your way up barefoot.
Last I heard, they have taken the monkey poop critique seriously and have employed cleaners too. I reckon it is a good practice to carry small changes as well, to tip them en route the peak.
Mount Popa is also known as Monkey Mountain. I am scared of monkeys and if you are too, you can avoid the trip. Physical exhaustion coupled with monkey fear is not the best travel experience. But then, the views are to die for. Especially at Sunset. Sunrise too, if you are staying here overnight. Mount Popa has an exquisite resort located close by with an infinity pool looking over the rock.
You can choose to stay at mount Popa for a night and return to Bagan the next stay and continue with your trip further.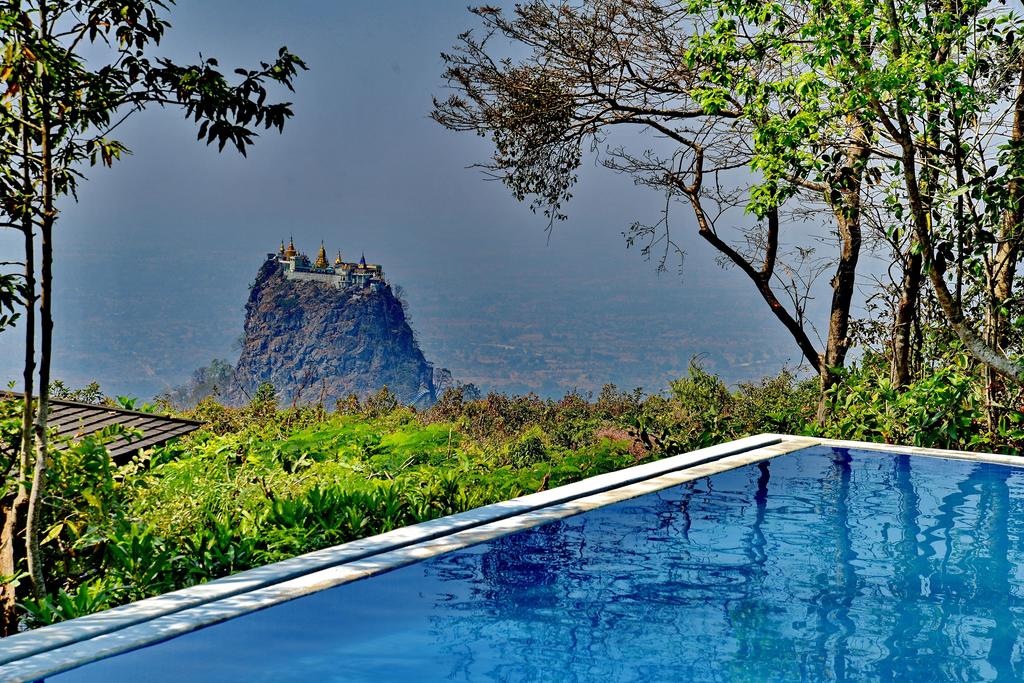 Mount Popa is open for climbing from 8 am to 3 pm. Entry fee is $5 per person.
Kalaw: Day 7 and 8
For hotels in Kalaw, check out Booking website.
Fancy a trek through dense green foliage that opens to one of the most astonishing water body on the Earth? Head towards Mount Kalaw and embark on an epic three day trek to Inle Lake. You can also choose a 2 day 1 night trek. You get to stay at the home stay en route. Ensure you are doing this during dry season to avoid muddy slopes. Physical fitness is required for this trek.
How to reach Mount Kalaw
From Bagan, Yangon or Hsipaw (in case you are coming from the north), buses plying towards Nyaung Shwe (starting point of Inle Lake) will make a stop near Kalaw town. A slow train operates from the nearby town Thazi. Nearest airport is Heho from where shuttles ply. Train journey, though slow, is very rewarding with views of verdant valleys.
Things to do in Kalaw if you are not interested in Trekking
To be very honest, without trekking and experiencing the beautiful countryside of this Shan state, Kalaw does not have anything drastically different to offer. Also, trekking is Kalaw allows Shan community to get direct benefit from tourism. Trekking cost is anywhere close to $50 with food for three days.
During this trekking, you will walk 60 km over 2 days, and there is no steep incline. You can also deposit your luggage which will reach Inle lake separately. Uncle Sam is the one who has gathered quite a nice reputation for conducting trekking in this route. However, there are plenty of other shops where you can get a guided tour from.
Apart from trekking, you must explore the Central Bazar of Kalaw. Watch them hand roll cigar. Sell fresh produce in abundance. Sample delicious Shan cuisine, eg banana wrapped steamed fish. Laze around at the tea shops and go out on one of many hiking trails around the town (Cloud Hill is one nice hike).
Mount Kalaw houses a beautiful elephant sanctuary, which did not start to cater tourists but truly with the intention to rehabilitate Timber elephants. It is named as the Green Valley Elephants Camp where old elephants retired are now housed. Visit is priced at $100. Time is from 9 am to 3:30 pm.
Inle Lake, UNESCO World Heritage Site of Myanmar, Day 9 and 10
Lake Inle is the most beautiful natural spot in Myanmar and definitely features in my list of top 5 destinations in entire South East Asia. I loved Inle and I could live by this pristine and massive water-body for the rest of my life, despite adjoining town Nyaungshwe being one of the overtly touristy town with pushy boatmen and vendors.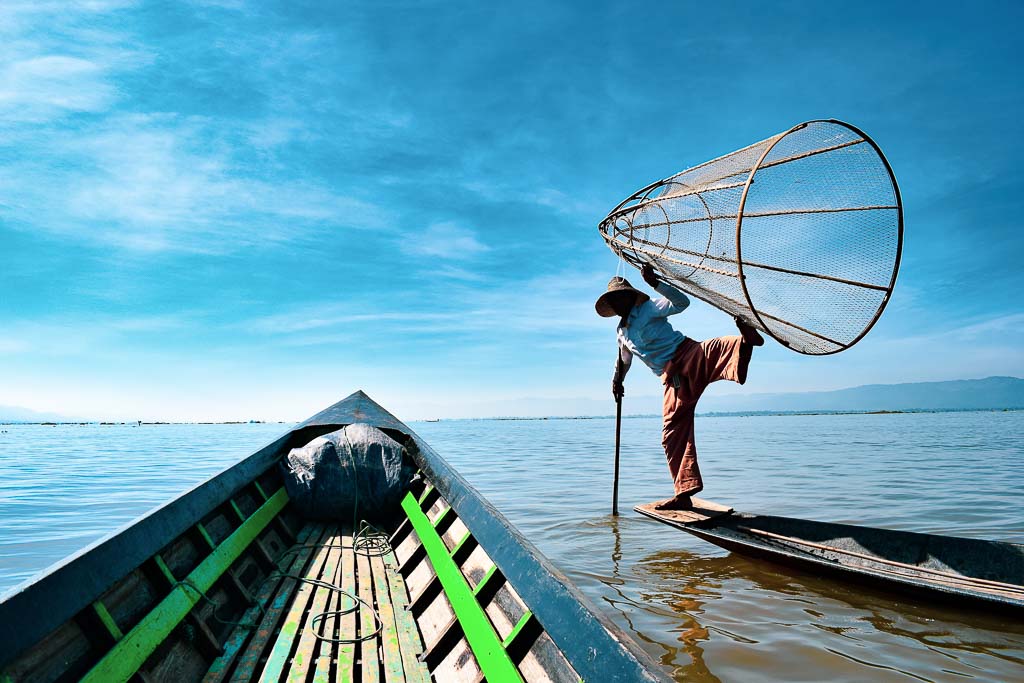 How to reach Inle Lake
The town located by the banks of Inle lake is known as Nyaungshwe. It is where you will live for next few days and laze around apart from taking boat rides.
Bus: Upon reaching Nyaungshwe, you can rent a local rickshaw and reach your hotel. We used JJ Express Bus service.
Train station: Shwe Nyaung is the nearest staion and from the station, Inle is another 12 km drive.
Airport: Nearest airport to Inle Lake is Heho. From there, Inle is an hour's drive.
Where to stay at Inle: On the lake or at the Nyaungshwe town?
When we were traveling, I found hotels on the lake were all closed. Probably a bad season. However there are hotels on the lake, quite a few luxury ones. Staying on Inle lake does not really go well with my style of travel, so I would probably choose only a day if I stay at all. But I preferred my stay at the Spring inle Lodge, Nyaung Shwe.
Quick Travel Tips for Inle
Swimming at Inle Lake is strongly discouraged since a large population live nearby and the trash from the soceity eventually finds a way into the lake. It can make the swimmer very very sick.
The boat ride is usually scheduled for day long and generally comprise of visiting very touristy places, like cigar factory, lady with lock neck ready to pose for a few penny, silk weaver etc. I almost gave up until the tour began, upon requesting the boatman repeatedly. Be sure to tell your boatman what you want to see.
The southern part of Inle lake, also known as Shankar (22 KM waterbody so it is HUGE) is not touristy and is accessible depending on water level.
At Nyaung Shwe, you can rent a bike to explore the hidden trails of countryside. We cycled around the town till late night and loved it!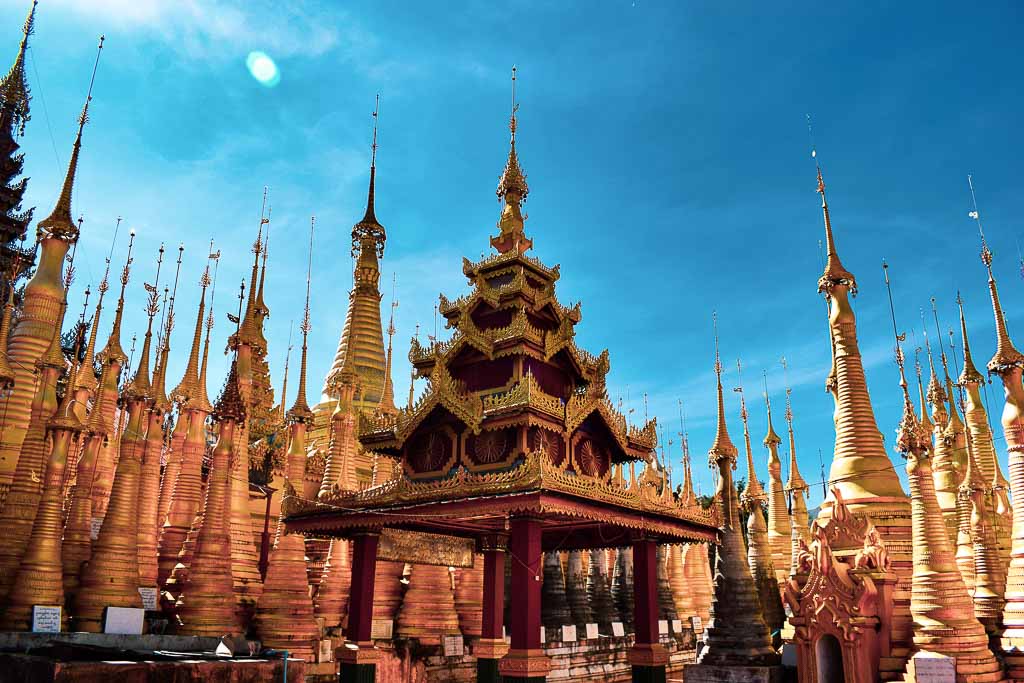 Day one at Inle Lake has to be on the water on a boat. While shared boat from the canals will charge you anywhere close to 5000 Kyats, the standalone boats can go upto 30000 kyats. Be sure to tell the boatman what is it you are looking for. There are plenty of local life and pagoda waiting to be discovered by the edge of the lake.
The southern part of the lake still an true uncharted map. It takes almost three hours one way to reach that place while scenic rural Shan life unfolds by the edge of the waterbody. Boat prices are on the higher side (think $40) and plays along demand cycle.
If you are going with the regular route, be sure to visit Inn dein Pagoda for a short hike off the shore. It takes at least an hour to explore the area. Plenty of old temples and stupas are erect here.
Hot air balloons fly over Inle lake at Dawn and demands prior booking.
From the boat, you shall see a lot of floating gardens, Intha fishermen, who now fish less and pose more in front of tourists for tipping, stilted villages, migratory birds.
At the heart of Inle located is the iconic Phaung Daw Oo Pagoda. During Inle Lake Festival in October, the regal barge ceremony of this monastery is a site to behold.

Kak Ku Pagoda is a cluster of golden gilded old Buddhist tombs located at a distance of 3 hours car drive. If driving to Kak ku, you will need at least 6 hours, thus taking almost half a day.
Take up a cooking class and learn nuances of Shan cuisine. Shan cuisine has rice as staple alongside many fresh herbs and fresh fish from the lake.

Red Mountain Winery is a short outing for the day where local wine is produced and tasted. If you have a few days at Inle, do consider a sundowner here.
The banks of the Inle Lake houses a rotational five day market with local tribeman. The Pa-O, the Paduang and the long neck Kayan tribes women with brass hoops on are some of the tribes from nearby hills, who come down to sell locally grown spices, vegetables, livestock, carvings and handicrafts. However, it is fast changing with more tourists heading in with camera and ready to pay for staged expressions.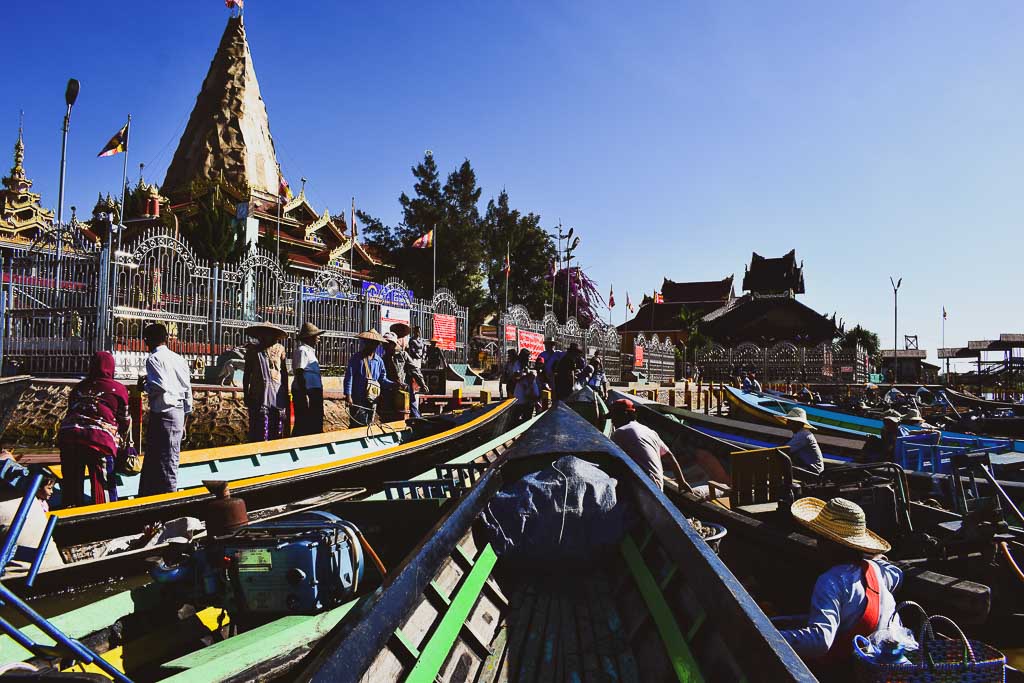 Two days in Inle are best experienced on water on the boat, occasionally getting down to explore villages and monasteries and hopping on back to the boat, and be on the water again. Once, we went out on a short cycle ride and accidentally discovered a beautiful cafe named La Riziere Buvette (find it on map). I recommend this place for a stunning sunset view at Nyaung Shwe.
Also read: The most beautiful beaches in Thailand!
Yangon, Rangoon the former Burmese capital, Day 11, 12, 13
I am a Calcutta girl. I fell in love with Rangoon at once. Oh, they call her Yangon these days.
We spent a good stretch of 5 days in Yangon, walking on her forgotten alleys, exploring old wooden bungalows, visiting the tomb of Bahadur Shah Jafar, the last emperor of the great Mughal empire, "Hindustan ka Badshah" whom the British did not bury on his own soil. I could picture the face of Kolkata high court at her namesake in Yangon. I could see hear proper British vowel being articulated at the pillared halls erect by the Yangon river. I walked and huffed and puff. It was January and I sweated. Kolkata whispered in my ears, "Palabar poth nei", until I discovered a shop selling Rosogolla.
It was no surprise that I would fall in love with Yangon.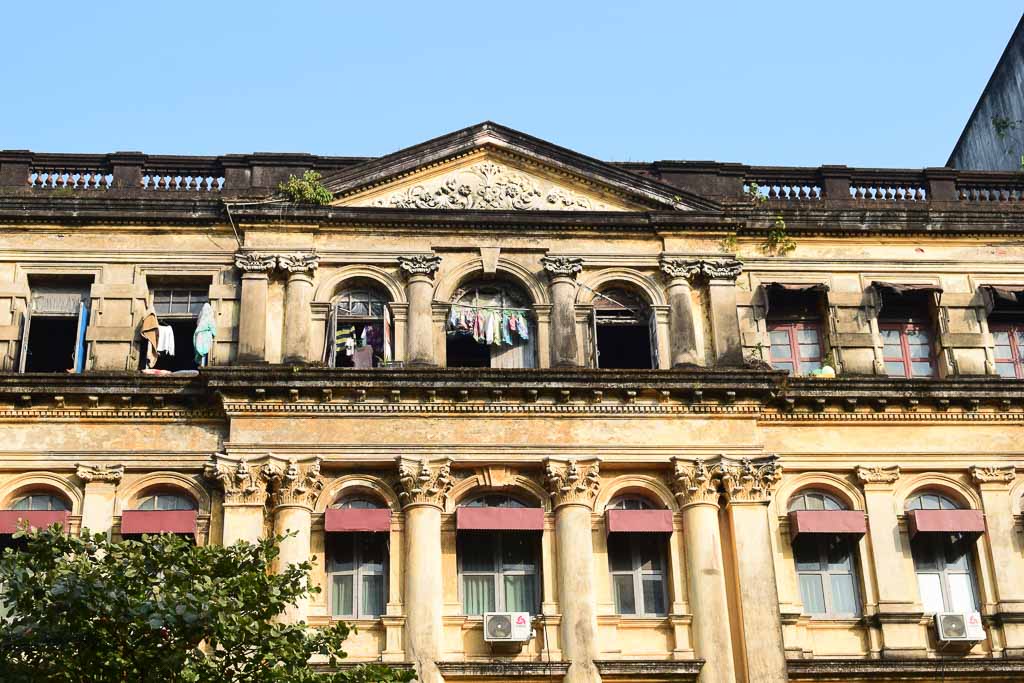 Yangon offers a bountiful of cultural experiences, spanning from ancient pagoda visit to tasting different culture. Colonists have left Myanmar but their remnants can be traced back in pockets of local cuisine.
I suggest, keep a day for visiting the iconic Shwedagon pagoda (2500 years old) and the other days for exploring the colonial heritage of Yangon. Entry fee to this Pagoda is $10 and the ticket is valid for three days. The stone flooring of the pagoda was changed to heat resistance tiled floor when we visited. We learnt donation was made from Indian PM's fund.
Of course Yangon is best explored on foot. You can get in touch with Golden Harp, who runs different walks with the help of former political prisoners.
The century old Bagyoke market is the thriving heart center of economic activities at downtown Yangon. Number of shops selling exquisite fabrics, jade stone and studded ornaments, masks outnumber outside vendors. The market is closed on weekends and national holidays, so plan your visit accordingly. At a walking distance a local market thrives, which I loved.
Pristine Kandawgyi Lake is tucked away at one part of the city where Karaweik floats. This is a royal barge now turned into a buffet restaurant.
The Circular train ride in Yangon: Circular train of Yangon is what bullet trains of other metro cities, only it runs patiently, waits at every neighborhood and lets life paint its myriad colors on board. The Circular train in Yangon is one of the best cultural experience of Myanmar. Priced at 200 Kyat, the circular train ride takes 3 hours to circumnavigate Yangon. You can start from Sule pagoda and get back to Sule or get down anywhere in the middle. Run time is from 6:10 to 22:00. Pro tip: start early.
Visit to Dhala on the other bank of Yangon river is an adventure in itself. The jetty on Pansodan Street sells boat tickets for Dhala, from which you can visit Moe Goak Buddhist monastery.
The best place to dine at Yangon is the thriving China Town, especially at night. Golden Dragon ,99 Shan Noodles, Rangoon Tea house are other noteworthy places in Yangon for a foodie.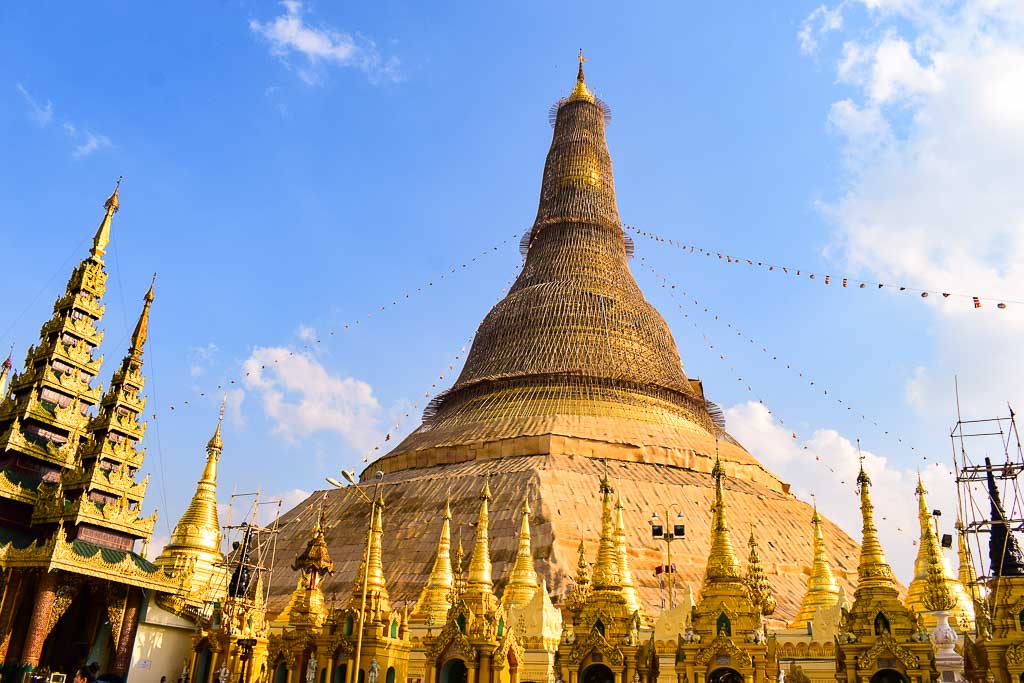 Then, a golden mystery upheaved itself on the horizon – a beautiful winking wonder that blazed in the sun, of a shape that was neither Muslim dome nor Hindu temple spire. As it stood overlooking everything it seemed to explain all about Burma. Kipling on the first glimpse of Shwedagon Pagoda, Rangoon.

Excerpt from Kipling on Shwedagon Pagoda
Other attractions in Yangon
Sule Pagoda (existing since the time of Buddha, older than Shwedagon)
World War 2 cemetery (Taukkyan war cemetery, and there is a smaller one at Yangon. Plenty of Indian names fallen during WW 2 as employee of the British military)
San Pya Fish Wholesale Market- 24 Hr fish market
Marionette puppet show
Chauk Htat Gyi Pagoda (reclining Budda)
Hlawgaw National Park (basically a zoo and can be avoided)
Saint Mary's Cathedral
Musmea Yeshua Synagogue.
Aung San Suu Kyi's House
a traditional Myanmar massage
Have a Mohingya Breakfast (traditional Burmese fish noodles)
Also read: Offbeat things to do in Goa!
Trip to Bago & Golden Rock: Day 14
Bago, yet another ancoient Burmese capital is housed at only a distance of two hours journey from Myanmar. The town houses religious shrines for which devotees accept hardship of traveling from distant corners of the country. The giant golden stupa at Shwemawdaw Paya and temple of reclining Buddha, Mahazedi Shethalyaung Buddha are notable among many.
However, close to Bago is housed the iconic Golden Rock. A giant rock strangely finds an equilibrium at the edge of a dangerous leap and sits still at the Valley of Kyaiktiyo. Legend has it, a strand of Buddha's hair protects the valley from an unlikely event of the rock rolling down. Golden rock is an hour's combined tuktuk and truck drive from Bago, followed by a barefoot hike (remember Mount Popa?). However, please be warned, after visiting Bagan and likes, a full day's exhaustive trip to Bago may turn out to be underwhelming. the bus to yangon finds its way back from Bago at 5 pm.
If you can, squeeze out a day or two and combine with the last day to visit Ngapali beach instead. More on that in the next section.
Day 15: Fly out of Yangon
The 2 week long itinerary of Myanmar comes to an end at this point. You can tweak it a little and adjust a few days here and there depending on the activities that interests you. Generally speaking, if trekking is not your thing, you can still do Myanmar Big 4 (Mandalay-Bagan-Inle-Yangon) and add on Ngapali beach to it. In case you are headed towards Thailand, add on Hpa An to it and overland to Thailand. Either way, experiencing Myanmar for the first timers feels a lot like reading the pages of an unread epic.
Head to Ngapali (alternative option)
Check out Hotel in Ngapali in Booking.
Myanmar has an unspoiled long-stretched shoreline which has largely remained off limits for tourists. Lack of infrastructure and heavy competition from neighboring Thailand has somewhat shadowed Burmese beaches. However, Ngapali is slowly making its presence felt as a relaxing beach vacation in South East Asia. A number of hotels are being built. learning from impact of over tourism, Ngapali is not in a rush to bring tourists. Here, you can expect to laze around the beach as local fishermen set out of a boat to collect day's catch.
Thandwe is the closest airport to Ngapali beach. Pearl island is a popular day trip from Ngapali.
Nhapali is an ideal spot for a beach holiday after a whirlwind trip of the country. Stay at one of the resorts for last couple of days before you fly out of Yangon.
If you are pressed for time and still looking for a quick beach vacation, consider Ngwe Saung , located at a distance of 6 hours drive from Yangon.
With time in hand and looking for a more exciting beach vacation, head out for Myeik/Mergui archipelago ,a UNESCO site at the extreme southern tip of the country. Often termed as the lost Asia, meaning Asia before economic boom, Myeik is one of the best dive spots in this part of the world.
Explore pristine Hpa An
Check out hotels in Hpa An on Booking.
In case you are making your way to Thailand (or entering Myanmar from Thailand by bus), do include this pristine town in your Myanmar itinerary. Hpa An is best known for stunning visa as viewed from the top of Mt. Zwegabin, especially during Sunrise. Monkeys do claim their share of the hike but are far lesser in number (so far). Not many tourists visit this place either, hence Hpa An remains one of the offbeat destinations in Myanmar. For the sunrise hike, you are required to start as early as 3 am.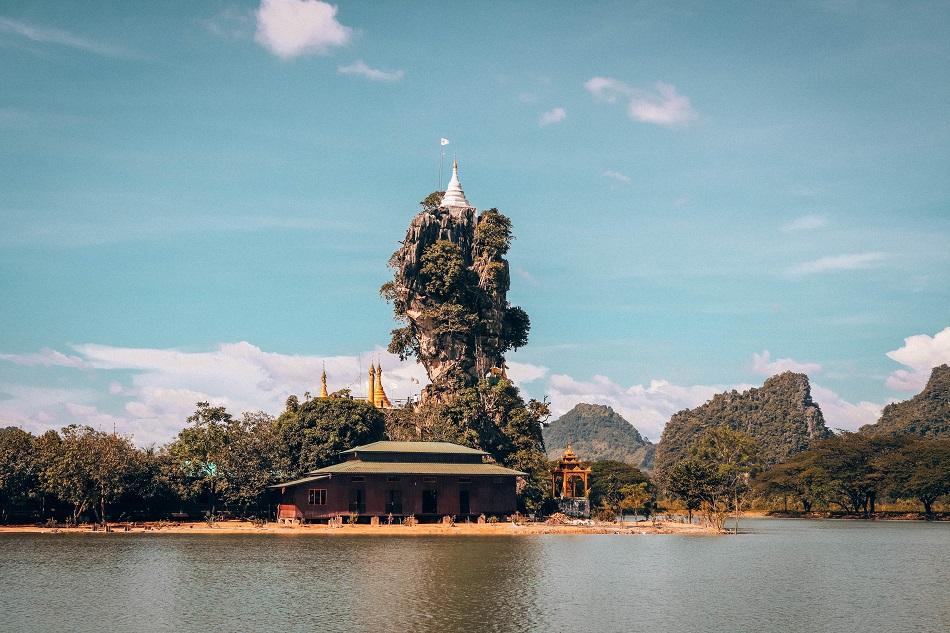 From Hpa An, many choose to go with a river trip to Mawlamyine. the world's largest reclining Buddha is housed nearby.
Loved it, pin it for later!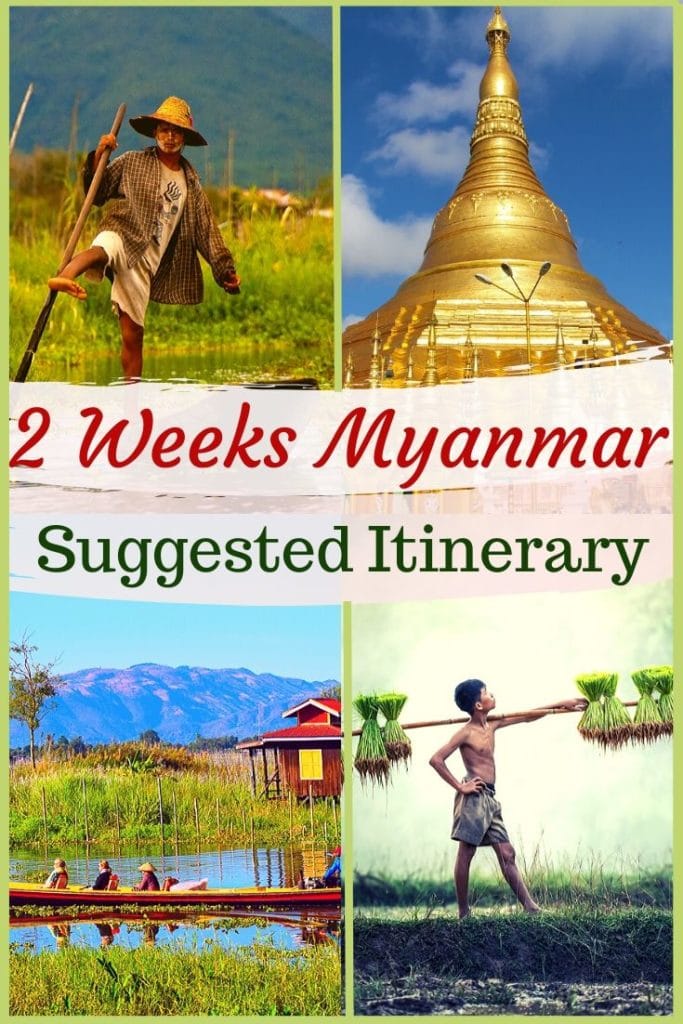 Let's stay connected on Facebook, Instagram, Twitter!
This post may contain affiliate links. Please read the disclosure post. If you have liked the article, you may support it by buying using these links without any extra cost to you.