About this blog: Seven days in Goa is a decent amount of time to design an itinerary brushing past Goa's beautiful beaches and ancient heritage of ruins and churches. Needless to say, there are plenty of offbeat things to do in Goa which require a slow and immersive travel time. However, consider 7 good days to explore the state's breathtaking beauty and indulge in fine coastal sea food that shall compel any gourmet to fall in love with Goa!
Please note, this week-long Goa itinerary is helpful for a first time visitor in Goa. It is packed with activities and day trips. If you are planning to relax, may be skip a few day trips and head straight towards South Goa, or Ashwem beach.
Read all the blogs related to Goa Travel!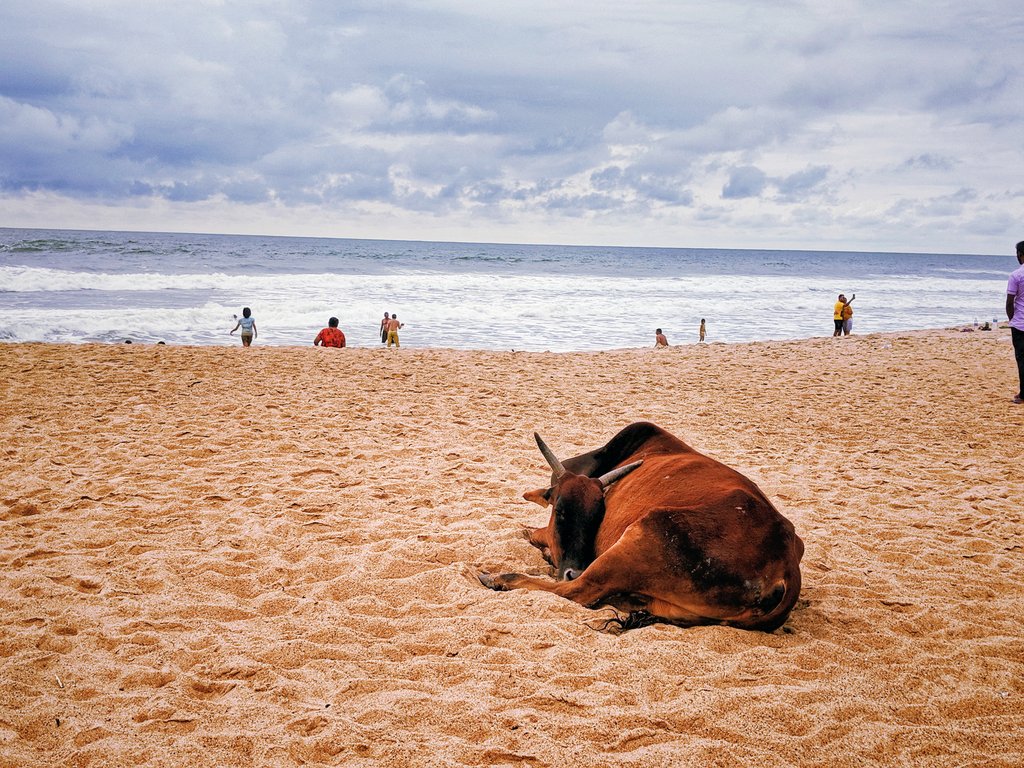 By the shore of Arabian Sea, Goa, a small Indian state sits pretty on the Western coast. Aside numerous pretty beaches dotting the sea, Goa unfolds luminous layers of history for a curious soul. A walk on the old Goa's narrow cobbled (and UNESCO heritage) streets tells volume on the 450 years of Portuguese colonial past. Tambi Surla, a Shiva temple hidden on in the forest of Bhagwan Mahaveer Sanctuary has stories to tell from another era. Beyond the sunny long stretched shore of Baga and Candolim, Goa keeps her secrets in the lagoons and backwaters of Mandovi river. It had always been my dream to travel to Goa for seven days. When I finally did, I wished if only I would have had another couple of weeks to explore all the splendors the state has on offer.
7 days in Goa needs to be allocated wisely!
Just to give a rough idea before I explain this 7 days in Goa Itinerary further, Goa can be segmented in 4 parts. This includes the most beautiful beaches of Goa. You may explore some of them in a long weekend vacation to Goa as well!
Baga and Calangute: The two beaches on the North Goa are strategically located closeby. This is where maximum number of tourists visit. These beaches are usually crowded on tourist season (super crowded on long weekends). However, there are plenty of activities, cafes, places to stay. Expect to pay tourist price for everything.
North Goa: Beyong Baga, there are beautiful beaches at the wee end of the north. Consider Arambol, Ashwem, Mandrem. They remain pristine and away from the hawk eye of vendors.
South Goa: Away from everything, South Goa holds the true secret of freedom, which gave Goa its fare share of fame. beaches, forts, hikes and plenty of unexplored regions lies here. If you seek quaint, you must visit South Goa!
Panaji: The capital of Goa, houses only a couple of local beaches. Panaji is where you will be heading if you are in Goa for work. Despite a lack of beach life, Panaji is famous for old Latin quarters, UNESCO heritage churches and vibrant local life.
Also read: First time in Goa? Read this detailed guide to prepare for Goa travels!
Day 1: Reaching Goa & Stay at Baga
Stay at Baga, Dine by the beach
Assuming you are flying into Goa, you are ideally to reach Dabolim airport at the start of the day. If you are late, say reaching by 10 pm or so, it may be a challenge to get a mode of public transport to Baga. It is best if you get in touch with you accommodation provider.
Kadamba line of AC bus fleet runs at least till 6 pm. However, public transport in Goa is still in its nascent stage.
If you are traveling by train, you have plenty of cabs to hire from the station itself. indian railway stations are identical that way.
It will take at least an hour to reach from airport to Baga.
Reserve this day for rendezvous with the beach. Expect a glorious sunset.
Secure a seat by the beachside restaurants. Ratnakar is a fine choice if you like sheesha and alcohol with high streaks of energy. Tito's is more famous among the tourists. Do make a reservation before you visit.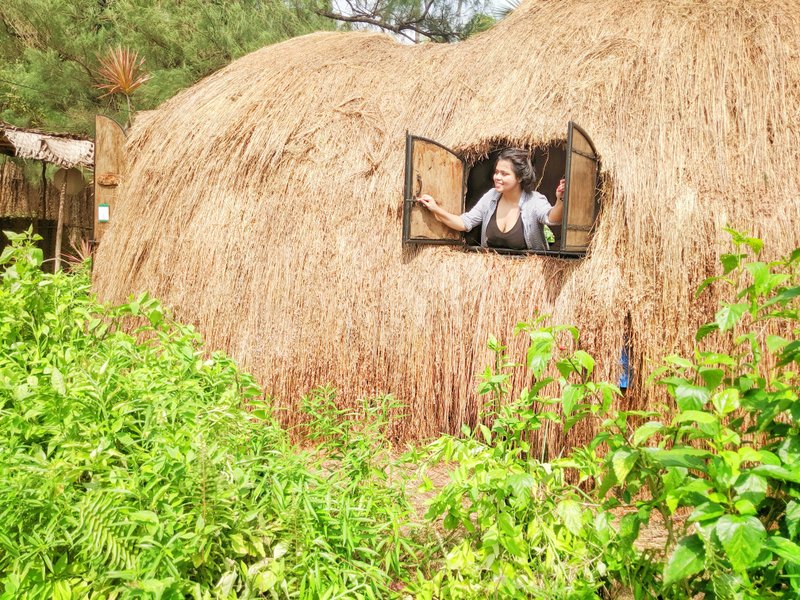 Alternatively, Goa also houses India's only casino ships close to its shoreline. Since gambling is prohibited on Indian land, these casino ships are permanently anchored on the sea. They ensure even the rough waves of monsoon very well. I visited Deltin Royal Cruise on the fateful night of Cyclone Kyarr and did not feel a thing. The next morning, the fallen coconut trees of the Ashwem beach narrated the story.
Anyway, experiencing a cruise liner is a prized deal. The ship has various games on-board and forms of entertainment aside a large buffet. Sparkling goblets of wine galore everywhere. I did not find the food amusing though. If you like to party the night away, the Cruise liners of Goa will be your best choice!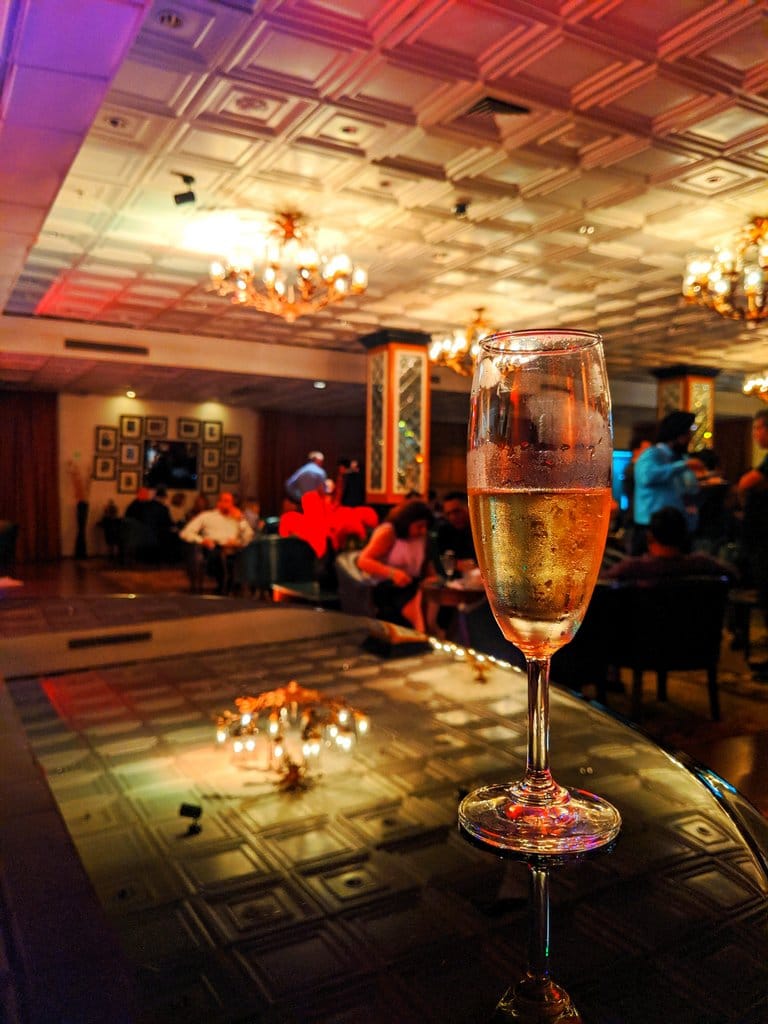 Also read: A week in Shillong, Meghalaya, amidst clouds, valleys and flowers.
Day 2: Birding at Salim Ali Sanctuary, Divar Island & Latin quarter at Old Goa UNESCO sites
Birding and heritage walk in Old Goa
Since Goa will have you for good seven long days, we will allocate a day for the hinterlands of the coastal state.
Wake up early and head towards the Divar island, Goa's largest riverine island on Mandovi river. Ironic because in Konkani language, Divar means small.
Home to an exclusive high class wellness resort Mercure Devaaya, Divar island is intense on local heritage. Timeless Portuguese bungalows sleep under the shadow of banyan trees. Old churches and quaint little sleepy neighborhood covers Goa's Mantra for peaceful life, Susegad.
Next to Divar island, lies Chorao island, connected by Ribandar ferry. Chorao island houses the famed Dr. Salim Ali Bird sanctuary. I think this can be a great educational experience for kids too. From mangroves to crocodile and mud-skippers & crabs, all join in to celebrates the fast depleting bird population.
Best time for birding at Salim Ali Bird Sanctuary: 6 am to 8 pm. "Afternoon no bird", told me the guard at Mercure Hotel.
Some species of Birds that can be seen at Chorao island: Brahminy Kites, Egrets, Heron, Little Black Cormorants, Paradise fly catcher, Kingfishers, woodpeckers, Drongo etc.
No cost for passengers on the ferry. INR 10 for vehicle, in case you are bringing in a cycle. There is a ferry at 6:20 am.
If you reach early, you will find a guide, who shows around the island on a private boat and charges a fee.
Also read: A travel guide to Dandeli, North Karnataka's birding paradise!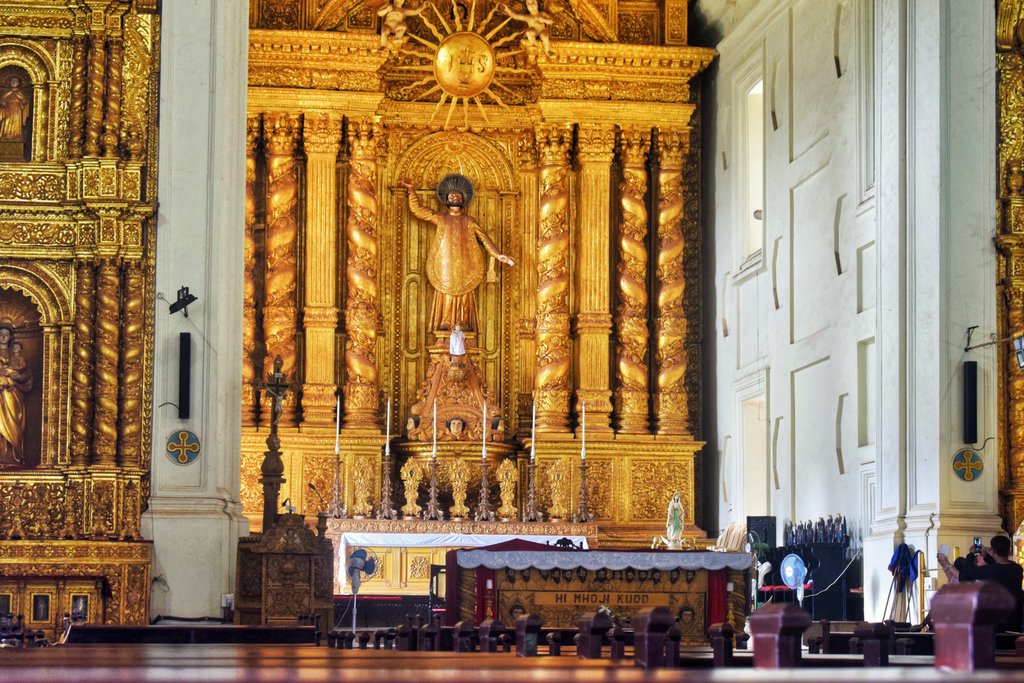 On the way back, make a stop at Old Goa. Also known as Velha Goa, this is listed as WORLD UNESCO heritage site for cultural heritage of its numerous churches! It is also one of the first seats of Catholic Christianity in India.
Goa, during the rule of Portuguese was hailed as the Rome of the east. One look at the remnants of the Old Capital of the Portuguese in India, and you will know why.
Velha Goa houses some of the country's finest cathedrals and Churches. Be it the whitewashed Se cathedral or the humongous Basilica of Bom Jesus, they are grand in structure, and stand witness to Goa's regal past. A catastrophic plague outbreak and subsequent invasions led to Velha Goa being abandoned.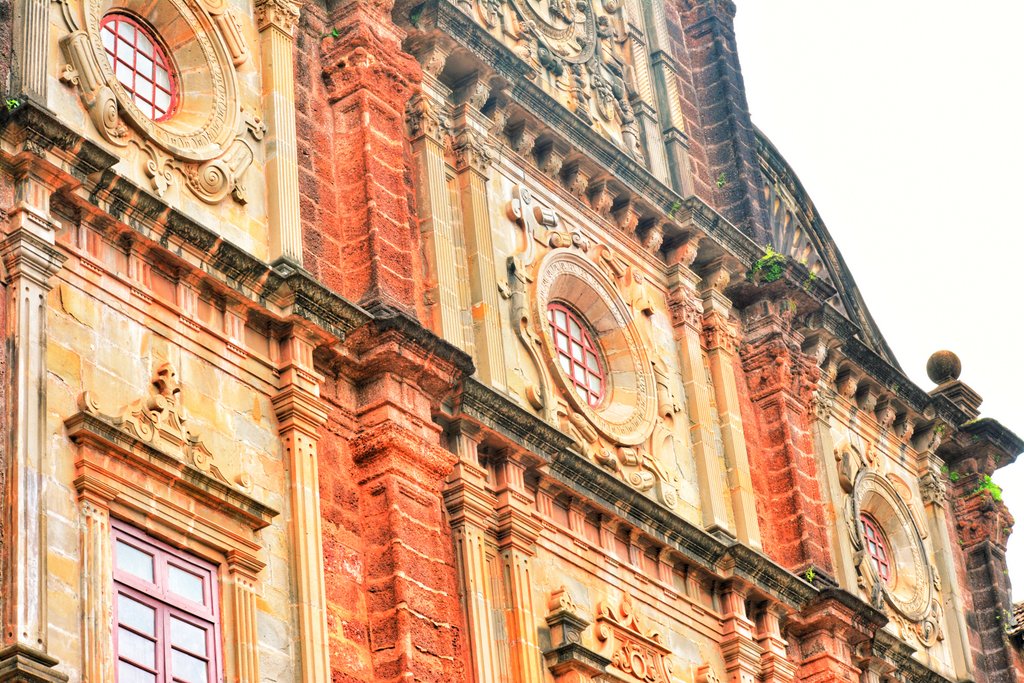 Also read: Top 12 Cultural experiences in Goa!
There are plenty of other churches and historical areas to be visited in close vicinity. Here is a list of Old Goa's famed churches:
Convent of Our Lady of Angels
Church of Our Lady of the Rosary
St. Augustine Tower
Agustinian Convent
Church of St. Cajetan
Mill Stones of Gun Powder Factory
Museum Of Christian Art
Old goa has beautiful Hotels and Home stays available for rent. Check out here.
Take care while exploring the area, especially if you are on your own. The narrow alleys and old houses are often prone to snake attacks.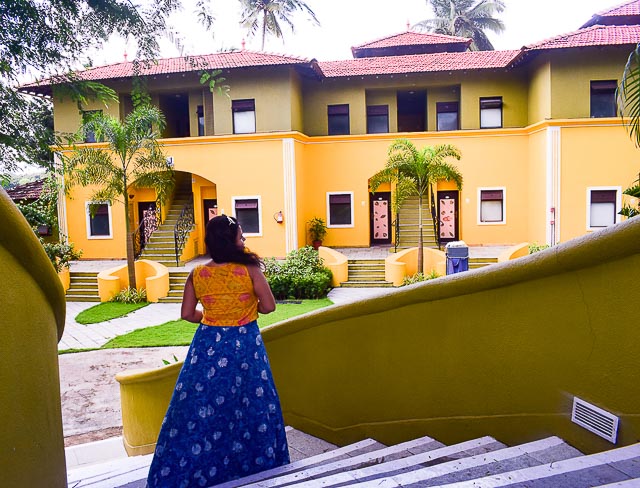 Head towards Fontainhas, the Latin Quarter of Goa. This is the last stop before you are heading back to the beach at Baga.
Often termed as the Old Quarter or Latin Quarter of Goa, Fontainhas houses Old Portuguese Bungalows that are painted with a riot of color. Do not be surprised if they resemble like one quaint little town from an obscure European countryside. The houses has old school wall sized glass window, panes of which is colored in white. Oftentimes, an Azulejos tiles adorn the gate.
There are two beautiful eateries at Fontainhas. They are, Venite Bar and Viva Panjim. Both are quirky and very photogenic (okay, Instagrammable places in Goa). Google both and choose where you wanna visit. Joseph Bar remains as one old world wonder at Fontainhas! If you are craving for good Konkani cuisine, head towards Saib. I love their fish Thali. Awadh House is one of the better places to eat in Panjim if you are craving fro delectable Awadhi cuisine of North. It differs from the Punjabi Thalis to a large extent so try if you are a meatlover.
Truth is, I have seen neighborhoods like Fontainhas in multiple places while exploring the interiors of Goa. However, Fontainhas has opened its arm for tourists, with beautiful galleries, guest houses, and cafes and is located strategically in Panjim. You will not get these benefits in the rest of old neighborhoods in Goa, though they seemed to be more rustic and authentic.
The best part of Fontainhas is, you can retire here for a day, if you can let go the call of the beach. A few famous home stays at Fontainhas are: La Maison, the Caravela Homestay, Abrigo Fontainhas, Mateus Boutique Hotel, the White Balchao. A good Hostel in this area is the Old Quarter.
Check here for more stay near Panaji.
Considering it is a long day since early morning, it is recommended to put up at Fontainhas. However, if you have to, you can be back at Baga or Calangute. Try to make it before the sunset so that you have beautiful view of the setting sun behind ocean.
Baga has a number of beachside accomodation. Feel free to check the may. I would recommend a few based on previous experiences: Casa Cubo, Goa Beach House, Casa De Goa Boutique Resort.
Day 3: Beach Hopping to North Goa, Visit a night Market
Explore beaches of North Goa: Vagator, Anjuna, Morjim, Ashwem, Mandrem, Arambol
The day starts with exploring the beaches of North Goa. Rent a bike and start early. Things you need for a bike rental:
1. Government ID for deposit. You get it back once you return the bike, with fuel recharged.
2. INR 250 per day as rental fee (seasonal variation is expected)
3. Goa, like the rest of India, drives on the left of the road
Paved highway stretches till the wee end of the state border. You can ride as far as you want. Make pit stops on the way for a quick sugar cane drink, or snap a postcard of the rural huts adorned with floral design. You can take a detour off the highway and make pit-stops among the coconut groves for that quintessential Instagram shot.
Originally, it was shot in ar Parra. I am talking about the famous Goa scene from the Bollywood movie, Love you Jindagi, where Alia Bhat cycles amidst pristine verdant valley dotted with coconut trees with a hill at the backdrop. Now the village is raged with tourist footfall and is on the verge of charging tourists an entry fee.
I suggest skip Parra and look out for a similar setting off the main road, which lies plenty in Goa.
Drive towards up north till you reach Vagator beach. The cliff hides the moon-shaped beach from prying eyes of the world.
From Vagator, head towards Morjim beach. Morjim is a rocky beach. Tidal waves bare up the sandy shore in day time. If you are looking for a beach to swim, head towards Ashwem. I stayed by the Ashwem beach at Yab Yum Resort for a couple of days and vouch for the relaxing vibe here. It is a crescent shaped beach, great for swimming. The waves swell well and make it a choice for surfers too.
I suggest stop at the La Plage for lunch. The beachside restaurant serves great French cuisine.
If you want to explore more beaches up north, you have Mandrem and Arambol on the same coast line. Saddle up the bike and wizz past green patches of verdant valley, cow shades, backwaters, dry river beds. You have reached the last wilderness of Goa!
Heading back to Baga from this area is a good 1.5 hours drive. Road is good. I have even seen traffic jams on certain days post sunset.
In this route, there are 4 scenic spots to watch the sunset. You choose one based on your preferences.
Sunset points:
Chapora Fort (of Dil Chahta Hain movie fame) for adventurers
Sunset point at Anjuna for those who love a rocky beac
Romantic sundowner at the Thalassa Cafe, small Vagator beach
Arambol Beach where sunset takes place in the rhythm of iconic drum circle by the last remaining hippie trail (Far off from Baga hence be prepared for a long drive back home)
On the way back, make it a point to stop at the night markets of Calangute. You may also plan a visit to the iconic Anjuna Flea market which runs every Wednesday from 9am to 6pm. Once a place where Hippies traded their exotic European made items, now is flooded with Chinese products, swimwear and costume jewelry.
Once you are back in Baga, rest for a while. For dinner, head out to Souza Lobo. Now running by the third generation of a local family, Souza Lobo is a beach side iconic bar and served amazing cheese baked crab. Highly recommend.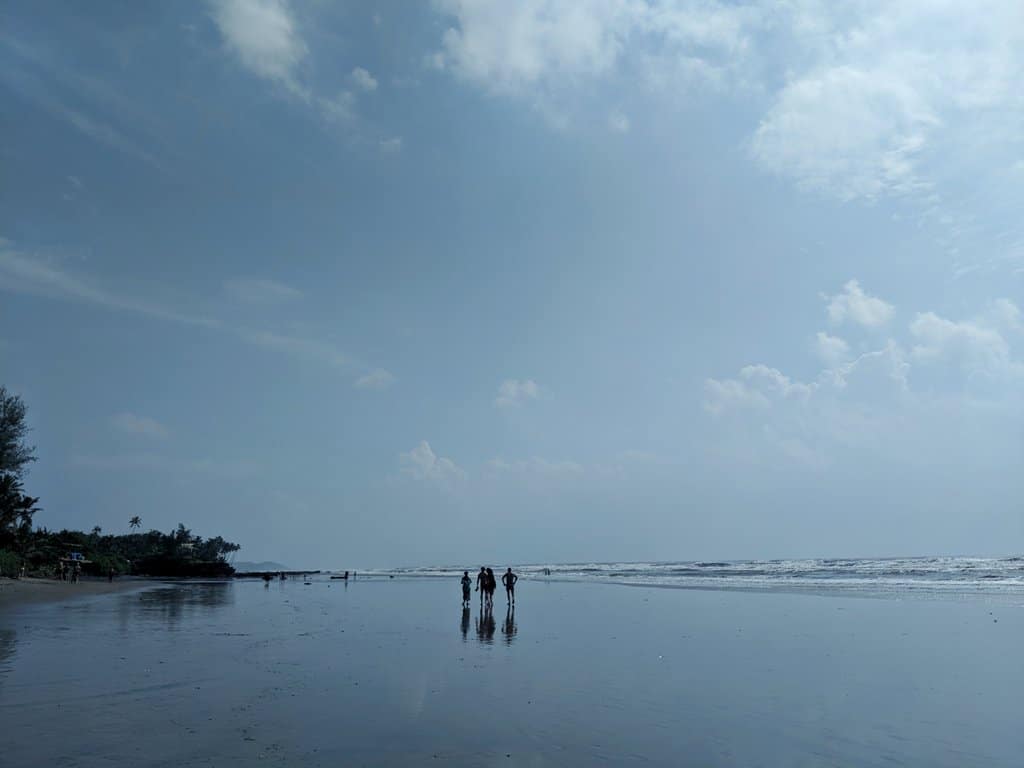 Also read: 5 days travel itinerary for Leh with offbeat day trips suggestions
Day 4: Indulge in some watersports & reach South Goa
Fort Aguada, Sinquerim beach, Travel to South Goa
This is the last day in North Goa for this one week itinerary. To make the most of it, we will let our adrelanine rush through! Today, we will flirt with the crazy waves of Arabian sea.
From Baga, head straight towards Aguada beach. The Portuguese Fort stands erect for centuries keeping a close eye against enemy invasion. Aguada is also famed for filling ship tanks with potable water in olden days.
A four storey light house stand at the end of Aguada. Explore the fort and find a a way to the Sinquerim beach which lies next to Aguada.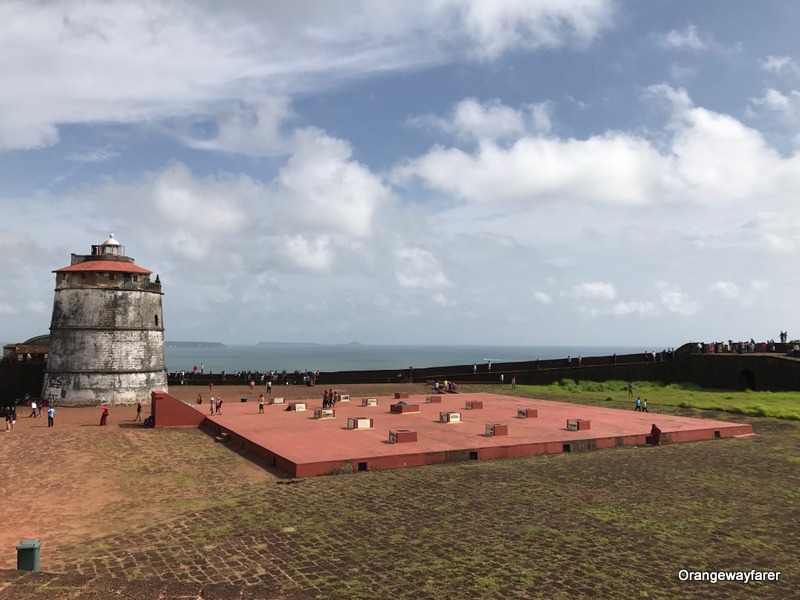 Watersports at Sinquerim Beach
People from all over India head towards Sinquerim beach for a number of watersports. From benign banana boat to dangerous jet jet ski, you name it and you get it! Kitesurfing, parasailing etc takes place too.
I suggest go for parasailing. You fly high over the Arabian sea, with the Aguada fort on left and endless ocean on the other side. It is simply breathtaking.
Prices vary depending on demand and seasonal footfall. Also, water sports activity is closed during monsoon owing to killing wind and swells. we paid INR 2000 per head back in 2017 for parasailing.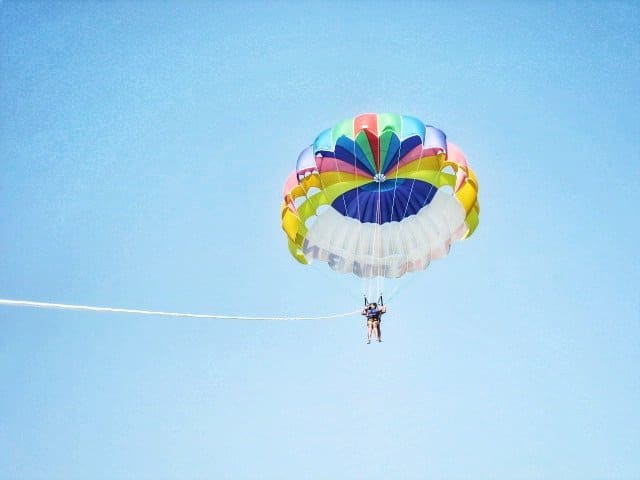 Heading towards Palolem Beach, South Goa
It is time to head towards South Goa now. While South Goa does not match up to the North Goa when it comes to party or lively vibes, it hides stretches of pristine, verdant land and some of the finest beaches of Indian subcontinent.
From the Central bus station at Panjim, bus ply towards Margaon in South Goa till 6 pm. It charges a nominal INR 30/50. You can also rent a car or a bike and drive towards Palolem in south. On the way, make it a point to stop at the ruined fort of Cabo De Rama. If you can make it during Sunset, you will be getting pristine shots! Cabo De rama is one of the most offbeat things to do in Goa.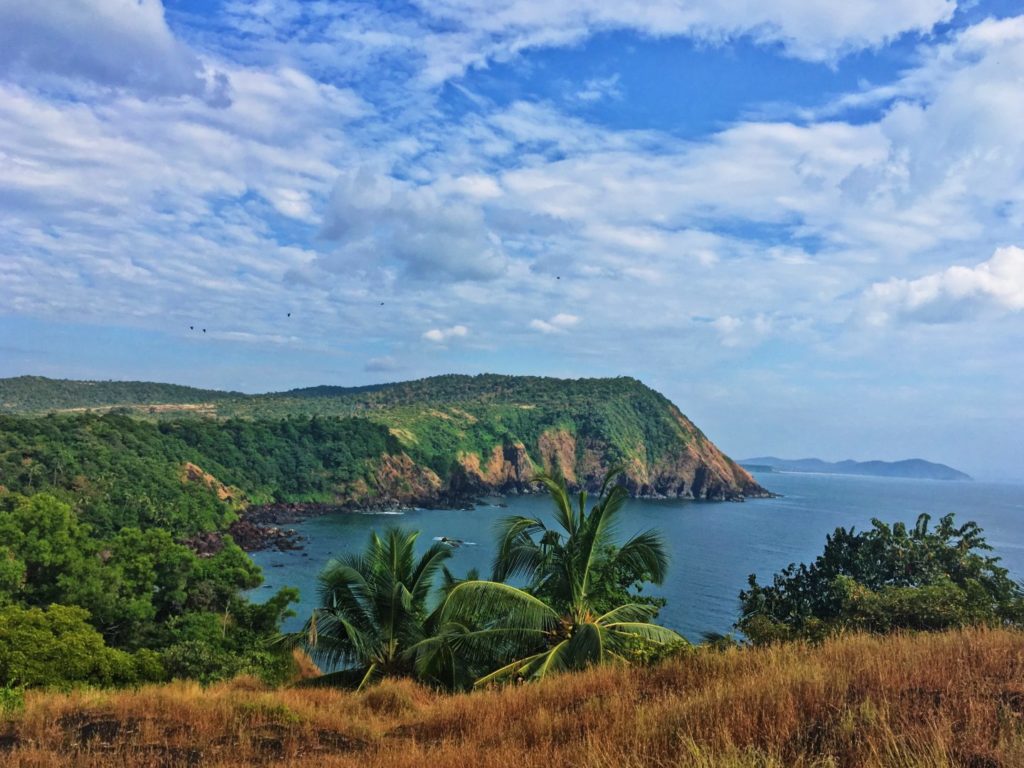 Day 5: Beach day at Palolem & Patnem
A relaxing beach day in Goa by the world famous Palolem beach
From Yoga to Cow watching to boat-ride to catch a glimpse of the Dolphins, you have an entire day to relax and soak in the glorious sun in Goa on this day! In this 7 day long itinerary of Goa, this is probably the first day of a beach living.
As we say, "Der Aye par Durast Aye." It came late but it came in style!
One of the leading reporting agency listed Palolem as Top 20 places to visit in Asia or sorts, you know what I mean. Ever since, a number of tourists head towards Palolem and long for a stay by the coveted beach hut. Colorful bamboo made beach huts adorn the sea-shore. With tourists came shops and cafes too.
However, Palolem remains significantly off the beat beach destination in Goa, compared to Baga or Calangute. Tourist footfall has not yet disrupted local life. Early morning, you can see fishermen busying themselves for the day's toil. A dog and a cow will join you at the beach as you tan yourself. Overall, it remains one of the laid beach beaches in Goa and feels nice.
In the evening, walk towards, Patnem, a smaller and lesser known beach located close by. I think it is 10 minutes walk. It is beautiful nonetheless.
Best beach huts to stay at Palolem beach in Goa
Dream Catcher Goa, Marron Resort, The Found Things, Beach Resort Palolem, Crystal Goa
Affordable Beach huts: Rainbow, The Charming Nights, Cozy Nook, Cube Beach Hut
Hotels: Summer, the Lost Hostel,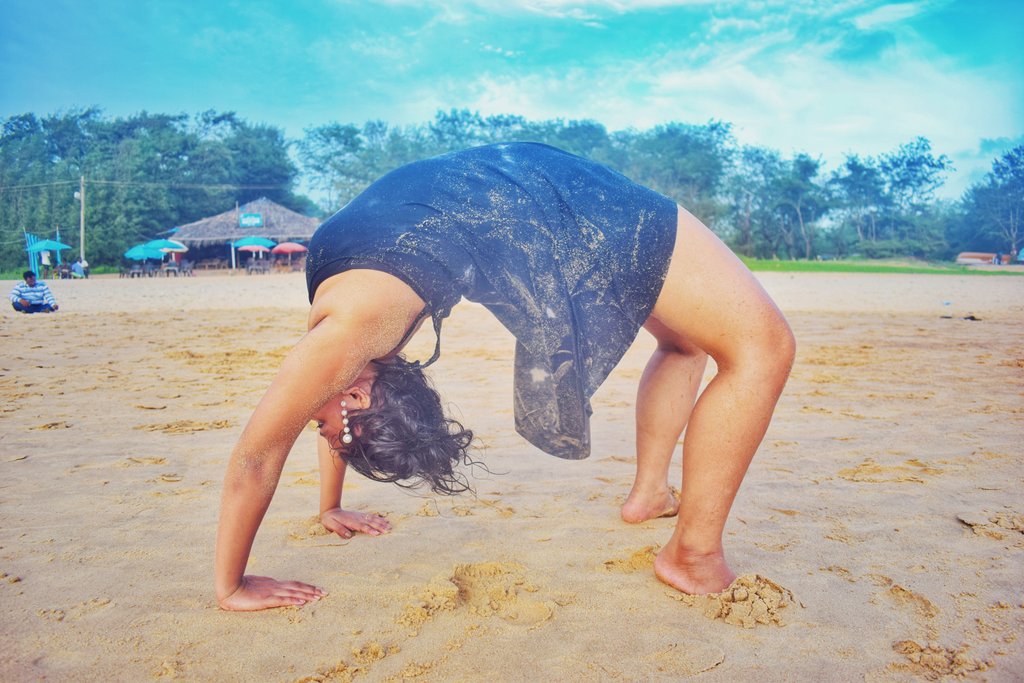 Day 6: Choose a day trip between Dudhsagar or Karwar
Dudhsagar Waterfalls embodies what monsoon does to the state of the Goa, with its lush green dense surrounding amidst the steep of the Wetern Ghats and four tiered cascading flow of white water, meaning ocean of milk. Located at Mollem, South Goa, Dudhsagar calls for a day trip and trekking up the hill to experience something ethereal. The waterfall is shared between the states of Karnataka and Goa.
It is located by the Bhagwan Mahavir Wildlife Sanctuary. A few spice plantation and a farm stay is located close by too. Tambi Surla, a twelfth century Shiva temple is located here.
If you are heading towards Goa from Bangalore by train, make a stop at Castle Rock. From Pune or Mumbai, stop at Kulem. Shared Jeep goes till the waterfall if you are not too keen to trek the entire distance. Also, there is a daily cap on the number of people allowed to visit, especially during monsoon. Do take an account for that while planning for Dudhsagar trekking.
The trekking is through dark long tunnel made a century ago, now abandoned. Lifeless train tracks kiss the ground. Aroma of fresh rain makes one dizzy. You reach the fall and reach a small natural pool, where swimming is allowed. You can even change to a swimsuit.
If you are journeying by train through Konkon coast, you will get a full view of the falls. It looks spectacular during comsoon. earlier train used to stop for a few minutes. However, trains just slow down these days and do not stop.
Usually fed by torrential rain, Dudhsagar loses its glory during dry season. Though the trek is rewarding nonetheless.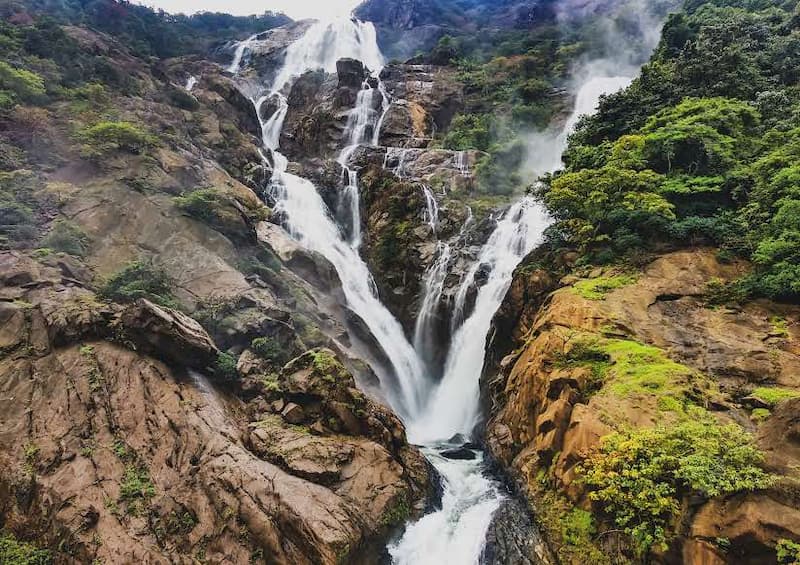 Alternatively, visit the Karwar Beach
"The sea beach of Karwar is certainly a fit place in which to realize that the beauty of Nature is not a mirage of the imagination, but reflects the joy of the Infinite and thus draws us to lose ourselves in it. Where the universe is expressing itself in the magic of its laws it may not be strange if we miss its infinitude; but where the heart gets into immediate touch with immensity in the beauty of the meanest of things, is any room left for argument?"

Rabindranath Thakur
If you are not too keen on trekking to Dudhsagar Falls or traveling during turbulent monsoon, I suggest drive towards Karwar. Located by the coast of Uttara Karnataka, Karwar is an untouched region, where local flavor is very strong. It is only half an hour's drive from Palolem. It is where kali river meets Arabian sea.
Karwar has a beach named after Rabindranath Thakur. Tagore beach, as they call it, also houses the annual three days Karwar festival. For me that is reason enough to fall in lve with Karwar.
You can also visit nearby pristine islands, provided low tide, and a ruined fort named Sadashivgar.
Kurle Ambat, the delightful Crab Masala of Konkan region is a must have while traveling in Karwar. Also, the iconic Gadbad ice cream, where bits of fresh fruit tease cold cream gently in a tunbler! Hotel Amrut is particularly famous for sea food platter. The ghee roasts and sukka tells you that you are truding a fine border area, close to Goa yet so not Goa!
Karwar has plenty of water sports but rates are cheaper than Goa. The beach also houses INS Chapal Warship museum. INS Kadamba (named after the Kadamba dynasty of the region) is Indian naval base located at Karwar.
Day 7: Beach day & Return
The seventh day in Goa beckons. The seven days in Goa whizzed past, right?
I know. Goa always does this. She akes up for a tremendeous trip and only leaves you wanting more of Goa.
If you are roadtripping in Goa and live somewhere down south, afternoon is a good time to start. If you are headed back towards Mumbai or the airport, you need to pack up early. Palolem is is 60 KM away from Dabplim. On a good day, it is a 90 minutes drive. But we suggest account for another hour extra. Dabolim is a small airport and sometimes the queue can get painfully long.
Assuming the flight/train is scheduled at night, you still have the morning to explore a few more beaches of Goa. It is all the more possible since the drive is through the coastal route.
Following are the beaches you can stop by while heading back to the airport.
Agonda beach
Colva beach
Betul beach
Varca beach
Benaulim beach
Instead of beach hopping, you can also make a quick day trip to the nearby Butterfly beach from Agonda. Secluded by high cliffs, Butterfly beach can only be accessed by a boat. It looks a lot like a small lagoon with clear water. Butterfly beach is famous for Sunset views.
Agonda has plenty of good places to eat. I love Little Plantain leaf in Agonda. Love Bite is a great choice too for cozy vibes.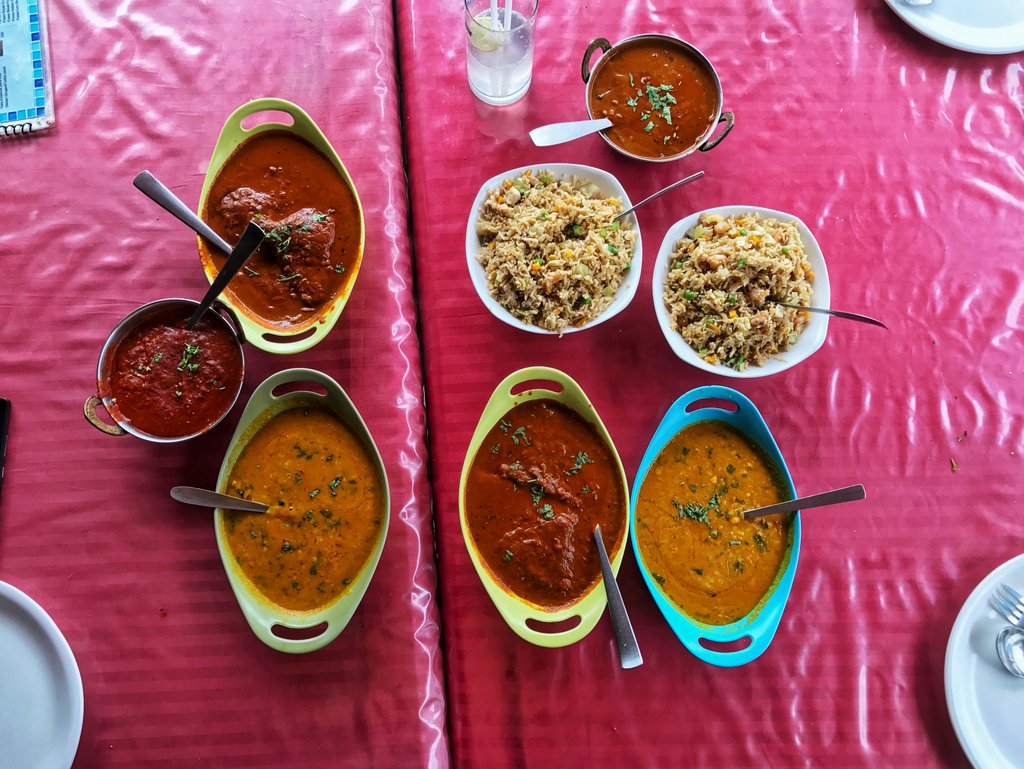 Also read: Zakaria Street- Kolkata's hidden streets where food connects the worlds apart!
If you have a little longer than 7 days in Goa, I suggest follow this itinerary but spread it evenly. Keep a day to explore the beaches of south. Take two days to relax by Palolem beach and one extra day at Ashwem beach in North. Thus, you get to enjoy Goa for 10 days and indulge in the best things to do in the sunshine state. This itinerary equally covers the heritage and beaches of Goa.
If you are heading to Goa during monsoon, may be add one day for Divar island. Monsoon in Goa makes plenty of beaches off limit for tourists with coast guards barring entry. They are justified because Arabian sea becomes a demon with undercurrent pulls etc. Shacks do not open either. That said, monsoon in Goan hinterlands is breathtaking with lush green Western ghats and hidden waterfall trails!
Loved this Goa itinerary? Pin it for later use!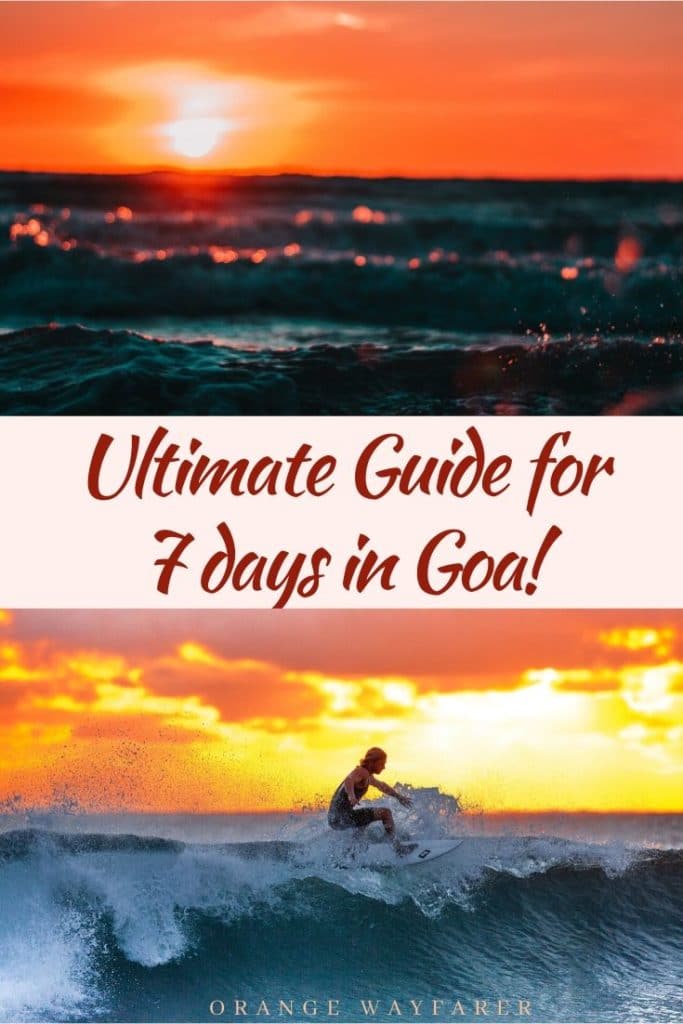 Let's stay connected on Facebook, Instagram, Twitter!
This post may contain affiliate links. Please read the disclosure post. If you have liked the article, you may support it by buying using these links without any extra cost to you.