About this blog: Goa is India's most thriving beach destination. Beyond the long stretches of beach, Goa's idyllic vibes, amicable locals, developed infrastructure and plethora of activities are factors that brings tourists from all over the globe. There is no dearth of luxury stays in Goa. However the most serene and beautiful luxury resort of Goa, with a niche concept of wellness, is located at Divar island, away from the hustle and chaos of Calangute and Baga.
At Mercure devaaya, I was transported back to a few centuries where ancient Ayurvedic wisdom is deeply engraved in daily lifestyle. From waking up to bird's coo to falling asleep in a relentless band of Cesada, Devaaya ensured my soul is rejuvenated and stripped off the last bit of wryness that urban world instills! Even though I was hosted for a couple of nights, I have fond memories of Mercure Devaaya resort and will try to pen down as I recall!
Read all my posts on things to do in Goa!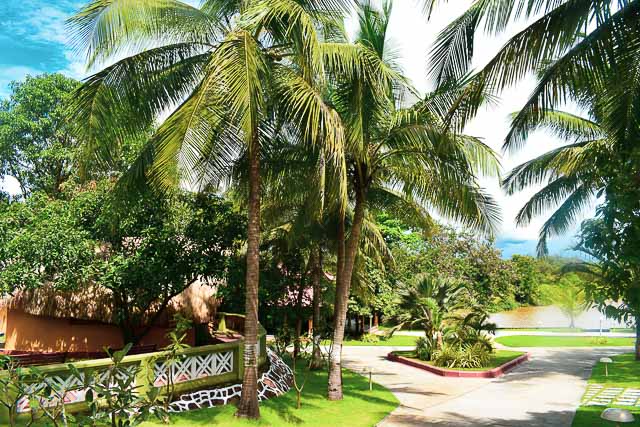 I could only gather a handful of information about the Mercure Devaaya Retreat before my scheduled trip to Divar island, Goa. Divar is another sleepy village in Goa, unaware of its breathtaking beauty. The plague that forced Goans to vacate their abode in early seventeenth century actually ended in giving birth to human habitat in this picturesque island. Prior to this, Divar was a land of myriad avian species! The island next to Divar houses Sr. Salim Ali bird Sanctuary, one of India's finest places for birding!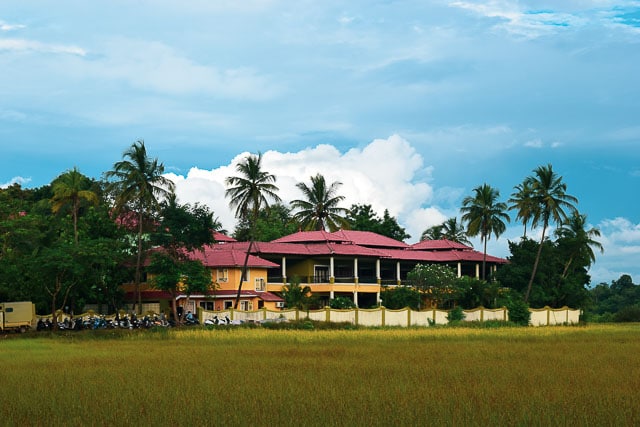 Most of us are reluctant to leave Goa's pristine beaches. Long stretched sea shore and calm Arabian sea indulge us like an old grandmother. As the season start, footfall increase. Millions at times, especially at new years eve advents. I can visualize Goa as a damsel in distress. Internally she screams as thousands of tourists run over invading her tranquility.
It was the long weekend of Independence day celebration of 2017 when I experienced Goa overrun with tourists. It was monsoon in Goa. Barely a space to walk to the sea. Anna from Gobal Gallivating, who lives in Goa and whom I met while traveling in Luang Prabang Laos, told "I generally do not move out of my house when there is a long Indian holiday."
Despite being overrun with an overwhelming crowd pool, Goa is ethereal. It was my dream to come and live in Goa for a while, explore Goan hinterlands and offbeat destinations where last remains of Albuquerque whispers the dreams of an Ottoman courtroom. I am a Kolkata girl. Everything old and historic easily calls for my attention.
Also read, Capturing vintage Kolkata in a photoblog!
"There are only a handful of wellness resorts in India. Goa has one of them." Told me a fellow traveler as I was readying for a spa treatment during my stay at the Taj Madikeri Resort and Spa.
A wellness resort is so much more than what a luxury stay. In my years of travels, I have evolved and experimented with various styles of hospitality. While luxury resorts are overwhelming, what truly touches my heart is a bespoke stay with personalized service, where I feel I am being heard and my values find a home! A place where flourishing wealth does not make me long for a materialistic life, instead prevails a sense of calm and content. At Mercure Devaaya Resort Goa at Divar island, I finally rediscovered that abode of peace and love! Which is precisely the reason why I love this property and recommend it as one of the best resorts to stay in Goa!
How to Reach Mercure Devaaya Resort
The easiest way to reach Mercure Devaaya is to rent a car from the airport or rainstation, depending on where you arrive. It will charge you close to INR 1000 to 1500 depending on demand supply rule of economics.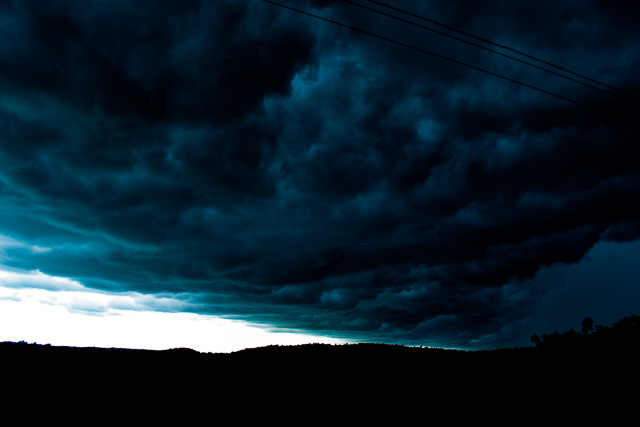 Also read: Yab Yum Resort: Best Eco Friendly beach stay in North Goa!
However, I took the longer way and it turned out to be cheaper as well. I took a Kadamba Transport Bus to Calangute. It was an AC fleet, charged me INR 1oo and dropped me at
Panjim. Panjim bus staion is a central node from where buses for various destinations leave. Unlike majority of Indian states, traveling from one end to the other of Goa does not require overnight road trips. Panjim connects Margao in South and Arambol is North with those tiny colorful local buses. Occasionally, Kadamba fleet stops but I did not want to wait.
I boarded a local bus headed towards Old Goa. Divar Raibandar lies en-route from where I was to embark on a boat trip to reach Divar island.
The bus was tinier than the red and yellow minibus from Kolkata and was jam packed with locals. In Goa, locals understand and speak Hindi and English as well. A school girl helped me with the route and helped me under how Raibandars work!
Raibandars are basically local ports on the backwaters of Mandovi river where a 24*7 government ferry provides free service to commute. Divar is a riverine island bordered with dense mangrove and wide flow of Mandovi. This ferry service makes life easier for everyone. There are a couple of ferry points, one taking you to nearby Cochala island, famed for housing the Dr. Salim Ali Bird Sanctuary.
Cars, school children, a few tourist vehicles all use this ferry. There is no other boat system. At night, should an emergency occurs, you are to call at the office and the ferry will run at your service.
At the end of the ferry point, a car was awaiting me. It was sent by the Resort.
Mercure Devaaya Resort: A Poetic Retreat
The car stopped after a brief 20 minutes run where different shades of Divar island unfolded. Each house on the island is shaped as quaint little cottages with slopes, landscaped garden, an altar on the front and bright blooming flowers.
Mercure Devaaya resort stands aloof at the edge of the river, separated from the closest neighborhood by sprawling paddy field.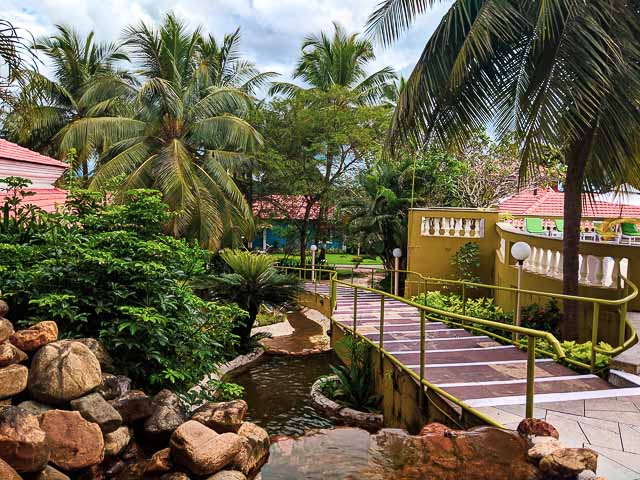 As soon as I entered the Hotel premises, the sky came breaking in. It was the infamous Cyclone Kyarr that was looming large on Goa in late October 2019. Rains started with mild drizzles, gathered ominous clouds at the horizon and poured incessantly for the whole week. Though I had little idea! I was busy sipping in a fresh glass of watermelon juice at the Front office of Devaaya.
Check in process completed soon. An electric buggy loaded my minimal luggage and we proceeded towards my room.
My stay at Devaaya resort resembled an apartment strait out of Goa's historic Fontainhas neighbourghood! Myriad hued bungalows in bright yellow, canary green dot the main road. They have carved out 4 quaint quarters from each bungalow. Some are facing landscaped garden, some open their doors to the Mandovi river.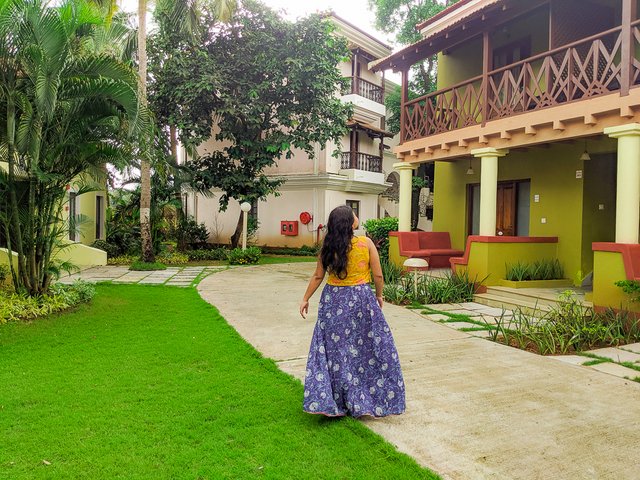 The wood crafted furnishing added a quintessential touch of traditional elegance. A large mirror and a writing desk inspired the blogger in me to take to writing. A large LED TV adorned one corner. S loves watching TV in hotel rooms but I hardly do.
Adjoining washroom was big, with a bathtub and shower curtains. The room opened to a beautiful ground right in front. Little did I know tiny bee catchers will come singing me as wake up call next morning!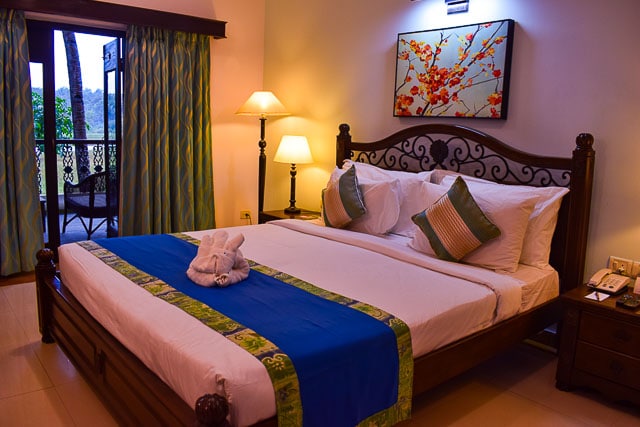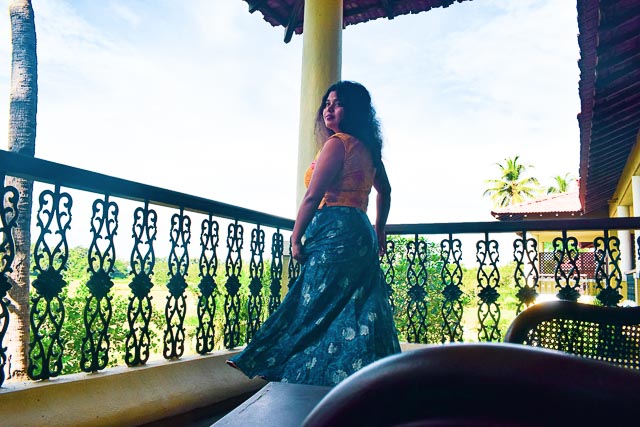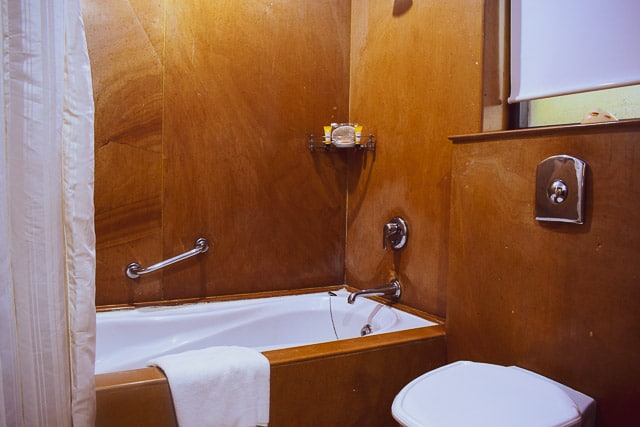 Since it was raining incessantly, I chucked the idea of exploring Divar island, instead focused on what the resort had on offer. Turned out, Devaaya had plethora of activities which would actually occupy my entire time in the island!
Devaaya is located on sprawling acres of land by the banks of Mandovi river at Divar island. More than 60 well appointed rooms are there. And close to 30 special treatment centers. All rooms are air conditioned. The resort is designed in a way that guests with hearing impairment or reduced mobility easily find comfort in movement. Neither alcohol nor smoking are allowed in the rooms or premises, making Devaaya a chosen retreat for divine and spiritual connect.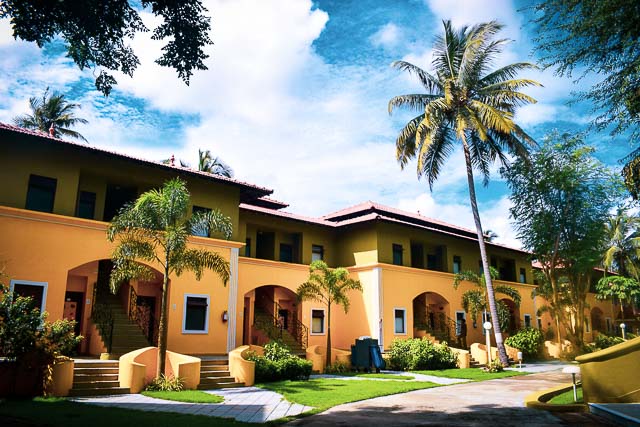 Activities Galore at Devaaya Retreat, Goa's Quintessentially Best Resort!
Since Devaaya has her heart in the ancient Ayurvedic practice and subsequent healing process, Yoga takes a premier share of the entire holistic experience. At dawn, you welcome a whole new day, standing by the banks of river Mandovi, folding your hands and stretching the muscles. Sun-rays shower in abundance.
There is another center of yoga, with a rooftop on head to take care of the humid summer time.
Walking by the Yoga center, I learnt guests are not only encouraged to take part in Yoga session, they can partake more advanced programs, consult with the in-house instructor and customize a practice routine. A small library sits by the meditation room where more discussion of Yoga and its benefits are documented.
The medication room has wall painted in azure hue which reminds me the deep trenches of Atlantic ocean. It is soothing and calming. I could sit here for an eternity contemplating on empty meagerness of life!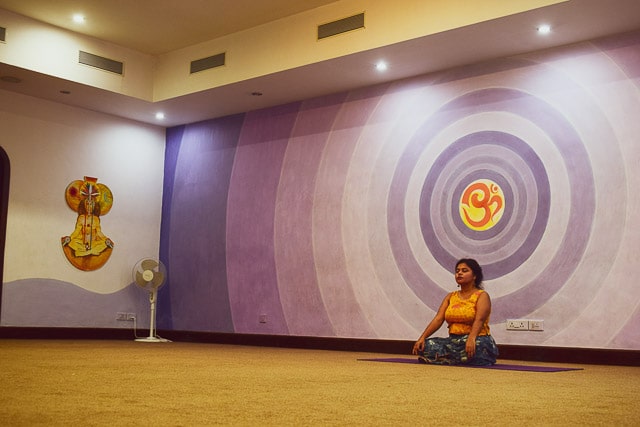 However, at Devaaya, what truly healed me was the tryst with the Ayurvedic treatment center.

A trained Ayurveda doctor was present for consulting. We discussed at length about my lifestyle. About long hours of work in front of laptop, no lifestyle disease so far but fair chances of catching one eventually, of going to bed as late as 4 am and the vices.
The fact that I do not smoke and drink seemed to please her.
Later, I was prescribed a full body oil massage.
The following day, I undertook a full body scrub.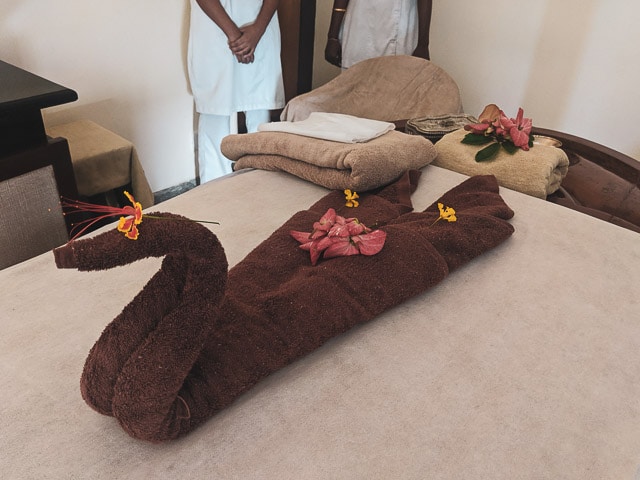 Experiencing those Ayurvedic treatment sessions are the most difficult to put to words. I am struggling to find the right words to describe how I felt when I was being treated.
Regal? Yes.
Content?? Yes.
But overall, I felt like I am being reborn, in an elevated state of mind and soul. My body was stripped of the last bout of weariness. My mind was relaxed. Until now, rejuvenate was just another desirable word. But at Devaaya, I truly felt what rejuvenation can do to your soul and body!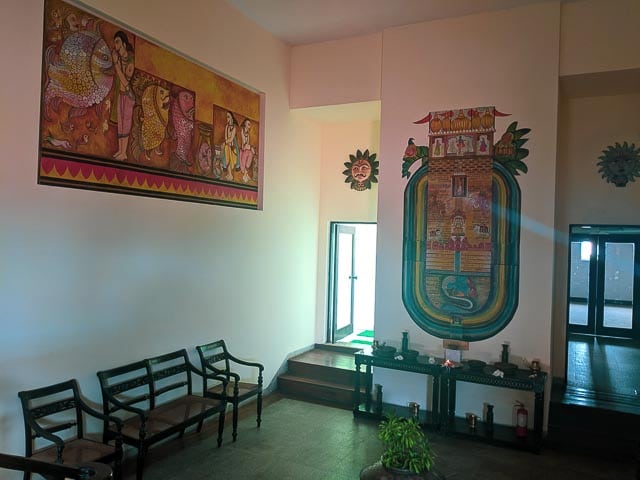 My masseuse was named Monika. Another girl accompanied her. I forgot her name. Both hailed from Kerala. Her smile is reassuring. Her hands are suave. She knows the right amount of pressure to be implemented on each node. She boils the oil, she prepares the scrub, she takes my feet and puts that in water. On each step, she asks if I am comfortable. I have had beautiful spa therapy before. At Angsana Phuket and Jeeva Spa at Taj Madikeri. While they were gorgeous, the experience at Devaaya was an astounding one. I feel it had a lot to do with the elements used, which connected instantly with my body.
Multani Mitti (Fuller's earth) used for scrubbing, coconut oil to massage hair and elements like these contain age old goodness of our shared cultural practice. They work like magic. It is a pity that we forget that oftentimes.
At the boutique store downstairs, I found a shop selling handmade soaps and Kumkumadi oil. This mellowed my heart as I recalled my grandmother taking precision to prepare "Ruptaan" for me at home. A girl child and her beauty were invaluably precious for them!
Usually, Ayurveda treatment comes in the package that you book at Devaaya, along with food and other activities. I recommend going for multiple therapies, of course as per consultation with the doctor in house. This is the quintessentially best treatment in India.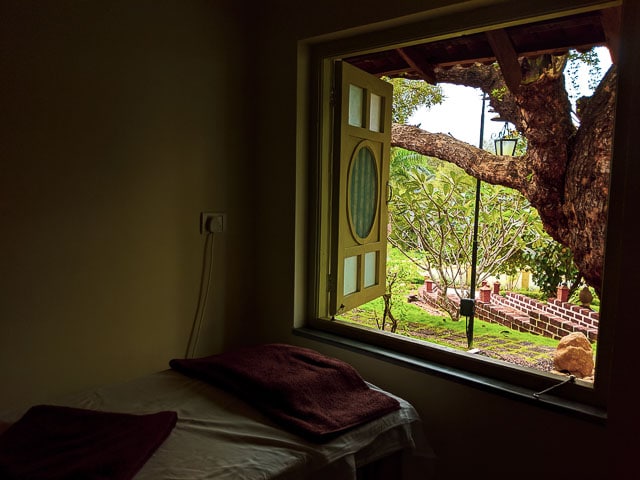 Devaaya also specializes on various natural treatments for an ailing body, with main emphasis put on the fact Body heals itself. There are naturopathy centers with sections dedicated to either genders and a physician to conduct processes. A walled enclosure under the sun await where guests can enjoy a mud bath. I had seen Hema Malini partaking one such session of assisted mud-bath. Mineral rich earth exfoliates and detoxes your skin from the core in such sessions. I would have taken one however my days were numbered this time.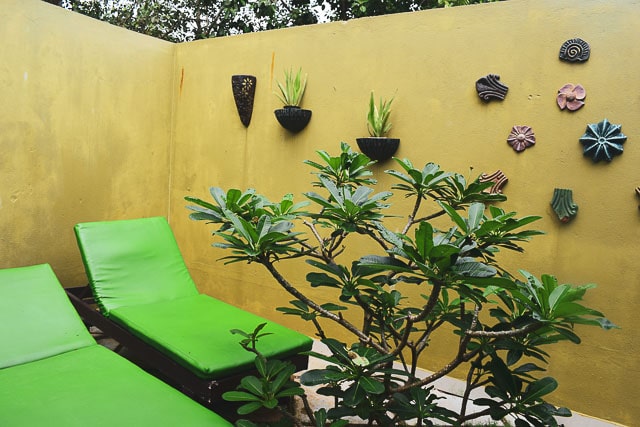 Mercure Devaaya Retreat occupies sprawling acres of manicured garden. You can request for a tour of the property and an electric buggy will come at your service. There are number of bikes in the premises as well which you can borrow for a day and explore the island.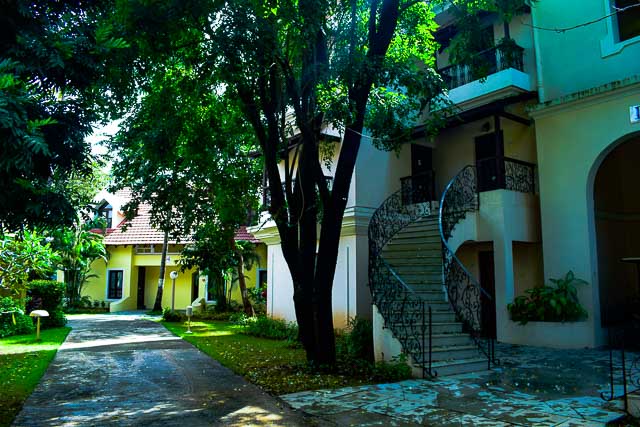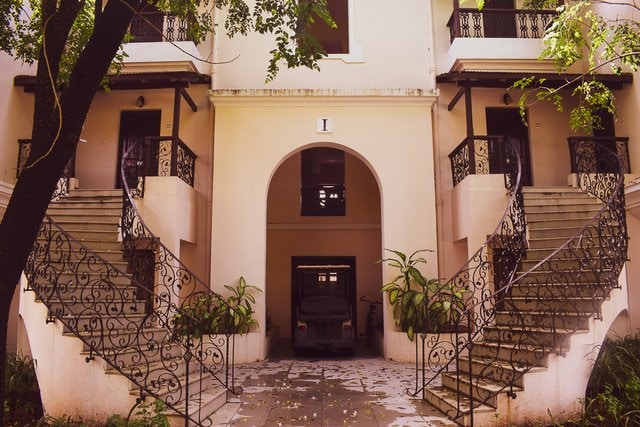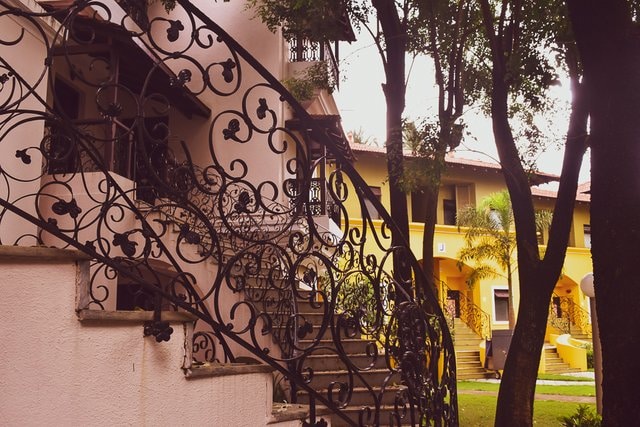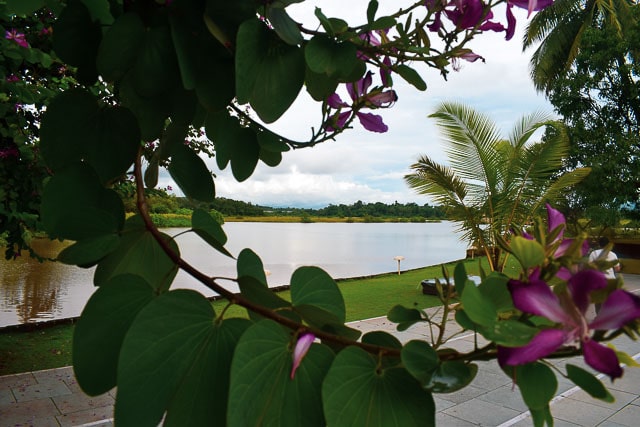 The river promenade is also known as Manas, as local fishermen call it. They use this part to catch river fish. A narrow wooded dug put boat awaits guests to take on a scenic ride during sundown.
By the edge of Mandovi river, stands proudly the quaint villas. If you are planning a trip with your family, I highly recommend choosing a villa stay. Picture this. You have a colorful Portuguese styled villa by the Mandovi river. A pool is close by where you can dip during day. At night, you have the promenade to yourself. The hind door of the villa opens at the river bank. There is very little to complain about this life, right?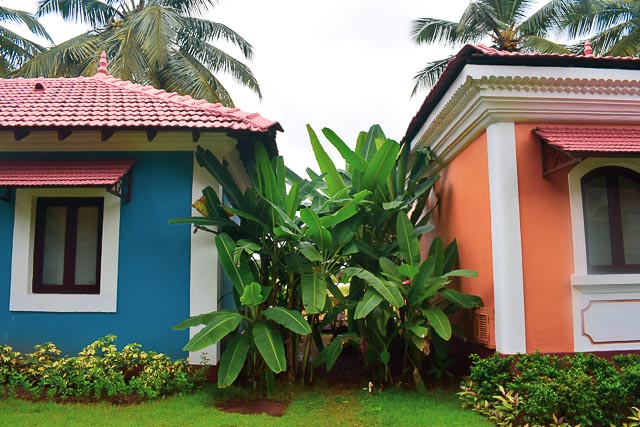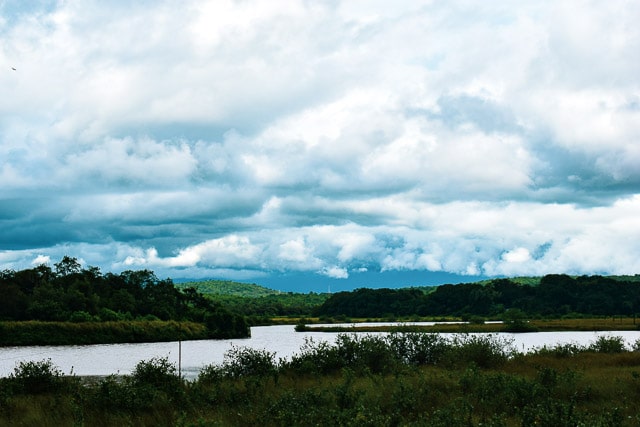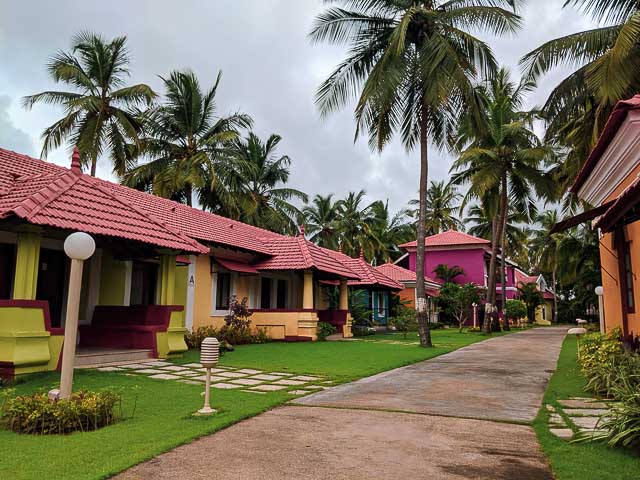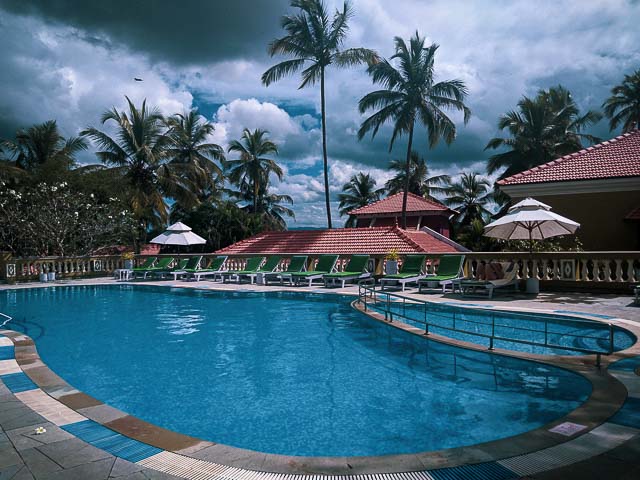 Gourmet Delights at Mercure Devaaya Retreat
I guess this is pretty obvious by this time. With the ample focus on sustainability and overall health, Devaaya serves food prepared by strict guidelines from Ayurvedic manuscripts. Menu plan has focus on balancing three precious qualities (Guna) of food, Satta, Tama, Rajas (best to worst in the order). Each dish has a display card stating associated Guna of the ingredients.
There were 4 diet centers (restaurants) at Devaaya. And a kitchen garden where trees are laden with organically grown fruits and herbs.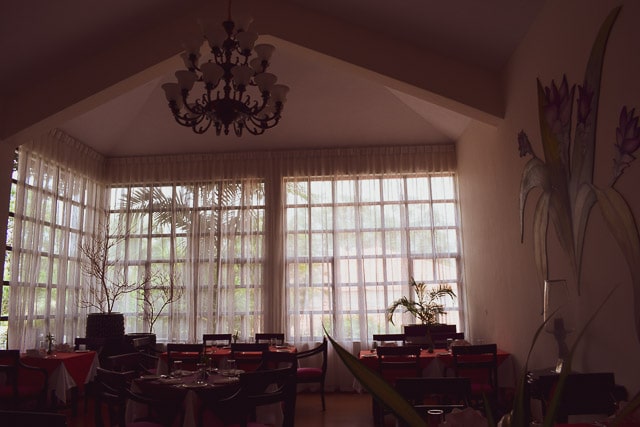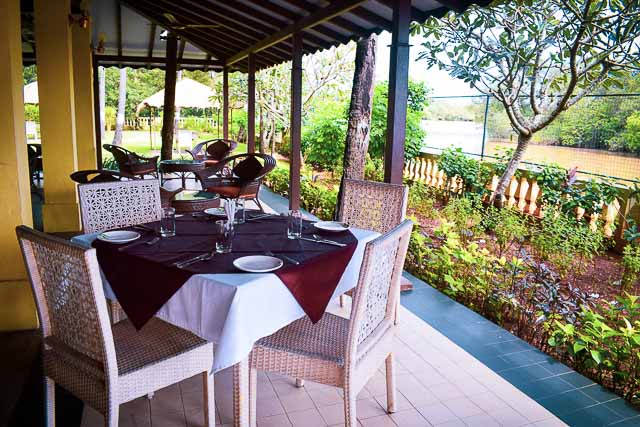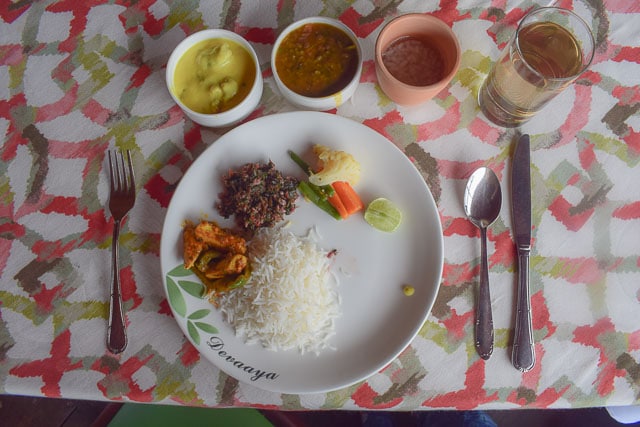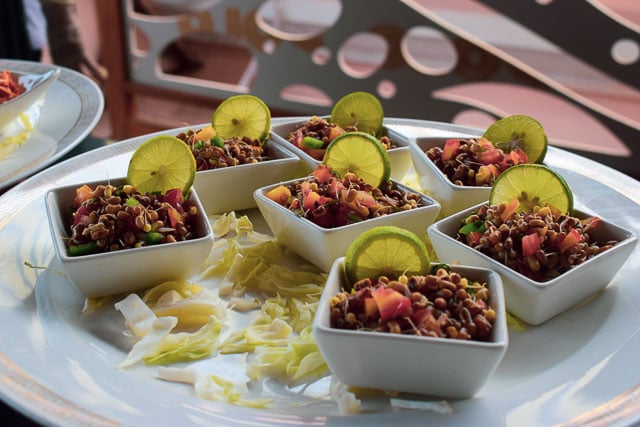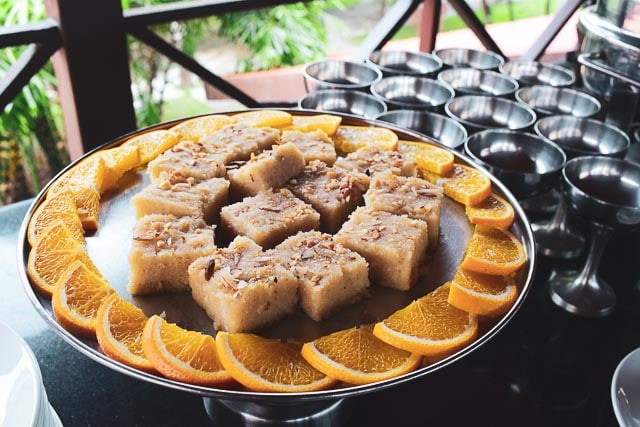 The chef designed the menu in such a way that you will not for a moment miss Goa special fish curry. Yums and jackfruits replace fish in a typical Goan curry at Devaaya. Red rice soaked in water (known as Kanji) reclaim its place on the breakfast table. It is a local delicacy. One sip and I felt how it cools down my stomach of a sweaty humid day.
Tender coconut pieces feature in bulk in a quirky cup of phirni, which is not painfully sugary. Food at Devaaya is not just good, its soulful and healthy. Not just usual homemade healthy, it is much more than that. Even the biryani is not gaudy with ghee overload. Desserts are not made for instant gratification. Each bite on each food ensures you have a meaningful experience. You taste the organic goodness of each ingredient and be grateful for that bite. At least, I felt that way. This is coming from the heart of a person who swears by non vegetarian food on a daily basis.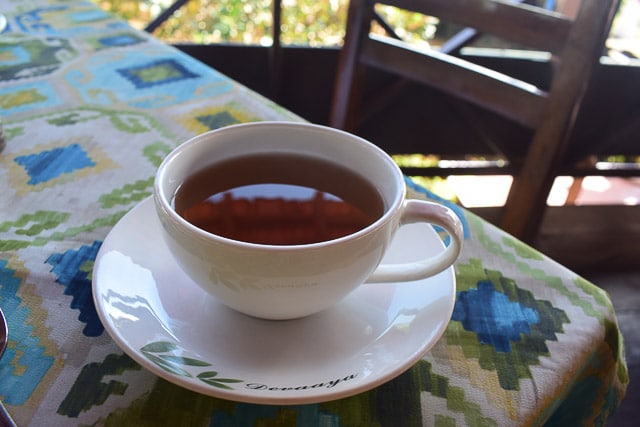 You can book with Mercure Devaaya Retreat using Booking platform.
Travel deeper: Highlights of Mercure Devaaya Resort Goa Experience, indeed the best resort in Goa
A wellness resort set at Divar island, Goa away from the usual tourist crowd of Goa
Traditional set up amid sprawling lap of nature by river Mandovi
Has Ayurveda therapy center with various therapy and in house doctor
Treats ailments in light with ancient wisdoms of Ayurveda
Vegetarian and vegan friendly food on offer
No alcohol is served. Smoking is prohibited in resort premises
Best place to practice yoga under guidance of an accomplished trainer
The resort employs locals from Divar island, trains them. Focus is on sustainable development process.
The resort has plethora of activities and is ideal of family travelers.
Airport transfer is available on request.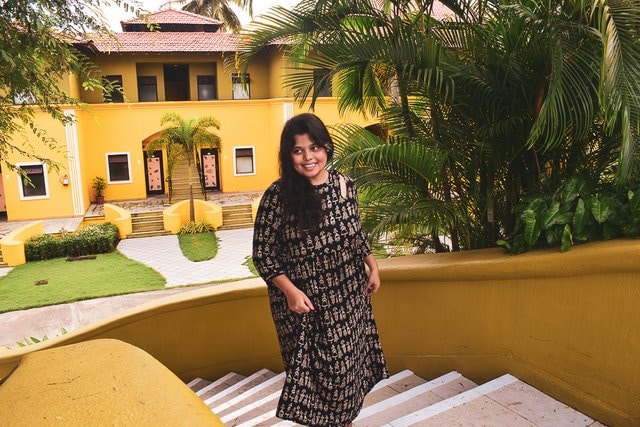 Mercure devaaya resort left a lasting impact in my mind. As an urban soul, I seek recluse from the fast paced life and Devaaya is truly a delightful retreat. the best of luxury resorts in Goa, it instills a sense of calm and serenity! Be it disconnecting from the world, and soaking in the blissful abundance of nature or rejuvenating your soul with all the endearing Ayurvedic treatment, Devaaya has everything on offer. Then take a prolonged walk at the Divar island and by the banks of the river Mandovi itself and you will know what I am talking about!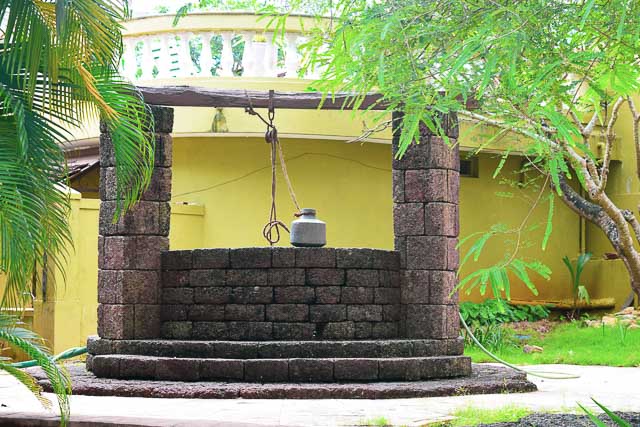 the well. Originally used by the first settlers in the island for drinking and irrigation, still preserved by the hotel authority. It is a symbol of life and habitation on Divar island.
This post may contain affiliate links. Please read the disclosure post. If you have liked the article, you may support it by buying using these links without any extra cost to you.

Let's stay connected on Facebook, Instagram, Twitter! You may also consider joining my mailing list. I send travel and photography related emails only once a month!