In this blogpost, I shall write about the most beautiful and offbeat beaches in Goa. They scatter across the Goa coast from North to South. I have spend quite a few prolonged weekends in Goa. It is blissful to dip my feet in the warm water of Arabian sea and watch the last rays of sun bid adieu for the day. No guide to Goa article is complete until you have given address to some of the lesser known beaches of Goa, where you can go spend an afternoon with a dogeared paperback. Fresh catch from the Konkan coast would be crisp fried and served by your side. You may sip on the chilled beer. You drift further once the typical tourist caravan reaches your address. But not to worry, these beaches from goa I am gonna list out will be a medley of both crowd pullers and lone survivors! Read on!
We as travel writers keep talking about offbeat attractions of Goa. We list down 101 cultural things to do in Goa. But deep down we know it is going in vain because it is the nameless beaches, creeks, coves and waterbodies of Goa that a Homo Sapiens is eager to romance with! If I come out of the shell of a travel creator I am no different! If you are going to spend a long weekend in Goa or at least 3 days in North Goa, you should count some of these beaches in your itinerary!
Rolling waves will break right under my feet. I would sit under the moonlit sky dazzling with a thousand stars. A Mellow breeze would cuddle my hair, strip away all the worries. In the saline water of Arabian Sea, I will take a bath to renew this life's tenure. Walking back home as sands crumble under my naked feet is a joy I seek. I long to taste the salt in my mouth, the scorching sun delightfully tanning my skin a shade darker, swaying palms singing an old lullaby.
Millions of new age travelers think alike. Forget other tourist attractions. To live by the ocean is a privilege and some of them would experience it! Now the question is which beach of Goa would you choose for your next vacay?
Let me make your life a little easier. I would list down all the beaches in Goa. With that I would pen down my experience with the good, bad, ugly about the Goan beaches.
The delectable destinations, the beaches where I was chased by a pack of stray, the beach you would not know had existed due to a tad bit of difficulty in reaching. I would tell you about the most popular beaches of North Goa, say candolim or Baga; the "10 offbeat beaches in Goa" kind of lists which has been tried and tested a millionth time and has brought in unsustainable infrastructural growth at many shores that you need to be warned about from beforehand; the distant Goan beaches where turtles nest in safeguard and the beaches befitting family's demand for a prolonged beach stay in Goa. Then there are beaches which live in close proximity with a sweet water lake! Read on and choose your favourite beach in Goa for a beautiful vacation! 
Read all my travel articles on Goa!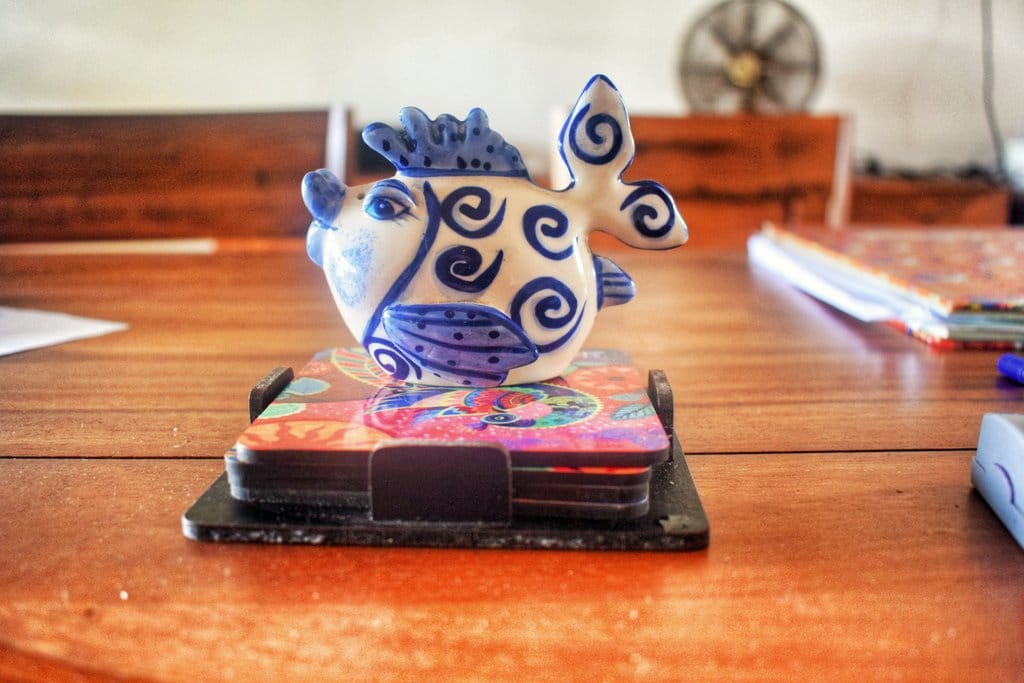 Things to know before you visit the beautiful beaches in Goa
These are essential travel tips before you choose a beach in Goa for the next vacation.
Beaches in North Goa are the quintessential tourist hotspots. I mean the area between Candolim and Baga. In fact Baga stretches for 2 km with golden sand and attracts the maximum number of tourists during high season. These beaches are famous for a reason. The market is close by. The beach is nice and windy. Many big names of hospitality brands are situated close by. However it may be a bit tiring to visit these beaches during high season or long weekends and particularly the December holidays. Visit Baga or Calangute for a few days and spend rest of the holiday exploring the lesser known gems of Goa if you want to immerse in the vibes of a pristine forlorn beaches. My pick woul dbe South Goa for the vibes!
Avoid visiting offbeat beaches in Goa during low season or even in the monsoon months (June to September)! Many shops and hostels remain shut during this time due to low tourist footfall. You may visit on a day tour but return back to a relatively larger neighborhood by night.
Goa is a safe destination for solo women travelers. The only issue I found is a half-boiled public transport system that refuges to provide 24*7 transport from the airport. You have to rent a scooty and if you do not know how to ride, like I do not, then be prepared to share a cab or pay a high amount to rent a car! Kadamba Transport runs daily buses on regular intervals from Dabolim airport to Panaji.
The stray dogs are a menace in Goa. If you venture into an empty road or decide to climb the lonely forts, be wary of the dogs. They chase tourists more often than the snakes of Goa!
Shacks on the beaches of Goa remain closed during low season except for the popular beaches like Baga/ Vagator/ Anjuna and likes.
Markets operate on many beaches of Goa. Some of them run certain scams and scandals. Anyone promising you of drug and other illegal stuff (think trance parties) or anyone who looks/ sounds shady may put you into trouble soon after, please be sane, educate yourself with the law of the land & maintain safe distance!
Some beaches in Goa are famous for conducting many water sports. Surfing is a great option in Goa too if you stay away from the rocky beaches. Yes, some beaches in Goa are rocky ones!
Goa is famous for tranquil waves and a calm sea except for a few annual occurrences of cyclone. Best time to visit Goa is from November to April. I faced the wrath of Cyclone Kyarr and that was terrible!
Island hopping is not very popular in Goa. Check with a tour operator before booking.
Monsoon in Goa is magical. The waves near the shore under the dome of a pregnant sky, ready to shower at the drop of a hat. The sea has rough currents at certain beaches. A guard is always deployed. Please note many beaches are closed during monsoon due to surging tidal waves. Chalk out your plan and visit accordingly if sea-bathing is your thing! For example, Candolim remained closed in the monsoon of 2018 but Baga was open. So was Colva beach in South Goa!
Many of the prominent beaches in Goa also witness frequent bovine visitors. Yes, I mean the cows! They are beautiful and it feels my heart with warmth and joy to see these cute animals curiously interacting with an overwhelming number of tourists!
In this post I am refraining from discussing Goa beyond beaches since I have already written a 10,000+ words post about it. Suffice to say, do not overlook Goa's hinterlands since it is adorned with priceless finds, ranking in superlative words when it comes to scenic beauty and heritage value!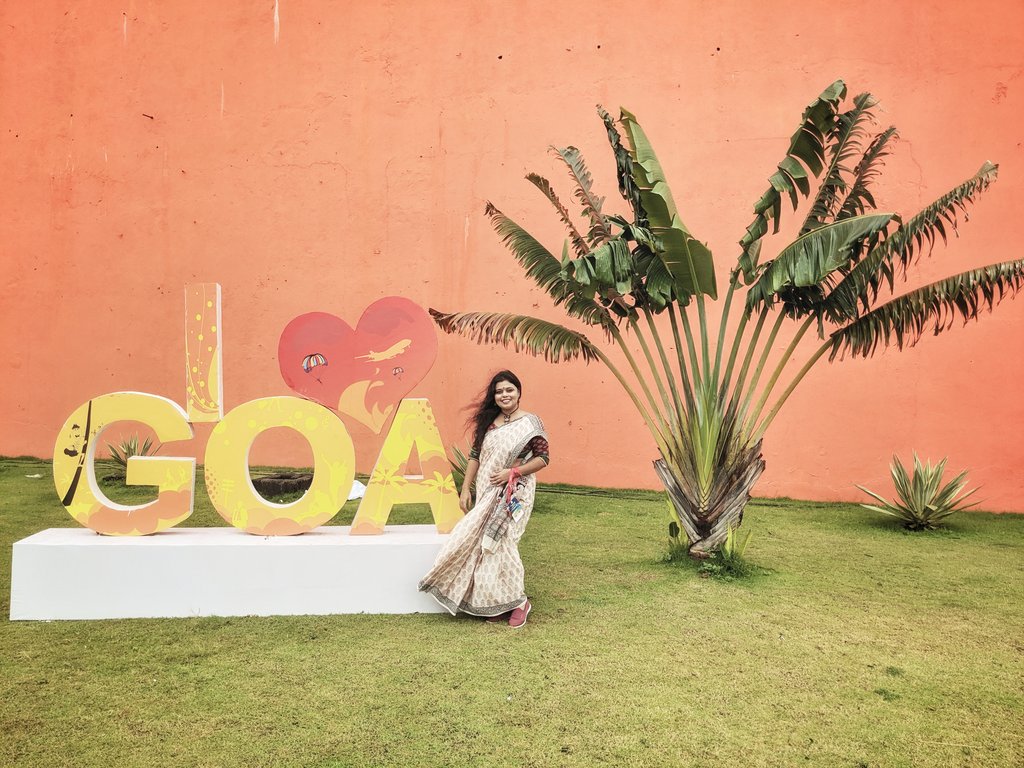 Also read: All my posts on Goa
Most Popular Beaches in North Goa
By North Goa, we mean the sacrosanct area between Baga and Arambol. Arambol is a bit far fetched because most people would not cross the creek and venture beyond Bardez. So Vagator beach is a realistic border for the north. Then there is far north in Goa which we will discuss in the next segment.
I prefer to call this region central Goa. This is the most thriving tourist spot in Goa. This is where you have the crowd that says "Goa is the best destination in India after Taj mahal" sipping beer for sundowner and chilling under the tropical sun!
But really, I like North Goa. I like her eclectic crowd, relentless horns, the ever growing urban face continuously bustling with vendors, new venture capitalists, start ups, new age cafes, artist's dens opening up for tourists, experimental living and jostling ideas! There is abundance everywhere, spelt with a capital A. You have an assurance that life is good. Life is free. Life can turn into a creative canvas, ready to be explored!
The synergy between a traveling human and an opportunist business idea is beautifully portrayed in the streets of North Goa!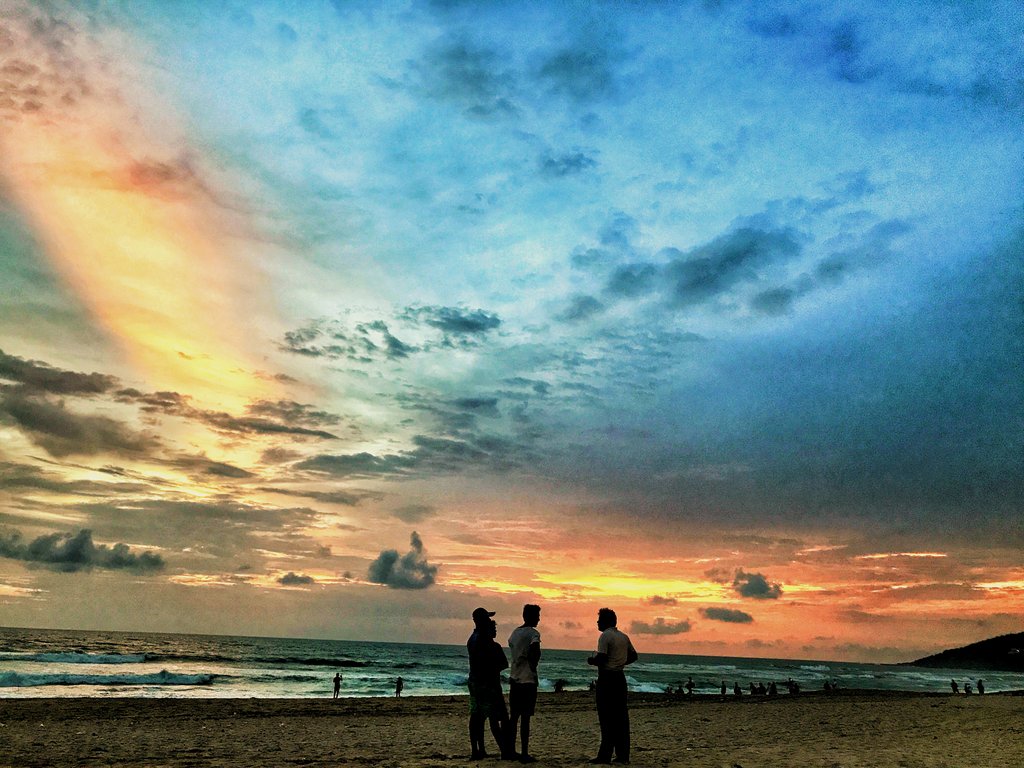 Baga: The Crown Jewel of Goa!
The quintessential heart of Goa, Baga beach is an epic spot to hang out. It is located close to the markets, bars, cafes and is the epicenter of the most popular tourist attraction in Goa. Needless to say, Baga is one of the most beautiful beaches in India, with her long stretched golden sands making space for both the humans and the cows!
Baga runs long, and remains mostly open during monsoon although coastal guards are present everywhere. Baga also houses numerous shacks and water sports activities for the enthusiasts.
Baga beach is located in North (or should I mention central?) Goa, very close to Calangute. Rolling waves scream at Baga. Thunderous sky showcase astounding sunset canvas with bright red flames. At the wee end of the beach runs the Baga creek, on the north of which runs Anjuna and other rocky beaches and a protruding part of a small rock.
The Saturday Night Market in Baga is a thriving place to experience. It is a safe place and befitting all types of travelers. There are various types of accommodation near Baga starting from a meagre 500 rs dorm to luxurious stay at international properties.
What I loved the most about Baga is the beach shacks spreading up serene set up during sundown with a candle and few white roses.
For a sumptuous sea food spread for dinner, check out these restaurants near Baga beach: Fa Fish (try Goan fish curry), Baga Parolia, Bottle Bay etc.
Baga is also close to the iconic fine dining restaurant named Britto's. Do try the Lobster cooked in Butter that drips juice from every bite. This are heavenly experiences for which I remain a huge Goa fan! We stayed at the Casa Cubo, a small beach facing Bungalow near Baga beach run by a local family. It was a little home with basic amenities.
Some of the famous hotels near Baga beach are: Snow Park, Baga Beach Resort, The Baga Marina, Era Santiago Beach Resort, Larios Beach Holiday Resort, The Baga Hideout. These are all decently priced budget hotel with overall decent review and are in close proximity to the beach!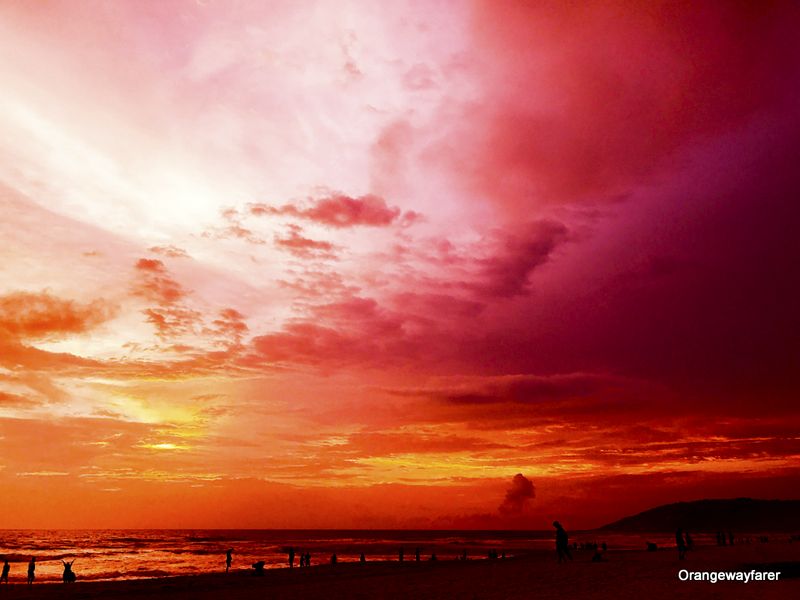 Calangute: the Largest beach in Goa!
The largest stretch of golden sand in Goa is nowhere but Calangute, which also happens to be heart of Goa that people know of, and plan to visit when they actually talk about Goa! It is actually a huge beach, a part of it is known as Baga and a part is also known as Candolim!
Calangute is thriving with markets, dining areas, pubs, guest houses, museums of art, shops and so much more!
You can easily spend even a week at Calangute. There is no dearth of anything. Life flows in all its abundance! You can set up a base at Calangute and visit Old Goa, Fontainhas, Divar Island and even south of Goa as a part of day trip and even take part in many water activities and be enthralled with the old forts of the state once ruled by the Portuguese. Calangute is in close proximity to all the main attractions of Goa!
On the hindsight, Calangute in Goa is also inundated with deluge of tourists which is an eye sore! I also belong to that crowd, I am not blaming anyone in particular. But uncontrolled crowd pull at Calangute directly contribute to Goa's terrible condition during high season and long weekend! Which is a reason why I went in search of Goa's endless cultural wealth and far deep South or extreme North where only a handful of people venture into. Needless to say, I felt a lot more happier!
Do visit the Tibetan Market at Calangute at night for a decent experience of shopping!
At Calangute, I stayed at the Le Meridien Hotel, Goa! It rained incessant and a cyclone was about to hit the coast. At all times, I felt comfortably safe and distanced from the ravages it unleashed outside! Calangute has no dearth of good hotels and guest houses befitting every size of guests' pockets. Do indulge in a few days stay at some of the finest beach properties at Calangute.
For dining, we preferred going to the Fisherman's Wharf, Pousada by the Beach, Suza Lobo, Cafe Del Mar, Zwe by Golden eye (for Burmese cuisine) etc. I also devoured the best plate of Goan Thali with Rawa king fish fry at Sai Hotel at the alleyway by Decathlon, Goa!
I recommend Calangute for a quick stay in Goa when you want to do a lot of activities and not just sit by the beach and watch world pass by! Calangute can be easily reached from Dabolim airport with a bus run by the Kadamba services. You may also rent a car which charges close to INR 2000.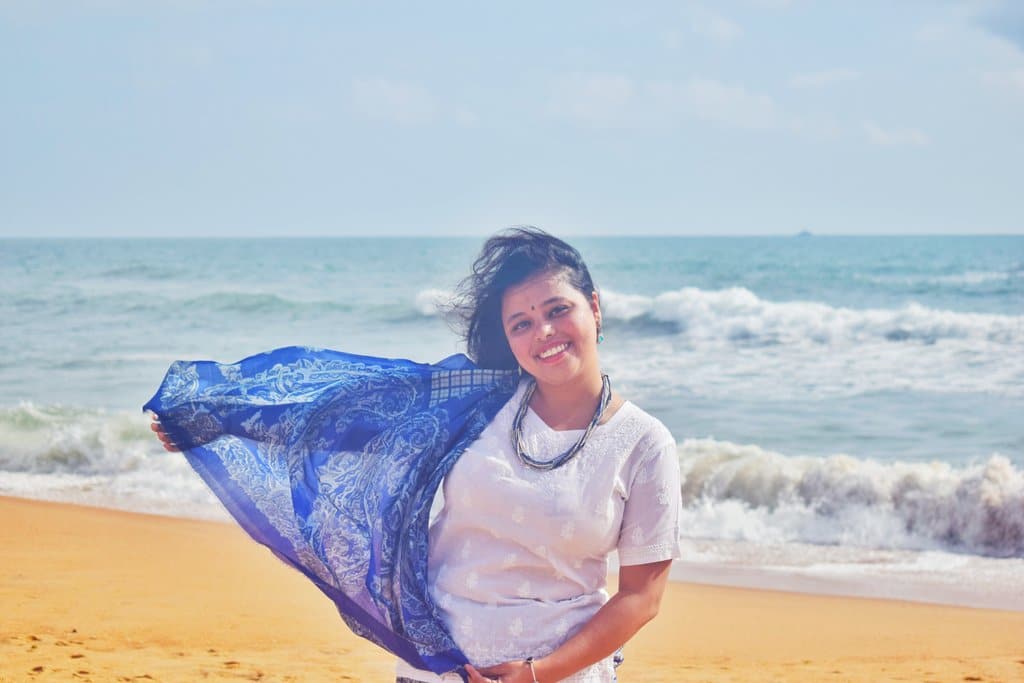 Also read: A First Timer's Guide to Goa: a Detailed Guide!
Candolim: My Favorite Beach in North Goa
Candolim beach is love, in short. It is an upscale beach at the wee end of Calangute, mostly frequented by couples, foreighners and families. It's long stretched golden sandy shores and beautiful sunset hues are star attractions of North Goa.
I recall spending a few days at an Airbnb by the Candolim beach, walking to the shore at the start of the day, buying little something, a sarong or a bikini from the women who waited by the paved walkway, spending the evening with a chilled beer in hand. What is there not to love about Candolim?
Umm… may be the fact Candolim remains shit during monsoon. The undercurrents are too strong during rains and the shoreline gets erored fast! The sea trumpets and instills fear in the heart.
Otherwise, I often say Candolim is our favourite beach in North Goa. there is a decent selection of beach shacks too for a quick drink and snack during peak season.
Back in 2007, MV River Princess sunk near the shore of Candolim, making the coast unsafe for tourists, swimmers and causing much of a damage to the beach.
For a gourmand, Candolim has endless dining options, starting from Fisherman's Cove to The Mango Grove and De Candolim Deck. I loved many shacks of Candolim beach. The cooks were young boys from Maldah and Murshidabad back in 2017!
For a hotel stay near Candolim, check out properties like Lemon Tree, Whispering palms, Radisson Hotels, Villa Sol Areia (Boutique hotel), Green Concept Resorts etc.
Newton's is a great departmental store located in Candolim where we frequented to get hold of daily supply and quick snacks. A lot like the 7/11s of Thailand!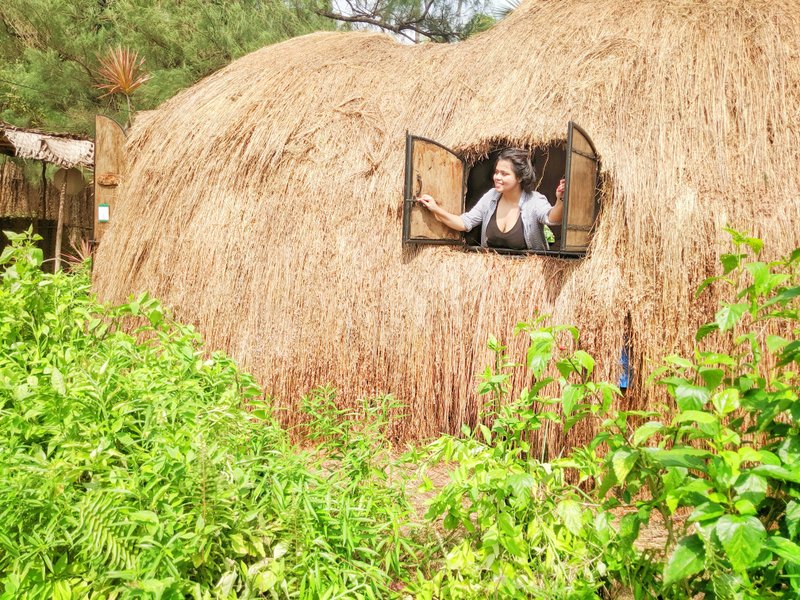 Also read: Resort Review- Yab Yum Resort in Ashwem.
Anjuna: A poetry of a beach depicted through rocks!
A beach full of rocks, Anjuna is where you get the first taste of what Goa used to be three decades back. Rocky cliffs seamlessly merging with an azure horizon where Sun plays riot during sundown hours! A number of beach bars and pubs. A thriving market repurposing thrift products and silver trinkets. Anjuna stays comfortably away from the hustle of Calangute and Baga yet remains close to what Goa has come to be after decades of tourist infrastructure development!
Anjuna has some of the most beautiful sunset sky of Goa.
For backpacker's, Anjuna is a great choice with the Funky Monkey Hostel being close by. Other places to stay at Anjuna Beach: The Musafir, Zululand Cottages, Wonderland Hostel, Nirvana hermitage, Passion de Goa.
Anjuna is a huge pull among the digital nomad or milleneal groups. It also has a few co working cafes like Cafe Liliput, Clay, Ohm Anjuna etc.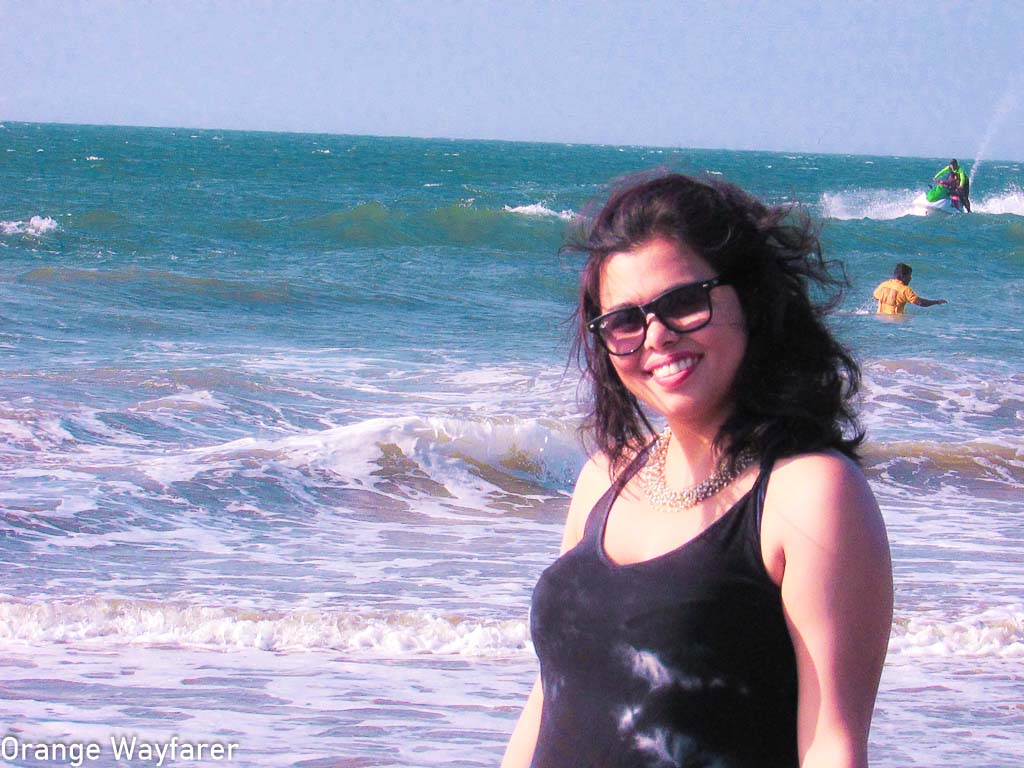 Vagator: the Crescent Moon Beach of Goa!
In my opinion, Vagator is the most beautiful beach of North Goa. It is a small crescent shaped beach tucked away in a cliff that guards it from the world outside. Not many knew about Vagator until the Russians flocked there in numbers and the crowd followed suit soon after. Today, Vagator is overrun with tourists, albeit lesser than Calangute or Baga but considering it is smaller in size, it can be overwhelming.
We went there as a part of day trip and spent a couple of hours there. I loved Vagator, its eclectic vibe, its pristine water and the dense coconut grove nearby! In recent times, Hotel W has opened a property at Vagator, making it one of the most sought after luxurious property in Goa. For budget travelers, I recommend checking out The Yellow House, Blue Lagoon, Vagator beach resorts.
A part of Vagator is also known as Princess Dream Beach where not many people step in. It requires a little uphill trek. Adjacent to this stands the beautiful ruins of Chapora Fort featured in the film Dil Chahta Hain.
A lot many restaurants appear on the way to Vagator set up in courtyard surrounded by lush greenery for reasonable price. At Vagator beach, you may not find shacks but a few restaurants and beach bar operate from the cliff. Tin Tin Pub, Spice Traders, Pinakin are some of our picks!
A paved walkway from the Aguada fort takes you directly to Sinquerim beach. With a bike we roamed around the area, around the fort to be specific and found us lost near an abandoned hospital. My mind is shameless and I could imagine a number of screams coming out of the dark windows where green creepers have reclaimed the concrete structure!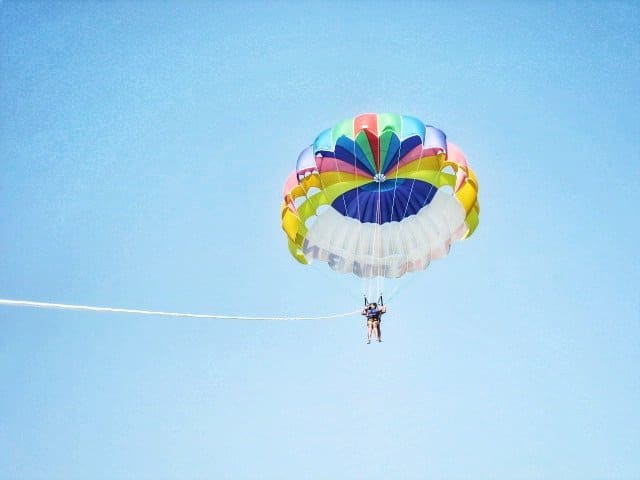 Also read: Slow down in Goa- a week's itinerary
Sinquerim where the Dolphins come to meet ya'll!
But soon after we found a way out and headed straight to Sinquerim! Sinquerim does not come close to other beaches of North Goa when it comes to natural beauty but this is the hub of watersports in Goa! Hence, you come to Sinquerim beach. You can choose from a wide array of experiences from riding a banana boat, parasailing, jet ski etc. I recall a friend of ours went for jet ski and met a Dolphin serendipitously!
When you go for booking water sports at Sinquerim, remember to bargain, specially when you are going in a big group. we were 6 people and we payed only INR 1200 for parasailing three years back! We were given a life jacket and a trained instructor accompanied us. We did not feel unsafe. While pulling the rope back towards the boat, the trainer drowned us in the sea! It was super fun!
Do not stay near Sinquerim unless you choose to spend your days in the luxury of Taj Fort Aguada. I had spent a few days at Taj Madikeri Resort and I know what it feels to be at a Taj Property. You will be tempted to spend the entire holiday inside the hotel premises and that is fine! We spent a few days at Langkawi Resort World in one such property. While it felt luxurious we were also staying far off from the main market and dining options were really limited.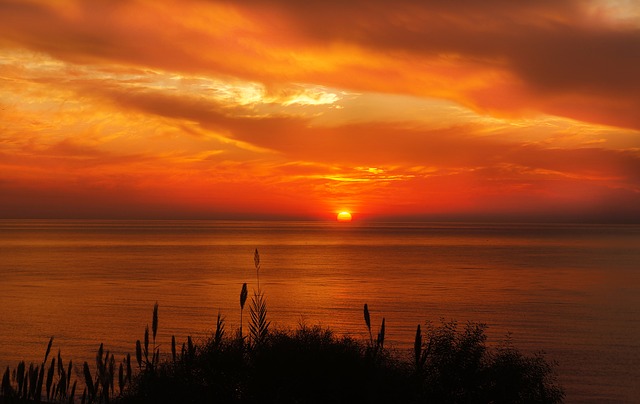 Also read: Beautiful Sunsets around the world!
Offbeat beaches in North Goa
Extreme North of Goa has a number of pristine shorelines where not many tourists visit. Only a handful of beach huts are operational in this area. Number of guest houses drastically come down. As a result, you will be surprised to find yourself as the only inquisitive soul roaming around in this wilderness. I can not complain! It felt beautiful!
I spent few days meandering through the roads around Ashwem beach and exploring the other gems nearby. I loved Ashwem and definitely recommend this area for a different taste of Goa!
please note many beaches are located off paved route and you have to meander through vegetation, jungle and often beach huts to find your way into the beach. Probably the more difficult it is to access, the more pristine these Goan beaches remain in North!
Tiracol: Mystery of a Fort
Straddling the border between Goa and Maharastra, the Tiracol Fort is an ancient fort erect on the Tiracol Beach which is seldom explored by people visiting Goa. Firstly it is far off from the heart of Goa. Secondly Tiracol is a true offbeat gem where you have little activities suitable for a tourist. However in recent times, the heritage fort has been converted into a luxury property and is best suited for people interested in experiential stays.
Check out Half Moon Beach and Tiracol Rock beach. None of them are very suitable for bathing but I recommend Tiracol for a tranquil holiday for a family looking to reconnect in the scenic beauty of nature!
On the opposite of Tiracol beach, you will find a nice long stretch of white sand on Querim beach. Not a soul was there when i visited it. At the end of the beach, you shall find an intriguing Hindu temple: Ajoba temple. Further down south, you shall come across Querim caves. Usually these places are safe to explore but be wary of snakes and wildlife while exploring the caves of forlorn area.
Arambol: A Sundown Lover's Paradise
Gone are the days when Goa used to be a pit stop for the hippies who would travel all the way from West to the EBC. Goa would resonate with an air of free, with music, conversations of an experimental life, myriad human stories unfolding. It is hard to trace down that nostalgia in Goa.
However, Arambol safeguard a few remnants of those heydays of Goa! Firstly, a few foreigners prefer to cool it down by the beaches of Arambol. The Russians prefer Arambol beach more than any other place. So much so you shall find many restaurants and cafes having specific menu written in Russian alphabets.
What blew my mind at Arambol was the evening drum circle and its musical performance. What a stunning way to bid adieu to the day! Arambol beach is comparatively less crowded yet has a number of shacks with reasonably priced menu and beverage. A little hike through the rocky cliffs and you shall reach a sweet water lake where you may take a dip to cool down from the scorching sun of Goa as well!
I know a friend who spend a few months in the tranquil respite at Arambol beach, renting a beach hut and working from there for a prolonged period. Her days started with buying fresh catch of the day from local fishermen and ended with a serene session of beach Yoga!
Arambol has a number of new age cafes and beach shacks for the millennial population, specifically catering to their demand. Organic food, hippie vibes, less crowd, crystal clear water of a less polluted beach, many activities. I loved Arambol. you may take a day trip here if pressed for time and spend at least three hours in the wilderness!
For great food, try out these eateries at Arambol: Umbrella Cafe, Organic Vibes, the Local House, Uzbekcha, Kinara etc.
For a stay at Arambol, look out for the following: Lotus Sutra, ImagiNation: Artist's hostel etc
You get very good beach massages in these areas, say Ashwem, Arambol and Mandrem beach which you must not miss!
Also read: North Goa or South Goa- How to choose between the two?
Mandrem: the True Hidden Gem!
The rocky beaches of the North Goa does not cease. Mandrem is one of the lesser known beaches of North Goa accessible only after you cross a number of rickety bamboo bridges and landscaped gardens! Mandrem is a dream come true for swimmers and surfers in the area. A rescued dog center share space in the beach.
Not many know about Mandrem yet. the fact that you have to walk a little and leave your vehicle at a distance is off-putting for few. But I highly recommend you visit Mandrem and enjoy a good couple of hours of sunbath. A few beach shacks and huts dot the beach which also has a river running at the backdrop.
Check out these cafes near Mandrem beach: Chique Shanti, The Lazy Dog, Cafe Mandrem, Lama's Place
beach huts at Mandrem: The Cool Huts, Sea Scallops, Dune's Holiday Village, Riva Beach Resort
Elsewhere is also a very nice property, a beautiful beach hut facing the sea and set amid lush green scenic backdrop in Goa!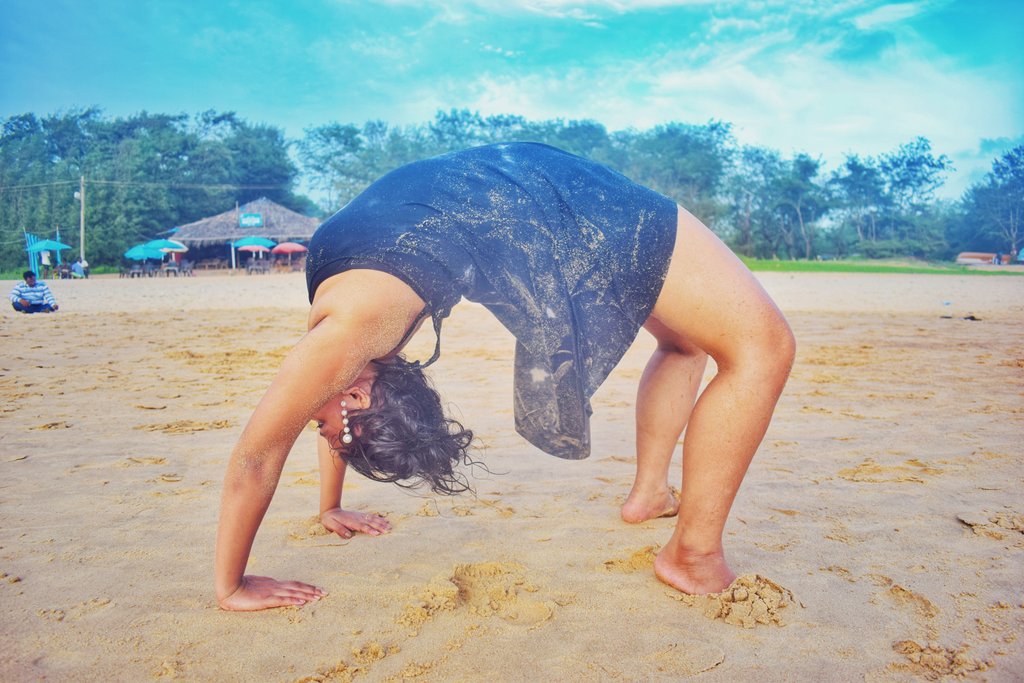 Ashwem: Azure Sky and Surfing Waves
At Ashwem, I set up my base in the far North of Goa and spent a few days in unhindered peace. I stayed at Yab Yum Resort, an eco resort taking shape from an artist's imagination!
Ashwem beach is accessible if only you walk through remote jungle and amidst a few cottages. No wonder not many people visit here and the beach is largely used by the couple of resorts by the shore as private beach.
Ashwem is arguably one of the most beautiful beaches in North Goa with clear water and azure sky on a sunny bright day. Sadly, I reached there during a cyclone and I had experienced the beach in its worst and close to devastation. I remember the beach property owners standing on the beach in a helpless face, powerless in front of the wrath of nature!
Ashwem is a beautiful beach, free of plastic and great for swimming and surfing.
I wondered around the area by foot for a while and explored the nearby markets. La Plague is one of the finest eateries in the area. I also visited the Tibet Cafe near Ashwem beach and dined with the local family. I treasure that experience.
Morjim Beach
Ashwem is basically an extension of Morjim beach but this one has a rocky stretch and corals are often submerged in the water. Morjim is easily accessible from the road and strategically located close to the market area. Plenty of cafes and hotels and guest houses are found in the area but I personally did not prefer to spend more time at Morjim. If I have to be closer to market and people, I choose Arambol in North Goa!
A section of the beach also witnesses annual visit by the Olive Ridley Turtles for nesting.
Morjim beach has Chapora river running at south, on the bank of which stands Chapora fort. Visit the fort during sundown for a beautiful view. However beware of the pack of strays that frequent the area during low season. I recommend walking with a stick.
Thalassa is an amazing Greek restaurant located close to the Chapora beach!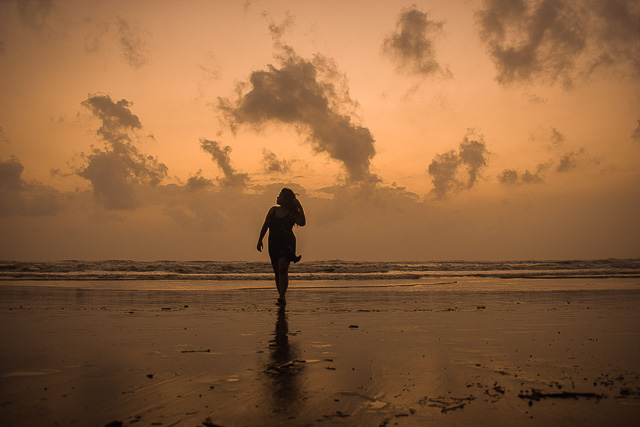 Miramar
Coming down further south from Calangute (aka the heart of Goa) you stumble across Miramar beach. An otherwise nonchalant beach mostly frequented by the locals, Miramar is surprisingly easy to access and located close to the capital of Goa, Panjim. A number of casino ships are anchored close-by. the mouth of Mandovi river opens at the Miramar beach. It has a long stretch of 2 to 3 km. I recommend you visit here if you are visiting Goa in a hurry and only have a day or few hours to see at least one beach in Goa before catching the flight. It is nice but Deep south or far north of Goa has a lot more beautiful beaches compared to Miramar.
Dona Paula
Legend of star crossed lovers who committed suicide remain poignant at the rocky beach of Dona Paula! On the upside, Dona Paula is located close to the capital; of goa and is easily accessible. On the hindsight, it is a rocky beach and swimming is impossible at Dona Paula. You may visit the Dona Paula View Point specially designed to host tourists who can take a look at the sea and countless small boats and fishing vessels from a distance. I would not recommend a night's stay in this area. Rather, choose Fontainhas for an exciting trip down the memory lane in Portuguese Goa!
Bogmalo (Offbeat, pristine)
Located just 3 km off the Dabolim airport in Goa, Bogmalo beach is the quintessential destination for those who visit Goa for business and are running short in time. Bogmalo beach Resort is close by. To be honest, Bogmalo beach is just a beach, often frequented by locals, beautiful but does not show you the real face of Goa! I recommend a visit to Bogmalo if you are really pressed for time and want to minimize time of commute.
Velsao
The south of Bogmalo beach extends to be Velsao, a sleepy quite beach right next to the fishing village and probably most active during sunrise as the boats venture into deep sea! Velsao is a decent beach for plenty of sunshine and long walks in silence. A lot of beach bars dot the coastline where you may order a pint of beer and enjoy the world pass by. On the cliff stand the Three King's Church from where your lies will be rewarded with a breathtaking view of the entire stretch of the beach and dense distant forest.
Velsao is a clean beach. You may even have a few glimpses of marine life (read Dolphins and crabs) from Velsao at the wee hours of the day.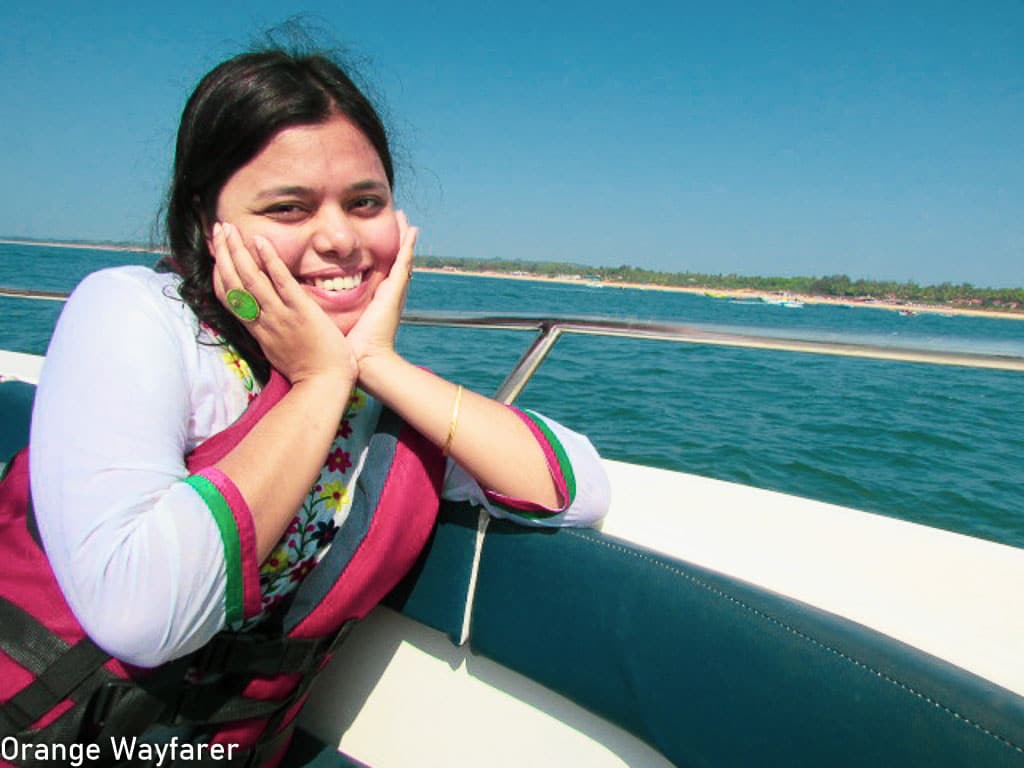 Also read: Complete Guide to visiting Tawang!
Most popular beaches in South Goa
To reach South of Goa, you need to ride further from the airport, cross acres of land painted in dainty green paddy fields and beautiful coconut trees dotting a residue of a road, and reach a place mostly safeguarded from the outside world. Usually, the first timers in Goa would prefer to stay close to North Goa, for the sole reason of plenty of activities.
Colva
The crescent shaped beach of Colva actually flaunts crystal clear water and is one of the most sought after destination in South Goa! Colva flaunted a crystal clear water through which I could easily spot the sea shells and Jhunuks which is impossible to find in regular beaches of Goa at any given day during tourist season. it is located next to a fishing village. the beach makes space for fishing boats, cows and devotees visiting the nearby church which has many legends associated with it.
Colva is a decent place to park your boat for a couple of day while exploring South Goa and then venture into the interior of deep south! I recommend Kedar super market for your regular grocery shopping. Colva is one of the developed beaches in south with plenty of homestays close by and decent internet connectivity. the beach itself has ample opportunities to experience water sports, candle light dinner and other fun activities. You can easily call it he Baga of south Goa just that the vibe of the sea is distinct at Colva beach!
Look up Salcete Beach resort for a peaceful stay at Colva. Other places for stay include: Soul vacation, Vinsons Cottages, Club Mahindra Acacia Palms, The Golden Crown.
For great food, try Babumoshai, a Bengali restaurant serving delectable Bengali rice and fish curry near Colva. Also check out Cafe Colva, Joshua's dock, Bhola's Cafe etc.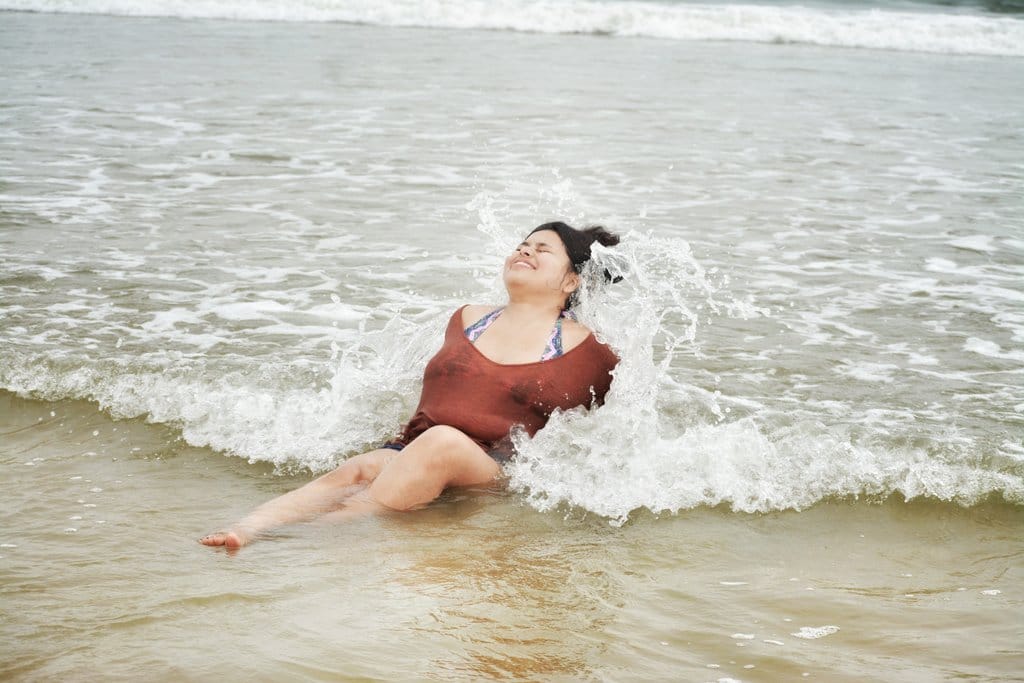 Also read: Explore Offbeat Phuket at Old Phuket Town!
Agonda
Needless to say, one of the best beaches in South Goa is Agonda. It is a rocky beach but clean and not very deep hence suitable for non-swimmers. Lifeguard is on duty at the shore 24*7.
Agonda is a clean beach and stretches over a few km. There is no dearth of beach shacks at Agonda. Agonda is suitable for family, honeymooners and romantic travelers and many foreigners love this shoreline! Prices are on a bit higher side. The beach has less crowd than usual and surrounded by dense forest from all sides.
Boat trips are arranged from Agonda beach for water activities, kayaking and dolphin watching. Horses were there too but they looked in a terrible shape.
The best beachside stay at Agonda are the White, Saxony, Agonda Diva. For cafes and delectable food, try the following cafes and restaurants in Agonda: Kopi Desa, Silent Waves, My Friend's place.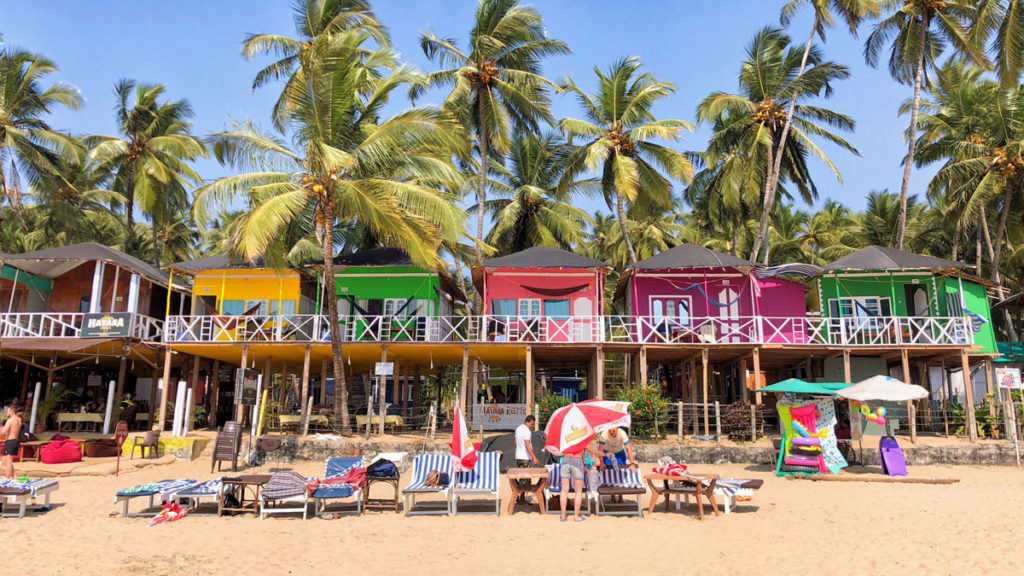 Palolem: The most Beautiful beach from South Goa!
Sited to be the best beach in South Asia, Palolem beach had been on the trend for backpacking crowd in Goa. With increased footfall, prices of the beach hut has increased manifold and you pay anywhere between INR 1200 to 2000 for a night's stay at the colorful stilt houses which famously made to the cover of Trip Advisor!
Palolem beach has some rocky parts on the coast line. Swaying palms make the sunset canvas painted in myriad colours! Palolem is best viewed from both the ends of the shore, making is a perfect half moon tucked away from the hustle of the world outside!
Palolem was ideal for backpacking budget traveler until recently when big named like Sarovar portico have decided to open branch there! There are plenty of ways to spend your days at Palolem. Watch the birds, practice Yoga during golden hour, take those small hikes to nearby places hidden from the world (think Patnem beach) and you will not be able to take your eyes off the stunning sunset scene at Palolem!
Palolem has a sizable market place and a number of cafes with a thriving night life during high season. For solo travelers in Goa, this is a great place to meet new people!
Also read: A photoblog on Varanasi!
Offbeat beaches in South Goa
South of Goa is beautiful beyond words. Thousand nameless attractions remain hidden in the interior of South yet to be brought in the mainstream tourist attractions by travel enthusiasts. There are coves, lakes, creeks, a complete system made with sea-water and rivers, handful of guest houses and more!
I suggest allow South of Goa at least 5 days or more. Set base at one of the developed beaches with decent infrastructure. rent a scooty and explore the region! I will list down a few offbeat beaches of South Goa where hardly a handful of tourists reach. At any given point of time you will be rewarded with almost the entire stretch of the beach to yourself, and revel in the glorious nature of unseen Goa!
Cansaulim
One of the best beaches in South Goa that is off the route befitting vehicle movement. Probably the reason why very few tourists actually walk the stretch of 50 meter to reach the secluded beach lined with coconut groves and witness an ethereal sunset! Cansaulim is a great beach to take a long walk in peace and tranquility.
Cansaulim has limited option to stay or drink. However move further down south and you shall reach Arossim beach which flaunts a number of beach shack and a somewhat living locality. Arossim has a beautiful wetland area which is a famous treasure hunt spot for the birders!
I would not recommend these places for stay unless you really seek extreme quiet. However, for the luxury travelers, Arrosim beach is adjacent to the beautiful property of ITC Grand Goa. If you fancy a luxury stay with a private beach access, this is where your search stops!
Please note, Martin's corner, the favorite cafe frequented by none other than the Sachin Tendulkar, is located in this area. We recommend booking a slot before you visit here!
Cola beach
To reach Cola beach is an experience you must not miss! You run through acres of pristine nature and hidden creeks and waterbodies which remains unknown to a larger section! Upon reaching Cola, spend till sunset to have a beautiful view of the horizon from the hilltop! There is a lagoon at the backdrop of Cola Beach as well.
Majorda
Majorda used be one of the calm and clean beaches of South Goa but surging tourist activity has eventually led to decay of the beach. despite that, Majorda is one of the stunning sunset points of Goa. The beach is huge and beautiful if you will excuse the plastic and other evils that human bring along. Majorda used to have a number of shacks and water activities and look forward to have them all again as tourist season begins in 2021! You can relax at Majorda with your friends and family and even spend the night there. Majorda has a market catering to different tourists, including the Russians with gem stones and other precious metals.
Betalbatim
A gorgeous beach with white sand in South Goa which is relatively lesser known amongst the crowd. Betalbatim beach runs a tiny stretch of land but has a handful of shacks and perfect for couples. Check out Beleza by the Beach for a beautiful stay near the beach!
Benaulim
We had dreamt of renting an Airbnb villa at Benaulim and stay there for a week once upon a time. the plan did not materialize! (But remains on my to do list). three years down the line, Benaulim has grown to be one of the better beaches in South Goa with developed tourist infrastructure, a lot of resorts, a thriving marketplace and plenty of beach shacks.
Needless to say the beach at Benaulim is one of the most beautiful one in the southern coast of Goa. The beach is clean despite increasing footfall and has a huge stretch of land and is easy to access. You can book a stay at Benaulim beach with Beira Mar, Marriot, and a number of beach huts. I am not specifying since many of them are not operational at this point.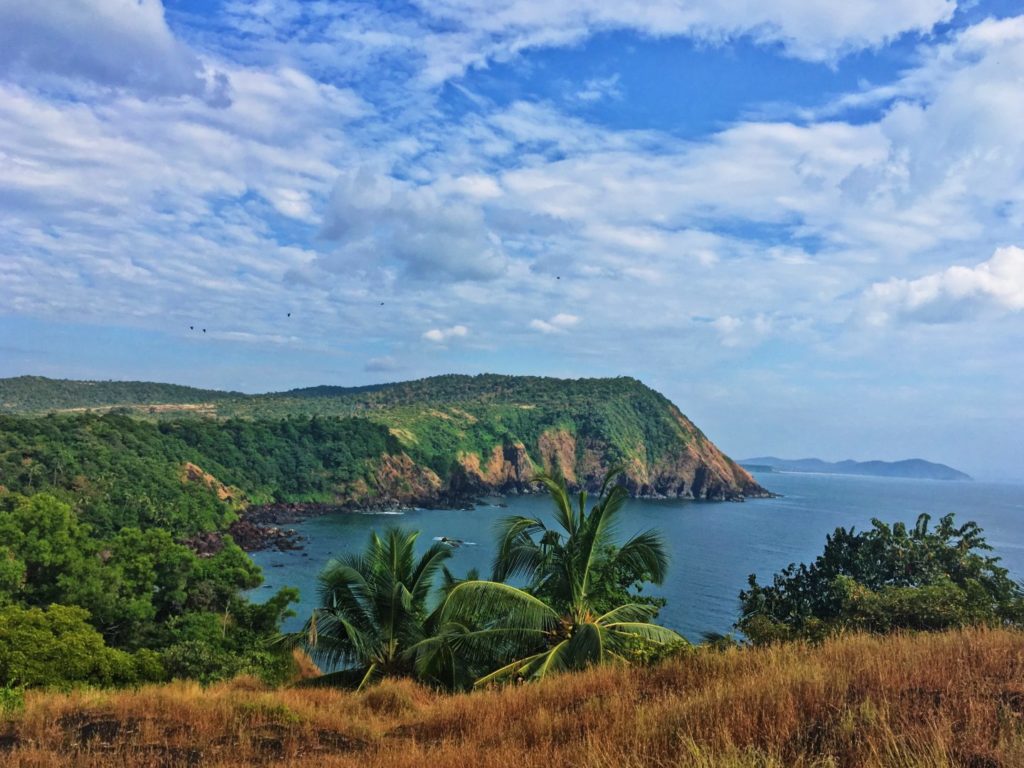 Kakolem beach
A tiny beach located close to the ruins of Cabo de Rama Fort! It is one of those last remaining true secret of Goa. The beach is tiny and compactly hidden behind the rocks and trees. The shack on the beach has humble arrangements for accommodation. Not more than 5 people were there when we visited Kakolem beach!
Varca
A quiet and beautiful beach connected to a resort, Varca is frequented by joggers during sundown in South Goa. The Zuri white sands is also located in Varca. South of Varca is also known as Fatrade beach, visited by many people. This beach has Caravela Beach resort on the shore, another luxury property. It is an upscale neighborhood in South Goa and families prefer to stay here. The beach is long, made of golden sand and easily accessible from the road. Beach shacks are not much in number. Options of dining out is restricted as well. Check out home run restaurants, Dona Clara and Jollin while traveling to Varca. I recommend this beach for a peaceful tranquil Goa vacation soaked in luxury!
Cavessolim
When I visited Cavessolim, the beach had decked up to celebrate a grand wedding! Cavessolim is one of the larger beaches of South Goa with a larger crowd pull. Despite that, it has clean water and beautiful shore and a number of shacks on the beach. The Byke Old Anchor is a hotel right next to the beach at Cavessolim. I recommend this beach as a staying option for romantic loners!
Mobor
Located close to the likes of Holiday Inn and Leela Resort, Mobor is a beautiful beach with comparatively large m=number of activities. Its proximity to luxury hotels have opened new opportunities for the locals to run many water sports and activities in the area. Beach Grill and Fig and Olive are some of the famous dining places in the area.
Betul
Of peaceful mornings and Sunset Saga, Betul is one of the most pristine beaches of South Goa. Betul is relatively difficult to reach and remains off limit to most of the tourists. River Sal empties into Arabian Sea by the side of it. You will find shacks sparsely at Betul. Fishing is an integral part of Betul Beach activities, in the glorious clean water and golden sandy shore!
Canaguinim
A little creek, a narrow river stream and a few local fishers are all that you can find at Canaguinim, one of the last abode of peace of tranquility in South Goa. This beach remains off limit to most of the tourists and hardly a person goes there. It takes a little effort to find a way to the beach, which comes next to Cabo Da Rama fort ruins and is safeguarded by a plateau. This is a tiny rocky beach and dense coconut groves guards the coast. I recommend packing a day's lunch and a few paperbacks and visit the beach to spend some good time in solitude listening to the sound of waves. Life seems perfect! For drink, walk till the main road and find Marina Bar that operates seasonally.
Patnem
A small beach located close to Palolem beach. Patnem can is accessed by a small hike. Patnem can be called what Palolem used to be ages back. Clean beach, colourful wooden beach huts, dense coconut groves, grooving music at night. Loved the vibe of Patnem which is very similar to Palolem but is even smaller in size. Please note this is a rocky beach. Patnem remains largely untouched and retained its pristine vibes. It is an isolated stretch of coastline which is hardly accessed by regular tourists. While amenities and activities are limited, the stunning view of the beach more than makes up for it! Check in at any of the beach huts are Patnem which almost never gets sold out!
Colomb
Located next to Patnem, a very small but rocky beach. Colomb features crystal clear water but it is a pity you may not be able to go down near the water! Visit near for a great sunset view if you can not make it to Patnem or Palolem in time. Colom remains a true little secret beach for the locals of South Goa!
Rajbaga
One of the best beaches in South Goa is Raj Baga Beach. It is located close to the Lalit resort and a number of other upscale resort in Goa and features bright golden sand. it is a clean place and suitable for long walks during sundown. Talpona rivers empties out to the sea near the beach. You can swim in the sun and even sleep at the shacks. The crowd is nice since the beach is located at resort area. Only a handful of shacks operate on the beach. Rajbagh is a beautiful place to witness the sunset scene in Goa!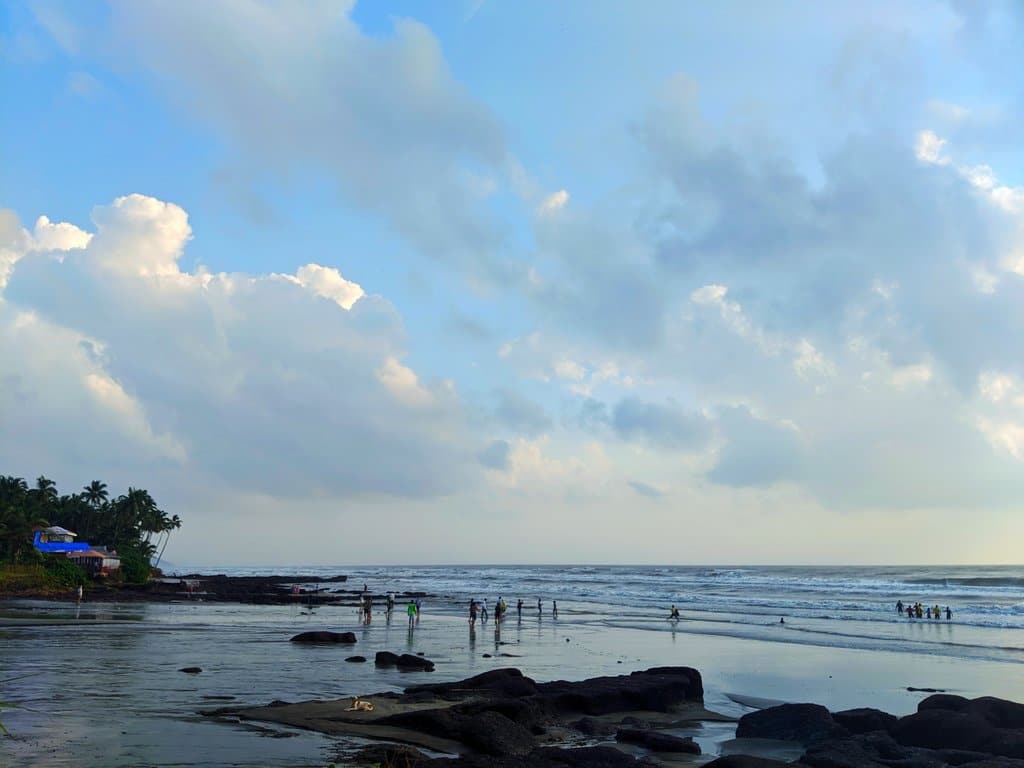 Talpona
Talpona remains an unspoilt beach in the south of Goa near Canacona district. Hardly 20 people are there at the beach at any given point of time. The long beach of Talpona is a quite suprise that Palolem or Patnem used to be before the curious tourists "discovered" them!
Talpona beach has not more than a handful of shacks serving fresh sea food for a reasonable price and chilled beer. These shacks are mostly operational during tourist season. Otherwise, it remains secluded and forlorn, under the reign of stray dogs!
Talpona beach is located right next to a fishing village. A few beach huts are operational during season. Otherwise, it is suggested you stay at Colva or "upper South of Goa" and make a day trip to the beach. Talpona is a good beach to swim during high tide but beware of hidden rocky surfaces.
Galgibaga: the Rescue Beach for Endangered Turtles!
The Famed Olive Ridley Turtles have chosen Galgibaga beach to be their nesting place post mating season. This is a true hidden gem in South Goa and remains in safe distance from the tourist crowd! The northern part of the beach is protected and does not allow tourists entry. At the other end of the beach, the Galgibaga river mouth opens to the Arabian Sea! The turtles also frequent the beaches of Agonda and Morjim in North Goa.
Located in the deep south of Goa, Galgibaga is one of the cleanest and true offbeat destination in Goa! Towering Palms, paddy fields, a handful shacks are prime elements of the beach which is good for bathing as well.
For night's stay Galgibaga has limited options. A few seasonal beach huts hosts tourists, like Casa Galgibaga, Barretto's Lazy Stay etc. Food is decently priced at Galgibaga and served at a few local cafes. Look forward to having an authentic Goan Thali but options are rather limited. I say stay at Palolem or Colva and head towards Galgibaga as a part of Day trip for a beautiful offbeat experience. Otherwise, the secluded beach is particularly haunting at night with locals going off to bed in a typical rural routine.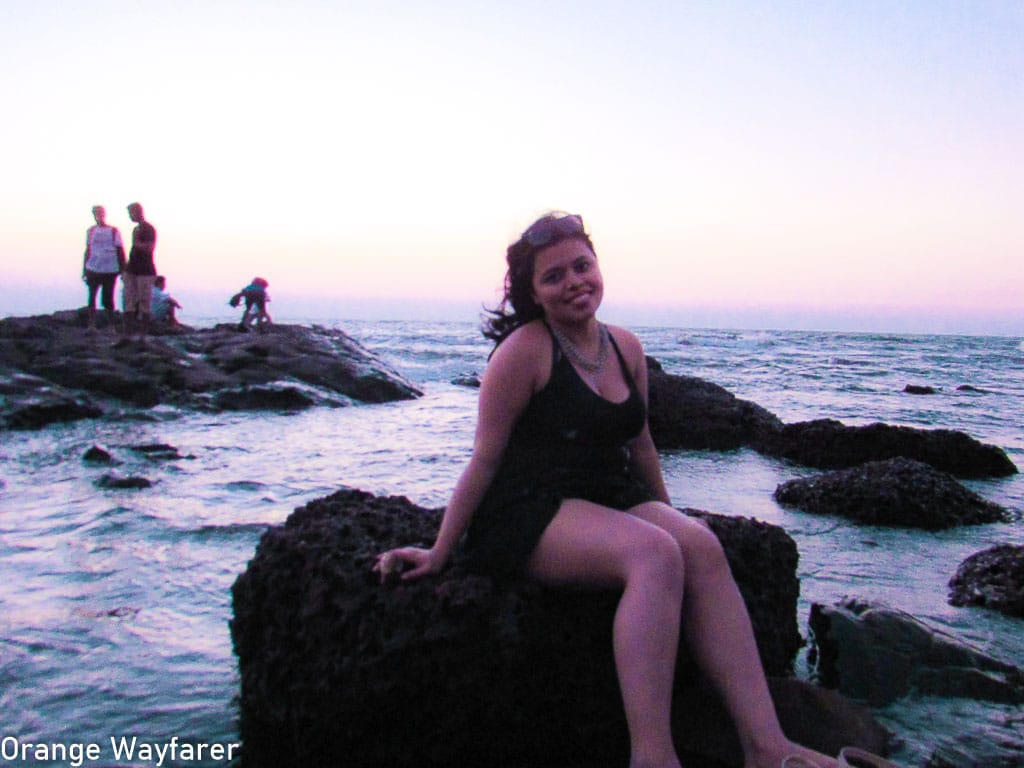 Polem beach: the defining border between Goa and Karnataka!
The picturesque beach of South Goa is a little nook blessed with white sandy beaches and swaying palm grove! Polem is where India has divided the Konkon coast between Goa and Uttara Karnataka! Ideal for sunbathing, this secluded beach is often frequented by the white bellied eagle who keep an eye on the lively dolphins! Polem seems like a place where the Goa Frenzy has stopped and the true eternal nature has reclaimed her crown jewel!
Imagine having to step on paddy field to reach the beautiful beach of Polem, still hibernating from the garb of over enthusiast crowd! The small town near Polem beach has a handful of road connectivity with the bigger cities nearby, say Karwar!
Fancy a beach shack or a pool or improved tourist infrastructure? Polem, like many other offbeat beaches of Goa, is not your cup of tea. But Polem will steal your heart if you crave to see unadulterated nature. A small paved road on red Earth runs long along the shore line amid small fishing villages near Polem. The 700 meter long stretch of beach is rocky in some parts.
for all the practical reason and difficulty is reaching, Polem could be a daunting choice during monsoon or off season Goa travel. Villa De David Guest House is one of the operational hospitality options in Polem. Ask the fishermen to take you to the nearby beaches cut out from the rest of the world with towering rocky cliffs. You will find what relaxation and abundant Sun truly means in Goa!
Like many of the south Goan Beaches, the crescent beach of Polem too can be reached by a motorboat from Palolem. Polem is basically a two hour long ride from Panjim. Hence it is befitting for a day trip from central Goa too! the best time to reach Polem beach is late afternoon, from 3 pm to 4 pm when low tide bares a long stretch of sandy beach!
So which one is your favorite destination in Goa among all these beaches? I choose Ashwem and Candolim in a heartbeat for their quite and vibes respectively! Nonetheless I am open to experience the many faces of Goa in upcoming trips. Hope you too do the same!
Let's stay connected on Facebook, Instagram, Twitter!
This post may contain affiliate links. Please read the disclosure post. If you have liked the article, you may support it by buying using these links without any extra cost to you.