About this blog: This travel guide to Goa will list out all the practical travel tips to the Coastal state of West India, and the country's most beloved beach destination. If you are traveling to Goa for the first time, you will ideally find all the answers related to Goa travel in this article! If you do not, ask away in the comments section please!
Read all the posts on Goa Travel here!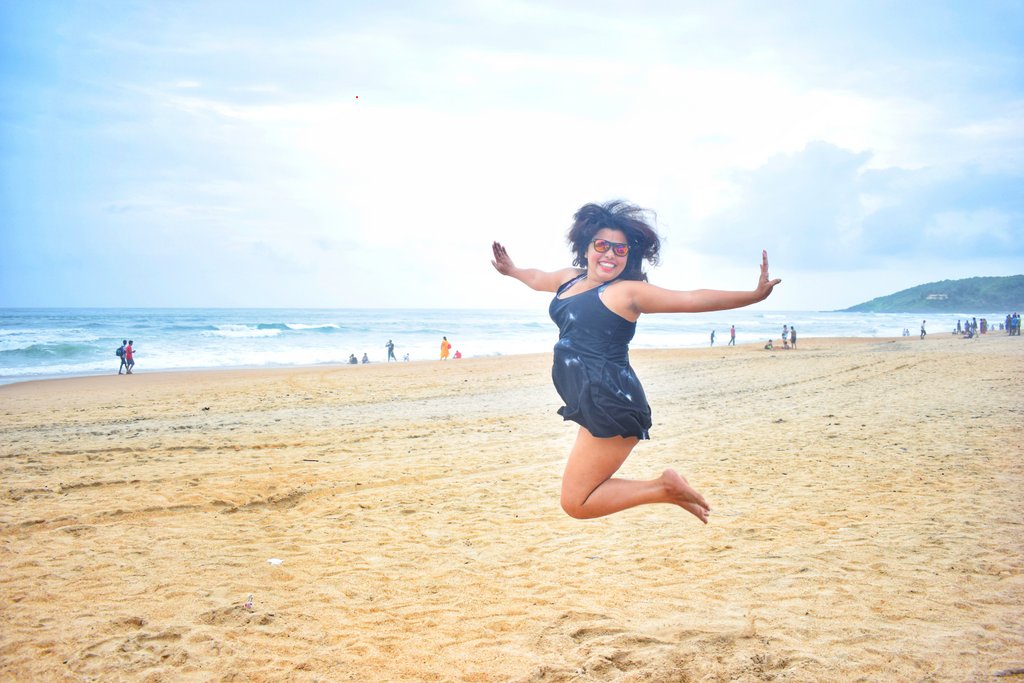 Traveling to Goa is often hailed as a sign of attaining adolescent in India. Her long stretched coast line promises a new kind of free. Once a part of the iconic Hippie trail that flourished all the way from Europe to Nepal, Goa gave birth to a "New Found Land", where you can just be, drifting away from the prejudices and societal niceties that bind you beyond logic can reason wish!
You do not visit Goa just once. You want to live there, get drunk on the intangible elixir that Arabian Sea serves with salty breeze! I visited Goa on a long weekend trip from Bangalore. I revisited Goa with another set of friends, in between a lot of failed Goa trip planning which are an incumbent part of Indian Millennial's growing up experience! Then life happened and I visited Goa multiple times for "work", I mean for travel blogging.
Each time, I visit, Goa opens a new chapter from past, while siting glorious nature by side.
Quick & useful Information about Goa travel:

Language spoken: Konkoni, Marathi. Largely understood- English and Hindi.
Famous for Beautiful beaches, water-sports, night-markets, sea food, yoga, nightlife
Safer place to travel to for solo women in India
It is a tiny state. Prosperous and with higher literacy rate. One of the leading tourist destinations in India.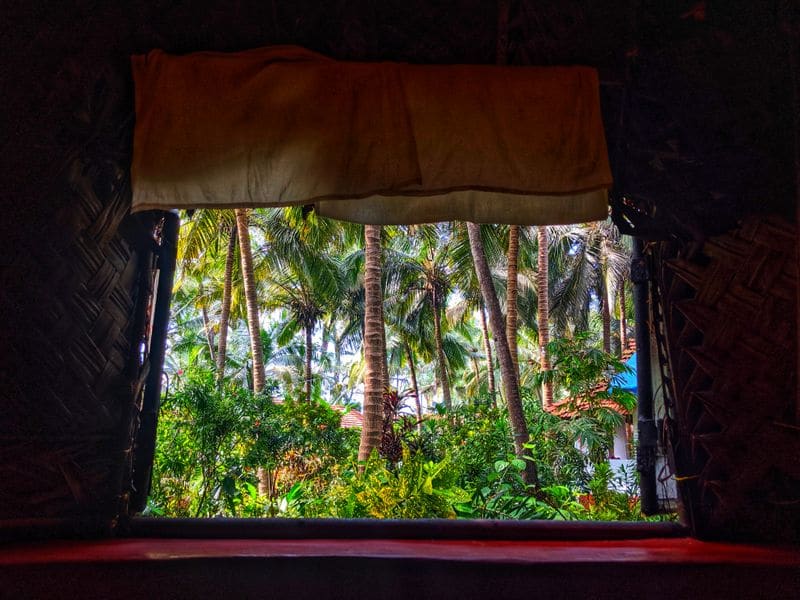 How to reach Goa (by car/train/flight)
Goa is well connected with the rest of the country. Especially, multiple hour-long flights fly daily from Mumbai (erstwhile Bombay) to Goa, India's financial capital. I prefer train journey to Goa as the route is particularly scenic!
Train journey by Konkan Railways!
Madgaon (MAO) and Vasco Da Gama (VSG) are the two major railway stations that connect Goa with rest of the country. If you are traveling to Goa from Bangalore or southern parts of India, I highly recommend taking a ride through Konkon railway. You shall see Dudhsagar falls for a fraction and mist shrouded lush green jungle everywhere will greet you to the land of Goa.
Fly into Dabolim Airport, Goa
Dabolim (GOI) is a domestic airport which is yet to receive international flights unless you are flying on a charter plane from somewhere in Russia. That is how Russians fly into Goa, in style. However, domestic carriers like Air Asia, Indigo, Spice Jet have multiple flights to Goa from morning 6 am to 11 pm at night.
Also keep in mind, Dabolim is an army airport serving the naval base of Indian Military and photography is restricted here. In Goa, a new airport is on the make to accommodate increased tourist footfall and should be operational by 2020.
Bus to Goa from nearby states
Overnight bus runs from nearby states and takes you to the connecting hub at Kadamba Bus station. From Bombay or Pune, traveling to Goa by bus is a last minute budget option. Bangalore to Goa bus is there too, however it runs for a painful 11/12 hours and stops are sparse. Bus journey in India do not have attached tpilets.
Goa Central bus station is located at the heart of Panaji. You can further change bus for North or South Goa or rent a car. Public bus ply in Goa till 6 pm and then frequency slows down, especially for the longer routes till Margao etc.
Road-trip to Goa
NH 66 passes through the Western coast of Indian peninsula and runs through Goa. Roads are a pleasure to drive. However you need international licence to drive in India (in case you are not Indian passport holder).
On new year eve or long weekends, there had been multiple reports of roadblocks with excessive traffic. Monsoon may cause road blockage due to mild flooding as well.
Public Transport in Goa
Kadamba line has recently hit the Goa roads. The Aircon bus runs from Panaji to tourist town of Arambol and Calagute. They also have hourly connectivity with Dabolim airport. Prices are close to INR 100 and Kadamba busline in Goa is the safest transport option.
How to rent a bike in Goa
You can also hire bikes, cars by depositing your licence. Do not forget to get a photo of the license which will can be further used at police check points on the road if any.
Bikes or cars are generally driven on the left side of the lane everywhere in India. Traffic rules are strict. Drunk driving is a punishable offence.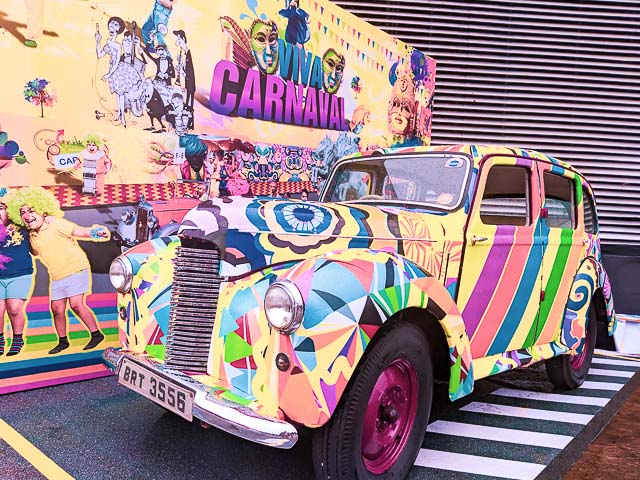 Also read about the most beautiful beaches of Goa. You may explore some of them in a long weekend vacation to Goa as well!
Best Time to Visit Goa
Famous for beach-life, Goa is best enjoyed under the bright sun. Winter is literally non existence.
Usually, tourist season in Goa spans from November to wee end of March. April is when school in India are closed for summer and you are likely to see plenty of domestic families traveling to Goa. Come every long weekend, millennial Indians working in nearby cities head to Goa to chase the grand sunset on Arabian sea. That crowd does not disperse when during monsoon.
The winter months in Goa usually have a very pleasurable moderate weather. They neither make you shiver under the blanket, nor force-feed challenging humidity. Summer can be different though, with a bright sun scorching everything on its way.
Monsoon in Goa
Monsoon in Goa is painfully beautiful. Raindrops drizzle from the straw huts and hinterlands turn lush green, complementing a swelled up river Mandovi. But Arabian Sea takes up a dangerous form, with most of the beach being off limit to swimmers. Watersports are usually closed during monsoon. Beach shacks are extinct.
Head to Goa during monsoon, if you love nature. However for the postcard perfect Goa where golden sand beaches stretch out till the horizon, dotted with coconut groves, you need to wait till dry month of winter.
Many beach huts and beach shacks are usually closed during monsoon. Be cognizant of the fact, relentless rain may also cause violent undercurrent in the sea.
Festivals in Goa
Be it a reminiscent of 450 years of Portuguese colonial rule or rich heritage of locals who find mention in epic tales of Mahabharat, Goa has no dearth of festivals and celebrations. It is worth planning your trip around one such festival in Goa. Watch out for the colorful costume, specific food, people letting there hair down and being a part of the merry procession, irrespective of cast and creed. It is beautiful.
Narkasur: Post Diwali, Narka Chaturdashi celebration where good triumphs over evil is manifested. It resembles that of Bhoot Chaturdashi or Dakini Jogini in Bengal, which we worship during Kalipuja when the rest of the country celebrates Diwali.
Viva Carnival: The Catholic festival, often compared to Mardi Gras, or even Rio carnival, that starts from Fat Saturday (Sabado Gordo) and end on Fat Tuesday, is a grand celebration where floats, parades, masked dance and other cultural identity find a way of expression. It is celebrated in Panaji and sort of reminds me of "Bisarjan Carnival" of Durgapuja, Kolkata.
New Years Eve: 31st December. Goa brings in New year in style with beaches beaming with color, elaborate fireworks and music.
Music festival in Goa: Supersonic, Sunburn.
Also read: Ramadan Foodwalk in Hyderabad!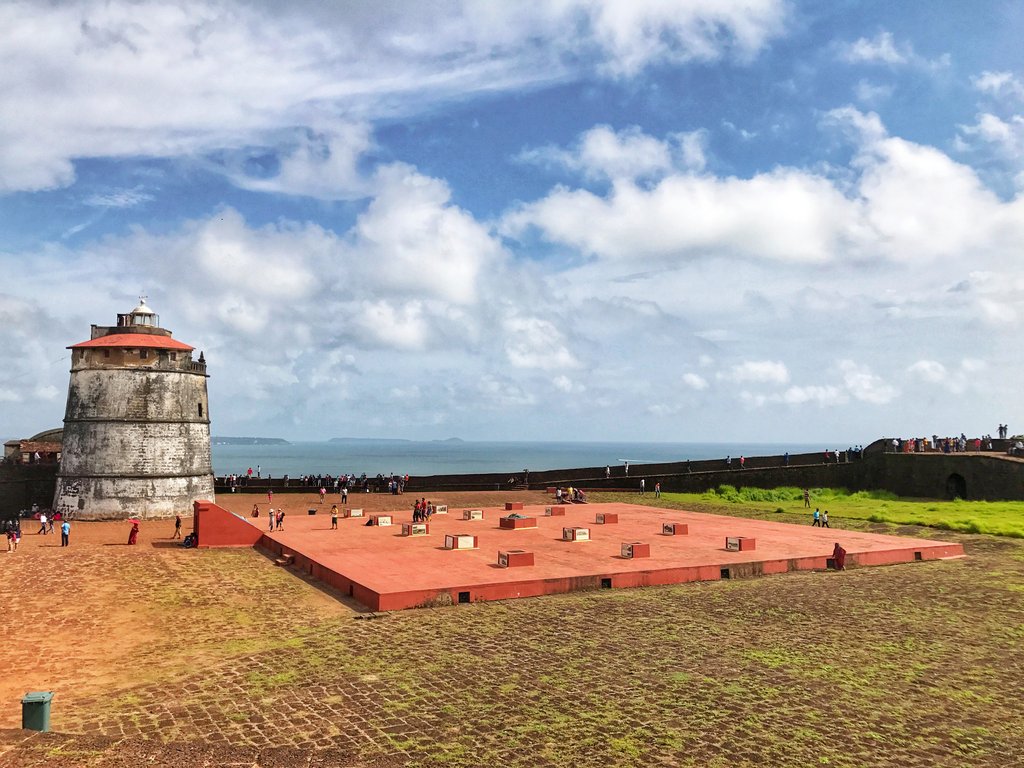 Where to stay in Goa
I keep saying Goa as a tiny state. However, it takes at least 7 days to cover all the coastal region and hinterlands of Goa. You will still not see everything, but at least scratch the surface.
It is imperative, where you choose to stay in Goa, can actually make or break the experience.
Let me break down possible tourist accommodation options in Goa in three broad categories. Those who love to party and want to taste every pleasure Goa offers to tourists, must choose Baga or Calangute. Those who love offbeat stays and serenity, can choose between further North or South Goa. Panaji is the capital with plenty of old world charm. But who lives in Panaji when holidaying in Goa? It is good for a day trip.
North or South Goa, how to choose where to stay: this question can be compared with who came first, chicken or the egg? Here, let us look at the pros and cons of each area. I have stayed in these places personally and sharing feedback basis on my experience.
Staying at Baga/Calangute
Pro: Almost everything is available. You name it and you get it. Multiple bike rentals, car rentals, accommodation options, budget hostels, central bus station, public transport, bustling nightlife, cheap and quirky cafes. Nice beach, but…
Con: … the beach is super crowded. Especially, if you are in Baga on a weekend. Prices are on the higher end. Beach shacks are aplenty on season but charges painfully high price.
Staying at Arambol/Ashwem (extreme North Goa)
Despite a Cyclonic storm, I loved my experience of staying at the Yab Yum Beach Resort, Goa. It was right next to the hidden Ashwem beach and away from the buzz of a world moving, changing at a lightening fast speed.
Pro: Offbeat destination, often entire stretch of beach to yourself, away from where stag groups travel hence safer option for a solo woman traveler.
Con: Lack of water sports and limited activities. Not a bustling nightlife around.
Also read: Top 12 Cultural experiences in Goa!
Staying at South Goa
In south Goa, Colva, Benaulim, and Varca has multiple luxury resorts and upscale stay options. Further down south, Agonda and Patnem has better tourist infrastructures.
Pro: Offbeat, serene place, less crowded, beautiful lagoon style beaches, authentic local experience. Best for slow travel and exploring.
Con: Further away from central location. Long drive from airport/train station. Pricier in some cases. Less activities.
Book a stay in Goa: check reviews and best prices here!
Alternative stays in Goa
Goa also houses a world class wellness resort at Divar Island, where tranquility finds a new name. Check out my review of Mercure Devaaya Resort and choose it for a complete detoxing (7 spiritual) holiday in Goa!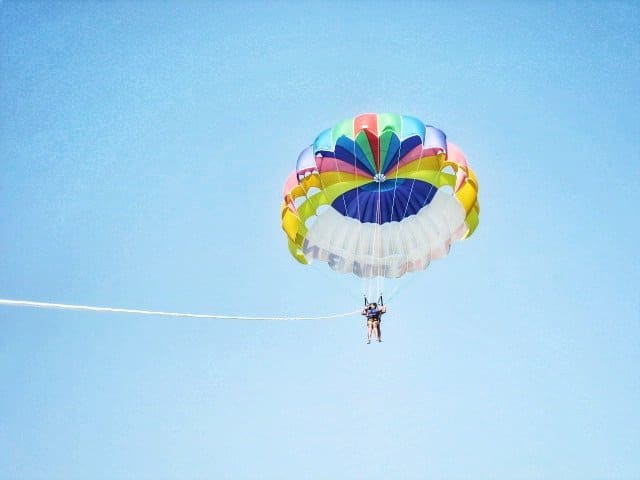 Also read: 7 days in Shillong, where I lost my heart!
How Many Days are Good for Goa
Those who stay close-by, visit Goa for 3/4 days for a quick relaxing holiday by the beach. In reality, Goa deserves a longer stay, preferably between one week to 10 days. The state, in its short geographical span, holds numerous beautiful places of interests, each of which merits a visit.
With friendly locals, good connectivity and decent internet, Goa has emerged as an obvious choice for digital nomad hot spot in India. Slow traveling, living by the beach, great cafes and regular interaction with creative artists, Goa promises all of these and more. I have seen western families traveling to Goa with kids and their homework pile and solving mathematics by the beach. It felt surreal to some extent. Our summer vacations were ll about visiting Dadu and learning English grammar in the afternoon by the "parar pukur", local pond!
Top Things to Do in Goa
Goa is lauded as the beach capital of India. There are countless beautiful beaches in Goa, with Baga being one of the longest in entire world. They are sometimes hidden by a cliff, sometime out in the open. Some beaches in Goa are protector of lagoon. Some of them emerge with tidal waves. Beach hopping is what you must do when in Goa.
My pick for top 5 beaches in Goa!
Cancolim Beach: the best in North Goa. The crowd is decent. Shacks were nice. Restaurants close-by were serving delicious food. Nightlife is good too.
Ashwem beach: The best looking beach with white sand and blue sky as the backdrop. Located by the cliffs hence a bit hidden from the outside world. private and sky. No shack nearby.
Vagator beach: Best looking beach as you get a perspective from the cliff. Chapora fort is located close which is an amazing place to catch the sunset!
Colva beach: The only beach in Goa where I found translucent clear water despite heavy crowd During independence day. There is a shack close by where they serve Bengali meal too! I think it was named a Sonar Bangla. Local fishermen's boat create beautiful photo ops at the Colva beach.
Palolem beach: One of the best beaches in South Goa. It is coming up fast with many activities, local markets and food joints close by.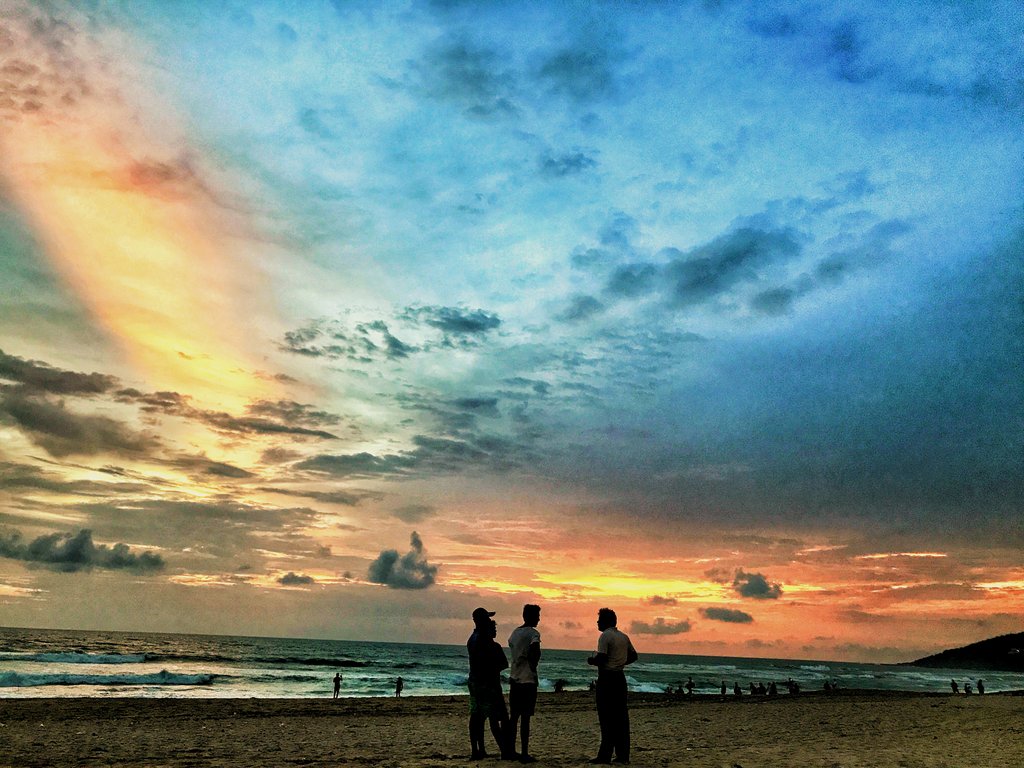 Also read: A complete guide to wildlife safari at Masaimara, Kenya!
Goa beyond the beaches!
However, there are tonnes of offbeat things to do in Goa. They span from cultural exploration to adventure activities.
1. Explore Old Goa. Velha Goa. It houses Basilica of Bom Jesus and Se Cathedral, both UNESCO World Heritage site.
2. Explore colorful neighborhood of Fontainhas, a piece of Portugal at the heart of Goa!
3. Take a day trip to the mighty Doodhsagar falls. Be cognizance of the fact that only local cars take you to the top. Only a limited number of car gets permit everyday hence it is best if you start your day early.
4. Sinquerim beach is the hot bed for all the water sport activities in Goa. Water sports are subject to a clear weather day. Parasailing, jet ski and banana boat are the most fun activities in my opinion.
5. Birding at Dr. Salim Ali Sanctuary is one of the prized experience in Goa. If you have time, I suggest take a day off to Dandeli wildlife Sanctuary and watch the pied piper hornbills in North Karnataka.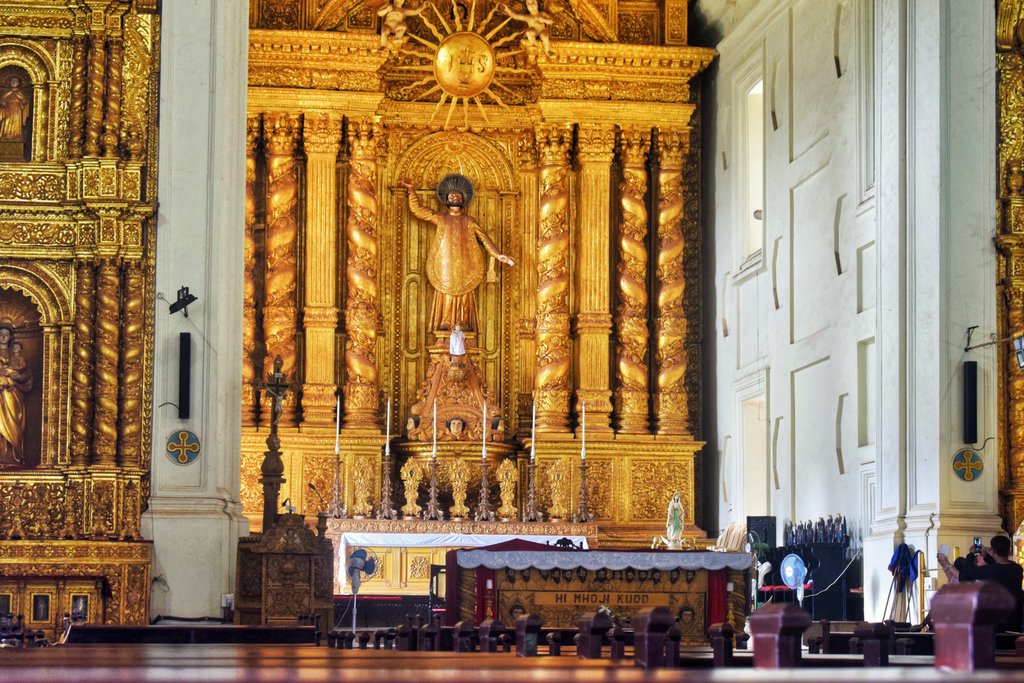 Yoga in Goa
Plenty of Yoga Teacher training school and Yoga retreats have come up in Goa. I stayed at the Devaaya resort and has taken part in Sunrise Yoga sessions which was uplifting holistic experience. Do not forget to pack a few yoga mats in your Goa bound luggage because there is nothing more refreshing than starting an active day on a beach.
Nightlife in Goa
There is no dearth of option in Goa, if you are a social animal. From night long trance parties to casino to nightclubs, central Goa usually stays abuzz with events for the whole night!
Play at one of the casino cruise when in Goa. I went to Delyin and I liked the experience despite sort of meh food.
LPK (Love Passion Karma) at Nerul is one club with decent crowd. Club Cubana is nice too.
Money Matters
Goa can be traveled in a shoestring budget. Goa can easily turn into a luxurious trip if you are in a mood to splurge. Options are wide and endless!
Night clubs, Casino, fine dine restaurants like Thalassa are few of the high class places to visit in Goa. For luxury stay, go with the Taj Aguada.
Like the rest of India, cash is the king in Goa, especially when you are buying from local markets or eating at the street side joints. Cash will make you and the seller happy. However card and in some cases digital wallets (think PayTM, much like M-pesa in Kenya or google Pay) works too.
Stay Connected: Wifi in Goa
Goa is well connected with most prominent Indian network (think Airtel, Vodaphone, or more recent Jio). However, I have seen network drops as you proceed towards obscure interior of the state.
Most of the hotels and beach side cafes provide decent wifi to get some work done, if not streaming a Netflix series.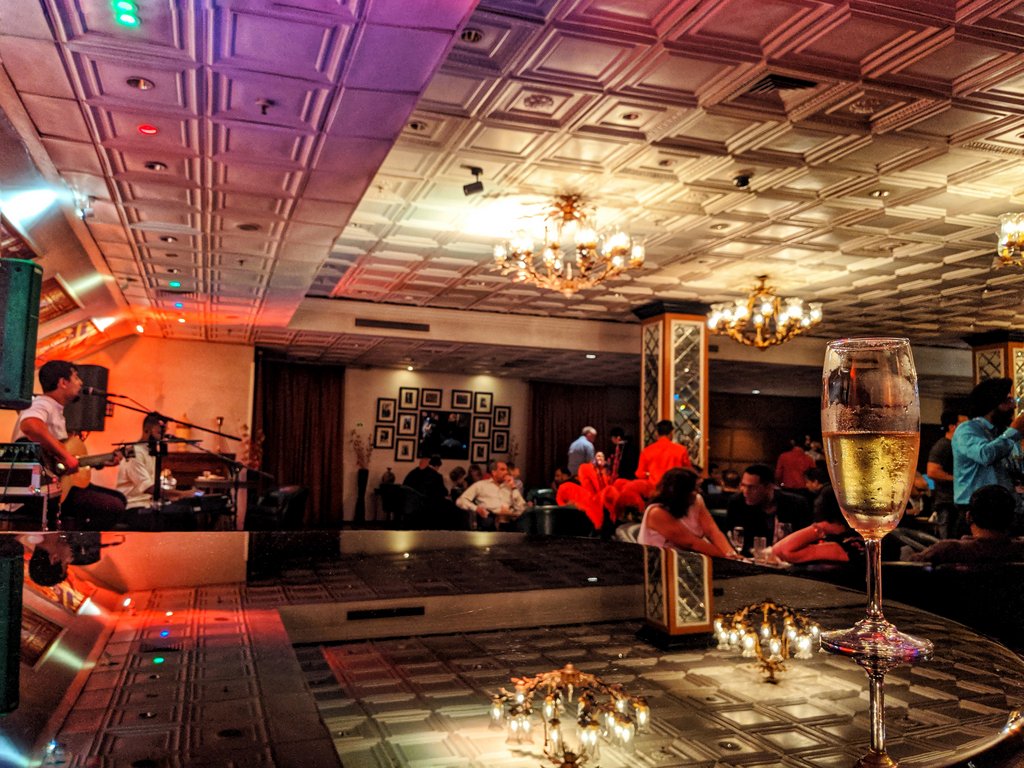 Tracing back the Hippie trail from olden Goa!
The ghost of 70s hippie trail is yet to give Goa a respite. A typical hippie with grunge deadlocks and deep understanding of empty meagerness of life is a rare find. What you can find is a lot of western travelers tucked away at the fringe end of North and South Goa beaches. Think Arambol. Think Mandrem. Think Patnem.
Arambol is famed for the evening drum songs on the beach.
Souvenir Shopping in Goa
The iconic flea market of Anjuna and the likes of it which have mushroomed in recent times sell a number of interesting stuff. Though it may feel like a bargain, I tell you a bitter truth. I have bought/seen similar silver anklets or beaded necklace for lesser price at Gariahat market, Kolkata. Buy jewelry only if you are not heading to Kolkata in near future!
Bargaining in Indian local market is an art by itself. I usually start from 1/3rd of the initial quote. It may yield a good buy or sometimes I have to let it go.
Flea markets in Goa in earlier days used to sell imported goods which were off limits by virtue of a socialist state. Now that the entire globe is one village and we are swimming in a globalized market, most of these products make their way from China.
I usually sky away from these souvenir shops unless I am on the lookout for a quick swimwear. My favorite souvenirs from Goa are:
A bottle of Feni
Kunbi saree
Musical instruments
Bibinca cake
Bottle of Kokum Juice
Spices, especially black pepper and bird's eye chillies
Azulejos: Handpainted tiles of Goa
I Know. I am inching towards a life sans hedonism!
Arpora night market is a famous addition. So are the Sunday night markets. There are aplenty in Goa.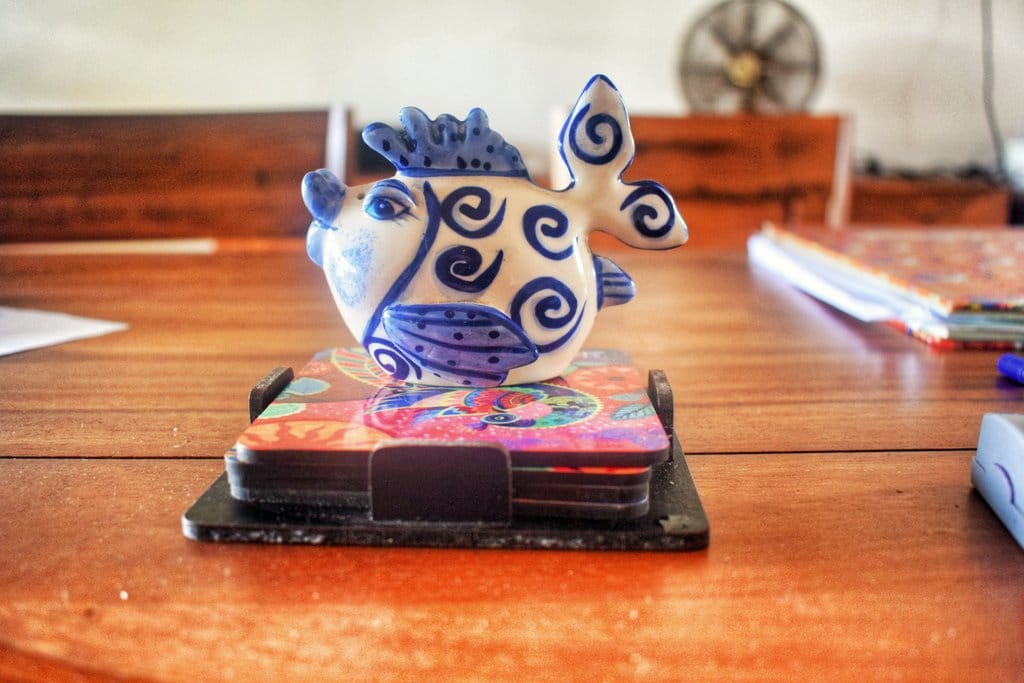 Stay safe when in Goa!
Goa is a safe place to travel to.
You may come across few rare news of violence against tourists in Goa. To be honest, I have traveled in Goa during a natural calamity (Cyclone Kyarr) and was scared of pack of dogs more than unknown male.
I was traveling solo. Even when I was traveling with friends, Goa was a safe place.
It is not the locals of Goa, but people traveling to Goa that create problem. Stay AWAY if you spot a group of male friends.
If people want to click a selfie with you, and come close with that excuse, strictly deny. This has escalated into unpleasant consequences in past.
If you are making new friends and drinking with them, be very very cautious, irrespective of the new friends' gender.
Traveling from Central Goa to North (say Baga to Ashwem/Arambol) may turn out to be a tricky choice if you are a solo woman. I would suggest, try to pack your day by sunlight, especially if you are traveling alone and do not have a private vehicle.
Uber does not work in Goa. They have an app named Goa Miles. It works. Sometimes, it does not. It is a bit tricky. You should always have a plan B.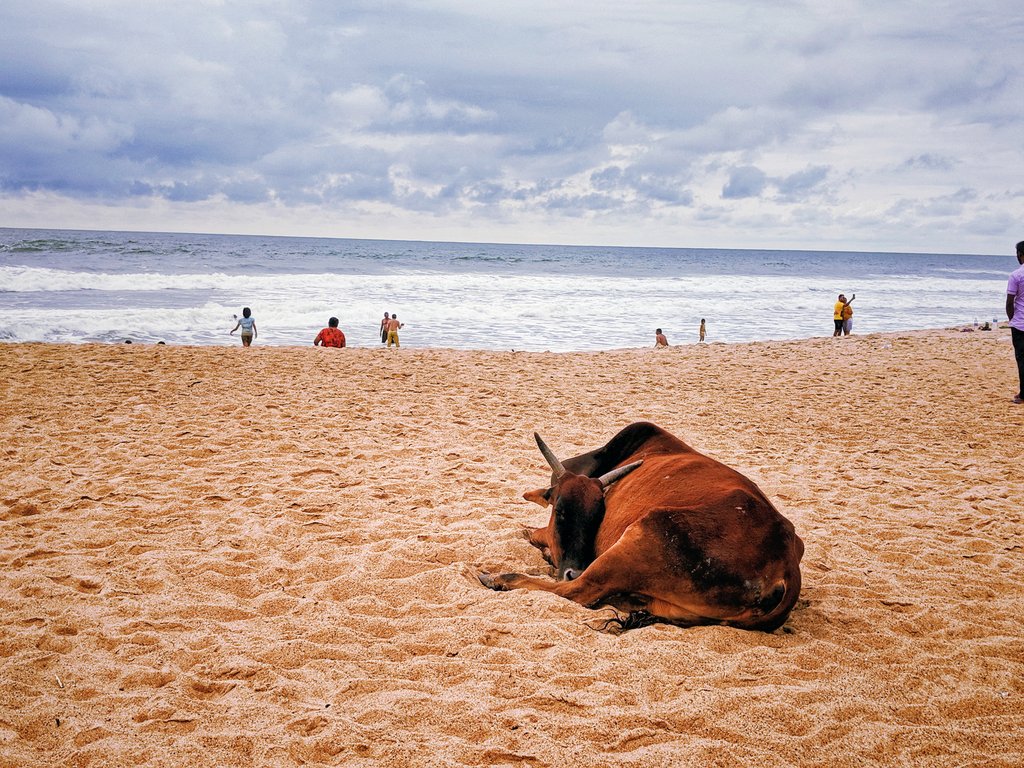 Mosquito and insect repellents are must when you are packing for Goa. Mosquito bites can make you susceptible to Malaria, Dengue apart from unpleasant looking rash.
When you discover an empty beach, be careful while approaching the bush or jungle nearby. Poisonous snake may call it home! yes, I have encountered a Cobra when in Goa. I am still alive and writing this blog post so do not panic!
Responsible Travel Tips for Goa
The Single Use plastic menace in Goa!
Beaches in Goa goes through surging plastic pollution, littering and other vices during tourist season. I have seen plogging party arranged by local communities at Arambol however there is no permanent solution to it. Plastic is hardly recycled in Goa.
Each coconut you buy, comes with a straw which put me off to no end. Traditionally, coconut juice is drunk in India from the shell itself. A few droplets will drench your shirt but that's the beauty of it. Straws have emerged as the new devil.
Try to be mindful when you consume and stay away from accepting that extra single use plastic. Small things like carrying own tiffin-box for a take away counts in the longer run too!
Wildlife in Goa
Goa is largely saved from the vices of animal riding, say horses or camels on the beach. There are cows on the beach in abundance but they cohabit with humans, and work on the field on season, with the farmer. India remains largely an Agriculture based economy.
The only time I found disturbing proximity to animals were when local fishermen approach you for Dolphin tours. They will basically chase the dolphins in their natural habitat. I say leave it to your luck. I met dolphin in Goa when I was on a water bike. It came, pranced along by the side and swam alongside for 5 minutes before disappearing. What a blissful experience!
Support the local artist in Goa
Goa has a thriving artist community. Multiple art gallery dot the street side of Baga and calangute. Make sure you visit one and support the artist by buying her creation. Goa also has beautiful checkered print Saree, also known as Kunbi Saree. I think they add value to any collector's wardrobe.
Alcohol & Drug in Goa
Due to relaxed taxation policy, alcohol is cheaper in Goa than other states in India. The local moonshine, Feni, has earned a GI tag and is a must try when in Goa. However drunk driving is a punishable offence by law, anywhere in India. Buying alcohol in Goa and taking is to other states can also draw ire of the authority. Do check with your flight/transport provider.
Drug consumption is punishable offence in India. Ganja/weed is sometimes sold on the beach by some over enthusiast chaps, which is an illegal act by itself. Of course it can lead to what happened to Saif Ali Khan in Dil Chahta Hain. Find out at your own risk!
Also read: Kaziranga, home to India's one horned Rhino populace!
What to wear in Goa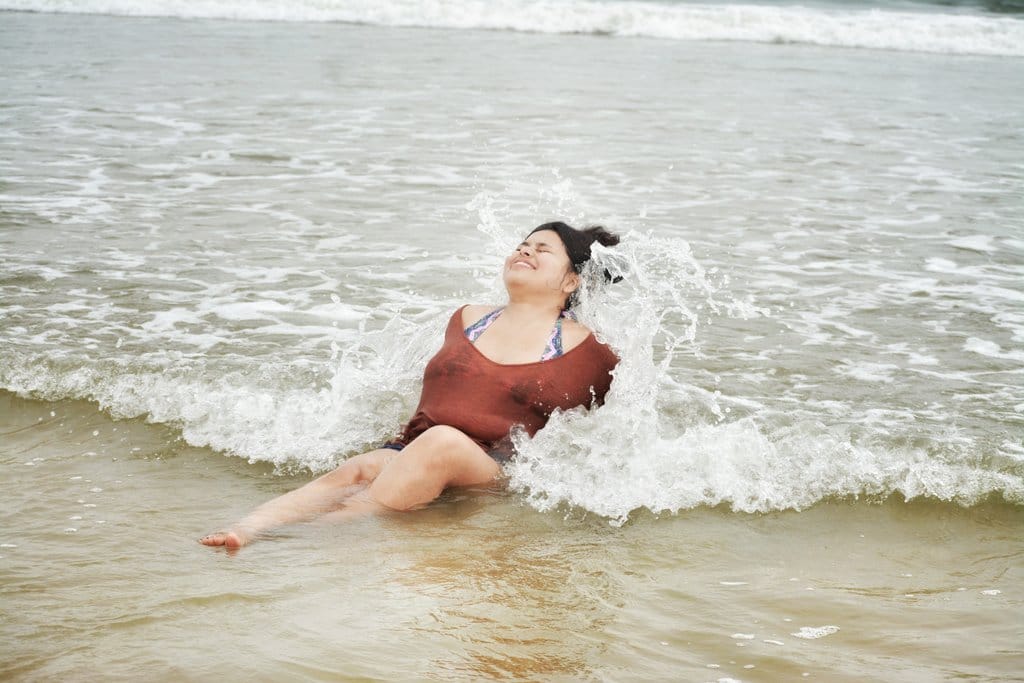 Wearing a bikini/swimsuit in Goa: Yay or nay?
Beaches in Goa are more relaxed in dressing code compared to other Indian beaches. I have personally worn bikini in the following beaches and did not attract unwanted male stare/attention: Baga, Calangute, Candolim, Vagator, Colva, Arambol, Ashwem. Palolem is cool as well.
If you are staying by a beach-side resort, you can generally venture out in the sea in a bikini. When you are walking in the city, or going to eat at restaurants, please do NOT wear swimwear. It is not acceptable.
Hinterlands of Goa is made of traditional Indian households where modest clothing is encouraged. You will not stand out and can easily use public transport if you wear something that covers shoulder and knees. Carry a stole as that will help you to stay safe from the bright sun, fight back humidity and enter temples or churches if any.
Public toilet in Goa
Depending on the hotel you choose, you are likely to encounter a western toilet for a mid-budget to luxury route. For a more budget friendly option, Indian style toilet may make an appearance. It is does, learn to use the mug. In this part of the world, we do our business with water. If you want your tissue bad, I suggest carry some in the purse.
Pin it for later!
This post may contain affiliate links. Please read the disclosure post. If you have liked the article, you may support it by buying using these links without any extra cost to you.
Let's stay connected on Facebook, Instagram, Twitter! You may also consider joining my mailing list. I send travel and photography related emails only once a month!