About this blog: A self guided foodwalk in Hyderabad, specially useful during the month of Ramadan! This lists down all the must eat food in Hyderabad during Ramadan. During the Islamic holy month of Ramzan (Ramadan in Arabic), Hyderabad, a medieval Indian city by the Nizams, celebrates Iftar in a true community spirit. In light of the celebration, Ramzan specific dishes are cooked and served at an economical price. This blog intends to help gastronomes with a list of local delicacies for Iftar in Hyderabad and where to find them!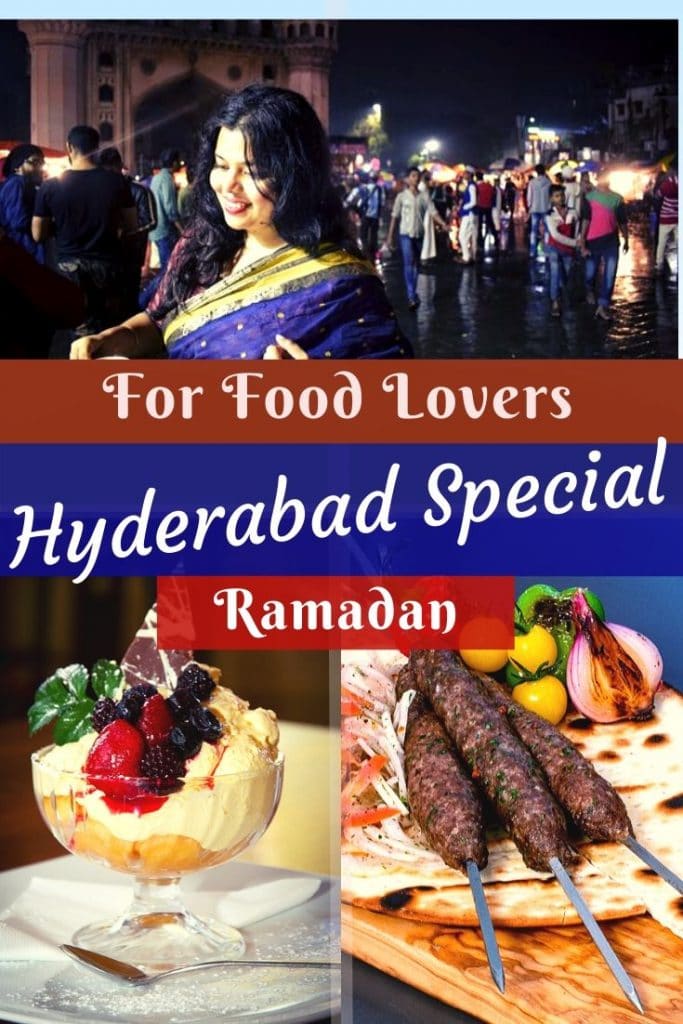 The Must try dishes for a Food walk in Hyderabad during Ramadan, at a Glance!
Nimrah cafe: Irani Chai, Osmania Biscuits, Balushahi(Best spot for an Instagram shot with THE Charminar as the Background)
Shah Ghouse Cafe: Famous for Haleem, Shawarma, Mandi, Osmania Biscuit, Irani Chai, Qubani Ka Meetha, Double Ka Meetha
Hotel Shadab: Famous for Iconic Hyderabadi Biryani (Not the same as Kolkata Biryani), Nahari, Qubani ka Meetha
Pista House: Haleem, Exotic bakery products of cakes and Biscuits, Great quantity of food.
Matwale doodh ghar: Milk shakes, Cream bowls, Ice Creams, Falooda
Akhbar Fast food: Serves the best chicken 65 of Hyderabad with Warqi Paratha (lot like Rumali Roti but Ulta Tawa)
Milan Juice Center: Milk shake with exotic fruits
Best Dum Biryani of Hyderabad: Rumaan, Shah Ghouse, Nayyab, Paradise, Shadab (not sure)
Best Haleem in Hyderabad (Ramadan special): Pista House, Shah Ghouse, Shadab
Of course, order in from Zarina Shah's Mom's Kitchen because that food is just not food, it is love personified. I would make another trip to Hyderabad anyday just to eat her delectable homemade Hyderabadi cuisine! Now is lockdown and now is the perfect excuse to eat what she cooks!
At the crest of Indian haute gastronomy, sits the treats from Nizam's kitchen, Hyderabad. Back in the sixteenth century, little did Muhammad Quli Qutb Shah knew of the lasting legacy his empire will leave on India. There are pearls and palaces for discerning travellers. And then there is the aroma of the richest of spices, who when mixed in the right quantity, create magic even in this squabbling times of political turmoil in the twenty-first century!
S went to meet his friends during Eid, 2017. At 3 o'clock at night, he called and exclaimed, "You would not believe the street scene here!" Mind you, we have seen Bangkok's Chinatown, the maze of Hanoi's old quarter, the Chowk of old Lucknow, chitter chatter of Khan e Khalili, Egypt and the beautiful Chaos of Purani Dilli's Jama Masjid area! Yet, Hyderabad's Iftar parties are a different ball game altogether!

Startups are operating in Indian peninsula who transport the highly revered Haleem of Hyderabad to the distant parts of Kerala, among other places. Yes, you read that right!
During and After Ramzan, does Hyderabad Food Scene Change?

To reply in a nutshell, there is a sea change in the food served in Hyderabad eateries during and after ramadan!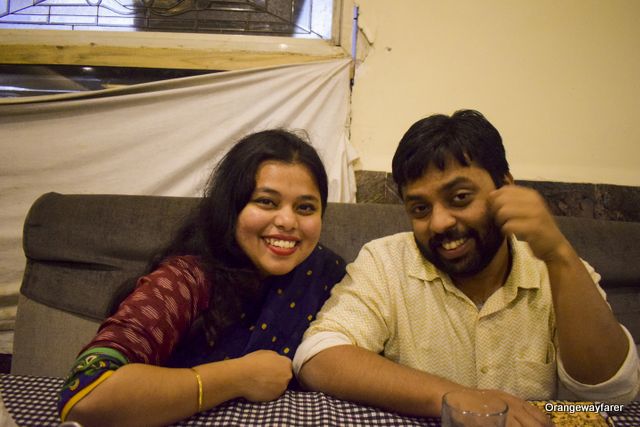 Happy faces can be instantly recognized. Sitting at Shadab, Hyderabad's pride and waiting patiently for our plate of Biryani!
It is the vibe of Ramadan and pregnant built up of an impending celebration that adds to the entire experience. Women in groups venture into the deep of narrow lanes to pick up the perfect glass bangle, completing Eid special attire.

Surma-eyed men sit patiently by the gates of Nimrah Cafe, waiting for Fazr prayers (the first of 5 mandatory prayers that breaks the silence at Dawn).

It is no less than an honour to be accepted among the community and being offered a shared meal! As they say, "The greatness of a culture can be found in its festivals!"

Hyderabad offers great food, amazing food which is an integral part of experiencing the city. However, Ramadan is a time when the air is filled with intangible goodwill that connects curious humans!

Basically, if you want to soak in the grandeur of Nizam's kitchen, you must plan your visit to Hyderabad during Ramadan and take a Ramadan special food walk around the iconic Charminar area!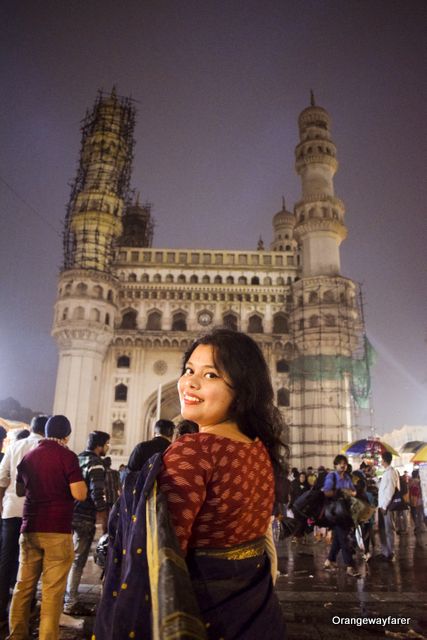 Also read: Ramzan food walk at Zakaria Street, Kolkata
Charminar and the Bazar: the heart of Hyderabad

While Hyderabad's dining culture emphasises on Tehzeeb (fine taste) and the best of the meals are often found at the iconic eateries, the approach road to Charminar comes alive with elan during Iftar.

Makeshift stalls shouldering each other with Sheek (sticks made of iron which hold the succulent pieces of kebab together) and charcoal ovens queue up!

Various types of kebabs and quick snacks are cooked on high flame right in front of you. As the Sun goes down, the Charcoal pits are lit. Among the various offerings, the following are my picks during Ramadan in Hyderabad.

Patthar Ka Gosht
Red hot stone is kept on the fire for the day. On its are spread flattened pieces of marinated meat. Beef, mutton, chicken, and sometimes Camel! It is served with a side of sliced onions and a dash of lemon juice. However, I like my Patthar ka Gosht with a crispy bread fried in ghee.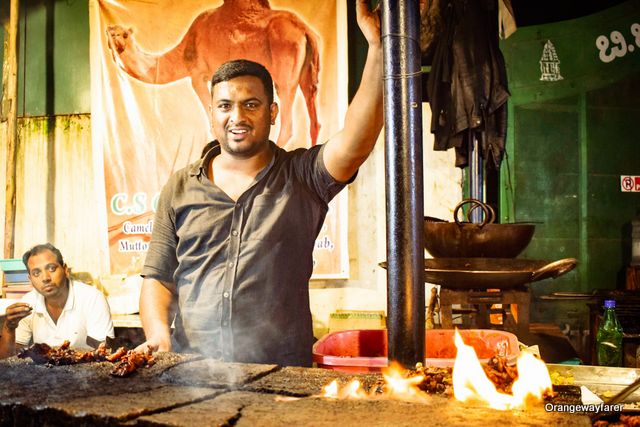 Shehran's Kebab
Though not a part of street food in its true sense, Shehran Hotel of Charminar, Hyderabad has fed me the second best Kebab of the country, only next to Adam's Suta kebab of Kolkata. Shehran only sells beef. It has a grimly lit, curtained sitting area where sheek kebabs and Warqi Parathas will be served if you refuse to take away.
Chicken 65
Who is this big world does not like fried chicken? The South Indian version of that humble fried chicken gets a tempering of Curry leaves and flames up! The best of Chicken 65 is sold at Prince Hotel located at Mehdipatnam and Akhbar fast food Center.
Akbar fast food centre is located near Charminar and attracts people from far off places with an unassuming plate of roti and chicken 65!
Chicken 65 can be either prepared with gravy or served deep fried, sprinkled with Chat masala.
Shikampuri Kebab
If Lucknow talks in the language of Galawati and Delhi does that in Shami, Hyderabad brings forward her share of Shikampuri!
The minced meat flattened kebab has a surprise hollow treasure of curd and spices hidden inside. They don't spill even you shallow fry but they overflow as you take the first bite! Sounds delicious, right? Head to Chicha's at Masab Tank, Sarvy Restaurant and Zaiqa-E-Hyderabad at Banjara Hills to eat your Shikampuri Kebab, a rare find in Hyderabadi restaurants these days. But worry not, Because Ramzan in Hyderabad equates to special food!
Beyond the Kebab stalls near Charminar, stands many vendors with their offerings of Dahi Vada, Bhajji and Pakora! Imported dates are sold in number. So does fruit salad.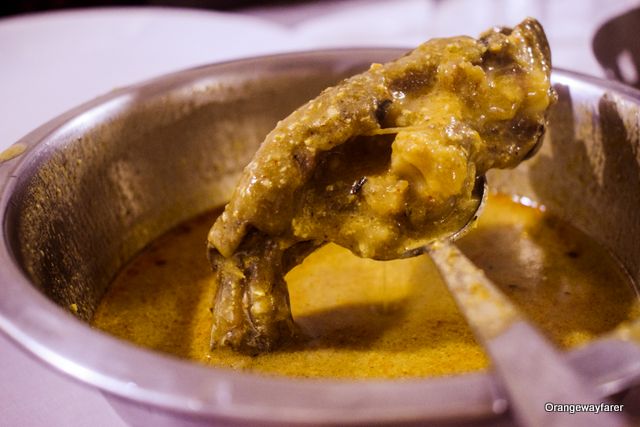 Paya: Literally a Goat Trotter, slow booked in a hearty soup
Other food items to look out in Hyderabad streets during Ramzan!
Hyderabadi Dahi Vada is a particularly famous Ramzan special delicacy. Deep fried chickpea lentils are meticulously placed in a bed of thick yoghurt and tempered with curry leaves! Davi Vada of Hyderabad is a distinct chat that differs from its North Indian sibling to a great extent.
The street food stalls showcase an ensemble of Hyderabad's best treats, including Biryani, Magaz, Paya (or Nihari), Sheer Khurma. However, I suggest hold on and proceed towards the iconic restaurants who have been delighting gourmets for decades.
Before you drift away from Charminar, take a lingering look at the colourful celebrations all around! There are Mehendi artists, Ittr (perfume) shops ready with old world cosmetics. Shops selling the Quran and other Islamic verses adorn the walkway.
Watch out the streets for some Kashmiri Mutton Tujji on fire. A variant of Sheek Kebab, Tujji has tender squares of meat marinated overnight and roasted in its shape.
Men selling Kopra Mithai Minar (a tower of coconut made sweetmeat, a reference to Charminar) sit patiently.
Nombu Kanji, a dish more prevalent in Chennai can be found by the streets of Madina Bazar. It is made of rice and lentils, slow-cooked to resemble the consistency on a Porridge. Khara boondi (salty and fried chickpea flour) comes as a side dish!
Also read: Ramadan special food in Bangalore at Mosque road and Kormangala
Hyderabadi Haleem and everything you should know about it!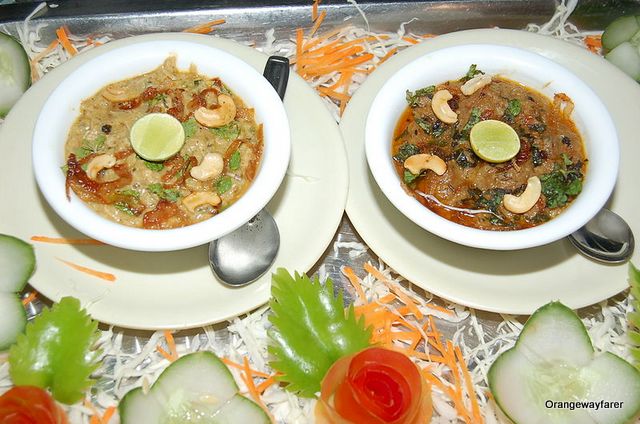 Though the signature dish of Hyderabad is its brilliant Biryani, Hyderabadi Haleem surpasses its reputation during Ramzan!
An epitome of slow cooking excellence, Haleem is a derived product of ancient Yemeni Hareesh, a rather simple form. Its root can be traced from the army-men of Bahadur Shah's Gujarat.
Huge Bhattis, pits on flame made of brick and mud, wooden spatula and an attentive chef are the chief ingredients of a perfect Haleem, porridge-like comfort food cooked with minced meat, lentil, whole wheat etc.
Available in Mutton, beef, chicken, fish, even vegetarian variety, Haleem has been Indianised by adding dollops of Ghee, golden fried onion rings and accompanying Shorba (flavoured soup derived of the meat stock).
Sometime's a Zabaan (goat's tongue, a delicacy for the uninitiated) goes into decorating a pot of Haleem.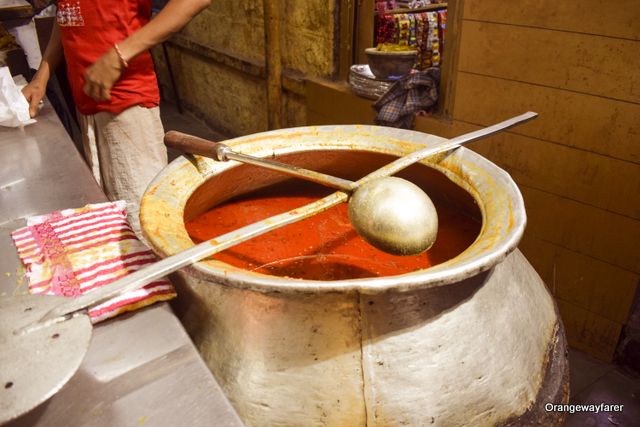 Did you know? Pista House gets the credit of popularising Haleem and bringing the dish back on the international food map. Haleem is the sole contender from India that earned Hyderabad a Geographical Indication (GI) status. This is the only status accredited to India in Non-vegetarian food section.
Haleem Hopping: The Best Places to Eat Haleem in Hyderabad
While street shops near Yousuf Tekri, Toli Chowki engages in brisk business in selling Haleem for as low as INR 30, prices can shoot up depending on the scale of finery.
Yousuf Tekri also takes pride in its share of Shami Kebab and Ramzan special Khichidi and Khatta, an integral part of Sehri plate in Hyderabad.
Pista house prepares a sumptuous Ramzan special Haleem which I tasted and quite liked. The packed version is decent. The one they sell at the stall is lauded for true reasons. Pista House's Haleem making Bhattis make a great sight for a food enthusiast.
However, the king of Hyderabadi Haleem resides at the Kitchen of Shah Ghouse! It is hearty, flavoured with complex ingredients, the Ghee floats on top and the taste is divine!
Cafe Bahar comes up with delicious Haleem on the eve of Ramzan. The AC restaurant is often recommended by Hyderabad food critics.
Soda Bottle Opener Wala, a fine dining place curates as many as 11 types of Haleem, including a vegetarian version. I personally love Haleem made by Homechef Zarina Sha. Truth be told, if I could, I would leave aside all other food offerings of Hyderabad and binge eat Zarina Madam's delicious meals during my stay!
Besides, these are some of the famous joints serving the famed Hyderabadi Haleem during Ramzan: Astoria and Bawarchi at RTC Cross Road, Mandar, Grand Hotel Abid, Cafe Bahar at Basheer Bag, Sarvi at Banjara Hills, Ruman at Tolichowki: all of them are famed for haleem.
The Iconic Hyderabadi Eating Joints and Where to Eat During Ramzan!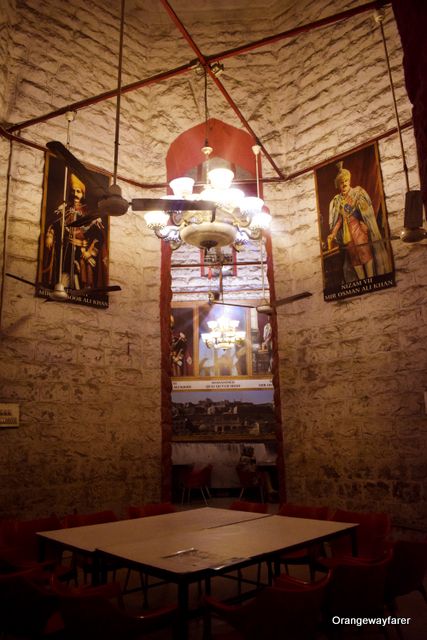 Nimrah Cafe
At the heart of Hyderabad's Old City stands Nimrah Cafe and Bakery, an iconic cafe which gifted the city Osmania Biscuit. A cup of Irani Chai, a couple of fresh ovens baked biscuit at Nimrah Cafe shall not cost you anything more than INR 20, which translates to a fraction of a dollar.
The remnant of milk skin goes into Malai Bun, served during breakfast.
Nimrah will delight you with an array of tea variety. There is Pauna, which is milkier and sweeter. There is Sulemani, the black tea, sans milk. Choose a cup of Cutting chai if you want your tea strong. The Khade Chamach ki chai is an interesting take on adding sugar in the tea cup till the spoon is standing tall! Rumors, I have not seen it!
For Ramzan, Nimrah Cafe prepares a special braided bread. The soft bread has a hint of saffron, is extremely soft and hard to find in regular time!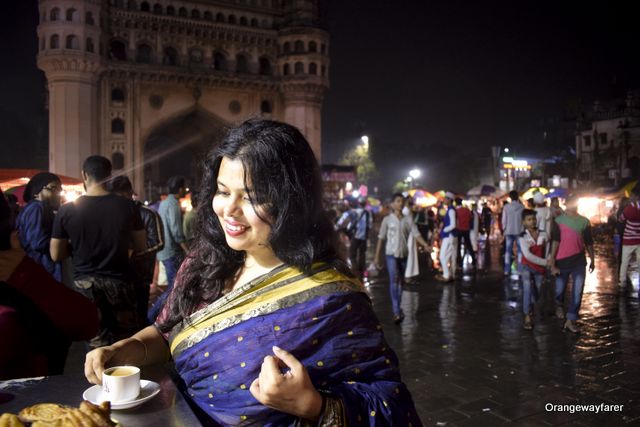 Pista House
Otherwise known as a Bakery, Pista House effortlessly turns into a magnet during Ramzan with its profound Haleem degs. Tiny bulbs adorn the brick walls of this establishment, quickly changing with time.
During Eid, they also prepare Sheer Korma, a vermicelli and milk based sweet dish. That one is recommended too.
Shah Ghouse
The outlet near Shalibanda, Charminar is the oldest of Shah Ghouse franchisee (others are at Tolichowki and Raidurgam). This Irani cafe is best known for Khichdi with Keema Khatta and Naan-Nihari and Goat Entrails for Sehri. Besides a stunning Haleem, they also prepare Sheer Korma, Double Ka Meetha, Kaddu Ki Kheer, Qubani ka Meetha specifically for Ramzan.
Shadab
While most of them suggested Shadab for the Hyderabadi Biryani, I will reserve my comment on that part. I loved the simple Qubani ka Mitha they served at the end of the meal. A few apricots and a dollop of cream. Simple affair. Big impact!
But Shadab takes the game to a few notches up with their delicate offerings of Malai kebab and Pahadi Kebab. During Ramzan, do order some Nihari, Shirmal and Shikampuri Kebab for the 3 o clock Sehri Plate.
In case you are visiting Shadab on a Friday evening, make sure to order a plate of Shikampuri Kebab (exclusively made on Jumma). It is best eaten with Dalcha and Bagara Khana!
Matwale Doodh Ghar
Famed for a different variety of Lassi, this old place pours Rooh Afza and generous amount of Malai in the yogurt based drink. It is painfully sweet, if you ask me.
The Rabri and Faluda of matwale Doodh Ghar are famous too. Basil seads replace vermicelli in Matwale's Falooda, glowing in pink hue thanks to Rooh Afza.
Milan Juice Center
The humble Juice Center opposite Mallepally Badi Masjid has created magic in the name of fruit juice. Milk, Cream, Custard, dry fruits adorn each glass filled with exotic fruits. I loved their Mulberry cream mocktail and still dream about it on lonely nights!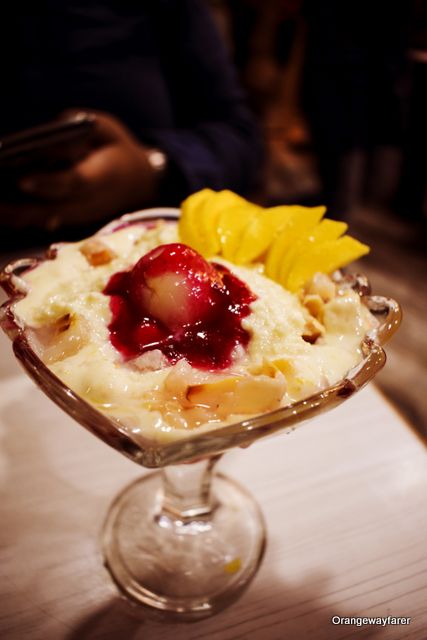 Sarvi Restaurant
If you are a solo traveller and overwhelmed by the Biryani portions served at Hyderabadi restaurants, place your bait on Sarvi. Sarvi serves a mini pack of Biryani at INR 120 also hailed as one of the best Hyderabadi Biryani. During Ramzan, their Haleem is famous.
For quick snacks, order Lukmi (Hyderabadi square samosa with meat fill) and Murgh Malai. Sarvi's Kebabs are delightful for a foodie!
Tunday Kebabi in Aminabad
The Nawabs of Awadh came to meet the Nizams of Hyderabad down south at the Tunday Kebabi's kitchen at Aminabad. The hotbed of foodies at Hyderabad is not looked behind by legends of North India. You shall find Old Delhi's Jama Mosque famed Karim here as well!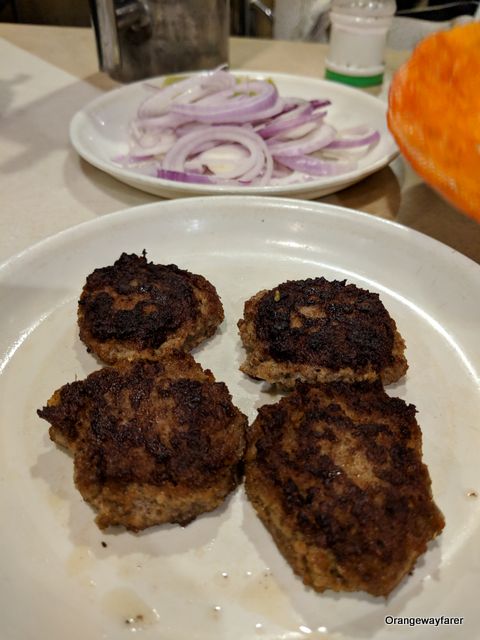 Of course try the Galawati kebab of Tunday, the kebab that does "Galawat", melts in your mouth! Their Biryani is different and beautiful. However, I say reserve that space in your stomach for the better, spicier Hyderabadi variant!
Cafe Bahar
The AC family restaurant is more suitable for a family outing who look forward to binge eat no-nonsense Hyderabadi Biryani, with tender pieces of mutton infused with best of spices. The menu also features a promising Chicken 65 and Mutton Do Pyaza, very authentic Hyderabadi dish.
Hotel Nayaab
Schedule an early morning visit to Nayaab to taste their unique Malai Paya. The Bone marrow of goat is used to prepare the gravy, resulting in smooth texture. Malai Paya and regular Paya are different. In my opinion, Paya is what actually steals the show with an extremely rich flavourful gravy made with a choice of spices!
In intriguing alchemy of using entire carcass, from the brain to bonemarrow nothing gets thrown away in Iftari preparation! And boy, do they not produce sumptuous dishes, from Kebab to Haleem to Paya to Biryani, each dish demands its own portion. All of them are slow cooked to ensure things go easy on the digestive system.
You should also try Shirmal or butter naan with Mutton Kheema! Drool-worthy food for a rather nominal pocket pinch is what Nayaab all about.
The breakfast spread gets over as early as 9/10 am. Post which, you can binge eat Biryani, Bheja fry, Patthar Ka gosht. wash it down all with a cup of Saffron Chai!
Shehzade Restaurant
The relatively new restaurant in Hyderabad has arrived in foodie map with its great selection of Afghani Chicken, Biryani and Haleem.
Hameedi Confectioner at Mozan Jahi market

You have to taste the legendary "Jauzi Halwa" of Hameedi Confectionery to believe what a humble piece of nutmeg can do to a heap of dry fruits and ghee, sitting on a slow flame for nearly six hours! "Hameed", the name comes from one of Nizam's Sons. The Nizam of Hyderabad was particularly fond of the skillset of Mohammed Hussain, the original "Karigar" and shop owner from Turkey!
The small outset tirelessly shells out Badam Halwa (made of almond) and sinful Motichoor Laddos till day! During Ramzan, you may be lucky enough to lay your hands on Badaam ki Jaali and Ashrafi, authentic Hyderabadi desserts. These are typical Ramadan special food available in Hyderabad, not available during regular times!
Bilal's Icecream
Ever fancied on tasting seasonal flavours of ice cream at a cafe that takes its form after regal inspiration? Bilal's Ice cream parlour does that. Housed at a profound clock tower, Bilal's ice cream parlour gives you a lesson in history as you eat your cup of ice cream with awe!
They serve seasonal ice cream, which means you may not get the same flavour year round. However, I strongly recommend tasting the litchi flavour!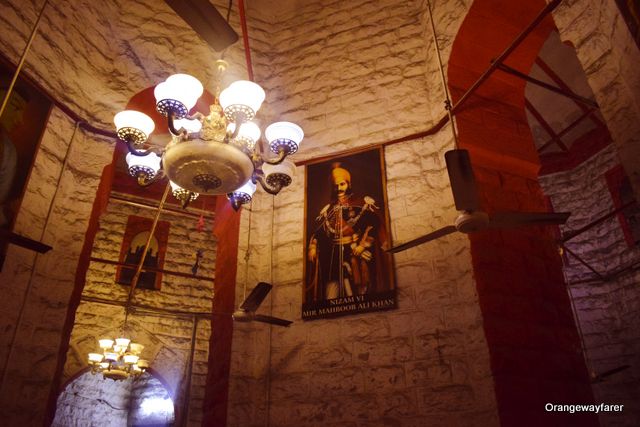 Hyderabadi Biryani: The Best of India!
Legend suggests that Nizam's kitchen splurged in preparing as many as 49 types of Biryani! From Fish, quail, shrimp to deer, duck, rabbit, varied and exotic meat was used to prepare Biryani. Nizam's court had accepted a vegetarian version of Biryani as well.
The legend continues.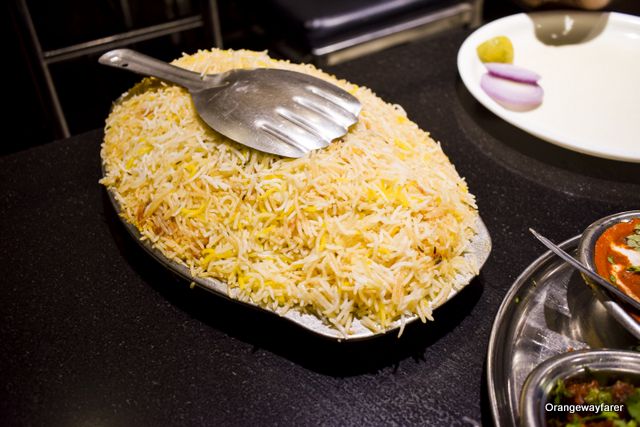 Hyderabadi biryani is the quintessential best variety of this Indian version of meat and rice dish that house complex flavours of spices and ingredients through the slow cooking method "Dum".
From the quick-service restaurants to the home chefs, everyone has their own take on Hyderabadi biryani. Some of them are family recipes, passed down through generations.
The taste differs from one outlet to another. The DNA remains the same. Tender lean pieces of goat meat, because beef and chicken are not the best bait to prepare Hyderabadi biryani, marinated with rich spices and cooked with fragrant Basmati rice.
I will list my best pick of Hyderabadi Biryani: Bawarchi, Rumaan, Shah Gohouse, Shadab, in that order.
A Slice of Arab in Hyderabad: Barkas Neighbourhood
The Arab element is an integral part of the Hyderabadi culture. No wonder, it will impact on food and branch out in a unique way!
Derived from the English word Barracks, Barkas housed the descendants of Yemeni army of Nizams. They belong to the "Chaush" community.
While the community's staple Hareesh has been celebrated and improvised into Haleem at every Hyderabadi wedding and during the month of Ramzan, Barkas tried to stick to the original version. Hareesh is available in its original format at many restaurants located at Barkas.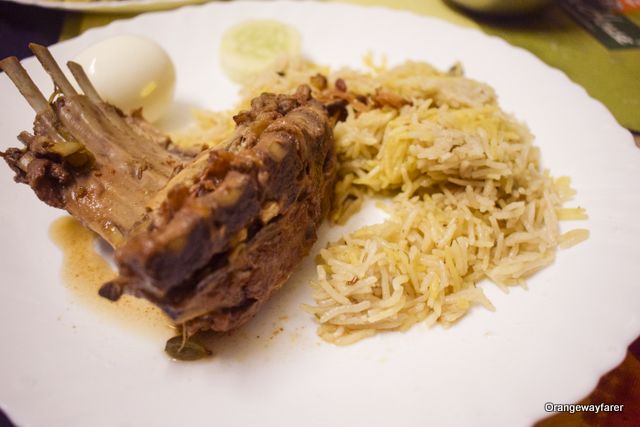 Explore the Mandi Road, dotted with stalls selling the famous rice dish "Mandi" and "Kabsa".
Ghawa: The Arabic Coffe
It is time to take a break from drinking Irani Chai and indulge in an Arabic drink named "Ghawa". The best cup of Ghawa is sold at Mashallah Ghawa, Old city. However, you find shops selling Ghawa at Barkas and King Koti. pay a visit in the evening to ensure you do not miss out on the drink.
Coffee beans are ground and mixed with saffron, cardamom, dry ginger in a hot pot of milk. Sugar is added to taste. Ghawa is believed to have health benefits and help in getting rid of cold etc.
The Wonder of a Homechef: Zarina Sha
It is of little wonder that home-cooked meal can beat the restaurants' yield any day if a savvy chef takes up the spatula.
Zarina madam did! The chef who runs the Facebook page Mom's Home Made food and Catering will press you to spend all your money on takeaway orders and how!
From Biryani to Haleem to Magaz to Paya: you name it and she has it, the best variety. It is of little wonder that my friend rented a house near her house!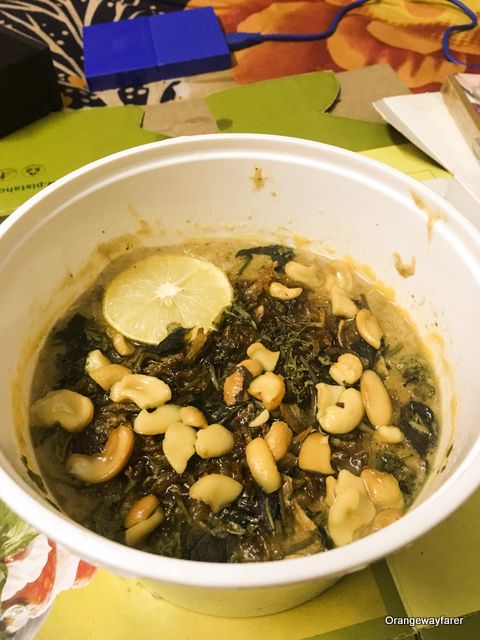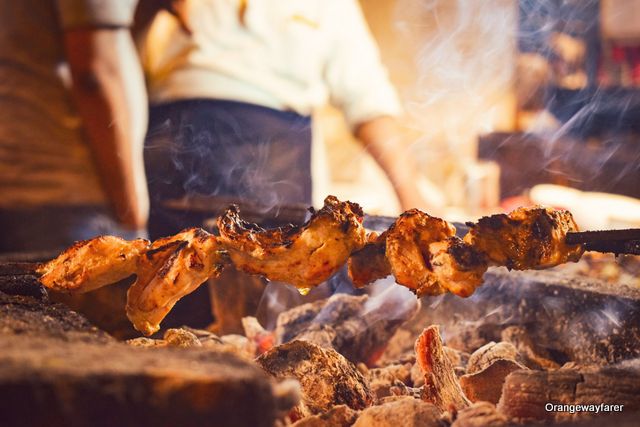 The food in Hyderabad is surprisingly economical. None of them will cost you more than a couple of hundred bucks! Just carry enough change to ensure you are not shorthanded upon hearing no card system!
Love reading about food? More articles for you!
1. The floating markets of Bangkok
2. Kasturi: the Bangladeshi Restaurant in Kolkata
3. Cabin Restaurants: the heritage cafes of Kolkata
4. Chittoda's at Decker's Lane, Kolkata
Let's stay connected on Facebook, Instagram, Twitter!
This post may contain affiliate links. Please read the disclosure post. If you have liked the article, you may support it by buying using these links without any extra cost to you.