About this blog: Kolkata, the grandmother of all Indian mega-cities, has received many an accolade for her intense street food culture. Dacre's Lane in Kolkata is one of the oldest surviving street food hubs, that traces back history in the eventful days of British Raj. The fact that Dacre's Lane features few century old food joints, which not only survived the gnaw of time, but thrives and reigns with their unique chicken stew and Bun Pauruti, speaks highly of the experience.
For more content on Kolkata, read here.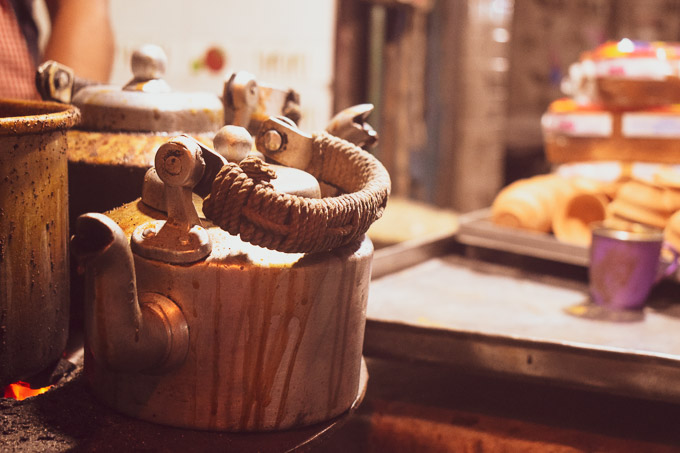 "Amader Somoy chilo Kobi, Ekhon hoyeche chobee!"

A man quipped, as I was maneuvering through a long queue in front of the Lassi shop near Dacre's lane. "Our times had seen the poets, this is the age of photographers!"
I could not help but chuckle.
A Kobi in Bengal is revered as intellect-supremo, often drawing inspiration from or fighting the institution named Rabindranth Thakur. A Kobi is a rare cult of lover, warrior, a voice to the voiceless, an epitome of romantic notions! A Kobi easily triumphs over the lover's heart, making an industrialist or the likes fade in comparison. A Kobi is a poet.
However, cometh the age of Instagram and digital India, Kobis are apparently losing it to the photographers. Oh well then!
Also, laughed out the people who pimped out that one particular Lassi shop by the corner of the dingy lane, over the other "worthy" contenders. The uncle serving lassi laughed through his thin beard too.
Such is the joy of eating street food in Kolkata, especially at the heart of the sly granny city of mine! Her people and conversations are the sprinkling of seasoning on my Shalpata box filled with chop-cutlets!
True to the spirit of Chowrangee Kolkata, Dacre's lane speaks a mixed lingo of proper British vowel and Bukni Kolkata dialect! From momo, to roll, to Hindu Hotel, to Luchi Tarkari, Mishti and shady bars: you name is you get it at Dacre's lane!
Also read: The Finest Places to eat Kolkata Mutton Biryani in Kolkata!
How to reach Dacre's Lane
Nearest Metro station to Dacre's Lane is Esplanade Metro.

Visit the K C Das Mor at Chowrangee (Esplanade area), opposite Tipu Sultan Mosque. From there, walk towards Babughat. In 200 meters or so, myriad aromas will attack your senses, making it difficult to ignore the 1/2 lane of foodcraft wizardry!
Dacre's Lane: Gift from antiquity!
When I actually lived in Kolkata, the excess pocket money I had, would definitely find its way to Haji or Nizam's Biryani plate. I‌ would even ditch my best friend for those lunch dates at New Market, during lunch and join later for the shopping part, because she cant stand the smell of Kolkata Biryani.
Now that money in pocket is a bit more of voluminous, I‌ dare explore other nooks and corners of the city. I started with Niranjan Agar, and other rare cabin restaurants of the city. It was during that time, I came to know about Chitto Babur Dokan. Finally an obscure world smelling with chicken stew and fish Kobiraji opened its door for me!‌ I‌ had to pay homage to Dacre's Lane, one of the earliest hub of Kolkata gastronomes.
Located close to the river Ganga (Okay, Hoogly, for the naysayers), Dacre's Lane was a hang out place for the sailors in its earliest form. Creole cuisine found a place to thrive in collector Philip Milner Dacres's Calcutta.
As the city developed with Gorer Math and Chowrangee, more business thrived, offices rose on the alluvial Gangetic plain land. Workforce demanded midday meal, somethings to munch after office hours. Chitto babu came to rescue the hungry souls. Forth generation of his bloodline is sitting unflappable at Dacre's Lane as I am writing this blog post, feeding hungry Bengalis and other food enthusiasts with an exquisite chicken stew and loaf of bread!
Also read: Why this Holi, you must attain the Dol Utsab at Shantiniketan?
Everything you should eat when at the Dacre's Lane, Kolkata!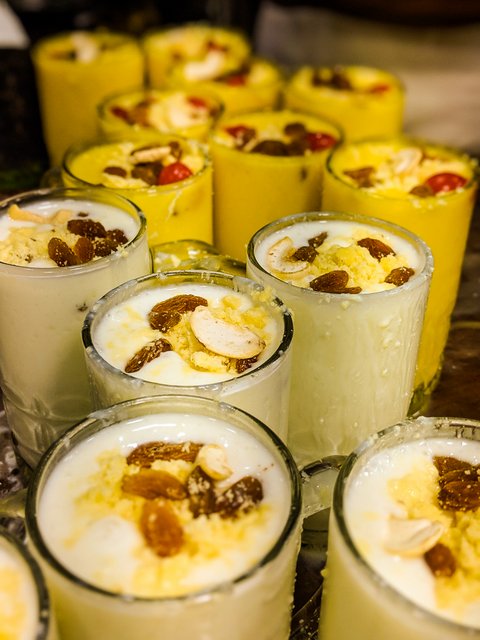 The Mango Lassi (& other lassies)
A little before that oblivious Lassi to Dacre's Lane, you will be allured by pulp ripe mangoes hanging from the Lassi stalls.
Bengal's lassi is a borrowed product from the "Bohiragoto" populace. And I love it a little more than the usual Ghol of a traditional Bengali household!
The Juice centers sell a gigantic glass filled to the brink with thick mango pulp mixed with yogurt and topped with Malai, Cashew and a cherry look alike red round thing. I am yet to find the mystery, what that "thing" is.
It is anything but Cherry. But it looks like one, thus performs half of its job!
Remove that cherry and drink that glass of Mango elixir.
Pro tip: Read this!
Do not drink this mango lassi first if you want to taste delicacies inside Dacre's lane! The lassi is pretty heavy and will rob your appetite.
Get done with Dacre's lane and come back to the Lassi shop!
Sarama Milk Shop
To find this old school gem, you need to enter the real Dacre's Lane.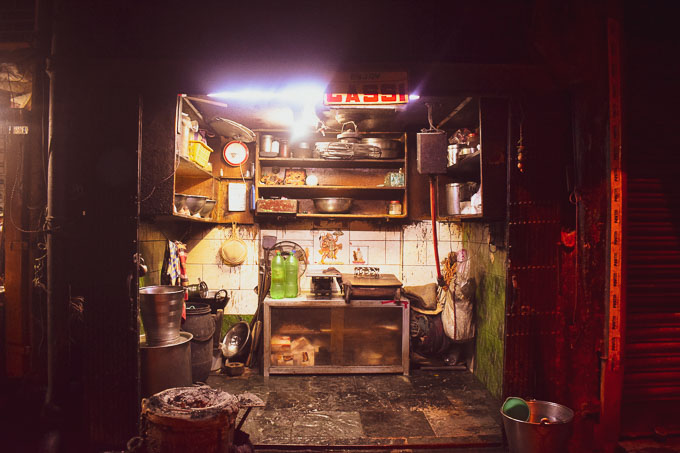 They were closing down the shop when I reached. Sarama is famous for bringing back the flavours of Rarh region in his Kadai gleaming with full cream milk! I could peep into the Kadai to discover those rich layers of milk creams!
A look at the milk pot and you know the story associated with it! Milk cream boiled over the ages that makes the creamiest of Chai, prepares tastiest Rabdi, renders volume to Kalakand cakes, makes up for a glass full of hearty Lassi. This one is not just another obnoxious new age mixer grinder made, syrup infused Lassi shop!
Sarama milk house closes by 8 pm. So plan your trip accordingly. During winter, he brings in Gajar Ka Halwa.
Edit: I went back to drink Sarama Lassi on one fine sticky humid day in Kolkata.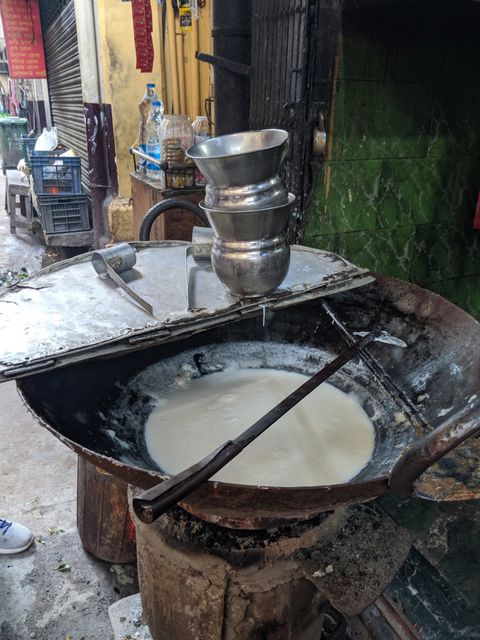 I also made a IGTV Video from Sarama at Dacre's Lane, Kolkata. loved it so much!
Chitto Babur Dokan!
Chitto Babur Dokan (the shop of Mr. Chitto) made Dacre's Lane of what it is today! A old school teal colored door guards the hole in the wall establishment. From the kitchen of which, comes out magical Fish Kobiraji, Chicken stew, Khichdi (only available during lunch), Diamond fish fry and other delightful dish! Hurry since these stuff od heaven don't last long.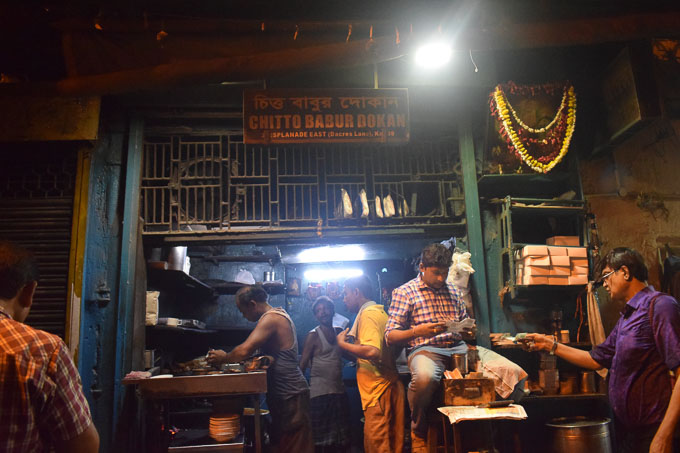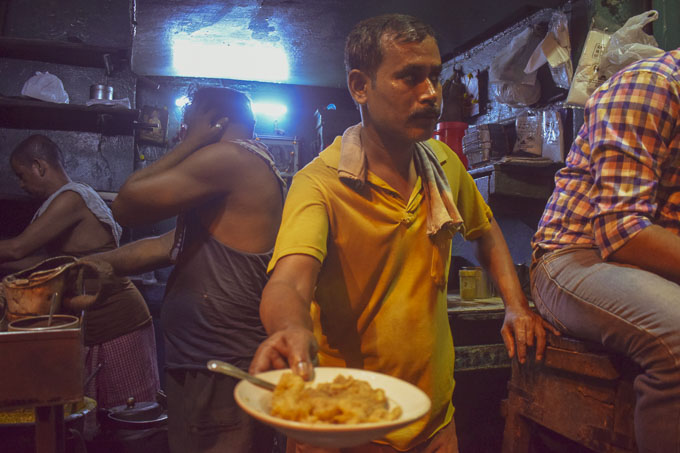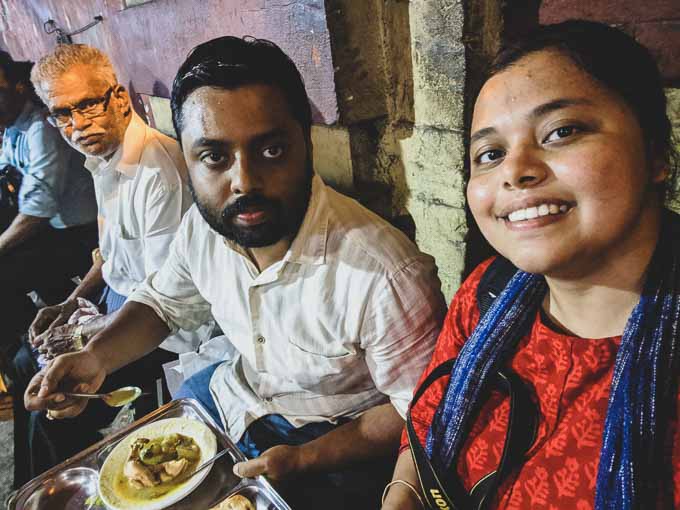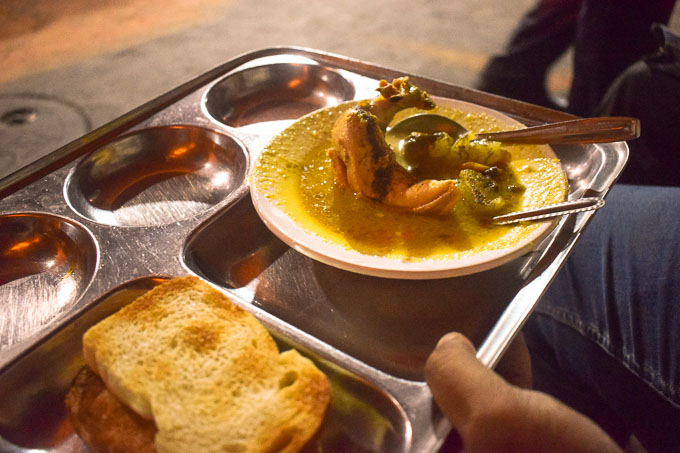 The Chicken stew of Chittobabur Dokan is one of the most Googles search terms. The stew consists of a piece of potato and raw papaya. It is lightly flavored with black pepper. Indeed, it is a hearty meal, especially when had with the Bun Ruti! The Bun loaf is locally produced as well.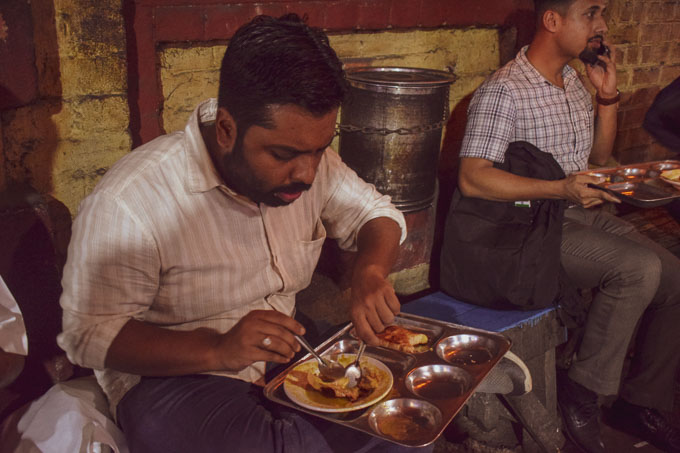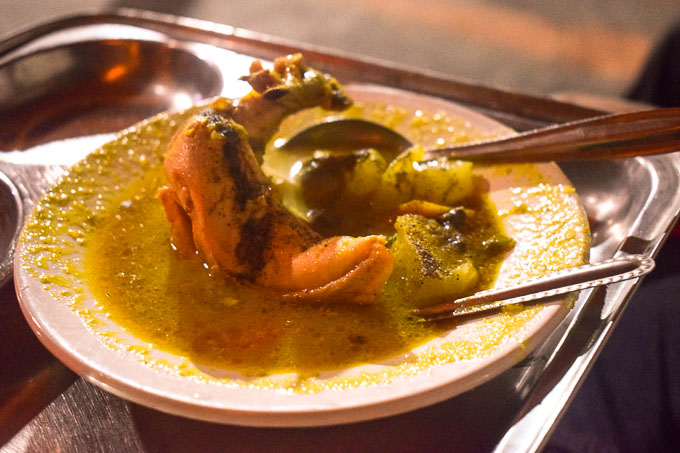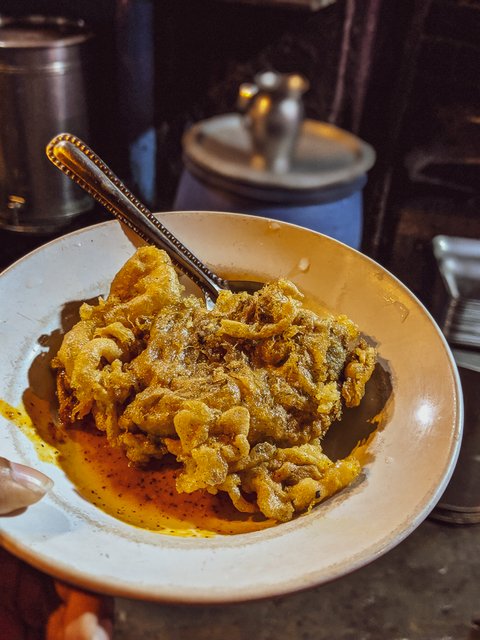 Kobiraji, the name traces back history in "coverage", a British way of addressing the coating on Bhetki fillet. The coat is generally made of crumbs, eggs, mild spices and green chillies. Bite on that flavorful deep fried coating, alongside biting the fresh white flesh of the fish, works like old Amitabh-Rekha movie magic!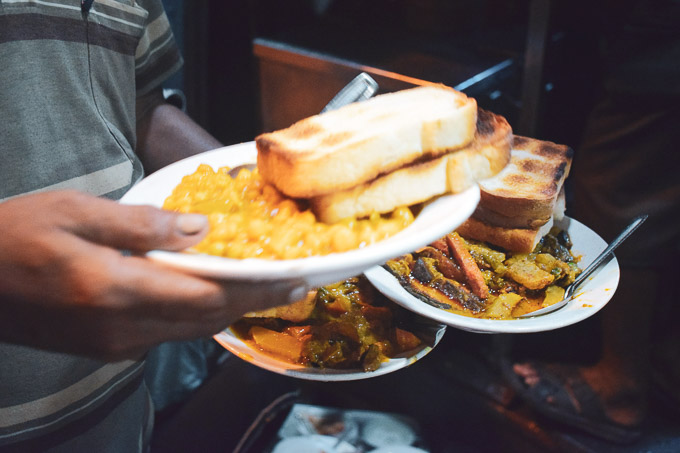 The Toast is a necessity and accompanies almost every dish that comes out of Chitto Babur kitchen! The are cooked on old school charcoal clay oven.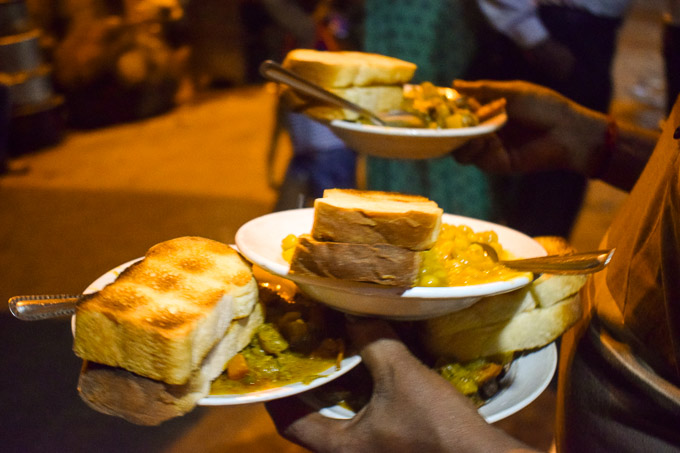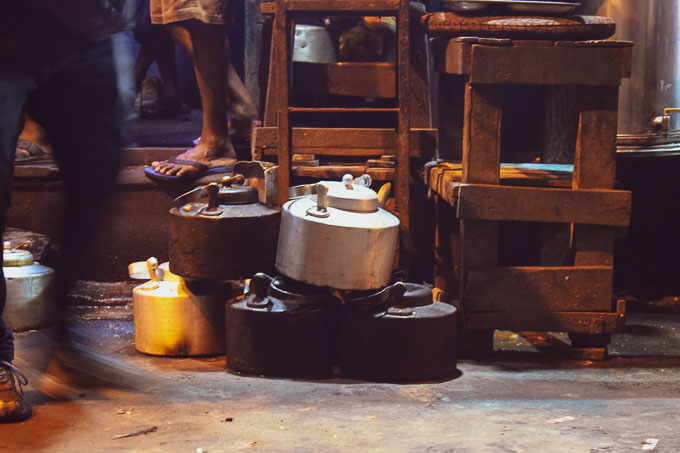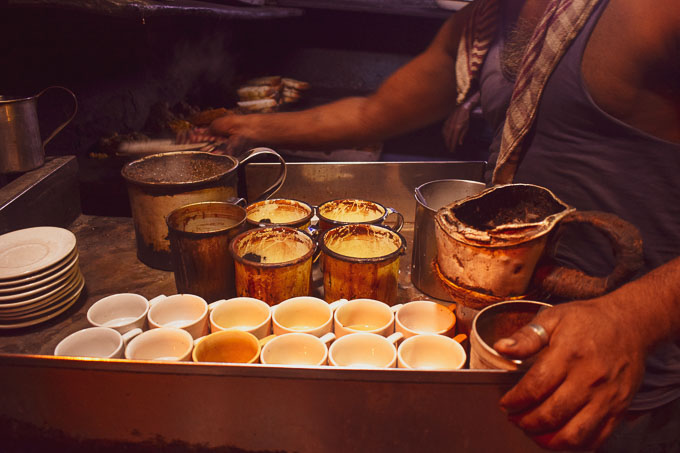 The "Cha" of Chittoda's shop! Look at the half eaten mug. Dead man tells no tale!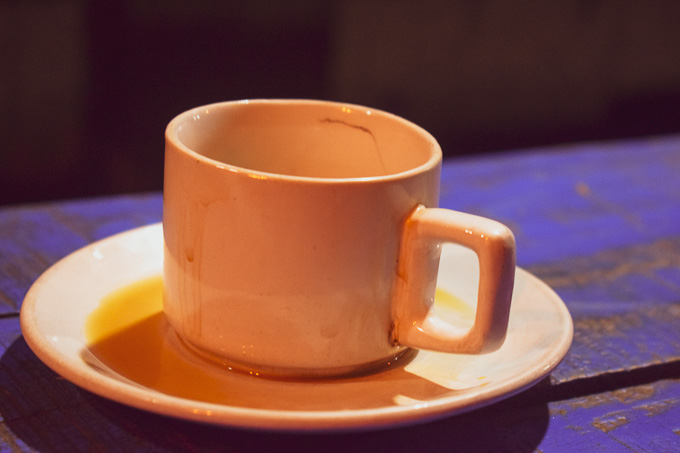 Legends say, everyday close to 500 cups of Cha is made at Chitto Babur dokan.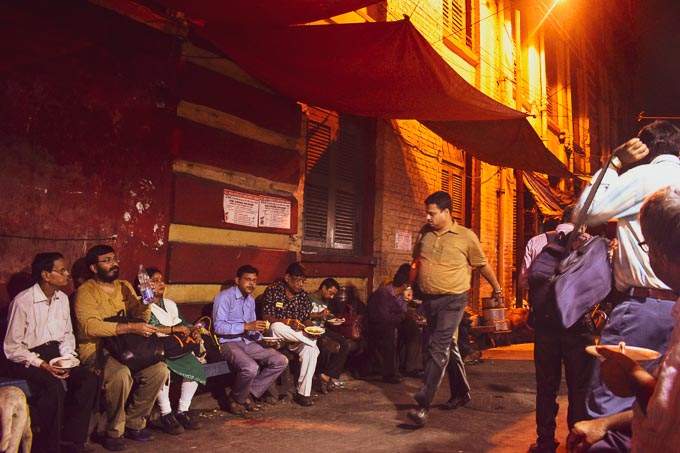 The man who sat behind me was telling his girlfriend, "You see the man in yellow cloth? He is the most accomplished photographer of Kolkata at the moment!" Photographer, he mentioned. Not Instagrammer.
He further went on discussing the recurring deposit he had opened to buy a high-end DSLR camera.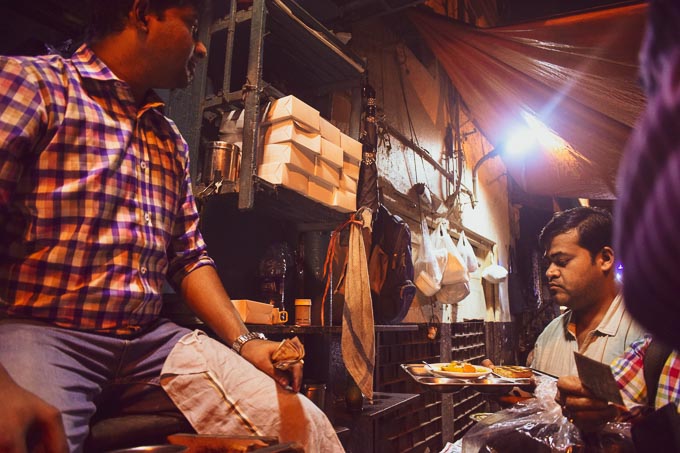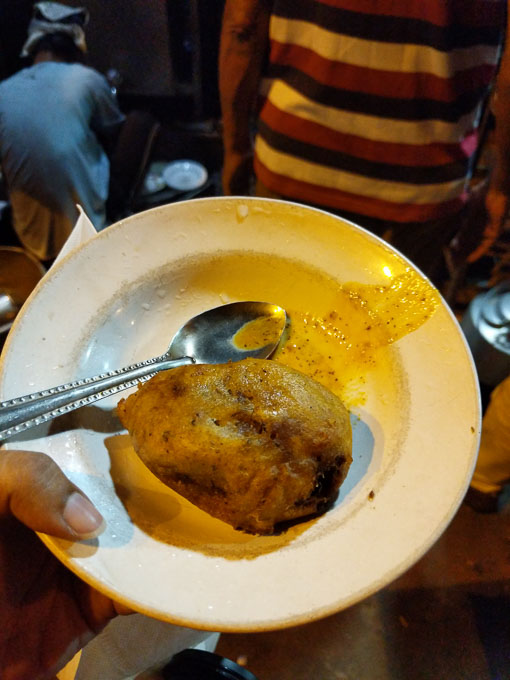 I asked what else is famous here. The owner smiled a nonchalant smile. "Everything is good, but I suggest try the Macher dimer Chop." He meant fish roe fry. Why not? I thought!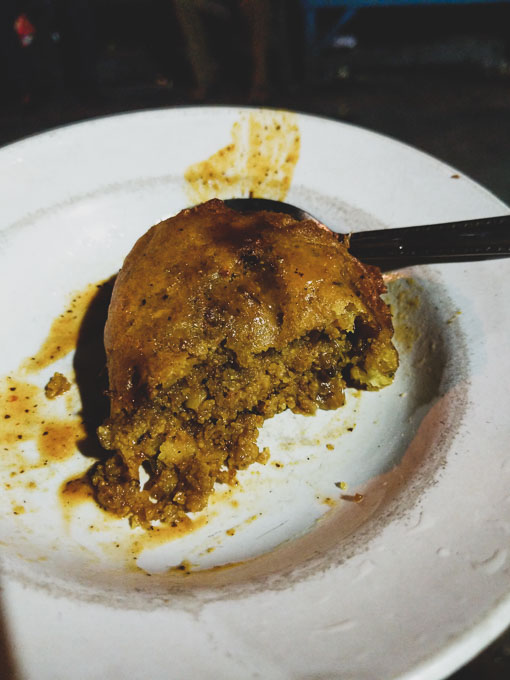 Following the footsteps of Chitto Babu a few more shops have opened in close vicinity. Dacre's corner, Aponjon and Suruchi are few examples. The sitting arrangement is slightly improvised. Menu incorporates Kolkata-Chinese Chow-mean too!
If you find it difficult to balance the Rekabi filled with hot stew, a plate of toasted breads and boiled eggs, a little too much to handle on those shaky wooden benches, go ahead with Aponjon and Suruchi. While at Suruchi Dacre's Lane, do not forget to try chicken chow mean.
Pocket pinch at Chitto Babur Dokan:
Fish Kobiraji: INR 80
Macher DImer Chop: INR 40
Chicken Stew: INR 80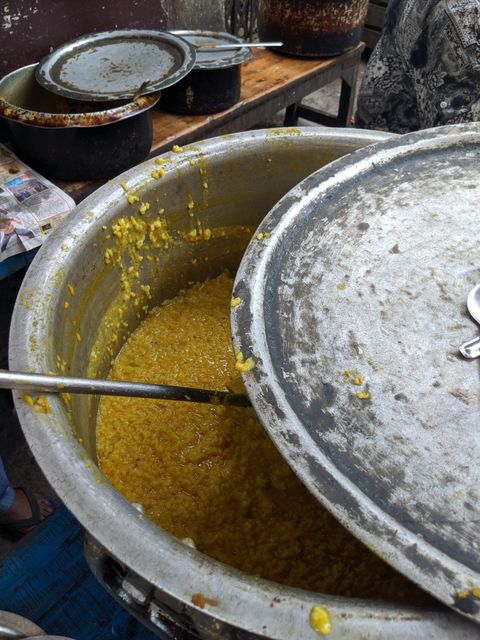 The Kolkata Chinese!
The Chinese food of Kolkata is an ubiquitous winner in the world of gastronomes.. We eye Chilli chicken fried rice with same respect as the ever comforting Alu Siddho Bhate. We celebrate the ararot coated boneless chicken pieces soaked in suspiciously thickened gravy married to soy sauce. We call it Chilli chicken. And, forget about China, this type of Chinese is difficult to find even in other parts of India!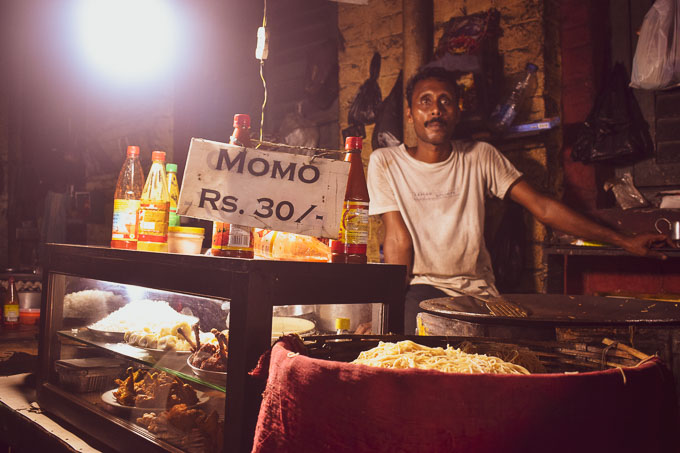 Then our very own Darjeeling has lent us meat dumplings named Momo. Unlike other places, Kolkata offers a wholesome meal in each plate of momo served, with the soup coming along in a small bowl. That chicken and pepper infused soup, my dear reader, is the show stopper!
The chinese stall owner tried to allure me saying, "Momo momo… dimsum!"
I think he mentioned dimsum because I was walking with the camera!
Calling momo as dimsum is blasphemous in my honest opinion.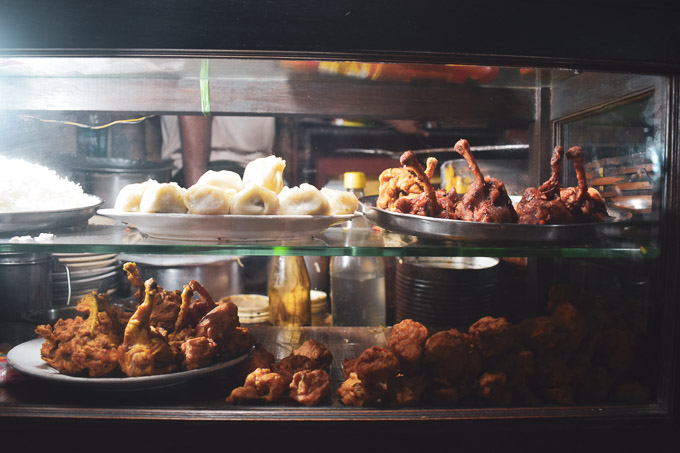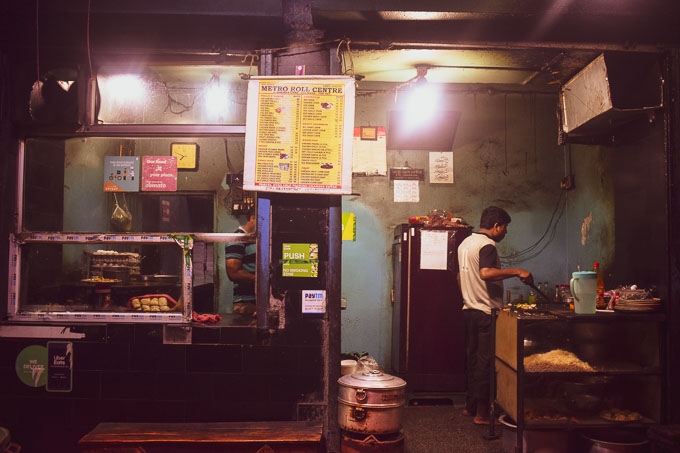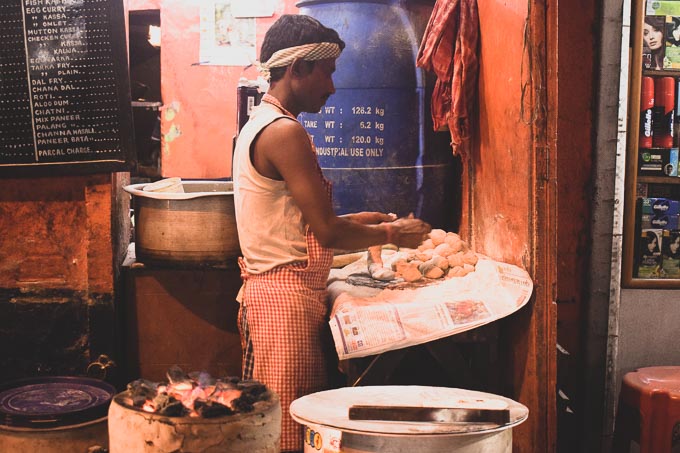 The Hindu Hotel at Dacre's Lane
The Hindu hotels are also known as Pice hotels. The Bengali migrant population from rural areas, settled in Kolkata for work, would survive on the staple rice-fish dish from these Hindu hotels. Payment would be done often at the end of the month. A few famous Hindu hotels remain in North Kolkata. They serve the freshest fish of the day. They charge a reasonable rate too. The rate of fish changes with market price almost on a daily basis.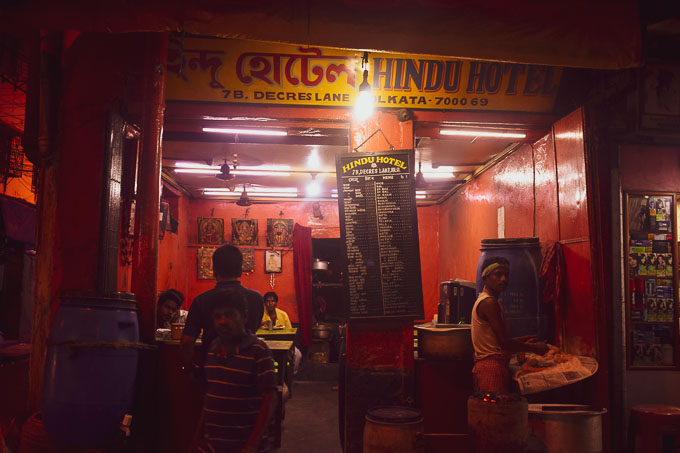 A black board would list the name of these fish dishes available on each day and what's the floating rate. The menu is hand written and changes everyday!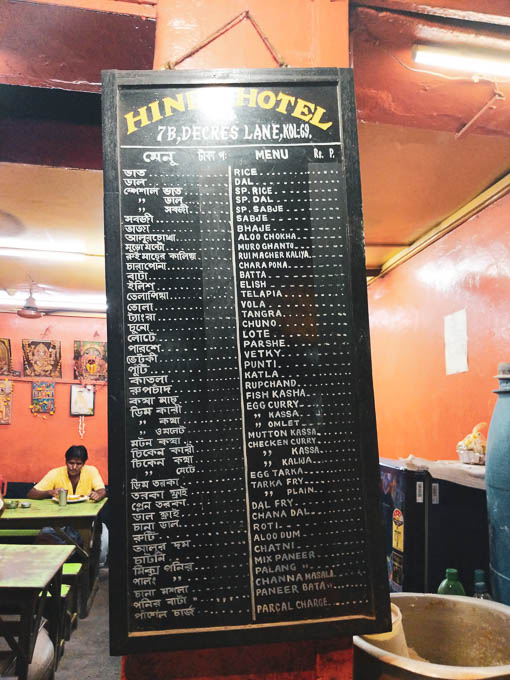 The Bars!
A few neon lit shabby bars adorn the dingy lane, at the end of which stands tall gorgeous Great Eastern Hotel. I could hear live music play inside. These are the bars famed for those cabaret dance?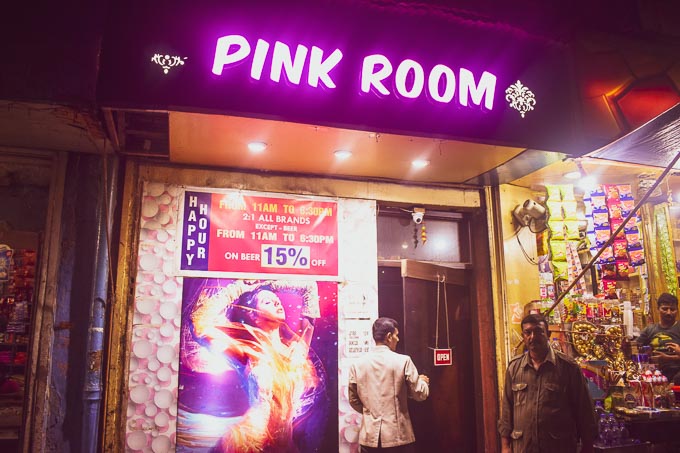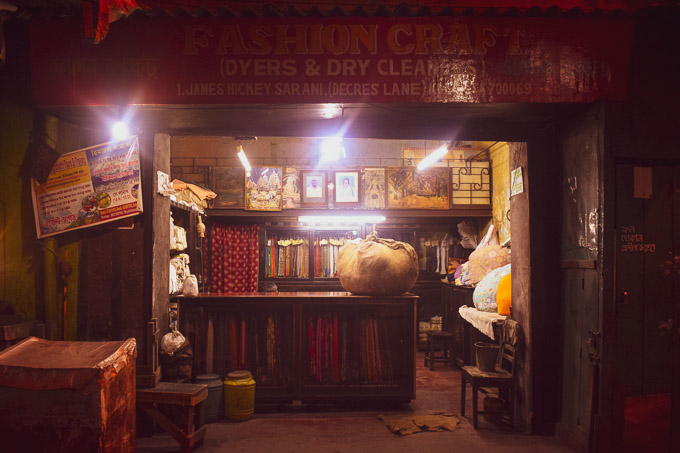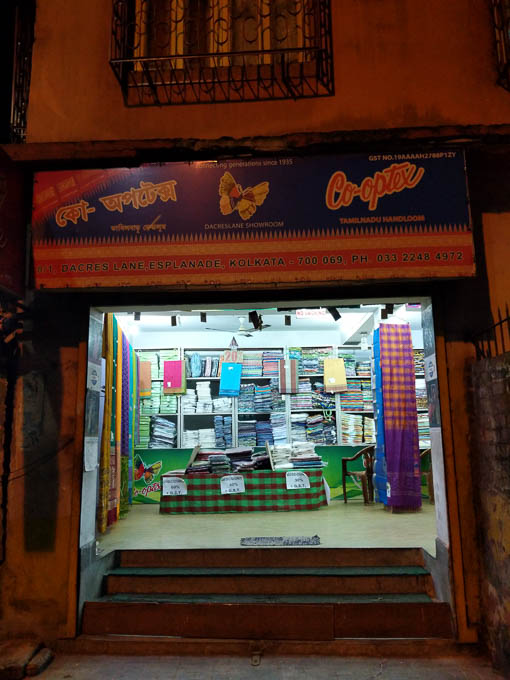 There is a paper mill decked up with communist manifesto. "Cholche Na Cholbe na" I can close my eyes and hear them say!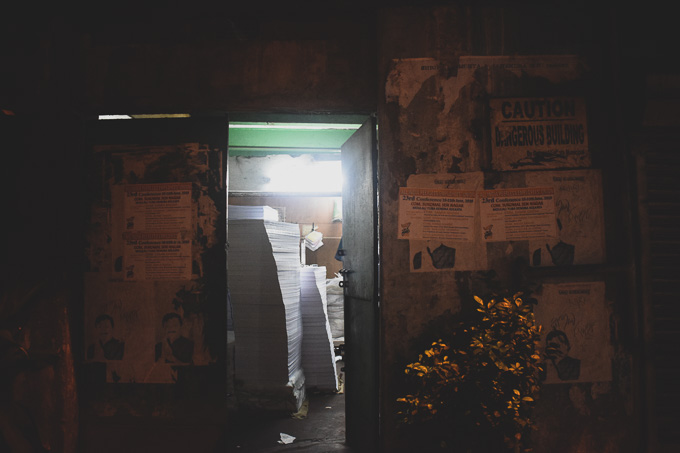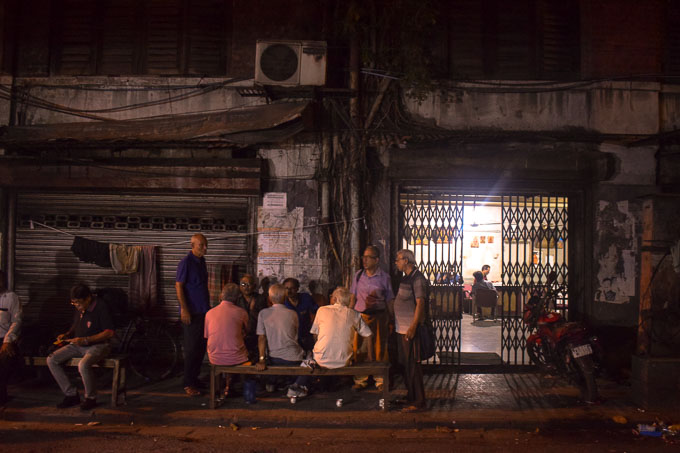 Luchi and Tarkari!
At the end of the lane stood a man with very fancy mustache with two cane baskets full of Luchi. The puffed Indian bread that is served with Alur Torkari, potato curry on Sal leaves for a mere INR 20.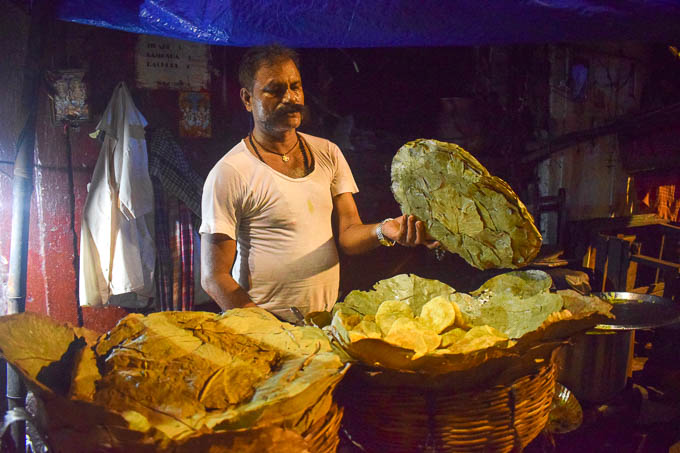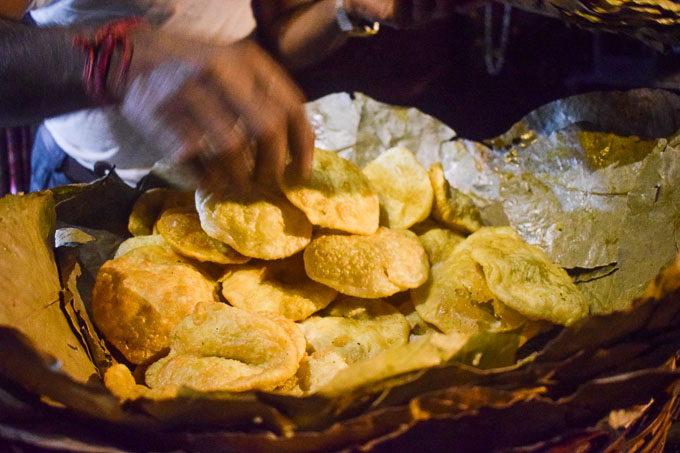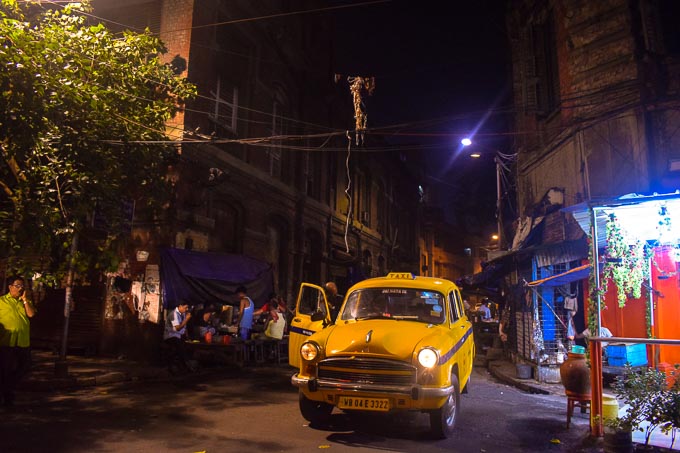 The Sandwich Shop at Dacre's Lane!
he operates his stall only in the morning. He is famous for serving quirky sandwich combos. The Egg chicken variant is priced at INR 65 and sells like a hot cake.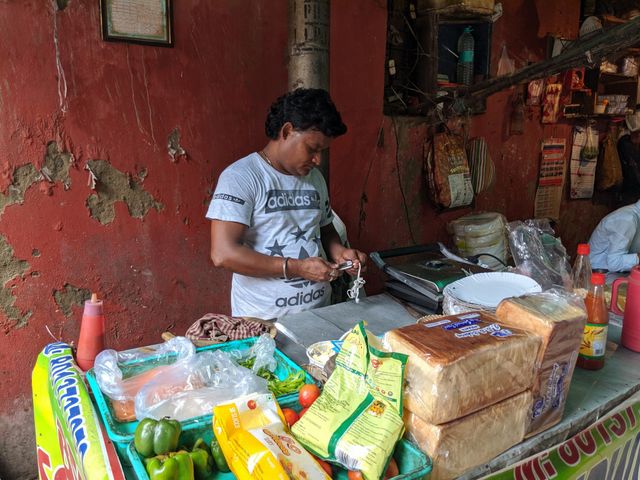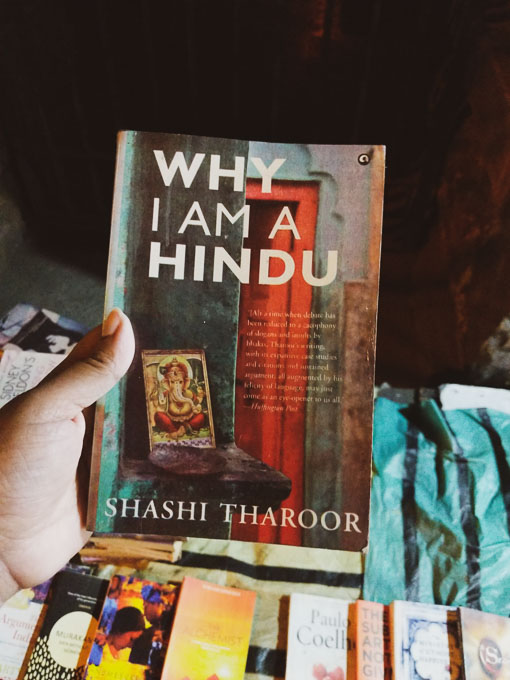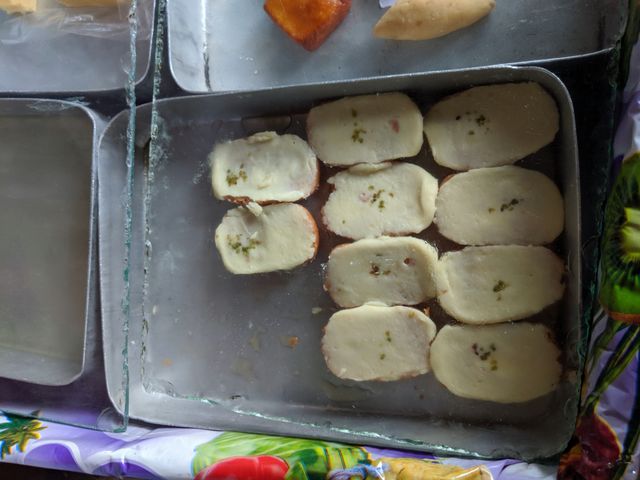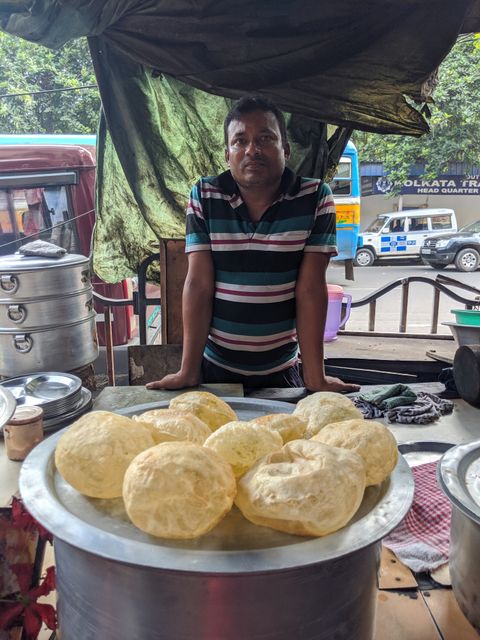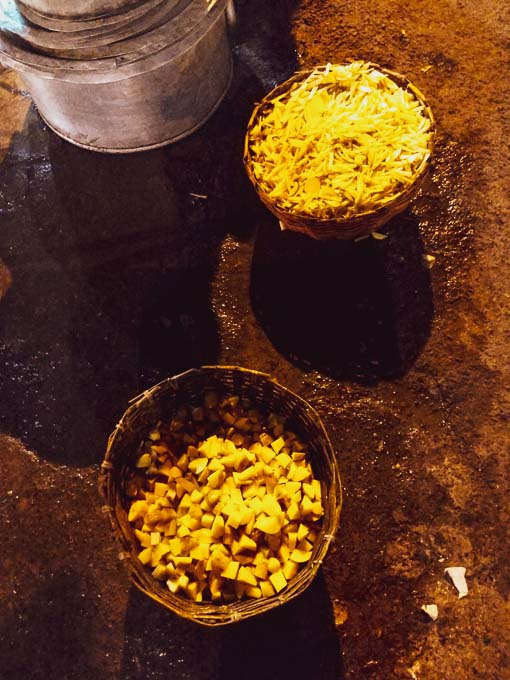 During lunch sessions, you might also stumble upon many stalls selling Naan roti and many strange looking gravies. These gravies would have potatoes, seasonal vegetables in the name of mixed vegetables, Paneer cubes submerged. I have had my fare share of gravies while in Salt lake sector five. I never became a fan! I would rather go with the Khichdi at Chitto Babur Dokan. Chole Bhature is still a better choice if you have to go with one such stall.
Dacre's Lane was later renamed as James Hickey Sarani by the Kolkata Municipality Committee. The authority wanted to honor James Augustus Hickey, under whose supervision the first Indian newspaper 'Bengal Gazette' came to be. Those eventful days after the battle of Plassey were also rewriting the fate of the entire Indian subcontinent.
People changed. Places were renamed. Yet, air at Dacre's Lane is heavy with history.
I visited the nameless, countless "Soi"s of Bangkok metropolis, where expats and locals dine on Ramen and other myriad exotics after a long tiring day!‌ Still tables, little to no extra frills, excellent food:‌ these food stalls are a cult of their own. I longed to see one such place in India. Barring the Jama Masjid area of Purani Dilli, I did not recall any such. Then Dacre's lane emerged as serendipity!‌ So when are you visiting?
Let's stay connected on Facebook, Instagram, Twitter! You may also consider joining my mailing list. I send travel and photography related emails only once a month!