Kasturi Restaurant: One of the Best Bengali Restaurants in Esplanade Area!
About this blog: Kasturi Restaurant is an old Bangladeshi place in the heart of Kolkata and is one of the best places to eat in the city. They flare up a typical Bangladeshi meal full of fresh river fish and bhartas. You generally do not get Bharta in Kolkata, not even in the Hindu hotels.
Finding Kasturi Restaurant!
I heard of Kasturi restaurant during my internship days in a famous Dharmatala hotel. It was a monthly ritual of the staffs to host an occasional party at Kasturi, the iconic Bangladeshi restaurant, despite them being employed at one of the best Bengali restaurants in a star hotel of Kolkata!
How to reach Kasturi restaurant: The originial and old Kasturi is housed by the Mustaque Ahmed Road near New Market area.
Now they have spread over branches in Gariahat, Ballygange with fancier ambiance.
For an authentic experience, I recommend visiting the Kasturi restaurant at the New Market area.
Please note: Kasturi restaurat is open for diners from 11 am to 4 pm and remains closed for three hours. Kasturi reopens at 7 pm for dinner and welcomes guests till 10 pm.
Pin it for later read!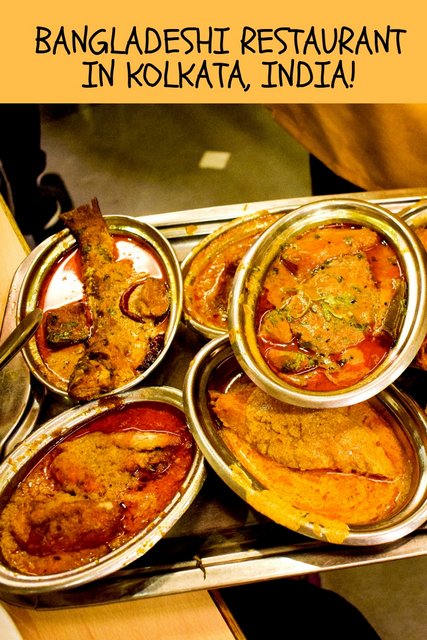 Kasturi Restaurant at Esplanade, Kolkata is a 24 years old Bengali restaurant specializing in Bangladeshi Dhakai Cuisine!
For us Bengalis, eating out, especially eating Bengali food out of home, when in Kolkata, is a sacred affair. Because Maa cooks good food, no?
This, of course, unless you are pressed for eating Daab Chingri (prawns cooked in tender coconut) straight out of an "Unun" (a traditional earthen oven, fueled with coals). But Kasturi stood out long for her inimitable food legacy, bringing back a melancholic memory from the other side of now partitioned Bengal!
Also read: The iconic cabin restaurants in Kolkata!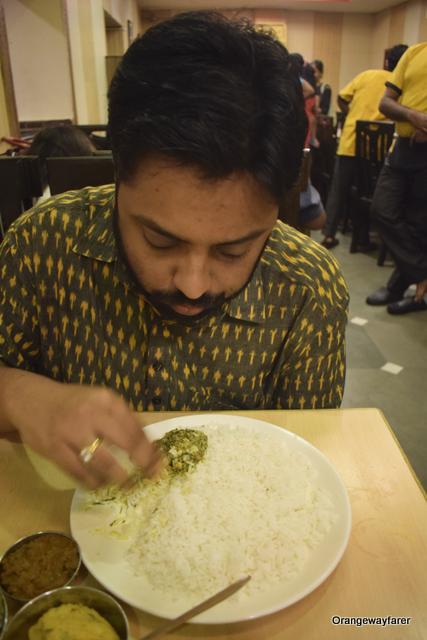 Kasturi serves authentic Bengali food, but is quintessentially Bangladeshi in flavor, taste and atmosphere! In Kasturi restaurant, Dhaka captures a part of Kolkata right in the middle of bustling Esplanade area!
It was the end of Durgapuja 2018 when we went to Kasturi. Esplanade of Kolkata goes into a slumber mo9de during this period. Pandal crazy Bengalis hop onto Metro and walk miles in North and South and gorge on Egg rolls from the streets! Thus, we were readily provided with a seat on the wooden chair and table. "You will not get a seat on other days so easily", told us the waiter Bengal!
In the heartland of Kolkata at Saint Marquis Street, Esplanade, a very typical Bangal dialect is spoken at Kasturi at ease! I am a Bangal girl, meaning my forefathers left erstwhile East Pakistan, now Bangladesh during trying times of India's independence and settled in Kolkata suburbs as refugees (which is a different story altogether). Their dialect remains of the same of Bangladesh till date. Even though I do not speak it, I totally understand it!
I grew up listening to many stories in the distinct Bangal dialect of the home they left, the fresh catch they would fish out of "Padda Nodi" as a child and cook with only nigella seeds and turmeric, and some ginger too! Adding sugar to fish curry is a strict "no no" in Dida's gourmet style! But you step out of the Bangal household only to bewildered in the Ghoti (the son of the soils of Kolkata and West Bengal as a whole) kitchen, where raisins are added to Chingri (Prawn) Malaikari too! The world here is sugary, Mishti!
Also read, a guide to the cheap streetfood of Kolkata!
A Quintessential Dining Experience of East Bengal!
Kasturi stands out from the other Bengali restaurants. The borrowed Bangladeshi heritage runs as a subtle undercurrent. A savvy Bengal will easily pick up the nuances but for you darling, the non-Bengali reading my blog, let me point out!
Minimal to no use to sugar in dishes except for the dessert. A very Bangal thing!
The diners. They are Bangladeshi. The magnificent Dhakai saree clad aunties chewing paan and giving you lingering looks with a distant sign of smile! The Bangal in you knows she is family!
The menu at Kasturi restaurant is carefully crafted to bring back nostalgia. The fact that they specialise in Dhakai cuisine is illuminated in the names like, Podmaparer Mangsho or Goalondo steamer Curry!
We were almost put off with the tiny roll shop that now is open on the ground floor of Kasturi. the young chap of the roll shop understood our disappointment and pointed towards the first floor. A narrow entrance and whitewashed walls welcomed us upstairs. The walls feature the iconic fish items of Bengal like Chital Muithya (a fish dish whose name I cannot translate) and Hilsa in Mustard gravy. (Here is a great book that tells you about 100 different styles of cooking Hilsa fish!)
The Quirky Menu of Kasturi Restaurant
The waiter comes to take your order. Do not expect a menu card! It is a different world out here! He will tell you what is in the kitchen on that day. Just when you are thinking you need to be well versed with the taste of Bengali river fishes before ordering one, you will be presented with a huge platter of cooked fish! These are the fish of the day. Order what you fancy by the looks!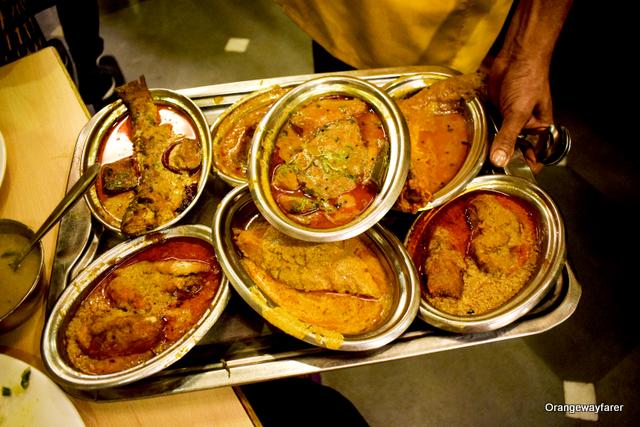 Kasturi Restaurant's menu is an oral tradition and reminds you of visiting a family. You are urged to eat the best produce of the day, from a bowl of Musoor daal to the plastic pineapple chutney!
You are well off eating with your hands in Kasturi, keeping up with the local tradition. In a blog post, once I read that eating with hands is a sign of extreme poverty. Well, we say it is love and appreciation that you mix in with the food with your "Midas touch"!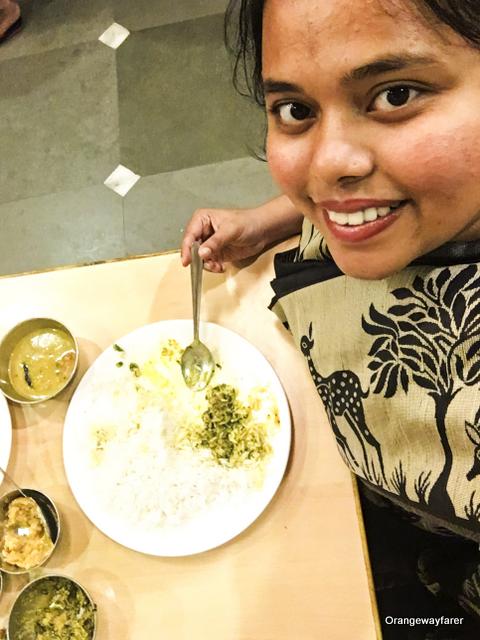 Also read: Bonedi Barir Durgapuja in Kolkata!
The celebrated Bhorta of Bangladesh!
The celebrated Bhorta of Bangladeshi cuisine is served aplenty in Kasturi restaurant Kolkata. Daal Bhorta, Daal paste mixed with fiery dried red chilli, Chicken Bhorta, Chicken minced mixed with a strong aroma of garlic caught my fancy! I had heard a lot of Rasoon Bhorta too! It was not available on that particular day. We had some Masoor dal and rice along with!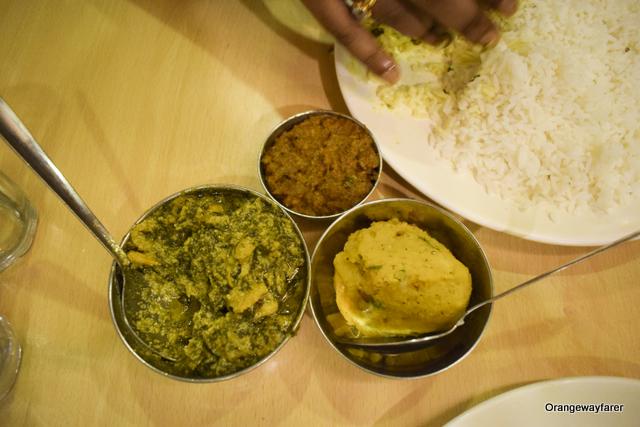 The very famous Kochu Pata Bata Chingri
The finest surprise was awaiting the next course. We had a bowl of sumptuous Kochu pata diye Chingri (shrimps cooked in colocasia leaves). The trending term in Instagram, "Amaze ball" will be befitting to describe this one dish! Numerous tiny prawns are cooked in this Kochu Shak dish! In our typical Bangal family, we cook Kochu r loti, kochu shaak diye Ilish macher Matha and kochu pata bata. Traditionally, ghoti (son of the soils from West Bengal) would not eat "kochu-ghechu". But the kochu shak diye chingri, spiced up with mustard paste and all good things of the world is a dish to try before you die!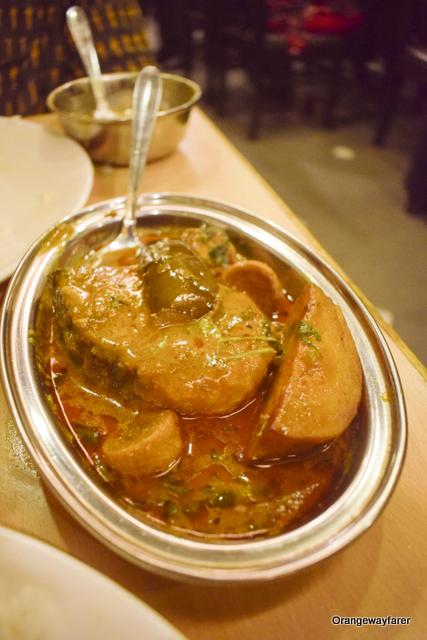 Aar mach is a type of cat fish! It is ironical since I gave this fish to a kitten in my neighborhood in bangalore and she seemed to love it!
Staying true to Bangladeshi style of fish curries, the Aar mach was cooked in a red broth of onion-ginger paste and octagonal slices of potato! I love my fish curry flavoured with Dhone Pata, coriander leaves, and green chillies.
Get an extra helping of the Plastic chutney of you think Aar fish overwhelmed you a bit too far with spice count!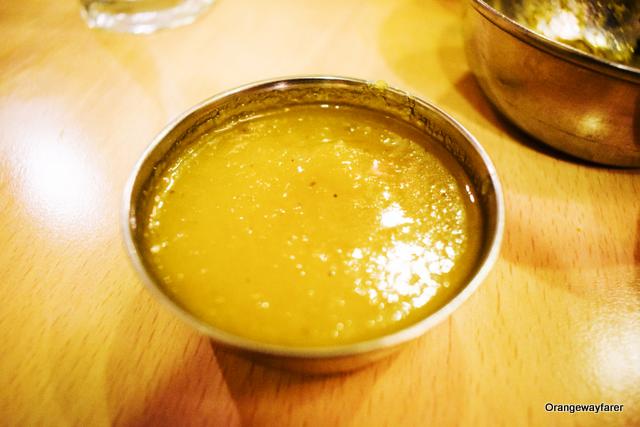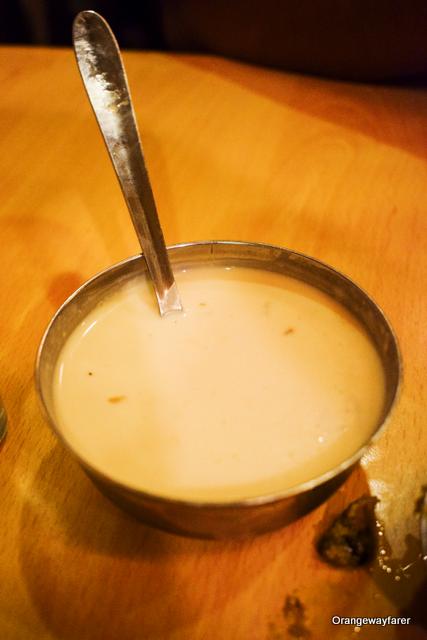 Just when we thought, we were done, the waiter offered us a bowl of Choshir payesh. It is a semolina and milk-based dessert, just the perfect way to end the meal! I tell you, Kasturi does not work on a regular menu system. It works on the magic of passionate people who would take good care of you!
Also read: How to spend a long weekend in North Goa?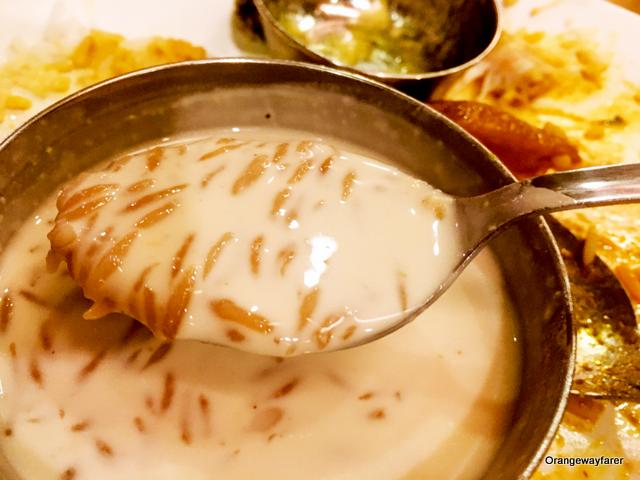 We will make another visit to Kasturi Restaurant to try the Hilsa, Bhetki Paturi and Mutton Duckbunglow which I heard are the best baits of Kasturi. For Chingri Malai curry, I am still in love with the raisin studded delicacy from Swadhin Bharat Hindu Hotel from college Street!
Kasturi's primary clientele are the tourists from Bangladesh. If you have read a few books of Humayun Ahmed, you know how New Market of Kolkata fares on the heatmap of bridal costume and jewellery market! The Bangladeshi shoppers' favourite food joint is Kasturi where a slice of homeland welcomes them.
Opposite to Kasturi stands another stalwart of Bengali food from Bangladesh: Randhuni! I recall fond memories of a visit I made long back.
Carry your own reusable water bottle to Kasturi lest you have to buy another mineral water bottle made of plastic!
Alcohol is not served in Kasturi.
If you are a vegan, let them know your food preference. You have plenty of authentic Bengali meals to try (Posto alu or poppyseed cooked with potatoes, Enchor er Torkati or jackfruit cooked as a curry being some of them).
The Esplanade (location here) is the oldest one while the newly opened chains are present near Gariahat.
The place is decently priced. Do not worry much about pocket pinch!