About this blog: A strong contender for the World UNESCO heritage tag from Thailand, the Old Phuket Town safeguards Phuket's historical secrets. Like every other old port city, Phuket had seen days of busy industrialists gaping at her womb, full of expensive metal ore. Chinese came and settled. So did the Indians, Malay and Portuguese. The earth uncovered her belly and churned out pounds of Tin metal, speeding up business transaction. Times changed and Old Phuket town was deserted after a century. However culture on the streets of Old Phuket Town speaks of a different era! It is a treat to walk on her hipster streets now, filled with wall art and houses doubling as living museums and plenty of other things to do!
Read all the articles of Thailand!
-Far from here, there is a land of the "Baba" in Phuket. It is an Old Town. It has a slice of Europe living in the heart.
Told us Sam, our guide in Thailand!
Excited, I hardly slept at night, knowing of this offbeat adventure in Phuket, majorly known to the world for its unending flare of tropical sea, studded with pristine islands. When I slept, I found myself wandering aimlessly on the streets of Old Phuket Town, resembling a lot like Fontainhas, the Latin Quarter of offbeat interiors of Goa!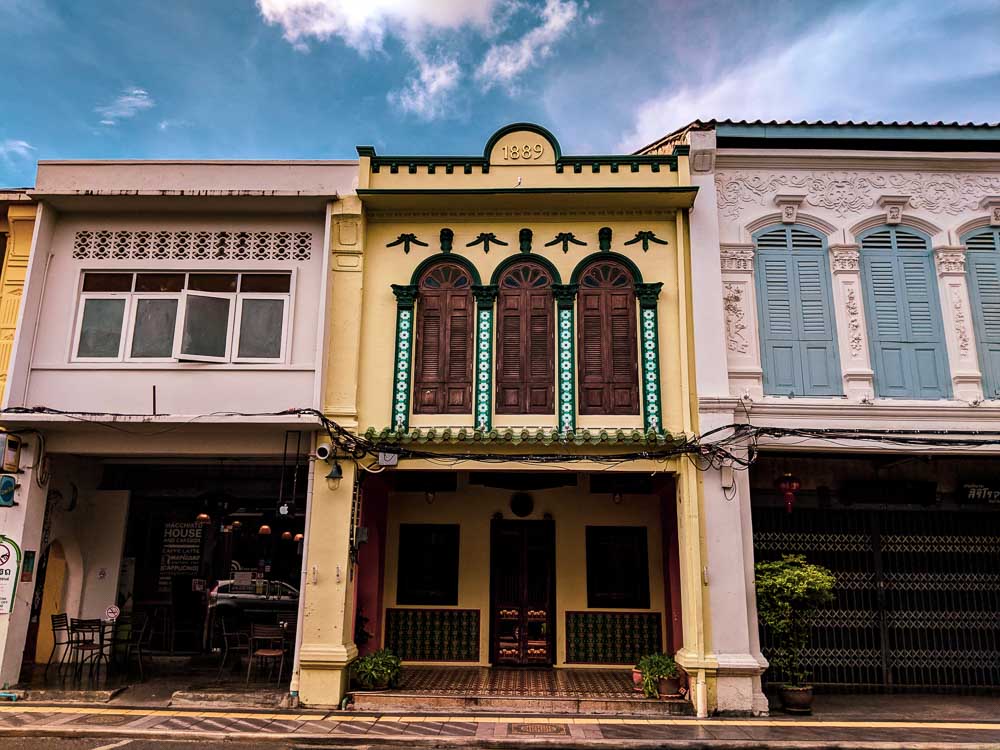 The journey from Angsana Laguna, where I was staying at Phuket to the Old town was close to an hour by a car. I slept mostly on the journey! My vague memories fail me if I hard press to remember what happened in-between. However, I woke up and felt I have suddenly been transported in Hanoi Old Quarter!
I do not know why I compare old Town Phuket with Hanoi. The streets are void of pho selling women. The motor bikes and tiny doorways. Yet, it was the free flow of life in general, spotted everywhere on the streets that amused me, and ticked a few senses! I fell in love with the Old Phuket Town at once.
In Pictures: Kolkata and 50 pictures depicting her old self!
Map for Self Guided Tour: Old Phuket Town
This map highlights the places I had been while roaming around in Old Phuket Town. The gallery, the tea shops, the museums and street art areas. However, as always, I suggest roam in the area aimlessly, without and agenda and let the Old Town Phuket unfold serendipity for you! You will have plenty of amazing things to do at the Old Town Phuket. read on to find a handy list and a sneak-peak to a forgotten world.
Also read: 2 weeks in Myanmar, a complete Travel Guide!
Why Visit Old Phuket Town?
Obviously, it is unjust to leave the famous and happening beaches of coastal Phuket and head towards the interior unless the interior keeps precious secrets. That, Old Phuket Town does and does with elan!
The tin-mining grounds breathed their last by the end of the 19th century as technology gave way for newer innovations. However, the sprawling habitats of the resulting Tin-boom and their cosmopolitan culture were to last longer. A visit to the Old Phuket Town is quintessentially reliving those past moments of glory and rediscovering a rich culture and heritage of the Baba Community, descendants of Sino-Thai marriages. Baba people (also known as Peranakan) have a distinct culture manifested well through food, art, household interiors, wedding celebration etc.
In short, if you are a cultural aficionado, you will not want to leave Old Phuket Town soon! There are plenty of things to do in the morning, as well as night (night markets and bars dot the streets of Old Phuket town).
Also read: Travel Guide to Mauritius, the gem on the Indian ocean!
There are plenty of things to do at the Old Phuket town. While a number of tourist do frequent this part of Phuket, mot many choose to stay here overnight. That is a big mistake in my opinion. To tick off the check list of everything to do in Old Town Phuket, you need to slow down and spend a couple of days here. Day trips are possible but rushed.
Explore a Private Gallery in a Sino-Portuguese Mansion
Upon walking inside the Woo Gallery, I forgot I was in Thailand.
The traditional Sino-Siamese mansion flaunted its bright interiors, painted in yellow and aqua marine. A number of tea sets of various shapes and sizes occupied wooden burnished almirah.
The owners have taken particular care of the collectives of their previous generations, who were noteworthy. The antique pieces are all wiped well, touched with a fresh brush of painting without taking anything away of the character, showcased with pride. Be it the shiny gramophone or wooden commode!
Wooden floor with ornate floral designs, flowing white curtains, a small courtyard with a few green members of the family, a colorful staircase: Woo Gallery is very much Chinese in its appearance!
Woo gallery has a handful of rooms on rent in the interiors, a quieter space. The gallery in between and the tea shop downstairs play buffer from the street-side hustle and noise.
If you have at least 4 days in Phuket, do spend at least one night here. The sea shore is far but abundance of street life does make up for it!
Book here a stay at the Woo Gallery and Boutique Hotel at the Old Phuket Town!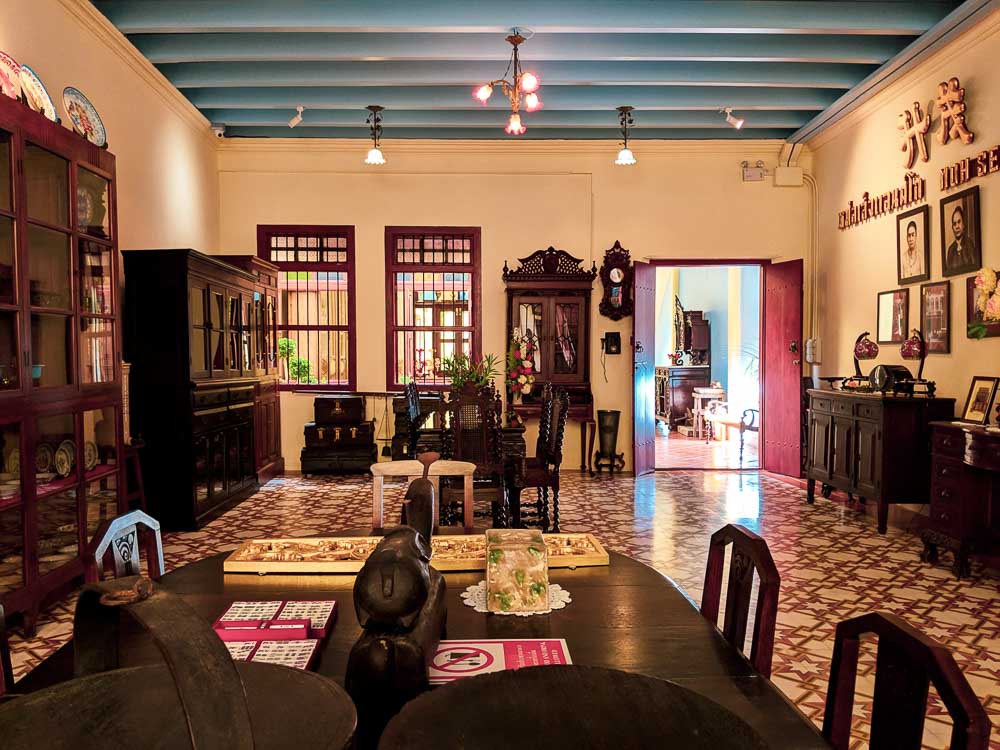 The Woo Gallery can be explored even if you are not a resident guest. Stop by for a cup of hot tea and let the owner take you for a tour. I am absolutely in love with their collection of Tea-Pot sets!
Woo gallery is a truly unique and bespoke upscale stay option in Old Town. There are very few which ruminate similar glory of the era bygone! Check out the following boutique stays for somewhat similar experience:
Tip: Another old world private museum is Thavorn Hotel Museum. It is not working hotel as I am writing this however the antiques stored and on display are of an old hotel and tin mining industry.
Also read: 25+ best beaches of Thailand for the honeymoon couples!
Find Baby Mardi: Street Art Culture of Thailand!
Streets of Old Phuket Town adorn quirks of art seamlessly! Alex Face has painted the profound walls with his signature Mardi baby face. Inspired by his baby daughter's birth in a troubled world, Alex paints a real world seen from a child's eye. Mardi features a third eye, the one that of spirits.
Besides Mardi, the streets are filled with many other artists' works. They depict Old Town Phuket's aspiration and social structures. Rommanne Street (formerly a red light area) is particularly beautiful place to photograph street arts.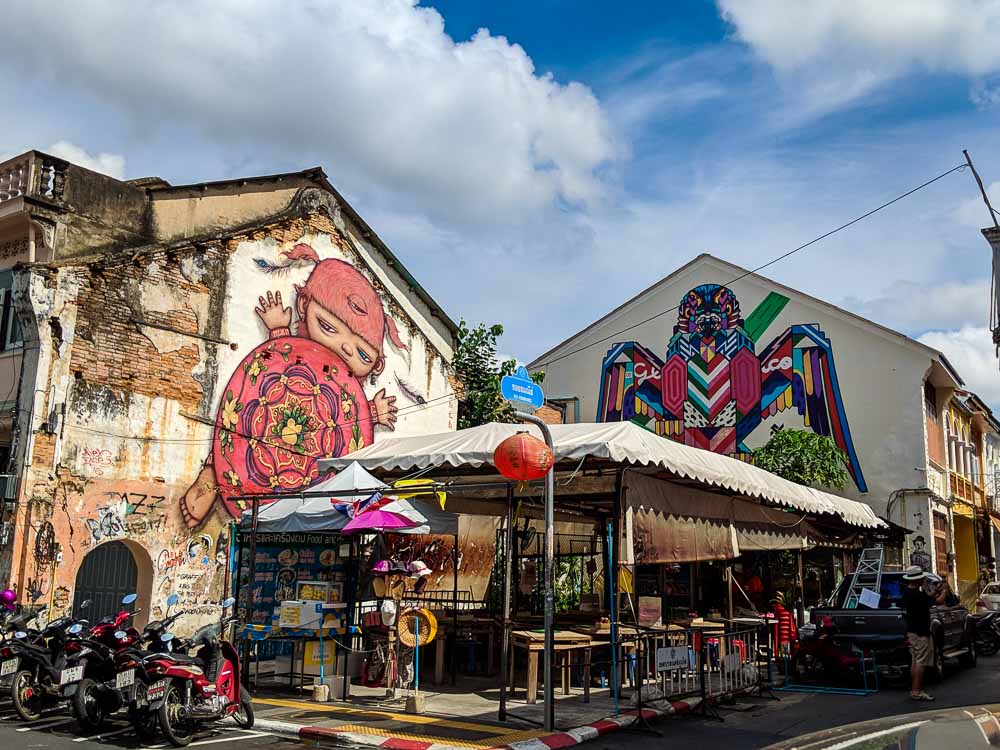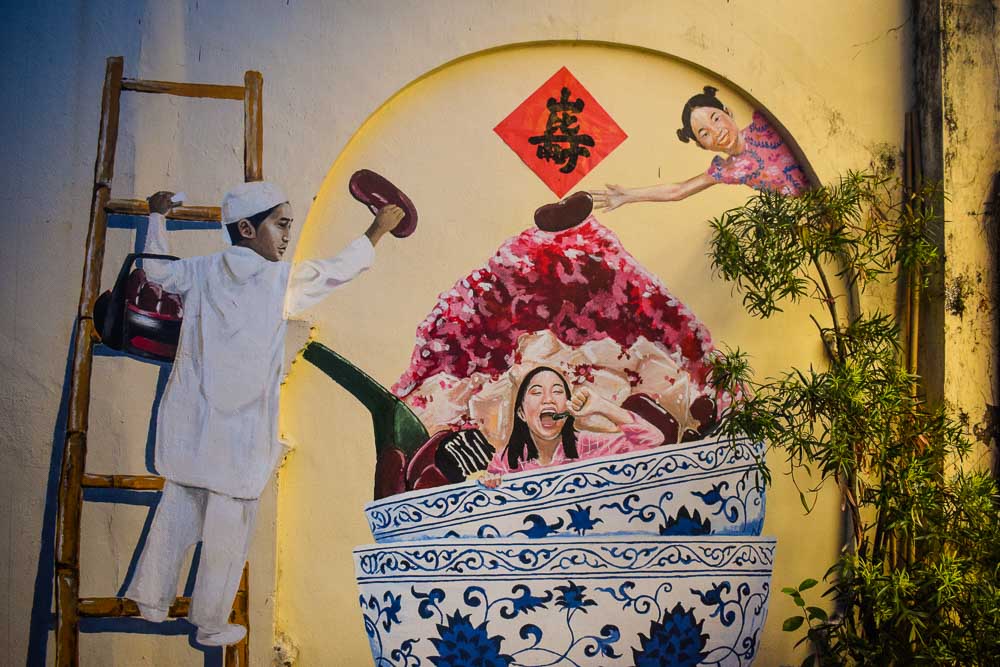 There is a street Art Corner at the Old Phuket Town. Refer to the map I have created to find this place. Keep an eye open for more surprises too!
Also read: Iconic Doors of Stone Town, Zanzibar where Asia meets Africa!
Old School Shop-houses and Moon-cakes
While you will make frequent stops on the to shoot the Sino-Portuguese palatial mansions, do not ignore the old shops on the opposite. Housed at the ground floor of the Chinese traditional household, these shop houses have been servicing guests or onlookers for a prolonged time. Now, they are all turned into coffee-shops or traditional bakeries. However, they had different roles in olden times. All of these shop houses showcase some antique exhibits, oftentimes inherited from the family.
Moon-cakes and authentic Chinese desert alongside Chinese tea are served on Chinese porcelain. The tea makes me remember Darjeeling, because I am nationalist like that! 😛 A banana leaf cover is used. Desert is traditionally sweetened with sesame seeds paste. Women of Baba community wear a traditional dress with white skirt and a floral wrap on.
Did you know? Floral pattern on Chinese garments (or alters or decoration) bear particular meanings. For example, Citron for a life of happiness (Orange of my blog's name stand for that), Orchid for fertility etc.
Also read: Travel Guide to Explore Koh Yao Yai and Koh Yao Noi, Best Kept Secret of Phang Nga Bay
Stir up a plate full of Hokkien Noodle at a Cooking Class
The one thing where it is the easiest (and arguably best) to preserve heritage is on your plate! The Baba community did exactly that. i will soon talk about the most amazing dishes I ate at the old Town Phuket however it started with me stirring up a full fledged luncheon!
Hokkien Mee (rice noodles) is probably the most prominent dish from a Peranakan (Baba-Nyonya) kitchen.
Rice noodles is stir fried with a number of greens, bits and pieces of meat or prawn and teased with a touch of ark soy.
One of the iconic places where you can taste Hokkien Noodle is Mee Ton Poe (70 year old shop and local's favourite. Near Surin traffic circle).
Also read: a Stunning photo blog of Unseen Thailand!
Hang out with an Iron Man!
A signature outlet staying true to the old world charm, a blacksmith shop is still present around the corner. We visited, extended an arm to the metal smith man. He was elated and showed us a few moves to bend and wield. The shop was quite active and had a number of metal produce on display for sale.
I do not know how things are now, but in my childhood, I would spot such "Hapor" machines quite a plenty in Kolkata. This is one of the rather amusing and old school experience at the old Phuket Town. A must thing to do if you are traveling with school going children.
The oldest shop around the corner at the old Phuket Town is a Chinese medicinal herbal shop named a Nguan Choon Tong. It is housed by Thalang Road. It was founded in 1905 and run by the forth generation of the same family.
Also read: 15+ things to do in Hoi An, Vietnam!
Be a Guest to an Old Chinese House!
We walked inside an old Chinese House as a part of the tour. if my memory does not fail, it was along the edge of Rommanne street (when you walk on the same footpath of baby Mardi by Alex Face ,on your right).
It reminded me somewhat of the house we have at Bankura. A well. An open kitchen. Profound bedrooms. Wooden furnitures. Nothing excessive but comfort spelled well everywhere.
Note the "lacier" dress worn by the grandma! She is in her 90s and have seen the gradual transformation of Old Phuket Town!
An Exquisite Thai Lunch at Tu Tab Khao!
Phuket is a UNESCO Town of Gastronomy!
This information alone should be good enough to inspire the foodie in you to make a trip to Phuket, to eat great Thai food!
The Old Town Phuket does a marvelous job at serving amazing Thai cuisine.
We went for lunch at the famous Tu Kab Khao restaurant, a wall of which is decked up with a macro sized lobster. The seafood spread at Tu Kab Khao was amazing, but the clear winner was pork belly slow cooked in a soy broth! I learnt the dish has also found a place in Michelin guide for Thailand.
This is an upscale place with a eye for minute details. Service is pronto.
While at the Old Town, why do not you try out food from the following eateries of repute?
Blue Elephant Governor's Mansion Phuket Restaurant & Cooking school
One Chun Cafe & Restaurant
Raya Restaurant
China Inn
The Cook
Yak Siam
Must try dishes at the old Phuket Town to trace back the blend of Peranakan-Thai cultural infusion
Moo hong (salted boiled pork)
Lo Ba (mix of prawns, tofu, sausages, offal and pig's ears dipped in a tamarind-chilli sauce)
Yum som o (Thai pomelo salad with marinated shrimp and roasted coconut flakes)
Hokkien Mee (noodles)
Local sweet delicacies, mostly made of sesame seed paste
Tracing back Mining History at a Museum at the Old Phuket Town!
The Phuket Baba Museum (Talat Yai) and Phuket Museum are located at opposite direction at the intersection of Phang Nga and Phuket Road. The new age museums are interactive, information rich and most importantly provide some air conditioned respite from the sweaty humid sunshine outside. There is a thoughtful chairlift for a visitor with disability.
The Phuket Baba Museum: The 105 years old bungalow was originally an office of Standard Chartered Bank.
Also read: Langkawi or Phuket: where to vacay next?
Hipstar Cafes of Old Phuket Town
Staying true to the mood of the neighborhood, Old Phuket Town boasts of a number of new world hipster cafes. Feelsion cafe, Phuket is clearly a winner in Cafe category. The interior is full of quirky design, including a skeleton adorning female attire and holding a placard, "waiting!"
Check out the following cool cafes in Phuket for great food and amazing photo opp!
Endless Summer
Bike Cafe
Bookhemian
Reach atop the World at Khao Rang Viewpoint!
At the end, when the bustle of Old Town begins to make you wry, plan a quick escape to the nearby hilltop view point, Khao Rang. Your vision will not come across any obstacle. Gulf of Siam plays peek a boo at a distance. It is beautiful and then beautiful is an understatement.
Be careful since the mountain top is also home to monkeys.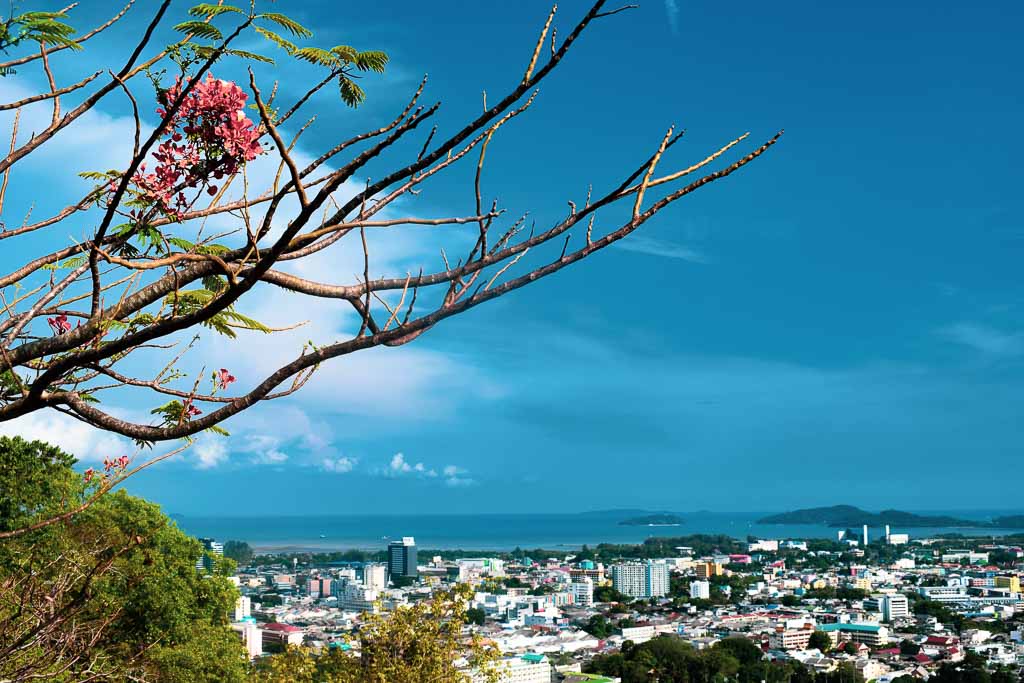 Old Town Phuket at a Glance
Thalang Road: Famous for China Inn ( delectable Chinese restaurant) and Sunday Night Market
Soi Romanee: The old Red Light area and plenty of street art (including that of Alex Face)
Phang Nga Road: Shrine of the Serene Light, The Memory at On On Hotel (the Beach Movie fame)
Dibuk Road (the Tin Street): Colorful shop houses (great for an IG shot), Raya Thai Cuisine, Grandoise mansions, Open air market, Dibuk intersection for sunset pictures, Bike cafe
Yaowarat Road: Harmonic Music Phuket, Old Limpanon House
Krabi Road: Thai Hua Museum, Blue Elephant Mansion, Baan Chinpracha Mansion, i46 OLD TOWN
Ratsada Road: Thavorn Museum, Amulet market, Salvatore's Restaurant
Ranong Road: Phuket city market, Thai Airways heritage house
Shop till you drop at the old Phuket Town
Amulet Market:I did not even know that amulet collection is a thing before I reached this Amulet market. Tiny Talismans of different shapes and sizes are spread out on sell. Heavy bargain follows with hapy and quick transaction.
Sunday night market at Thalang Road lights up the face of Old Phuket Town. It is vibrant and eclectic. The market is open till 10 pm. Plenty of grilled food, juice, beer as well as exquisite handicrafts are on display.
Notable Temples and Shrines at the Old Phuket Town
Old Phuket Town has a number of Chinese and Buddhist temples. Some of the residents are Muslim so there is a mosque nearby too. Watch out for the following shrines and temples as you explore the Old Town Phuket.
Jui Tui Shrine where the annual Phuket Vegetarian Festival takes place. AN insanely beautiful shrine, this is.
Put Cho Shrine: the Oldest Chinese temple
Shrine of The Serene Light (flaunts a terracotta roof on top)
Among the notable festivals held at the Old Phuket Town, watch out for the three day long Baba Peranakan Wedding Festival. the royal trousseau of the bride is a sight to behold! Other festivals celebrated are: Chinese New Year, Flower float etc.
Old Phuket Town Travel Guide: FAQ
How to reach the Old Phuket Town?
Blue Songthaews (the airy Thai local Bus) runs everyday from Patong. If you spot one at the road, waive and it will likely make a stop.
From the Phuket international airport, Old Town is 33 Km away and can be accessed by Phuket Airport Bus.
Best place to go for shopping at the Old Phuket Town?
The Amulet market and the Sunday weekend market at the Thalang Road are ideal for thrift shopping. Plenty of shop houses otherwise store a variety of souvenir items.
Where should I stay in Phuket- the Old Phuket Town or Patong?
I think Patong is an ideal place to stay for beach lovers. Patong also has easy access to the (in)famous Bangla road. However, it is an expensive area and goof fit for party lovers. I would recommend Old Town Phuket for a culturally inspiring stay anyday!)
How much time is needed to explore Old Phuket Town if I only have one day?
Start your day early. Ensure you have the map ready and marked. Allocate time till the end of the day with a couple of breaks. But be ensured you will be rushed. At least two days are what you need to see Old Town Phuket in all her glory!
Best Massage or spa treatment center at the Old Phuket Town?
Plenty. Kim's Massage is particularly famous and has many branches.
Best time to visit the Old Phuket Town?
In case you are visiting Phuket on a particularly rainy day, and don't want to venture into the sea, Old Town Phuket will await you with open arms! Otherwise, you can visit the old Town any-day, everyday! Particularly sunny days will produce insane photography!
Pin it for later!
This post may contain affiliate links. Please read the disclosure post. If you have liked the article, you may support it by buying using these links without any extra cost to you.
Let's stay connected on Facebook, Instagram, Twitter! You may also consider joining my mailing list. I send travel and photography related emails only once a month!