About this blog: If you have been following me on social media, you know I love Thailand. I have been there times in past three years and I can't wait to be back. I do not know if it is the sea or the seafood, but I know Thailand has surely cast her spell on me. There is abundance of life. I worship it! This photo blog on Thailand is a compilation of the most beautiful experiences I have had from the land of free! Hope you enjoy.
Do check out my complete list of blog posts from Thailand!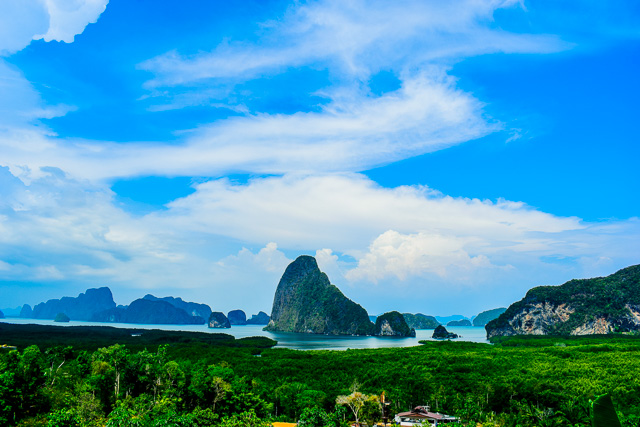 Samet Nangshe Viewpoint. One of the prized trekking experiences in Thailand. You can trek up here in the morning and catch a mesmerizing sunrise. It is situated close to Phang Nga Bay. If waking up early is a challenge, do consider a night's stay at the Sametnangshe Boutique property.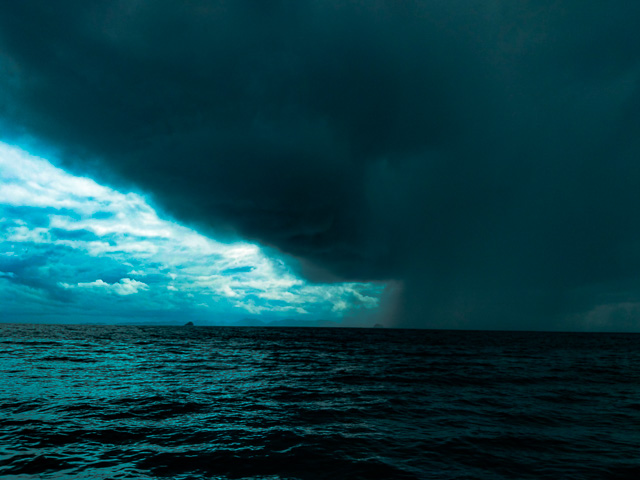 They say every storm runs out of rain, however these clouds looked ominous! Shot this from a bumpy speedboat ride on the way back from Phi Phi to Krabi in August. The sky cried for three days straight. It was overwhelming!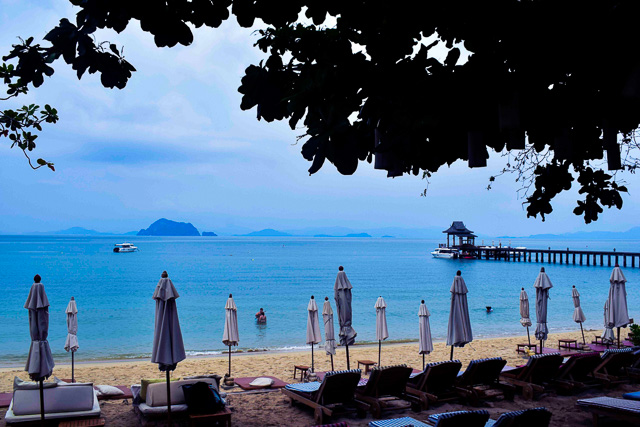 Shot from Santhia Koh Yao Yai Resort. This is the breakfast area which opens to the beach. At a distance you can see a few limestone creeks. the ferry takes tourists to Phuket town.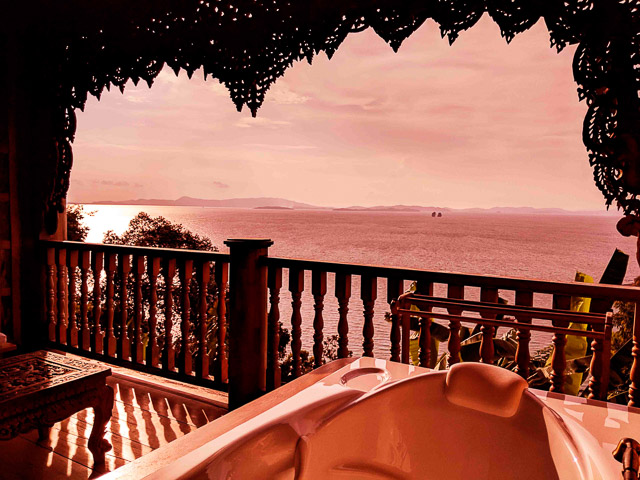 View from my suite at Santhia Resort at Koh Yao Yai. The tiny island has a few luxury beach side properties and a handful of locals living in traditional cottages. If you want a leisure holiday away from the crowds of Phuket and Phi Phi, Santhia Resort is your ideal spot.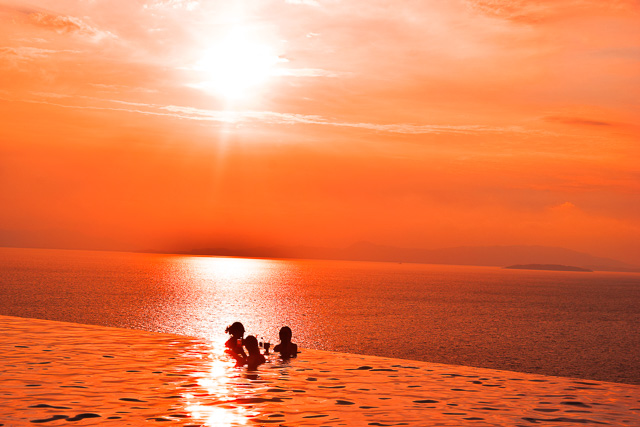 Sunsets from the infinity pool at Santhia Resort looks beyond beautiful!
Also read: Travel Guide to Explore Koh Yao Yai and Koh Yao Noi, Best Kept Secret of Phang Nga Bay
Check out more more tranquil island stays in Thailand! Koh Samui (ideal for honeymooners), Koh Phangan and Phi Phi Islands are my favorite picks!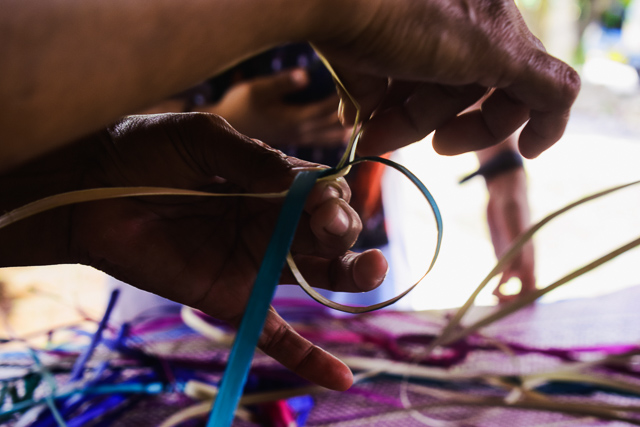 A girl making ornaments with cane and straws. Everytime her father makes a sailing trip to fish, she makes one and utters a prayer. She believes this will keep him safe.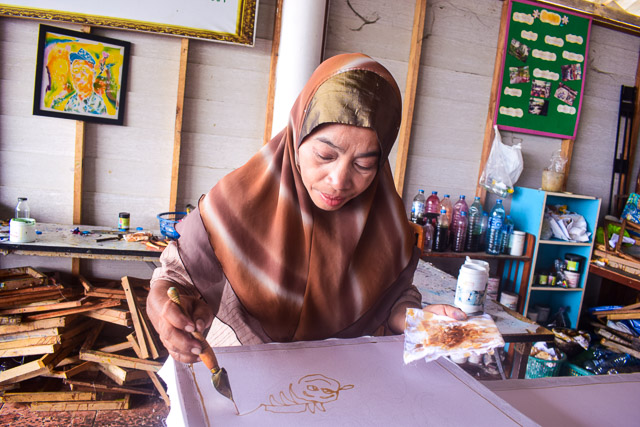 A woman paints on a piece of Batik clothe. These activities has been introduced to engage tourists with locals beyond the realm of luxury stays.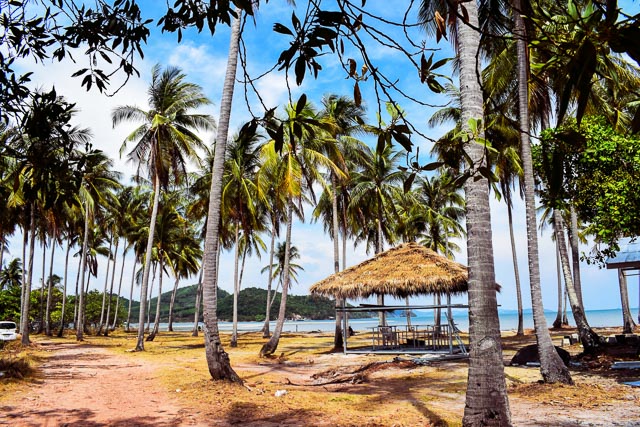 The idyllic coconut grove and not a soul around. Far away from the maddening crowd of Phuket!
Also read: 33+ beautiful beaches in Goa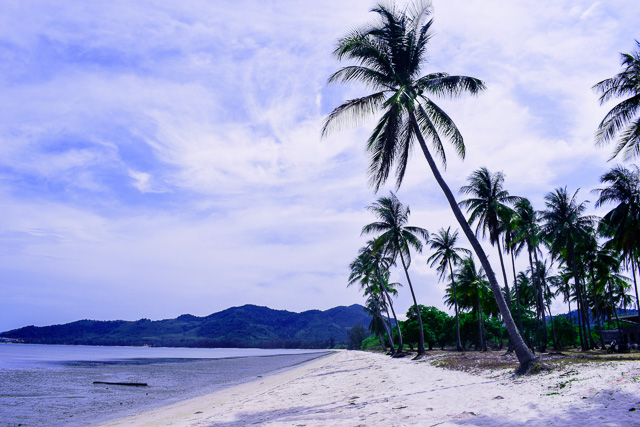 Fine white sandy beaches. Low tide hence water level is down. The untouched beauty of Thailand. Had it been a Krabi or a Phi Phi island, the place would have thousands of tourists loitering.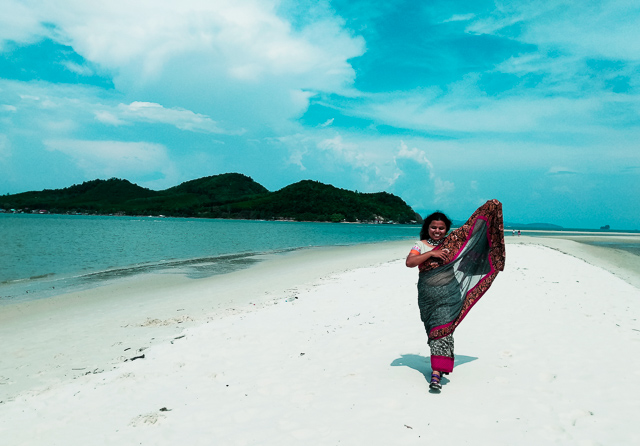 The sand band at the edge of Koh Yai Yao Yai island. If you have a drone, this ensures great pictures!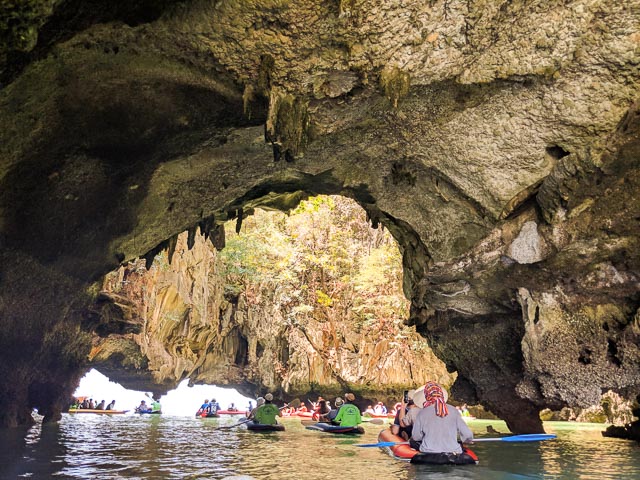 Kayaking through one of many limestone creeks in the Andaman sea, Thailand. This is recommended only when the sea is calm.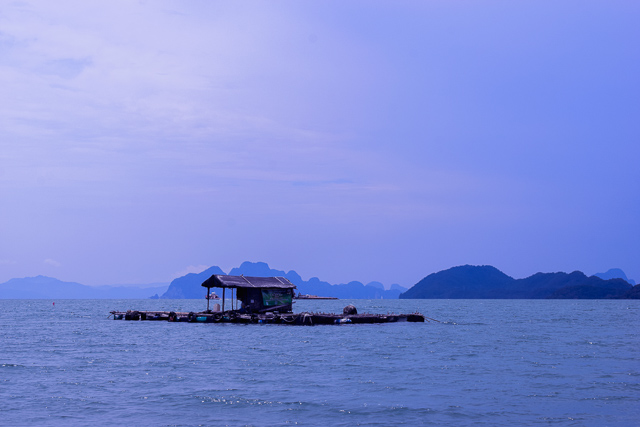 A lobster farm on the Andaman sea. It takes anywhere between 8 months to 2 years to raise these lobster. They sell in gold in the tourist hotbeds in Phuket. However, only a fraction of the money reaches the fishermen folks.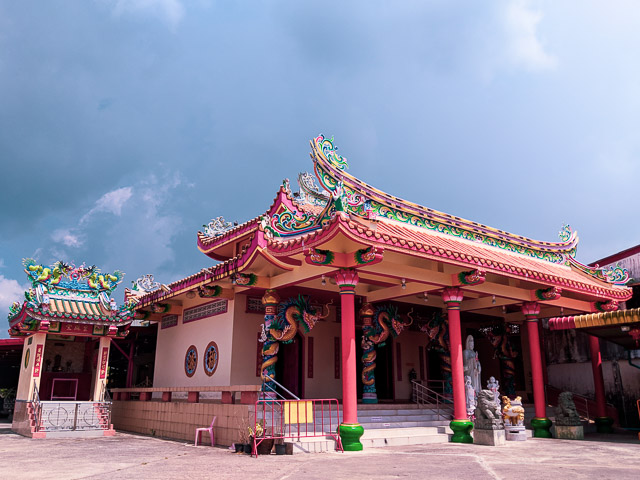 A Chinese temple at Old Town Thakuapa. The old neighborhood carries a melancholic history of the era of Tin Mining industry. The buildings bear semblance to myriad architecture and carry a bit of both Orient and West in their souls.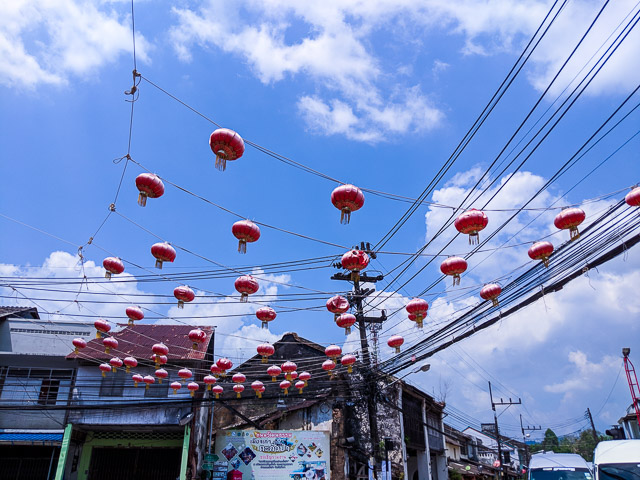 The Chinese lanterns lit up the streets at the end of the day. Some traditions do not change.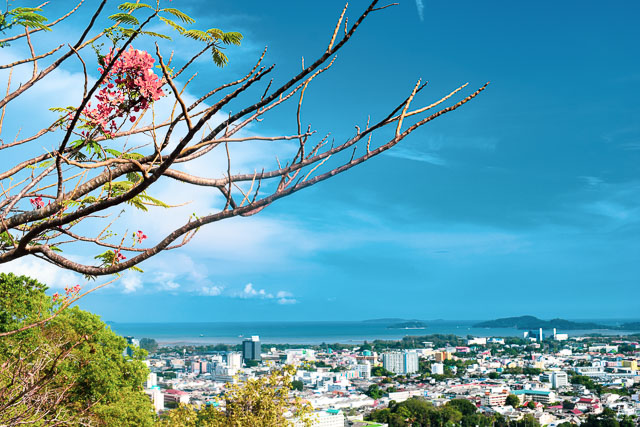 Phuket city as seen from the Ka Rang view point. A bustling tourist area, also hailed as UNESCO Creative city for gastronomy, Phuket carries the world in bits and pieces and mixes them well in it's hot wok seasoned with dark soy!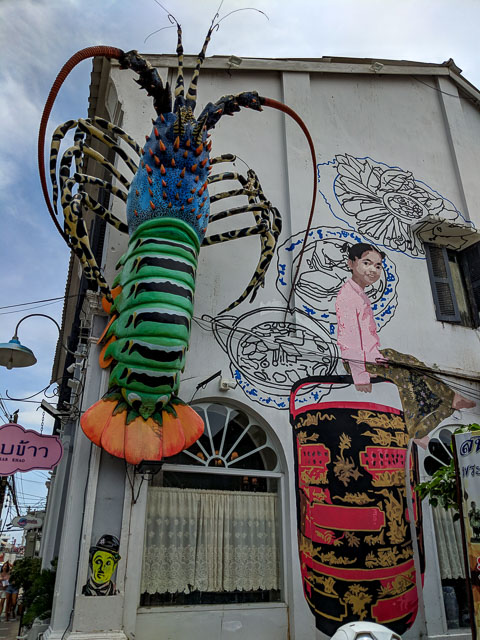 Tu Kab Khao: We briefly stopped here for lunch while exploring the Old Town Phuket. The slow cooked pork belly at Tu Kab Khao is a dish made in heaven! The area is also beaming with creative genius as seen on the restaurant wall!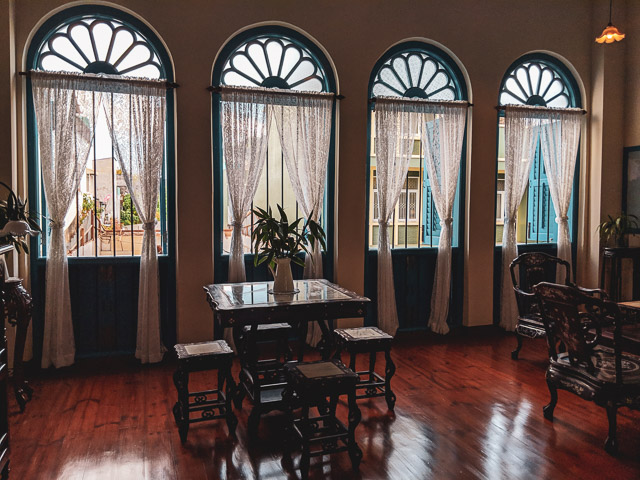 Shot at Woo gallery! Old Phuket Town. An Old Chinese House turned into a boutique hotel and gallery as well. You can enter for viewing pleasures, further sit for a cup of coffee and decide to rest for the day!
Also read: How to spend a long weekend in North Goa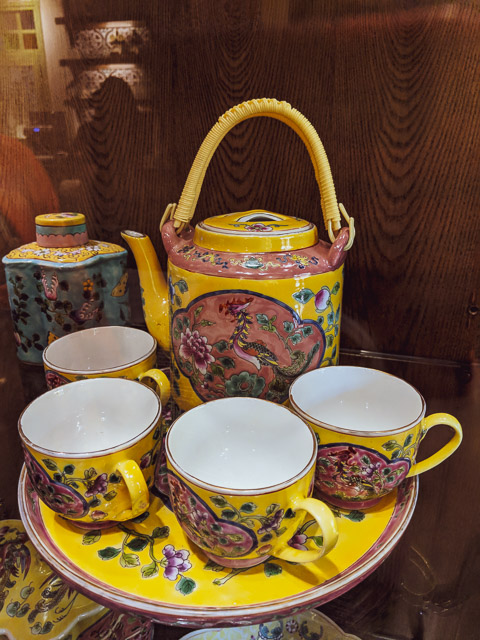 One of the many treasures of Woo Gallery House, Old Phuket Town.
Book you stay with Woo Gallery House, Old Phuket Town for an immersive local and luxurious experience.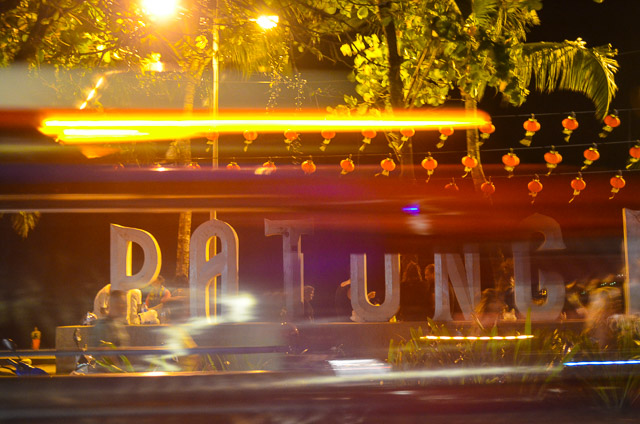 Patong beach, Phuket: The heat of party crowd in Thailand, now being overrun with tourists from every corner of the globe. Plenty of water sports takes place here as well.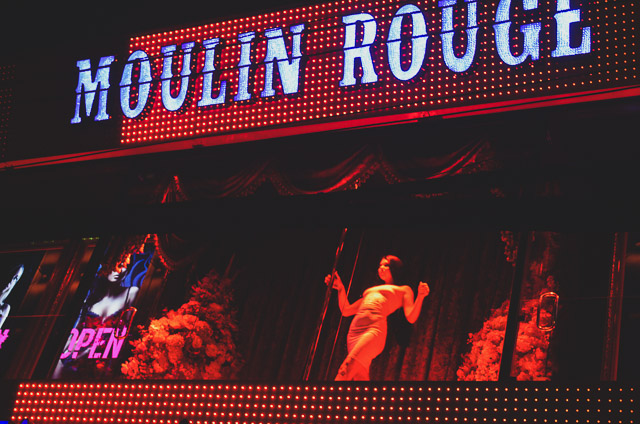 Shot at Bangla Road: the Walking street of Phuket.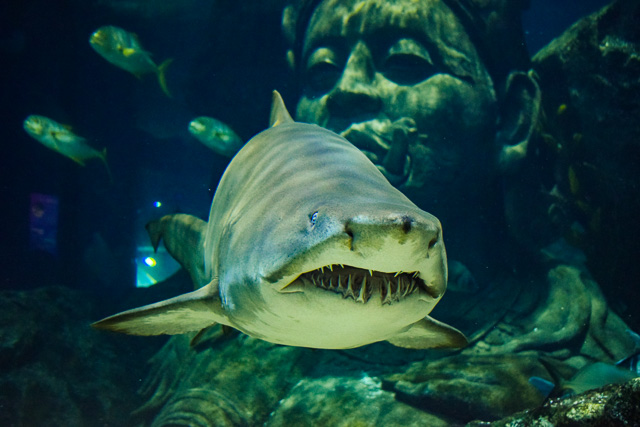 A White pointer shot at the Sea World, Bangkok, Thailand.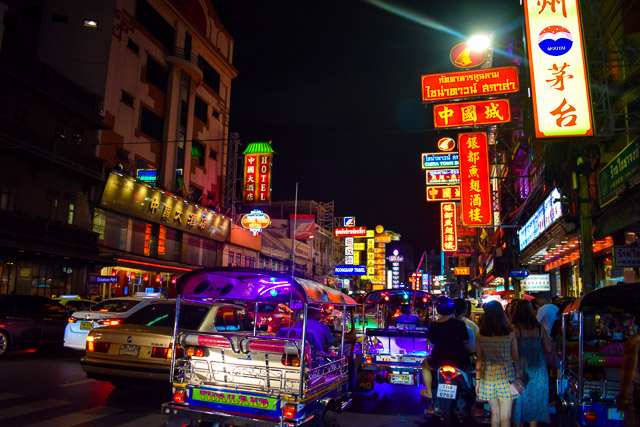 Yaowarat road or China Town of Bangkok: The changing face of Bangkok's old neighborhood.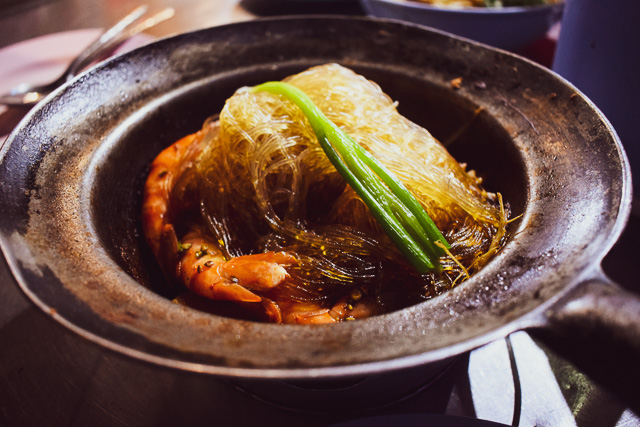 The best glass noodle served on a hot plate at a street side joint at China Town!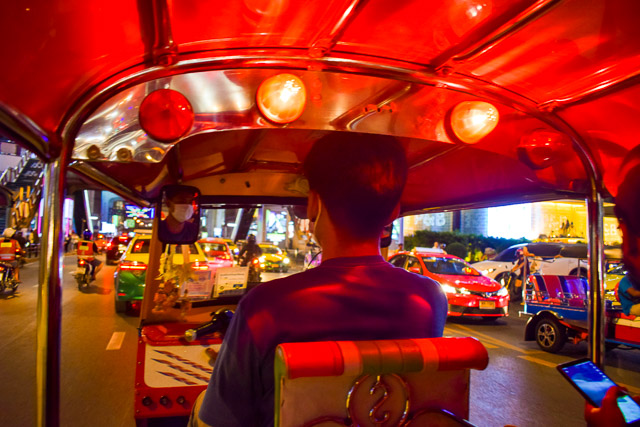 No trip to Bangkok is complete without a Tuk Tuk ride! These battery driven vehicles rather ensure a smooth, quick and economic ride with plenty of fresh air kissing your cheeks!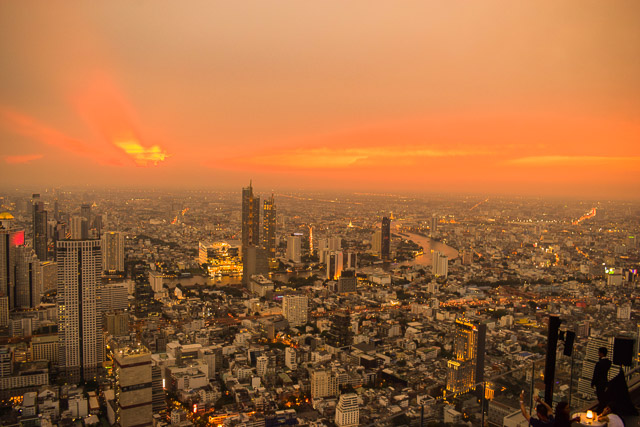 Downtown Bangkok rises like a Phoenix at the Sun sets by Chao Phraya river!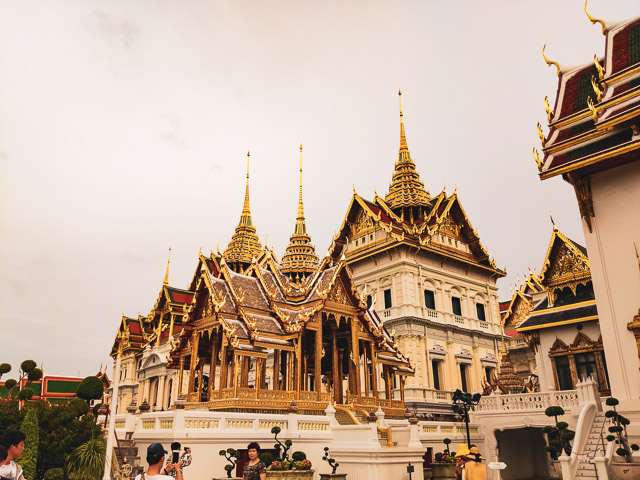 A corner of the Grand Palace, Bangkok.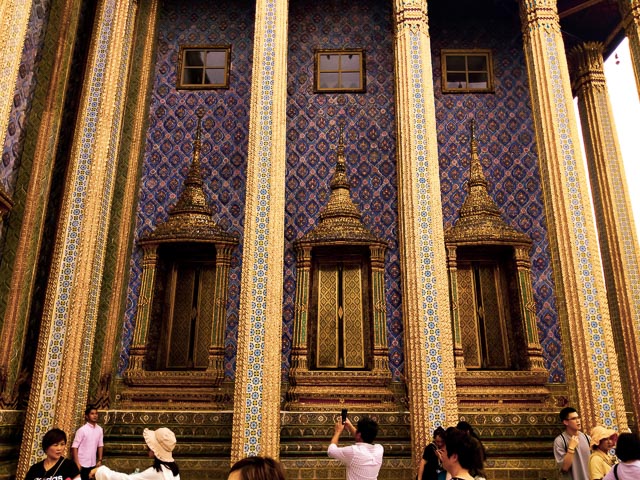 And you thought the blue tiles are soul property of Ancient Silk route and Central Asia?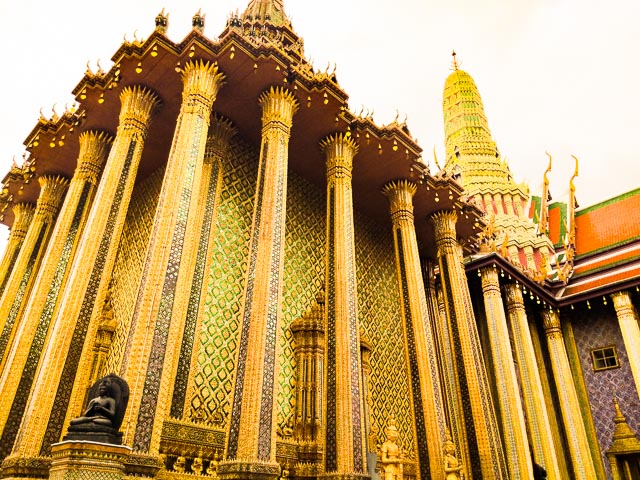 The Grand Palace in Bangkok shines through Golden walls enamors.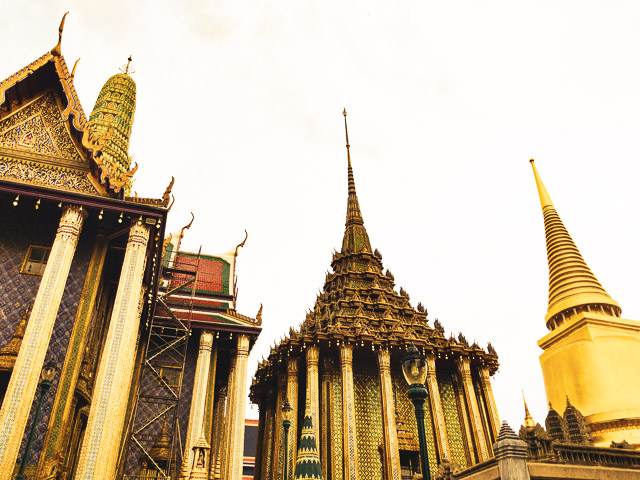 How much gold is too much gold?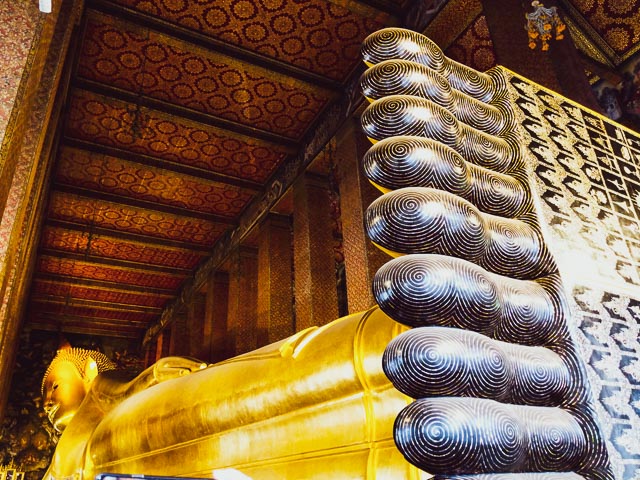 The profound Reclining Buddha at Wat Pho. Built in the sixteenth century, Wat Pho is accredited with the art of Thai massage as well!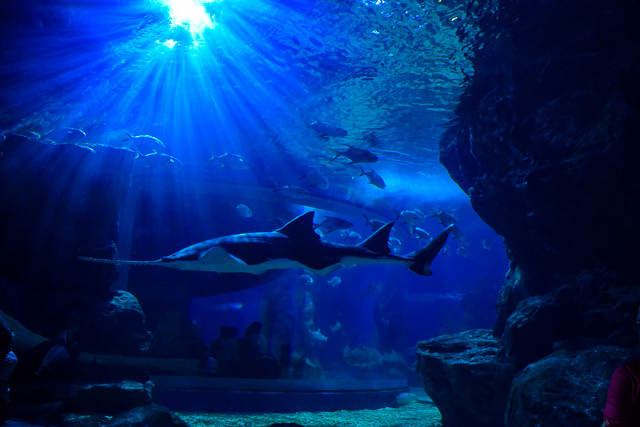 The Sea Life Bangkok which made an attempt to recreate underwater world at the heart of a bustling city!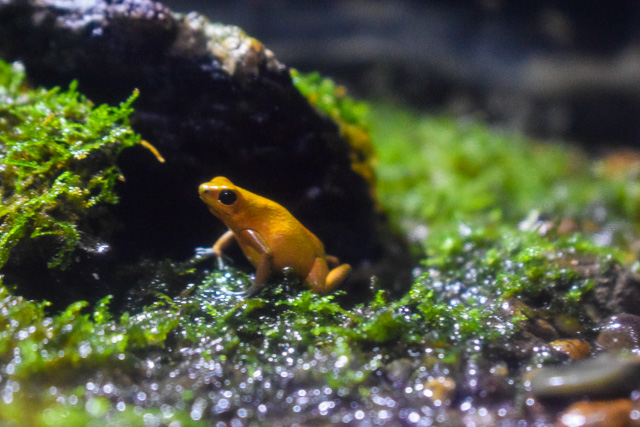 A rare Golden frog seen at the Sea Life Thailand Ocean World. The skin of this frog can kill upto 1000 people. Tropical frogs, which are poisonous, are generally bright in color to ward off predators.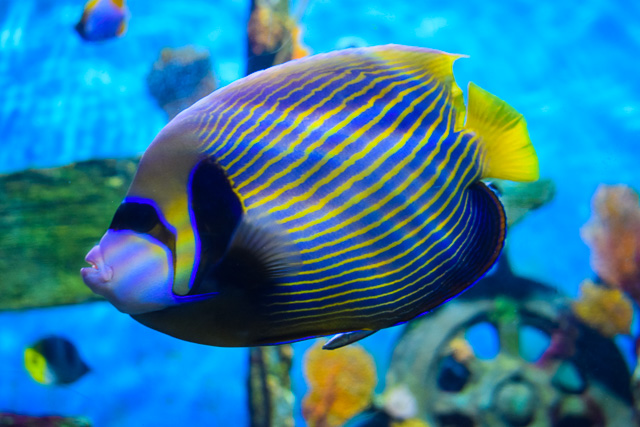 Wearing a rainbow much?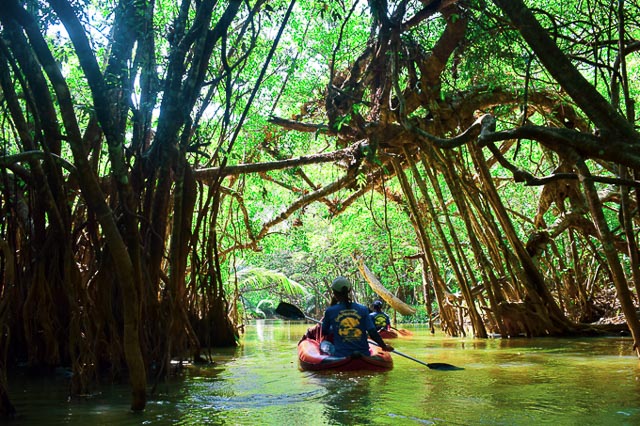 At the little Amazon. One tiny mouth of a canal that opens to Andaman sea has now converted into a Thrilling boat ride, with an opportunity to spot wildlife like snakes, monitor lizards, herons etc.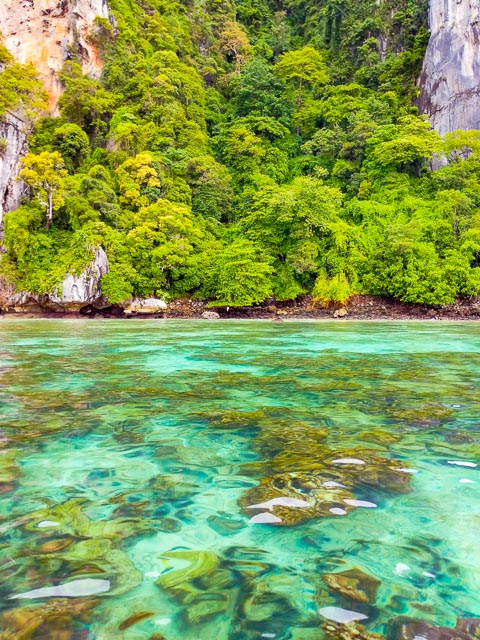 The emerald green waters of Andaman Sea also makes for amazing snorkeling sights!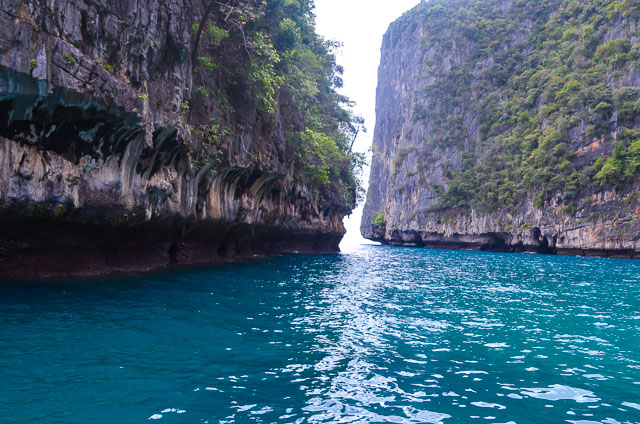 Entry to the Iconic Maya Bay…. A couple of years back when Maya Bay was open to visitors.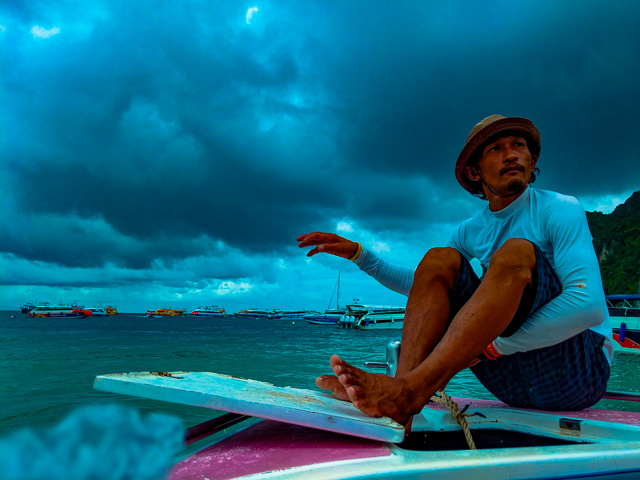 The boat man at Phi Phi predicts a grim weather!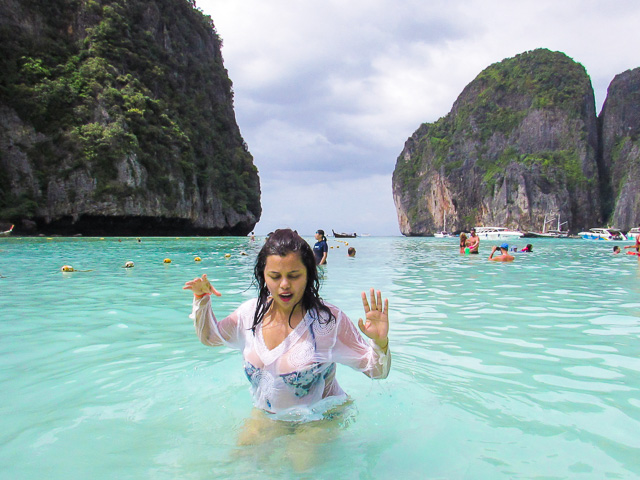 Taking a dip in Maya Bay when it was allowed.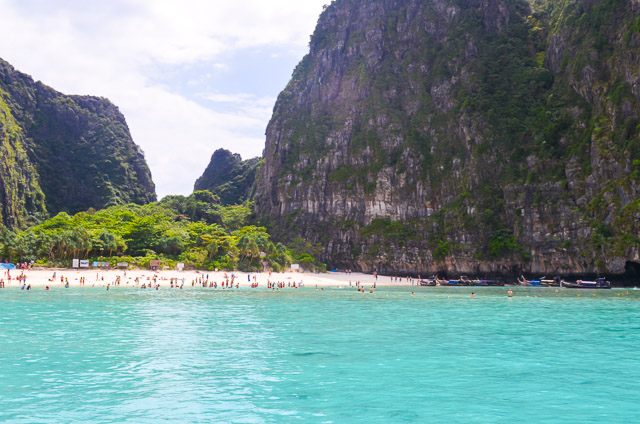 Maya Bay, crowded with visitors. Shot on January, 2017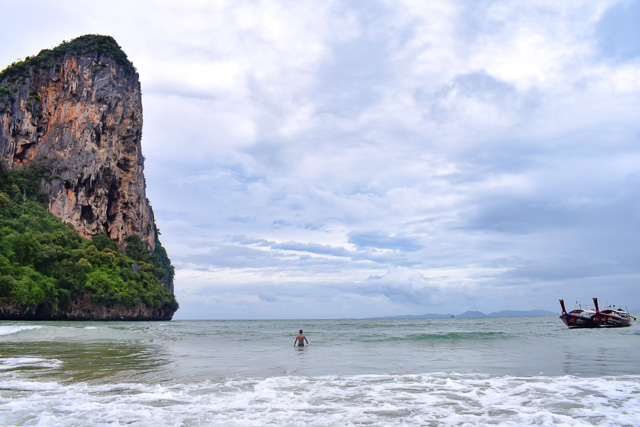 Railay Beach, the second best place to Maya Bay in Thailand!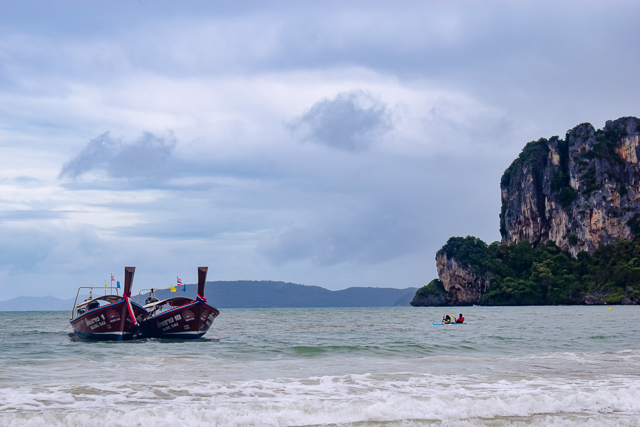 Kayaks and long tail boats await you as you go exploring the islands!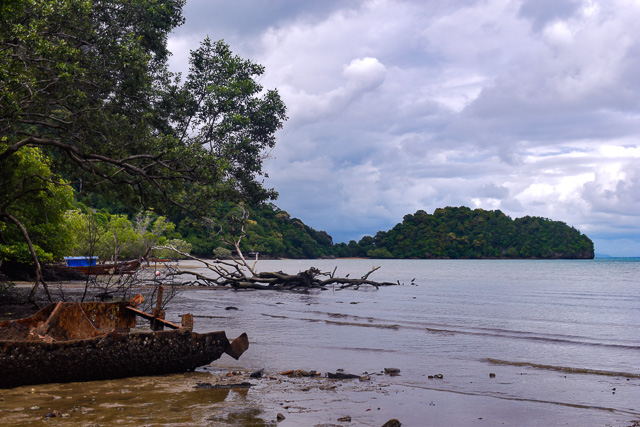 The Mangrove beach of Railay island, the Eastern side.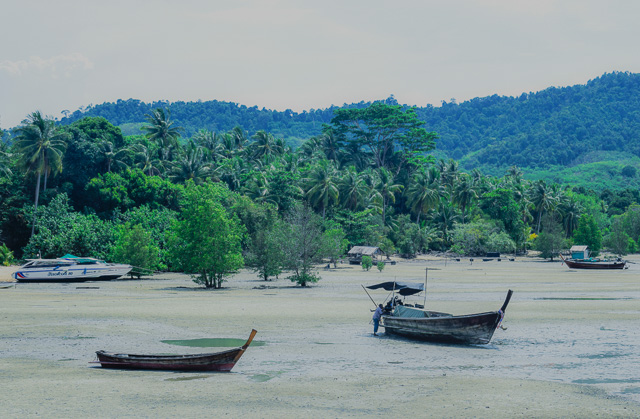 Fishing Boats await on the beach for high tide. A regular sight at the Thai islands.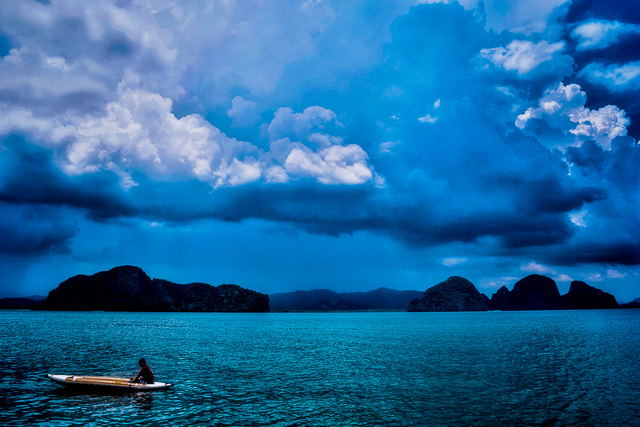 Kayaking against a menacing looking Sky over the Andaman Sea.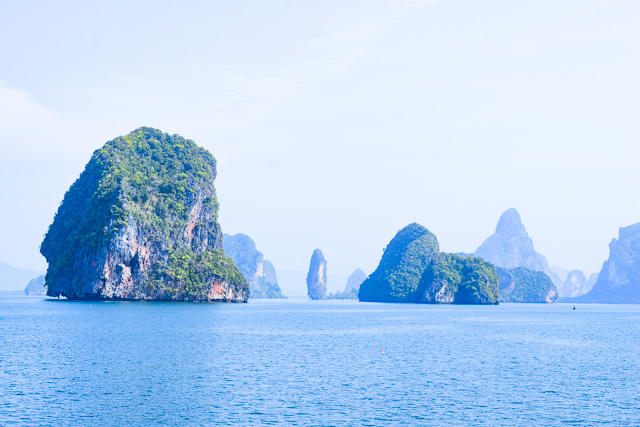 Plenty of limestone karsts on Andaman Sea. It is said, once they were thriving living lands, frequented by men and wildlife alike. The like glacial melt down took its toll. To me, they looked a lot like halong bay of Vietnam.
Also read: Planning a trip to Vietnam? This Vietnam Travel guide will help you!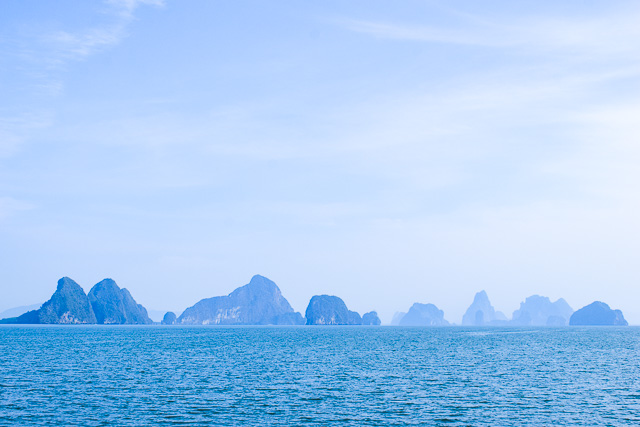 Sailing on Phang Nga Bay, a less frequented area of Southern Provinces of Thailand.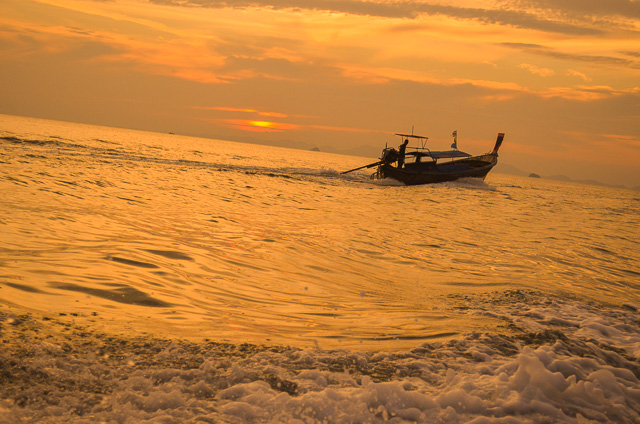 A long tail boat shot against the Sunset canvas. Somewhere close to Railay Beach.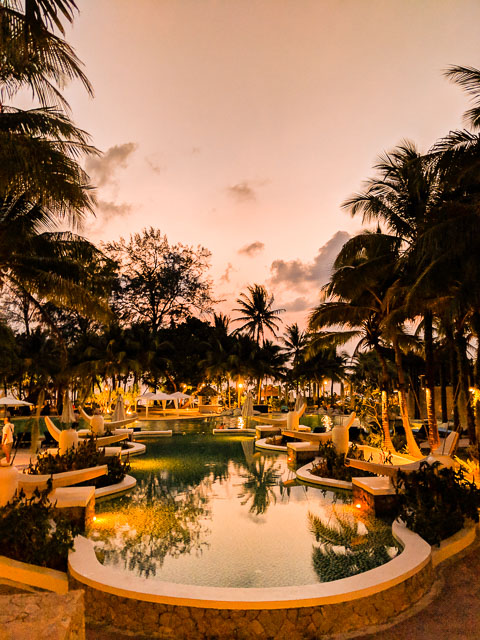 Sunset screen on the swimming pool of Natai beach resort.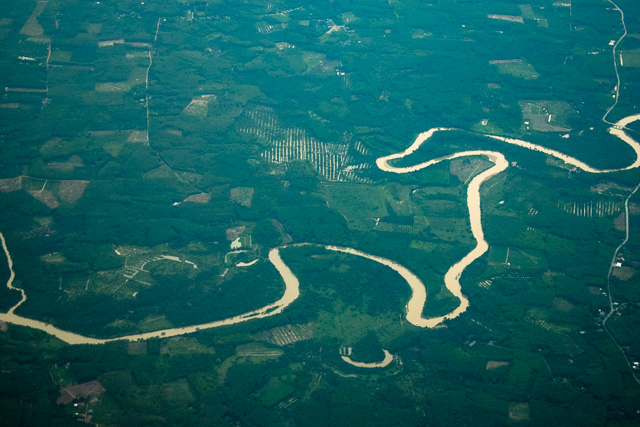 An aerial shot of the Krabi province.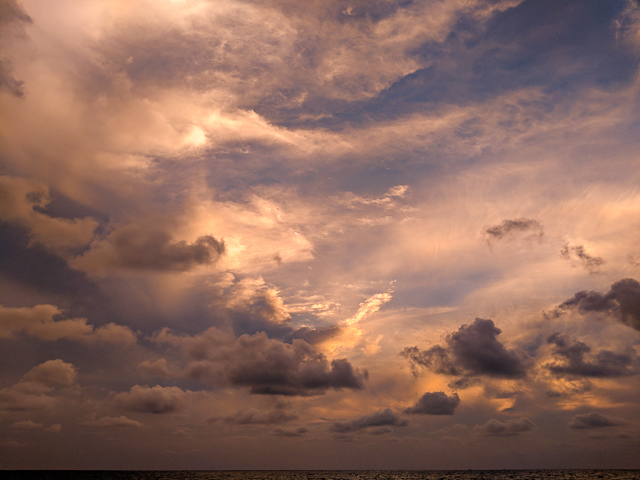 The Sky over the ANdaman sea. Viewed from Natai beach.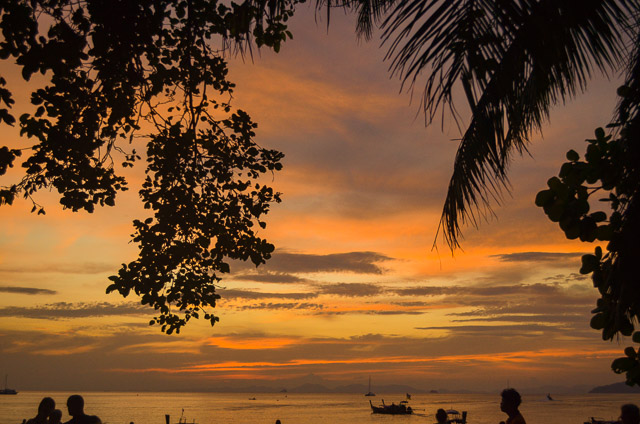 Sunset canvas at Railay Beach, Thailand.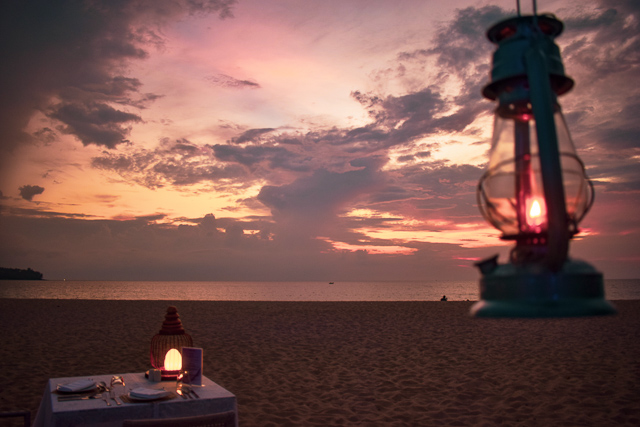 Sun downer setting at the Angsana Laguna, Phuket.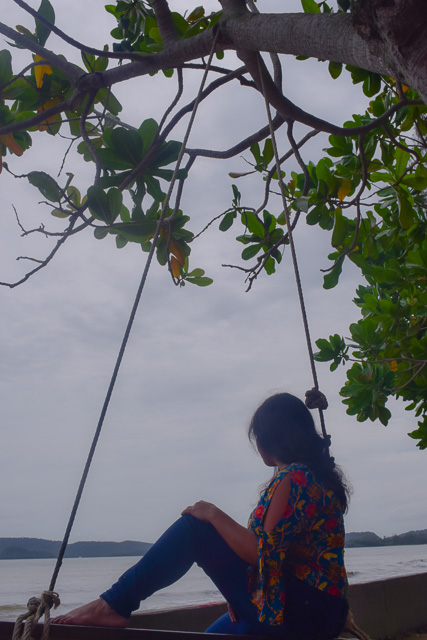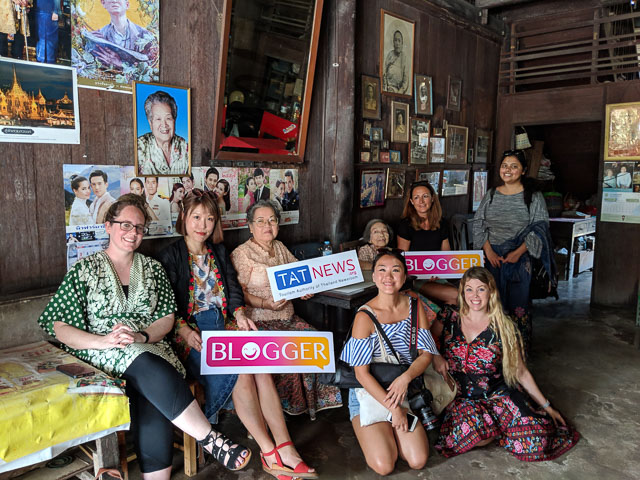 One of the six trips was awarded by TAT newsroom as a reward for a blogging competition. I cherish the friendship I made on this trip with fellow content creators! From left, Crookedflight, Amijan, two Chinese ladies who are the owners of the shophouse, a mom blogger from Australia. Front row, from the left, Yogawinetravel and Fernweh Sarah.
Pin it for later!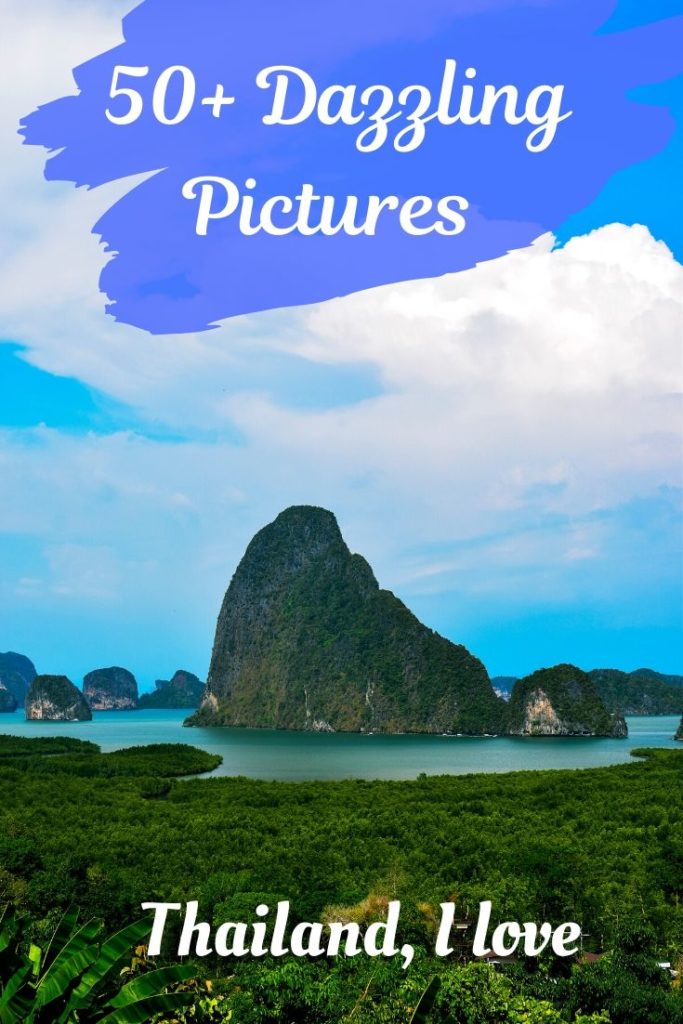 Let's stay connected on Facebook, Instagram, Twitter! You may also consider joining my mailing list. I send travel and photography related emails only once a month!
This post may contain affiliate links. Please read the disclosure post. If you have liked the article, you may support it by buying using these links without any extra cost to you.