About this blog: In Instagram, Thailand trends with a unique hashtag. It is just not #Thailand. It is #thailandphuket. Together, they play castanet like an enigma in tourists circuit in South East Asia. The erstwhile charm of an idyllic Thai life, beaming gracefully in and around the tropical islands and its waterborne economy, is hard to come by these days. All thanks to an overwhelming tourist influx. So much so, I recently found a man from Canada stating it is hard to discover age-old waterborne culture in Thailand any longer.
I breathed heavy. Is that so?
I love Phuket. I adore Krabi. I long to visit Railay once the lock-down gets over. However, it is the twin islands of Koh Yao Yai and Koh Yao Noi where I have found paradise on earth. This, I say after traveling around the beaches of Andaman Sea, Indian Ocean and Arabian Sea!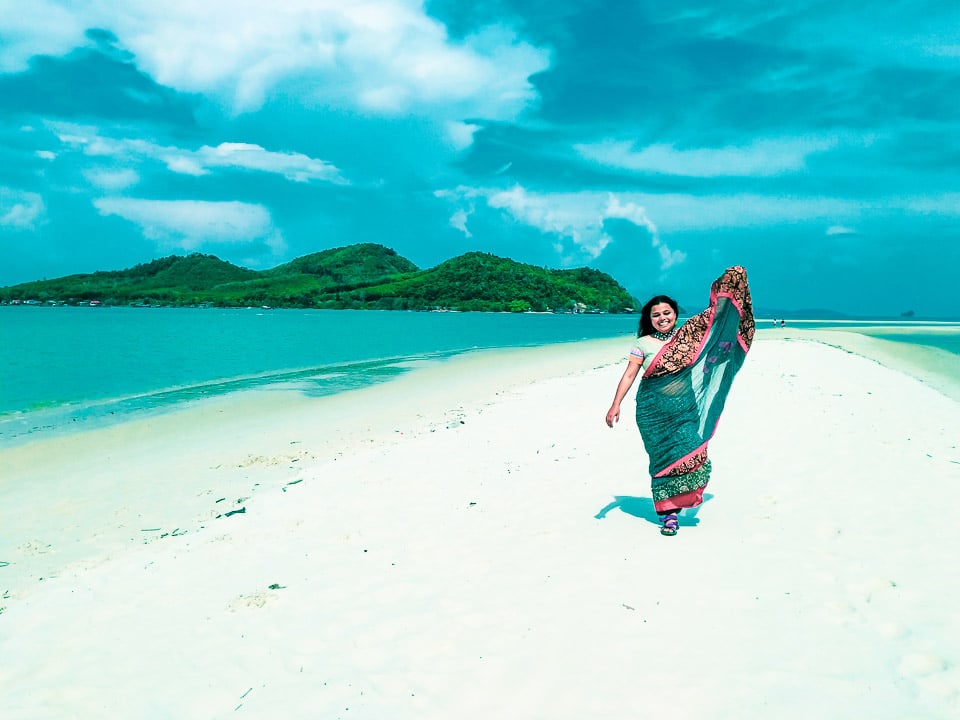 Read all my blog posts on Thailand here.
The Overwhelming Hospitality of Phuket!
There are more number of hotel rooms in Phuket than New York City!
I read this on a report on New York Times. This fact does not surprise me. Phuket is foreboding for seekers of tranquility in many aspects!
The beach at Patong comes alive with extreme water sports. Bangla Road adjacent is pulsating with neon lights and Phuket's own Moulin Rouge. There are bars beyond the numbers you can count in one night! SRK and Kajol romance on the mustard fields hidden in the Indian restaurants. Banana pan cakes flip! Yellow boards marking Tsunami prone zone markers stand at a corner. I asked the host who runs this airbnb close to Patong, "What happened in 2004?" She showed me an almirah and stated, "Water came upto that level… There were water everywhere.."
The next time I went back to Phuket, I stayed at the Angsana Laguna. The humongous property had pools, lagoons and a number of water-body snaking around. Sunset from Angsana beach are colored in pastel hues. I explored a rather calm face of Phuket, with peace and quiet prevailing at large.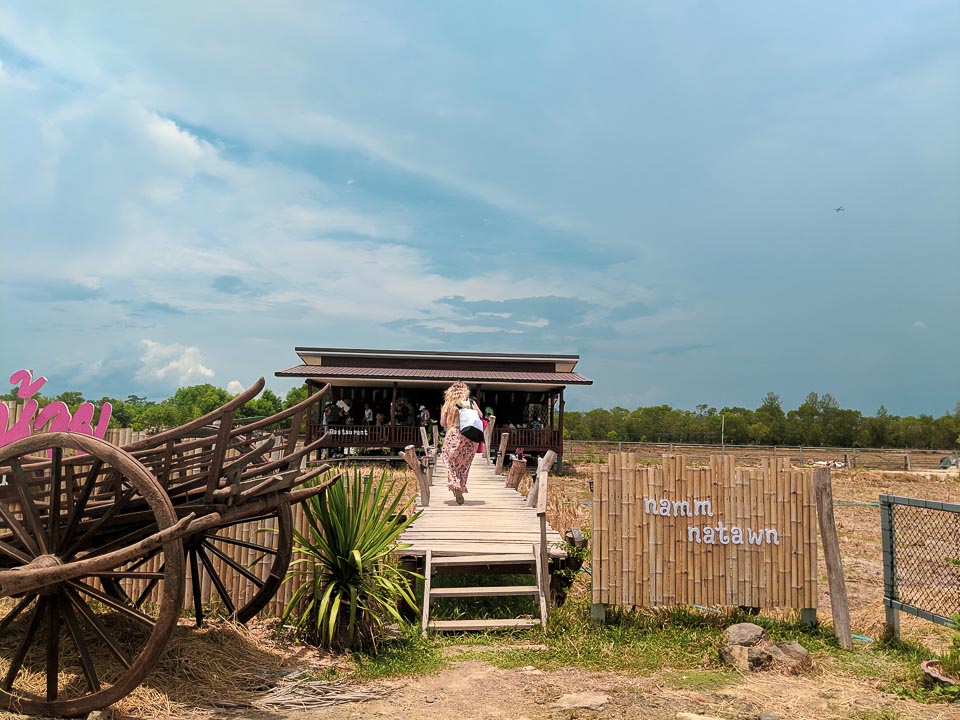 But what lies in Phang Nga beyond Phuket?Koh Yao Yoi and Koh Yao Noi, the Twin Islands!
No matter how laid back, Phuket is definitely not the "quaint little villages by the sea". Nope, Nada! Neither are the villages of Koh Phi Phi. James Bond Island is a rather busy deal in the morning, with vessels bringing in tourist groups eager to see the iconic upside down topography, giving Bond movie an edge. Fun fact, I am yet to watch the Bond movie, Man with the Golden Gun!
To discover the rustic charm, you need to venture deep into the waves of Phang Nga Bay!
Somewhere half the way between Phuket and Krabi, rises the twin islands of Koh Yao Yai and Koh Yao Noi! There, I experienced bliss!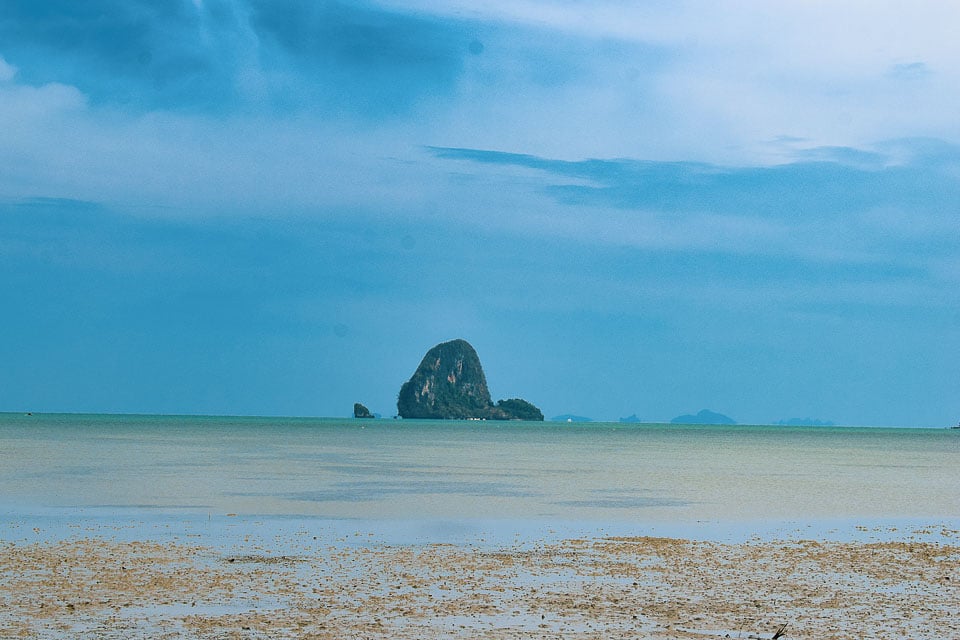 The Majestic Phang Nga Bay
Phang Nga Bay is Thailand's oft-overlooked wild hinterland. Monolithic milestones of myriad shapes and sizes rise their head from the sea bed, reminding you this was a sprawling land before the ice age came and swept away man's playground with tidal waves. A few islands remain fit to be resided and indulge in livelihood.
Koh Yao Yai and Noi, for example, ticks all the matchbox criteria for being those idyllic tropical Thai islands. We all want to live there but seldom find the address. However, delve a bit deeper and you will quickly discover much more of a hotchpotch of feeling challenging your resolute: a base layer of saving the last frontier of wilderness, perhaps with top notes of threat to the island's mangroves and natural flora and fauna. In a fast paced world that increasingly works on emptying us, Yao Yai and Noi islands are the Biblical promised land a traveler would not want to spell out.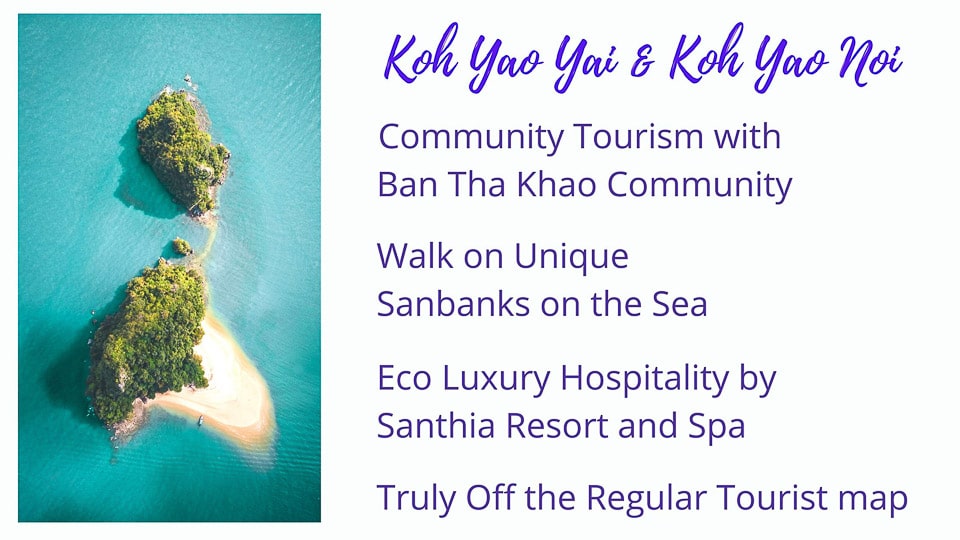 Then why am I writing about them?
Well, I think in the post Covid world, we are hard pressed to rethink tourism and haul tourist strategy. A single space should refrain from being "the Eye of the attraction". Writing about Yai Yoi and Noi are my small effort to divuge the red glare that Phuket receives and rethink island hopping in Phuket Province.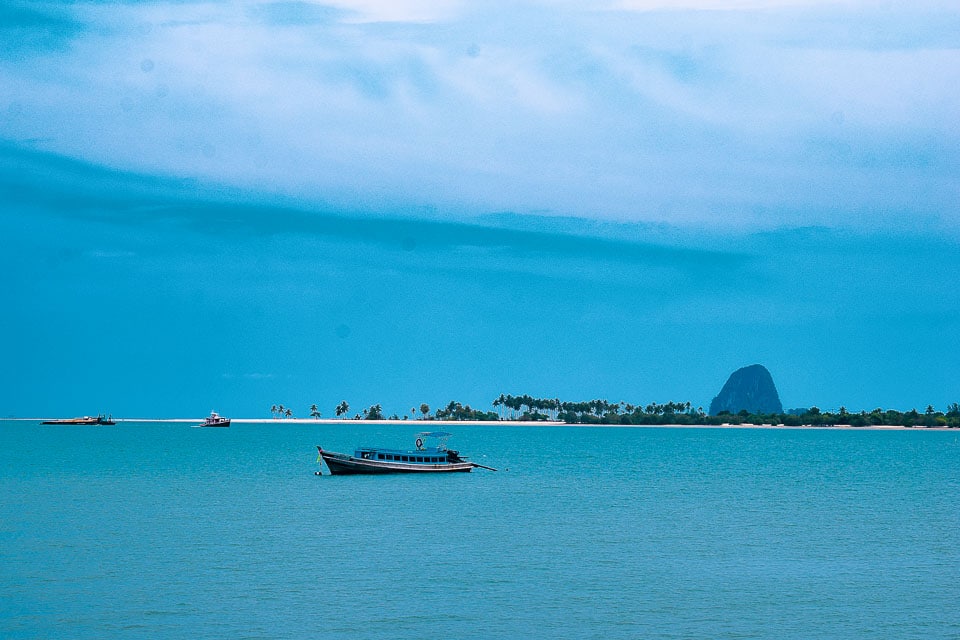 How to reach Koh Yao Yai from Phuket
You have to take a long tail boat or speed boat to reach Koh Yao Yai (or Noi) from Phuket. Flying to Koh Yao Yai (or Noi) is IMPOSSIBLE.
To reach Koh Yao Yai from Phuket, rent a taxi and reach the Bang Rong Pier. For a Long Tail Boat, shell out 150 Baht. For a speed boat, you need to pay around 400 baht. If you are staying with the upscale resorts like Santhia, it is possible to arrange for private transfer.
The boats run from 6:40 am to 5:30 pm. In case you are reaching Phuket airport in a time frame not falling into this time window, consider booking a private transfer or explore Phuket for a day. My pick would definitely be Old town Phuket for an authentic cultural experience.
From a distance, Koh Yao Noi emerges like a white strip of pristine land. Longtail boats are parked at the shore, waiting for tidal push. A hornbill flashes its bright yellow stripes. A few Coconut trees space out by the coast. At the backdrop, a large rock stands like a forlorn soul.
Koh Yao Yoi looks solitary from a distance but there is more to its identity.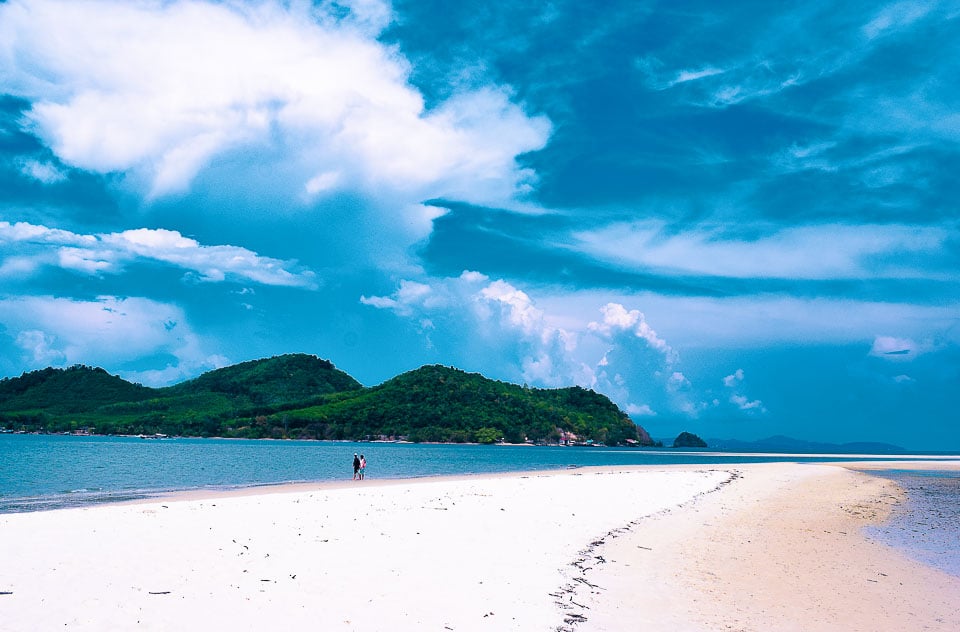 Indulge in Community Tourism at Koh Yao Yai: a Unique Chance to Immerse in the Local Culture of Island Living
Are the twin islands of Koh Yao Yai and Koh Yao Noi are the most beautiful islands around Phuket? Umm… I am tempted to say yes but then I remember Railay and gulp down the thought.
It is the unique and authentic culture of Koh Yao Yai and Koh Yao Noi that stand out in respect to other islands around Phuket. Majority of the inhabitants of the island practice Islam as faith, and are descendant of Indonesian or Malay heritage. English is not yet the universal language here. A young girl in her teenage years taught me how to sew the palm leaves intertwined to make local totem. We understood each other through abundant smiles and friendly body language! That one memory stands out illuminated from my trip to Koh Yao Yai and Noi.
I stayed at Koh Yao Yai and made a quick day trip to Koh Yao Noi, 25 minutes boat ride by the long tail ones. If you are looking for action packed itinerary, allow at least a 3/4 days in the island. If you are honeymooning at Koh Yao Yai, staying upto a week at one of the eco-luxury upscale resorts in the island is highly recommended.
Also read: 50+ truly offbeat experiences in Goa!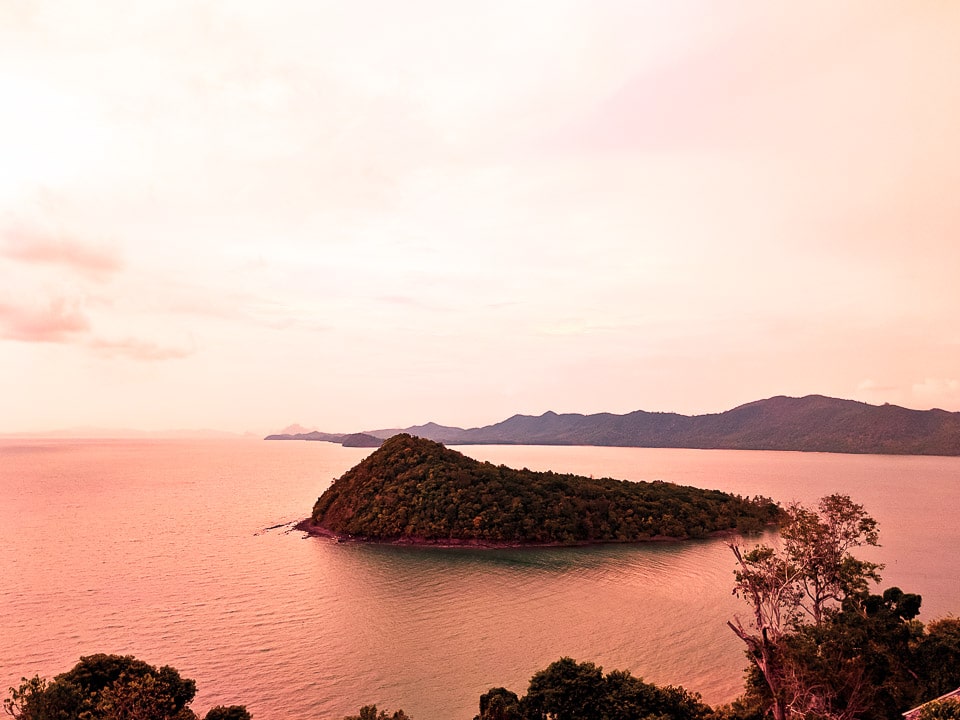 Find a way to reach the Koh Yao Yai View Point
Through the rubber plantation of Coco Hun, a local up goes a stony road. In the rains, the climb is tough with many streams meddling the dirt road. From the top, you will be rewarded with a stunning view of the tip of the island, sand banks, the per, and another islets nearby. Sunrise will be stunning but I doubt if night trek is allowed. It is rustic at the top with a makeshift hut.
Stop by the Rubber Plantation en-route
Since you are passing by the Rubber plantation, do make a pit stop enroute and learn a thing or two about the prevailing rubber farming. It is one of the important cash crops of Thailand. There are thousands of rubber tree standing, with the bark cut open with incision and milky white sap, latex, coming out of it to be stored in the adjacent vessel.
Did you know? Thailand is the largest natural producer of rubber.
At both Koh Yao Yai and Koh Yao Noi islands, you will be greeted with plenty of dense coconut groves and ancient rain-forest apart from rubber plantations. Coconut groves also means a fair chance of dropping a full grown coconut on your head, which can kill. So keep your eyes open!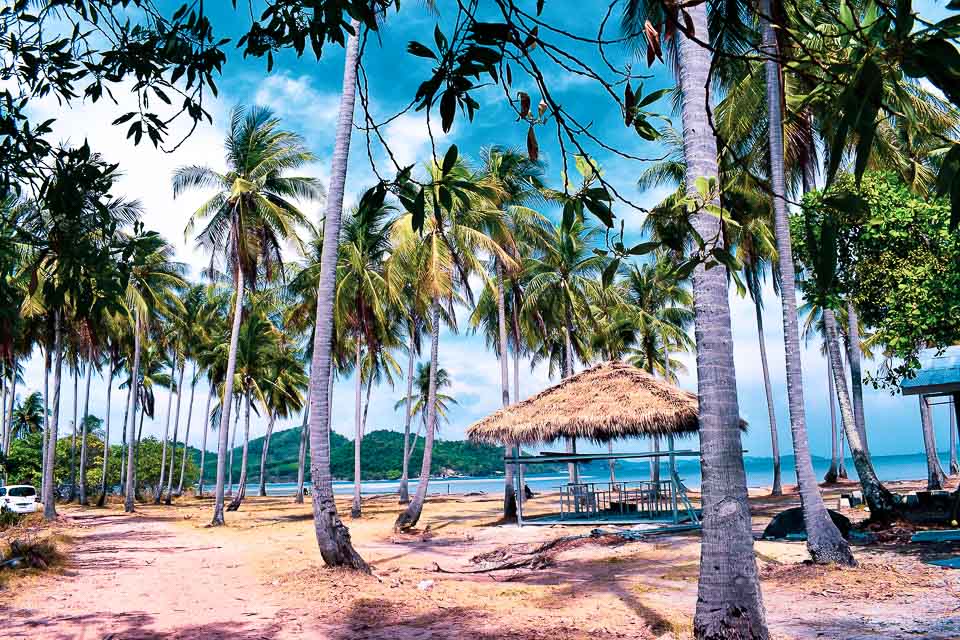 Row your boat into the Mangrove forest
White sandy beaches adorn the bay while dense mangrove forest frequent the lesser known areas of Koh Yao Yai and Noi islands. While a mangrove tour may not feature in the must do activities list in Koh Yao Yai, I recommend you sign up for an hour long tour at the mangroves on a sunny day. This ancient eco-system is the island's natural protector against strong tidal waves. The mangrove also houses a number of wildlife, monkeys, birds, monitors and snakes. I recommend going inside under a local boatman's supervision to avoid possible hazards.
Sit by the Paddy fields and join the mirth of Water Buffalo
From September to November, the paddy fields are lush green with the yield of farmers' efforts. Plants sway with genteel breeze. A buffalo or two walk in between.
Imagine tucking in a hut by one such paddy field and feast of delectable Thai cuisine? We did that at the Num Na Thon restaurant. Close by is a coconut grove whose owner treated us with sweet abundance of coconut water.
Life have truly paced down here from all the meaningless rush and FOMO. I felt as if i could spend a lifetime there amidst the blissful brilliance of nature!
Also read: 2 weeks in Myanmar, a complete Travel Guide!
Walk in the Village, Explore Tourism is Making its Presence felt in an Unscathed Canvas
At Koh Yao Yai, locals remain innately opposed to the idea of invasive kind of tourism that erodes local identity. Instead, there is an open emphasis in preserving laid back local vibe of the twin island. they are eager to let you in their house and experience what the traditional lifestyle has on offer. I was touched by several such unaccounted signs of hospitality. Majorly Muslim in faith, Koh yao Yai and Noi are islands where women wear hijab on their head, and topless sunbathing is a strict nada nada.
But who cares when they let you cuddle their Persian cat, or let you lounge in their rope hammock, while telling you stories of the men who have away on boat to the deep sea in search of jewels from the heart of the ocean?
The Baan Tha Kao community of local fishermen are more than eager to host tourists in their cute quaint home-stays. This reminded me a lot of Tansen from Nepal. Sea Pandan crafts is an intriguing practice among this community.
Collecting Honey from local Bees, and not Honeybees
Not just honey bees, a specific bees grows and thrives in the islands of Koh Yao Yai in the woods at the hinterland who produce honey with equal enthusiasm. The villagers shows us and lets us taste a bit of this natural elixir. It is sweet, and tastes a bit different than usual honey that we can drink in Sundarbon of West Bengal.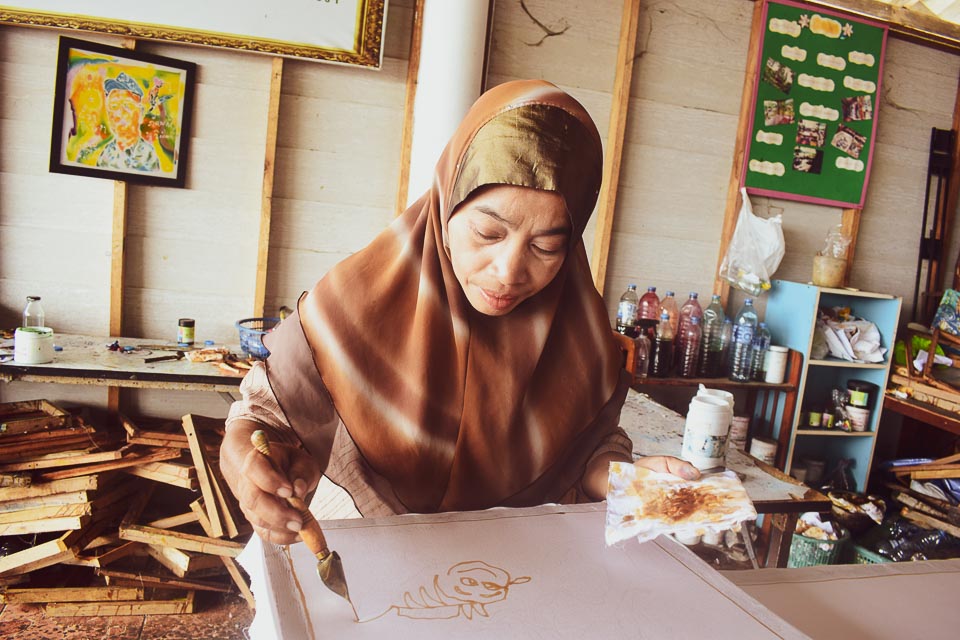 Batik painting with Village Women of Koh Yao Yai and Noi
Since community led tourism projects have seen massive popularity in Koh Yao Yai and Koh Yao Noi, you will find a number of women groups running small scale business to support the community. These are not individual endeavors but always comes with the group spirit, as if standing up to the world that seem to be unwilling to make space ofr women in the workspace.
You will see Kaya, a small eaterie run by women and serving organic local food at Koh Yao Yoi. At Koh Yao Noi, close to a pier, we signed up for a batik lesson with the local women. What a joyful experience that was!
At only a few scratches on the empty canvas, skipped painters would draw up a hornhill lamenting for its lover (hornbills are monogamous for the largest part of their lives), whales, turtles, the beautiful mermaid Ariel, Nemo and all the characters coming from pop culture movies. Then you may paint it, or you can let them paint it for you. At the end of the workshop, you are allowed to bring back that piece of souvenir.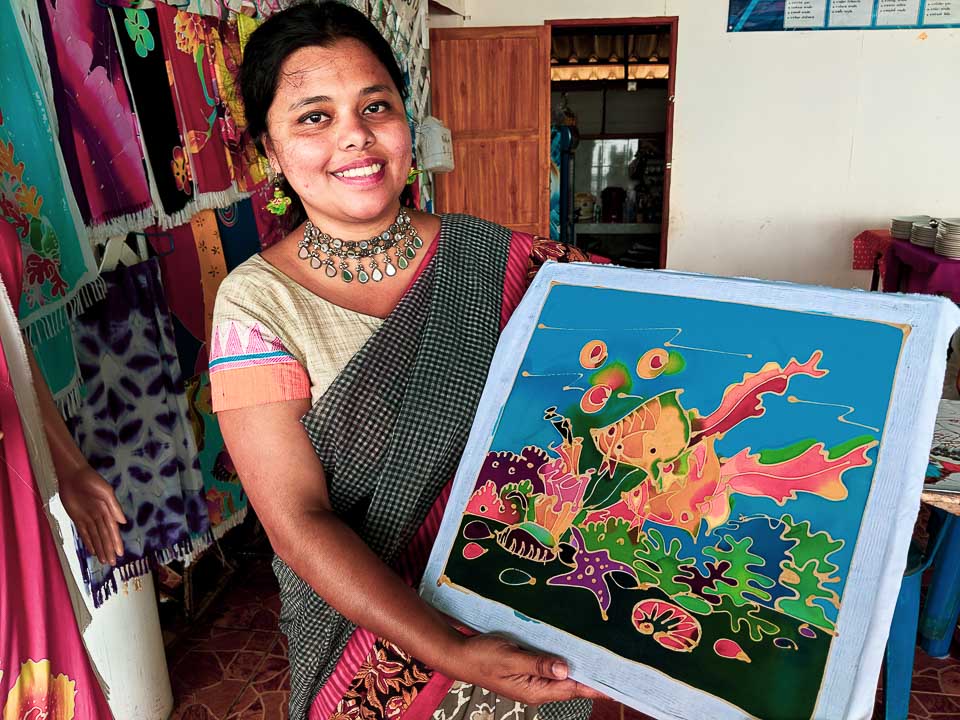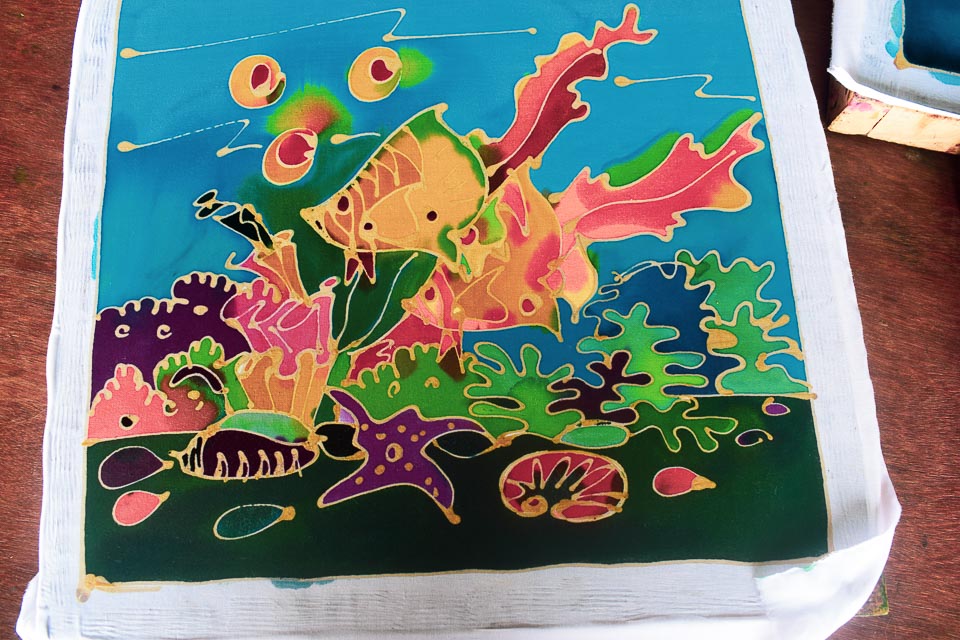 Spot the Great Hornbill Birds
In the dense old rain-forest of Koh Yao Yoi and Noi, housed are several endemic species. The most gorgeous of them are certainly the bright winged great hornbills! These beautiful birds with bright yellow beaks and profound wings often paint the sky in rainbow hues. If birding is what you love, you shall fall in love with Koh Yao Yai in no time!
Learn about Lobster Farming on the Sea!
Somewhere in between the twin islands, Koh Yao Yai and Koh Yao Noi lies a lobster farming village on the sea.
On the sea! It is hard to believe but when I say I have witnessed the waterborne economy of Thailand, I have meant it.
It takes anywhere between 2 years or more for a lobster to come to age. Once they do, they are sold for 200 Baht (for 2 KG worth of a crustacean) in the local markets. the prized ones are humongous. A net covers their nest in the sea. Thus, they are a part of the sea but a catch already. A small hut stays is built by the side of this sea farming section, where the fishermen stay. Needless to say, they have a home in the island too, in case the sea becomes furious with weather change.
Riding the Serpentine Rode with Nature as Companion
Let the wind kiss your cheeks and caress your hair as you embark on an epic cross island journey to explore the wild interiors of the islands. The coastline has beaches and the heart of Koh Yao Yai has plenty of plantation and paddy fields. In between, local life unfold is myriads ways. Wildlife encounter, say a huge lizards crossing the street, is not unheard of. The road is well paved and well marked. Locals are friendly. No wonder you shall feel the urge for a easy breezy ride!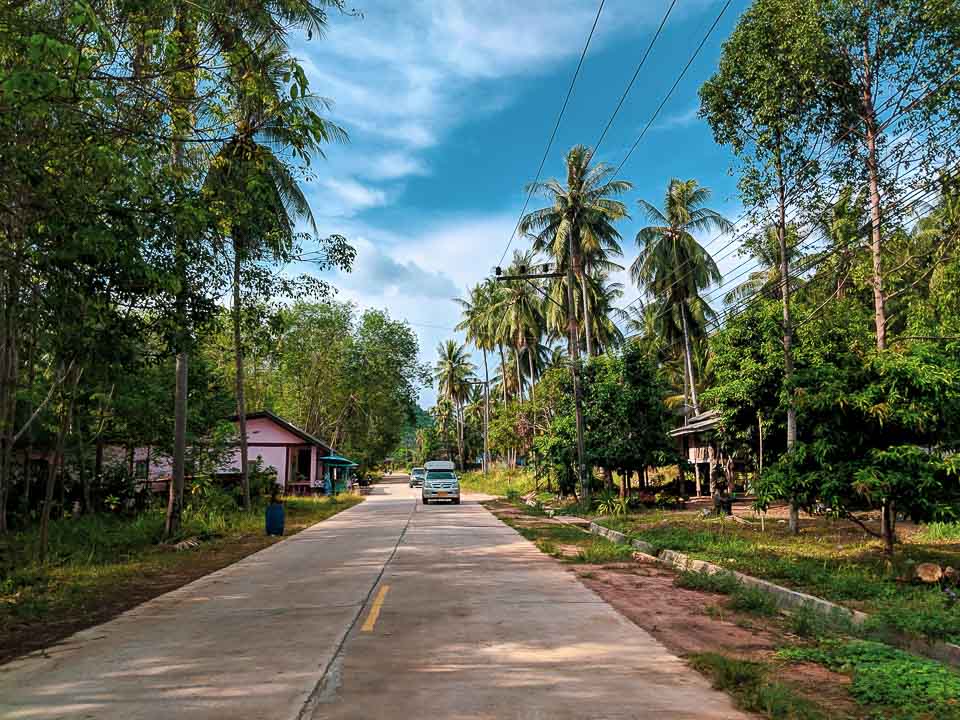 Take up the Challenge of Rock climbing
While Railay is an enviable choice for all rock climbing enthusiasts in South east Asia, Koh Yao Yai does not shy away from giving you a chance to scale up its ancient monoliths. Still a niche and exclusive activity, I highly recommend taking a local guide before you indulge in this mountain rendezvous.
Being a Waterbaby at Koh Yao Yai and Noi
Getting close to the tropical Thai island is all about being a beach bum! You may choose to hop around the pristine beaches of the twin islands Koh Yao Yai and Koh Yao Noi or choose to stick to just one v=beach for the day and bask under the sun. I have presented a comparison chart among the beaches of both the island with a mention of whats my favorite. Pick and go!
Beaches of Koh Yao Yai
Laem Had Beach: The most iconic beach of Koh Yao Yai and Koh Yao Noi islands. It is a crescent shaped sandbank with sea on both the sides. This is the shooting place for the Hollywood movie, "The Mechanic Resurrection" starring by Jason Statham and Jessica Alba. If you have a drone camera, this is the beach you want to shoot in Koh Yao Yai!
Coco beach at the North. It is a private beach with activities life banana boat and jet ski etc.
Ao Muong in the South West. Great for swimming but only during high-tide.
Lok jak beach: Nice view during sunset. Small stretch of sand. Clean and quiet.
Lo Paret beach: Not the best of the lot due to a local habitat nearby. Also many have complained about jelly fish on the water.
Ao Sai Beach: Rocky beach. Has a restaurant. Beautiful panorama. Hermit crabs can be found here.
Son Say beach: On the west. Quite beach. Not crowded. Public access allowed. Access possible only through dirt road. A handful of vendors stand close by.
Cape beach: down south and rocky pebbled beach. Mostly used as a pier.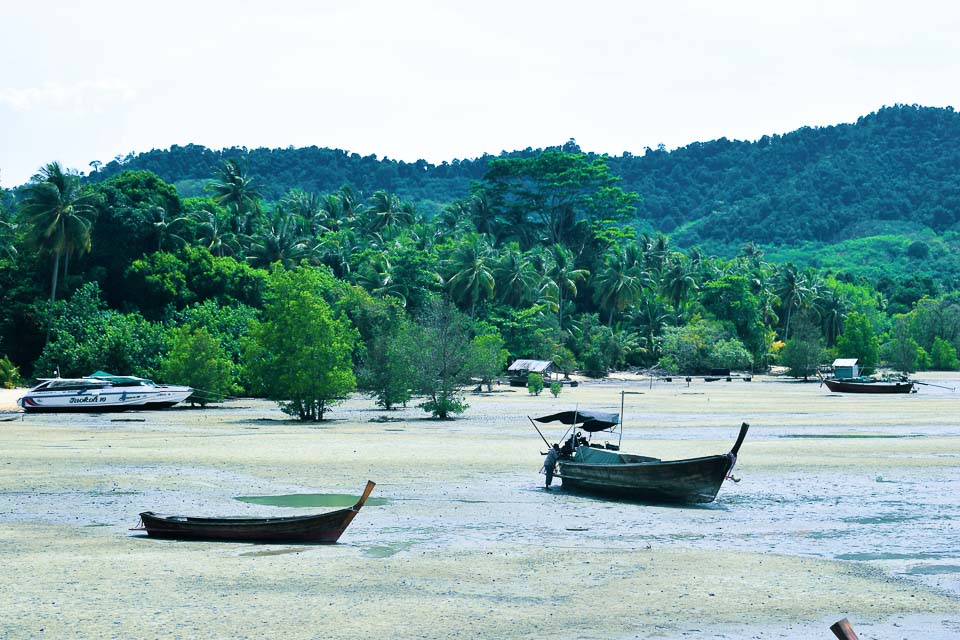 Beaches of Koh Yao Noi
Pasai beach: a backpackers' hotspot with plenty of shops and eateries around. the beach looks pretty. Comparatively crowded (though nothing compared to Patong). It is okay but does not capture the true vibe of twin island, which is basically sort of, "Oh My God I have this entire beach to myself!"
Walking on a sandbank and reaching an islet: yes, this is possible in Koh Yao Noi! There is a small island called Koh Nok. You can paddle a kayak and reach the island during high tide in less than 25 minutes. During low tide, you have a sandbank emerging out of sea water. You can walk on that and reach the small island. However the island is rocky and Laem Had beach also feels sort of same, only with whiter sands.
Up in the north, inside the national park you have a small beach named Mankei Bay. It is a forlorn and secluded beach, with not a soul around.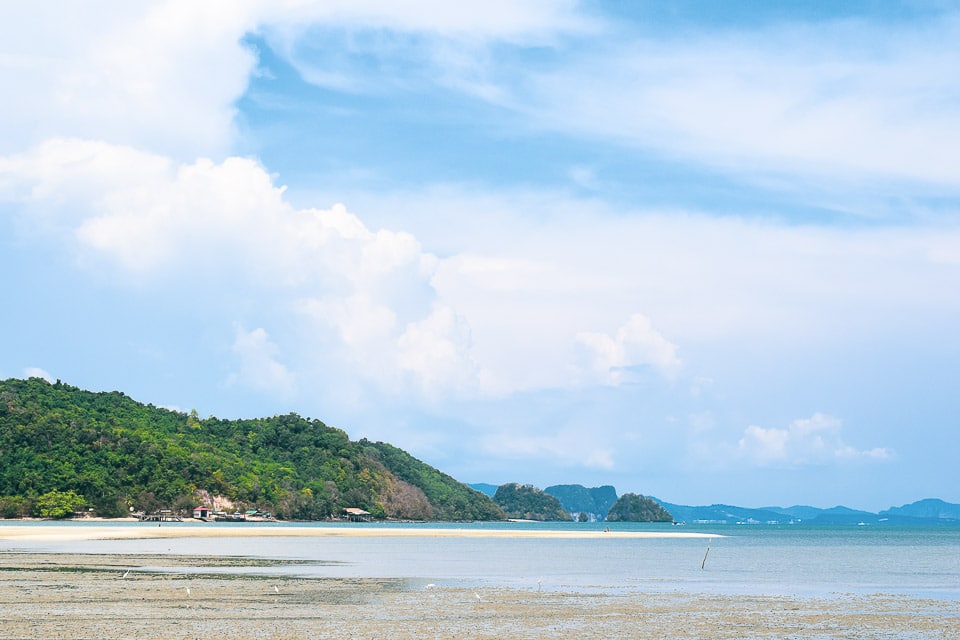 Diving at Koh Yao Yai
It is possible to dive at Koh Yao Yoi. A "shark point", Anemone reef with rainbow colored marine life and cruise wreck site await you in the underwater close to south of the island. You may dive with a company named Elixir. they are present on the island with an office.
Day trip to many Islands of Phang Nga Bay
Closest to Koh Yao yai are two small beautiful islands named Koh Khai Nai and Koh Khai Nok. They are the embodiment of a dream made of emerald green water and fine white powder beaches. However, if you are planning for a more intense experience, I suggest opt for Hong islands!
Pro tip: start early, rent a long tail boat and visit the picturesque Hong island before the tour groups arrive. Let me guarantee you will have the best ever experience of island hopping in Thailand!
Where to eat at Koh Yao Yai or Koh Yao Noi
Plenty of nice little eateries frequent the coastline at Pasai beach at Koh Yao Noi. They cook the best Pad Thai and the an unparalleled spread of sea food. For the virtue of geographical location, you can trust to try the best spicy southern curries of Thailand at Koh Yao Yai!
Rotee My friend is a nice little local eatery at Koh Yao Noi.
While eating at the local eateries, do not forget to ask if you can sign up for a cooking class. These impromptu lessons are the most rewarding experience for a gourmet. Who knows, you may be invited for a fishing trip to the deep sea as well!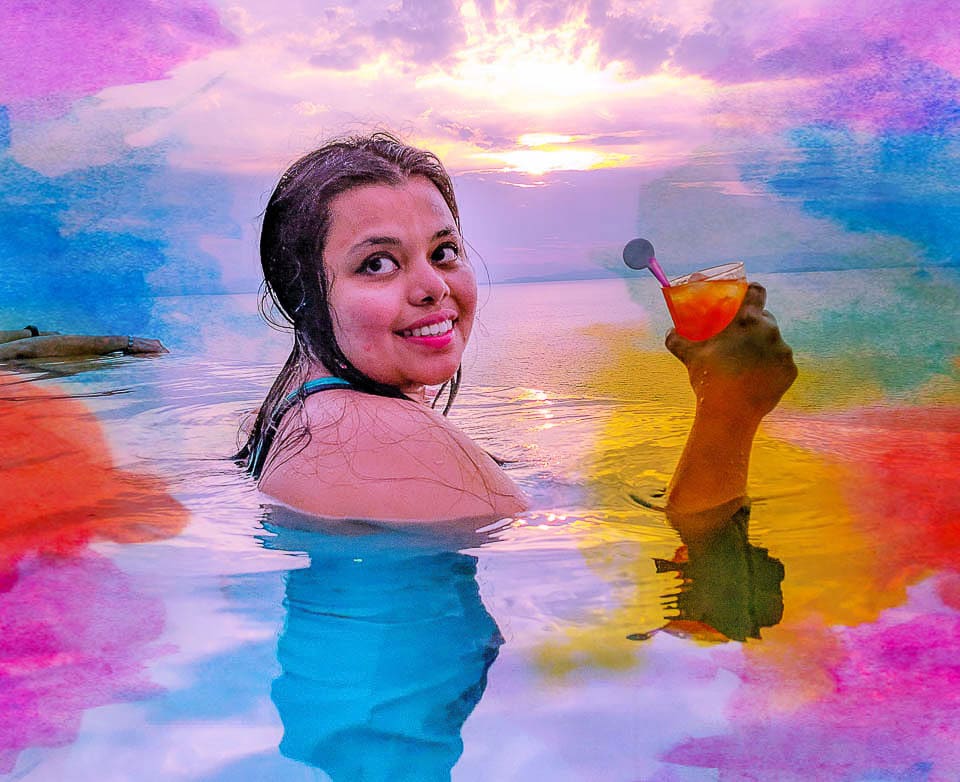 Love Letter to an Eco-Luxury hotel: Santhia Resort and Spa at Koh Yao Yai
Staying true to the vibe of the sustainable tourism development of Koh Yao Yai and Noi, Santhia resort has embedded green living in every aspect of luxury.
The pool villas promise of bespoke luxury with a private water-body peeking over the sea-kissed horizon. the deluxe suits too has a sea facing balcony adorning a beautiful bathtub. If you are looking for a crazy romantic honeymoon home by the sea, do not look beyond Santhia Resort.
The rooms have reusable supplies and wooden decor in shining golden hue, true to the Thai style. There are two pools. One infinity pool by the bar, peeping over the sea. The other one is a larger pool by the hoot of a made up yet large waterfall. A lot like Mauritius, hotels in Koh Yao Yai can host you full board, with all dining at the premises. Alternatively, you can just sign up for breakfast.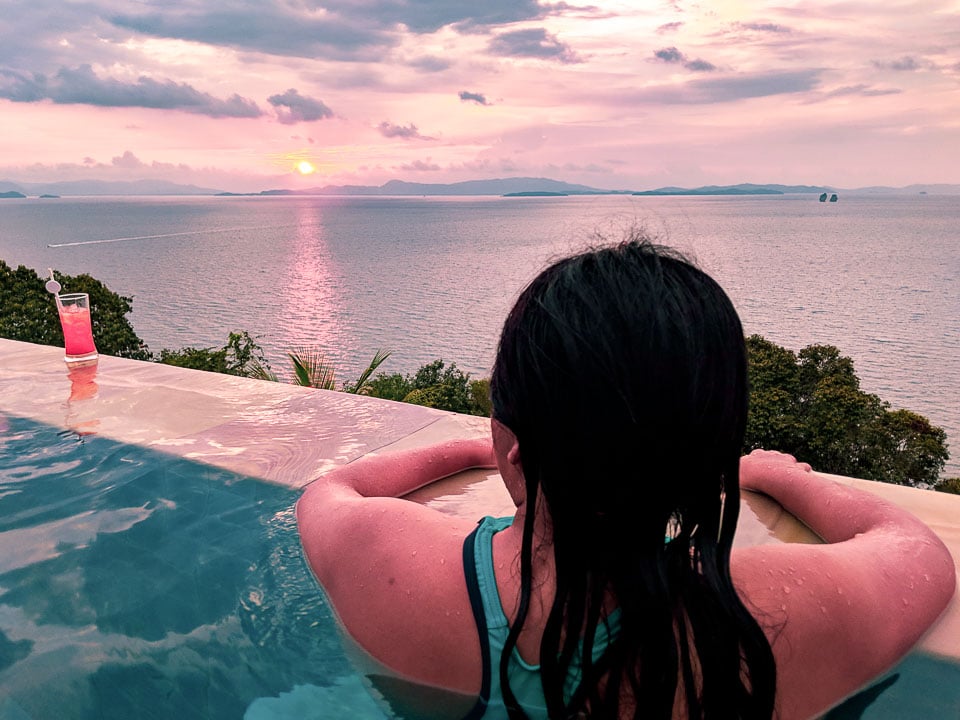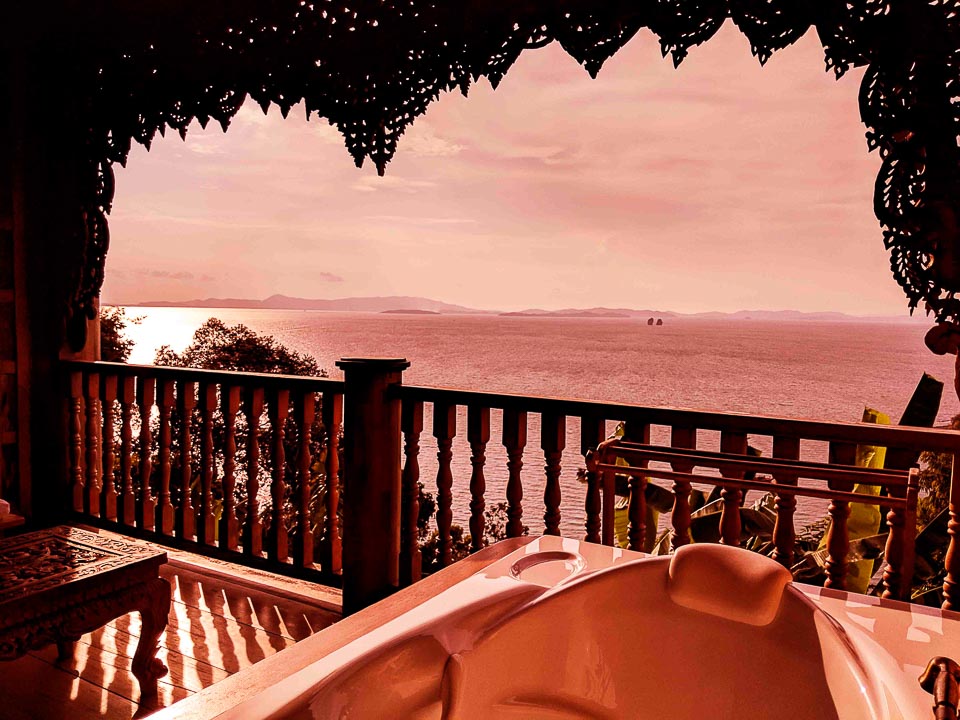 Things to know before planning a trip to Koh Yao Yai and Koh Yao Noi
It is safe to travel in Koh Yao Yai and Koh Yao Noi. Locals on the island keen on promoting heartfelt genteel hospitality, from the deep norm of hospitality lessons instilled in thai culture. These islands retains a seldom found old world charm. It is surprisingly comforting, like you want to trust them. You know you have arrived at the destination you were searching for all these while! I remember exclaiming to my friends at night, "this place is too good to be true!"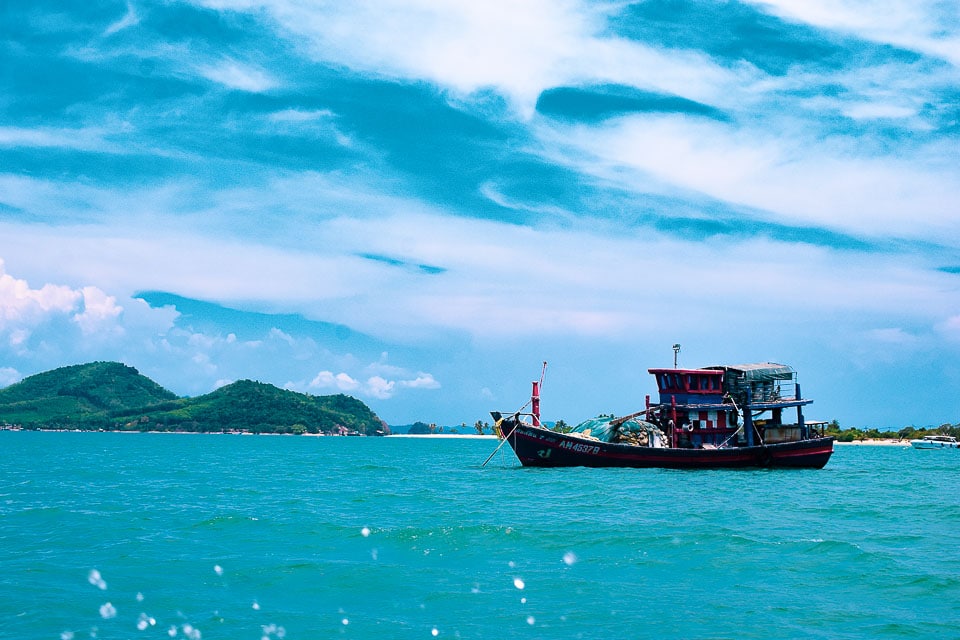 Where should you stay: Koh Yao Yai or Koh Yao Noi
I hope by this time it is clear to you that the Koh Yao islands are twin islands. There are two islands we are talking about in the same breath. AND YOU NEED TO VISIT BOTH!
The archipelago has close to 44 islands amongst which only two are inhabited. Population counts upto 18000 inhabitants, mostly fishermen and farmers.
Koh Yao Yai: Big Long Island and Koh Yao Noi: Small Long Island. Koh means island in Thai.
Yao Yai is the bigger one among these two, which a more sublime vibe. The coast is dotted with beautiful luxury resorts. There are far stretched roadways amidst rubber plantations and coconut groves. Nightlife is limited. On the other hand, Koh Yao Noi is more familiar with the usual tourist crowd of Thailand. A local market caters to tourists' needs.
The main beach is long stretched, with countless bars and modern cafe dotting the shoreline. Koh Yao Noi is comparatively cheaper destination, with a more backpacker vibe. If I want to meet more poepl, I would choose to stay at Noi. If I am traveling with my partner, I would choose Koh Yao Yai. Personally, I loved beaches from Yai.
Renting a bike at Koh yao Yai
To move around, you can rent a bike for the day. Like Langkawi, bike renting in the Thai islands are rather easy practice. there are petrol kiosks to quench your vehicle's fuel thirst. If you, like me, can not ride a bike, trust Tuktuks to help you roam around. Tuktuks are known as Songtaew in Thai.
Needless to say, try to pack light. You can not bring your bike to the island.
There are drive ways connecting different parts of the island. There are murky roads too. In case you are driving off the marked route, be cognizant of the fact you must be an experienced rider.
Gas stations do not make very frequent appearance. Fill up gas on your vehicle when you have time.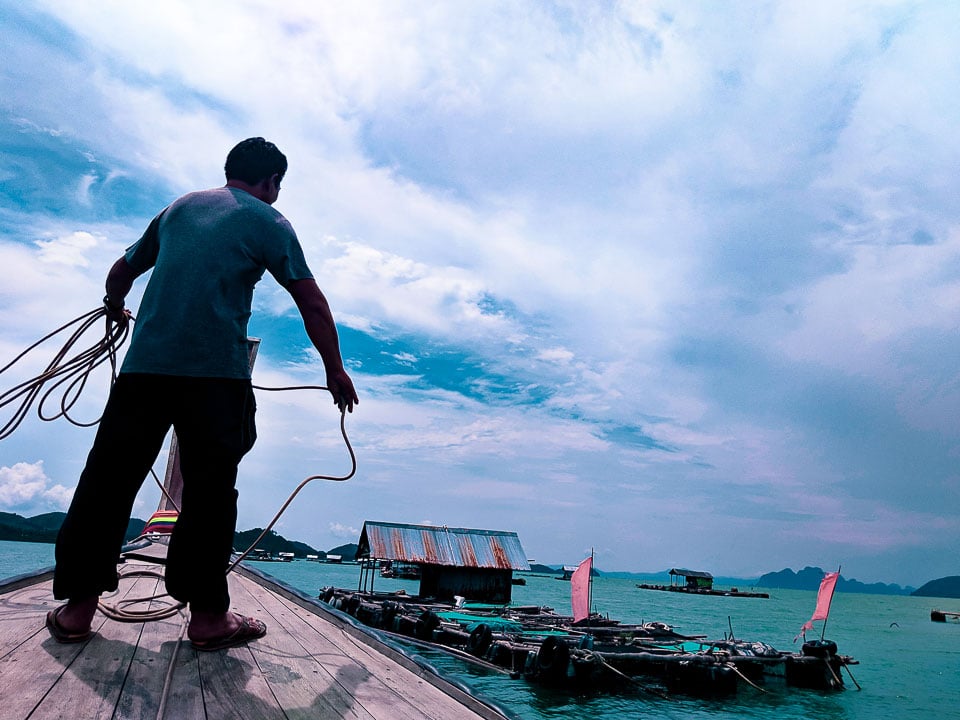 Pork and alcohol are not consumed in Koh Yao Yai and Noi like the way they are in mainland Thailand, at least in Bangkok and Phuket. Locals, majorly Muslim, do not eat these. Though you may source alcohol in a handful of local restaurants, for pork you have to rely on the resorts.
There are only a handful of ATM in the island. Wifi works decent. Most of the cafe and hotels are well connected and are happy to share wifi passowrd with you. Health care service is limited with only one center catering to locals.
Koh yai Yoi and Noi are laden with ancient rain-forest apart from the coconut groves dotting coastal area. From the heart of the jungle often arise wildlife. Think a water monitor (they are NOT Comodo Dragons). Leeches are ready to suckle your blood. take proper precaution when you are venturing into the wild at Koh Yao Yai and Koh Yao Noi.
Speak to the locals and be informed on the tidal waves. Several walkways and beaches are best explored during low tide, which is usually early morning.
Koh Yao Yai and Noi are not party islands. They are tidier than the popular tourist attractions, say Phi Phi. Be sure to carry back your junk once you are done with island hopping or being a beach bum!
While exploring the island, you may not come across conveyance store. In case you think you need something, say a band aid or potable water or a quick bite to snack on, please carry it in your backpack. Do not litter the covers though. Pity I have to spell this out!
Ideal time to visit Koh Yao Yai
Staying true to the weather condition of Andaman sea, best time to visit Koh Yao Yai and Koh Yai Noi remains from November to April. The drier months of Northern hemisphere. If you come here during monsoon, sky will be grey, sea will be gloomy, snatching away half the fun. I visited in March. It was humid in the day. At night, it was pleasant. AC was not necessary, specially if it showered in the evening.
Why should you consider visiting the Twin islands: Koh Yao Yoi and Koh Yao Noi
"This is how Thailand used to be 2 decades back." Told us a fellow travel writer who had been instrumental in promoting community tourism of the twin islands.
Neither the finest of white sandy beach, nor the party beasts' paradise, Koh Yao Yai and Noi are tranquil retreats on the water, in true sense. this is where you get a chance to experience Thailand's rare cultural customs.
If you are keen, it is easy to hire a long tail boat and conduct an island hopping tour at the Phang Nga Bay archipelago for a day, and thus ditching the usual day trippers' crowd arriving from Krabi or Phuket main island. Koh Yao Yai and Noi are located strategically in the mid point of Phang Nga bay and ensures astounding views.
Since majority of the inhabitants are Muslim, and modest living is actively encouraged, the island is a precious find for those who seek tranquility. If you are traveling Thailand on a budget, you will particularly love to relax in these island paradise. Despite Koh Yao Yai's romantic appeal, prices have not sky rocketed at the local markets.
People are kind and extremely friendly. But then, this is the case in almost all the areas of Thailand.
I would especially recommend these twin island for a couple traveling in Thailand on a romantic tour. Koh Yao Yai and Noi are some of the best island retreats for honeymooners with world class eco friendly luxury accommodation options.
Pin it for later!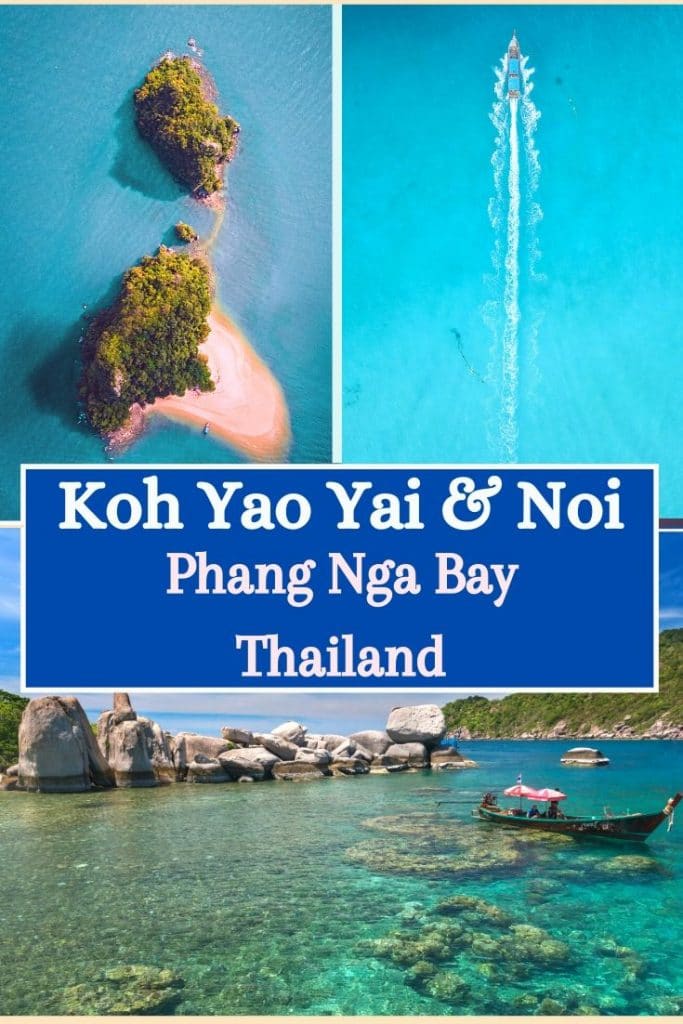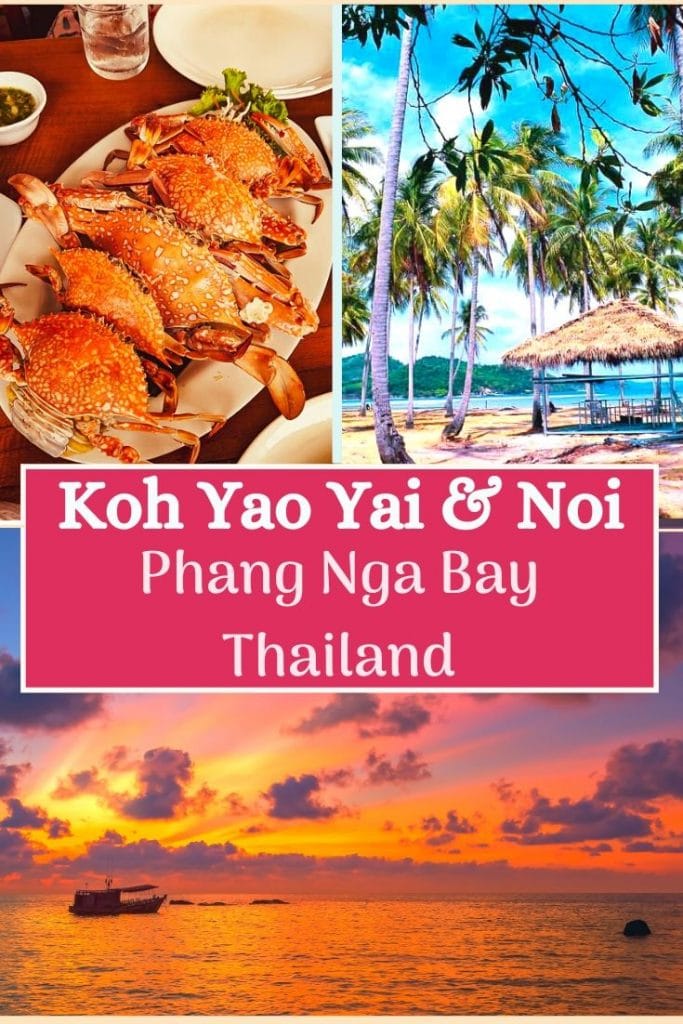 This post may contain affiliate links. Please read the disclosure post. If you have liked the article, you may support it by buying using these links without any extra cost to you.
Let's stay connected on Facebook, Instagram, Twitter! You may also consider joining my mailing list. I send travel and photography related emails only once a month!